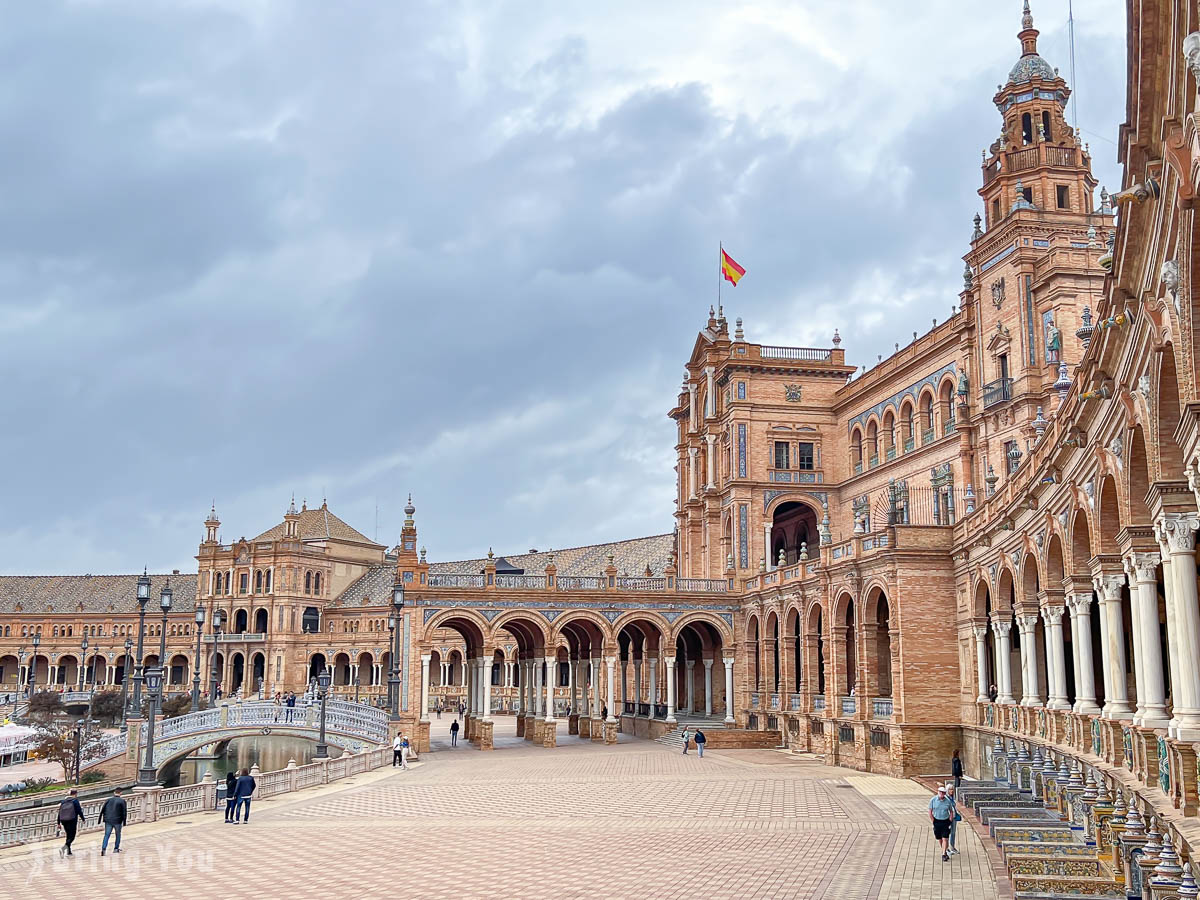 In 2018, Lonely Planet's Best in Travel called Seville the best city to visit of the year.
But what's so special about this capital and largest city in Andalusia, Spain?
Seville plays host to a tantalizing mix of Moorish, Christian, and Jewish architecture. As the locals attest, their hometown is dubbed as home to the country's tastiest tapas – but does it really hold true to such fame? I'll let you decide.
Going beyond the boundary of traditional Iberian cuisine and mind-boggling architecture, Seville also beckons the attention of Hollywood blockbuster fans, especially after Star Wars and Game of Thrones picked Seville as one of the most important filming locations.
In this article, I'll walk you through a sample itinerary covering my favorite attractions in Seville, as well as a brief foodie guide and tips for navigation.
But First, Here's A Heads-Up With Seville's Essential Travel Tips: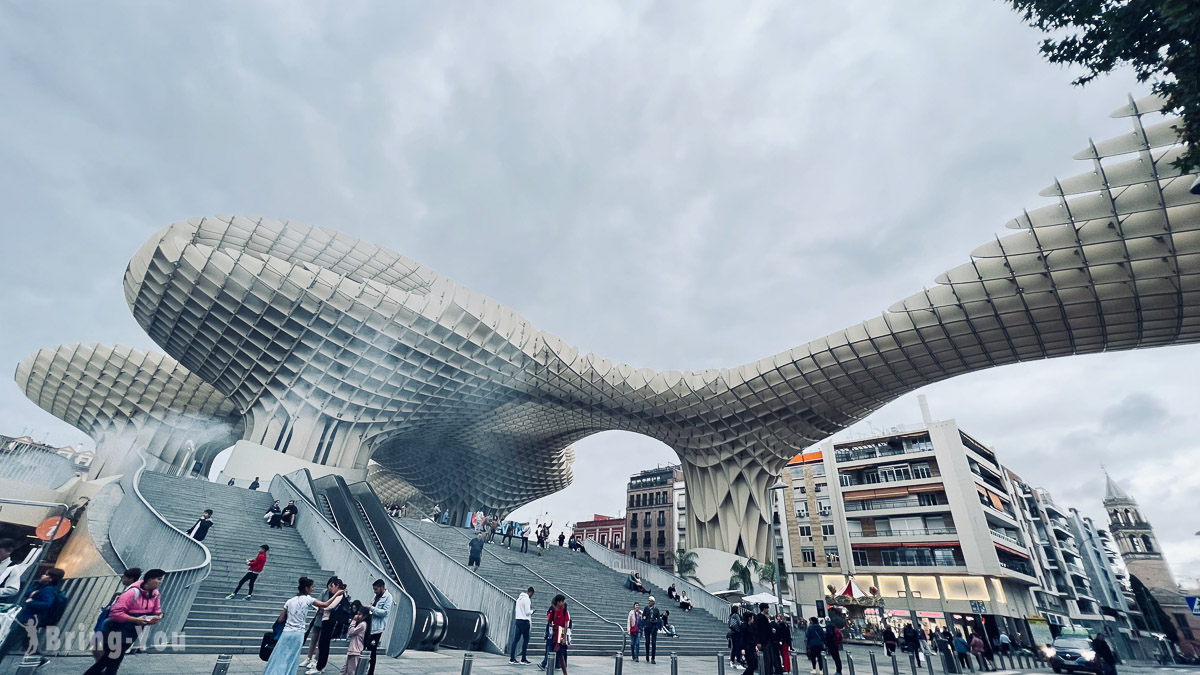 How Many Days Should You Spend In Seville?
Three days and two nights.
What Is The Best Time To Visit Seville?
Winter months (especially February).
Is Seville Safe?
Yes! Seville is relatively safer than Barcelona and Madrid regarding pickpocketing matters. However, it's still better to keep your belongings at all times.
Book Tickets Online In Advance
This rings true, especially at Seville's most famous attractions such as the Alcázar of Seville. Reservations will ensure you a hassle-free visit especially if you come over during the peak season of summer.
8 Top-Rated Attractions In Seville For An Enjoyable Stroll
The Alcázar of Seville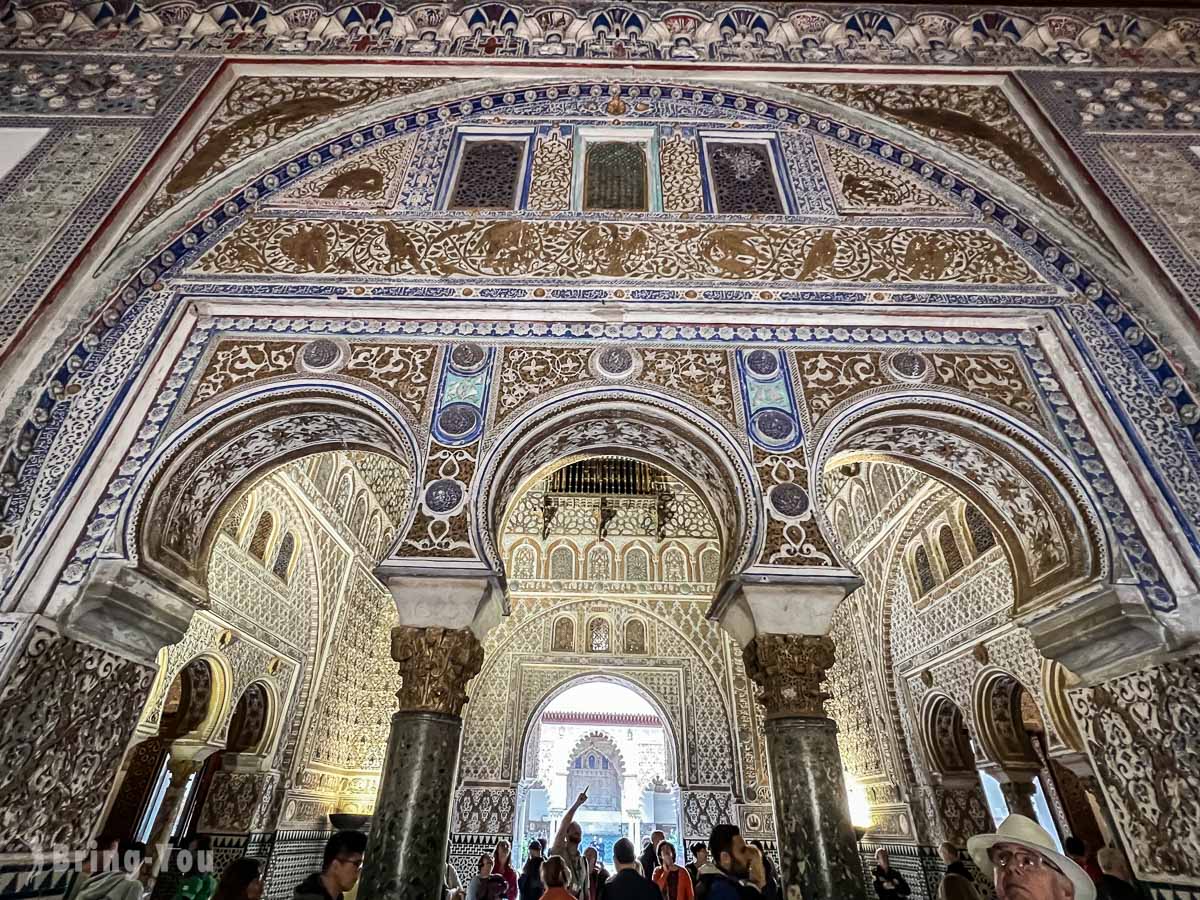 Have you ever wondered what's behind a 700-year-old royal palace in Spain? Undoubtedly one of the travelers' favorite spots to make a bucket list, the Alcázar of Seville boasts a dramatic mix of Arab and Moorish designs, making way for the unique Mudéjar art to stand out.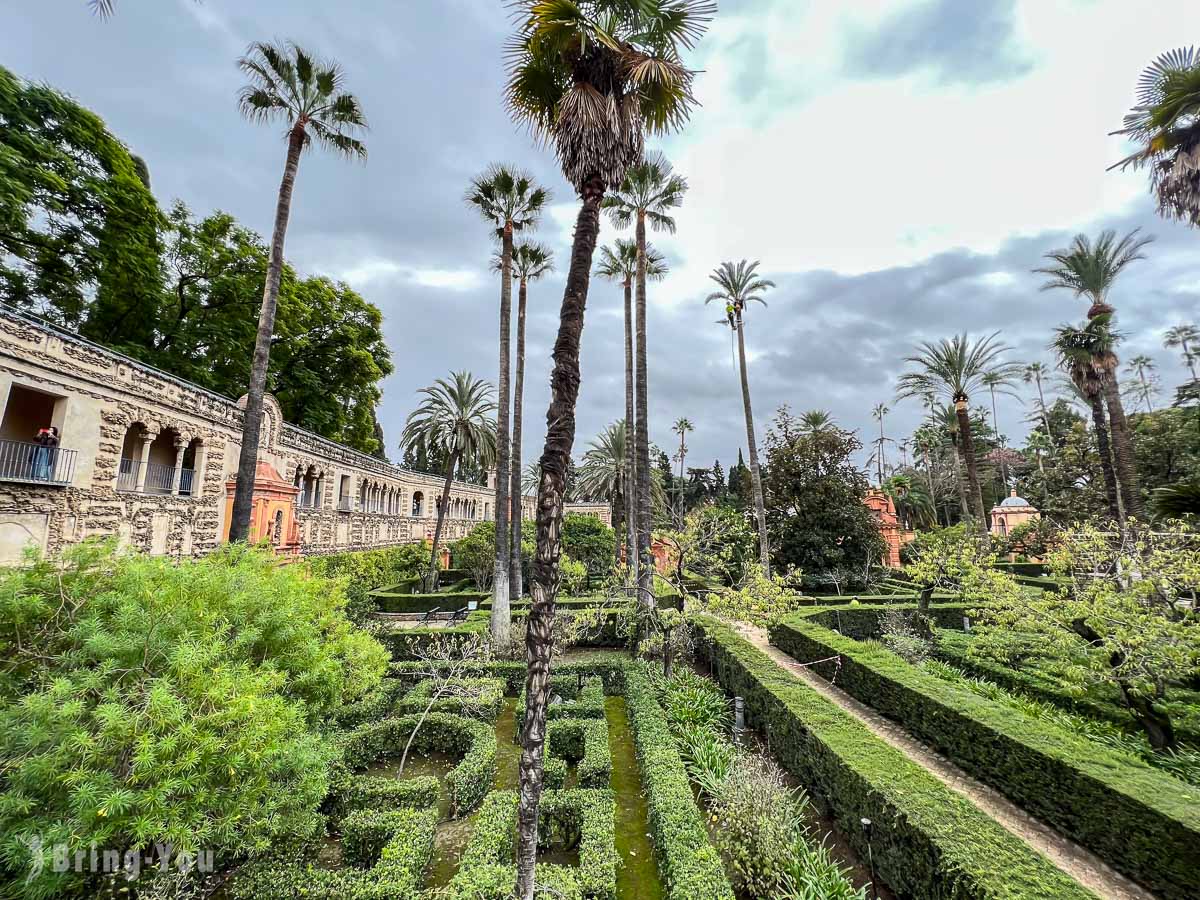 The most incredible things to see at the palace are a set of rooms and the inner courtyard. Each tiny bit of the house is tastefully filled with geometric patterns, vegetation, and azulejos (painted tin-glazed ceramic tilework).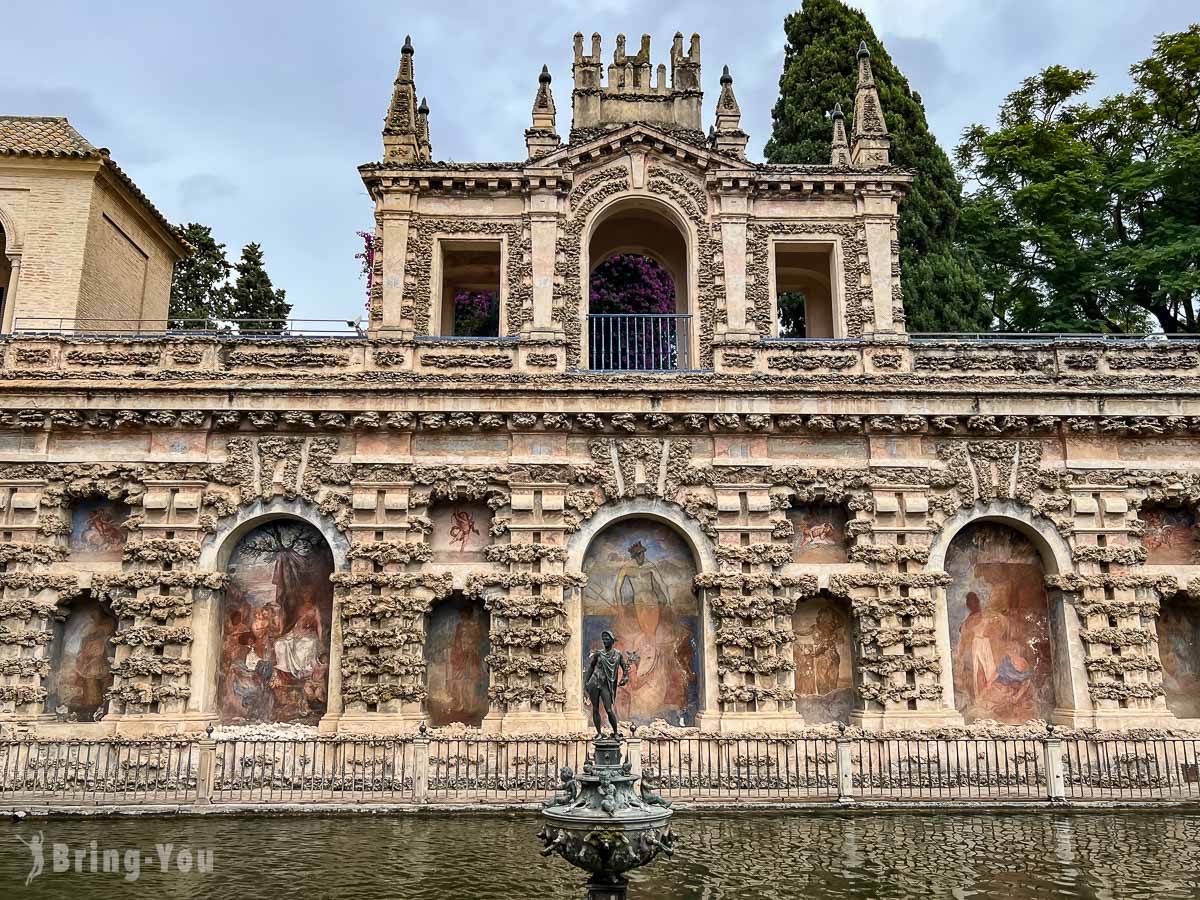 Taking a stroll through fountains, water jets, and flower beds seems as if you're transported to a different era. And if you have some time to spare, map out a game at the maze after chilling out with the peacocks and checking out the bathhouses.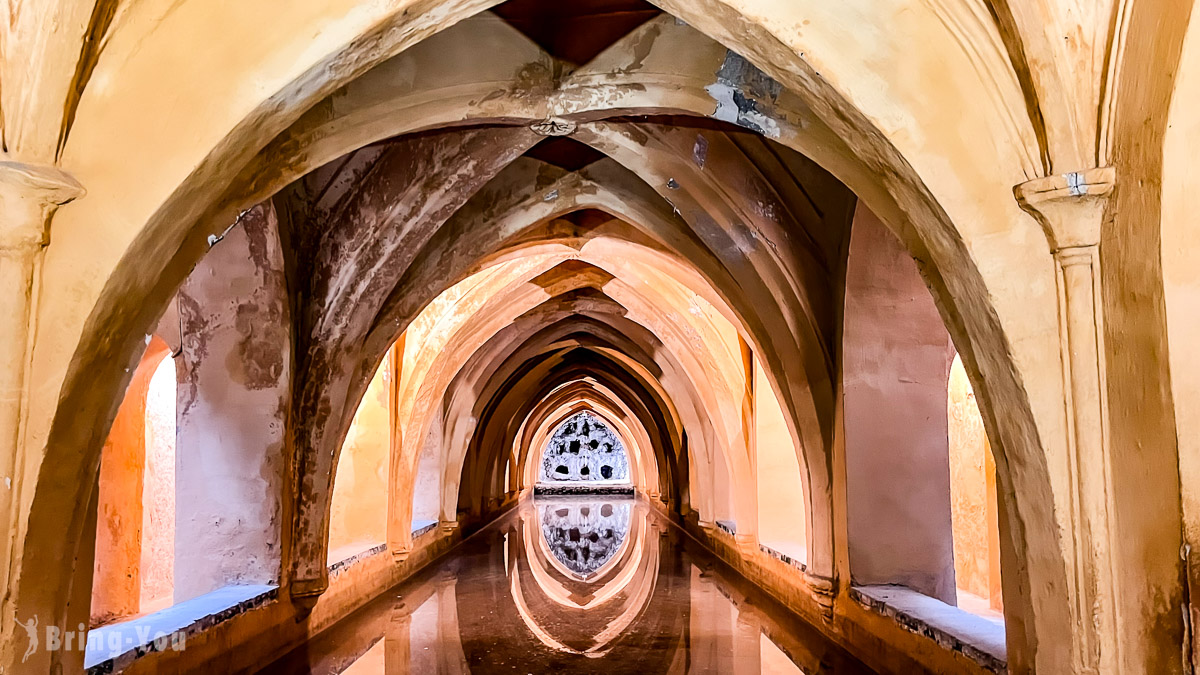 In 2011, the 5th season of HBO's hit TV show "Game of Thrones" took over the Ambassadors' Hall, the Baths of Maria de Padilla, Mercury's Pool, and the Palace Gardens.
Due to its escalating reputation, a two-week online reservation to visit is highly recommended.
Plaza de España & Murillo Gardens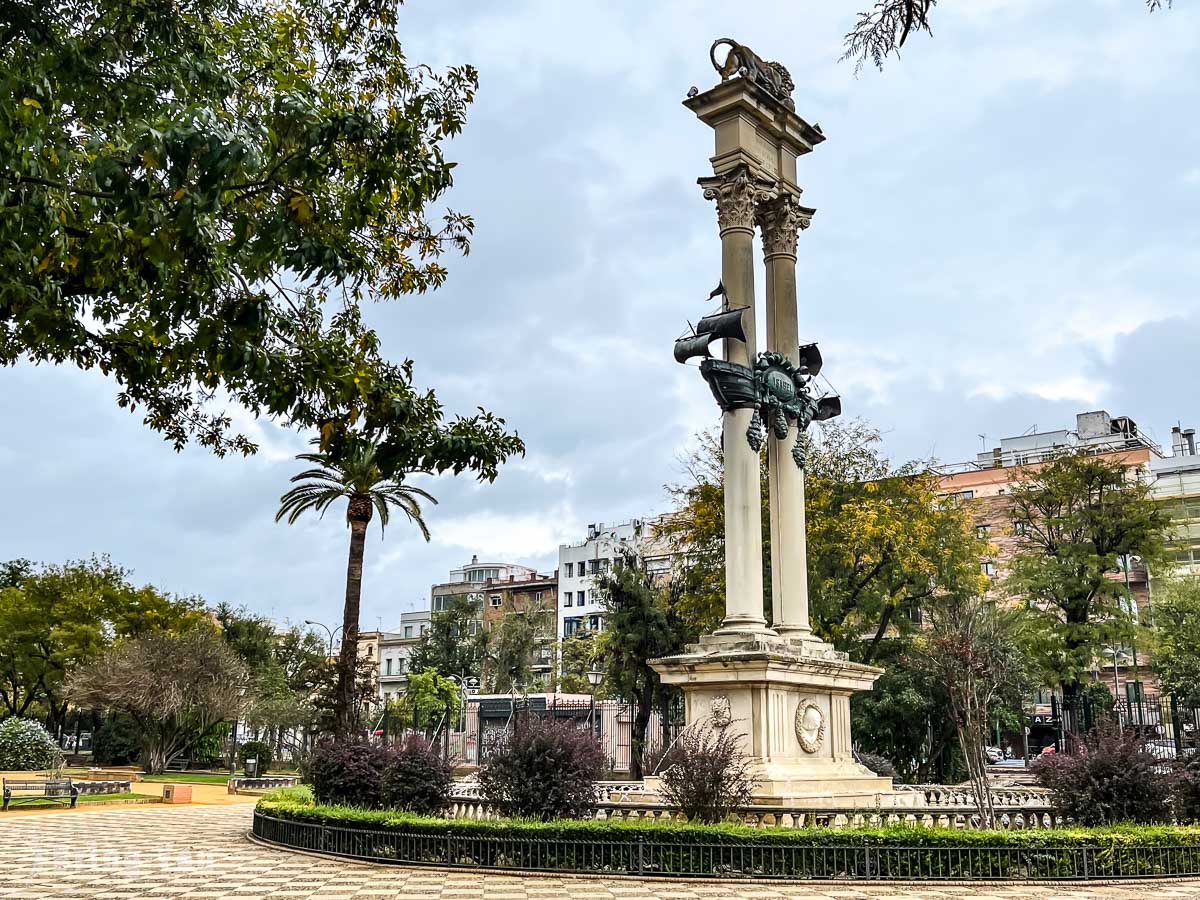 Leaving the Alcázar of Seville behind, make your way to the next stop: Plaza de España, an awe-inspiring Renaissance/neo-Moorish building wrapping the sprawling, sun-flooded public square with its wings.
Even if you stop by the square when the sun is screaming out its killing lights, the surrounding Moorish buildings provide enough shade from their beautiful courtyards and ceramic decorations to let loose.
The palace has been going strong since 1928 when it was established to welcome the Ibero-American Exposition of 1929. Boasting a blissful combination of Regionalism Architecture with hints of the Baroque Revival, Renaissance Revival, and Moorish Revival (Neo-Mudéjar) styles, Plaza de España will have your jaw dropped with its overblown silhouette.
Just over ten minutes walk north of the palace, the scenic Murillo Gardens looms from afar, serving as a breezy and relaxing spot to rest your tired cores. From above, the sheer size of the Moreton Bay fig trees shelters you from the scorching heat with chirping birds hiding behind the leaves.
San Telmo Palace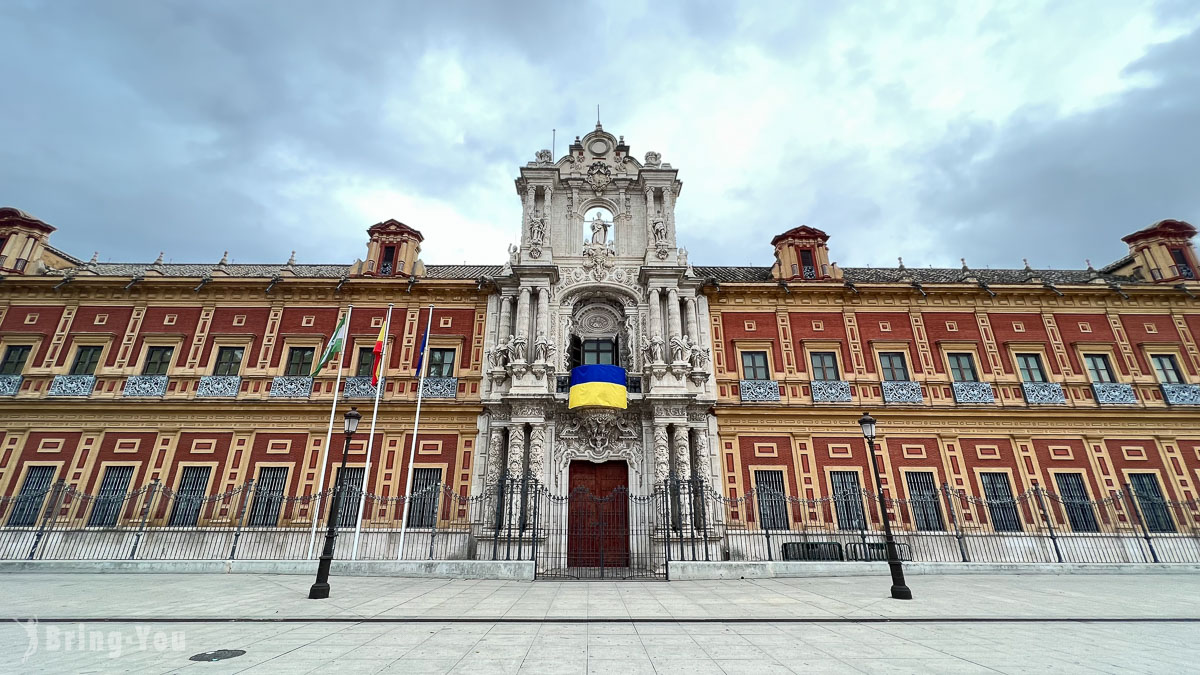 Striking curiosity with a sweeping wraparound facade, San Telmo Palace is one of the most impressive heritage buildings in Seville. Dating back as far as 1682, the palace boasts a series of columns that promotes an iconic Baroque facade. The building becomes even livelier during sunset, with the sun casting its tantalizing glitters on the dramatic facade. Today, San Telmo Palace serves as the Regional Government's President.
Hotel Alfonso XIII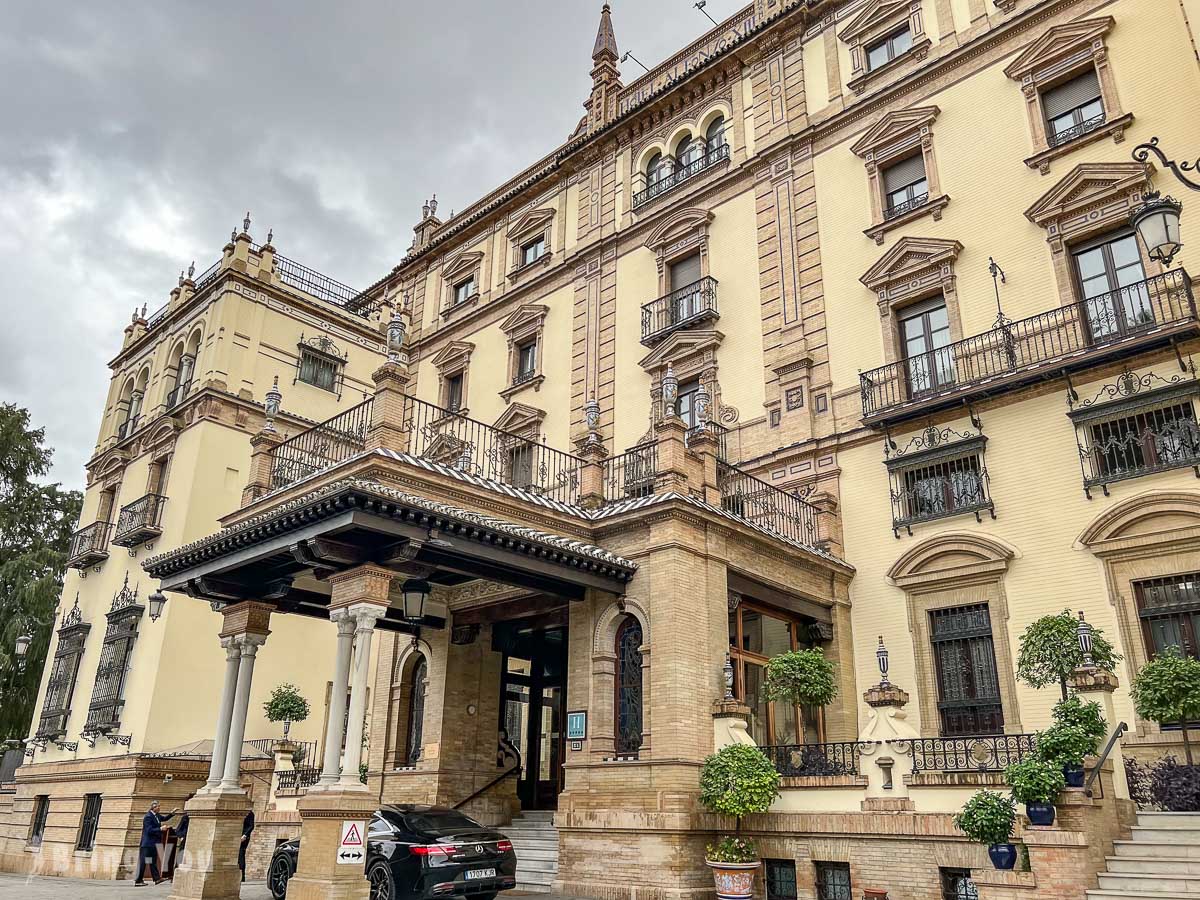 Hotel Alfonso XIII is more than just a place to stay. To me, Hotel Alfonso XIII has been making global headlines thanks to its tasteful decor using palm trees that wrap around a sun-kissed cafe and dining space.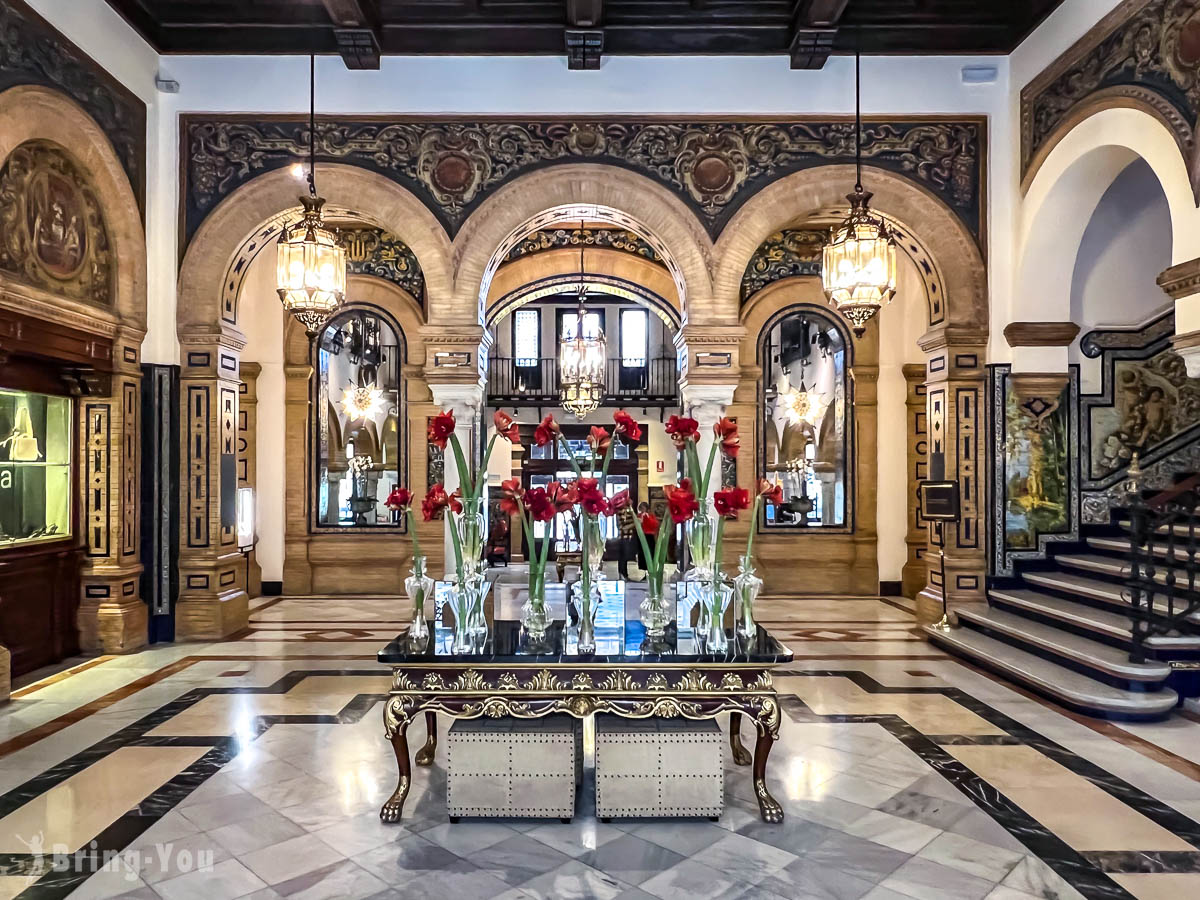 On the inside, each bedroom is adorned with lamps bearing crowns and regal beds. If you wanna snag a stay like the noble, Hotel Alfonso XIII is the place to be. Other than that, cooking classes and wine-tasting events are frequently hosted here.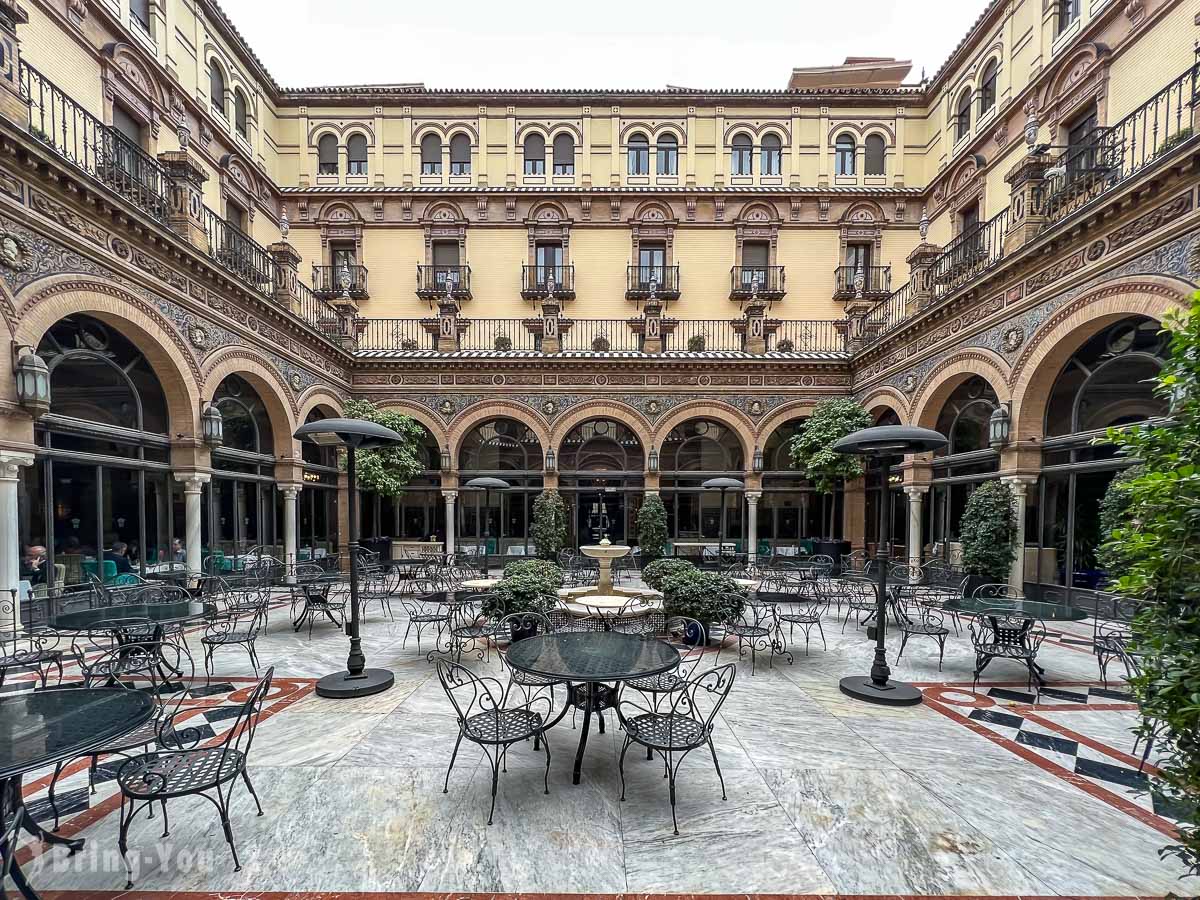 Even if you don't spend the nights here, it's still worth checking out the cafe or stealing a seat for afternoon tea.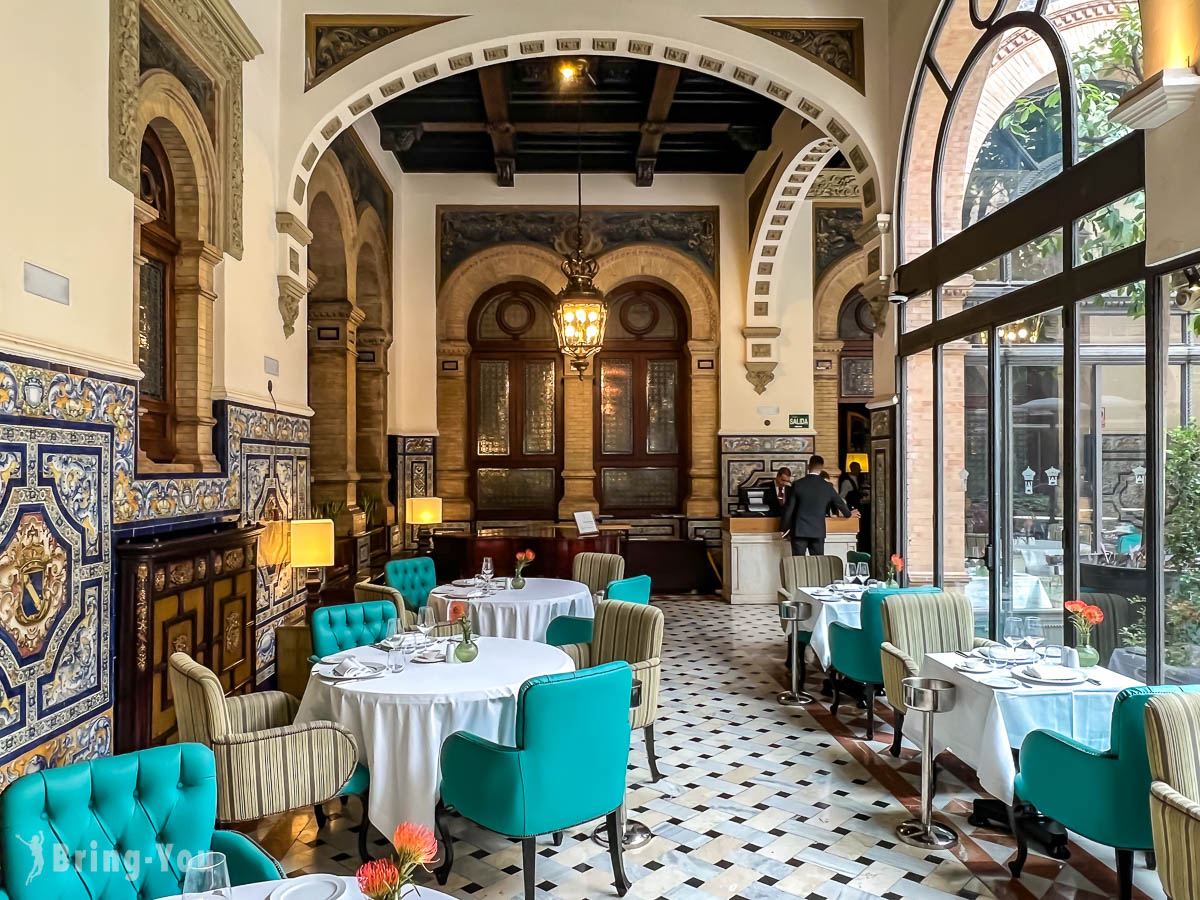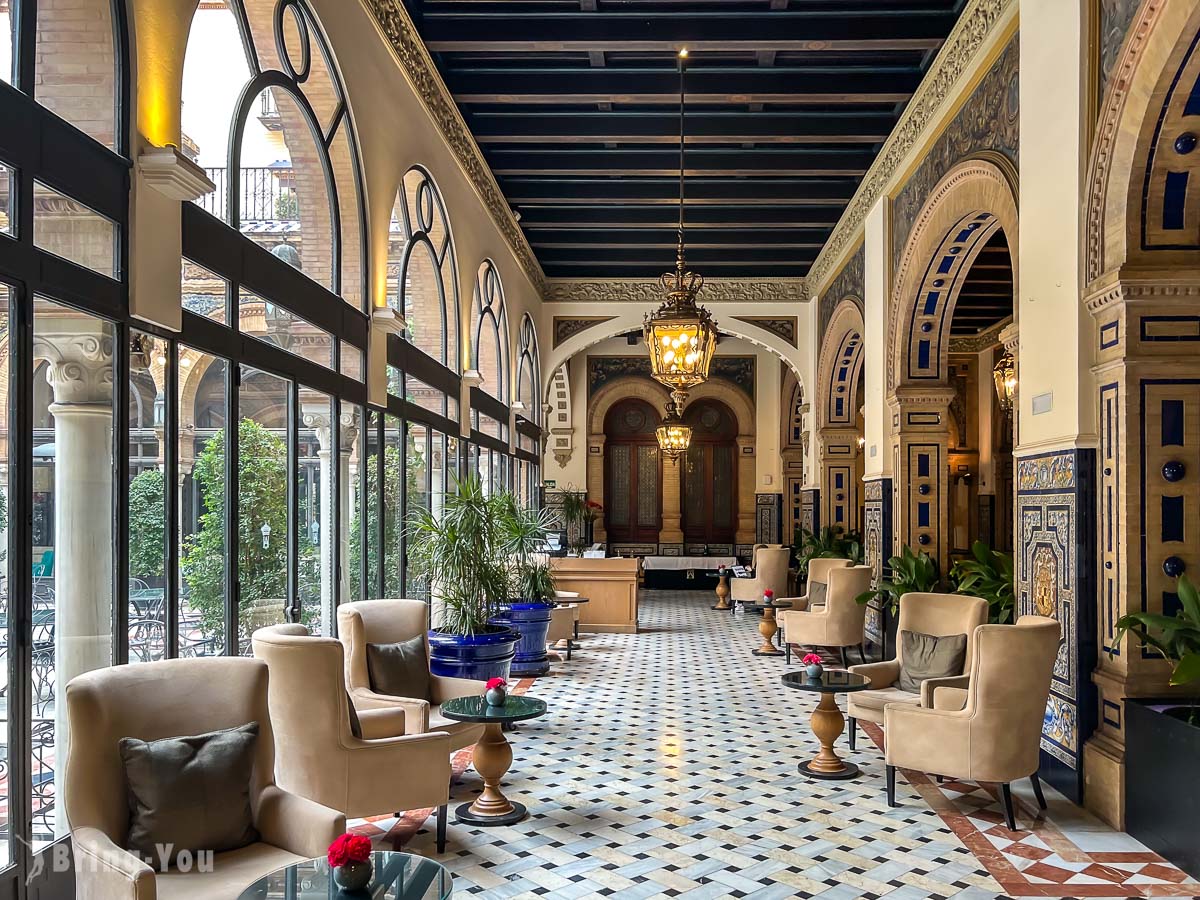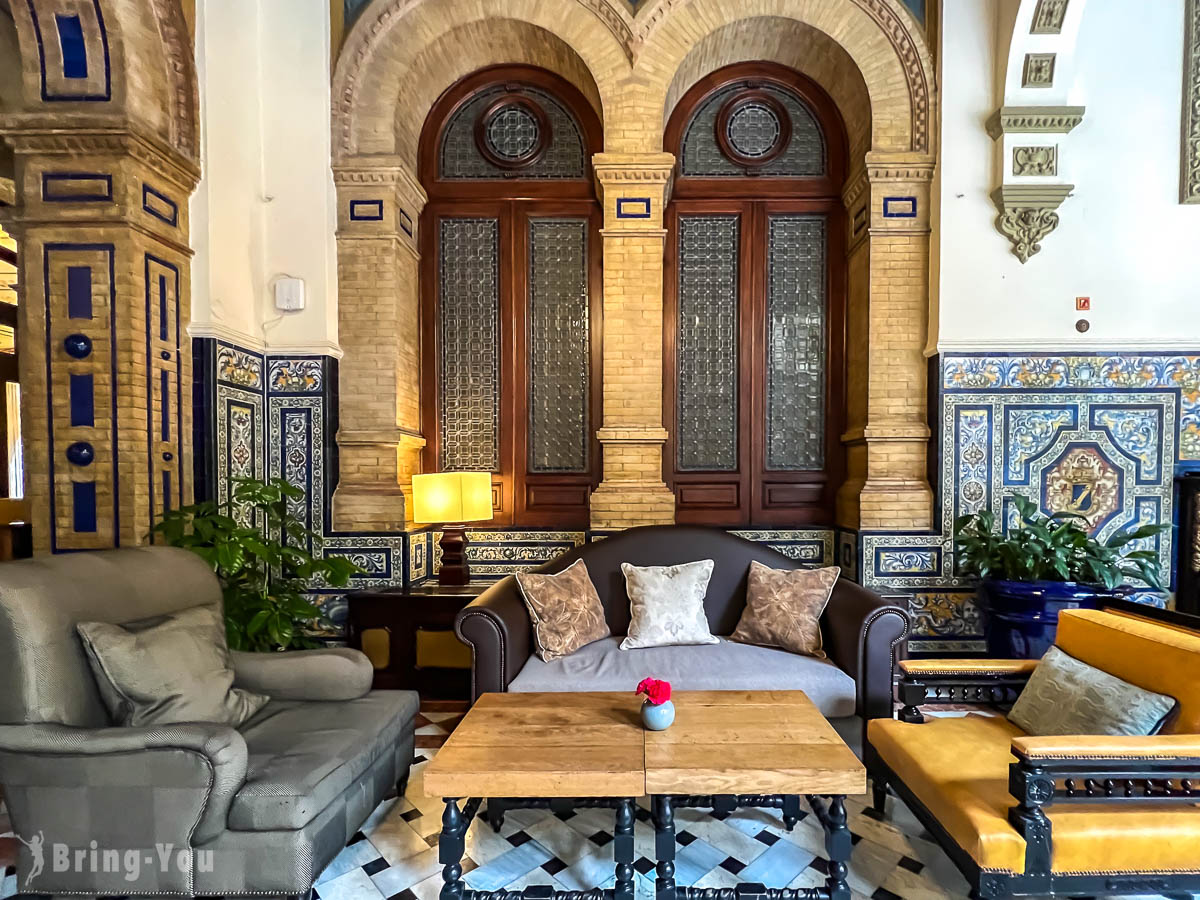 Híspalis Fountain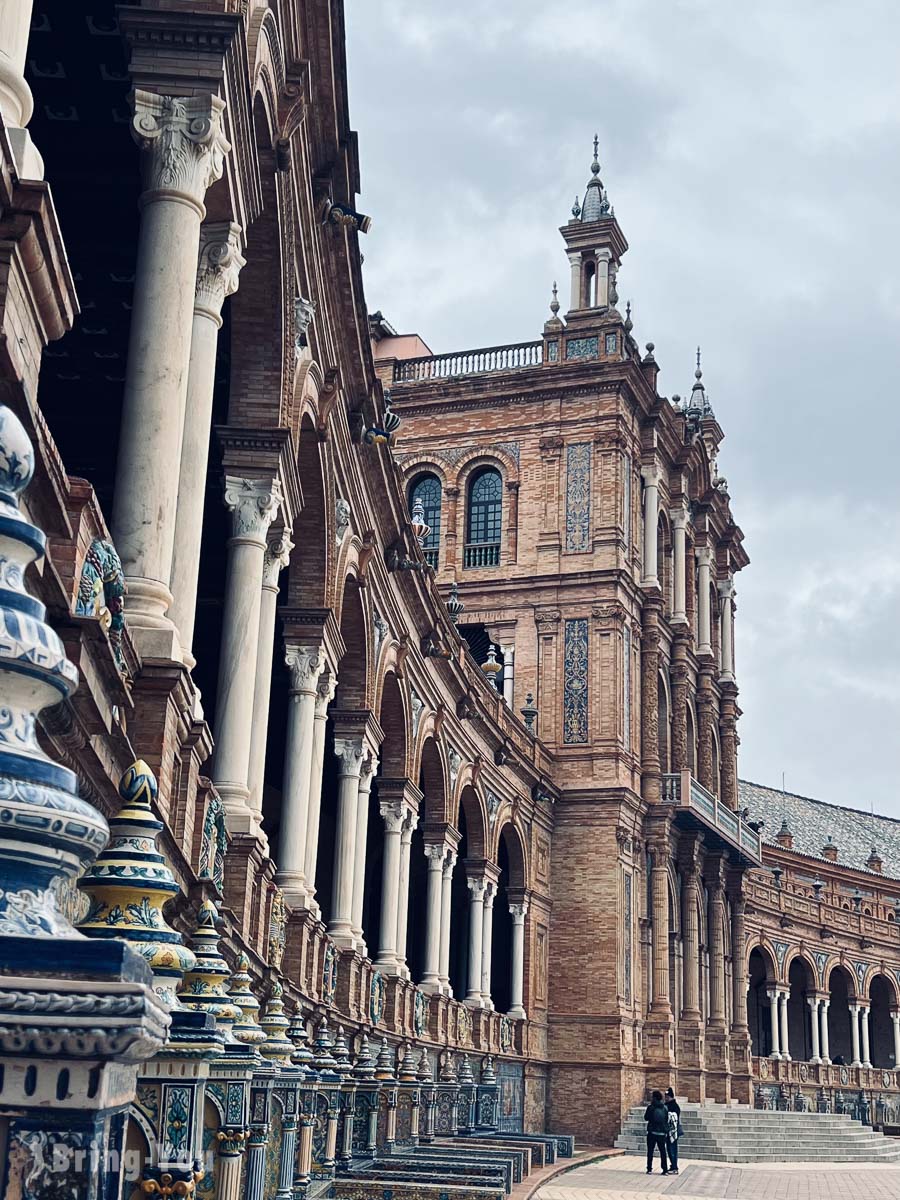 Right from the step of Alfonso XIII Hotel, the amazing Híspalis Fountain is just a stone's throw away. Established to celebrate the Ibero-American Exposition of 1929, the fountain today is still sparkling the interests of both locals and visitors alike.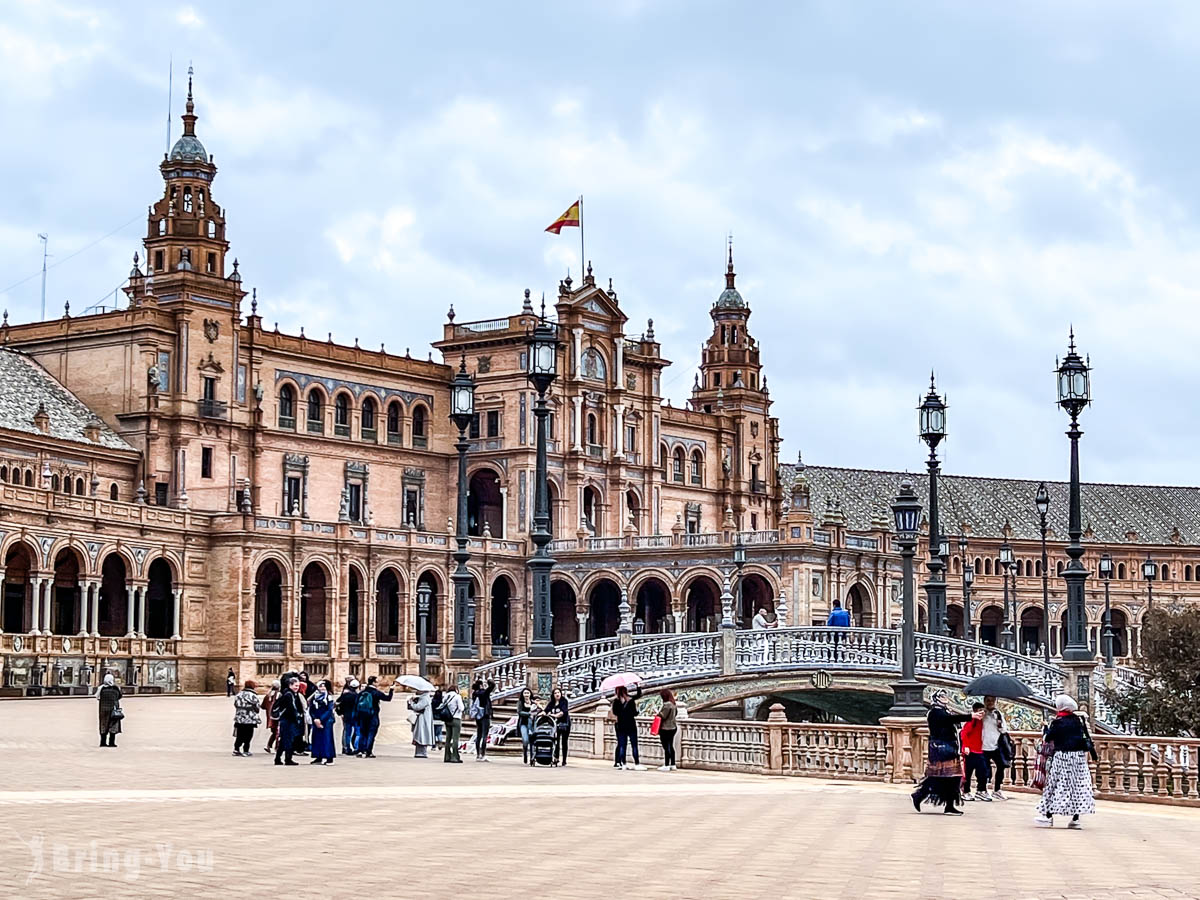 The giant fountain features a woman sitting draped in cloth in the middle. Two big fish swim by the feet of the lady. To support the main figure, a group of naked children statues are pressed against the circular stoned wall. From there, they set up plenty of water jets that shoot water skywards, bringing an exciting scene to look at.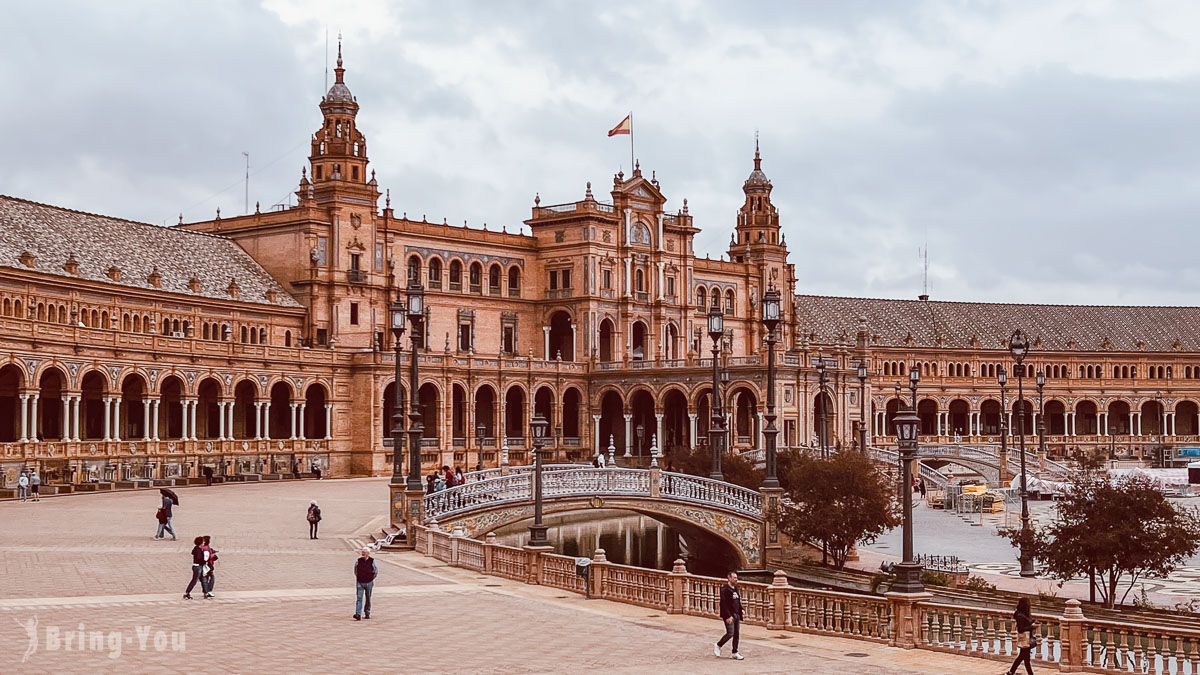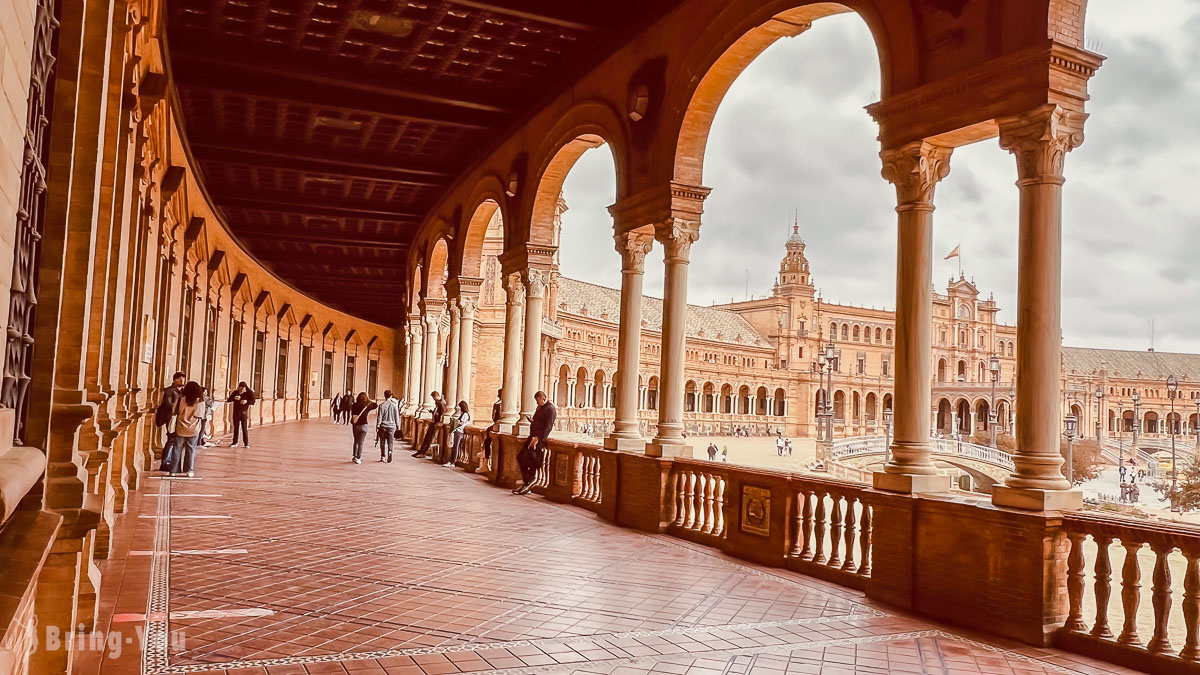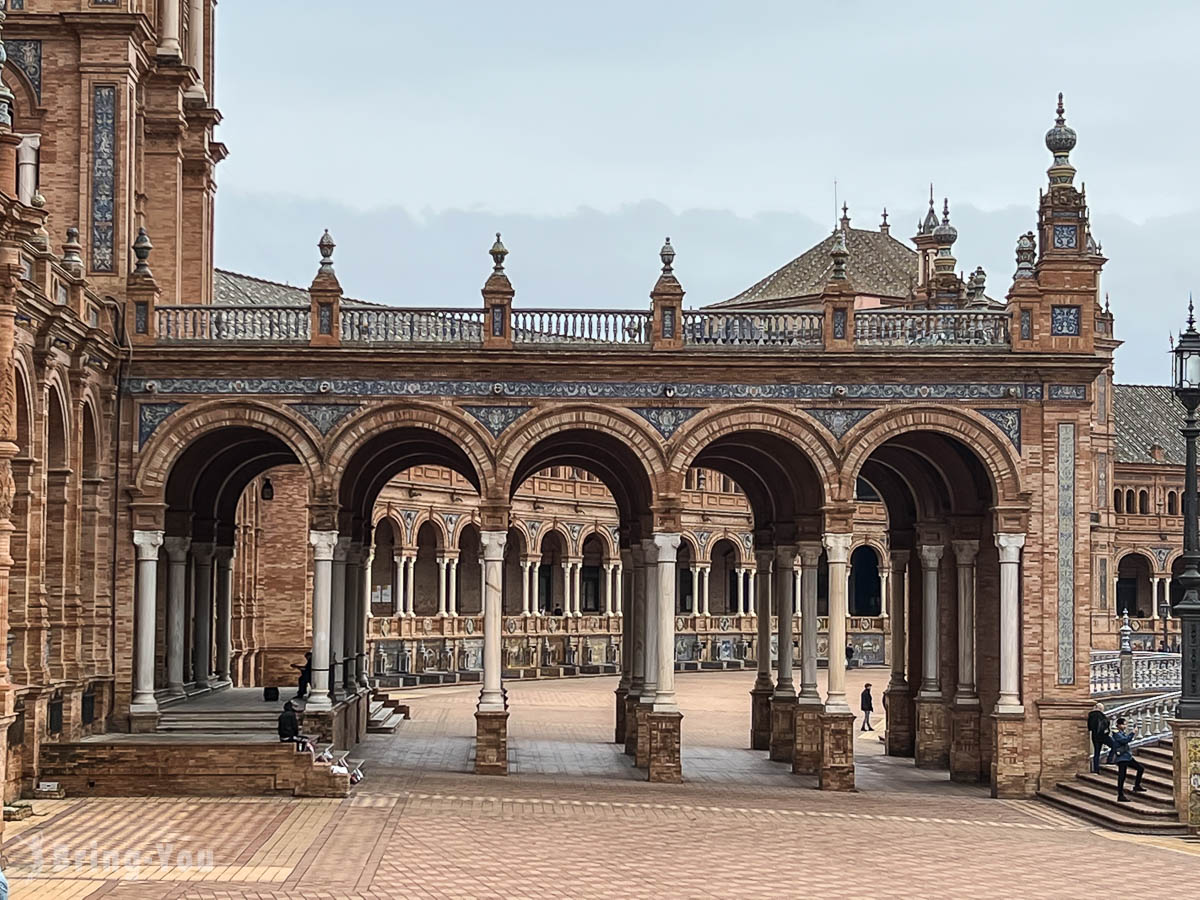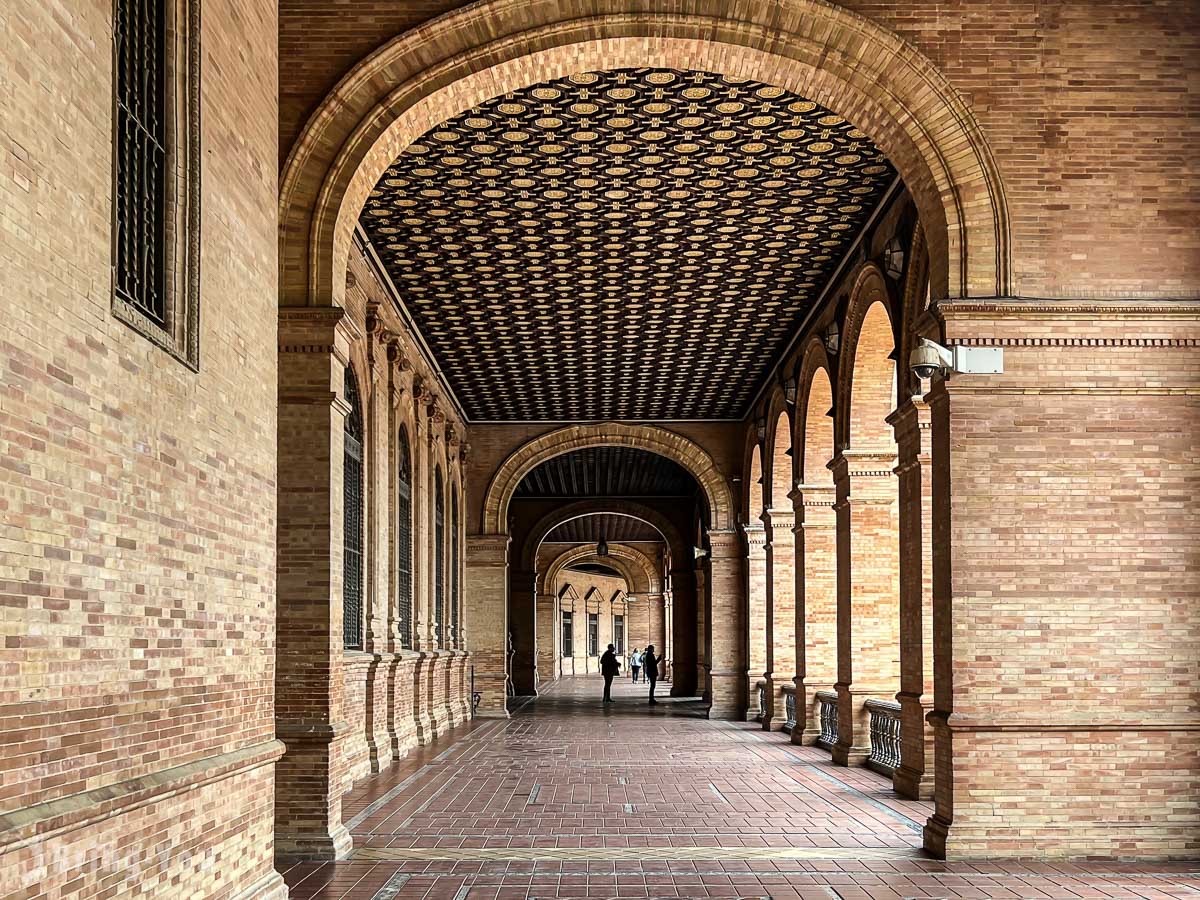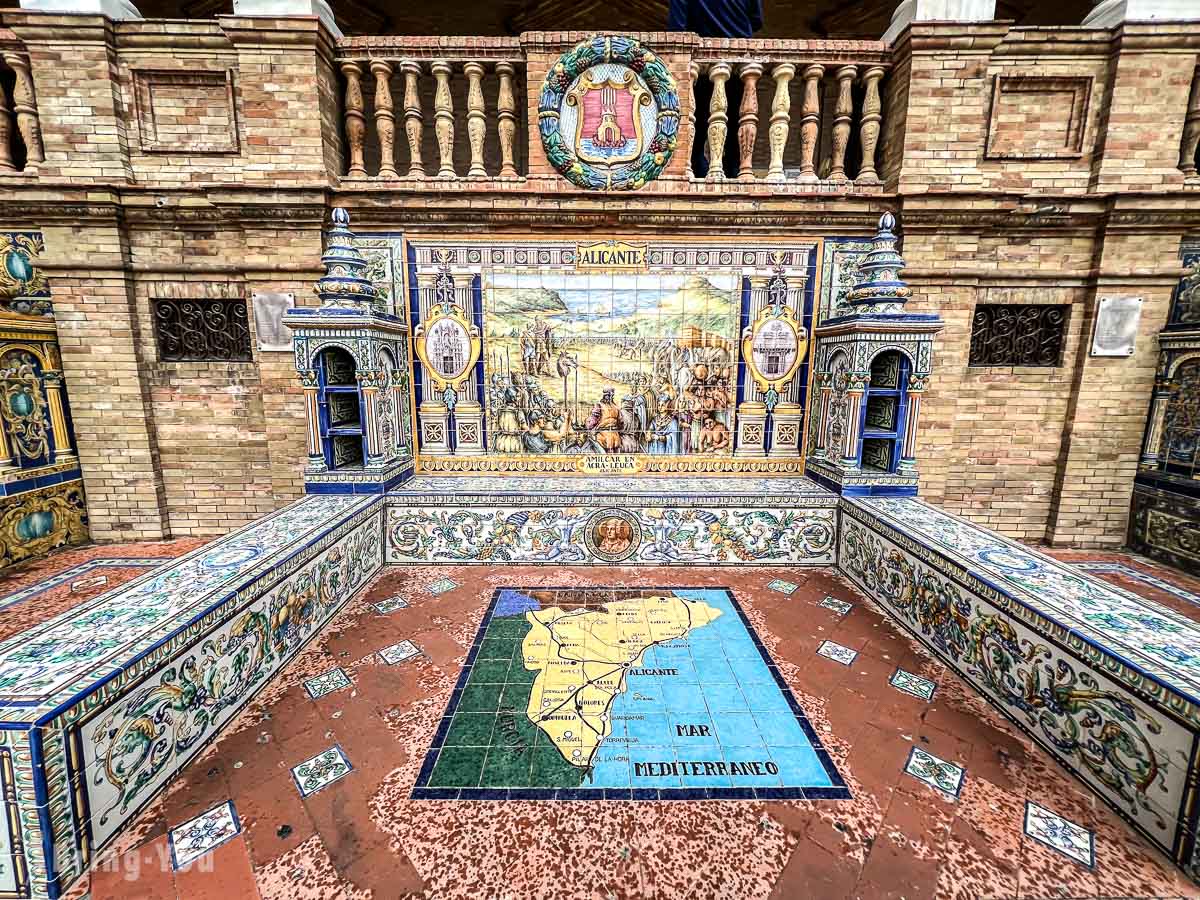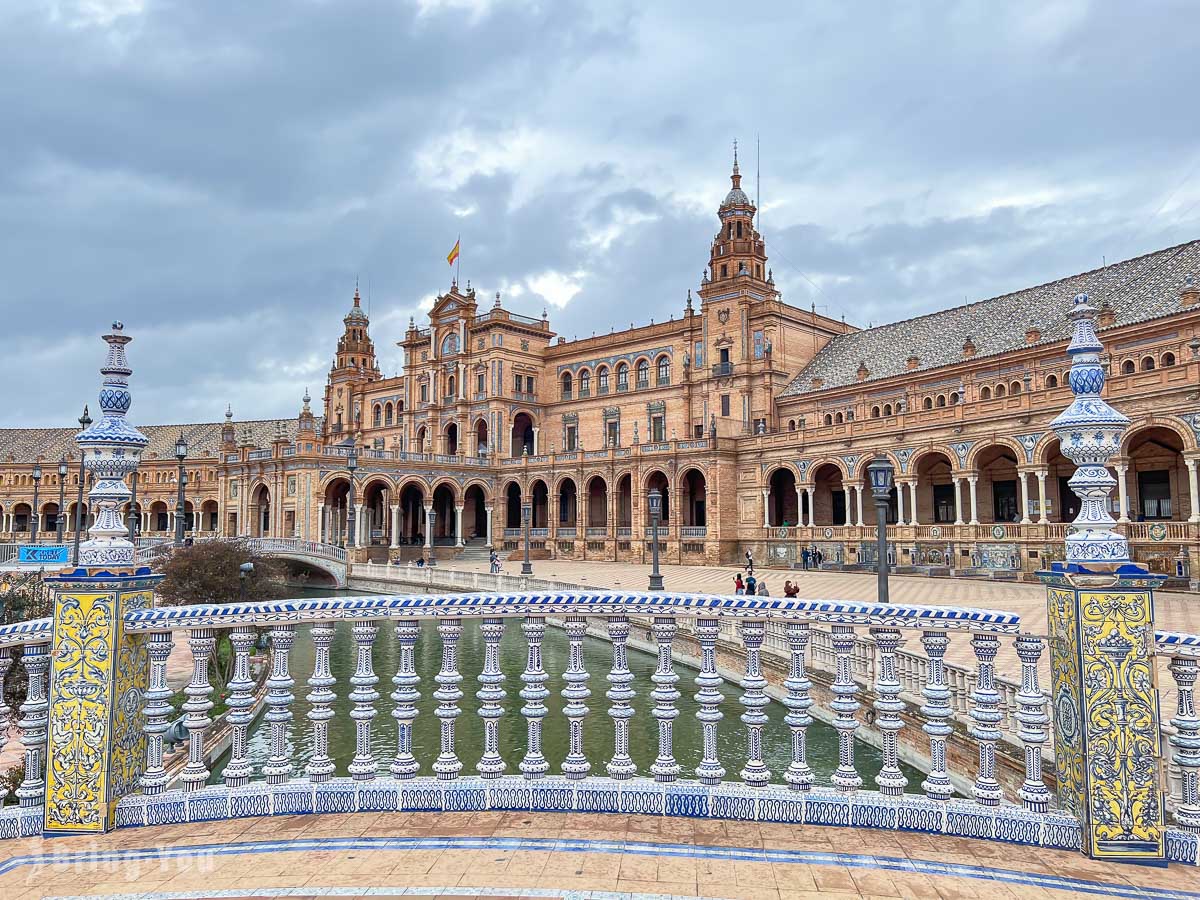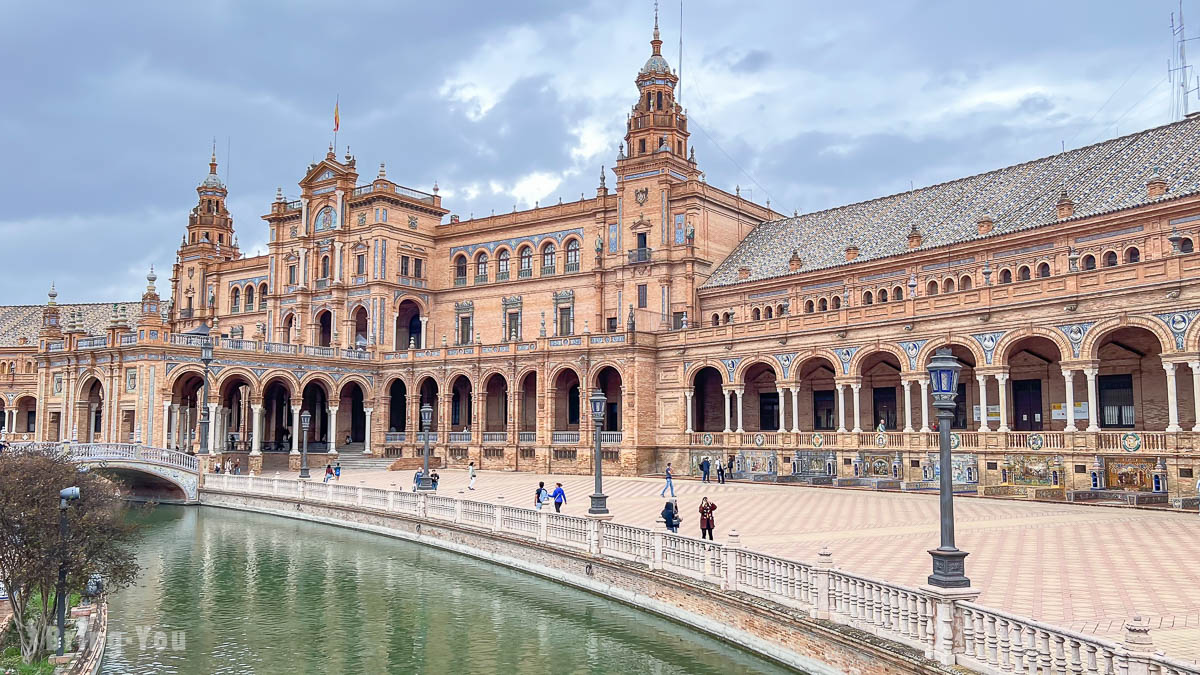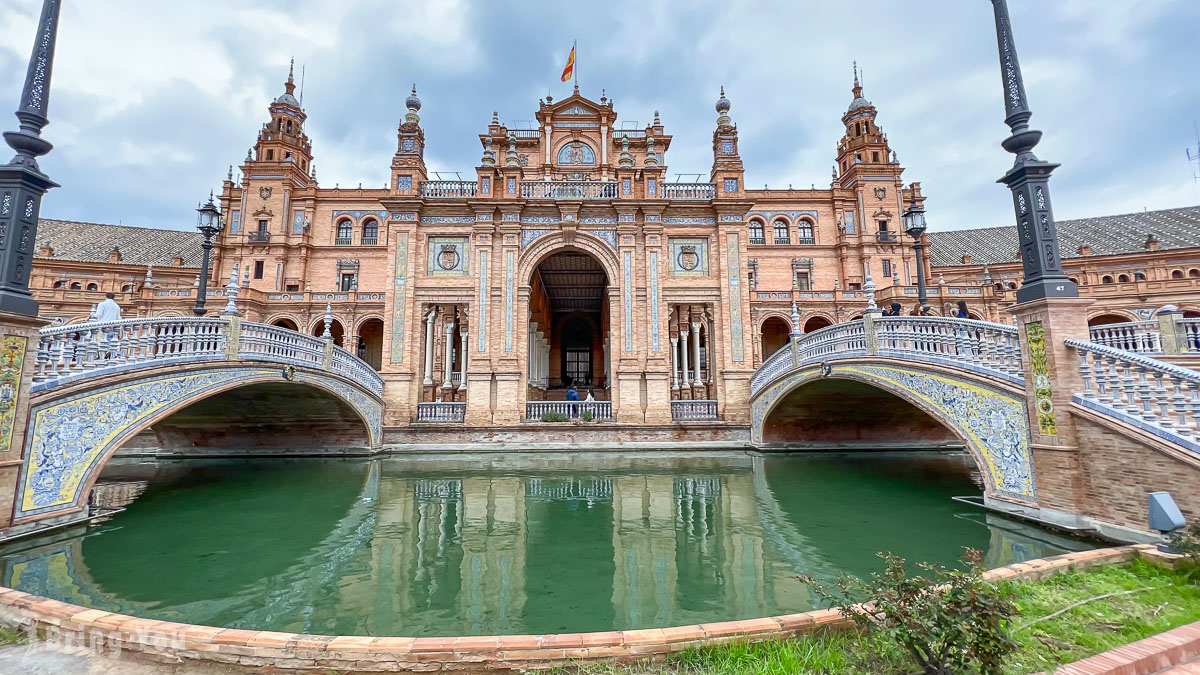 Plaza de Toros de la Maestranza – Bullring Real Maestranza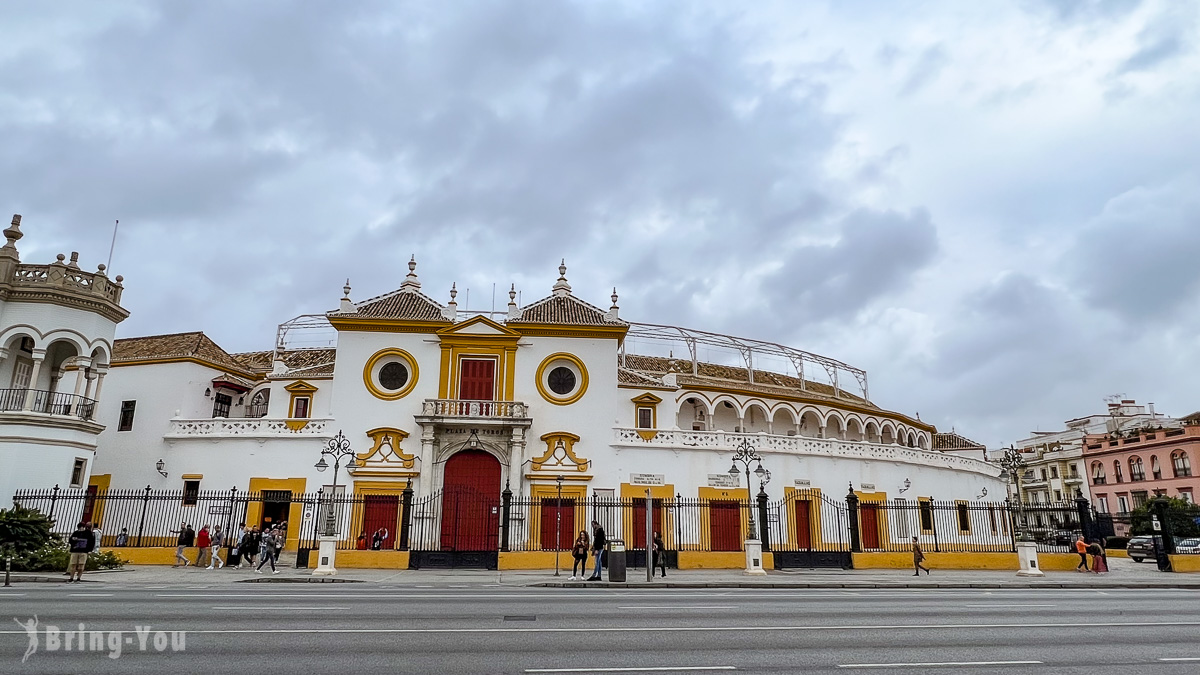 Though not the birthplace of bullfighting, Seville still goes ahead as the home of some of the most important arenas for this gladiator game.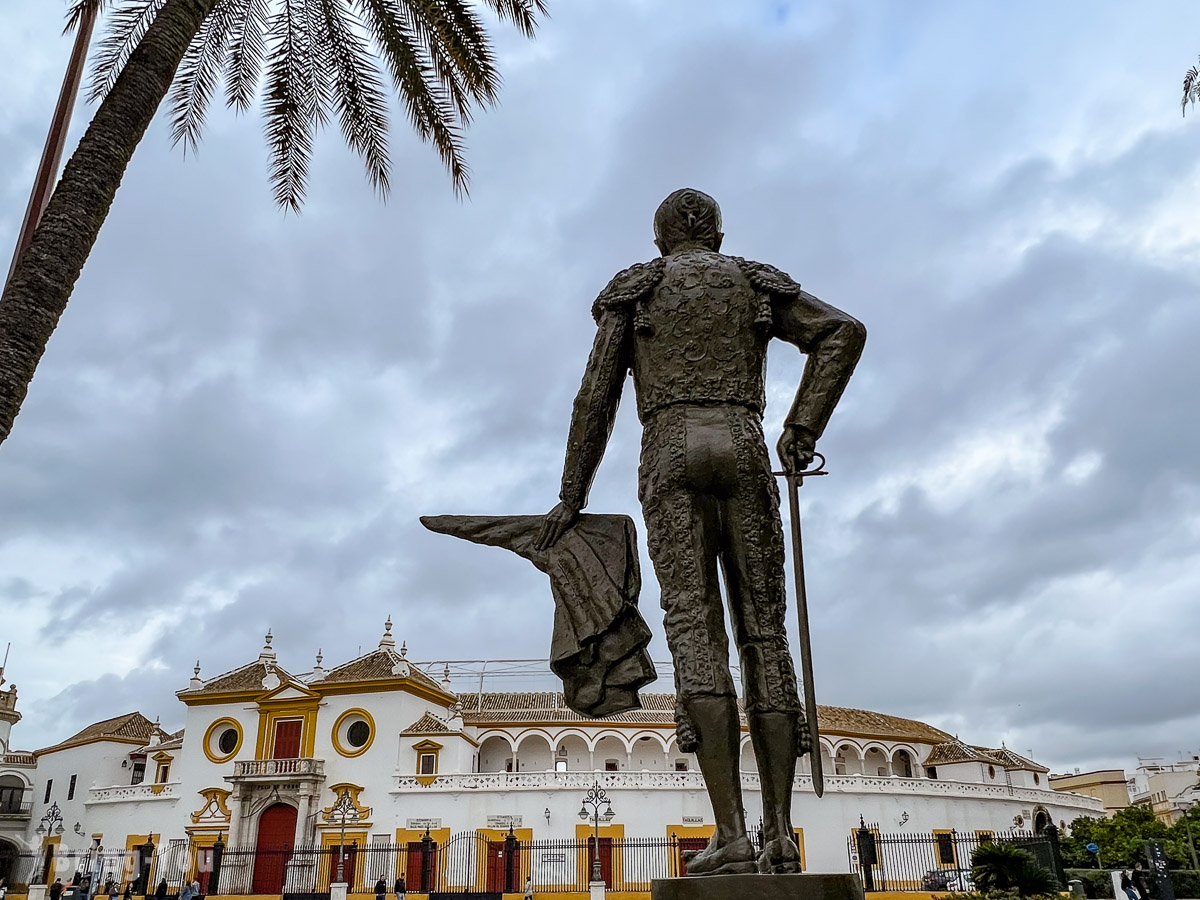 We're talking about Plaza de Toros de Sevilla, the largest bullfighting stadium in all of the country. Every year when festival week Feria de Abril takes place, the plaza comes alive again, with seats sold like hotcakes. To grab a ticket here, expect to pay around EUR 30 to 130 depending on the seat.
Otherwise, visitors coming to the plaza outside of this festive time frame can treat themselves to a look at the Museum of Bullfighting.
The Cathedral of Saint Mary of the See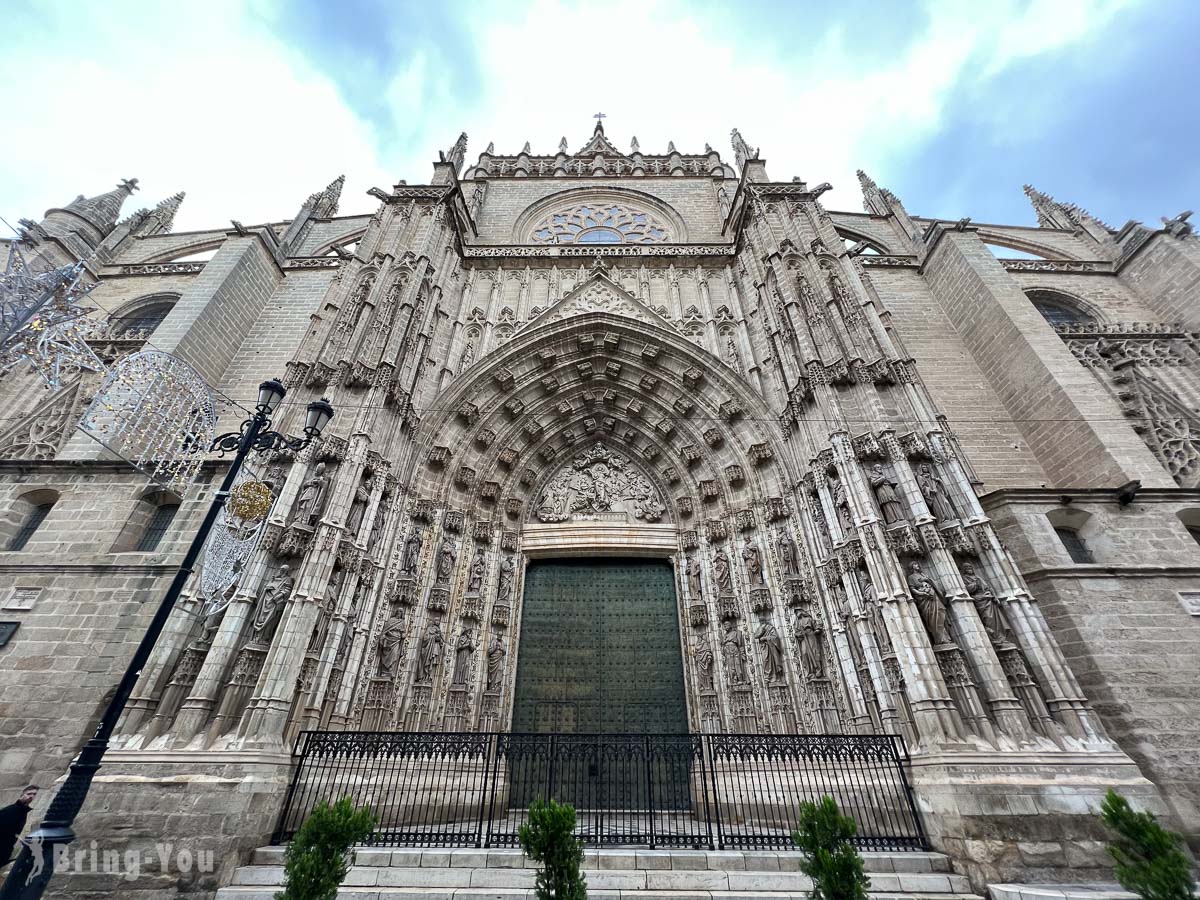 Known as Seville Cathedral for short, this incredible building is recognized as one of the largest Gothic churches in the entire world. Sitting on an 11,500-square-meter footprint, the cathedral has been around since the 11th century, holding notorious values that soon turned it into a UNESCO World Heritage Site.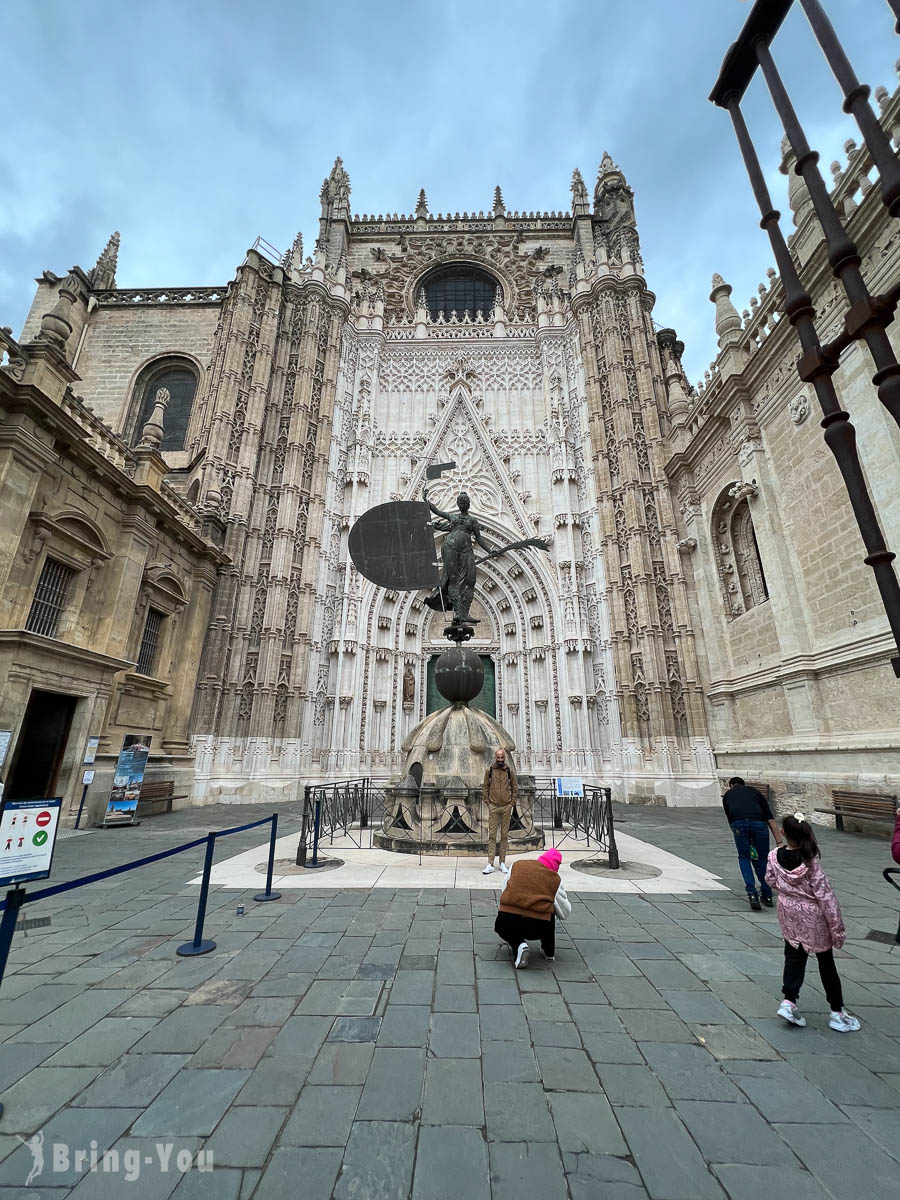 Little did you know that the Catholic church was once an Almohad mosque before 1248 following Ferdinand III's command.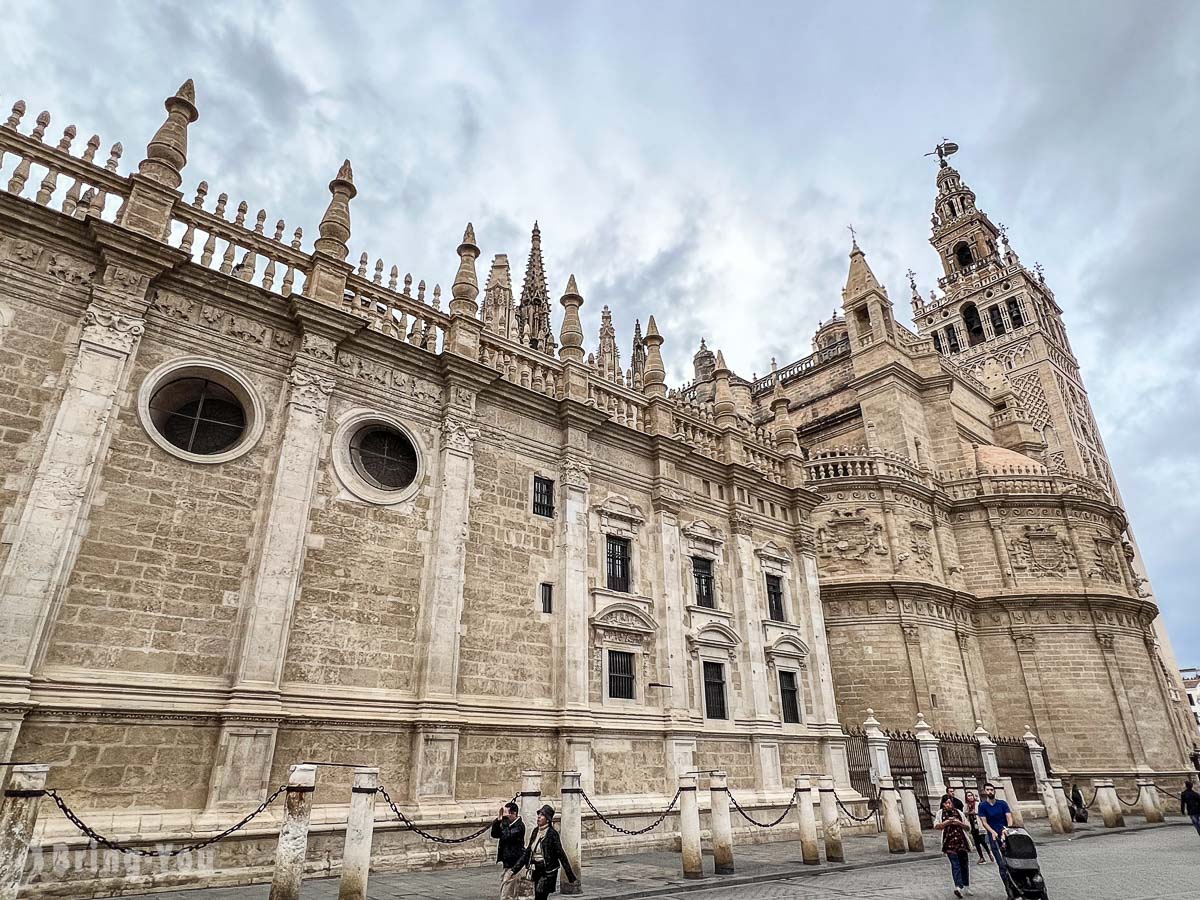 Metropol Parasol – The Mushrooms of Seville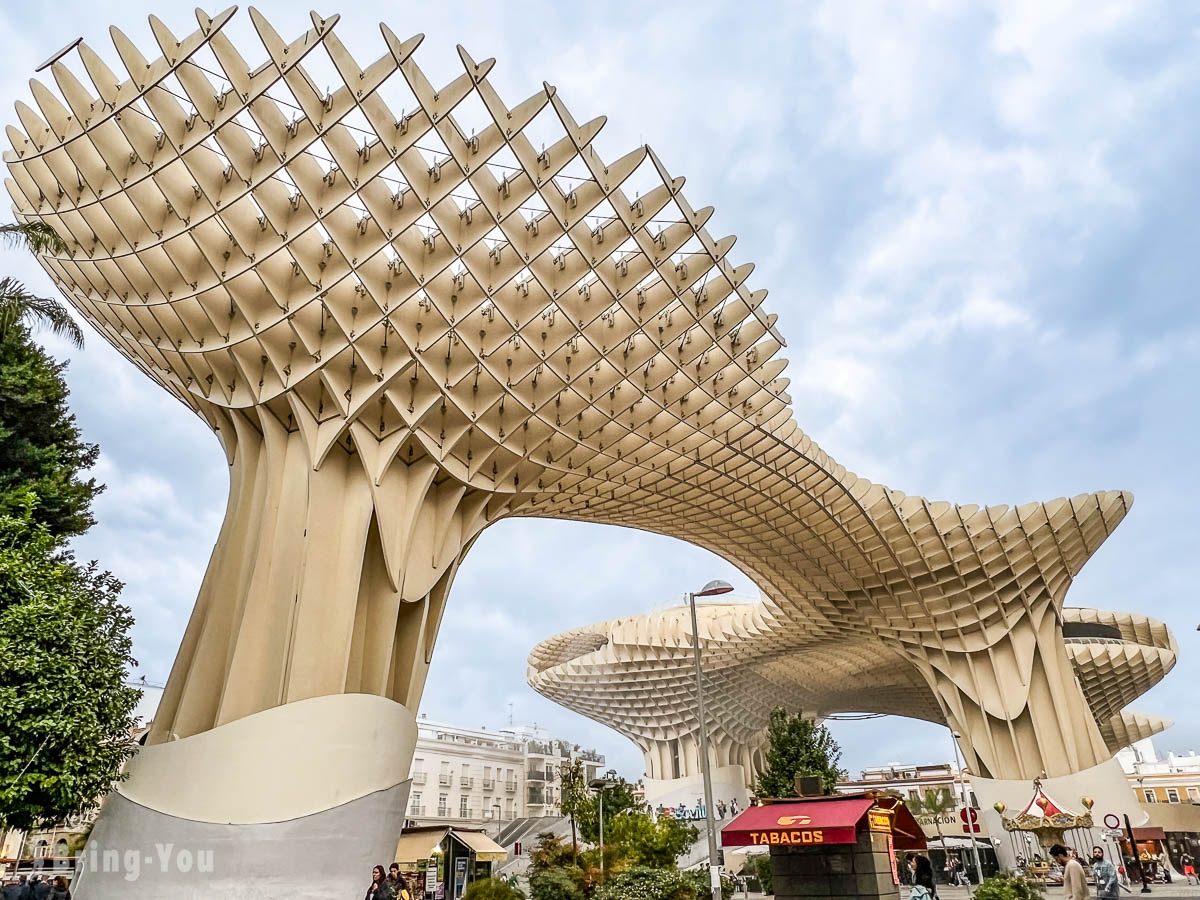 Last but not least, there's no better place to cap off your visit to Seville than this otherworldly-designed masterpiece. Metropol Parasol has been holding the title of one of the world's largest wooden buildings.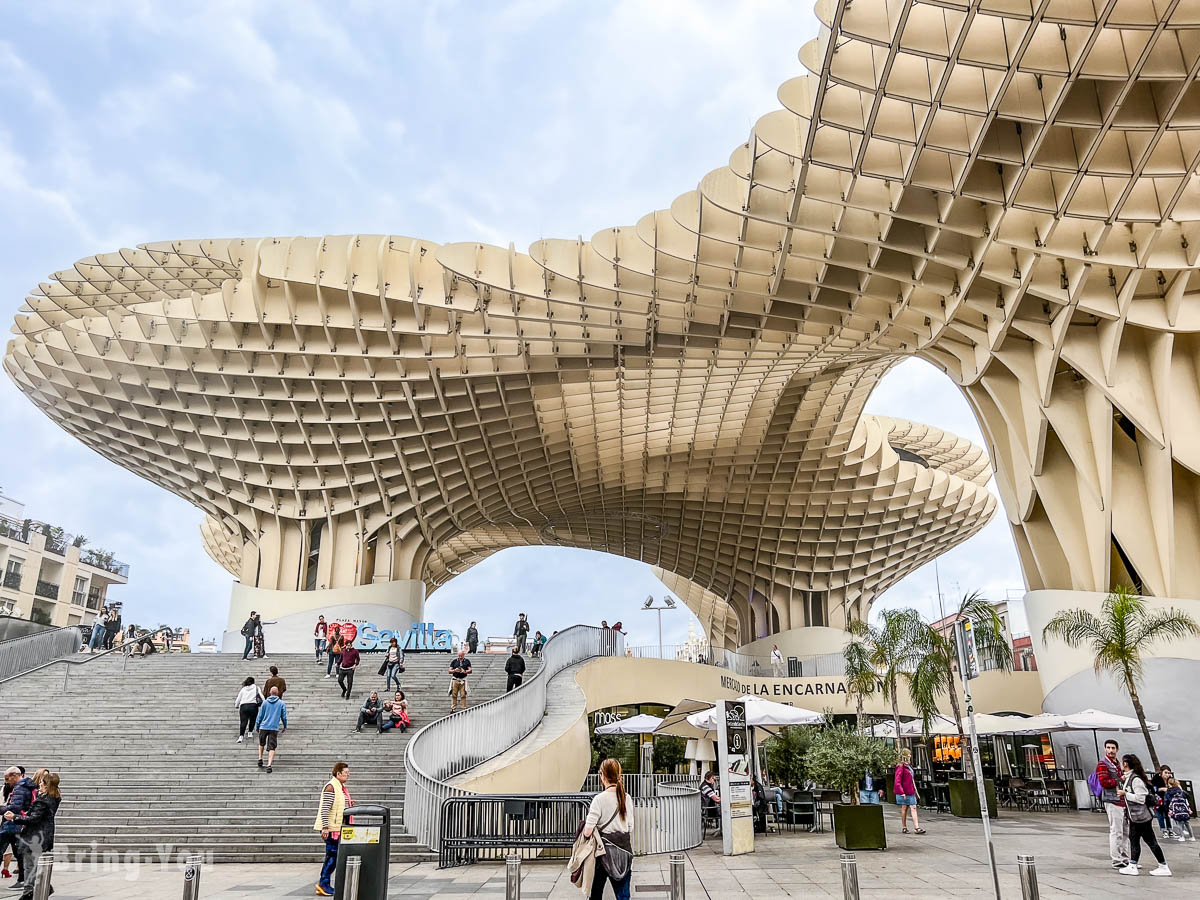 Going beyond a magnificent structure, Metropol Parasol is lovingly known as the Mushrooms of Seville, brought to this heritage city by the German architect Jürgen Mayer H.
The whole buildings occupy five different floors and six parasols, spanning its wings as high as possible that can be seen from any of the higher areas of the city.
Here, they set up a public market, an antiquarium at the below-street level, and a museum, as well as bars, restaurants, and plazas.
Seville's Best Eats At A Glance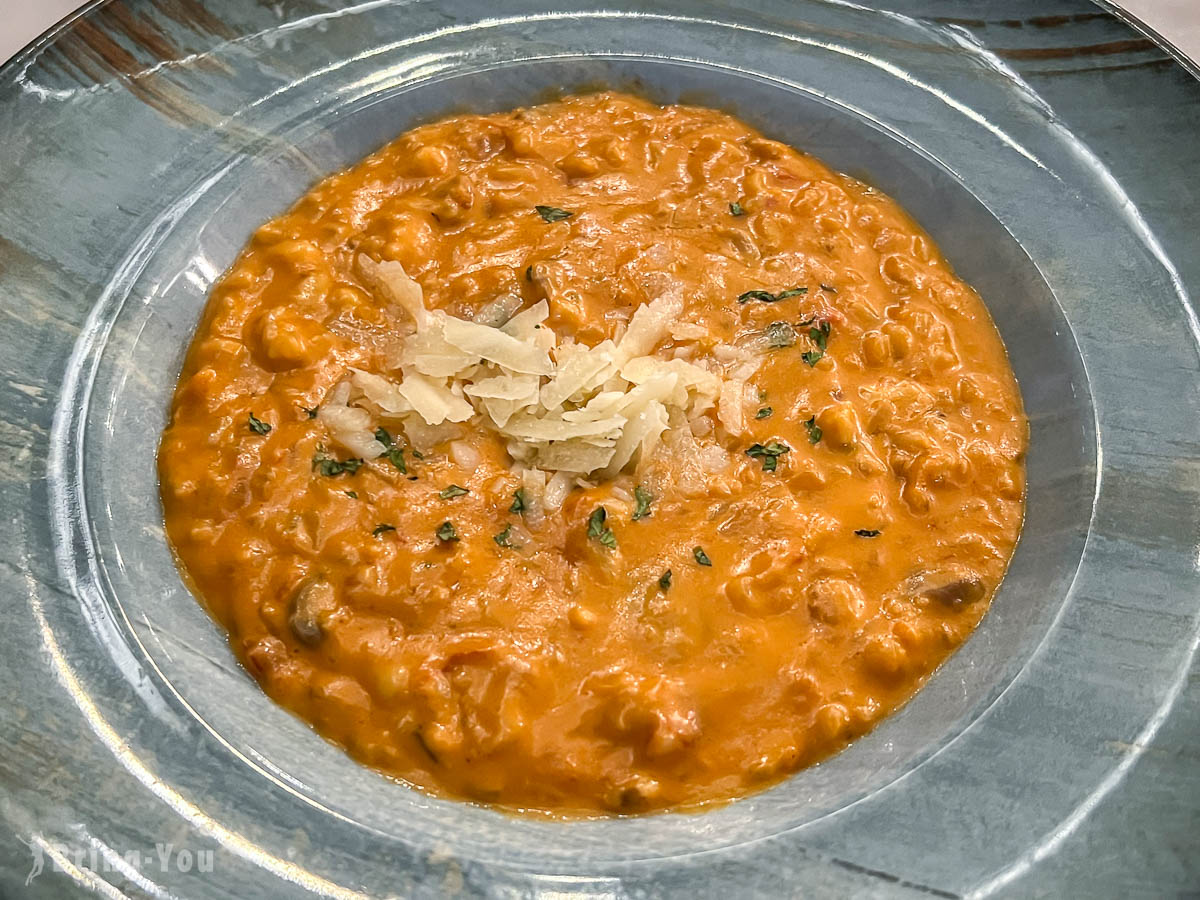 Wondering what's there to delight your taste buds in Seville? I've got you covered! From seafood to pork cheek, from torrijas bread to salmorejo, you name it. Here are my four favorite restaurants to delight your taste bud with stellar bites:
Victoria Eugenia: a modern, art nouveau dining hole serving traditional Sevillian cuisines such as Iberian pork cheek, Atlantic cod with cheese, and Salmorejo cold soup with diced serrano ham.
Dos de Mayo: a homey, heritage-feel eatery dishing up some of the most delicious tapas in town, artichoke with jamon, and Iberian ham.
Taberna Coloniales: a classic tapas bar that's been receiving love for years, introducing everything from steak with sweet potatoes and mushrooms croquette to pork honey and Iberian ham.
Bacalao Restaurante: a fine-dining bar and grill spot serving Mediterranean fusion dishes, five-star sliced cod with avocado and sweet balsamic sauce, ravioli, and risotto.
How To Get To Seville?
By Train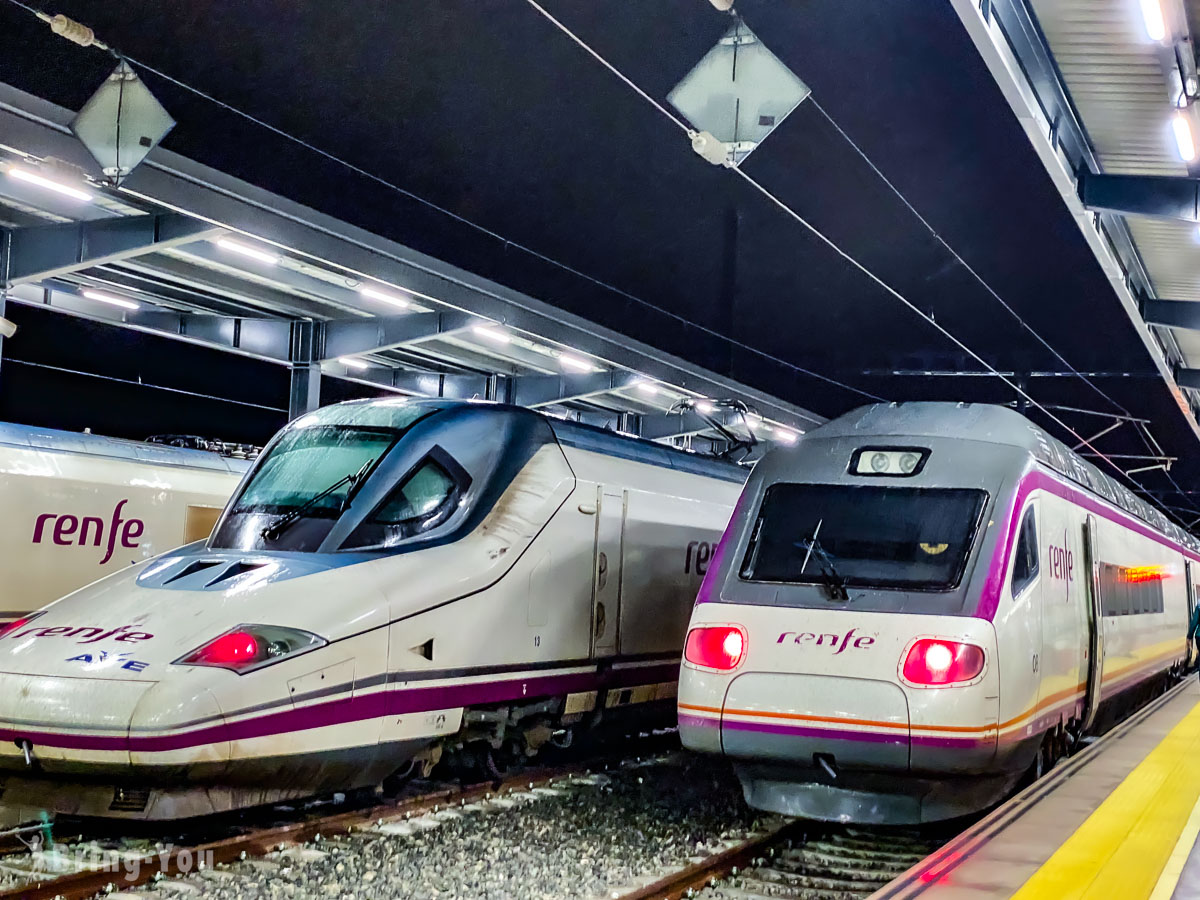 The best way to reach Seville from Spain or Barcelona is by train. It's faster and more straightforward compared to buses. Here, I broke down a brief checklist of average train duration from major cities in Spain to Sevilla Santa Justa Train Station. From there, it's only 15 more minutes by car to the city core.
The latest departure times and tickets are updated on Renfe (High-Speed Train) Official Website:
From Madrid: 2.5 to 3 hours
From Barcelona: 5 hours
From Granada: 2.5 hours on the Renfer's Avant Regional Train
From Cordoba: 44 minutes on the Renfer's Avant Regional Train.
By ALSA Bus
This is a long-distance bus that takes you from major cities in Spain such as Madrid, Barcelona, and Valencia and the Andalucia region to the Plaza de Armas Station. The station is about ten minutes on foot to the city core of Seville.
The latest departure times and tickets are updated on ALSA Official Website:
From Madrid: 6 hours and 20 minutes
From Barcelona: 15 hours
From Granada: 3 hours
From Cordoba: 2 hours.
2 Best Ways To Get Around Seville With Ease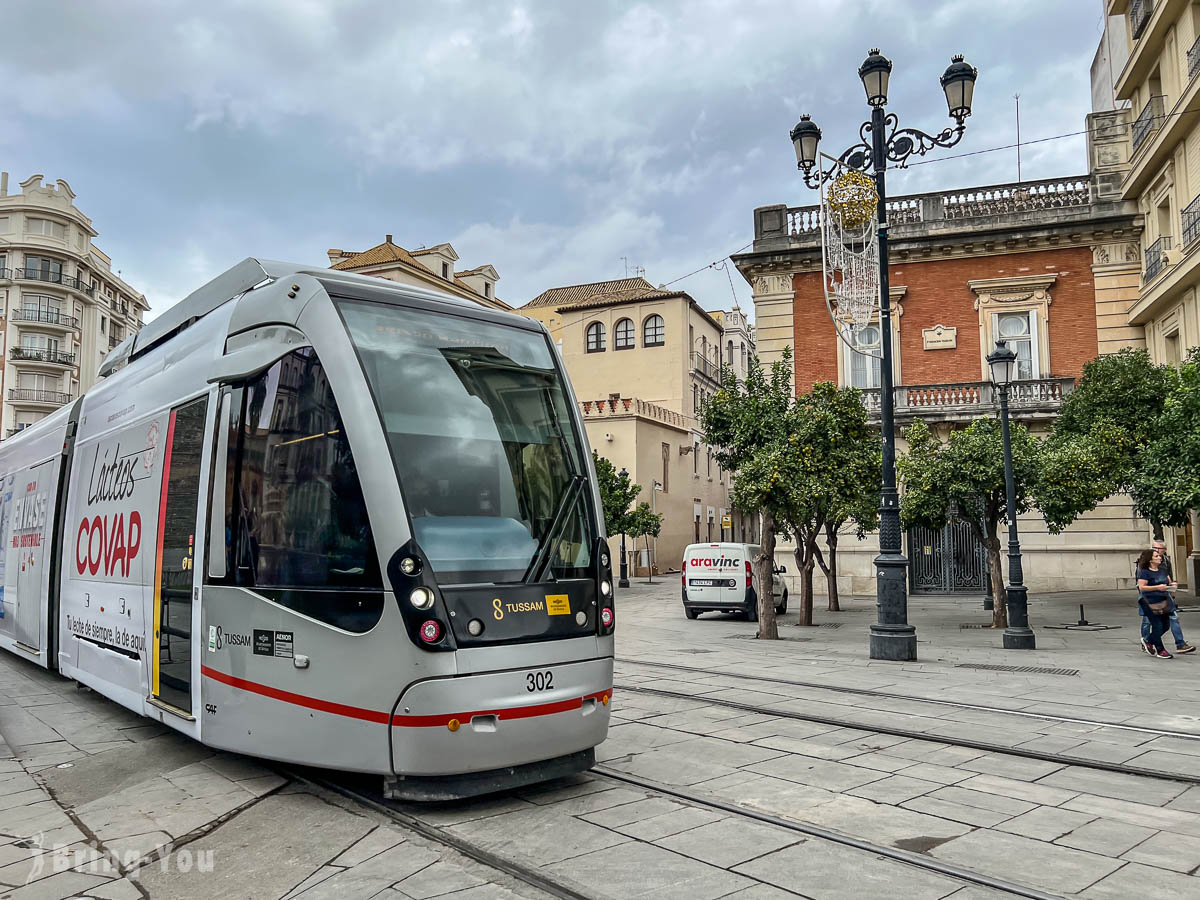 By TUSSAM Bus
TUSSAM is the leading bus company in Seville that manages over 50 lines within its intercity network. Each TUSSAM line has its own schedule, with a mobile app you can download to check the timetable and routes. You can either pay by cash or obtain one of these two cards: Seville Multi Card and Tourist Travel Pass. Each card/pass grants you a certain number of trips. They are rechargeable and you don't have to keep small changes in your pocket.
By Subway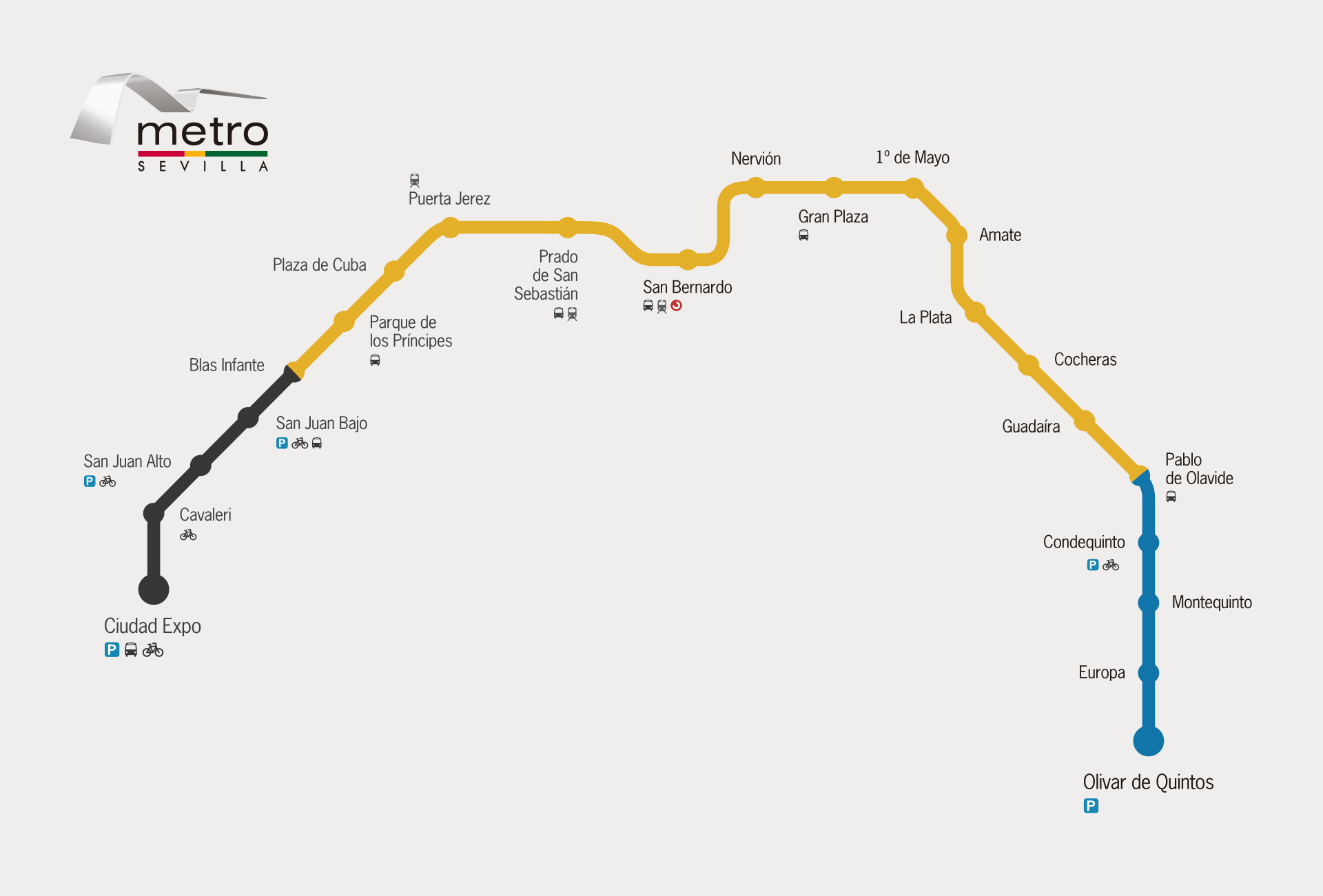 The subway in Seville operates one line only, connecting the East and West areas as well as crossing through the city core. The nearest station to the city center is Puerta Jerez which is about five minutes from the Alcázar of Seville.
Seville is definitely a highlight of your trip to the Southwest of Spain, making it a great stopover to hop between Cordoba and Granada, or even as far as Madrid thanks to easy access by bus and train. My final takeaway here is that Seville is a great city for big foodies and romantic travelers with an eye for seductive architecture.