Fascinating and interactive, teamLab Borderless is nothing like what we experienced before. It redefines how Japanese innovation can evolve over the time. teamLab Borderless is one of the most popular things to do in Tokyo where the game of futuristic digital art, emotions, imagination, and innovations blend into one.
teamLab Borderless is definitely a cool spot to check out and it's even better if photography is where your hearts are! To give you an overall and insightful look here's our handy guide for teamLab Borderless if you're new to the scene!
teamLab Borderless: Unleash Your Imagination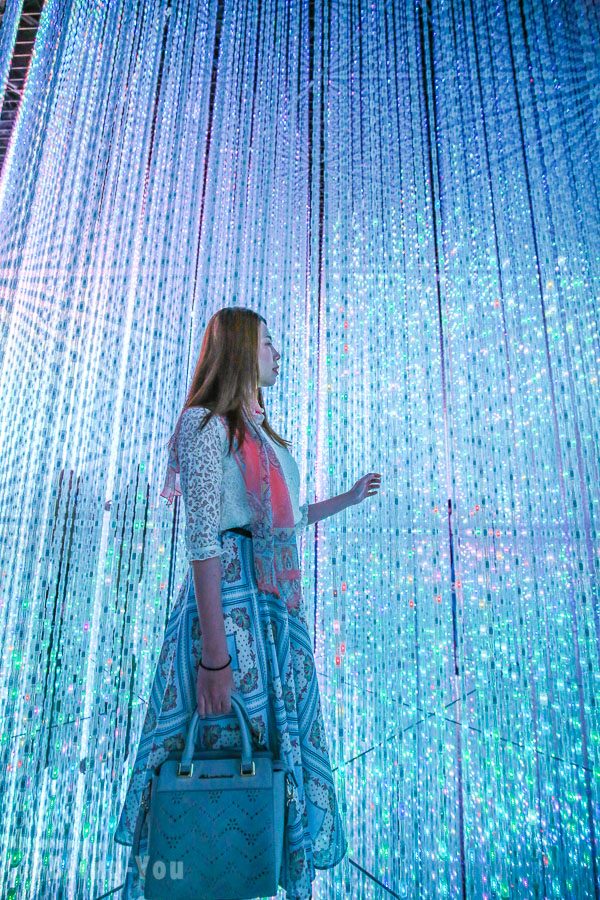 It goes without saying that Japan is home to some of the coolest innovations on the planet. And talking about creativity, teamLab Borderless is one of the most visible proofs that redefine the way we enjoy art. Everything about teamLab Borderless is beyond imagination. Basically, teamLab Borderless is an interactive and immersive digital art world. The site is divided into five main sections:
Forest of Resonating Lamps
Borderless World
Athletics Forest
Future Park
EN Tea House
To be honest, figuring out which room is which is almost impossible – because this is a borderless world! You can't even find an exit way for each of the rooms so don't even bother! You'll be fine!
teamLab Borderless has two stories with the first floor being where the Borderless World is located. I spent pretty much three hours wandering around the rooms including photoshoots. A lot of people stay even longer due to the insane queue. If you wish to cut down unnecessary time waiting for the lines to get in, buy a ticket online like what we did (more details below) and save more time for other activities outside of teamLab Borderless.
*Highlights of teamLab Borderless
Borderless World
Universe of Water Particles on a Rock where People Gather.
Athletics Forest
Future Park
EN Tea House
Essential Tips to Keep in Mind before Visiting teamLab Borderless: Know Before You Go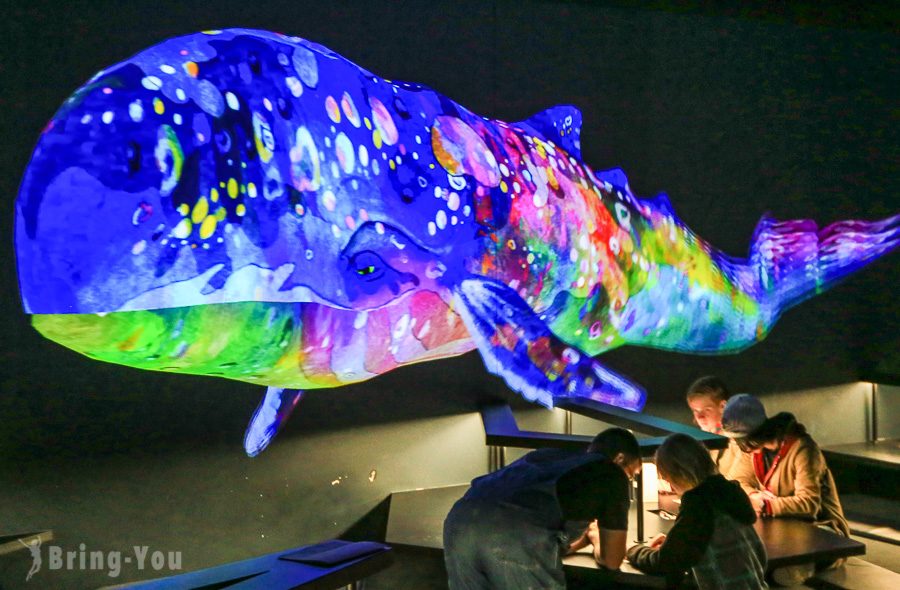 Where Can You Buy Tickets to teamLab Borderless?
If you think you can just queue and buy tickets over the counter upon arrival, you're wrong! Tickets are sold out like hot cakes almost every day and so it's wiser to reserve tickets in advance. You can just do it at home with your phone or laptop!
If your vacation falls on holidays or weekends, buy your tickets online just like we did around one month beforehand. We bought it for a weekday visit, which has no assigned time and so we could easily drop by anytime we're ready in the day within the opening hours.
When you get the online tickets in your hand, all you need to do is swipe the QR Code at the check-in counter and enter the site without lining up!
What Is the Best Time to Visit teamLab Borderless?
We would say weekdays instead of weekends. We visited teamLab Borderless first thing in the morning and late afternoon when the crowds thin out. Of course, the queue is somehow better than when you try to sneak in during weekends and holidays.
However, the rooms (or worlds) are jam-packed with visitors on holidays and weekends. And for that reason, taking pictures is not a seamless experience when you have "non-invited" visitors filling up your background! Pardon us when we say that but yeah – you know what we mean!
What to Wear When Visiting teamLab Borderless?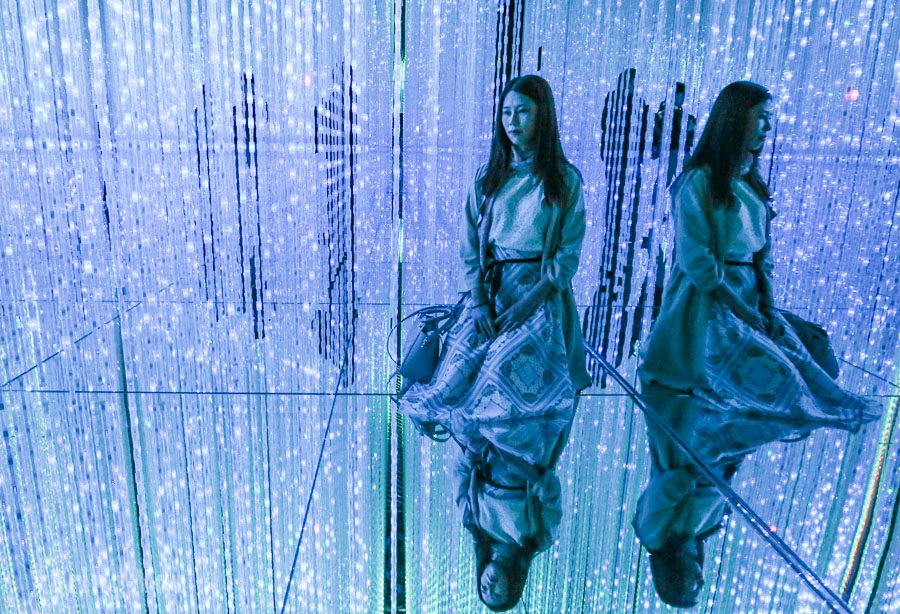 Wear something that makes you comfortable moving around like pants and sneakers. Long skirts and dresses are just fine if they coordinate with the background, but make sure it's not too revealing or accidentally exposing when you walk on the mirror flooring.
White clothes perform very well as they make you stand out in the dark rooms. For shoes, put on flat shoes like sneakers, ballerina flats, or at least wedge shoes if you want to look chic for the shoots.
Photography Tips
Large items over 50cm are not allowed into teamLab Borderless and must be kept at the locker to avoid banging on the backs of other visitors. For the best shots, avoid using flash as some of the dark rooms will have flashing lights installed on top.
Tripods, monopods, and selfie sticks are prohibited. This is to avoid chaotic and dangerous circumstances given that many people are walking around the room at the same time.
How to Get to the teamLab Borderless?
teamLab Borderless is located on the second floor of Palette Town in the heart of Odaiba. For those who are new to the city, Odaiba is a man-made island in Tokyo Bay and you can easily get there by riding the subway.
First off, get on the Yurikamome Line which hails from the Shimbashi Station. Get off at the Aomi Station and walk for five minutes further passing the Toyota Showroom to get to the entrance of teamLab Borderless. Over there, you would see the entrance right under the giant red Ferris Wheel.
This Is the Route We Tried When Visiting teamLab Borderless
Borderless World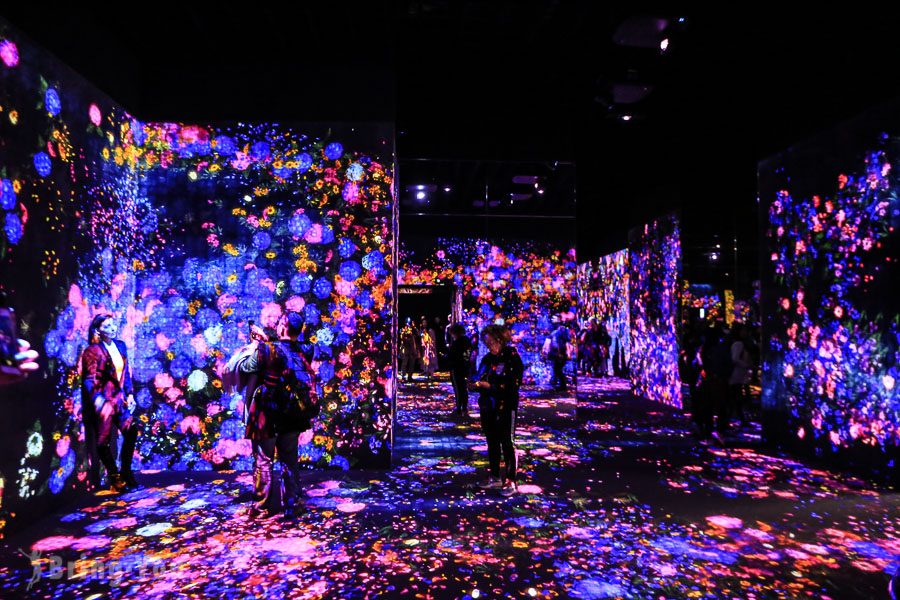 The first room you enter is "Borderless World." This is basically the largest section of all with the main room being the Universe of Water Particles on a Rock where People Gather. Instead of throwing a bunch of fancy words, the name perfectly describes what this room is all about.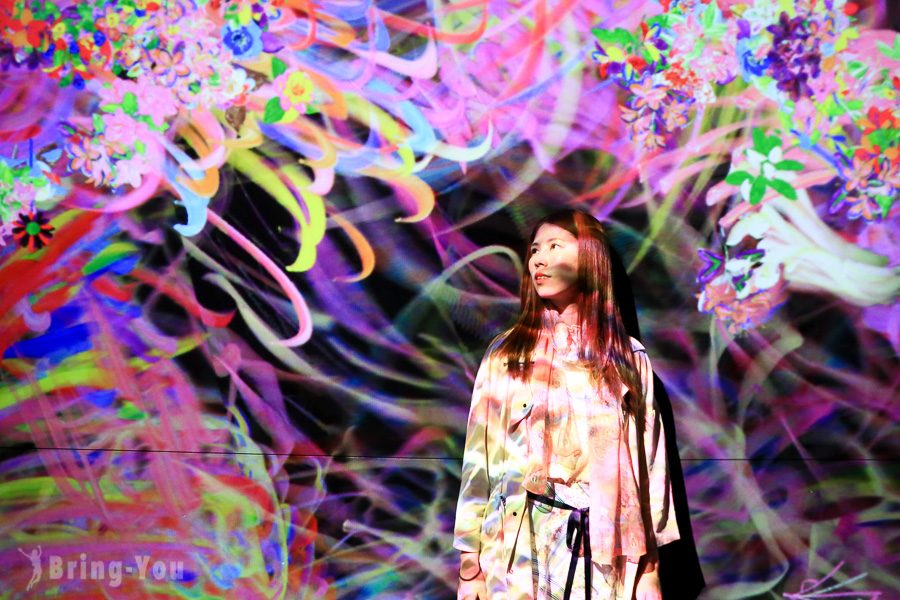 So instead of twisting your tongue trying to pronounce the whole name, pop into the room right away and you will be greatly impressed! It's a visual illumination and so it pretty much depends on how far your imagination goes.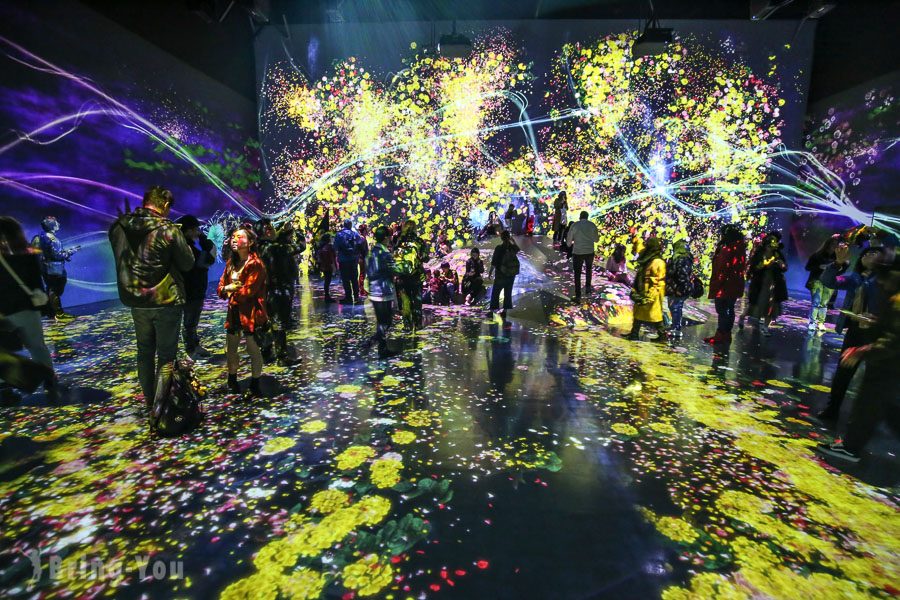 For us, the light show on the wall brings you to a gigantic waterfall where the cascading curtain of water blends with flowers, fireflies, and leaves. Meanwhile, some may say it looks like the falling rain which transitions into the falling leaves.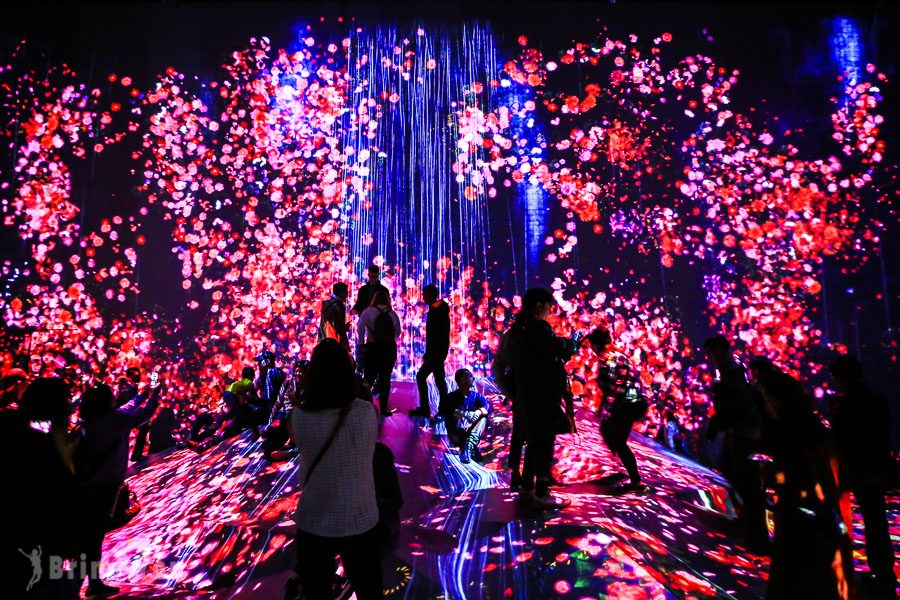 Crystal World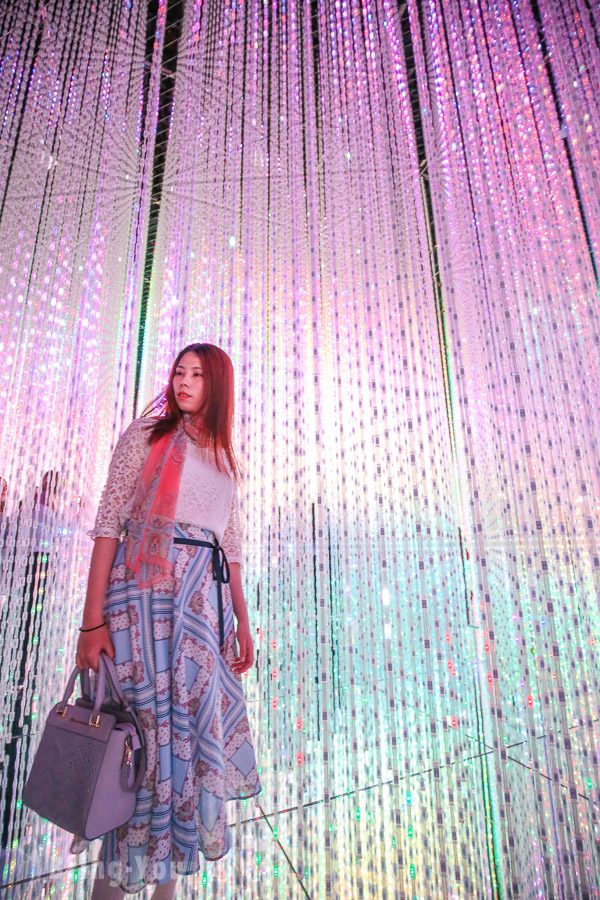 Crystal World is one of the most popular rooms. The room has been taking the world by storm for a while thanks to its mesmerizing LED strands hanging from the ceiling, which coordinates stunningly with the mirror walls all around. You would feel like a fairy or angel stepping out of Mount Olympus as the background music changes in sync with the lights. One little reminder: the floor is a giant mirror itself! So don't dare to put on a skirt or dress if you don't want to expose yourself!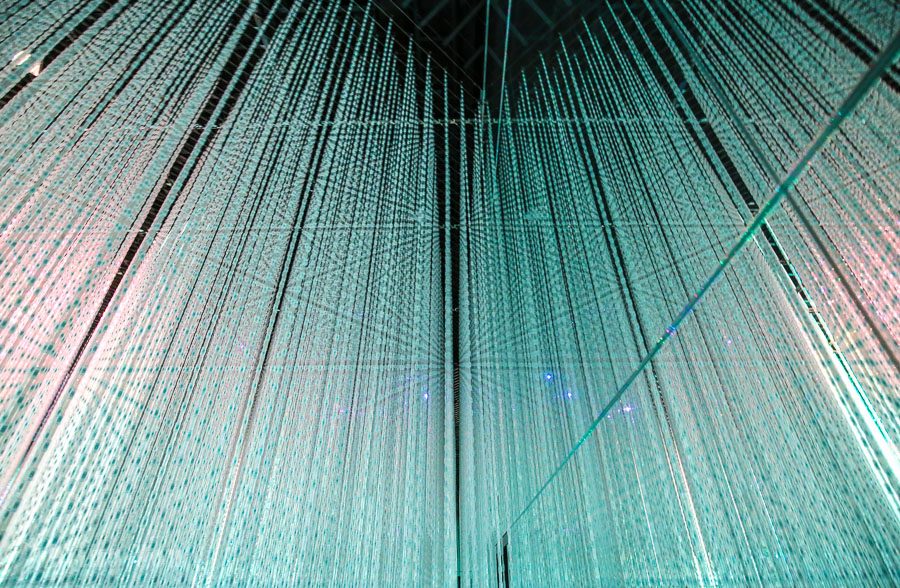 Forest of Resonating Lamps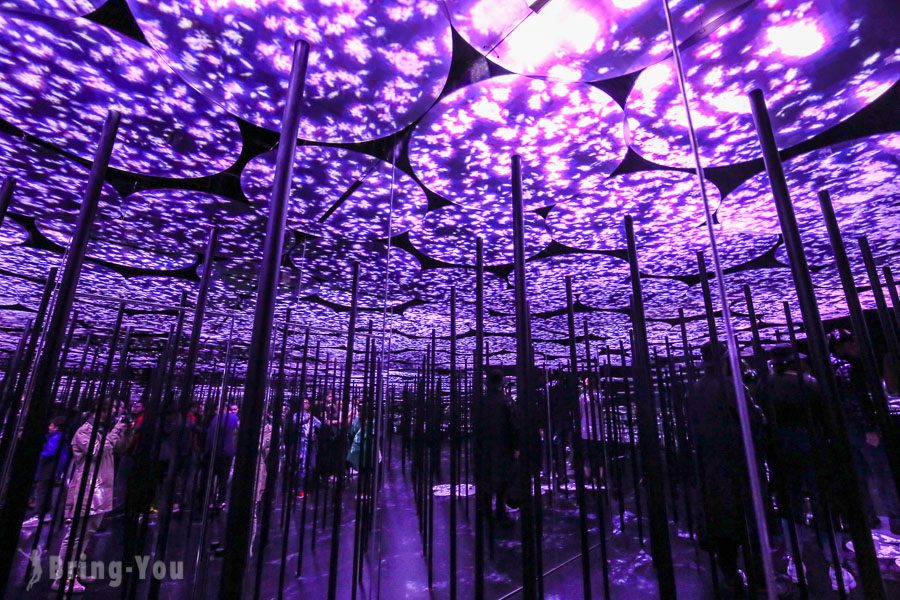 Athletics Forest
Get ready to indulge in the most enjoyable exhibition of all rooms! Athletics Forest will fit the bill if you tag your kids along. Multiple sections are co-existing in the same forest. A part of them is called Future Park with cute installations where dwarves go jumping around and climbing all over the objects. Then we have a Sketch Aquarium where your little ones randomly draw some aquatic animals on the walls with a stencil.
Once they're done, the fish will automatically swim and float all over the walls. You can also let them run wild on the top of the illuminated trampolines or swim with the whales. There's also a climbing wall where you can work your core with your little ones or simply take a few shots of this mysterious world!
Make your way to the Light Forest with 3D Bouldering next! This is also part of the Athletic Forest where you can walk and climb around the tree stump-inspired poles lit up with colorful lights. Staff will hand you a receiver of your chosen color. Hold and carry the receiver along with you as you cross and climb through the poles.
At the end of the journey, this receiver will map out a new path for you. It's pretty fun indeed and you can treat it as a creative workout as well!
En Tea House
Would you like a cup of tea and let the lights delight your taste buds? Well, drinking lights is not only worth an imagination because teamLab Borderless can turn everything into reality! En Tea House somehow reminds us about Noir: Dining in the Dark back in the days we were in Saigon, Vietnam where you dine in a completely dark room.
En Tea House is an upgraded version of Noir because the only things that amaze you are not only the flavor of the drink or the food but also the illumination display. After choosing your favorite green tea, have it served in front of you in a dark room.
A few seconds pass by and you will see flowers bloom in your cup. Once you pick it up, the flowers and leaves will be scattered onto the table and float to the walls.
Is teamLab Borderless Crowded?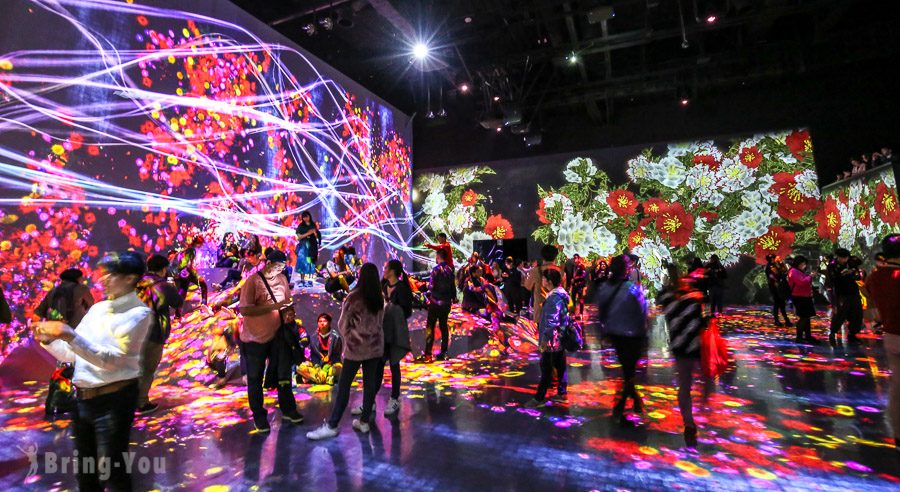 Yes – simple as that! Not only is it crowded but the tickets are also sold out fast. And so if you want to dodge the crowds, buying online tickets is highly recommended. The crowds will hit the peak when it's getting closer to noon and thin out before the sun beams down.
Lucky for us when we avoided weekends and saved it for one of the weekdays, which we think you should do the same. If you combine teamLab Borderless as part of a sightseeing tour, make it first thing in the morning! Start as early as you can and you won't be disappointed!
Conclusion: teamLab Borderless Worth It?
Of course! teamLab Borderless is totally worth a try (even second and third visits) if you're into photography and aspiring to learn something new. As the themes and topics will change every now and then, you will discover something new every time you drop by and there's nothing repeated. All you need to do is review our tips above, choose the right outfit, buy tickets in advance, learn some photography skills and you're good to go!