Located in the southwest of Europe, Portugal lies along the Atlantic coast of the Iberian Peninsula. Scattering around the country of over 10 million people is a myriad of historical buildings dedicated to the primary architectural styles, an extensive range of sun-drenched beaches, and thriving vineyards. To bring you the most enjoyable vacation, we are here with the 15 best things to do to quench your thirst for travel.
Portugal – A Medley of Natural Wonders and Historical Values
Portugal and Spain usually come in a duo as the two countries share many common grounds. The lively festivals, gooey hot dogs, awe-inspiring landscapes, and striking surf sports contribute to Portuguese identity.
In 2019, nearly 28 million visitors popped into Portugal to share a slice of its authenticity. Amongst the top destinations in Portugal, Lisbon and Porto seem to take the lead. However, there is so much more exceeding the borders of these two cities to put down your bucket list.
Portugal is truly a fine gem of Europe, and you can even say that it is an off-the-radar destination. However, once you give it a chance and spend around one to two weeks for the entire country, you'll definitely want to come back for more. It has all the ingredients to be a dreamy getaway. Island-hopping, hunting down the food, Port wine, historical buildings and many more are waiting to be explored!
15 Must-Do Activities for a Thorough Glimpse of Portugal
Make a Day Trip to Porto
It's a no-brainer to claim that Porto is one of the most visited cities in Portugal. Its identity lies amongst the strong kick of Port wine, striking arts of historical buildings, and the classic beauty of Porto Old Town.
Porto has become a top destination for architecture lovers with an extensive display of Beaux-Arts and Baroque churches and palaces. Looking for a decent place to treat your belly, then Porto will fit the bill with its generous source of freshly-caught seafood off the Portuguese coast. For all those reasons, Porto sometimes outweighs Lisbon in terms of authenticity and traditional sense.
Admire the Timeless Art of São Bento Railway Station
Buckle up before entering São Bento railway station! We're saying this because you'll have your mind blown! This never-before-seen train station is a striking piece of art that puts Portugal on the map of passionate art lovers.
Going strong since 1916, São Bento Railway Station is a timeless accent of Porto District. Nestled on the site of a former Benedictine monastery, São Bento lives out the gloomy and nostalgic vibe of the land.
The real hook lies in the interior design where over 20000 tiles cuddle the wall and pillars, reflecting the vivid history of Portugal. São Bento is still in function up to now and you can easily visit the Douro Valley or its surrounding areas just by taking a train from São Bento.
Stock up Your Instagram with Capela Das Almas
Another highlight that Porto has to offer, Capela Das Almas is dubbed as Saint Catherine Chapel whose history rewinds to the 18th century. Its striking, vintage exterior will catch your eyes in no time.
The building is covered in traditional azulejos to deliver such a stunning artistic value. Capela Das Almas is located vividly at the corner of the busy pedestrian Santa Catarina and surrounded by many hotels.
If you're a first-time visitor, you can never give Capela Das Almas a pass. The intricate blue tiles laid on the rustic walls serve as a candid backdrop for any Instagram shot. Make your way indoor and be amazed at the Neoclassical style while the image of Our Lady of Souls stands at its heart.
Drink like a King at Café Majestic
Standing as a symbolic historical building at Rua de Sana Catarina, Café Majestic adds a touch of antiquity to your visit to Porto. The building is a historical café which has been perfectly preserved to indicate the timeless Art Nouveau.
The dining space indoors is too good to be true! It transports you back to the golden era of Europe and makes you feel like a muse in the middle of a hot sunny day. Embellished with carved wood, mirrors, and dazzling chandeliers, Café Majestic washes your artistic souls with prancing cherubs and stunningly gilded woodwork. If you come over when the sun beams down, you may also like to take a seat at the airy patio and watch the people passing by.
Here's the World's Coolest Bookstore – Livraria Lello
Visiting a bookstore on a vacation is barely jotted down on tourists' bucket list. But trust us on this one, Livraria Lello is about to change your mind!
Tucked away in the hustle and bustle of the civil parish of Cedofeita, Livraria Lello screams out Gothic style on the outside while reinforced concrete speaks for a state of the art on the interior. Dating back to the 19th century, Livraria Lello is perceived as one of the world's coolest bookstores by noble media houses including Travel + Leisure, CNN, and Time Magazine.
The mashup of Art Nouveau, Neo-Gothic, neo-Manueline, and Eclectic styles surely bewitches all types of visitors. You'll be mesmerized at the striking crimson staircase and hooked by the jaw-dropping stained glass ceiling. Entrance costs a fee but it's worth more than what you pay for!
Sintra – Alice's Wonderland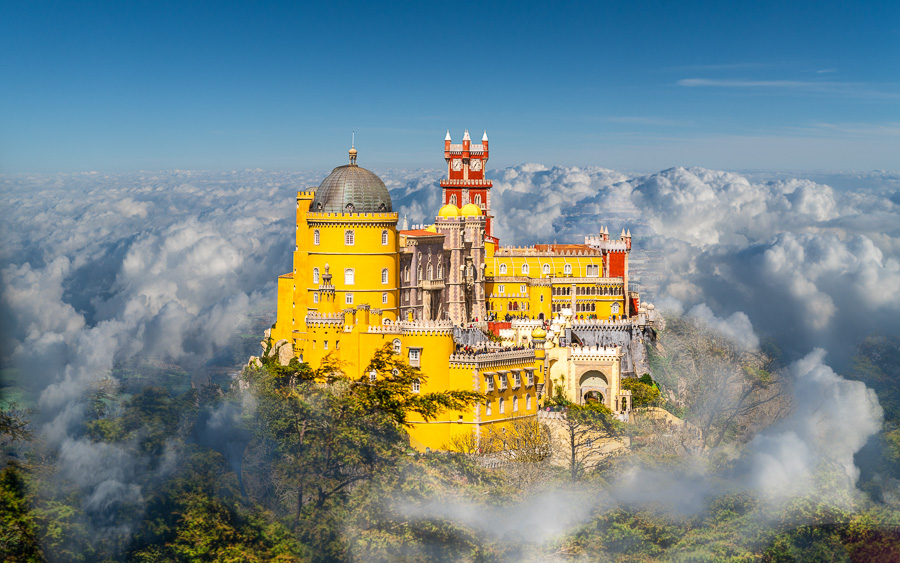 Portugal is no short of magical attractions, and once again, Sintra is a great contribution to this curated list. Featuring fairytale-like castles and charming, fiction-like gardens, Sintra is a magnetic field that keeps pulling you in for numerous visits.
This quaint, peaceful Portuguese town is tucked away in the cooling hills of Serra de Sintra. A stroll around Sintra is a step into Alice's Wonderland. Immerse into the whimsical palaces and stellar mansions nestled beside the ruins of a Moors castle.
A trip to Sintra cannot go without an insight into Palácio Nacional da Pena. This extravagant palace is the top of the crop for history buffs with its interesting story about the Portuguese nobility.
Go Island Hopping at Deserta Grande
The waters always cast a spell on our wanderlust souls, and it's a huge mistake to forget the natural wonder of Deserta Grande. This is a part of the Desertas Archipelago perched on the eastern tip of Madeira Island.
Mother Nature never disappoints us – and right here at Deserta Grande, you will have a chance to explore the tremendous rock formations soaked in spectacular colors and patterns. You can choose to come over to Deserta Grande on a private yacht to indulge in the serene ambiance this body of water offers. An early morning voyage to the island provides a clear glimpse into the mystical cliffs shrouded in beautiful mist. Which appears to be a gorgeous contrast to the navy shade of the sea.
An Organic Day at Fajã dos Padres
Get on a boat or ride the cable car down an enormous cliff to Fajã dos Padres! What is Fajã dos Padres all about, and what does everyone jot it down their bucket list?
This otherworldly organic farm steps out of your childhood fairytale and becomes a real paradise on Earth. Spanning over a large strip of land that fell off the mountain and perched to the sea, Fajã dos Padres is a perfect getaway to enjoy a nice gourmet lunch with a scenic nautical view. The lapping waves kissing the shore makes a poetic ambiance.
You can also join a guided tour to learn about this organic farm, horticulture and sample the freshest seasonal fruits before a decent meal at the on-site restaurant.
Sample that Gooey Portuguese Hotdog
Face it, hotdog is one of our favorite comfort foods around the world. If you're tempted by that gooey hot dog down the street of New York, it's time to linger that vibe with a big bite of Portuguese hotdog!
Our favorite place to sample this hearty bite is Porto. A traditional Portuguese hotdog comes out in a thin toasted bun stuffed with handmade sausages and melted cheese. Each portion is generous and before you indulge your hungry tooth in it, they will slice it into smaller pieces.
Imagine coming with an empty stomach and an open heart! Then that gooey blanket of butter and spicy sauce blends beautifully with the savory filling inside to wake up your taste buds!
Reconnect with Nature at Sete Cidades Lagoon
Next up in our collection of Portugal's best activities is hitting the lagoon of Sete Cidades. This breathtaking fjord is separated into Blue Lagoon and Green Lagoon. Enclosed by a thriving, fresh green space, Sete Cidades is a top call for all nature photographers out there.
There's a plethora of outdoor activities at its disposal. You can embark on a short hike around the circular trail of Sete Cidades, ride the waves on a kayak or navigate the water with your paddleboard. Canoes are also available for rent in the area so if you're after an adrenaline-filled water sport, canoeing will come in handy.
Rock the Lively São João Festivals
It's time to sway your hip to the upbeats of São João ladies and gentlemen! One of the most talked-about festivals in Portugal is the Catholic festival of São João. Celebrated in mid-summer, São João is a lively festival that pulls in a great drove of tourists and expats to Porto hoping to share a slice of its traditional rituals and gastronomy.
This is a haven for big foodies to munch on some grilled sardines, pork sandwiches, and spare ribs, while grilled peppers and tomato salad balance out the overall tasting profile. You can pop into a local friend's house or reserve a table at a restaurant. The dinner is followed by a firework show at D. Luiz bridge, a long stroll to Matosinhos beach, and street dance performances.
Sip on the Famous Port Wine
Port wine – now we're talking! Dubbed as Vinho do Porto, Port wine refers to the most famous fortified wine taking root in the Douro Valley. Port wine is a type of dessert wine made by adding grape spirit or brandy during the making. Even though red is the most common Port wine but you will also spot them in white and rose.
You can spring into a local independent store to find a good deal and enjoy in your hotel room when the sun beams down. Even better, opt for a fine-dining experience and pair your favorite BBQ with a glass of Port (or two).
Munch on Pastéis de Nata
Portuguese custard tart is no joke! Once you have one bite in, you don't want to finish! Known as Pastéis de Nata, this is an egg custard tart pastry dusted with cinnamon. Each tart is addictive because the blistered, caramelized custard really gets you hooked while the flaky golden brown puff pastry is just so crispy.
Those Pastéis de Nata are very common and you can find them in any city you visit. All you need to do is ask a local guide or friend to show you the best spot!
Brace the Best Waves of Portugal
Portugal is known as one of the top places in Europe for surfers. Stretching over 943 kilometers of coastline, Portugal is no short of serious waves to level up your skills.
If you're a novice, hit up with the continental coast of Portugal as its year-round consistency will be a perfect stage to get down and serious. Meanwhile, Algarve, Alentejo, and Porto invite some of the biggest and beautiful tides where you can brace the waves in a scenic landscape. The peak season for surfing in Portugal is summer even though the decent surfing time lingers out of summer when the weather is a bit chilly.
Azores Island – Plunge in the Waters, Hideout to the Woods
The archipelago of Azores is dotted with whale and dolphin watching tours every year. Going beyond the border of the islands is a paradise for the outdoorsy. You can get on the hike and forest bathe in the woods, walk around the villages and cliffs or take a plunge for snorkeling and diving.
Azores reflect the best beauty in summer and early autumn. This is when the high temperature calls for an outing day to the beaches, the clouds are fewer revealing the high blue sky. To make the most of your experience in the Azores, you can either spend up to three days or even a week for São Miguel, the largest island of the Azores.
No matter how many times you've visited, these 15 things to do in Portugal never disappoints! Share this list with your friends and tell them how much you love to go on a trip with them!