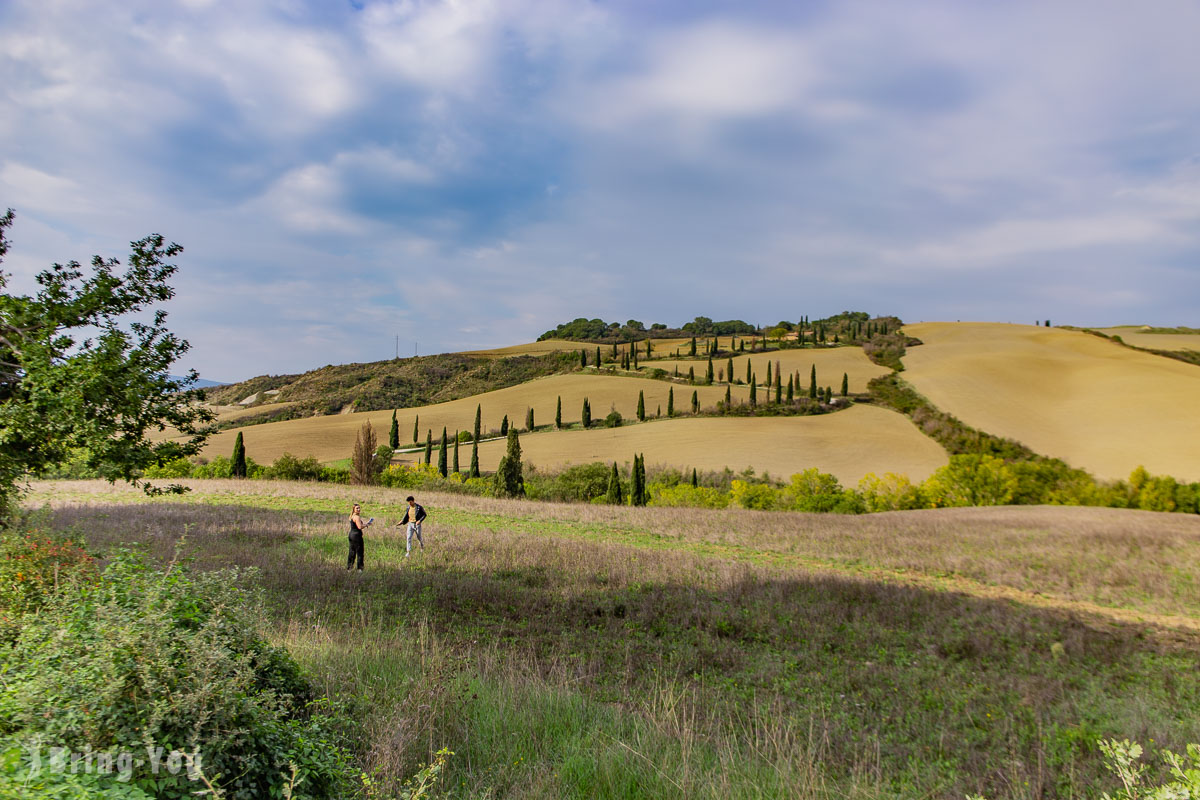 Tuscany lies in the heart of Italy. Its northern regions are adorned with vineyards and forests, while its southern expanses boast fields of golden wheat embraced by valleys and rolling hills.
Traveling through Tuscany leaves an indelible mark on every wanderer's soul. The leaning tower of Pisa stands as a whimsical wonder and the enchanting Portofino Bay beckons with its allure.
Lucca, a town guarded by majestic walls, and the rural landscapes, resembling painted masterpieces, add to the charm of this place. Many visitors liken it to a paradise forgotten by time.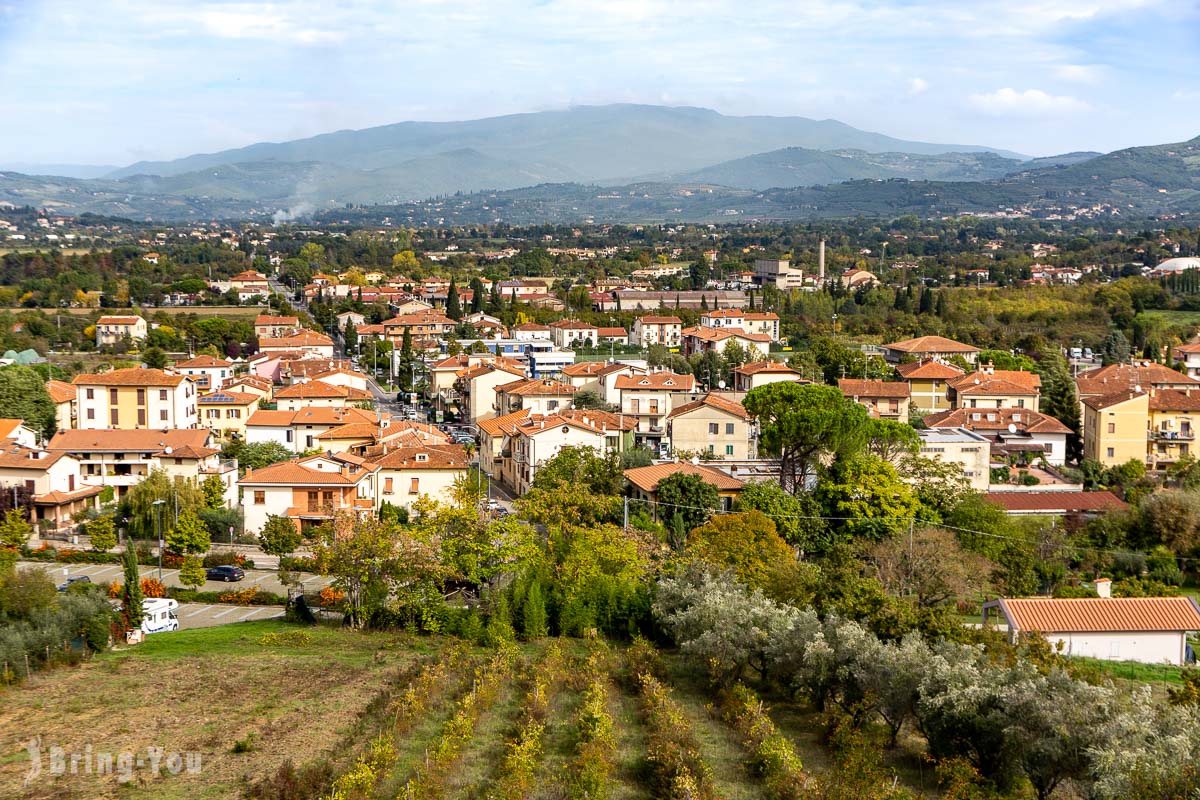 In Tuscany's embrace, nature and history dance in harmony, painting a poetic canvas that captivates hearts and spirits alike. It's a land where dreams find solace and weary souls are soothed. Let yourself be swept away by its magical allure, for in Tuscany, beauty thrives in every breath and step you take.
In this article, I'll be covering the ten best cities to visit in Tuscany so you can tailor your trip easier. Plus, I'll also be answering some of your frequently asked questions about renting cars in Tuscany and getting around.
What Are The Best Ways To Get Around Tuscany?
Should You Rent A Car In Tuscany?
The expansive region of Tuscany is peppered with a multitude of scenic roads and highways, making a road trip the biggest hook for couples and travelers with kids. However, driving on your own wheels in Tuscany is not all roses.
Let's find out why!
Renting a car and hitting the road gives you the freedom to uncover those hidden gems at your own leisure. I know a lot of people renting a car for their own group to conquer all the different towns in Tuscany and they plan to do that for a good amount of time – let's say 10 days for instance. Well, in this case, a ten-day road trip doesn't sound bad at all if you're NOT a first-timer to Tuscany. That being said, I expect you to know where parking lots are, the rules, and the parking rate.
However, not all towns in Tuscany actually need to be covered by a car.
One little tip for you: while you're in cities like Florence, Siena, and Lucca, you don't really need a car. When you travel alone or you visit the region for the first time not knowing what's in store for you, then I highly recommend NOT renting a car at all. You'll need a special permit to drive in the city centers, and rental cars usually don't come with a comprehensive guidebook and what to prepare before hitting the roads.
Other than that, chances are you accidentally enter these restricted zones. In this case, the local authority will bill a fine to your rental company and eventually take it back from your card.
Now that's all I know for now about driving in Tuscany. The choice is yours. If you feel like it's too much of a hassle to drive, here are your two other alternatives.
By Bus
This is one of the most common means of public transportation. The downside is that it takes longer to cover the entire region. If you need ten days to travel throughout Tuscany by car, then that would be 20 days solely on buses.
You can take it slow and spend a day in each town, gradually moving from one place to another. It might not be the fastest way to travel, but it allows you to immerse yourself in the local culture and take in all the hidden gems.
A Day Trip
Most day trips set out from either Florence or Rome and cover three to four different cities in one day, including a pick-up and drop-off at the assigned meeting point. This is the best option if you are on a time-strapped journey as you don't have to think twice about which places to go first and spend too much effort mapping out where the buses go.
Sure, it may not be as flexible as driving yourself, but it lets you enjoy more than you would on a regular bus tour.
Plus, joining a guided tour means you'll get some insights and interesting facts along the way, making it all the more enjoyable.
10 Best Towns To Visit In Tuscany
Florence – Firenze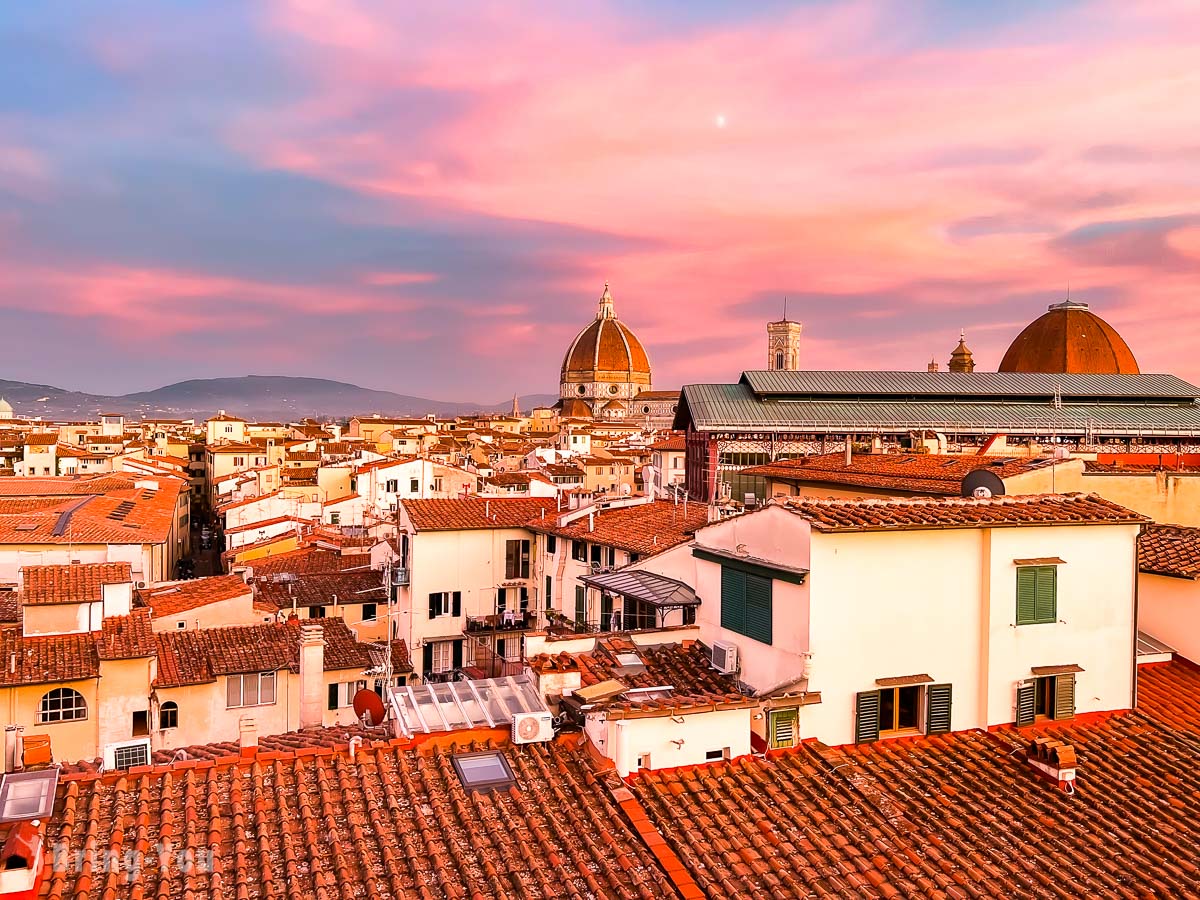 When I first heard the word Firenze, I was like: where on earth is that place?
It turns out that Firenze is the Italian name for Florence. Dubbed the largest and most populous city in Tuscany, Florence – despite its insane popularity – is ironically not as busy as Rome nor without the frenzy of Naples.
While many top-rated buildings in Italy such as churches, historical landmarks, and museums remain closed on Monday – that's not the case in Florence.
Florence's marvels, from the palace to Michelangelo's Plaza, are clustered within a charmingly walkable area between Santa Maria Station and Santa Croce. Cars don't stand a chance against the throng of visitors, so walking is the way to go – absorbing stunning views and traversing countless bridges.
Other than history, Florence is also a paradise for foodies, especially pork and steak!
Mouthwatering T-bone steaks at great prices await, so don't make the mistake of indulging elsewhere before discovering this heavenly treat, highly recommended by everyone I chatted with.
Lucca And Pisa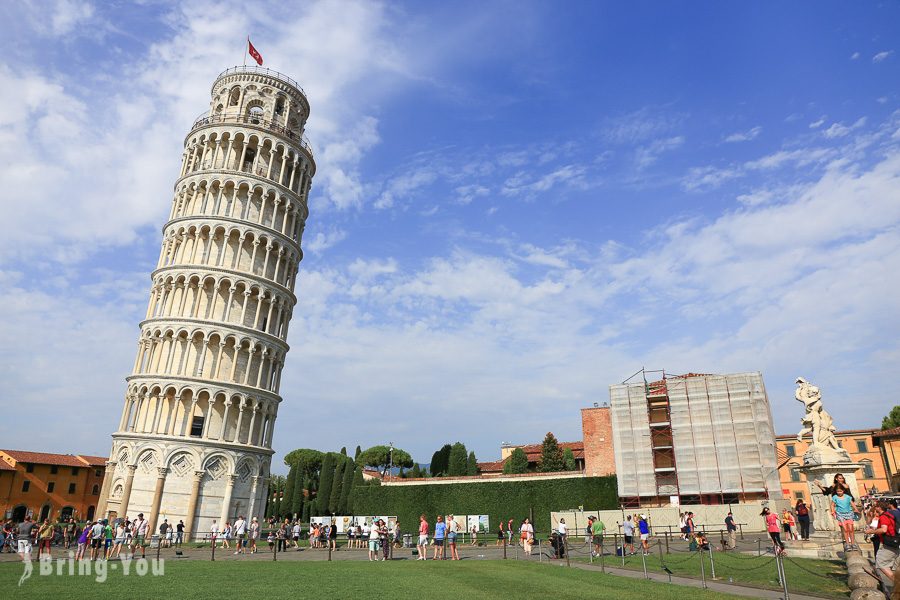 Luca and Pisa – are two neighboring cities that have been taking on an endless race when it comes to which city is better to visit in Tuscany. Some take wings with Lucca, and some say otherwise. However, why skip one when you can easily cover them both? Each of them beholds a great selection of values and features that I'm gonna break down below.
First, we have Lucca.
One of the coolest features here in Lucca is the walls. They're impressive!
If you're on the hunt to snag away some shots of beautiful architecture, look no other than San Michele church. For nature enthusiasts, you'll love the botanical gardens.
The town is always buzzing with events, so make sure to check the dates when you're planning your visit. Trust me, it'll be worth it!
Those seeking the best places in Lucca to fill the rest of their days, check out Piazza dei Cavalieri and Via Borgo Stretto.
Then we have Pisa, which needs no further explanation with its world-renowned Leaning Tower. To get to Pisa from Lucca, a quick train ride will come in handy at no more than half an hour.
Siena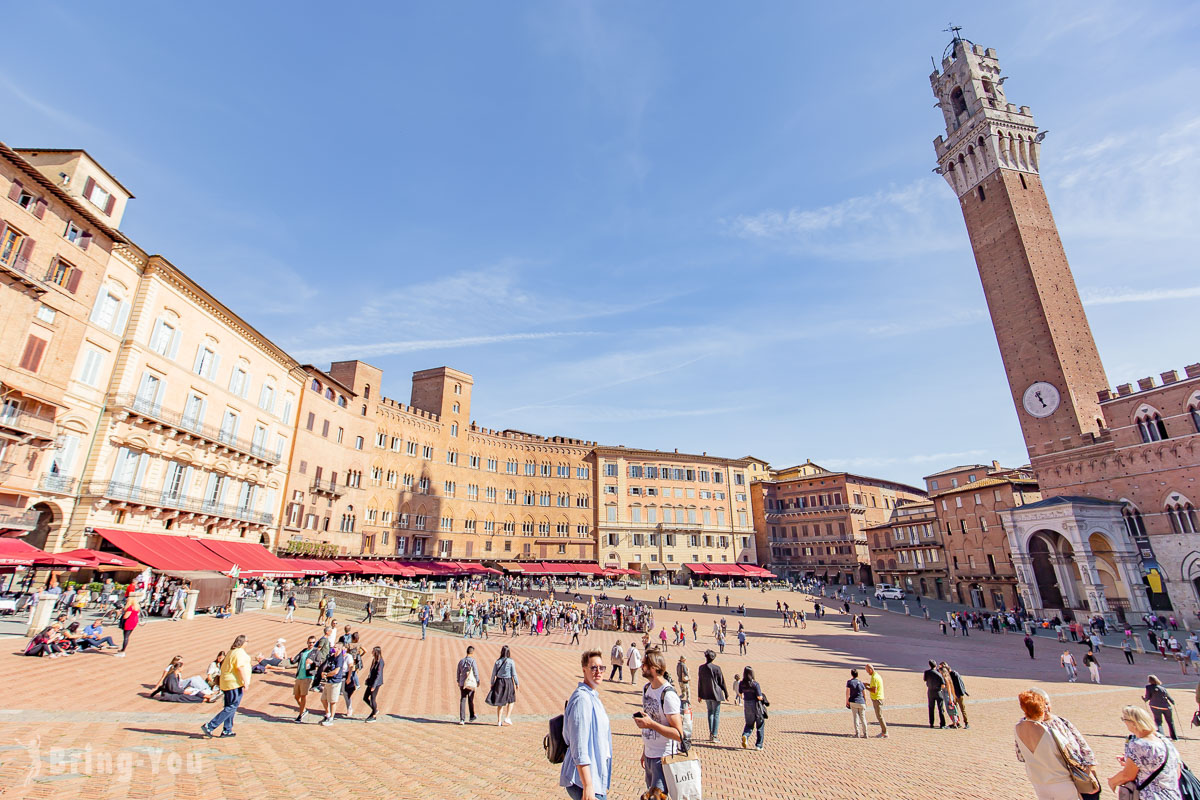 Siena is undoubtedly one of the most visited places in Tuscany, sitting smack dab in the core of the region. As the locals attest, Siena is adorned with a tapestry of delightful destinations. Just imagine, the enchanting Chianti, the timeless San Gimignano, and the illustrious Florence merely an hour's drive away.
If you are wondering if Siena is worth a visit, ask yourself if you're into art and history. Right here, Siena becomes the hub of cradling art, tradition, and history with the gentlest of hands.
It seems like almost any winding street here can instantly turn into a postcard-perfect shot without you having to intentionally search for it. From the broken cobblestone streets that whisper stories of centuries gone by to the whimsical corner of Piazza del Campo flanked with the dazzling sun, you name it!
That being said, Siena is truly one of my favorite cities in all of Tuscany, going strong with its charm unrivaled, it seems to hold the essence of time itself within its graceful embrace.
San Gimignano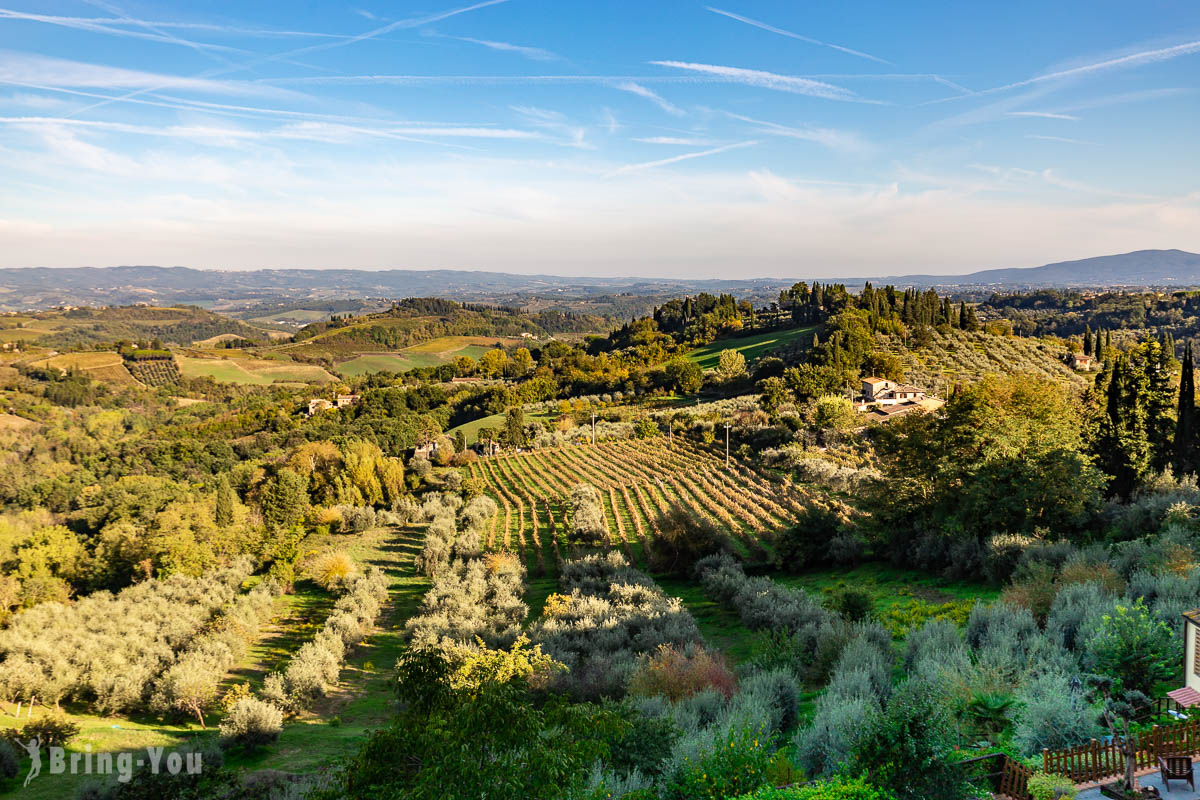 Alright, it's time to tick off San Gimignano. One of the main reasons why San Gimignano usually sits on top of the traveler's bucket list is its excellent location. All you need is a mere 50-minute bus ride from Florence or 40 minutes by bus from Siena.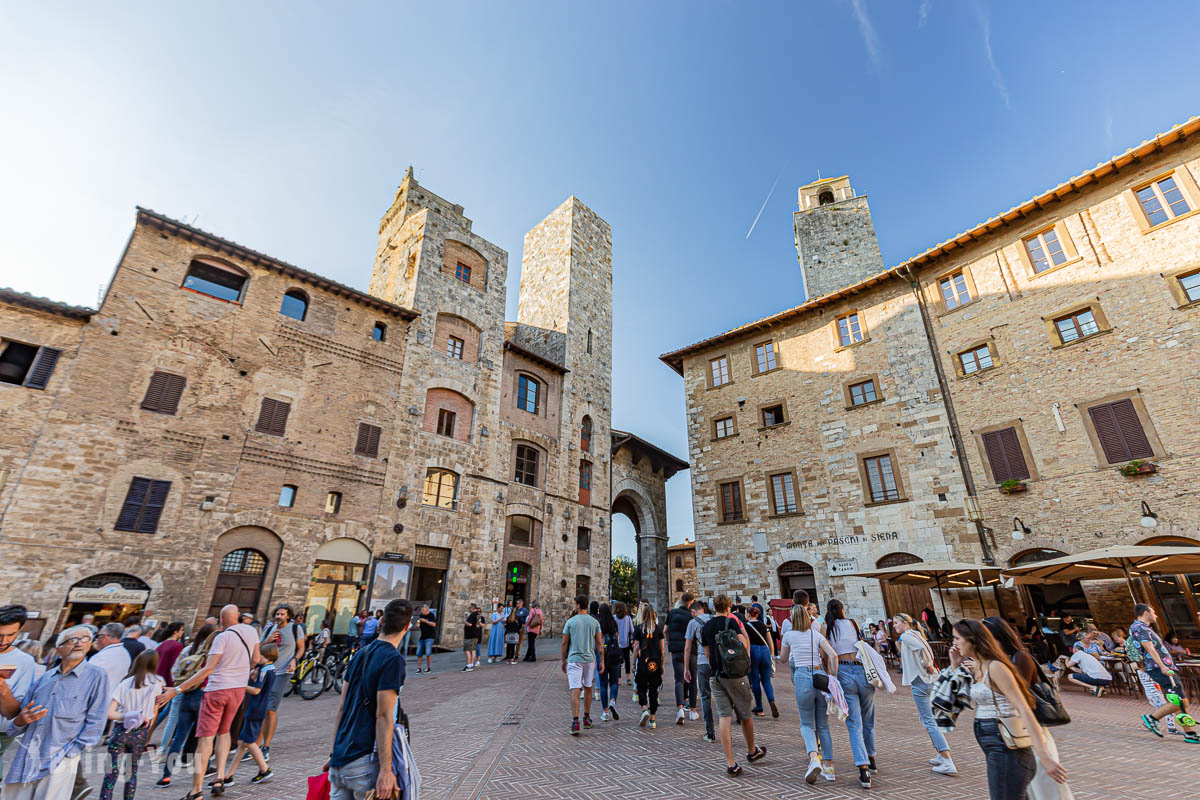 In the embrace of the Middle Ages, San Gimignano thrived as a haven for weary Roman souls on their sacred pilgrimages. A place where rest brought forth commerce's dance and the rise of splendid inns, birthing prosperity.
Cortona
I had a really hard time trying to spot which corners of Cortona were photographed in some of the very popular postcard pictures I saw before. Imagine climbing to the top of a hill where the sweeping wraparound vista seems to swallow your entire eyesight the moment you reach the top!
Right here, time seems to have stopped, preserving its medieval charm and ancient streets that lead you to vibrant piazzas and remarkable churches.
Here in Cortona, the illustrious Cortona Cathedral and the awe-inspiring San Francesco are some of the must-see attractions. That being said, rather than the scenery, the history itself also opens an insightful gateway to its rich history.
Val D'orcia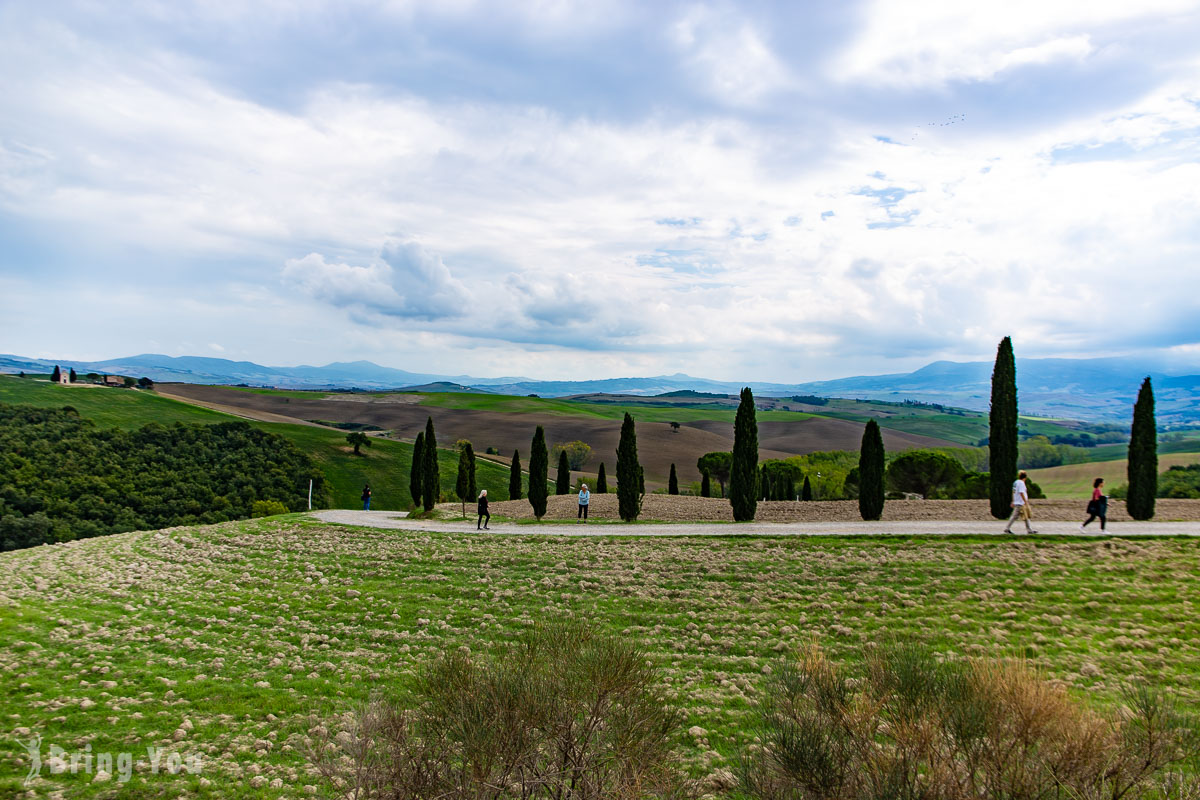 When I first came to Tuscany, I was not really sure about having Val D'orcia on my bucket list. To be honest, I was completely clueless. But once I got to drive down the charming road called SP40, I was totally blown away.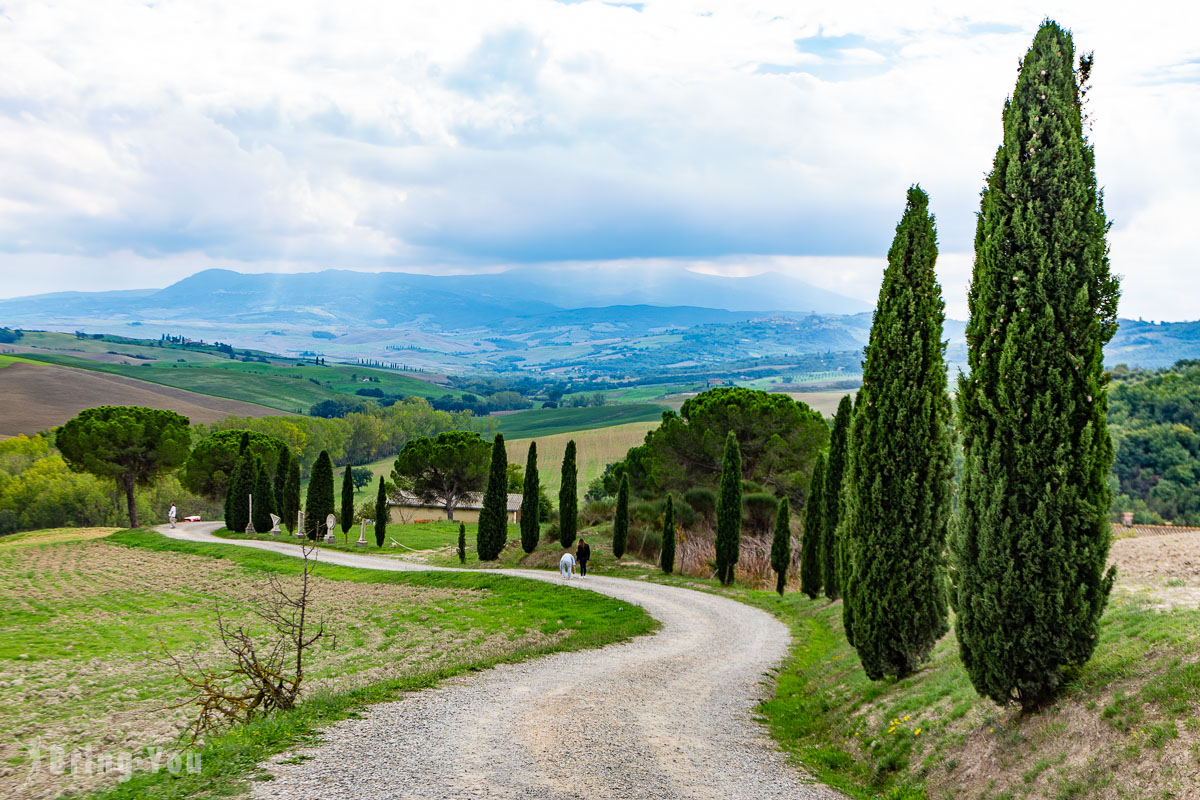 The scenic drive, starting from the enchanting Chianciano Terme all the way to the picturesque Gallina, slowly peels off the raw beauty of the lush vineyards, gracing us with breathtaking landscapes on both sides.
But the never-ending vineyards are not the only thing Val D'orcia has to offer. Chase the silhouette of the elegant cypresses lining the roadside truly added an artistic touch to the already splendid scenery.
Correct me if I think Val D'orcia is not touristy, but when I was there, the road was peacefully serene, with hardly anyone around, allowing us to savor every moment.
Orvieto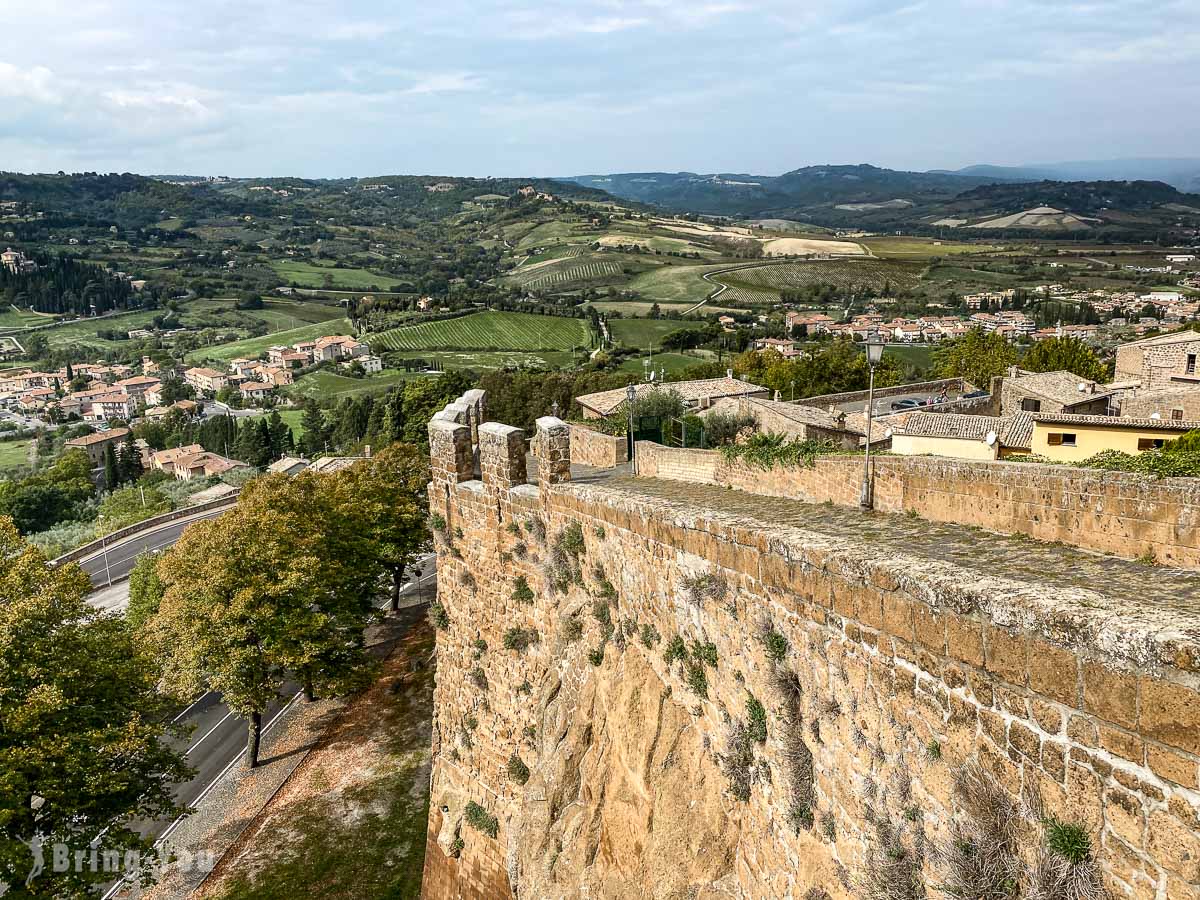 Sandwiched between the enchanting landscapes of Lazio and Tuscany, Orvieto is a lesser-known town to visit in Tuscany with just a short two-hour car drive from Florence.
Civita di Bagnoregio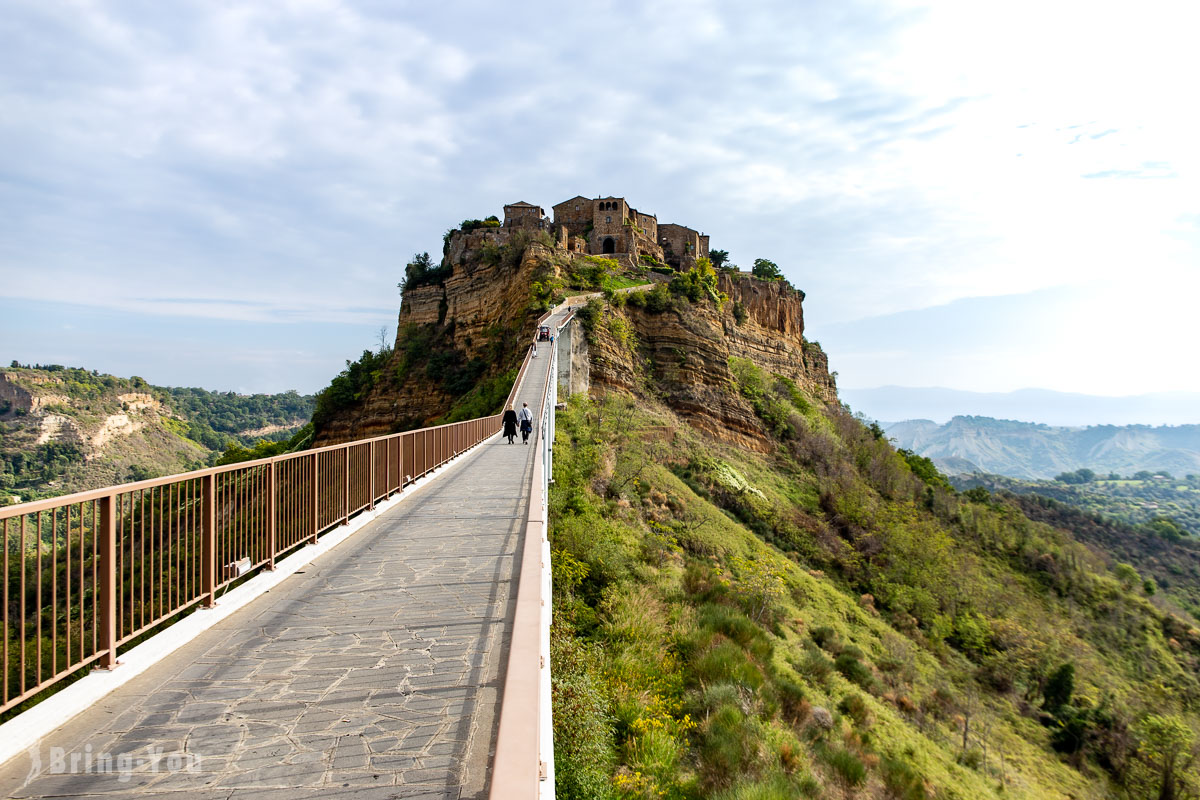 Last but not least, Civita di Bagnoregio takes you to one of the most isolated villages in all of Tuscany, perched among the clouds as if it were a floating dream. This enchanting place floats on top of a majestic igneous rock that proudly tells its story of a courageous deadland standing the test of time despite forceful winds that have sculpted its terrain. Today, Civita di Bagnoregio is recognized as one of the 100 villages in Italy on the brink of disappearance.
Take my article above as an introduction to your magical exploration in Tuscany. In this way or another, I hoped to give you some valuable insights and what to expect in Tuscany.