Home to just over 1.134.000 people, Da Nang has become the destination of choice for both expats and travelers. Many people recall Da Nang as a tropical paradise of turquoise beaches and lush vegetation nestled across the mountains. But are those the only things you can find in Da Nang? If you're setting out to this modern city for the first time, read on to peel off the 10 best places to visit in Da Nang!
Da Nang – The Most Livable City in Vietnam
As the third-largest city in Vietnam, Da Nang is dubbed as the most modern and cleanest metropolis in the Central region of this S-shaped country. Giving an astonishing mix of the ancient vibe and a sheer vibrancy of a modern city, Da Nang will have you surprised with how diverse its topography is.
Home to the sandy beaches, thriving mountains, and organized urbanization, Da Nang has become a must-visit destination in Vietnam for many reasons. Being a small city doesn't stop it from pulling in more and more visitors as the years go by. If you ever get tired of what the city center has to offer, then we highly recommend taking a day trip to the neighboring provinces of Hoi An and Hue for an absolute retreat! No matter what kind of traveler you are, either a beach lover or a professional hiker, Da Nang will be a dream-come-true!
10 Best Places to Visit in Da Nang for Out-of-Towners
My Khe – An Award-Winning Beach
The tropical sun is above your head and there's no better place to enjoy summer in Da Nang as My Khe Beach. The first thing that springs to our mind when speaking of the best beaches in Da Nang should be My Khe. It has been making global headlines as one of the 6 best beaches in the world, according to Forbes magazine.
Located 6 kilometers east of Da Nang, My Khe beach stretches for 9 kilometers of the white sandy coastline sheltered by the lee of the Son Tra Peninsula. The crystal, turquoise water shaded by ranges of coconut trees cuddles a slight slope. Meanwhile, the thriving poplar forest hugs the beach from behind, making it a serene and photogenic beachside that you should not miss.
Thanks to lush coral reefs under the sea and a wide range of flora and fauna species residing along the coastline, My Khe pulls in a huge number of visitors every year. You can stay in one of the high-end hotels and pleasure houses along the bank, take a long walk on the beach, indulge in a quiet reading time, or brace the waves when the weather allows during the day. As the sun beams down, blend in the crowds and flock to the best seafood restaurants nestled along the beachside boulevards to give your belly a generous treat of local seafood!
Dragon Bridge – A Symbol of Luck Breathing Fire
Illuminated with LED lights after dusk, Dragon Bridge is the icon of a new and energetic Da Nang. This symbolic bridge is page one of many travel magazines you've seen and it's not only a matter of look! Every Sunday and Saturday from 9 pm onwards, the Dragon Bridge breathes fire and spouts water all over the eastern bank of the gigantic Han River, pulling in a respected number of both locals and out-of-towners enjoying the scene.
While most people flock to the foot of the bridge to enjoy the show, we want you to seize the best observation spots from the rooftop cafes or the floating dining cruises pulled up for the show. This state-of-the-art bridge becomes a spotlight in the city center no matter which time of the day. Therefore, you can come over and have a look at this giant dragon either day or night. Don't forget to bring along a camera for a panoramic shot!
Ba Na Hills – Vietnam's Answer to Disneyland
If you're visiting Da Nang with your family, make sure to have Ba Na Hills on your bucket list! This top-rated destination in Da Nang puts on a bountiful beauty of a French village that can intrigue any photogenic soul! Think about the way Disney gave America's Main Street its magic, this is exactly what Ba Na Hills has done to Da Nang.
Sprucing up this old French village at the back of Ba Na Mountain, Ba Na Hills is an amusement complex that transports you back to the medieval French with just one ticket away. Meanwhile, the picturesque landscape of a hilly Asian city gives this spot a lovely contrast.
Consider spending a good whole day at Ba Na Hills because the complex is so wide and large with so many details and points of interest that you can't resist! Take the cable car for example! This is unsurprisingly the longest nonstop single-track cable car in the world, reaching 5801 meters. This thrilling ride takes you to the iconic Golden Bridge, a phenomenal photo op looming from the mountains with two giant Buddha's stone hands supporting underneath. Get ready to see Western-costumed actors and dancers posing in the square, embark on a funicular ride to Jardin d'Amour, or take a sip of grape juice at the Debay Wine Cellar to maximize your experience at Ba Na Hills!
Hue – A Cultural Day Trip from Da Nang
Making a day trip to Hue is one of the top things to do in Da Nang, especially for those who are short in time but trying to make the most of their trip! Hue is the former capital city of Vietnam and was ruled by the Nguyen Dynasty from 1802 until 1945. The rich history and contemplative landscape have given Hue a distinctive charm that you cannot find elsewhere.
You can opt for a short ride by scooter from Da Nang, conquering the scenic Hai Van Pass before ending up in Hue. Multiple activities keep you occupied in Hue. An insight into the Forbidden City and royal tombs is a must-do but you shouldn't limit yourself to this complex only! Take a stroll around some of its proudest traditional handicraft villages for a hands-on experience if you like to pick up some new hobbies on the trip. Meanwhile, passionate beachgoers and legitimate photographers should not give Lang Co Bay a pass as it's one of the best natural attractions that give Hue a respectable limelight!
Cham Island – When Island Hopping Evokes Your Adventurous Side
Beach lovers assemble! It's time to leave the sprawling streets of Da Nang behind and hunt for an off-the-grid spot to unwind to the fullest! Yes, we're talking about Cham Island, a rustic and pristine hidden gem located off the coast of Da Nang. Cham Island houses an abundant scene of flora and fauna species, while the turquoise water is casted with glittering sun rays. Hiding lush coral reefs at the bottom of the sea, Cham Island braces you with its glorious natural beauty and an extensive range of water sports.
Sea-trekking on Cham Island is one of the most sought-after things to do in Da Nang with a close-up look at the large boulders of coral overlapping on one another to form a solid rock embankment. Snorkeling, another leisure pursuit that Cham Island has to offer, draws a great number of visitors from June to August. Sign up for a day trip to Cu Lao Cham Marine Park and take this chance to unfold the splendid marvel of colorful coral reefs enclosed by the spectacular marine life!
Hai Van Pass – The Most Challenging Pass in Vietnam
Calling yourself an experienced motorbike rider? You may want to get down and serious with the best ride of your life over Hai Van Pass! This 20-kilometer strip of road bridging Da Nang and Hue is recognized as one of the most dramatic passes across Vietnam.
Sitting 500 meters above sea level, this winding pass will blow your mind with unexpected bends, hairpin turns, and a mesmerizing view over the serene Lang Co Bay. A ride over Hai Van Pass doesn't simply mean a cross-over from Da Nang to Hue! It's more like a wild ride to feel the ocean breeze pulling through your hair, feel the speed on your two-wheel tarmac, and catch a glimpse of the sun casting glitters on the surface of the ocean!
Conquering the Hai Van Pass on your own scooter brings in the freedom at its best but for those who are constantly put off by the curves, consider opting for a jeep tour or a motorbike tour instead!
Son Tra Peninsula – An Off-the-Radar Outskirt Attraction
Da Nang is the best city to reside in Vietnam in many ways. There's always something about this coastal city that keeps you on the edge of your seat. The more you step outside of your comfort zone and start exploring the surrounding neighborhood on the outskirts, the more you unveil its coolest spots off the tourists' radar! Son Tra Peninsula is the best example of what we're talking about.
Local fishermen pull wooden boats on the shore just before the sun wakes up and people start flocking around them to get the freshest supply of seafood. Standing on the peak of the hill, a 67-meter-tall Lady Buddha is looking over the distant ocean from the Linh Ung Pagoda, giving you one of the most scenic viewpoints in Da Nang.
If you're an outdoorsy type of traveler who likes to dig deeper into what mother nature has to offer, don't forget to search for the endemic monkeys living across the green trails! Son Tra Peninsula becomes a scenic hike on a good bright day!
Weekend Getaway to Hoi An Old Quarter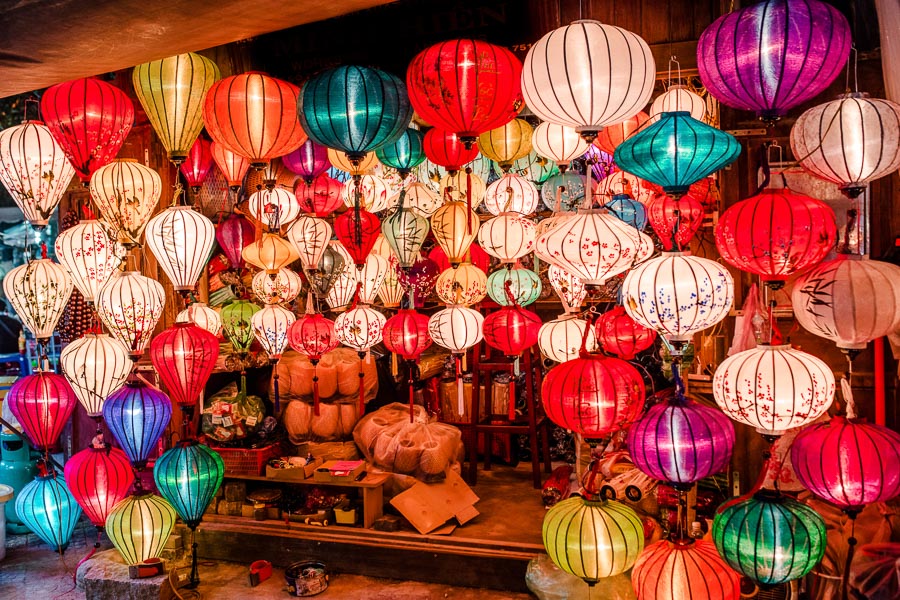 Within a mere 30-kilometer ride from Da Nang, you will end up in one of the most sought-after destinations in Asia – Hoi An Old Quarter. This little port town is in a surprising state of preservation with hundreds of thousands of houses, temples, and artifacts dating back to the 17th century.
Housing a densely-concentrated footprint of landmarks, Hoi An Old Quarter is a paradise on Earth for history buffs who like to take a short break from the modernism of Da Nang. The old town of Hoi An will transport you back to the good old days of Central Vietnam where the Chinese, Japanese, and European traders made a bustling scene in this area. Get ready to be amazed by the Japanese covered bridge, assembly halls, ancient pagodas, temples, wells, and even tombs!
The best time in the day to drop over the ancient town is when the sun beams down and Hoi An is splendidly lit up by lanterns. Embrace this visual delight by taking a boat ride down the Faifo River, dine out in a restaurant, take a long walk around the tiny alleyways to soak in the sprawling vibe this town has to offer!
My Son Sanctuary – A Door to the Past
Situated 30 kilometers from the core of Da Nang, My Son Sanctuary takes you to the golden era of the Champa Kingdom. This is an Indianized empire ruling Central Vietnam from the 3rd century until 1832 with its loss to the final combat against the Nguyen Dynasty of Vietnam. What you see nowadays is a mystical collection of ruins serving as a religious and cultural center of the royal Champa families. Scattering throughout this majestic plot of land is a mecca of 70 temples and tombs.
During the Vietnam War, these fascinating relics were once again lost to the bombing and bullets of the US Army. However, these tragic events wouldn't stop these elements on the premise from showcasing its finest beauty. Take this chance to admire the Shiva lingas, stoned sculptures of Gods, carved pillars, and many more! The surrounding greenery turns My Son into a fascinating and tranquil point of interest. The ruins were declared as a UNESCO World Heritage Site in 1999.
Hoa Phu Thanh Playground – A Paradise for Thrill-Seekers
The sheer vibrancy of Da Nang has got you covered with the top-rated destinations above but your adventurous soul is screaming for more! It's time to look out for something off the beaten path and involves a thrilling side. If this is what you're looking for, head straight for Hoa Phu Thanh Playground and call it a day!
This eco-conscious system welcomes you with the 2 most famous outdoor leisure – zip-lining and rafting! Setting on the slope of a hillside mountain with rivers and streams curving for 3 kilometers, Hoa Phu Thanh is a scenic playground for thrill-seekers. If you go for the rafting tour, you will have 2 people at maximum onboard and it may require you to hand paddle at some minor sections. You want to pay extra attention when riding down the rapids as they will come up glorious but scary! However, these tricky sections are balanced out and compensated by the vast and stunning landscape.
The best time to visit Da Nang is from February to May with the mild sea waves and bearable weather encouraging you to enjoy to the fullest! Remember to seize at least 2 full days to cover all the best sites around the city!