Your NYC travel guide is here! But instead of repeating things you already know, we went under its belly and discovered the area around Brooklyn Bridge, also known as DUMBO, or Down Under the Manhattan Bridge Overpass.
What a great name it is!
DUMBO is a small neighborhood, so much so that you don't need more than half a day to explore it. And if you pick up a bit of history about it, DUMBO is insanely cool!
It's very safe walking around here day and night. DUMBO is just a low-key, interesting city with lots of warehouses.
So let's waste no more time! Here is how you can enjoy the walk as we did!
Brooklyn, DUMBO – New Kid on the Block
Everyone is talking about the Big Apple, but let us tell you – Brooklyn is the new kid on the block starting to make some history on its own. Brooklyn is most famous for its eclectic food scene and jaw-dropping vantage points.
Street arts and green spaces follow up as Brooklyn's most iconic attractions. Brooklyn is a haven of immigrant populations. The thriving appetite for trendy arts and a mashup of culture give Brooklyn a je ne se quoi that can outrival any other big city in America.
This NYC's borough has so many happenings going on, but perhaps the most talked-about is Dumbo, a shorthand for Down Under the Manhattan Bridge Overpass. The dense urban feel of Dumbo makes it a decent place to live and visit in New York.
How We Walked the Brooklyn Bridge Area: A Sneak Peek of Our Itinerary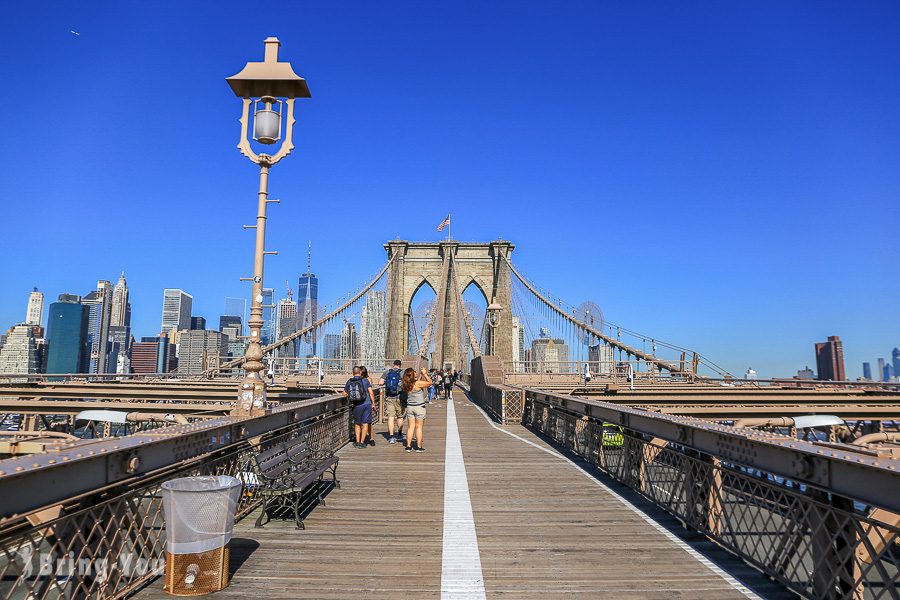 We started at Brooklyn Bridge Park and checked out the photo-worthy carousel after getting off the metro line.
This area is totally walkable! So you can check out all the Instagrammable spots along the way before ending at St. Ann's Warehouse and stopping by Time Out Market to inject a dose of energy.
Brooklyn: From the Industrial Skeleton to a Hi-Tech Future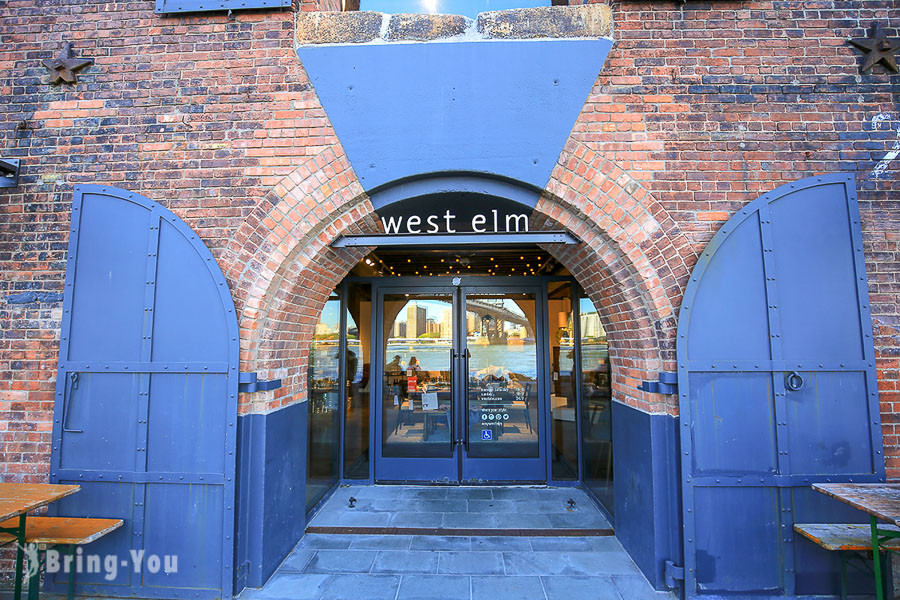 The well-preserved heritage buildings you see today tell a lot about the rough history of Dumbo. This area of Brooklyn, and even the borough itself, is a new face in town.
This industrial waterfront used to be a salt marsh centuries ago. And everything you see today was built on the skeleton of steel and cardboard boxes.
But today, it has emerged into a hi-tech town of New York with rising talents from all over the world flocking here for a new chapter in their career.
How to Get to Dumbo, Brooklyn?
You can board the metro line No. 4,5, or 6 from downtown Manhattan to York Street Station or High Street-Brooklyn Bridge Station stop. From there you can start the Brooklyn Bridge walking route and explore the surrounding areas. Follow our route below to inspire your wanderlust!
What to See in Brooklyn? A Day Trip around Dumbo and Brooklyn
Brooklyn Bridge Park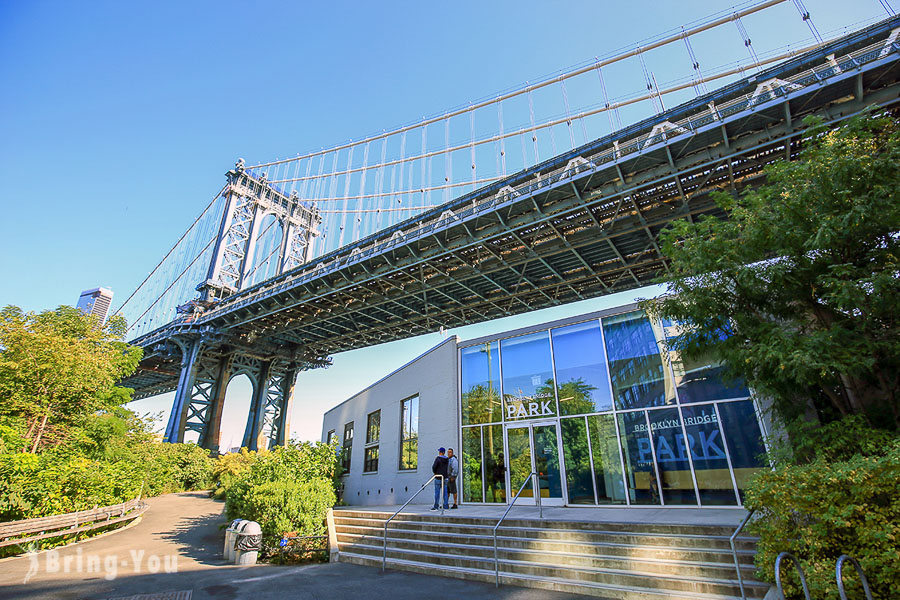 We dropped by this gigantic park stationed under the Brooklyn Bridge. Fresh air and the mild gust of wind plays around with our hair as we kick back to enjoy the stunning vista of the Brooklyn skyline.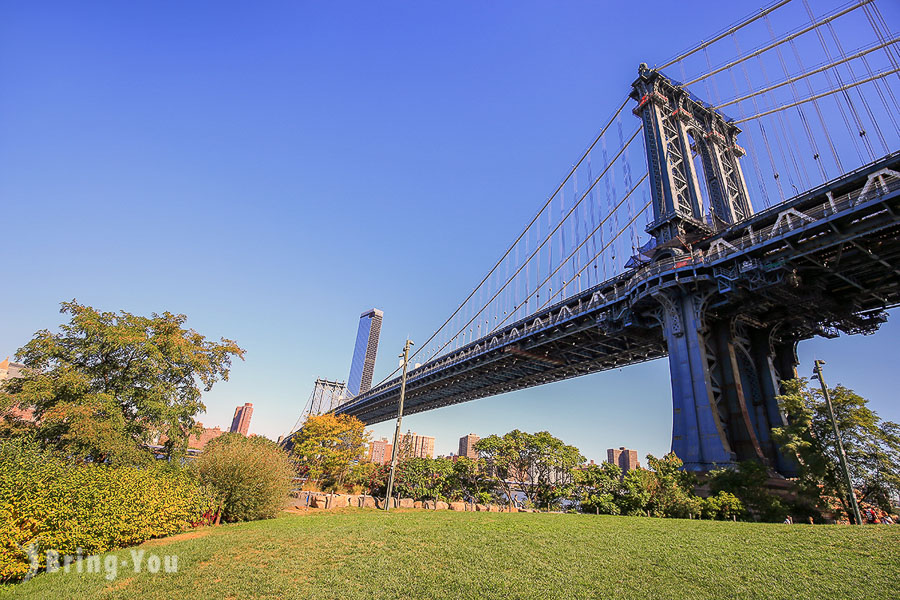 The sun-kissed grassy knolls make it a great place to put a tarp down for some picnic before sundown. This is probably the most Instagrammable place in the area with the dramatic, striking backdrop of the Brooklyn Bridge next door.
History is amazing in its own way, and only time can tell how this rough-and-tumble post-industrial waterfront took a leap into a famous tourist attraction like what we see today.
Brooklyn Bridge – Walk the Oldest Bridge in America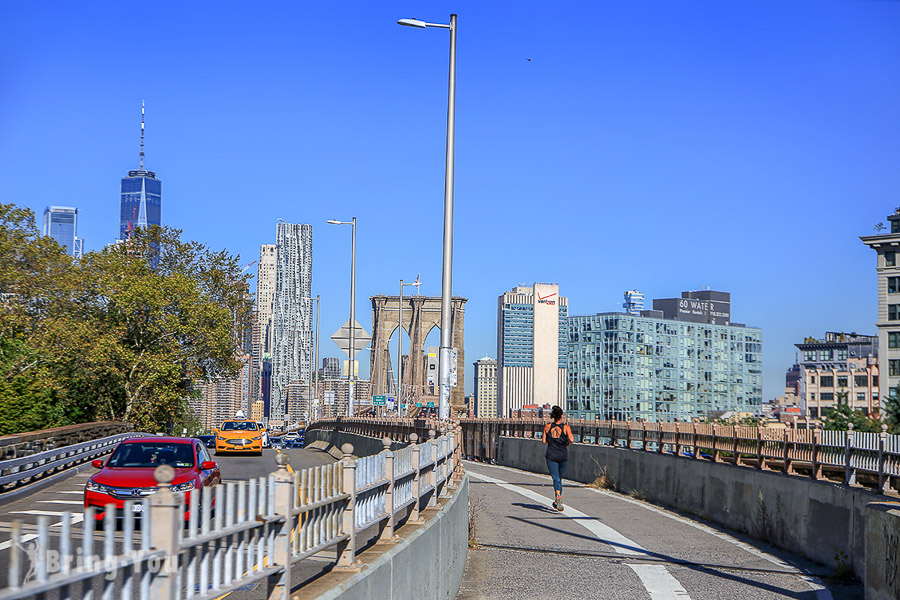 We accessed the bridge from the Brooklyn side. This area has many subways running nearby, making it a great starting point to start. You can reach the T-junction of Tillary Street and Boerum Place where the Brooklyn Bridge Pedestrian Walkway begins.
There are six traffic lanes for different types of vehicles so make sure to keep a close eye on the designated lane for cyclists and walkers. Walking the bridge from the Brooklyn side gives you a better view over the surrounding landscape compared to the other way around from Manhattan.
But to compensate for this, it's easier to access the bridge from the Manhattan side. You only need to hit the starting point of the entrance which begins across the northeast corner of City Hall Park.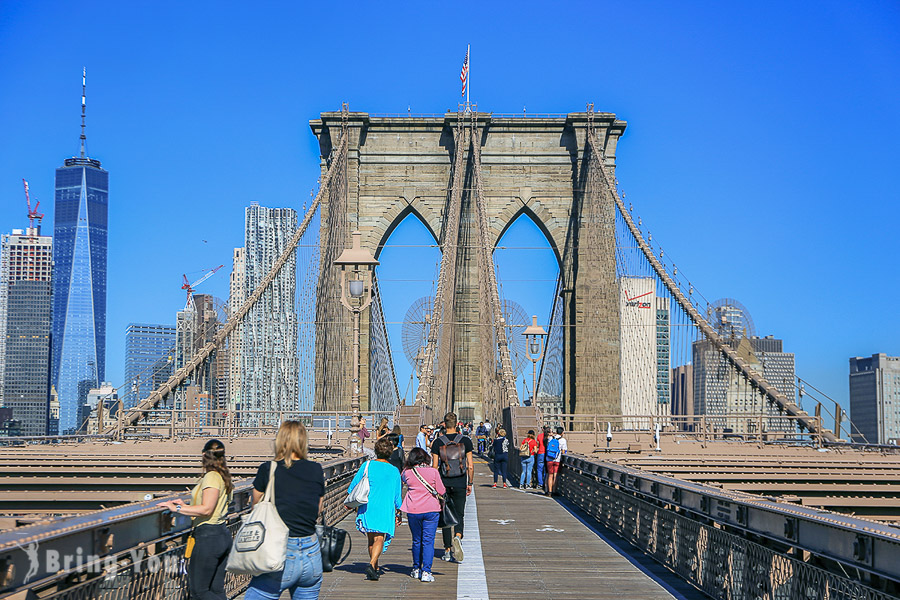 Walking the oldest suspension bridge in America is a breathtaking sentiment. And there are many Hollywood movies with iconic scenes filmed at this incredible bridge. Sex and the City is one of them.
Jane's Carousel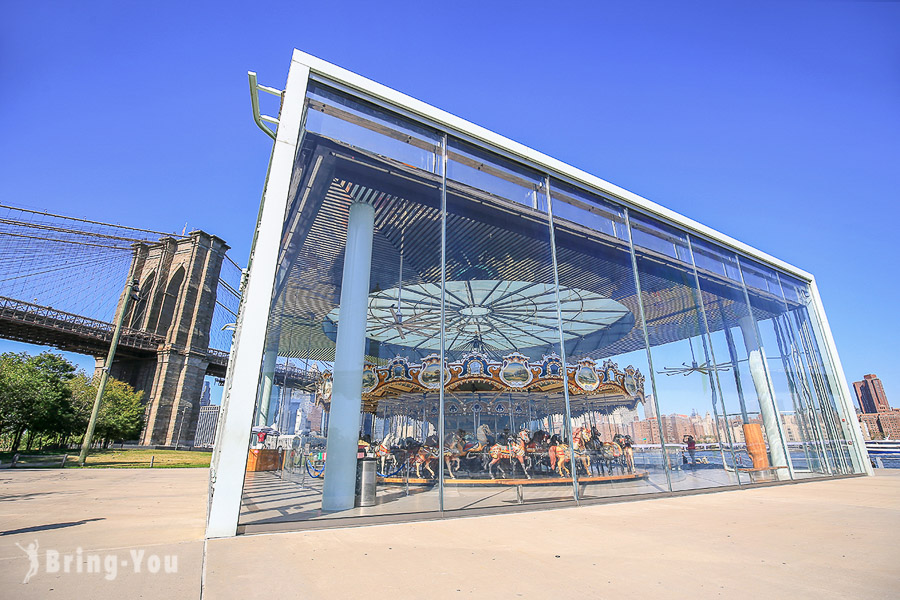 Merry-go-round as the time rewinds to the early 20th century when Jane's Carousel was first introduced to the citizens of Brooklyn.
This incredible piece of art stands the test of time inside a massive glasshouse under the baking sun.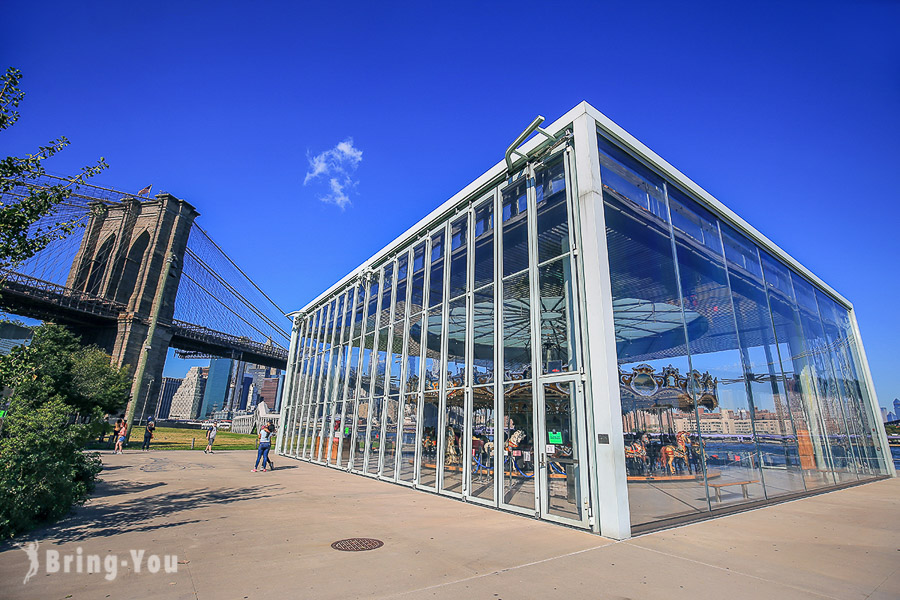 What a pity there are not that many places on earth where we can ride these dazzling wooden horses in the modern days. The carousel comprises three rows and 48 diligently-carved horses.
Jane's Carousel is a family-friendly point of interest, with lots of families with kids dropping in to swing in the beautiful melancholy.
St. Ann's Warehouse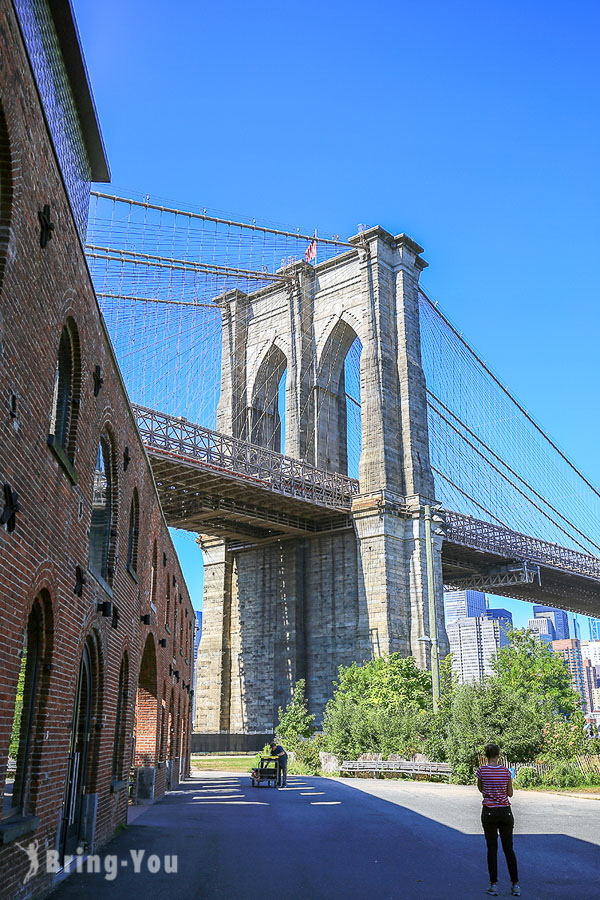 Nestled in between the modern addresses of Brooklyn, St. Ann's Warehouse was once a holy shrine until it was converted into an arts institution. The awe-inspiring timber surface is a photogenic background itself.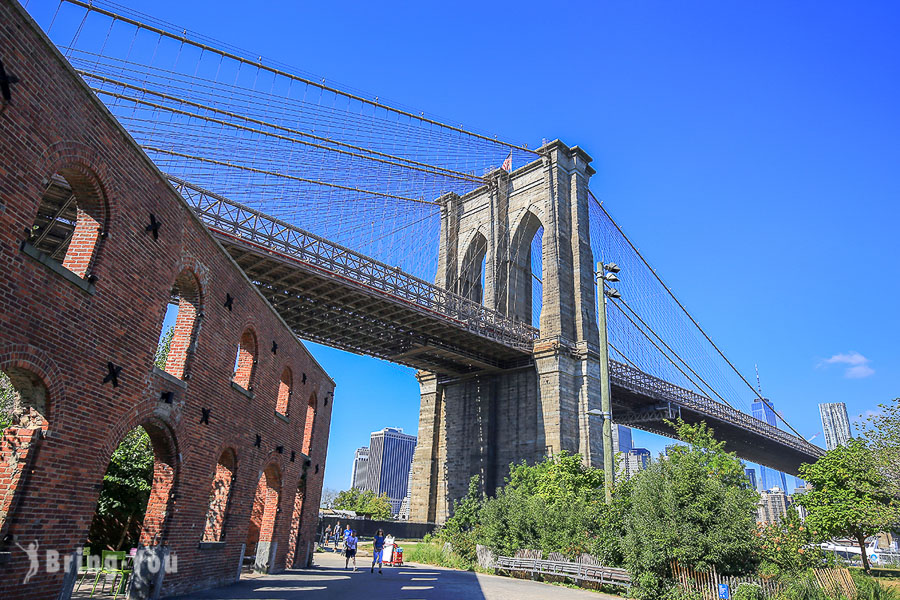 St. Ann's Warehouse is a performing art venue itself and so you can combine it as part of your sightseeing trip with a touch of entertainment at once. Make it a great night out and enjoy your favorite show while lounging back in the flexible seating and performance space.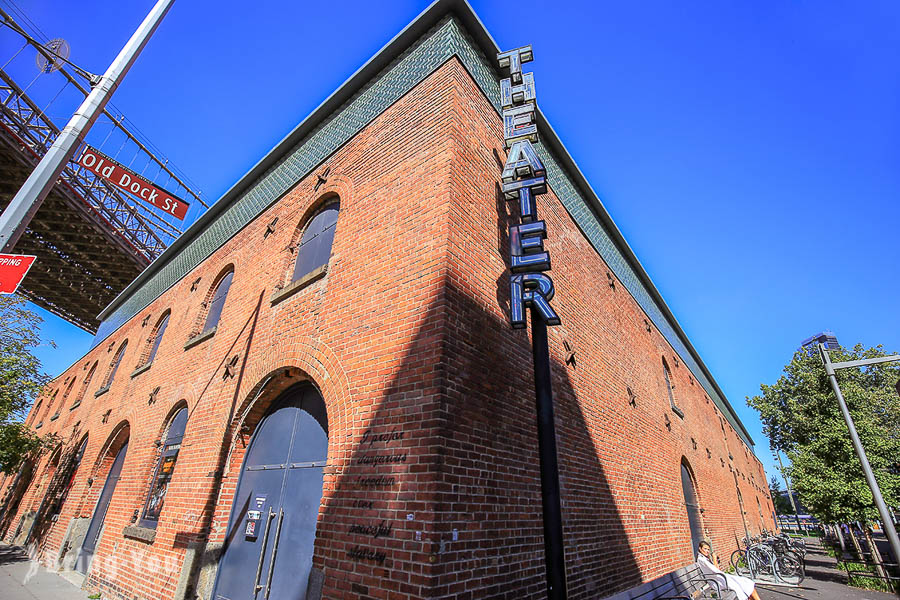 A decent lobby café is a top call to bond with your friends before spilling to the street after the show.
Time Out Market New York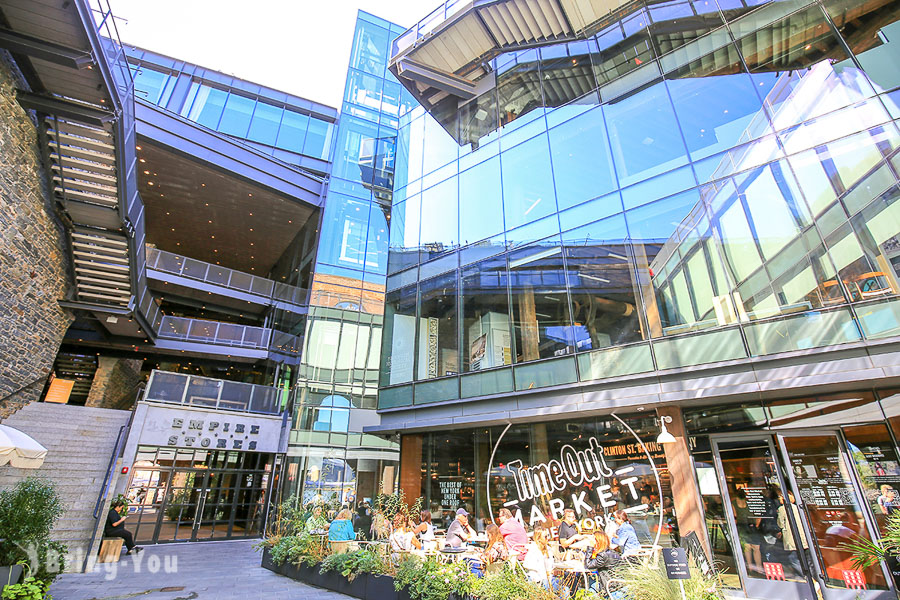 Food is always a big part of our trip, and our taste buds surely can't say no to such a delectable food scene like New York. So here we are at Time Out Market, one of the most famous places in Brooklyn and DUMBO!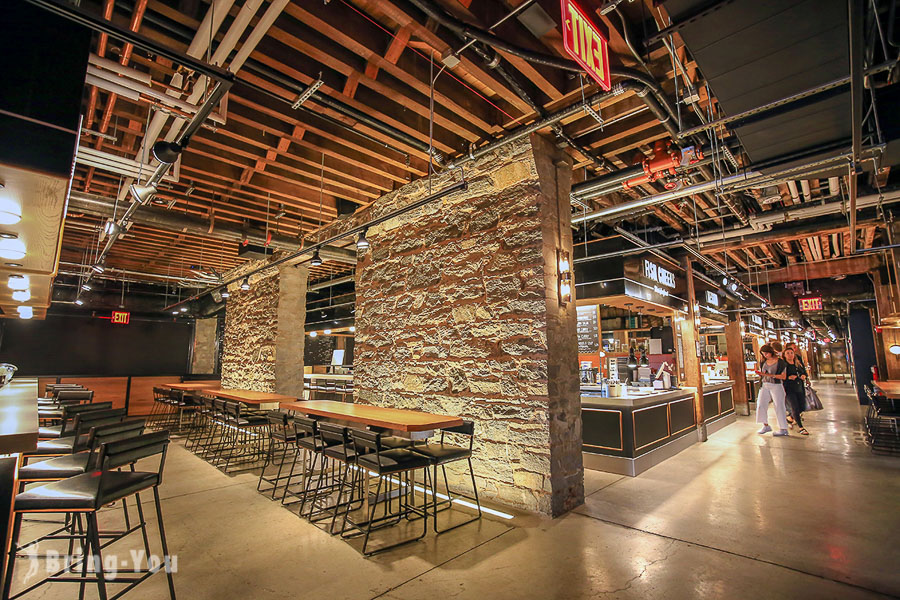 This dining and drinking hole has so much to offer, so make sure to come with an empty stomach! Jacob's Pickles was a holy land, it totally got us hooked with the buffalo chicken mac 'n' cheese niceness.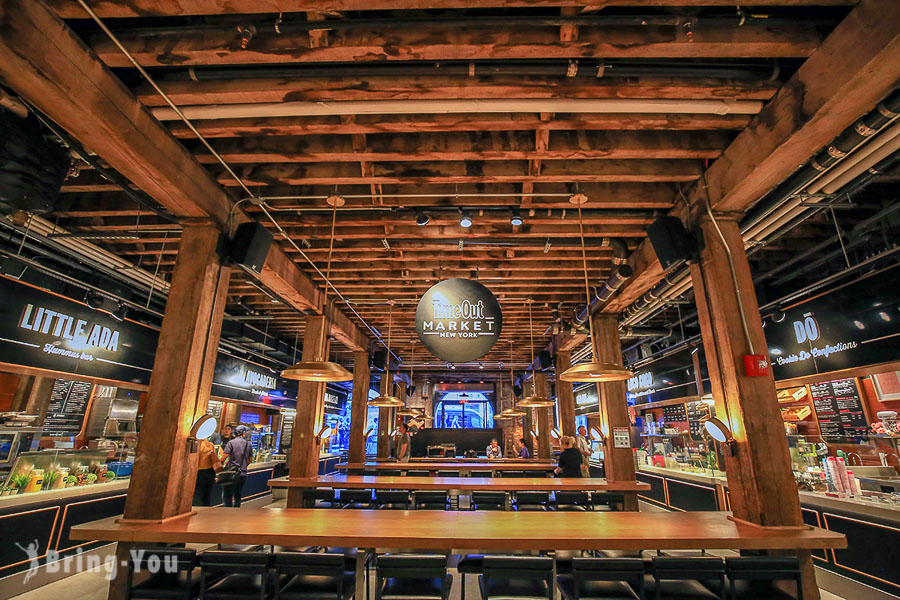 We took a lift to the rooftop afterward to soak in the lit-up vista of New York while waiting for our calories to burn.
Hunt the Most Instagrammable Spots in Brooklyn
All of the sites above are beautiful and inspiring in their own ways. But for those who love to spice up their Instagram feeds, here are a few brilliant gems to wow your followers!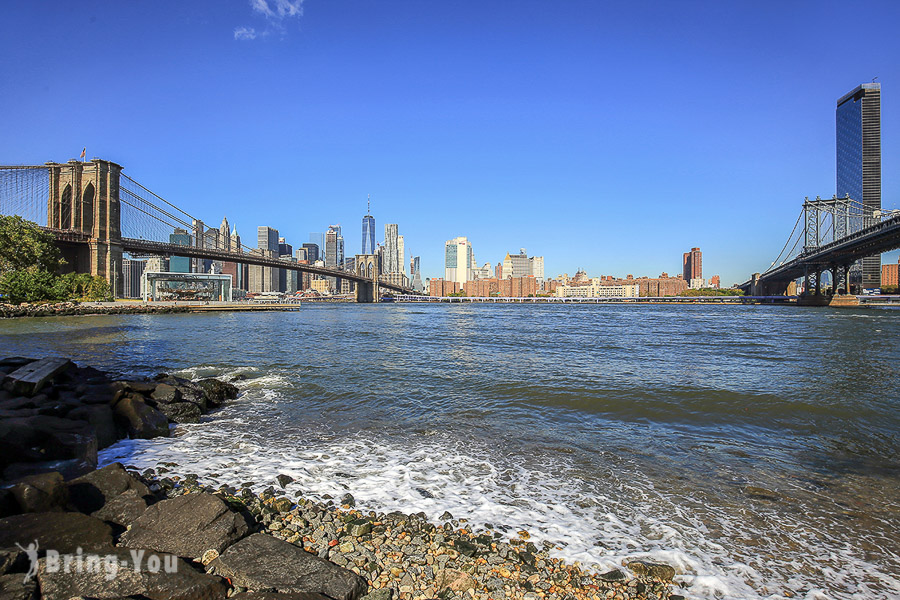 Pebble Beach brushes up your grids with a breath of fresh air! This stunning vantage point is a small rocky beach just across the Time Out Market. Check out the sunset time before hitting this place to capture the striking sunset canvas behind the Brooklyn Bridge.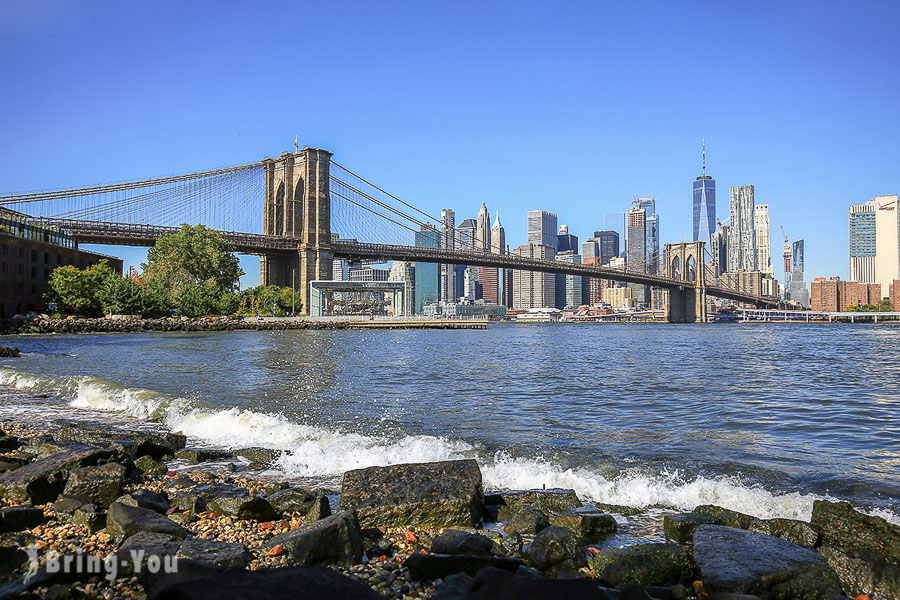 Squibb Park Bridge pieces through the dense concrete jungle of Brooklyn and Dumbo. If you walk behind the 1 Hotel Brooklyn Bridge past sundown, it guarantees the best view over the lit-up city!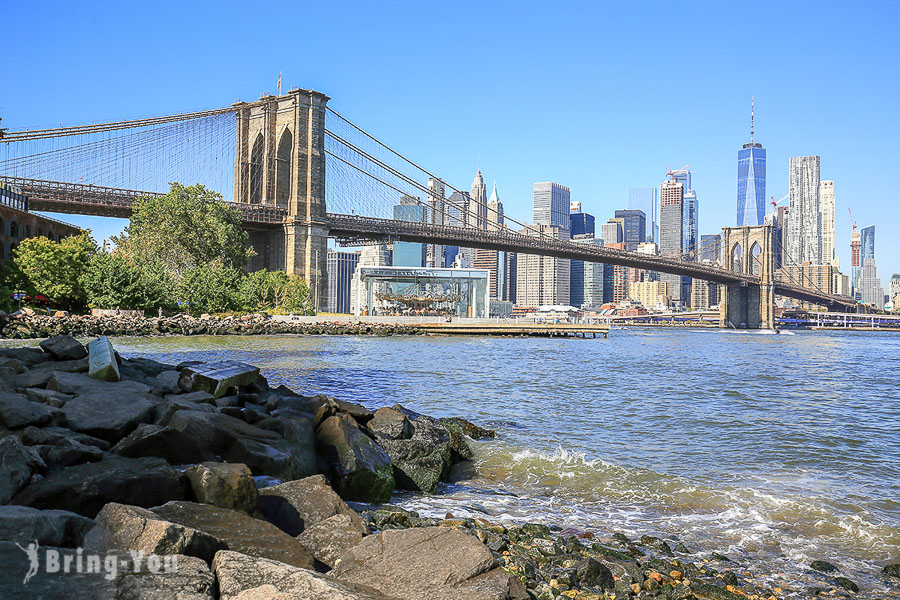 Pier 1 and Pier 2 celebrate the bustling vibe of Dumbo with a peaceful flair of nature. The piers run along the river with the rocky dyke serving as a solid base for your Instagram shot.
What Is the Best Time to Visit Brooklyn, Dumbo?
The second half of the day from sunset until midnight is the best time to visit Brooklyn, DUMBO for scenic view seekers and photographers. The sun is bearable and the whole city is soaked in the dazzling limelight, providing a romantic ambiance for a leisure stroll.
Otherwise, early in the morning is another great time to hit the city to dodge the crowds (of course, if you can drag yourself out of bed after a hard party last night!).
What to Eat in Brooklyn, Dumbo?
33 Nassau Ave lies the most famous beer garden and comfort food in New York, Spritzenhaus33. Cider, gluten-free beer, wine, and traditional German Pilsners coming straight out of the taps to make your taste buds go crazy. Munch on the hot, crispy, and mouthwatering sausages in this incredible beer garden was second to none.
If you're a pizza connoisseur, make sure to give Juliana's a spot on your bucket list! Hundreds of crispy pizzas coming out of the coal oven at the back of Juliana's everyday are filled with layers of cheesy goodness.
Best Hotels to Stay in Brooklyn
Bonus Takeaways: Shop Til You Drop and Fill Your Empty Stomach with Brooklyn's Outdoor Bazaars
If you're a fan of throwback wares, antiques, fashion, and records, don't miss out on NYC's most popular flea market! The price tags at Brooklyn Flea are fairly reasonable, ranging from $10 to $200.
You can also combine it into an outing shopping and eating day with Smorgasburg Williamsburg, the city's most famous food bazaar! The vendors assemble throughout the city every summer, with Marsha P. Johnson State Park being the iconic stop in Brooklyn.