Nestled in the beautiful mountains outside Tokyo, Karuizawa is a popular summer resort that provides peaceful, calming and pleasant environment along with unique architectures and attractions. It is just an hour away by Shinkansen bullet train from Tokyo. Visitors can cycle along the picturesque trails of nature on a day trip, or stay in a preferred hotel for a night or two to appreciate more what Karuizawa will offer. Karuizawa is an ideal place to hide away from the hustle and bustle of the city.
How to get to Karuizawa from Tokyo
Karuizawa can be reached by either the Shinkansen bullet train or buses from Tokyo. Spending 1 hour on the Hokuriku-Shinkansen of course is much more efficient in comparison to a 3 hour bus ride. One way train ticket costs 5910 yen, which actually can be covered by the JR Tokyo Wide Pass providing 3 day unlimited rides in Tokyo and the surrounding Kanto area.
Also Read:Top Things to Do in Tokyo
Where to stay in Karuizawa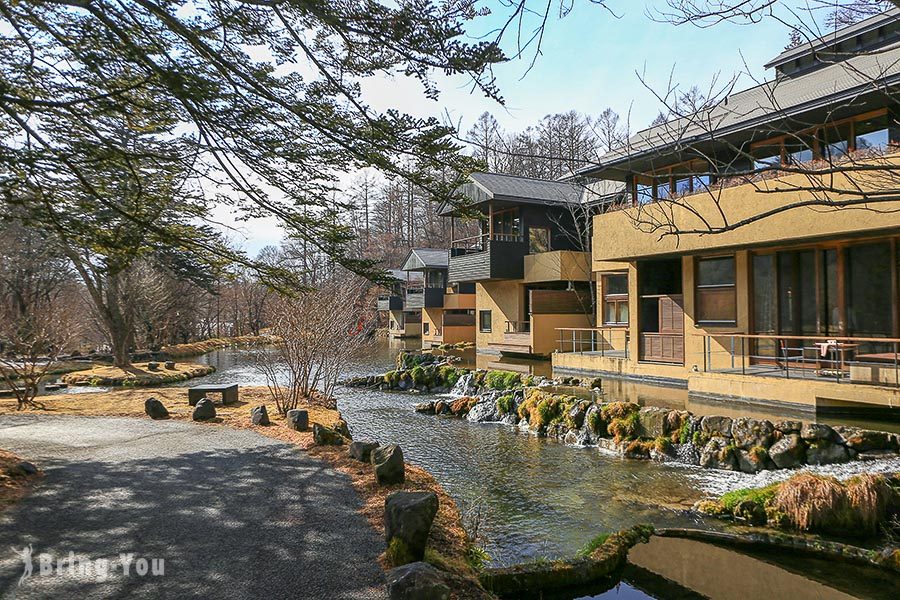 Karuizawa Prince Hotel is one of the best places to stay in Karuizawa. The hotel consists of four complexes, among which the Prince Hotel Karuizawa East and the prince Hotel Karuizawa West are situated just 10 minutes away from Karuizawa Station by walk. Different room types including cottages are available for guests to choose from. Hotel offers complimentary shuttle service to/from Karuizawa Station.
Check Out Best Hotels Deals in Karuizawa
Suggested Itinerary in Karuizawa
Karuizawa is a place to experience the relaxing and laid-back local lifestyle. Here is the suggested two-day itinerary to explore Karuizawa.:
Day 1: Kyu-Karuizawa
Check in at hotel:rent a bicycle → visit the Kumoba Pond  → have lunch at Kyu → Karuizawa Ginza Street → visit St Paul's Catholic Church → visit Historic Mikasa Hotel → go back to the hotel for the rest of the evening.
Day 2: Naka-Karuizawa
Take town bus to go to Hoshino Hot Spring Station:visit Hot Pot Restaurant → Karuizawa Kogen Church → Hoshino Stone Church → Harunire Terrace → Hoshino Hot Spring → Prince shopping Outlet
Where to go in Karuizawa
There are two main areas in Karuizawa: the old town Kyu-karuizawa is home for many luxury holiday villas and hot springs, while the Naka-Karuizawa has grown into a most visited tourist spot with many must-see Karuizawa attractions. It takes some time to travel from one area to the other, so it is better to plan on spending one full day in each area at your own pace to explore. It will be a bonus to add a side trip to Karuizawa South if you can manage to stay in karuizawa for 3 or 4 days.
Top attractions in Kyu-Karuizawa

: Kyu-Karuizawa Ginza Shopping Street, Kumoba Pond, Prince Shopping Plaza

Top attractions in Naka-Karuizawa

: Karuizawa Sengataki Hot Spring, Shiotsubo Hot Spring, Hoshino Hot Spring, Karuizawa Shiraito Falls, Harunire Terrace , Karuizawa Kogen Church, Hoshino Stone Church

Top attractions in Karuizawa South area

: Karuizawa Taliesin, Art Gallery, Rose Garden
Karuizawa major attractions
Karuizawa Prince Shopping Plaza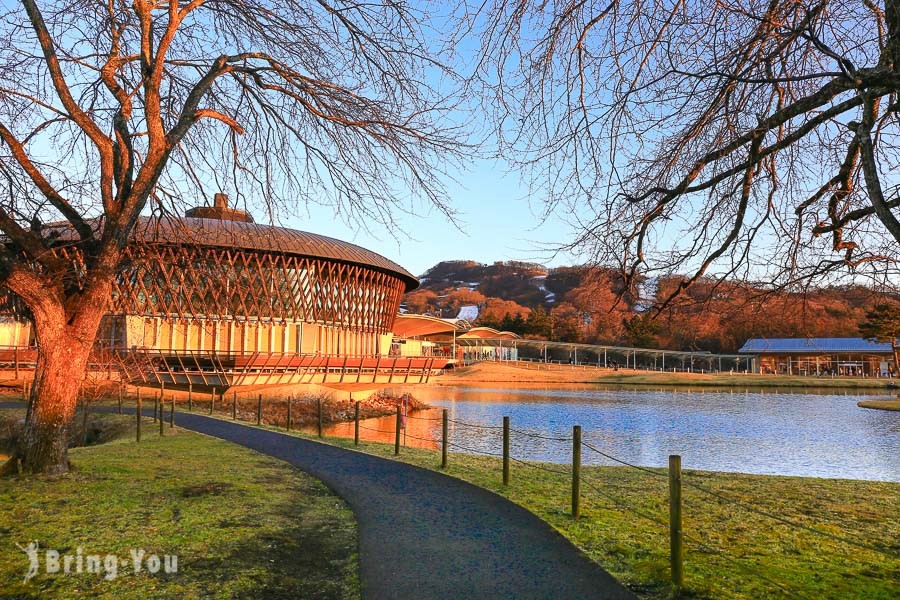 Karuizawa Prince Shopping Plaza is one of the newer and modern attractions contributing to Karuizawa's popularity. This Japan's biggest discount shopping outlet mall lies right across the street from the Karuizawa Station South exit. It consists of six blocks stretching from the East to West section of the Karuizawa Station area. The massive shopping space provides tons of selections that fit all budgets. There are more than 200 stores selling not only high-end brand fashion but also discounted local Japanese brand clothing, daily goods, souvenirs, along with food, restaurants and cafes. Big brand stores like Gucci and Bottega Veneta all offer good deals that are hard to beat. There is certainly something for every visitor.
Stopping by the information center first upon arrival is a good way to start the shopping experience, helpful staff will assist visitors in receiving special coupons and directions so they can save time and money. Baggage storage service is also available.
Kumoba Pond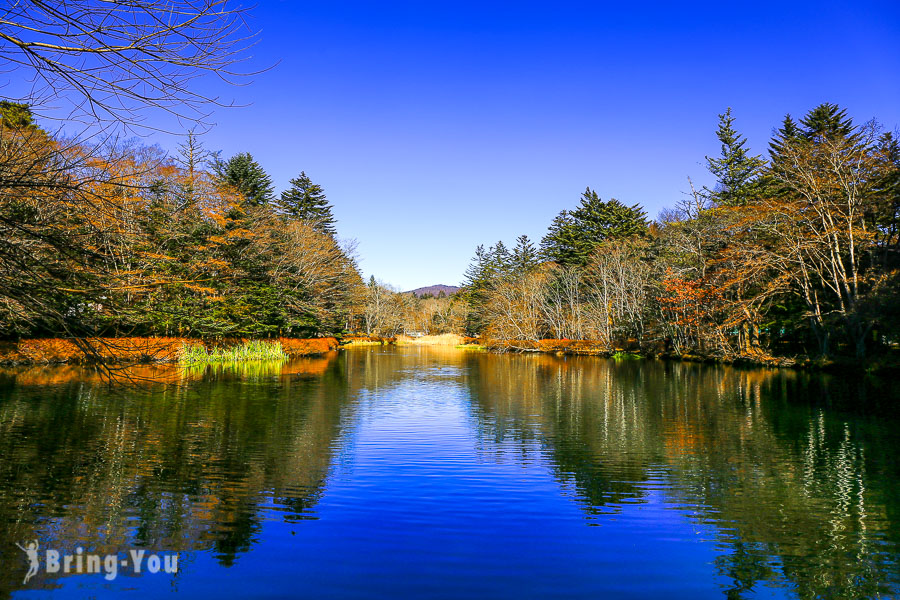 Kumoba Pond is a must-see attraction on the way to the Kyu-Karuizawa Ginza Shopping Street from Karuizawa Station. It is a wonderful spot to take a leisurely stroll to explore what the local life looks like, to wander along the scenic walkway around the pond, to be one with nature and relax, to see the charming hidden cabins and holiday villas, to watch the mind-soothing reflection of trees on the pond and to listen to the singing birds.
Kyu-Karuizawa Ginza Shopping Street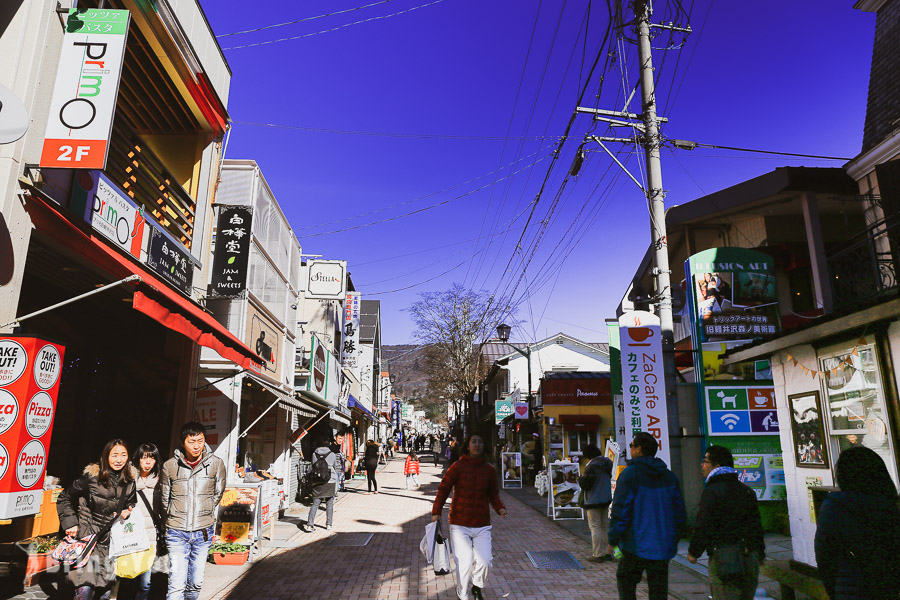 This is a local version of the most famous Tokyo Ginza shopping district in Old Karuizawa that no traveler wants to miss. There are many things to do and so much to see here. It is an amazing place for shopping, food tasting and souvenir hunting. It has a rich history of providing a wide variety of local shops and cafes. Visitors can find almost everything they love, from fashion, souvenirs, arts & crafts, local desserts to specialty jam and much more. The nice blend of traditional and modern atmosphere provides a unique flavor that is so different from Tokyo.
St Paul's Catholic Church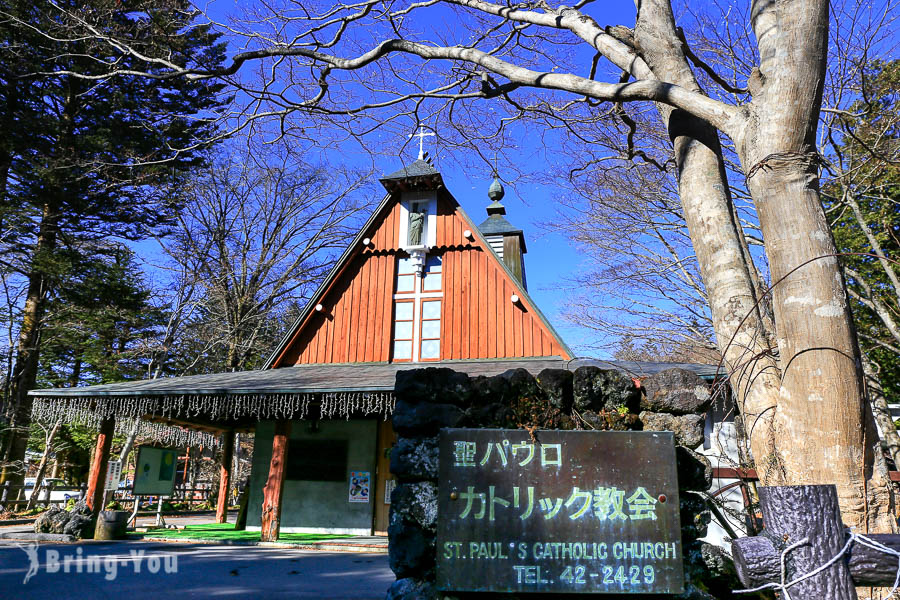 Visitors will find the St Paul's Catholic Church lying straight ahead as they move their way through Church Street from Ginza shopping Street in Karuizawa. The church was designed by American architect Anthony Raymond. As one of the famous historic buildings in Karuizawa, this beautifully designed European style architecture fits in the scenic and historical surrounding of Karuizawa perfectly. Karuizawa has been a dream place for wedding ceremonies inspired by the romantic love story of Former Emperor Akihito and Empress Michiko who met and wedded in Karuizawa.
Naka-Karuizawa Kogen Church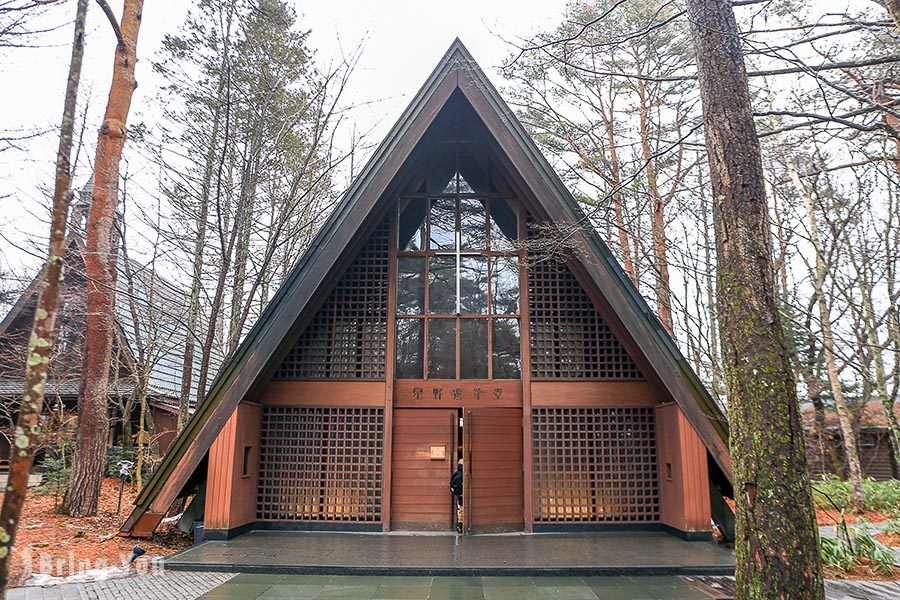 Karuizawa Kogen Church is the Landmark of Karuizawa. Surrounded by beautiful unreal greenery, the church has a modern and contemporary design with unique triangle wood structure. Today it serves not only as a place for religious worship, but also a most popular place for festivals and wedding ceremonies, as well as a tourist attraction. Please keep in mind cameras are not allowed inside the church.
Karuizawa Hoshino Stone Church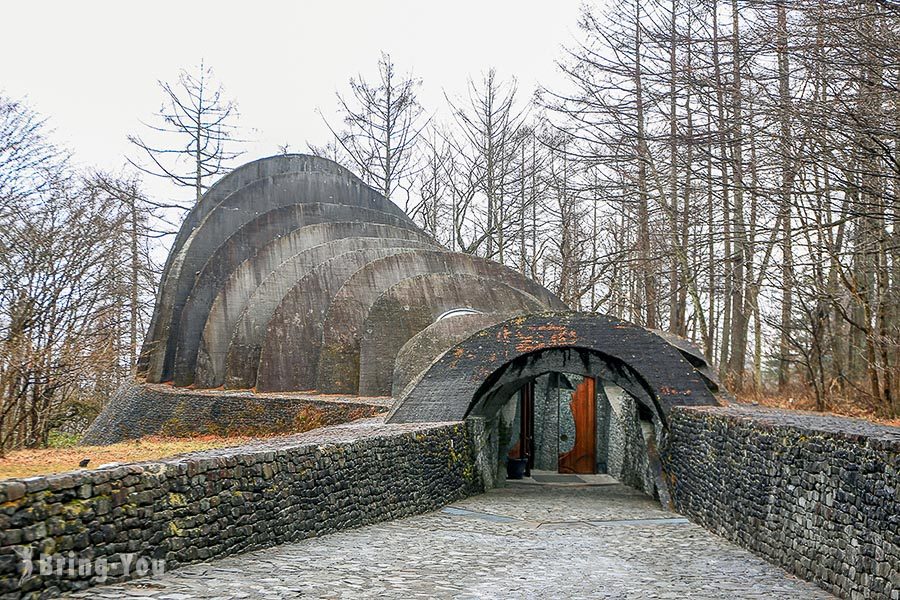 The Kauizawa Hoshino Stone Church is one of the most unique places to visit in Karuizawa. It is a distinct piece of architecture that was built in commemoration of the leader of the Non-church Movement Uchimura Kanzo. The church was designed in 1988 by American architect Kendrick Kellogg who was known as an innovator of organic architecture. Hoshino Chapel in Karuizawa is one of Kellogg's most celebrated works. The magnificent stone -walled architecture is a must-see attraction of Karuizawa.
Harunire Terrace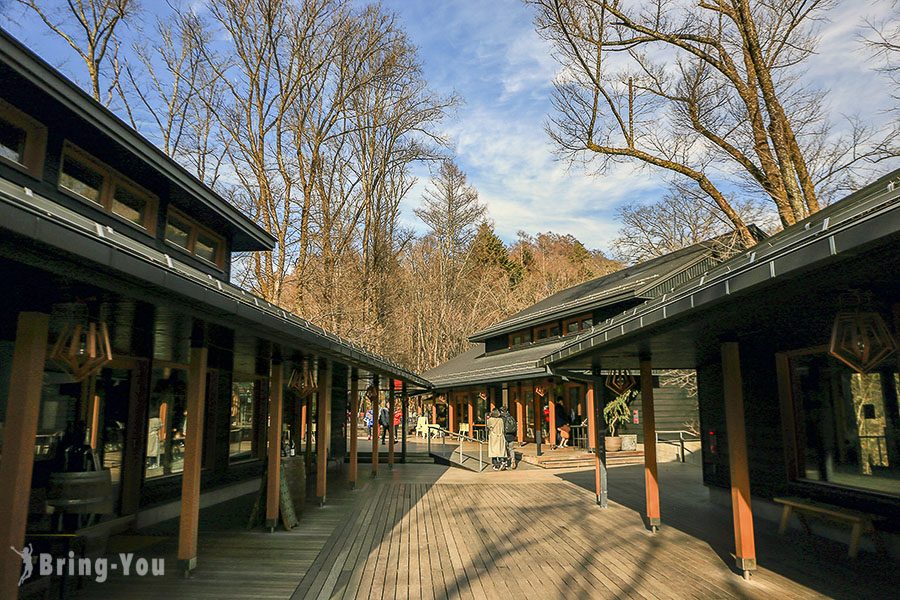 Harunire Terrace offers unique local shopping and dining experience in Karuizawa. Visitors can enjoy both the laidback lifestyle and the beauty of nature that the town is best known for. The outdoor terrace is built right into the heart of greenery with river flowing by the side. Take a stroll to the local specialty boutiques, restaurants and cafes, stop by the Bakery& Restaurant Sawamura for some delicious pastries, or try the best known exotic flavor of specialty coffee at the famous Maruyama Cafe. Harunire Terrace is one of a kind place to experience the distinct personal style of Karuizawa, a place to relax and unwind.
Sonmin-Shokudo is just about 5 to 10 minutes away by foot. It is a casual dining place that welcomes visitors to enjoy local food in the beautiful town of Karuizawa. Visitors can treat themselves by taking a bath at the nearby Hoshino Hot Spring to boost their appetite before meals. Visitors who are not staying at Hoshino Resorts can enjoy the paid service of indoor or open air bath, Sauna and cold bath between 10:00 to 23:00. Hotel guests have exclusive access before 10am.
Karuizawa Shiraito Falls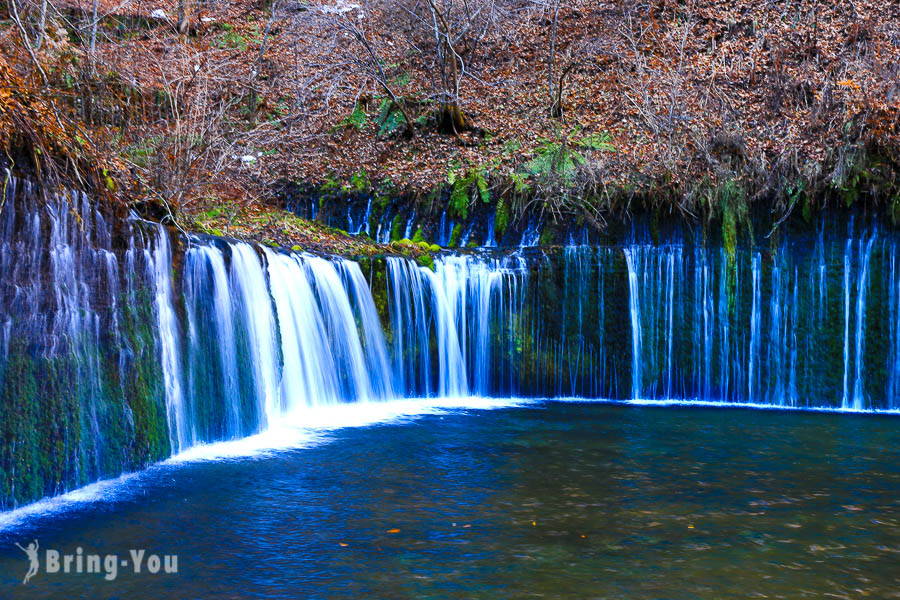 Located in the forests north of the town center, Shiraito Falls are ranked the most beautiful waterfalls in Japan. Volcanic Spring water cascades down off the edge of a 20 meter high cliff, creating an appearance of thin stream curtains that resembles hanging threads of white silk, just like its name suggests. This is one of the best places to capture the natural beauty that Kruizawa has to offer. It takes about 20 minutes by bus and at least an hour by bicycle to go from Karuizawa Station. Those who plan a bicycle tour to Shiraito Falls should be prepared for a rough ride due to the condition of the winding steep mountain road.
Related Stories