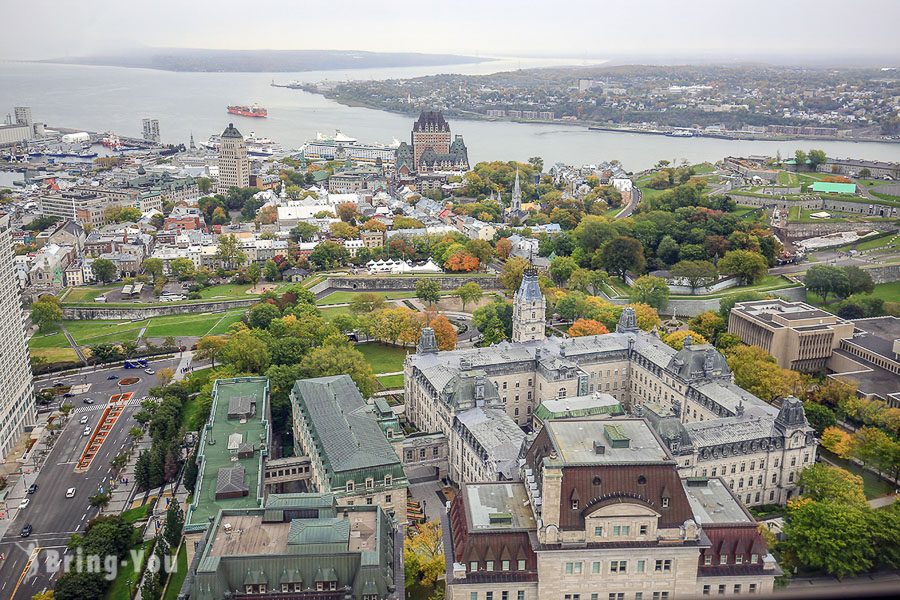 Quebec is a no-stranger on the map of Canada's most visited places. It's a historical part of North America steeped in tradition and a strong European flair. Quebec is by no means a place to rush. So get ready to clear up three days in your calendar to make the most out of this incredible city.
From the cobblestone streets to the historical residential houses, from the majestic Fairmont Le Chateau Frontenac Hotel to the big, mild river flourishing its city life from two sides of the banks, Quebec is a gorgeous mashup of the old and the new, of North American modern vibe and an old-school Europe je ne se quoi.
This eastern province has always been able to find an excuse for an up-all-night party, a lazy afternoon eating cake out on a breezy patio, or a getaway to a cinema watching a movie. With French being the main language and English coming second, Quebec is a city of love in North America where we all want to come with our loved ones.
Dig into this Quebec city guide and pick up my favorite attractions from both the Upper and Lower Town!
Things to do in Upper Town (Haute-Ville)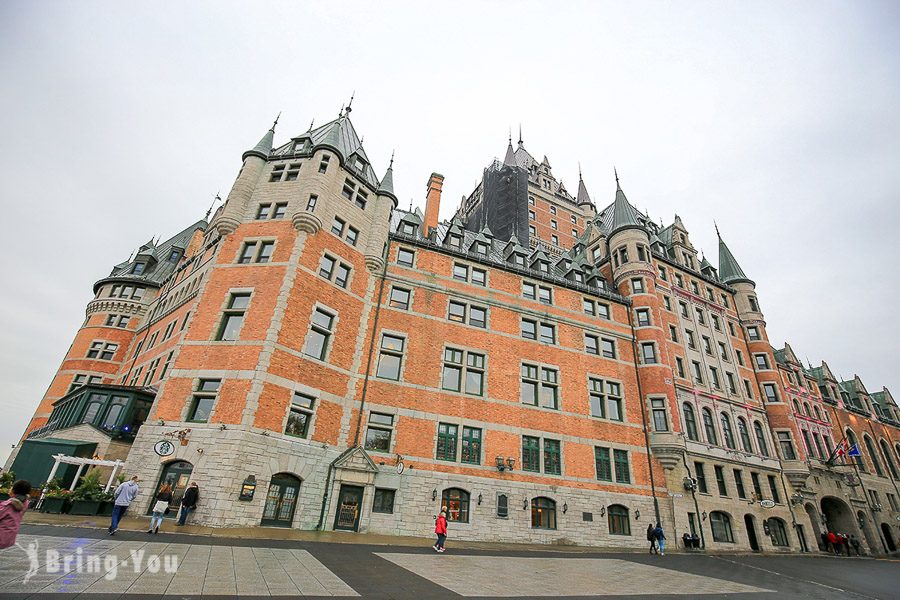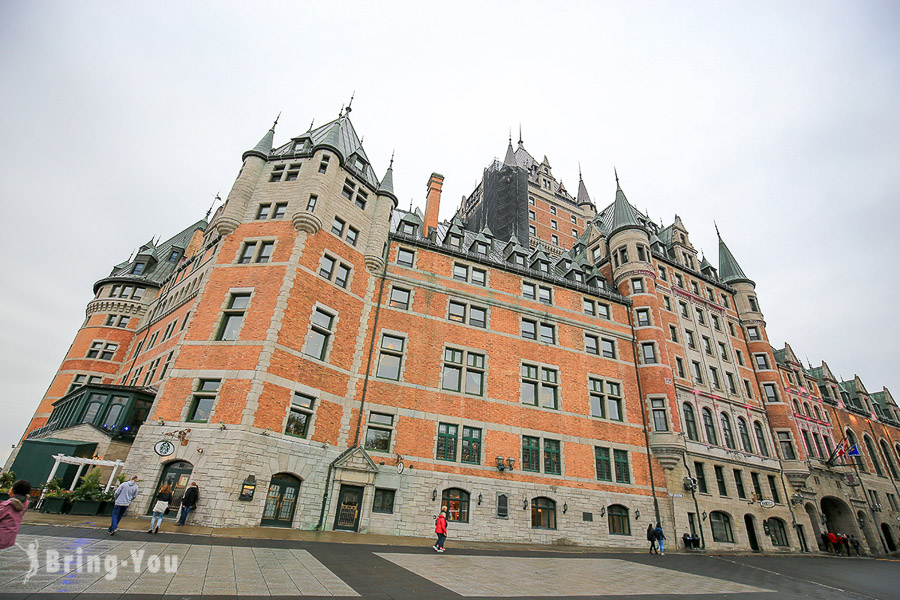 Sharing one-half of the city, Upper Town needs at least two hours to fully discover. Or even better, you can spend up to three hours here starting from the Fairmont Le Chateau Frontenac Hotel which dominates the split between Upper and Lower Town before ending at Hôtel du Parlement on Grande-Allée.
Even though there's no strict answer when it comes to the best time to visit Upper Town, consider venturing out when the streets are empty early in the morning. Since I planned to have lots of photos going on, getting rid of the crowds is the top priority to have unobstructed pictures.
The Upper Town is swathed around by a series of fortress walls, with the mighty St. Lawrence River flowing by to bring in a blissful yet inviting feeling of a European-like city.
Dufferin Terrace (Terrasse Dufferin)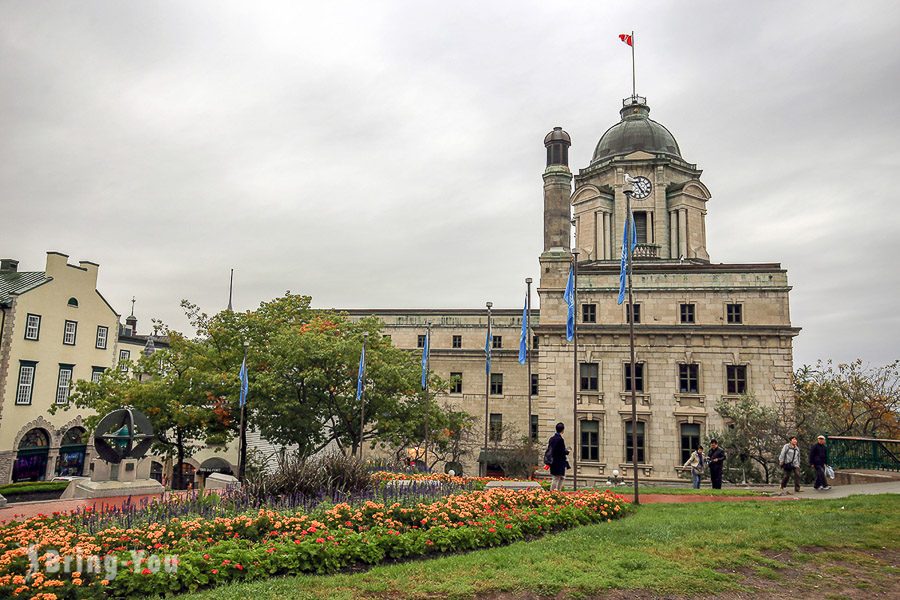 Nothing beats the beauty and fame of this iconic boardwalk. Dufferin is accessible from Le Chateau Frontenac Hotel within a short walk and is recognized by its green-and-white-topped gazebos.
When you walk along this path, you can admire the main parts of town from above. The blissful vista over the river, watercraft, and distant mountains make it one of the most popular attractions in Quebec. Plus, if you can get there by sundown, the romantic sunset will surely have your heart stolen.
The best thing about Dufferin is not only the view. Wanna go exercise to stay fit in the middle of the trip? Walk to the end of the boardwalk and keep going up the stairs for a short, steep hike!
Le Pain Béni
Stop putting too much stress on your cores! Stop by Le Pain Béni to watch the world go by while sipping on a good drink. I specifically love to sit at one of the sidewalk tables waiting for my serving of Smoked duck breast with apple vinegar to come. It's a great place to come with an empty stomach and try all of their signatures including the mascarpone espuma as a dessert.
They also dish up some really good Quebec fondue to share with your loved ones while watching the streets out there abuzz with actions.
Édifice Marie-Guyart
Standing vividly against the high blue sky, Edifice Marie-Guyart is an office skyscraper with a distinct architecture completely different from the historical buildings of Quebec. Edifice Marie-Guyart is the tallest building not only in Quebec but also east of Canada, reaching a whopping height of 126 meters.
Apart from its brutally modern exterior, you can reach the top of the building to the 31st floor and soak up the majestic sweeping wraparound vista of Quebec. Looking over the lush parks that are nestled by the big river will send chills down your spine.
Things to do in Lower Town (Basse-Ville)
The Lower Town is connected to its Upper Town and you can easily walk there starting at the Terrasse Dufferin tower. Alternatively, you can get there from the boardwalk in front of Château Frontenac. The end of the Lower Town has the benchmark at the Place-Royale which is a restored central square.
This part of town can be explored within an hour and a half, and the best time to visit is during the day. If you're here for the photos, I recommend going early in the morning to capture the mild sunlight piercing through the historical houses. The sheer beauty of Quebec's Lower Town comes from the rich history it's steeped in. This area is also known as the oldest residential area. Today, there are many boutique hotels nestled amongst upscale restaurants and souvenir stores.
Fairmont Le Chateau Frontenac Hotel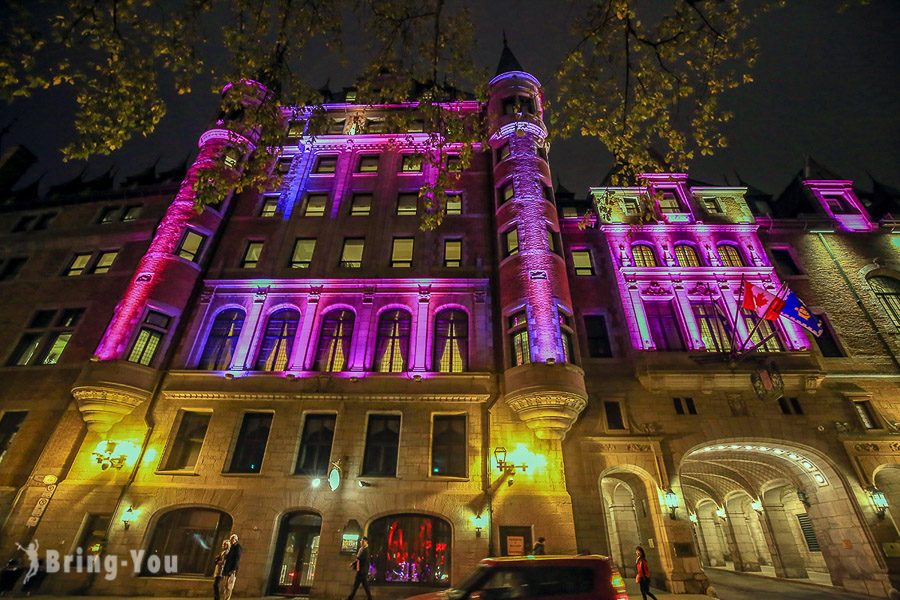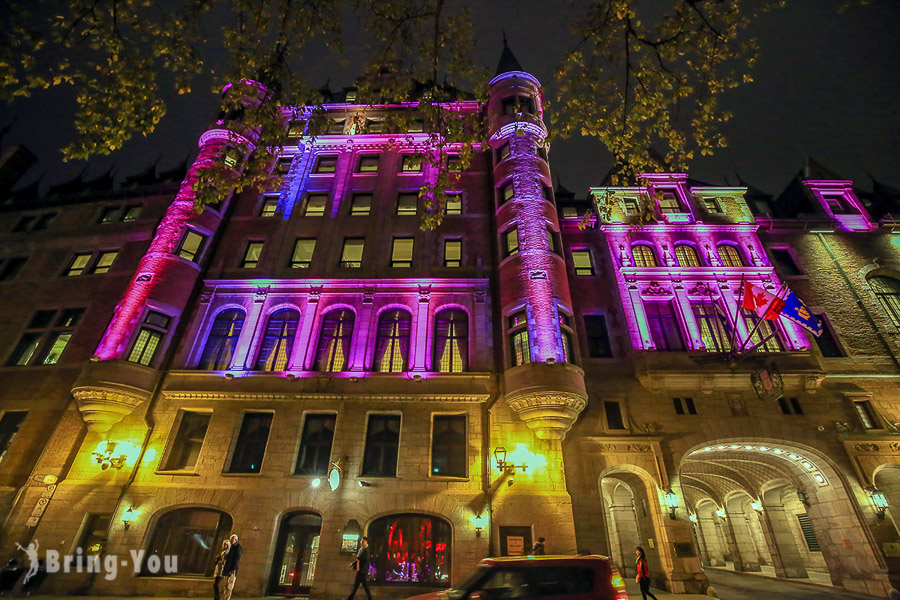 Do you know that Fairmont Le Chateau Frontenac is the most photographed hotel? I decided to stay in this historical castle hotel during my trip to Quebec to get a sense of its heritage vibe.
First thing first, the view!
The breathtaking view over the majestic Lawrence River and the old fortified city is everything. The grand hotel is literally perched on the highest altitude with a stone's throw away from the Cathedral-Basilica of Notre-Dame de Québec and Quartier Petit Champlain.
Fairmont Le Chateau Frontenac has been going strong for ages ever since its debut in the late 19th century.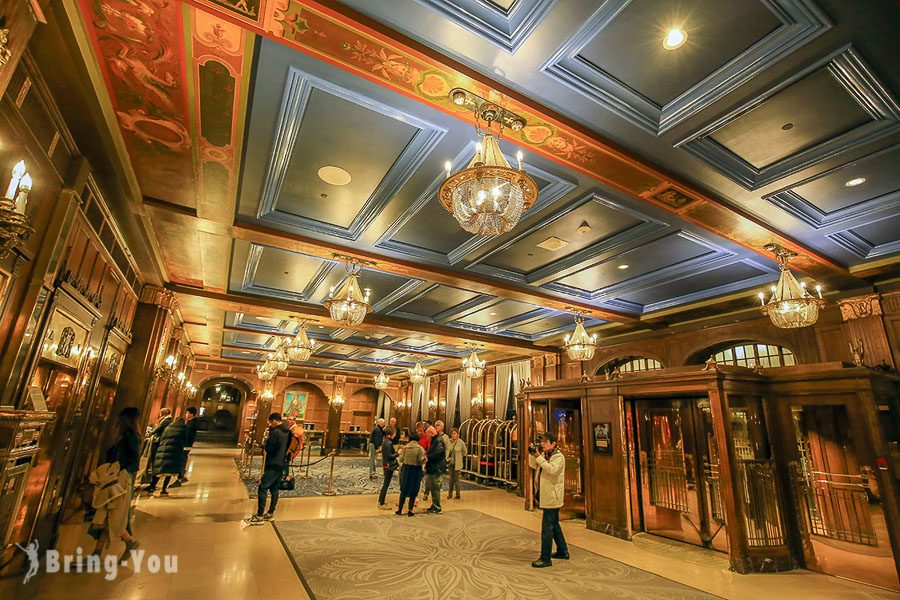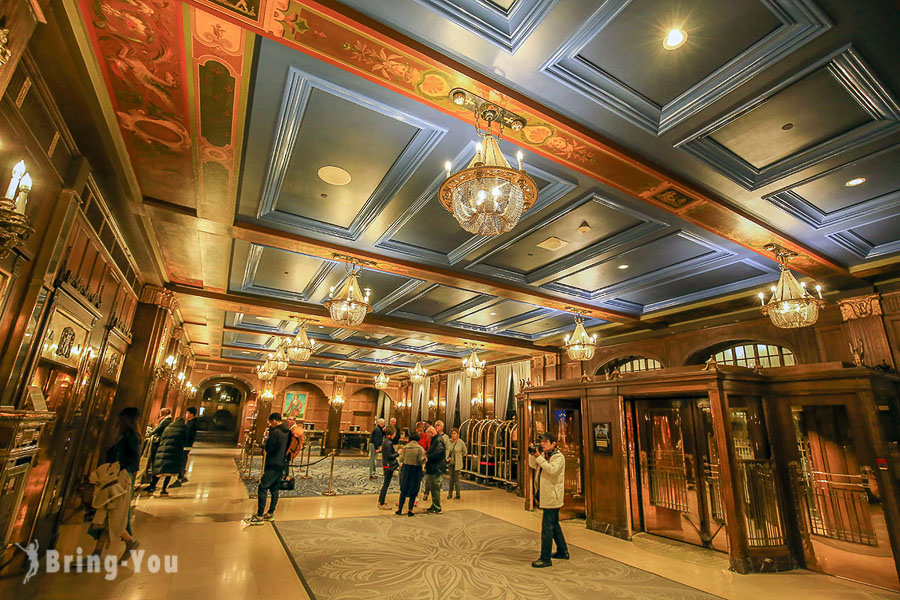 Even if you only stop by for a look at the lobby and the restaurant, this hotel is still a perfect destination to have a few moments in awe with impressive corners inside out. All in all, Fairmont Le Chateau Frontenac is truly a symbol of Quebec you've gotta check out.
Quartier Petit Champlain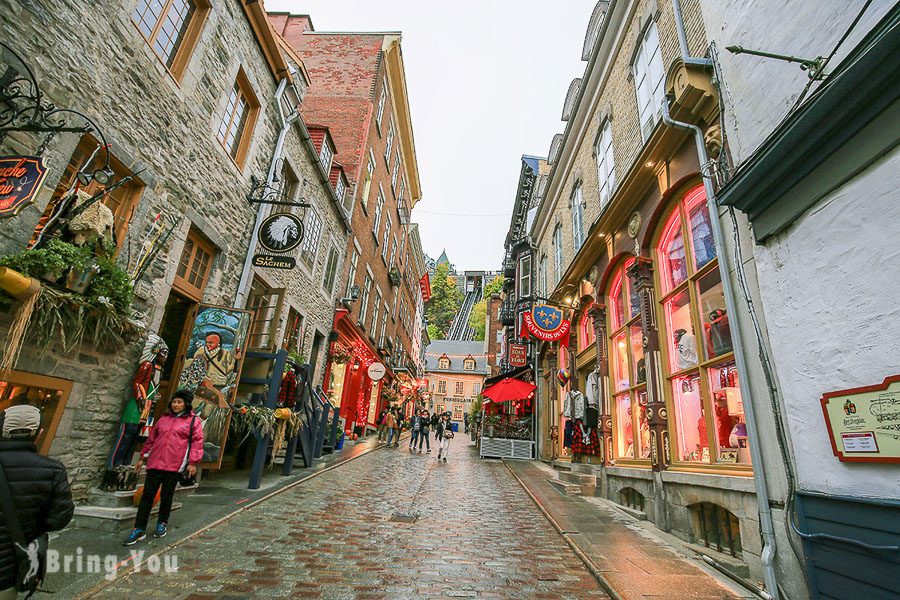 If there's one place you should not miss even if you only have a day to visit Quebec, that would be Quartier Petit Champlain!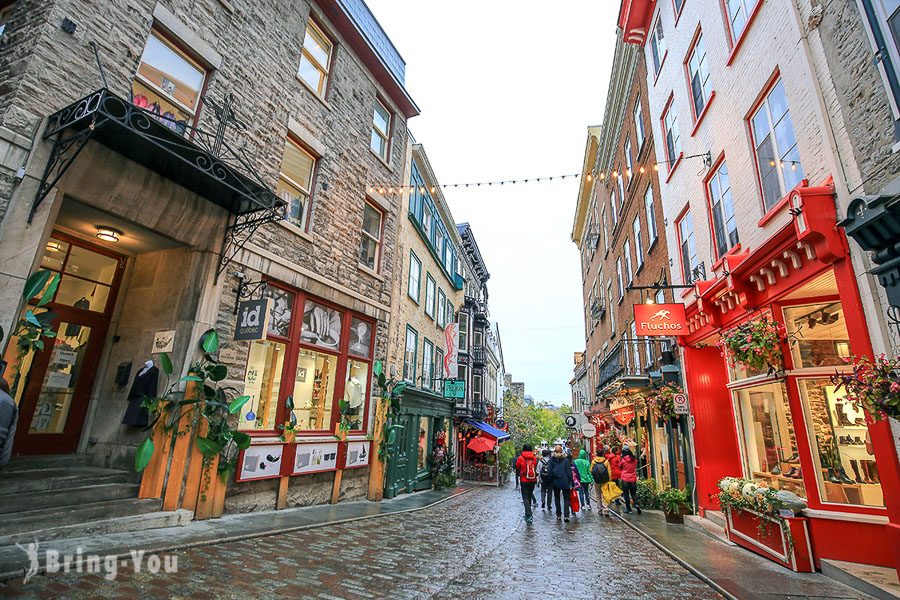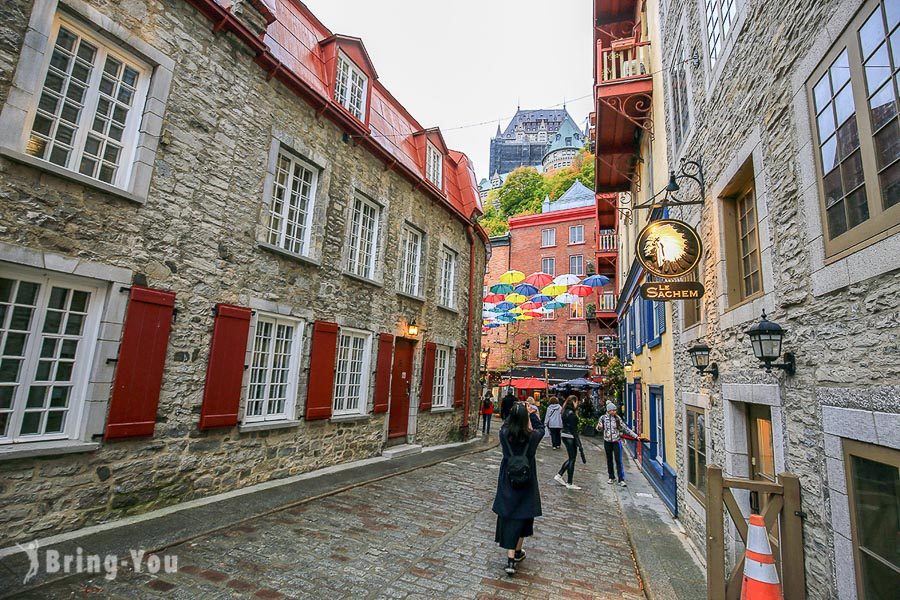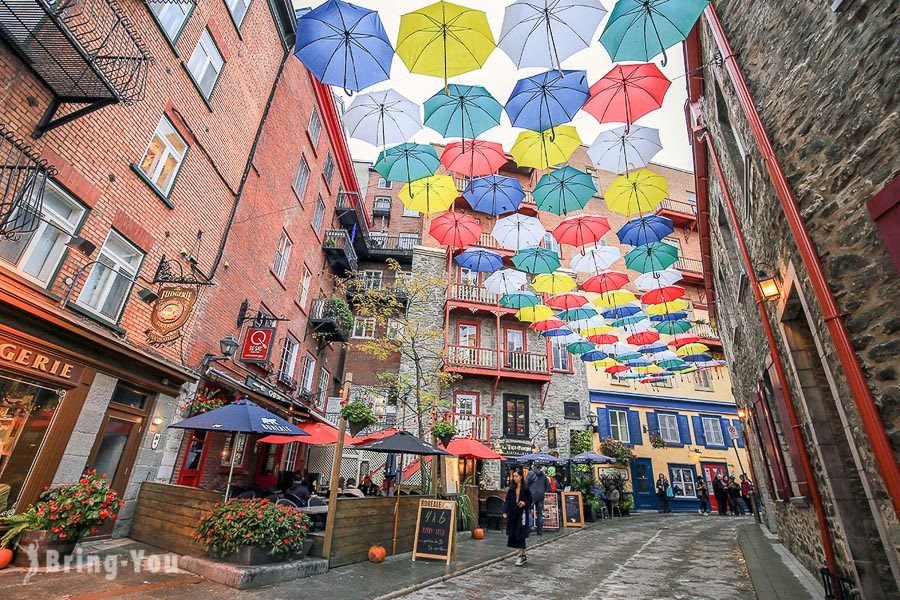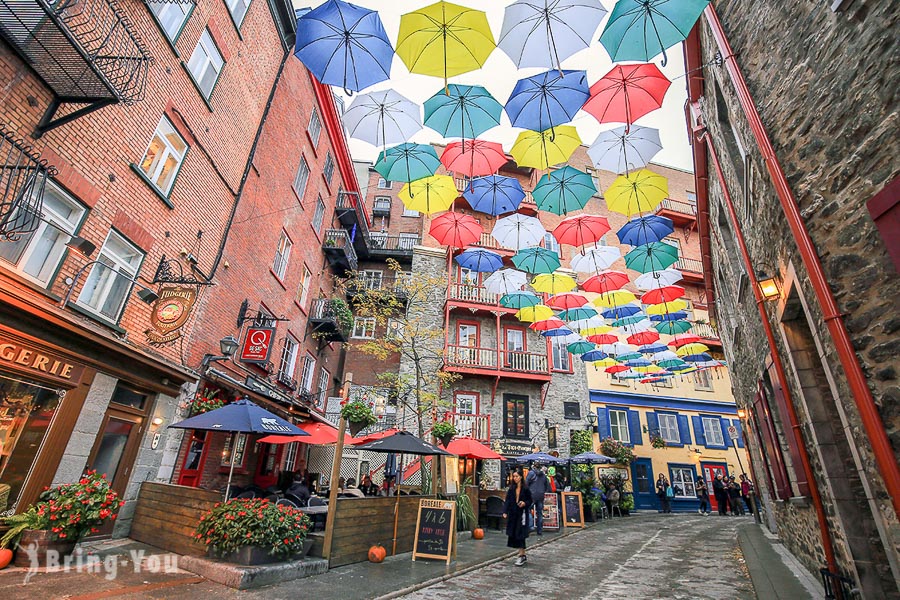 Steeped in history and packed with Pinterest-ready corners, Quartier Petit Champlain is a beautiful, dream-like area that thrives from a former tiny riverside hamlet. Quartier Petit Champlain is now one of the most visited places in the city. Its claim to fame cannot go without the cobble-stoned zig-zag streets and multi-centennial colorful townhouses with flowers flanking the curved balconies.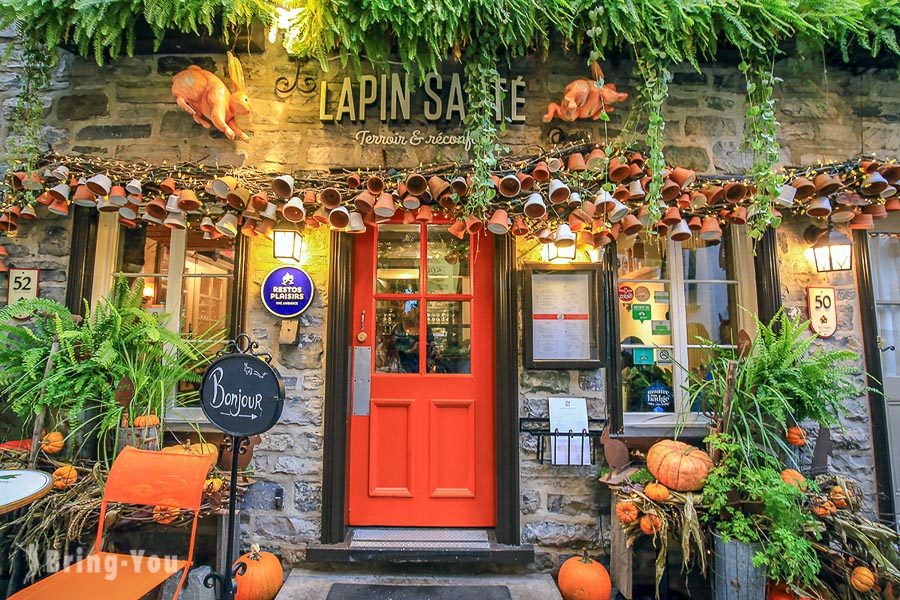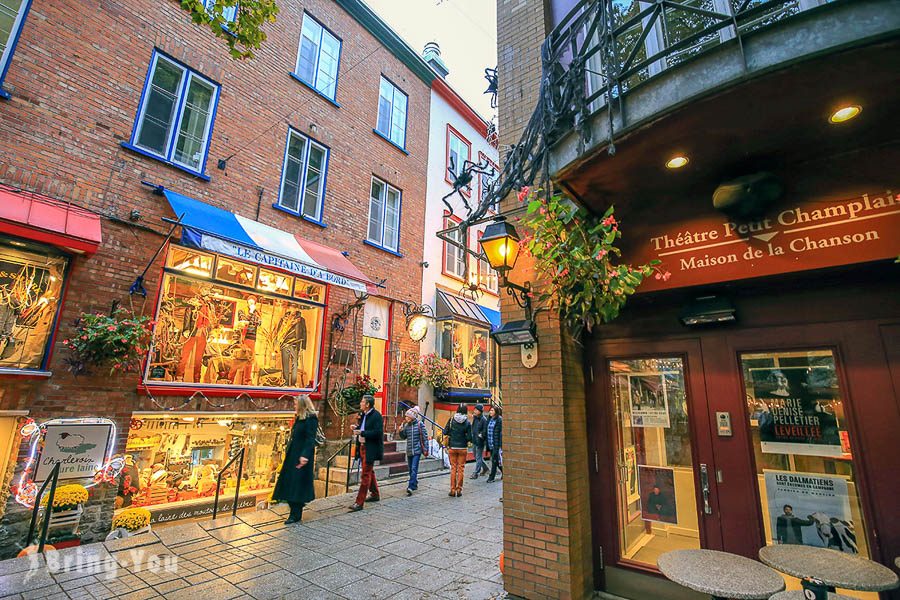 A short walk around Quartier Petit Champlain will lead you to so many cute cafes and bistros where you can wind down after a long walk and recharge.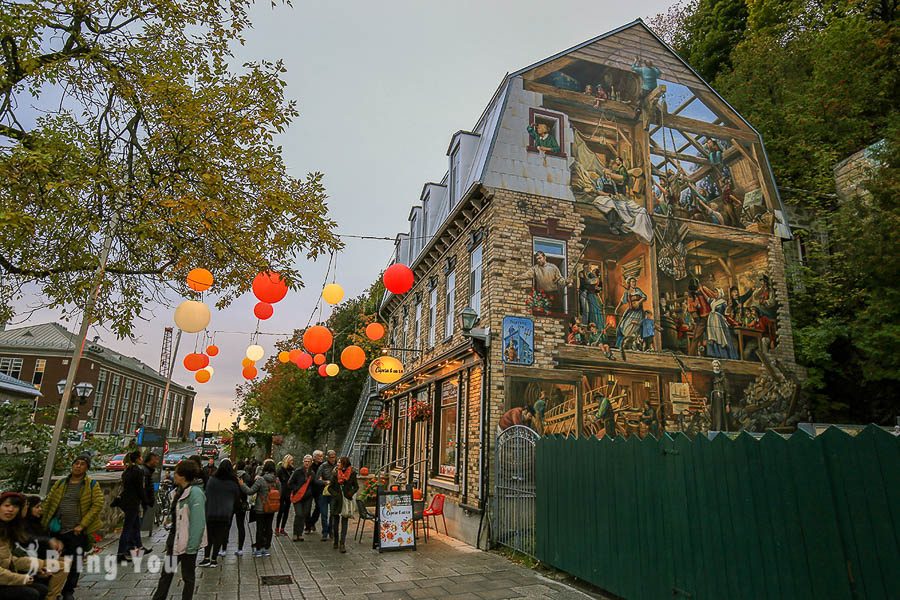 The bloodline of the Quartier is Rue du Petit-Champlain which is dubbed North America's oldest street. Rue du Petit-Champlain is the only-pedestrian street where most restaurants and cafes line up. Even though Rue du Petit-Champlain is a beautiful place to visit in summer, winter also turns it into a wonderland with ice statues and sparkling lights sprucing up the night.
1640 Bistro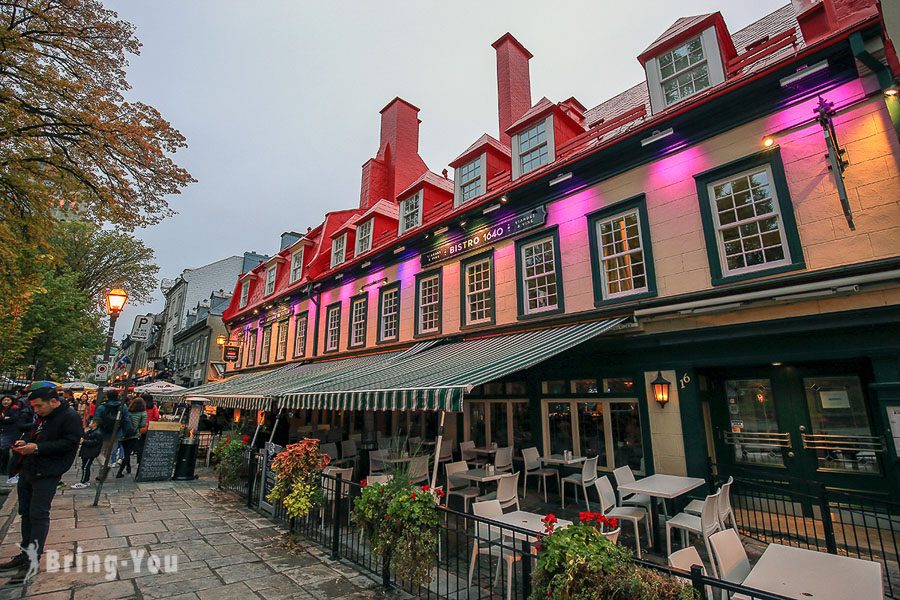 A complete Quebec discovery is not complete without a stop at 1640 Bistro. Located on the beautiful street of Saint-Anne, 1640 Bistro is a quaint, high-end bistro that opens out to a brilliant view over Chateau Frontenac from a breezy balcony.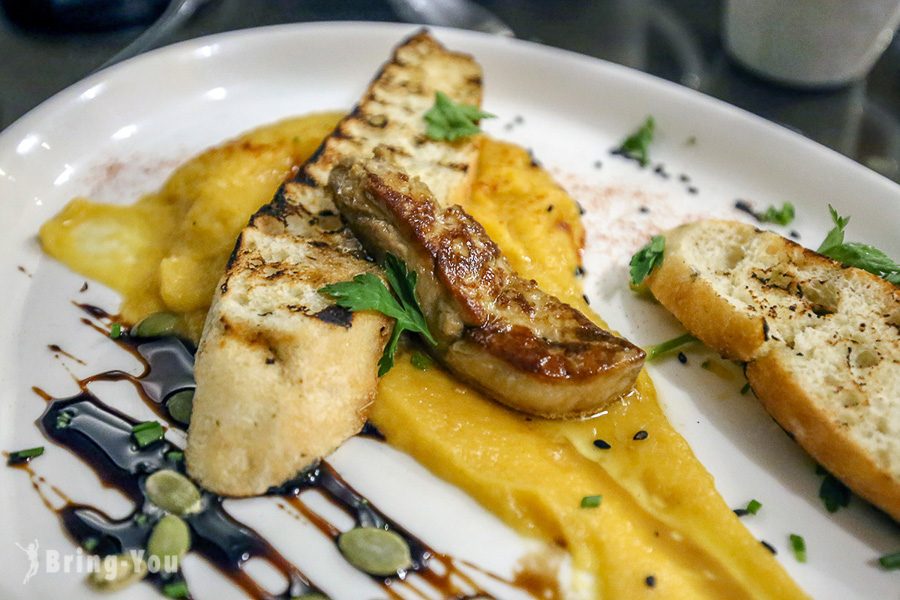 1640 Bistro is my favorite stop every time I visit Quebec. It's a stellar hideout to bond with friends in an impressive décor inspired by the golden era in the 20s with a modern hint.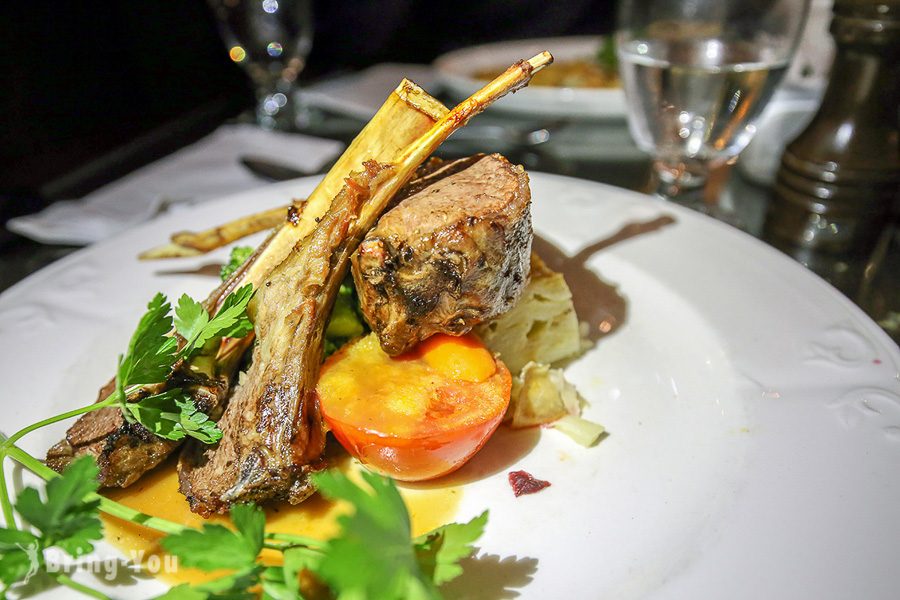 1640 Bistro dishes up some really good, classic Canadian cuisine. They have a small menu but are very comprehensive. Make sure to go for a serving of Caesar Salad and steaks before capping off with a hearty, rich Crème Brûlée!
Final Words
Rain or shine, summer or winter – the city of Quebec is injected with a sheer beauty no matter which season or whether it is. I hope you will love Quebec as much as I do. And of course, don't forget to share this insightful travel guide so your friends can rock this historical city in their own way like you do!