Blending the old and the new in the most incredible way, Hanoi – Vietnam's current capital, is a melting hub of cultures and the second biggest city in this S-shaped country. Some say Hanoi is insanely crowded and the traffic patterns will put someone off, but is it really the truth? Or it's an irony that keeps a curious soul like you wanting to dig deeper into what Hanoi has to offer? Let us tell you a secret: Hanoi is totally worth a visit even for a second-time visitor, let alone new-comers. So here we are with a bucket list of 10 best things to do in Hanoi that you don't want to miss!
What to Expect before Visiting Hanoi?
Sitting by the banks of the peaceful Red River, Hanoi is the capital city of Vietnam brimming with nostalgic colonial mansions, layers of history, a full-on food scene, and an enigmatic young generation. Born as Thang Long, an ancient capital of Dai Viet, Hanoi has undergone many ups and downs to win back its position as Vietnam's capital.
Most of the time, Hanoi is put against Saigon in a city rivalry to be the most livable place in Vietnam. No matter the reason is, Hanoi races to make up for what's been lost to the civil war. And today, when you look at Hanoi, what you see is a crumbling, moss-filled facades of the ancient houses in the old quarter as well as a sheer vibrancy of temples and museums.
No more keeping the modern world at bay, the streets of Hanoi today surge with blaring horns and insane lines of busy white collars rushing to work every morning. Yes! It is insane – but in a good way that can't be seen elsewhere! Visiting Hanoi today, we want you to peel off each layer of history in this dramatic city and reveal the hidden sides of Hanoi you've never seen before! Read on to the 10 best things to do in Hanoi below, dig into the resilient vibe of Vietnam's capital, and plan the best vacation in Hanoi in your own way!
10 Most Iconic Things to Do in Hanoi to Seize Its Generosity and History
Peel off Hanoi's Layers of History at Thang Long Imperial Citadel
History buffs assemble! We want you to spend two good hours strolling around the Thang Long Imperial Citadel before visiting elsewhere! This UNESCO recognized site beholds 13 centuries of Hanoi within a large complex covering many artifacts dating back to the 6th century. Contemplative as it seems from the exterior, the Citadel houses a sprawling collection of ancient palaces which belong to the former dynasties.
And guess what? There's even an archaeological site hiding multiple layers of the past constructions through different centuries overlapping one another! Take this chance to admire the ancient roads, wells and ponds that have been buried by time! Everything seems to appear from the ruins to hand you a piece of ancient Vietnamese history with just a stare. To maximize a historical insight into the Thang Long Imperial Citadel, remember to gear it up with a solid pair of cushion running shoes as there would be a lot of walking waiting ahead!
Seize the Pride and Dignity at Ho Chi Minh Mausoleum Complex
Beyond doubt, Ho Chi Minh is a controversial political figure who has left a great impact on the fate of this S-shaped country. Love it or hate it, Ho Chi Minh is holding a remarkable position in the hearts of many Hanoi dwellers. Perceived by many as a long-lasting symbol of Vietnam's capital, Ho Chi Minh Mausoleum Complex is a must-visit site in Hanoi that won't take you that long to complete.
Standing vividly amid a gigantic square, Ho Chi Minh Mausoleum is inspired by Lenin's Mausoleum. It puts on a rustic grey edifice that significantly complements the serene setting it's nestled in. If you wish to take a brief glimpse of Ho Chi Minh's preserved body, take this chance to indulge in a once-in-a-lifetime experience!
Other than just the mausoleum itself, don't rush to leave because there are some more attractions within the complex which will surely give you a lot of insight. While the presidential building is a stunning photo-op before the sun beams down, the one-pillar pagoda will transport you to the 11th century with its significant architecture.
Uncover the Sprawling Side of Hanoi Old Quarter
One of our favorite things to do in Hanoi is watching life go by in the Hanoi Old Quarter. More than just a point of interest, the old quarter is the base for almost all tourists who want to take a glimpse of the real Hanoi without any hassle! Hanoi Old Quarter from above appears as an immense network of tapered streets and alleyways. The old quarter takes root as a business hub of tradesmen and artisans for five good centuries. And therefore, each street turn is marked with a different trade name, signifying a specific guild and item sold along the road.
And today, even though the old trade is long gone, the quintessence and authenticity of the local Hanoi people are still perfectly exhibited at every corner. This is where most of the accommodations gather. The local cuisine is taken to a whole new level through the bursting street food scene. Lovely ladies pushing their bikes packed with fresh flowers, and cheap craft beers at Ta Hien Street are some other highlights that gain fame for this incredible area.
Spend a Day like a Confucius Scholar at Temple of Literature
If you ever find yourself caught up by the chaotic vibe of Hanoi Old Quarter, why not step into the Temple of Literature and find your inner peace? Also known as the Confucius Temple, this ancient building was built in 1070 and became the first university of Vietnam.
More than just an attraction, the temple plays its role as a hall of fame for all finest Vietnamese scholars with a huge collection of stone turtle statues carrying a gigantic stele of honor on the back. Take a stroll through the wooden balconies to admire the old classrooms that stand the test of time.
Allow yourself at least an hour to fully discover this massive area as the temple is not made for those who like to rush. Take this chance to walk by the gardens, shrines and a museum to dig deeper into a day in the life of the royal scholars in the feudal era!
Take a Long Stroll around the Sword Lake
Encompassing a large compound of ancient temples, a crimson bridge and surrounded by a mecca of cafes and restaurants, Hanoi's Sword Lake means more than just a plain symbol of the city. We are talking about the nightlife that takes over the pedestrian street hugging the entire lake every weekend.
The lake beholds a historical legend of King Le Loi and a turtle god during the combat against the Ming troops in the 15th century. Therefore, the name "Sword Lake" was born to pay tribute to this remarkable section of history. Today, the lake pulls in travelers worldwide thanks to a mecca of outdoor activities that keep this site a vibrant scene to explore. Local oldies practicing Tai Chi in the morning, couples taking a long walk down the streets, live concerts dominate a busy corner every now and then.
It seems like the Sword Lake is a melting hub of all the happenings of both the young and the old. Set right next to the phenomenal Old Quarter, the Sword Lake becomes a top-rated thing to do in Hanoi for any out-of-towner staying at the core of the city.
Reveal the Tragic Side of the Vietnam War at at Hoa Lo Museum
The infamous Vietnam War had been making global headlines ever since Vietnam was torn in two in 1954. In Hanoi, there's no better place to catch a glimpse of what the tragic war was about than Hoa Lo Prison.
Initially built to capture the enemies against the French colonial government as well as American prisoners until 1975, Hoa Lo is a vivid living evidence that you should not go passed. Given a ridiculous name as "Hanoi Hilton", Hoa Lo brings the horrific treatment during the warfare back to life.
The prime location of the Hoa Lo Prison is set in the middle of the city and may raise the eyebrows of many visitors. So here comes the interest: an infamous prison was placed in the core of a political center like Hanoi encourages the local citizens to lay eyes on the actual happenings right in front of them. And therefore, the French rulers partially discouraged them from following the beaten track of the so-called "rebels".
A little reminder to bear in mind is that the descriptions of what's displayed in the museum may differ from what you've heard from the real American survivors. However, as Vietnam is now a Communist country, the exhibition you see today at Hoa Loa is to promote this viewpoint from the country itself.
Make a Day Trip to Halong Bay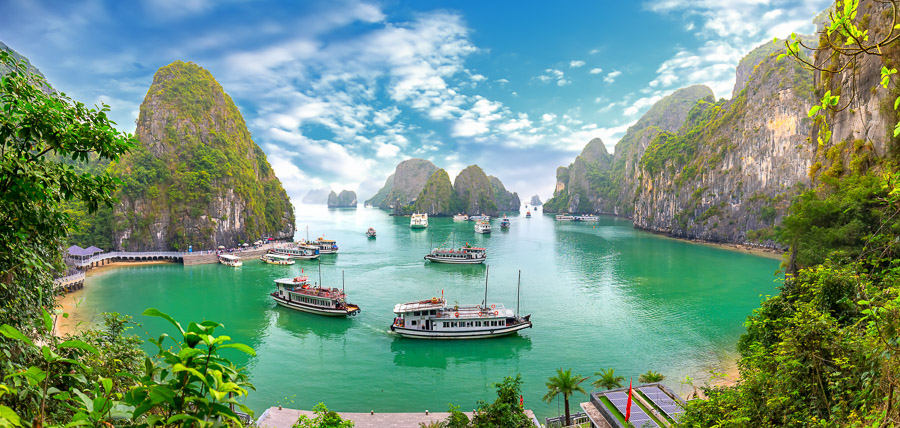 For the past few years, Halong Bay has been making global headlines with its world-renowned title of a UNESCO World Heritage Site. What is so special about it that your fellow travelers decide to make a day trip from Hanoi to Halong Bay?
This crown jewel of Vietnam is dotted by thousands of 2000-year-old limestones reflecting their shadows on the turquoise waters off the coast of Quang Ninh province. We want you to hop on a junk, sail through the gigantic limestone mountains, sneak into the magnificent caves, swim at the white sandy beaches before returning to the shore!
Call it a paradise on Earth or a mystical place – you name it! This otherworldly destination is page one of many travel magazines and there's no reason you should miss it! There are numerous tour packages and transfer service between Hanoi and Halong Bay. Most of them make a solid 3-hour trip between the 2 cities, so go ahead, book your tour right away and you won't ever come home disappointed!
Get Some Good Laugh at the Water Puppet Show
Are you down to see Northern Vietnam of the past centuries? If that's a nod, head straight to Thang Long Water Puppet Theatre and claim your tickets right away! Water puppet is an incredible art form with its stem dating back to the flooded rice fields in the 11th century. Inspired by the waist-deep water, the Vietnamese farmers came up with a past-time leisure performance, using puppets as characters.
The real magic, indeed, lies behind the bamboo screen. This is where the puppeteers control the "characters" with a clever system of rods, all hidden underneath the surface of the water. And once the puppets show up on stage, it's time to have yourself on the edge of your seat as the echoing tunes begin to take over the show, accompanying the vivid dialogues of the characters.
If you're a first-timer to Vietnam, don't ever let this show go to waste as it is definitely one of the top-rated things to do in Hanoi!
Indulge in the Full-on Street Food Scene
Are you ready to be spoiled for choice by the diverse food scene in Hanoi? No matter if you're a big foodie or not, Hanoi is always a mystical destination that keeps you hypnotized with its vibrant gastronomy. Each cuisine in Hanoi comes with a liberal use of fresh veggies, a great start to embark on your health-conscious meal intake.
We know there are so many foods in Hanoi to try and it's such a challenge for you to pick one over another! So instead of fighting over what to eat, we're here to recommend some of our favorite local dishes and the best spots to try!
Bún Chả, also known as Kebab rice noodles, is a famous lunchtime stand-by in Hanoi. Activate your nose and trace for an aromatic smoke of charcoal grilled fatty pork down the street! Once you've found your favorite spot, sit back, take a dip of the hearty pork pie into the sweet fish sauce, and you'll be on your merry way! Our go-to spot is Đắc Kim, a little 2-story old building down the street of Hàng Mành.
Other than this, make sure you will get a hot serving of egg coffee at Đinh Café, a tiny store nestled at the end of a small alleyway facing the Sword Lake! And whenever you crave for some booze before bedtime, hit the street of Ta Hien – the busiest backpacker road in the heart of the Old Quarter to cheer with your gang!
Plan a Weekend Getaway to Duong Lam Ancient Village
Situated just 50 kilometers Northwest of Hanoi, Duong Lam ancient village looms from afar as a forgotten community just stepping out of a history book. Everything you see from this ancient village reminds you of something quaint of the good old days in your childhood.
The village comprises 9 different hamlets where the families have been residing for generations. As old as the hills, Duong Lam is a collection of 956 laterite-brick houses nestled by the ancient temples which date back to the 15th century. Shades of the lush banyan trees and a wooden gate with porticoes curvy roof make a serene scene to welcome you into the village.
Once you're strolling down the streets, turning through the houses, the charming image of a peaceful Northern Vietnamese village begins to appear as if it has never faded after centuries. If you're looking for an off-the-grid place in Hanoi to catch a glimpse of the past, or simply admire a symbolic architecture that stands the test of time, check out Duong Lam ancient village and your vacation is completed!
The best time to visit Hanoi is Autumn and Spring. If Autumn brings in a mild weather to light up the inner peace of a romantic soul, then the chilly months of Spring will gear you up to ring in the new year and an utter family bonding time! Make sure you'll spend at least 2 full days to discover Hanoi to your heart's content!