Potterheads assemble! It's time to receive your Hogwarts letter, pack your bags, and venture to Hogwarts School of Witchcraft and Wizardry! At the Harry Potter Studio in London, your magical fantasy is not only worth an imagination! Situated just on the border of London, England's capital, the studio is officially known as the Warner Bros. Studio Tour London where the Harry Potter saga was filmed.
Today, we will walk you through one of the coolest adventures of your life where it's chock full of wizarding props, preserved film sets, and photo-ops. Here is a complete travel guide for London's Harry Potter Studio!
Harry Potter Studio Tour – What to Expect?
Every day, London's Harry Potter Studio attracts 6000 visitors. No matter if you're joining a self-guided tour or in a group, the spellbinding sets are always the strongest magnetic fields for all kinds of travelers. These magnificent props and costumes cast a spell on you with stunning and intricate installations, artworks, and large-scale designs properly displayed.
Going strong since 2010, the studio was brought to life when Harry Potter and the Deathly Hallows movie was capped off. A plethora of exquisite artifacts, props, and costumes were left behind, inspiring the production crew to come up with a life-changing idea – opening an interactive museum where all Potterheads can come and play.
Highlights of the Harry Potter Studio Tour
The Great Hall
Diagon Alley
Platform 9 ¾
Professor Dumbledore's Office
Hogwarts Castle Model
Studio Gift Shop
Butter Beer at the Backlot Café.
Essential Tips to Take Notice before Visiting Harry Potter Studio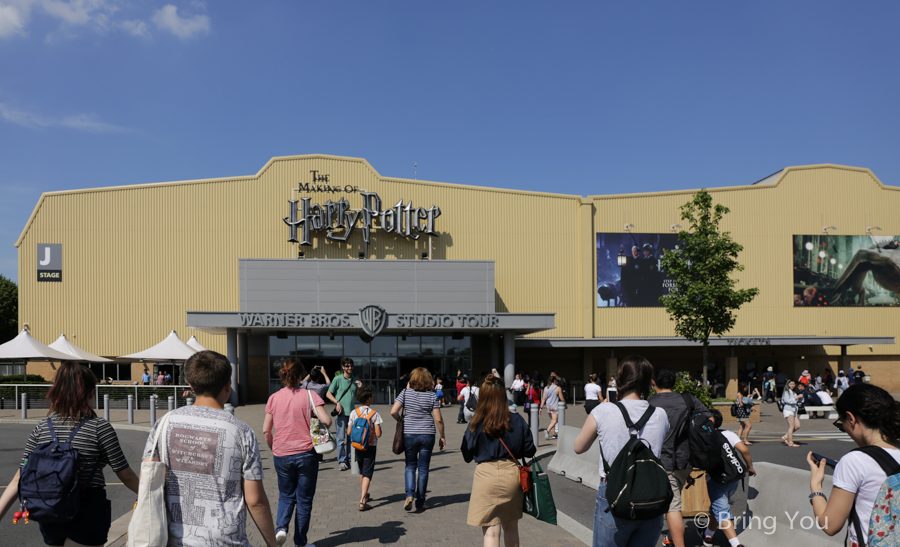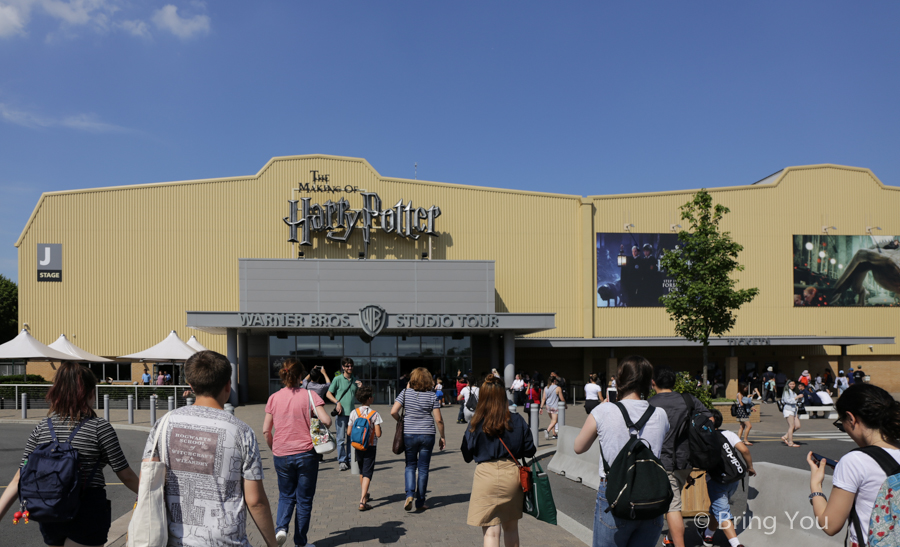 The best time to visit Harry Potter Studio is boiled down to the certain events you're looking at. If you just want to drop by for check-in then it's not a big deal regarding when to go, even though you have to book your tickets early.
In case you're scheduling around the big events such as A Celebration of Slytherin, Hogwarts in the Snow, or Dark Arts, make sure to check out these seasonal timelines and claim your tickets accordingly. The peak season to visit the studio we would say are Xmas, summer vacation, and during the half-term holidays. If you come over around these times, get ready to dodge the crowds!
Our tip to hunt for cheaper off-peak fares is to buy your tickets in advance, especially if you travel in a group of three or more. Last but not least, we recommend you to stay at least four hours on the set if you want a full experience inside out and not missing out on anything.
Where to Buy Harry Potter Studio Tour Tickets?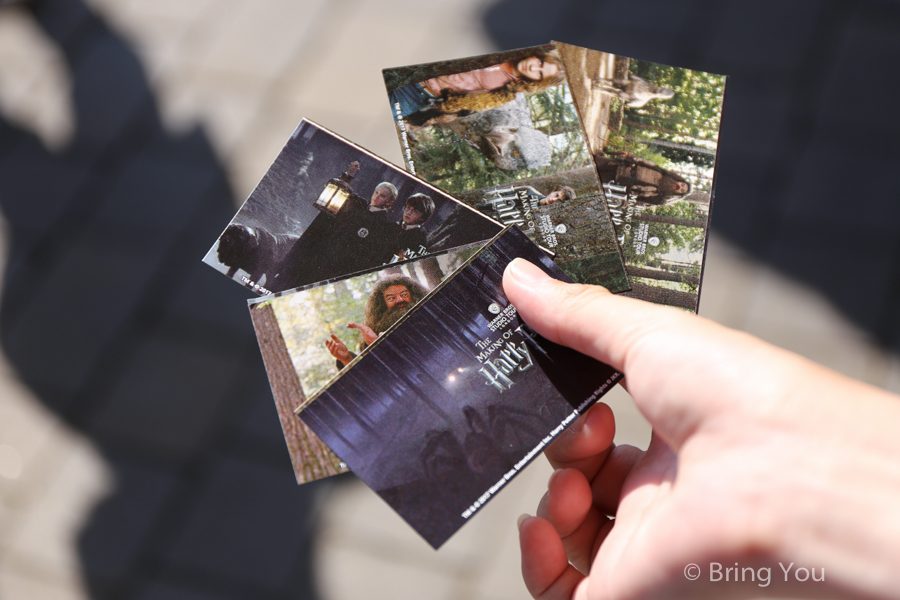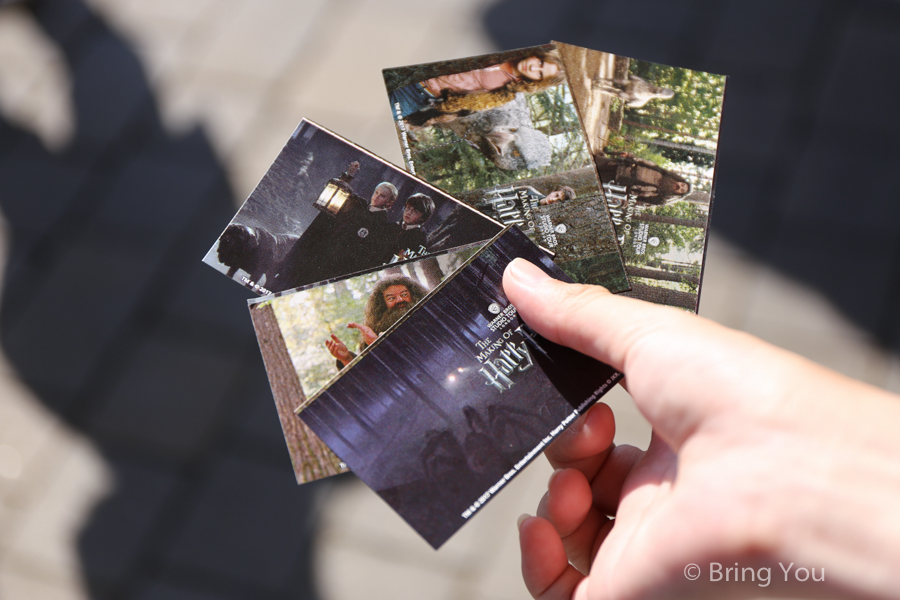 As advised by the studio developers, tickets must be booked in advance! You can just browse through different packages depending on your group size. Once you've checked the opening times calendar, set the right ticket quantity for each member of your group including adults, children, infants, or as a whole family. There're also offers on a complete studio tour package catered to those who want a full experience of everything and save a few bucks on top of the total price.
Lucky for us, we decided to book a one-day tour including pick-up and drop-off in London. It saved us a lot of effort and traveling times. You may want to do the same, especially if you travel in a group.
How to Arrive at the Harry Potter Studio London?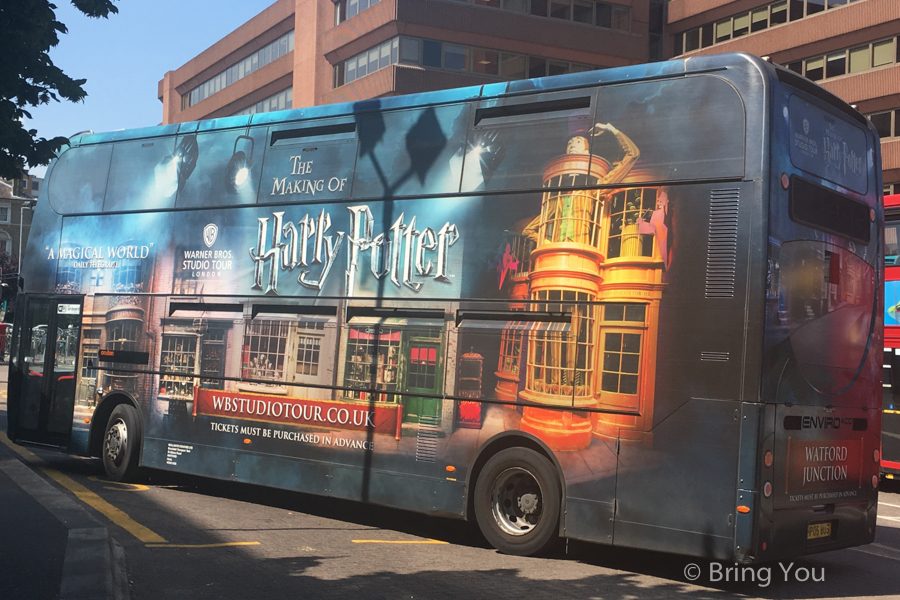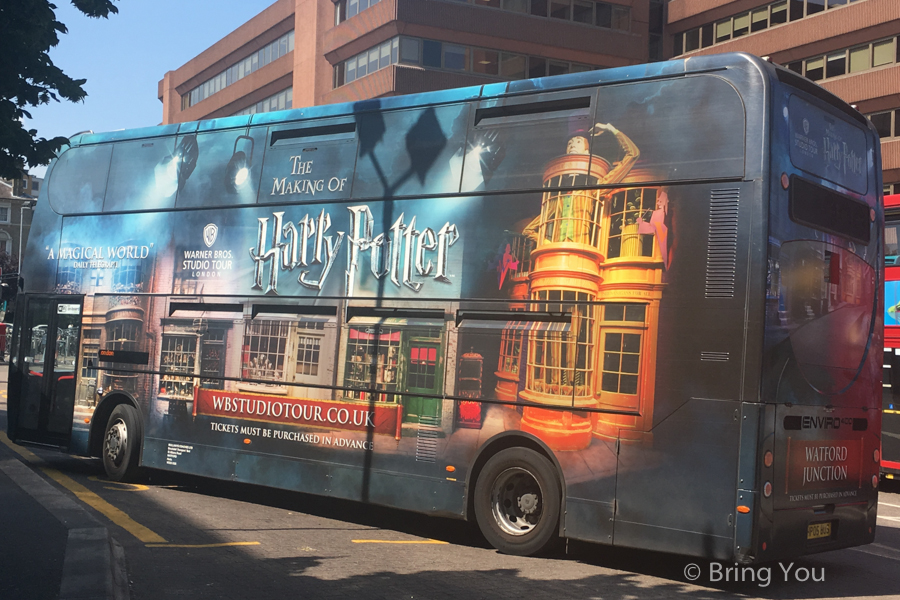 The Harry Potter Studio is 20 miles to the northwest of London. Reaching the Harry Potter Studio is feasible with multiple options. If you're a first-time traveler to London, book a one-day tour just like we did and have a local guide pick you up directly at the Victoria departure point. The trip lasts for just over five hours and drops you off around the Baker Street subway station.
If you prefer some sort of self-traveling, hop on the train from either London Euston or Birmingham New Street and get off at Watford Junction. It takes you 20 minutes from London Euston and roughly an hour departing from Birmingham New Street. Finally, we have shuttle buses operated by Mullany's Coaches to get you from Watford Junction to the studio in around 15 minutes.
Harry Potter Studio Tour Audio Guide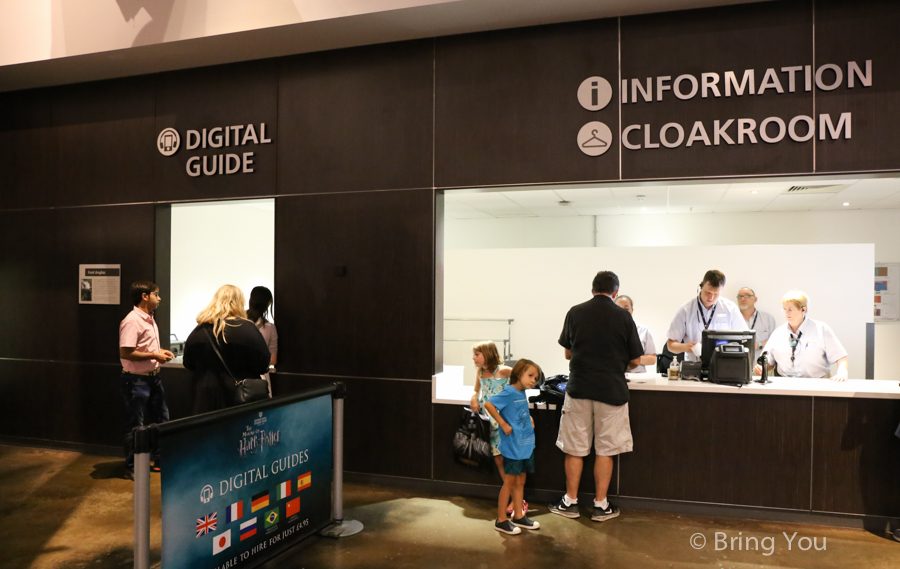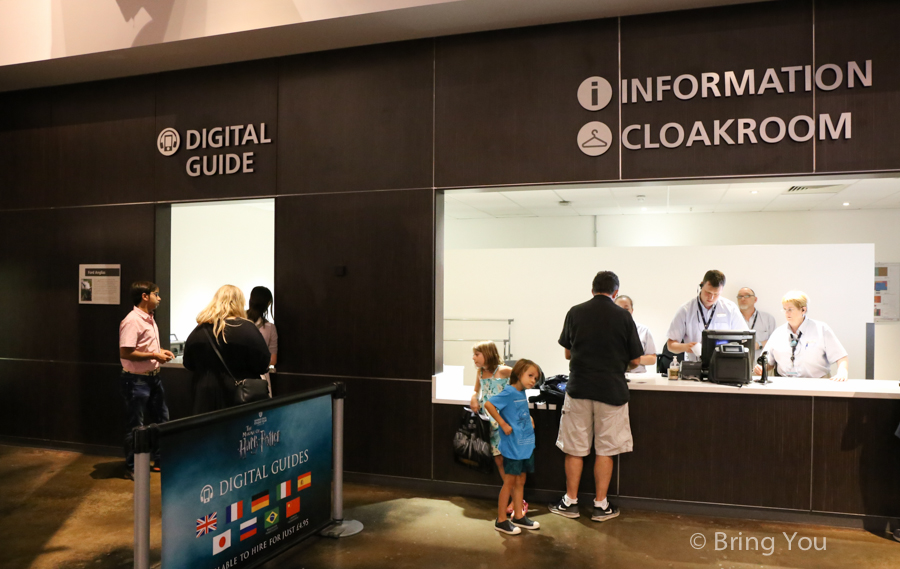 The audio guide will come in handy for those traveling on their own. We knew a couple of our friends who visited the set by themselves and had so much fun wandering around with a headset informing so much information at every step they took. Something about the digital guide that we think you cannot have elsewhere is the exclusive interviews with filmmakers and behind-the-scenes footage.
The digital audio guide is available in 10 languages. And all you have to do is pick it up at the Studio Tour Lobby. You can choose to book it in advance the moment you reserve your ticket online, or simply walk in and have it delivered to you by the receptionist.
10 Must-Do Activities You Should Not Miss at the Harry Potter Studio
Walk the Great Hall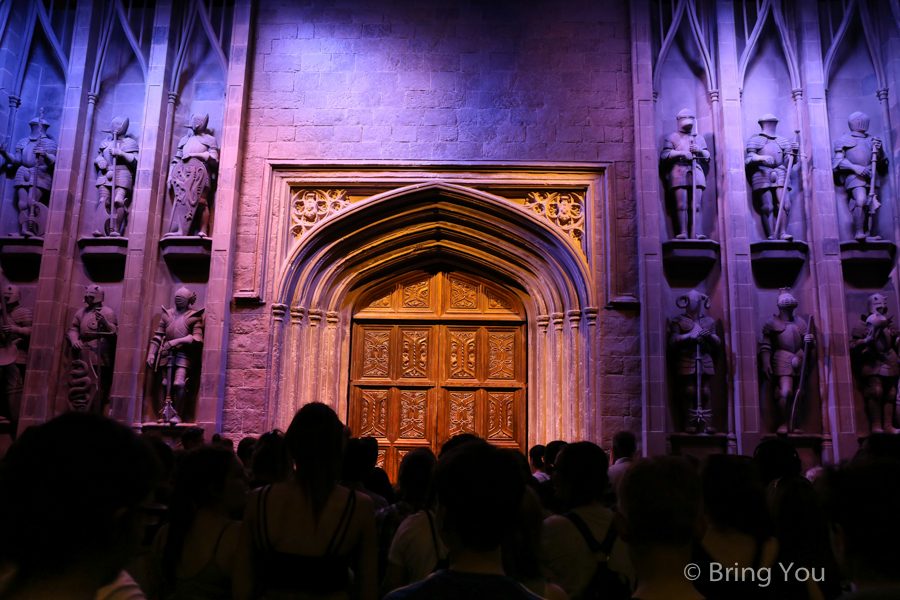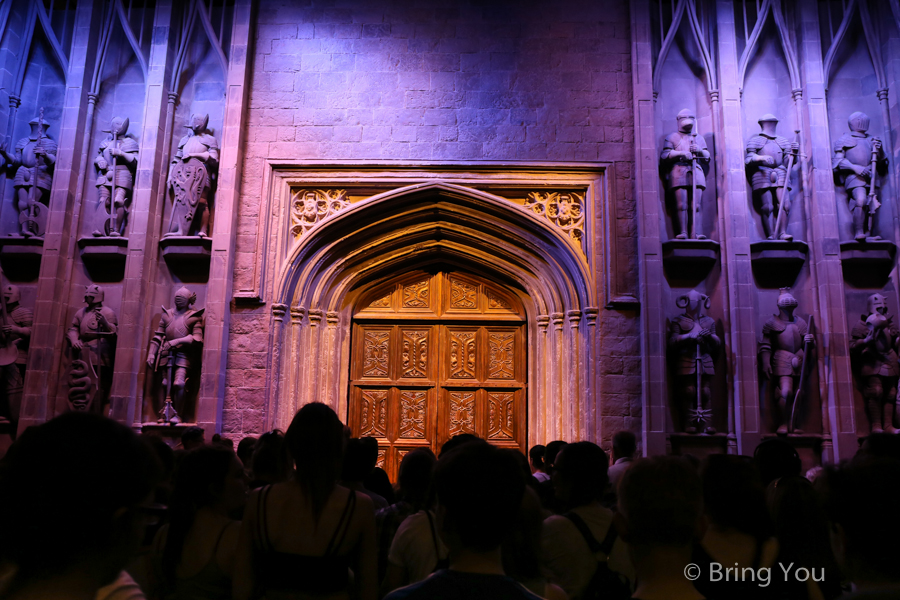 Open the door and you will be welcomed by the first department of the studio – the Great Hall. Walk along the hall with your camera in hand and capture the stunning costumes chained up along the path.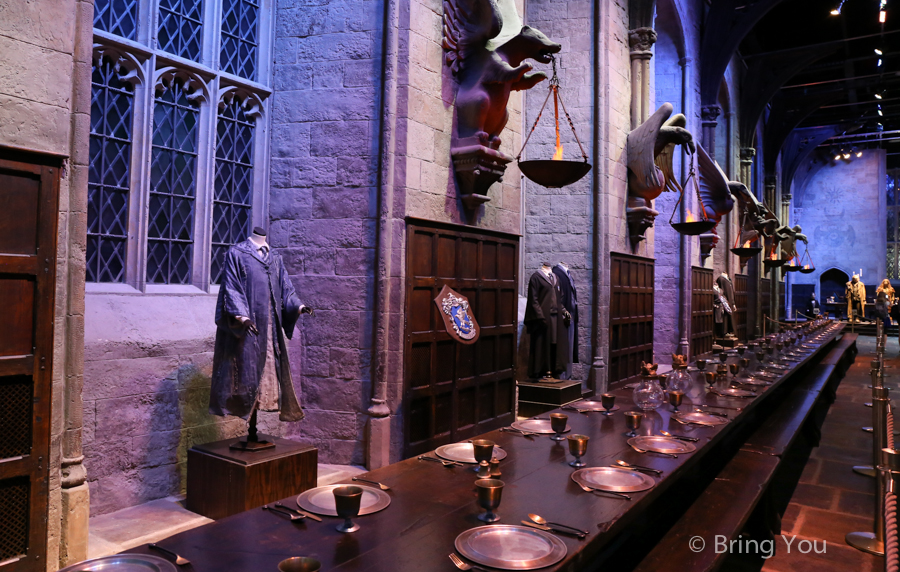 Pay a Visit to Dumbledore's Office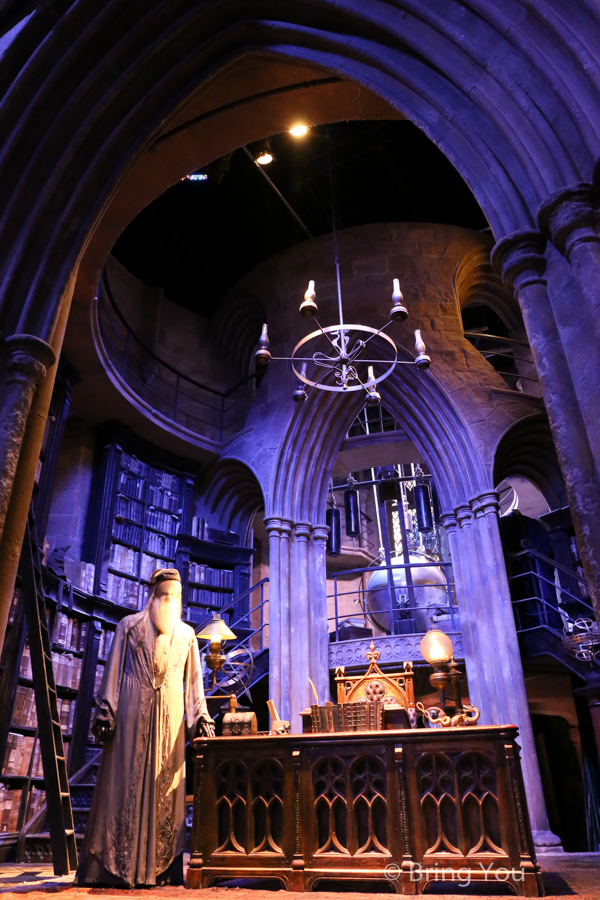 Located in one of Hogwarts' highest towers, Dumbledore's office is flooded with a myriad of books and astrological trinkets.
Learn to Brew Some Potions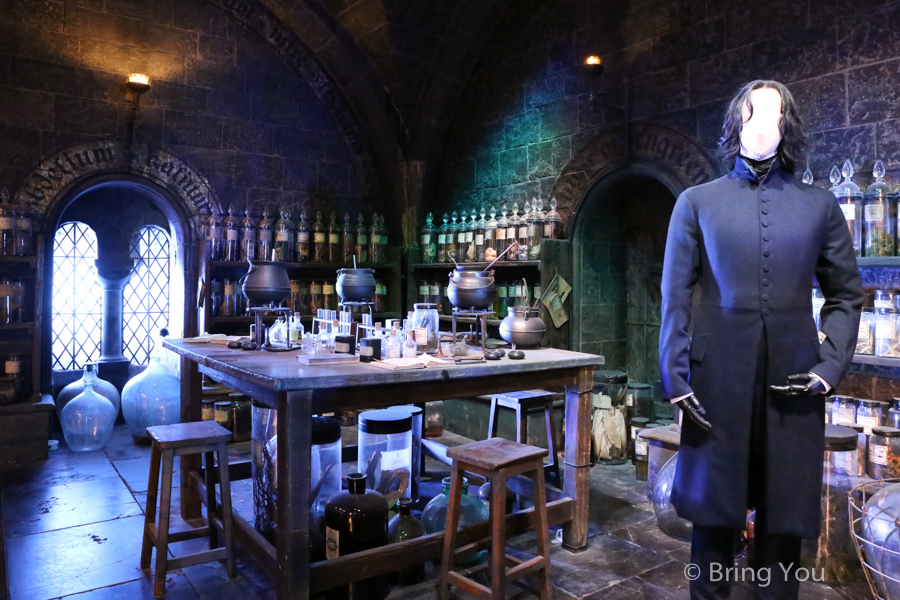 Check out hundreds of jars labeled in both English and Latin! It's time to test your timing, aging, and stirring techniques!
Enjoy an Interactive Game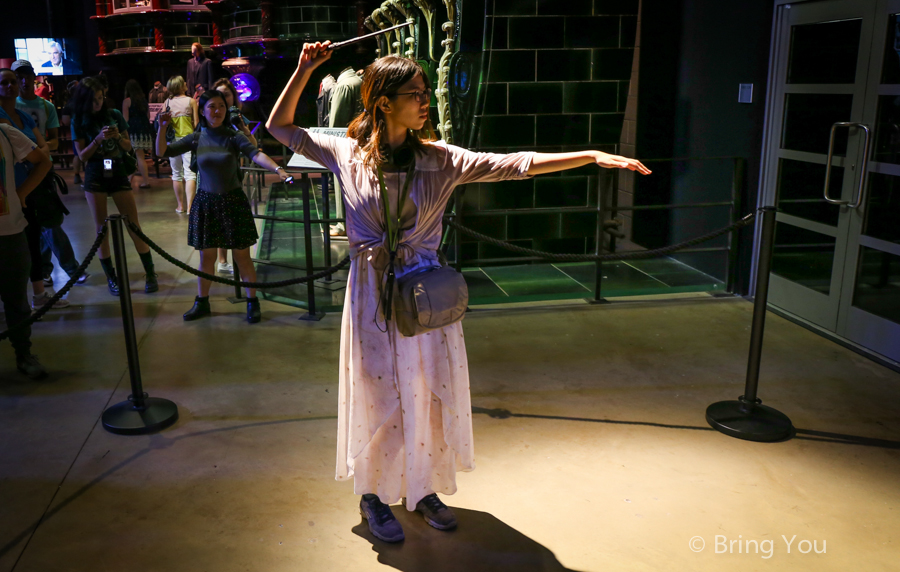 Ready to turn into one of the protagonist trio? Cast some spell on your stick and watch it fly into the air!
Browse the Wands
The studio also features a handful of wands that you've seen in the movies. They belong to the main cast and now it's your chance to witness it in reality. Make sure to take a closer look at the crooked, bone-like handle of Voldemort's! It's pretty cool, to be honest!
Forbidden Forest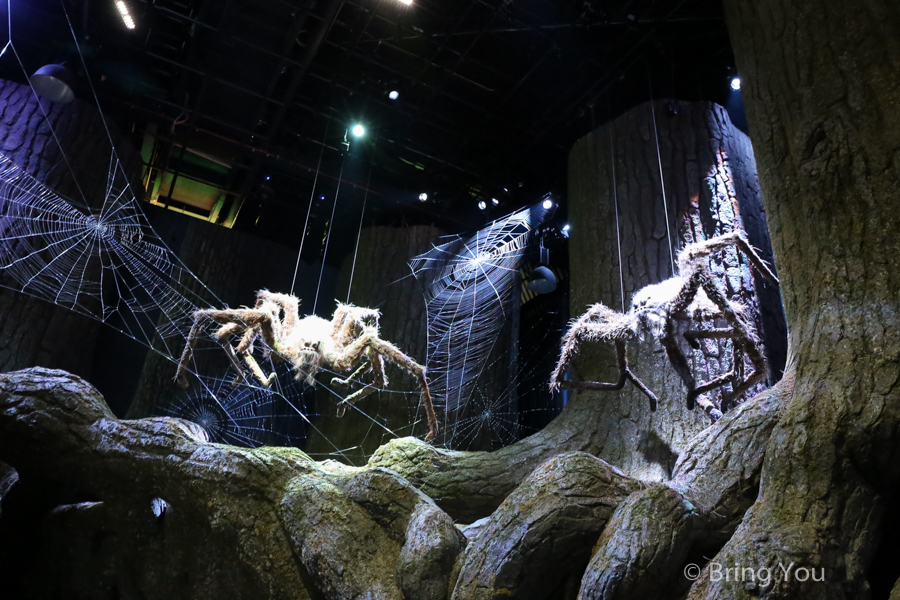 Eww, goosebumps! Do you have the nerve to make a long stroll along the mystical, darkened forbidden forest where winds cuddle you from behind and spider-infested trees surround you?
Catch the Express Train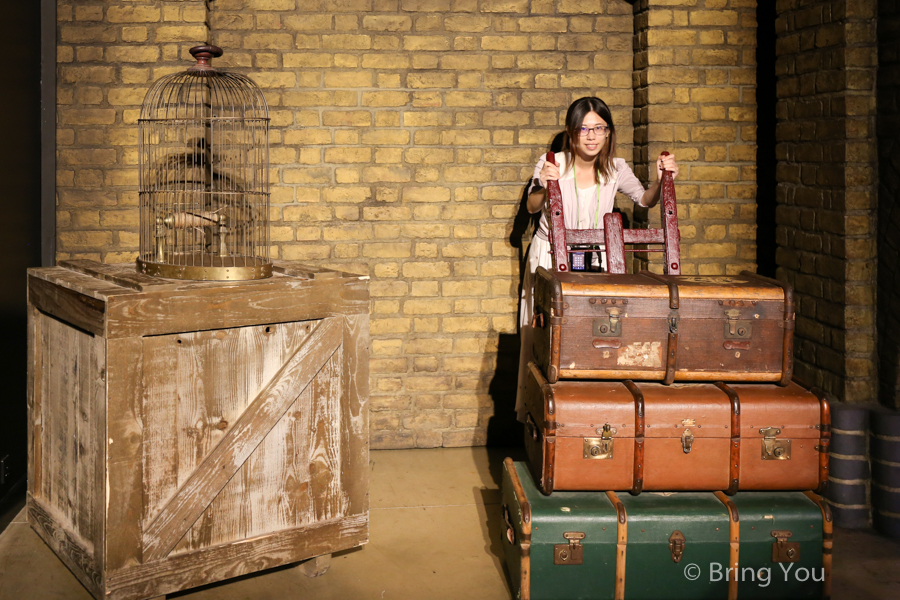 Another photo-op to be remembered! Head out to the Platform 9 ¾ set where the gigantic, awe-inspiring replica of the Hogwarts Express serves as a magnificent background.
Diagon Alley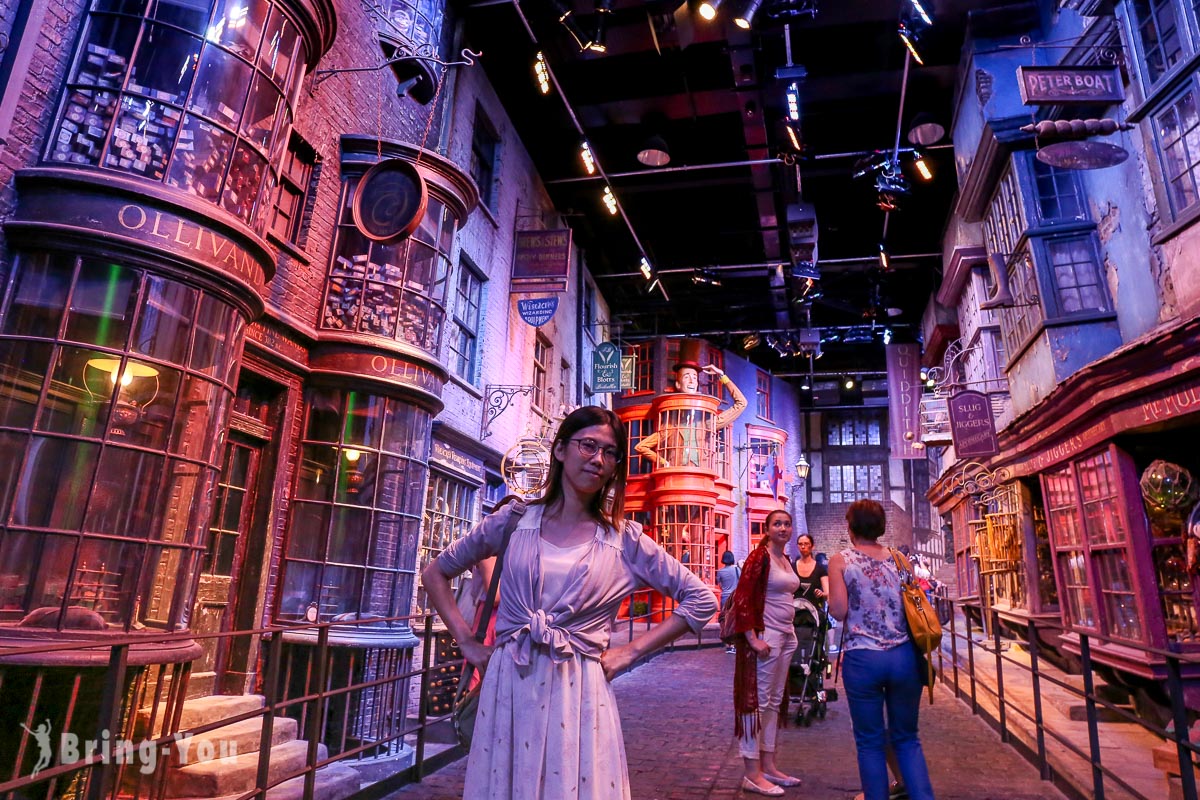 Housing a plethora of wizarding shop houses, Diagon Alley is a cool place in the studio to feed your Instagram. You cannot visit any of the shops – that's for sure, but the intricate details make the hall visitors' favorite!
Hogwarts Castle Model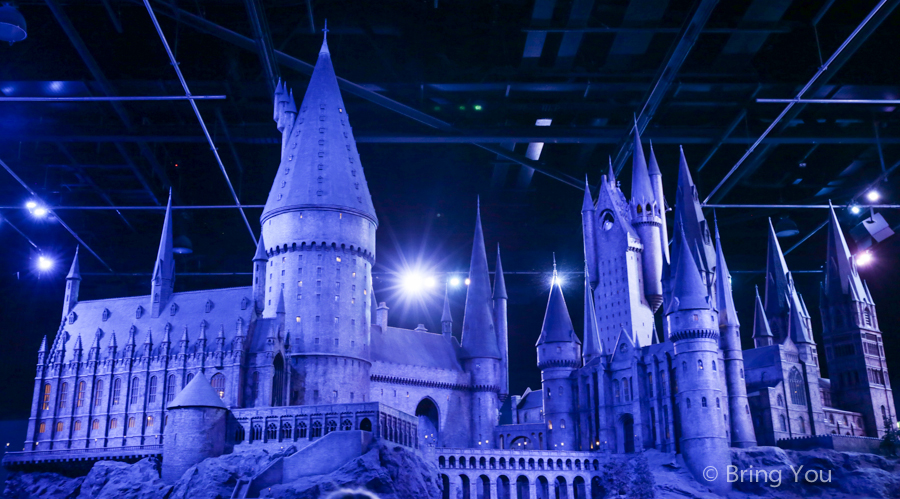 Last but not least, the last thing you want to forget at the Harry Potter Studio is the model of Hogwarts Castle created by 86 artists. It stands vividly in a black room and so you can easily capture every tower, courtyard, and turret of the castle. This was also used to be featured in the first film.
Try Butterbeer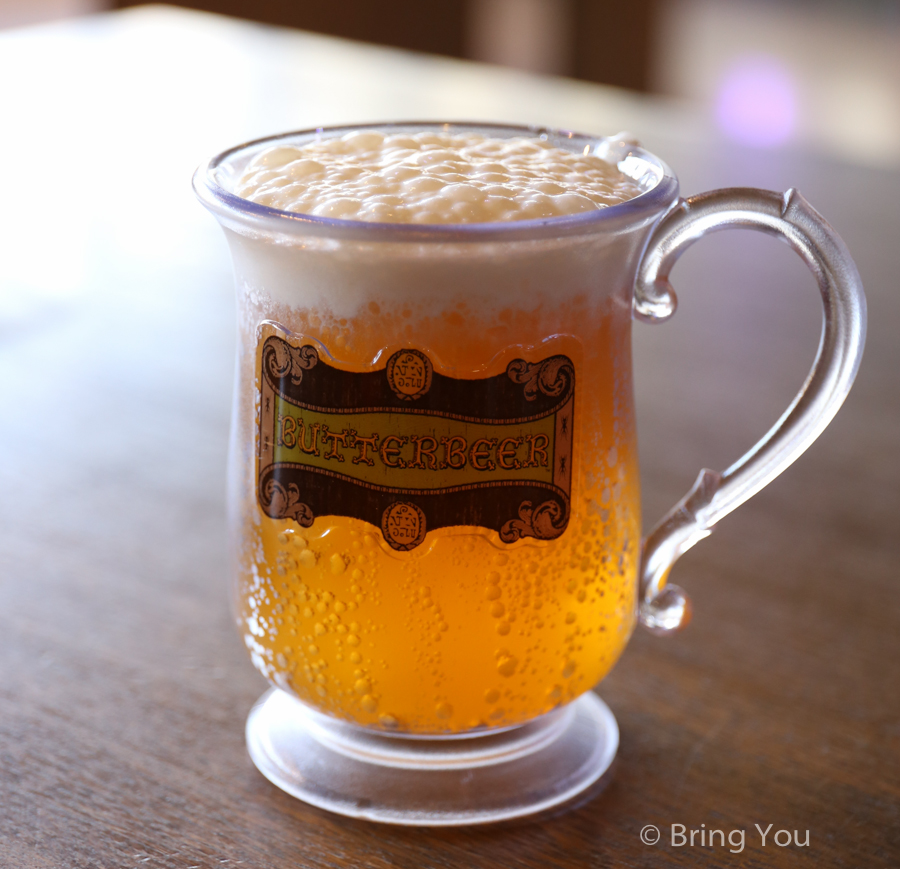 We can't wait to mention it down below so we decided to put it right here! You don't want to miss this tasty and fun creation, we're sure about that! Even if you're not a beer drinker, butterbeer is still worth a try! The beer is served at Backlot where you can munch on some sandwiches, sip on the creamy beer and look out the window for a view.
Warner Bros. Harry Potter Studio Tour Shop: What to Buy for Souvenirs?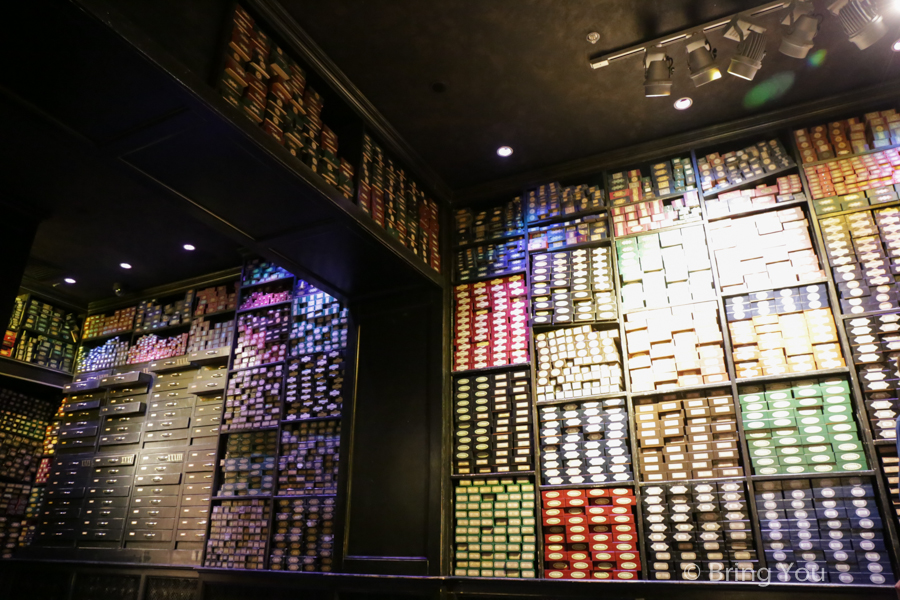 Harry Potter magic is not only worth an imagination anymore! Before leaving, make sure to come over to the gift shop where you can browse through your favorite wands, confectionery, apparel, and many other props.
If you're thinking about what to bring home as souvenirs, then search for some games for the teens, scarves, T's, and socks for friends. A notebook to keep for yourself and some ornaments or keychains to embellish the house. Not to forget that you still need a valid ticket to visit the gift shop.
Where to Eat at the Harry Potter Studio Tour?
Backlot Café
Located midway to the Studio tour, Backlot Café is a decent place serving some hot bites, sandwiches, and snacks to recharge you during the trip. Lucky for us when the air was crisp so we decided to spend some while at the patio for some fresh air. Don't forget the frothy butterbeer! It's pretty much the all-time signature that everyone loves to try.
Food Hall
Another decent stop to fill your tummy. They serve both breakfast and delicious brunch with some quick bites. Both hot and cold dishes are available. We love how they set it out in the refectory style setting and a full-on bakery to indulge your sweet tooth.
Chocolate Frog Café
You can recognize what they offer by its name. Chocolate Frog Café is inspired by the famous wizarding confectionery where your kids sure love some sweet treats. Forget how many calories you should take in a day because we're sure you cannot resist those fluffy cakes, ice creams, and some hot chocolates.
3 Fun Facts We Discovered about Harry Potter Studio Tour
第二集《消失的密室 Harry Potter and the Chamber of Secrets》的大門,雕工非常細緻。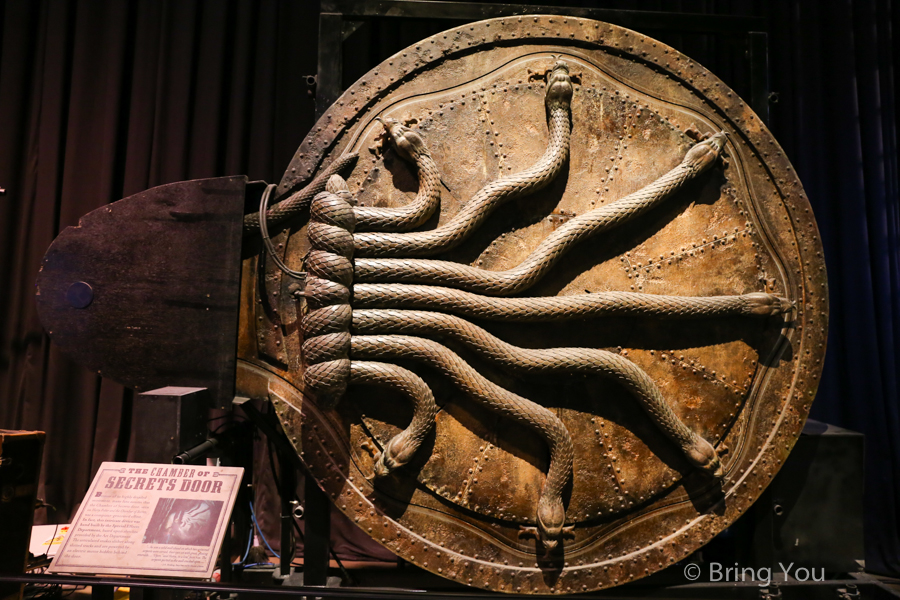 You can bring your own food and drink to the picnic area or at a café, and remember to not consume it during the tour.
The filming set was bought over by Warner Brothers who then invested £100 million in the exhibition before opening it to the public in 2012.
If you come over on your birthday, make sure to shout it out loud when the guides ask because you will be sent to the front of the crowd to open the door to the Great Hall!
And that's about it! Hope you guys like the Harry Potter Studio as much as we did. Make sure to read through all the tips and have your trip planned out carefully!