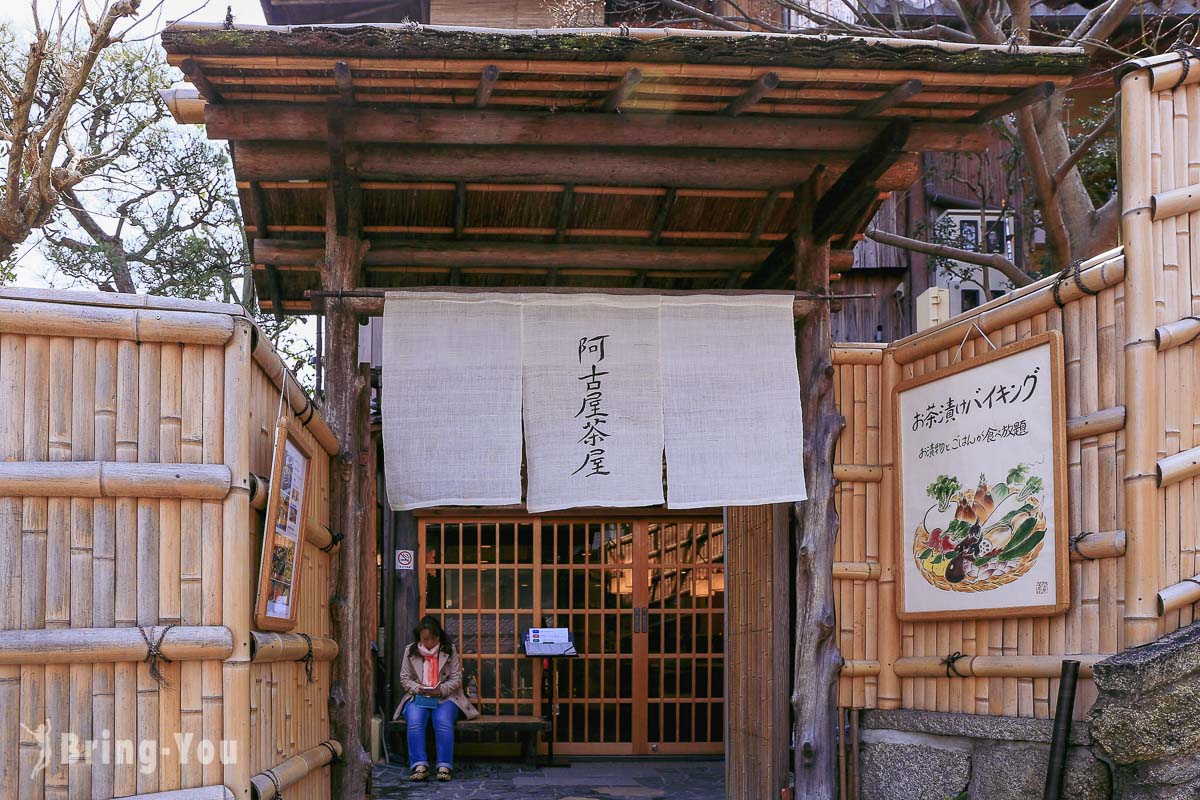 Among the most famous Kyoto cuisine, Kyoto vegetables and pickles, which belong to the common household dishes, are definitely on the list. After trying various Kyoto delicacies such as kaiseki cuisine, tofu dishes, matcha desserts, shabu-shabu, sukiyaki, ramen, yakiniku, and wagashi, it's time to try Kyoto vegetables and pickles. Although pickles are usually served as a side dish with various Kyoto dishes, "Akoya Jaya" is the first restaurant where I tried pure "Kyoto vegetables and pickles". What's special about "Akoya Jaya" is that it's an all-you-can-eat restaurant!
Other Kyoto specialties: Shimizu Junsei Tofu, Fujinami Soy Sauce Dumplings, Geisha Bean Sushi
How to Get to Akoya Jaya?
Address: 3-343 Kiyomizu, Higashiyama-ku, Kyoto
Business hours: 11:00~15:00 (last entry at 14:00, open until 16:00 on Saturdays, Sundays, and holidays)
Transportation: 5-minute walk from the "Kiyomizu-michi" bus stop
Business hours are subject to change, please check the official website for details
Akoya Jaya is located at the intersection of Ninen-zaka and Sannen-zaka near Kiyomizu-dera Temple, which is also one of the busiest tourist attractions in Kyoto. It's a great place to digest after a satisfying meal.
Suggested Itinerary::Kiyomizu-dera One Day Trip
How to Queue at Akoya Jaya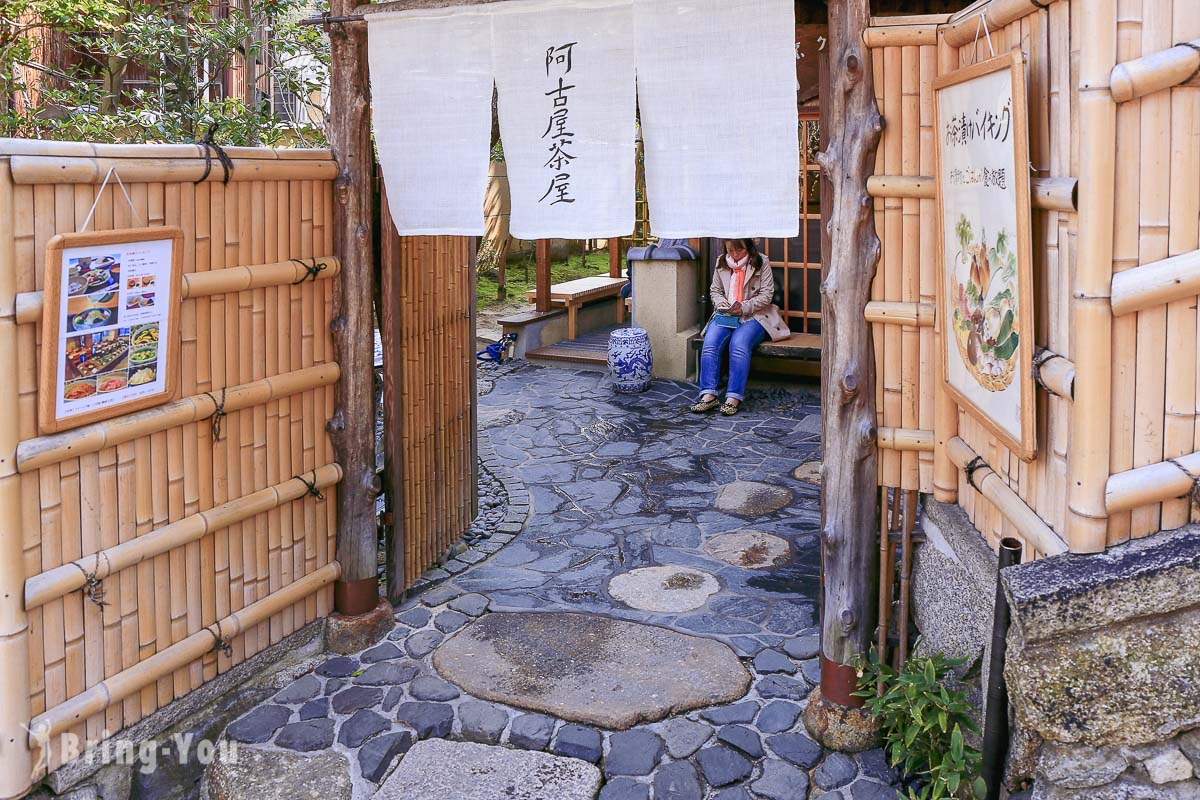 On this day, I went back to the familiar Kiyomizu Temple at noon and went to Akoya Jaya to take a look. I thought it wasn't open yet, so I decided to wander around nearby and come back later. However, when I returned around 11 o'clock, the entire courtyard was already filled with people. It turned out that the 10 o'clock opening time was just a facade. Although Akoya Jaya is scheduled to open at 11 o'clock, in reality, you can start queuing and signing up at 10 o'clock. Everyone had already signed their names on the waiting list and was resting on the cool chairs in the back, which is why it didn't look like anyone was there from the outside.
Don't want to wait in line? Why not explore nearby attractions for food: Recommended delicious restaurants in Nishiki Market and introduction to Kintenmangu Shrine
Akoya Jaya: All-You-Can-Eat Content
After waiting for about twenty minutes, we were finally seated. The restaurant bar was already crowded with people choosing their meals!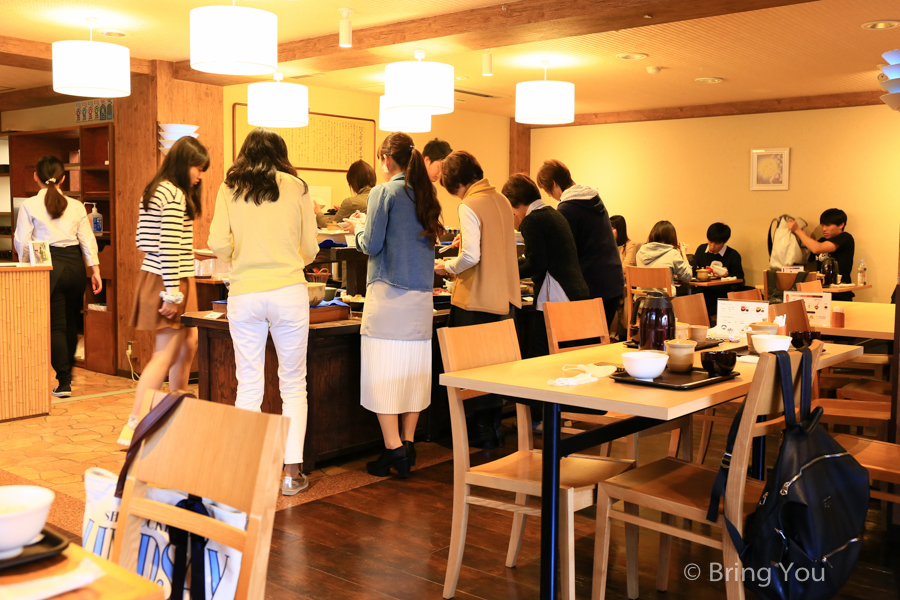 The consumption method at Agowacha-ya is a single price that allows you to enjoy over 20 types of Kyoto pickles, white rice from the back, 16-grain rice, and even the most popular desserts on the dining table, all of which are all-you-can-eat. The current price for this buffet is 1,600 yen per person including tax, and it increases every year. It has increased from the 1,350 yen I paid when I first ate there to the current price!
Arashiyama also has a Kyoto-style all-you-can-eat home-cooked meal: [Arashiyama Vegetarian Buffet] GAYTEI ぎゃあてい: All-you-can-eat Kyoto Imperial Court cuisine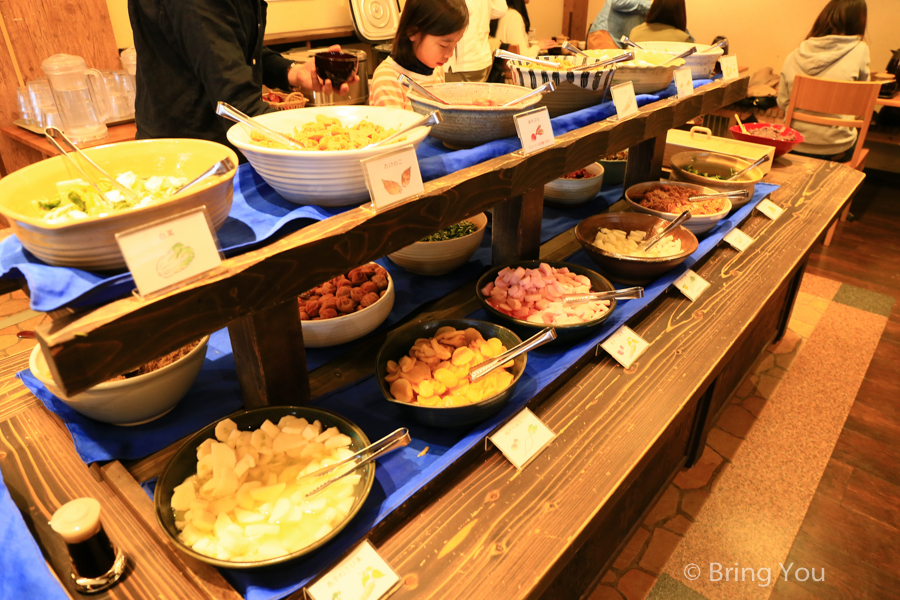 The pickles at Akoya Jaya change with the seasons. You may see cucumbers, radishes, eggplants, burdock roots, pickled radishes with yuzu, pickled taro with yuzu, sweet potatoes, cabbage, umeboshi, and small fish with sansho pepper in one season, and the content may be different in the next season.
Dining Style at Akoya Jaya
When you first sit down, the waiter will give you a set of utensils, including tea set, rice bowl, plate, soup bowl, and tea leaves for making tea-infused rice (upper right in the picture below), so you can go and choose your dishes.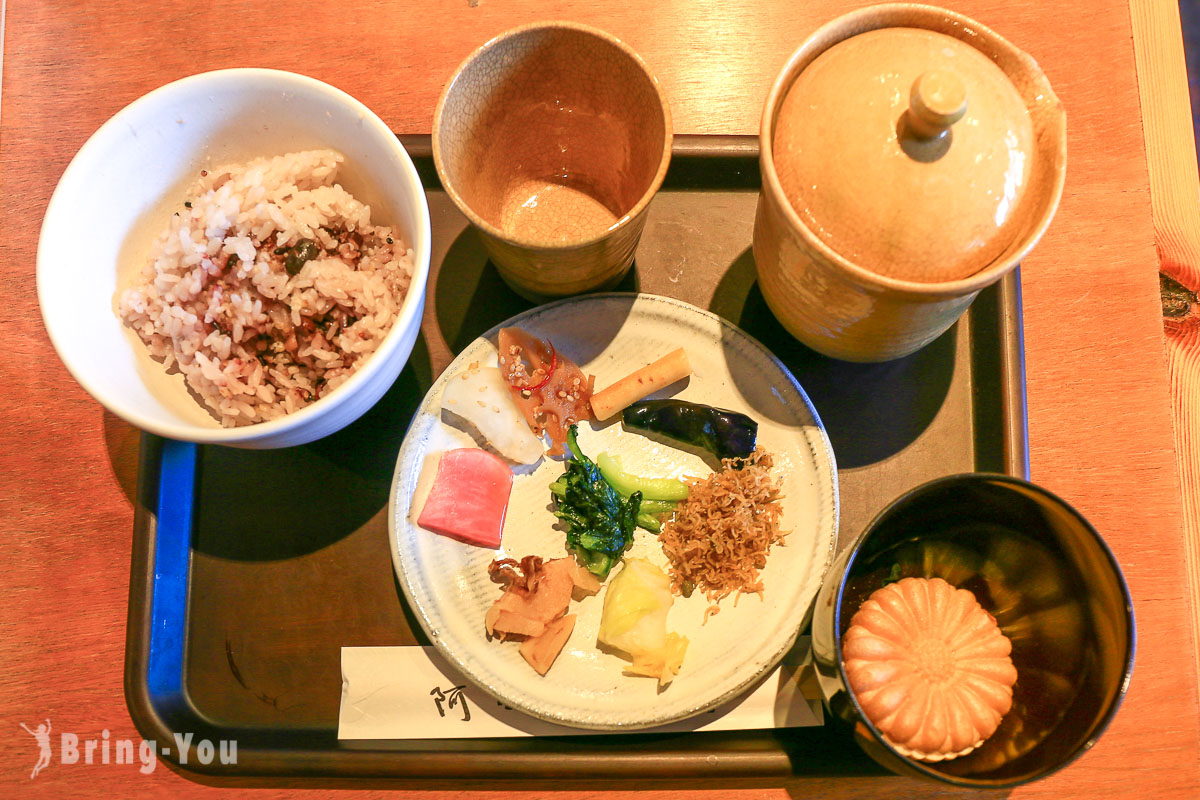 One thing worth mentioning is the circular biscuit-like object in the bottom right corner of the picture, which is actually a bowl! The biscuit-shaped object inside is miso bean curd skin. Poke a hole in the center, add hot water, stir for a minute, and it will become a bowl of miso soup. It may taste a bit salty!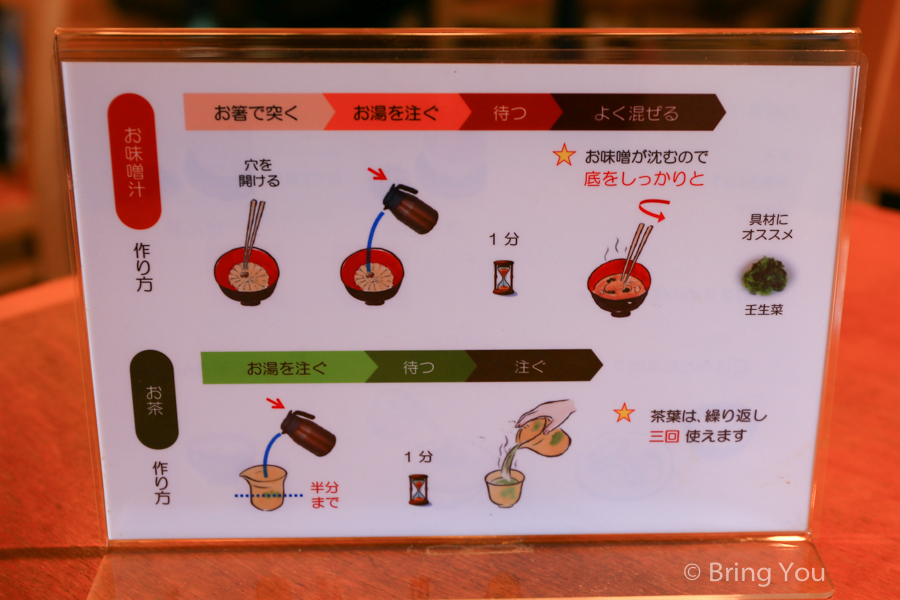 There is a symbol next to the seat, indicating how to make miso soup (yes, you have to make miso soup and tea yourself).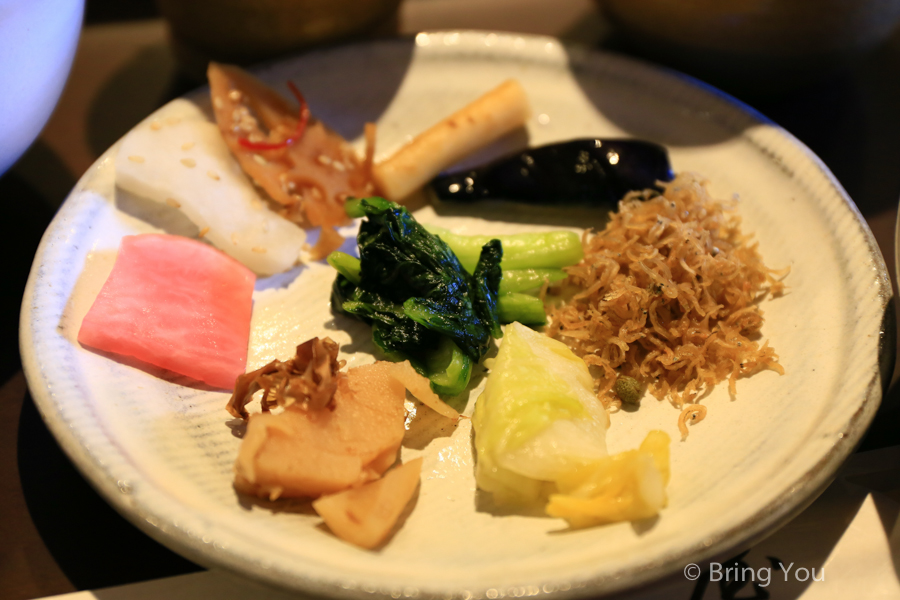 In the first round, I didn't know which pickled vegetables I liked, so I tried every kind. There were radishes, vegetables, and burdock, but my favorite was the peppered smelt. I've had this dish every time I've come to Kyoto, and I think the spicy flavor of the pepper combined with the smelt is just delicious.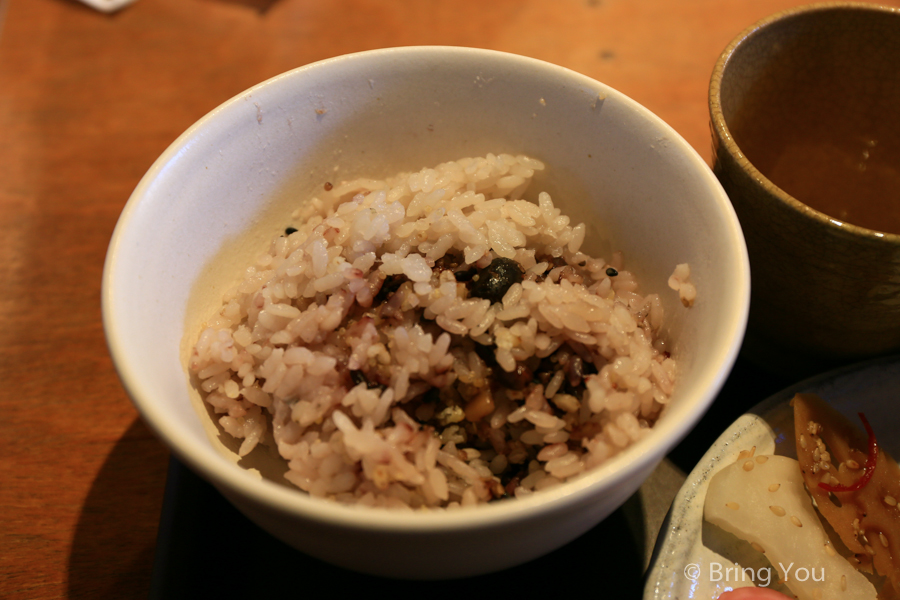 By the third round, I started piling on more of my favorite foods, even though I was already super full.
▼ Actually, I'm afraid to eat radishes, but Japanese pickled radishes taste really good with yuzu or other flavors. This dish is very refreshing and goes well with rice.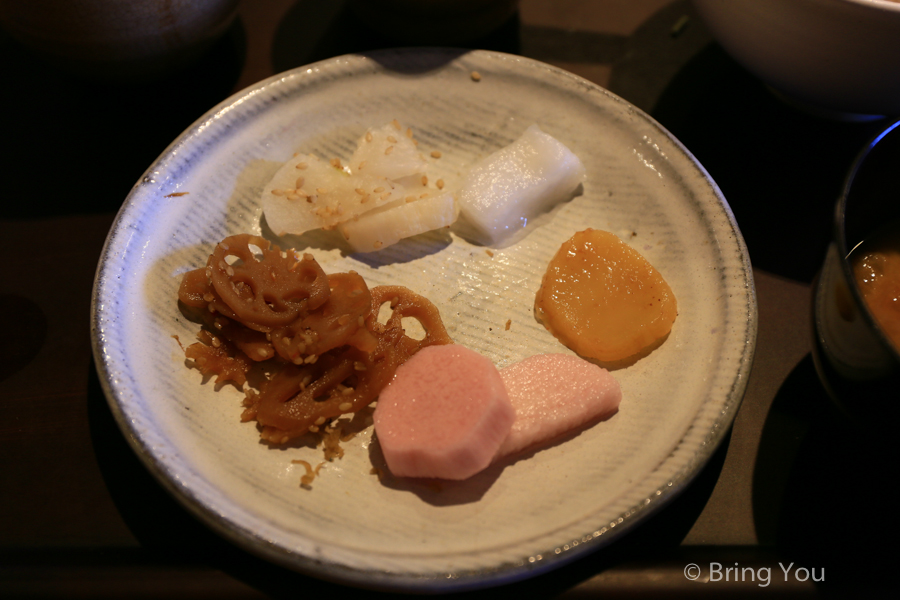 Finally, put the pickles and white rice in a bowl, ask the waiter for hot water and pour it into the tea cup with tea leaves. Then add the soaked tea leaves into the rice to make tea-infused rice!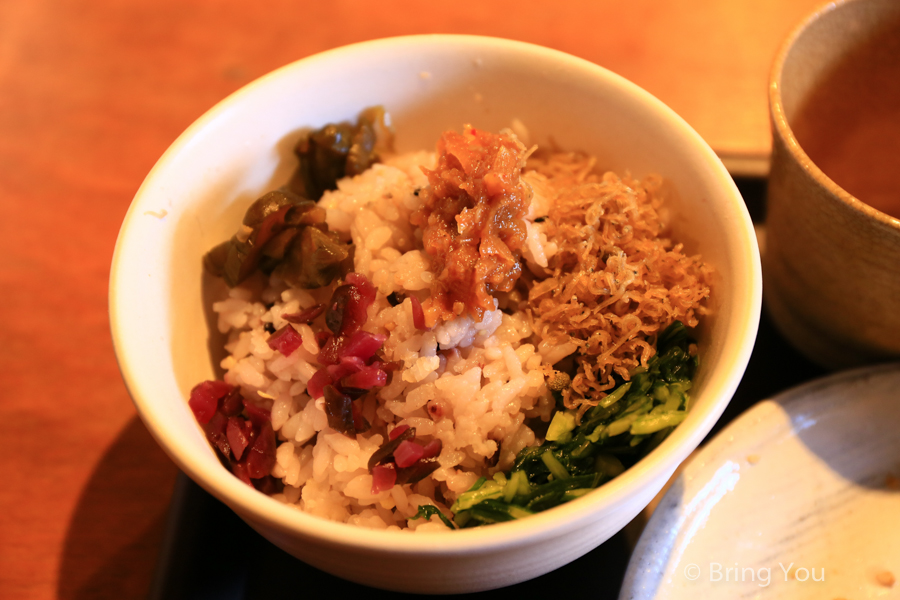 ▼ This is a tea cup that can be filled with hot water. Originally, it came with roasted tea, but I later exchanged it with the store clerk for steeped tea.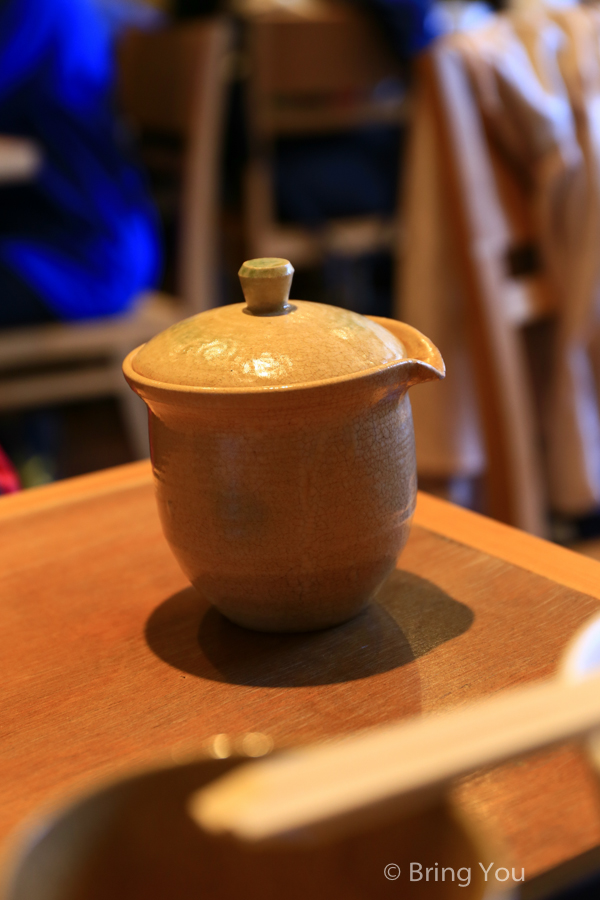 ▼ The eating method of tea-infused rice is written here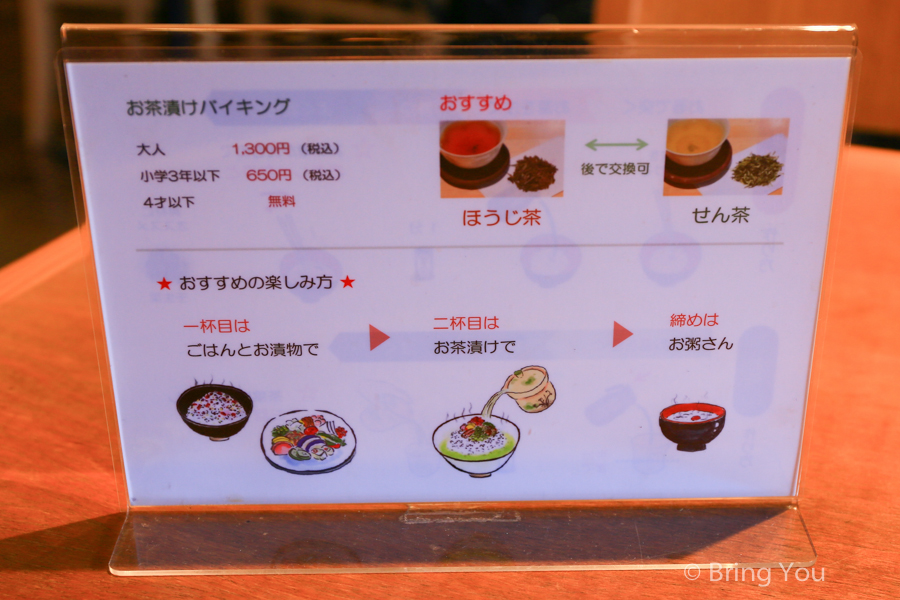 Akoya Jaya Desserts
Finally, the must-try dessert is, of course, the red bean paste. In addition to the classic red bean filling, seasonal limited flavors such as cherry blossom red bean, peach red bean, chestnut red bean, and strawberry red bean are available in spring, summer, autumn, and winter respectively. When I visited during cherry blossom season, I tried the cherry blossom filling.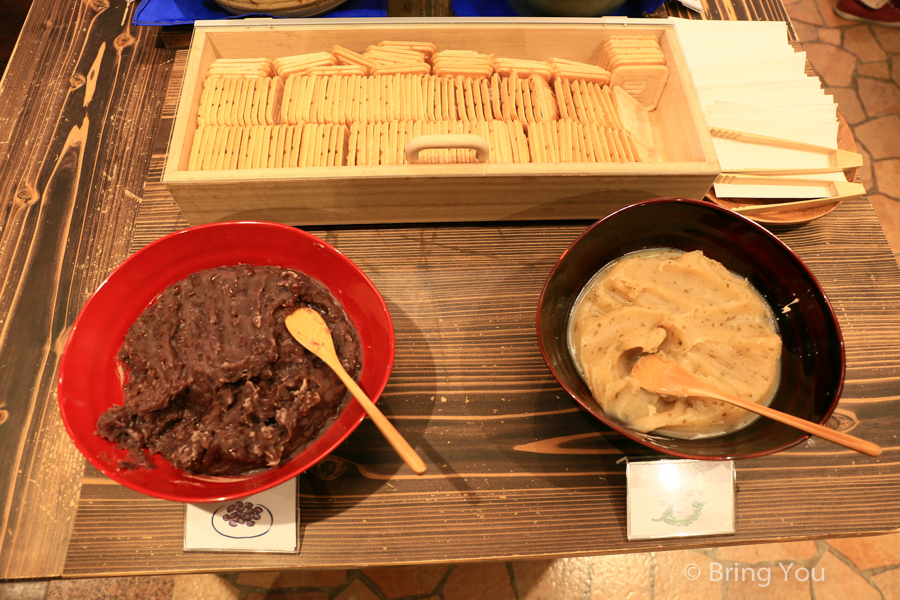 The word "Joy" is written at the top, reminding me to always keep a happy heart.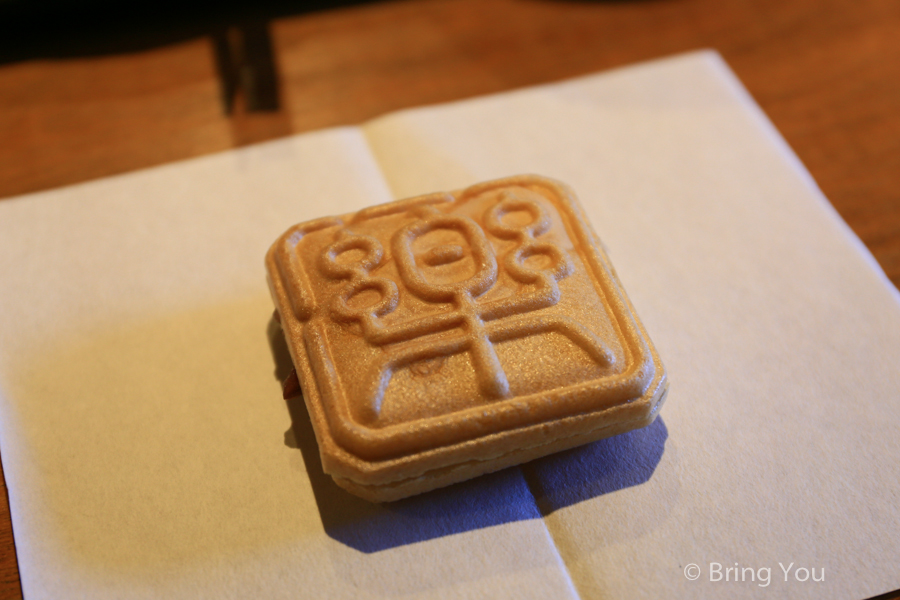 Try both fillings together, and you'll get a crispy biscuit with a non-greasy filling that tastes really delicious!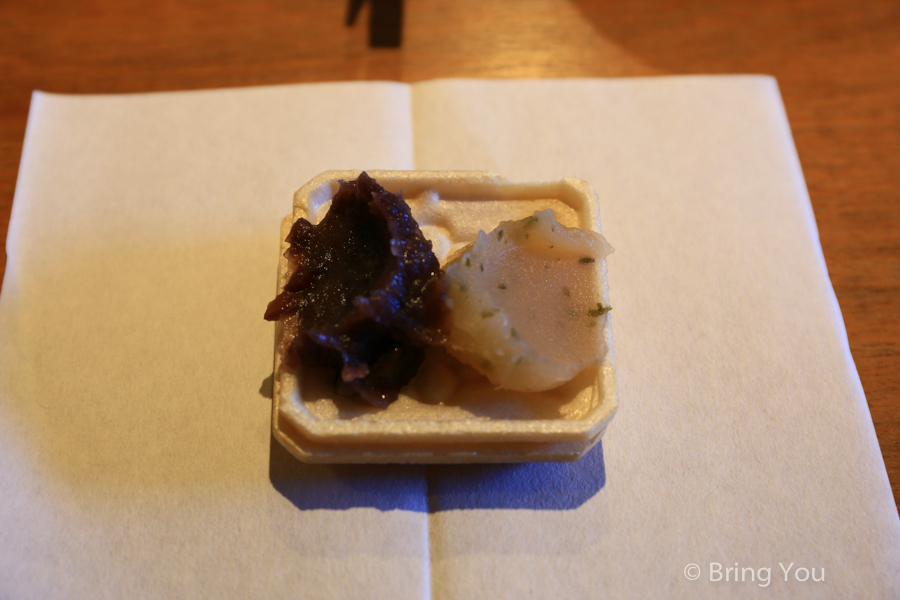 This all-you-can-eat pickled vegetables meal was so filling! I was worried that this kind of restaurant would only be suitable for vegetarians or people who love pickled vegetables, but Kyoto pickled vegetables are quite famous and even if you don't eat pickled vegetables, you can still have a great time here! Next time you visit Kiyomizu-dera Temple, why not have an all-you-can-eat pickled vegetables and tea rice meal at Akoya Jaya located at the intersection of Sannen-zaka and Ninen-zaka?
Nearby Attractions Guide