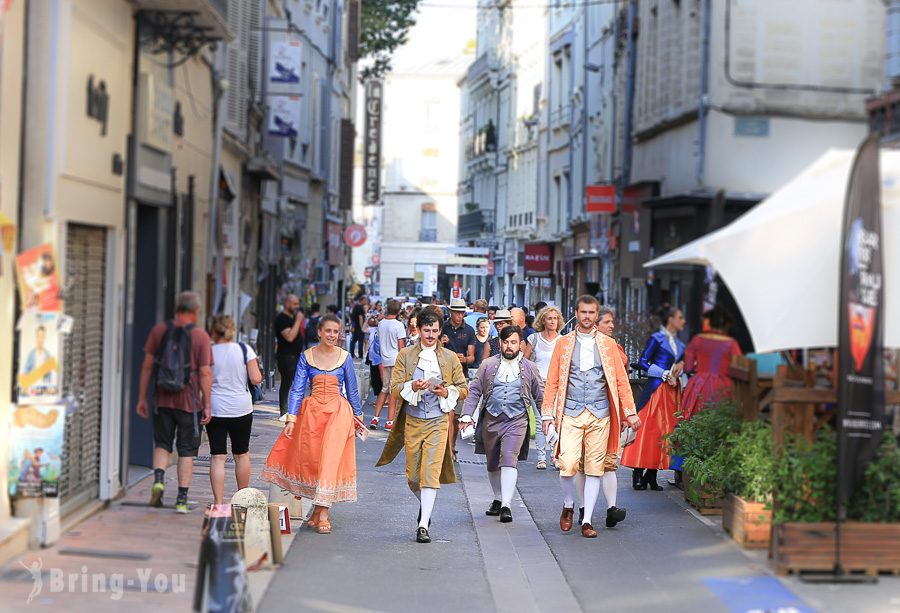 Avignon is a city of antiquity, flowers, history, and festivals. The medieval castles and old towns pepper all of the city, while the bustling art festival demands attention from locals and tourists alike when July is around the corner.
France is no short of cool places to dig into the ancient history of the country, but Avignon surely takes the crown. This dreamy riverside city is in the southeast of France, resting on the left bank of the romantic Rhône River.
Over the window of seven days exploring southern France including Avignon, St. Remy, and Provence, I feel like two days are never enough to explore Avignon to the fullest.
Sometimes, the serene village feels kicked in and you're spoiled – all you wanna do is kick back and get lazy, watching people by the river or lean your back against the old broken stone wall at the foot of a castle. On the flip side, Avignon has so much to offer that you feel like you're missing out a lot if you don't have anything on your bucket list. With this Avignon travel guide, your wonderful exploration of Avignon begins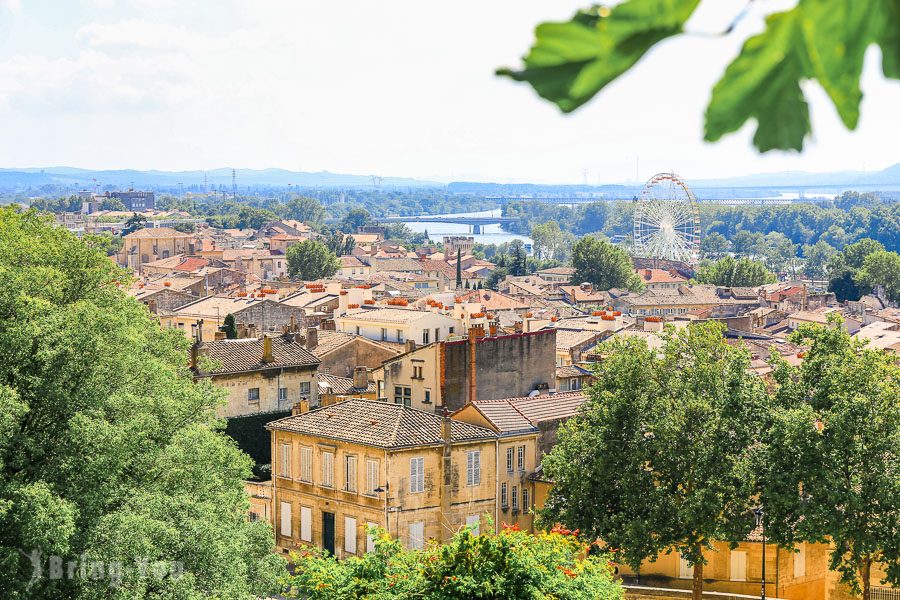 How to Get to Avignon City Center from Paris by Train?
During the week I stayed in the South of France, Avignon became the best centerpiece as a base to explore further around. The main reason behind this is how easy it is to get to other parts in the south such as St. Remy and Arles.
All you need is a quick scenic train ride for a few minutes. There are two train stations in Avignon which are both connected to one another as well as other parts of France including the central transport hub of Paris. The two stations include Avignon Center Railway Station and Avignon TGV Railway Station.
The first one, Avignon Center, is smack dab in the heart of Avignon which is surrounded by other major attractions and linked to a bus station where you can catch a bus to St. Remy.
The other one, Avignon TGV, is a high-speed train serving the suburbs. It is 5 kilometers away from the downtown core. If you depart from Paris, this is your arrival station.
From Paris, the train leaves Gare de Lyon for 2 hours and 40 minutes to Avignon TGV. Train tickets are available online. Once you're at the Avignon TGV Railway Station, you can choose either a bus or connect to a train transfer to the city center.
From Avignon TGV Railway Station to Avignon City Center by Bus
There are 4 different buses that head to the city center: #10, #14, #21, and #51. The bus ride fluctuates between 10 to 20 minutes to get to Avignon city center. Bus tickets are available for purchase right on the bus.
From Avignon TGV Railway Station to Avignon City Center by Train
This is the most popular way to get to Avignon from the TGV Railway Station. It's fast, low-cost, and a life savior for those dragging lots of luggage. This is a local train transfer that goes by the name TER. Once you're at the TGV station, there are multiple ticket machines throughout the stations where you can get the tickets with one tap away. These machines only accept card payments and are available in different languages. These TER trains run throughout the day and are available every half an hour.
Once you get the tickets, head to one of the 2 bay platforms (A & B) that are adjacent to the main TGV platforms on the upper level. The train ride lasts 5 minutes only. Amid the journey, the train stops at Marseille Saint-Charles before bounding ahead for Avignon Center. This train can even accommodate travelers with bicycles.
If you don't want to get to those places by yourself, there are many day trips provided by tour agencies departing from where you are.
How to Get Around Avignon City Center?
Get Around Avignon City Center by Car
A rental car would make the most sense if you travel with a big group, especially if you like to connect to other parts in the south of France that cannot be covered by train or bus because your customized itinerary doesn't agree. Many of the smaller villages are not well served by bus. And to be honest, the best joy of my trip around Avignon is to stop at hidden, unexpected places and potter around hidden gems. For example, rent a car and have a drive through the Alpilles National Park going to Arles, tour the Cotes du Rhone wine villages or St. Remy, and generally soak up the atmosphere of Provence.
Get Around Avignon City Center by Bus
In case you don't want a car and look for some of the bus routes, then I recommend looking at these places:
Van Gogh trail from Arles to St.Remy and vice versa.
The Lavender route to Sault.
From Nimes to Pont du Gard and vice versa.
The major bus stops in central Avignon surround La Poste, next to Avignon's covered market, and Rue de la République.
Get Around Avignon City Center By Bicycles (Velopop)
Last but not least, a brilliant network of bicycles and scooters serves the traffic of Avignon in the most incredible way. This option would fit those who want to combine a bit of work-out and sightseeing. I personally go for bicycles as they are the best ways to cover most attractions within the walled city of Avignon without any hassle.
In Avignon, a local bus company Orizo offers a self-service cycling hire service which is called Velopop. Its 300 bikes can be picked up at 30 racks around the downtown core as well as some parts of the closest outskirts. And on the face of it, you don't need to return your bicycle at the same pick-up rack. Check out this interactive online map to see the hire and drop-off bicycle racks.
How to Spend a Day in Avignon?
Festival d'Avignon, Palais des Papes, the Old Town, and More
Palais Des Papes Fortress and the Cathedral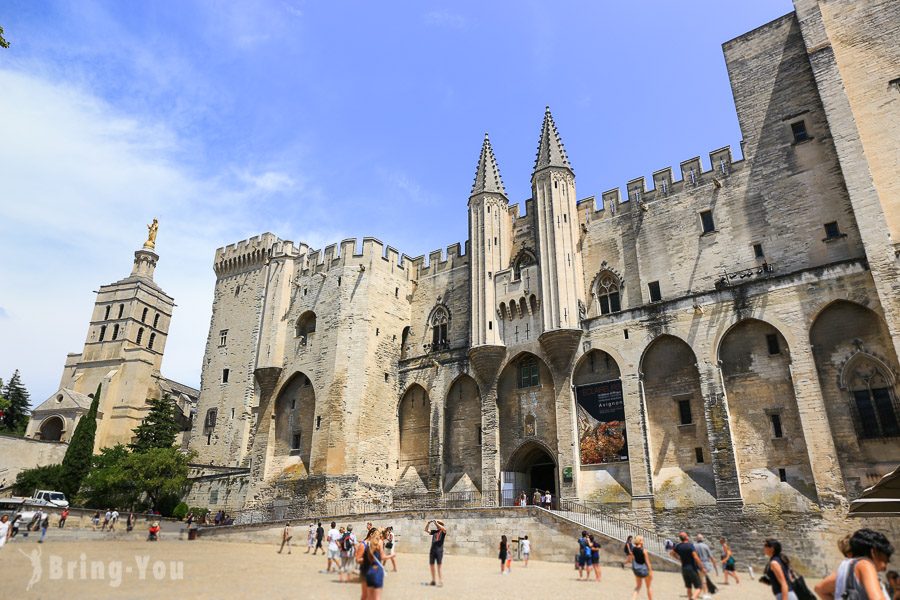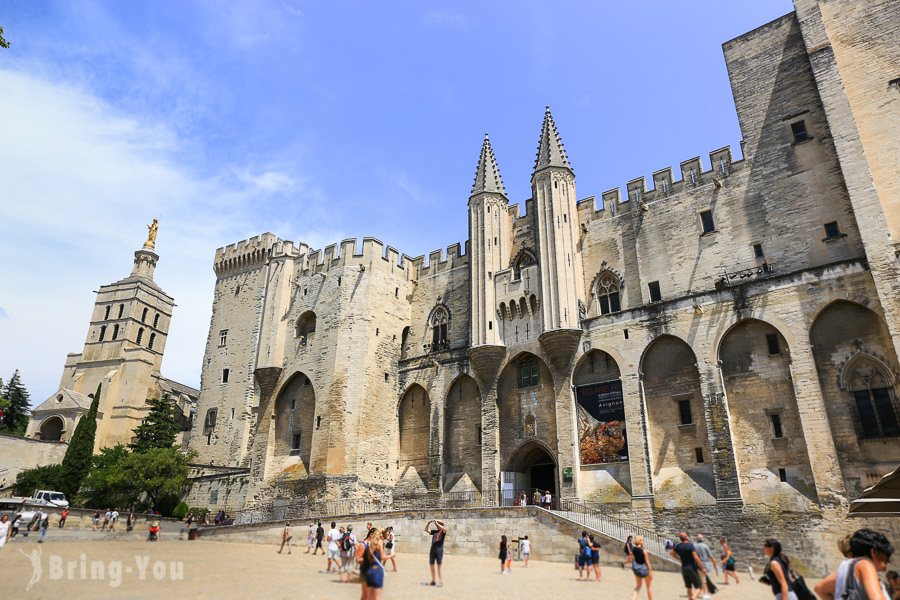 Palais Des Papes Fortress is simply a must-see for anyone visiting Avignon for the first time. Infusing a bit of the Game of Throne spirit with an ancient flare, the structure of Palais Des Papes Fortress makes it one of the most dramatic buildings around here.
Back in the days, Palais Des Papes served as the seat of Western Christianity during the 14th century. Today, the fortress is switched to serve the community as a national museum. Once you're done, go a little further to explore the Rocher des Doms and the Cathedral within a walking distance.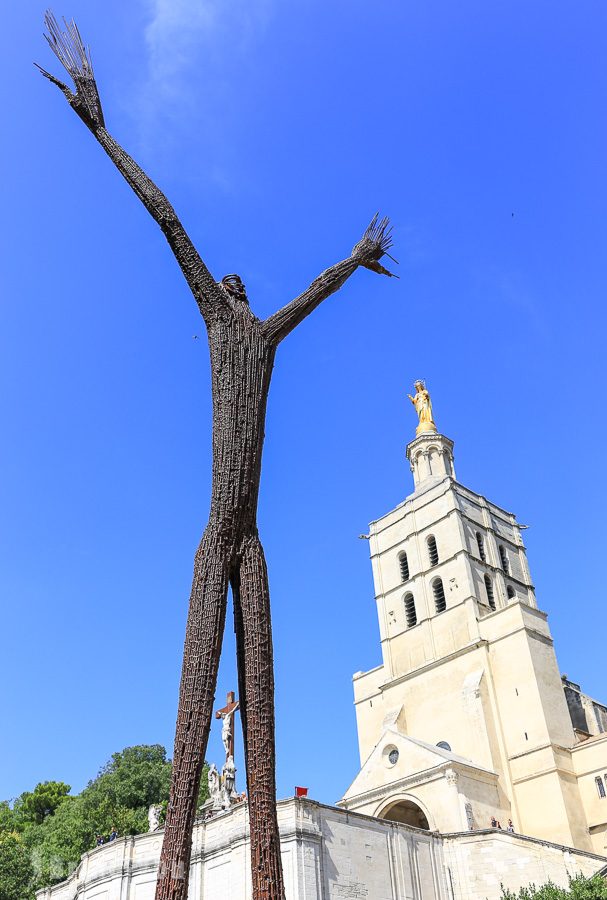 Pont Saint-Bénézet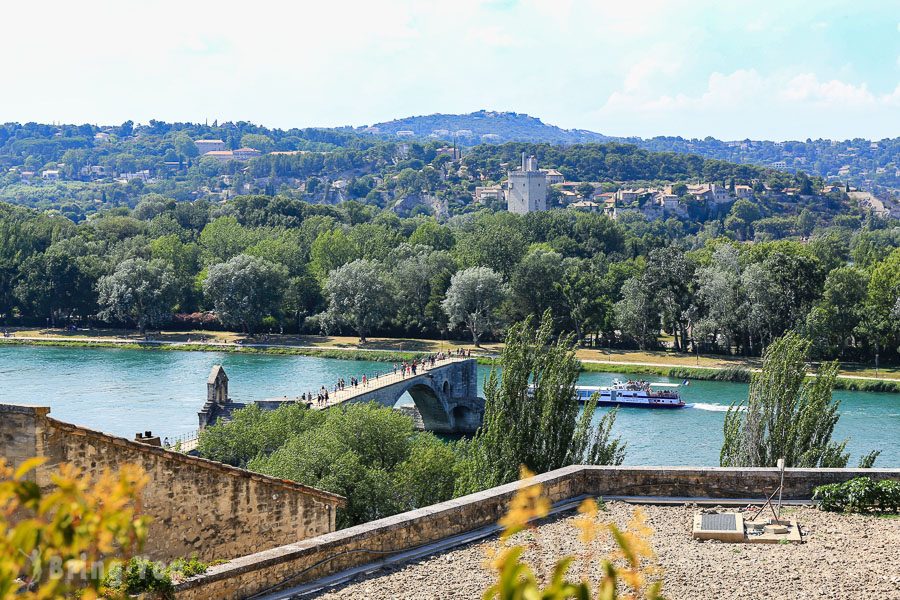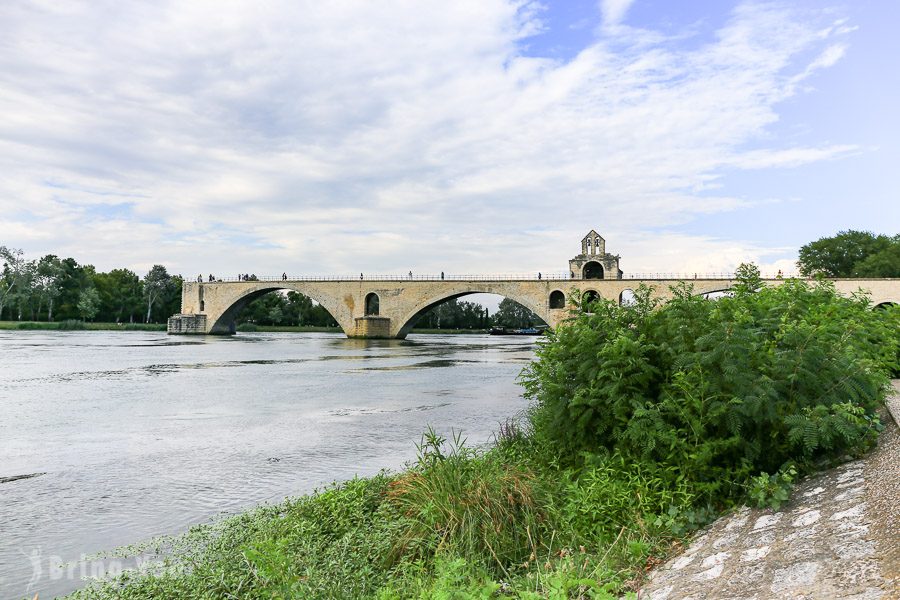 Next up, the Insta-worthy Pont Saint-Bénézet is a famous attraction in Avignon and not too far away from Palais Des Papes Fortress. The plague telling the history of the place is super interesting that you cannot forget.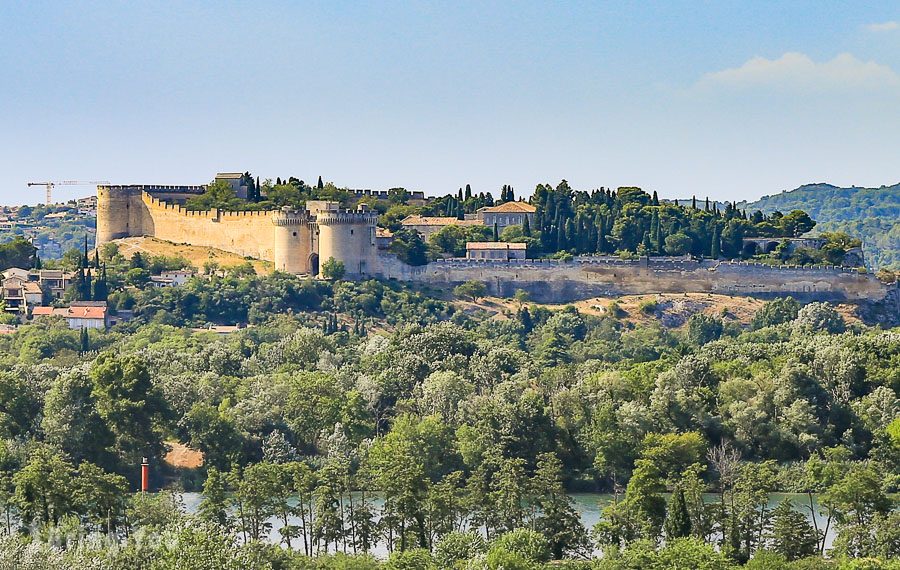 Rue de la République
Rue de la République is a sprawling corner in the heart of Avignon, housing a heap of avenues peppered with boutique stores selling local goodies, fashion, and local souvenirs. Stay tuned because I'm gonna show you the best souvenirs to bring home from Avignon later in the article.
Place de L'Horloge and Clock Tower Square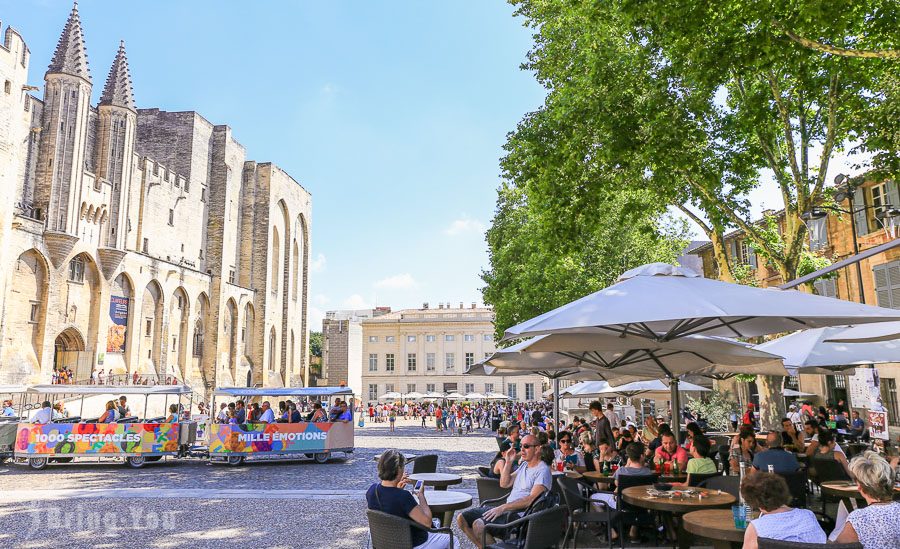 Place de L'Horloge is one of my favorite places to visit in Avignon. It's just full of the regional feeling with local families and couples standing by to dine and socialize. Don't skip the "Clock Tower Square" though. Outdoor restaurants and cafes are sprinkled all over this central square. Together with Place de L'Horloge, these areas serve as the main hub of the most anticipated annual Festival d'Avignon.
Festival d'Avignon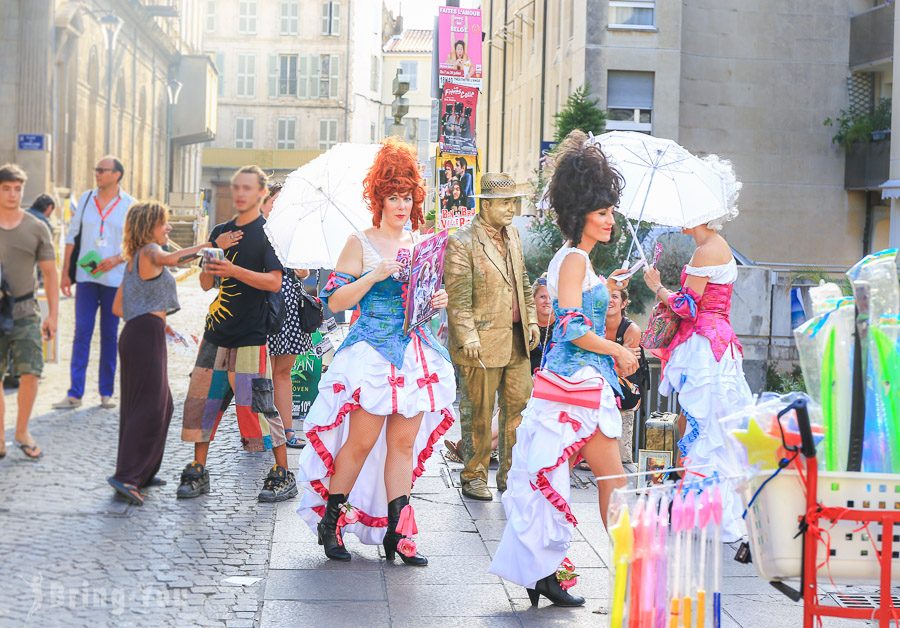 The annual art festival sweeps through the streets of Avignon, starting from the downtown core, preferably from Place de L'Horloge. The festival is split into two types, the OFF festival and the IN festival (which is original).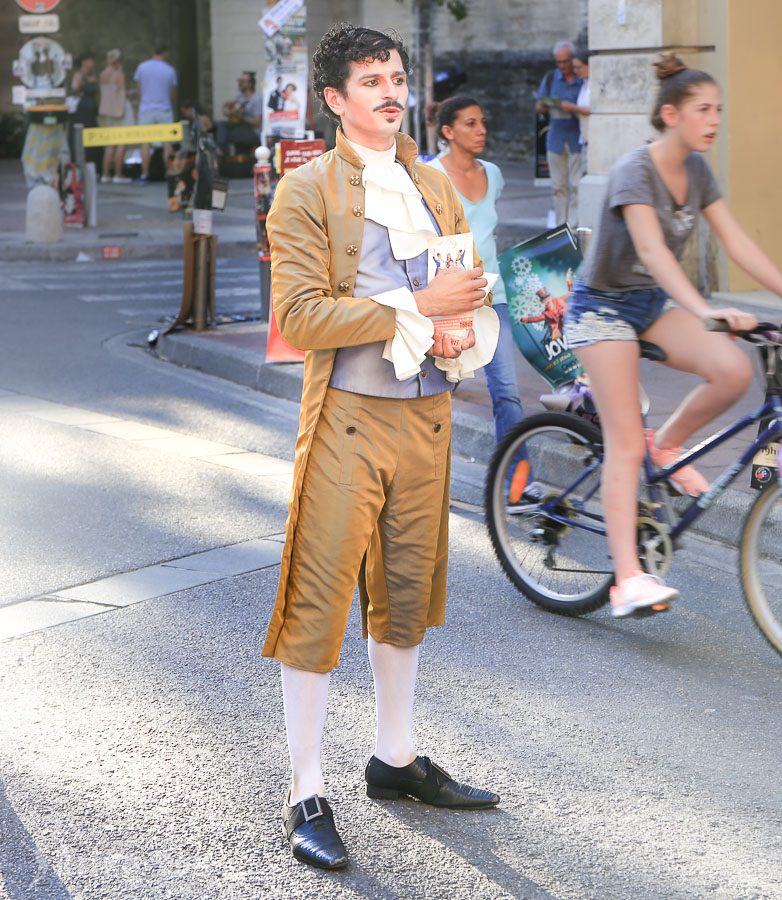 The OFF session happens in June. This is where you can find all types of performing arts including theater and booking readings (which is a very unique event for me), circus acts, dance, music, and street performances.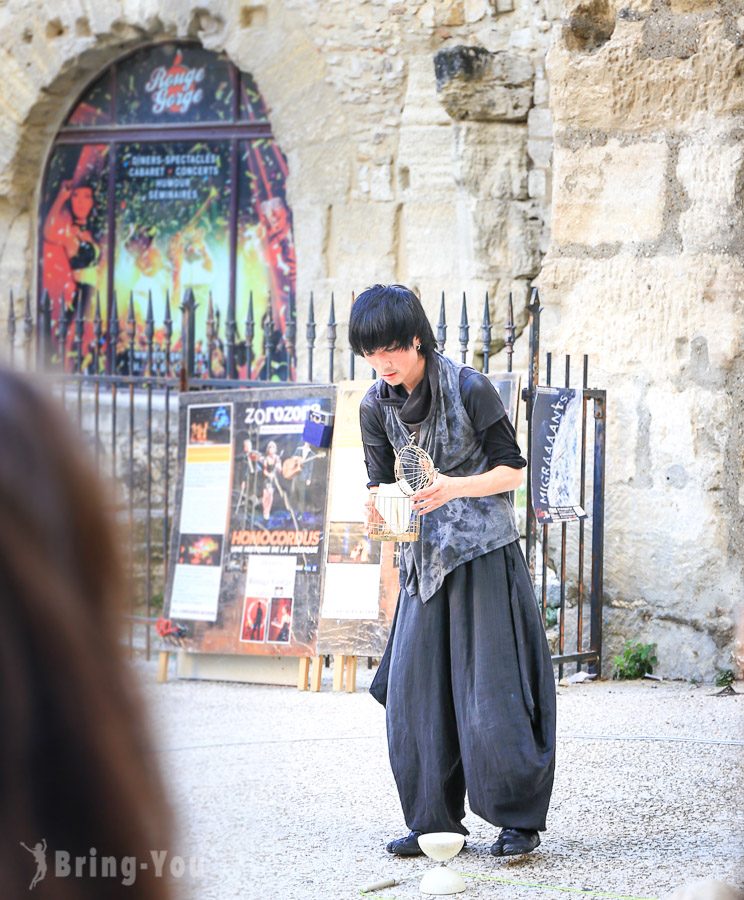 I feel like even if you're not an art fanatic, you can still find something to enjoy because the OFF festival has so many things to offer for visitors of all ages.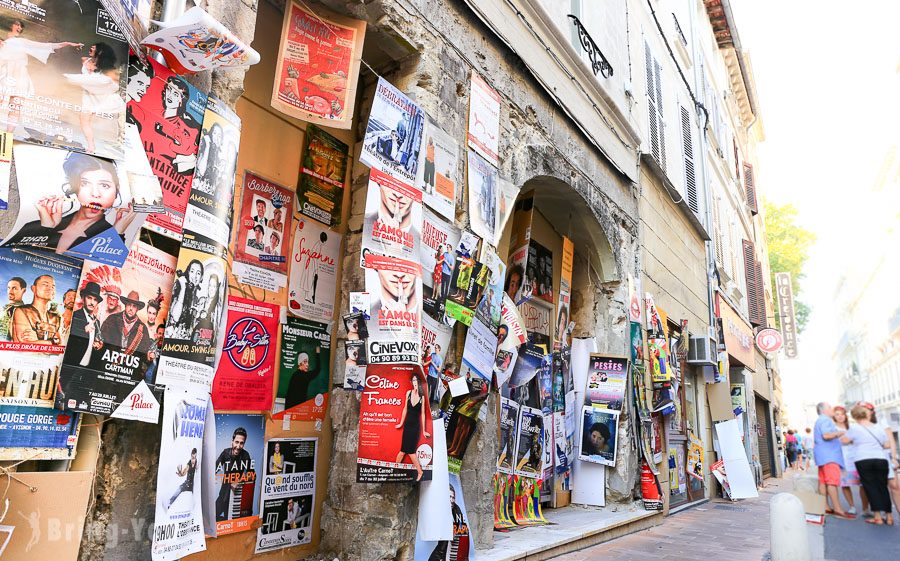 And then, we have the IN festival that begins every July. It's been constantly celebrated ever since Jean Vilar brought it to life in 1947. The budget of the IN festival is insanely high which is reported to be roughly 12 million euros. Advance ticket purchase is a must, especially if you're planning to see staged performances in the historical attractions around Avignon including the Palais des Papes.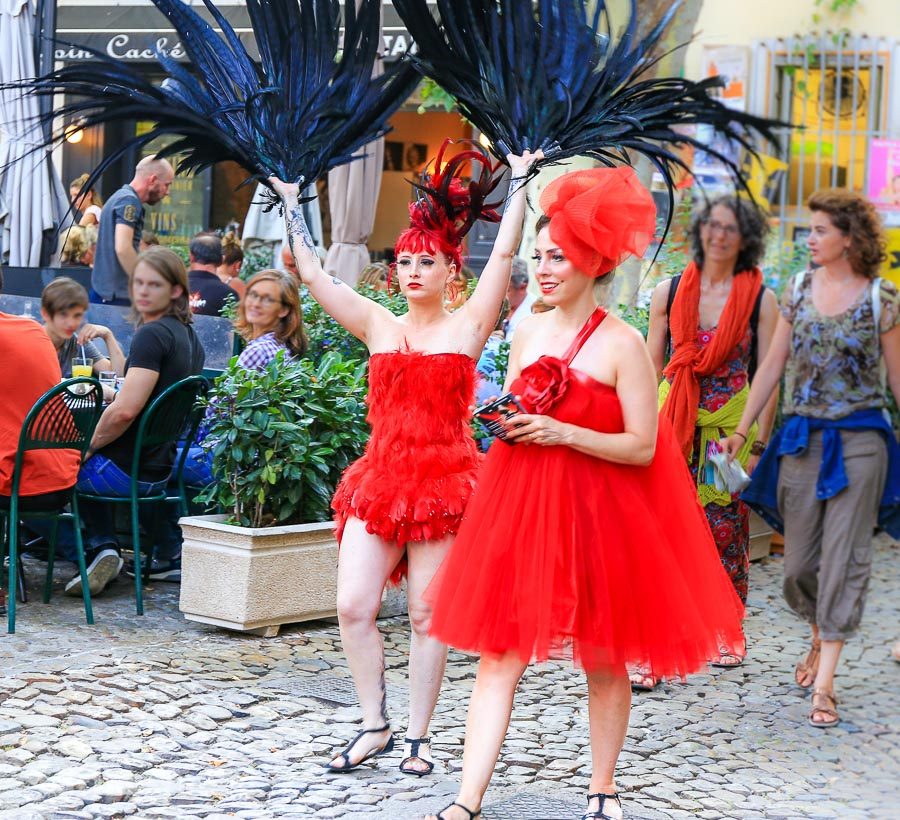 Dine at Hotel d'Europe and Restaurant Christian Etienne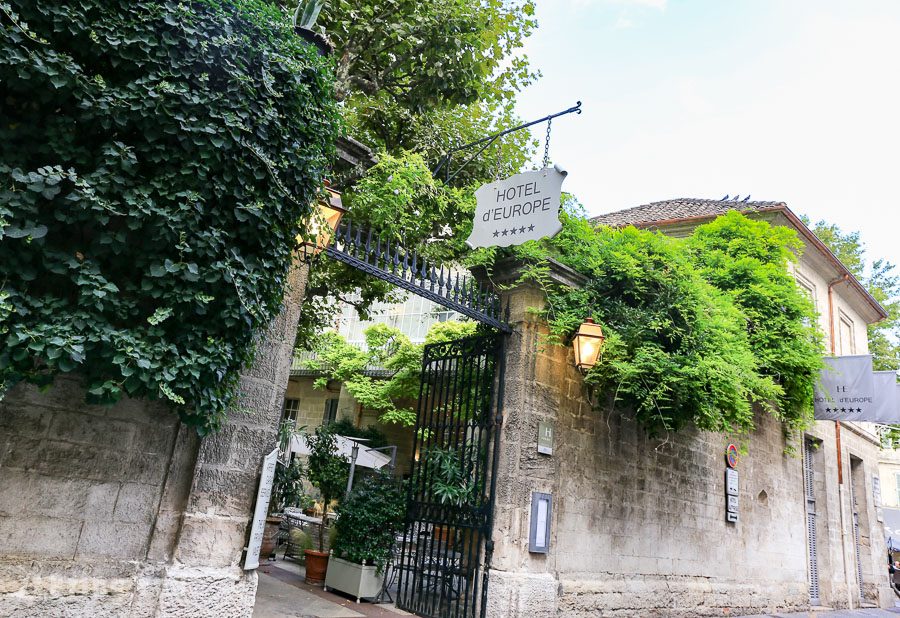 La Vieille Fontaine at The Hotel d'Europe is one of the oldest restaurants in Avignon and also my favorite. It's been around for so long that even Victor Hugo, Picasso, Salvador Dali, British King Edward VII, famous British novelist Charles Dickens, and other noble figures have stopped by.
The house puts on a shabby look with the washed-out stoned wall on the outside but snuggling a heap of greenery on the inside. Even the cute little sign board and dim yellow lights by the gate add to the quaint cuteness of the place.
Hotel d'Europe is a Michelin-starred restaurant in Avignon. Dining under the trees is exactly what I've always dreamed of. Straight-up white linen table cloth covering the exquisite iron seatings under the umbrella. You can choose a preset menu that includes multiple courses and services like 2 entrees, poisson, viande, and dessert. Alternatively, opt for a Carte menu featuring Foie gras doré betteraves multicolores and Sélection de fromages affinés.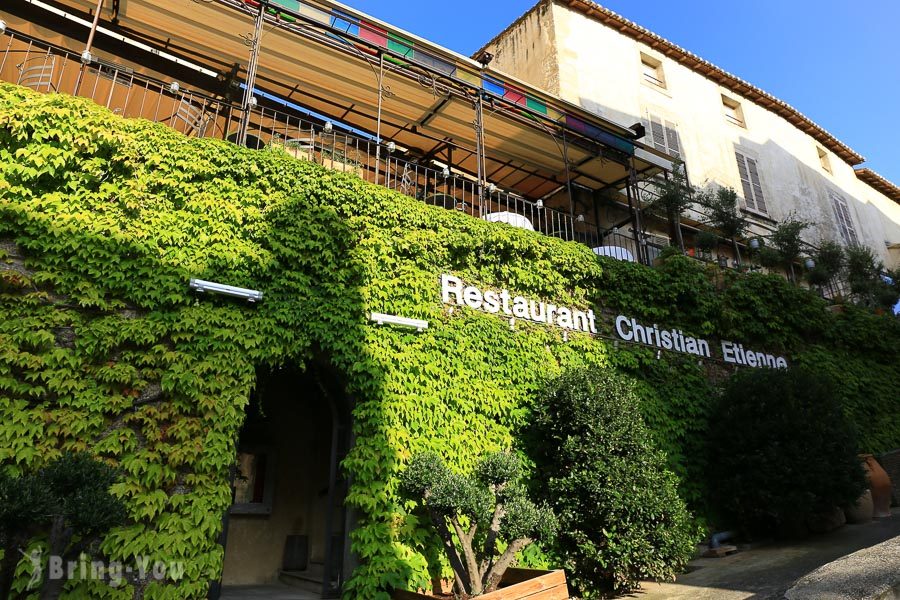 Other than that, Christian Etienne is an affordable Michelin-starred restaurant dishing up a contemporary menu. The Bridge menu is excellently flavored. It's simply a beautifully garnished and pure edible art. The brilliant terrace view adds to the charm of the place as well.
The Best Souvenir to Bring Home from Avignon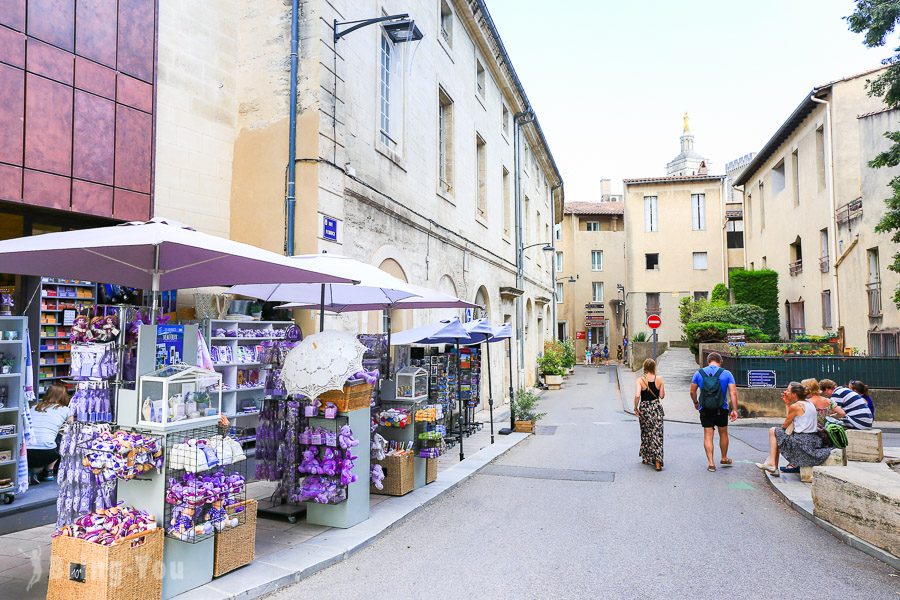 The stretch of the area starting from Palais des Papes towards the river is a quaint assortment of souvenir stores selling everything Provence-related. And when it comes to Provence, scents and soaps are the biggest hooks, especially during the lavender season when everything in purple takes over the streets.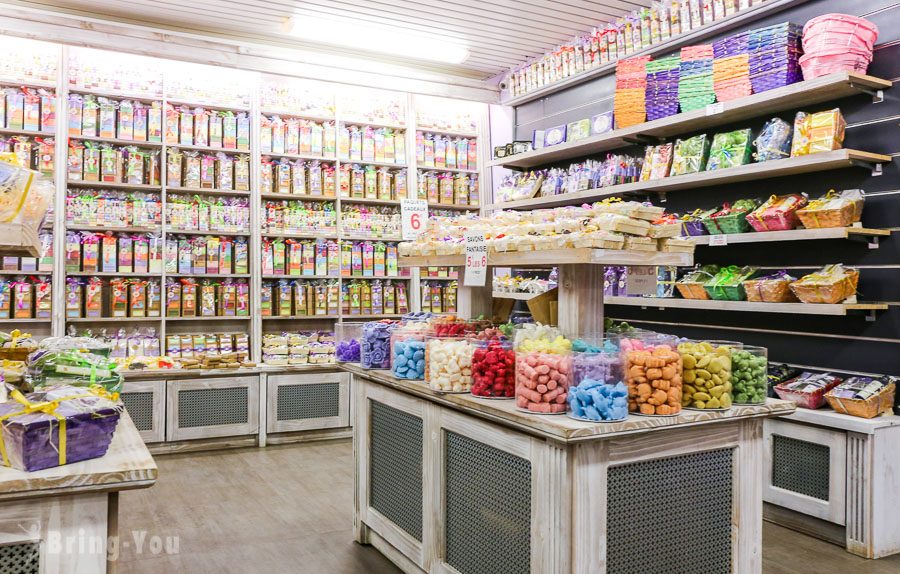 Soap stores pop out like candies, stocked up with delicate scents dancing in the air. The products are not crazy expensive. They come in all colors and sizes so you can easily tuck them neatly inside your luggage.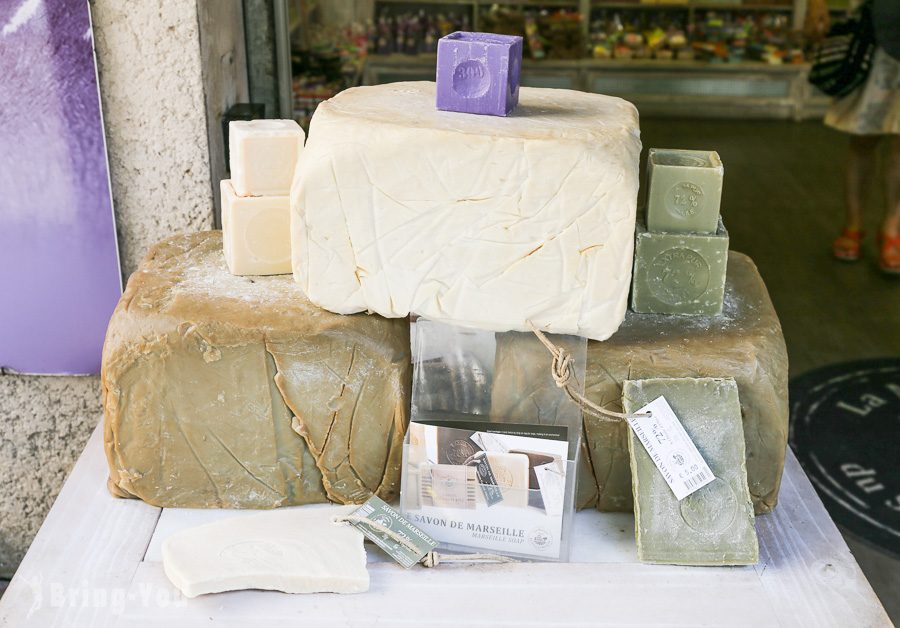 Where Should You Stay in Avignon?
I'm in love with Airbnbs. Staying at a local homestay to dig into the feeling of spending life as a local is worth every penny. Even though staying at an Airbnb is not so common in some certain cities, it's definitely the other way around in Avignon (and the Provence area in general).
I've always dreamed of staying with a French host family, somewhere off the beaten path to experience rural life as much as I can. You can find some really well-reviewed places around the railway station area that includes breakfast and the rate can start as low as EUR 20 a night.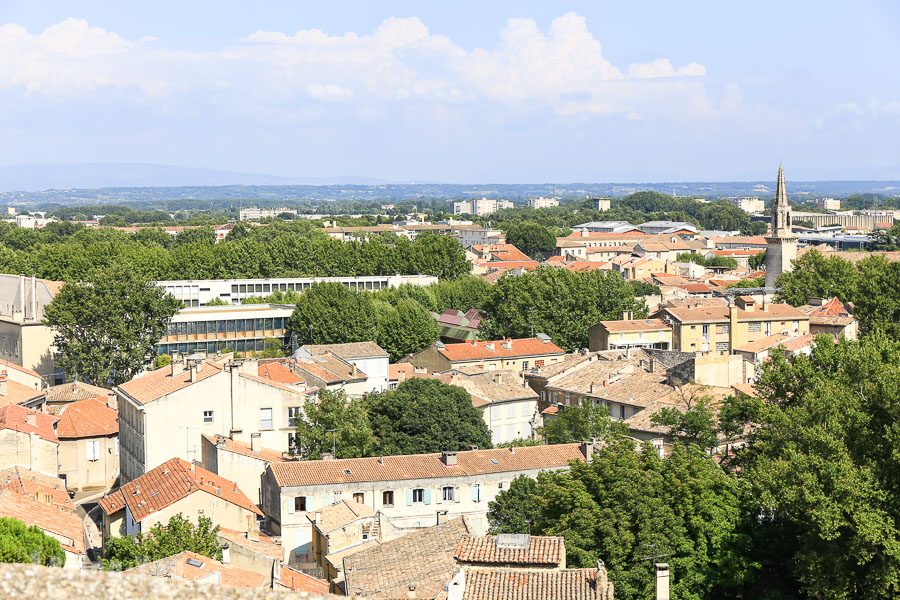 No visit to Avignon is complete without a day outside exploring the neighboring city of Arles. Check out this Arles travel guide for a heads-up:
A Day Trip to Arles from Avignon: Follow Van Gogh's Trail of Art