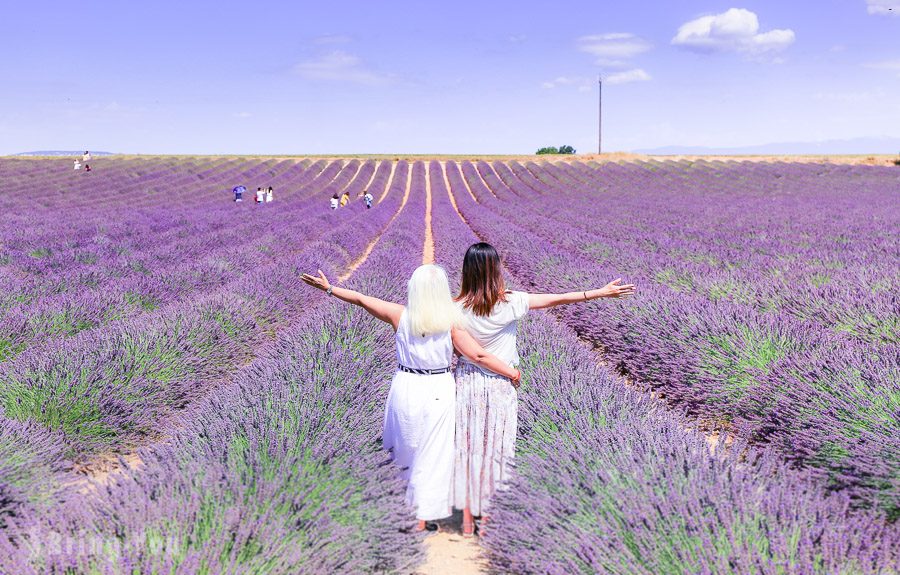 One of the first scenes I pictured of France is the endless lavender field. I can't recall when I first saw the air-filled lovely scent of lavender in my childhood. Perhaps it's a scene taken out of a Barbie movie or an enchanting painting on a postcard at my home post office.
Well, the dream soon came true as I visited Valensole in Provence, the south of France on my day trip getaway from Avignon.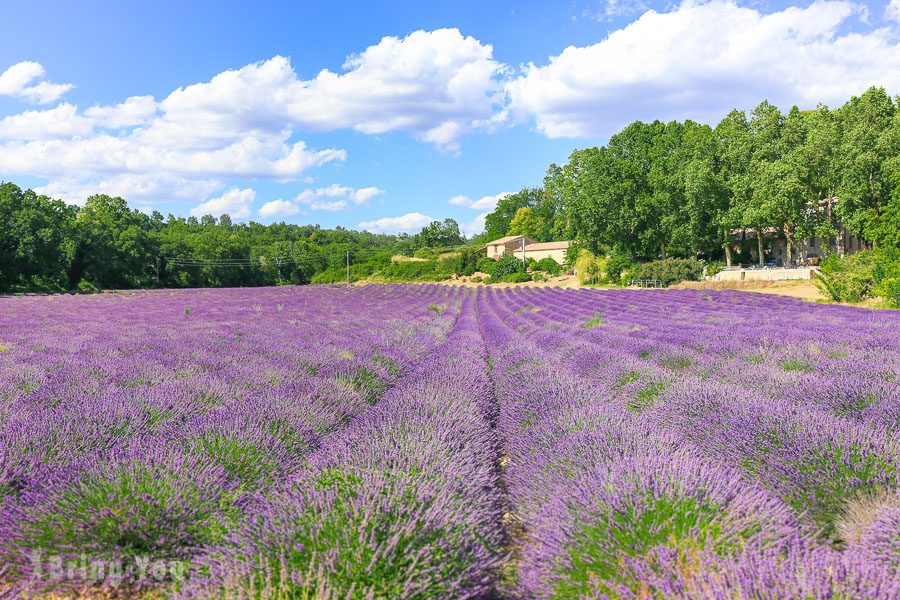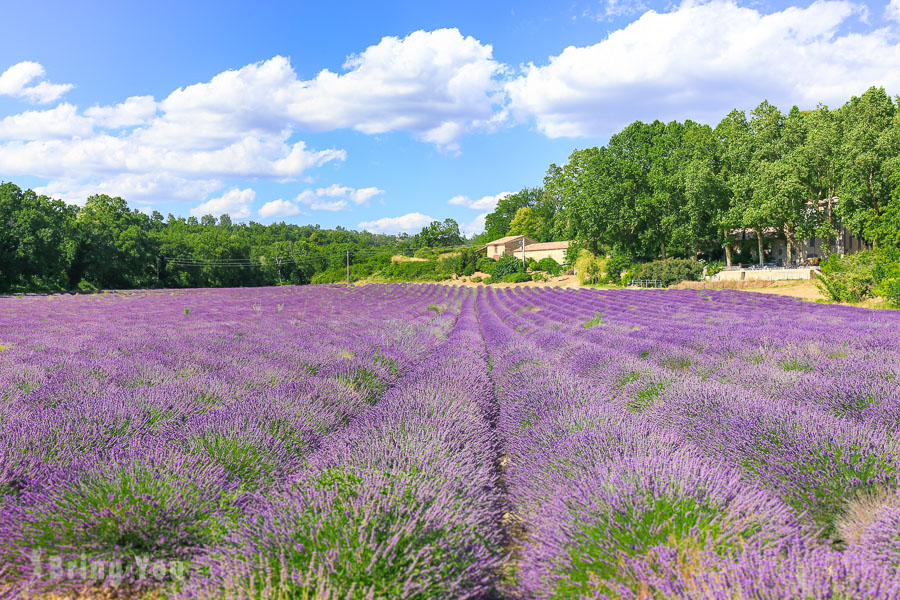 Valensole is famous for its endless array of those purple fields, a lovely town bordering Italy and the Mediterranean. When June and July are around the corner, the entire region is washed out with a dramatic violet blanket. For that reason, Valensole today is not only a busy tourist attraction but also a dreamy paradise for photographers and newly-wed couples.
In this article, I'll be covering a day in my trip to Valensole as well as the nearby Lake of Sainte-Croix and Gorges du Verdon.
Getting to Valensole From Avignon
By Train & Bus
Book your ticket with the Avignon TGV train departing at Gare d' Avignon TGV towards MARSEILLE ST CHARLES SNCF in about 20 minutes.
Get off at Aix En Provence TGV and walk across the street, take a right turn to Aix En Pce – Gare Aix TGV to catch Bus #66 heading to Gréoux-les-Bains SNCF.
From there, transfer to Bus #133 towards Saint-Barthélémy just in front of the Guillaume Pharmacy. The last leg of the bus ride is 40 minutes.
This entire trip is around 3 hours in total. Despite it being the cheapest option to get to Valensole, it's not a feasible way to include it in a day trip.
On A Day Tour
In my case, I opted for one of the day tours with a guide picking me up at the hotel in Avignon. The tour also covers other famous stopovers such as Lake of Sainte-Croix and Gorges du Verdon. Plus, the tour bus heads to Valensole directly which takes no more than two hours.
Valensole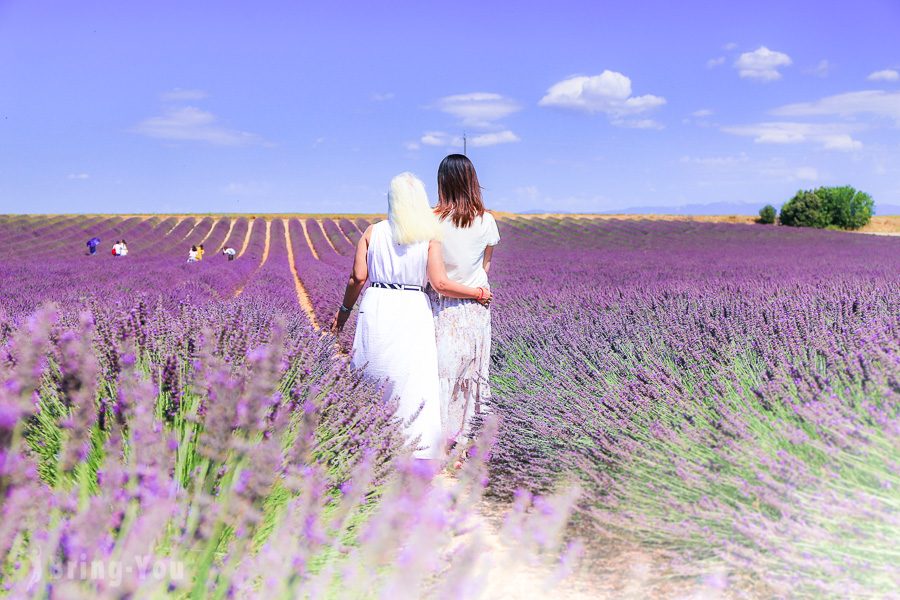 The Valensole Plateau is one of the most popular spots, a place of undoubted beauty for embracing the beauty of lavender fields. The special topography on a lower elevation and a flat terrain allows the flowers to come in full bloom a lot sooner than their counterparts such as the Sault Plateau.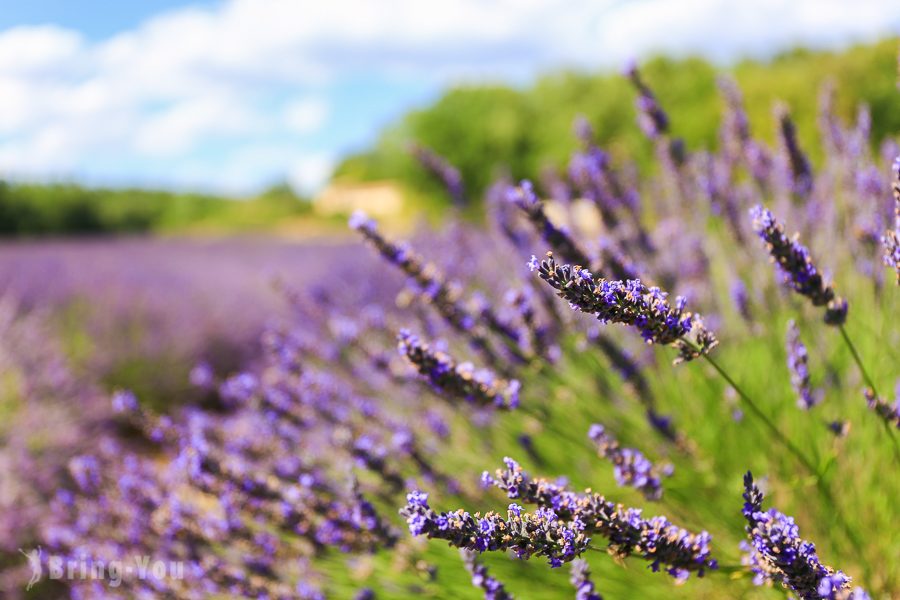 The best time to visit Valensole is during the harvest season which starts in mid-June all the way to late July. It's no surprise that the fields are scrambled with visitors and couples on their wedding photoshoots. But other than just people, there's another 'crowd' that you can't ignore: an army of bees.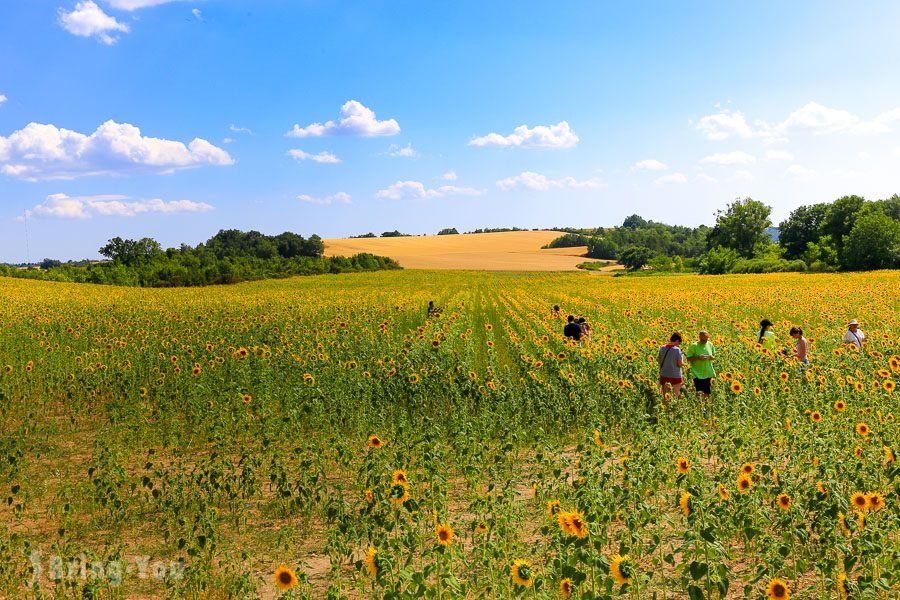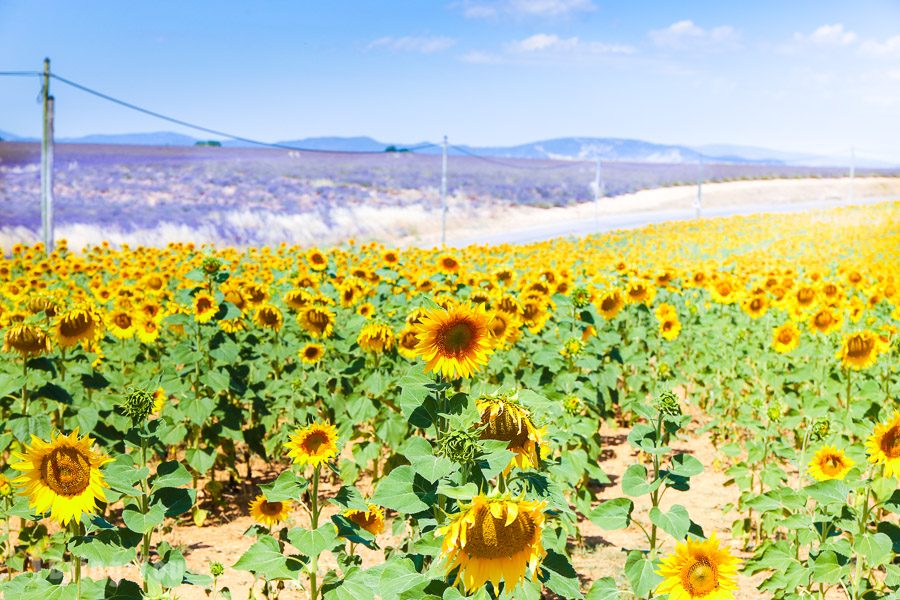 They are the best friends of lavenders. When the crowds thin out, you can literally hear the buzzing bees swaying by the flowers. Rest your worries as those friendly bees are far more interested in those 'nectars of honey' rather than your flesh.
Moustiers-Sainte-Marie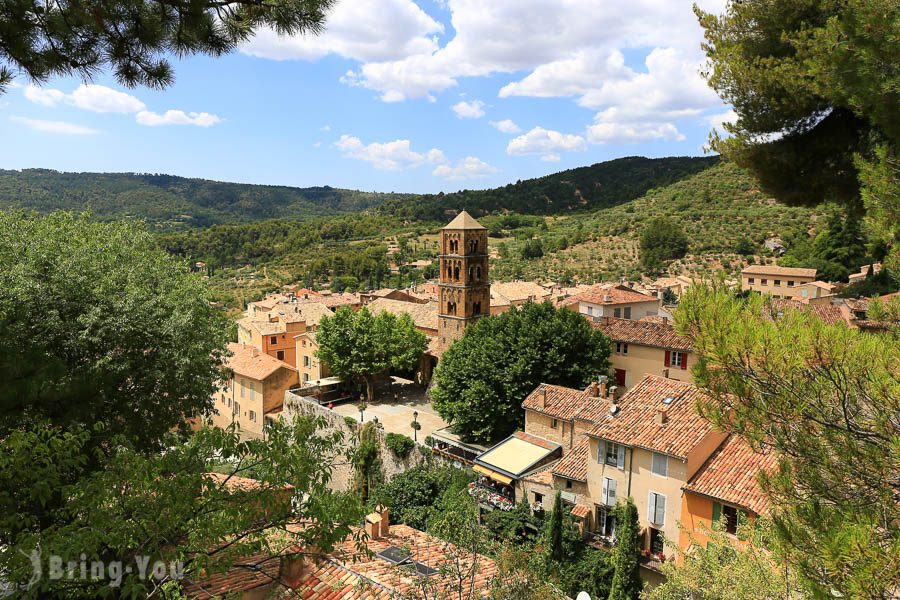 About half an hour's drive from Valensole, Moustiers-Sainte-Marie looms out as a quaint, vintage town steeped in history and the majestic beauty of everything Southern France offers.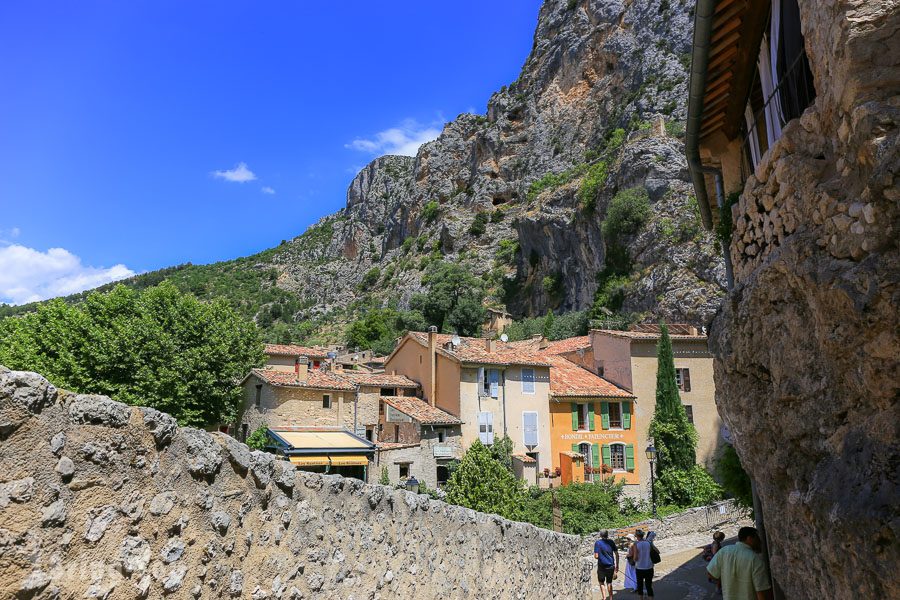 Walking on the rough cobblestoned streets as you sneak through the winding, tiny stairs and looking up at the small townhouses with flowers flanking below the blue windows is a whimsical feeling you barely find elsewhere.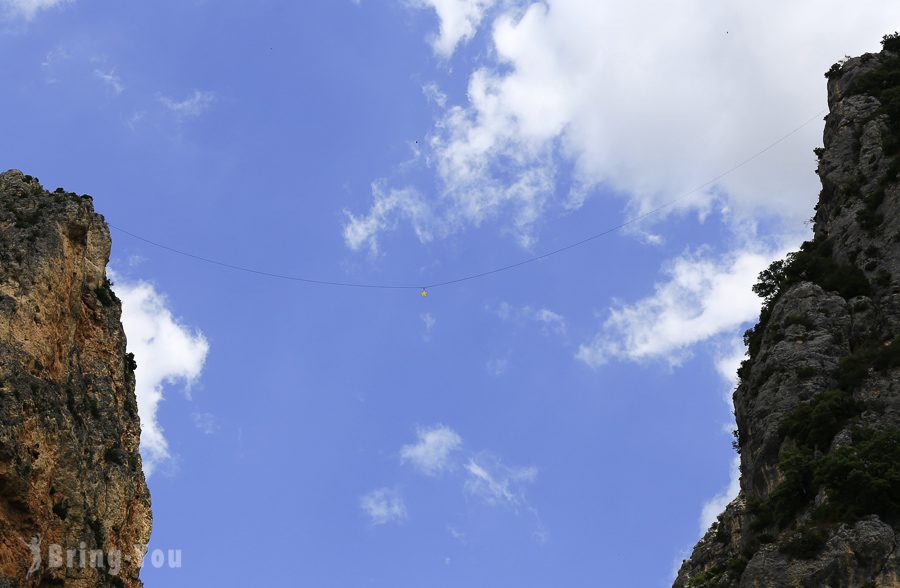 Peppered around the town is a range of bareback mountains and small rivers with beautiful little bridges – no wonder why Moustiers-Sainte-Marie was listed as "the most beautiful village of France" in 1981.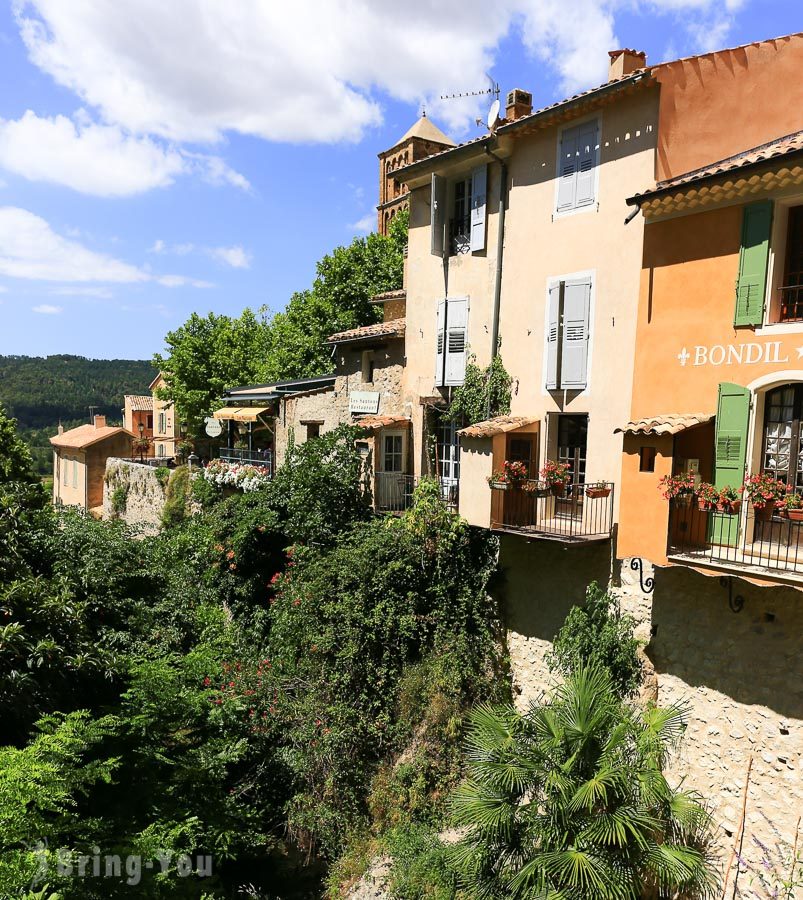 The coolest thing about Moustiers-Sainte-Marie is its proud relationship with faïence pottery, a long-established trade that has been around since the 17th century.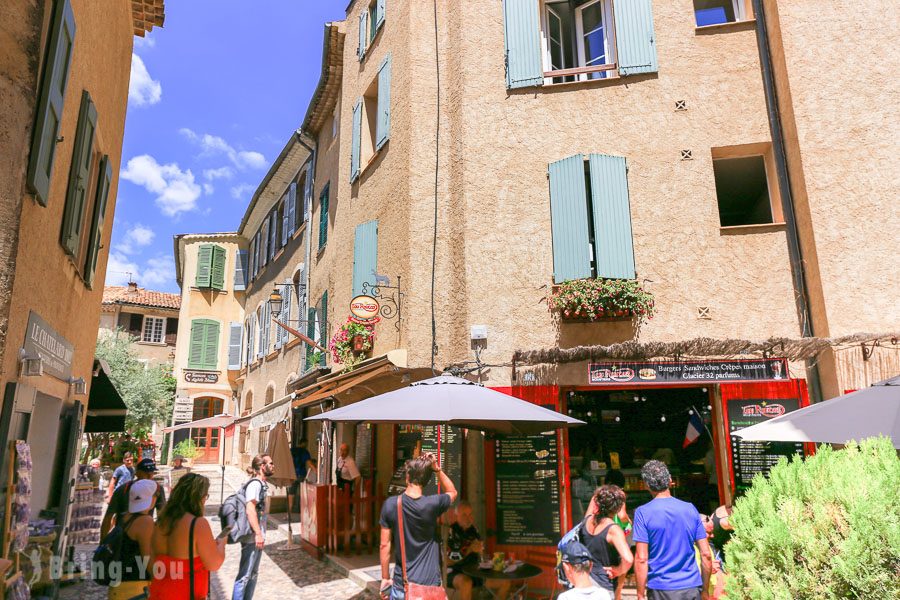 The joyful tour guide I had that day revealed a fascinating hidden gem that was hanging way above the sky. And without her, there's no way I discovered such an exciting find.
In the picture below, you're looking at a golden star suspended between two limestone mountains. The legend has it that the star was brought up there by Bozon de Blacas, a knight who was captured and kept hostage by the Saracens in the Middle Ages. He hung the star on top of the village as a symbol of victory once he got out and defeated the Saracens.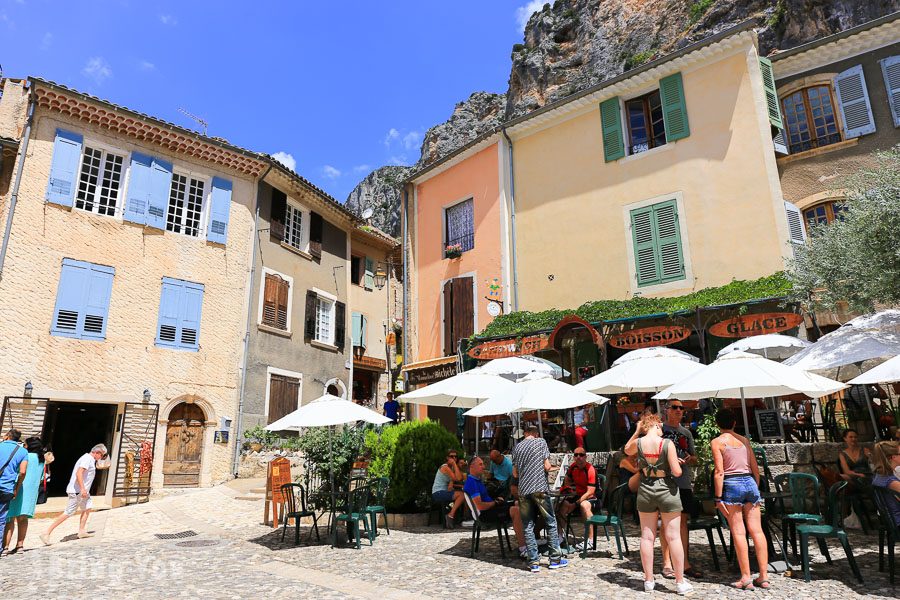 Up to now, the star has been replaced so many times. One of the notable events dates back to the early 2000s when the string broke and they had to use a helicopter to bring it back there again.
Lac de Sainte-Croix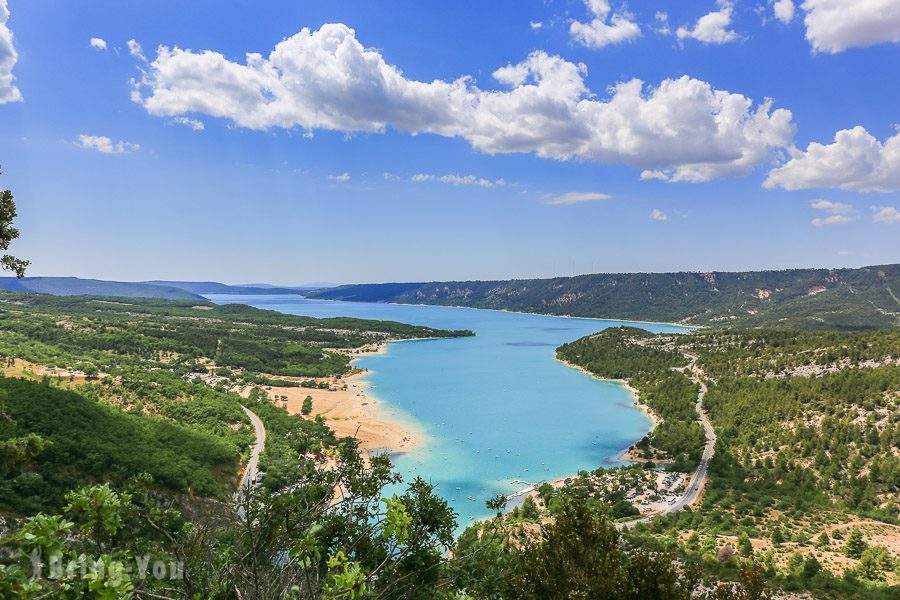 The vast, deep-blue lake of Sainte-Croix is less than half an hour's drive south of Moustiers-Sainte-Marie. To get to the lake, you have to visit either Bauduen, Les Salles sur Verdon, or Sainte-Croix-du-Verdon as these are the only villages opening a gateway to the majestic lake.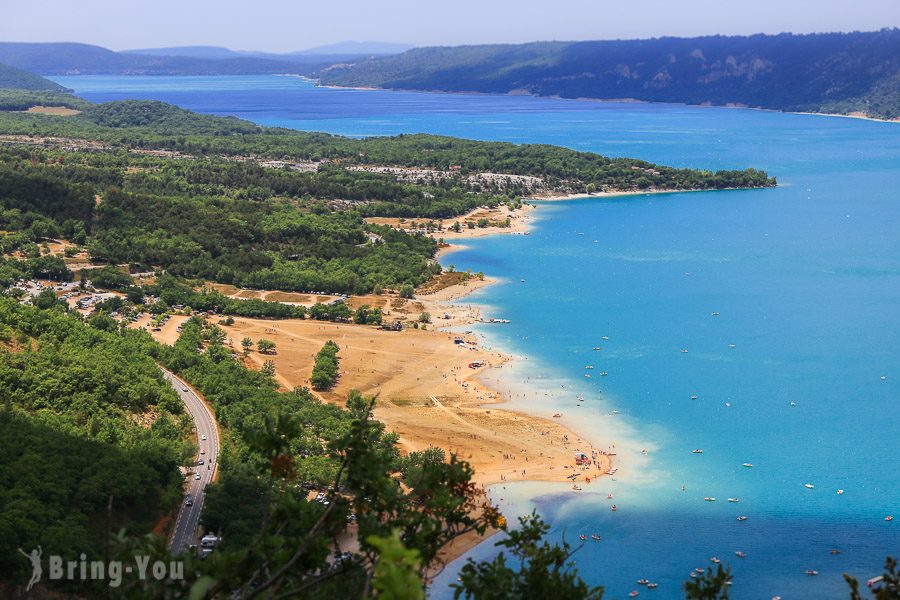 From above, Lac de Sainte-Croix looks like a giant boot with its southeast side conquered by the bareback mountains, and the northwest is blanketed by infinite lavender fields and sun-kissed meadows.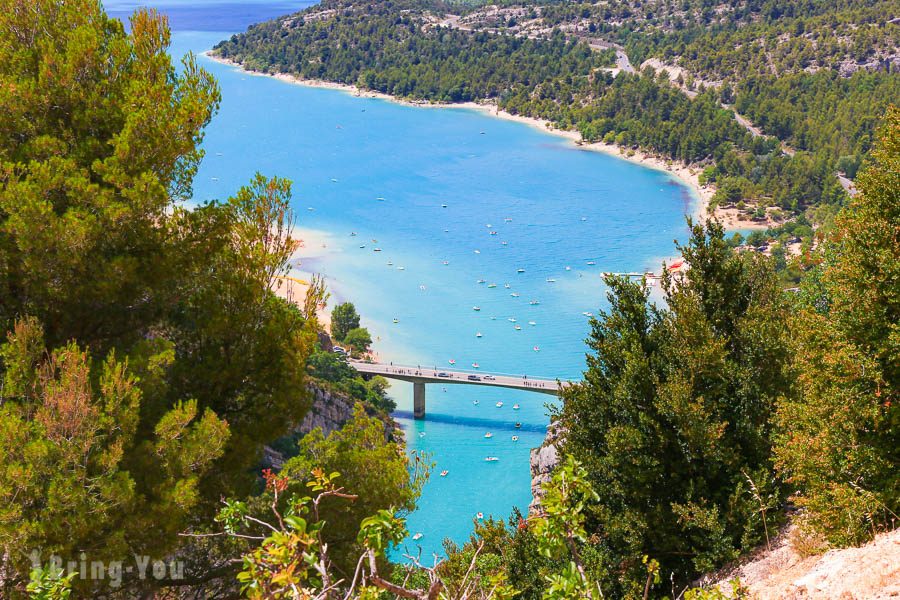 Lac de Sainte-Croix is a perfect place to chill out in the shimmering sun or engage in a wide array of outdoor possibilities. You can pack some lunch and put a tarp down for a picnic with your loved ones, reading a book and sipping on fine wine. Or if you like to engage your muscles in outdoor training, set out to the water for a swim or paddle boarding.
Gorges du Verdon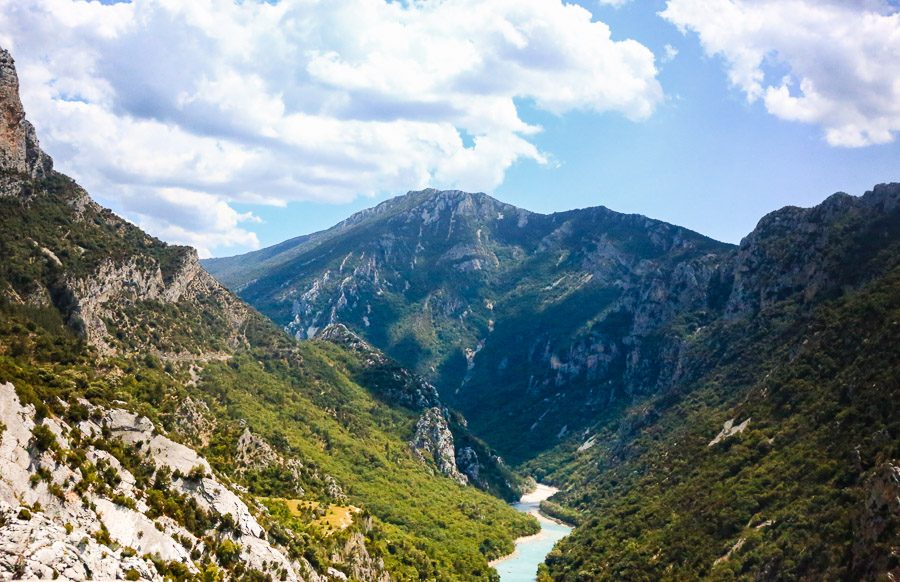 Capping off my day trip, I visited Gorges du Verdon, one of the largest of its kind in the country which is 40 minutes past the Lac de Sainte-Croix.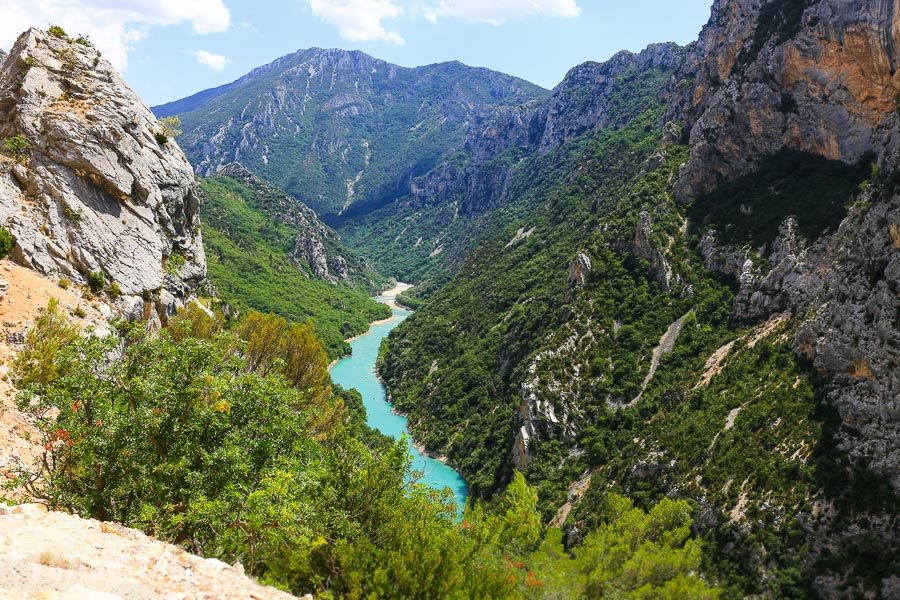 Giving it a flashback, the fact that the car stopped en route on top of a boulder instead of going on the way down turned out to be a great idea. The vista captured from above is way better than going downhill as you can soak in the entire sweeping wraparound view of the far-flung limestone cliffs and the turquoise gorges sneaking through.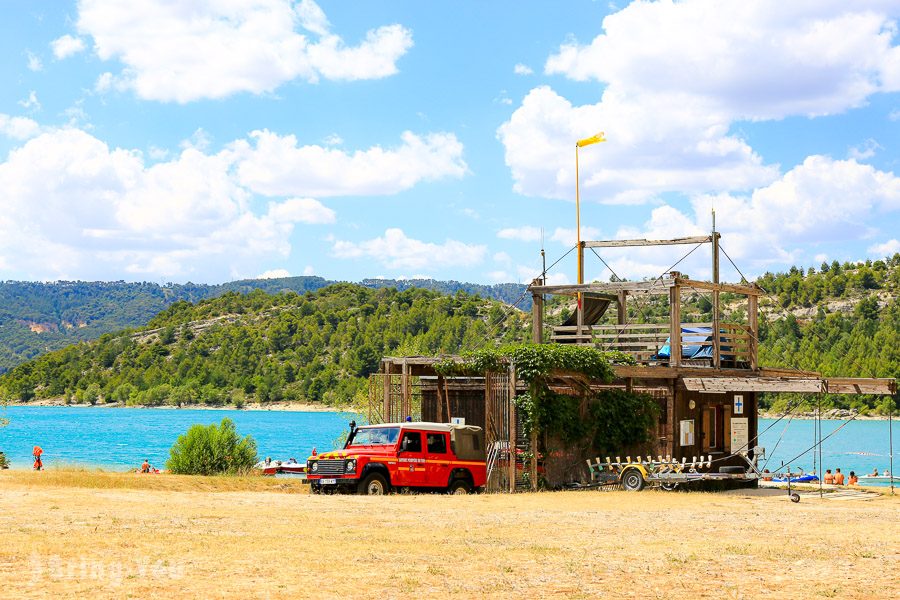 Gorges du Verdon is sandwiched between Alpes-de-Haute-Provence and the Var in the Provence-Alpes-Côte d'Azur region. It's also part of the scenic French Riviera, enclosed by hilltop villages and lavender fields.
Check out more travel ideas in France: