Amongst all of the old quarters we have set our foot on in the world, Gion always wins a special place in our hearts. Many of the so-called "ancient towns" out there gradually lose the traditional flair and quintessence of the good old days. However, it seems as if the time machine forgot to lay its hand on the Gion, the most famous Geisha district in Japan.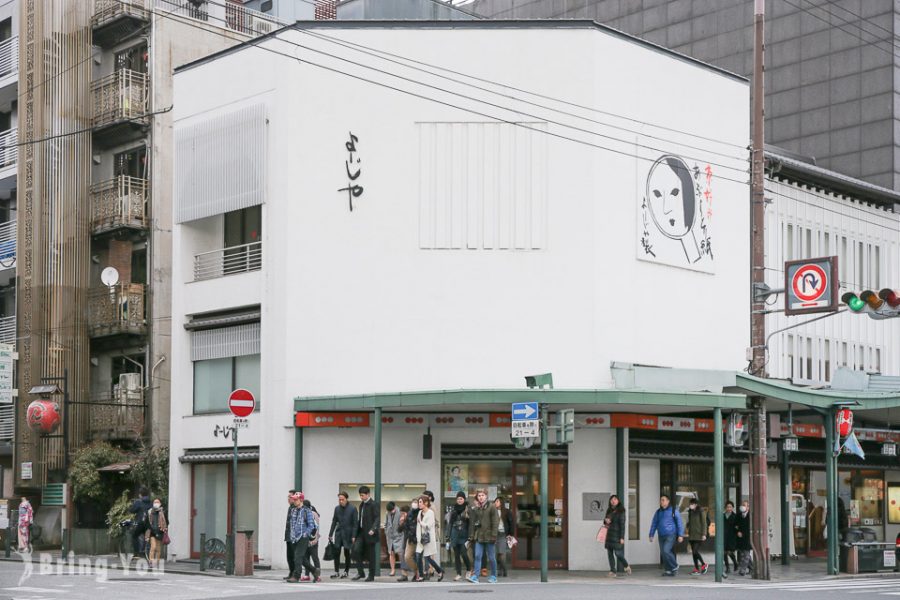 Today, we take you to our favorite neighborhood in the ancient capital of Kyoto – Gion. Follow our journey through the most Instagrammable spots, authentic Kyoto restaurants, and our recommended places to rest your back!
Gion District – A World-Renowned Time Capsule of Kyoto
Where is Gion District Located?
The historical district of Gion embodies the north and south side of Shijo street and is sandwiched between Yasaka Shrine and Kamo River. Emerging from a peaceful shrine in this part of Kyoto, Gion today is a charming cultural district where visitors like us flock here to admire a stop in time and experience the famous Geisha culture of Kyoto.
What Is Famous About Gion District That We Want You to Visit?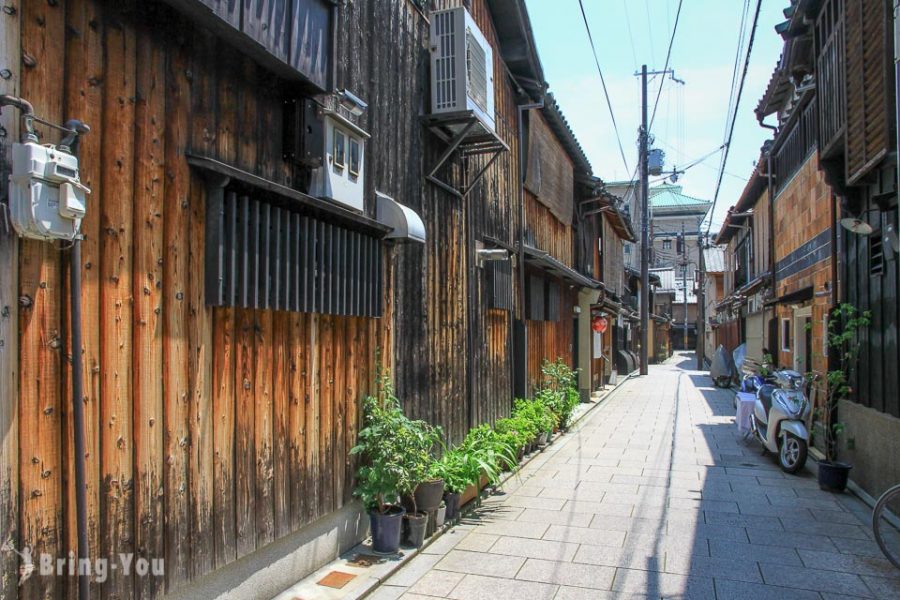 Fun fact: the locals revealed to us that Gion Shirakawa, the northern side of the district, is the most beautiful street in Kyoto! And when we made our way there, it just exceeded our imagination. Alright, we'll save this part for later so you can sense how beautiful it is. So stay tuned!
A leisure walk around Gion today opens a door to the time machine. Each wooden house, low-ceiling storefronts, cherry blossoms, and peaceful canal pave a way for these beautiful geisha and maiko.
They stroll along the stoned paths holding a colorful umbrella when the chilly breeze of spring flushes by. This scenic picture speaks a thousand words!
6 Must-See Attractions and Experiences in Gion + Sample Walking Itinerary
We compiled this part to not only list down things to do in Gion but also put them together in a sample route in order from the first to last stops. You can jot this down as a sample itinerary when sightseeing in Gion!
Shirakawa Canal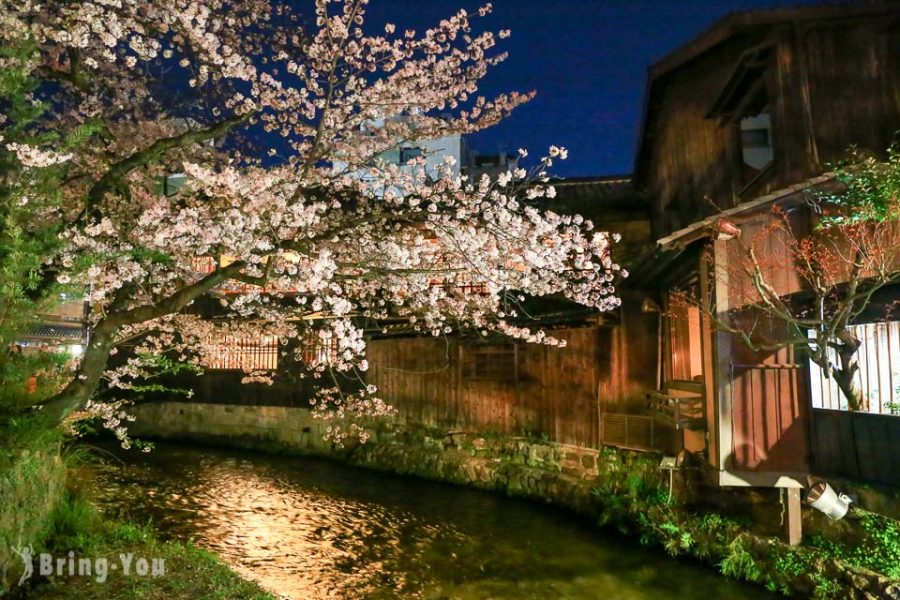 Walk along the Shirakawa Canal and enjoy this enchanting cityscape when the sun beams down! No plan is needed, keep an open heart and a free mind (with your camera along) and wander free along this peaceful canal!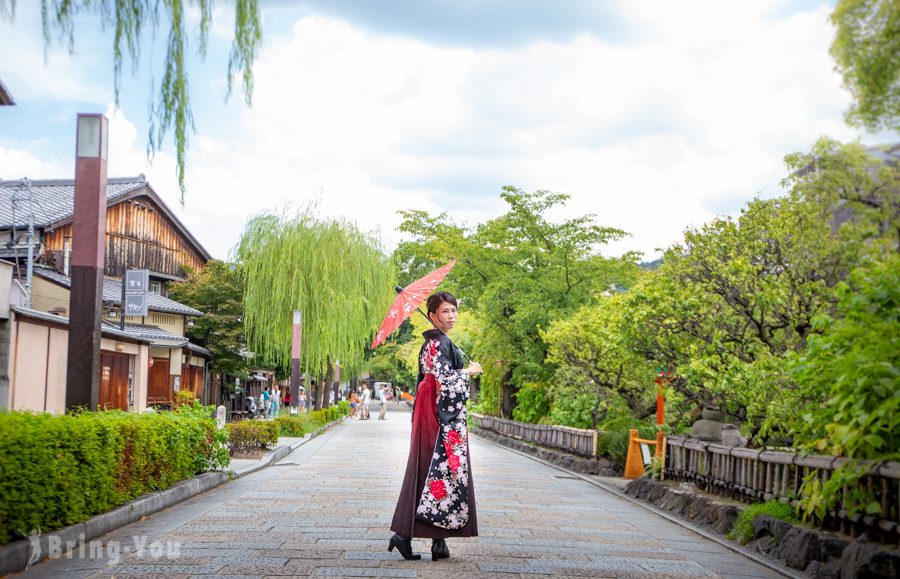 This historic canal runs parallel to Shijo Dori, which is dotted with numerous traditional tea houses and dining establishments.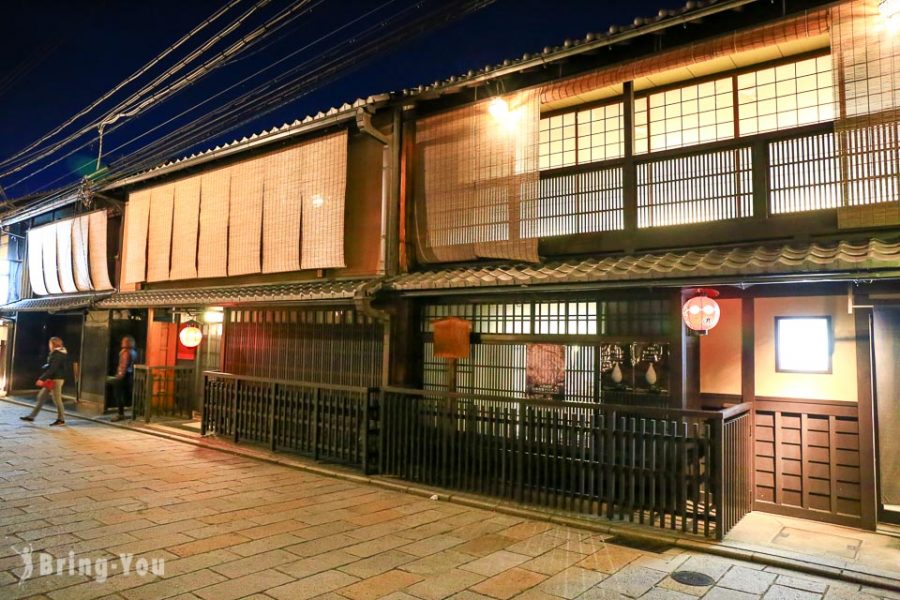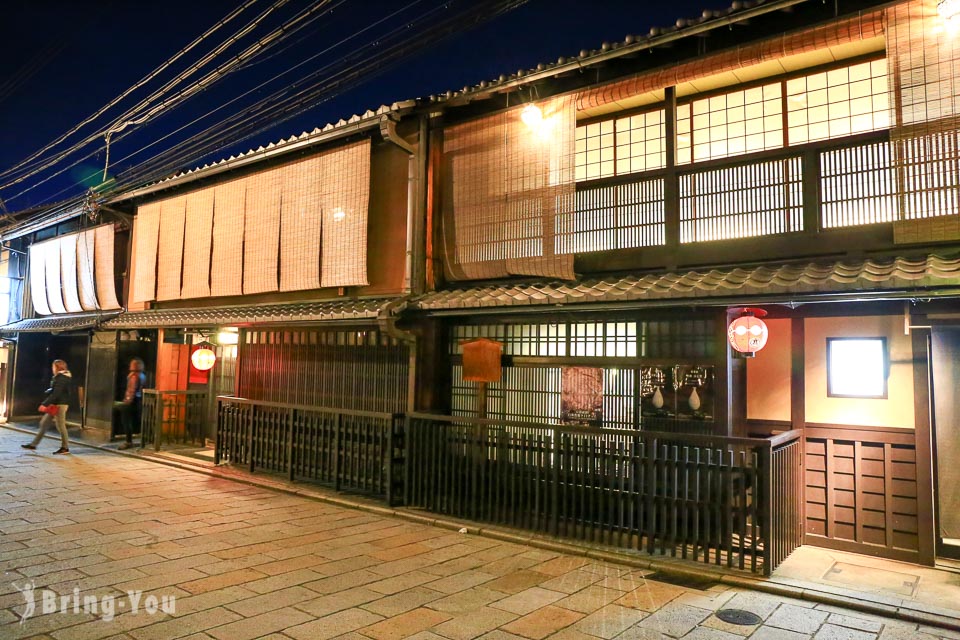 Gion Tatsumi Bridge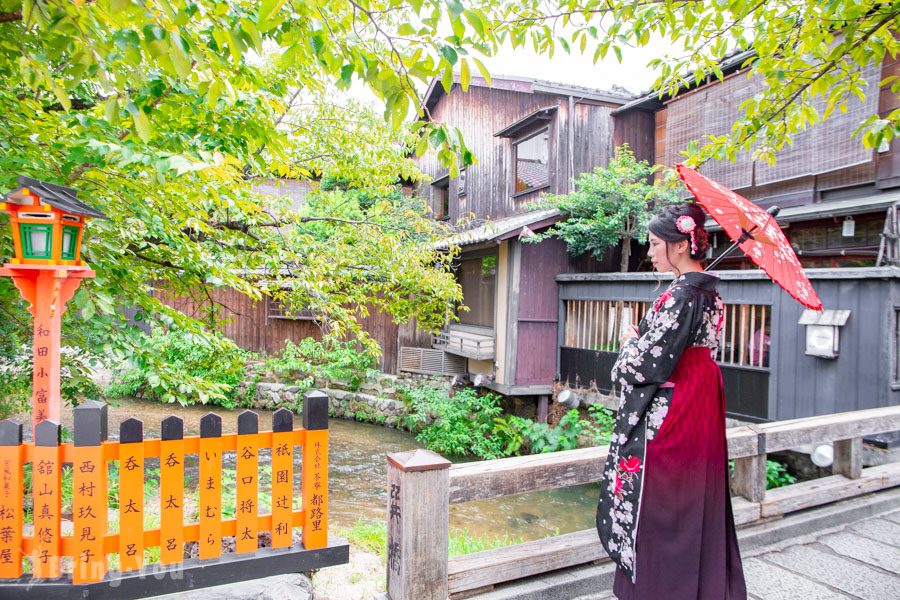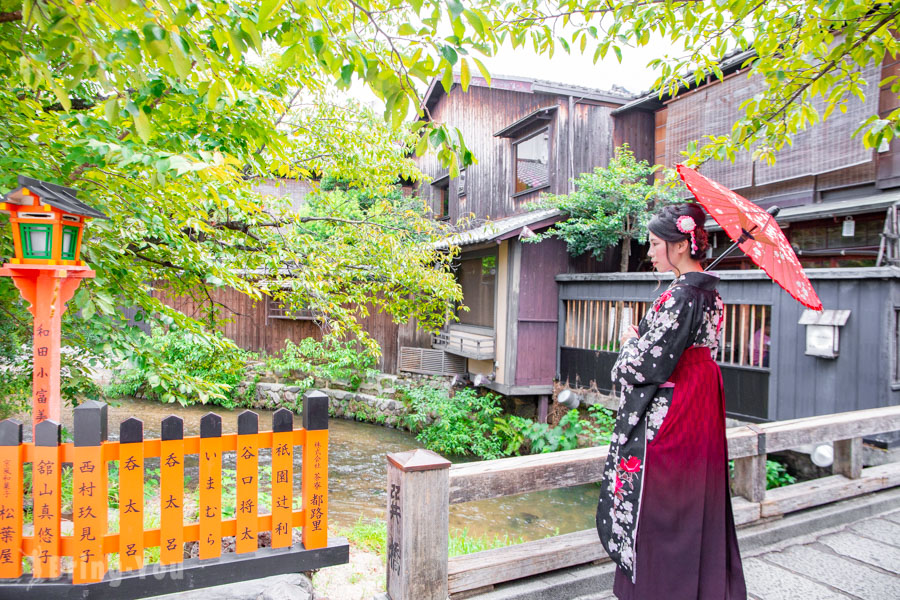 No matter what season it is, the beauty of Gion Tatsumi Bridge exceeds our imagination. This little cute stone street crosses over the mirror-like Shira River.
Gion Tatsumi connects two parts of the Gion district, which spans a small canal with cherry blossoms flanking up above. This scene is truly magical if you have a chance to drop over during springtime. The bridge is nestled at the crossroads of Shinbashi Dori and Gion Shirakawa.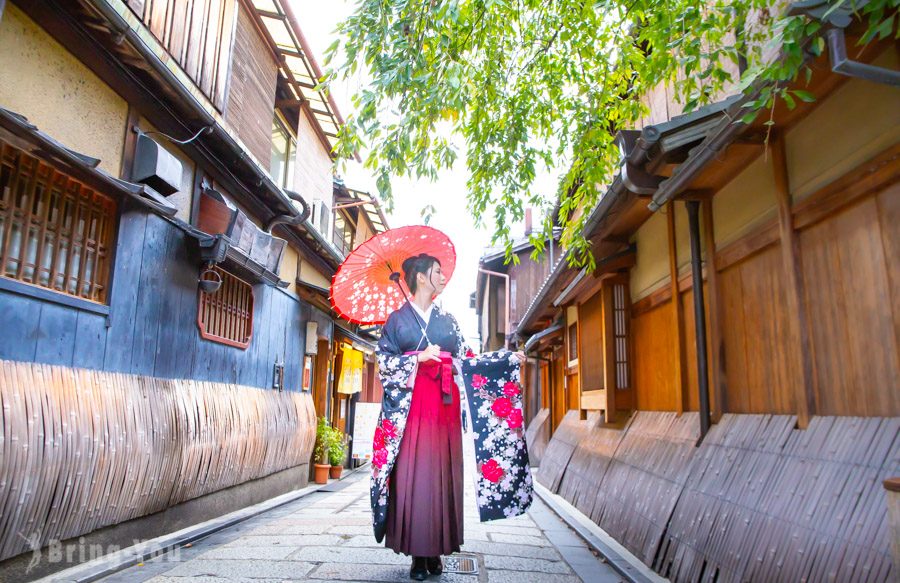 Hanamikoji Street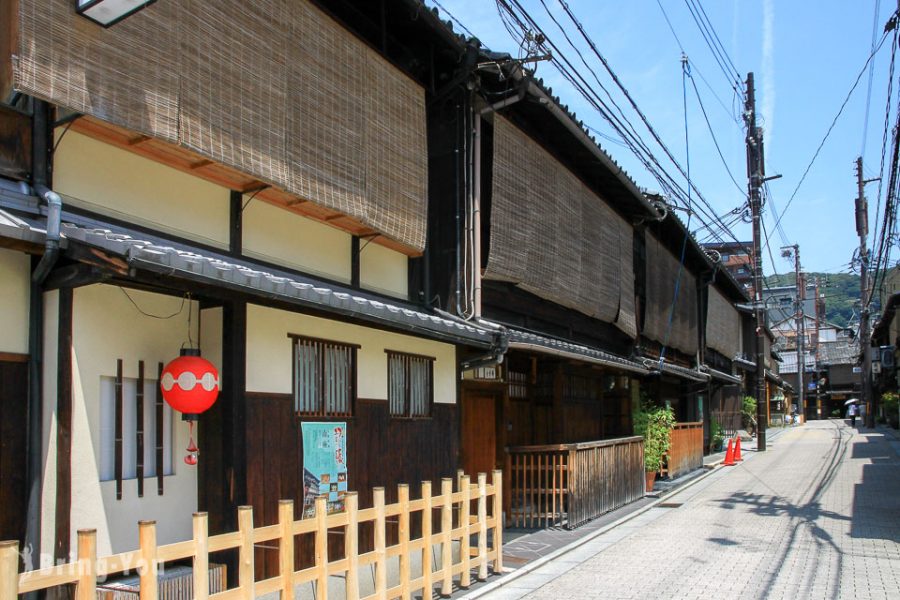 The bloodline of Gion is Hanamikoji. Time is perfectly captured when you walk along this crowded path. That sense of culture and preservation is reflected through the chain of ancient wooden houses.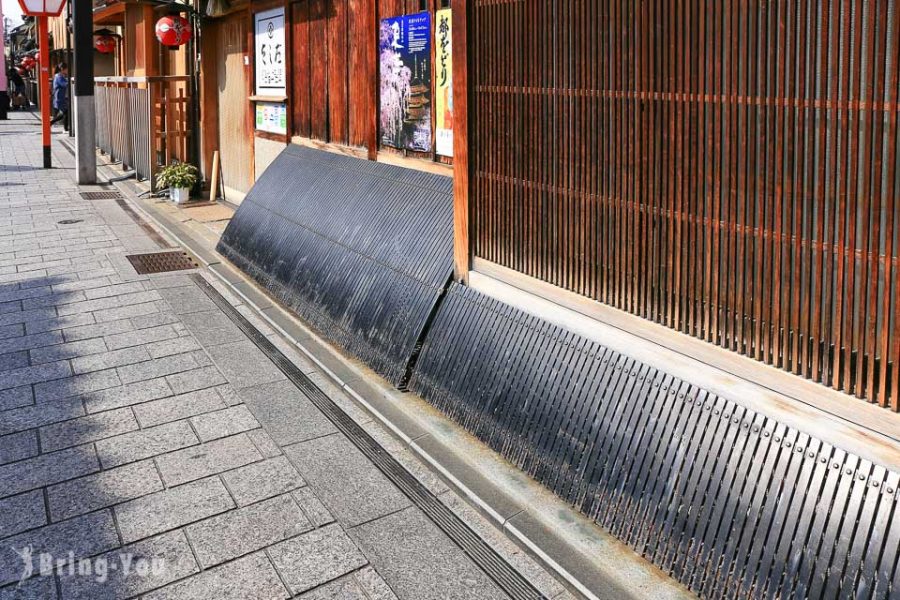 Each of these buildings compliments rustic architecture. And when the ultimate sunlight is about to hide behind the horizon, the entire street is soaked in a mesmerizing beauty at dusk.
Yasaka Shrine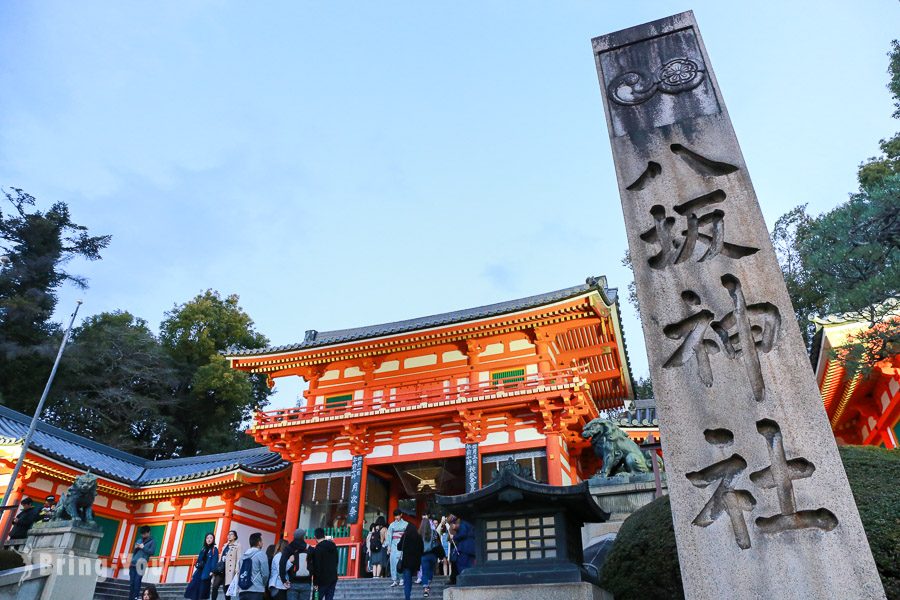 Known as the most visited Shinto shrine in Gion, Yasaka is always flooded with hordes of tourists. The shrine has been around since 656 to pay tribute to the deity Susanoo-no-Mikoto who is believed to be the guardian of Gio.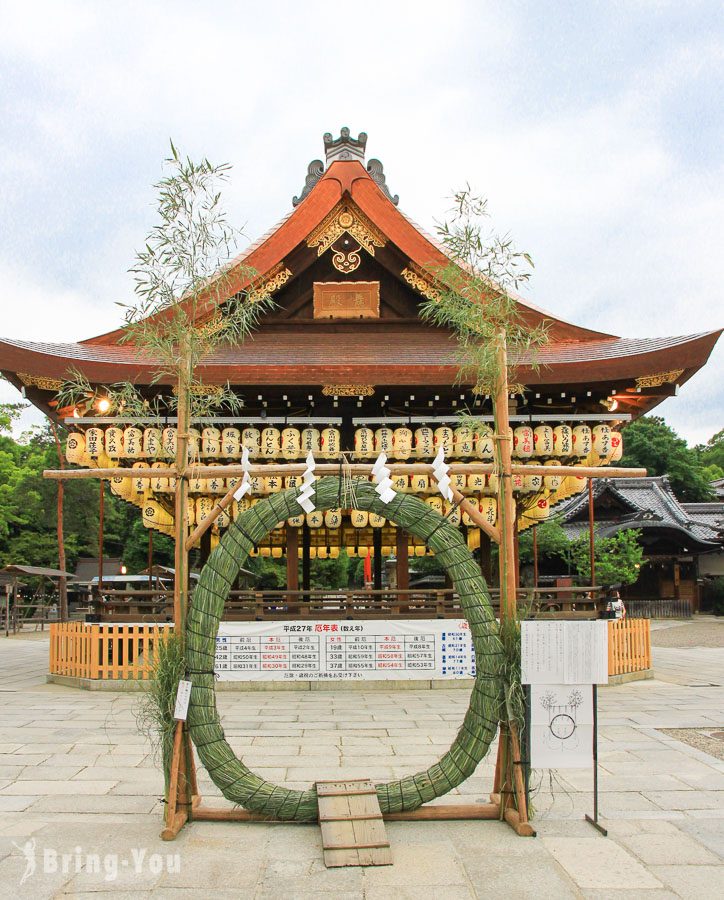 The entire shrine dominates a large footprint with its Main Shrine being the most iconic symbol. The main entrance seems to have a lot of happenings with vendors offering exotic street food of Kyoto.
Yasui-Konpiragu Shrine
This is truly a quirky shrine to observe locals performing rituals to break bad luck or unwanted relationships. Basically, you will see young Japanese females crawling through that tiny hole underneath a massive ema-shaped stone.
The stole is completely filled and soaked in a paper amulet (written wishes). The best thing about this stone shrine mainly comes from the history and tradition that comes with it.
Issen Yoshoku Okonomiyaki Restaurant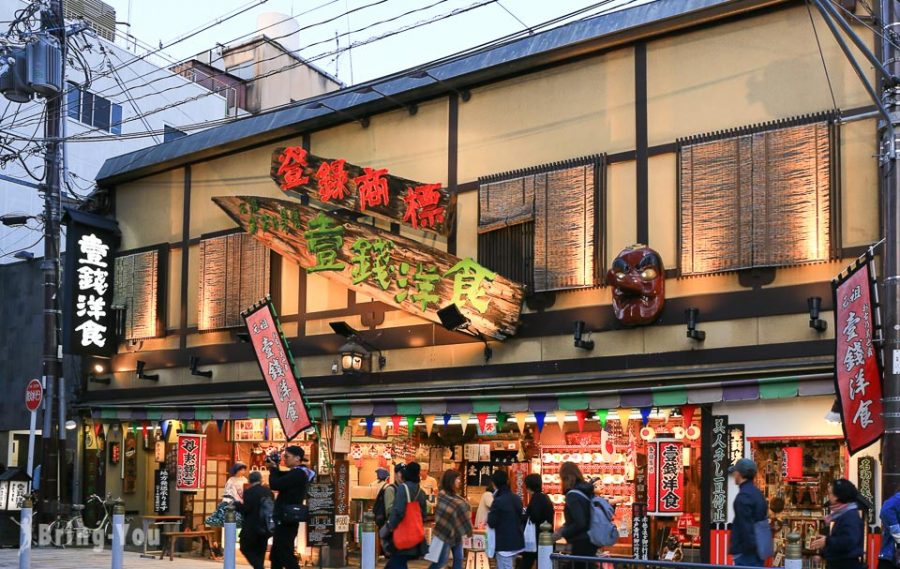 This is definitely a must-try eating hole in Gion. We know the food is the main draw of the place but its unique decoration and exceptional ambiance speak a thousand words! There's nothing fancy or high-end about this place but the warming, inviting and family-friendly environment does the talking. They only have one item to be served on the menu – traditional Okonomiyaki pancake. All in all, this is a great spot to stop by for a quick dinner while you munch on your bite watching the comic boy getting chased by a dog at the entrance!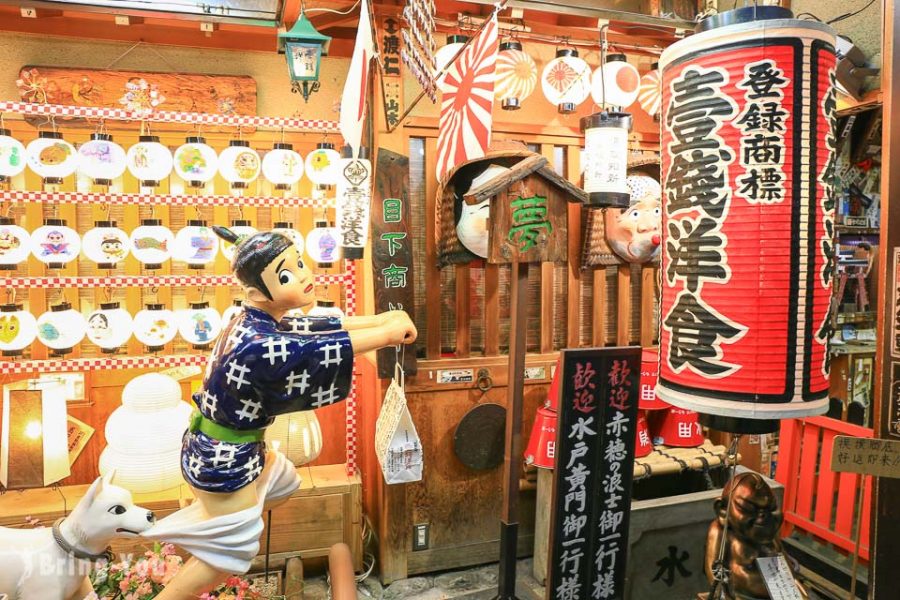 6 Coolest Restaurants and Teahouses in Gion You Don't Want to Miss
Tsujiri Tea House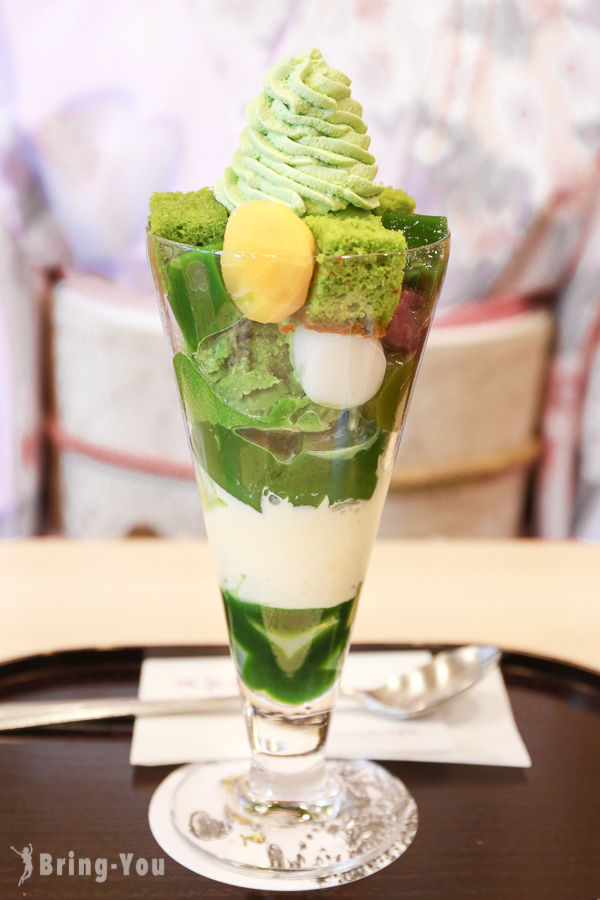 Gion Main Store, the most iconic tea house in Gion, boasts a range of mind-blowing matcha parfait that wakes up all of our senses. This matcha paradise always sees a long queue of people regardless of day or night.
While the matcha is the star of the show, make sure to order some Uji tea and slurp on some Soba noodles as well!
Gion Mametora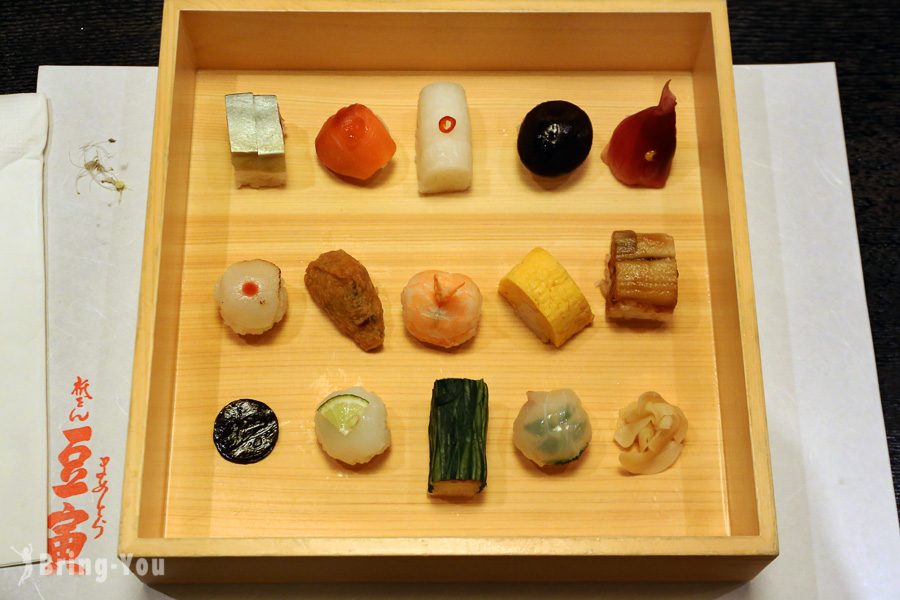 Well, sushi is a big thing but how about adding art to it? Gion Mametora is our next favorite place in Gion to enjoy a feast of sushi with a twist! Not only are these bite-site sushi tasty and fresh but also eye-pleasing and full of traditional flare to it!
Fun fact: The small sushi bites were intentionally designed for maiko so they could enjoy the whole wraps without opening their mouths!
OKU Café and Restaurant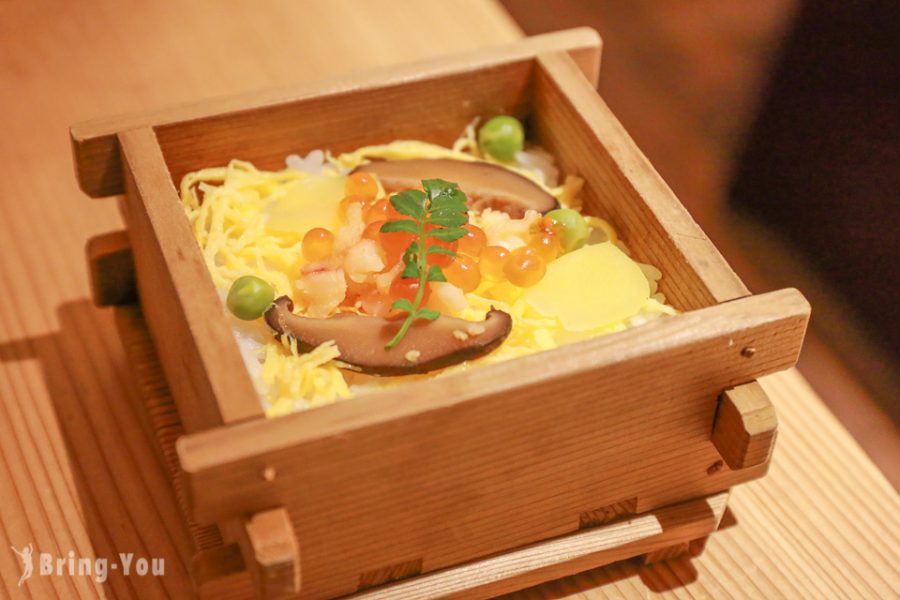 OKU lives up history in each of your bites with a modern flair blown into the dining house. This little welcomes you with a Japanese-style bar on the ground floor. The dim light truly enhances the inviting ambiance.
We went for a serving of seaweed salmon followed by deep-fried tofu with bamboo shoot and washed down with some ice cream at the end. This obscure gem is a must-try!
Tenshu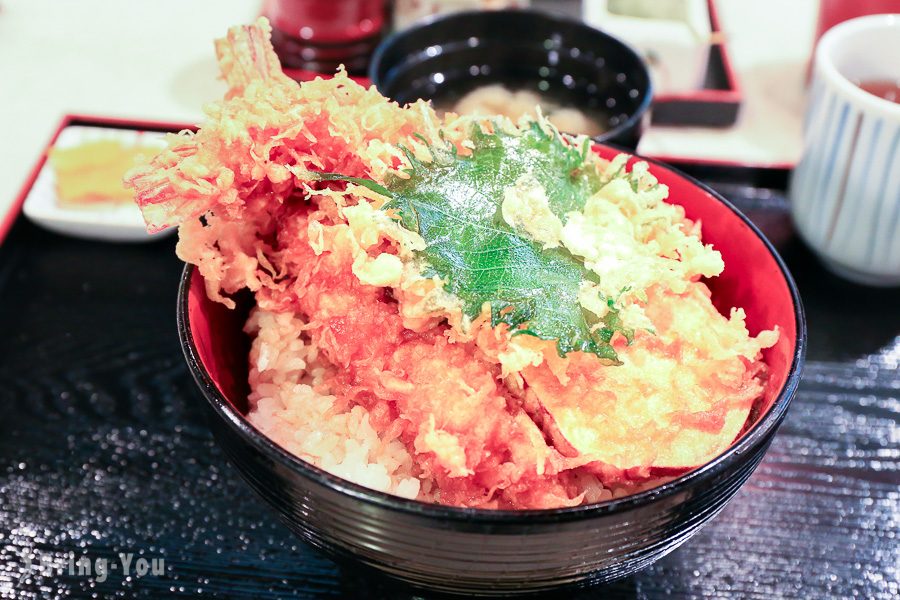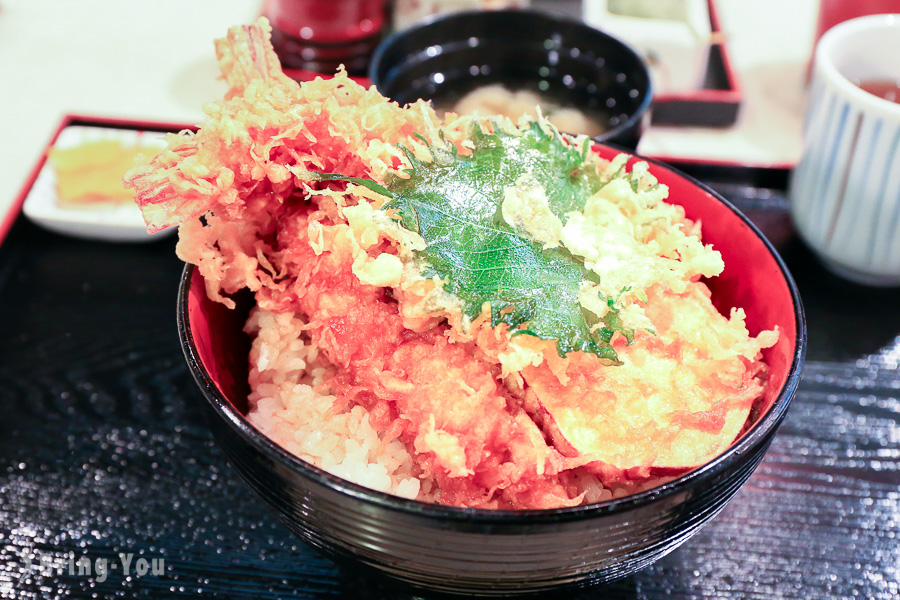 If you're a fan of tempura, famous Japanese fried fritters, don't ever let this place slip away! The most iconic dish that we decided to go for is the tempura bowl.
Each set is relatively high – there's no doubt about that. However, the tasting profile is totally worth it! The queue may take you around half an hour so make sure you get your reservation sorted beforehand!
Kaizen Yoshifusa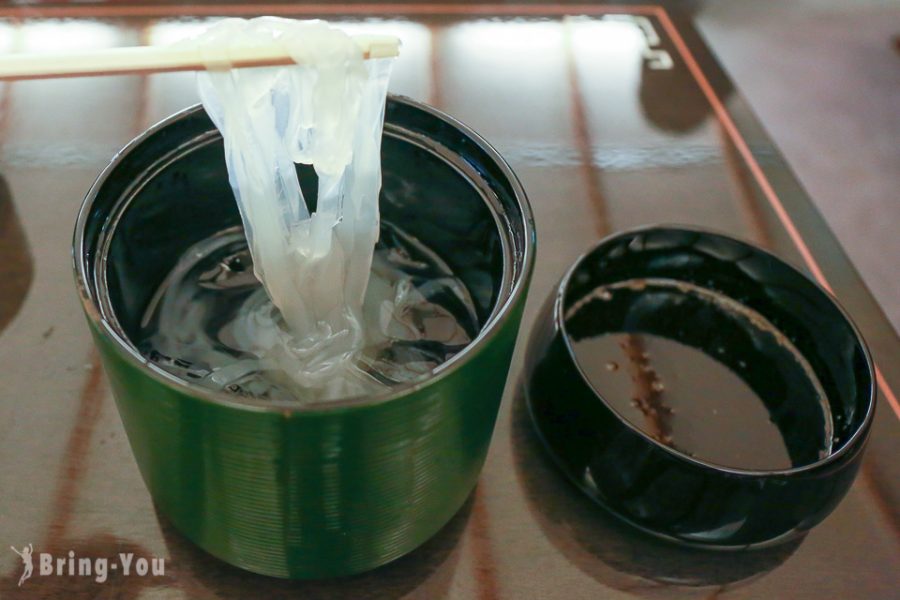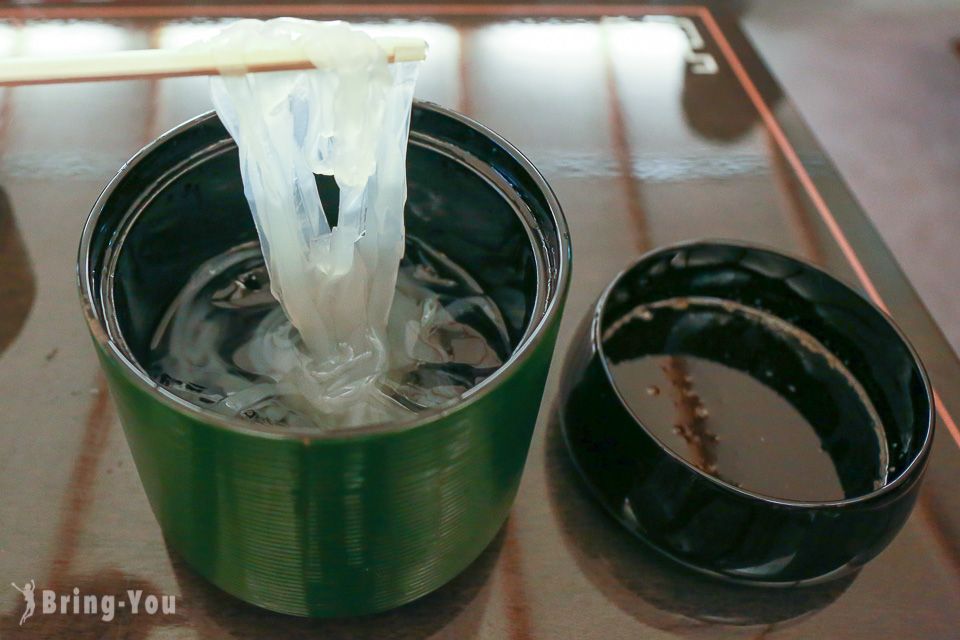 Now we take you to one of the oldest cafes in Gion. Kaizen Yoshifusa has been around for 300 years with the torch on healthy desserts and sweets. The dimly lit dining house gives you a big contrast with the airy garden at the front.
Junidanya
Queuing doesn't matter when you can claim a spot at a famous century-old restaurant! You can wait up to 40 minutes outside the wooden house but the food is truly delightful that we bet you will never find it elsewhere!
They serve a range of authentic Sukiyaki and Shabu-Shabu in a cozy, traditional dining room. That moment when the beef melts into your mouth and all the jack frost outside of the winter days suddenly disappears!
Essential Etiquettes for Gion Visitors: How to Be a Civilized Folk When Visiting Gion?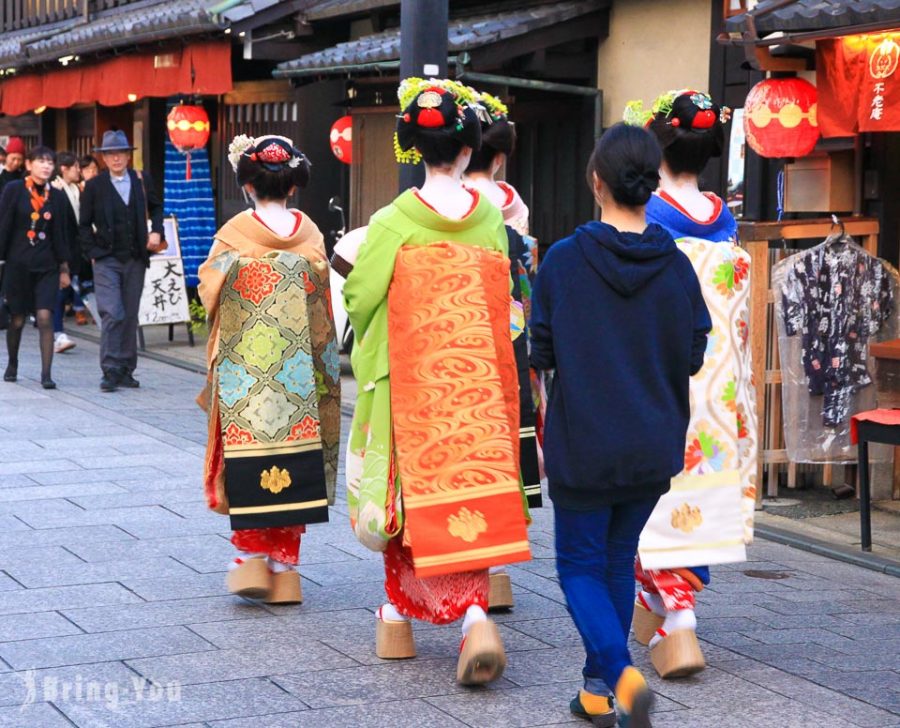 Visitors are requested to not enter private residential buildings without permission.
No photos of geisha and apprentice maiko are allowed without permission.
Smoking outdoors and in non-designated areas is prohibited.
Taxi doors are supposed to be closed and open by the drivers, not PASSENGERS!
2 Best Hotels We Recommend You to Spend Your Night in Gion
The refined hotel of Westin Miyako Kyoto is more on an upscale side and it takes about 20 minutes walking to Gion. It has a lot of traditional and historical flares to it. The rooms are spacious enough for a couple's stay and you can get a really stunning view if you book one somewhere on the higher floors.
Kyoto Ryokan SAKANOUE is another great spot to jot down. This one is a tad closer to Gion compared to Westin Miyako Kyoto as it's only five minutes walking away. This little boutique accommodation offers outstanding traditional regional meals, tatami floors, an onsen tub, and a refreshing Japanese garden.
Note this planning guide to Gion District of Kyoto right now and reopen to dig into it again before you arrive!