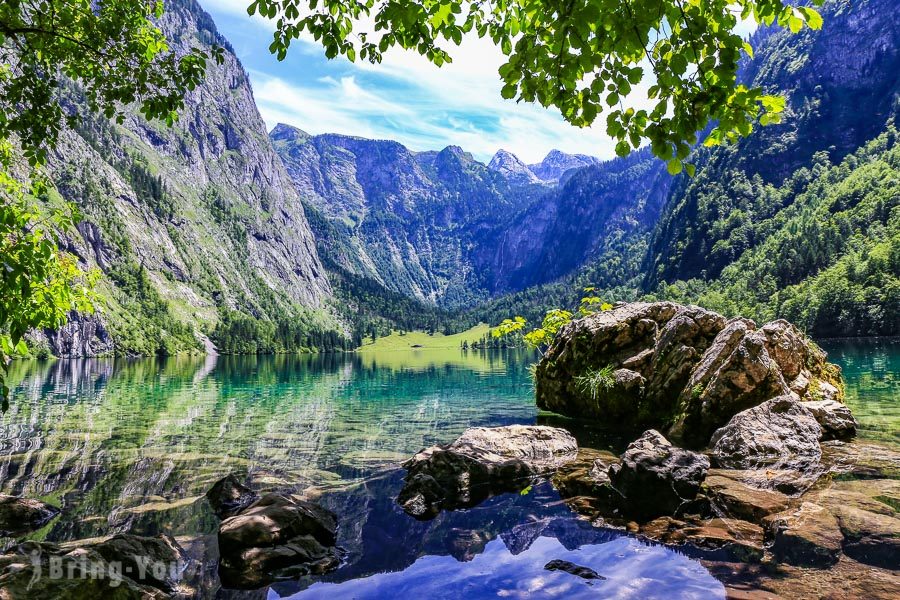 Königssee Lake, translated into King's Lake, is one of the most magnificent lakes in Berchtesgaden, Germany. It goes without saying that visiting Königssee Lake is one of the tourists' favorite things to do to soak in the views of the Alps. The entire scenery around this area appears straight out of a fairy tale, with the Königssee Lake serving as the centerpiece. 
Königssee is the second deepest lake in Germany with seven kilometers long. We visited Königssee during summer when the weather was too good to stay put. So we decided to sign up for a lake cruise and took on an easy, pleasant hike from Salet to Röthbachfall.
Navigating around this area is a daunting task for many people, including us. But the good news is now you don't have to plan it out on your own anymore!
In this handy travel guide to Königssee Lake, we'll cover everything you need to know about transportation to Königssee from Munich and Salzburg, the boating timetable, bus routes, and many more!
Our Favorite Things to Do around Königssee Lake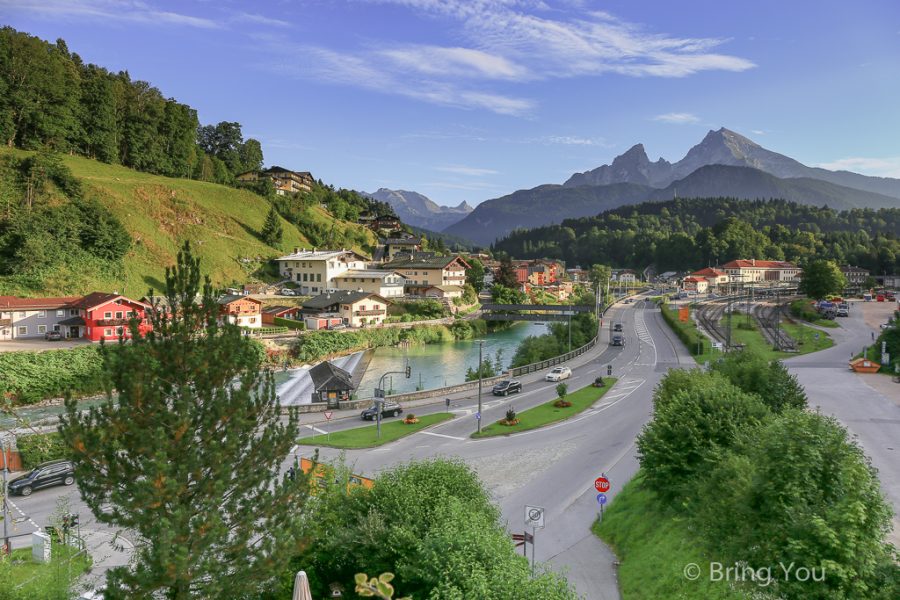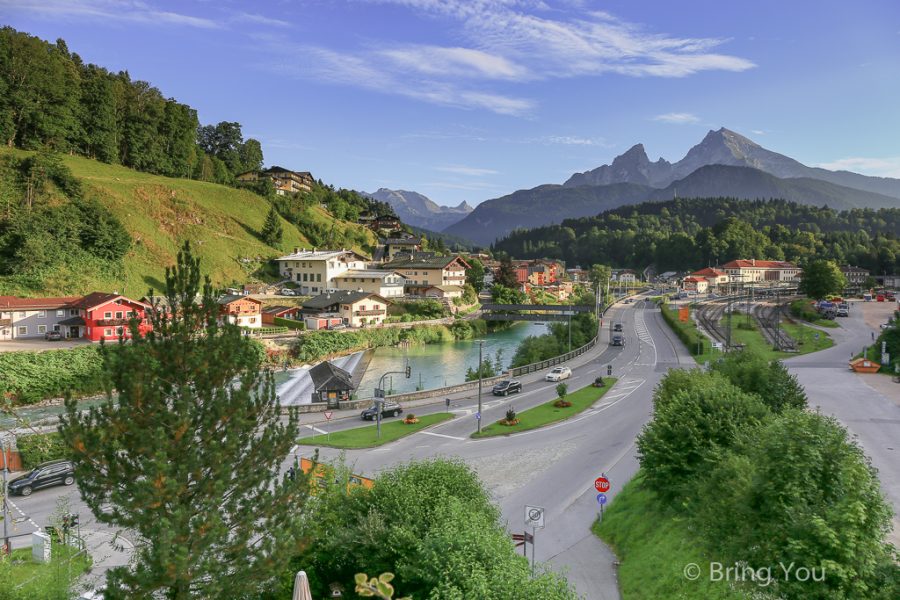 Three days and two nights are enough to cover most of the attractions in and around Königssee. Our favorite thing to do in Königssee is boating, which took us the entire second day to round it up (plus some hiking too)!
Here are some of our ideas and recommended duration for each area to help you pick the right activities that fit your taste and fitness levels. They can be combined with the boat trip around Königssee Lake (we'll dig deeper into the boating tips below)!
Cruise around the Königssee Lake and visit Saint Bartholomä Church: 1 to 1.5 hours.
Hike to the huts in Fischunkelalm before climbing to Röthbach Waterfall: 4 to 5 hours.
Visit the picturesque Hintersee Lake, Ramsau, and the Enchanted Forest in the Bavarian Alps from Berchtesgaden: 4 hours.
Berchtesgaden town sightseeing: 30 minutes.
Day Tours to Königssee from Munich, Germany or Salzburg, Austria
Why not opt for a day tour to save you from sweat and hassle? There are multiple day trips starting in Munich or Salzburg, Austria to choose from. You should expect it to cost a little more compared to a self-planned trip but we personally think it's worth so much more than the expense issue.
For most of these tours, a local guide will pick you up at your hotel and return you to the exact same spot that you sign up with when booking in the first place.
How to Get to Königssee from Munich, Germany & Salzburg, Austria by Car, Train, and RVO Bus?
Berchtesgaden is an alpine town nestled at the foot of the Bavarian Alps, South of Germany. It's a transportation hub where all buses and trains to famous attractions such as the Königssee Lake and Eagle's Nest are connected.
A ride from Munich to Berchtesgaden is two hours by car and three hours by train. It's 15 minutes' driving between Berchtesgaden town center and Königssee Lake.
Travel from Munich to Königssee
By Car
Driving your own car is the fastest and most convenient way to get to Königssee to help you avoid changing trains and buses.
Parking Lot Address in the Königssee Lake: Königssee Parkplatz, Seestraße 3 (fee applied).
By Train and RVO Bus
Start at München Hauptbahnhof – the central station of Munich.
Change to another train in Freilassing heading to Berchtesgaden.
Get off in Berchtesgaden and switch to bus 841 for a ten-minute ride to Königssee, Schönau a. Königssee bus stop.
From the bus station, walk through the town to arrive at the Königssee Lake.
The entire traveling time is about 3 hours 18 minutes.
All bus and train tickets can be booked in advance on BayernTicket to cover the entire excursion. You should start early around 8 am from Munich Central Station since there's going to be lots of queueing later on!
Travel from Salzburg, Austria to Königssee by RVO Bus
Traveling from Salzburg, Austria to Königssee is less than 90 minutes, way shorter than from Munich to Königssee. Plus, you only need to change the bus once. To take this route, hail bus 840 from Salzburg, Austria to Berchtesgaden, and then switch to bus 841 to Königssee, Schönau a. Königssee.
Check out the time schedule Here
How to Travel from Berchtesgaden Station to Nearby Attractions around Königssee Lake by RVO Bus?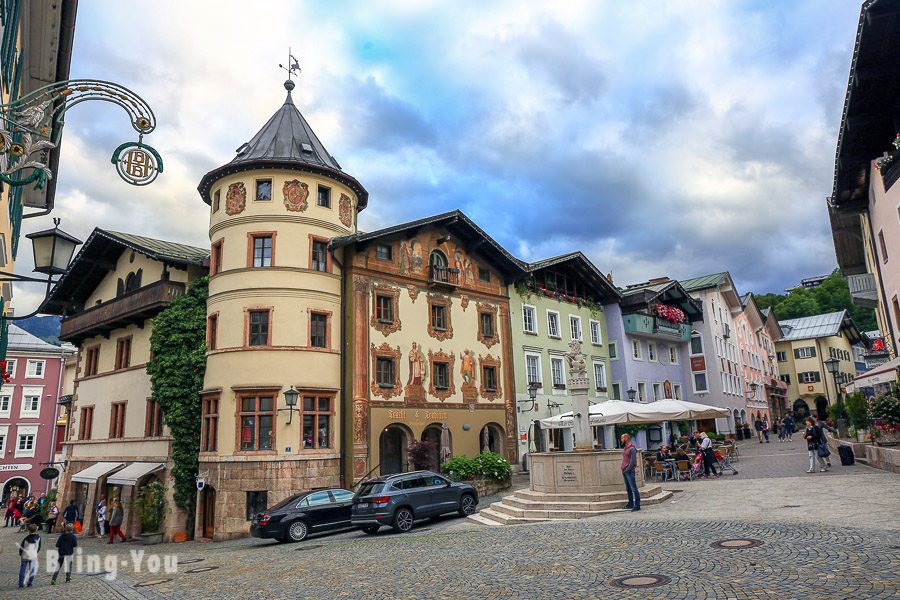 Berchtesgaden to Königssee: Bus 841 and get off at Königssee.
Berchtesgaden to Berchtesgaden Salt Mine: Bus 840 and get off at Salzbergwerk.
Berchtesgaden to Ramsau: Bus 846 and get off at Ramsau Kirche.
Berchtesgaden to Hintersee: Bus 846 passes through Ramsau before taking you to the final stop at Hintersee.
Berchtesgaden to Berchtesgaden City Center: Bus 841, 839, and 843 and get off at Berchtesgaden Zentrum.
Berchtesgaden Station to Salzburg, Austria: Bus 841 and get off at Salzburg Hauptbahnhof train station.
Best Places to Stay Near Königssee Lake
It goes without saying that lakeside hotels are way more expensive, but it guarantees an exceptional view over the lake to live up to your Bavarian dream. You can spend a few more days if you're not in the rush so you can hang around the region more.
Best Lakeside Hotel Near Königssee Lake: Hotel Königssee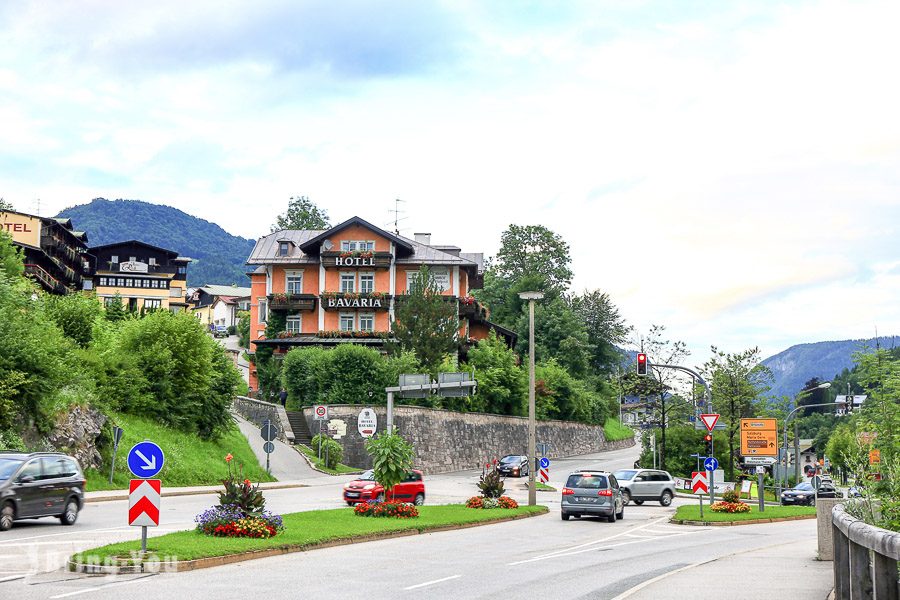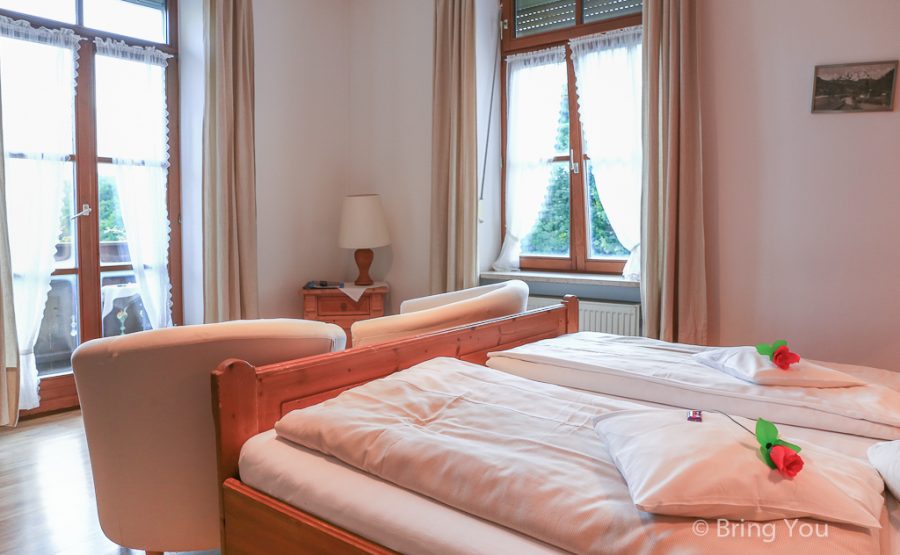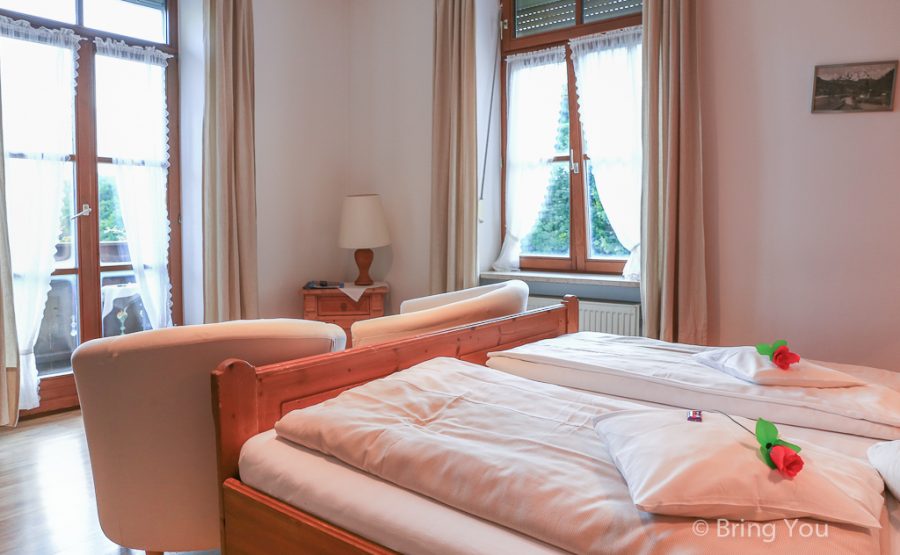 Those on a budget can opt for the area around Berchtesgaden station. You'll find many budget-friendly options there and lots of buses to make life easier if you want to get around on a budget.
Best Mountain-View Hotel Near the Berchtesgaden Station: Hotel Bavaria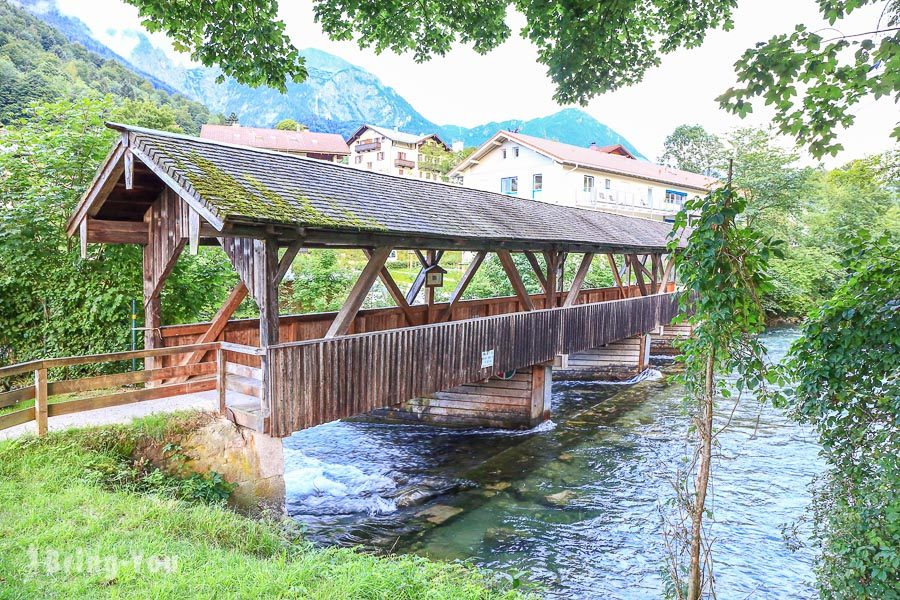 If you live in the Berchtesgaden area, you can benefit from the "Berchtesgaden – Königssee Guest Card" provided by your hotel upon check-in. The card allows you to travel with all buses in Berchtesgaden for free within the booking window, and you have to return the card upon check-out.
Boating from Königssee Lake: Ticket Tips, Itinerary, Schedule, Hiking from Salet to Röthbach Waterfall, and Duration for Each Stop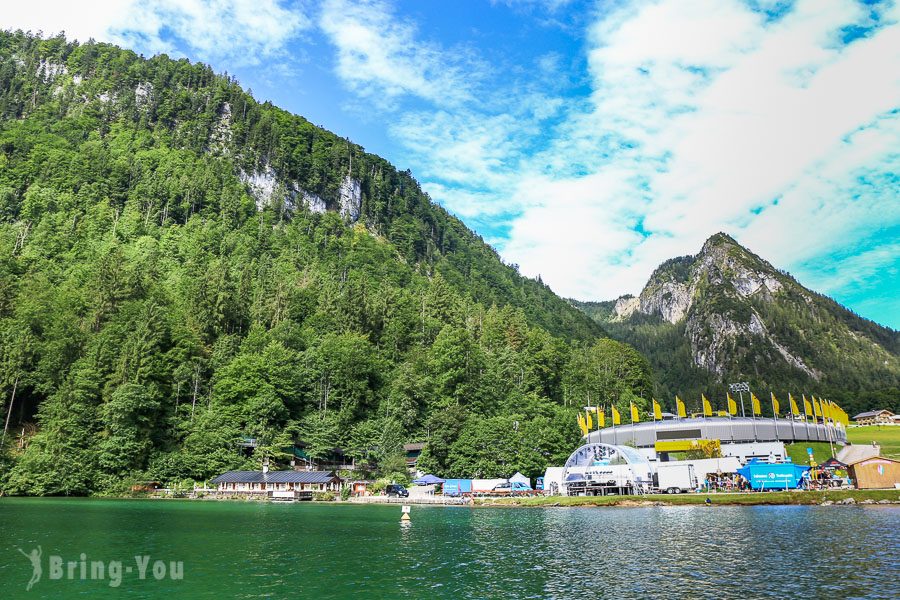 Weather permitted, we picked the second day in our three-day trip for the boat trip around the Königssee Lake and to check out the stunning surrounding areas.
As mentioned above, we hailed bus 841 from the Berchtesgaden train station to the Königssee. There were many tourists the day we were there so it was not a hassle navigating at all. We followed the crowd and found our way to the ticket booth at Königssee Seelände Ferry Port.
You can choose either a return or one-way ticket from Königssee to St. Bartholomä, Salet, or Kessel. But we really want you to go for the return ticket to Salet which has the best view out of the three excursions.
Salet is drop-dead gorgeous in summer, especially the view over Röthbach Waterfall, the highest waterfall in Germany.
**Note that the boat to Salet is only available in summertime!
On the official website, you'll see an updated timetable for each season of the year. The departure and arrival times of the first boat and last boat also vary. The first boat may start as early as 8 am or as late as 10:15 am, and the last boat is as early as 4:15 pm or as late as 18:35. It depends on which route you take. It also mentions that the boat trips depart at least 30 minutes between each run.
A Quick Rundown of Our Königssee Lake Boat Itinerary and Duration
Königssee Seelände to St. Bartholomä: 40 minutes
St. Bartholomä to Salet: 20 minutes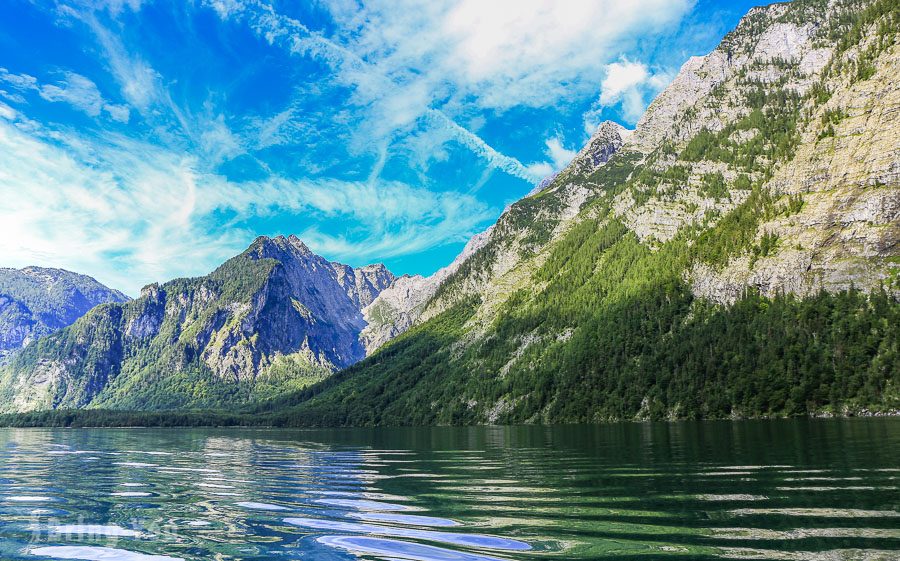 If you want to disembark at Kessel for further excursions into the mountains of Gotzenalm or Kalersberg, feel free to request with the boat conductor!
Hiking from Salet to Röthbach Waterfall
There are countless activities to do in Berchtesgaden around Königssee, with hiking being the most popular option. We chose to hike to Obersee Lake and Röthbach Waterfall from Salet. The distance between Salet to Obersee Lake is only one kilometer, making it an easy, pleasant starting point for a short hike.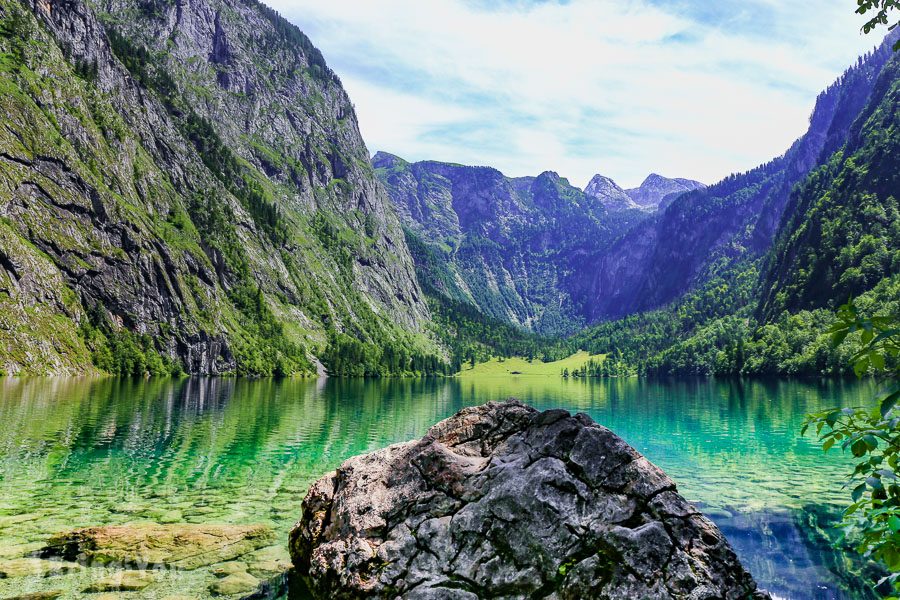 From the shore of Obersee Lake, you can hike about 1.7 km to Fischunkelalm. The sweeping landscape along the hike is to die for, and it becomes even more exciting when you reach Fischunkelalm.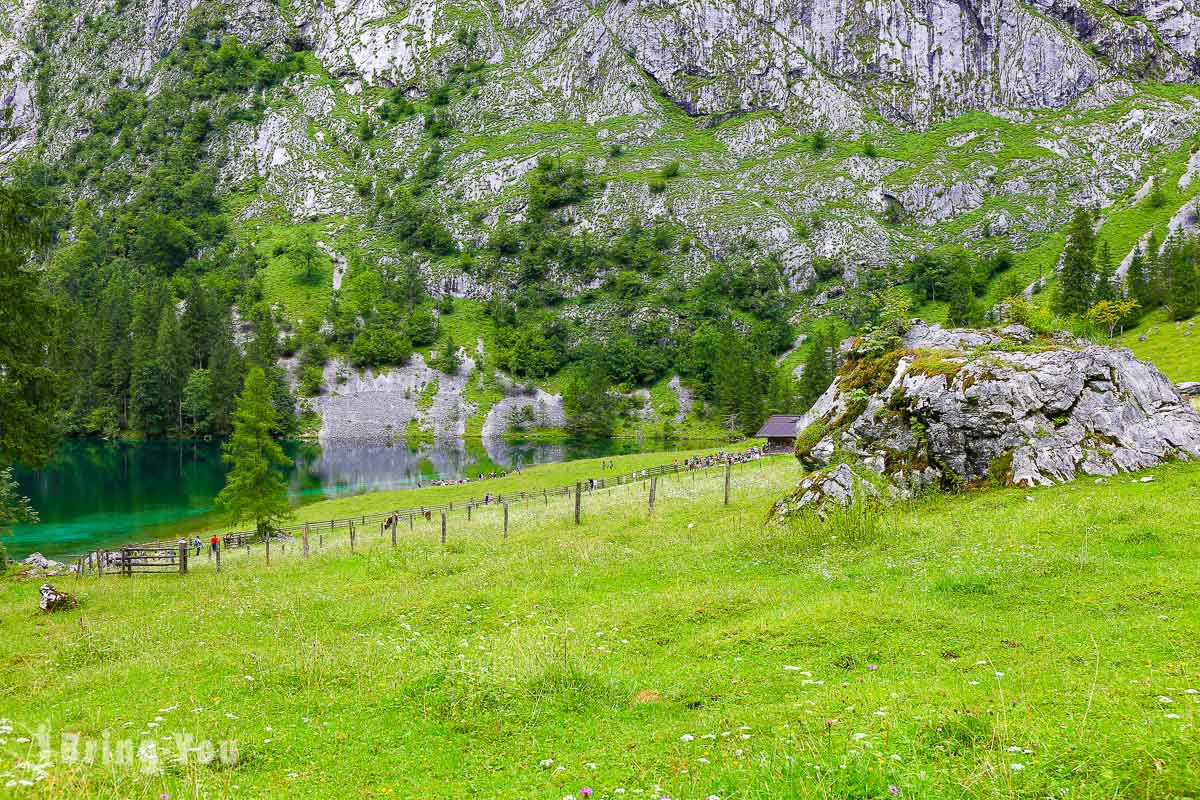 The view from Fischunkelalm is breathtaking, opening out to massive cliffs swathing around the lake with cows nibbling on the green grass on the meadow.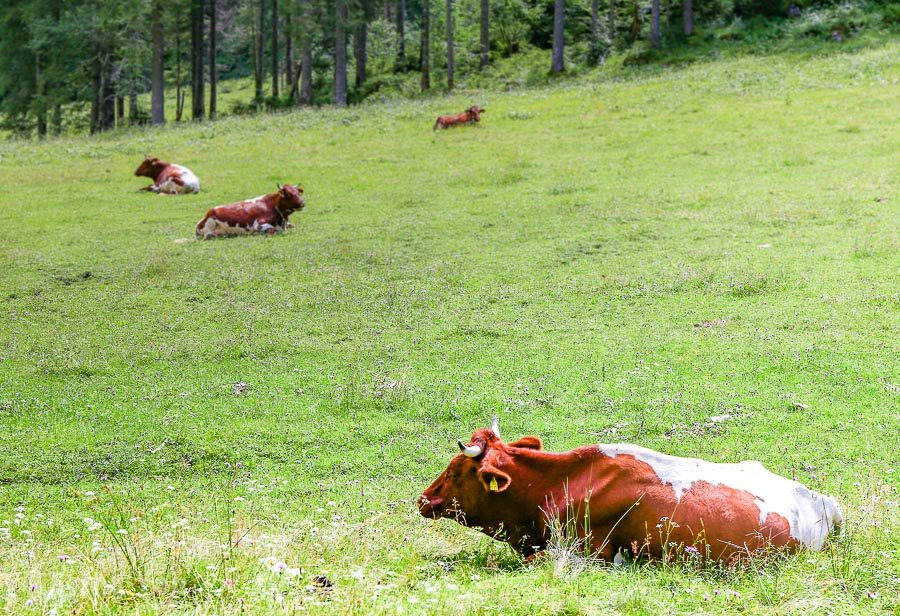 If your fitness levels agree, don't just stop there! Linger to the cascading Röthbach Waterfall on the next two-kilometer hike for about 40 to 45 minutes.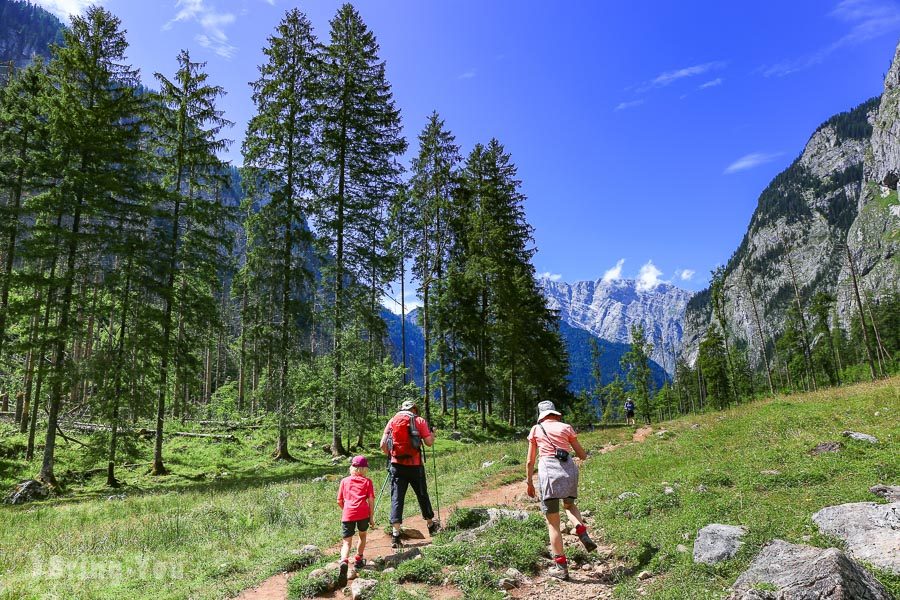 Even though the hike is not tricky with challenging sections or muddy swamps, you still need a good pair of hiking shoes!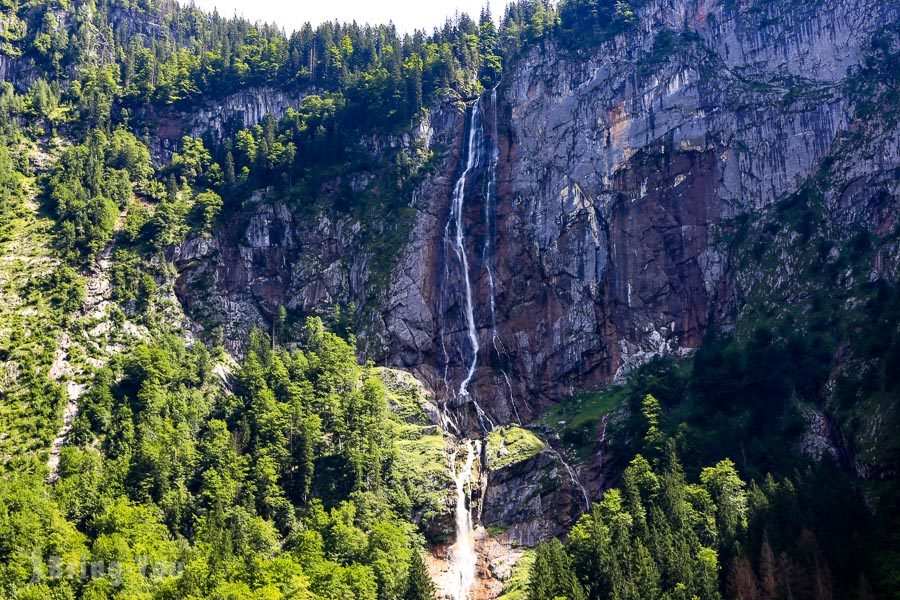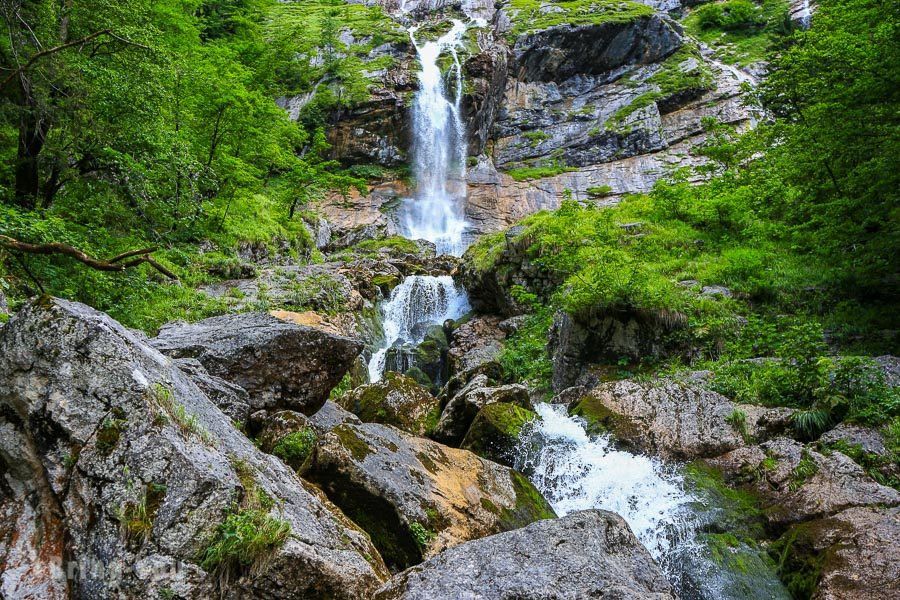 Friendly Reminders
Königssee Lake is an extremely popular destination with lots of queueing throughout the day. Remember to start early in the day for less hassle and enjoy it to the fullest!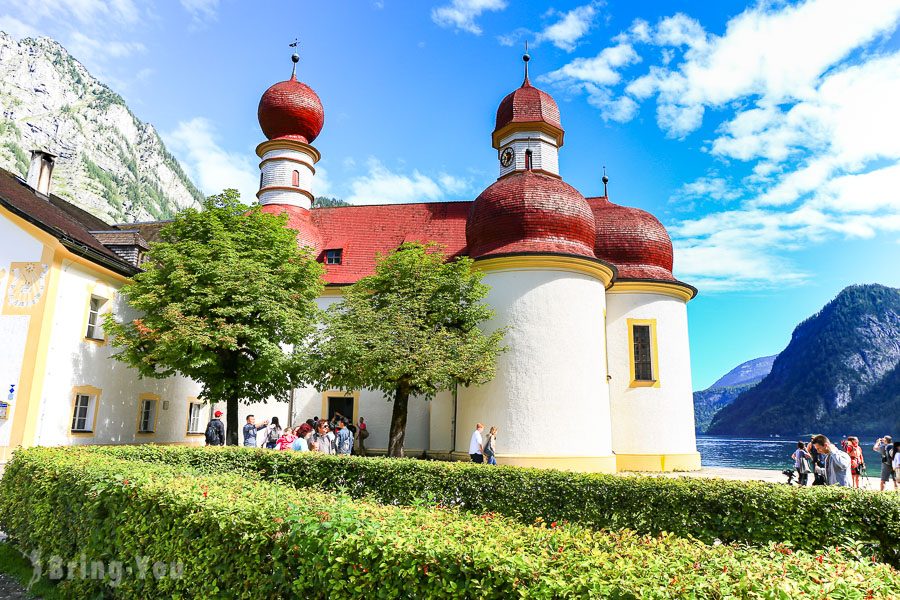 On our boat to Salet, we sat on the right side to soak in the best views of the lush scenery. It also guarantees the best angle to snap some shots of the Saint Bartholomä Church. During the voyage, you'll have a guide narrating in English and playing the trumpet (what a talented man!)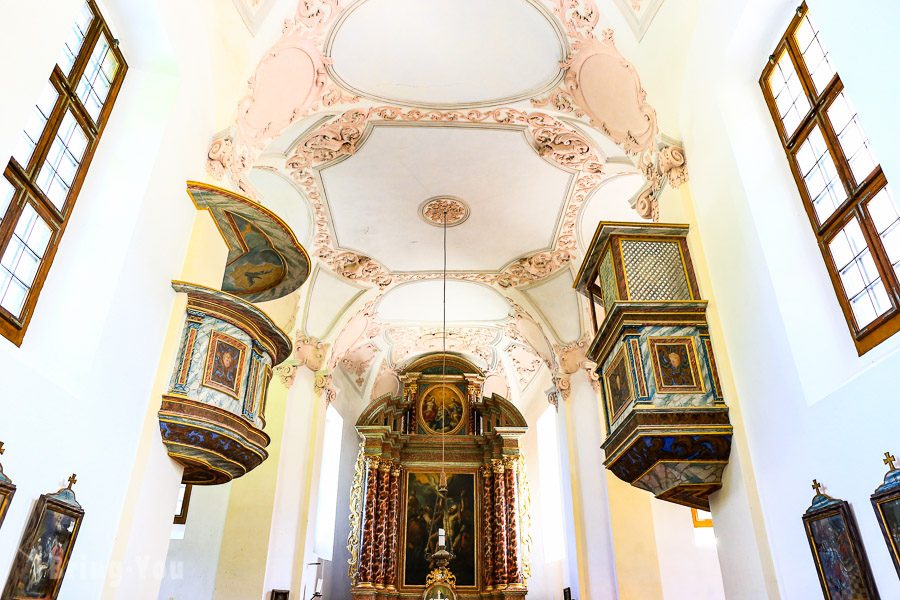 The magnificent feeling of the Königssee echo bouncing back from the steep rocks of Mount Watzmann was beyond imagination!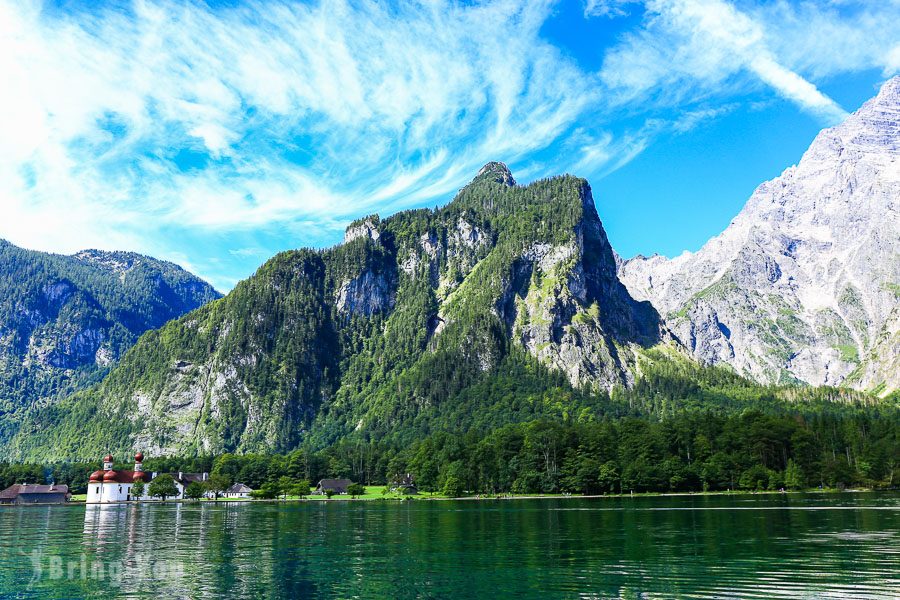 We know it's crestfallen to leave such an amazing landscape behind to catch the last boat back. But make sure to calculate enough time! We don't want you to run for your life when you're late though!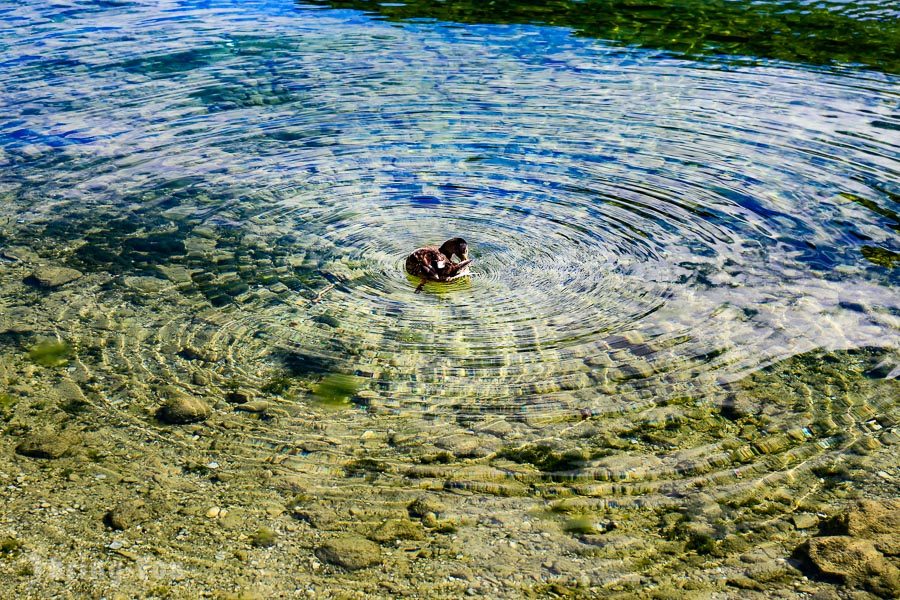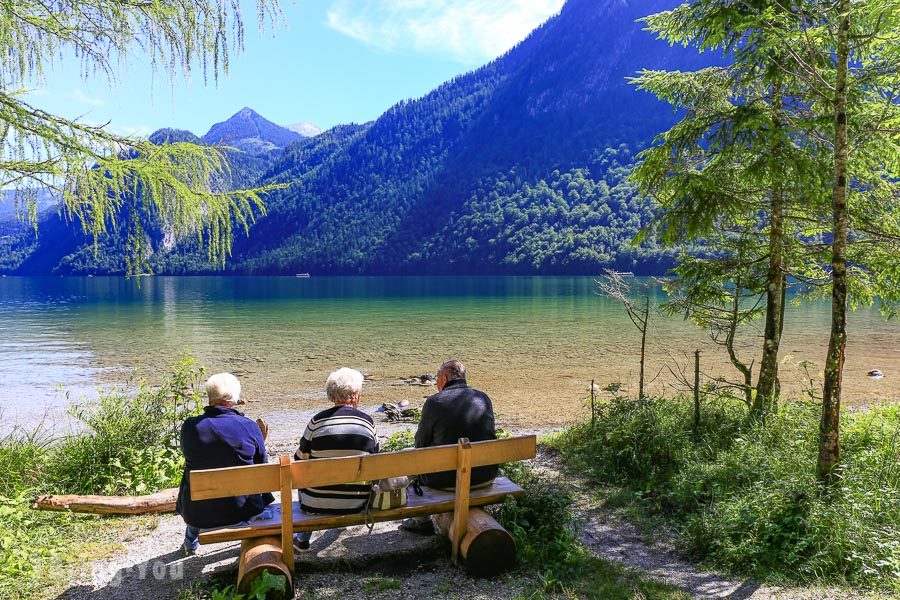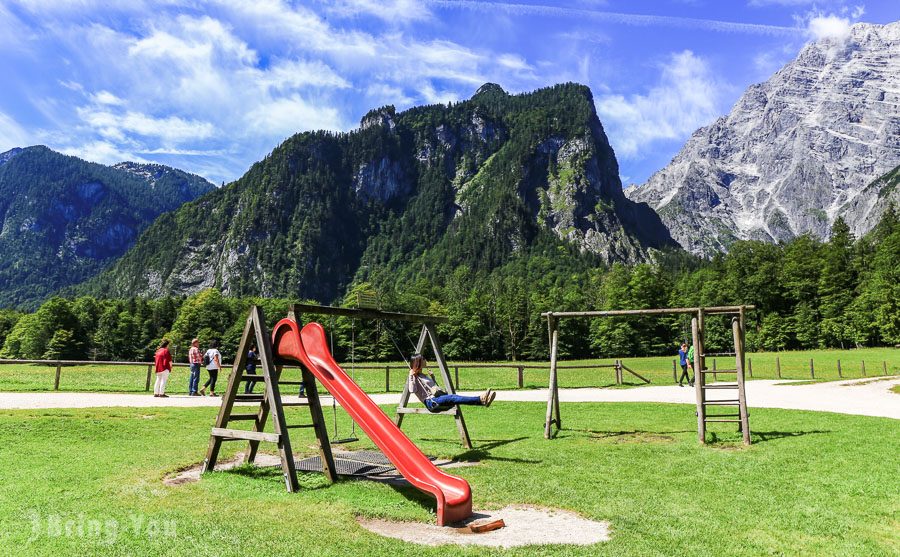 Final Words: A Sample Route for First-Time Visitors around the Bavarian Alps Covering Munich of Germany and Hallstatt of Austria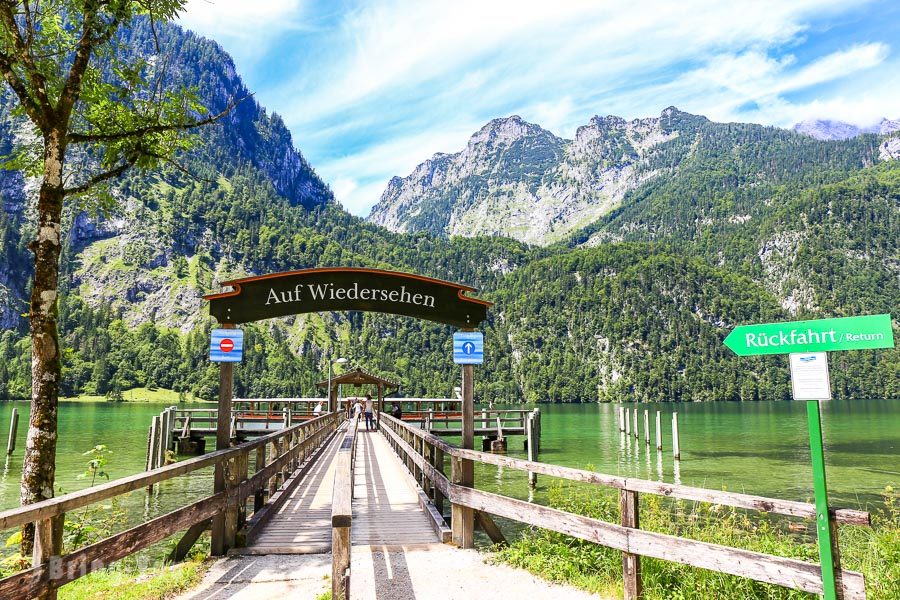 If you look to explore further outside of the Königssee Lake, here are some great destinations around the area of the Bavarian Alps with recommended visiting times for each place:
One day exploring the Schloss Neuschwanstein (Neuschwanstein Castle) and the surrounding area.
One day to sightsee in Munich.
Travel from Munich to Berchtesgaden then take a bus to Hintersee Lake and Ramsau for a one-day trip.
Explore Königssee Lake for a day.
Head back up north to Salzburg, Austria from Königssee in a half-day tour.
Spend two days in Hallstatt, Austria.