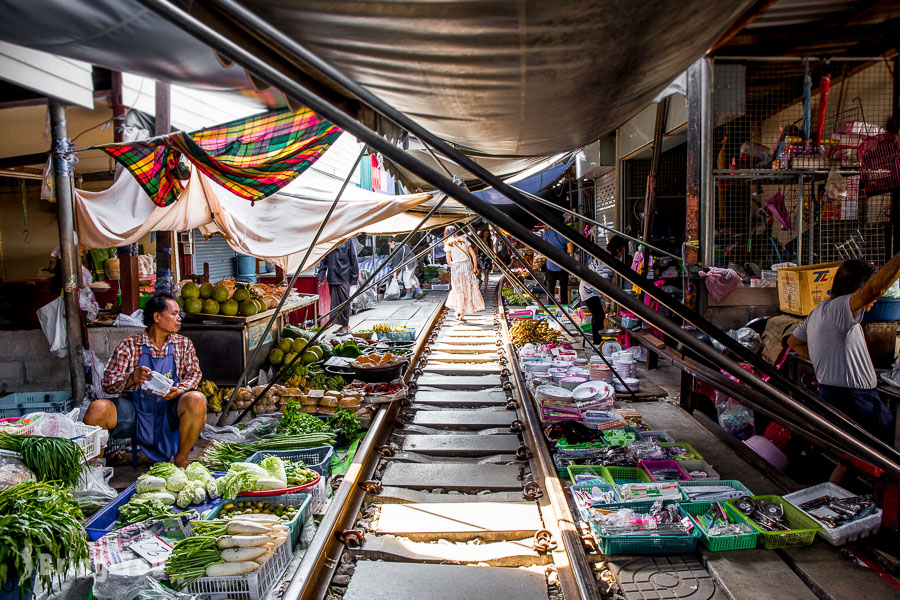 Ironically, the Maeklong market (also known as Hoop Rom Market) in Samut Songkhram had nothing to do with the railway back in the days when it was established in 1905.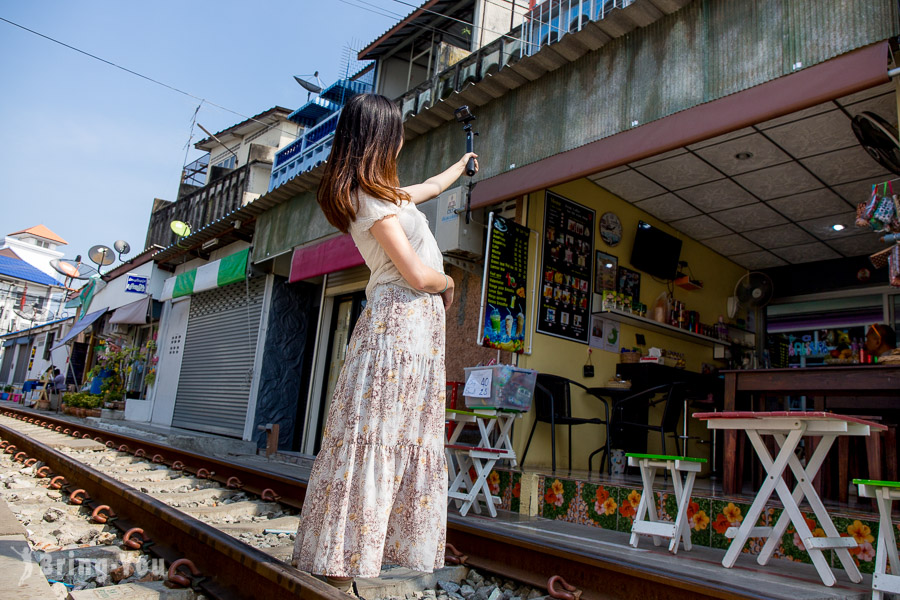 The market was here first, and fishing was the main livelihood of the locals. When the officials decided to build a railway cutting through the market, the sellers refused to leave, so they learned to peacefully coexist and now you have a market that has a train passing through multiple times a day.
That's how we end up having one of the coolest markets in Thailand to snap some shots and experience daily life!
Today, when they talk about Maeklong, people usually think about how fast they roll things in and out before the train comes and after it leaves.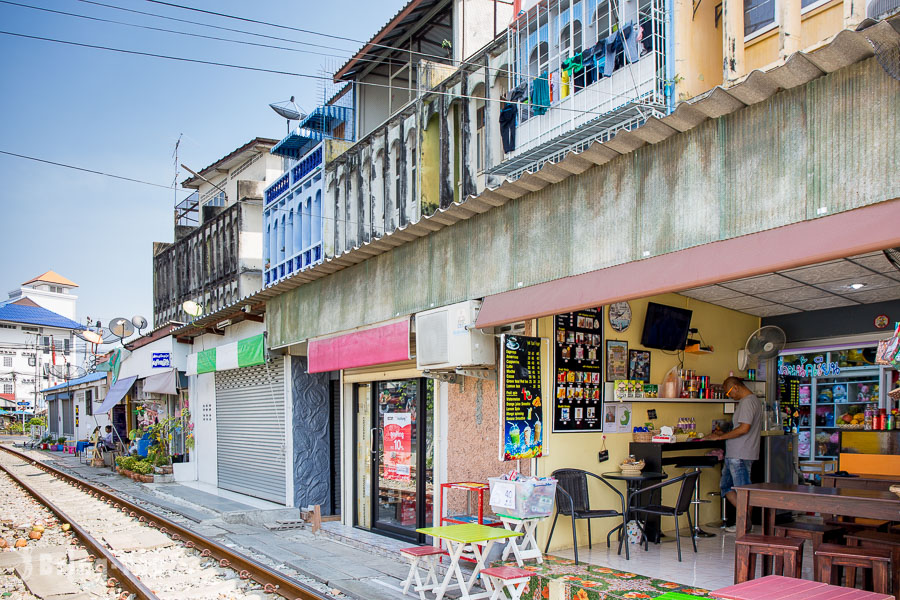 That's inarguably the main reason why tourists are beckoned here. But going beyond this unique photo-op, you can find many different types of vendors selling fruits, vegetables, fishes and they are sitting right next to the railway line.
If you're about to hit this spot, check out our local travel guide to Maeklong Railway Market and dig up some tips for yourself!
Opening times: 6 am – 5:30 pm.
How to Get to Maeklong Railway Market in a Private Tour and Minivan?
Take a Day Trip
If you are able to visit Maeklong on a private tour, that's what we recommend!
Why?
Having a driver to get you straight to the market from anywhere in Bangkok in an A/C car is nice. The weather and busy traffic in Thailand is unnegotiable (you know, that's Southeast Asia). So why do you want to miss out on a reasonable price to travel with your best comfort?
You can find a half-day tour and spend just over an hour each way from and to Maeklong (depending on the traffic).
By Minivan
The second way we recommend to reach Maeklong Railway Market is by minivan. It's a cheap, great choice for adventurous travelers! Keep in mind that it's gonna take a while with navigating skills. But the choice is yours!
By BTS from Ekkamai Station
Ride the BTS Skytrain to Ekkamai Station, leave Exit 2 to arrive at the Eastern Bus Station and buy your minivan ticket to Maeklong at stall no. 976. The van runs every 30~40 minutes every day from 6 am till 8 pm.
By BTS and Bus from Victory Monument Station
Travel to Maeklong Railway Market from Victory Monument Station
Ride the BTS or MRT from your place to Victory Monument station, take Exit 4 to arrive at the roundabout. Right next to it is a bus station where you take bus no. 515 to Sai Tai Mai bus terminal. From there, go to the minivan ticket office, look for Damnoen Saduak vendor to get a ticket to Maeklong. The bus ride is about 2 hours by minivan.
What to Expect Before the Train Comes?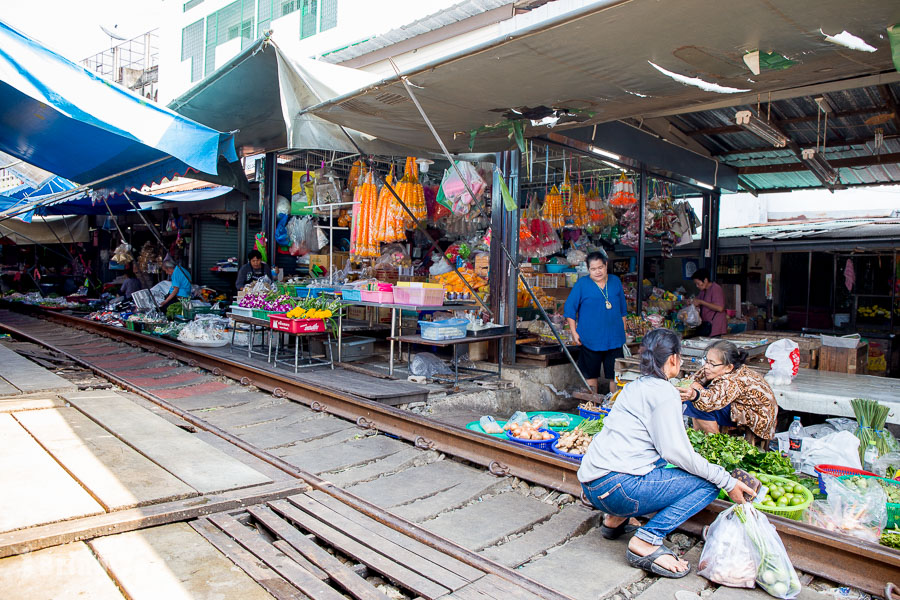 Do you know how exciting it is waiting for the train to come?  We arrived 10 minutes earlier before the trail charged down to get ready for the best shots possible!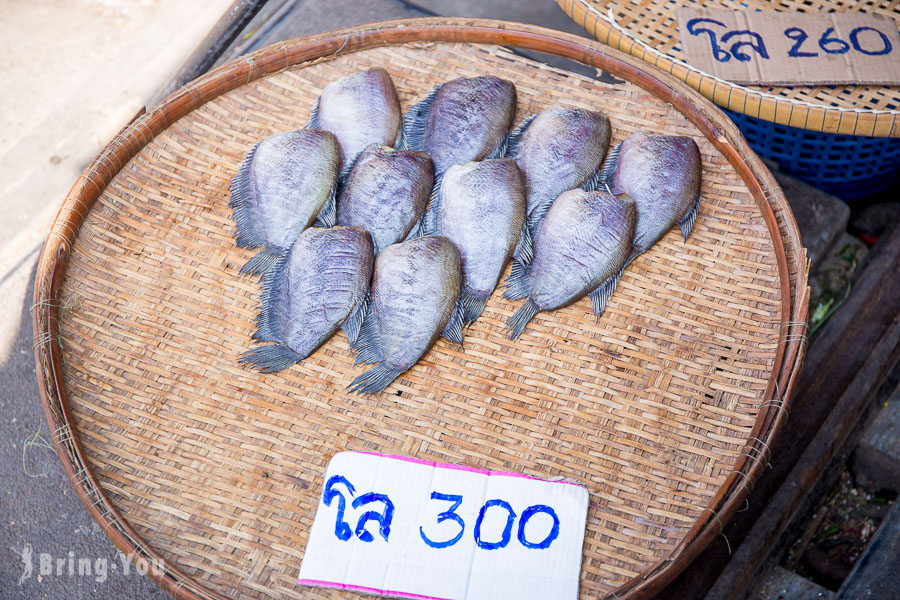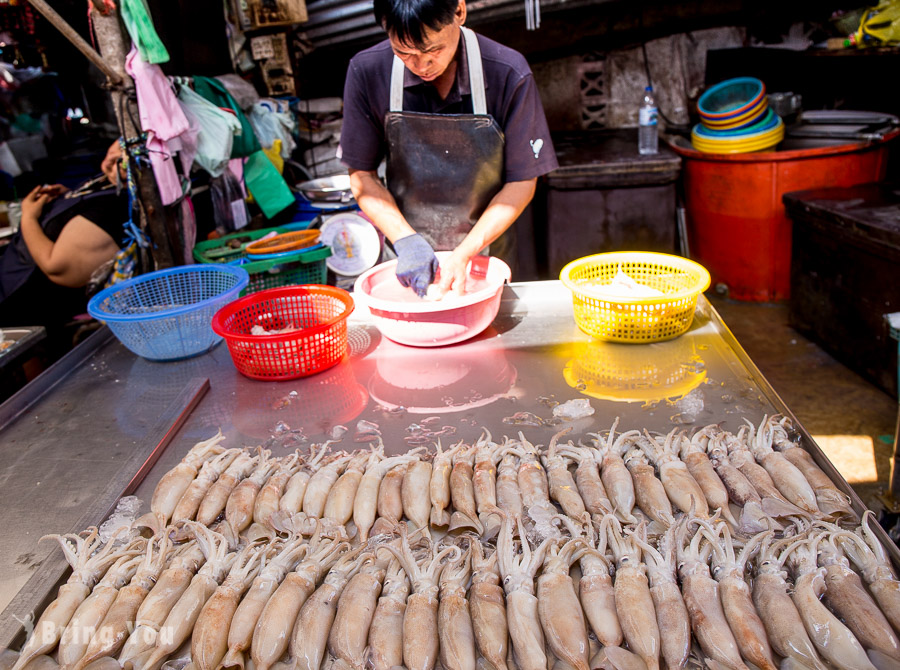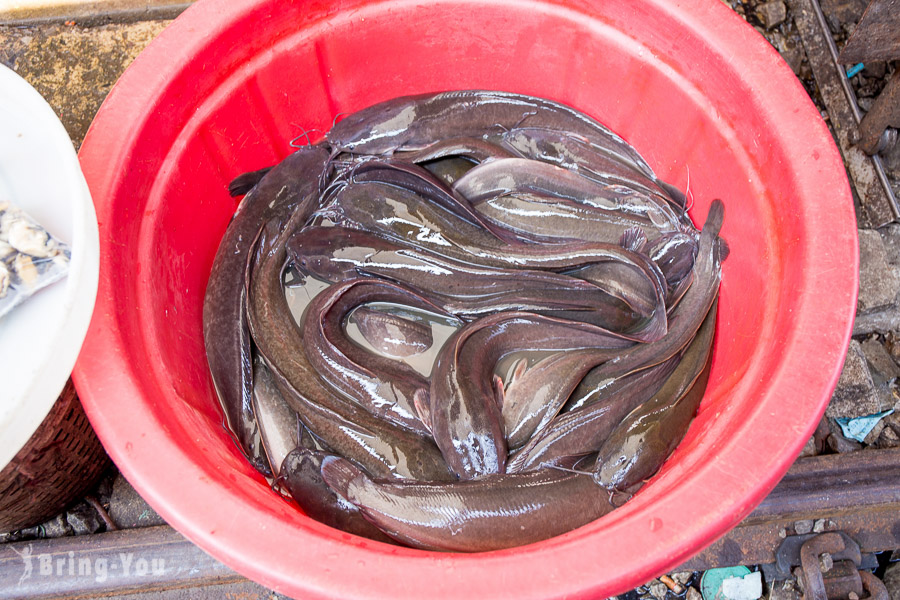 You will know when it's coming because the whistles blow very loudly to signal its arrival. The tracks go through the "wet market" section. This is where all the fish, meat, and fresh produce gather.
About a minute before that big boy came, all vendors instantly came up to move their wares back, far away from the tracks. It was a busy but lively scene to watch! Some vendors had items on tables and trays and it's amazing to see how they got the skills to clean up things that fast!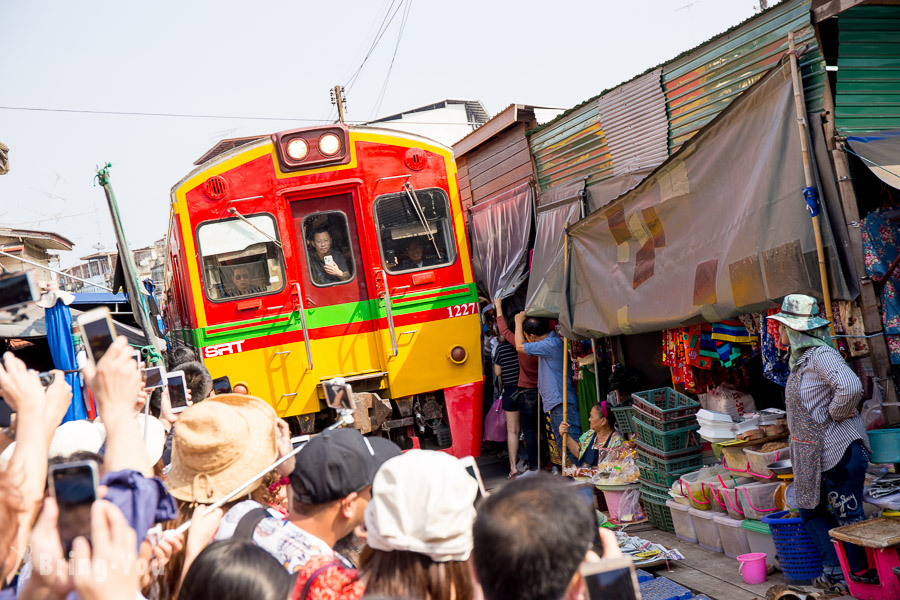 When the umbrellas were rolled in, the space over the tracks was peeled off to make space for the train rolling by. It was a close call, somewhere around two feet between the tracks and the people. When the train passed through, those vendors appeared again from the back, pulling the green umbrellas that cover above the tracks, and the trade show began like nothing ever happened!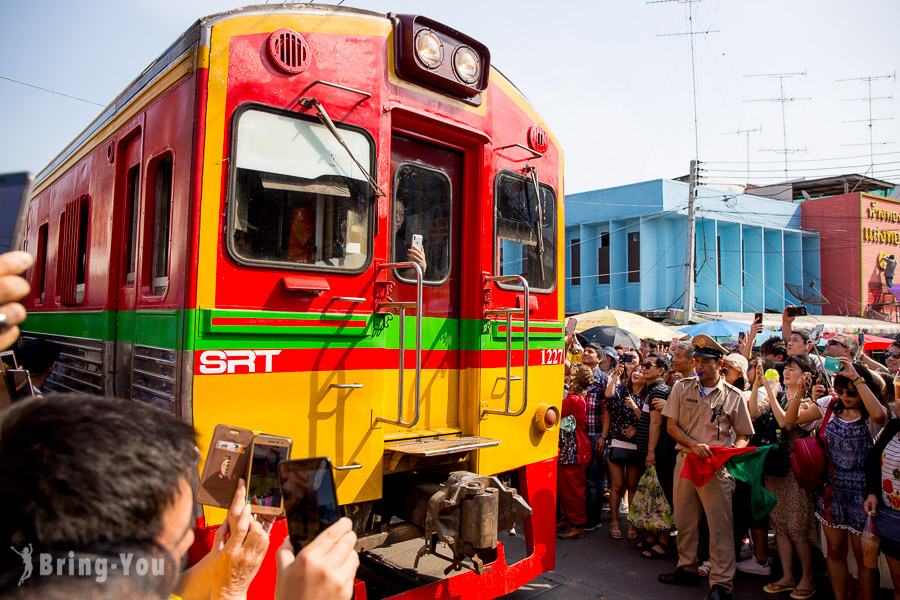 That's so funny how you can literally walk on the tracks and see all the veggies, okras, and gourds laid out right next to the rolling wheels!
What Can You Find at the Maeklong Train Market?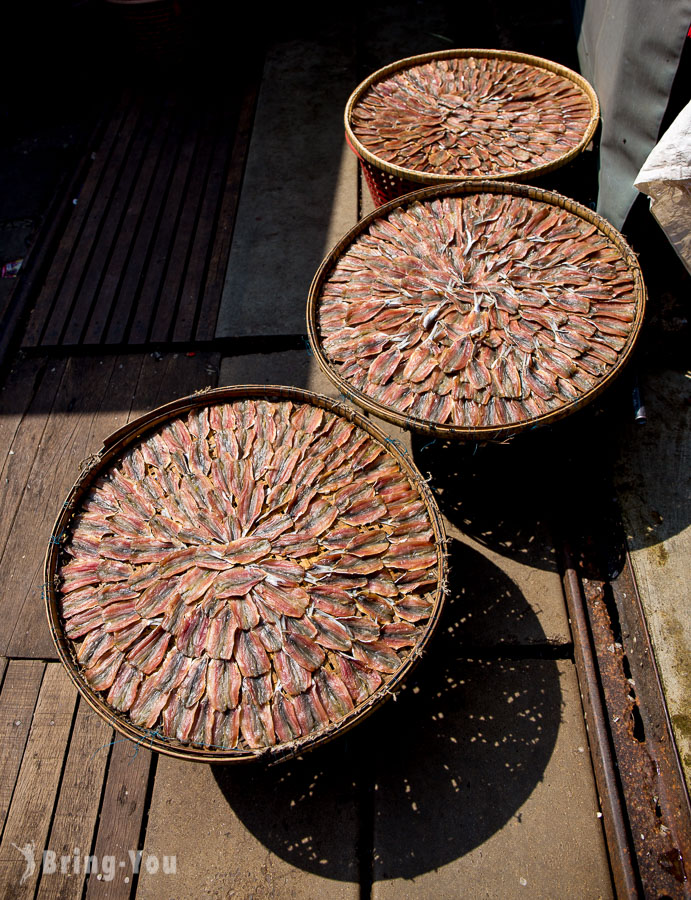 As a traditional wet market, Maeklong is full of fish, squid, meat, and fresh produce. Most of them line up along the rail track but nothing lies on top of it.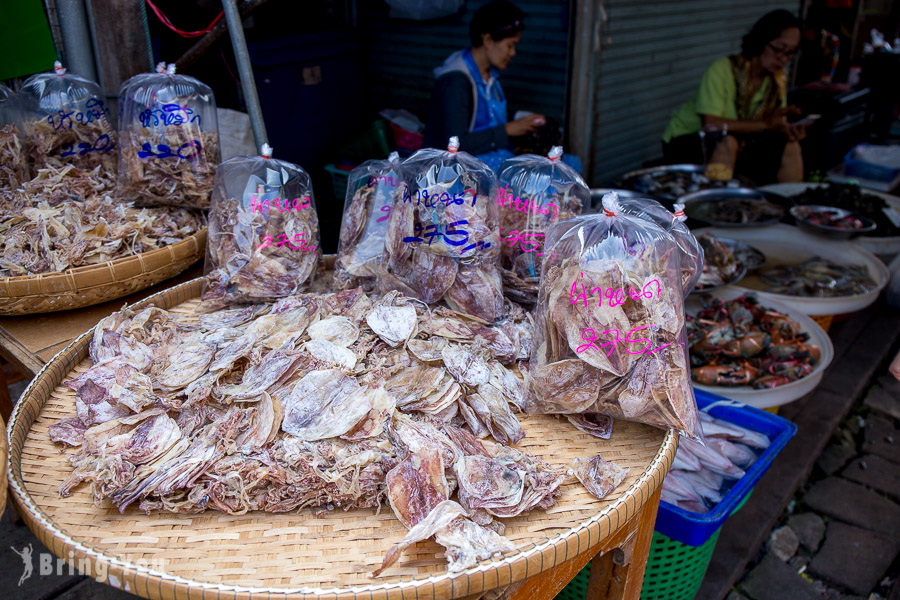 There is plenty of dried/preserved fish and seafood that's been packaged for sale. They also lay them out on a wood or bamboo tray and dry them out in the sun.
Train Schedule to and from Maeklong Train Station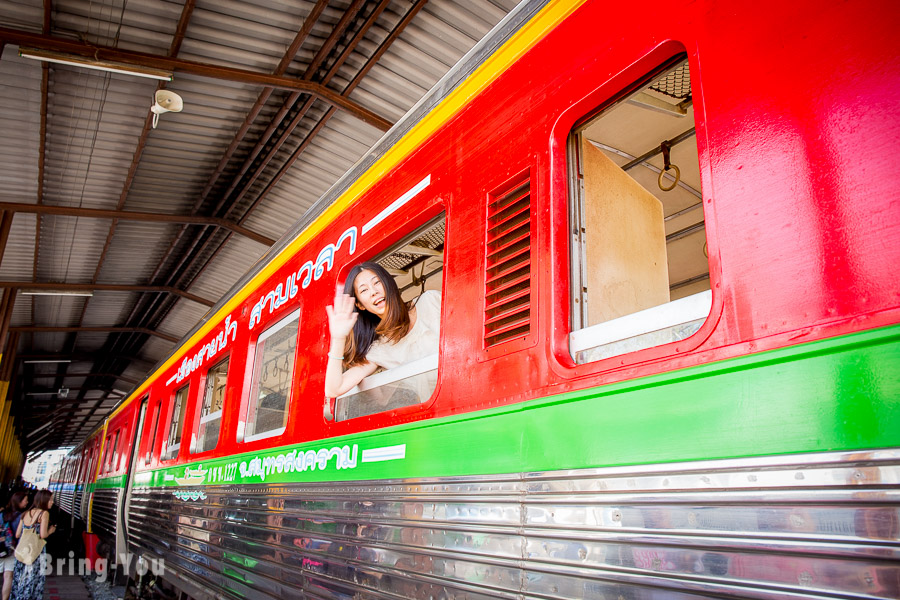 Arrival times:
8:30 am
11:10 am
2:30 pm
5:40 pm
Departure time:
6:20 am
9 am
11:30 am
3:30 pm
Unique Tips to Make a Better Visit
If you wish to experience something adventurous, you can ask your driver to stop a few stations away from the market where the train passes through at the end of its line, hop on it and experience the market and the madding crowd staring at you as you drive by.
We think the station is called Lad Yai but make sure to double-check with your driver if you can. If this is what you look for, carry a few pennies in baht with you just in case the ticket-man comes to collect your money. It is a minimal fare anyway, so get ready for that! This is specifically cool if you wish to get away from the crowd at the market and enjoy the local ride with a different perspective.
Once you're at the market, disembark and walk around that market to start exploring from there. Before the train comes, a few guards will come out to direct people to make space for the moving train.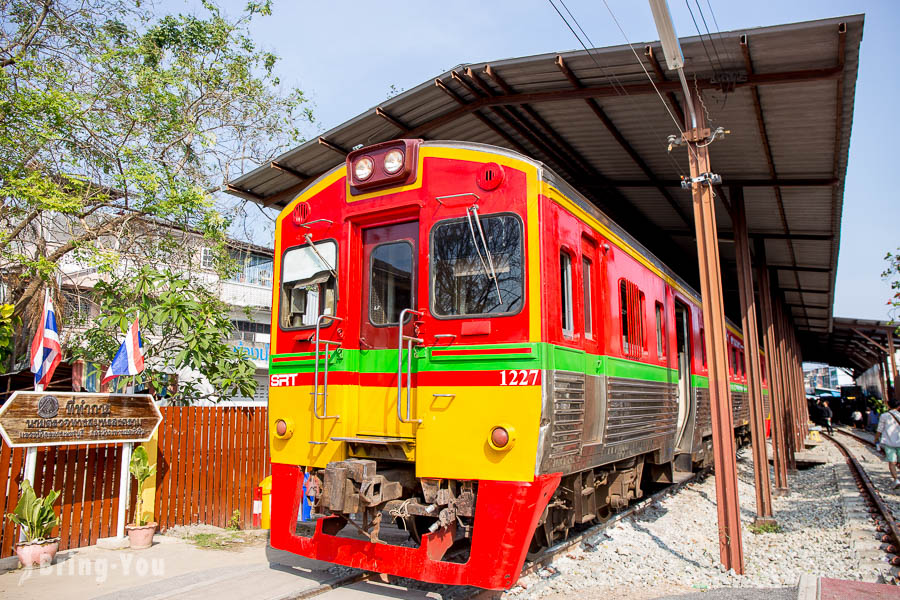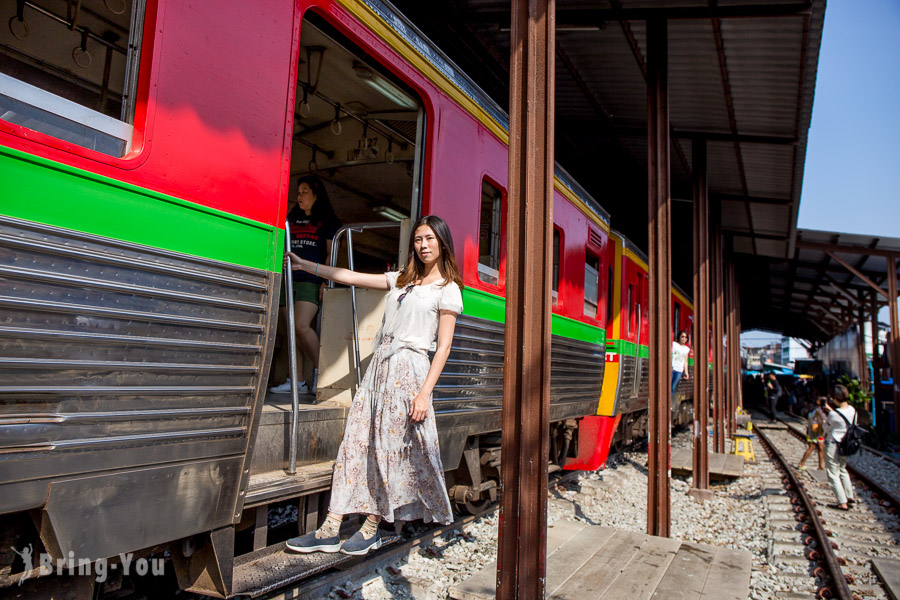 One of the coolest spots to snap some shots is the train itself after it charges down and stops at the station. You've gotta wait until all passengers disembark before you get on the train and take pictures of the inside.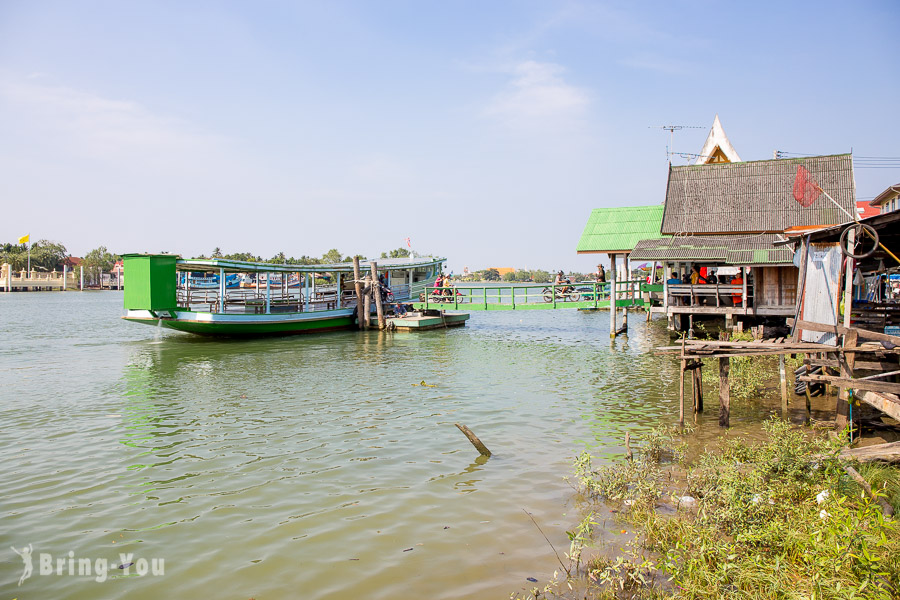 We hope you find this travel guide to Maeklong Railway Market helpful. We had a great time there and we're sure you'll love this incredible getaway as much as we do!