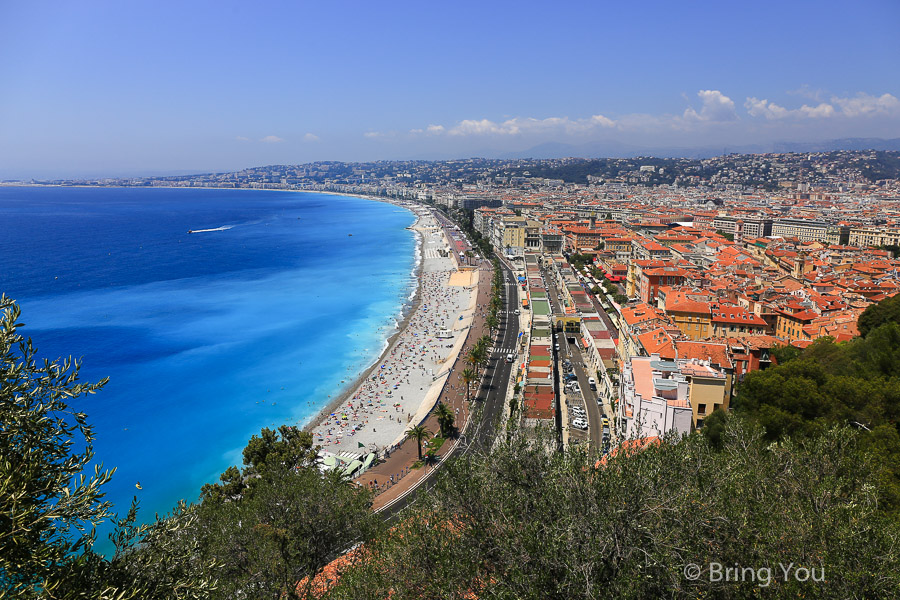 After spending a month in Europe and 6 days in Provence, finally, I could pack my bag and send myself to Nice, one of the most anticipated coastal towns in France I'd always dreamed of. Even though I've been to many beaches in the world, the vibe in Nice completely sets it apart from other equivalent cities. It's so peaceful and hippie at the same time, especially when it slowly appeared along the French Riviera as I was on the train heading there.
Nice is located between the Mediterranean Sea and the Alps in the south of France. It has all the best beauty of a typical Mediterranean coastal area which is beautifully reflected through the white houses under the Middle Age-inspired roofs.
Nice is a place where you only want to stay put and take it slow. But there are also a lot more to make a bucket list of activities with drool-worthy specialties waiting ahead. Now read on to discover my epic Nice travel guide for some personal, coolest sharing tips!
How to Get to Nice on the French Riviera?
The French Riviera also goes by the name Côte d'Azur, a dreamy French region running along the shoreline from Menton and Monaco to Théoule sur Mer before ending up at the Southern Alps.
Carefully curate your destinations along this route and you'll encounter some of the best, famous cities in France, plenty of natural parks, Roman ruins, and medieval villages.
I took a scenic train along the French Riviera which is known as the direct high-speed TGV from Paris. Get on the train from Paris Gare de Lyon heading to Nice Ville station and you'll be there in less than 6 hours. Make sure to obtain a Eurail train pass to save some bucks!
What Is the Best Way to Get Around Nice?
Even though Nice is steeped in history and majestic beauty of nature with an extensive coastline and parks, it's indeed not a large place to explore. You can cover most of the sites on foot. For instance, you can walk from the train station to the old town in under half an hour. Walking is also the best way to capture little amusing corners of town, take a look at the old patio cafes, sneak in the alleyways, or simply embrace the Mediterranean sunshine.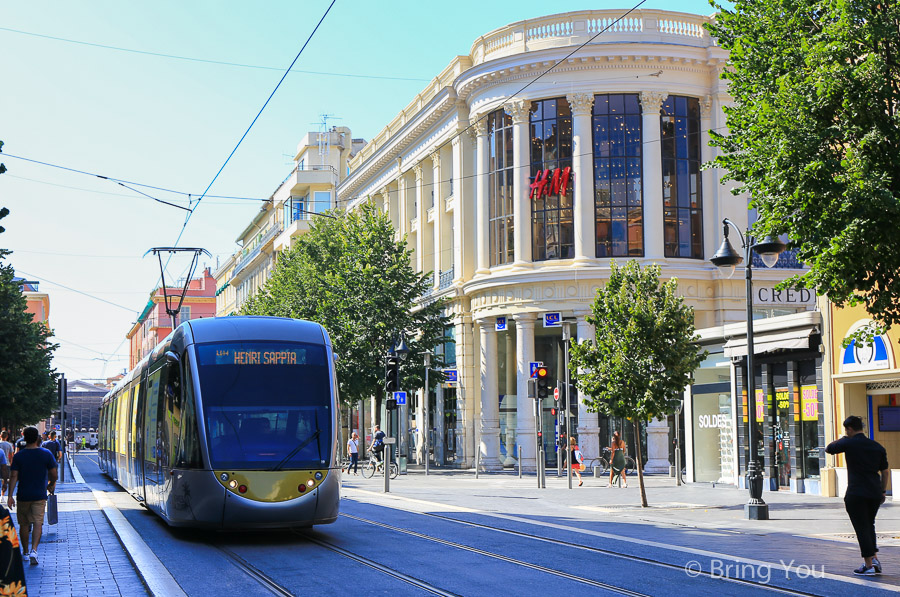 Other than walking, hailing a light rail tram and bus are other handy ways to get around Nice, especially if you want to reach somewhere further afield such as the mountainous towns outside of Nice like Cannes and Monaco.
Last but not least, first-time visitors can consider getting a ticket for a hop-on hop-off sightseeing bus if they don't like walking.
My Favorite Places to See in Nice for an Epic Exploration: A One-Day Itinerary
Jean Medecin
Starting early in the morning, I headed out to Jean Medecin first and explored this long, crowded avenue. Serving as the centerpiece of Nice, Jean Medecin is a quaint, busy shopping hub that stretches for miles sided by trees.
This is the best place to start your day and pick up the bustling vibe of downtown Nice through all the shops and services of any sort. Many buses, shuttles, and airport connections depart from here.
Basilique Notre Dame de l'Assomption
One of the first things you'll see on the way around Jean Medecin is the historic cathedral called Basilique Notre Dame de l'Assomption. Promoting a typical Neo-Gothic architectural tradition, the cathedral boasts a gorgeous, large rose window and a collection of stained-glass windows.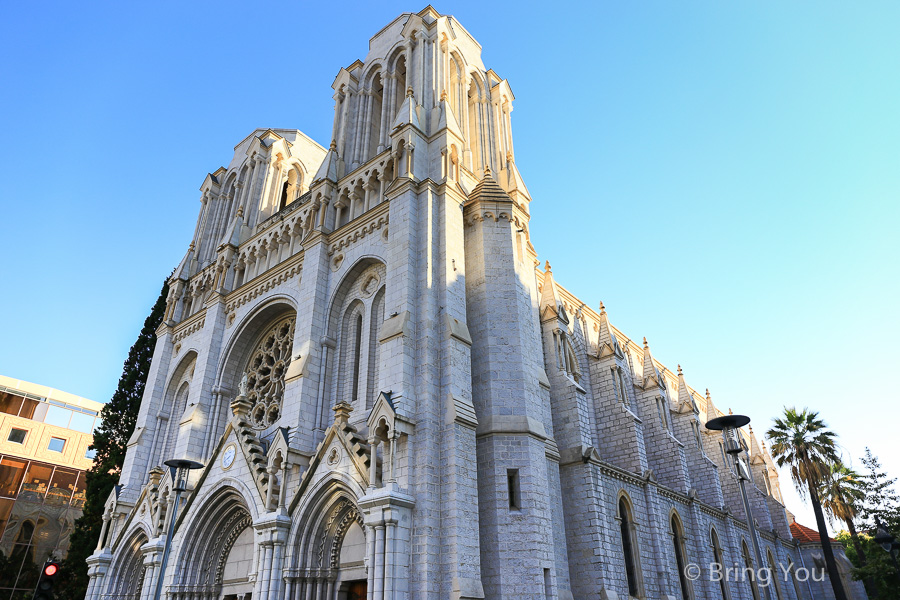 On top of that, the flat covers also provoke a unique image. As you walk inside, the illustrations on the stained-glass windows pop out in the dazzling sunshine, erasing all the noise from the chaotic streets out there out of your mind.
Place Masséna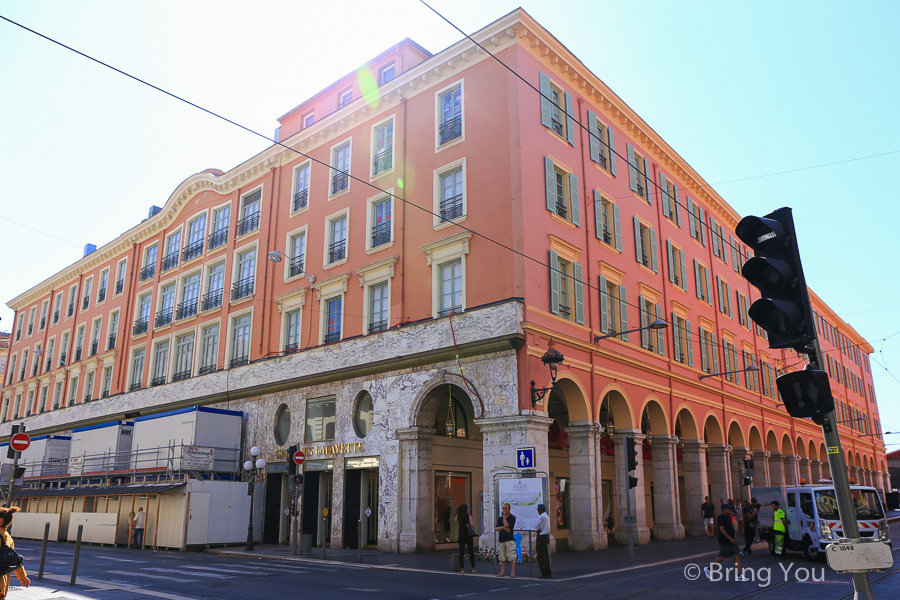 Moving on to Place Masséna, this is actually a city square soaked in rich Mediterranean beauty. The black-white tile floor and tram line connect the square with the Old Town of Nice on the other side as well as the seafront along the Promenade des Anglais.
The limelight of Place Masséna comes from a significant collection of staggering statues brought by the Spanish artist Jaume Plensa. Each of the artworks introduces a different continent and the communication between the nations across the world.
Vieux Nice – Nice Old Town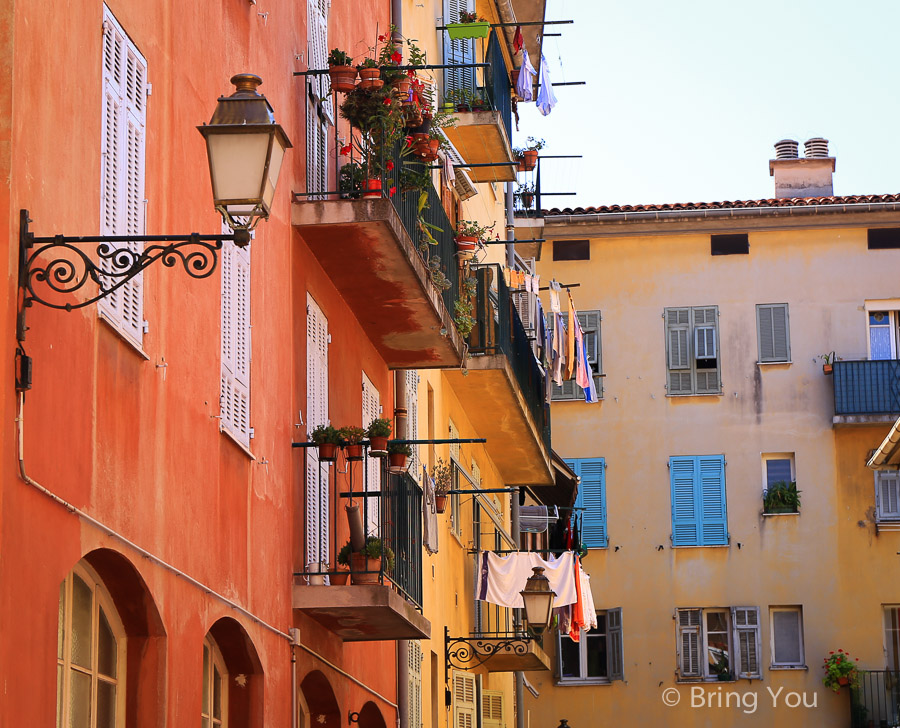 Nice Old Town is hands down one of the most visited places in town. It's made of extensive, zig-zag cobble-stoned streets nestled by a heap of craft stores, dining holes, and cafes.
Nice Old Town is also home to some of the best things to eat in Nice: socca and Pissaladière. If you're short in town, get a serving to go and slowly enjoy it during your exploration.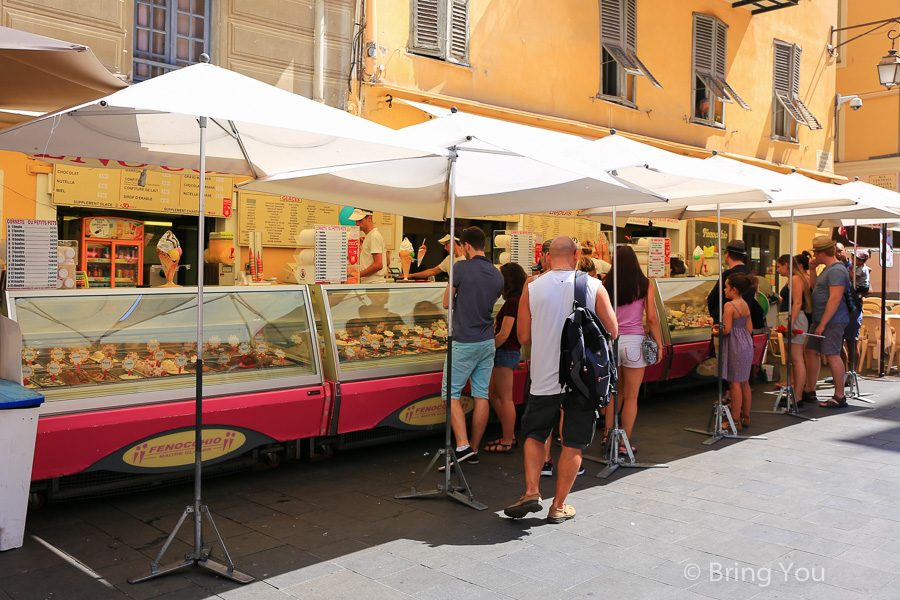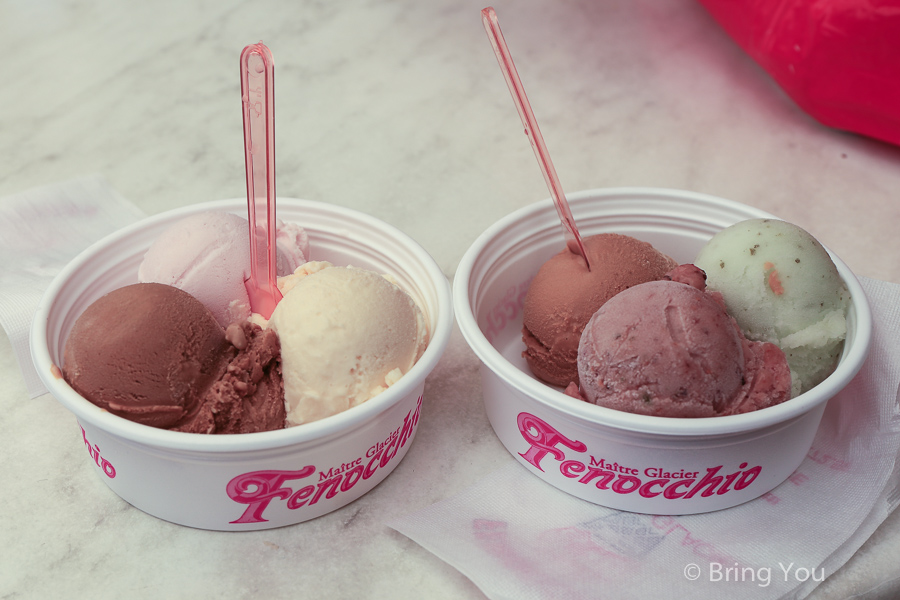 If you're craving some sweet treats, make sure to stop by Fenocchio, the best ice cream shop I've ever had in France. When I came by lunch, there was already a huge line but the line faded fast in about 5 minutes. If you're unsure which flavor to get, go for their signature traditional flavor and you're good to go!
Marche aux Fleurs Cours Saleya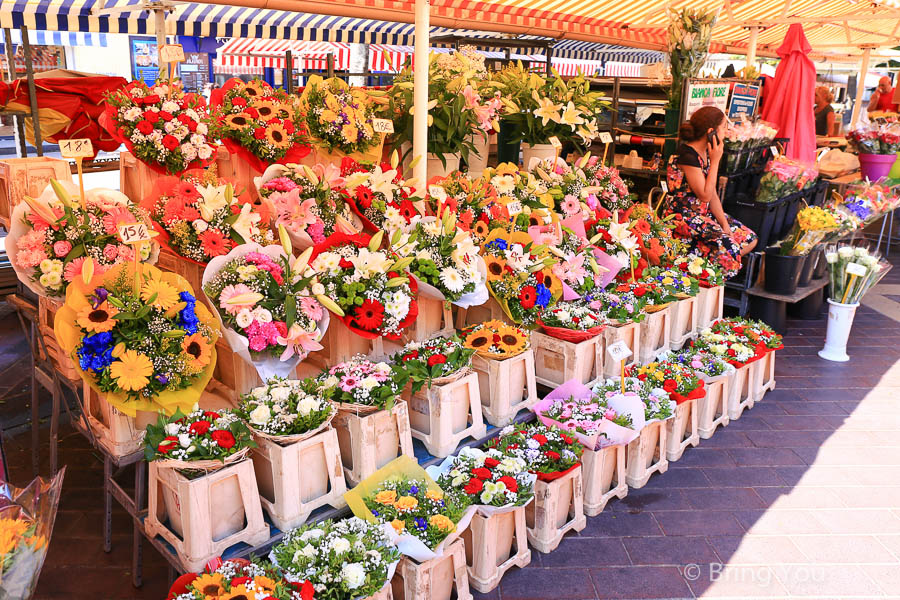 Slurping on my ice cream while bounding for Marche aux Fleurs Cours Saleya. This bustling flower market is packed with people living their colorful trading life. The delicate aroma of flowers injects the air with a dream-like beauty.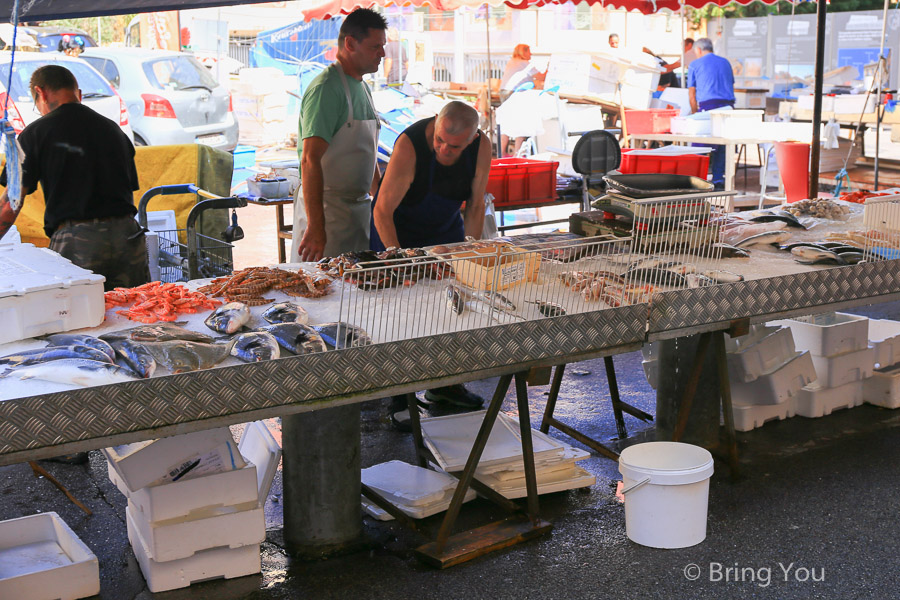 Other sections of the market are catered to fresh vegetables, fruits, olive oil, soap, and other commodities. The stalls are open from Monday to Thursday.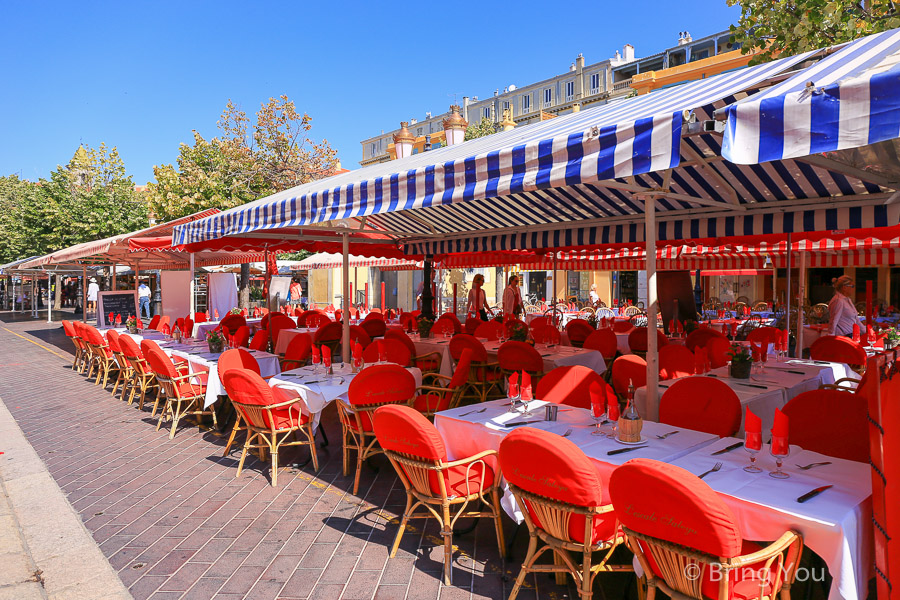 If time allows, spend over an hour here looking for some fresh salad or fruit for lunch. There are many sidewalk eateries along the sides of the market where the food is decent and affordable.
Tackle a Small Hike up the Parc du Château for a View over La baie des Anges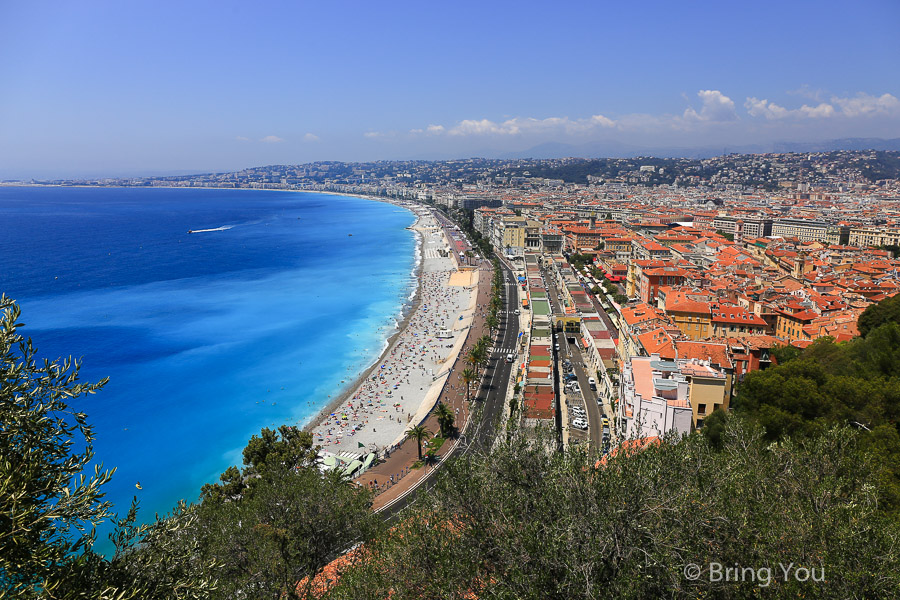 Also known as Castle Hill to tourists, Parc du Château is a historic hilltop park dotted with a military fortress. It offers some of the most brilliant views over La baie des Anges (Bay of Angels), a majestic crescent-shaped bay pressed against the turquoise ocean.
Hiking up the castle is part of the fun if your fitness level allows. At the end of the hike, take a stroll around the castle and rest up with a scenic view over the warm sunshine, the beaches, and the promenades.
Alternatively, there's also a lift sending you to the castle in just a few minutes. But please keep in mind it's gonna be crowded though!
Promenade des Anglais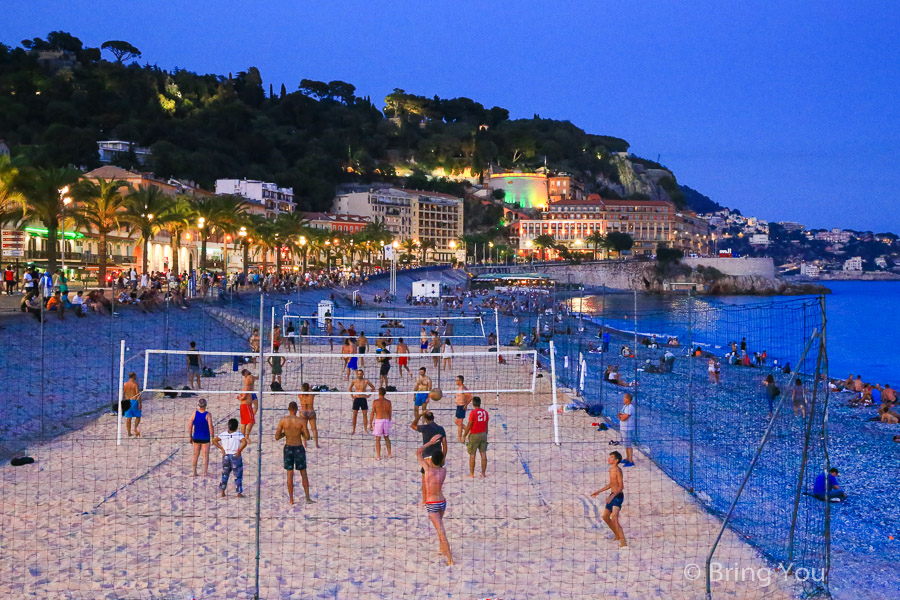 Promenade des Anglais is an inseparable part of the Bay of Angels. Its claim to fame is the stretching sand shoreline running from the airport on the west to the east. This is a great place to enjoy a leisure stroll or get on a bike to feel the ocean breeze kissing your hair.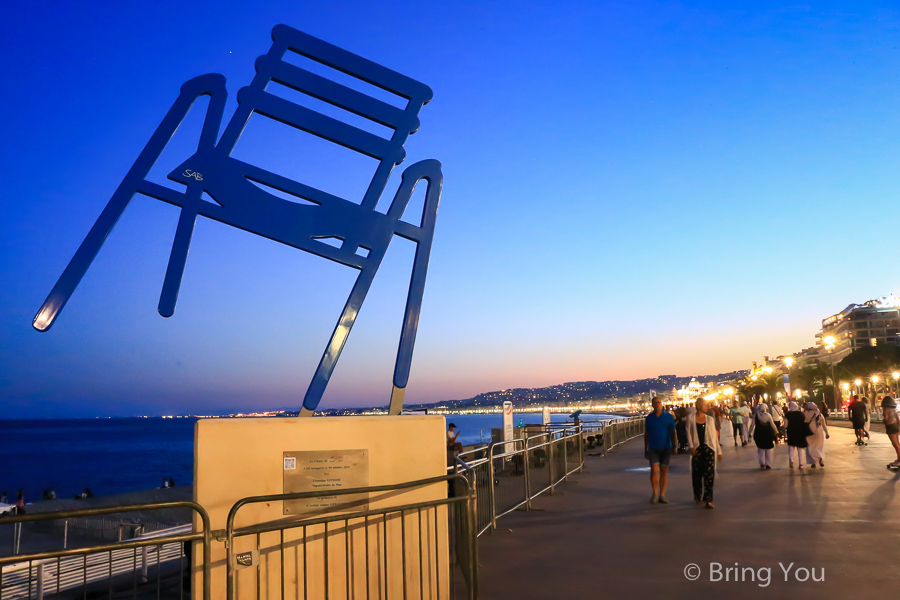 The shore is covered with large pebbles so make sure to watch your steps! Along the way, benches are placed facing the sea where you can take a seat and watch life go by.
4 Best Areas to Stay in Nice (Plus Recommended Hotels in Each Area)
Nice Old Town: is within a few minutes from the beach and the main promenade, comprising a wide range of the most visited hotels for both budget-friendly travelers and fancy trips.
Best Hotel in Nice Old Town: Hôtel Rossetti
Nice New Town: is a trendy neighborhood surrounding a huge pedestrian-only avenue located in the core of Nice. This is the best area to stay in Nice for retail therapy or to benefit from the major transport hubs.
Best Hotel in Nice New Town: Hôtel The Jay by HappyCulture
Gare de Nice Ville: is a central train station area if you wish to curate your holiday around the day trips and getting around to different parts of the city or nearby towns out of Nice.
Best Hotel Near Gare de Nice Ville: Nice Hotel Cote D'Azur
Promenade des Anglais: is the top call to chill, swim, engage in water sports, or simply soak in the sunshine at a beach bar' patio.
Best Hotel in Promenade des Anglais: Le Negresco
3 Best Dishes to Inspire Your Taste Buds in Nice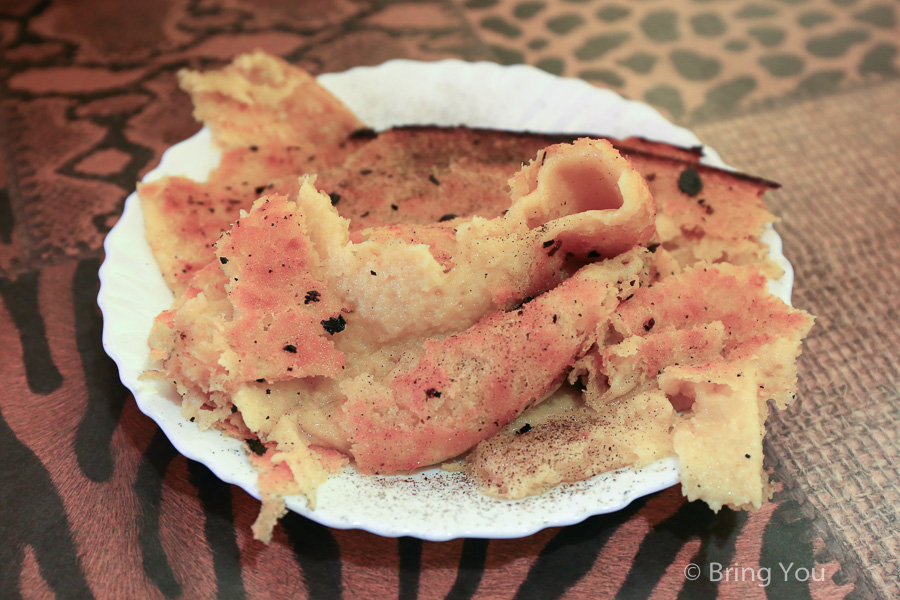 Socca: is a thin, crusty chickpea pancake that is very popular in Nice with a soft, hearty filling. They grill it inside a wooden oven and garnish it with pepper. Socca takes the Old Town by storm with multiple places offering rich and crunchy recipes like Chez Pipo, Chez Theresa, and Chez Rene Socca.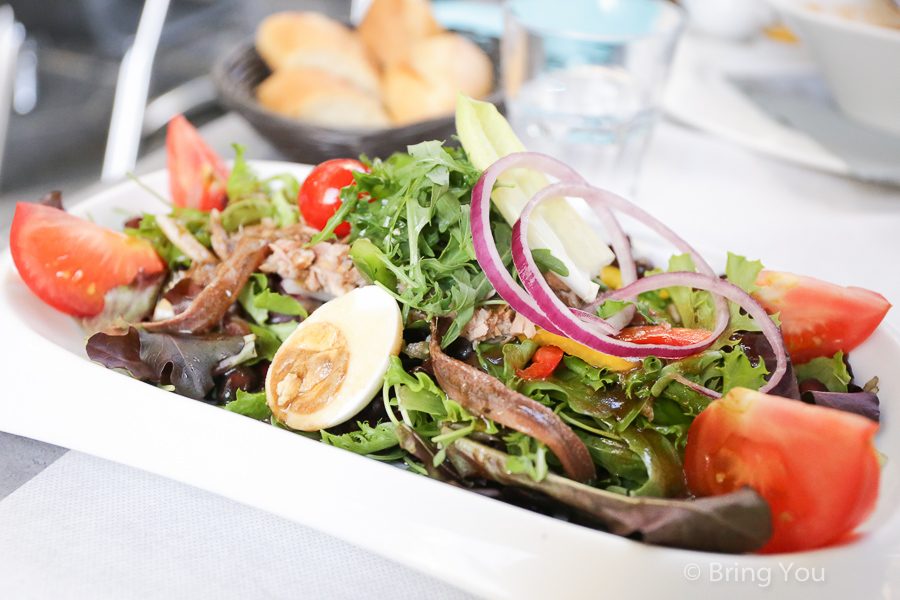 Salade Niçoise: is a world-renowned salad using tomatoes, radish, onion, black olives, hard-boiled eggs, tuna, and anchovies before they drizzle some olive oil all over. Chez Acchiardo and Le Safari are two highly-visited places to get your authentic Salade Niçoise at the ready.
Plateau de Fruits de Mer: is a famous seafood dish that goes by a full-on bowl of raw and cooked seafood served inside a large metal place over ice. The most common seafood is usually raw oysters, clams, snails, whelks, and cooked gambas. Le Café de Turin, La Gauloise, and Coquillages André are all worth checking out.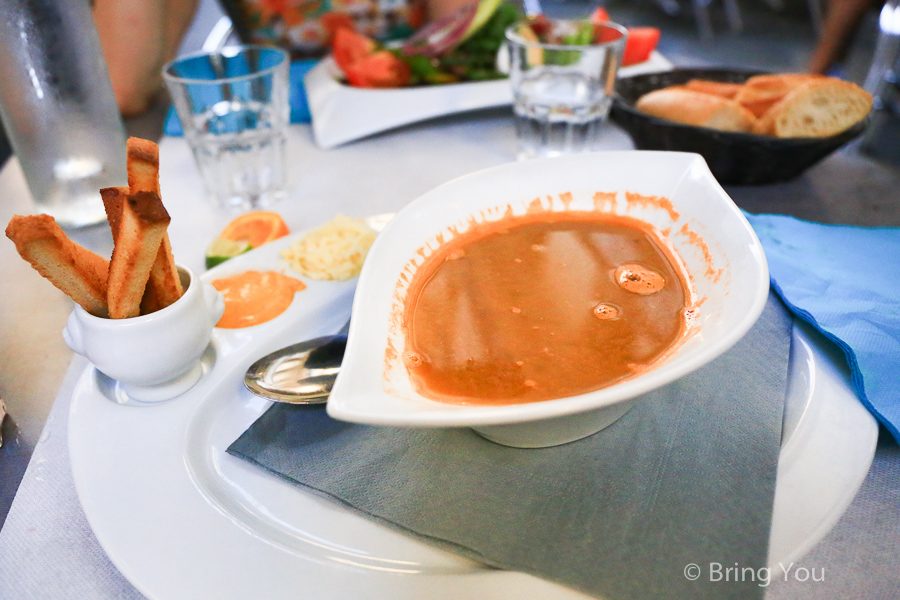 Soupe de Poisson: is a distinctive, rich French fish soup originating in Marseilles. In Nice, Le Safari and Le Bistro Gourmand are some of the coolest places dishing up their own soup recipes served with croutons, rouille spread, and grated gruyere.
Final Words: Where Else Can You Go from Nice?
One of my favorite things about the French Riviera is how it serves as a centerpiece to walk your way around nearby towns for a day trip. I spent 2 lovely days in Nice but you can stay a little longer before moving somewhere else.
One of the most popular day trips from Nice is to Monaco. I decided to take a day trip from Nice to Monaco on the last day to get some fresh air and see something different. You can get on a train and visit Monaco in under half an hour departing from Gare de Nice Ville to Monte Carlo.