Cherry blossom season (also known as sakura season) in Tokyo marks a new cycle of life and brings in meaningful events for family bonding. This is also the best season to visit Japan when the weather is chilly enough to indulge in some hot snacks from the vendors down the street.
Back in the days we visited Tokyo, cherry blossom viewing became our top thing to do and there are numerous spots to catch the mild beauty of spring around the heart of the capital city. That's why we decided to share our ten favorite spots to watch sakura in Tokyo, plus some tips to be a civilized folk when in Japan!
What to Expect When Viewing Cherry Blossoms in Japan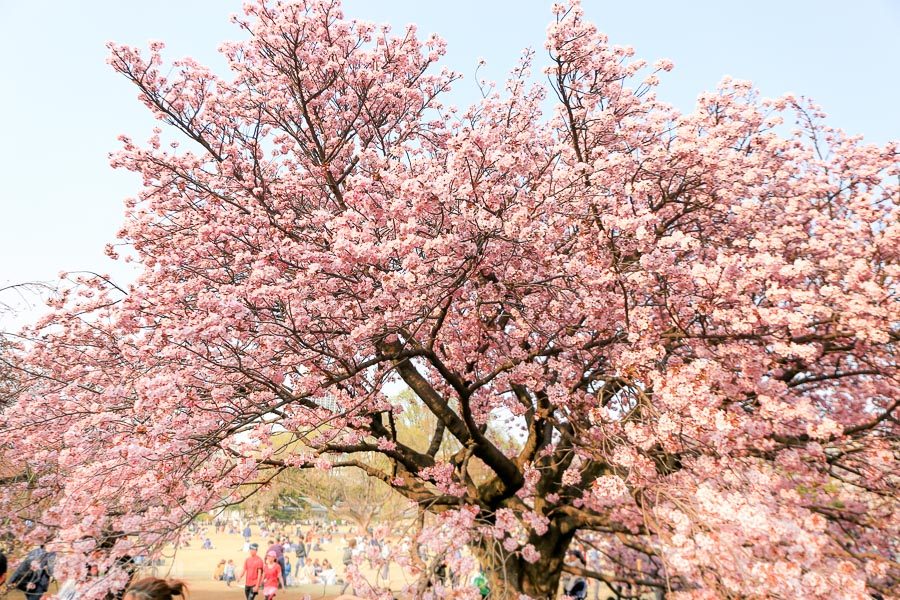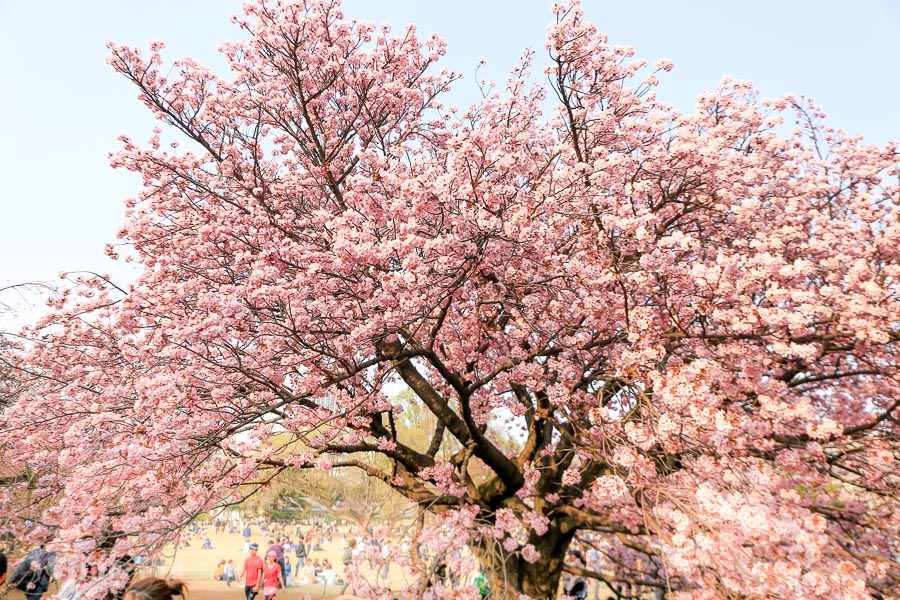 It goes without saying that the cherry blossom has become the heart and soul of Japanese culture. And right here in the capital city, sakura are expected to bloom in full somewhere between mid-March and early May. The cherry blossom forecast becomes a real deal in Tokyo where the Meteorological Agency predicts what month the cherry blossoms will be in Tokyo.
It may blossom even twelve days before the forecasted mark or a few days later depending on the weather. Even though sakura is a natural attraction, it requires some hanami etiquette (cherry blossom viewing manners) that you cannot overlook. Some of the top tips are:
Make sure the place you visit allows picnicking.
Leave no trash behind.
Do not blanket your picnic over the root of the cherry trees.
Don't touch the cherry branch unless you want to break or bruise it.
When it comes to dressing rules for cherry blossom viewing, a proper spring outfit is the best to reckon with! As the weather is getting chilly and hovers around 10°C, make sure you keep yourself warm by layering your body with a coat and a scarf. Long trousers and skirts make a lot more sense than something revealing. If you're making a photo shoot, put on a light and neutral color such as pastel to coordinate with the scene!
Where Are the Best Places to See Cherry Blossoms in Tokyo, Japan?
Ueno Park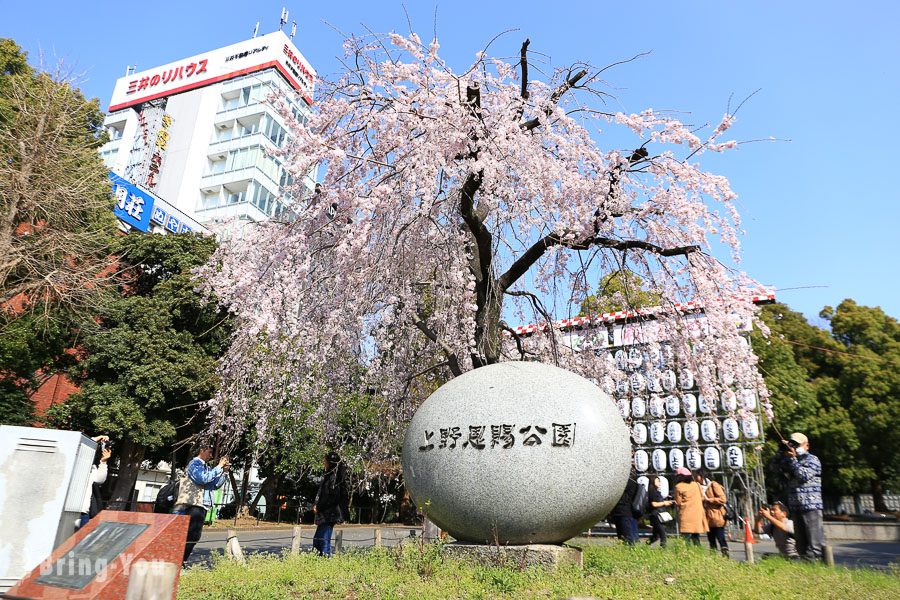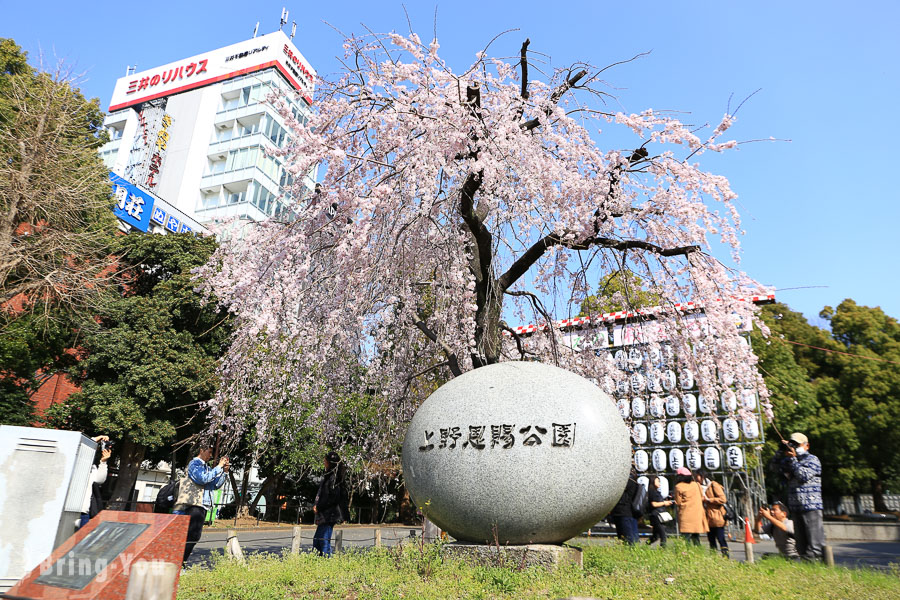 We must admit that Ueno Park is the most visited destination to watch cherry blossoms in Tokyo. Get ready to blend in the crowd and walk under thousands of cherry trees when spring sweeps through the land. Ueno Park is a dreamland no matter which season it is.
However, spring grants Ueno Park a distinctive beauty and enriches it with a sea of cherry petals. More than just a natural attraction, Ueno Park hosts a vibrant Hanami (sakura festival). So come with an empty stomach, pop into a vendor you like, and indulge your teeth in the best Japanese street food while you're at it!
Shinjuku-Gyoen National Garden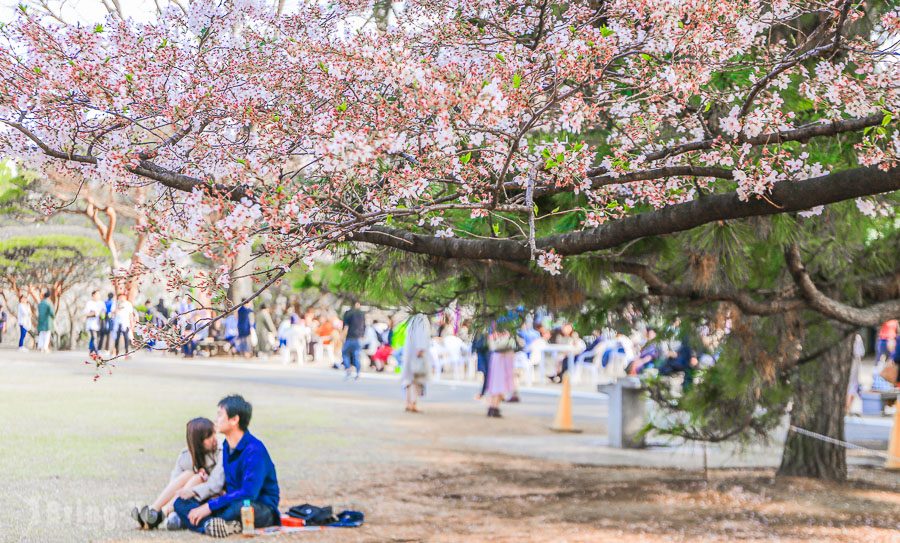 Nestled in the core of the capital, Shinjuku-Gyoen is one of the most beautiful places with easy access to watch cherry blossoms in Tokyo. If you're a newcomer to the country, you would be incredibly amazed at over 65 types of different cherry blossoms. The park is soaked in the freshest scents of cherry blossom and thousands of visitors wander off under the pink petals every day.
Getting to the park is a breeze. If you're a solo traveler, head out to the Shinjuku station or Yoyogi Hachiman Station and walk further to the park. Sprinkled in between the shades of dark pink and white is a contrasting scene of greenish bushes and trees, turning Shinjuku-Gyoen National Park into a breathtaking oasis in the heart of Tokyo.
Meguro River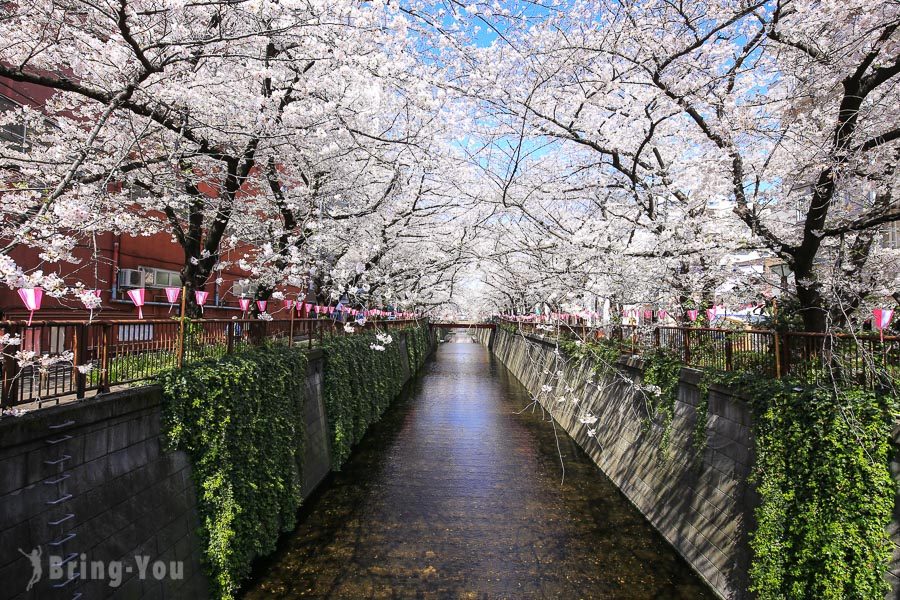 It seems like Meguro River is one of the most popular spots in Tokyo to watch cherry blossoms. Before visiting Japan, we were hypnotized by the poetic landscape of the mild Meguro River shaded by long lines of cherry blossoms chaining up along the river.
Once you get to Meguro River, chances are you never want to leave! The entire landscape is flanked by nearly 800 cherry trees. You will barely see the high blue sky when you rest your body somewhere on the bridge. This is where the little pink and white blossoms fully cover the sky and become your own clouds.
The best way to get to Meguro River to watch cherry blossoms in Tokyo is getting off at the Tokyu Tokyo Line from either Nakameguro Station or JR Meguro Station. So come with a camera in your hand, put a tarp down and throw the best spring picnic of your life!
Chidorigafuchi Park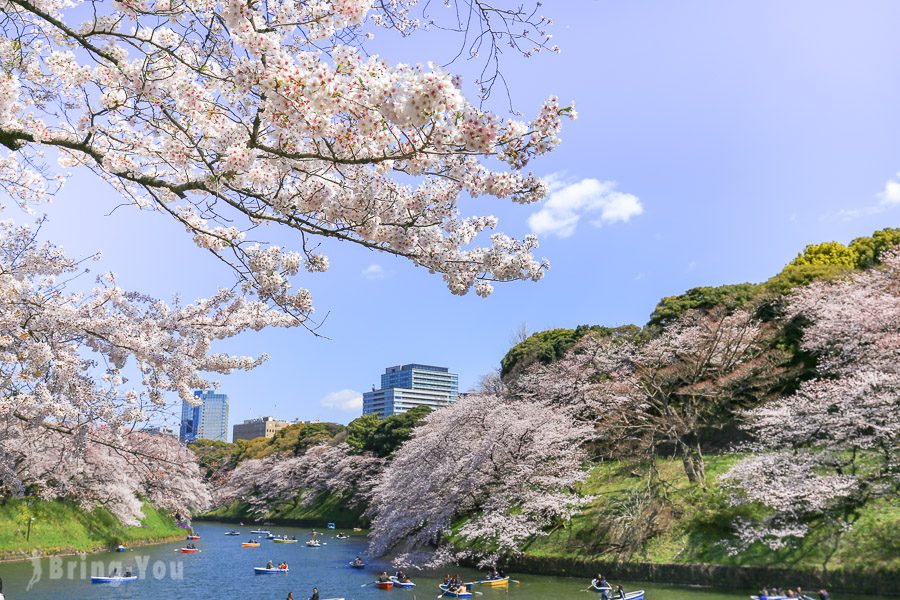 Linger your peaceful vibe with a short trip to Kudanshita Station and make your way to Chidorigafuchi Park! What sets Chidorigafuchi apart from other places to watch cherry blossoms in Tokyo is the chilly beauty reflected from the tiny white cherry flowers. The trees incline towards the mirror-like water in the middle, covering the fresh grass meadows kissing the river from both sides.
The park is just a stone's throw away from the Imperial Palace, making it very easy to combine in a sightseeing day around Tokyo. Day or night, the park is still expressing an authentic Japanese spirit that coordinates with the typical Oriental spring beauty.
We love to come over to Chidorigafuchi when the sun beams down and the trees are lit up under the starry night. So make sure you will do the same!
Inokashira Onshi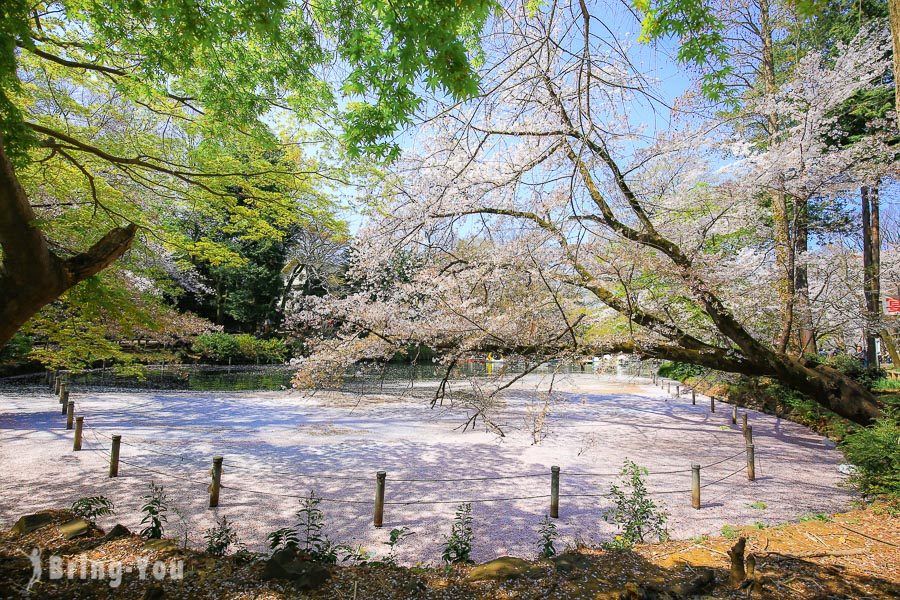 From Kichijoji subway station, you can enjoy a long, easy stroll through the boutiques and bistro before ending up at Inokashira Onshi park for cherry blossom watching. There's nothing more relaxing than holding a hand of your beloved one and taking a long stroll along the fenced pathway by the river.
The birds keep chirping at the back and people riding their swans in the lake. Everything comes together like a mesmerizing scene to admire the spring beauty to the fullest. It took us nearly half an hour stepping around the park, which hides multiple interesting spots at its heart if you take it slow and pay closer attention to every corner you pass by.
A stone bridge, a turquoise lake, a hidden temple, and wanderers pedaling on their bicycles – all contribute to a unique vibrant scene that doesn't go without a tranquil vibe.
Sumida Park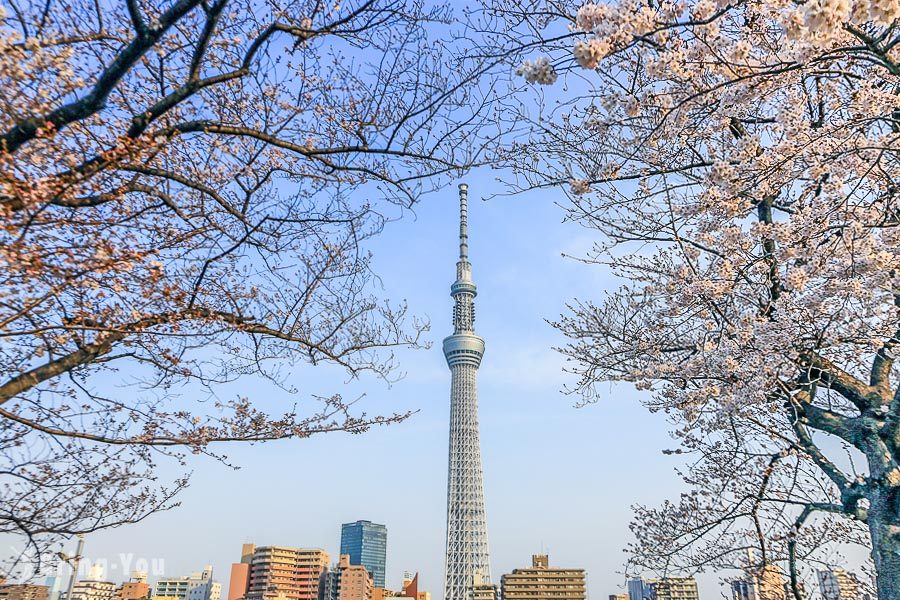 Another spot to jot down your bucket list is Sumida Park, which is next door to Asakusa Station with only five minutes walking. Located around the river bend of the Sumida, this park is enriched with pink cherry blossoms every springtime.
Want to know what our favorite thing to do is? Let us walk you in on a little secret: the cherry blossom clouds floating near the best of Skytree Tokyo sent us to a utopia. And it probably does the same to you. So make sure to choose the right angle and take the best shot of your life!
The park may not be a winner if you stack it up against Shinjuku-Gyoen or Meguro, but it's totally worth a try! We love how the cycling path is painted in pink to play in sync with the cherry blossoms. And as the green meadows stretch along the trail, you can put a tarp down and enjoy the best picnic of your life.
Every now and then, the birds are coming and twittering on the peak of the trees, delivering a fun background to spend a lazy day.
Rikugien Garden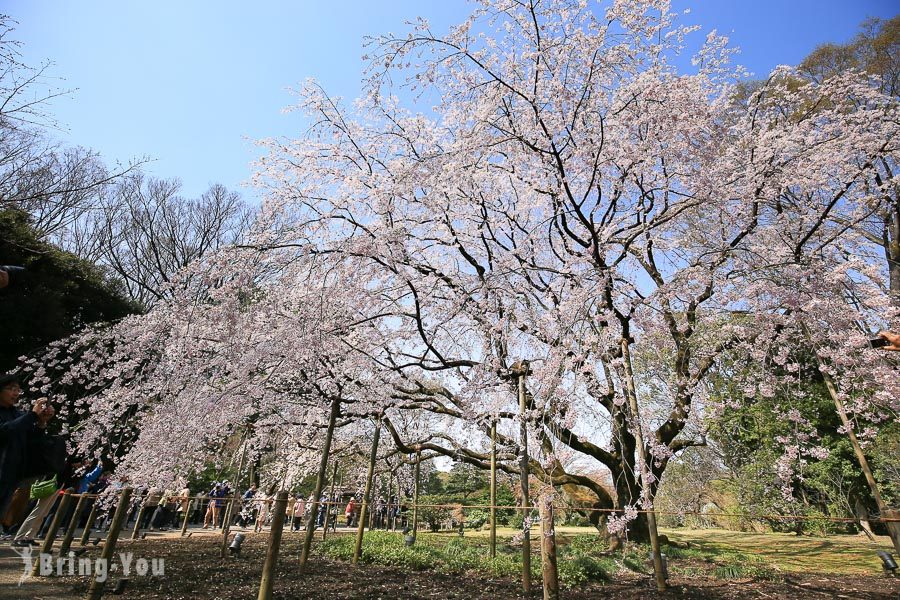 Rikugien Garden is one of the coolest spots to watch cherry blossoms in Tokyo. The best thing about Rikugien is the lit-up cherry blossom event. It's up in the game not only thanks to the weeping cherry blossom trees but also the mouthwatering food that you cannot forget.
Komagome Station of the JR Yamanote Line is the closest station that you can hail to travel to Rikugien Garden. Get ready to line up because the queue is insanely long. Obviously, given Rikugien is one of the most famous natural parks in Tokyo, a long line is totally worth it!
The cherry blossom event at the park begins at sundown and caps off around nine in the evening. Don't forget to tag your friends along to grab some snacks and pair with your favorite matcha before heading back home!
Yasukuni Shrine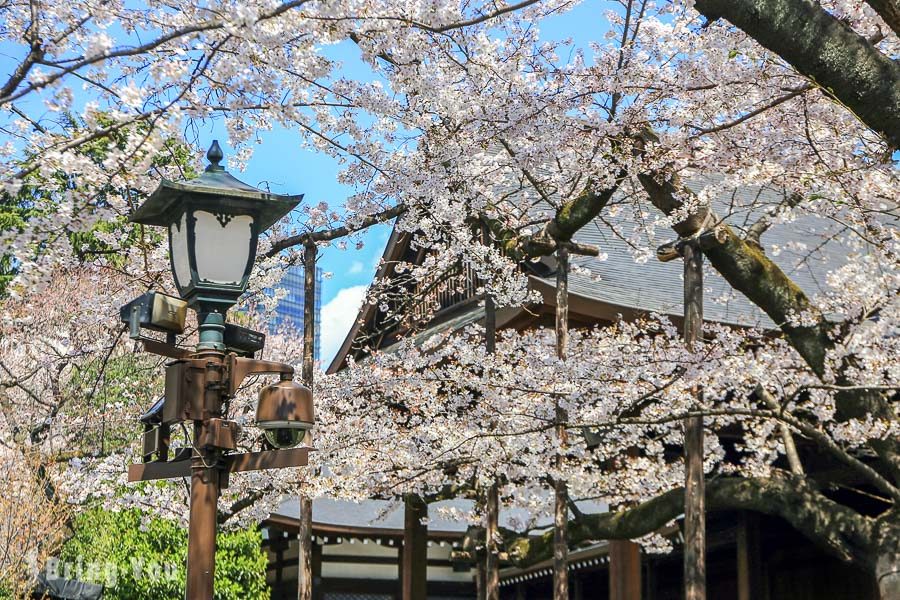 Nestled behind the majestic Torii gate are endless lines of cherry trees covering the ground of Yasukuni Shrine. The shrine is such a huge complex, which houses the sample single tree that the Meteorological Agency relies on to release blossom forecasts.
While daytime can be a tad sunny to enjoy cherry blossom viewing to your heart's content, nighttime is more favored by locals and travelers thanks to a multitude of vendors offering candy floss and grilled fish. The shrine is easily reached by a short walk from Kudanshita Station.
Tokyo Midtown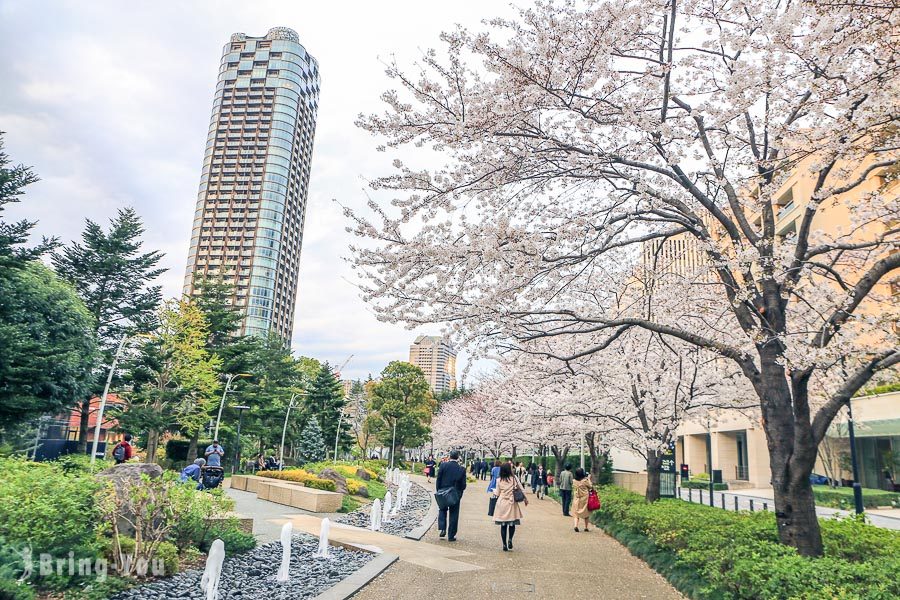 You may have heard of Tokyo Midtown as a bustling hub of entertainment, shopping, and a plethora of leisure pursuits. However, those are not the only things Tokyo Midtown has to offer. When spring gradually hits its peak, Tokyo Midtown is stepping out of a Japanese manga into reality, as hundreds of cherry trees put a white blanket around the high-rise buildings.
Tokyo Midtown takes over global headlines every year when the cherry blossom festival is held. Visitors and locals alike pop into Midtown for a sip of drink while enjoying the beauty of cherry blossoms dancing in the spring breeze.
Shiba Park
Last but not least, Shiba Park wraps up our bucket list of best places to watch cherry blossoms in Tokyo. The park dominates the foot of the world-renowned Tokyo tower and is surrounded by numerous Tokyo subway stations. Onarimon, Sjba Koen, and Daimon stations are a few to be named.
More than just a gathering point for cherry blossom lovers, Shiba Park is a great hook for shutterbugs who love to capture the peak of Tokyo Tower piercing through the clouds of cherry blossoms. There are approximately 200 cherry trees assembled around Shiba Park. The rich blue sky, red tower concrete, and enchanting cherry petals all paint a harmonious canvas opening out in your vision.
Discovering cherry blossoms in Tokyo is a breeze. All you need to do is double-check with the forecast calendar and keep in mind these etiquettes!