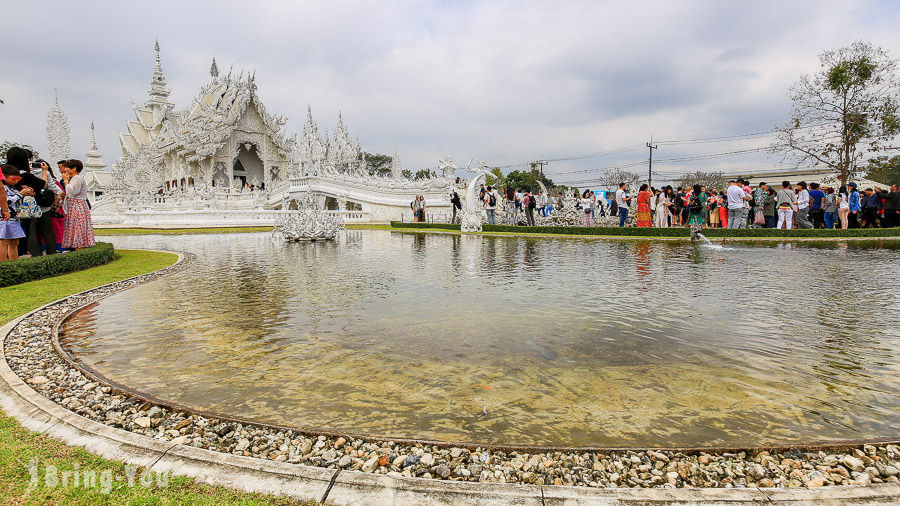 Vibrant, exotic, and stupendously mesmerizing, the traditional Thai temples are always there to amaze me. While many of those temples represent typical architecture, it doesn't mean all temples look the same.
For me, one of the most vivid reflections of a nation's culture is the food. But after years of traversing the world, I realized that temples, in some ways, are also a physical representation and embodiment of their cultural identity.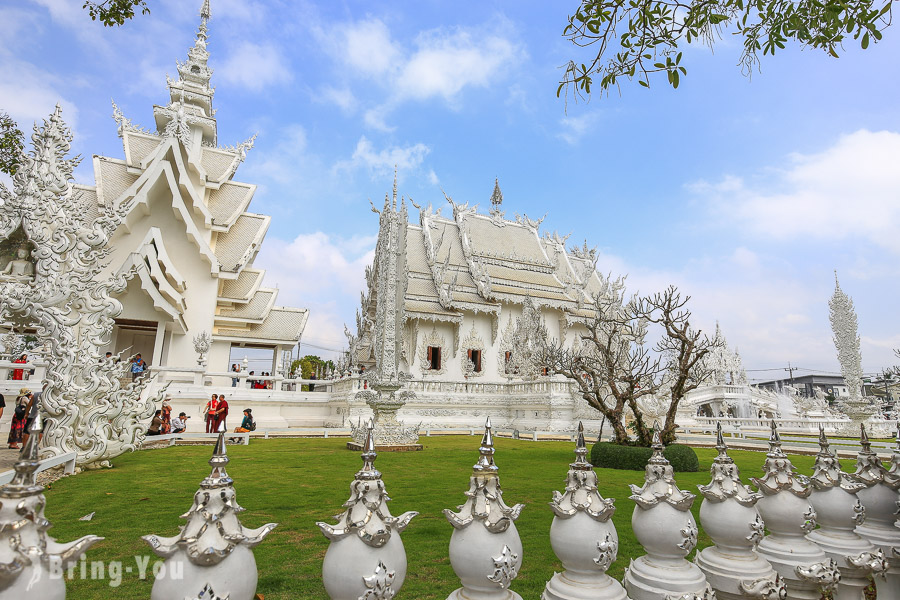 Wat Rong Khun was brought to me when I was searching for the must-visit places in Chiang Rai. This White Temple truly stood out from hundreds of Thailand golden-roofed buildings I've seen before. It's a quirky place. It's not insanely huge but definitely something never-before-seen that makes you wonder: "How on earth could people create such magnificent architecture with bare hands?"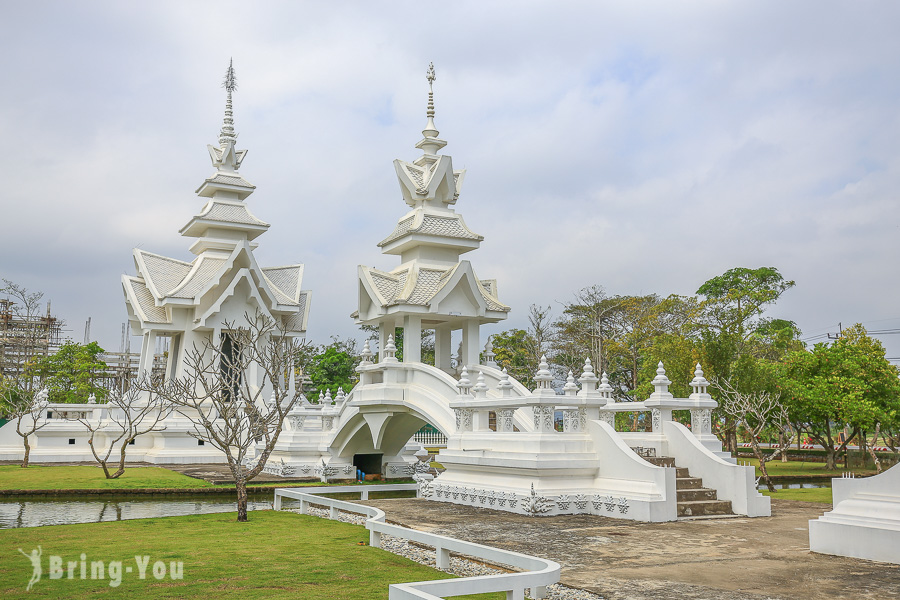 And here I am, walking you in on my insightful sharing about this odd temple that you have to see once in a lifetime. Let's dive right in.
Should You Get to Wat Rong Khun Yourself Or with a One-Day Tour?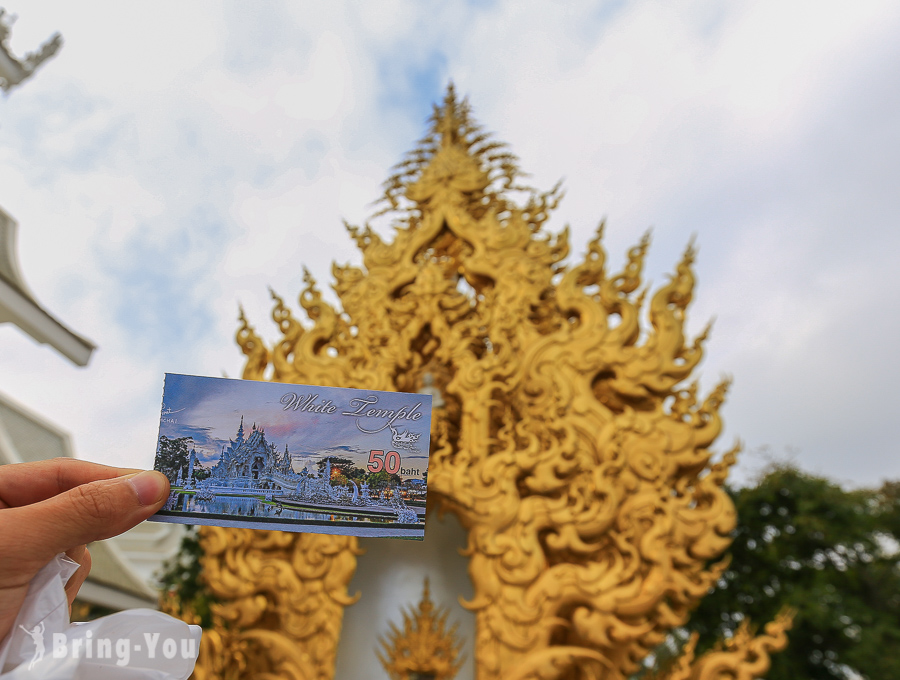 The White Temple is located 30 minutes south of Chiang Rai's city center. While you can totally get there by yourself, keep in mind that the traffic is one of the biggest reasons to hold you back in doubt.
Some of my friends who departed from Chiang Mai to the White Temple had to spend more than three hours on the road including the transportation from Chiang Mai to Chiang Rai. And after you get there, you have to figure out how to travel between different attractions in the city center of Chiang Rai.
If you're not ready for something time-consuming and distracting, opt for a one-day tour like I did. The guide picks you up from your hotel in Chiang Mai in the morning for a 12-hour trip. The tour I signed up for has pick-up radiation within two kilometers of the Old Quarter in Chiang Mai and the International Airport, covering five different attractions including Wat Rong Khun, the Long Neck Village, Golden Triangle, the hot spring, and the Bandaam Museum.
Book Your Chiang Rai One Day Tour from Chiang Mai
Or if you'd rather not join a group tour, you can also rent a chartered car for your own group or family. But in this case, you've gotta sort out your own itinerary and there's no guide escorting you.
Hire a chartered car to Chiang Rai
Wat Rong Khun: What to Expect from This Quirky Temple?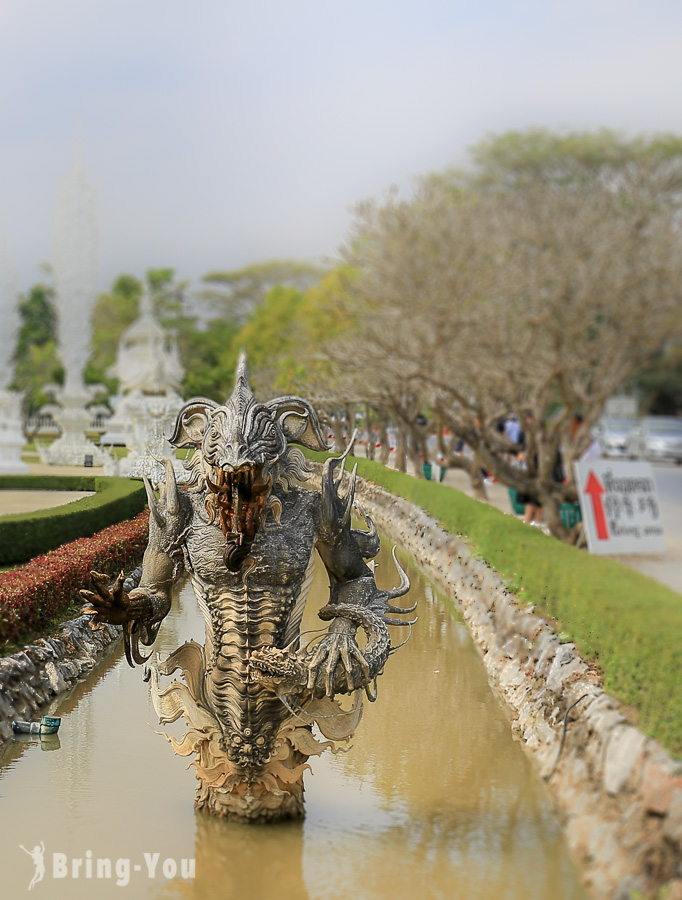 One of the best things that draw people to the White Temple is its eccentric and unconventional architecture. The entire grandness of the main temple, the bridge, and its surrounding complex can be admired from afar.
And once you come near, each detail promotes freakish details that go beyond imagination while enveloping interesting values and meaning behind them. And that's exactly why you need to have a local guide to tell you these hidden stories along the way.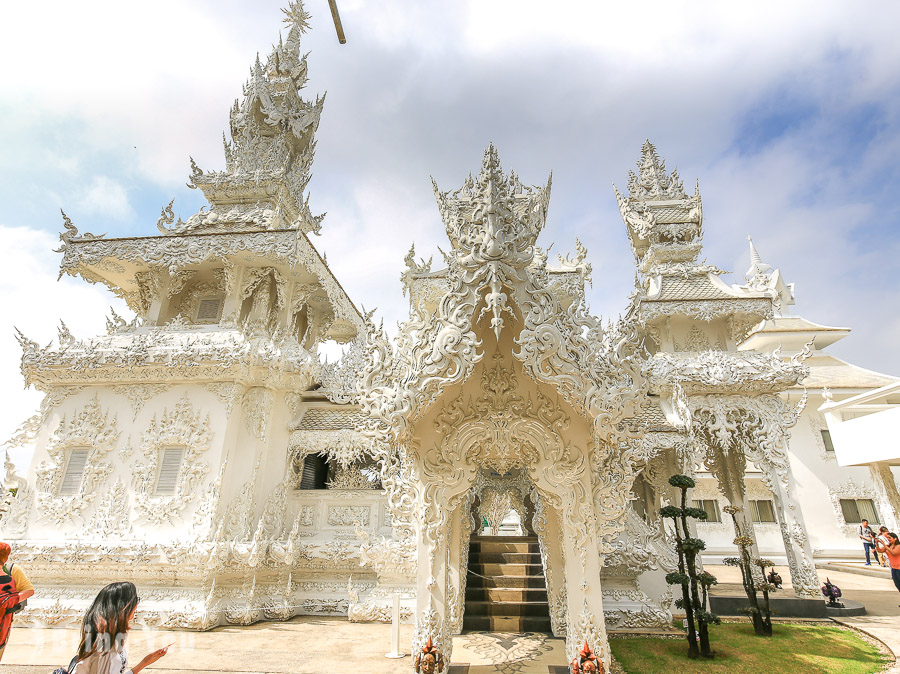 When you look at it from above, the temple complex appears as a cluster of pristine white buildings lining along one straight line with a big, beautiful lake beckoning your attention at the front.
Each temple is covered by the signature three-tiered roofs, garnished with bells and whistles of the same pristine color. But not until you come closer will you be able to soak in the jaw-dropping, intricate charm of each decoration and relief that transcends the beauty from modern days to the past – so much so that you have to step back to admire these animal heads and statues and their meanings.
The Bridge of Rebirth Cycles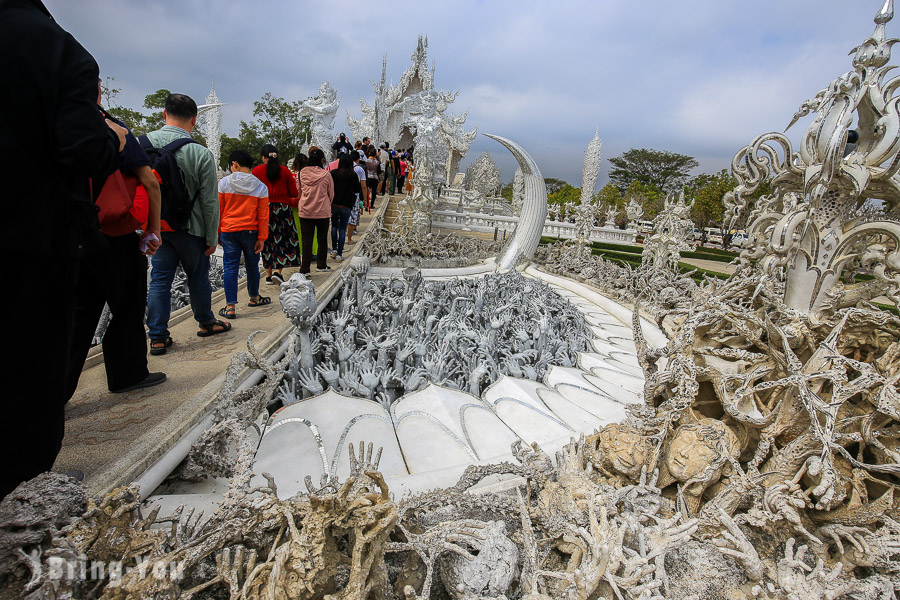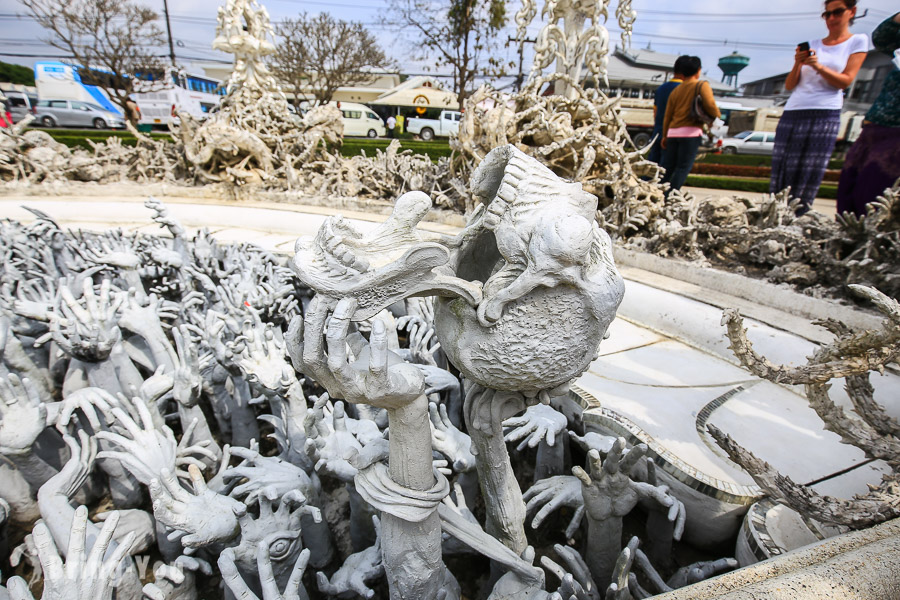 You've gotta cross the bridge before entering the temple. The main hall lying at the end of the bridge is also known as the Ubosot. As a Buddhist temple, you will see a heap of symbols displaying orthodox Buddhist concepts. As you walk over the bridge, you'll see a pool of hand sculptures reaching out to your steps skywards, which represents the image of hell. This spooky symbolism is a photo-op itself and literally sends chills down your spine. The act of walking over the bridge means one is forgoing mortal desire and going to heaven.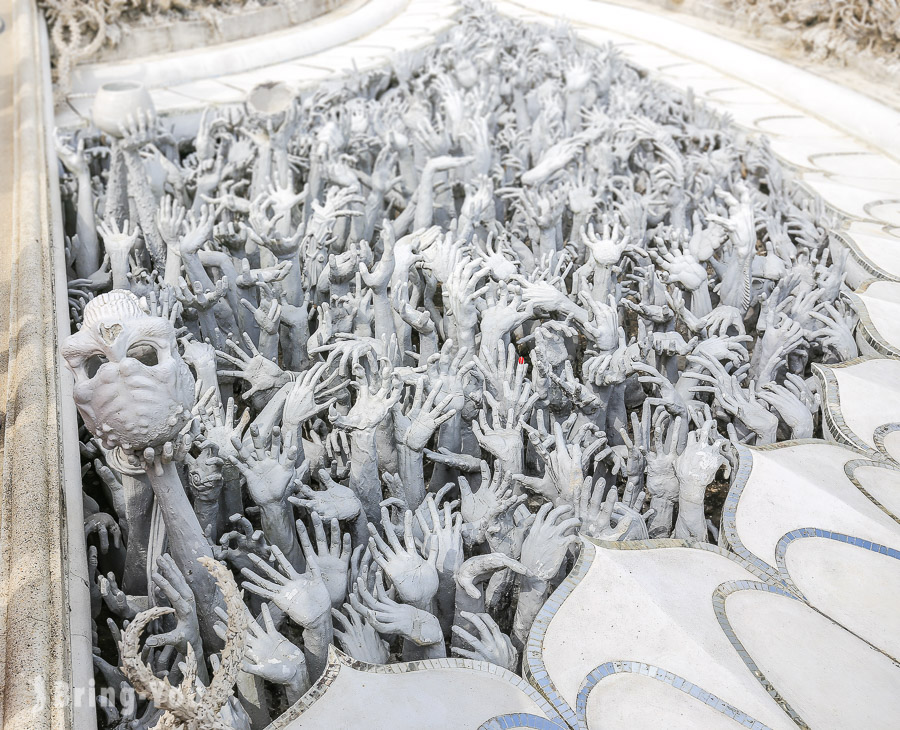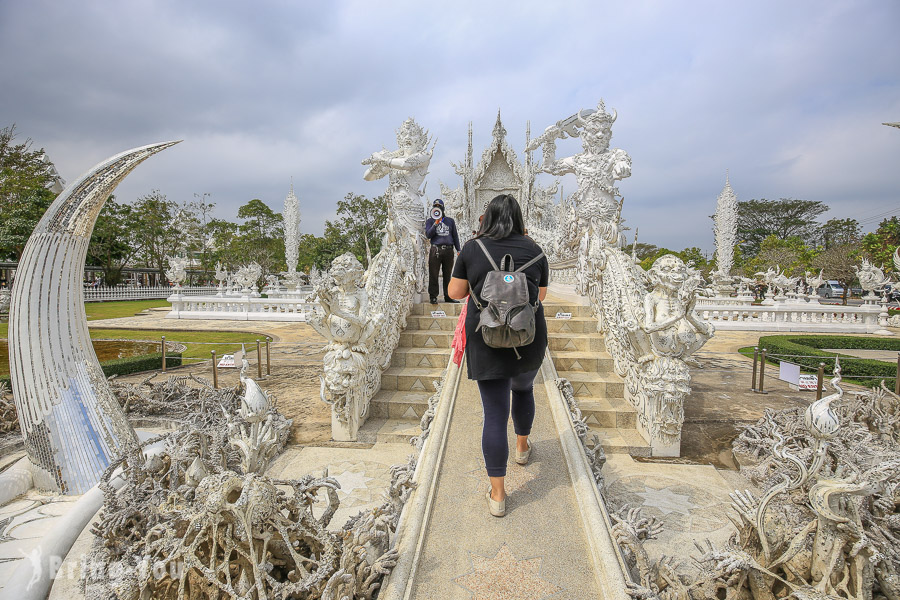 The Gate of Heaven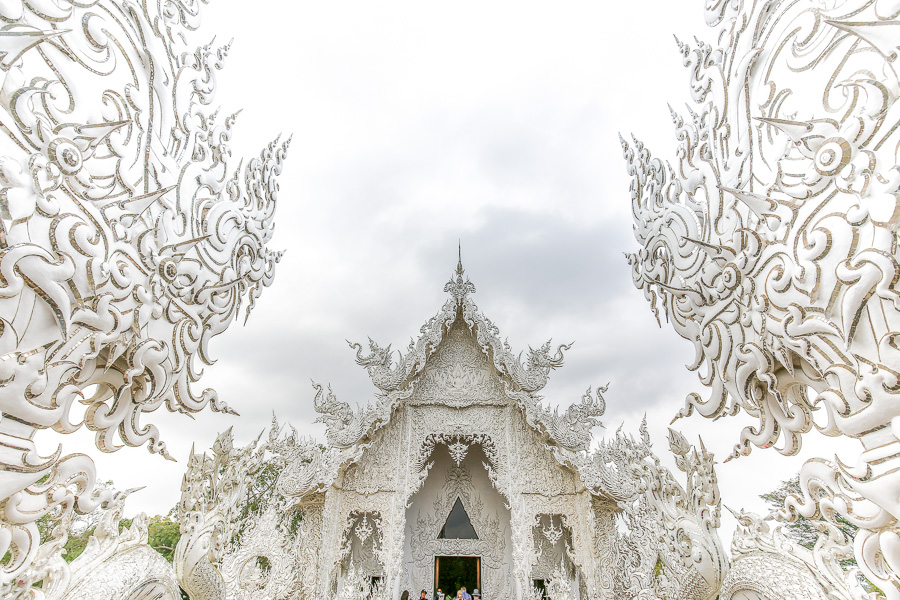 Now comes the real deal – the main chapel, or you can call it a hall. It's tucked behind the Gate of Heaven which is guarded by mythical creatures and meditating monks. The statues are so big and intricate that demand anyone's attention when passing through. Covering the pointed roof is a heap of cloud-like sculptures.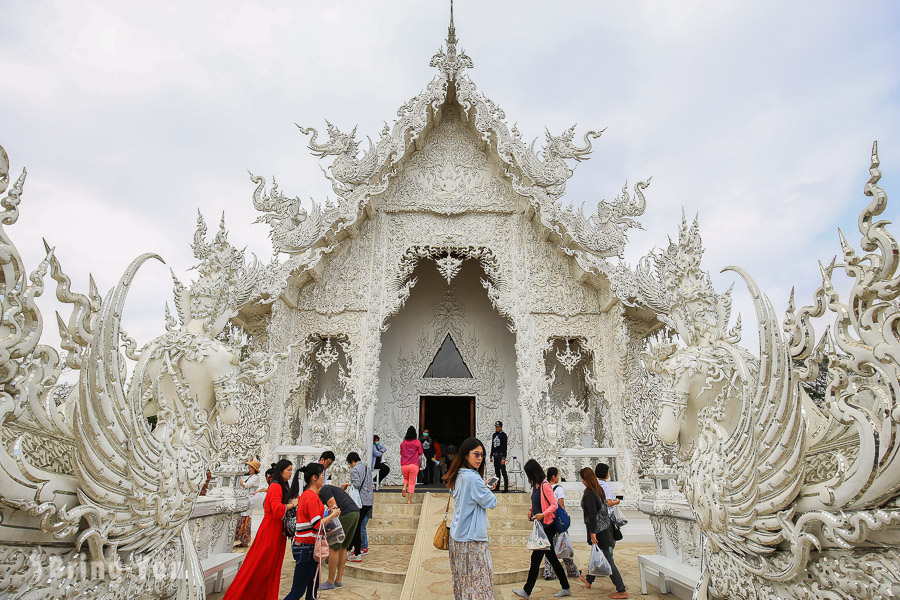 Once you're inside, the white theme is instantly swabbed into gorgeous, flamboyant murals placed throughout the interior. The colors become more vibrant as the elaborately painted murals and artworks brighten up the whole space.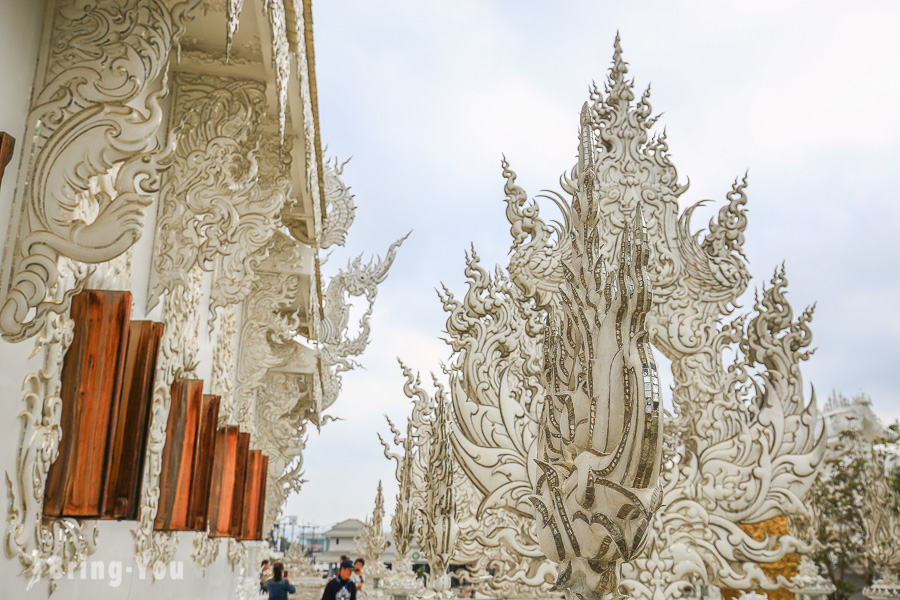 Even though it's going to be crowded, the hall remains a sacred place. You will learn so much more about the life of Buddha and the random, imaginative Neo from the Matrix or the All-American Man of Steel with a spaceship.
Keep in mind that no photo is allowed inside the temple and visitors have to leave their shoes outside.
What Else Can You Visit at Wat Rong Khun?
On the left side of the bridge and the main hall, you can pop into some other side temples adorned by red sculptures nestled by the side of a gorgeous, shiny, ornately garnished restroom. These temples emerged to be the body and the mind that support the main hall in the middle.
Other than those, there is also a small museum dedicated to the art collection of Chalermchai, the genius behind the creation of this quirky attraction. Alternatively, you can also take a stroll around and visit a souvenir shop to get some keepsakes.
How to Ditch the Crowd When Visiting the White Temple?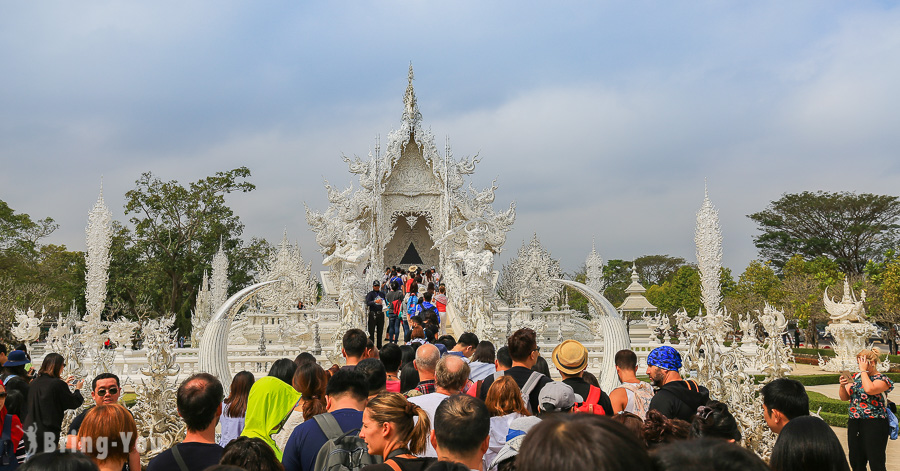 Since the high season in Chiang Rai lasts between October and April, expect lots of tourists to come over. Wat Rong Khun during this time is easily flooded with people. However, you can come over at sunrise before the large coach tours arrive if you're exploring on your own.
The White Temple of Wat Rong Khun is definitely a must-see in Chiang Rai. I hope you'll love this place as much as I did, and don't forget to share this insightful guide!