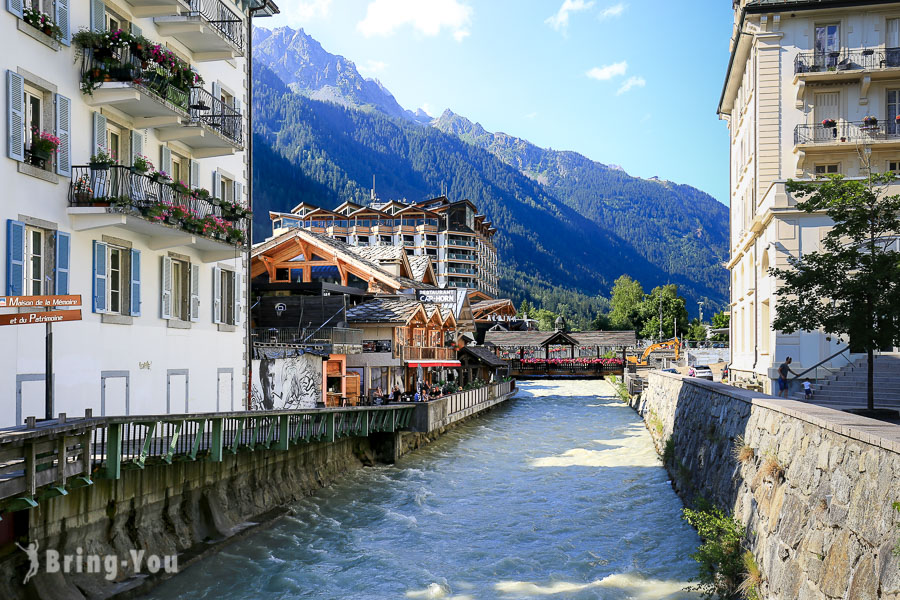 Picking one country to be our favorite in Europe is a daunting task. But every race only has one spot for the winner, so we go for France! Admit it, who doesn't love France? Out of all cities from Paris to Provence and Colmar, Chamonix is at another level.
Chamonix is one of the best places to visit in France. Yes, we're not exaggerating at all! The passion inside of us kept rushing as we boarded the cross-border train. It took us from Zermatt to Vallorcine, then we transferred at Martigny before heading to Visp and ended at Chamonix. No worries, the route is straightforward and it only took us three transfers in total.
Many people are beckoned by the ski season but that's not the only thing you see in this travel guide!
Mont Blanc, the highest peak of the dramatic Alps, shouts grandiose and magnifique. And while Mont Blanc is the star of the show, we spent more than just one night exploring the surrounding and whimsical village enclosing its foot – the Chamonix town.
In this Chamonix guide, you will find the best ways to reach Chamonix from France and Switzerland, the hotels we stayed at, and what you can do aside from skiing in Chamonix.
Why Is Chamonix Famous for? Why Is It So Charming?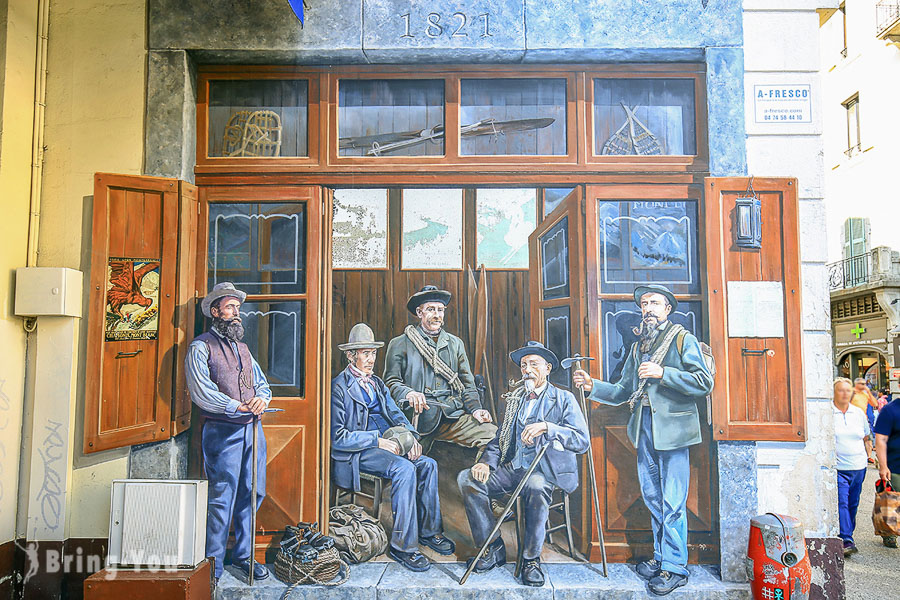 We liked our trip to Chamonix a lot, so much so we named it a grandeur escape from Mont Blanc. For many people living half the world away from Chamonix, this area is a ski resort. But that's not the only thing Chamonix has to offer!
This bustling oasis is a mecca of outdoorsy actions. Being the world's first host of Winter Olympic all the way back to 1924, Chamonix is a shiny armor when it comes to forest bathing, mountain biking, paragliding, and dining out.
Day or night, Chamonix appears to be a lover's paradise and we had so much fun contemplating the dramatic backdrop of the sheer slopes capped with snow.
Chamonix is nowhere close to a relaxing getaway (even though you could do so during the low season when the crowds are barely around)! If you're beckoned with the thriving grassy knolls in spring and the extreme pistes in winter, Chamonix is the right place to be!
How to Get to Chamonix from Lyon, France and Geneva, Switzerland?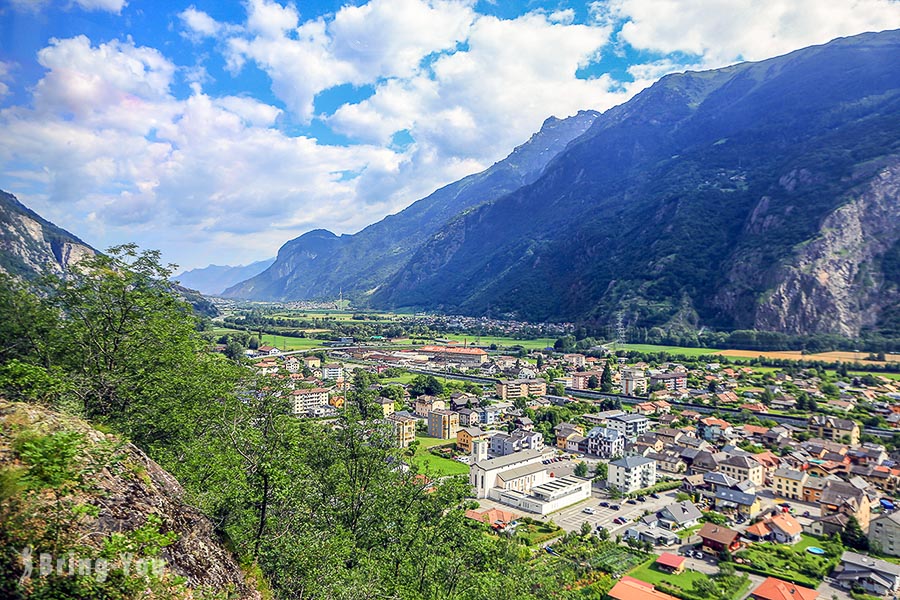 Travel to Chamonix from Lyon, France
The easiest way you can do is board the train from Lyon to Annecy. It takes two hours. Then you switch the line from Annecy to Chamonix. All tickets are available online.
Travel to Chamonix from Geneva, Switzerland
The closest airport to Chamonix is Genève Aéroport and that's why many people will just start from there after a short one-hour flight from Paris. We know it sounds bizarre but trusts us, it's way faster and you can smash France and Switzerland into one multi-day tour.
Now, from Genève Aéroport, book an eight-seat shuttle car directly from the airport to your accommodation in Chamonix. You spend over an hour driving. This shuttle service is not a crowd-pleaser due to the hectic price. But it's all about how you prioritize convenience and time management.
Otherwise, opt for OUIbus! This route takes a little longer but is still under two hours. The fare is way better and that's why many backpackers go for this.
3 Best Ways to Travel Around Chamonix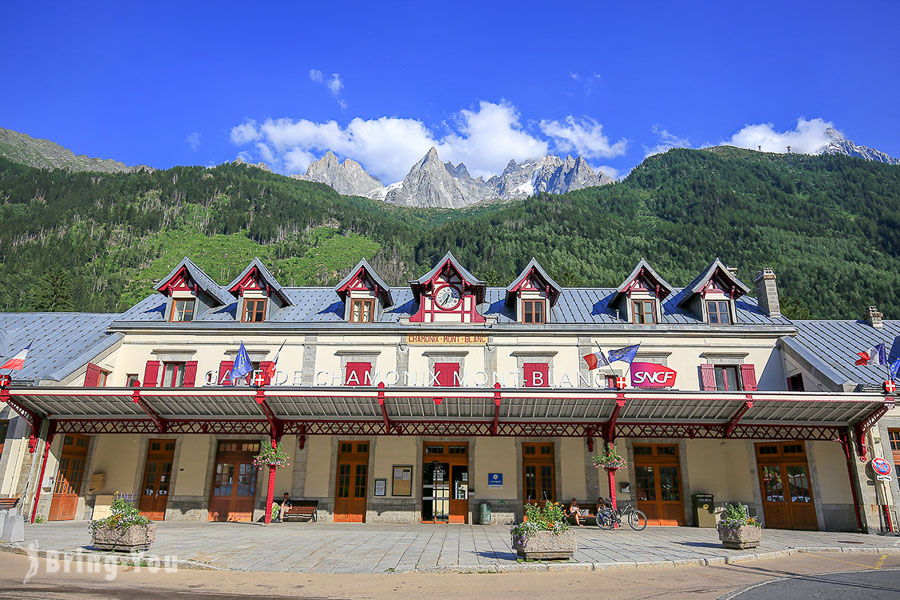 For some reasons, we don't know why navigating around Chamonix is such a pet peeve when every train station has a prefix Gare de Chamonix. And if you're not paying attention, chances are you'll get off at the wrong point!
Let's say you're bounding for the Mont Blanc Station, only get off when the speaker says Gare de Chamonix-Mont-Blanc. The ending words matter!
Getting around Chamonix by Public Bus
Remember to take a guest card from your host or tourist office to take full advantage of free public Chamonix Valley buses. These buses are scheduled every day and they take you up and down the valley as well as between different ski resorts. Chamonix Sud Bus Stop is the central station and all lines circuit around the town. They also connect downtown with other villages in the valley.
Getting around Chamonix by a Rental Car
Renting a car isn't a bad idea, even if it's an automatic car. You can work around a mini car or intermediate car and they charge you per day if you're a short-term traveler.
But all in all, a rental car makes more sense if you travel in a large group and aim for a multi-day trip. Otherwise, using public transportation is fair enough.
Getting around Chamonix by Taxi
This is the last resort because taxi fare is expensive. But if you're not on a shoestring, you can hail between Alp or Arve Taxi around the train stations or from and to the Genève Aéroport.
What Is the Best Time to Visit Chamonix?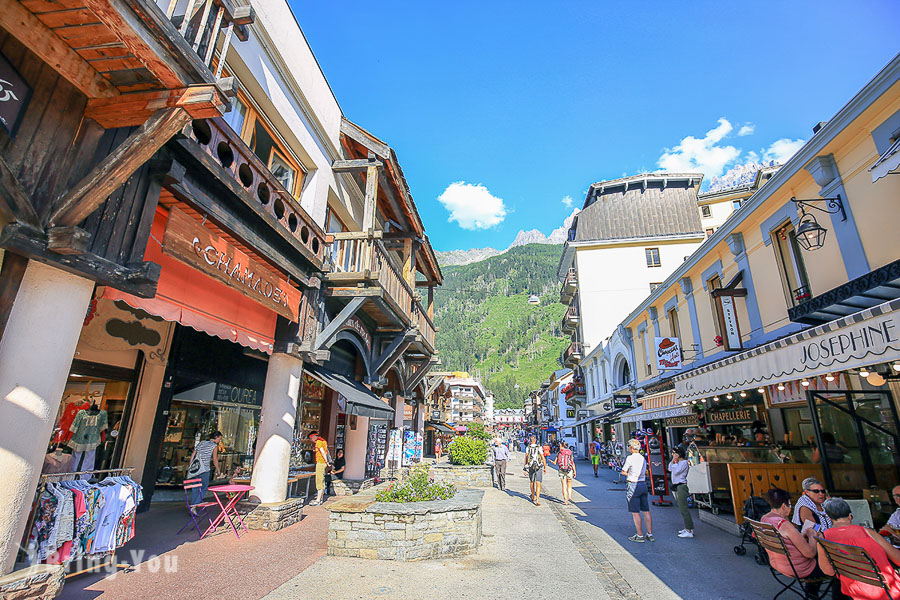 Choosing the best time to hit Chamonix boils down to what you want to do there.
Basically, the most popular thing to do in Chamonix is skiing. And that's why you need to look at the ski season! It starts in November and runs till May. To embrace the best ski condition to shred the slopes, consider heading out between mid-January and the end of March.
Nature endowment of Chamonix is reminiscent of Whistler, British Columbia in the way outdoor possibilities are created by Mother Nature. Just like Whistler,
Chamonix is great all year round. Summer is no stranger to outdoor enthusiasts. From June to September, families with kids and groups of friends venture out to Chamonix for rock climbing, hiking, biking, and mountaineering.
Friendly reminder: Room rates and services skyrocket during the ski season. If you're not a fan of skiing, other seasons besides winter make the most sense. Getting a free pass from your hotel receptionist or travel counter helps you take public transportation to nearby towns for free!
Mont Blanc Unlimited Pass Is Skiers' Best Friend
Listen up, die-hard skiers! You've gotta buy this one if you want a hassle-free ski trip full of enjoyment without breaking the bank.
Why is it?
Mont Blanc Unlimited Pass is the best choice out of three ski passes:
Mont Blanc Unlimited.
Chamonix Le Pass.
Les Houches Forfait.
Mont Blanc Unlimited Pass allows you to visit many attractions with unlimited access! How cool is that? If you're an ardent skier, this pass lets you ski in multiple resorts across three countries including Chamonix Ski Areas, Les Houches St-Gervais Ski Area, Valley floor, Montenvers Mer de Glace, and many more.
Chamonix Le Pass limits you to only Chamonix Ski Areas and Valley floor, while Les Houches Forfait is only valid in Les Houches St-Gervais Ski Area and Tramway du Mont-Blanc.
The price of the pass varies between the first snow rate and high season rate. It's valid within seven consecutive days.
4 Top Outdoor Things to Do in Chamonix: What to Do If You Don't Ski?
Reach the Roof of Europe with Panoramic Mont-Blanc Gondola
As the name suggests, the entire gondola ride is nothing short of jaw-dropping. The route crosses over from France to Italy. Sadly, so many people are confused between this one and the Aiguille du Midi cable car. That's why they don't even know Panoramic Gondola exists!
Well, the ticket price is extortionate but you get what you pay for! The Panoramic Mont-Blanc Gondola connects the top station of Aiguille du Midi in France and Pointe Helbronner on the Italian side.
We had a short walk around the viewpoint after getting off at Pointe Helbronner, popped into the crystal museum before heading back. Each ride lasts for half an hour over a distance of five kilometers.
Soar in the Sky of Aiguille du Midi and Contemplate the Mont Blanc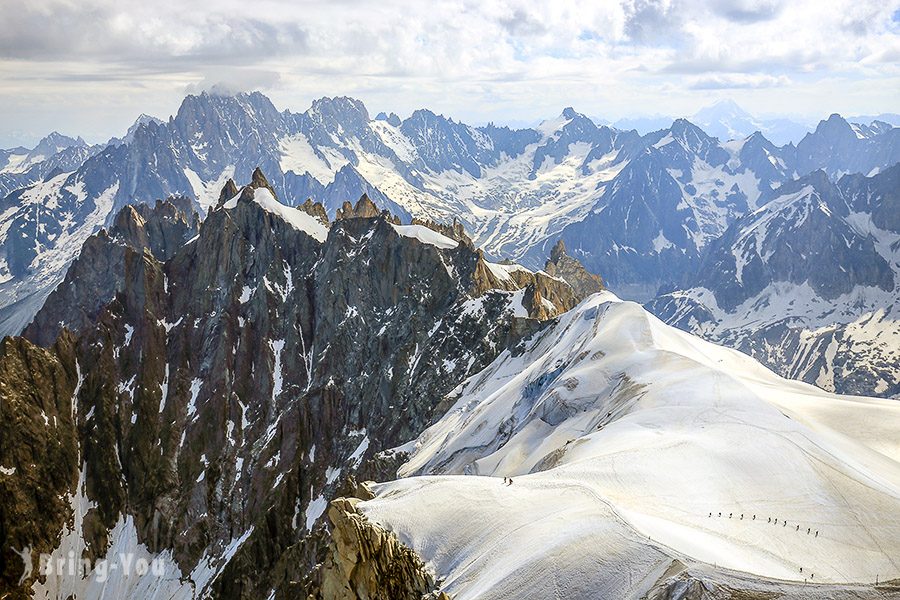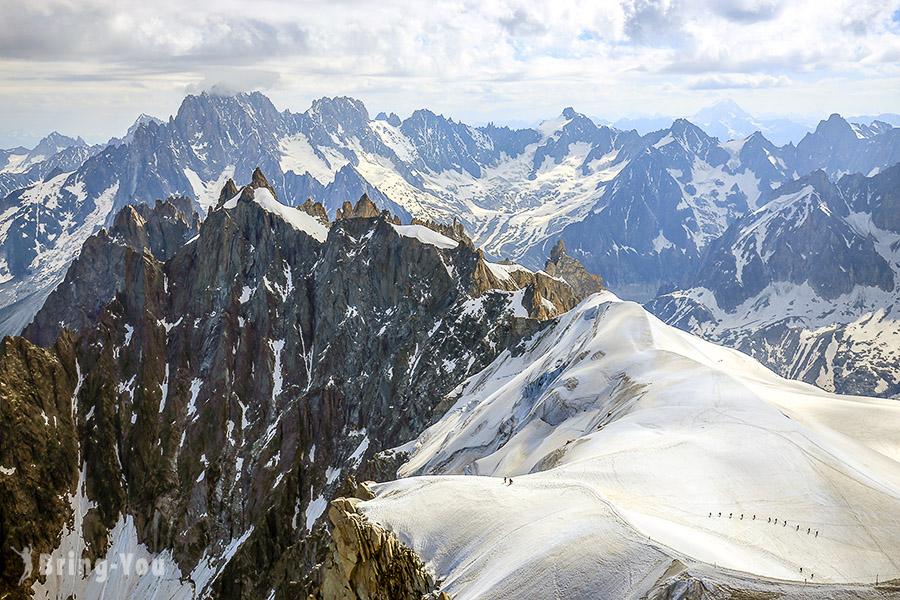 Blending into the epic French Alps, Aiguille du Midi is a mountain destination that you need to ride a cable car to reach there.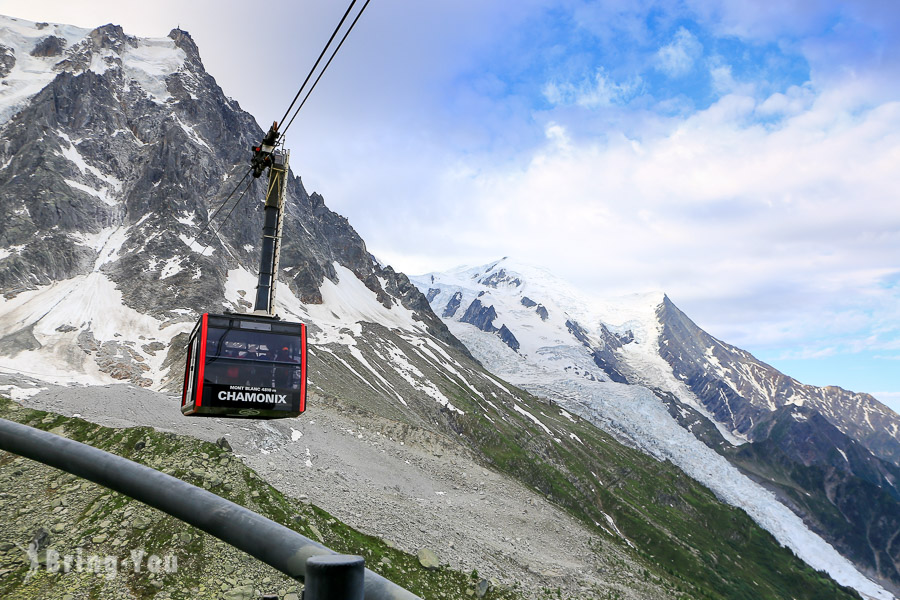 While extreme mountain enthusiasts choose to climb the Mont Blanc themselves, heading to Aiguille du Midi on a cable car is the easiest way that gets you closer to Mont Blanc.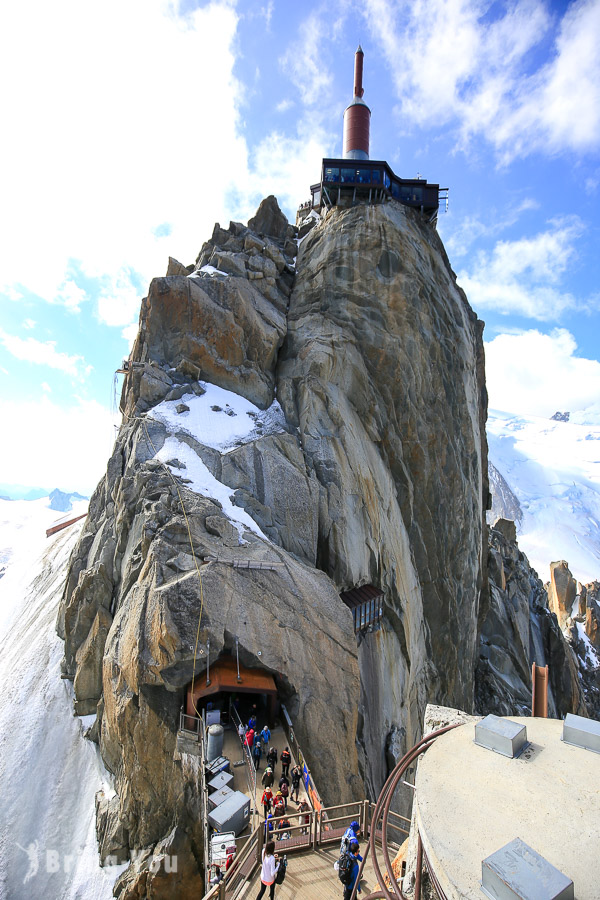 The name is translated into "needle of the mid-day" which is inspired by the sharp, pointy summit reaching for the sky. Imagine walking on the thin line between heaven and earth while viewing the convergence of France, Switzerland, and Italy! You've gotta take a lift to the peak of the mountain and take in this view.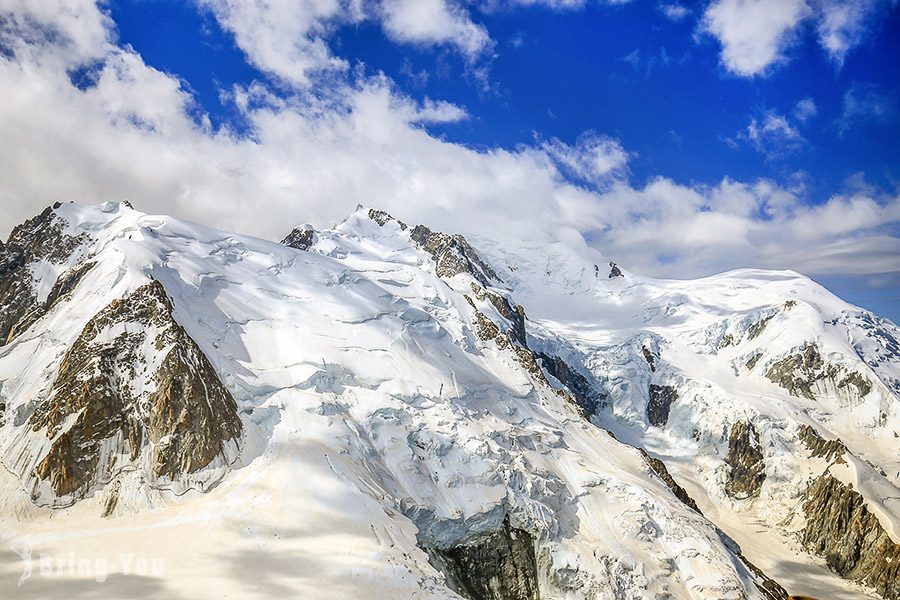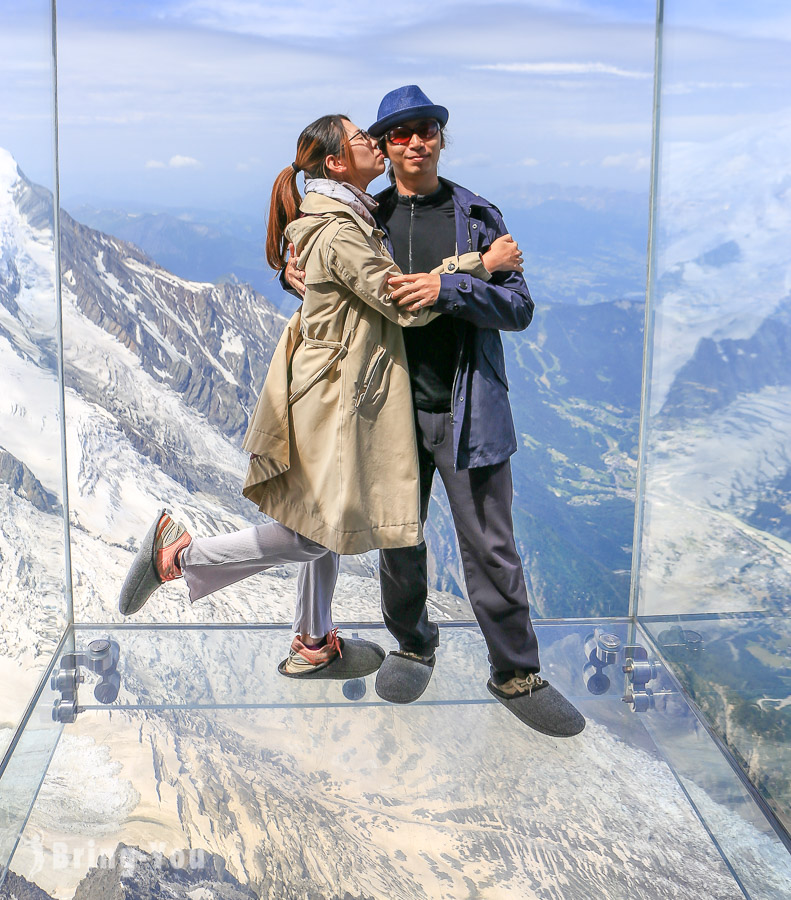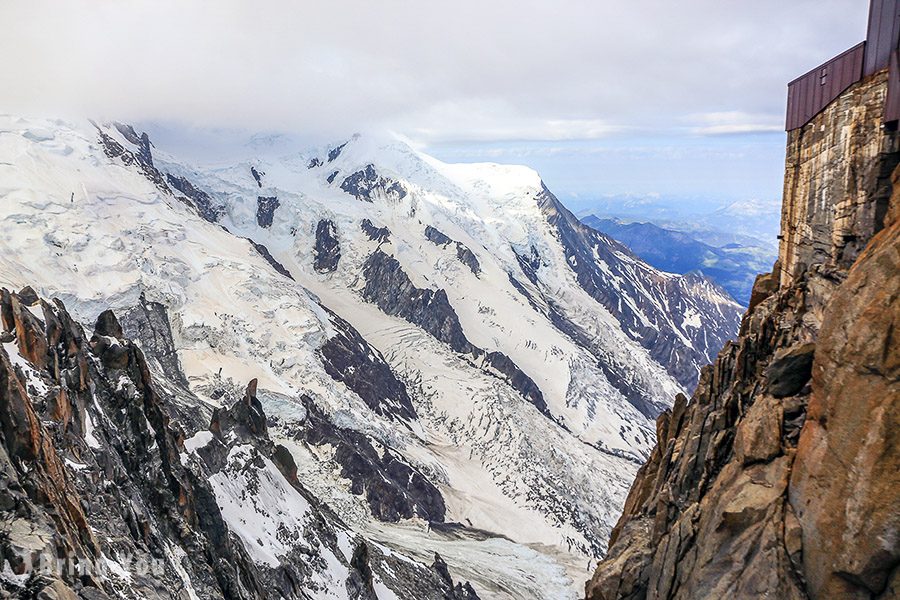 Plan an Epic Après-Ski Session at Chamonix Village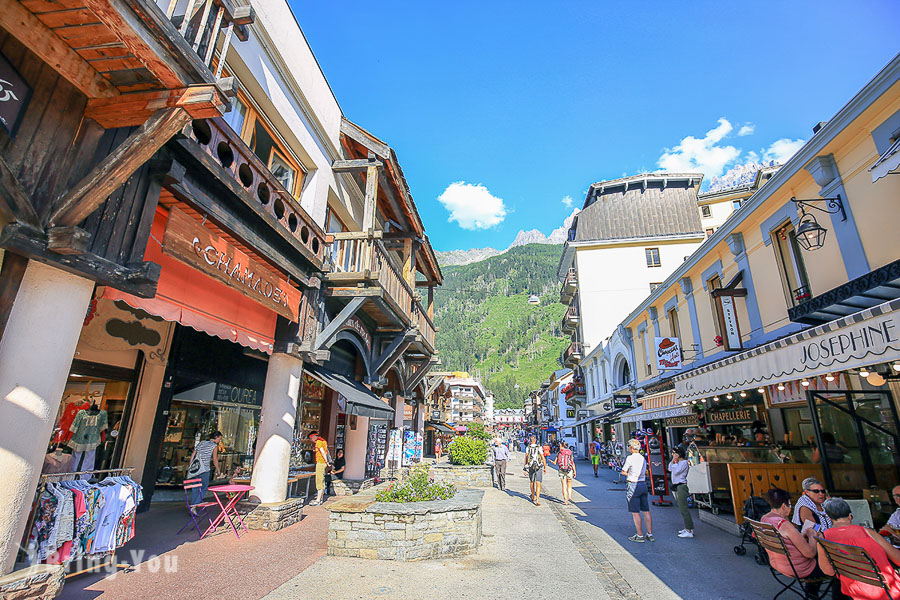 Just like any other ski resort, the quaint and budding scene from Chamonix village center keeps all the best happenings for a chilling après-ski sundown. From riding the cable car, hitting the famous off-piste ski run on La Vallee Blanche, trekking to the mountain huts, and dining in at Chalet de la Floria, the city center is a real deal for an enjoyable vacation.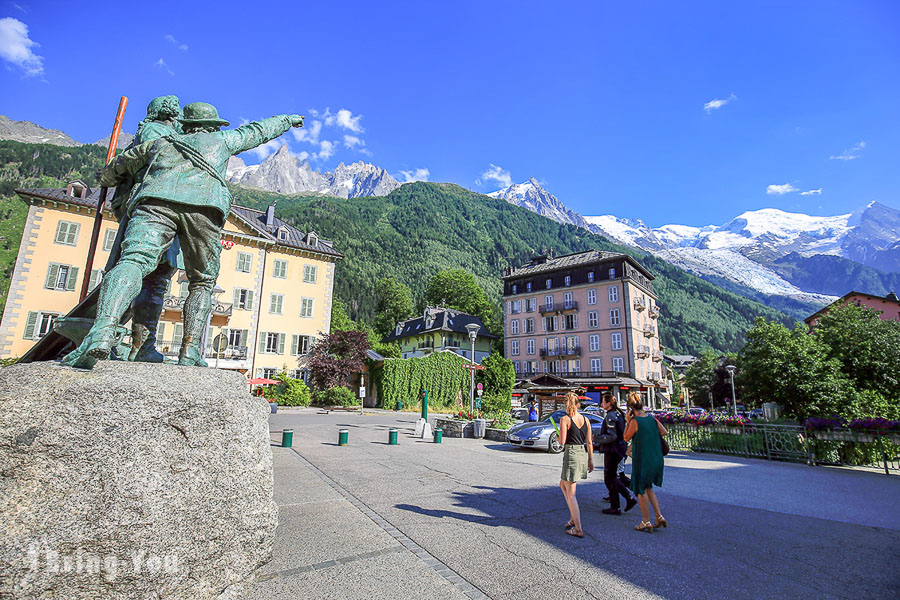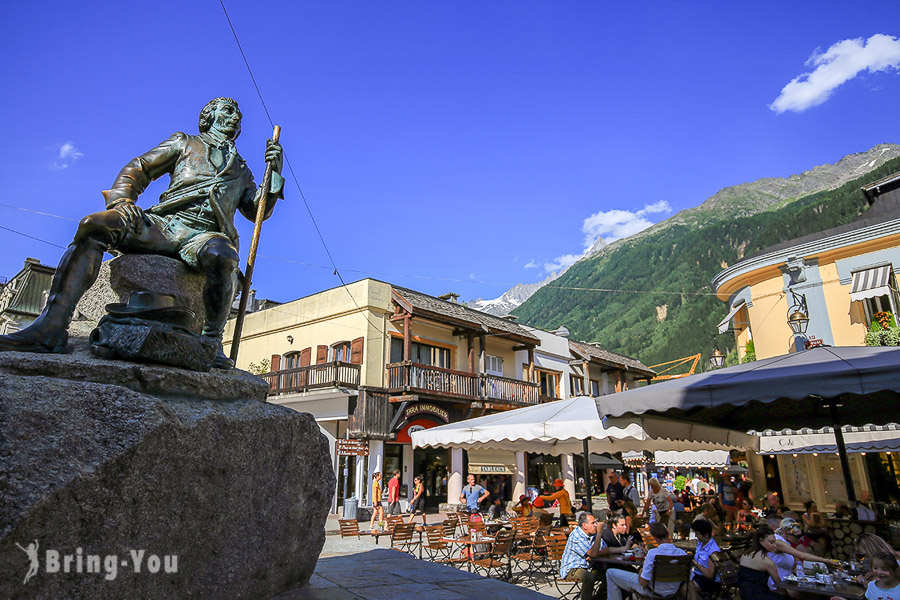 One thing you need to know as a first-time traveler is that the term "Chamonix " is quite abused somehow. Many people attach this term to everything, making it a tad confusing to navigate.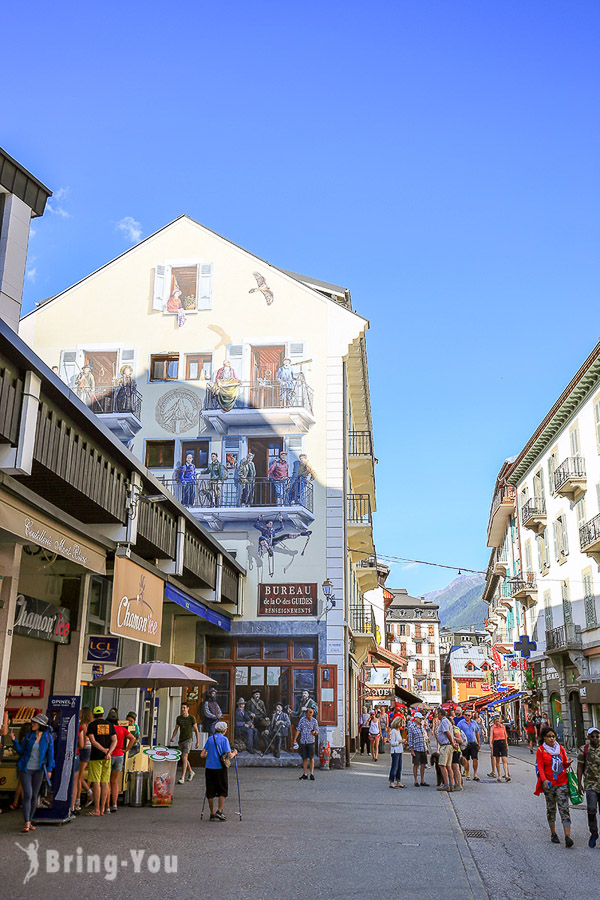 Out of seven villages in Chamonix, you want to stick to the downtown core. For example, Chamonix Mont Blanc is the main resort town. Le Tour is a typical Savoyard village further afield at the back of Chamonix Valley. Then we also have Les Praz, Les Houches, and Argentiere.
Walk on the Sea of Ice at Mer de Glace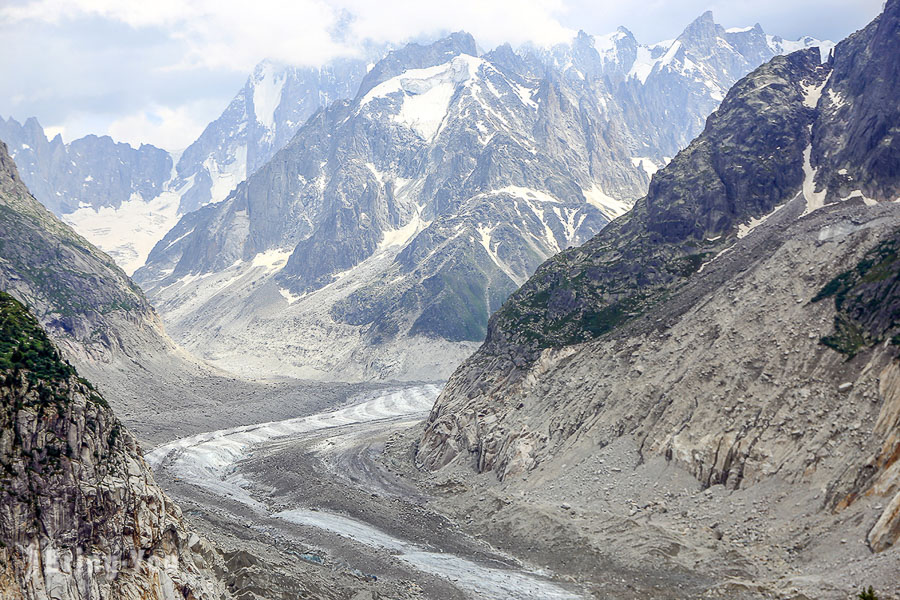 Mer de Glace is the Sea of Ice. And just like the name suggests, this is the largest glacier in France thanks to its dramatic, grandeur mountain range.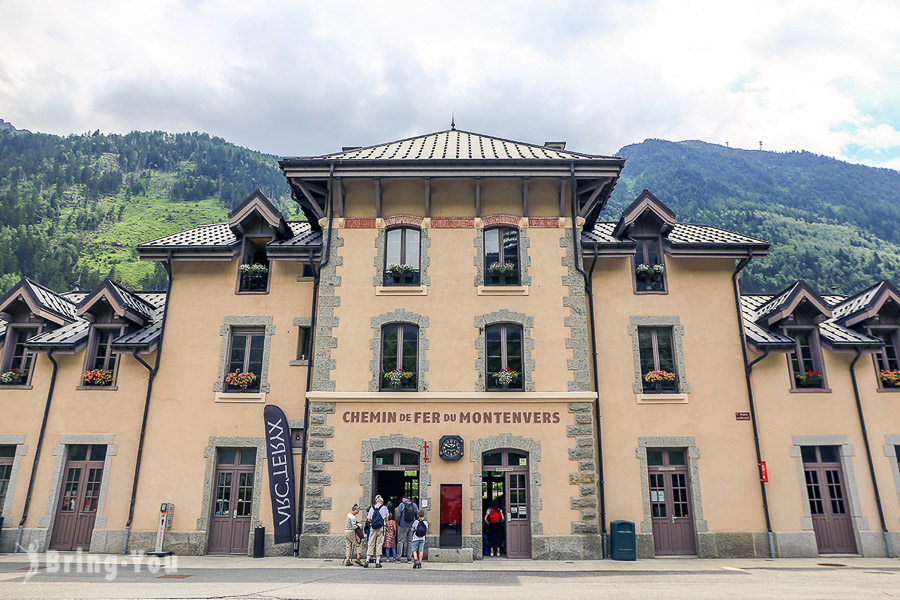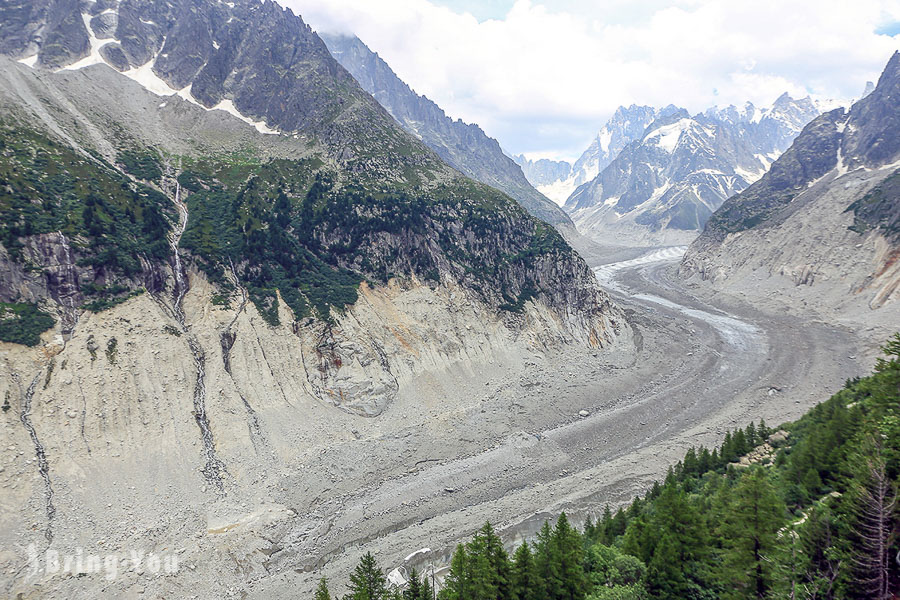 The Montenvers glacier train took us all the way from Chamonix Central Train Station to its alpine stop before we switched to a short cable car ride heading down to the glacier.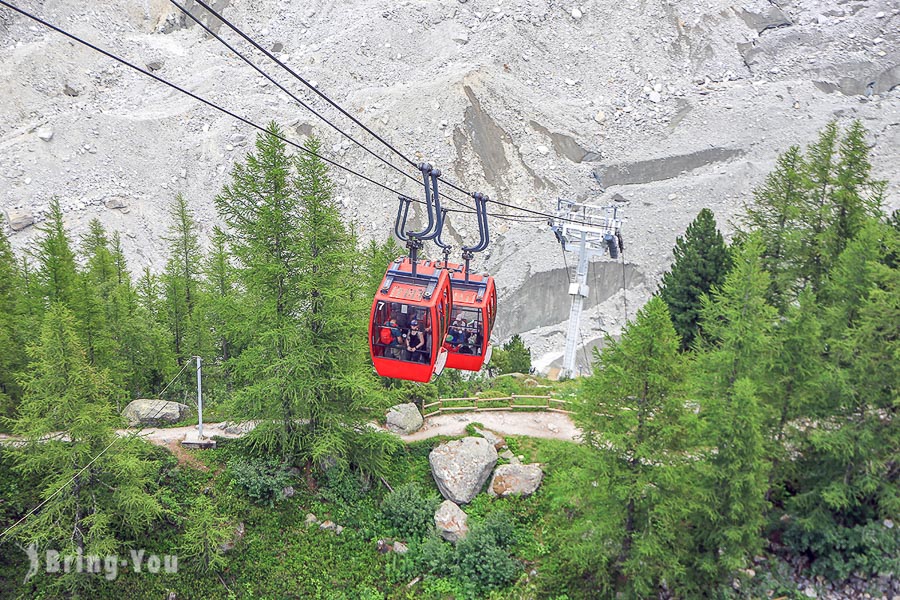 Marveling out of the rustic windows and contemplating at the striking peaks piercing through the sky were fabulous! You've gotta watch your steps when walking on this concrete path. The trip is sadly insightful as you'll see all the signs marking the shrinking levels of the glacier over the years.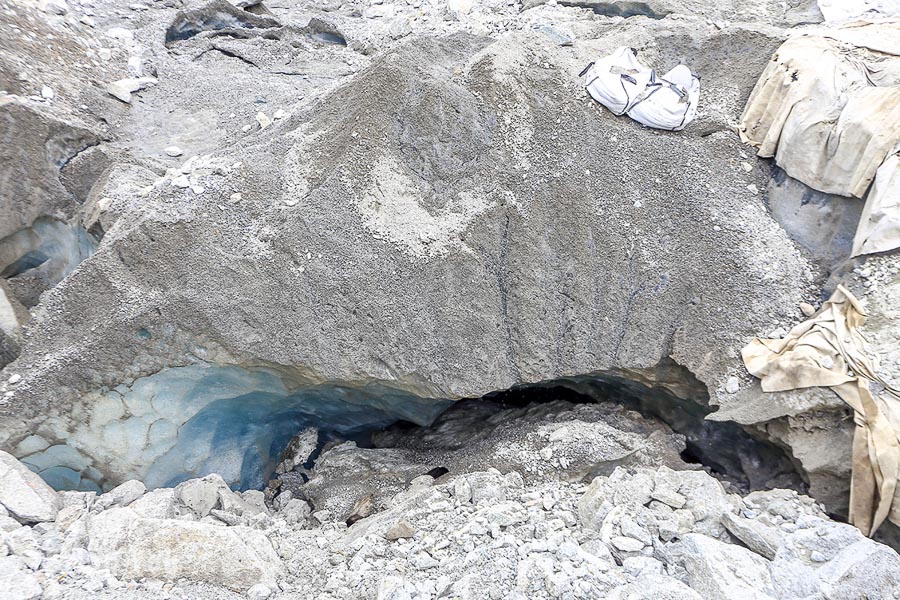 Where to Stay in Chamonix-Mont-Blanc? Our Favorite Hotels and Homestay We Tested and Recommend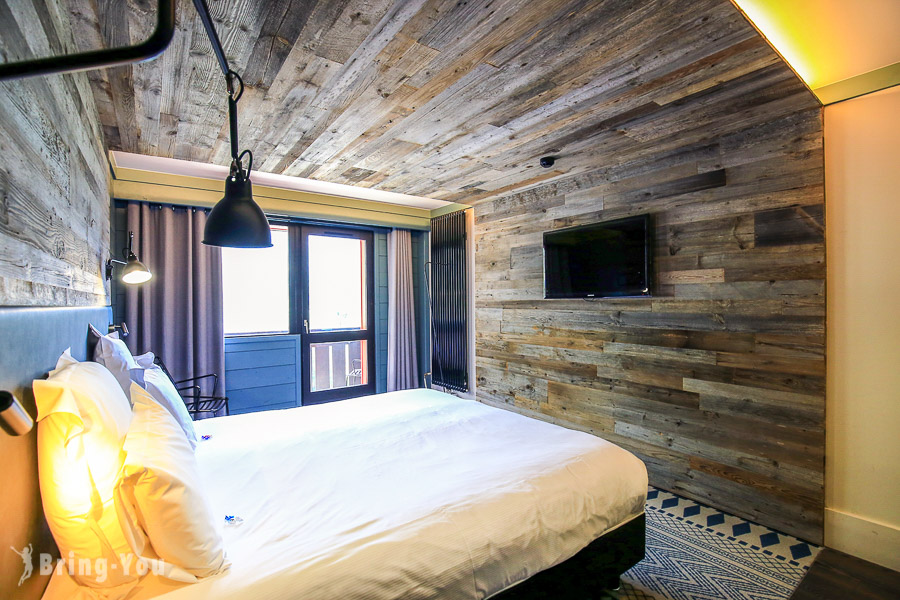 As first-time travelers, we stayed at Chamonix town to keep up with the main actions. Our accommodation is right at the base of Aiguille du Midi since we wanted to be the first ones on the cable car in the morning.
Note that the queue may take you up to an hour to wait to get the tickets and board the gondola. So make sure you booked this stay just like we did to avoid the hassle (and a waste of time)!
This area is the resort valley itself. All the main après-ski possibilities circuit around this core. From bars, restaurants, ski-in/out lodges, and self-catering apartments, you will never get bored!
We always love a room with a sweeping view of Aiguille du Midi or even better, an unobstructed view at the alpine ski resort itself.
We tried one or two nights at different hotels for a sneak peek into what's offered at different price ranges. And the winner of all is always a local homestay.
First of all, the nightly rate is bearable. Second, the exclusive sense of privacy and homey interaction with the host is second to none. Nothing can beat a home-cooked meal!
Stay at the Brevent-Flégère ski area on the northwestern edge of Chamonix if you're a sunshine lover! This area is more on the less-busy side, making space for a stunning view over Mont Blanc.
Les Pélerins and Les Gaillands are a little further afield but still within a short walk from Chamonix town. They are favored by backpackers who don't want to spend too much for a stay.
Wrapping Up: Is Chamonix Worth Visiting?
Do we have to mention it twice? YES (capitalized)!
Well, it's not only about shredding the off-piste routes or beating the trails but access between the ski resort and downtown is also feasible. The lift levels you up to the peak of Mont Blanc in no time.
What else?
Ah, did we mention a bespoke experience at one of the luxury catered chalets? A short walk down the street and you pop into a Michelin-starred restaurant for a ten-course tasting menu! It's fabulous and exclusive.
Don't take our words for it! Book your tickets and check out Chamonix yourself!