Colmar is a postcard-perfect town. Let's be real – If you think about France, Paris shouldn't be the top choice! Colmar and Provence make perfect bases to explore the French lifestyle in your own way. We wrote about Provence in this rural planner's guide as part of our itinerary across the country and you can consult it!
So after we visited the Black Forest in Schwarzwald, we boarded the train and another bus to Colmar. You can join a walking tour around Colmar Old Town and St. Martin's Church in about an hour. A local guide is what you need for an insight into the war and history, as well as how all of these iconic buildings stand the test of time since the Middle Age.
Dig into this handy travel guide to Colmar of France below and buckle up before boarding the plane!
Colmar – A Magical Town behind the Howl's Moving Castle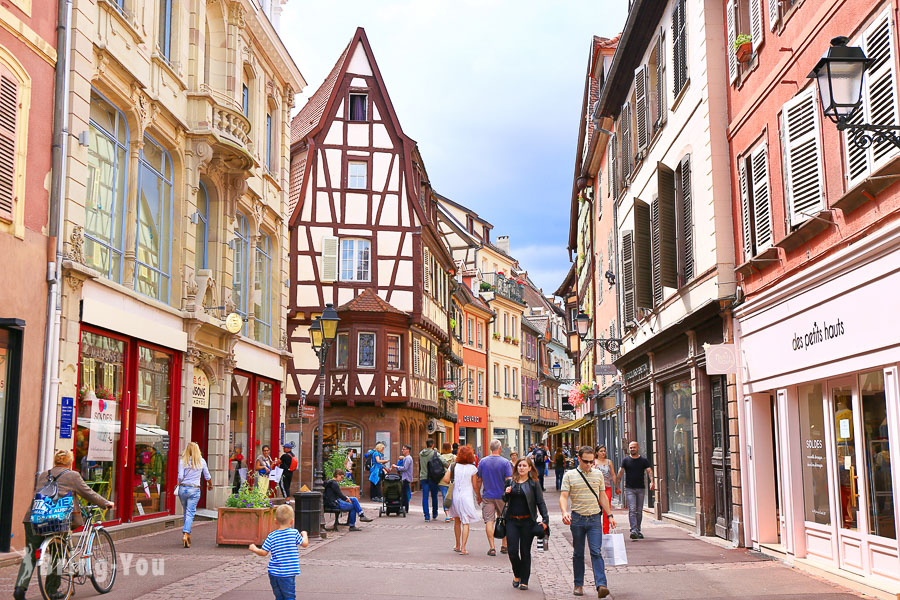 From Howl's Moving Castle to Murders in Colmar, Colmar is a timeless inspiration for movies and animation. We were strongly amazed at the wooden structures and diligent color scheme from Howl's Moving Castle aired for the first time in 2004.
And just like many kids out there, we loved every beautiful and fairytale flair to it. These surreal villages, the winding broken cobblestoned streets snaking under the half-timber houses demand attention of all France lovers.
While many fellas stick to Paris or Provence, we decided to go off the beaten path to this quaint, dream-like town in northeastern France to live up to our long-lost childhood (yes – the movie).
One thing we know for sure is that one night is never enough for Colmar. How can we resist that heavenly Riesling and tons of cinematic corners in town? Don't take our words for it! Keep reading and you will see why!
Let's Take a Sneak Peek into Colmar's History
Can you believe that this dreamy town survived the most intense and unconventional wars? Not only are we talking about WW2 but also the Franco-Prussian War as well as the invasion of Louis XIV.
Bombarding and swords can't mow down such purity and authentic pieces of art. And today in the 21st century, the colorful bouquets lighting up those stoned bridges or hanging under the windows still live on, proofing the timeless beauty that Colmar has to offer, despite the darkest days in history.
How to Get to Colmar from Zürich and Freiburg, Germany?
The little town of Colmar is on the borderline between France and Germany, and that's why we decided to hail a daily train from Freiburg to Colmar. We headed out to Freiburg HBF station bound for Breisach. It was a quick train ride for 25 minutes before we got off at Breisach Bahnhof, hailed bus 76 onwards over the Rhine River to Colmar.
Our friends once departed from Zürich, Switzerland and their journey was about the same duration. You start at Zurich Hb station bounding for Basel SBB station in under an hour. Disembark and switch to another line leaving for Colmar in 45 minutes.
All of these tickets are available online with multiple trips operated every day. We booked everything online to avoid hassle, which also means you don't have to keep too much cash on the road! So opt for that!
5 Top Things to Do in Colmar: A Day Trip around Colmar Old Town
Immerse in the Photo-Perfect Petit Venice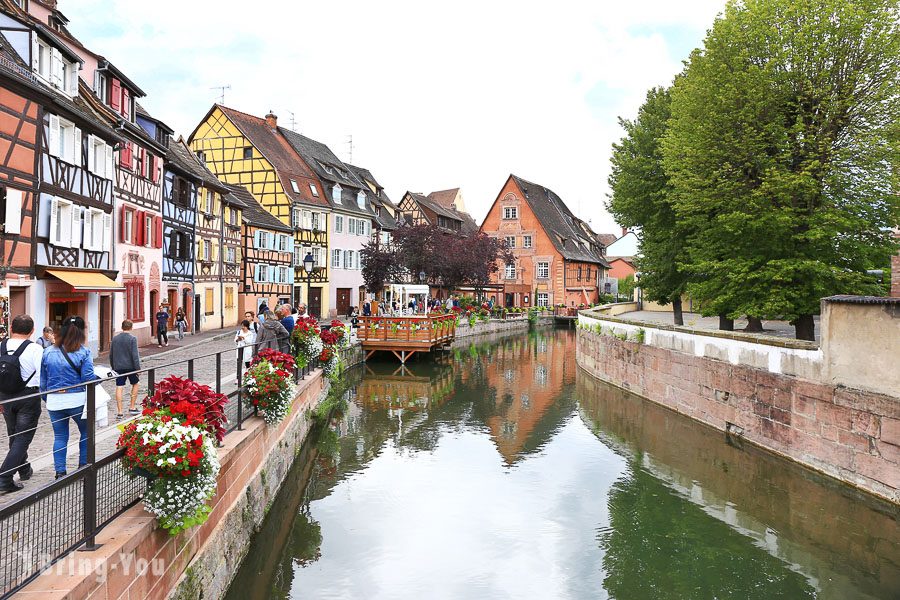 Welcome to Petit Venice, the bloodline of the quaint, dream-like town of Colmar. Probably the most iconic attraction is the romantic canal running down the pine of this superbly preserved old town.
Once in a while, this mild canal is woken up by a cruise plowing through the bridge. The alignment of timber-framed wood houses compliments the distinctive blend of Germanic and French architecture, sending you to a miraculous sentiment of childhood and animation.
Dine-in at JY's Restaurant
Shining in the heart of Petit Venice, this Michelin-starred restaurant envelops its essence behind a trompe-l'œil façade within its inviting setting! It's not only the exceptional architecture that makes it a household name, but also the food and everything that's paired with it.
We popped into JYS for a romantic lunch, blended in the old town vibe and never wanted to leave. All the food is more than just fine. It's a savoir-faire – something we always expected from the French. From cooking, seasoning, to presentation – this is a real symphony coherent with the overall construction.
We went for a delightful serving of Foie gras frais de canard, sprinkled with pepper before washing it down with the late harvest Pinot Noir, finished with a light dessert. Any red wine makes a great pairing. If you're unsure what to order, consult the waiter for something that compliments the texture of the food you have.
Visit the Pfister House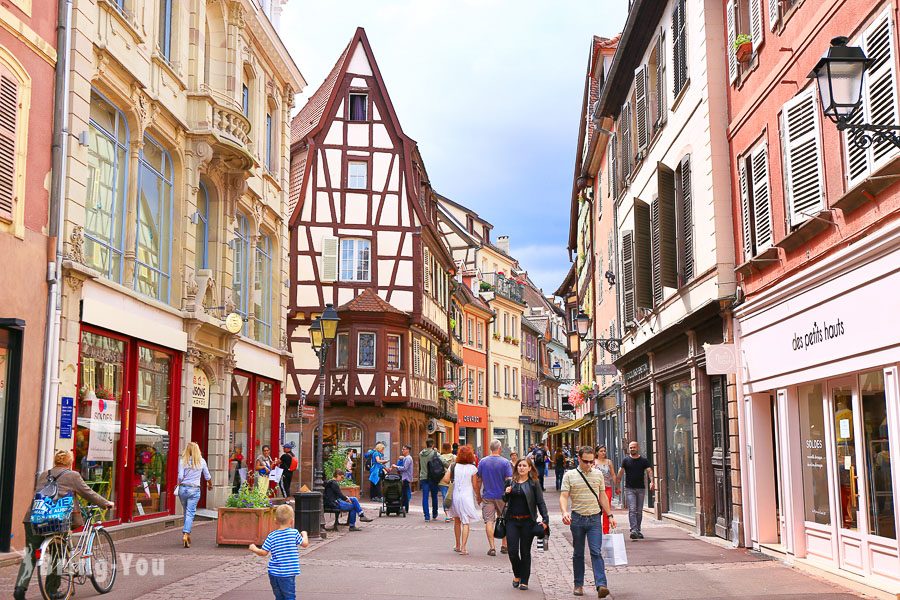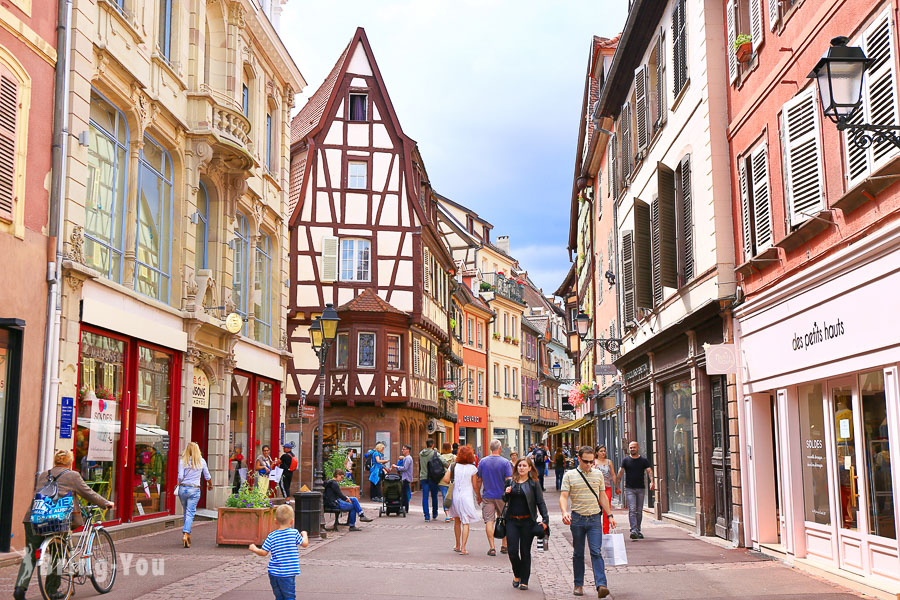 Going strong since 1537, Pfister House is a striking residential structure that stands the test of time. The mansion is a collision between typical medieval and Renaissance flairs. Look at the wooden railings, the well-framed windows, the washed-out carvings on the walls – all nestled under the octagonal towers!
What fascinated us is the QR code right at the entrance of the mansion. What you want to do with that is scan your phone and activate a virtual map of all the buildings and sites around Colmar.
Have Some Spooky-Eerie Time at the House of Heads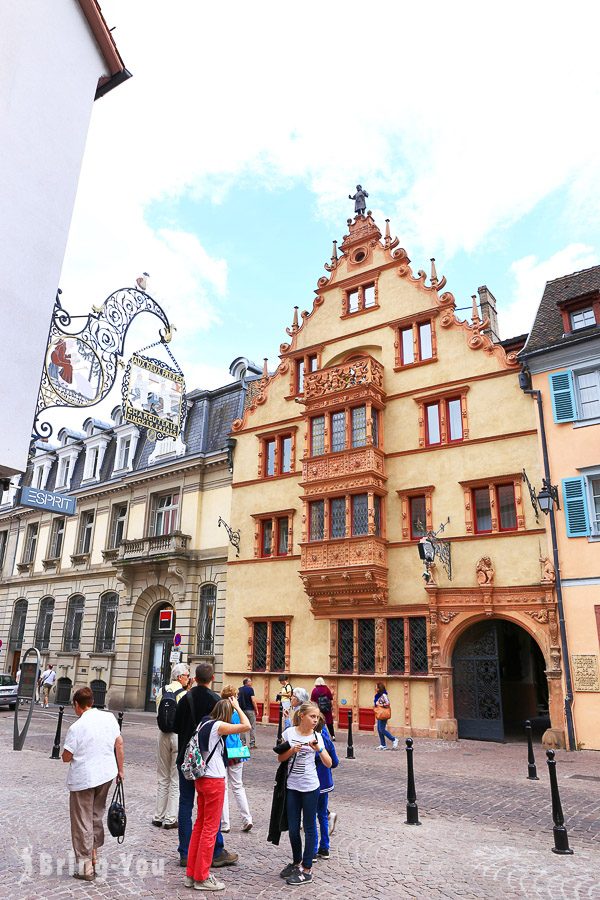 The house is truly infused with a spooky vibe! The real headliners of the house all boil down to the façade, where 106 sculpted heads cling on the upper walls. This brilliant mansion dates back to the beginning of the 17th century.
We didn't have a chance to spot each sculpture up close because such skill requires decent binoculars. So here's a challenge for you! Zoom in and try to spot a monkey playing the drum and a man with a bandaged eye! It may take you a while but it's a fun game to engage with this creative building!
Enjoy the Smell of the Good Old Days at St. Martin's Church
No matter where we visit, if there's an ancient church at its heart, it automatically becomes a striking piece of art pulling in hordes of visitors a day. Things go the same way for St. Martin's!
The moment we admire the rustic, washed-out bricks on the outside, swept out fingers on the walls, all the good old days rushed back. This holy and nostalgic feeling was sent down to our spine and revoked our minds.
St. Martin's Church is as old as the earth! Well, at least not quite but it's been going strong ever since the debut in 1365. Take it slow, walk into the church, find your inner peace, and meditate on God's blessings!
https://www.getyourguide.com/colmar-l2924/alsace-villages-full-day-tour-from-colmar-t130551/
When Should You Visit Colmar, France?
Summer is always the best season because you want that crisp air and mild sunlight brightening up the colorful buildings. Apparently, the hectic price is part of the high season. So if the crowds and extortionate prices are not where your heart is, aim for early autumn and late spring season!
Capital of on the Alsatian Wine Route
Being the lead on the Alsatian wine route, Colmar is no stranger to sommeliers. The height of summer demands attention on its German Riesling, Pinot Noir as well as the wide-open range of Cremant d'Alsace.
Looking to sample Colmar's finest bottles? Head out to Japadeunon or Le Cercle des Aromes! Or even better, spice it up with an outdoor tour to some of the world-renowned vineyards on a wine tour!
Pair Your Wine with These Colmar Culinary Goodness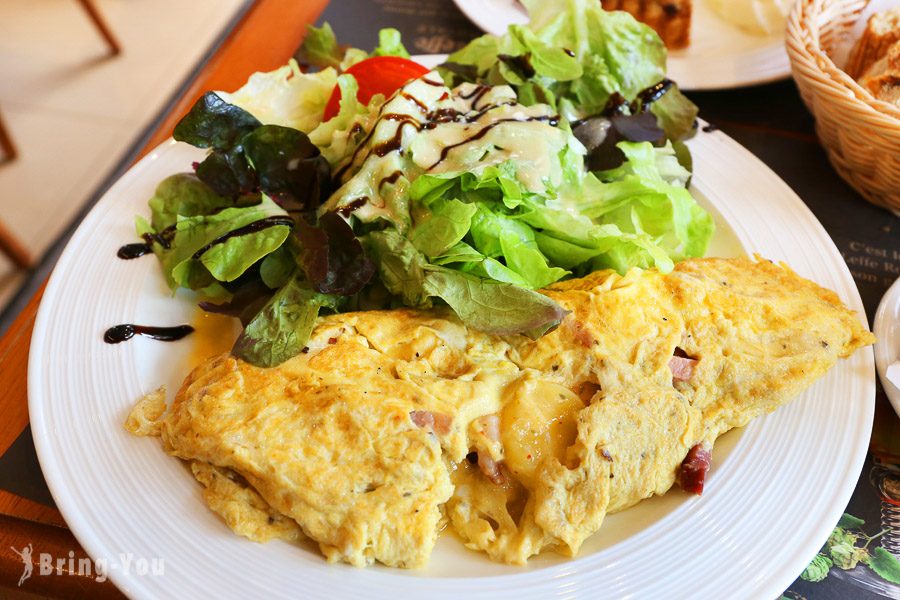 Wine makes a great pairing with culinary. As we've already browsed some of the best places to find this nectar of God, let's jump in to see which Colmar dishes you can't forget!
Baeckaoffe: this meat goodness is marinated with white wine.
Foie gras: this is literally the last thing you want to forget! This incredible French gourmet the world always talks about actually originated in Strasburg.
Le coq au Riesling: your chicken delight is here! And yes, Riesling is in the game too!
Our Favorite Hotels to Spend Your Nights in Colmar
Best luxury hotels in Colmar:
Les Suites Du Cygne
L'Esquisse Hotel & Spa Colmar – Mgallery
Best mid-range hotels in Colmar:
Hotel Le Colombier Suites
Hotel Le Marechal
Best budget-friendly hotels in Colmar:
Hotel Saint-Martin
Appart hotel Odalys Colmar La Rose d Argent
Wrapping Up: Our Vacation Ideas to Team Up with Colmar
Cross the border to visit the famous Black Forest in Schwarzwald.
Ride a train bound to Strasbourg and explore its medieval fairytale-like town.
Spend a few nights in Zurich, the world's most livable city.
Board a train or fly to Paris and connect with your next flight to other cities in the Schengen area.