Sandwiched between the delirium of summer and the looming chill of winter is the fiery season of autumn.
Autumn in South Korea is a blissful season. It doesn't have the bustling color mashup of spring florals, but it's a season to cherish, reflect, capture photos, and get ready for the upcoming festive season.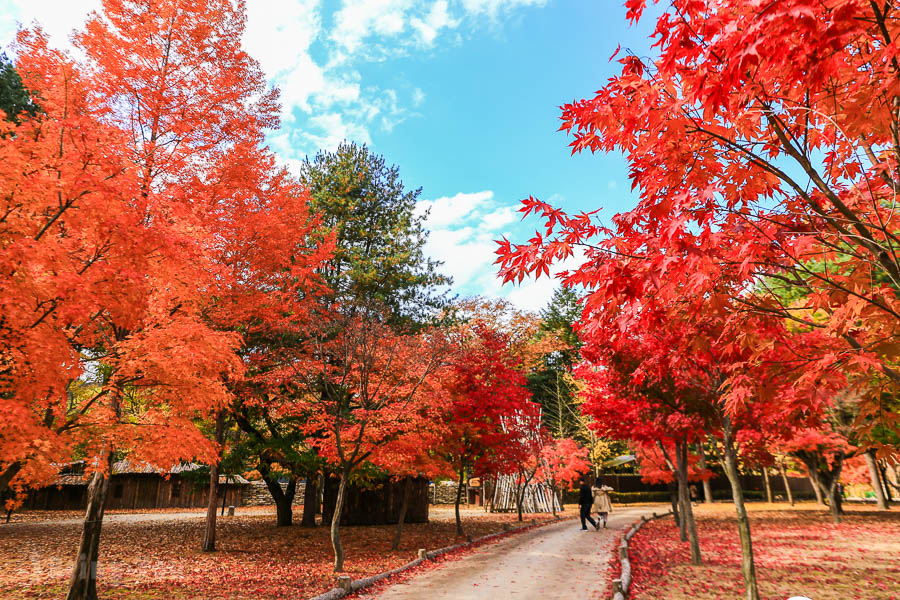 Nothing sounds better than checking the most famous foliage destinations in Korea when autumn comes. When the brilliant fall foliage takes over the cities, maple, ginkgo, and pine trees compete for your attention. It's time to live up to the hype with these ten scenic spots to drive, hike, and see autumn leaves in South Korea.
Not to mention : 15 Best Things to Do in South Korea for a Local Experience
What to Expect before Venturing out to Korea to See Fall Foliage?
Forecast and Clothing Tips
Fall Foliage Forecast in South Korea 2022
Wondering what month is the fall foliage in South Korea? Here's a sneak peek into the autumn leaves forecast in the country.
The first wave of autumn leaves sweeps through Seoraksan on September 29, moves on to the central region in mid-October, and ends up in the south later in the same month.
Get ready for the peak fall foliage around Seoraksan on October 21. It lingers to the end of the same month in the central region and makes a final stop in the south within the first week of November.
A Handy Packing List for Leaf Peeping in South Korea
Here comes the next big question: what to wear during the autumn in South Korea?
Well, wearing thick clothing is not needed but layers are important. Start with a Tee or long sleeve top, put on a light jacket or warm sweater, finish with a scarf, a hat, and boots or sneakers to complete the whole outfit.
10 Best Places to See Autumn Leaves in South Korea
Namiseom – Nami Island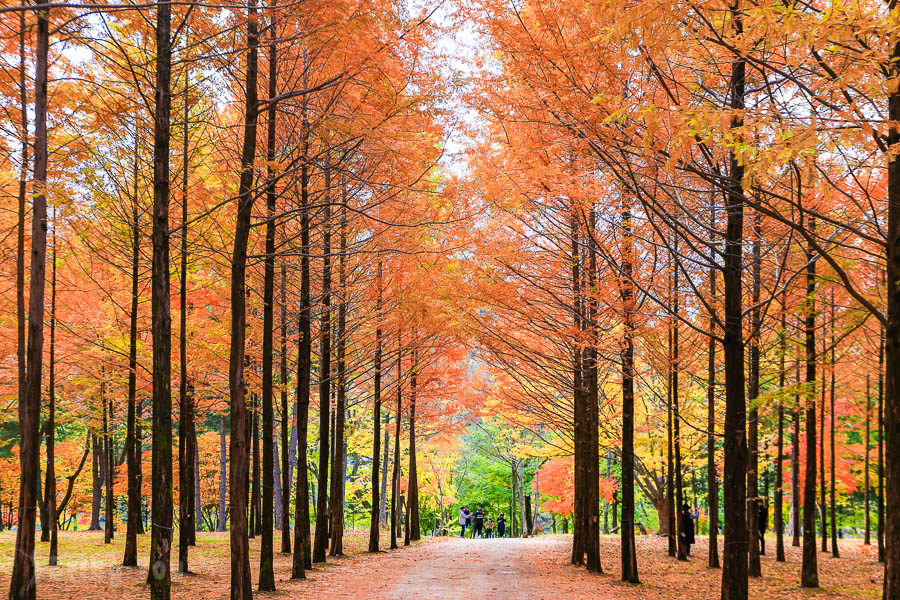 On any given breezy day from late October till early November, you'll see hordes of visitors and photographers heading out to Nami Island to catch the magnificent autumn scene.
Nami Island is one of the best spots near Seoul to admire the fall foliage, and it's only a short drive from the capital city. If we have to pick a place that outrivals the autumn scene in the neighboring country Japan, it would definitely be Nami Island.
When green, golden, and burgundy red leaves are interlaced, the whole island turns into a dreamy paradise that you never want to leave.
I Joined "Chuncheon Day Tour from Seoul", although it lasts 12 hour which was quite long, but overall the experience was awesome.
Garden in the Morning Calm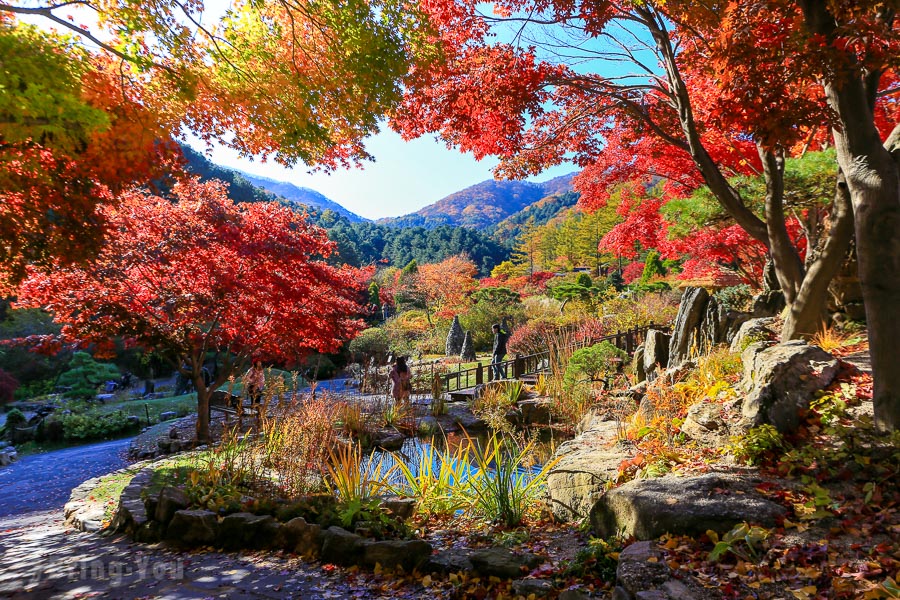 Hop on an hour's drive from Seoul heading eastbound, Garden in the Morning Calm is our next favorite place to go leaf-peeping when autumn comes. We stopped by this arboretum on the way to Nami Island, and we instantly knew it was a wise move!
Flanked with Japanese gardens and temples swathing the foot of the mountains, the Garden of the Morning Calm looms out as a hidden paradise on earth. The entire scene seems as if it steps out from a children's coloring book, with a sweeping range of all shades of color coming into play.
Seoraksan – Seorak Mountain, Gangwon-do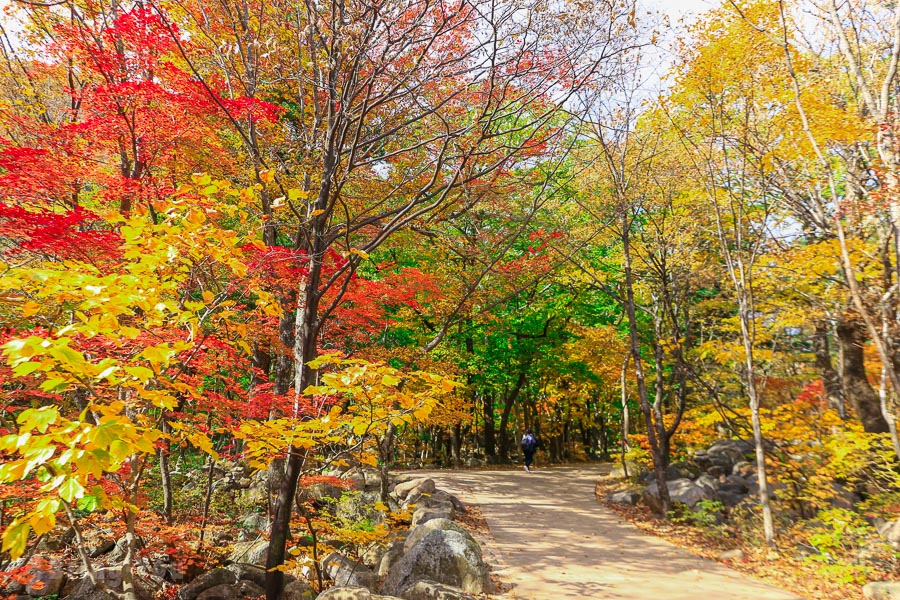 One of the three highest mountains in Korea plays host to some of the most dramatic scenes of autumn leaves. Let's make a day trip from Seoul to Seoraksan and have yourself in awe when the mountain is soaked in the vintage orange-brown background of maple leaves.
Seoraksan is a national park itself, and you can easily spend a full day hiking up and down the rugged mountain ridge, ride a cable car, or reflect at an ancient temple. You can hail a bus, take a three-hour car drive from Seoul, or join a day tour as we did to get to Seoraksan.
Naejangsan – Naejang Mountain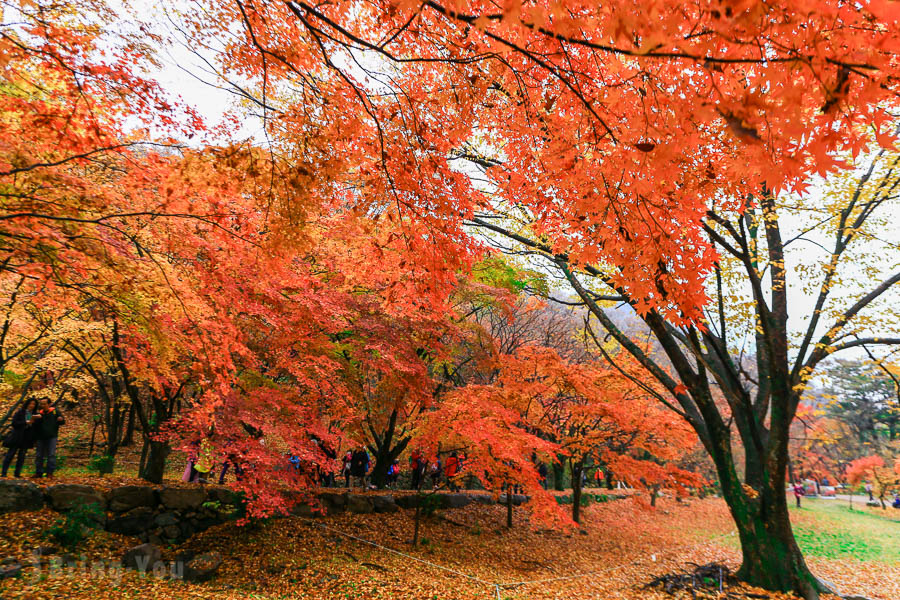 The pure joy of leaf-peeping in Naejangsan is when you admire the medley of those burning colors fringing a cascading waterfall. Get ready to be consumed by layers of forest canopy that turn into a sea of the fiery palette!
Bring a drone if you can because the bird's eye view of the mountains blanketed in autumn leaves is the last thing you want to miss. There's a tiny mild lake dotted at its heart, sending a peaceful vibe to reflect and cleanse your mind.
One thing you need to know before setting out is the distance between Naejangsan and Seoul! A car drive may take somewhere around three hours, so plan accordingly! Or join a day tour as we did with a responsible and professional guide leading you to the best spots.
Gyeongju, North Gyeongsang Province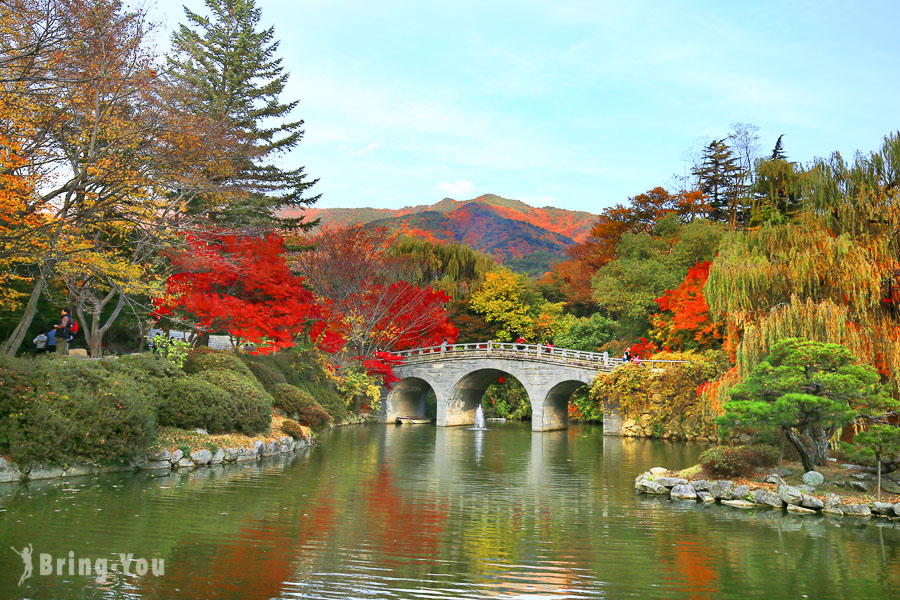 What we like about the autumn scene in Gyeongju is how every corner blends perfectly into the bigger picture of the autumn atmosphere.
Gyeongju doesn't have the dramatic sentiment that takes your breath away, but you will feel a sense of peace when you walk around the bus stops, take a long walk by an empty road, or get lost in an endless rice field.
We had a chance to stop by the Bulguksa Temple the day we were in Gyeongju, and it was mind-blowing! It had us in awe when we looked over the bridge that was soaked in the sea of autumn leaves. The mountain far behind serves as a stunning backdrop of the area. And the whole scene looked like it stepped out of Chinese ink and wash painting.
Feel Joyful Like Me:This is the Day Tour from Busan to Gyeongju I Joined.
Huwon Secret Garden at Changdeokgung Palace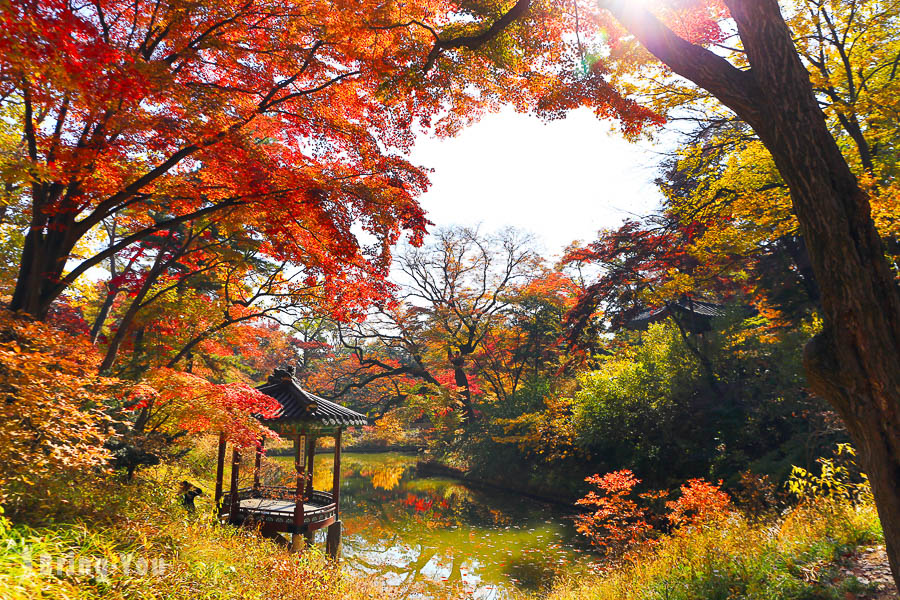 The rear garden by the side of Seoul's most talked-about historical palace is one of the best places to see fall foliage. Be a Queen for a day as you stroll in the long-gone Joseon-era royal courtyard.
A walk around a quiet pond opens a door into a world of magnificent plants and trees. Huwon beholds a riot of walnut, white oak, plum, ginkgo, and pine trees competing to steal your attention.
Stop by the pavilion to rest your core, and soak in the dreamy paradise to decompress from the hustle and bustle.
The only thing you need to note is that you've gotta reserve an official guided tour here to visit the Secret Garden, while the palace grounds are open for tickets.
Deoksugung Palace, Seoul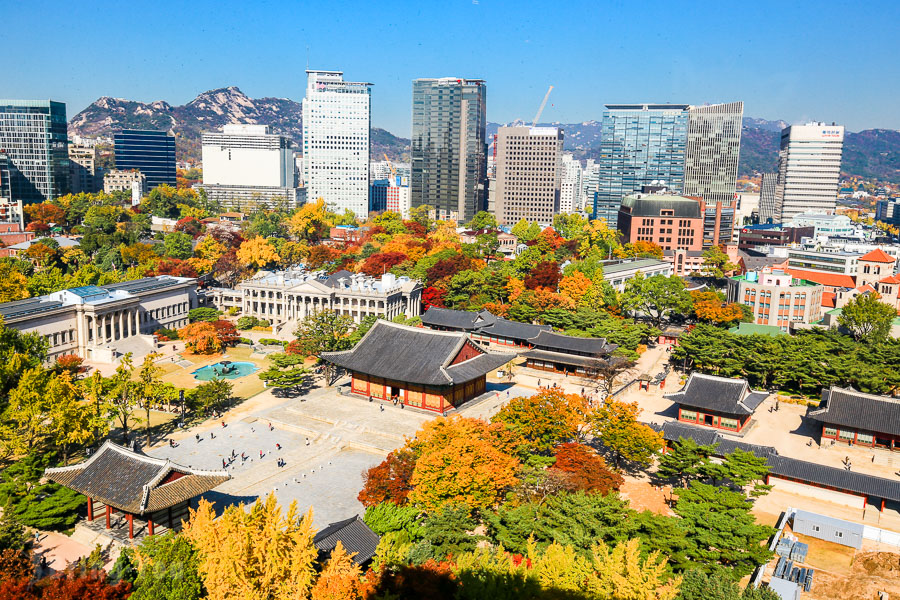 Also known as the Palace of the Crown Prince, Gyeongbokgung comes into play as another great spot to watch fall foliage in Seoul.
The scenic Stonewall Walkway skirting the palace attracts a great number of photophiles hunting down the flaming shades of striking yellow, orange, and red. The walkway itself is one of the 100 most beautiful roads in Korea.
After beating Stonewall Walkway, make your way to the Jeongdong Observatory next to the palace and capture the autumn cityscape from this vantage point.
Gyeongbokgung Palace, Seoul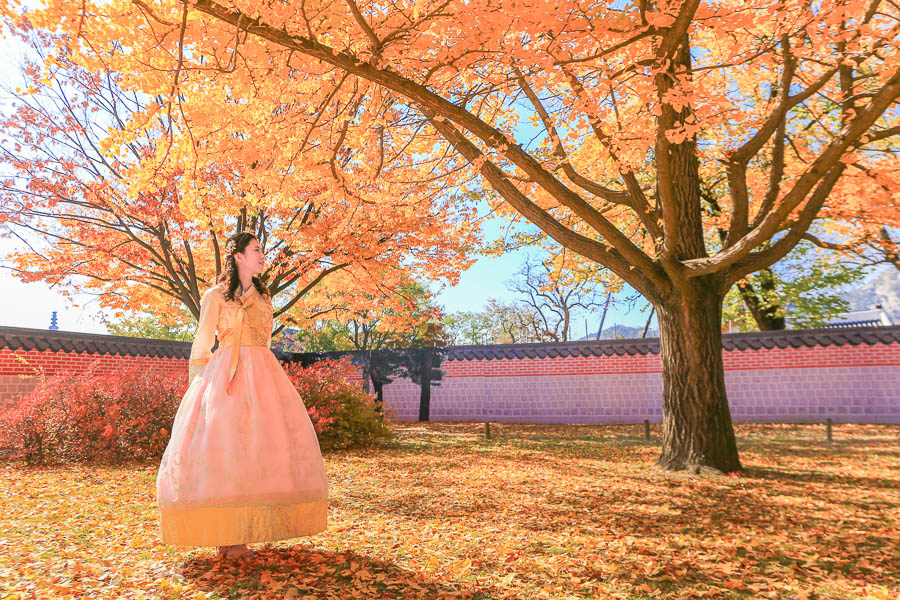 Going strong since the late 14th century, the Gyeongbokgung Palace is always a big hook with its mind-blowing ancient architecture.
On any clear day, you'll see an influx of visitors dressing up in traditional costumes to benefit from the royal background for their Instagram shots. But nothing can beat the charm of autumn and spring. A mashup of ginkgo and maple trees line up to make a golden carpet. Stepping on the crunchy leaves as you beat around this massive complex is pure joy.
If you can, put on a traditional costume to experience a day in the life of a Korean princess!
Ewha University, Seoul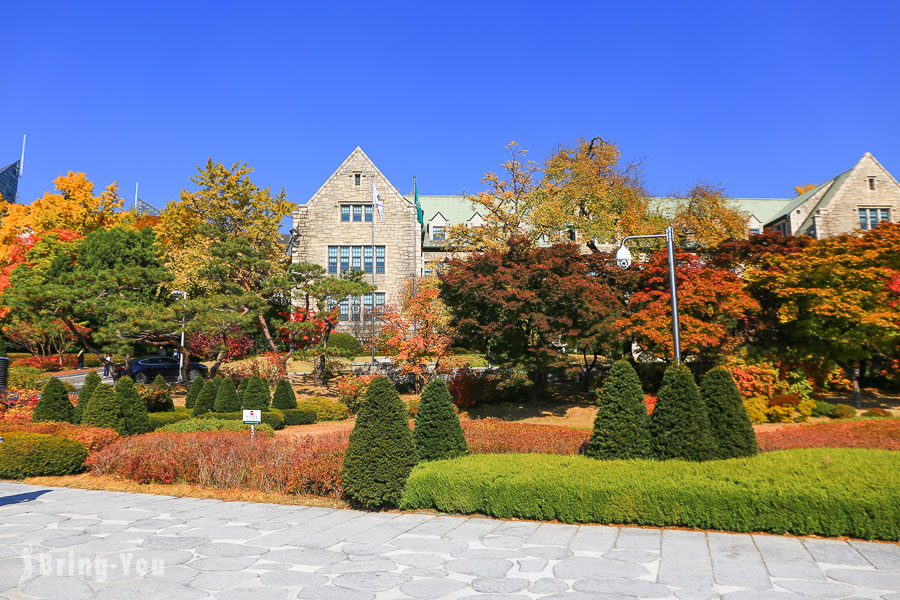 Do you know what it's like when the meticulously manicured garden comes in pair with the fiery autumn leaves? It's an incredible sight to behold.
The ginkgo and maple leaves take turns to show off their proudest fall beauty. Even the campus itself is a hive of outdoor leisure activities. If you're short in time, stick to the southern entrance of the campus and you already have a whale of a time there.
Check out the nearby streets to end the day with retail therapy. There are women's clothing stores, accessories, and beauty supplies to max out your credit card.
N Seoul Tower and Namsan Park, Seoul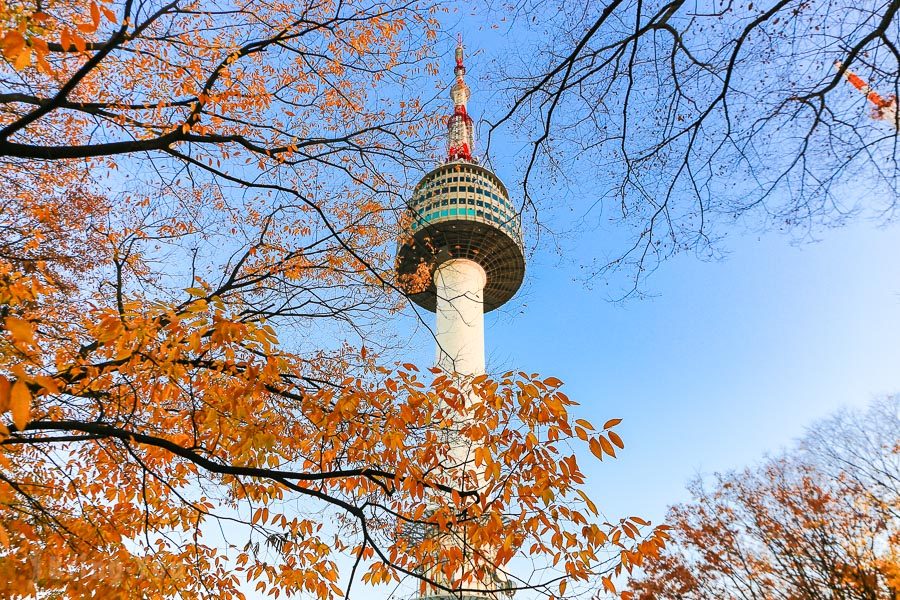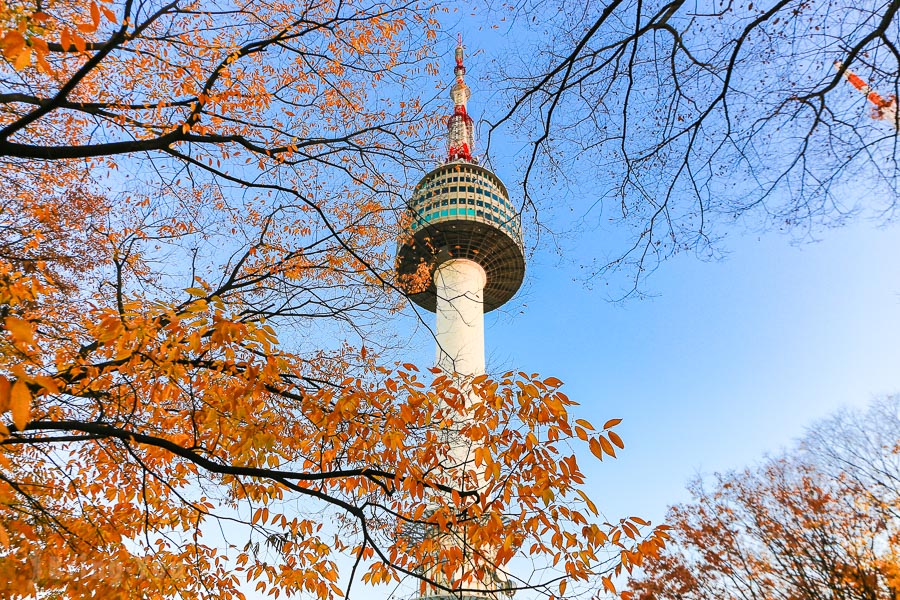 Known as some of the most famous landmarks of the capital city, the N Seoul Tower and Namsan Park are always flooded with visitors. But if you want to try something new the next time you're back in Seoul, let's ride a cable car all the way up to the top of N Seoul Tower and enjoy the autumn leaves flanked underneath!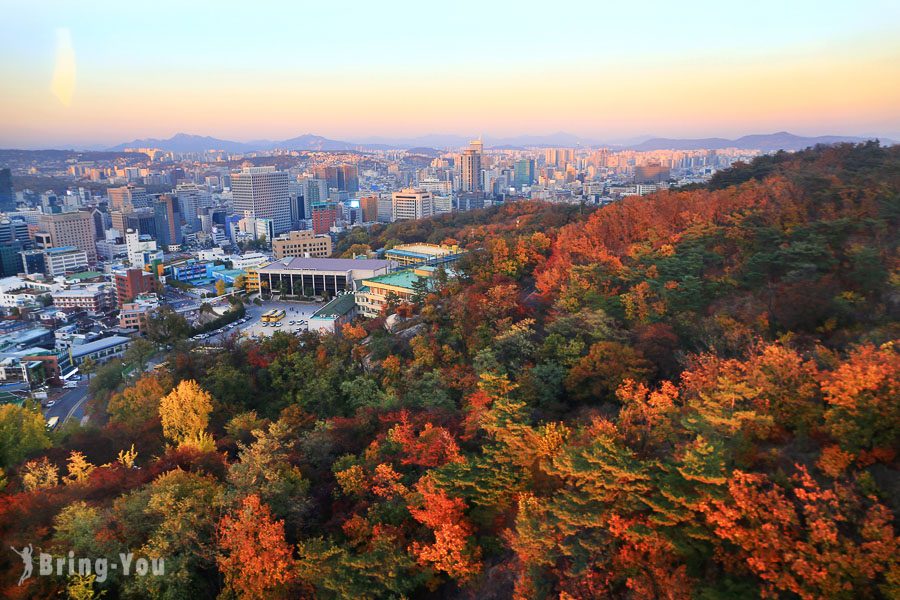 Fall foliage encompasses the entire Namsan Park, with the tower piercing through the sky as its most iconic highlight. Choose the right angle and frame your shot skyward using the orange autumn leaves as the background. The leaves will veil the tower behind that stands against the high blue sky.
Better price of : N Seoul Tower Discount Ticket
I Love my Trip to Korea in Autumn!
One of the best things to do in South Korea is tracing autumn leaves sweeps whole area. Which places above are your favorite? Before autumn makes a farewell, don't forget to share these best places to see autumn leaves in Korea with your friends!
Where to Stay : Check Out the Best Hotels in Seoul if you haven't booked one.