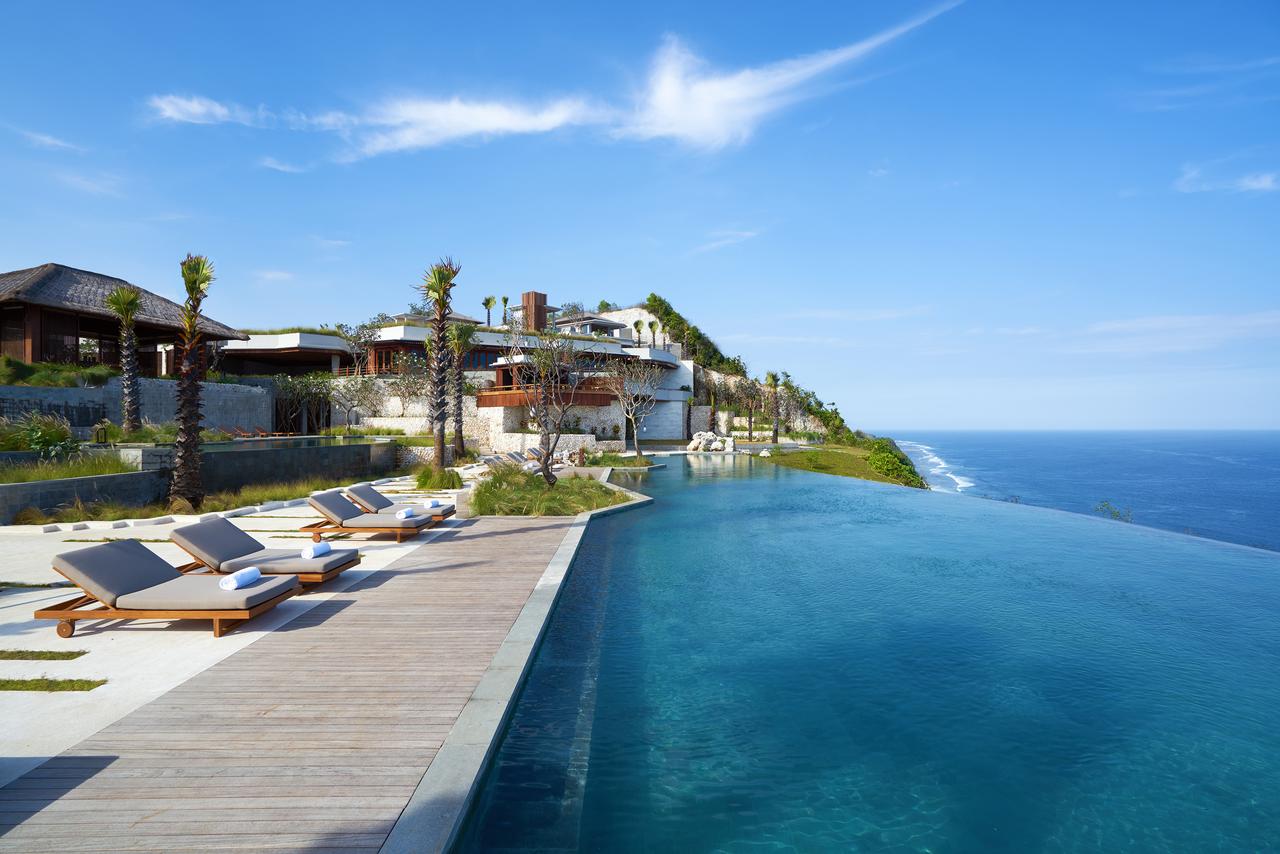 We've been to Bali quite a few times. The older we get, our love for Bali grows bigger and we can save more for nicer accommodation.
Bali has no shortage of villas. Whenever you crave a sense of fancy hideout to get away from it all, Bali is the first name to be called.
So here we are again, showing you the best areas to spend a few nights in an elegant villa in Bali.
But the real question here is not which one, but where!
Think about your intention! The budget and purpose of your trip speak the loudest. In each of those areas, we will put out our favorite villas. Most of them offer an outdoor pool (one even gives you a kid's pool), exceptional spa treatments, high-end restaurants, and impeccable views over the jungle or the waves.
So waste no more time! Dive right in and choose your favorite!
What Are the Best Areas to Stay in Bali and Which Villas Should You Book?
Ubud
Has the Best Bali Villas with an Absolute Privacy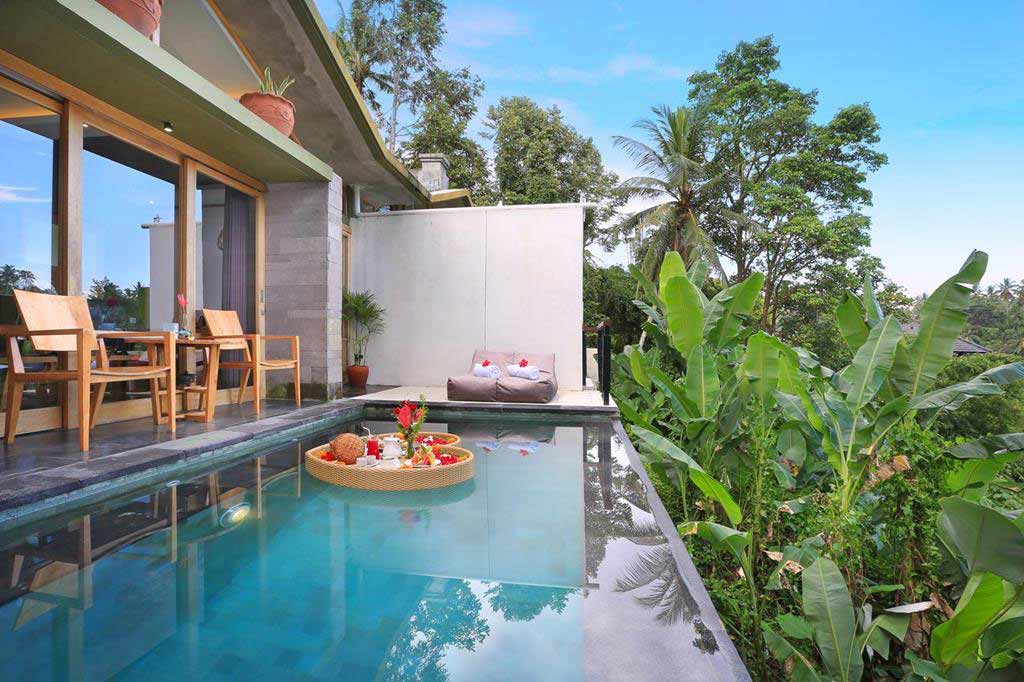 Seek privacy? Seek Ubud!
This central highland area in Bali is not swathed by the shoreline but the forests, making it a great centerpiece for forest bathing. Its sense of openness and leisure definitely outrival other heavyweights.
Ubud is the best place for a complete hideout. Waking up with a yoga class, cooking your own dinner before noontime, and hunting down traditional crafts by nightfall should line up on your bucket list.
Four Seasons Resort Bali at Sayan
The Four Seasons chain has always been a heavyweight in the hospitality industry, and that's why we set the bar really high for our expectations.
Just like what we hoped for, it never disappoints!
The best thing we like about Four Seasons Resort Bali is the magical location. Tucked away in the lush, pristine jungle by the Ayung River, the resort is only ten minutes driving away from Ubud Palace.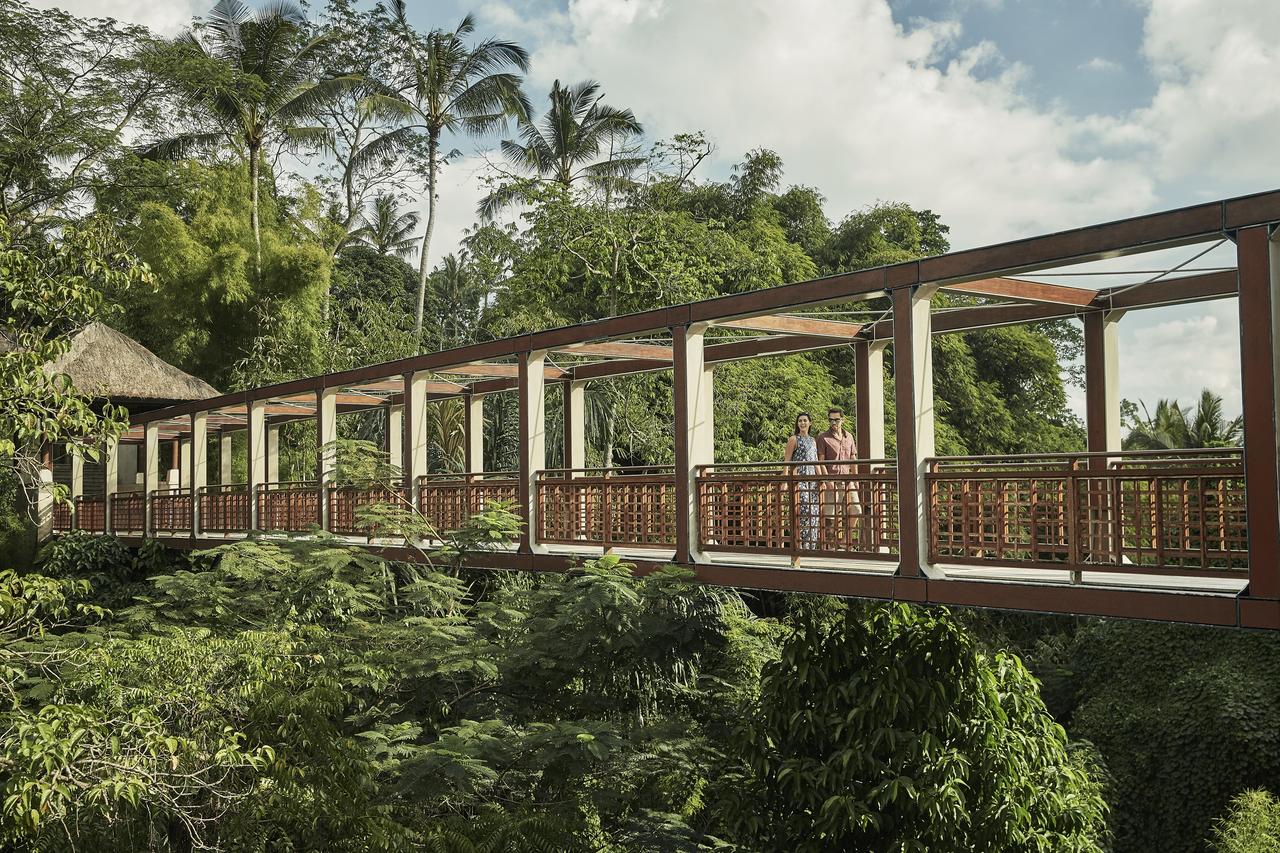 The view is the real headliner here! Waking up with an unobstructed forest view while getting our coffee fix every morning was a dream!
The entire resort looks like a crown jewel stranded behind by mother nature. But once you choose to stay here, the main reason is to unplug from it all! So don't even bother to hit downtown because the top-tier experiences offered by Four Seasons will have you occupied for days.
The best thing to do here is enjoy the kayak trip. They have it anchored right behind the resort where there is a really nice, soothing river to engage your core in absolute privacy.
Treatment and wellness are some other highlights. We specifically fell in love with the yoga session and spa treatment right afterward! Four Seasons is a place to rejoice, so come with an empty mind!
Address: Jl. Raya Sayan, Sayan, Kecamatan Ubud, Kabupaten Gianyar, Bali.
Price:from USD $700 |Booking.com|Agoda
Jimbaran
Best Areas in Bali with Ocean View Villas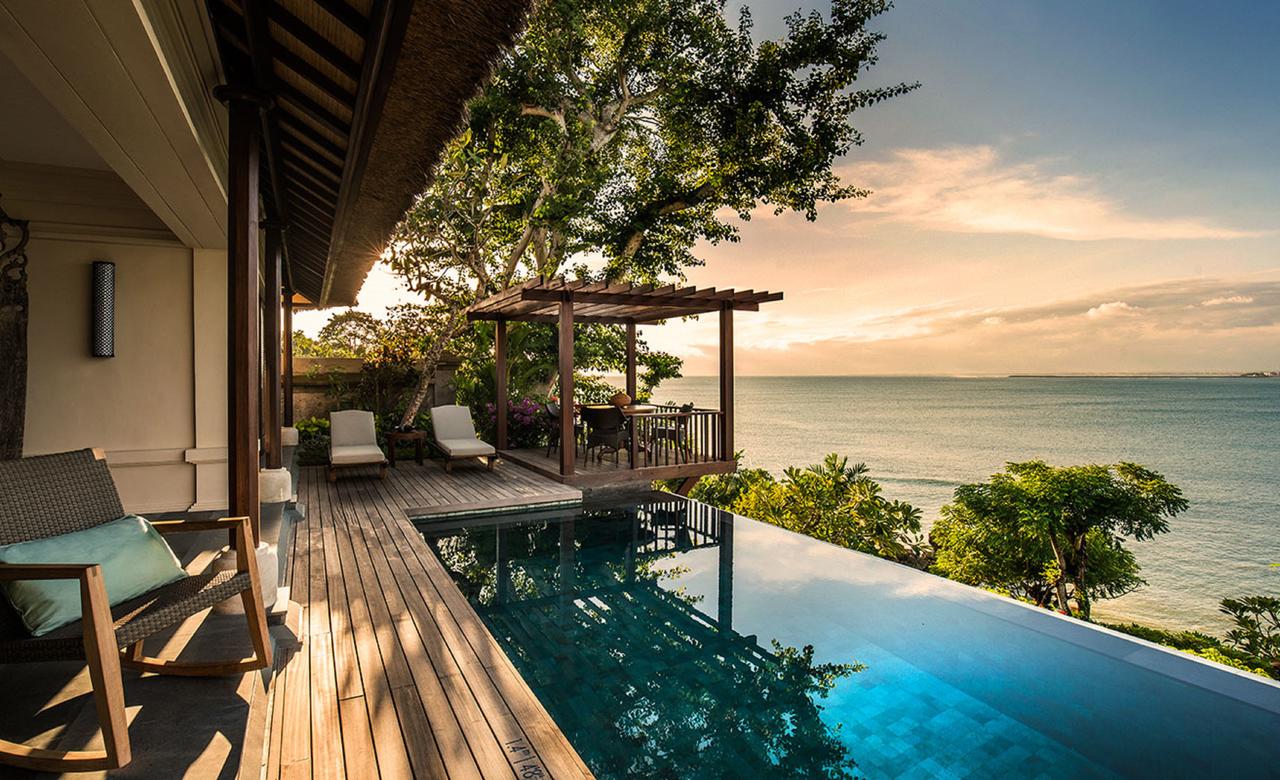 Bali is not short of hotels and villas with ocean views. But if we really have to choose, it should be Jimbaran and Nusa Dua Beach.
Jimbaran came to our radar when we were looking for somewhere close to the airport for a short getaway over the weekend. We just didn't want to stay too far and take the hassle of commuting into our own hands.
BUT! It should have a nice soothing sound of the waves (it's a getaway after all!).
Jimbaran is very close to Ngurah Rai International Airport. We remembered it took us 25 minutes on a car ride or so, with an impeccable sunset view from Jimbaran Beach.
Nusa Dua Beach
A High-End Resort Town for Luxury Seekers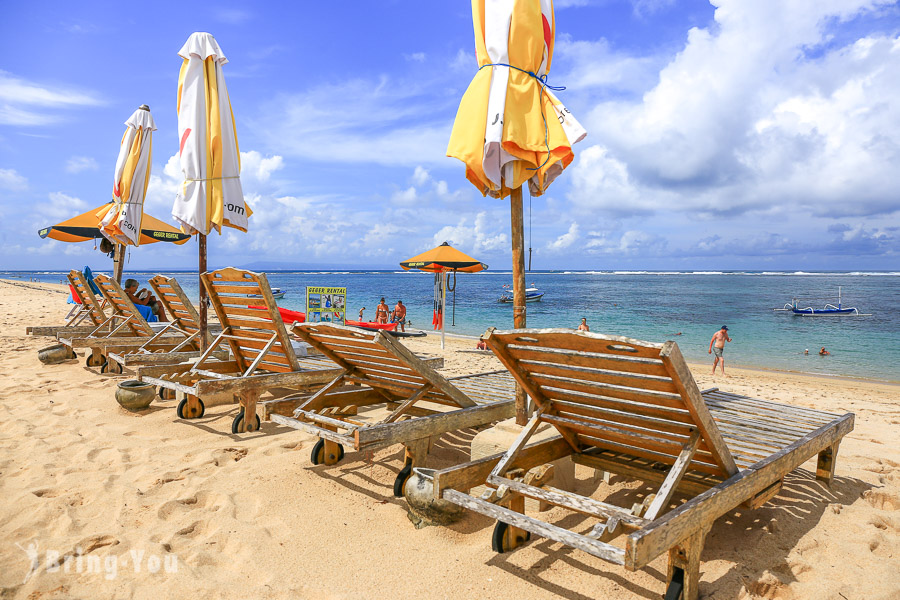 Now comes the extensive stretch of Nusa Dua Beach. This incredible heaven is not a crowded hub of tourists. You will find a wide range of upscale restaurants, resorts and villas catered to those travelers who want to maximize their experiences to the fullest. That's the reason why five-star hotels compete to claim a spot here.
Since Nusa Dua is dedicated to high-end travelers, the neighborhood is spotless and sparsely populated compared to other areas in Bali.
The location is excellent. It's steps away from the main happenings on the southern coast of Bukit Peninsula, making it the most expensive place to stay in Bali. But in return, most of the villas and accommodations will reward you with exceptionally high-quality amenities.
AYANA Resort and Spa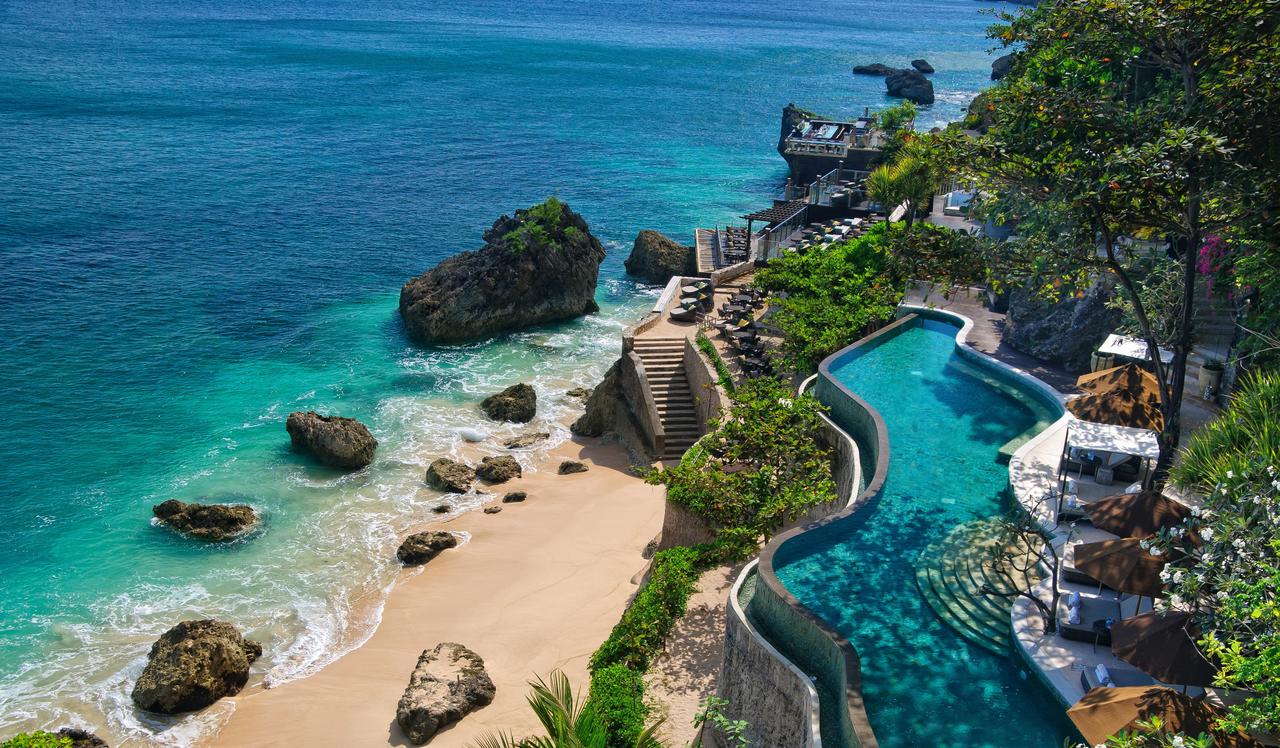 The luxe resort is perched on a thriving headland of Bukit Peninsula, facing the dramatic ocean while leaning on the breezy garden behind. A remote location like this shouldn't hold you back in doubt since it's surrounded by a wealth of dining options and experiences.
The outdoor infinity pool is the limelight of the entire complex. It opens out to the deep blue sea and you can just laze around for the whole day drinking your coconut.
And whenever your stomach is calling, head to one of the on-site restaurants to give your tummy a prosperous treat. Don't forget Kisik Seafood & lounge though! It's set right on the sandy beach so don't miss it out if you're planning a romantic date night! No need to travel far for a good meal!
Address: Sejahtera, Jl. Karang Mas, Jimbaran, Kec. Kuta Sel., Kabupaten Badung, Bali.
Price:from USD $346 |Booking.com|Agoda
The St. Regis Bali Resort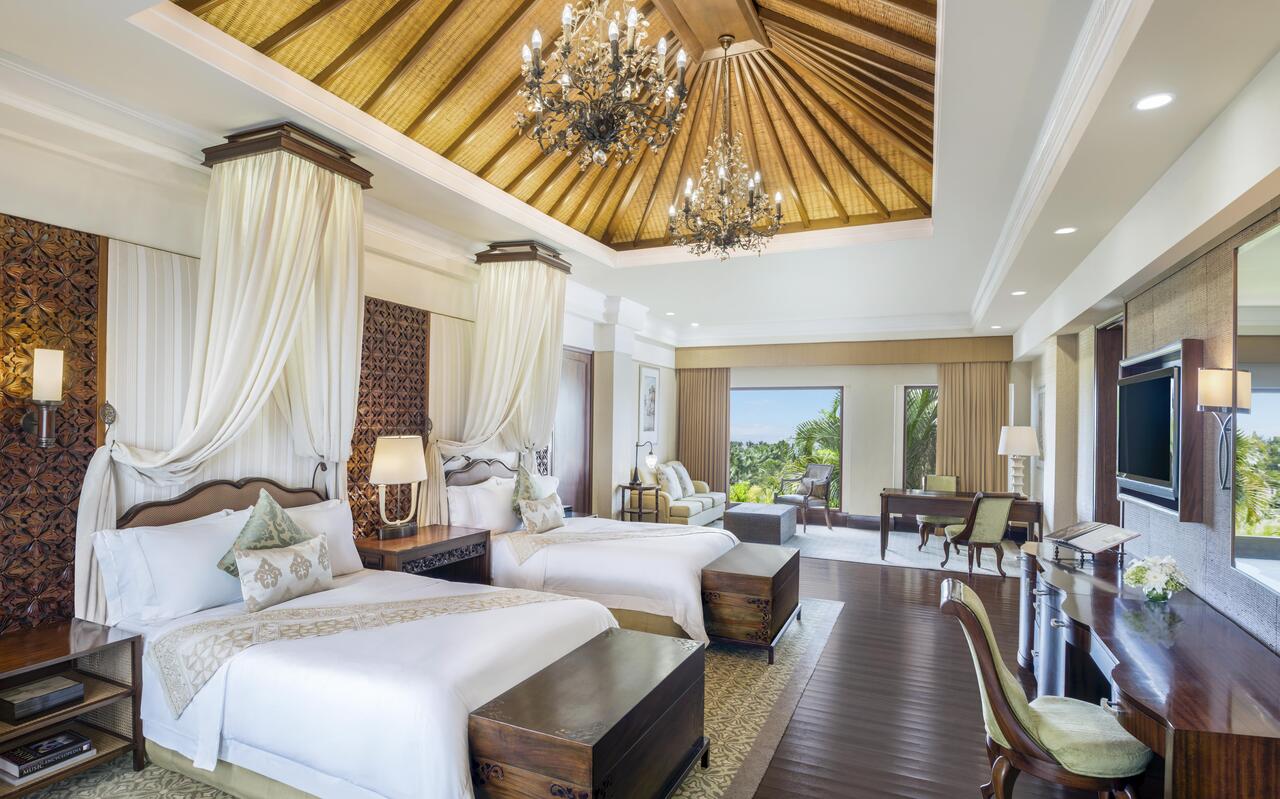 St. Regis should be the first name to come up when talking about the best villas in Nusa Dua Beach. It's half an hour driving away from Kuta and near Nusa Dua Bari Shopping Center.
The whole site sits right on the shoreline, dotted with private villas shadowed by coconut trees and an outdoor pool at its heart.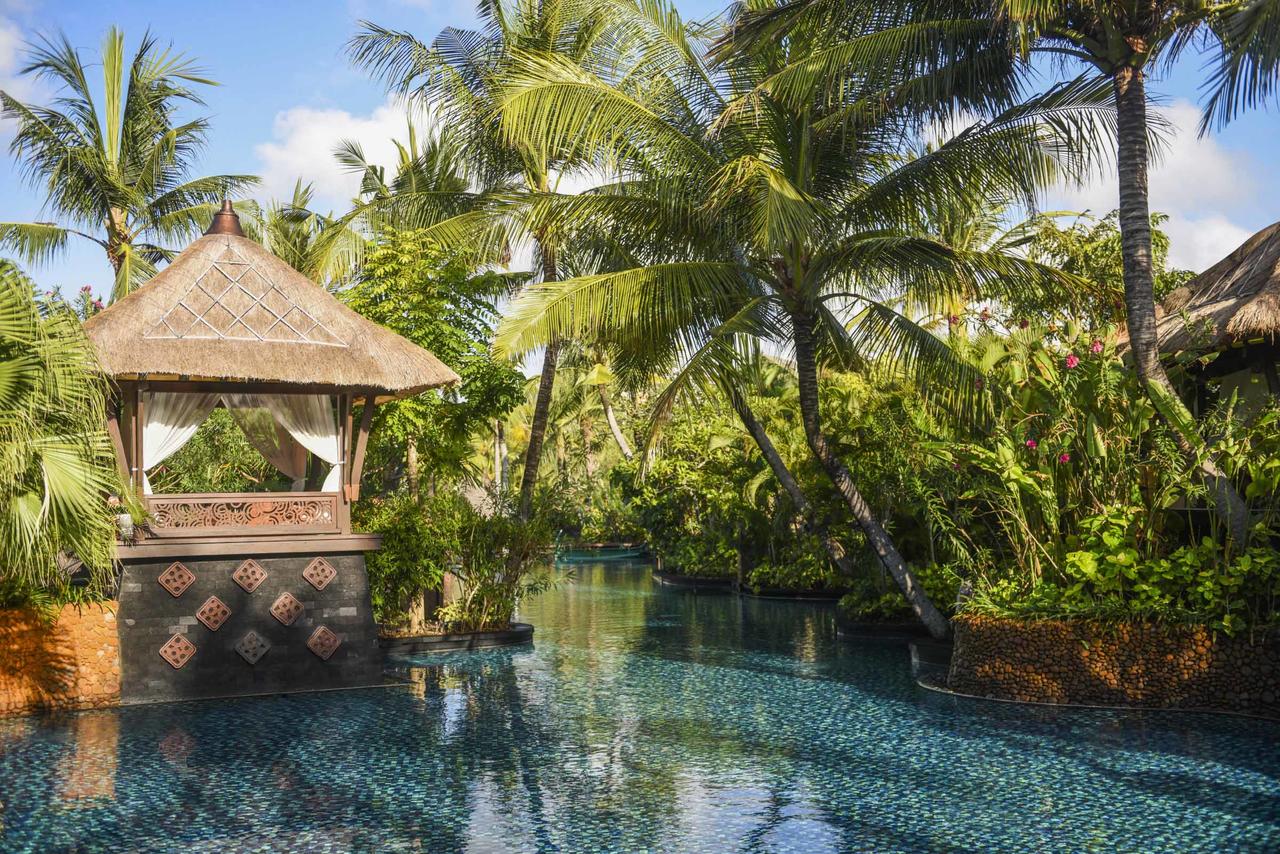 St. Regis Bali Resort is an all-inclusive complex of villas, providing a limousine airport shuttle service aimed at business travelers and luxury seekers.
The interior décor truly compliments the Bali vibe, with heavy use of regional materials, stressing the balance between bright and dark palettes.
Whenever your stomach is calling, find yourself hidden under the shade of Dulang's colonial-era gazebo to explore eclectic servings of Asian delicacies. The restaurant is supported by Kayuputi's captivating ocean views. Your heart will be filled with joy!
Address: Kawasan Pariwisata, Nusa Dua, Blok Lot S6, Nusa Dua, South Kuta, Badung Regency, Bali.
Price:from USD $697 |Booking.com|Agoda
Kuta, Legian, and Seminyak
Best Areas in Bali with Budget-Friendly Villas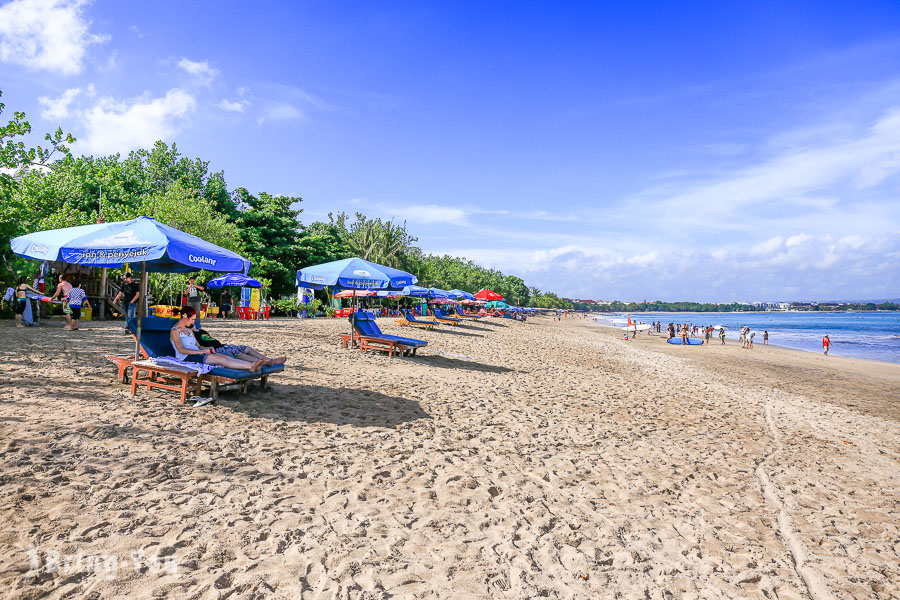 Kuta, Legian, and Seminyak queue along the southern coastline of Bali. Those three oceanfront neighborhoods are meccas of budget-friendly accommodations affiliated with a convenient network of transportation.
If you're looking for a moderately priced villa to stay near Bali Ngurah Rai International Airport, look no further than these three big guys!
Thanks to its excellent location and affordable living rate, you will find a plethora of outdoor possibilities. We're talking about decent surf spots, dining and drinking holes, nightlife, and libraries scattered throughout the areas!
Alaya Dedaun Kuta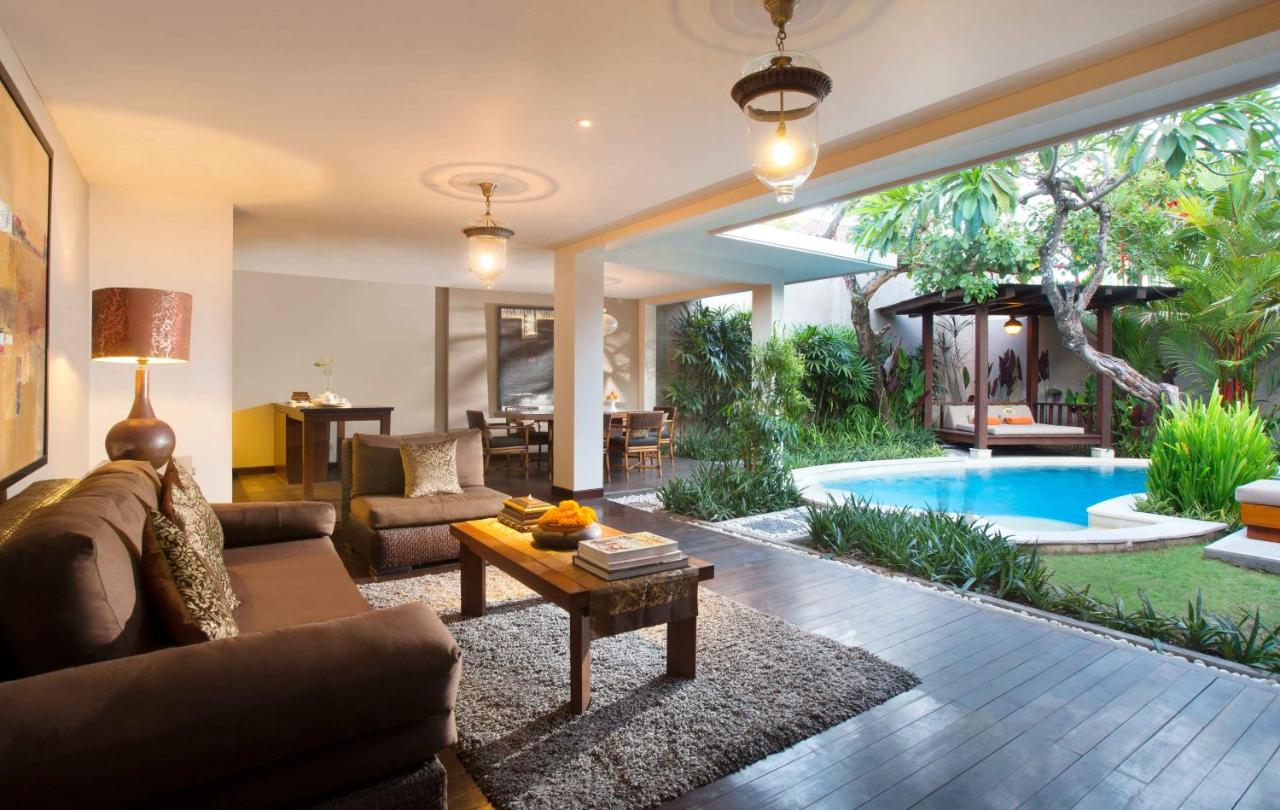 Alaya Dedaun Kuta emerges as a mecca for romance seekers with a blissful blend of traditional Indonesian flare and affordable luxury elegance. Located in the heart of Legian, Alaya Dedaun Kuta is a stone's throw away from Kuta Beach and a wealth of local restaurants.
Ironically, Alaya Dedaun Kuta doesn't look like a budget-friendly villa at all! An outdoor pool sits smack dab in the middle of the complex, offering an irresistible temptation for a floating breakfast.
We love how every villa at Alaya Dedaun Kuta has a semi-open seating area and a kitchenette to cook up your favorite meal anytime in the day.
Whenever your cores are tired after a long day on the street, head back to DaLa Spa and have your muscles stretched out!
Address: Jln Legian No.123B, Kuta, Badung Regency, Bali.
Price:from USD $87.9 |Booking.com|Agoda
Villa Jerami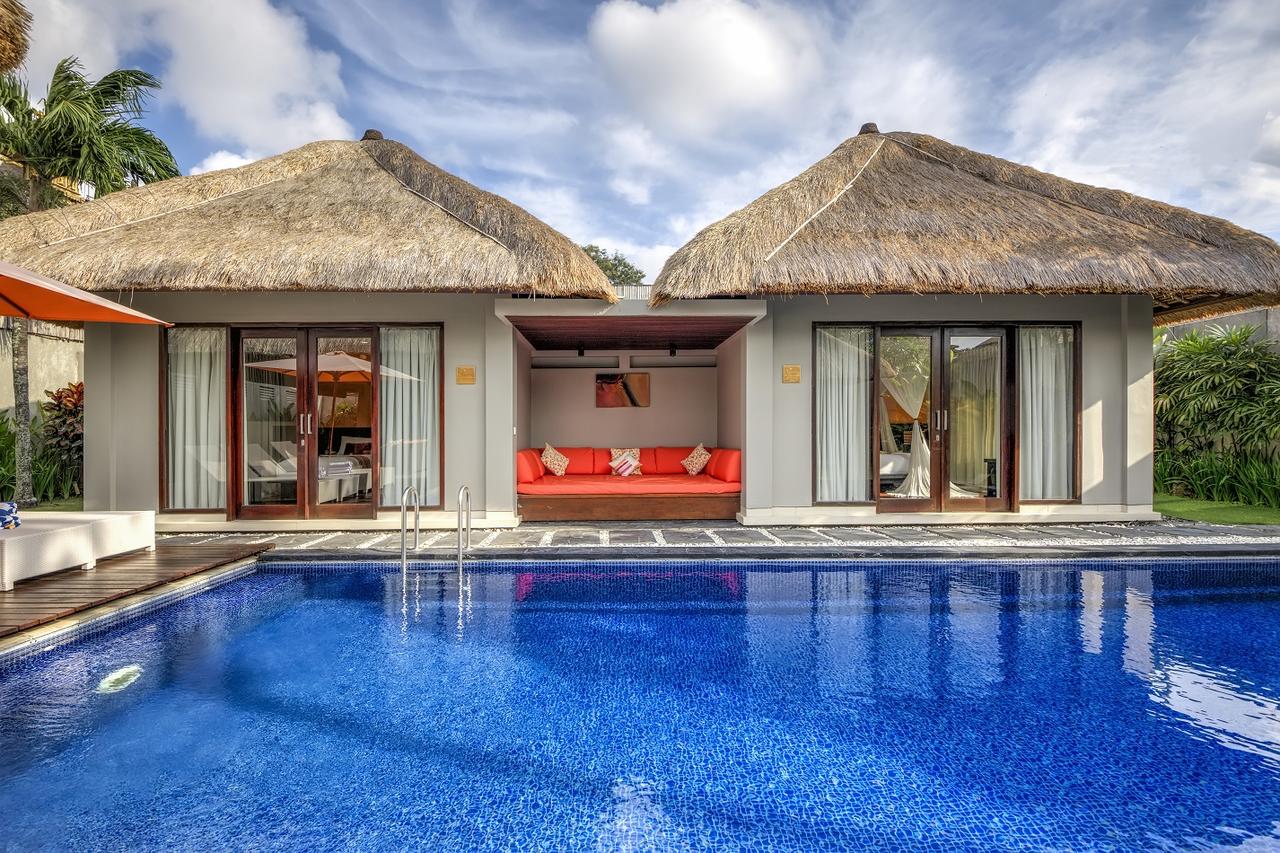 Villa Jerami comes next in line as a worthy option situated 15 minutes away from Double-Six beach and steps away from Seminyak Center. This moderately priced villa comes into play as one of the best places that offer free shuttle service to Kuta every day.
Just like what a typical Balinese living space should be, each villa embraces the beauty of the open concept, using straight-up white as the primary color with bright hues that pop as embellishment.
Villa Jerami is specifically popular amongst couple travelers who fall in love with their candlelit dinners and chef-made international cuisines.
Address: Jl. Bali Deli No.1, Seminyak, Kuta, Kabupaten Badung, Bali.
Price:from USD $80 |Booking.com|Agoda
The Wolas Villa and Spa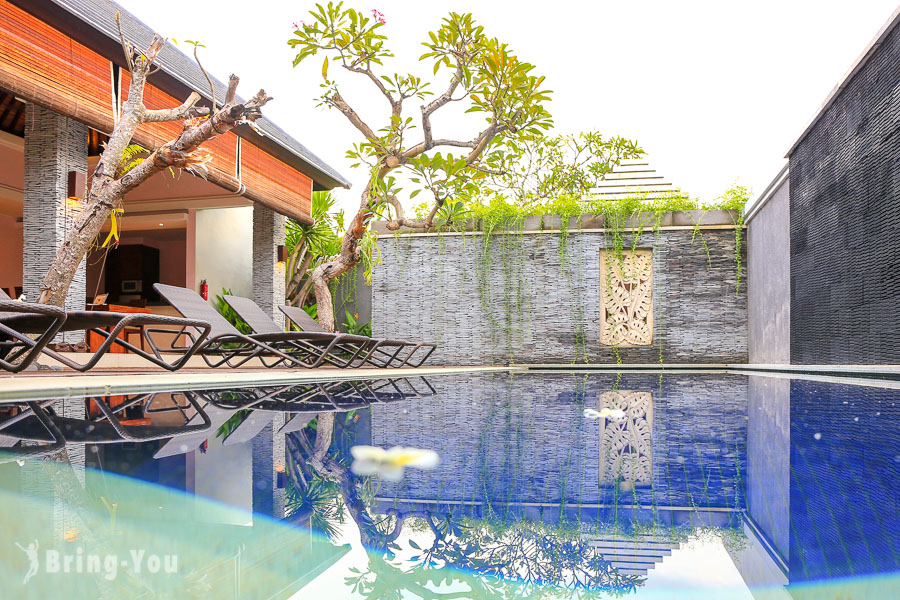 Here comes a representative in Seminyak! The Wolas is one of our favorite villas in Bali with a blissful connection with nature without hurting our budget.
Most of the hallways and exteriors are blanketed with green space. Just looking at how the white walls are covered in a luscious carpet of leaves is already pure happiness!
You can choose between a one-bedroom villa with a private pool for two or upgrade it to a work-from-villa package that sleeps up to four guests.
The Wolas Villa is on a budget-friendly side and that's why you shouldn't expect much from the wow factor of its interior design. But overall, we don't think this is the end of the world anyway because their hospitality is top-notch! No complaints about that!
Each room is fully stocked with hotel-graded amenities (plus a huge fridge to accompany you over a long-day stay)! The Wolas Villa is 20 minutes away from Ngurah Rai International Airport and 15 minutes away from the big beaches.
The only downside to this place is a limited option of food and drink around its neighborhood. However, they compensate for that with a free shuttle to Kuta, Legian, Double Six Beach, and downtown Seminyak every day!
Address: Jalan Yudistira 18, 80361 Seminyak.
Price:from USD $77 |Booking.com|Agoda
Key Takeaways: A Quick Rundown of the Best Areas to Stay in Bali
Bali is not a compact town, and choosing the right centerpiece for your upcoming trip boils down to your purpose.
Are you on a leisure or business trip? Hanging out with your friends? Or planning a romantic getaway with your significant other? Here's a quick cheat sheet to find out the right answer
Ubud is the best area to stay in Bali for a romantic hideout.
This cultural enclave is home to sweeping terraced rice fields and cultural landmarks such as Ubud Palace and Sacred Monkey Forest. Its serenity of a highland allows peace seekers to fully immerse into a sense of hideout and unplug from digital buzzes.
Kuta, Legian, and Seminyak are the holy lands of night owls who worship the goodness of nightlife.
You won't have any headache sorting out the budget when on a shoestring if choosing to stay around these three areas. Young fellas, families, and couples also find a common ground in one of those places, with a handful of shopping centers and local restaurants.
Jimbaran and Nusa Dua are on the higher end of the price spectrum.
Stunning ocean views and top-tier hospitality services become the household name for those living the luxury lifestyle. Therefore, these two neighborhoods become the magnet for honeymoon couples.
Explore More