Bali has quickly risen to the number 1 spot to visit on many young travelers' lists, thanks to its spectacular beach and jungle backdrops, efficient cost of living, and lively nightlife.
This Indonesian island has something for everyone. Luxury resorts, family holiday homes, party hostels, lavish villas, you name it; Bali's got it. Not to mention the string of water sports you can enjoy and prosperous marine life that can be explored. Surfing, diving, and hiking are all unmissable and with the island's convenient size you can do it all.
Many visitors got to see Bali through their Instagram feed and it is no secret that Bali is an influencer's dream. The island may be one of the most photogenic places in Asia, if not the world. Fly over the jungle on a Cliffside swing or swim over dizzying heights in a glass-bottom pool, all while smiling for the 'gram. Read on to find out about the other must-see spots in Bali.
Surf and Party in Kuta
The island of Bali has a multitude of villages and towns to choose from but Kuta will be your main point of entry. The airport is close to this beach destination but many people stay here to enjoy the sun, sea, and surf in the area. The beaches are idyllic and the waves are perfect for surfing, everything you have come to expect from an awesome island destination.
Kuta is the party capital of Bali and here you will find plenty to do when the sun goes down too. There is a string of bars and nightclubs lining the streets and hotels are never far from the central entertainment area. Hotels in this area can also be very economical and prices are as low as $5 per night if you are looking to save a buck.
Experience Bali's Cultural Heart, Ubud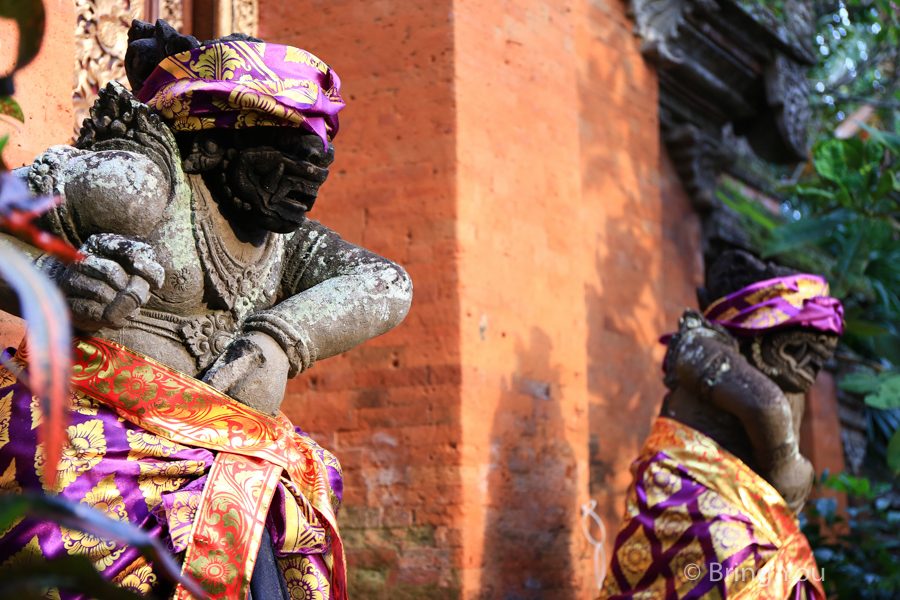 Ubud is Bali's renowned forest town where yogis and influencers head to clear their heads and soak in the greenery. People here practice Balinese Hinduism and their temples are rampant. You can also be guaranteed to see people practicing their religion in colorful and elaborate ways with processions, offerings, musical displays, and vibrant traditional dress.
You can attend the Ramayana ballet at the Ubud Palace to observe a beautiful stylized dance production. Visiting a traditional healer has also become a popular spiritual practice amongst visitors. Temples in Ubud are very highly regarded and traditional practices like a purification ritual at Tirta Empul Temple are a way for tourists to take part in this religion.
Practice Yoga
Ubud is widely regarded as one of the top yoga destinations in the world. The atmosphere here is as Zen as you can get and the lush green surroundings do wonders for your spirit. There are a host of Yoga retreats in the area that embrace nature and the mystical auras that surround Ubud.
You can find many custom yoga experiences and yogis love the hot and humid climate that promotes sweat and deepens your stretch. Ley lines play a big role in spirituality and 6 lines meet in Bali. If you don't know what that means, just know, it's a big deal. Bali, and specifically Ubud, is one of the best places on earth to cleanse your spirit and feed your soul, and what better way to do that than through yoga.
Ubud had hundreds of yoga retreats and experiences but the culture in the city also promotes health and wellness that attracts yogis. You will also find many health-conscious restaurants to keep you well-fed.
Check out Yoga Retreats in Bali
Watch a Sunset from Tanah Lot Temple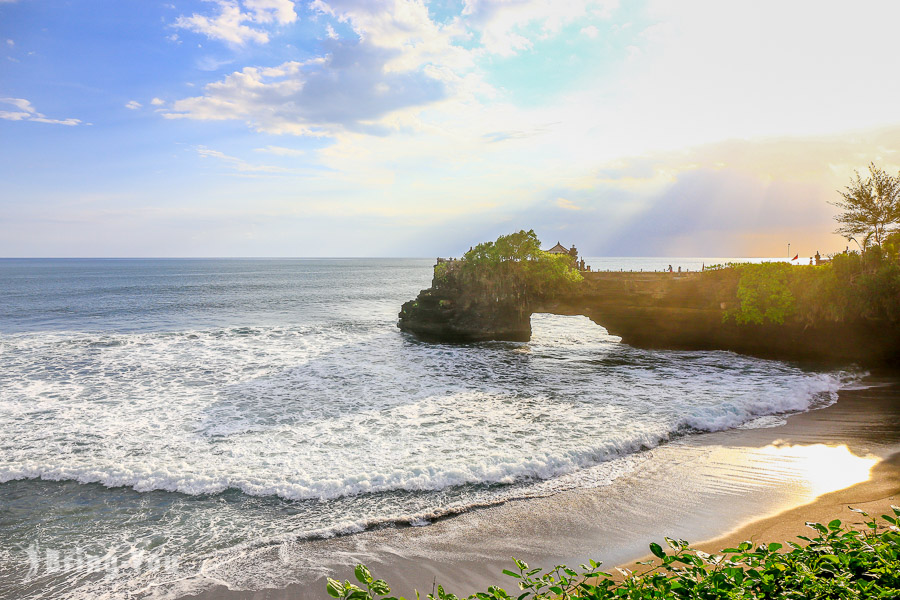 Tanah Lot Temple is unique in that it is separated from the land by the changing tides. The temple is built on a rock in the ocean and can only be reached at low tide. This temple is sacred and visitors are not allowed to enter the temple but observing this curious architectural marvel is rewarding in itself. It is part of the seven sea temples that is a major attraction in Bali.
It is a short 30 min drive from Canggu and the sunsets from these cliffs are absolutely breath-taking. During the dry-seasons, the sky burns bright orange and makes for an incredible backdrop behind this sea-bound temple.
Take a Cooking Class
The food in Bali is mouth-watering and you can expect to enjoy robust flavors with fresh ingredients and spices. You don't want to miss the opportunity to learn from the culinary masters on the island. Food and cooking is an exceptional way to get to know the people and traditions from a place you are visiting. And it helps if the food is as divine as with Balinese cooking.
In Ubud, you can join a cooking class where you will pick your own ingredients at a local market and create delectable dishes with the help of experienced local chefs. The classes are held in the home of the cook to give you an added local flavor. You will learn to prepare 9 dishes and at the end of the day get to feast at a traditional Balinese buffet.
Find out BEST Bali Cooking Classes
See the Cliff Temple, Uluwatu Temple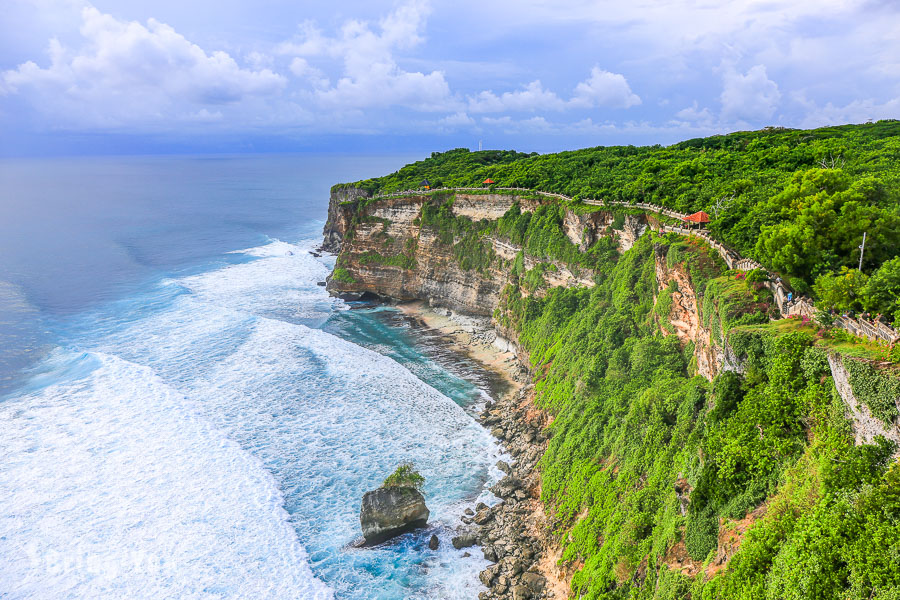 Bali has 9 directional temples aka "Pura Kahyangan Jagat". These temples protect the island from evil spirits and they are all located in unique and unusual places. Uluwatu Temple is one of these and is located on a sheer cliff in the very south of the island.
The cliff rises nearly 100m out of the sea and idyllically frames the piercing orange sunsets you can see in these parts. At this temple, you can also enjoy the mesmerizing Balinese Kecak and fire dance that is performed.
Join Uluwatu Temple Sunset and Kecak Fire Dance Tour for the ultimate Balinese evening
Walk on Tegalalang Rice Terrace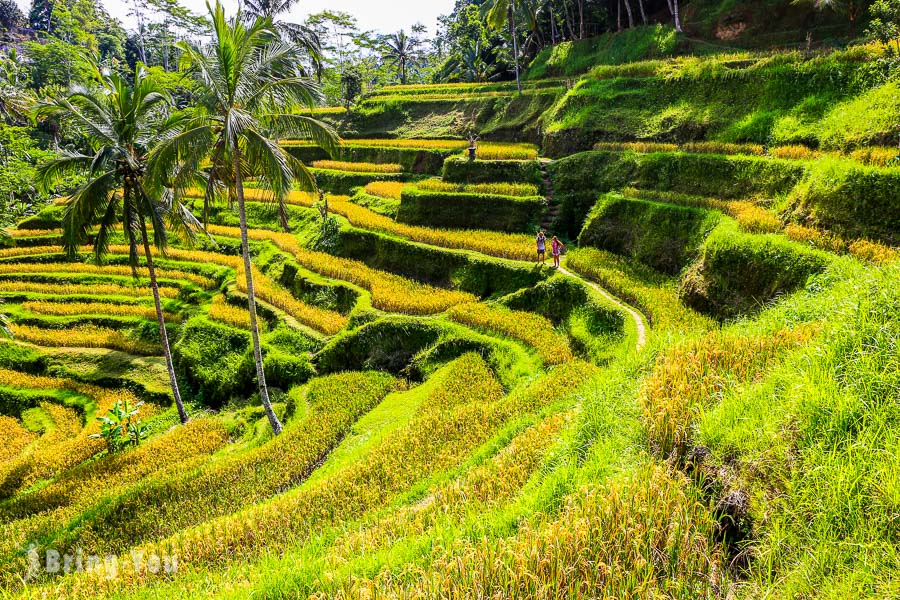 Rice terraces in Bali are iconic and these vivid green agricultural landmarks are a must-see. There are many to be found around but the Tegalalang Rice Terrace is arguably the largest and most famous. This spot has garnered a lot of attention thanks to pictures of girls in nest swings flying above the terraces that have been making the rounds on Instagram.
For a small entrance fee, you can walk amongst the terraces or pose with traditional bamboo baskets on your shoulders. It's a great idea to visit at sunrise as it is just a short drive from Ubud city center.
Explore Tegalalang Rice Field by join a Central Bali Full Day Tour
Marvel at Gunung Batur from Kintamani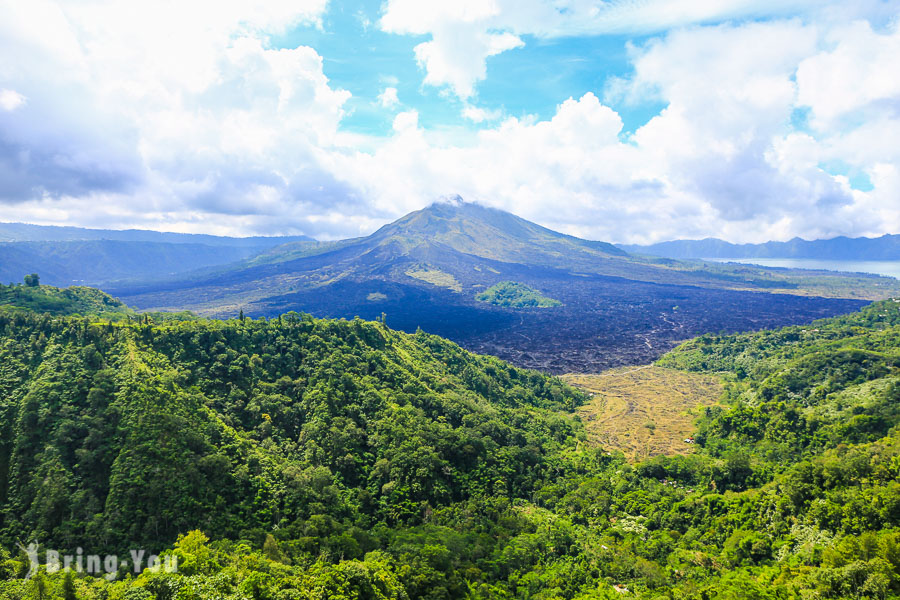 Gunung Batur is holy ground in Bali and hiking up this mighty active volcano is an absolute must for adventure seekers. While you are attempting to conquer the beast, why not do it at sunrise to view the most spectacular sunrise views over Lake Batur.
Lava has carved out paths all along the cone where you can hike with the guidance of a knowledgeable guide. Once you reach the top you will be treated to a delectable and hearty breakfast while gazing over the mountainous surroundings. Few things come close to this payoff.
Find out the best Mount Batur Sunrise Trekking Experience
Be Healed at Tirta Empul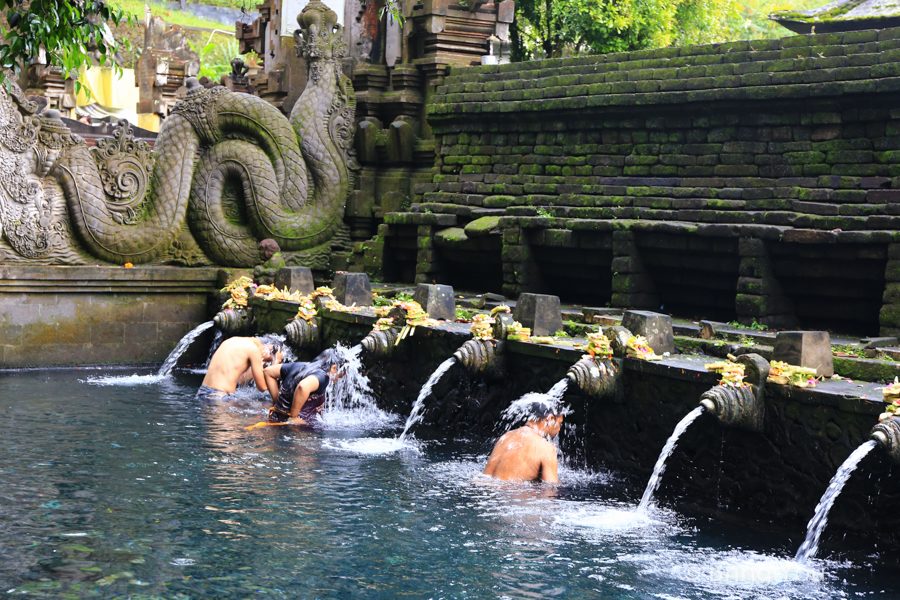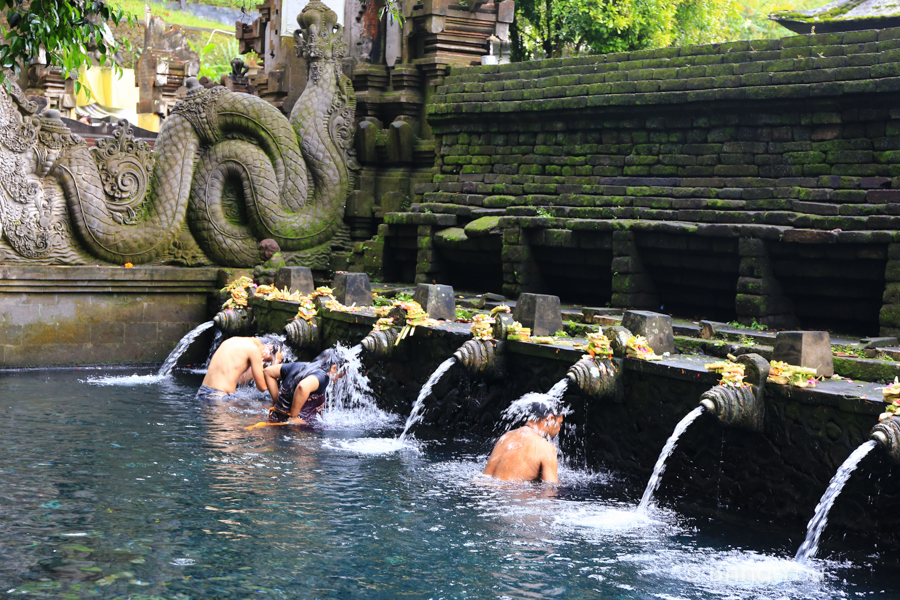 On the outskirts of Tampaksiring travelers come from far and wide to see Tirta Empul temple. This is a water temple that is known for its ritualistic water purification ceremonies. In the main courtyard, you will find a spacious crystal-clear pool with water flowing in from numerous spouts on the edge.
Visitors enter the pool on one side and cleanse themselves under the flowing water of the first spout. Thereafter you make your way systematically down the line to perform a cleansing under each of the spouts. This tradition has been ongoing for more than a thousand years and there is something to be said for the unification spirit that embodies the practice.
The grounds are large and will take close to an hour to explore. There are various ponds and places of worship on the grounds and you should take care to appreciate the symbolic sculptures found around the temple.
Best Tirta Empul Tour: Eat Pray Love Tour to find the ultimate spiritual healing in Bali
Enjoy a Seafood Dinner in Jimbaran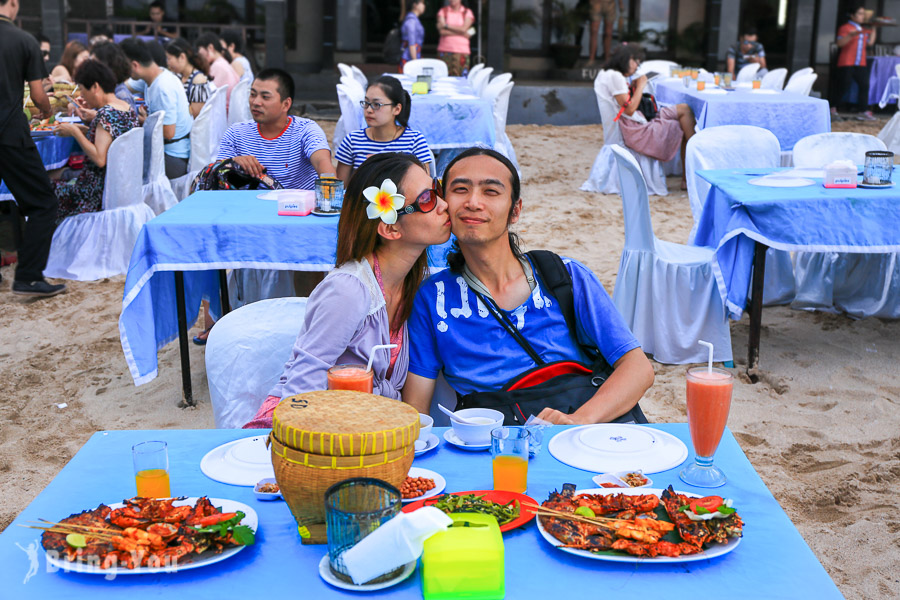 Jimbaran beach is located south of Kuta and is legendary for its sunset beach dinners. Restaurants and resorts set out hundreds of tables on the beach with dimly lit candles where you can enjoy a seafood medley that is second to none. You will struggle to find fresher seafood anywhere in the world and the experience is heightened by hearing the waves crash beside you and feeling the sand under your feet.
Ikan Bakar is barbecued fish that is grilled over an open fire. The seasonings are otherworldly and will always leave you wanting more. Sate Cumin is another crowd favorite, it is skewered squid that is also grilled on the fire. Barbequed clams and prawns from the fire are some of the smaller bites on the menu and there is also lobster at selected restaurants.
Have fun in Jimbaran
Go Rafting on Ayung River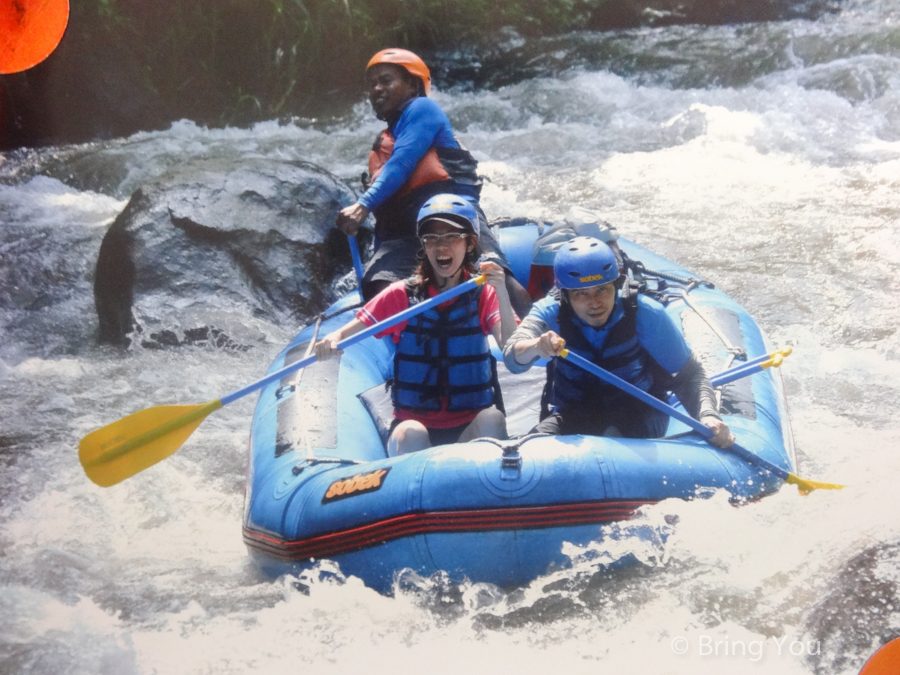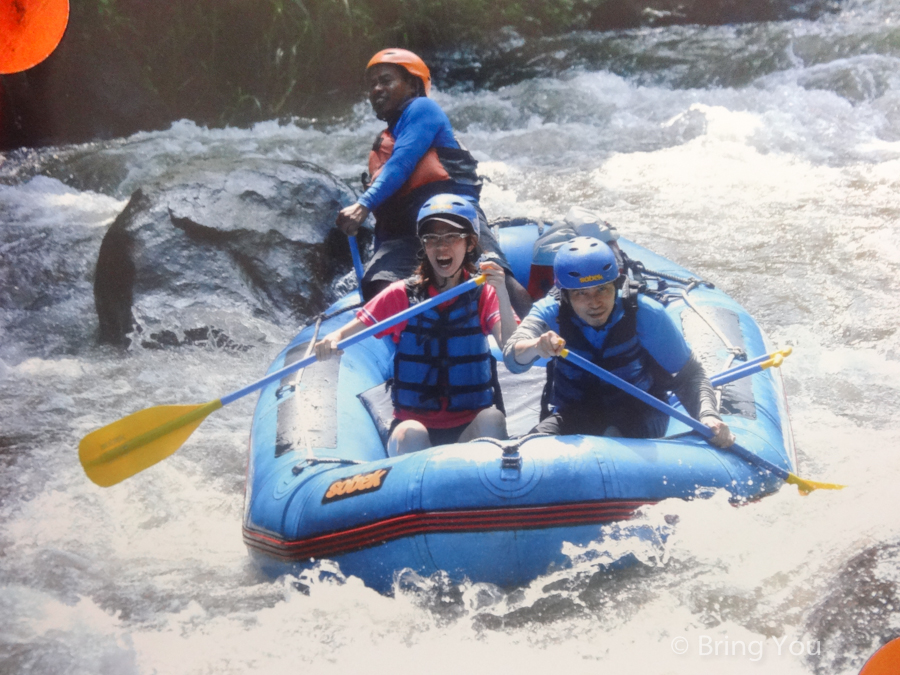 Most attractions around the island involve you lounging around the beach, balancing your body and mind with some yoga poses or wandering around a temple. If you want to get your heart racing a little bit, book a white river rafting experience on the wild Ayung River. The river route ranges in difficulty depending on the season and grows progressively more difficult during the rainy season.
The route takes roughly 2 hours to complete and stretches over 10km. It is close to Ubud and you will be blown away by the surrounding forest scenery and rice terraces along the way.
Book Your Ayung White Water Rafting Here
Enjoy Water Sports in Sanur or Tanjung Benoa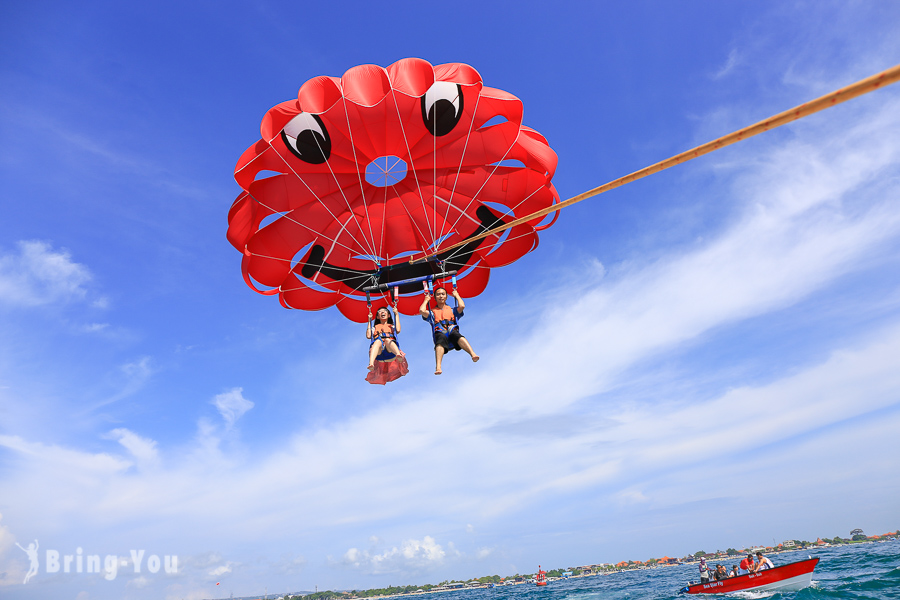 To the southeast of Denpasar, tourists love to visit Sanur and Tanjung Benoa to partake in a range of extreme and exhilarating water sports. These beaches stretch out for miles and there are copious amounts of vendors to choose from. The water here is very calm and makes it an ideal place to enjoy some action.
Here you can trade-in your scooter for a jet ski and zip around the water like a pro. Jumping on a banana-boat or a rolling donut with your friends will also be heaps of fun. You can also parasail, wakeboard and waterski. If you are curious about what is going on underneath the waves, you can opt to take a ride on a glass-bottom boat. Or get your hair wet with a snorkeling or scuba adventure. Another highly popular activity is the sea-walking activities where you get to walk on the ocean floor amongst colorful reefs.
Find out the BEST Tanjung Benoa Water Sports
Marvel at the Floating Temple, Ulun Danu Temple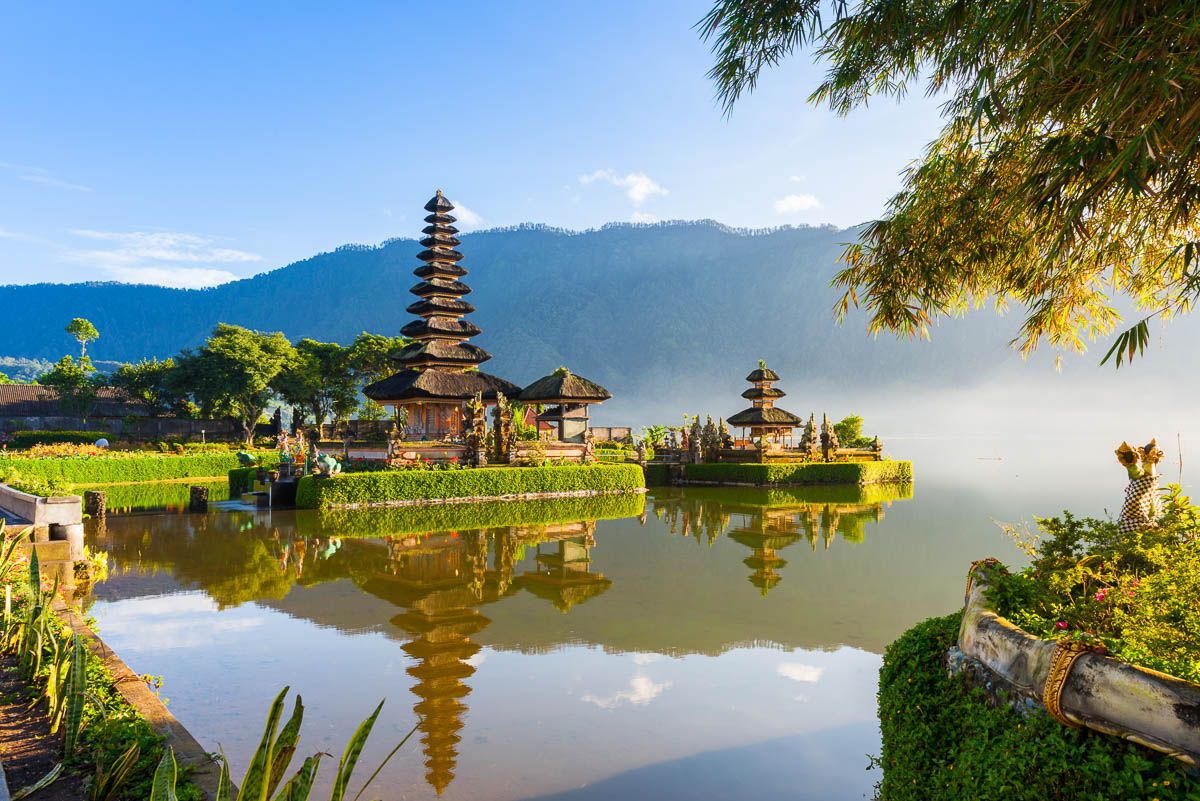 Nestled in between the mystical mountains of Bali you should visit Ulun Danu Temple that is floating in Lake Beratan. The temple features an iconic 11 tiered Meru that rises from the mist on the water. The complex consists of 5 temples all festooned in traditional cement art found at Balinese temples.
Find out amazing Ulun Danu Beratan Tour: Day Trip, Waterfall Jump Tour
Live in a Luxury Hotels in Nusa Dua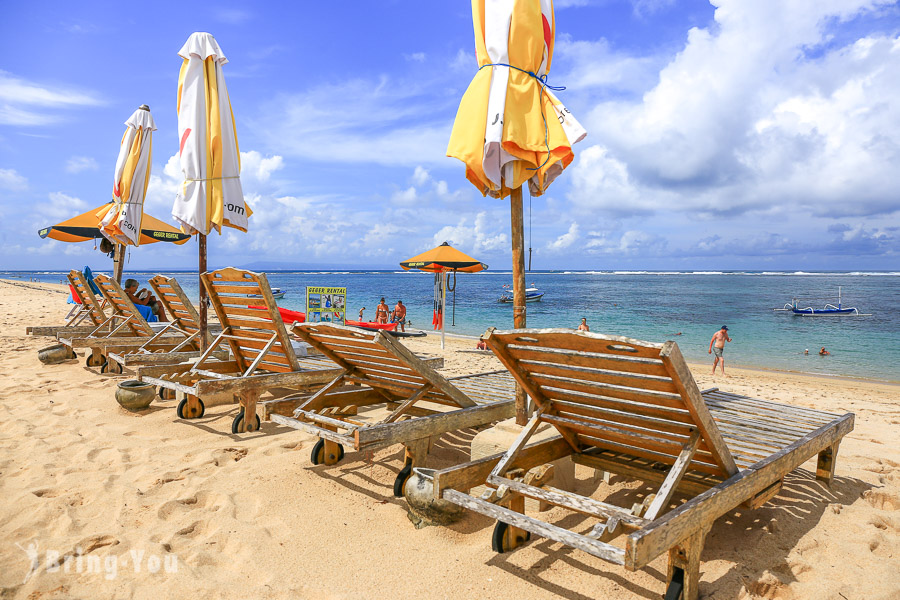 Bali is one of the few places on earth where you can still visit a luxury hotel and pay reasonable rates. Many tourists prefer to indulge in rest and relaxation rather than rush from one attraction to the rest. Nusa Dua is the perfect place to soak in the pristine beaches and crystal waters of the island. Resorts in this area are immaculate and will serve up nothing but the best.
You can enjoy a game of golf or take part in watersports or walk to one of the cultural sites nearby. You can also snorkel off the beach or go for a sea walk if you want to get up close and personal with the sea life. There is also a Devdan show every night that will showcase a unique blend of Indonesian and Balinese cultures.
Stay in the Villa with an Infinity Pool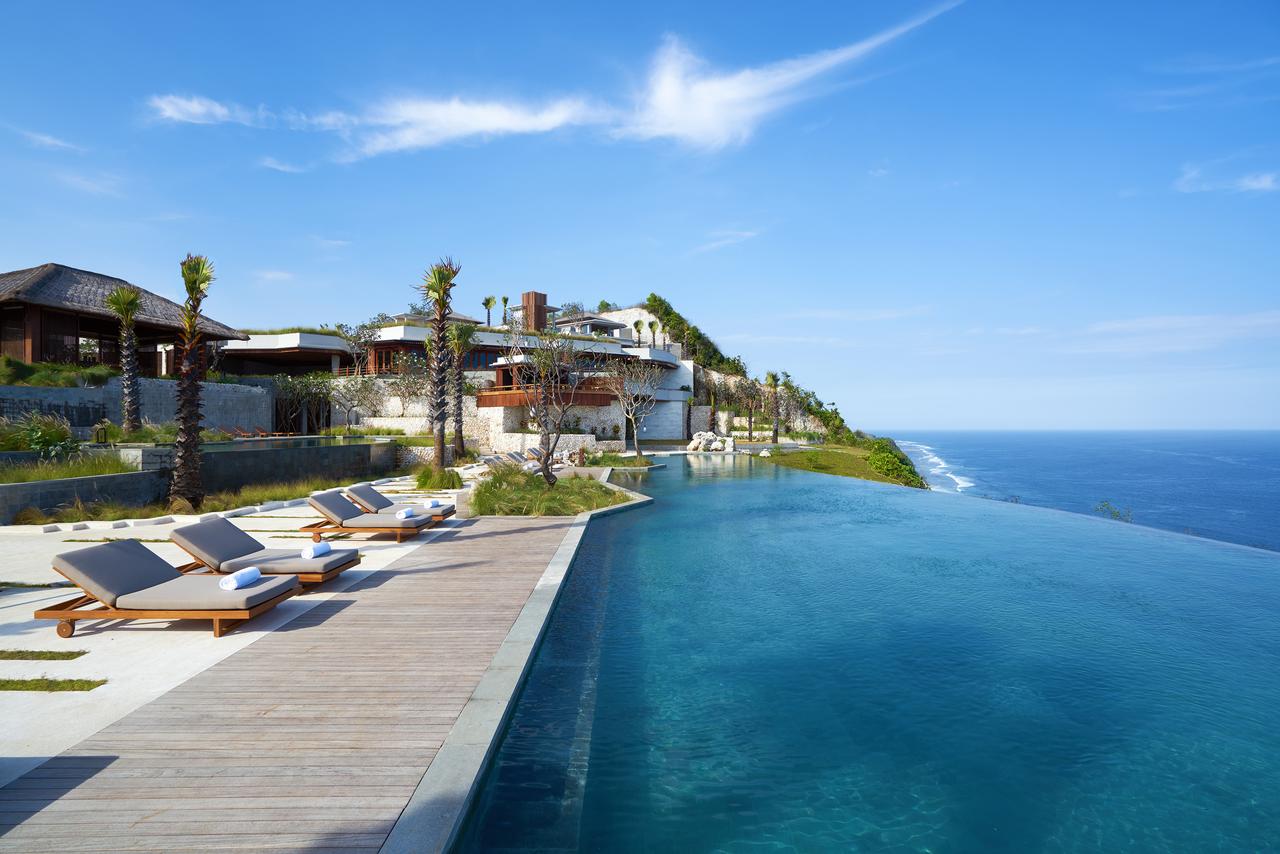 Accommodation in Bali comes in all shapes and sizes but villas on the island are a firm favorite amongst tourists. These villas are impeccably decorated and come with infinity pools where you can spend your days lounging in privacy. Villas in Ubud often overlook the rice fields and towards the coast, you could be treated to a pool with a sea view. Either way, Balinese villas are legendary and worth every penny.
See Best Resort in Bali
Relax with a Balinese Massage
Each Asian region has its own unique massage style and Bali is no different. Balinese massages aim to bring you to a complete state of relaxation by optimizing the oxygen flow through your body. This is done by a range of light stretches combined with aromatherapy. Also, be prepared for aromatherapy and reflexology to complete this all-encompassing holistic treatment.
Choose from a jungle massage surrounded by the lush vegetation in Ubud or breathe in the fresh coastal air at one of the popular resorts on the beach. Massage parlors, wellness centers, and spas are available all over the island and ultimate rest and relaxation is never far away.
Check here for: Best Places To Get A Massage in Bali
Go Snorkeling in Nusa Lembongan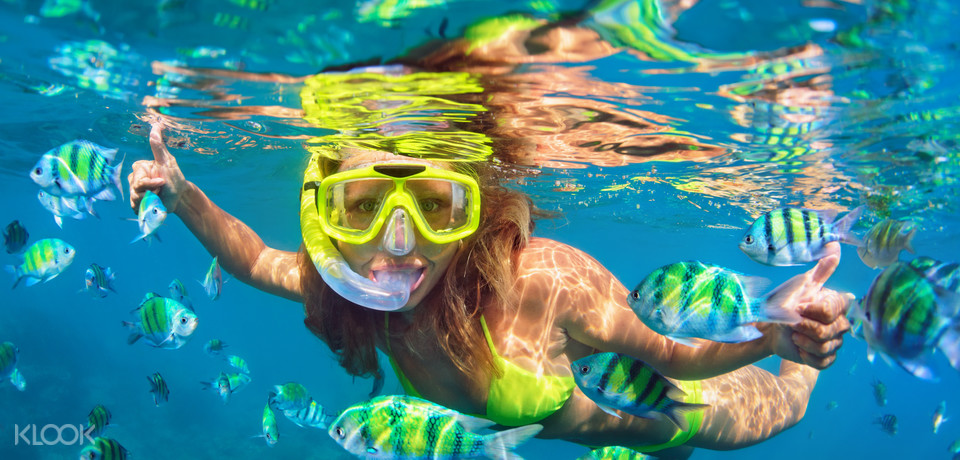 Nusa Lembongan is a small island off the southeastern coast of Bali. On this island, you can embark on a snorkeling adventure to discover hundreds of vibrant and exotic marine animals that call this island home. A snorkeling tour will take you to 3 snorkeling spots bursting with life.
Not only will you see thousands of tropical fish but there are also various statues on the sea bed that make this underwater experience all the more memorable. Manta Rays have also been known to make an appearance in these waters so brace yourself for some spectacular sightings.
The island also boasts unique rock formations called the Devil's tears and a gorgeous white sandy beach, aptly named Dream Beach. Nusa Lembongan also has an unmissable mangrove forest that you can explore on a boat tour. This is a brilliant place to see all the different ecosystems to be found in Bali and sustainably interact with them.
Go Chasing Waterfalls
Bali's dense jungles and wet climate ensure that there are plenty of waterfalls to explore year-round. Many of the waterfalls are hidden in the dense jungle and a short trek up or down the mountain will lead you to a hidden paradise.
Aling-Aling Waterfall near Sambangan is a favorite. Here you can swim, jump, and dive to your heart's content as the waterfall has a clear blue pool and an exciting slide-like overhang, 35m in the air. If you don't feel like taking a hike to reach a waterfall, you can simply head to Tegenungan Waterfall for a swim as it is located right in Ubud.
Tibumana Waterfall is also not far from Ubud and after a short walk from the parking lot, you will be treated to a gentle waterfall landing in a divine blue rock-pool at the bottom, perfect for swimming.
Most Popular Waterfalls Trip: Bali Tukad Cepung Waterfall & Jungle Swing Private Day Trip