Three hours drive out of Chiang Mai, Pai is a beautiful, dramatic getaway north of Thailand where you can stopover on the way to Mae Hong Son.
But for me, Pai has a lot more to do than just a layover!
If you love nature, you will love Pai. That's it! Pai is one of the best places in the north for the dramatic sunsets, lots of waterfalls for a chase, and a hippie vibe that cannot be seen elsewhere.
Two days would be enough to have a stellar time in Pai, although you can stretch it out to three days to make the most of it. You'll definitely see a lot of backpackers in Pai who are there for adventures and outings. I was not a backpacker the day I was in Pai, but I'm confident to admit that Pai is an off-the-beaten-path destination with lots of insanely cool things to do at a high altitude.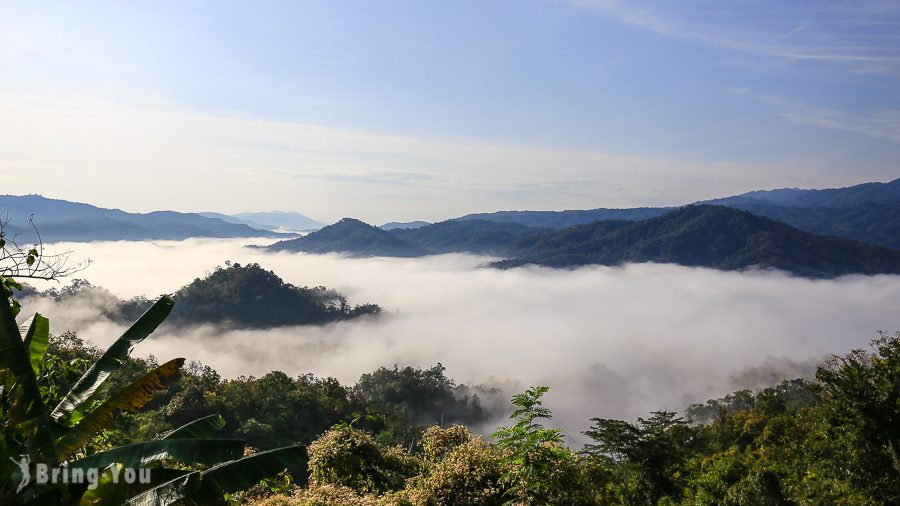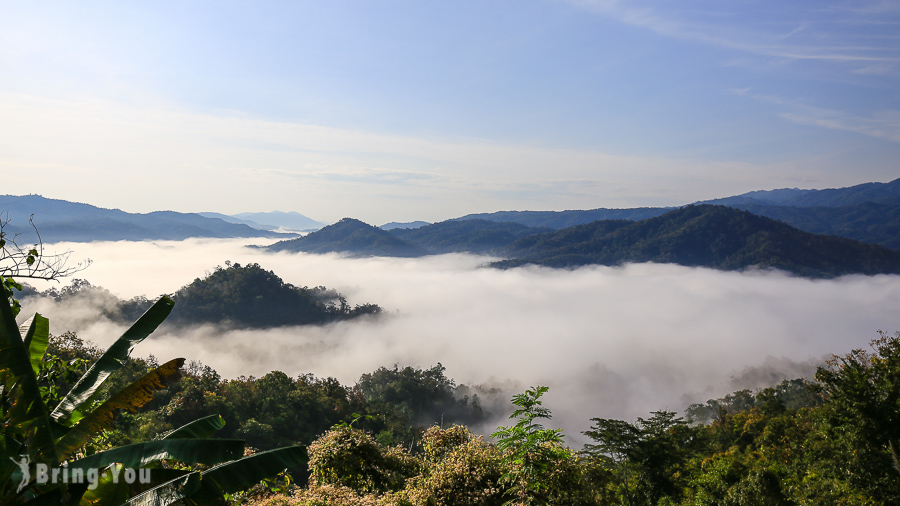 Read on to find out how to get to Pai and the 10 best things to maximize your experience.
2 Best Ways to Get to Pai from Chiang Mai
By a Shared Van
Book a shared van ticket starting at Chiang Mai Arcade 2 Bus Terminal. You can get the ticket online in advance and spend the next five hours on the road before getting off at Pai Bus Station.
By a Private Chartered Car
A chartered car costs somewhere between THB 700 – 1500 depending on your group size. You have your own driver pick you up at your hotel in Chiang Mai and drop you off at the desired location in Pai within a 4-hour trip.
Book Private Chartered Car to Pai
Top 10 Things to Do in Pai to Spruce Up Your Gallery Book
Pai Canyon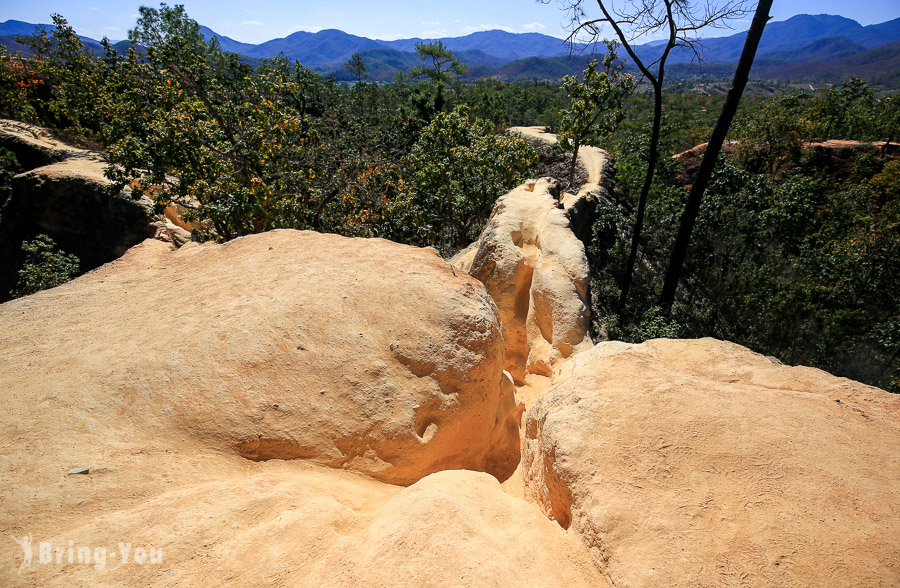 I love this place so much that I decided to get there first thing in the morning! Please don't compare Pay Canyon to the Grand Canyon! That's pointless because the one in Pai is so cool that it can give you so many shots to keep in the book of memoir.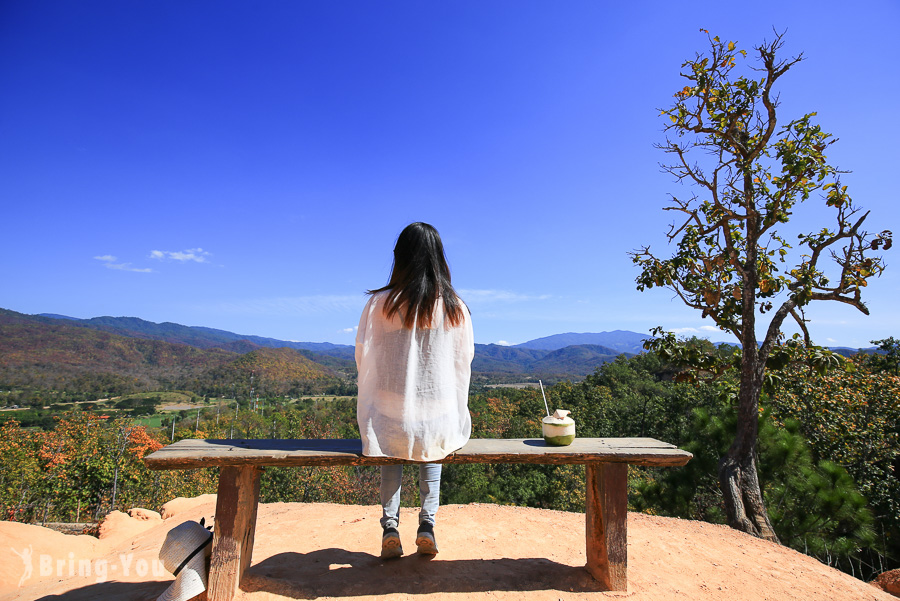 I spent nearly two hours here whizzing my way down the tiny paths and the cracks with the scorching sun heating up above. The forest swathing the foot of the canyon serves as a dramatic backdrop and the vertical canyon walls are a thrill themselves too.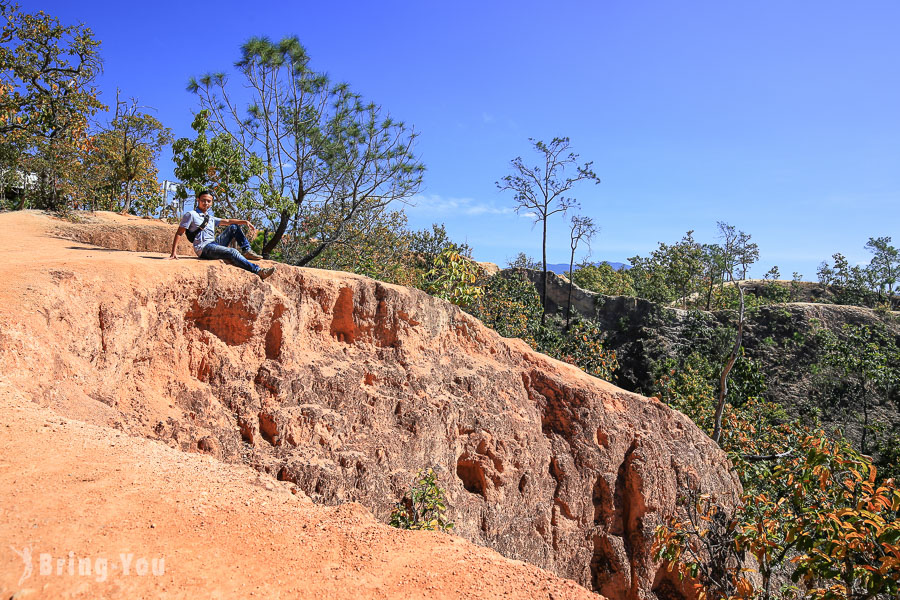 One of the most popular corners of the canyon is the tip. You can also get to one of the lookout points to get your heart pumping with excitement when standing 30 meters off the ground.
World War II Bridge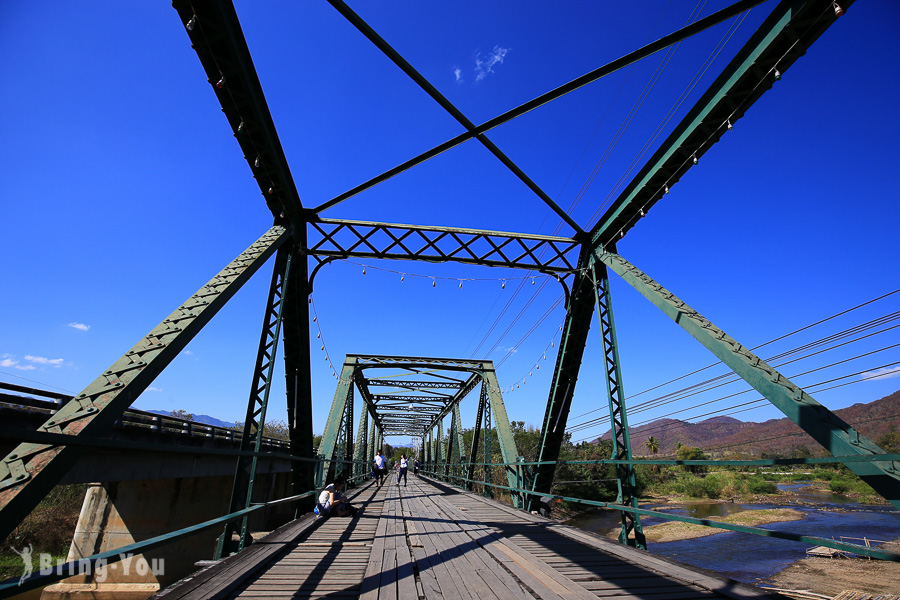 Are you a history buff? If that's a nod, you'll love a visit to this infamous bridge! The WW2 Bridge is a nice attraction in Pai with a historical story behind it. It was during WW2 when the Japanese invaders exploited the local labor force from the surrounding villages for the making of this wooden bridge to attack the British army set in Burma.
When the war came to an end, the Japanese finally burned the bridge upon their defeat and another wooden bridge came to life on the same spot. In 1973, it collapsed following a severe flood and was finally replaced by an iron bridge you see today.
Coffee in Love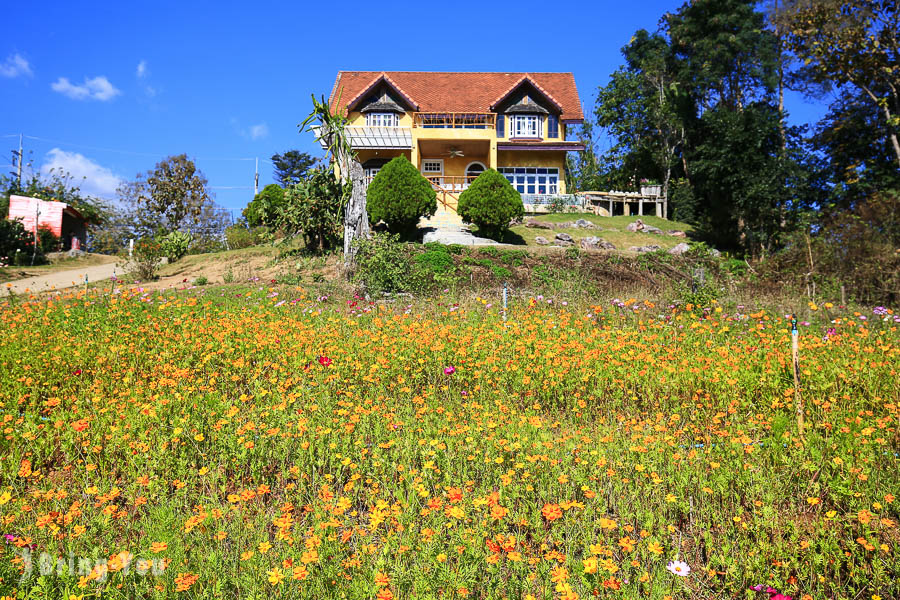 I don't know why people left negative reviews about this place. Even though it's not the best scenic cafe with a view I've been to, Coffee in Love is definitely better than a lot of other places.
The biggest hook here is the view. This site has been on the news ever since the 2009 movie Pai in Love came out. I found it a stellar stop to cool down and wipe off the sweat while enjoying the greenery. You can also take a walk down the hill where there is a stable among horses at the end of the stroll.
Love Strawberry Pai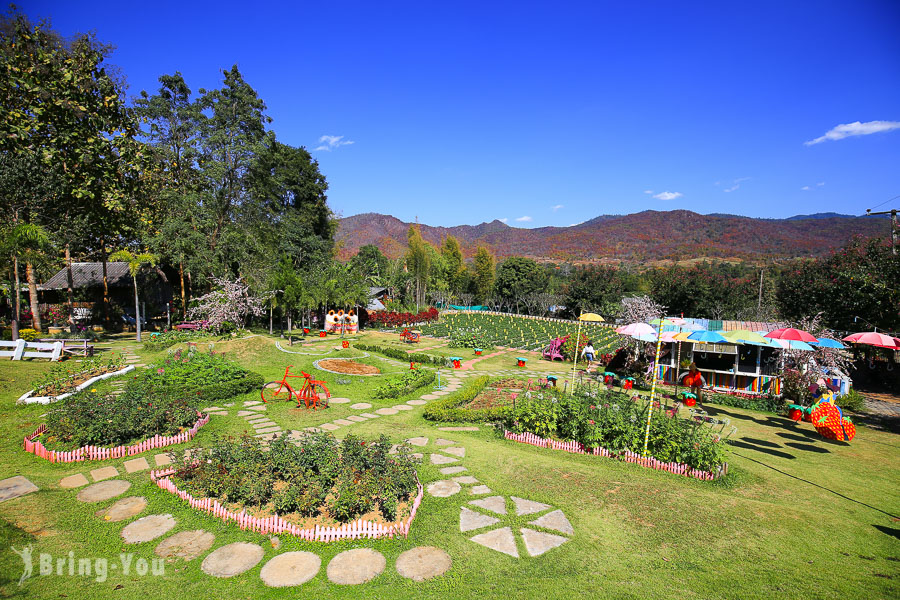 Love Strawberry Pai is one of my all-time favorite places all over Thailand for the photos. It was randomly popping out on my way to the Pai Canyon and it would have been a mistake if I didn't decide to stop by.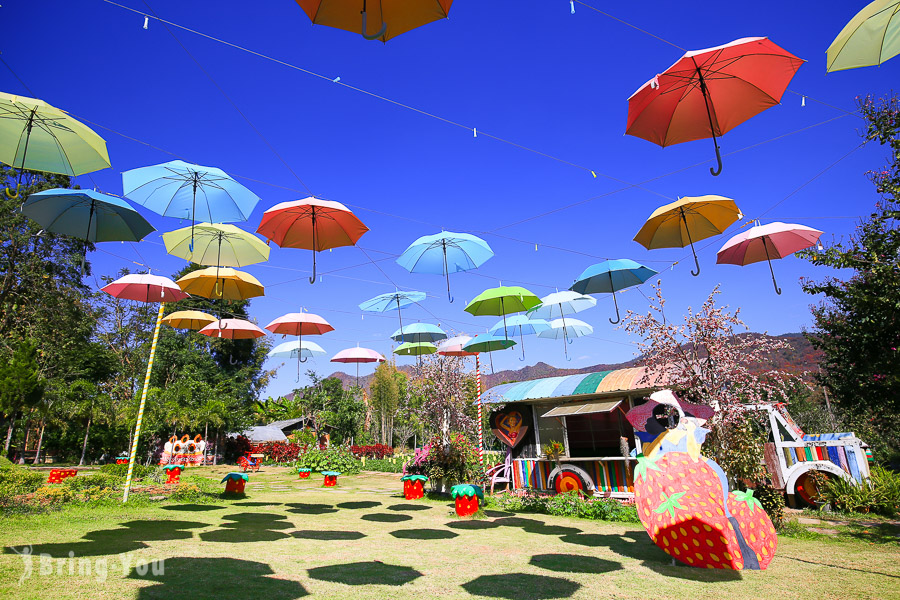 As the name suggests, they will grow strawberries on the site but it's a seasonal thing. However, you can find some of their strawberry wines which are insanely cool! My heart always jumps for joy whenever I see wines (and I'm by no means a wine snob but I love the Nectar of God to my core).
If you're not into wines, just sit down for a coffee or smoothie and hunt down some photo-ops before leaving.
Yunnan Cultural Village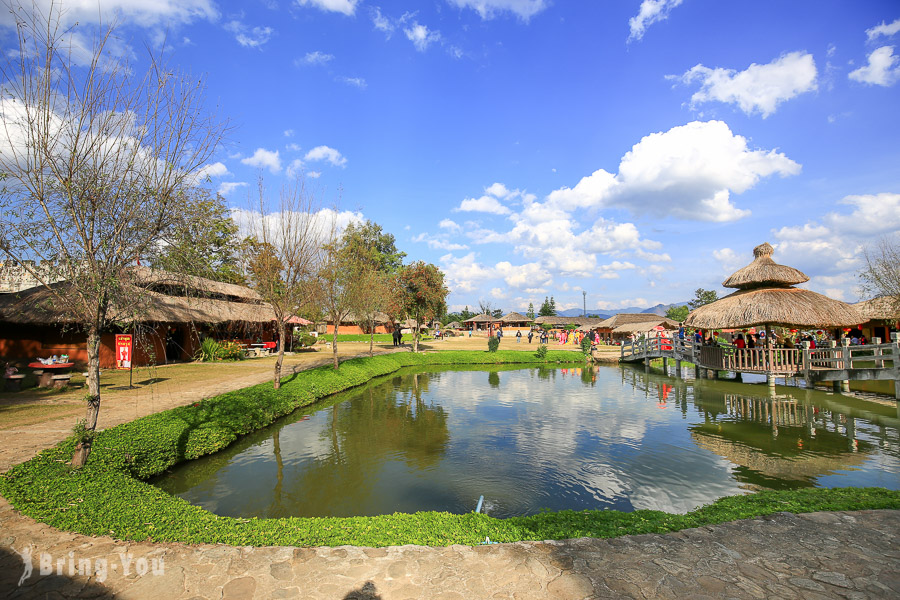 I guess this ethnic village is more on the lesser-known side but you'll still see tourists dropping by for photos and learning about the story behind it. Chinese Yunnan village also goes by the name Santichon Village dominated by the Yunnan people.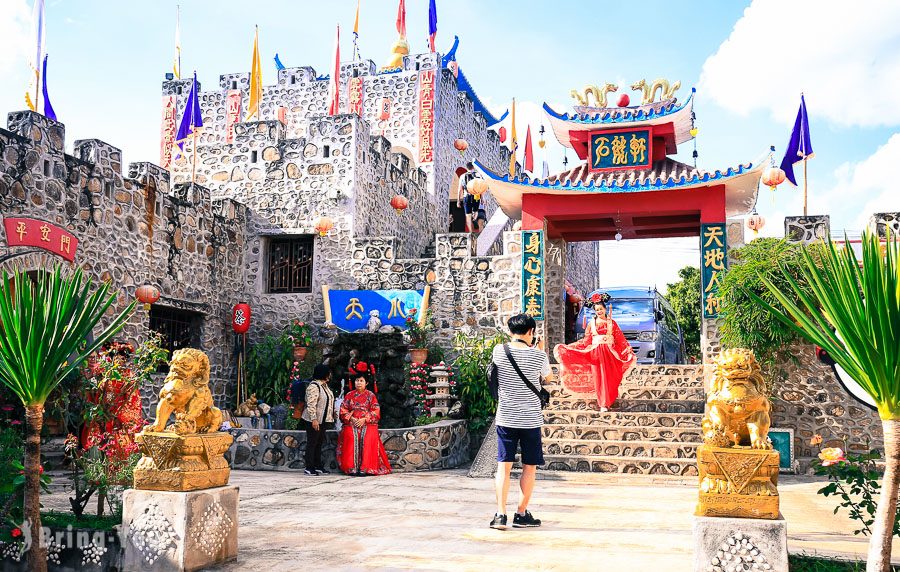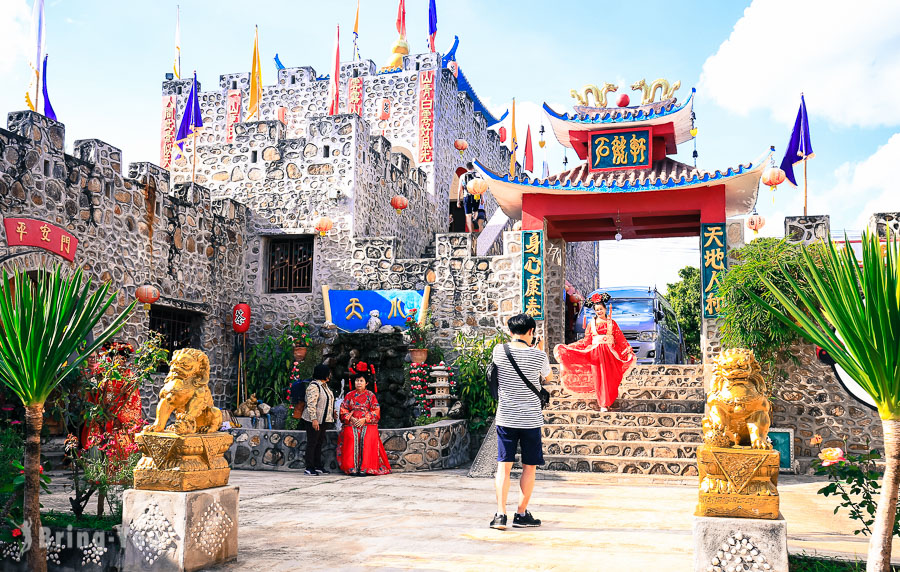 When you walk towards the middle of the complex, there's a huge rock with a dragon creeping up a pole. Gathering around is a set of shops, Chinese restaurants, and clay houses where you can obtain some photos. People would be dressing up for the pics or getting on a paid ride on the Ferris wheel.
Embrace the Majestic View from Yun Lai Observation Deck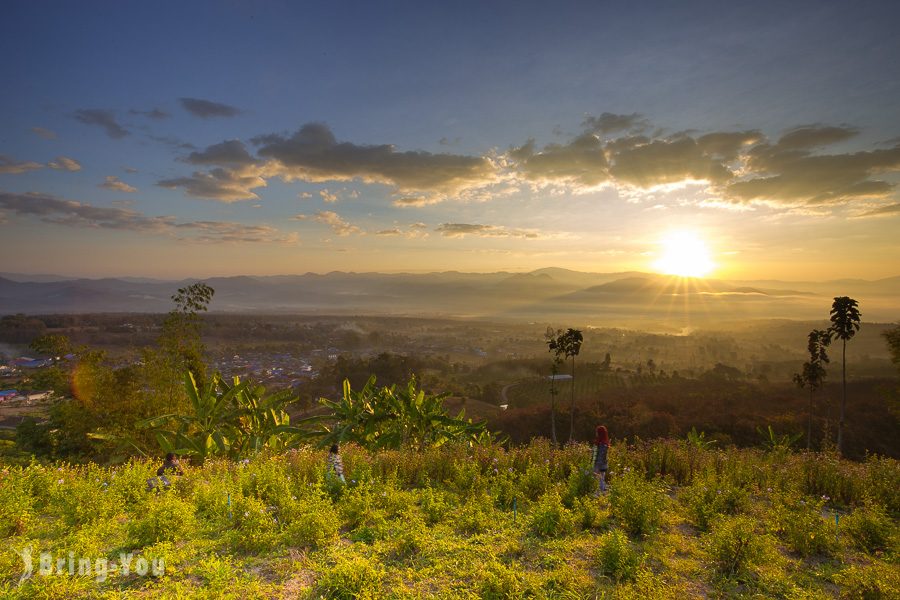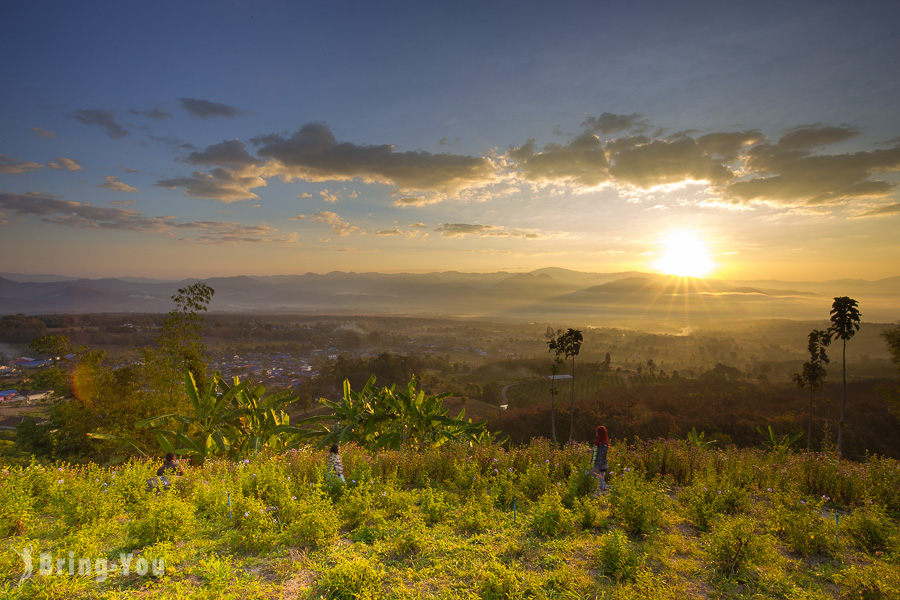 The deck is a 15-minute drive out of Pai city center. If you cannot get there by sunrise, rest assured because the view for the rest of the day is also gorgeous as it faces the beautiful sweeping views of the valley even without the golden rays!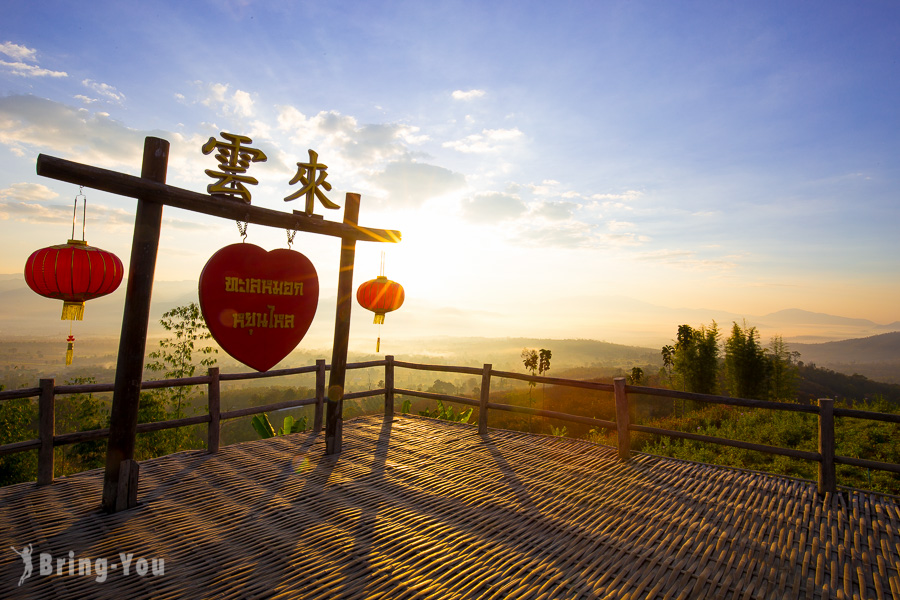 There would be a lot of tourists during the high season so chances are you will see people lazing around on the grass field and the bamboo viewing deck as well.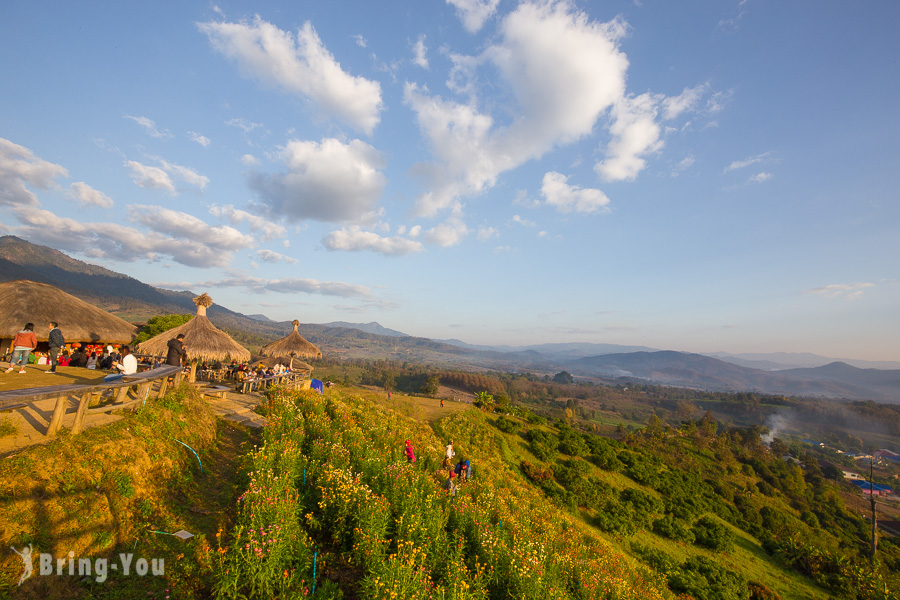 Despite the crowds, the surrounding scenery around the observation deck is worth a stroll too. There's a trail going all the way down to a flower field under the viewing platform, opening out the lush greenery underneath.
Watch Sunset at Chedi Phra That Mae Yen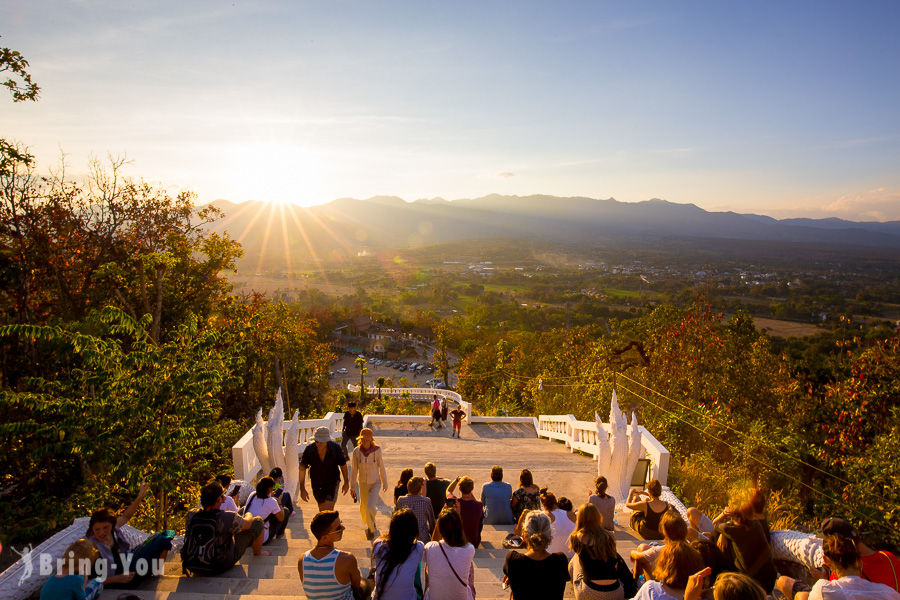 Wat Mae Yen has everything nature lovers adore: the view, the hike, and the sunset!
Well, I mean the White Buddha Statue is surely the biggest hook but if you can choose the time to visit, get there by sunset. That is when you can snap the coolest sunset shots from the White Buddha on top of the hill facing the town of Pai. And the dramatic sunset sweeping through the high, crisp sky is beyond imagination!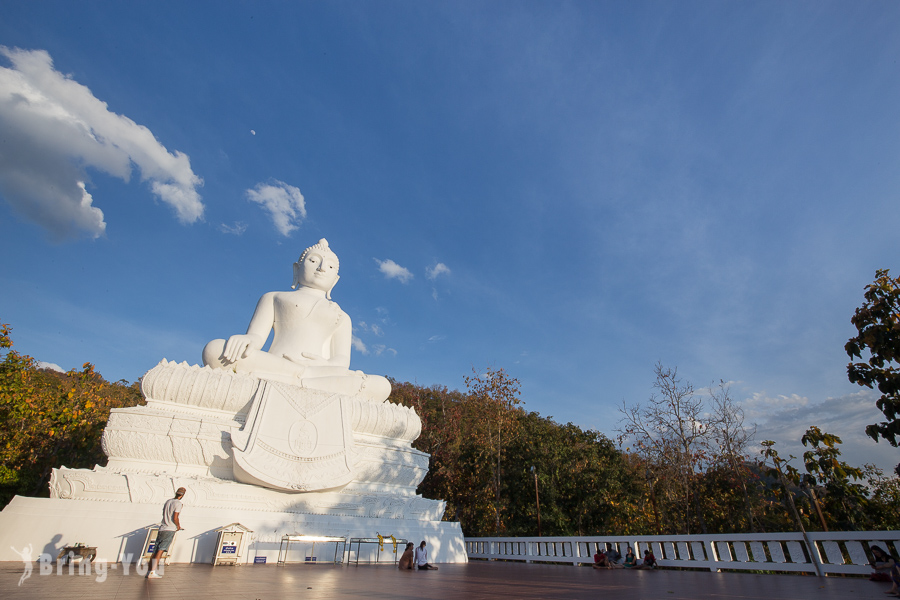 Don't forget that the climb up the stone stairs is about 2 kilometers! So only come if your fitness level agrees!
Pai Walking Street and the Night Market
The chaotic walking streets and maddening night markets have been a norm in Thailand, and Pai is no exception!
Do you know what makes the night market in Pai crazy and famous?
It's insanely cheap and you can find so many things to eat that even knock you off before bedtime.
They have a really nice avocado treat over there to wash down after some hearty BBQ ribs. Even if you're a vegetarian, you'll love it here! I tried one of the mushrooms and sweet fritters that were dunked in a pool of boiling oil and the crispy coat was to die for! Get there around 6 pm (not too early) when all the stalls are up and ready to go.
Tham Lot Cave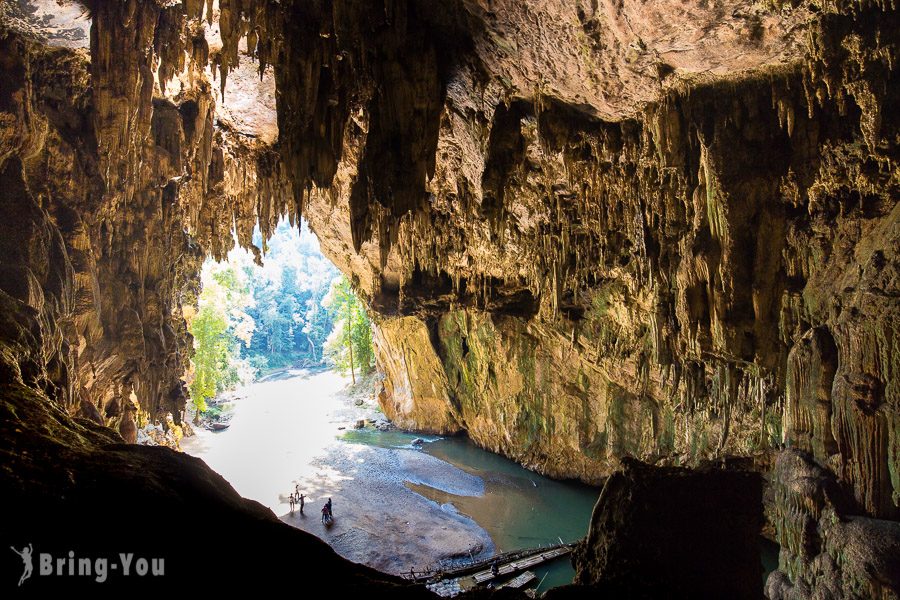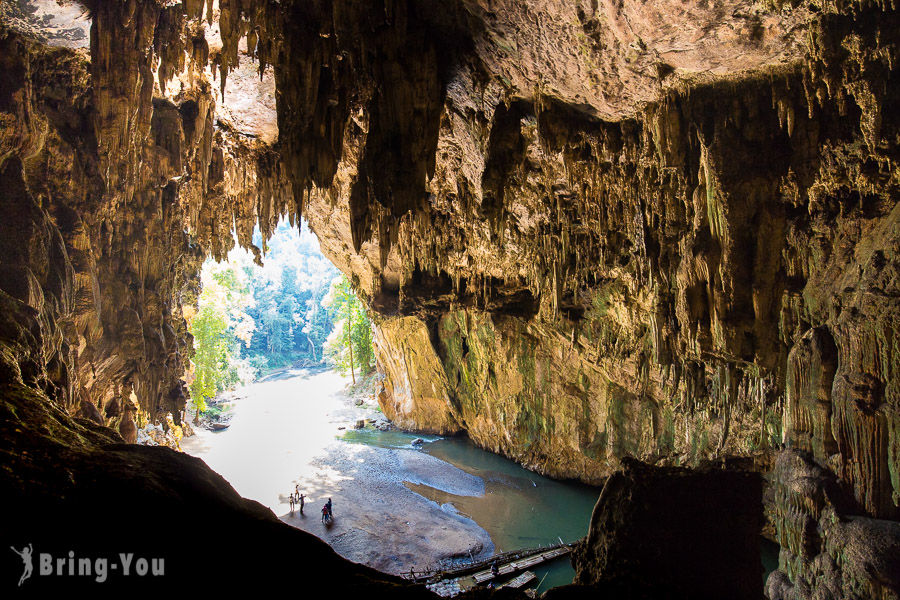 Tham Lot is one of my favorite caves all over Thailand. And by "favorite", I'm by no means bragging! Tham Lot is extensive and huge and runs for 1.5 kilometers. The coolest thing about the cave is how you see Nam Lang River flowing through it, with a plethora of limestone stalactites and stalagmite formations swathing all around. Once in a while, you'll see bats and ancient teak wood coffins hidden along the way.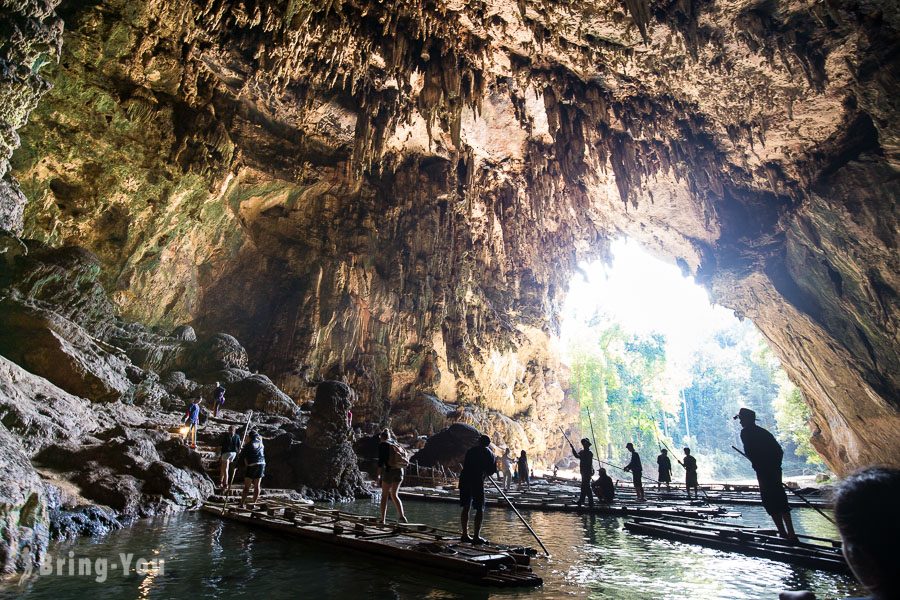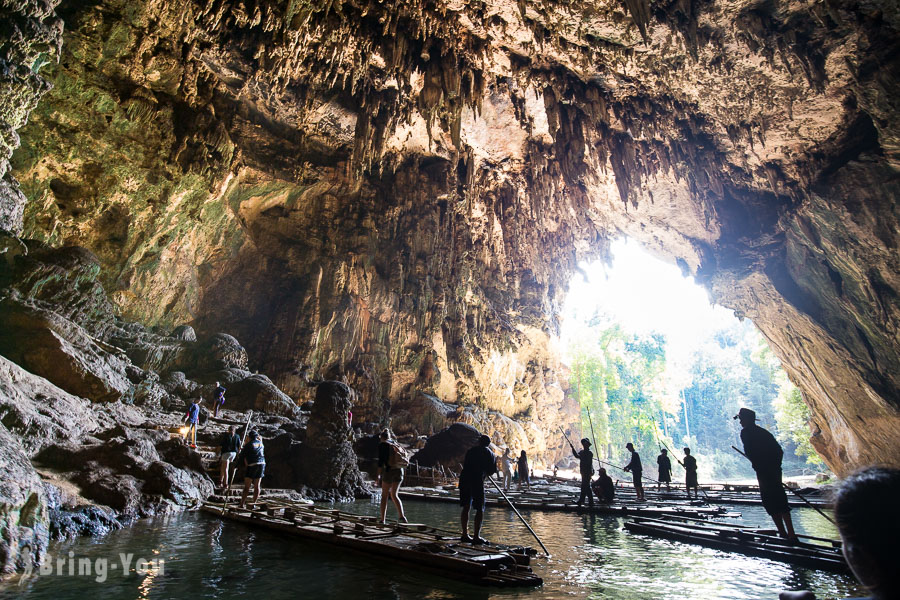 Bonus: The Big Tree Swing at Mari Pai Resort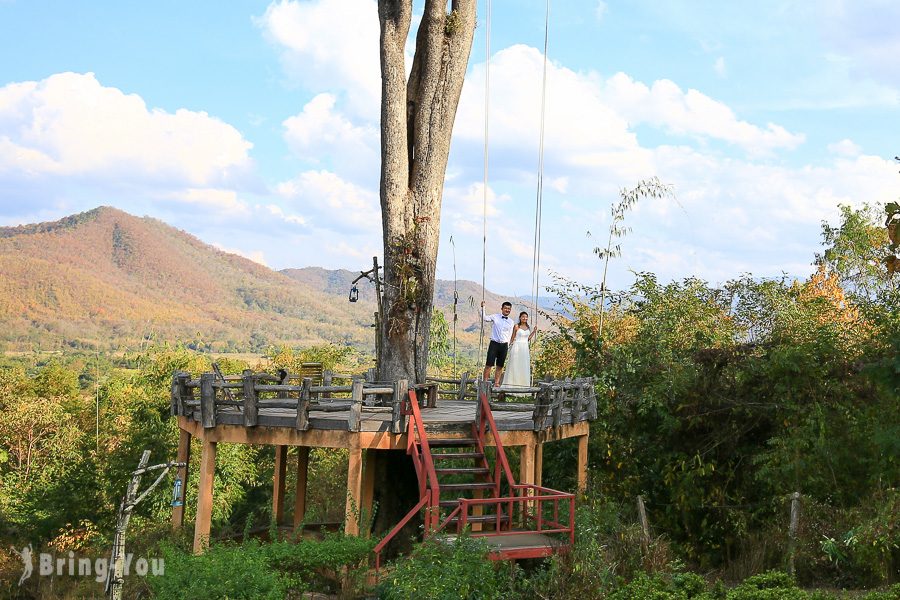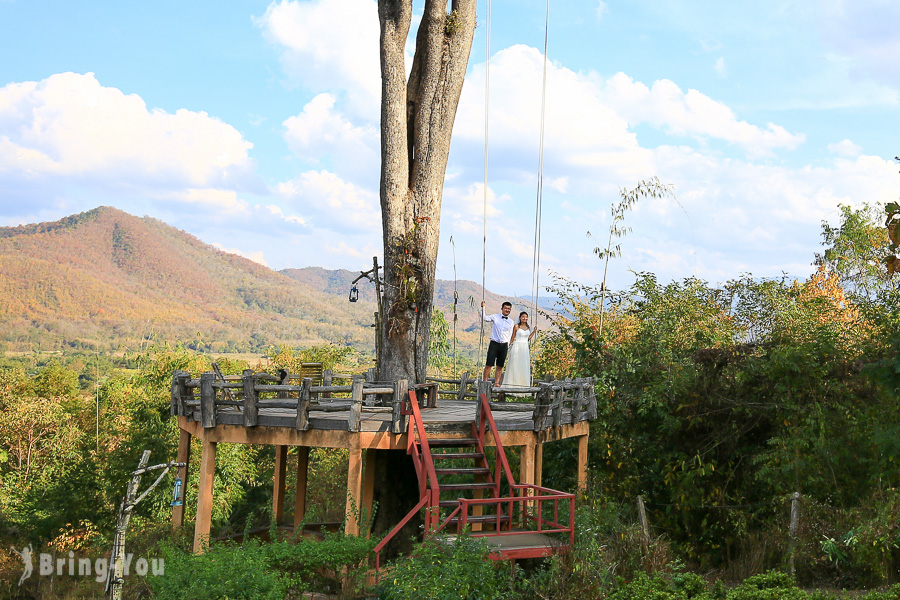 If you stay at Mari Pai Resort or have a chance to drop over, don't forget to check out a big swing mounted into a tall tree for a view. It's a great hidden photo-op that looks over the sun-kissed mountains. I can't guarantee if you'll encounter a big crowd the day you're there or not. So just spare 20 minutes or so for the queue.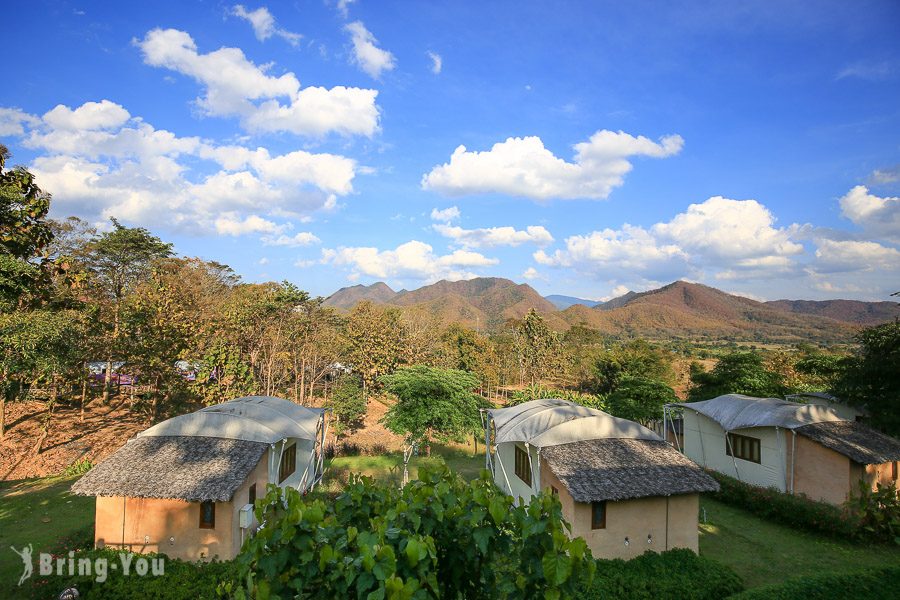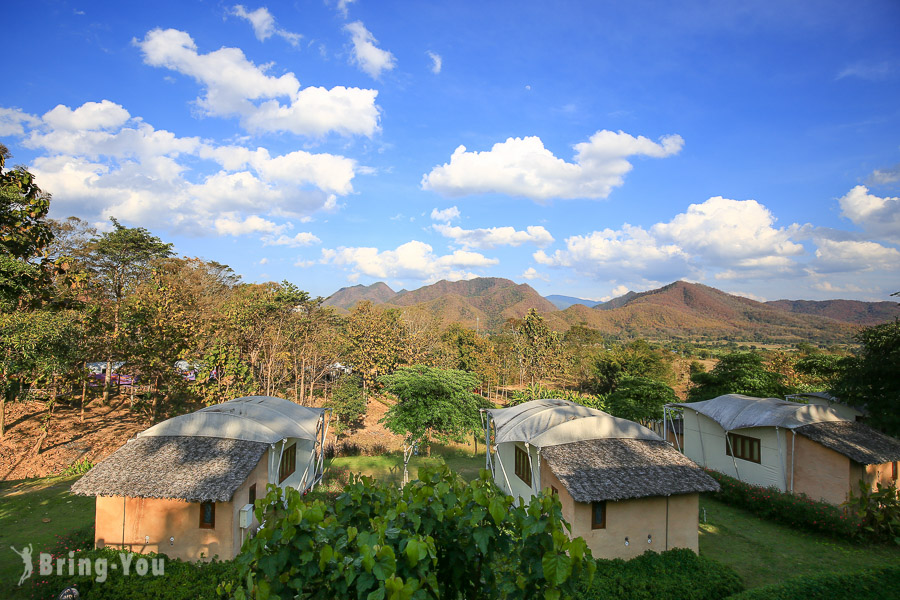 When Is the Best Time to Visit Pai?
The best time to visit Pai is between November and February and heavy rains are out of the way so you can spend days outdoors and the heat is bearable.
How Long Should You Spend in Pai?
One day is not enough unless you want to stop over in Pai on the way from and to Mae Hong Son and Chiang Mai. But if you really wanna see things and discover Pai to the fullest, two days would be fine and three days would be the best to cover all 10 sights I recommended above.
I hope you'll love Pai as much as I did! Don't forget to bookmark this travel guide so you can rock Pai in your own way!