Wondering if it's worth it to spend an hour or two at Nishiki Market when visiting Kyoto? 
Well, don't let the negative reviews hold you back in doubts!
For the past few years, we've found our way back to Nishiki Market a total of five times! There must be something special about Nishiki that imprinted a great impression about this bustling marketplace in our hearts!
If you're looking for truly authentic snacks, finger foods, and anything household-related that's native to Japan and Kyoto, look no further!
Nishiki Market itself is a narrow corridor covered with a stretching range of yellow, red, and green roofs spanning five blocks. Under those colorful rain-proof covers, more than 140 stores line up to offer a brilliant variety of all things food-related! From pickles, groceries, vegs, teas, sweets, tofu, household appliances, and dried ingredients, you name it!
Wondering what it's like to explore Nishiki Market? Is it crowded? What's the good and the bad? What time should you really go?
We'll go over all of your questions in this handy guide! Let's jump into it!
A Bit of History of Nishi Market
Mind-bogglingly, Nishiki Market has been going strong since the early 14th century. Before turning into a massive, colorful, sprawling "Kyoto's Kitchen", Nishiki was originally an open-air fish wholesale district. As more and more vendors started to move in, Nishiki gradually transformed into a retail market.
Today, you're still able to experience a pleasant but busy atmosphere here. There is a lot to learn and see within an hour or two visiting the market.
It's all about culinary delights. So big foodies definitely want to have a closer look!
Is Nishiki Market Touristy? Or Is It Still Worth It?
The stores at Nishiki Market range in sizes from small, narrow stalls to big, two-story shops. Each of them is usually specialized in one specific product.
Overall, the market serves two purposes. Tourists usually flock to the visitor-facing section looking for small bites, souvenirs, and specialty items. Meanwhile, the locals usually find their way to another side looking for utilitarian suppliers with seafood and seasonal produce to stock up their pantry.
As both locals and visitors are sharing a fair slice of the market's offerings, Nishiki still has a long way to go before turning into a completely 'touristy' market.
And that's what we love about it when we're still able to find small bites and yummy treats as a tourist, but there's no absence of an authentic feel we're looking for!
How to Find the Best Yummy Bites at Nishiki Market? Our Favorite Treats to Get Your Day Started on a High Note
Before stuffing your stomach with good eats, we'll give your eyes a delight with this navigator's map to make your way around with ease!
Pickled Vegetables at Uchida and Nishiri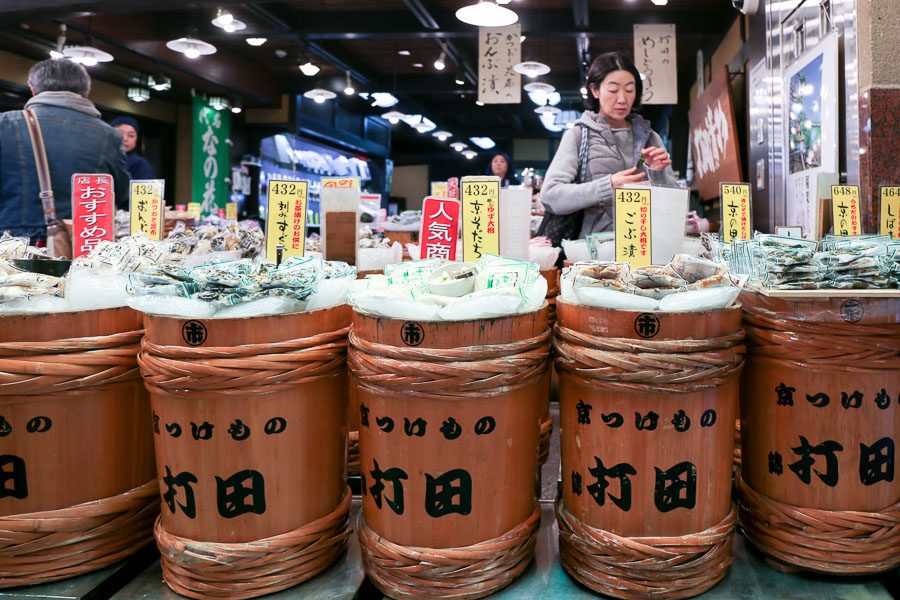 Out of a mind-blowing range of seasonal produce and veggies, pickled veggies seem to take the crown! There are many big, bright stores dishing out a wide variety of Japanese pickled veggies, many of which date back to decades ago.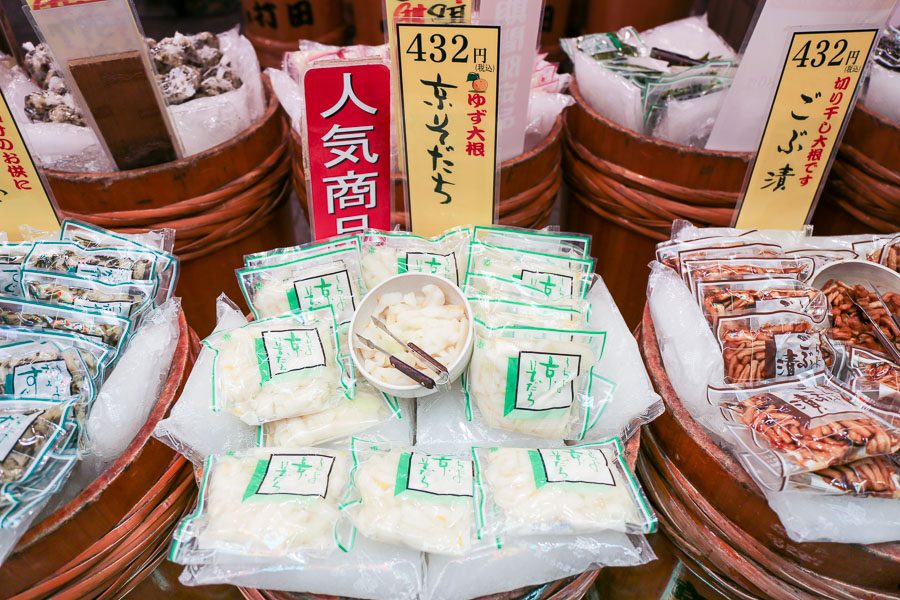 Kyoto pickled vegetables are indispensable to a meal. At the front of each store, they bring out huge wooden buckets filled with different types of pickled veggies (like cucumber or radish) and plug small wooden sticks on top with names and price tags on each.
If you're looking to sample these beloved Japanese cuisines, check out Uchida and Nishiri stores in the market! They focus on home-grown seasonal produce, apply traditional pickling recipes, and introduce amazing products to pair with different kinds of food.
You can get them in kilos or pre-packaged so you can get them on the airplane and bring them home with ease.
Soy Milk Desserts at Konnamonja
Get your stomach ready because Konnamonja's sweets and desserts will have you die for! Carefully packaged with a strong concentration on domestic soybean, Konnamonja dishes out some of the best donuts, ice cream, confectionery, and sweets of all kinds.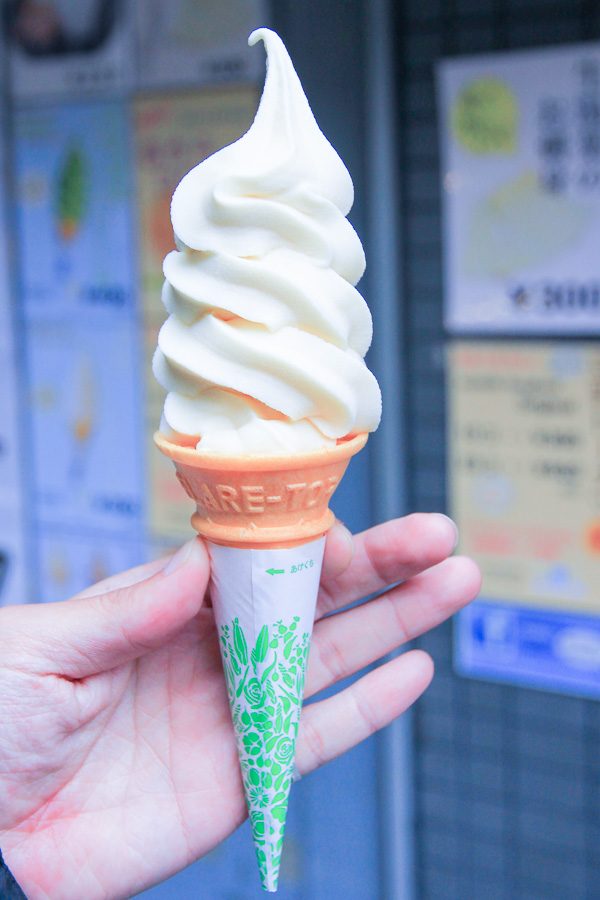 No wonder why their donut is the signature! It's so light, not crazily sweet nor oily, which makes a perfect treat for those on a diet. Even if you've had a heavy lunch or been snacking all day, the soy milk donut at Konnamonja will keep you craving for more!
In addition, some of their products include packaged tofu that is available for sale to local households and restaurants.
Udon at Fumiya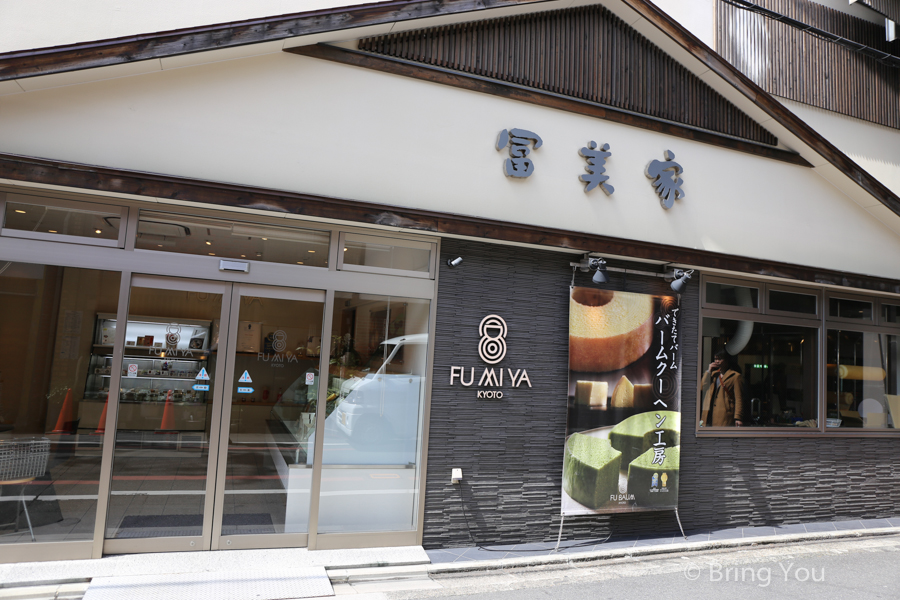 If you are in the Nishiki market, Fumiya is here to steal your heart if you are a big lover of Udon.
The good news is that they have an English menu which is a life savior! They dish up some really good udon options ranging in traditional, standard type and some unique, creative variations as well. No matter what you go for, the soup flavor and aroma are so delicate while the noodle texture is soft and chewy.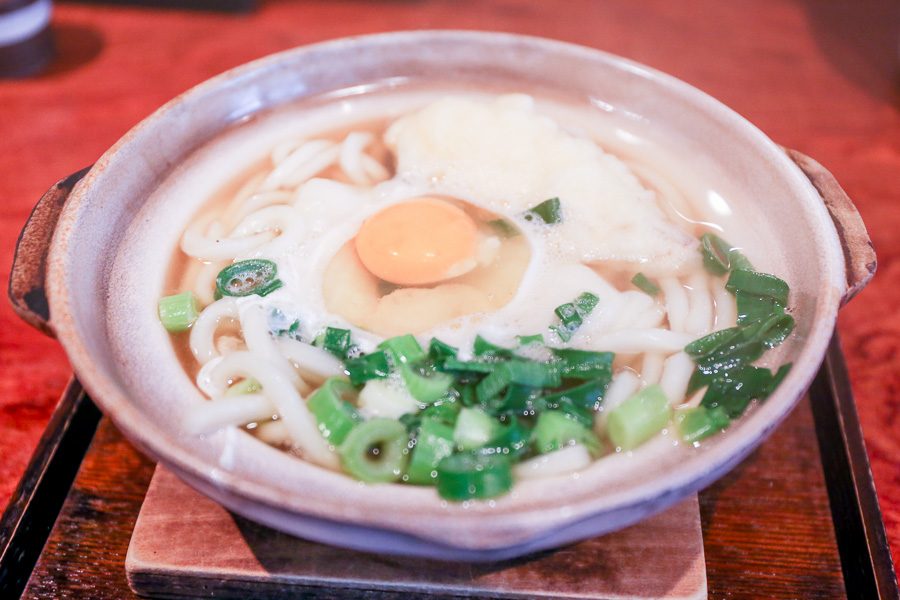 There's usually a queue waiting in front of the store but it fades fast so you don't have to wait hours to be seated.
Omelette at Miki Keiran and Tanaka Keiran
If you're a fan of everything egg-related, Miki Keiran and Tanaka Keiran are definitely the must-stop at Nishiki Market.
Their omellete is one of the hottest sales. Apparently, you'll get a Japanese-styled rolled one! This one is decent and soft, a bit softer compared to French omellete. The omellete is huge and it comes out in a long rectangular tube. Overall, we definitely recommend everyone give it a try.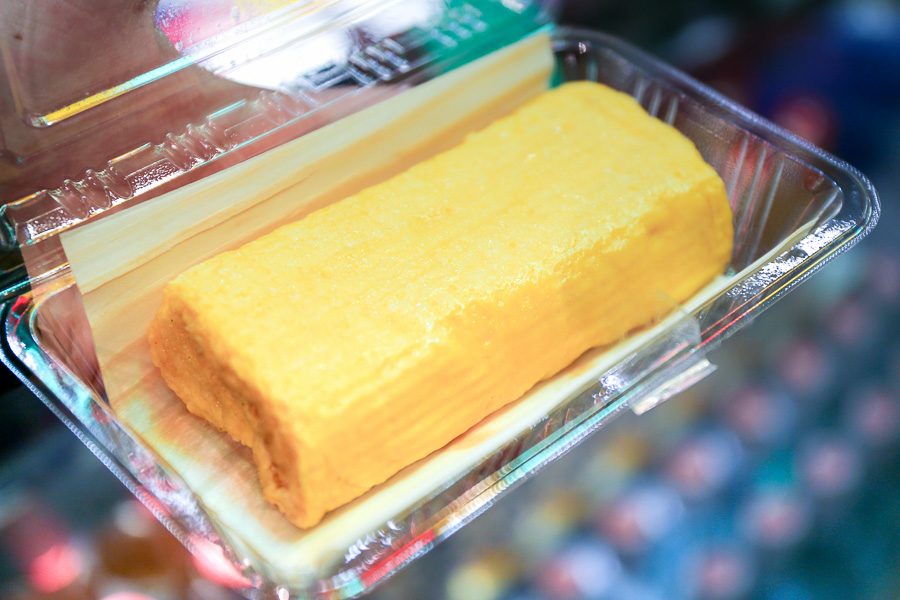 Some other claims to fame you can find here are yellow bean paste bread and custard cream bread.
Raw Oysters at Daiyasu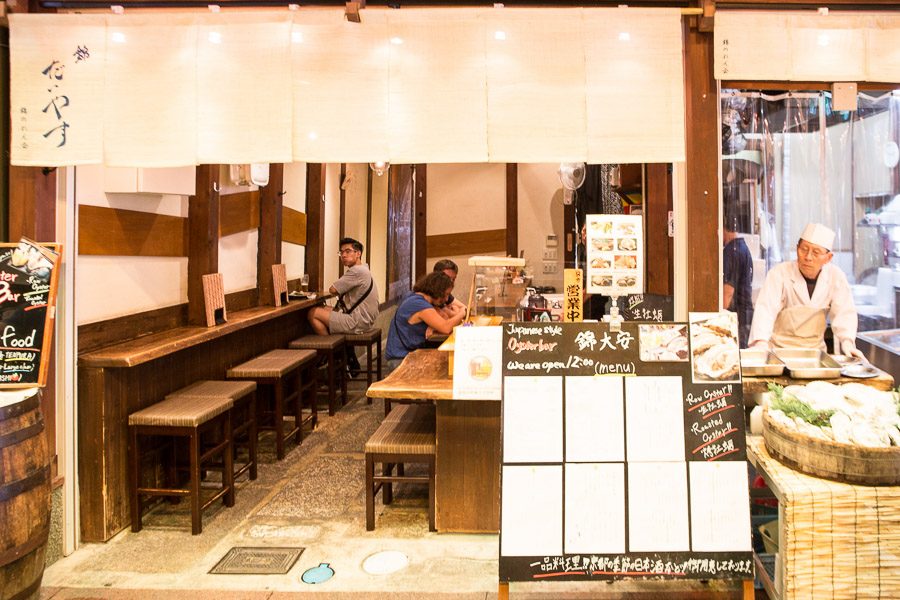 Fresh oysters, sake, white wine, and beer – who's here for this combo? This sounds like a perfect plan when you look for a great night out with the fellas! At Nishiki Market, Daiyasu should be where your heart is if you're in need of something juicy and fresh to pair with a cold nice beer. It has a nicely lit, small wooden dining area indoors with a straight-up seating line on both sides.
Now let's come to the star of the show – the oysters! They are huge! They serve about two big oysters on one small square plate with a slice of lime right next to it.
Imagine devouring those juicy and meaty oysters with a zest of that tangy and sour lime juice, that's what we call real heaven on Earth!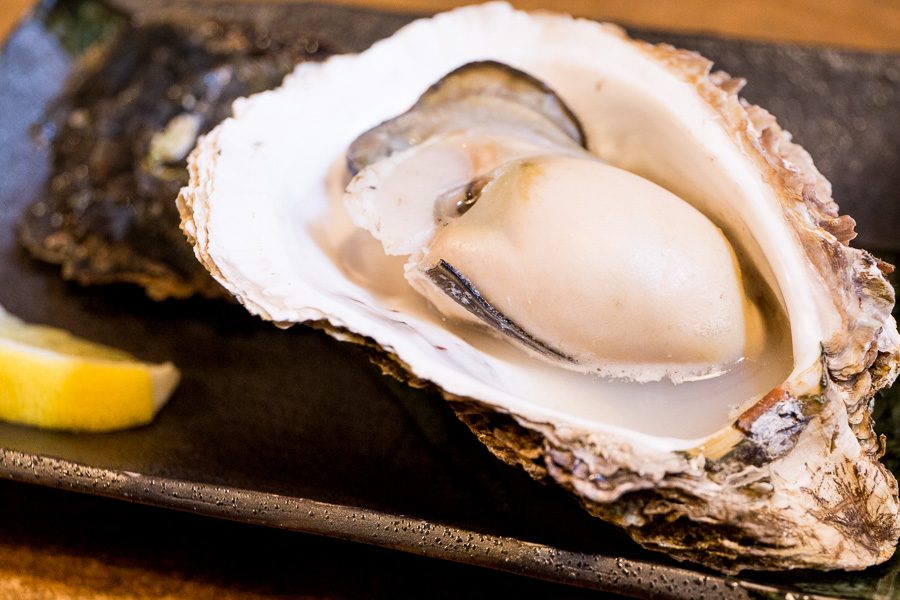 Even though oysters are a norm here, you can go for some other seafood and have them grilled or cooked however you like.
Bonus Getaway: A Visit to Nishiki Tenmangu Shrine
Keep walking for about three minutes east outside of Nishiki Market, you'll find a small Shinto shrine which is known for having lots of white lanterns, a bronze cow, and spring water for purification.
Those big white lanterns written in Japanese with a few red dots make a perfect photo-op. This one is a local shrine where you'll find a lot of locals coming for prayer, especially students seeking wisdom from god.
How to Get to Nishiki Market?
Nishiki Market is located right at the crossroads between Nishikikoji-dori Street and Tominokoji-dori Street.
It's only a few blocks away from the Shijo Station on the Karasuma Subway Line and the Karasuma/Kawaramachi Stations on the Hankyu Line. After taking an exit, walk for about five minutes following Google Maps until you get there.
If you plan to visit Nishiki Market as part of your sightseeing trip around Kyoto, you can rent a bike and cycle from Kyoto Station and park your bike at Nishiki Parking 1 (612 Nishidaimonjicho) which is a one-minute walk away. Some other parking lots are a few more minutes nearby and you can spot them on Google Maps by searching for 'parking lots'.
Nishiki Market Opening Hours
Nishiki Market is not open early in the morning like some other marketplaces you see in Japan. It's normally open from 9 am to 5 pm. Some stores are open later at 10 am or 12 pm. The closing dates also vary between stores.
Final Words: Is Nishiki Market Worth Visiting? What Is the Best Time to Go?
At its best, you can say Nishiki Market is the best typical Japanese food market. If you're a big foodie, you definitely want to come here! There's a blissful balance between the touristy side and the local vibe.
That's actually a good thing because you don't want to feel completely lost at a place where no one knows why you're here or staring at you, especially when you don't speak Japanese at all but everything is completely written in the local language.
There's something to keep in mind before setting out, though! Nishiki is compact, long, and narrow. So you've gotta have common sense when walking around and browsing stuff.
Taking pictures is a common thing but not every vendor is happy about it. Snapping photos is not welcomed at some of the stalls, so you've gotta watch out for the attitude!
If you've just arrived in Kyoto, we'd advise you to check in your hotel first instead of dragging your huge luggage all around. You don't want to cause intense congestion, do you?
Overall, Nishiki is a great place, period! The local feel comes from all of those weird things you haven't sampled before. And all those little, quirky keepsakes are pretty cute and unique too.
The crowds will be insane on weekends, holidays, cherry blossom season, and fall (just as you might have expected!). But other than that, Nishiki is a pleasant, fun, and sprawling market to spend some money on a meaningful and insightful visit!