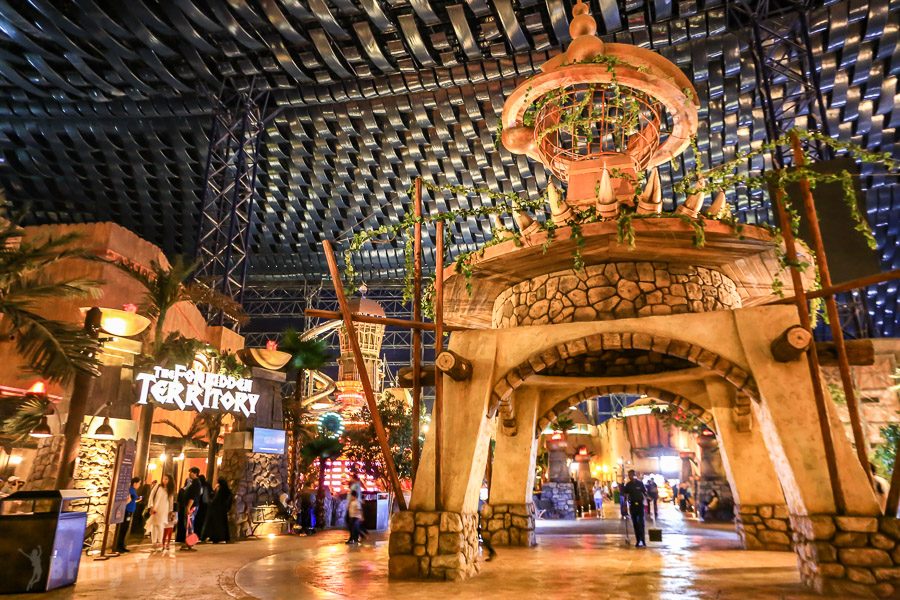 Dubai is no short of fun. While the country usually goes by the images of gold-finished temples, historic sites, towering skyscrapers, and the heart-pounding desert safaris, it is also stocked with numerous theme parks and exhilarating rides to have you occupied for the whole day.
The best thing about Dubai's theme parks is how each of them sends you to a completely different world. The unique concepts contribute to different parts of life, from marine life to winter wonderland, from Legoland to Motiongate, you name it.
There is a wild collection of theme parks in Dubai but those 12 are my all-time favorite. These are where I beheld all the memories, all the screams, laughter, and emotion with my friends, from the record-breaking water slides to a heap of good treats to keep you recharged for hours.
Without further ado, let's jump right into this list of the 12 best theme parks in Dubai for all ages and fitness levels before booking your tickets!
Dubai Aquarium & Underwater Zoo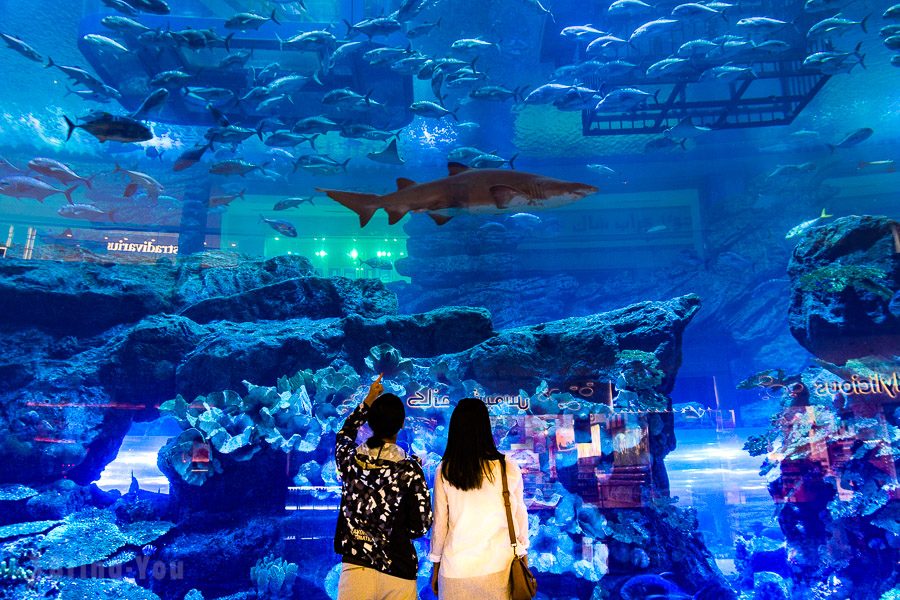 Let's get the Dubai Aquarium & Underwater Zoo on top of the list. This is hands down the best and most sought-after theme park in Dubai for animal and nature lovers. It's located right next to the Dubai Mall, nourishing over 140 species and sharks.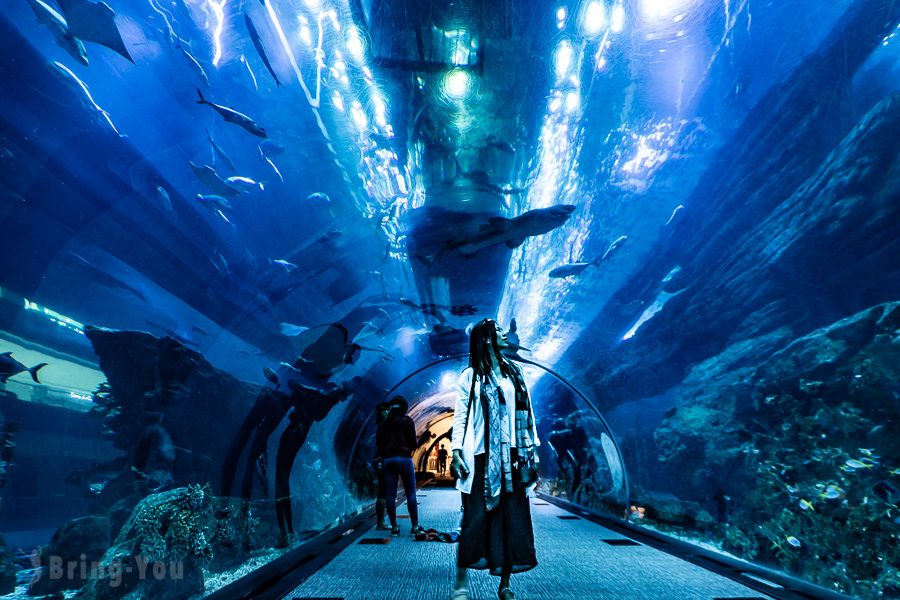 Take an exciting stroll along the 48-meter tunnel as you venture out under the sea and admire all of the exotic and rare animals swimming above your head.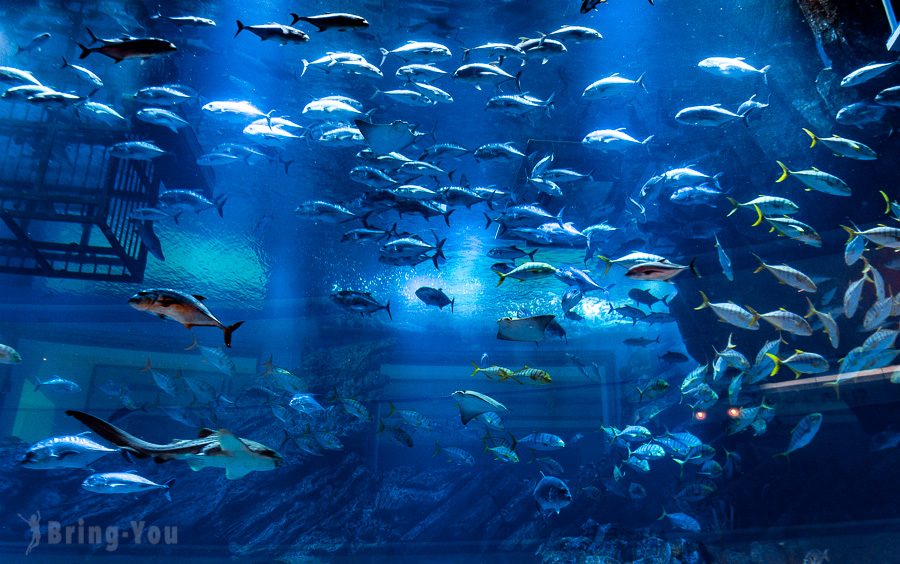 Other than that, they also built the Rainforest, Rocky Shore, and Living Ocean of the Underwater Zoo to introduce infamous, rare species such as the Piranhas and Humboldt Penguin.
IMG Worlds of Adventure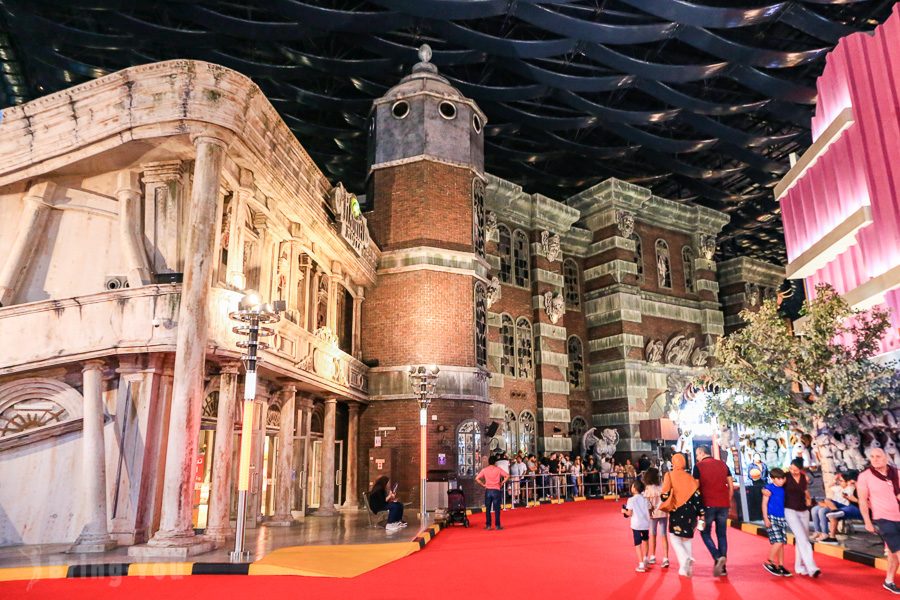 This is my favorite adventure theme park in Dubai. It was a great day out of the sun and IMG World did an amazing job in building such a large, fun-filled indoor complex with air-con throughout. The best thing about this place is how they split them up in different zones such as Marvel Zone, the Lost Valley-Dinosaur Adventure, Cartoon Network, and IMG Boulevard for kids of different age groups. This means everyone is guaranteed the same level of fun and keeps the whole family together.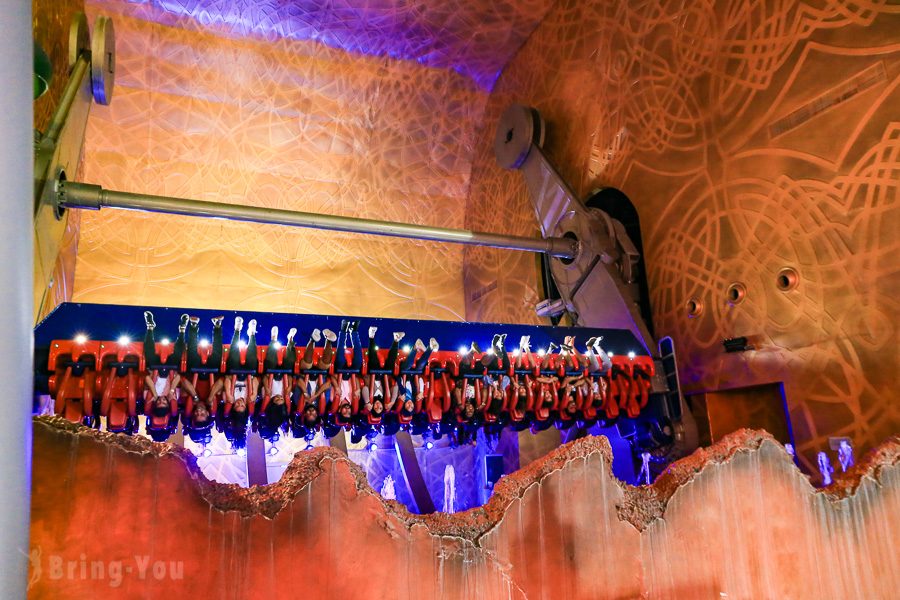 Send chills down your spine and have your stomach rumbling as you engage in 22 different rides and rollercoasters.
As the name suggests, IMG Worlds of Adventure is not for the faint-hearted. Get in here if you want to tackle the world's largest indoor theme park with dinosaurs roaming right next to you or observe a fearless fight of the raptors.
Laguna Waterpark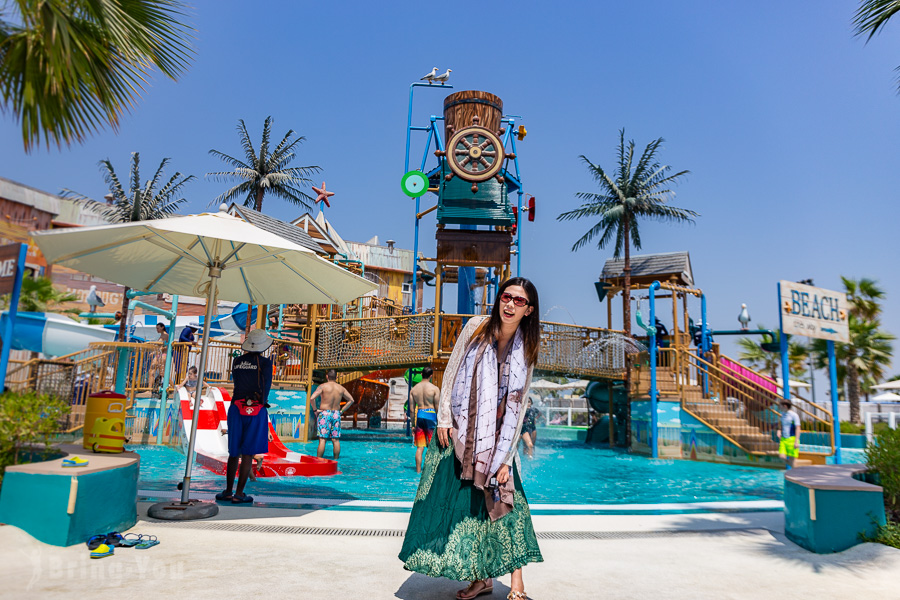 From lazy rivers to surf pools, from slides to beach cabanas, Laguna Waterpark is a real deal in Dubai's best theme park collection. Boasting a gigantic, scenic view over the beach, Laguna is stocked up with some of the most adrenaline-fueled, gravity-defying rides where you can get some free fall and scream for your life.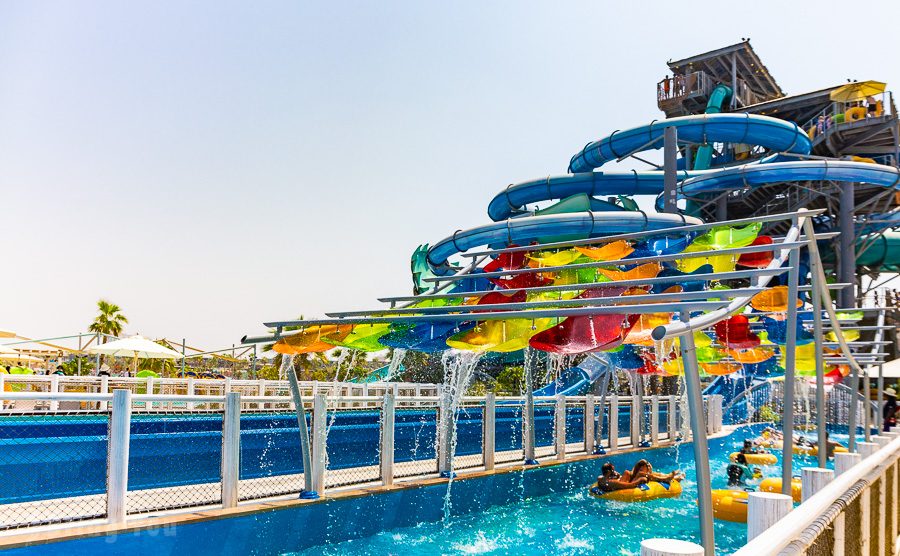 The spectacular design of tubular waterslides and optical illusions make it even better. And finally, you can feel at ease when floating down the lazy river at the end of the day.
Atlantis Aquaventure Waterpark
If you've read my review about Atlantis, The Palm before, chances are you already know how awesome its waterpark is. Located in an excellent location in the country, Atlantis Aquaventure Waterpark is an insanely large theme park that promotes a lively marine life and a series of galvanizing rides.
This family-friendly park has so much to offer. Kiddos specifically love the waterslides and pools in Splashers Children's Play Area injected with an adrenaline-pumping vibe. Meanwhile, parents can enjoy some peaceful downtime on the park's private beach after a long day riding the slides with their children.
Ferrari World Abu Dhabi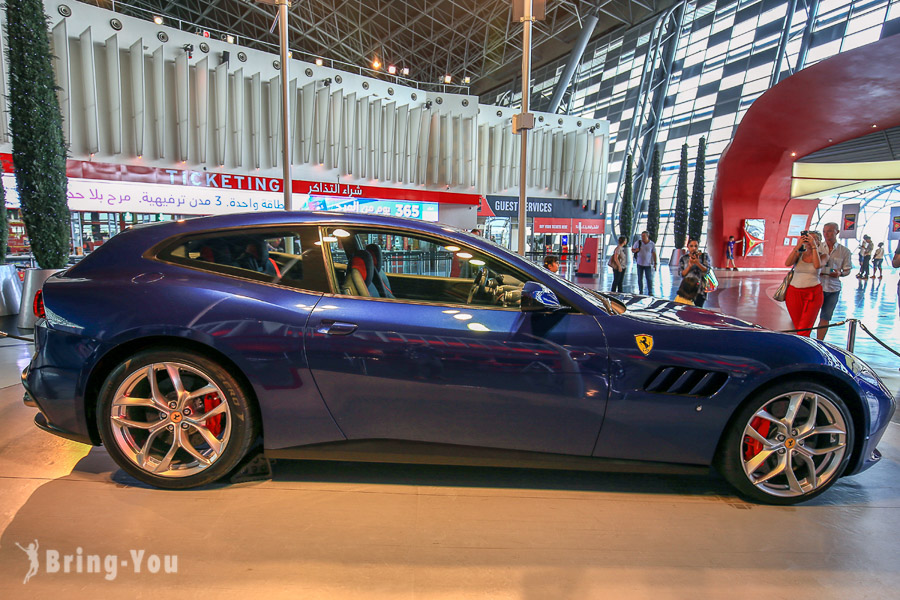 Taking the world by storm as the first Ferrari-branded theme park in the world, Ferrari World is an unmissable theme park in Dubai for car lovers and speed worshippers around the world.
Located on Yas Island, Ferrari World is soaked with record-breaking rides where you can turn into an F1 racer as well as a range of family-friendly rides for everyone of all ages. Whenever you need to recharge for the next thrilling ride, look for some Italian food to rejoice with a hearty lunch!
BollywoodParks Dubai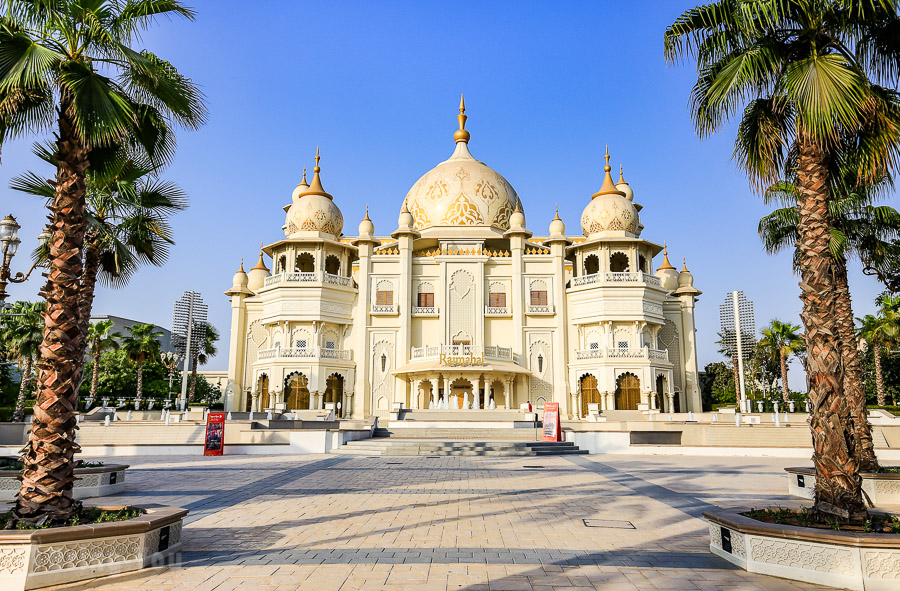 Dubbed as one of the first Bollywood theme parks in the world, this is where Bollywood buffs have a joyful time. Paying tribute to Mumbai's iconic film industry, the park is split into 5 areas filled with famous Bollywood blockbusters.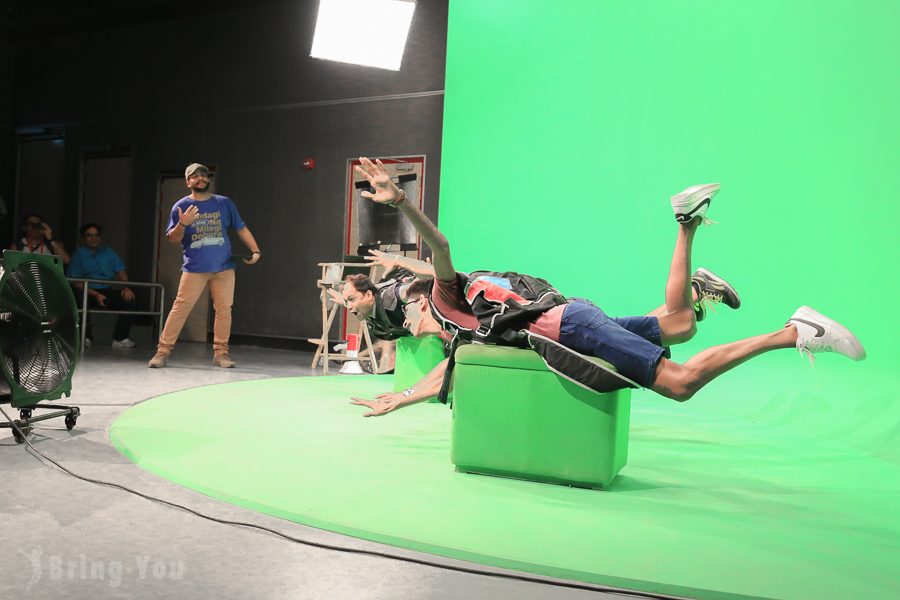 The entire park is steeped in a lively concept where cafes and live entertainment line up the Bollywood Boulevard. There are also stage performances and cinematic rides for those who want to get down to an adventurous call.
Motiongate Dubai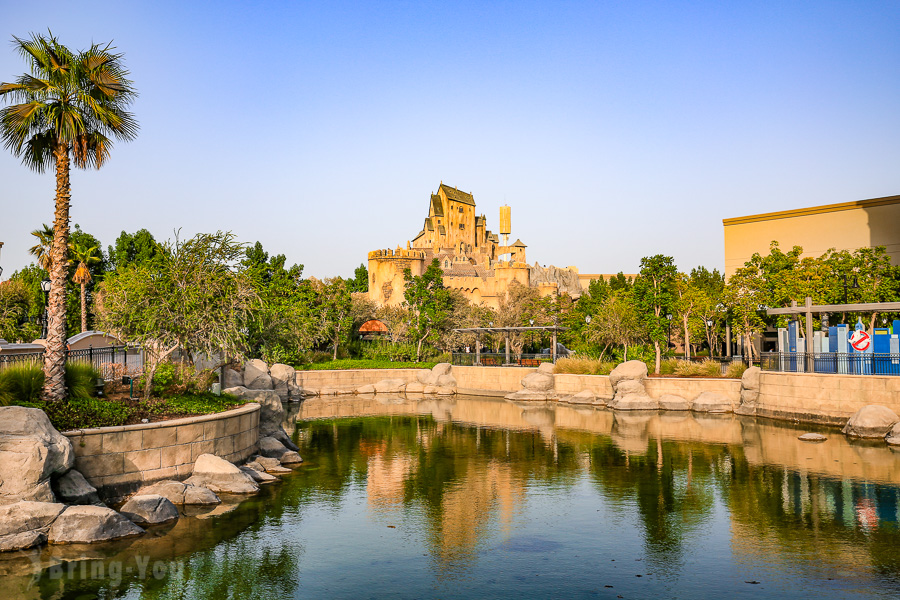 Here comes the fantasy land that all cinephiles have been looking for! Smushing motion pictures, multimedia theater, and exhilarating rides together, Motiongate Dubai takes you to 27 different theme rides including Lionsgate, Sony Pictures, and Dreamworks.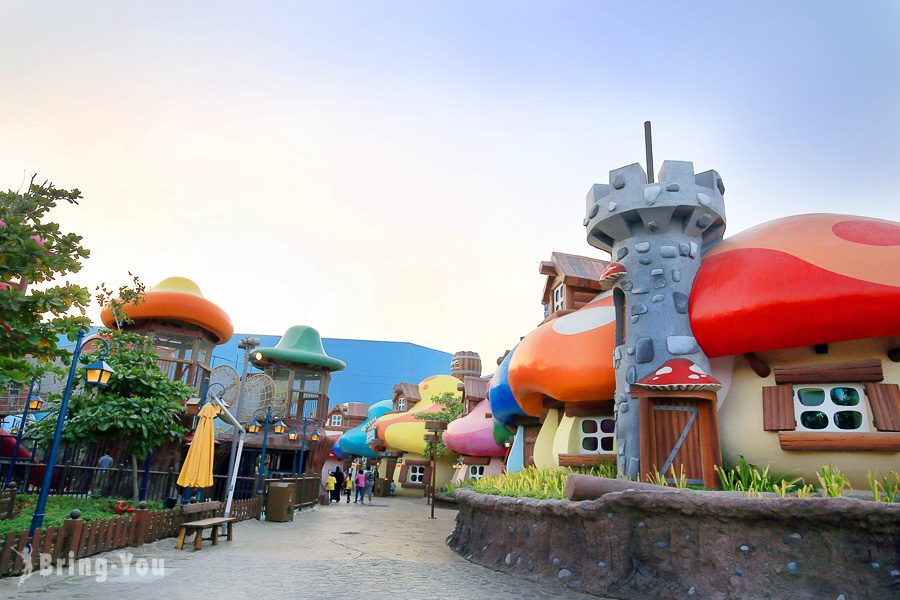 Some of my favorite spots at Motiongate Dubai are the Sony Pictures Studios where they imitate the film production process and the engaging activities at the Smurfs Village.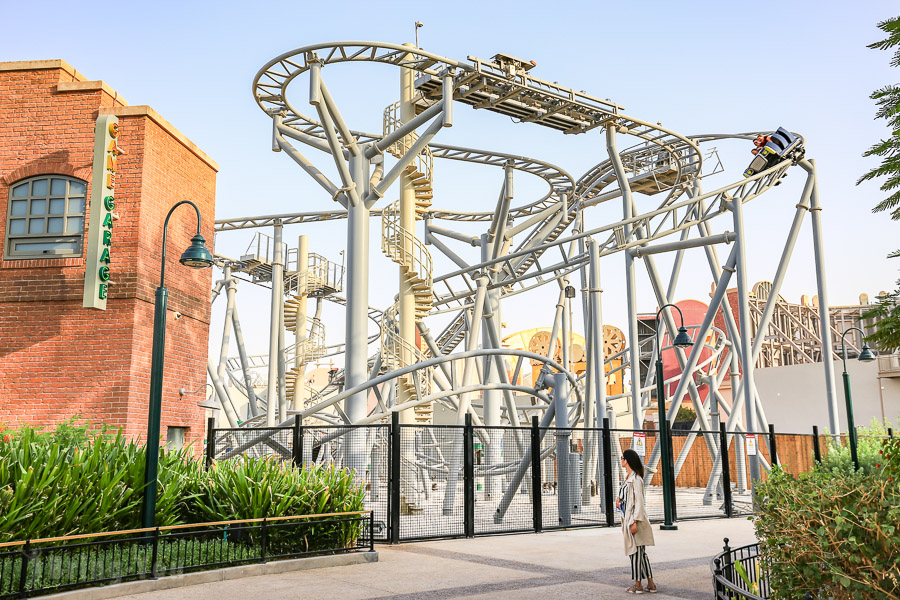 Legoland Dubai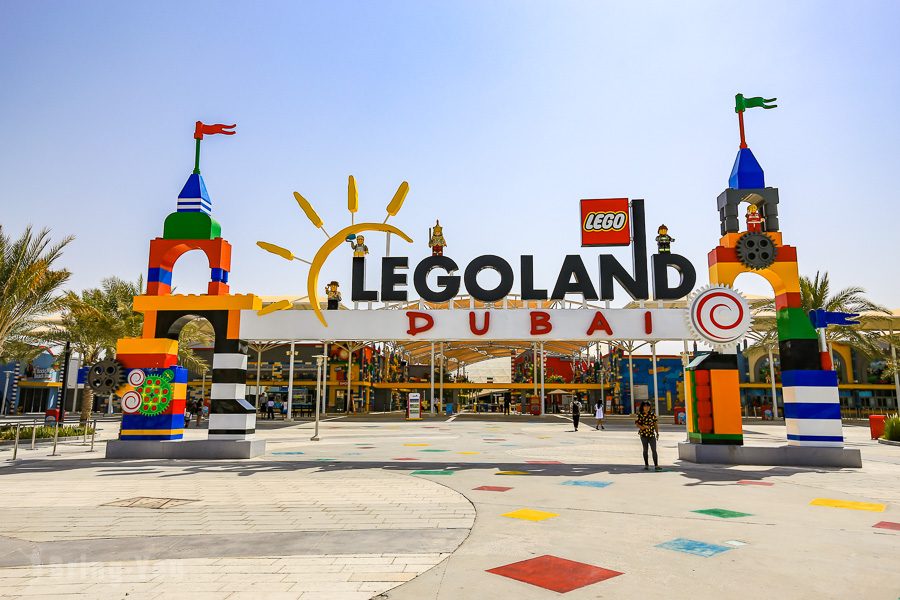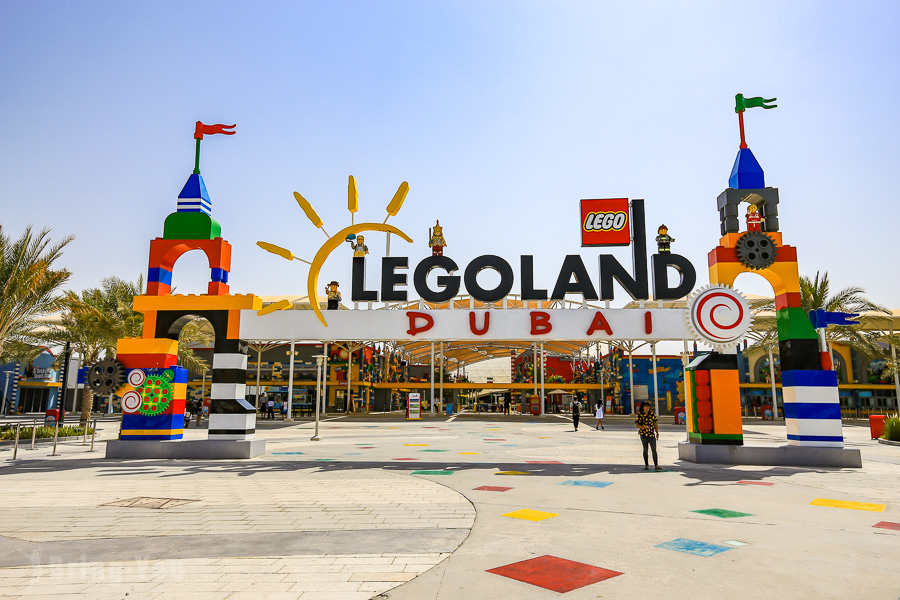 The claim to fame of Legoland is home to more than 40 family-friendly rides, shows, and attractions. One of the coolest photo-ops at LEGOLAND is the miniature versions of Dubai's symbolic skyline buildings and attractions from all parts of the Middle East installed at the Miniland within the park's complex.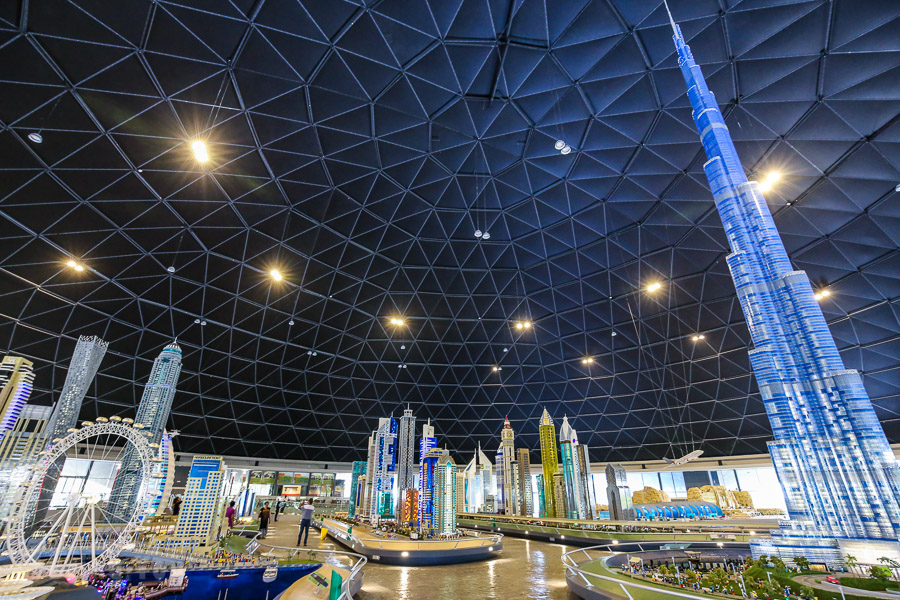 Ski Dubai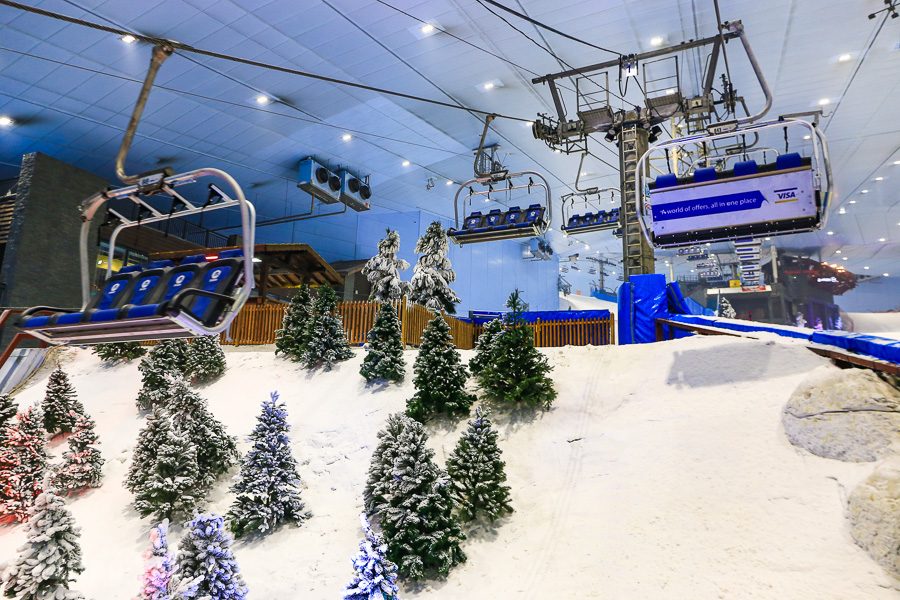 Skiing in the desert? Well, don't take my word for it, check it out yourself! Ski Dubai is taking the country by storm as it introduces something very 'un-desert-like'. Say goodbye to the scorching sun and turn to this winter wonderland where skiing and snowboarding slopes are designed for all ages and abilities.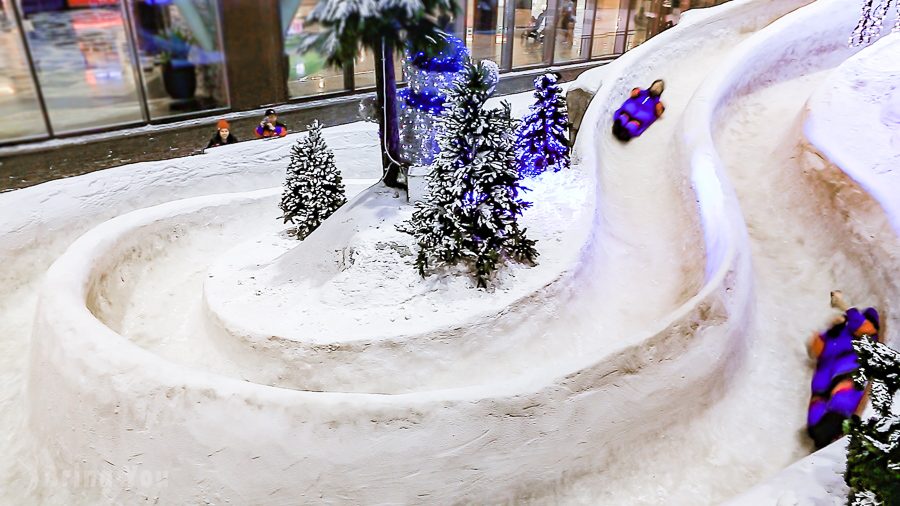 You can also check out the Snow Park to enjoy other winter-related leisure pursuits such as bobsledding, tubing, tobogganing, zorbing, and snow bumpers.
Wild Wadi Water Park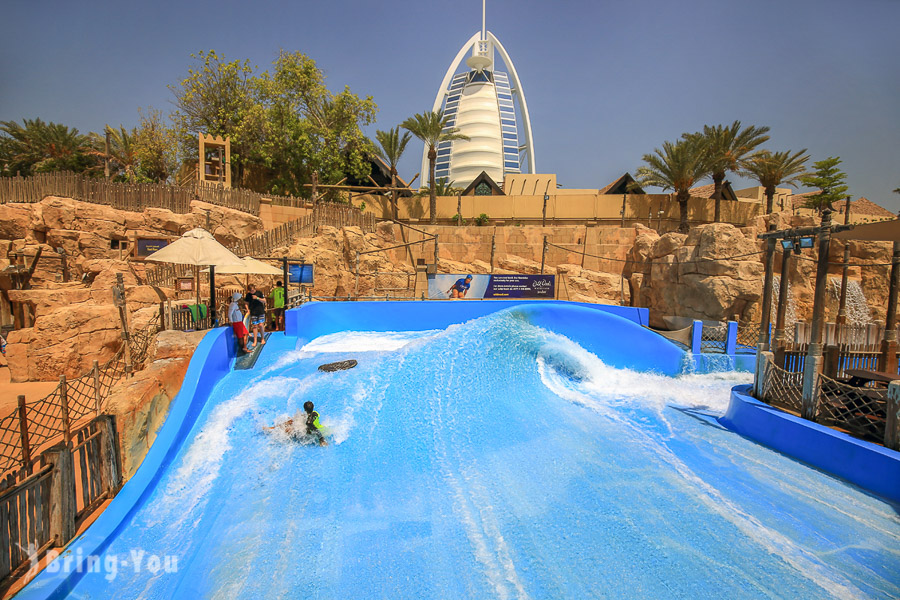 How can I forget the good old classic water park? Thrill-seeking rides and sudden turns have become the backbone of any spine-tingling waterpark in the world. And right here in Dubai, it's no exception.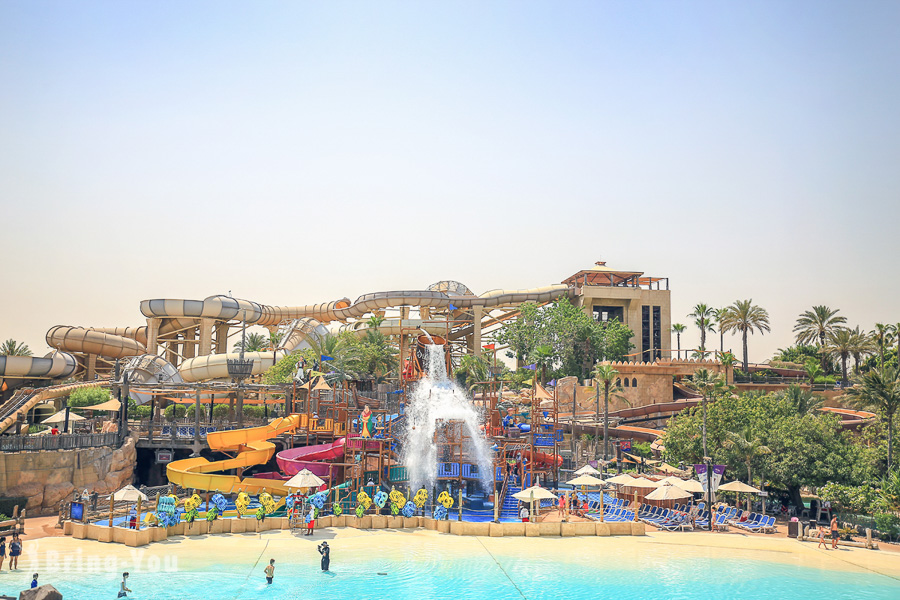 Wild Wadi Water Park is loved by teens around the world. The park sits adjacent to the famous Burj Al Arab in Jumeirah with a collection of 30 rides and attractions for an epic family bonding weekend. Instead of having each ride and slide separately set up in different areas, Wild Wadi Water Park has them linked together to create a swift exploration for ultimate fun.
The Green Planet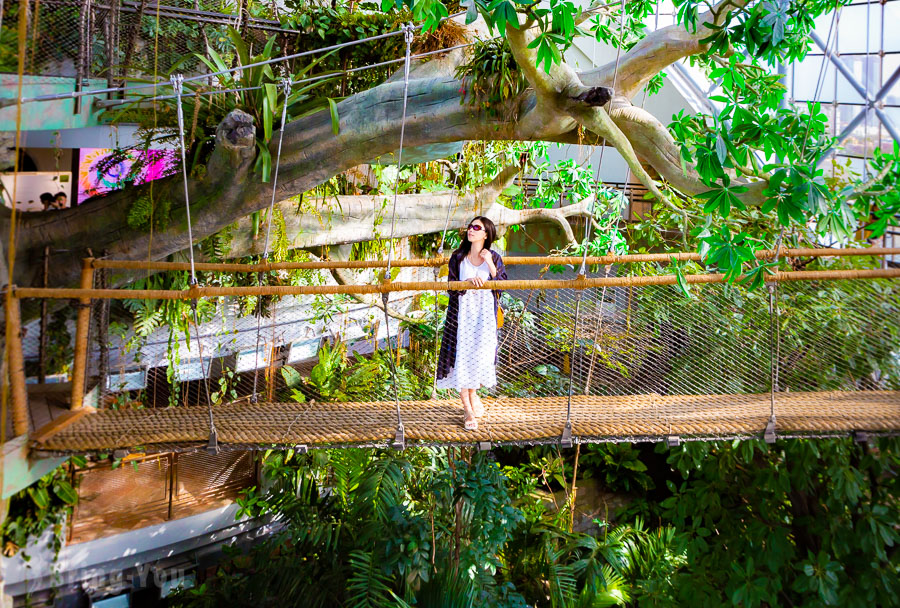 This is hands down one of my favorite theme parks in Dubai with an insane collection of plants and flowers. The Green Planet is dubbed as UAE's first-ever indoor tropical forest, alluring you to explore over 3000 species of plants and animals.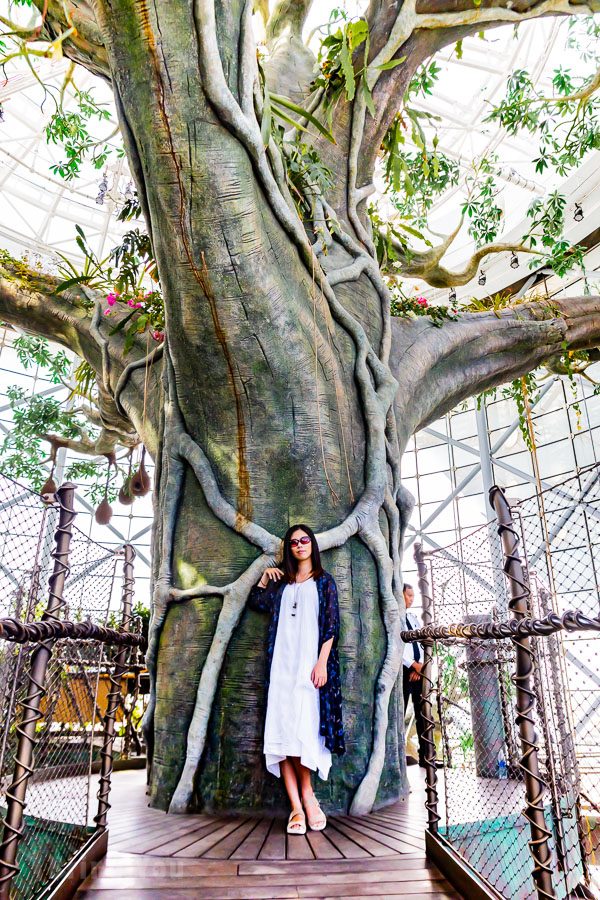 Each species is carefully studied before being introduced to the public eye, with enclosed habitats perfectly designed and preserved inside the bio-dome.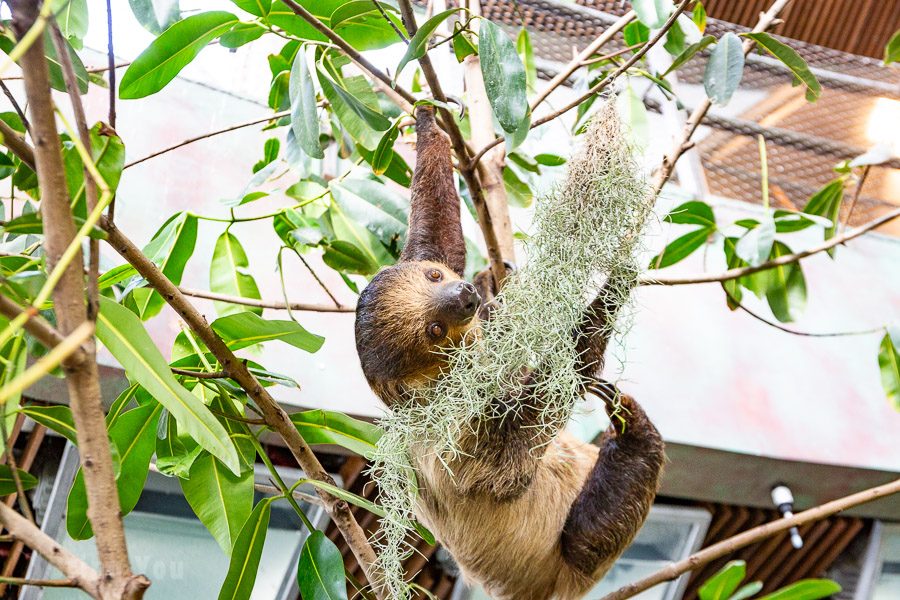 Not only is the Green Planet a photo-op itself but it also hosts a heap of entertaining and educational categories by area. For instance, the Flooded Forest turns into an aquarium housing a wide array of sea animals. From stingrays, and turtles to archerfish, you name it!
The Lost Chambers Aquarium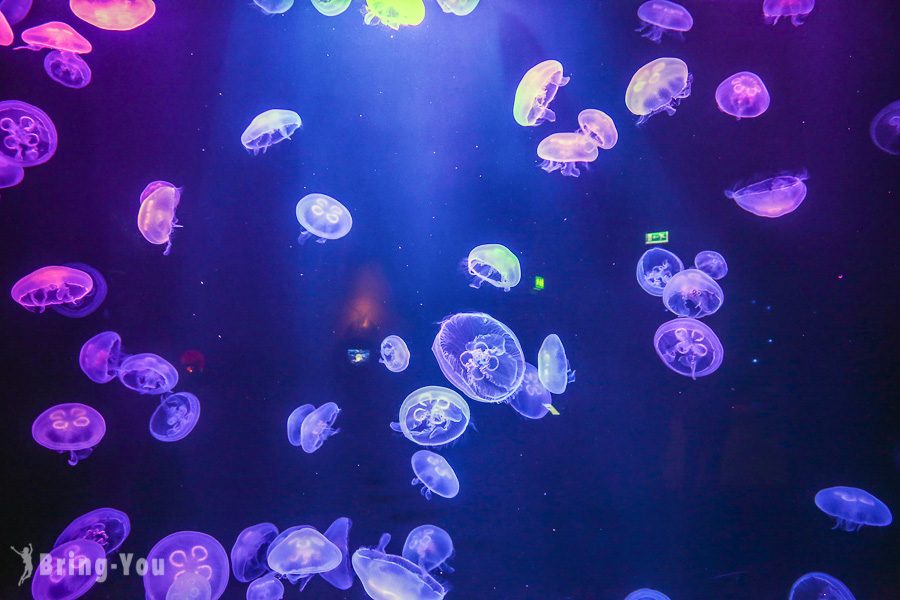 To wrap up this bucket list of Dubai's best theme parks, head to the Lost Chambers Aquarium 65,000 marine animals call it home. They turn it into a mythical city of Atlantis with an extensive, zig-zag network of tunnels and mazes. Be an adventure for a day as you get into the deep tunnels before finding a way to see extremely rare white baby alligators nourished in their natural habitat. 
This is surely a stellar choice for families with kids that love everything ocean-related. If you're keen on unveiling a different part of the Lost Chambers, sign up for one of their Myth Tours that run every hour to discover the stories and myths of the lost city.
Final Words
Which one of the above is your favorite? Make sure to have everyone in your family agree before settling on the tickets!