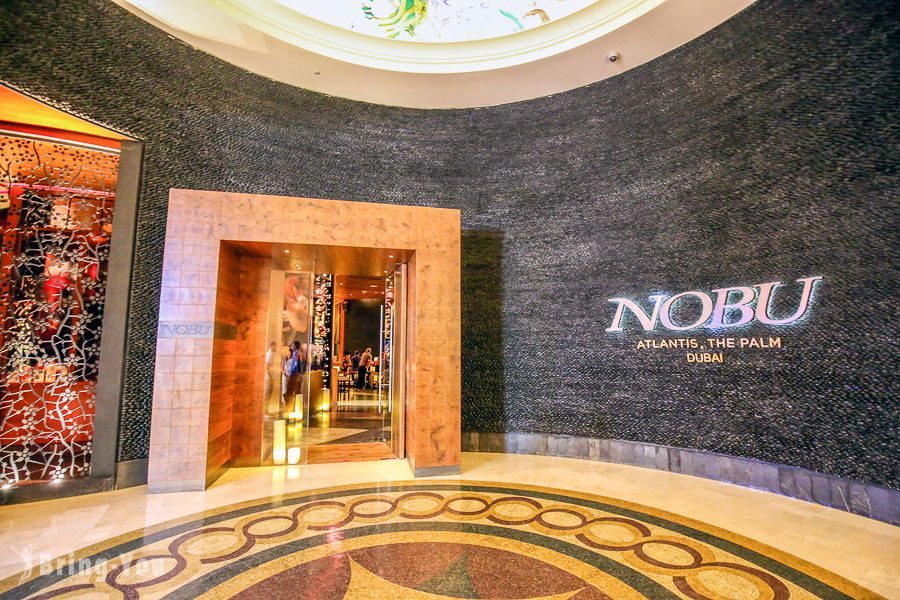 Nobu Dubai is one of the best fine-dining Japanese restaurants in the city introduced by renowned Japanese chef Nobu Matsuhisa. The massive, perfectly lit restaurant promotes high-end fusion cuisine using classic Japanese ingredients and traditional Arabian influences with a modern flare.
As soon as you walk into the dining set, you'll be hooked by the otherworldly design. Everything pairs so well with one another as if you're submerged under an ocean wave, conveying the fancy vibe of a coral-hued, larger-than-life Atlantis resort Nobu is nestled in.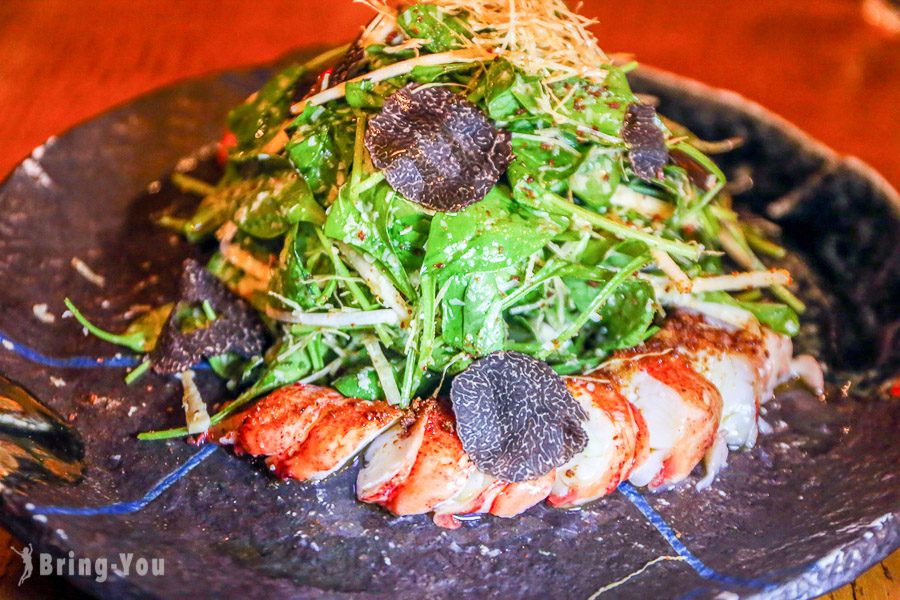 Nobu Dubai is a household name for celebrities from David Beckham to Kim Kardashian. So chances are you may encounter your favorite figure someday, who knows? That being said, Nobu Dubai is a super-luxurious hangout that everyone needs to visit at least once in life. Without further ado, let's dive right in to see what's so cool about this fine-dining Japanese restaurant in Dubai and what to expect from the menu!
Meet the Chef: Nobuyuki Matsuhisa
Nobuyuki Matsuhisa is the heart and soul of this fancy Dubai restaurant, a highly influential chef of Nobu and Matsuhisa restaurants around the world. Nobuyuki spent a tremendous amount of time working in Japan before moving to Lima and settling in LA with his Beverly Hills-based restaurant.
That is when Nobu's reputation spread like a bushfire. The LA spot quickly became a hot spot, beckoning lines after lines of prominent Hollywood celebs over the years. The Nobu brand today has acclaimed 50 restaurants and 13 hotels around the world with 5 Michelin Stars.
Nobu Restaurant Menu: A Quick Rundown and Best Dishes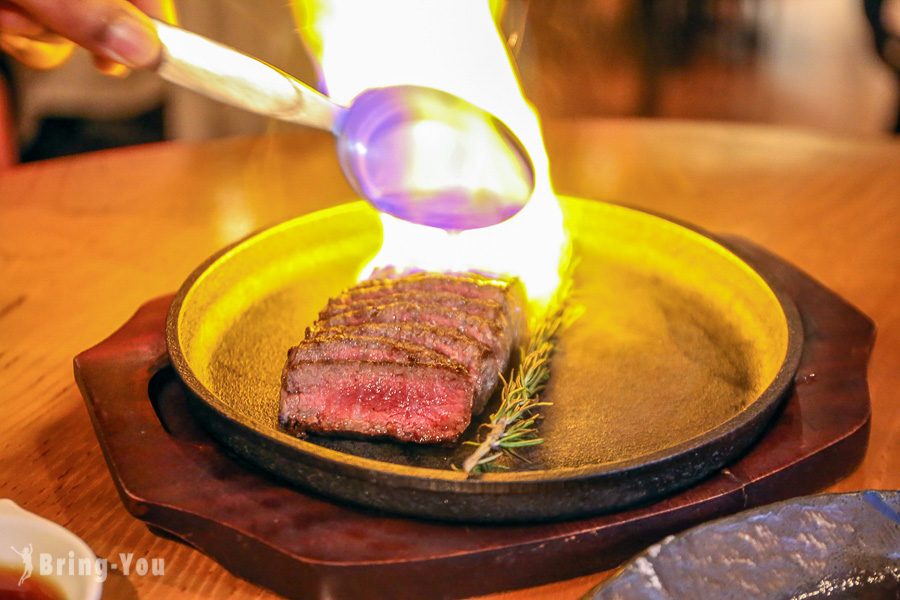 While the grand architecture and décor are the first things that get you hooked as soon as you enter the hall, its exceptional menu is indeed the star of the show. Imagine spending a romantic date night sitting in the garden with one of Nobu's signature drinks in your hand! How about starting the night with a pre-dinner Kemuri 95 with whiskey and yuzu juice as the backbone served with refreshing Gin Up with gin, pineapple juice, coriander, ginger ale, and elderflower syrup? If Kemuri 95 is not sophisticated enough to spruce up your night, we don't know what is.
Now let's go over the food – 'the masterpieces'! Soy-slicked cod is a must-have. This is the pride of Nobu Matsuhisa that everyone craves. Other than that, go for a serving of white asparagus mutable and Moroccan shrimp tagine, a seasonal special that surely adds a touch of luxury to your meal. Other than that, sea bass with dashi ponzu or wagyu gyoza with foie gras is some other stellar choice you can't forget.
Now let's go over some of our favorite dishes!
Beef Tenderloin with Dry Miso
The good old classic steak is the best safest way to order if you're feeling unsure when coming over to a new restaurant. It was recommended by our waiter. The steak is glazed by fire before being cooked right at our table. The thin burnt edges contribute to the toasty flavor, supporting the strong, authentic beef flavor.
Black Cod Miso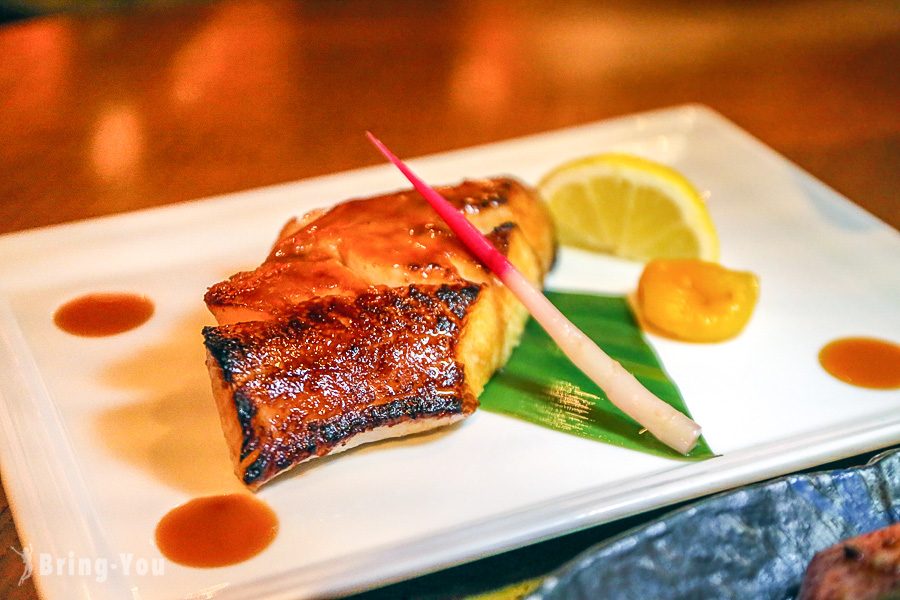 Here comes Nobu's signature. Once again, this is a must-have that you've gotta try! The cod comes out in a beautifully-style plate, inviting you to enjoy its premium, tender and chewy meat. It's served with a small bowl of Japanese miso in a French-standard plating décor.
The Unique Architecture That Goes Beyond-Imagination
Given so many factors that contribute to the dining experience, we must say that Nobu is one of the best restaurants in Dubai. This is where you want to sample classic Japanese cuisine with a modern touch thanks to a thoughtful combination of European vibe in each dish. The service is attentive and each table maintains a decent distance between one another.
Another reason why Nobu Dubai is such a highly-reviewed restaurant in Dubai is the mind-blowing, attentive interior design and the architecture overall. The inspired creations and occasional bursts of brilliance keep attracting crowds over crowds of diners from around the world.
Its woven-abaca rattan ceiling brings out a cozy atmosphere. This never-before-seen architecture concentrates on craftsmanship, natural materials, and storytelling. The grand dining hall is stocked up with dark wood furnishings in addition to the rich, ruby-red accents. Its larger-than-life dining space is balanced out thanks to the warm atmosphere coming from the cozy tones of dazzling lights and earthy materials. If you want to dine at the sushi bar rather than the main dining space, go ahead with your special request during the reservation!
One of the most impressive designs we noticed is the computer-generated woven abaca panels. They embrace the entire walls and ceilings that remind us of a fluid, curvilinear environment. While it may look like an abstract piece of art, think about it as a promotion of Japanese finely crafted cuisine with the vibe of a Dubai beachfront context. Therefore, the dining experience seems to send you under the sea with the ocean waves flowing all around you.
Nobu Dubai Prominent Awards
2021 What's On Awards – Favorite Japanese Restaurant
2020 The Pro Chef ME Awards – Damien Duviau
2020 Hotel of the Year Awards – Best Casual Dining Experience Worldwide
2020 TripAdvisor's Travelers' Choice Restaurant Awards
Essential Information and Dining Time
Nobu Dubai seats fill fast, suggesting the fact that it's one of the most famous restaurants in Dubai for delicious Japanese high-end cuisine.
Dinner is served daily from 6:00pm to 11:00pm
Brunch is served on Saturday from 6:00pm to 11:00pm
Final Words
Nobu Dubai is worth every penny and we highly suggest you go for a try when you come over to Dubai. The price is definitely on the steep side but the value you receive in return will surely end your night on a high note. The food quality is top-notch with a range of different tasting menus of choice. Pre-dinner drinks are flooded with so many options and the staff is attentive to help you make the right pick.