Spending seven hours on the plane sounds like a nightmare for many of us. But Emirates completely accelerated our experience when we flew business class from Dubai to Zurich on their flagship A380. This is a long-haul flight so if you can opt for a business class or first class, it will make your life a lot easier.
The best thing? Wide seats to lay down flat and stretch your legs!
You don't want to walk off the plane looking like a zombie. So here we are, sharing our experience flying business class on Emirates, one of the most talked-about air carriers in the world.
Wondering how it's like to fly with Emirates as a business class passenger? We've got you covered!
Here's a sneak peek: there's Champagne, VIP wait lounge, chef's cuisines, on-board bar, and many more.
Emirates Business Class Lounge at Dubai Airport: First Impression, Buffet, Beverages and Beds
The Emirates developed multiple branded lounges at international airports, with Dubai being Emirates' home base. Those obtaining business class or first-class boarding passes can benefit from the VIP lounge for free.
We're not sure how it's going at other Emirates airport lounges but there was a short queue on the way to the VIP lounge in Dubai where we were at.
The lounge itself is a heaven on earth. It's insanely huge that you won't be elbowing out with other passengers, and we found a little quiet corner to rest our cores.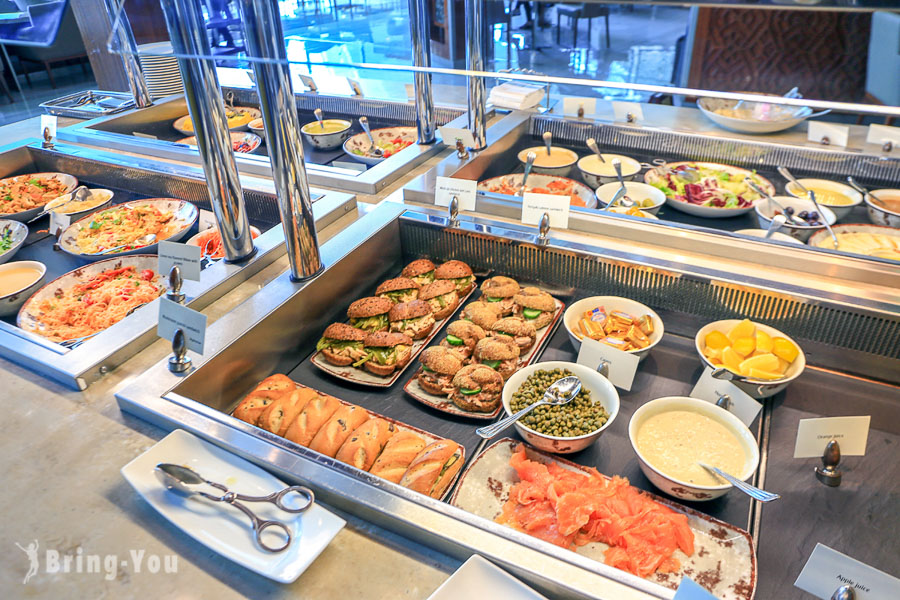 This lavish lounge offers a buffet counter where we sampled some Middle Eastern and international cuisine while waiting to board. It's split into Western and Asian food areas. If you want to unwind with style, check out its beverage bar fully stocked with wines and spirits. Barista-prepared coffee is also available if you don't want to consume alcohol.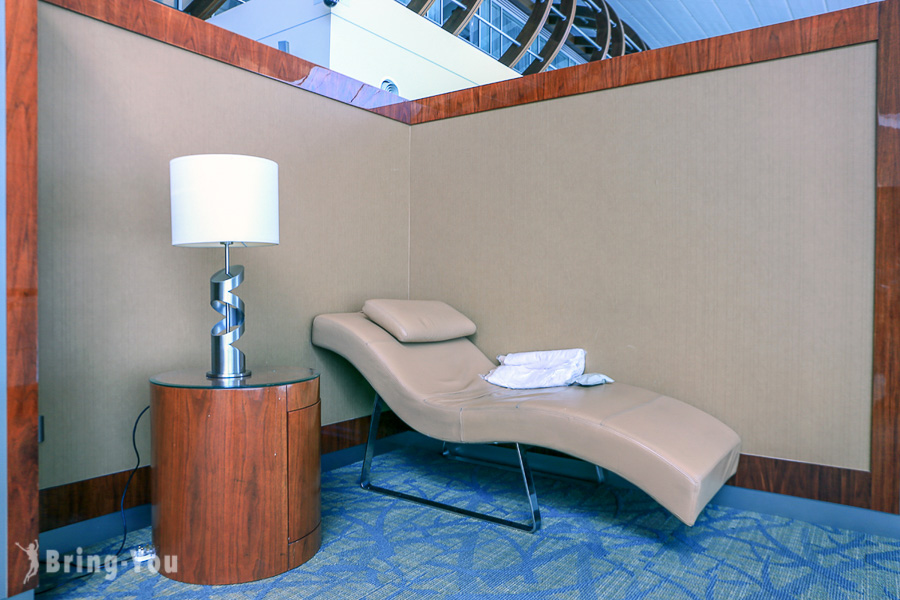 One thing we admire about the thoughtful hospitality here is how they give you a resting compartment if you're caught in a long transit time. You have a bed of your own with a blanket and blindfolds. Note that this resting area is usually busy! Who doesn't want to benefit from a bed in the middle of a bustling airport?
Boarding Experience: Welcome Champagne and Thoughtful Flight Attendants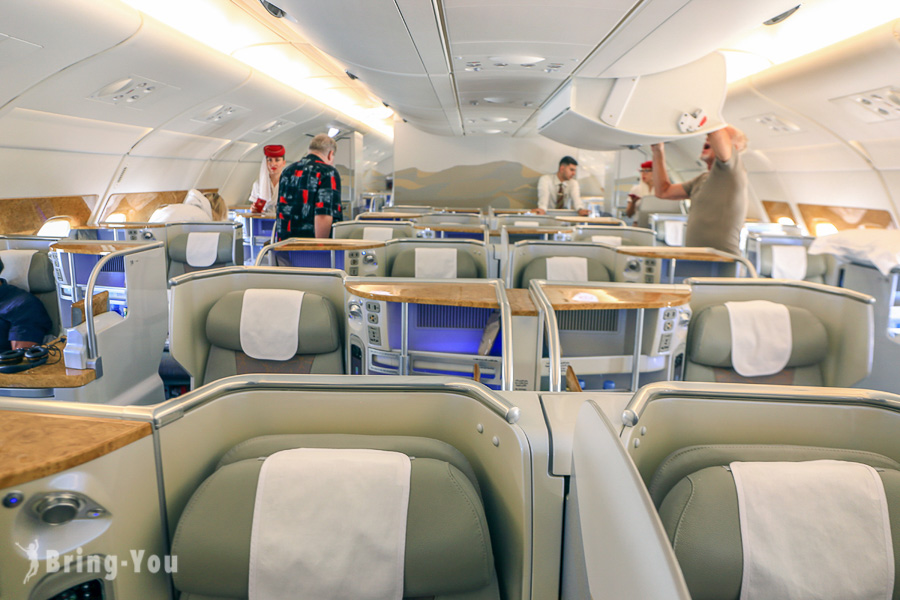 Emirates make everything fancy! You will feel like a king if you fly business class. As soon as we boarded the plane, we were handed a delightful glass of champagne by a beautiful middle-eastern flight attendant in her iconic bun hairstyle and red scrunchie, white shirt, red hat, and beige skirt.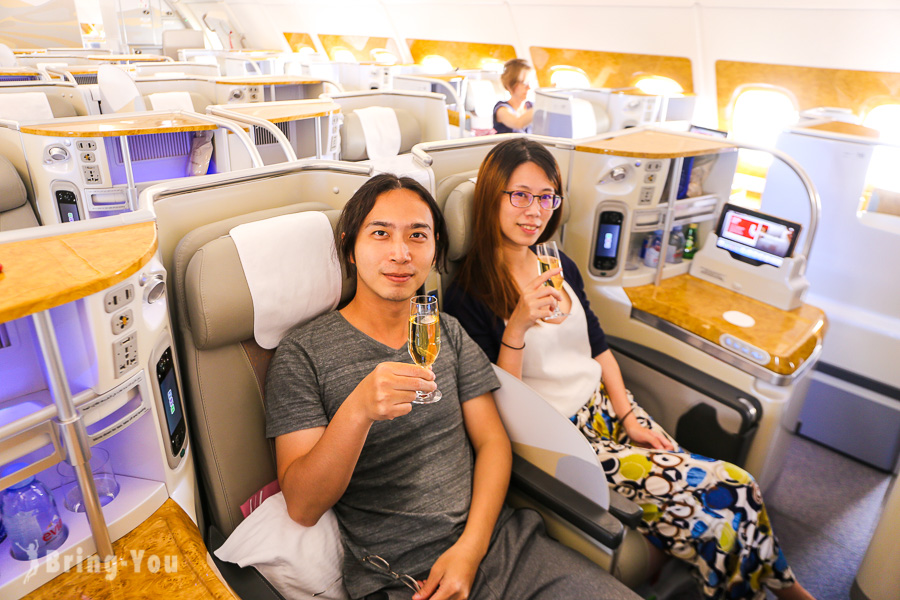 To be honest, the sense of professionalism and friendliness was top-notch. They always want to make sure you're having a great time by checking in with you with a big smile every now and then. They were so thoughtful that they even offered to take a picture for us. This is beyond standard expectation!
Cabin Arrangement and Seat: Level of Comfort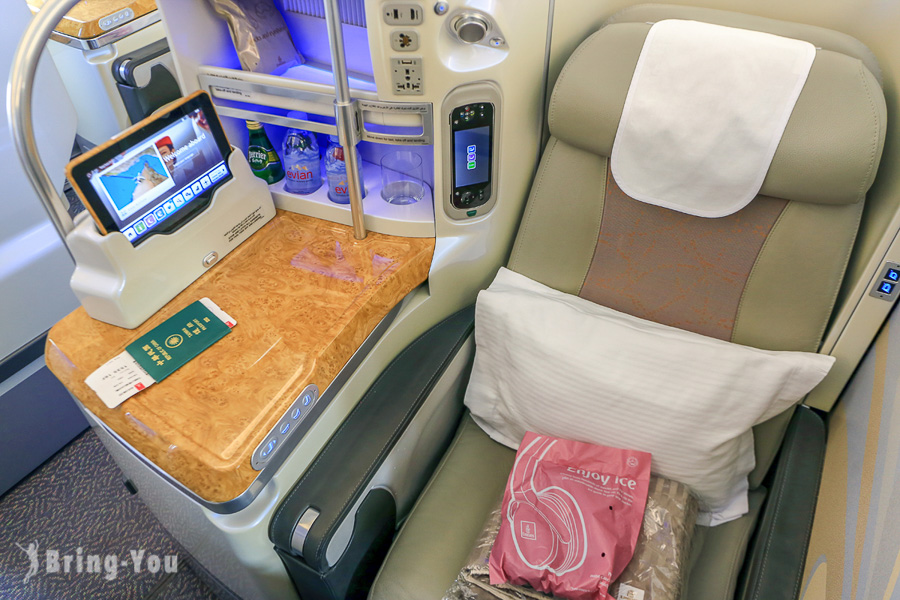 We flew in the world's largest airliner Airbus "A380", which is also the "flagship" aircraft of Emirates. The business class section was entirely barred from the economy section with a private entrance and exit. There's no way you would see passengers from other classes passing through.
The seating arrangement you see on A380 aircraft is forward-facing 1-2-1 seating, which is a top call for solo passengers. We traveled in pairs last time so the double-seated area was our choice, which is located right in the middle.
Compared to the single-seat for solo passengers, it's a tad narrower and doesn't have a stunning window view. Either way, we do think all seats are wide enough so you can stretch your legs and lay down flat to rest your back over a long flight. There's a decent area to place your carry-ons under the screen as well.
We were provided with blankets, pillows, and anti-noise headphones. There's a little table-like counter next to the armrest where they placed a tablet on so you can play around with it to watch a show or play games.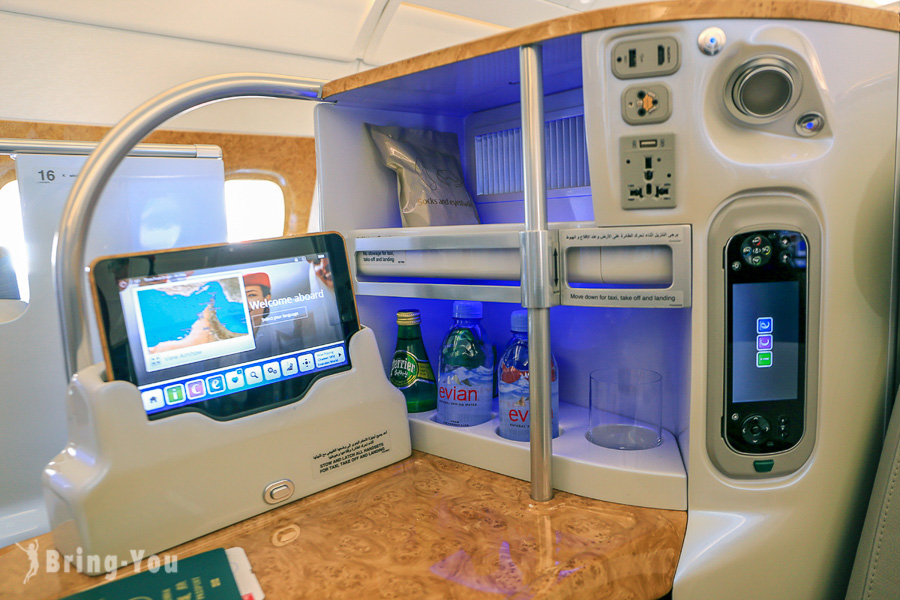 Each seat comes with a minibar that serves up free sparkling water and mineral water.
Inflight Meal: How Good Is the Food and What to Expect?
When it comes to Emirates' inflight dining, we had a blast, so much so that it seemed like we had a fine-dining meal from a Micheline-starred cuisine transported to our linen-lined tray table.
The menu is usually customized to fit the traditional vibe of the destination and varies depending on breakfast, lunch, and dinner. The menu we had from Dubai to Zurich had a strong fine-dining influence. There was steak, smoked salmon, truffle appetizers, cakes, cocktails, whiskey, and many more.
In contrast to the common belief that inflight meal is nowhere close to mouthwatering, Emirates completely had us in awe, at least that's what we experienced when we flew business class.
Entertainment: How the ICE Entertainment System Changes the Way You Fly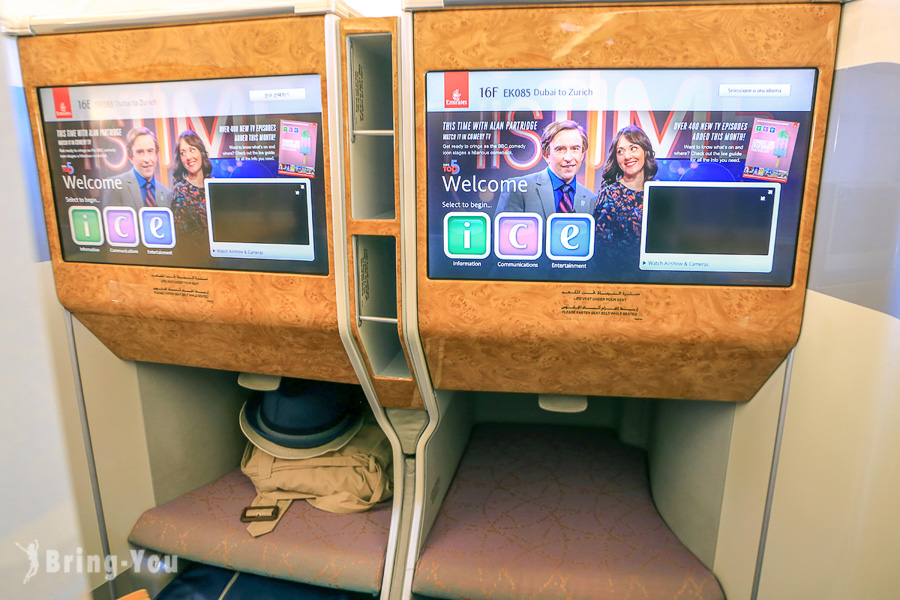 You won't have a single minute of boredom during the flight.
Do you know why?
You'll have access to a cutting-edge entertainment system called ICE that allows you to stream news, send emails, and keep up with all forms of recreational activities.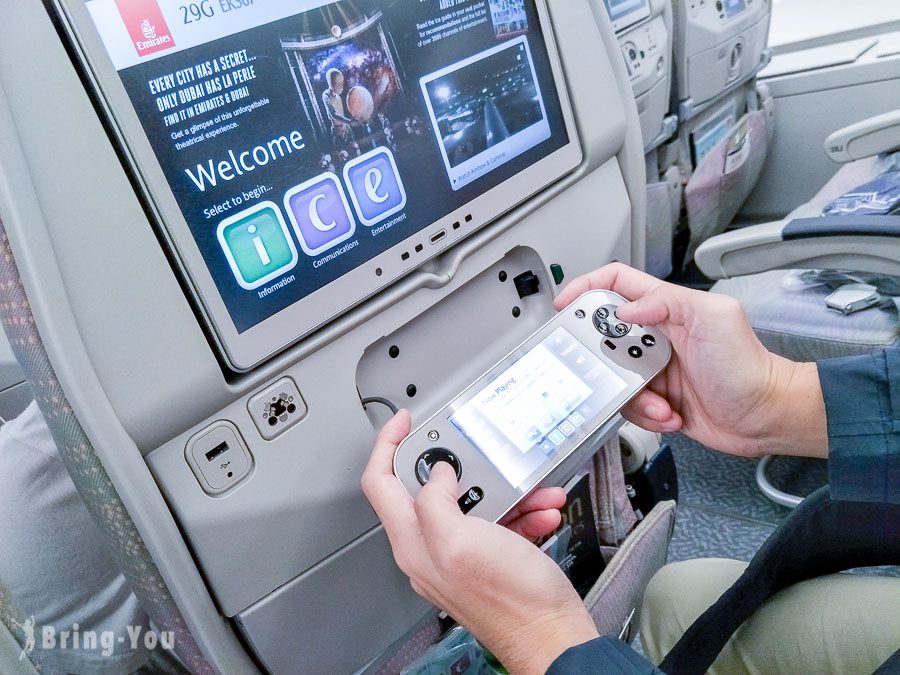 The ICE system will give you over 1800 channels of movies, games, and televisions with the best in-flight audio-visual system in the world. This is the same for first-class and business class but the screen we had was bigger and it looked neater.
Each passenger is provided with a pair of noise-reducing headsets to enhance the experience. You will feel like you're barging in at a real live concert. A big round of applause for this!
The only downside is that when we streamed during the day when the windows were wide open, the ambiance was flooded with sunlight, causing reflection on the screen, especially when we lay down flat.
Amenities and Facilities: World-Class Amenities, Flying with Kids, Hot Towels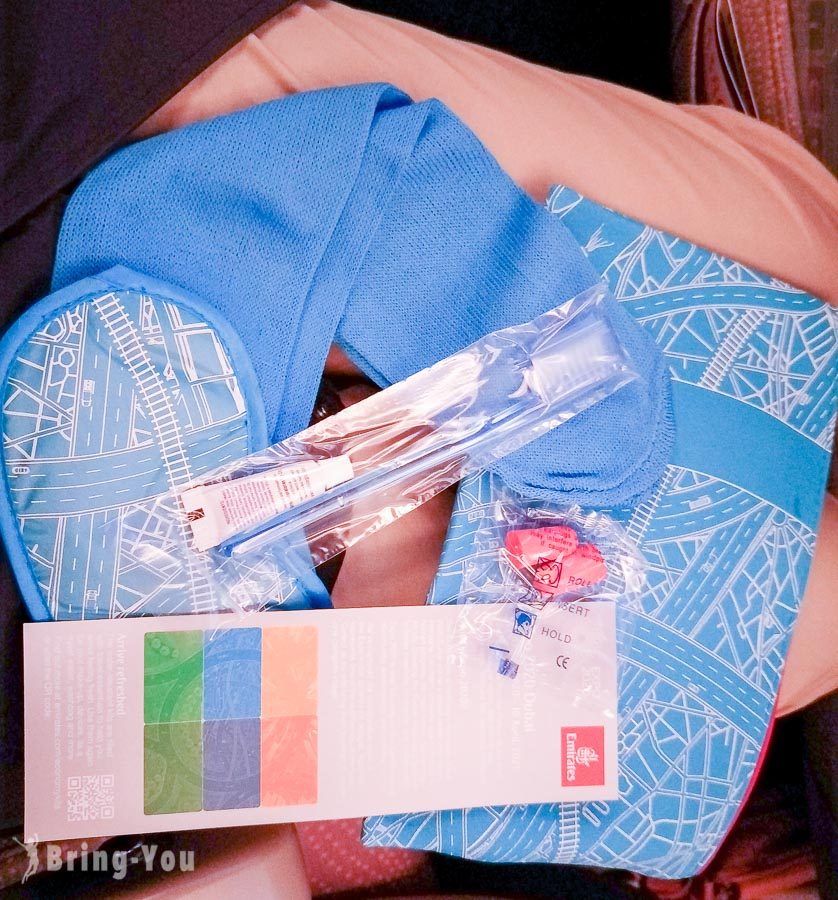 We were not that surprised to see an extensive range of thoughtful, world-class amenities on that A380. Each amenity kit includes thermal socks, earplugs, toothpaste, and toothbrushes in a blue, loosely-traditional designed package.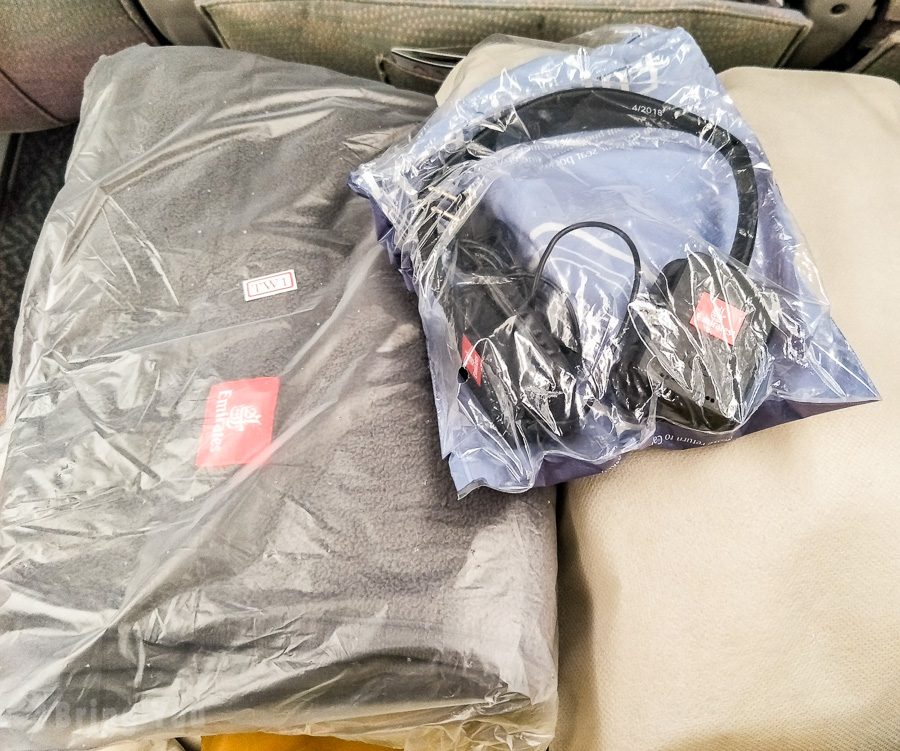 One little gesture that we highly appreciate is that they provide a hot towel before any upcoming meal service. It was such a relaxing refreshment we had before landing. Another five-star for this!
Those who fly with kids can let your juniors indulge in a wide range of cartoon and kids' shows. There are also special toys and gifts to keep them busy. The flight attendant kept popping in to play and chat with the kids to make sure they were engaged so no frustrating non-stop cry was going to happen.
Unfortunately, Emirates business class doesn't offer pajamas like Delta, American Airlines, or Qantas.
On-Board Bar: Pros and Cons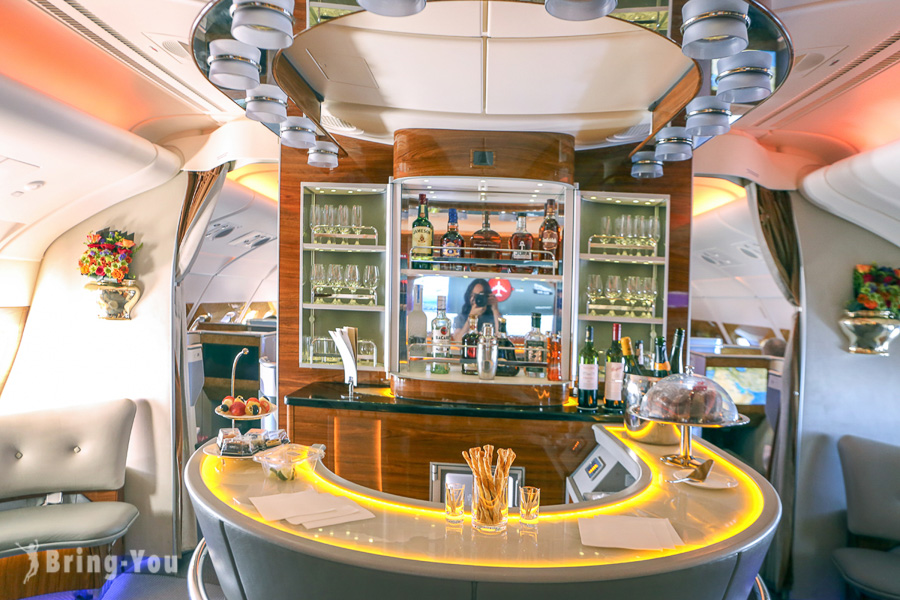 There's a semi-circular bar/counter where business-class passengers come over and congregate with fellow passengers with a drink or find a snack. We do think this is a huge hallmark on A380, especially with the great diversity of snacks and drinks.
The only downside to this is that those who sit near the counter area may find it a bit noisy sometimes. So if you can, pick somewhere away from the bar to ensure maximum rest!
Cabin Crew Service: Friendliness Measurement and Professionalism
The cabin crew is exceptionally friendly and professional. They know what they are doing and they can see beyond what passengers need to give a hand in time.
Some say the crew works in an assembly-line manner but we don't think it's that robotic anyway. We agree that the Emirates business class service is not fully personalized compared to some other carriers in the Middle East. But if you think about how busy it is with so many passengers in such a huge aircraft (even for business class), you will give it a pass.
Key Takeaways: Is It Worth to Fly Business Class with Emirates?
YES!
The seat is way more comfortable than we expected in the first place. We appreciate the fact that we could stretch our legs and lie flat. That's the most important thing ever!
Awesome inflight bar and flashy décor keep the experience in line with the true definition of luxury.
Noise-canceling headsets are incredible to pair with the ICE streaming system.
Delightful meals are provided throughout the flight with exceptional plating and flavor.
Love Champagne. We would fly again for it!
Related Stories