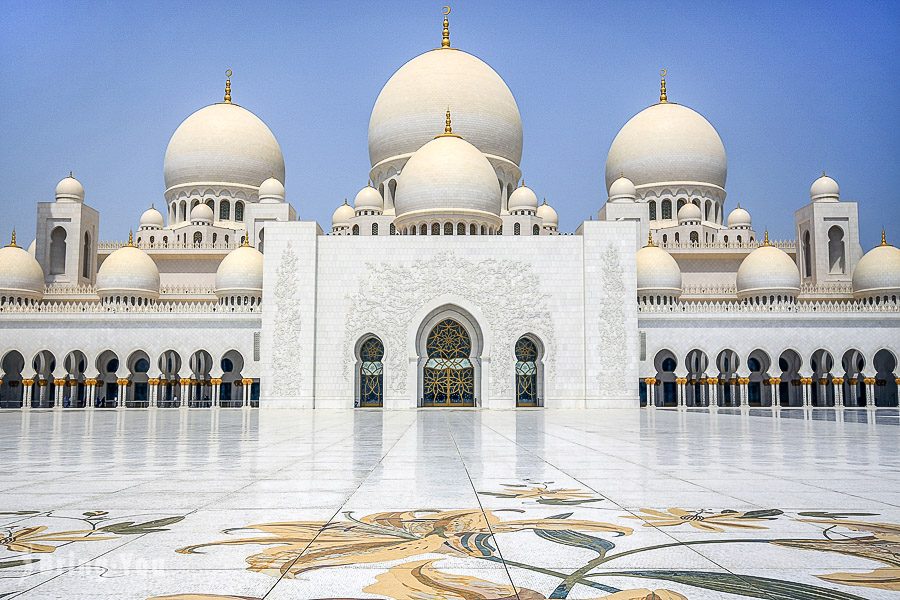 The Sheikh Zayed Grand Mosque is hands down one of the most talked-about attractions in Abu Dhabi, UAE. Soaking in the tremendous beauty of the most grandeur things in architecture and designs you've ever seen, the Grand Mosque opens so many insights into the cultures and religions of the Arab people.
The name Sheikh Zayed can be translated into "May Allah rest his soul in peace", which is to pay tribute to the founder of the country, the Late Sheikh Zayed bin Sultan Al-Nahyan. Even though the mosque is a popular tourist attraction, it is an active house of worship that can accommodate a total of 41000 people at once.
Even though you can visit the mosque all by yourself just by driving or hailing a bus, those who depart from Dubai may find it a hassle since the trip takes hours to complete. Plus, the public transport options between Dubai and Abu Dhabi are limited. Therefore, signing up for an organized tour with an expert guide is the best deal you can get.
Now read on to find out which tour we recommend, how to dress appropriately for the mosque, and what to see!
How to Get to Sheikh Zayed Grand Mosque?
Since the public transport options in Dubai are limited, most visitors will either opt for a chartered car rental or join a group tour to avoid unwanted hassle. Otherwise, you can also get a cab which may eat up a large fraction of your budget.
Anyway, here are your options to get to Sheikh Zayed Grand Mosque from Dubai:
By Taxi
It takes about an hour and a half which may cost 300-350AED one-way.
By a Rental Car
This is an ideal way if you'd rather drive by yourself with your group of friends or family. Alternatively, there are chartered car services that let you rent by hours or day with your own customized itinerary.
By Bus
As of now, they have two bus routes from Dubai city center to Abu Dhabi. Bus 100 departs at the Al Ghubaiba Bus Station every 20 minutes to Abu Dhabi Central Bus Station (Al Wadha Mall). Bus 101 leaves at the Ibn Battuta Mall every 30 minutes to Abu Dhabi Central Bus Station. From there, wait for bus 94 to hail you to the Grand Mosque.
By an Organized Tour
Depending on which tour you sign up for, the price and length vary between one hour and a half to two hours. This includes pick-up and drop-off at your hotel in Dubai.
Abu Dhabi Day Tour from Dubai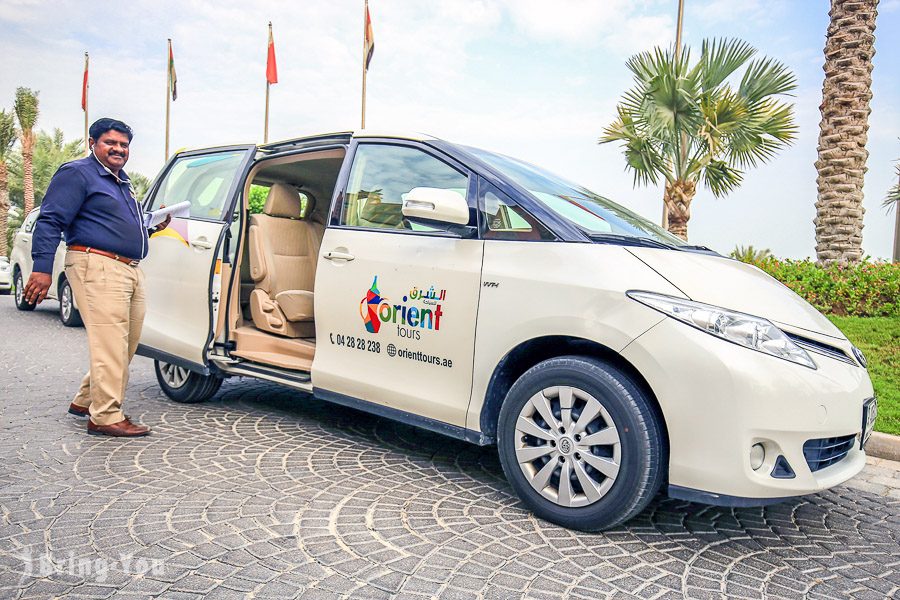 There are plenty of day trips between Dubai and Abu Dhabi ranging in different itineraries and prices. Therefore, knowing how to pick the right one is important.
Many people have complained about drivers picking them up late, broken down vehicles, canceled tours, or broken A/C. While those things are likely to happen, we didn't encounter any of them. The operator also sent us a confirmation email including pick-up details and driver's information the day before departure.
All in all, go for the well-reviewed one and shell out for the right package. As soon as all tourists arrived, the journey began. The tour guide made sure everyone was dressed properly as we would visit the Grand Mosque that day before leaving.
Dressing Codes for Men and Women at the Grand Mosque
For Women
Fully cover arms, legs, and hair.
Only your hands, feet, and face can go uncovered.
If you are not properly dressed, they will address you to a dedicated room where you can rent an Abaya and Shayla to cover your body and head.
For Men
Men should wear long trousers and sleeves that go below the elbow.
Those men whose outfits are not appropriate for the visit will have to rent a Kandura in the dressing room.
Friendly reminder: put on some socks to walk inside the Grand Hall as you have to leave your shoes outside before entering. Otherwise, you have to walk around barefoot.
How to Enter the Grand Mosque from the Ticket Counter?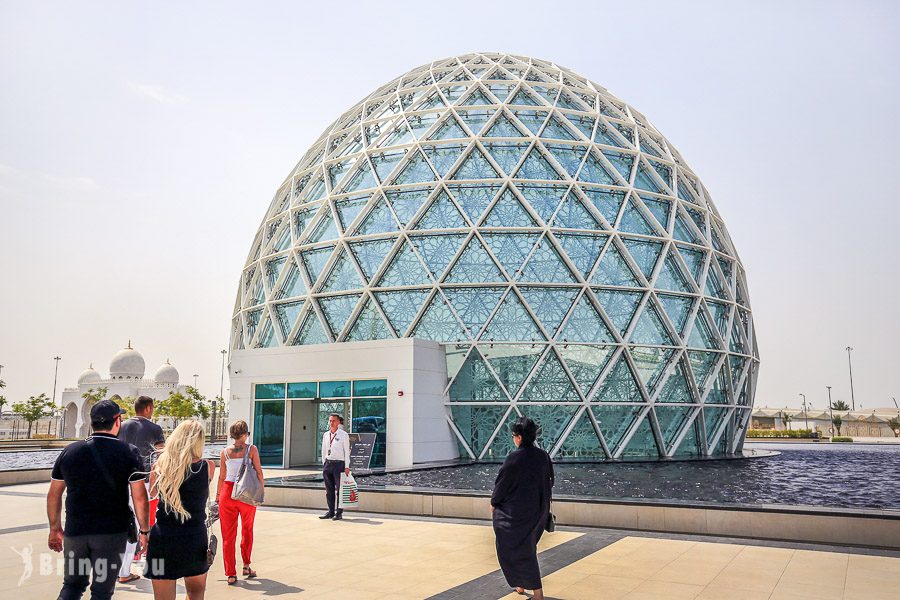 First of all, you must purchase the tickets at a designated area which is inside a mosque-shaped glass building on the ground. This is where you can find exotic souvenirs from the Middle East, headscarves, and robes.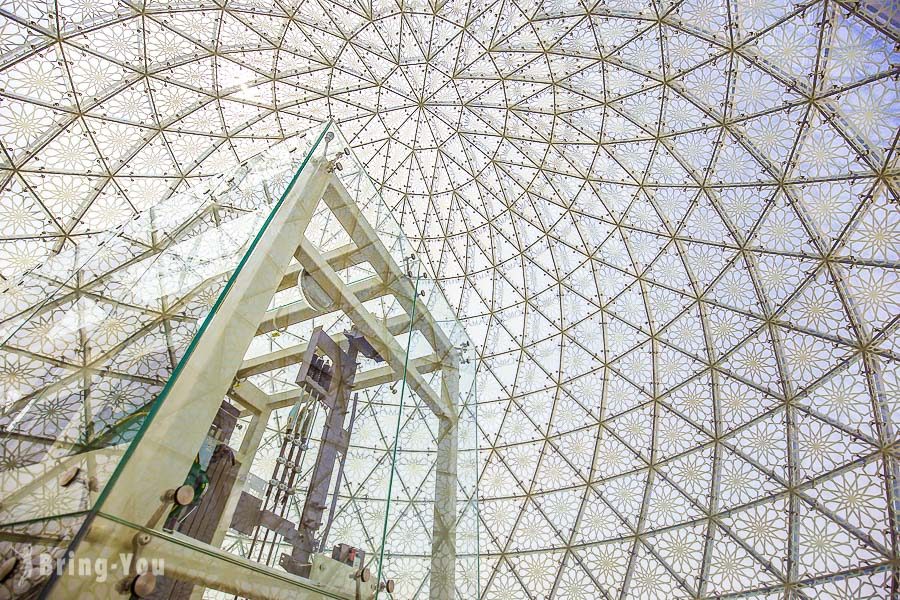 From there, you'll walk along an underground mall where all the items are offered for sale along with some cafes, stores, restrooms, and a visitor information center. At the end of the line, there is a clothing inspection area by the side of a check-in machine. Keep the tickets with you and swipe through the machine to enter the mosque. This device also keeps a record of your travel information including nationality and age.
What to See Inside the Main Hall?
Everything about the Sheikh Zayed Grand Mosque truly promotes the extensive boundary of human's capability of building the greatest man-made structures. The pairing of smooth white walls and gold finishes pops out even more to capture your attention.
Adjacent to the towers is a huge courtyard garnished with four minarets. Walk towards the Grand Hall and you'll be hooked by more than 1000 pillars embraced with white marble and garnished with delicate floral designs that come out gorgeously in the sun. Right inside the hall, a majestic chandelier waiting from above, ready to mesmerize any visitor with its dramatic beauty. They say the chandelier weighs 12 tons thanks to all the stainless steel, brass, and gold that contribute to its magnificence.
But that's not the only thing that keeps you in awe. Look around and pay close attention to the Swarovski crystals mounted into the glass panels. The dazzling flashes reflected from the crystals seem as if they are transporting you to utopia or some otherworldly whereabouts.
Other than the big chandelier inside the main hall, there are six other chandeliers placed throughout the mosque including the foyer entrances.
The Best Corner to Get Some Pictures Inside the Sheikh Zayed Grand Mosque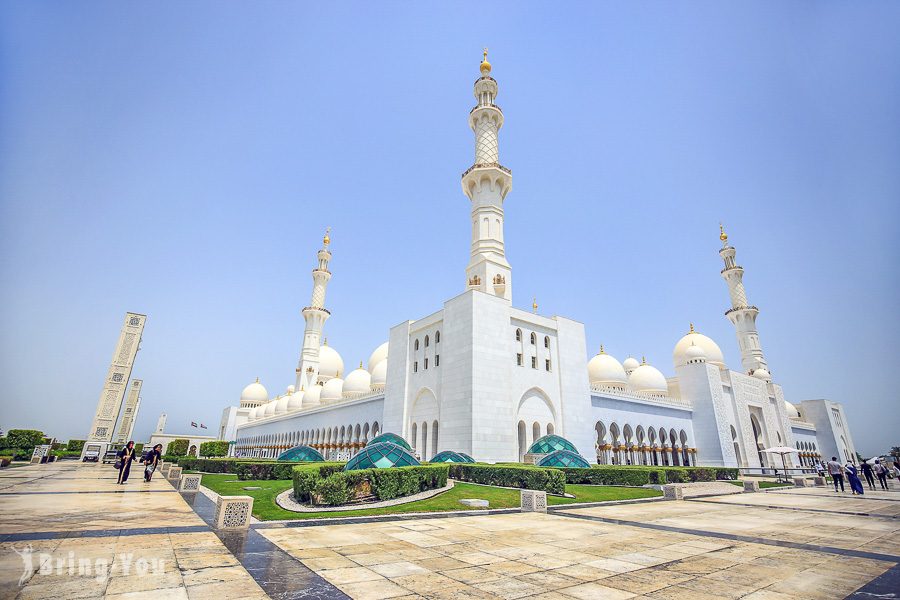 As of now, there are only some designated spots that are allowed for pictures. The best place to get photos of the exterior of Sheikh Zayed Grand Mosque is the Wahat Al Karama. This viewpoint is a memorial itself opening out to the gorgeous domes. Right here you can also find an amphitheater to sit back and unwind if you get worn out from all the walking. The view from the amphitheater is spectacular during sunset.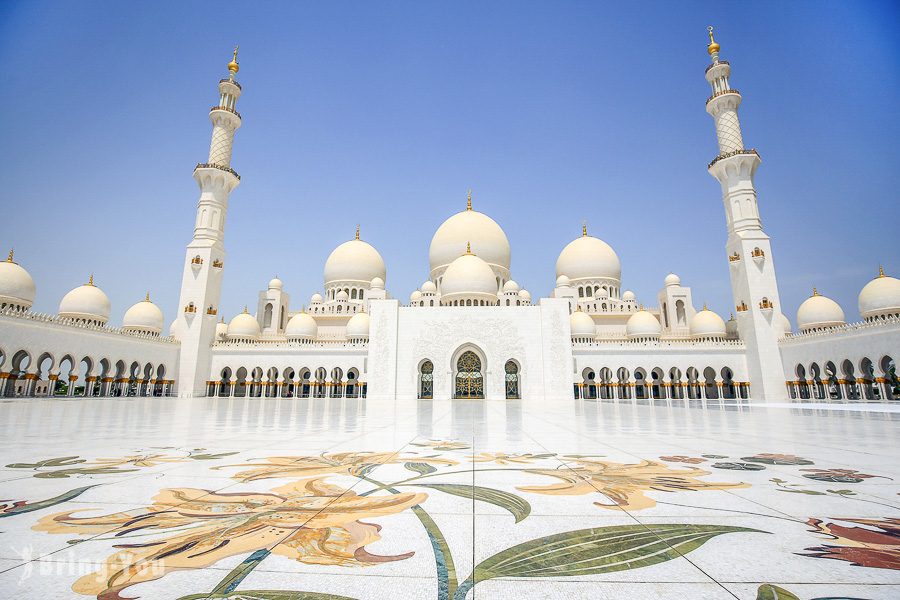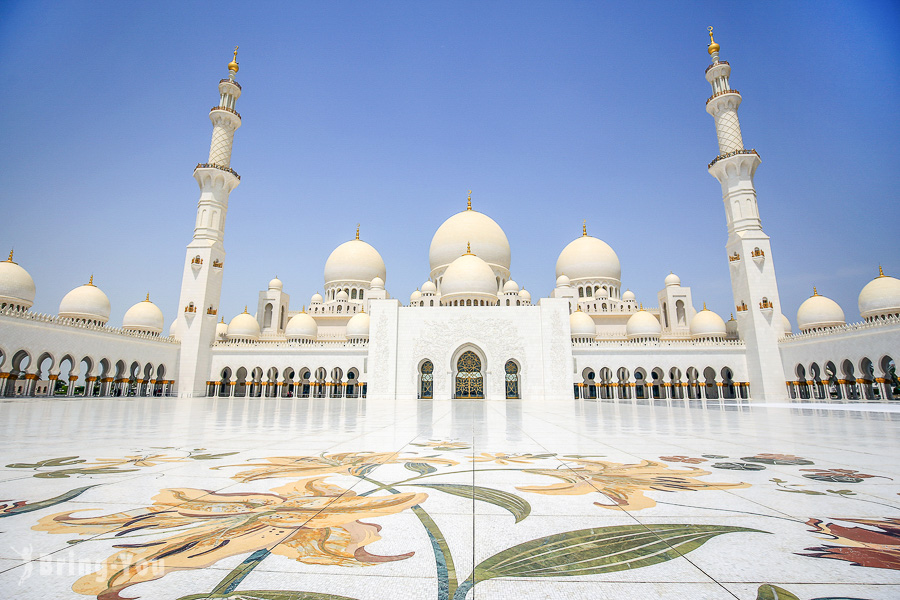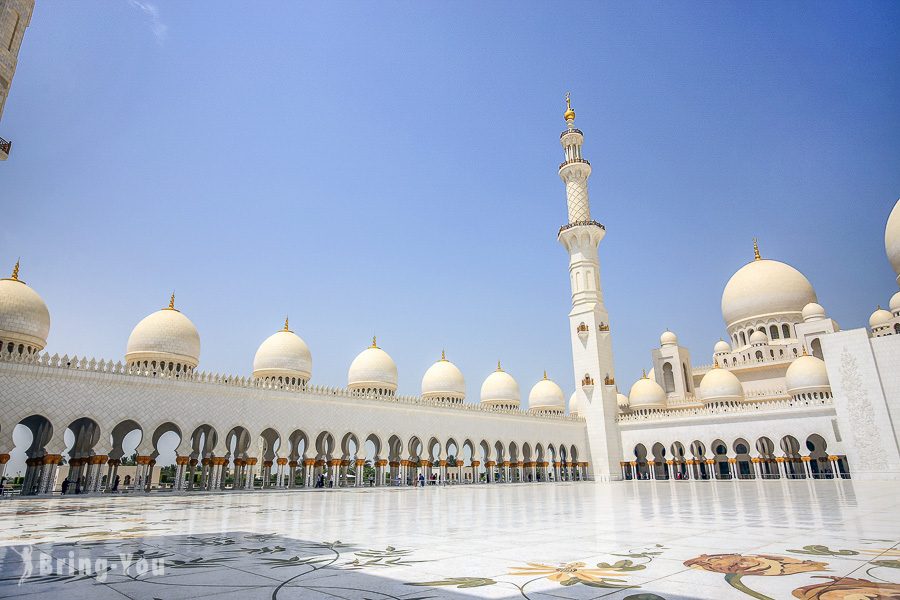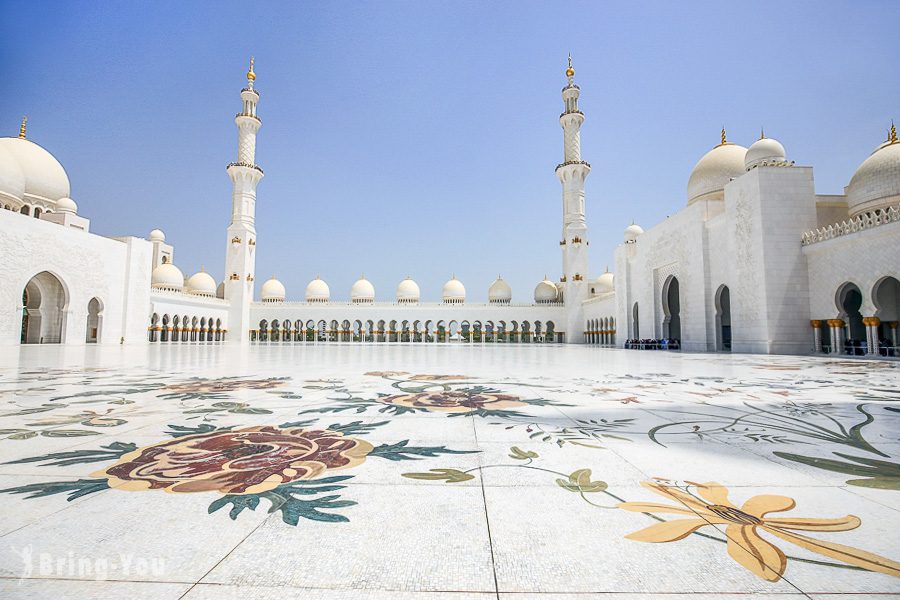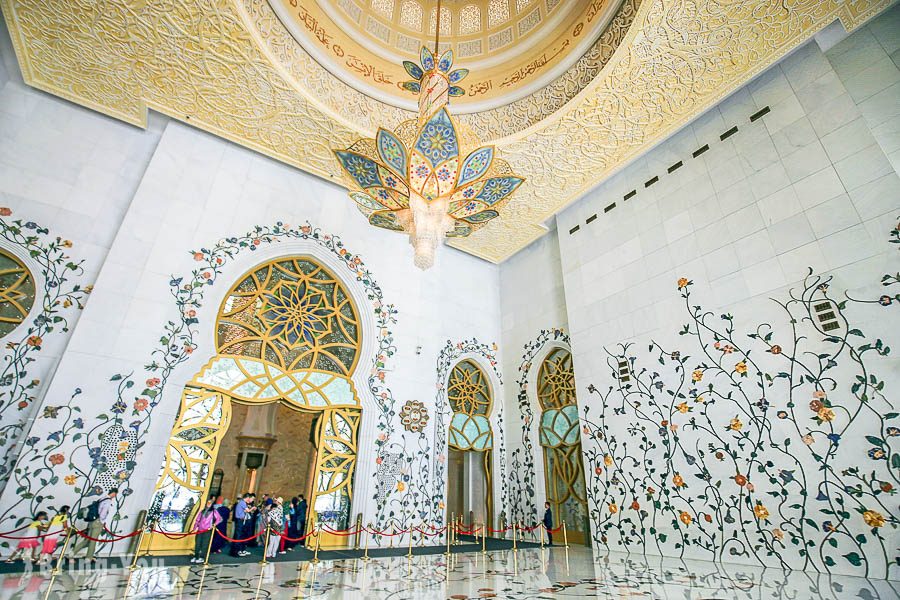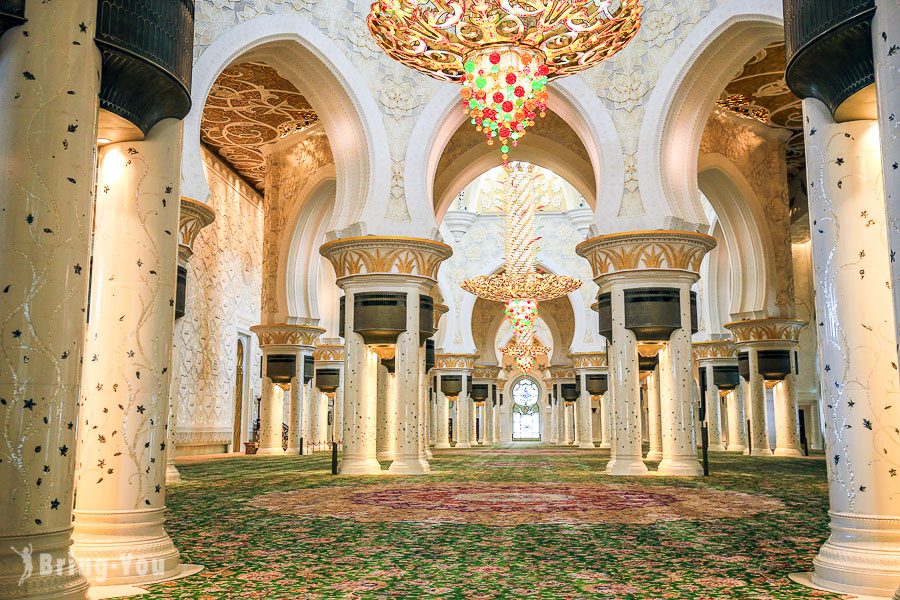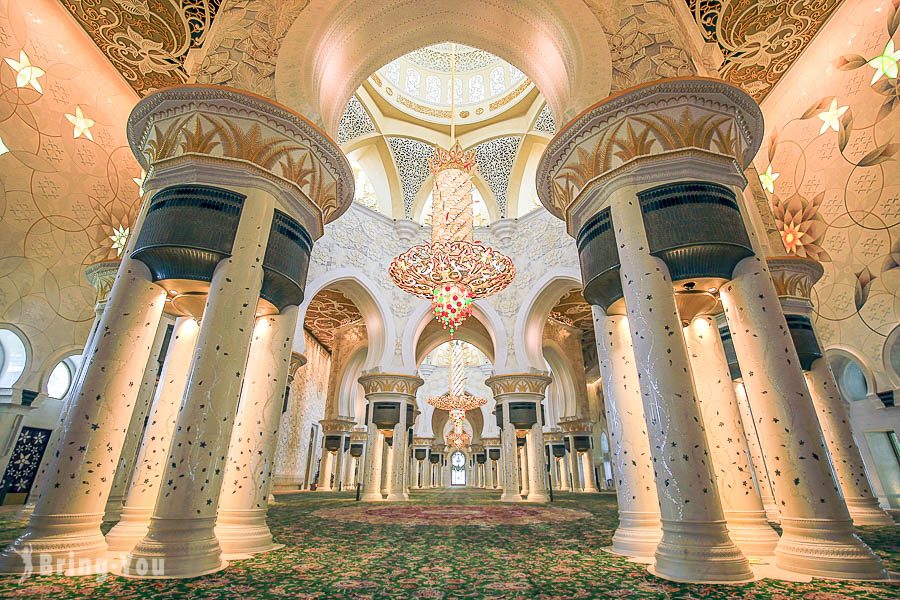 Final Words
We hope you love the Grand Mosque as much as we did. Honestly, this is a beautiful attraction and if you have a guide with you, you will learn so much. Getting ready for the visit is also part of the fun as you can get to know the dressing culture and the religion.