Paris is one of the most beautiful and attractive international metropolitans in the world. "The City of Love" is the perfect description of its romantic vibes everyone can experience. It is the most luring destination on earth. However Paris also raises the alarm of high theft rate in tourist areas, therefore selecting Paris Accommodations is not only a matter of considering budget & location, but also to consider safety.. I will introduce the highlights of Paris 20 Arrondissements and A Guide on Where to Stay in Paris. I will also recommend some Best Paris Hotels at all levels including Hostels, Budget Hotels and high-end Paris 5 Star Hotels. I hope the information in this post will help travellers to decide Where to Stay in Paris when they are planning trips to their dream destination.
Highlights of Paris Arrondissements
Paris consists of Central Paris and Greater Paris. Central Paris refers to Zone1~Zone2 as shown in the map Central Paris, where most of the major attractions are located. Greater Paris includes the surrounding region outside the Central Paris where Charles De Gaulle Airport and Palace of Versailles are located. Central Paris (Zone1 &Zone 2) is the popular area where most tourists choose to stay when visiting Paris because it is really easy to get around by the efficient Metro system. Zone 1 has 20 Arrondissement as you can see in the map above, each hosts a few famous sightseeing spots. However the most important thing to learn in this chapter is where to stay in Paris safely.
The Arrondissements of Paris are administrative locations as well as the labels of safety conditions. I will list a few below that are comparatively safe for travellers, and also name a few areas to avoid.
Recommended arrondissements (1st, 2nd, 4th – 9th & 12th ) near River Seine
1st Arrondissement

: A safe area with landmark like Louvre Museum and Jardin Des Tuilerie, and it's close to River Seine, but with expensive room rate. Top Hotels in 1st Arrondissement

2nd Arrondissement

: A safe but a little bit expensive area to stay, with landmark like Public Library and Euronext Paris nearby. Top Hotels in 2nd Arrondissement

The 4th Arrondissement

: Cathedral Notre-Dame, Paris City Hall, Paris Museum, The Centre Pompidou located in this area which is safe and hotels are at affordable price. Top Hotels in 4th Arrondissement

The 5th Arrondissement

: A very safe Paris school district with many schools, museums, book stores and cafés around, and the hotels are at decent price. Top Hotels in 5th Arrondissement

The 6th Arrondissement

: With stores, movie theaters, Opera House, schools and colleges around, good safety, higher hotel price.

The 7th Arrondissement

: It's a safe and upscale residential area, but quite expensive to stay, with Eiffel Tower, Musee d'orsay, embassies, national institutions around. Top Hotels in 7th Arrondissement

The 8th Arrondissement

: Champs-Elysées,Place de la Concorde, Arc de Triomphe, fashion stores, Elysee Palace are within walking distance, very safe and popular tourist area, home to many 5 star hotels. Top Hotels in 8th Arrondissement

The 9th Arrondissement

: If you are up to Opera Garnier, Printemps Haussmann and Galeries Lafayette, it's a good idea to stay in this residential area with many schools, museums and opera houses around, and of course the hotel price is higher. Top Hotels in 9th Arrondissement

The 12th Arrondissement

: A safe area with hotels at decent price, and Gare de Lyon Station is just within this area which is convenient if you want to take TGV across France. Top Hotels in 12 Arrondissement

14th-16th Arrondissements

: Outskirt of Paris, fairly safe but more car-dependent and less convenient.
The 3rd, 11th & 13th arrondissements are basically safe but theft still happen often
3rd Arrondissement

: Fairly safe business area but caution needs to be practiced.

11th Arrondissement

: Where Rue de la République, Boulevard Voltaire, many churches and museums located, a pretty safe residential area but safety caution is still suggested.

13th Arrondissement

: China Town, Asian communities and shopping area.
The Northern part of Paris does not have good reputations due to higher rates of robbery and theft. 10th, 17th-20th are arrondissements to avoid.
The 17th Arrondissement

: Try to avoid due to poor safety

The 18th Arrondissement

: Sacre-Coeur Basilica, Montmartre Village, Place du Tertre, Red Light District,Moulin Rouge. Sacre-Coeur Basilica area is suggested for better safety, avoid to stay in other areas.
The 19th Arrondissement: Residential area that hosts the 2nd largest Chinese community|Tourists should try not to go out late at night
The 20th Arrondissement: Residential area not suggested to tourists due to safety concern
Best Hotels in Paris
There are many details that deserve travellers' attention when booking their trip to Europe. When it comes to Where to Stay in Paris, nothing matters more than safety, location, and price.
I hope the following tips will help to make smart choices in selecting Paris Hotels.
Compare prices and traveller's review by browsing Hotels Comparison websites, try to select those who have 8.0 or higher ratings. What travellers are telling in their reviews is usually important and helpful. You can sort and filter the information to fit your particular scenario.
Try to stay near metro stations in central Paris. Zone 1 is always suggested for its convenience and proximity to major attractions.
The arrondissements 1st, 2nd, 4th -9th near River Seine are all recommended safer areas to stay. The 10th, 17th -20th are the arrondissements to avoid.
When it comes to hotel price, it gets cheaper when you move further away in reference of the Louvre.
For culture explorers, the 5th -7th arrondissements located on the left bank of River seine are good areas to stay.
For those who are into fashion and shopping, the arrondissement 8th & 9th on the right bank of River Seine will be the paradise.
You'd better find out before you go if a property has lift, since it matters to those who do not like to pack light and hate to carry heavy.
Top Budget Hotels in Paris –Nightly 100 EUR or less
I will recommend a few Paris accommodations that claim to have good value, higher rating, convenient locations and most importantly, they are in safer areas. My top recommended hotels are safe and affordable. Once again safety is the 2nd to none important factor to be considered when searching for hotels in Paris. Try to narrow down your choice among the River Seine area between arrondissements 1&2 4-9 and 12. Any other factors such as price, location and proximity to attractions should all compromise their priorities to safety.
Click here for the List of The Best Hotels in Paris based on travellers' review and price: Best hotels in Paris
Hotel Royal Saint Germain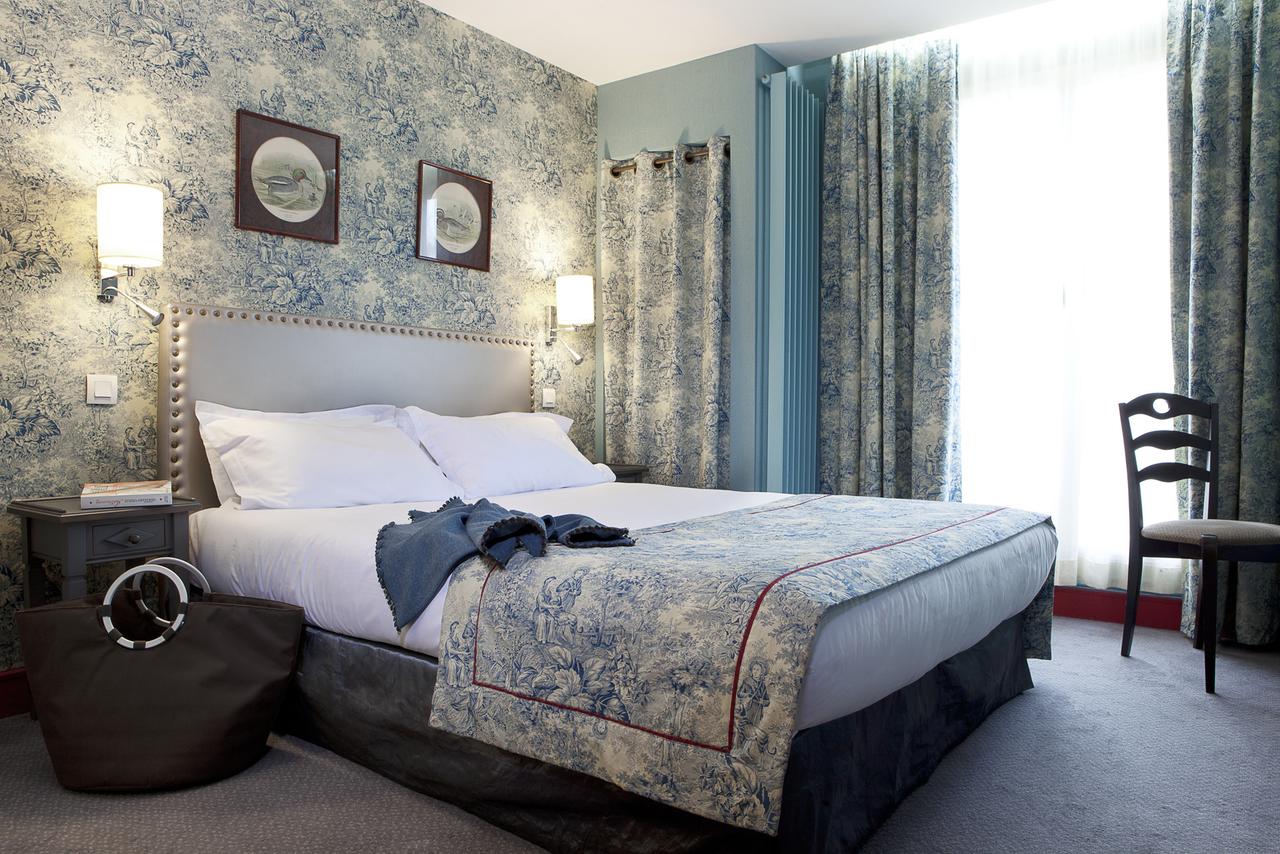 Location

: Ideally located in the 6th arrondissement of central Paris, Royal Saint Germain is an 8 –minute walk to Notre Dame de Champs station, close to Gare Montparnasse Train Station, Luxembourg Garden is just steps away.

Features

: Guest rooms are beautifully decorated in old school style, on the small side but very clean and cozy.
Book Now: Agoda|Booking.com
Hotel Gavarni
Location

: Hotel Gavarni is located in a residential neighbourhood in Paris's 16th arrondissement. Passy metro Station can be reached in 5 minutes by walk. There are also bus stops nearby. It is within walking distance to a few top attractions including the Eiffel Tower, Palais de Chaillot and Pont Bir-Hakeim.

Features

: This 3 star hotel is charming and cozy. Staff are friendly and helpful. Guest rooms are a bit small but some top floor units provide stunning views of the Eiffel Tower.
Book Now: Agoda|Booking.com
Hotel Lilas Blanc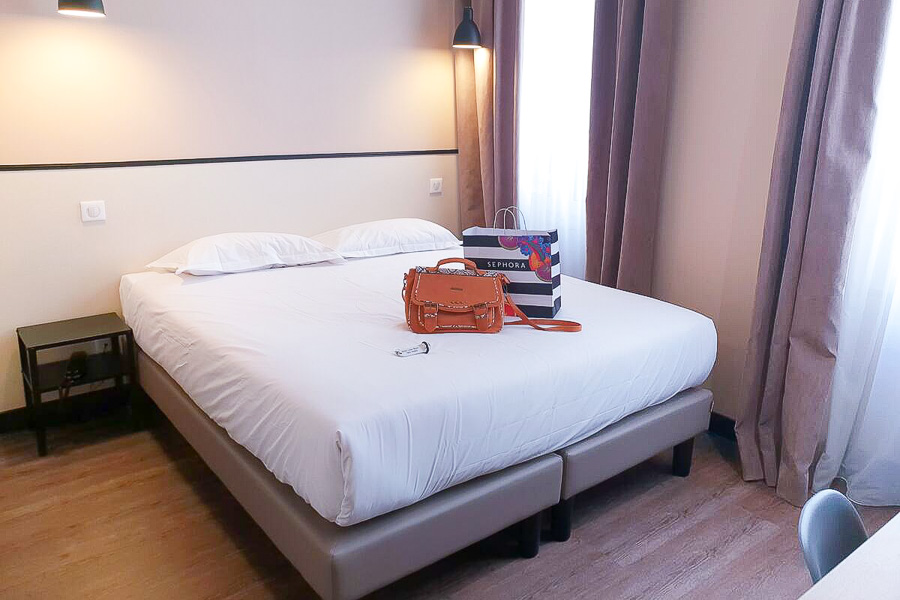 Location

: Hotel Lilas Blanc sits in the heart of Paris's 15th arrondissement with just 1- minute walk to La Motte-Picquet Grenelle metro station. It is within the proximity of the most famous landmark Eiffel Tower. Champ de Mars, Pont Bir-Hakeim and Rodin Museum are also not far away from the property.

Features

: Hotel Lilas Blanc provides easy access to McDonald, supermarket, Starbucks, restaurants and bars. Guest rooms are small however they feature thoughtful amenities and comfort bedding. Its perfect location is worth the best value for money.
Book Now: Agoda|Booking.com
Hotel Arc Elysees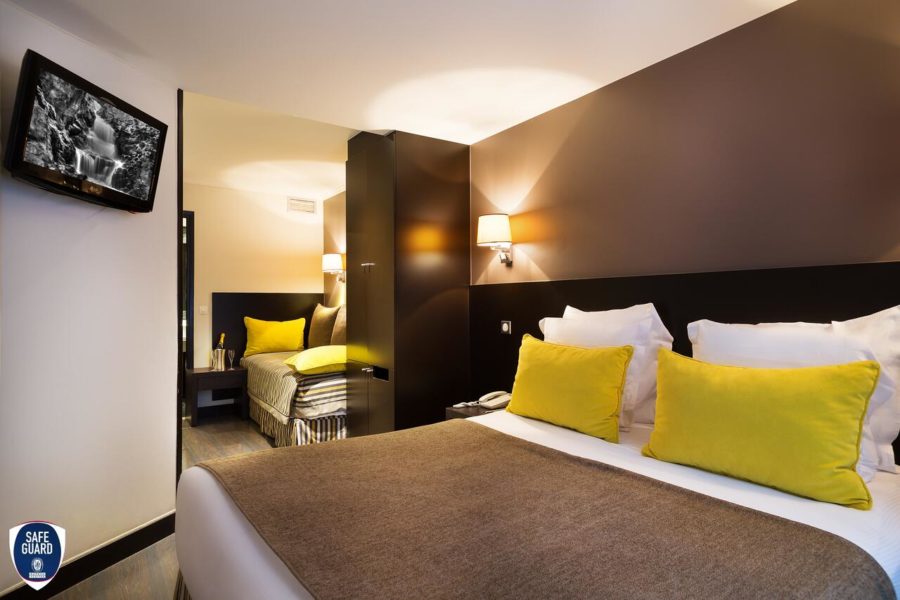 Location

: It is located in the very safe 8th arrondissement of Paris with a short distance to the Arc of Triumph.

Features

: Hotel Arc Elysees is a 3 star hotel that boasts fantastic locations with 3 metro stations steps away. It provides modern comfort for business guests or leisure travellers. Guest rooms are clean and quiet. Hotel also has lifts.
Book Now: Agoda|Booking.com
【Paris 4 Star Mid-range Hotels 】100~280 EUR a night
4 star mid-range hotels in Paris may be the wise choice to those who travel with older parents and expect for a little bit more amenities such as free breakfast, air conditioning, tea maker and lift. The following 2 hotels are recommended for being able to impress guests without having to burn their pockets.
Mercure Paris centre Tour Eiffel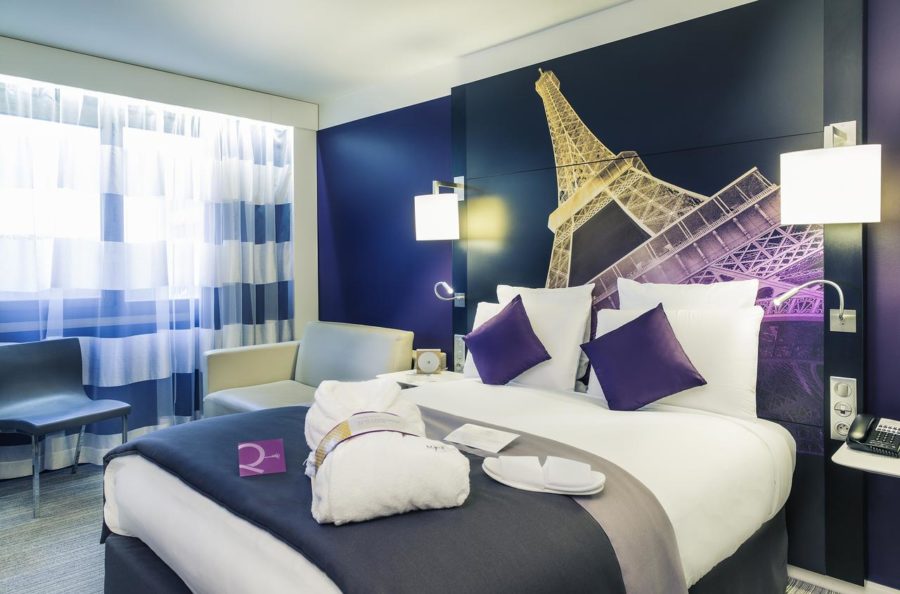 Location

: This hotel is located in the 15th arrondissement on the left bank of River Seine, with just a 2-minute walk to Eiffel Tower, and Champs-de-Mars-Tour Eiffel Metro Station is 4 minutes away on foot.

Features

: Mercure Paris Centre Tour Eiffel is a stylishly designed 4 star chain hotel. Guest rooms feature contemporary décor and thoughtful amenities including coffee makers and mini-fridges. Selected room type offers Eiffel Tower views. This is an ideal place to host both business and leisure travellers.
Book Now: Agoda|Booking.com
Le Parisis – Paris Tour Eiffel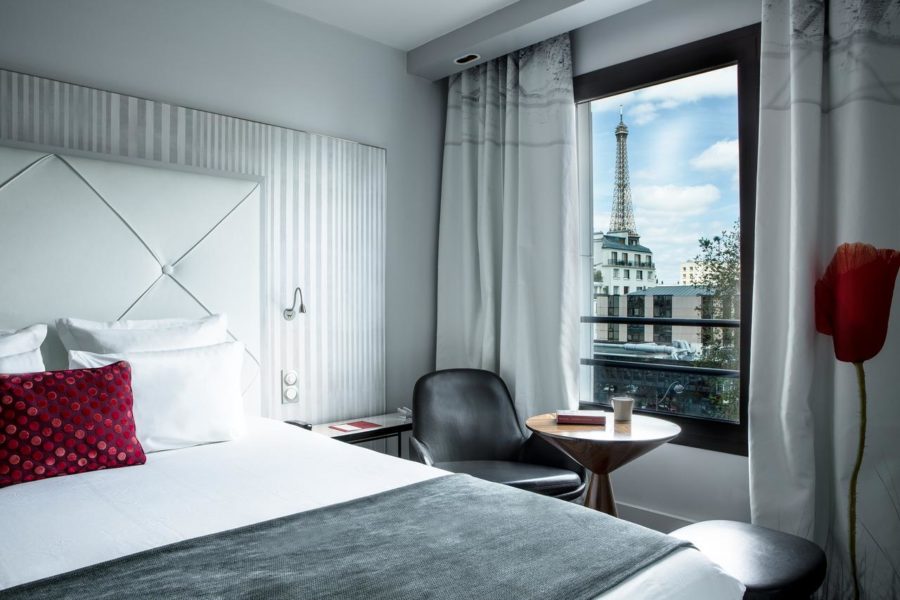 Location

: This luxury 4 star hotel sits in a quiet yet vibrant residential area in the 15th arrondissement of central Paris. La Motte-Picquet-Grenelle Metro Station is only 2 minutes away by walk, while the iconic landmark Eiffel Tower can be reached in 15 minutes on foot. The beautiful romantic River Seine is a short stroll away.

Features

: Le Parisis – Paris Tour Eiffel features stylish design and modern amenities providing comfort and convenience for guests of all types. All rooms are equipped with coffee/tea-makers, air conditioning, bathtub and free WIFI. Many rooms offer stunning views of the world famous landmark Eiffel Tower.
Book Now: Agoda|Booking.com
【Recommended 5 star luxury hotel】from 300EUR a Night
Paris is one of the best international metropolitans for visitors to explore the rich European culture and experience the glamorous French lifestyle. Many world class 5 star hotels offer the opportunities for travellers to live their dreams when vacationing in Paris. Let me show you a few examples.
Four Seasons Hotel George V Paris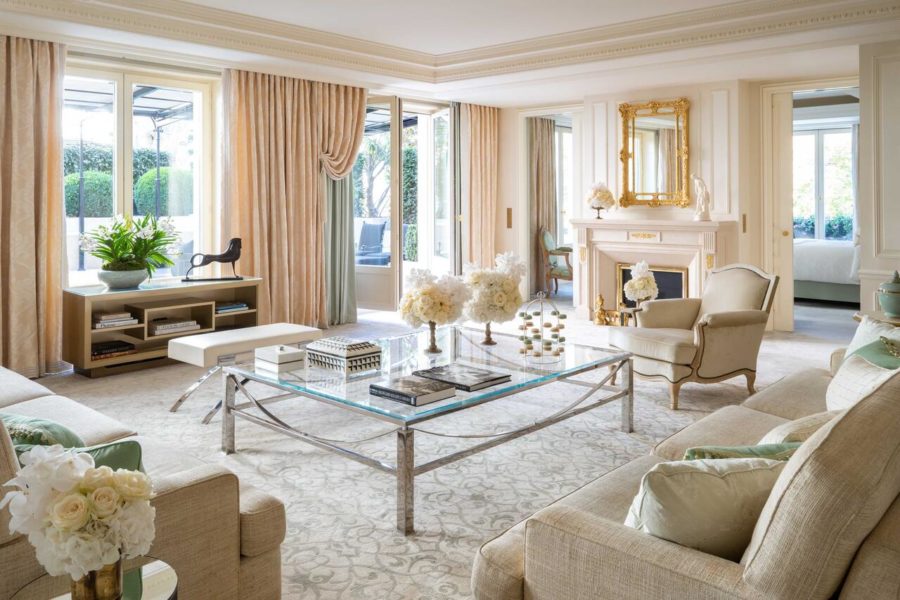 Location

: The Four Seasons Hotel George V Paris is situated in the Golden Triangle of Paris in the 8th arrondissement, just off the famous Champs-Elysees.

Features

: Known as an art- deco landmark, The Four Seasons Hotel George V Paris is the icon of world class hotels in Paris. The magnificent cityscape and picturesque views of Avenue George V unfold outside the window. The hotel features oversized luxury guest units, intimate bars and legendary wine cellar, cutting-edge La Spa with a 17 metre long swimming pool. The Four Season Hotel George V Paris boasts 3 Michelin starred restaurants under one roof providing the finest dining experience in the city, among which Le Cinq is the winner of Michelin 3-star year after year. The Four Season Hotel George V Paris is designed to be the best place to indulge the mind and body at a new height.
Book Now: Agoda|Booking.com
Hotel de Crillon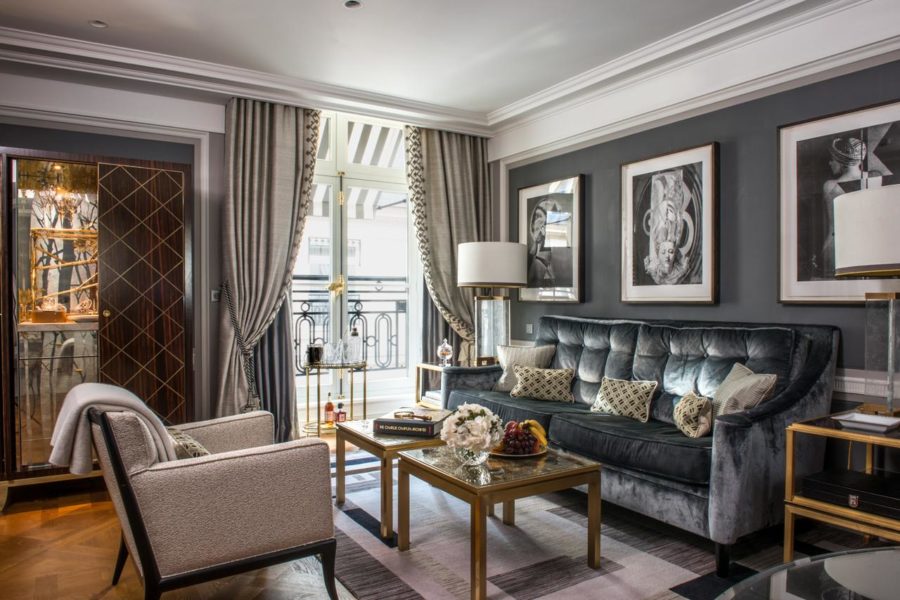 Location

: 10 Place de la Concorde off Champs Elysees is one of the most privileged addresses in Paris, which belongs to the legendary iconic Hotel de Crillon, a timeless hotel royalty.

Features

: The classic Hotel de Crillon was transformed from the original building which was constructed in 1758 by the architect Anfe-Jacques Gariel, who was commissioned by King Louis XV. It was once the home of government institutions. The west side of the building is now the historic illustrious landmark hotel de Crillon, while the other side is the headquarters of French Navy. The furnishing and decoration of the hotel reflects an 18-century Parisian heritage, bringing French history back to the nonstop live heartbeat of Paris. The hotel has been visited by many nobles including the frequent guest Queen. The rooms and suites are designed with custom art, beautiful antiques, elegant furnishing and carefully chosen details such as Italian Rivolta Carmignani bedding sheets, French Drouault pillows and dawn comforters. This splendid 5 star hotel offers an incomparable lifestyle of Parisian luxury to travellers who want to make their journey to Paris beyond expectation.
Book Now: Agoda|Booking.com
The most luxurious hotel in Paris – Hôtel Plaza Athénée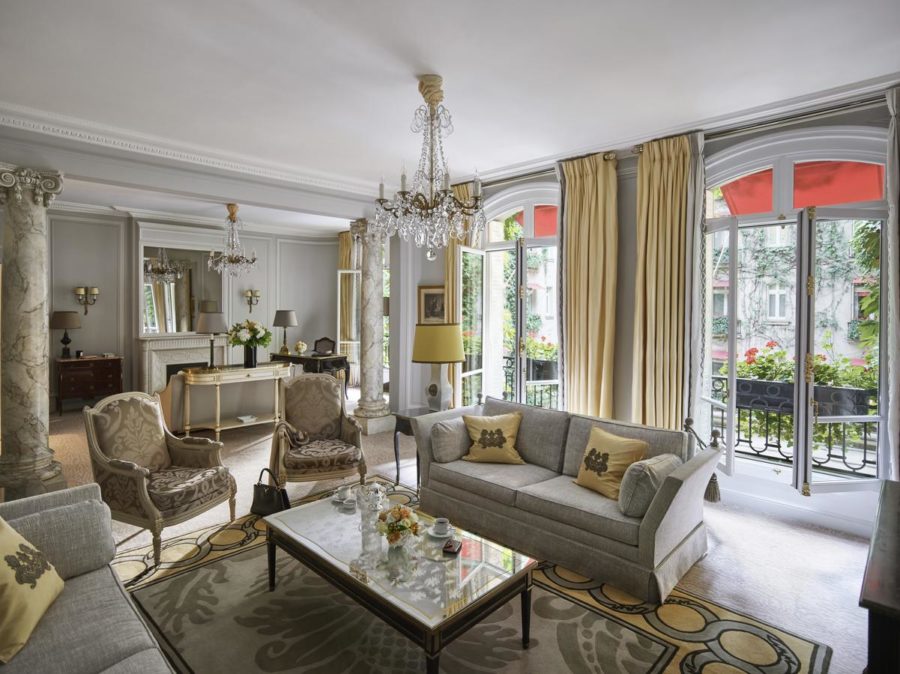 Location

: Located on the peaceful and prestigious 25 avenue Montaigne in the 8th arrondissement of Paris, Hotel Plaza Athenee is just 5 minutes away from Champs Elysees.

Features

: Hotel Plaza Athenee is part of Dorchester Collection group. It boasts the rare honor of government awards "Distinction Palace". Many celebrities are repeat guests of the hotel. Mr. Dior's interest in the hotel's restaurant Le Relais Plaza had contributed to the opportunity of business partnership with Hotel Plaza Athenee. The Spa-Dior institute is the hotel's phenomenal spa that provides exceptional spa treatments to spoil mind and body. The Alain Ducasse au Plaza Athenee is a Michelin 3 star recipient and is one of the 5 restaurants at the hotel providing extraordinary dining experiences.
Book Now: Agoda|Booking.com
Related Stories