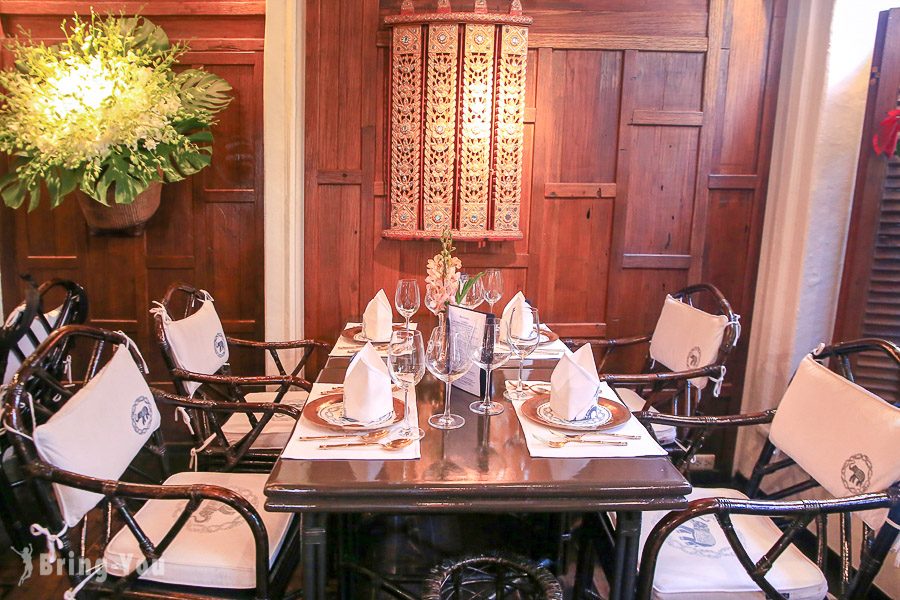 Do you know that there are 20 Michelin-starred restaurants in Bangkok alone? From the shabby old-school eateries like Ket O Cha and Raan Jay Fai to luxurious fine-dining houses like Blue Elephant and Sra Bua by Kiin Kiin, the best food spots in Bangkok will have you spoiled with choices as long as your stomach is empty.
In this article, I'm gonna take you to Blue Elephant, a whimsical restaurant dishing up curated Royal Thai Cuisine – all tucked behind a timeless colonial mansion on the bustling Sathon Road.
This food review guide will spill the best secret everyone is dying to know: what are the absolute must-eat at Blue Elephant and how to not pay a hefty price for the meal. Read on to find out!
Related Sroty: What to Eat in Thailand? 15 Signature Thai Dishes to Inspire Your Palate
How to Get to the Blue Elephant Restaurant in Bangkok?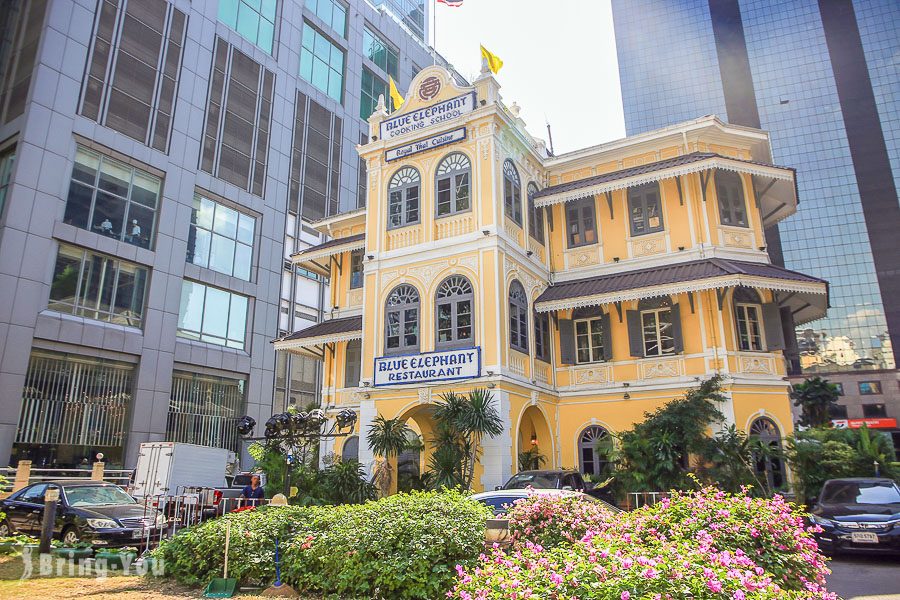 Blue Elephant restaurant is snuggled within an elegant two-story colonial mansion. The house is a stone's throw away from Surasak BTS station after you get out from Exit 4. The mansion itself is a priceless piece of history that stands the test of time and is also listed by Thailand's Fine Art Departments.
Nowadays, Blue Elephant is one of the most sought-after Michelin-starred restaurants in Bangkok, bringing a full-on feast of Thai culinary treasures as well as A la carte dishes.
Is Reservation Required for Blue Elephant?
Yes – And there are several ways to book your seat days in advance:
Via a phone call
Via the website (which sometimes experiences a downtime – access denied)
My top pick: via a travel app and website. These channels usually offer steep discounts and deals. I like to use Get Your Guide and Viator when traveling to North America and Europe as well as Traveloka and Klook for trips around Asia.
The Dining Space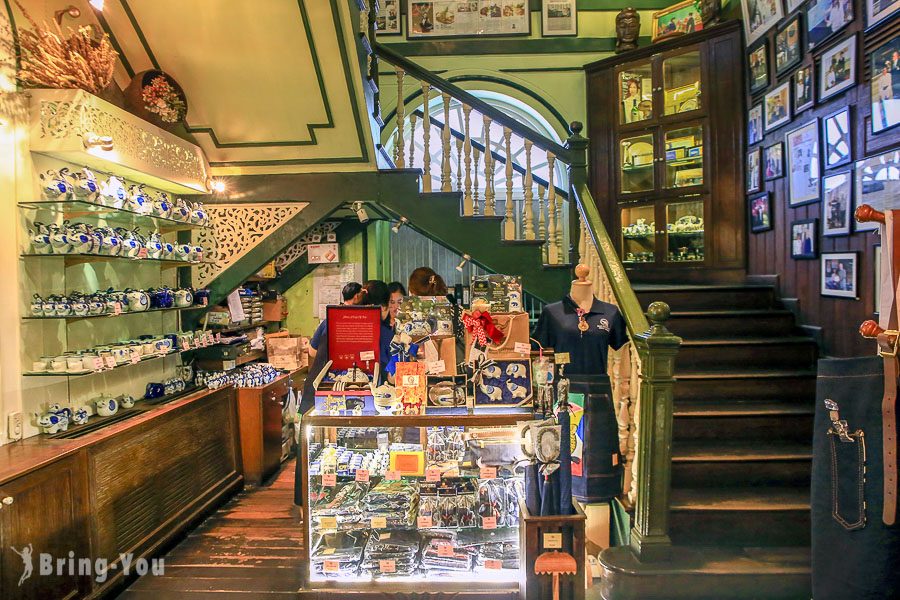 Blue Elephant is not insanely large but the interior design is chock full of ancient keepsakes inside a cozy ambiance.
Upon my arrival at half past 11:00 for lunch (which is also its opening time), there were about five other groups of diners waiting at the same time, all occupying the small ground floor. While waiting for the meal, you can check out the merchandise store next to the reception counter where the documents and pictures of the famous public figures that have visited. There is a dark wooden stair leading to the second floor right behind the store.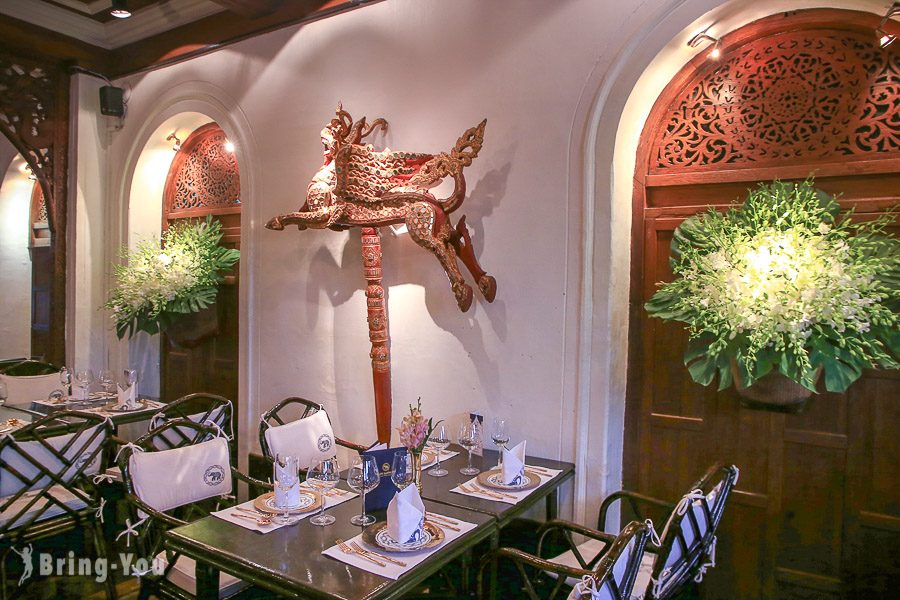 The only drawback of the ground floor is the limited dining space. Since most seats are placed next to one another, it can be a little noisy sometimes when the floor is packed with diners during the high season.
The second floor, on the other hand, is spacious and well-lit. The quirky cultural ornaments contribute to the charm of the space while bouquets are hung on the red wooden windows.
Even the utensils are a beau on their own. Rose gold items are put on a glossy look with a blue elephant symbol imprinted on a kitchen napkin placed in the middle of the plates.
The Food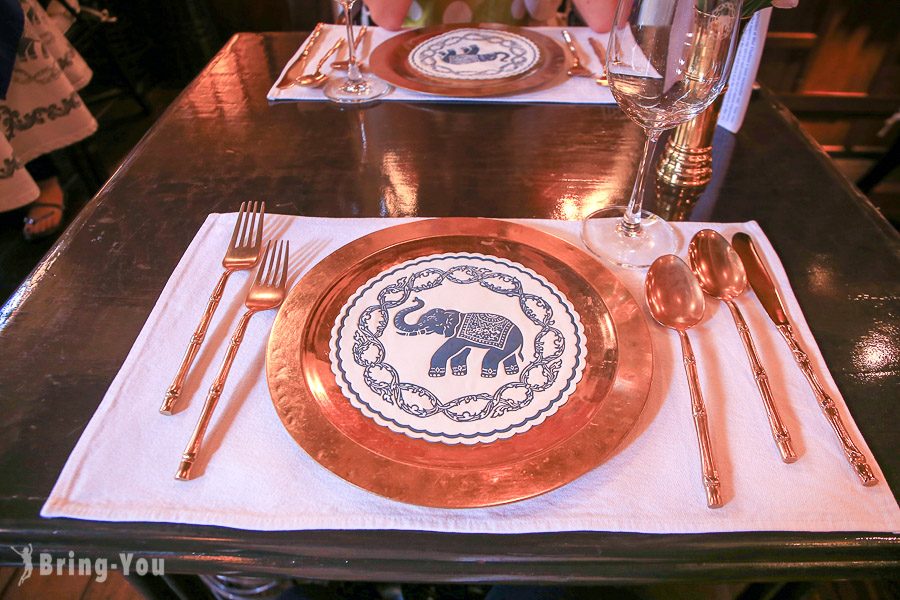 Upon reservation, I picked the set beforehand, and Set A was my go-to option. Set A is a full meal course including Starters, Soup, Main Course, and Desserts. Click here to view the full menu.
Starter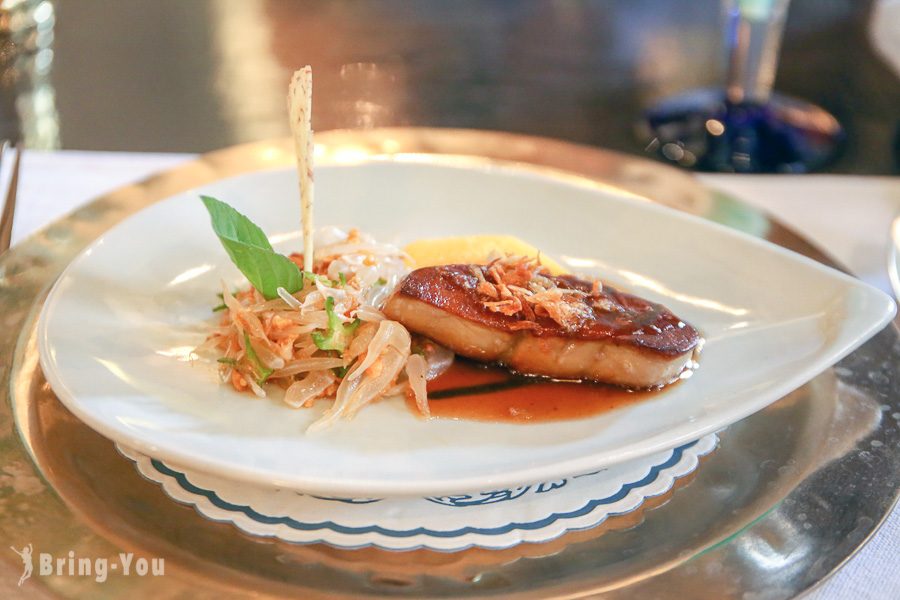 Let the game begin with Tamarind Foie Gras and Pink Pomelo Salad. The creamy and rich texture of the foie gras is paired perfectly with the savory homemade sauce, all balanced out by the sour hint from pomelo.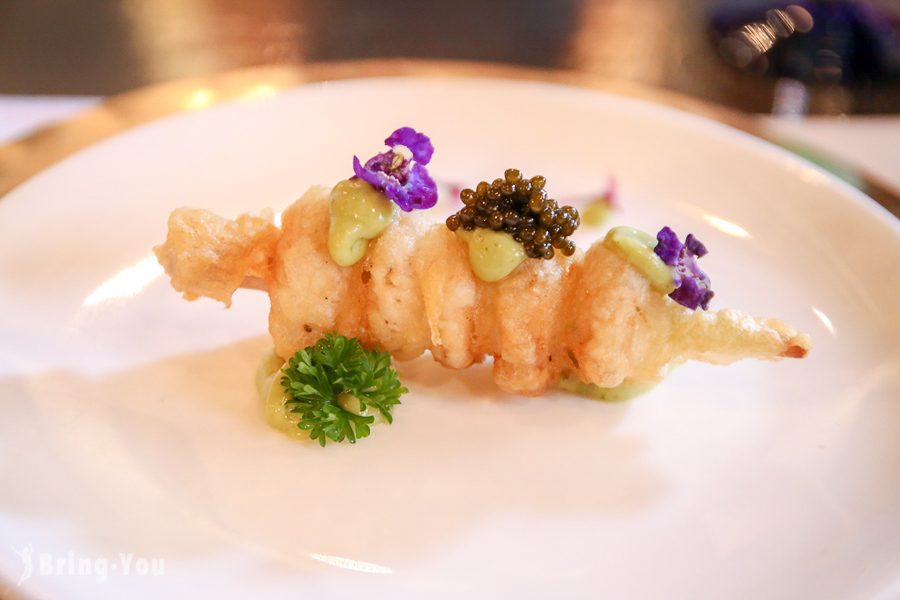 The Seared Scallops served with fresh crispy Kale is totally delicious. The birds eye chili dressing stays on top and injects the crunchy fried coat with some extra spice.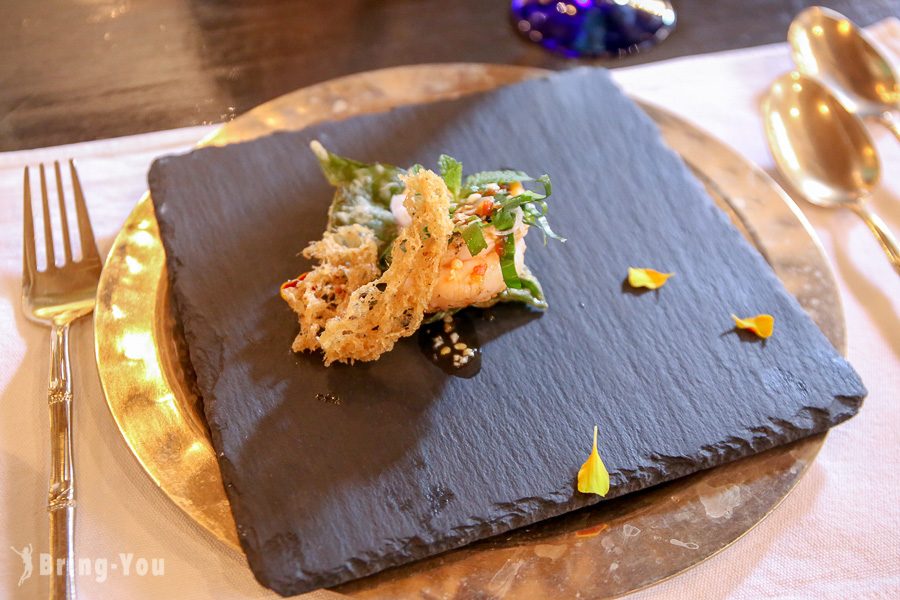 And if you're a seafood worshiper like me, you'll be thrilled. Chef Nooror's succulent grilled Phuket Rock Lobster and crispy sea bass salad is served on a small piece of black stone, steeped in a creative plating style and a savory note that you won't find elsewhere.
Soup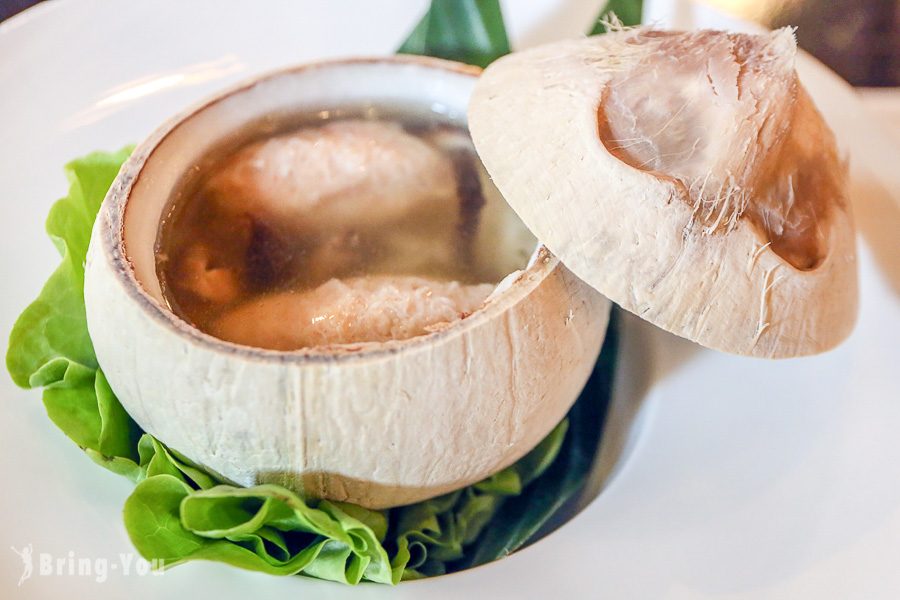 The lobster is followed by an innovative bird nest soup with crab balls, all served inside a big coconut. If you get to enjoy this refreshing soup on a cold rainy day, you'll be in awe.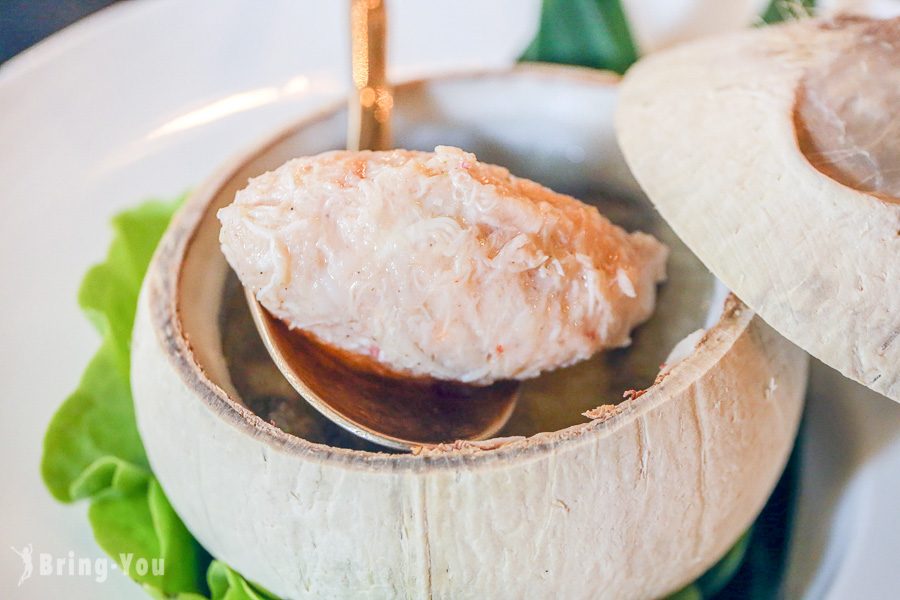 Main Course
The main course includes three distinctive servings: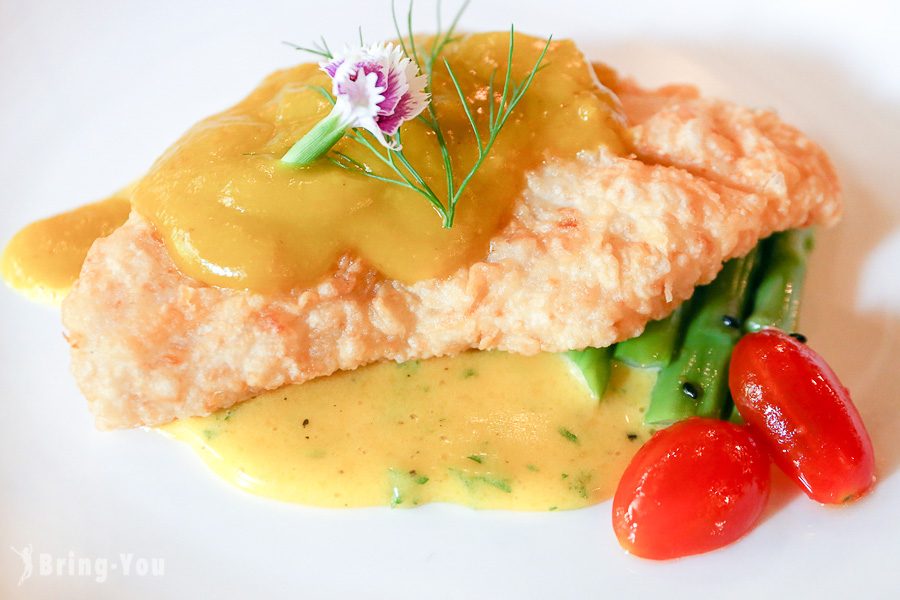 Wild Caught pan-fried fire Garoupa drizzled with truffle oil and Kaeng-Lieng sweet potato smash: It has a blissful balance between Asian and Western styles.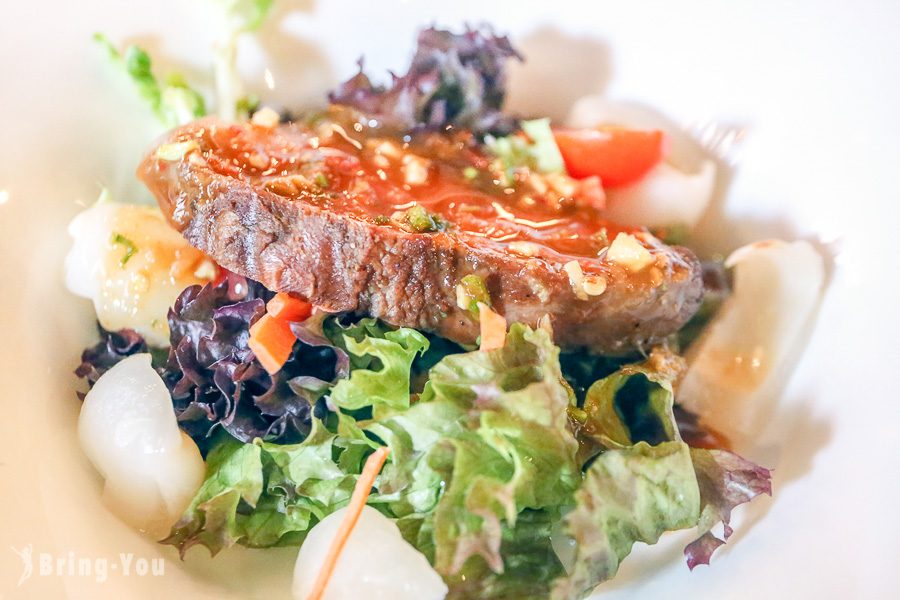 Dolly organic duck salad with tangerine sauce: The well-marinated duck is perfectly grilled, sitting on a bed of locally sourced herbs, and fully bathed in the savory tangerine sauce.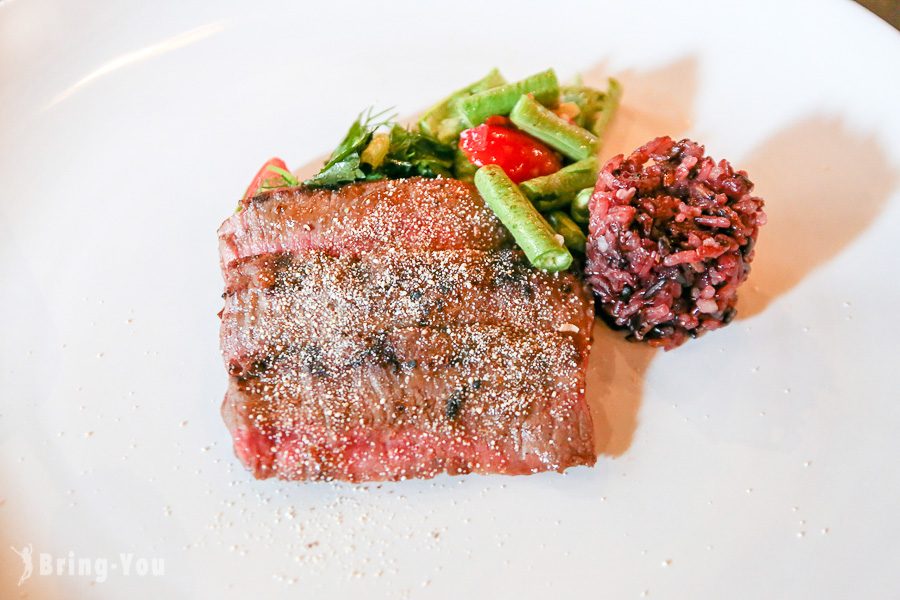 Lastly, the grilled marinated Thai Holstein beef wakes up your palate with a thick 50-day dry-aged locally bred beef served by the side of a homemade Northern Thai sauce recipe.
Desserts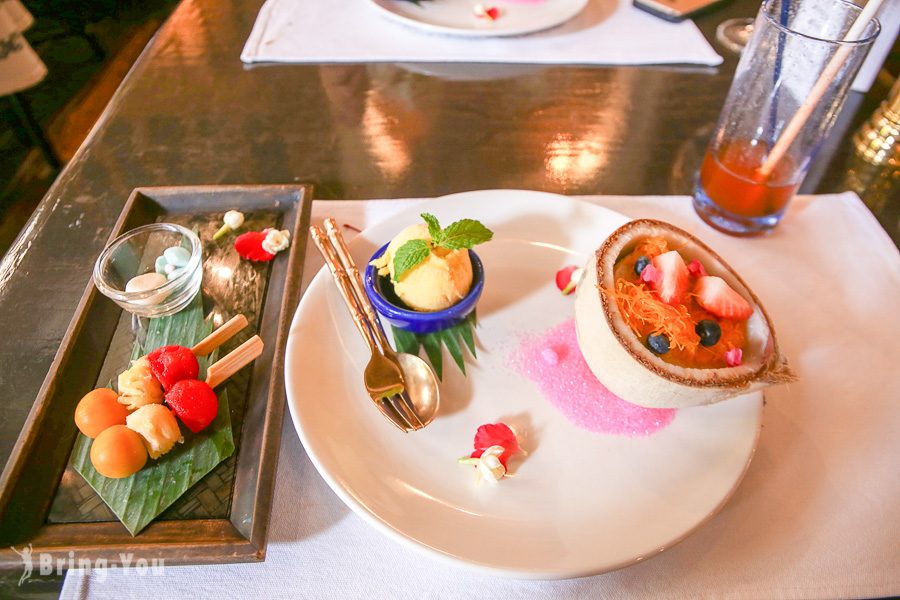 Dessert is a big and colorful serving of mango ice cream, fruit skewers, and Khanom Phing Thai cookies hidden inside a coconut shell.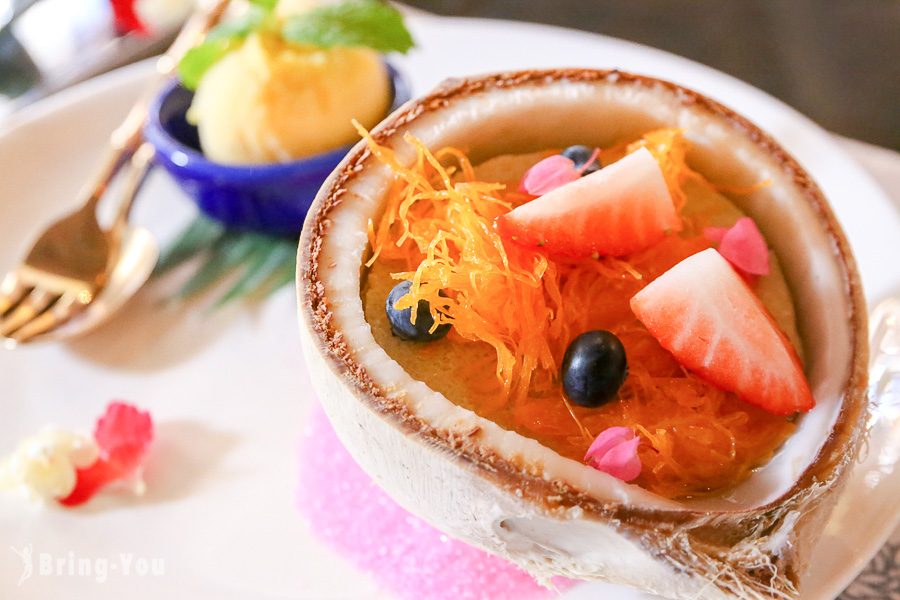 Key Takeaway:
I can't stress enough how wonderful Blue Elephant is. Even though the rate is on the higher end of the price spectrum, it's actually not that bad with the deal you get online.
The amazing traditional interior is infused with a cozy atmosphere and innovative recipes. Make sure to reserve the table in advance and check out the link I recommended above for big deals and coupons.
Indulge in More Bangkok's Gourmet Scene: SRA BUA By Kiin Kiin
Travel Guide to Thailand
Explore more of our adventures around Thailand:
Thailand Travel Essentials