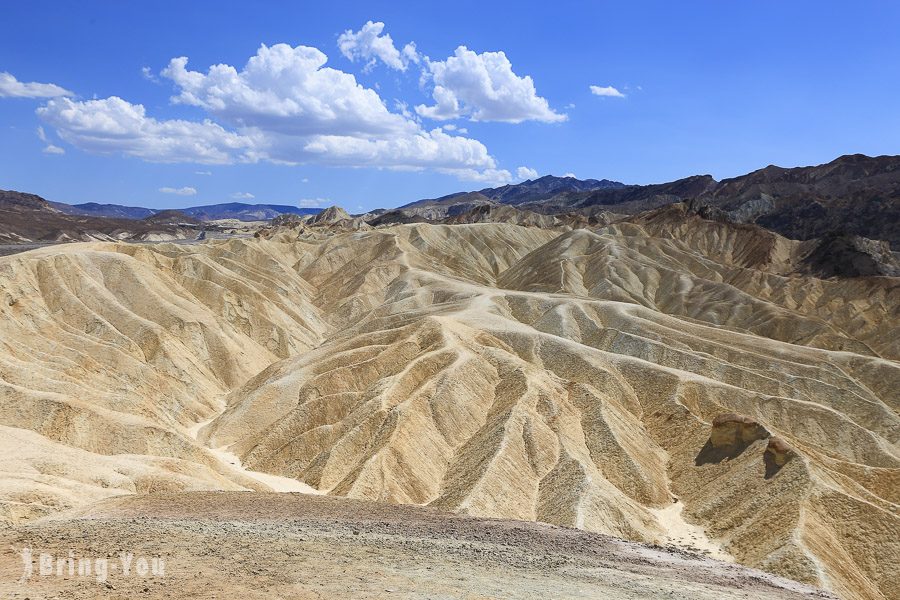 I know the name "Death Valley" doesn't sound exciting, but the vast desert region embraces some of the most phenomenal beauty of mother nature. This is the very region where you don't feel like time exists. You're surrounded by an endless range of beige and bleak with stark mountains and sharp geology.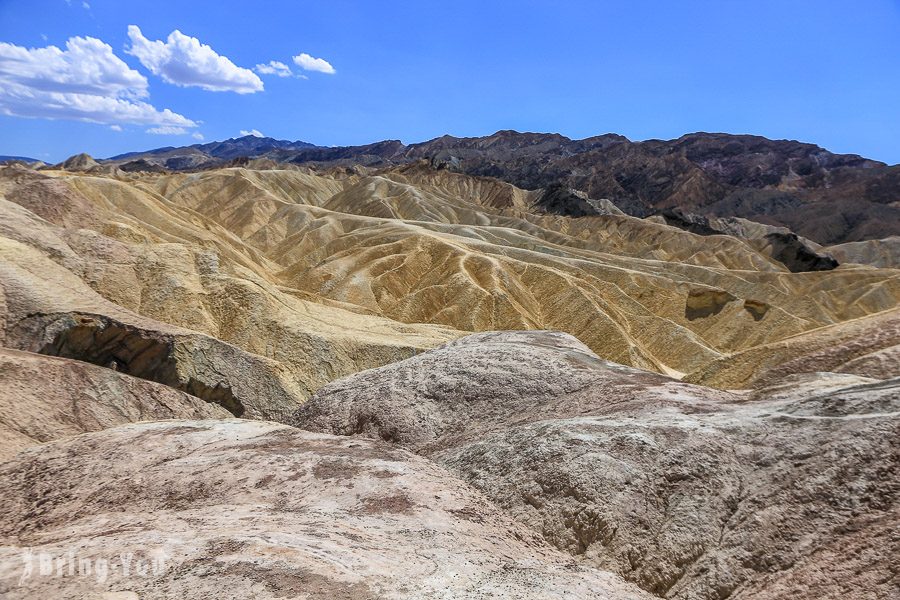 Despite the infamous name, the Death Valley is where life abounds with more than 1000 species of plants including rare and exotic types. For history buffs, this is where you'll discover the gold and mineral mining of the wild wild west that was left behind in this forbidding landscape.
There's something about the valley itself that beckons the attention of adventurous travelers looking for something edgier. You can drive there on a road trip, get on some of the hiking trails, and explore the timeless beauty of this specific region of America. Now, read on to discover the best way to explore Death Valley, which tour to sign up for, and how to come prepared on a road trip.
Death Valley Visitors Center
You need to know that they have a visitor center near Furnace Creek to get visitors like us ready before getting into the park. This is where they put out passes for self-driving cars that enter through 5 different ungated entrances.
There is no such thing as a ticket but you need to get the pass at a fee from the Visitor Center and keep it in your car. The price varies depending on cars, motorcycles, walking, and biking (and I'm not sure about the latter 2!).
In addition to getting your passes, the Visitor's Center is where you get information on what to see, hiking routes, camping services, a bookstore, and a museum.
How Far Does It Take to Go to Death Valley?
From LAX to Death Valley is 271 miles and that means roughly 5 hours driving via Ridgecrest and the Panamint Valley.
From SFO to Death Valley is 502 miles and you need over 7 hours to get there via Ridgecrest and Highway 99.
From Las Vegas to Death Valley is up to 142 miles with 2 hours to complete the ride.
When Is the Best Time to Visit Death Valley?
Definitely not summer. It can get really hot in summer with the temperature hovering around 50 degrees Celsius.
Springtime is the best time to go when the weather is more bearable with a vivid floral display thanks to the rain brought by winter last year.
My Recommended Organized Tour: What to Expect?
Unless you're an adventurous soul and brave enough to drive the Death Valley by yourself, I recommend signing up for a guided tour. This one takes place during wintertime from November to April including ranger programs and guided walks.
Tourists like us don't have the nerve to tackle such a long distance and sort out all the information, rent a car, buy tires, stock up on gas, and load up food and drinks. We can't do that. So we decided to get a guide who had us inside a jeep and drove all the way to the valley.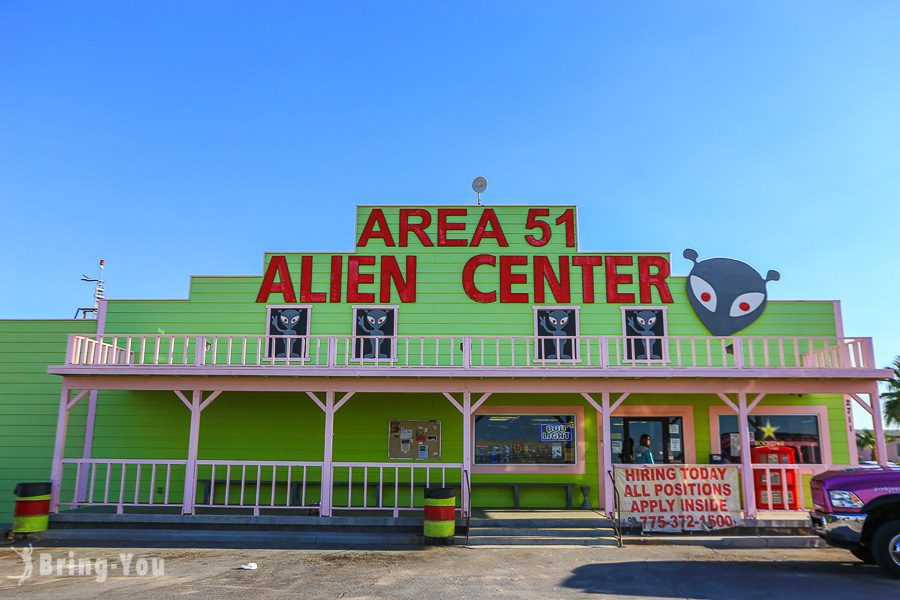 After starting from Las Vegas, the guide took us all the way to the "Area 51 Alien Center" in the northeast of Death Valley. This is actually a rest stop where you can get any food and drinks to recharge along the way if you need to. Once everyone was ready to go, we headed straight to the Rhyolite Ghost Town.
What Are the Top Must-See Places in Death Valley: A Sample Itinerary
Rhyolite Ghost Town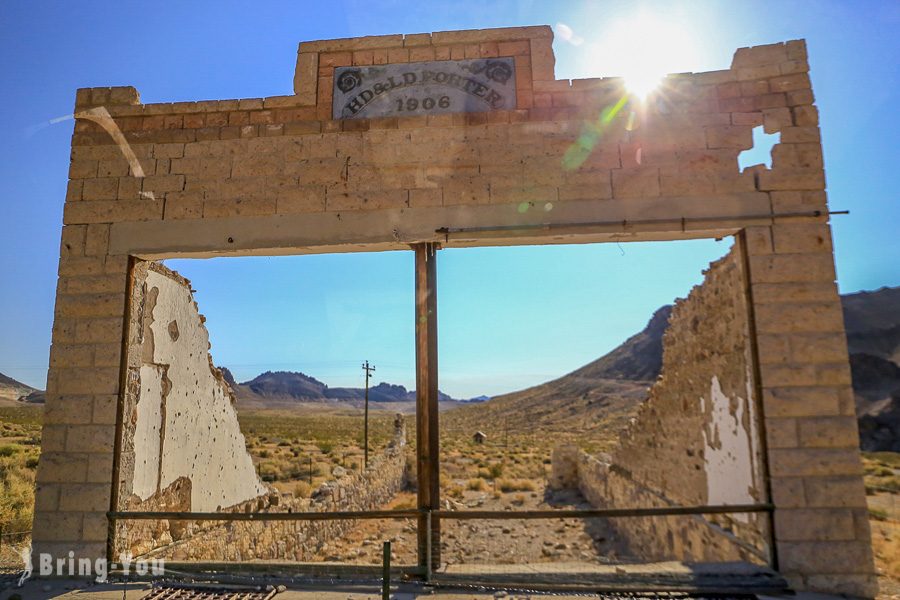 Rhyolite is a large and well-preserved ghost town where they used to have mining camps popping up after a high-grade, extremely valuable gold ore was discovered in 1905.
Today, even though Rhyolite only has ruins left with scratches of names and words, it's still a unique site to learn about the booming gold mining scene and is dubbed as one of the most photographed ghost towns in the West.
Goldwell Open Air Museum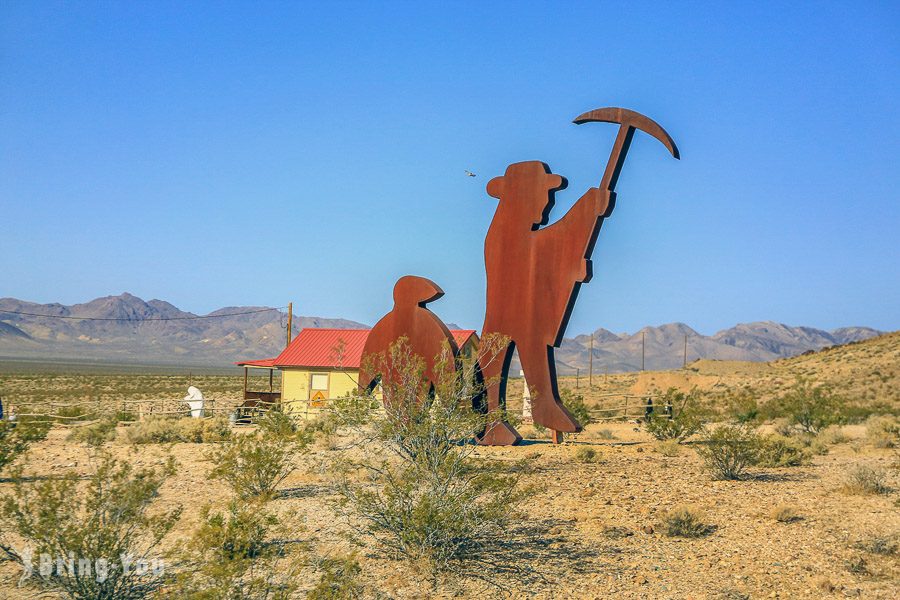 The museum is a stone's throw away from Ghost Town. It's actually a collection of quirky outdoor sculptures and artworks. One of the most incredible things to see there is "The Last Supper" by Albert Szukalski.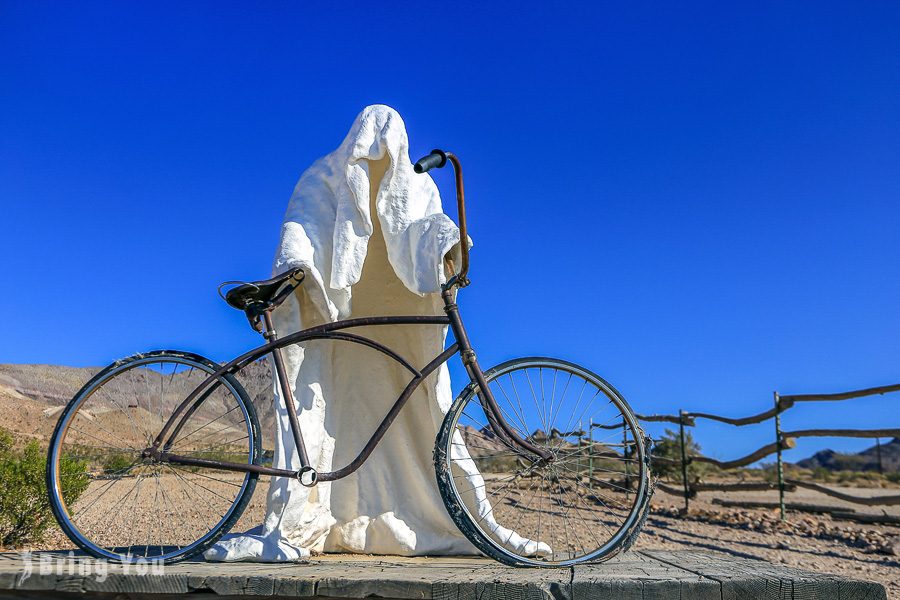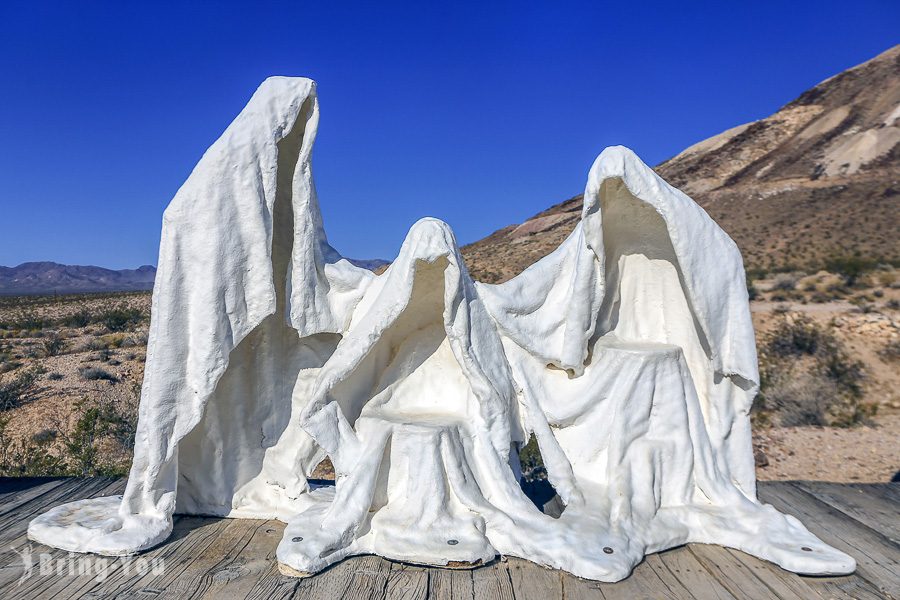 It's mind-blowing to see how all of these sculptures were made right in the middle of the valley instead of being cast somewhere else and transported here. Think about the scorching sun and life-threatening living conditions! How amazing it is to have all the artworks created that are deeply connected with the local historical environment despite the harsh environment.
Harmony Borax Works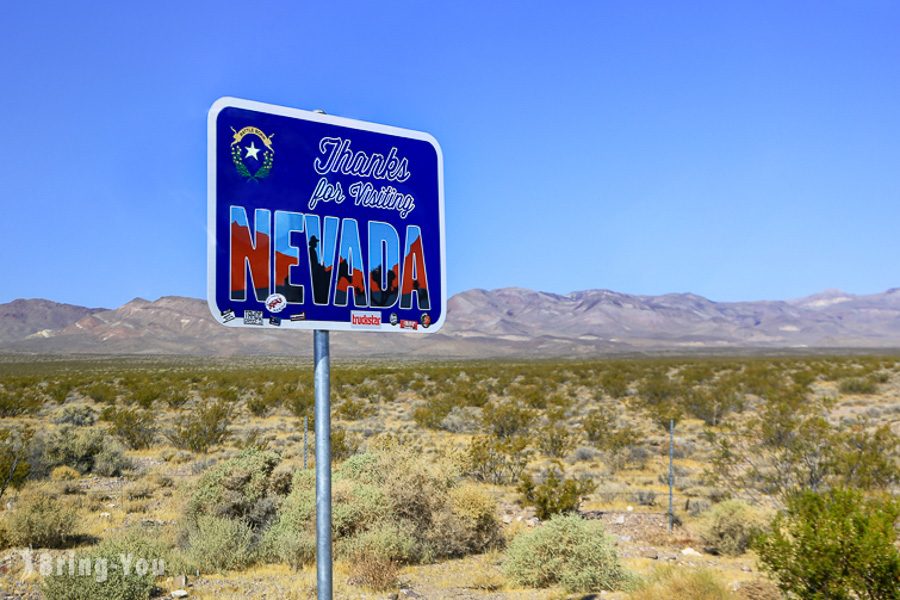 Spend a good 15 minutes here to unveil everything you need to know about the early days of the Borax mining era in the West. There is literally no shade at all so make sure you're hydrated before setting out to see those artifacts and displays. Today, you'll find stories about what was going on at the location through pictures displayed along the loop, especially when the 40-mule teams hauled borax out of Death Valley.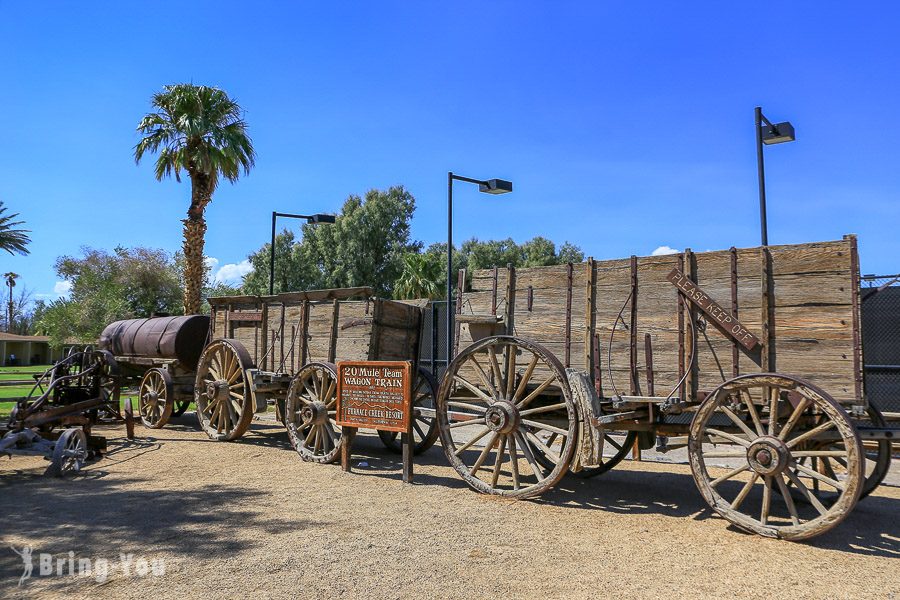 Bad Water Basin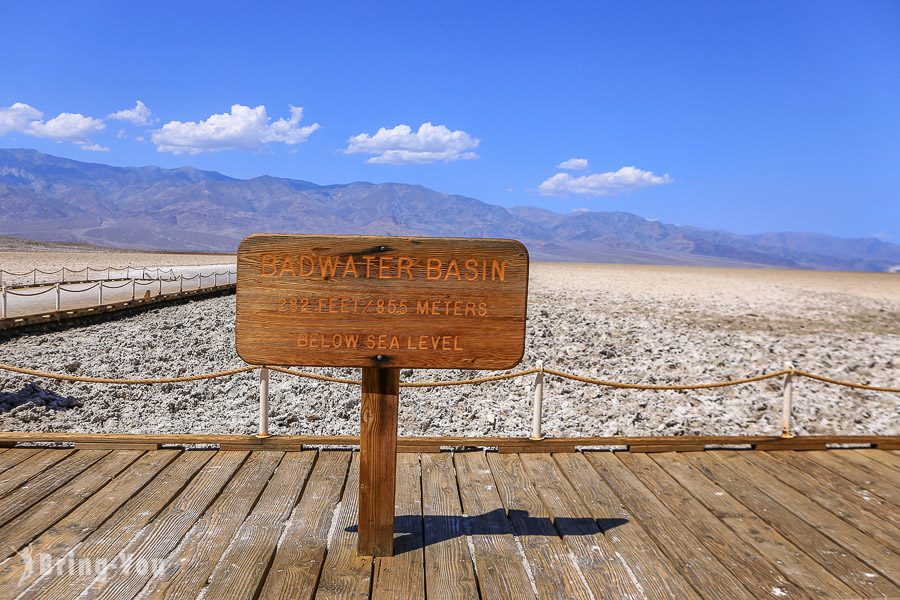 Dubbed as the lowest point in North America at 282 feet below sea level, the Badwater Basin is an extensive salt flat that reaches all the way up to the mountains.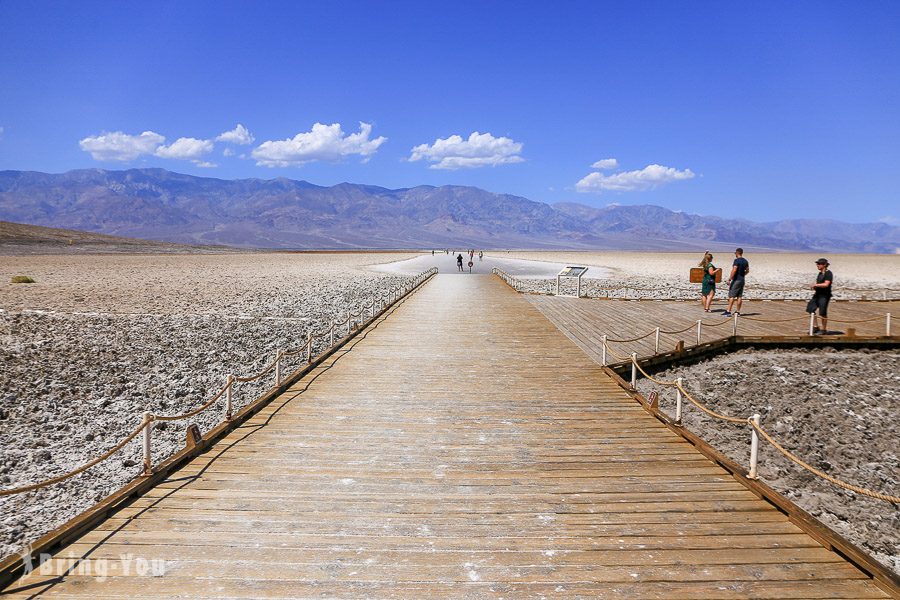 I've always heard of the term "sea level" but little did I know about it until I actually saw the basin ourselves. In fact, this is a large bed of the prehistoric lake which is known as Manly Lake. There's a trail where people walk towards the end of Badwater Road to capture a breathtaking landscape of the horizon.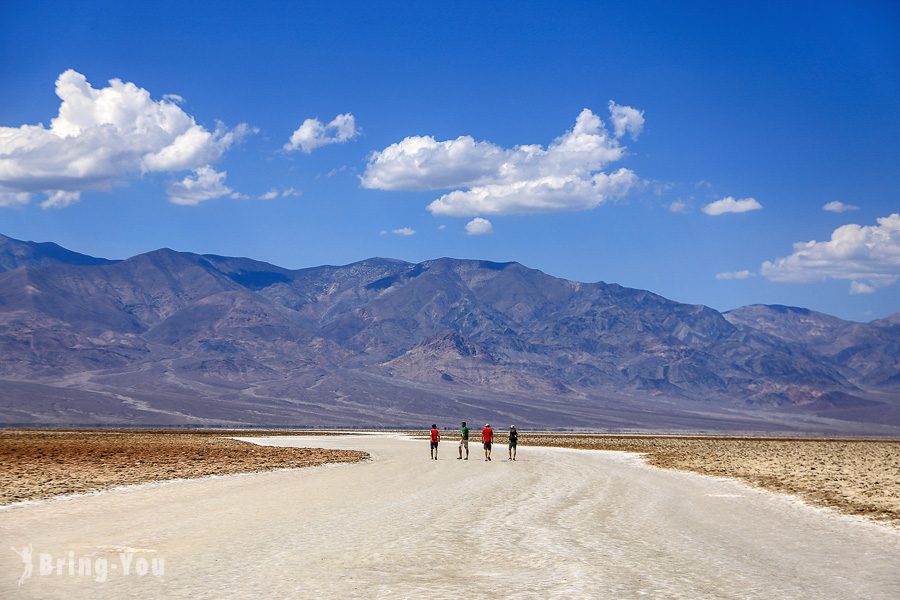 Artists Palette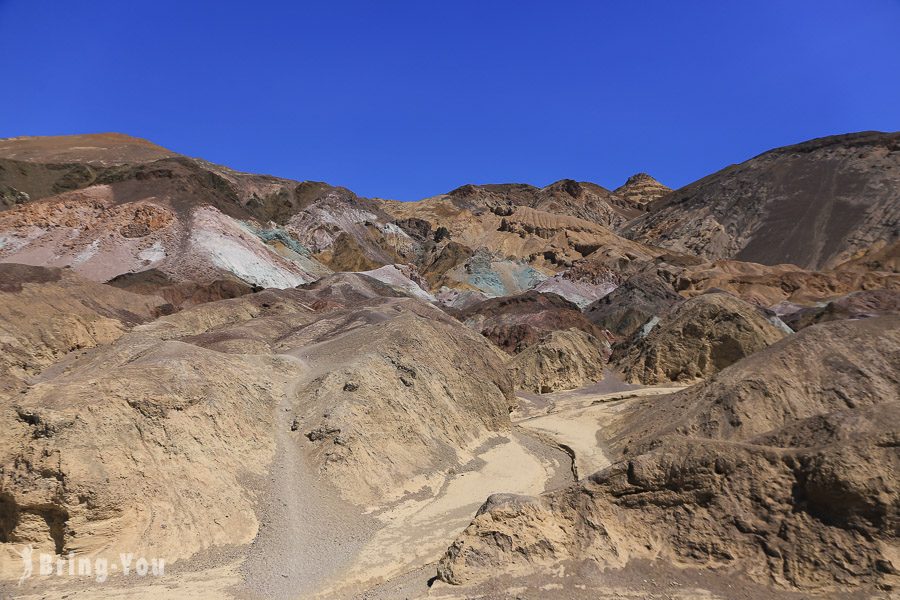 This is one of my favorite places to see in Death Valley. The name captures its beauty so well. So think about it as Mother Nature's palette that she accidentally dropped over the mountains.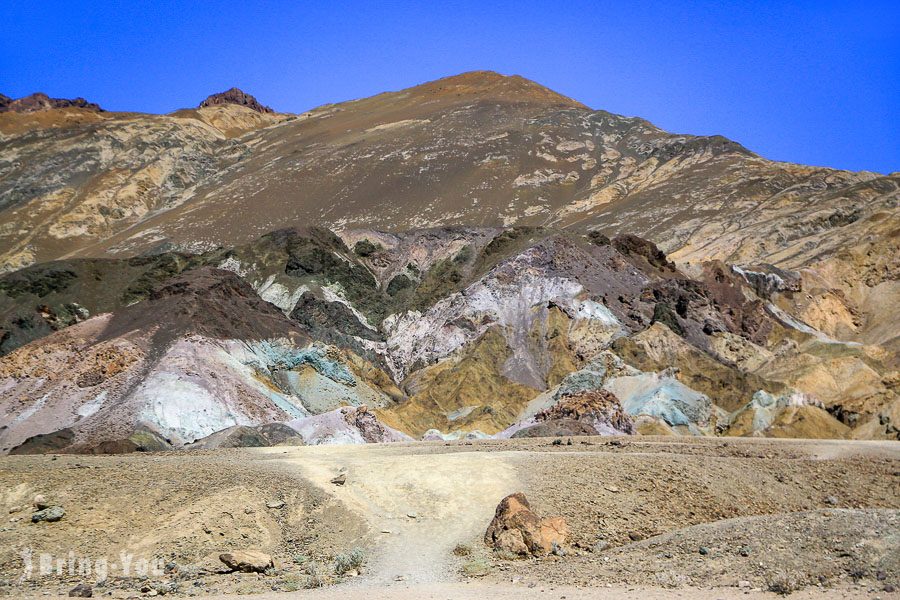 The extravagant colors on the various rock layers seem so surreal that I kept snapping shots after shots.
Golden Canyon Trail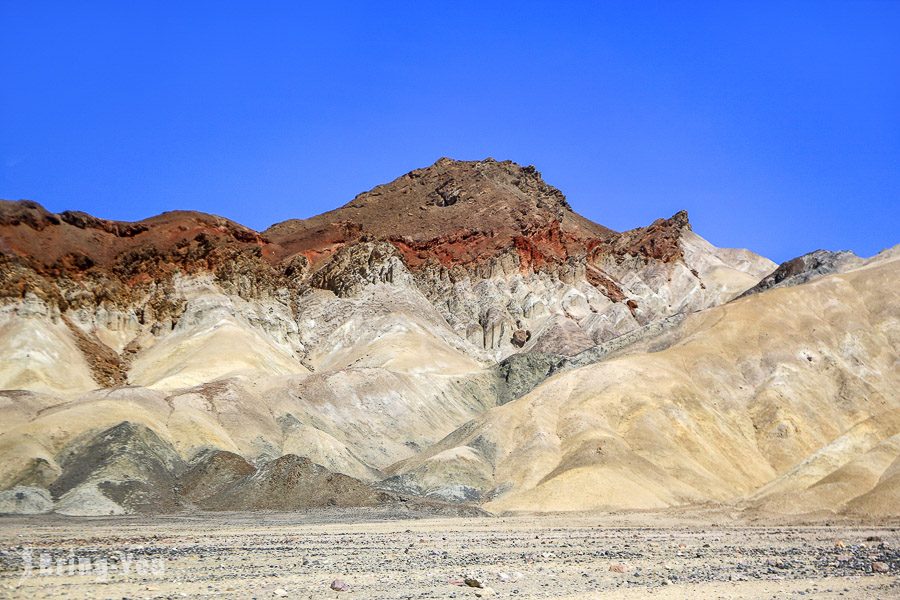 The killing heat and dryness of the valley are ready to knock you down. But if you go there on a nice, bearable day with good weather, the Golden Canyon Trail is a stellar hike that leads you to the badlands of Zabriskie Point through a scenic canyon. There are plenty of little camping spots that are easy to tackle and climb over the steady incline of a walk with nice rock formations.
Zabriskie Point
At the end of the tour, we came over to the Zabriskie Point where the rugged, bareback rock mountains soar more than 4900 feet above the bed of the valley. The majestic beauty is well conveyed by the erosional landscape. If you drive there by yourself and are able to get there by sunrise, the dramatic, fiery sky will get you hooked with a mashup of blue, white, red, yellow, and beige layered in a perfect canvas.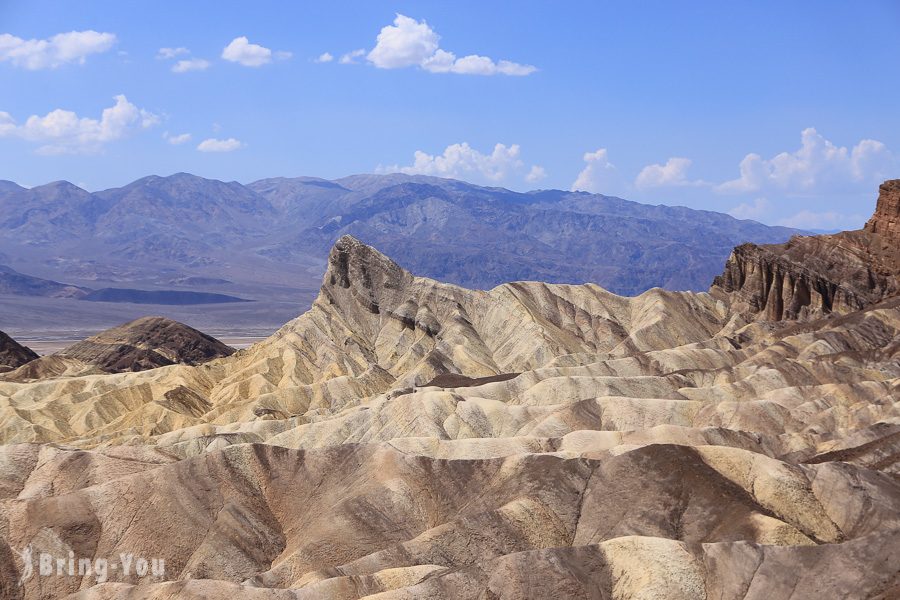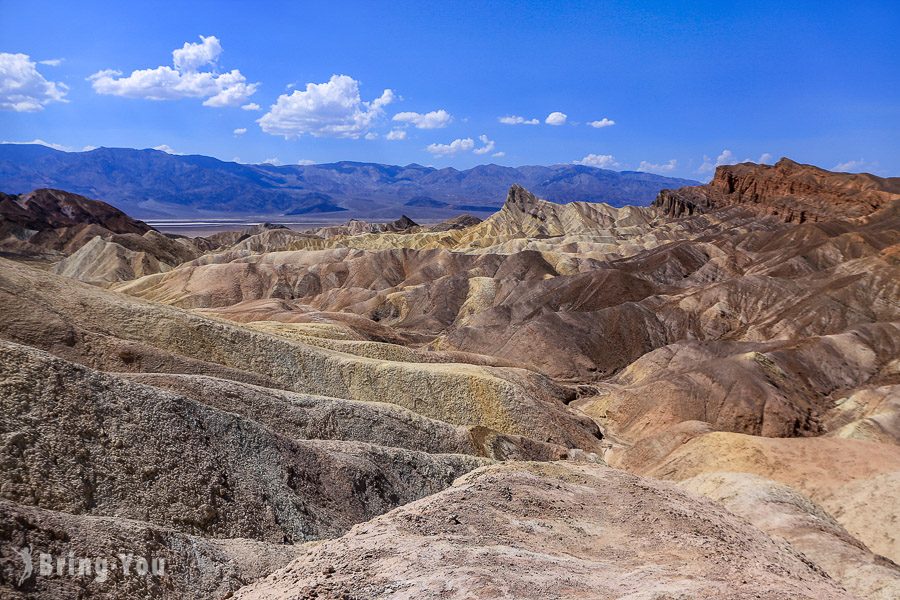 Can You Stay Inside Death Valley?
Do you know that there are three lodges located inside the Death Valley where you can spend a night after a long day driving? Book ahead or hit them up via phone to make sure you've got a decent room and avoid last-minute sold-out.
Stovepipe Wells Village at Stovepipe Wells
What to Pack for A Tour of the Death Valley?
As the hottest and driest spot in North America, the Death Valley cannot be tackled if you don't bring enough water. As I was part of the tour, the guide already prepared the rest of the essential items.
If possible, get a full-on bucket loaded with ice and 10 cold water bottles for each person a day if you drive by yourself. Get lots of food to handle your empty stomach, a sun hat, and sunscreen.
And please please please check your gas tank, fill it up and see if there's any leak! Plus, get the best, badass tires and stock up your car with some spare ones. Even though there is a mobile signal inside the valley, that's not something you want to hold on to your dear life.
If something bad is gonna happen (flat tire, out of gas, ew), the only thing you can rely on is hitchhiking with some strangers. Otherwise, you've gotta spend the night in the middle of nowhere.
Final Words
Death Valley National Park is a unique being. There's nowhere else on earth to give you such phenomenal beauty of a dry and hot desert. If you're not confident enough to drive by yourself, make sure to have a local guide take good care of you, and don't forget to triple-check the packing list before venturing out!