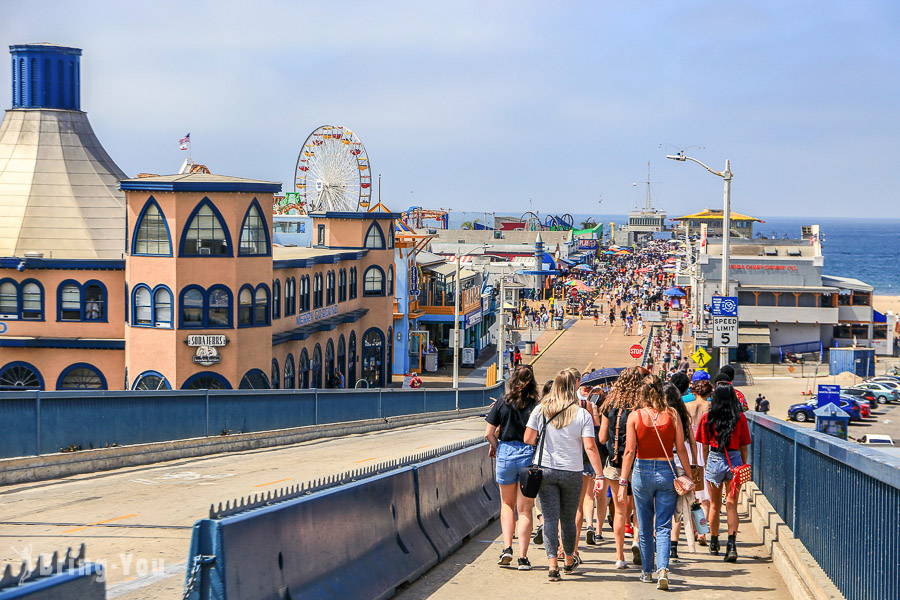 The city of Santa Monica is picturesquely pressed against the idyllic Venice Beach to the east. Before Santa Monica, I could never imagine that sunset could be that breathtaking. This is one of a few places I've visited with the most beautiful sunset on the West Coast of the United States.
My day in Santa Monica began at the pier, where youngsters and families with kids strolled along with ice cream on their lips, where entertainment facilities and street performers lived their life to the fullest no matter rain or shine.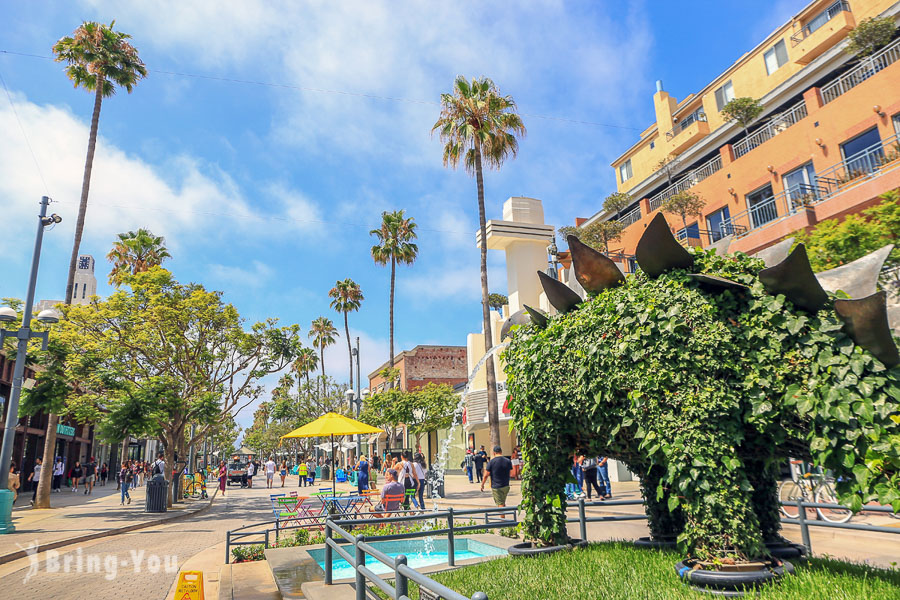 Its high quality of life is accompanied by gorgeous beaches full of divers, swimmers, and sports players. Even though one day is a decent time to cover the main happenings in town, make it 2 days if you wanna see the most of it, and to fully immerse in the leisurely atmosphere and good shopping scene.
Without further ado, read on so I can share with you how I conquered Santa Monica in a day, the must-see attractions, good eats, where to stay, and getting around.
Transports in Santa Monica: Getting There and Around
If you don't have a car, rent one from a chartered service to get you directly to your hotel in Santa Monica. This is the easiest way that works for a big group of friends or if you'd rather stick to your family.
Otherwise, taking an Uber or Lyft is another handy way for a one-way trip to save you some bucks compared to a chartered car. 
The last way you can consider if you're seeking a low-cost way to get to Santa Monica is combining a bus ride and light rail trip in one. Hail the bus 534 to the Ocean/Colorado Station before connecting to the Metro Expo Light Rail for 43 minutes to get off at Santa Monica Downtown Station. From there, the Santa Monica Pier is a short walk away in under 5 minutes.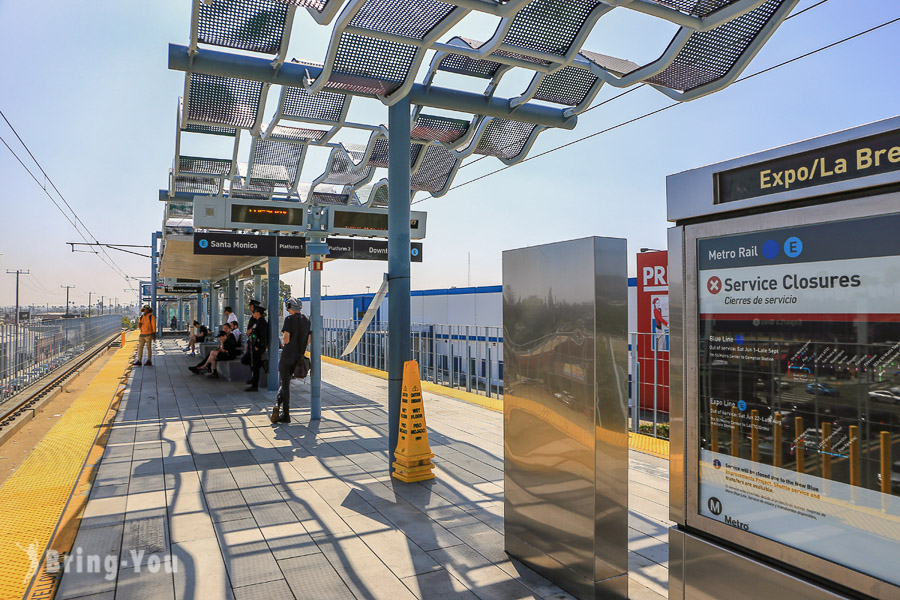 6 Cool Things to Do in Santa Monica to Fill Up Your One-Day Trip with Excitement
Go for a Walk at Santa Monica Pier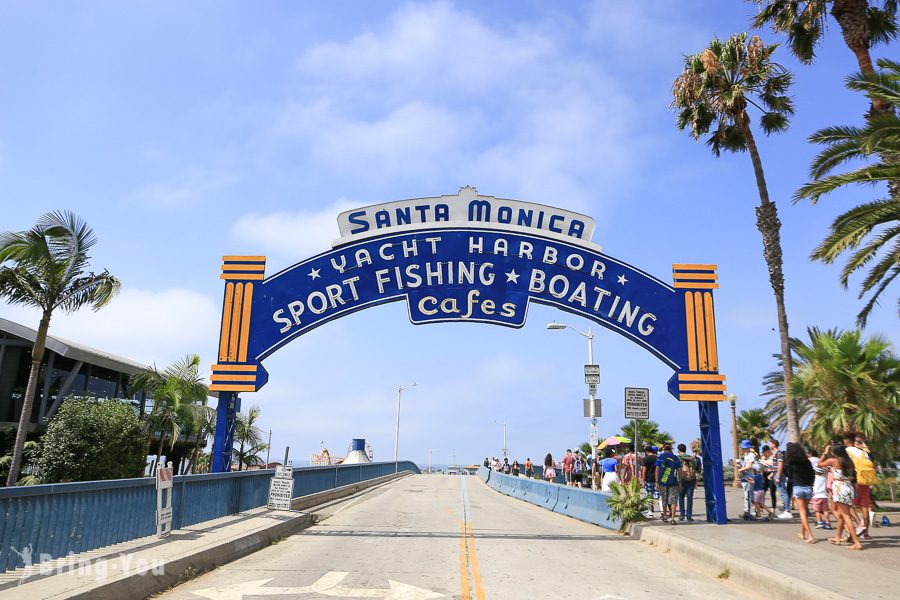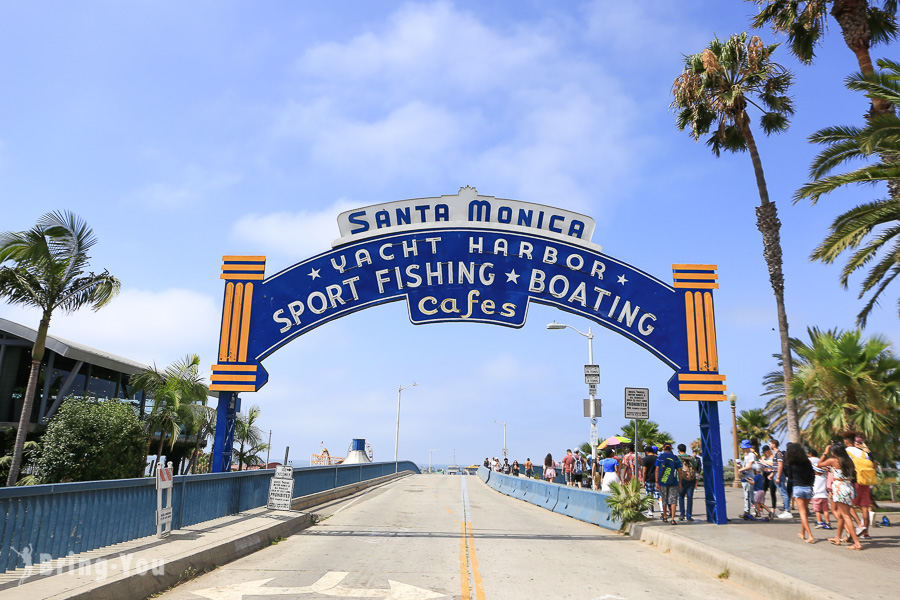 After exiting the station, I bounded to Santa Monica Pier first thing in the morning to get some fresh air and photo-ops. The famous Route 66 sign at the entrance marks the beginning of the exploration, indicating the first western terminus of the highway from Chicago to Los Angeles.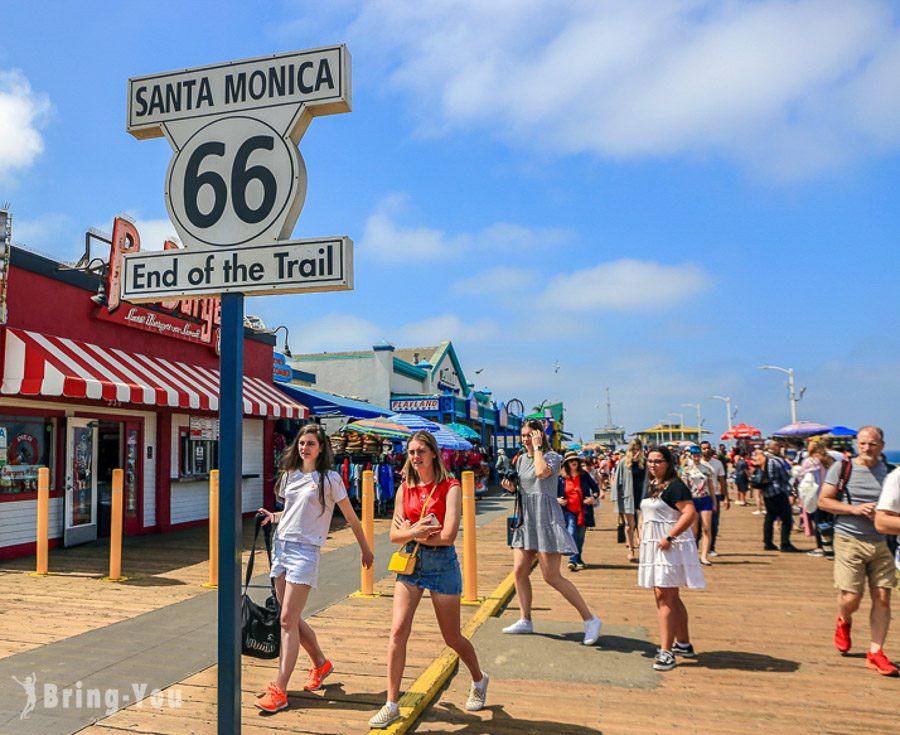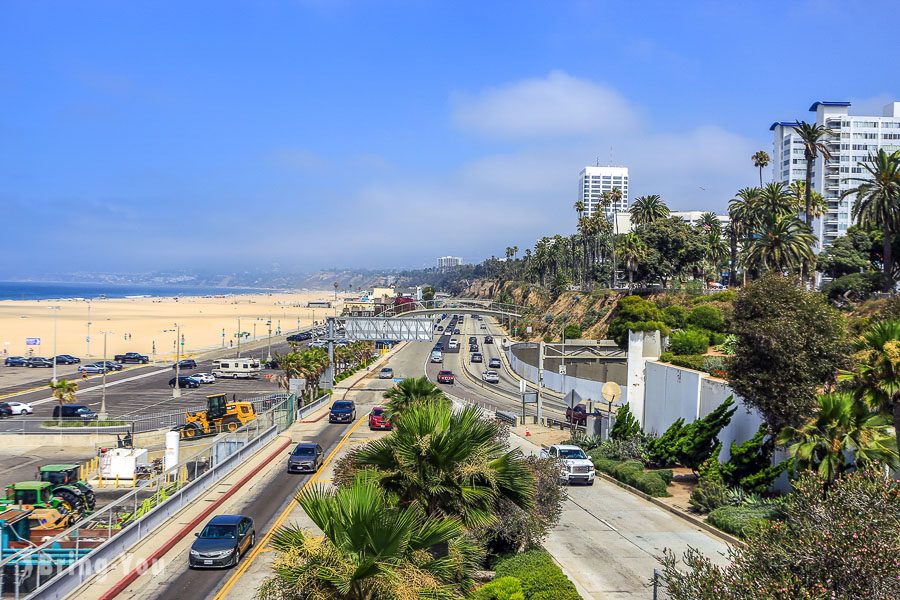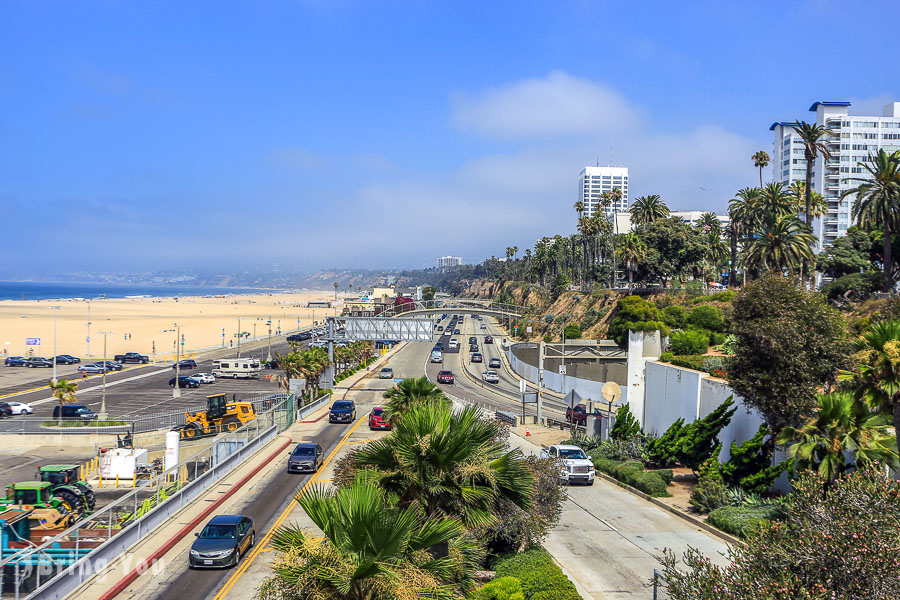 This historical attraction in Santa Monica dates back to 1909 when the pier was first constructed. Today, the pier witnesses a fiery, jaw-dropping sunset every day, and goes by as the best fishing spot in town. The busy beach remains lively day or night and is sided with a heap of restaurants and stores within walking distance.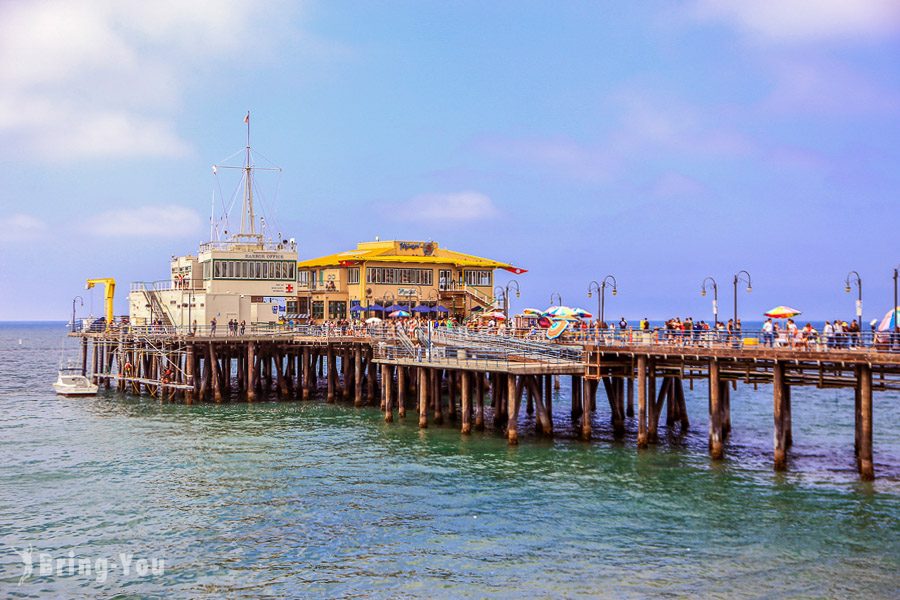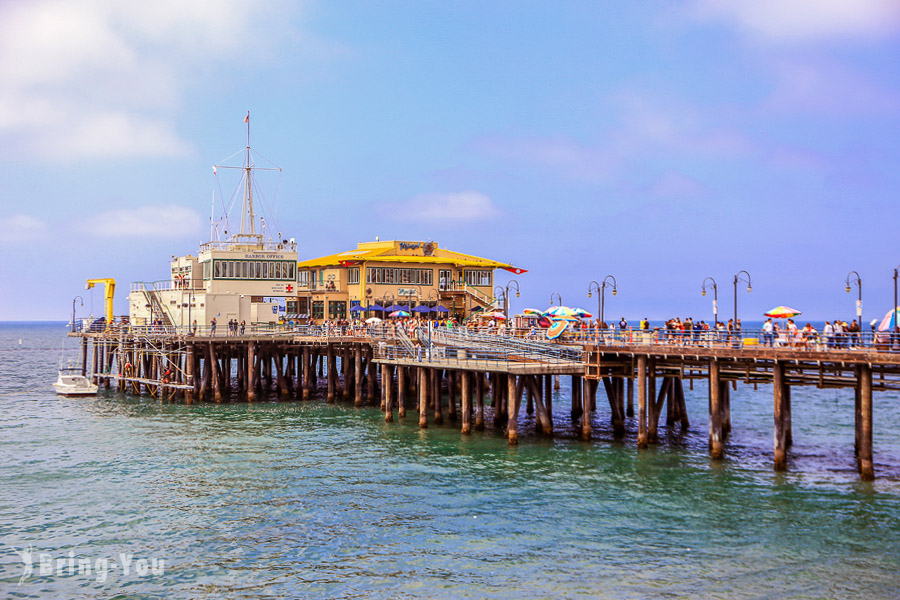 Feel The Breeze and Get Some Laughter at Pacific Park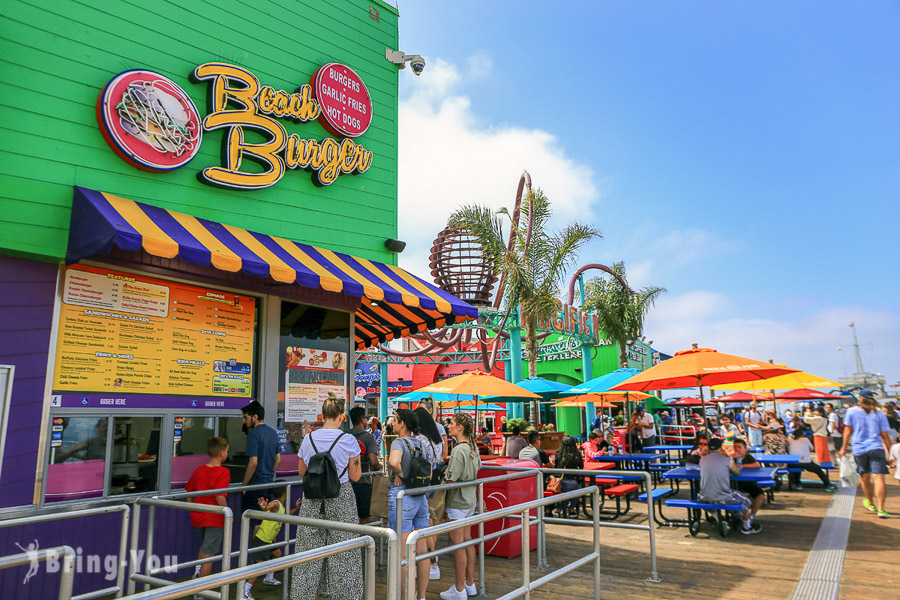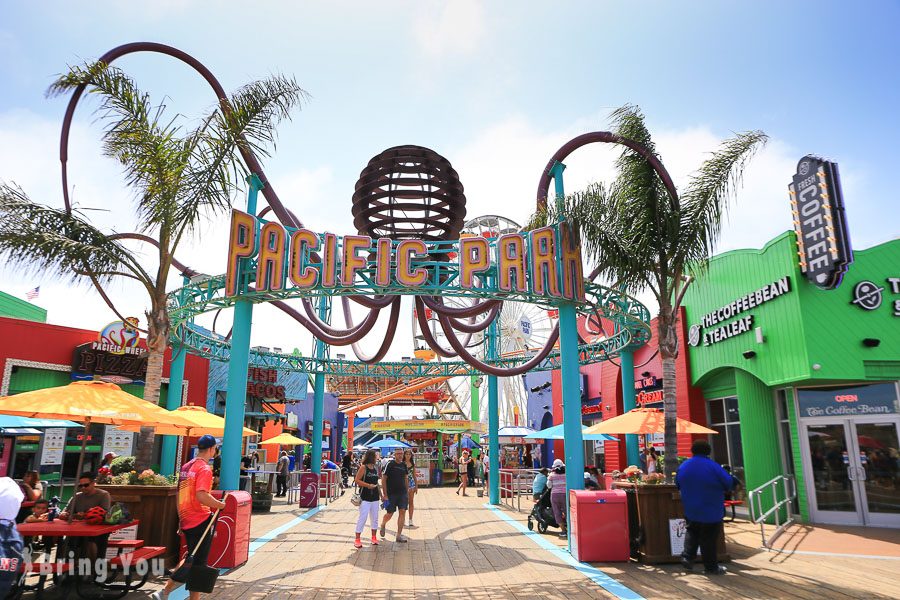 Following the pier on the way to the sea, Pacific Park is an icon in town that first-time visitors have to check out at least once. Even if you don't travel with kids, it's still a great place to soak up the sun with unlimited fun, thrilling rides, and stellar Californian food.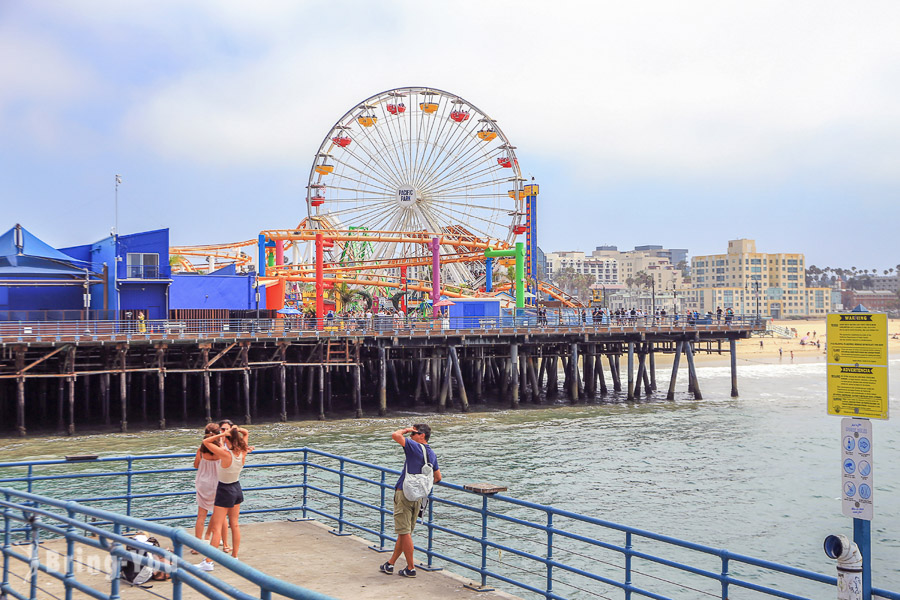 First off, they'll hand you a wristband that allows access to up to 12 exhilarating rides. While the rides are full of thrills, my attention goes to the world's only solar Ferris wheel which becomes the symbol of the Santa Monica Pier itself.
Dip in the Sand at Santa Monica State Beach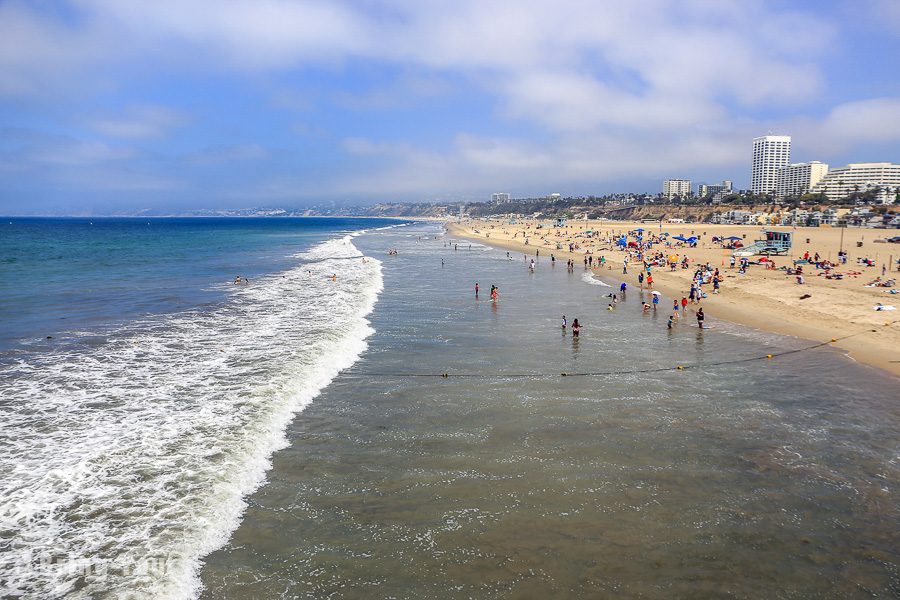 Right off the pier is the famous, sun-kissed Santa Monica State Beach running for 3.5 miles. Big, clean, with lots of water activities, the main thrill here is everything outdoor-related.
This is where you wanna come to cleanse your mind and erase all the digital buzzes. Walk to the Muscle Beach end of the Santa Monica State Beach just south of the pier for a short stroll, or bike along the Marvin Braude Bike Trail with your loved ones to work your core with a scenic view.
Sunset makes it even better when the sky always seems as if it's breathing fire at the horizon by nightfall. Beach volleyball and swimming are the norms here but don't forget to grab some coffee and a veggie burger at the nearby shops to recharge before leaving!
Conquer the Third Street Promenade
From Santa Monica State Beach, walk backward to Ocean Ave, take a turn and you'll encounter Third Street Promenade, the backbone of Santa Monica downtown. My favorite thing to do on the promenade is check out all the movie spots that were filmed here.
It's not an overstatement to admit that Third Street Promenade is a moviegoer's haven that stretches over 3 colorful buildings with a range of stores, restaurants, animal topiaries, and street entertainment.
Third Street Promenade is pedestrian-only. So be prepared for a nice, easy walk before grabbing a funnel cake to chill by the beach.
Chill out at Santa Monica Place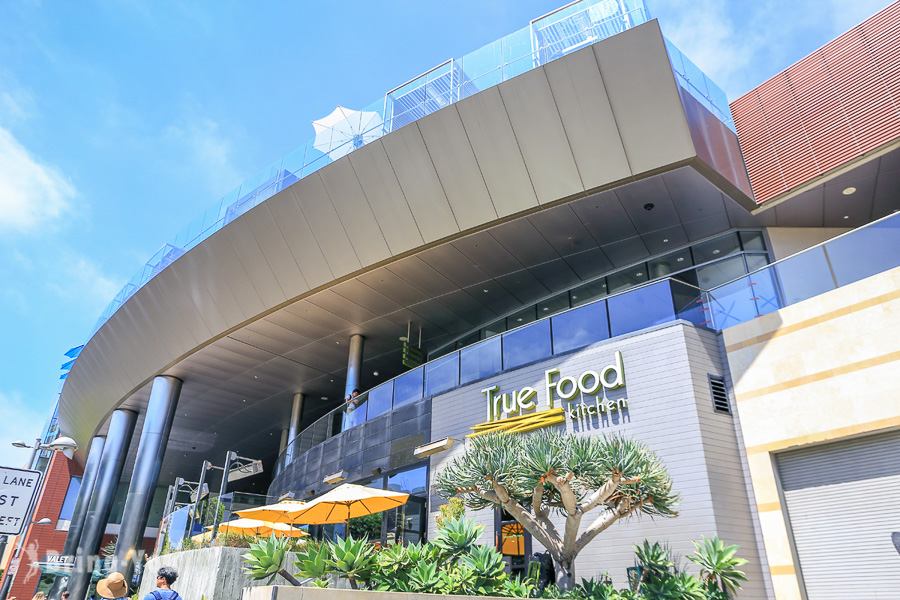 6 minutes walking southeast following the bustling 2nd street, Santa Monica Place is a popular, heritage shopping mall boasting a spacious open concept surrounded by high-end stores and top-rated restaurants.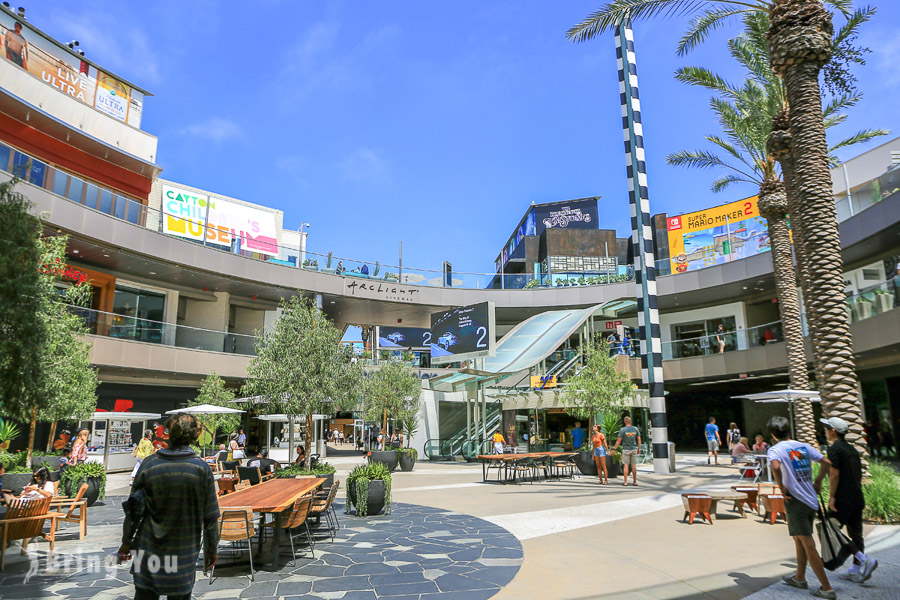 This is the place where you want to stop by for lunch and wind down by noontime. Snake your way up to the rooftop garden and you'll find yourself consumed by a heap of drool-worthy restaurants. If it's getting too hot out there, pop into the indoor food court and treat yourself to some ice-cold drinks with some snacks!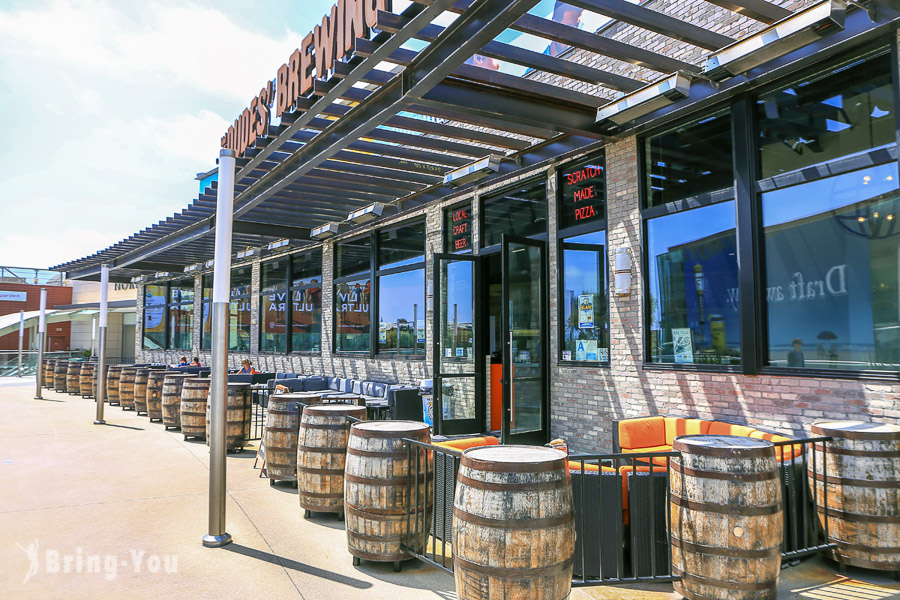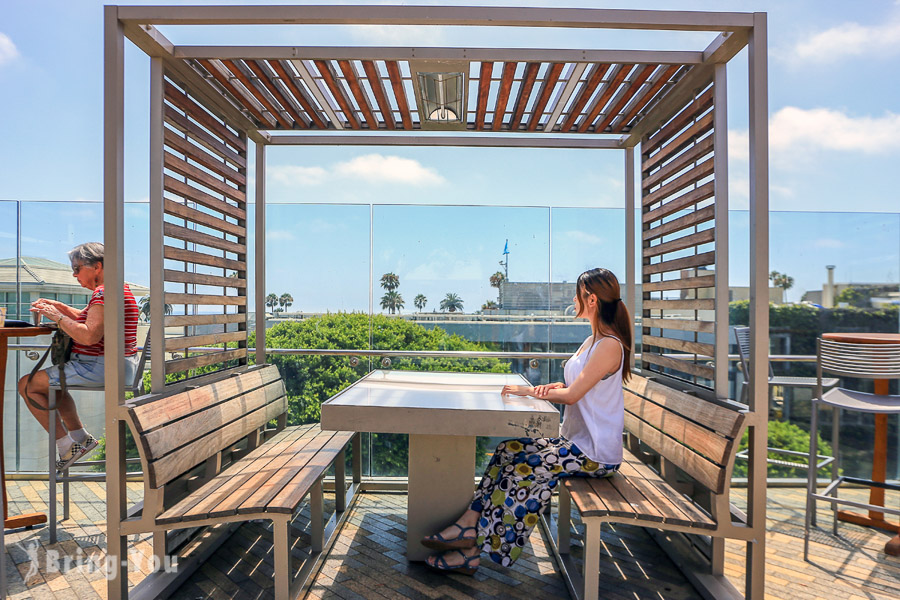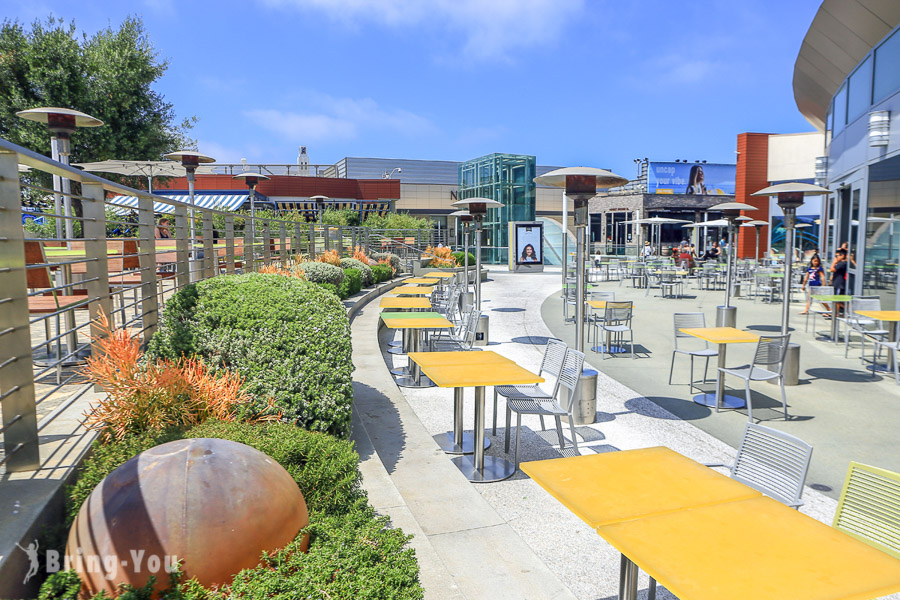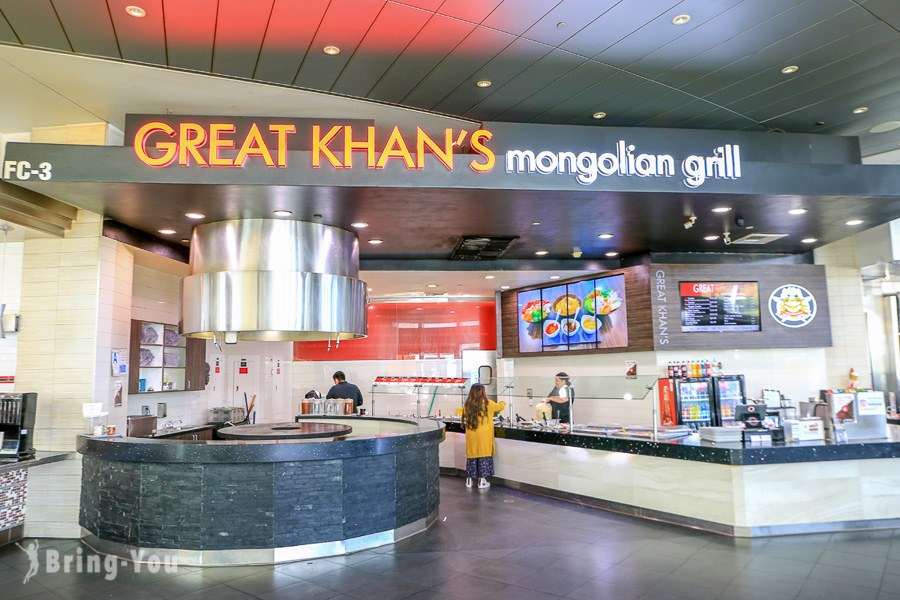 Escape to Venice Beach on a Bike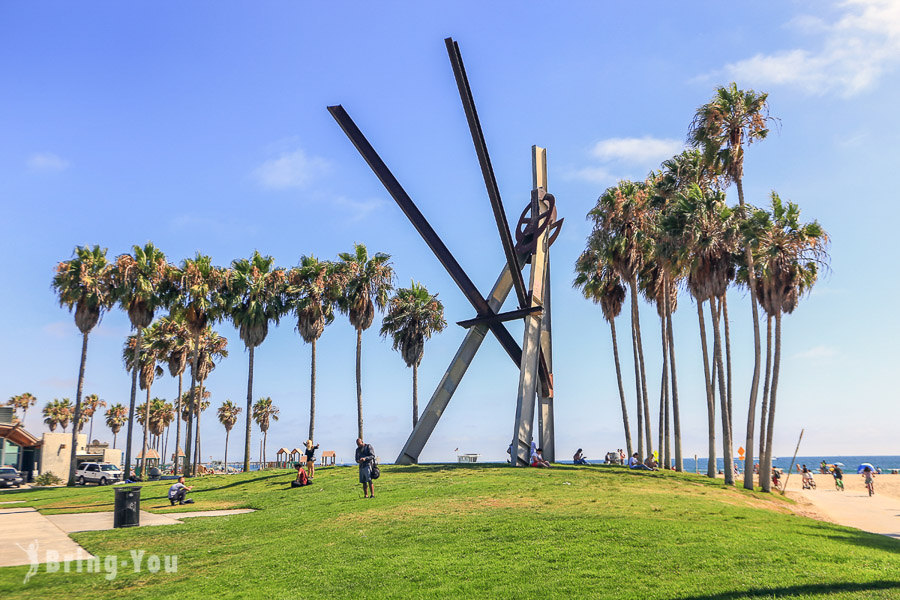 LA is a huge, blossoming biking opportunity where you can easily rent a bike and venture out by yourself. Lyft has a bike rental function that you can get right on the app which allows you to pay per minute. If you're planning to get a rental bike for a day, there are many shops around town offering an affordable fare.
One of my favorite destinations to enjoy the scenic bike ride was from Santa Monica to Venice Beach, spend a day there, and return in the evening. It's about 15 minutes one way to revel in the calm south bay and grab a bite to eat at the Redondo Beach Pier.
My 2 Favorite Places to Eat in Santa Monica
The Lobster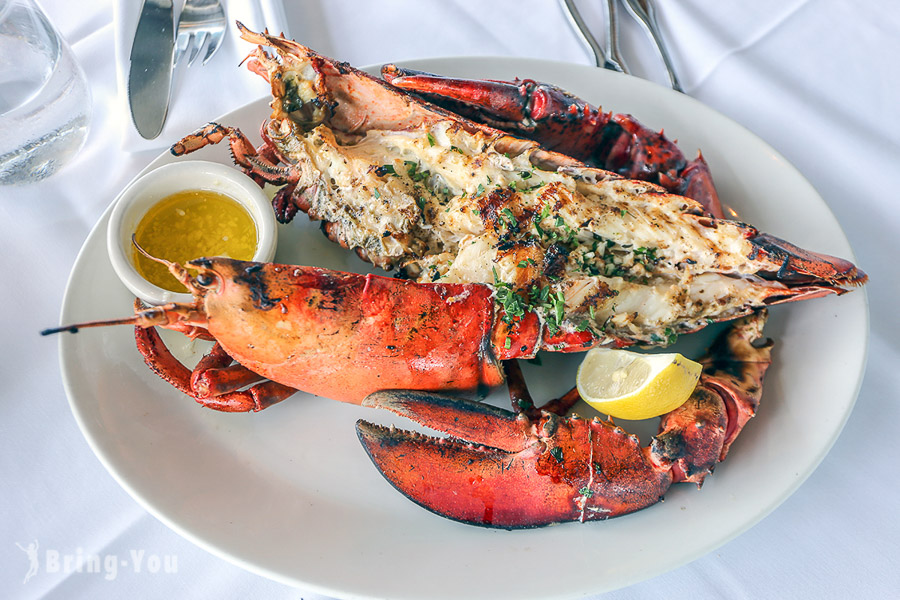 Seafood is always my jam. And it would be a huge mistake to forget The Lobster, the most talked-about seafood restaurant in Santa Monica. Get yourself a serving of Maine lobster while soaking up the scenic ocean backdrop and your day is complete!
Interstellar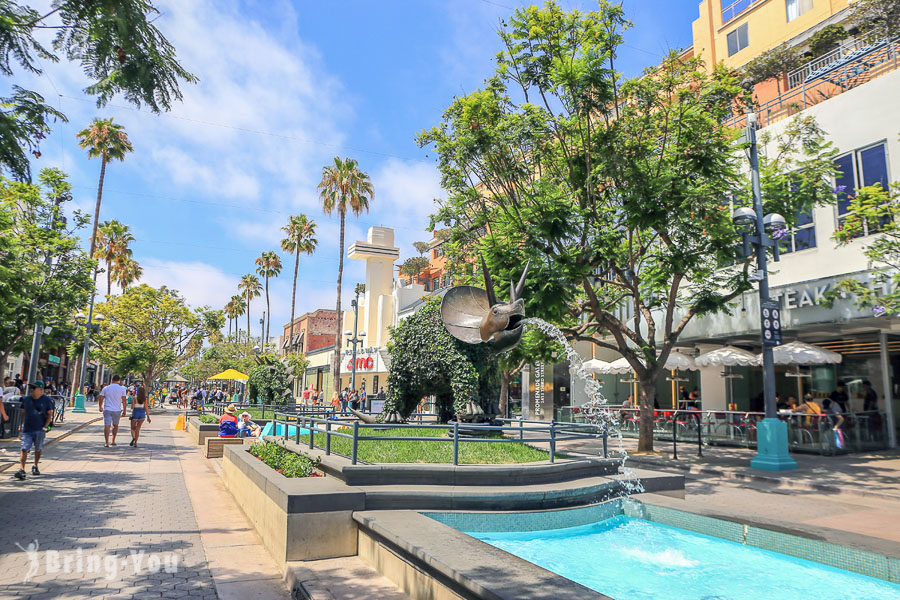 I found Interstellar amidst the leisure walk along the Third Street Promenade as a cool, funky sit-down lunch. Asian cuisine is the main thrill here so make sure to get yourself some bulgogi burgers, katsu curry, or club sandwiches!
3 Best Areas to Stay in Santa Monica + Well-Reviewed Hotel Recommendations
Downtown Santa Monica is the best place to look at with a short walk to the coast and keep up with the main happenings around the residential neighborhoods.
Best hotel in downtown Santa Monica: SureStay Hotel by Best Western Santa Monica
Mid-City attracts affordable hotel options for tourists on a budget.
Best hotel in Mid-city: The Ambrose Hotel
Ocean Park Boulevard is the ideal place for tourists to walk to the main transport hub such as bus stations, and bike rental stores, and it's close to the airport as well.
Best hotel on Ocean Park Boulevard: Casa Del Mar
Final Words: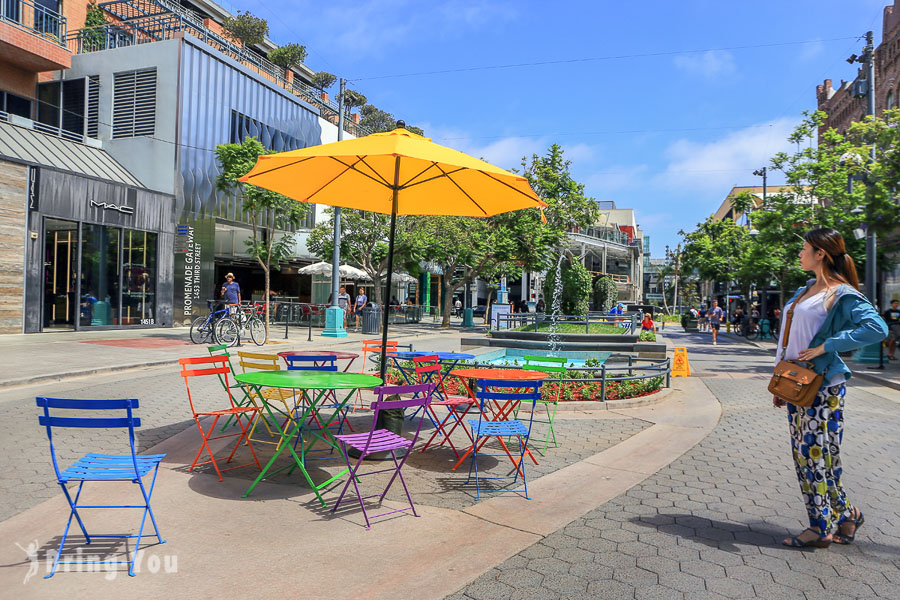 If you have a spare day to spend, I highly recommend venturing out a little further afield to see the Getty Center. This artistic haven will have you in awe with an extensive collection of pre-20th century European paintings, drawings, illuminated manuscripts, sculptures, and decorative arts. Plus, the sun-kissed garden outside is so refreshing to make it easy on the last day.
Check out more travel ideas and tips to eat and drink in LA:
A Travel Guide to Koreatown, Los Angeles: Food Spots | Where to Stay & What to Expect
A Game-Changing Guide to SeaWorld San Diego: 7 Tips for a Hassle-Free Day Out