San Diego – How can I even start with San Diego?
Let's see where it's located! Tucked away at the most southwesterly corner of the US neighboring Mexico, San Diego is a young, modern, hippie part where big foodies, digital nomads, and families with kids can all find a place to belong.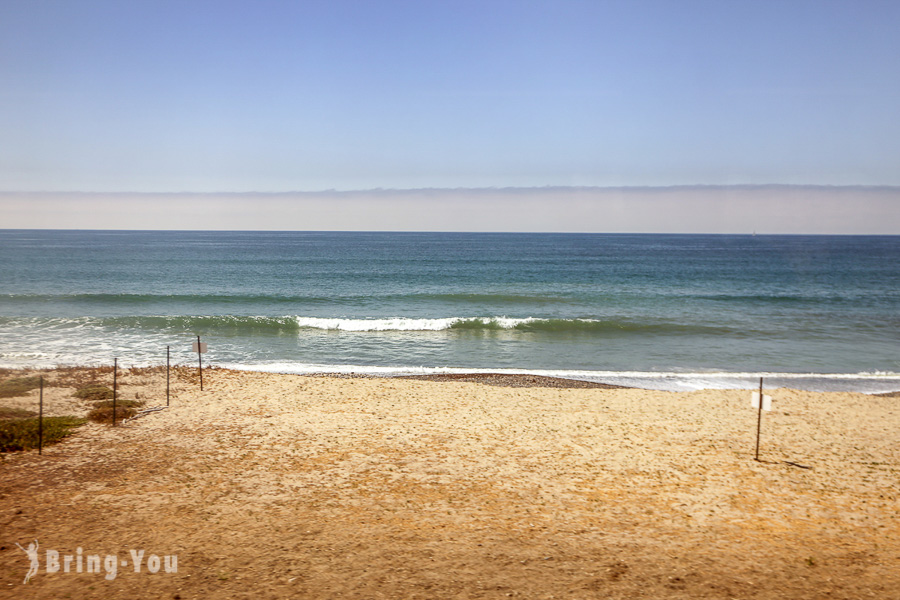 This surf town is enriched by the Hispanic, and Mexican culture, with scenic oceanfront restaurants popping up everywhere and dog-friendly breweries welcoming you from every corner. The sun-flooded beaches serve as the centerpiece of town, beckoning professional surfers and snorkel divers from across the US.
Then at the end of the day, people come over to Phil's BBQ for a hearty, drool-worthy pork rib before snuggling in a fluffy bed at a coastal hotel in Seaside Village.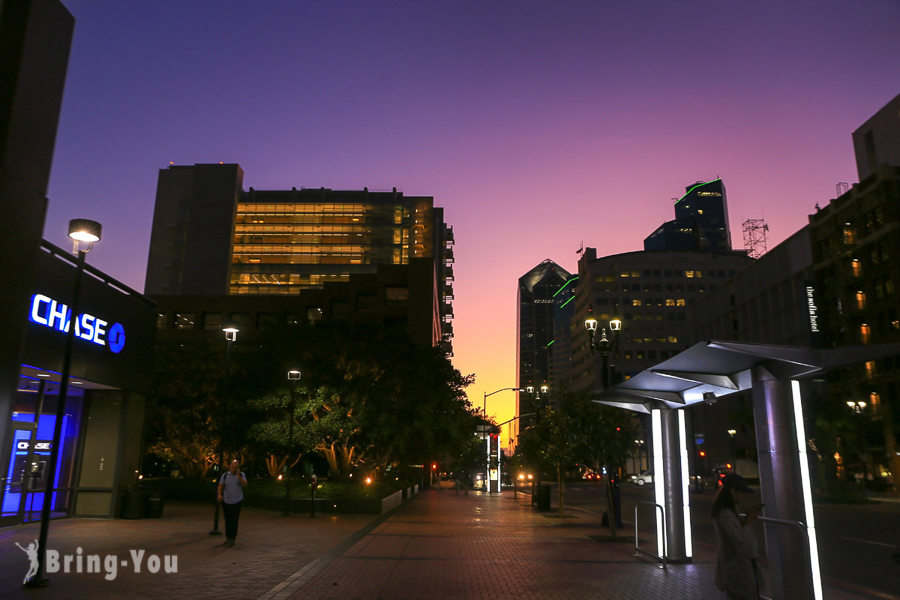 There are a lot of reasons why San Diego is dubbed as one of the best places to live in all of America. But don't take my introduction for it! Dive into this comprehensive San Diego travel guide and find out yourself!
How to Get to San Diego?
Uber and Lyft are the best ways to go after landing at the airport. They pick you up at a dedicated island between the terminals and the parking lot.
Alternatively, you can get a chartered car if traveling with a big group of friends or family. This is more on the costly side but would come in handy if you want to cover multiple stops in a day.
With Amtrak, you can get on and off at one of the convenient stops downtown and in North County on Amtrak's Pacific Surfliner route.
How to Get Around San Diego?
The cheapest way is to hail the San Diego Metropolitan Transit System which covers over 50 areas through three different lines. It goes by the name "the Trolley" by the locals and you can purchase it as a one-way ticket or a Day Pass at any station.
There is also a ferry service connecting with Coronado Island via a 15-minute voyage.
FRED (Free Ride Everywhere Downtown) is a local shuttle service available for travelers within the downtown core using open-air shuttles.
Otherwise, ride-sharing apps are the best ways to get around town without any hassle.
How to Explore San Diego Within a Day? A Sample Itinerary
Gaslamp Quarter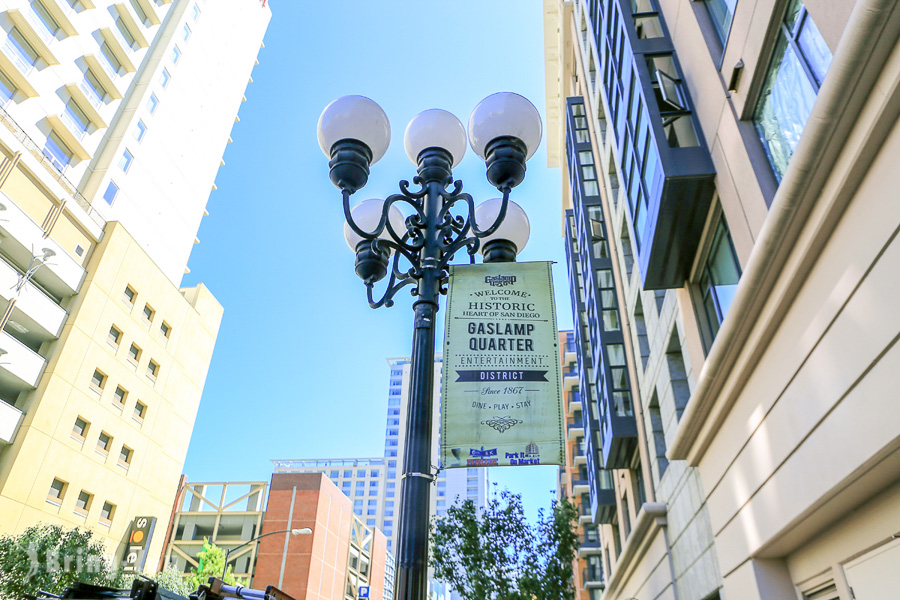 The historical district serves as the centerpiece of San Diego, making a perfect base to start your exploration in the morning. Emerging from an infamous hub of saloons, brothels and all sorts of "attractions" dedicated to local sailors, the Gaslamp Quarter today has put on a new color where the young spill out of pubs, bars, restaurants, and clubs on a daily basis.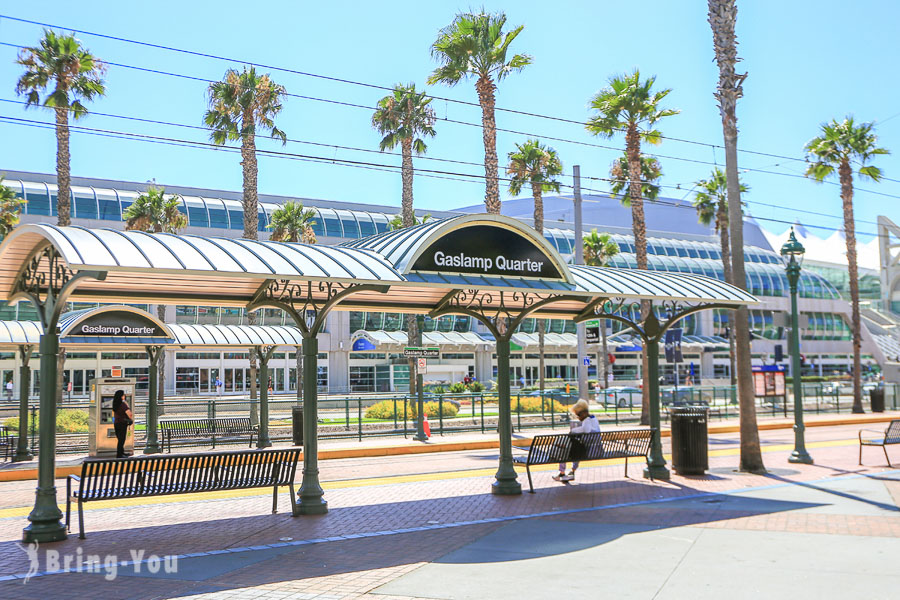 A short stroll around takes you to over a dozen heritage buildings steeped in a Victorian flare dating back to the 19th century with gas lamps retained. However, there's still a fair share between the historic vibe and the modern, lively Southern California style with a twist of Mexican atmosphere.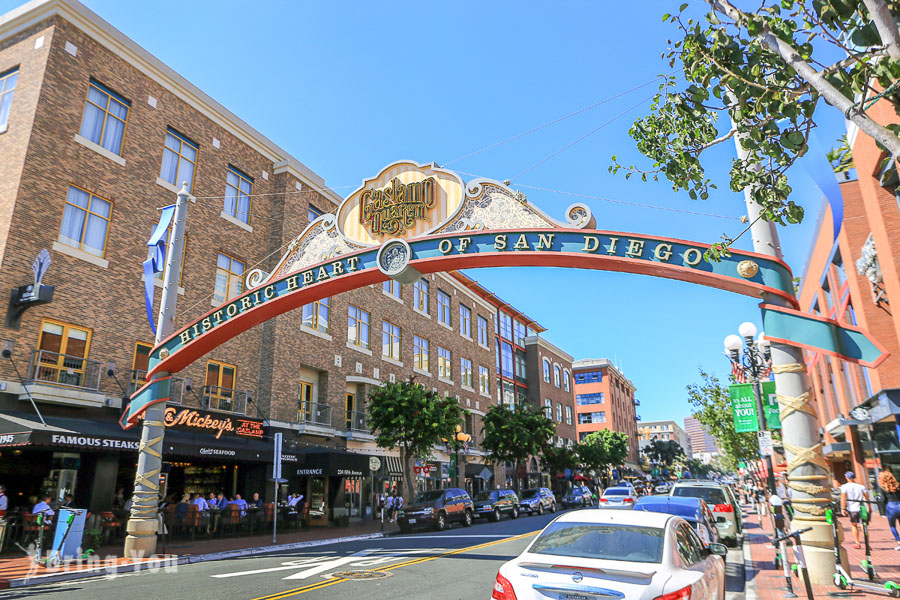 Seaport Village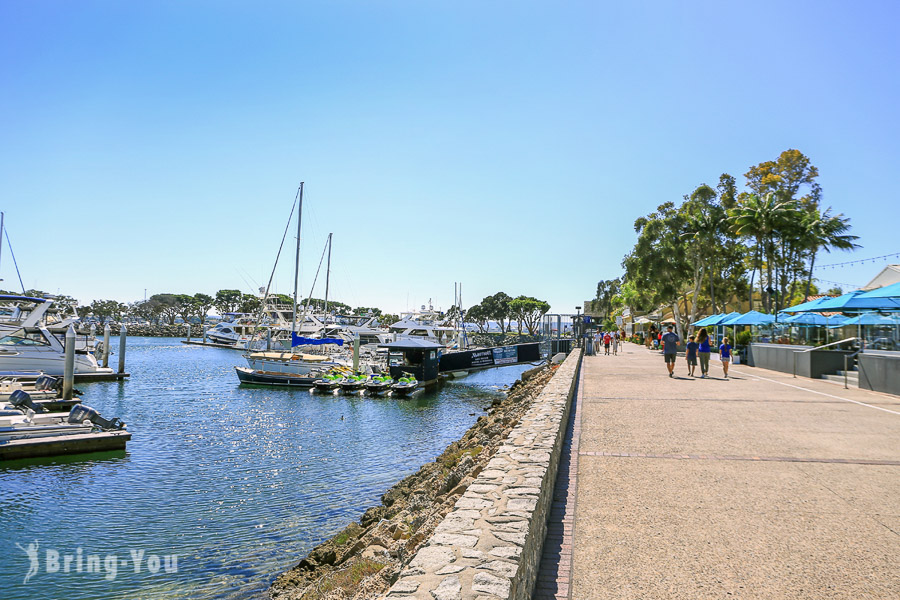 Another famous place to explore in San Diego is the Seaport Village. Steeped in a bustling, welcoming, and easy-going setting, the village is home to a series of shops, eclectic retailers, art galleries, cafes, restaurants, and a historic, hand-carved carousel.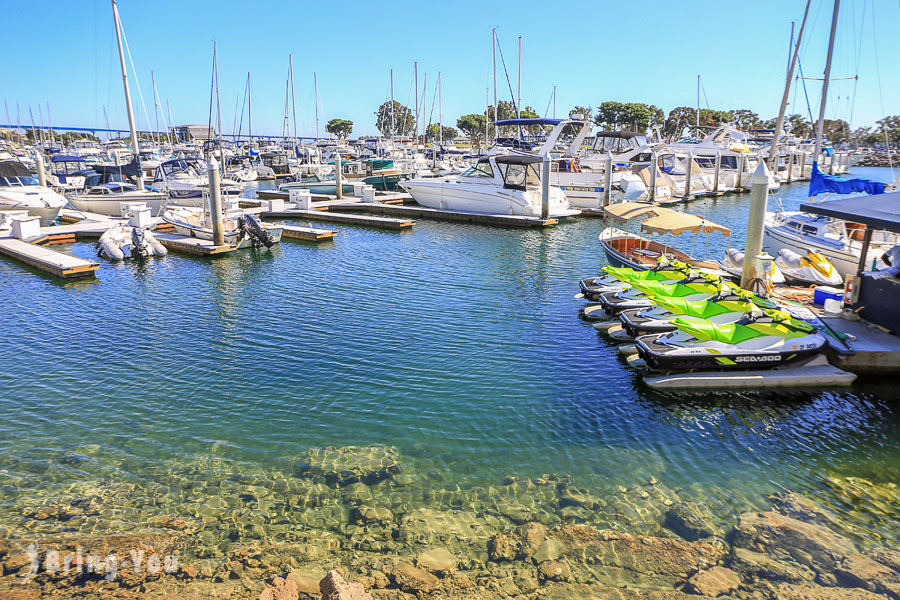 The Seaport Village is only a short walk from Gaslamp Quarter so you'll want to drop by in the morning. It's a breezy place to wind down in the sun while munching on some crunchy snacks and beer. Take it easy and enjoy the view from one of the beach chairs or take your flip-flops off for a dip in the sand.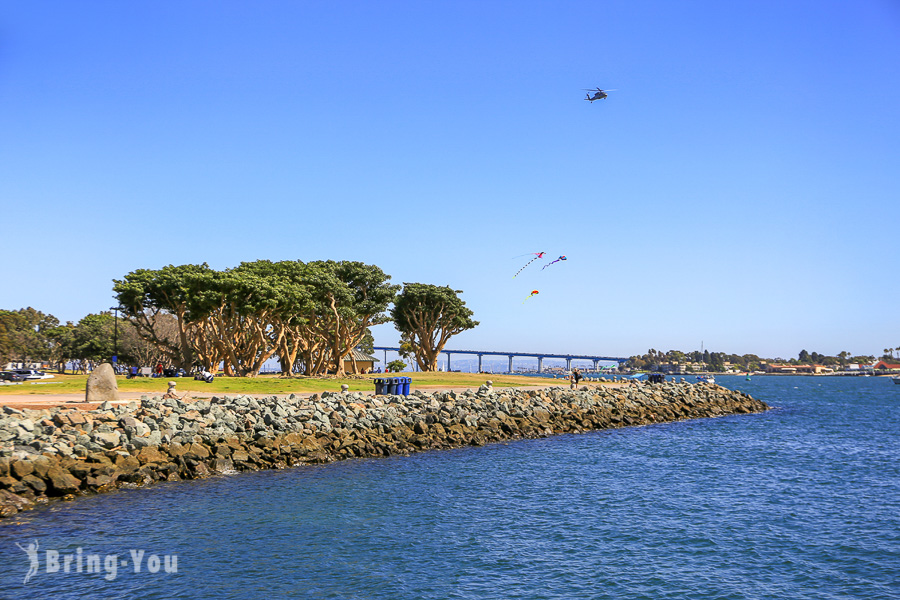 USS Midway Museum and The Kissing Statue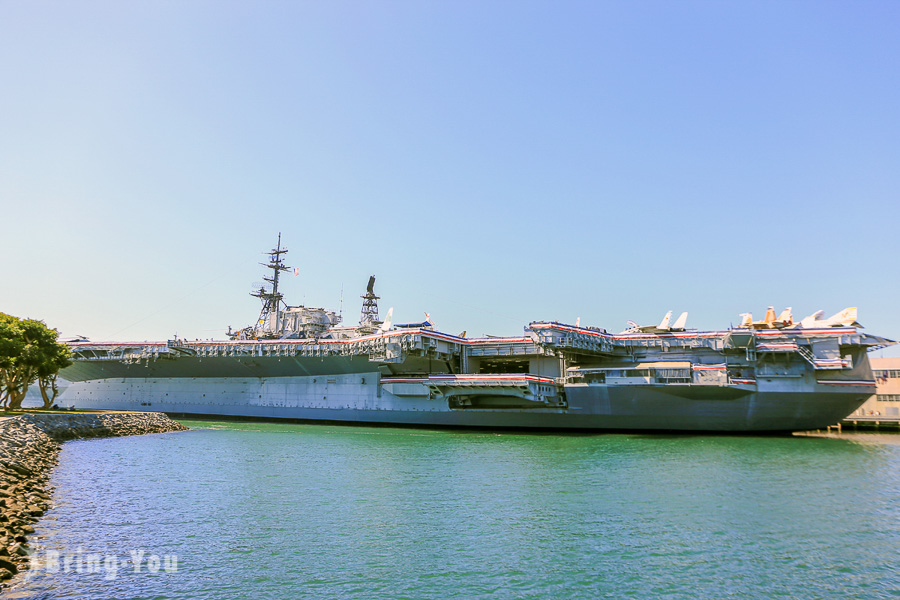 If you're a first-time visitor, the USS Midway Museum and The Kissing Statue are definitely on your bucket list. Hosting a wide range of artifacts dedicated to America's longest-serving aircraft carrier of the 20th century.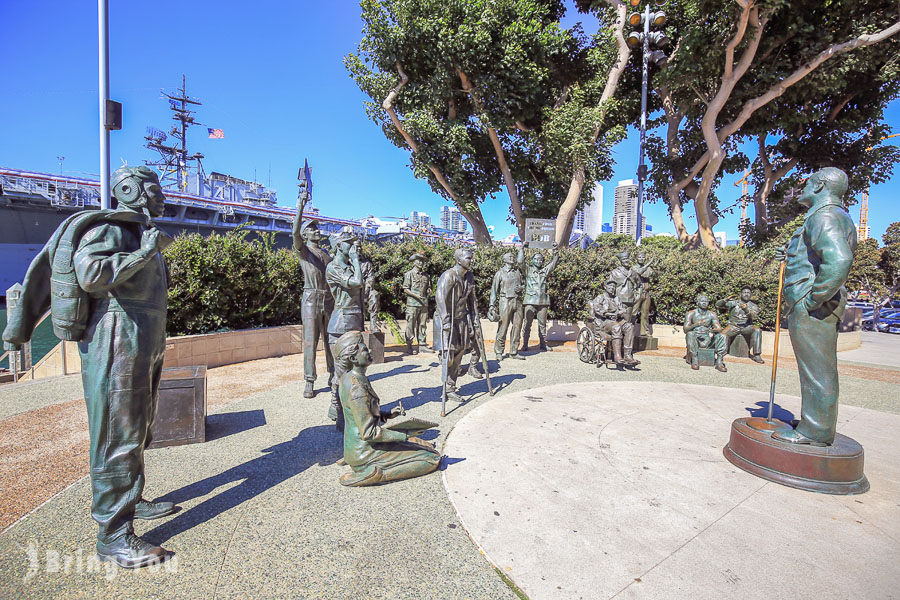 Be prepared to spend hours at the site to fully discover an amazing flight deck, 29 restored aircraft, flight simulators, the Battle of Midway Theater, and get inspired by historical stories.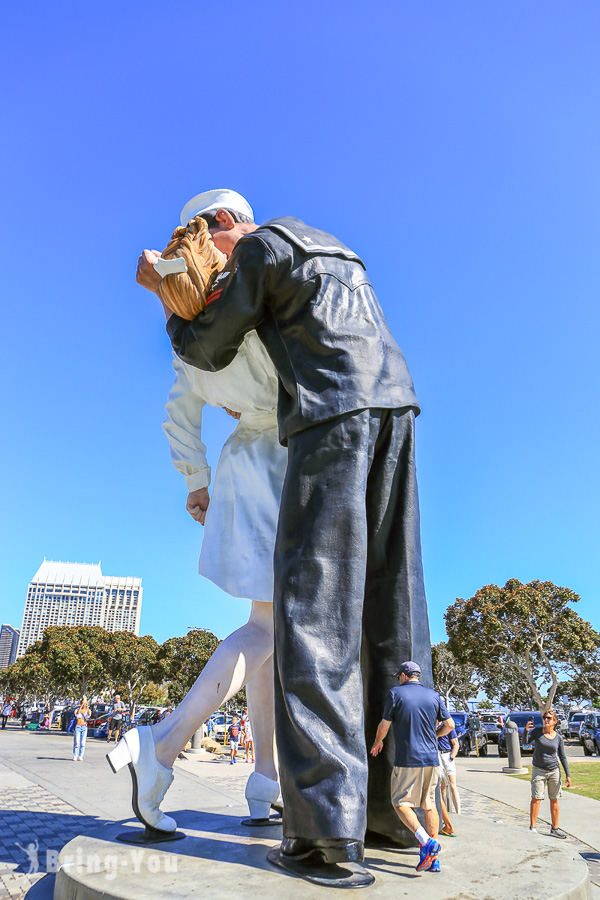 There's gonna be lots of walking, climbing staircases, and sneaking through bulkheads! So make sure you have a heads-up if you come with kids or seniors. Right next to the ship is a famous "The Kissing Statue" along the downtown waterfront, depicting a sensational picture that captures an embrace between a sailor and a nurse celebrating the end of World War II in New York's Times Square in 1945.
Old Town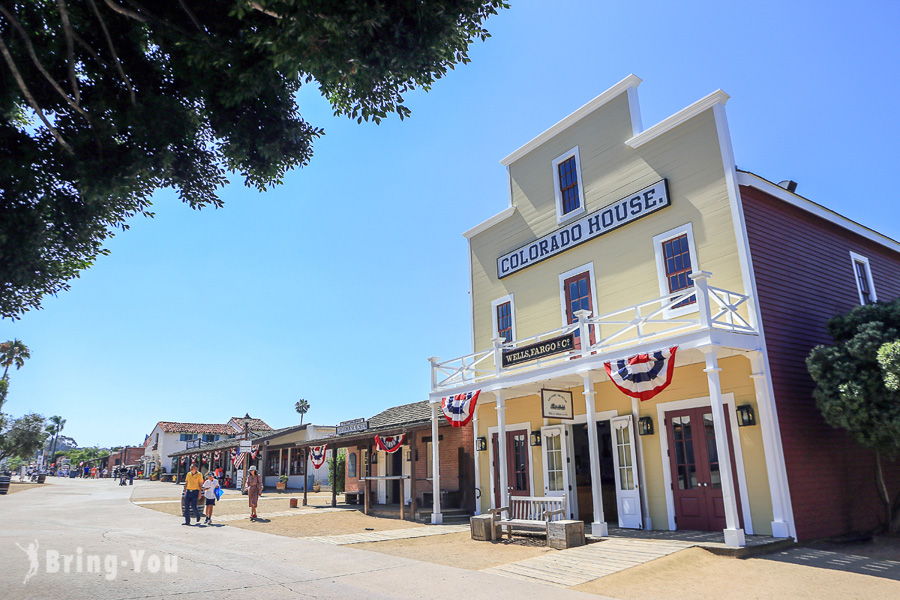 San Diego's Old Town is not only one of the best areas to visit but also a cool place to spend a few nights. As the name suggests, the Old Town introduces a historical atmosphere of 19th-century Mexican nostalgic architecture. The dominant Mexican culture here is so enriched and lively, as reflected by a chain of Mexican restaurants and stores.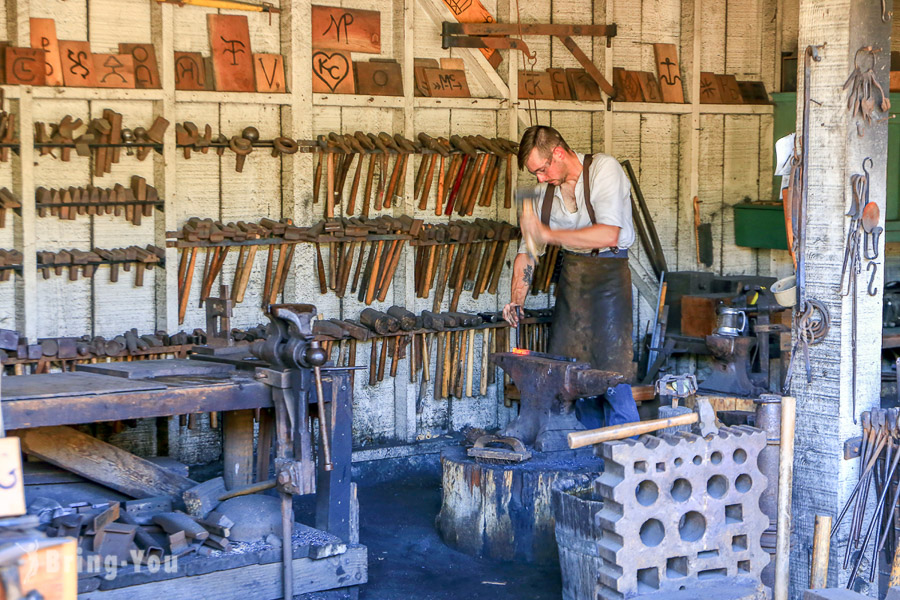 SD's Old Town is easily accessible via the light rail tram which connects it with the beaches in town as well as the further Sea World theme park.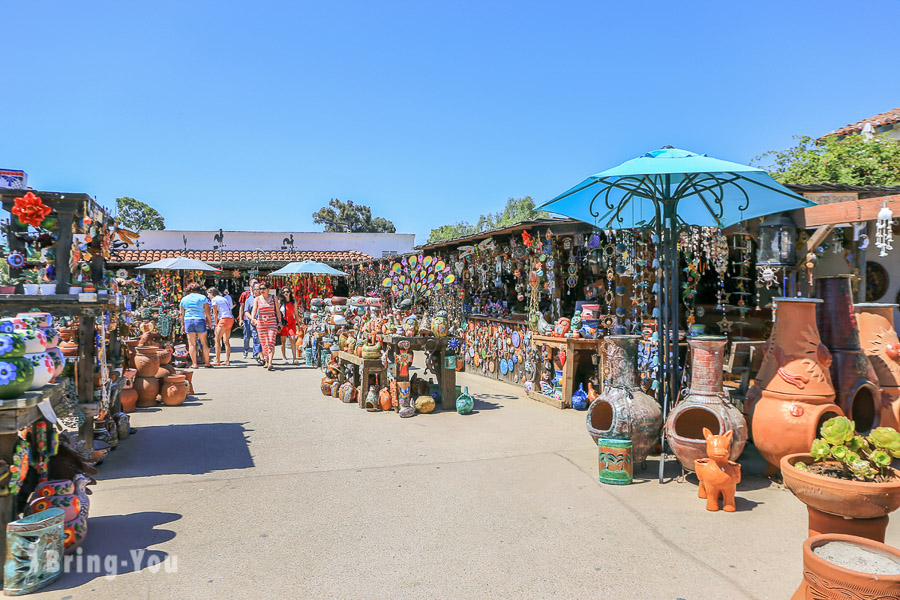 La Jolla Cove
The Cove is my favorite place to see in San Diego, given the fact that it's one of the most photographed destinations in town.
There are so many things to do in La Jolla surrounding the sun-kissed shoreline. Adventurous seekers can opt for a day of scuba diving, kayaking, or snorkeling underwater with colorful fish darting all around the bubbles.
Or if you look for something pleasant and chill out, bring a book you like and laze around by the tropical sand, the cliffs, or the grassy hills and slopes. On the shore, there's a flat, well-groomed trail for hiking, biking, and picnicking along the way.
Ocean Beach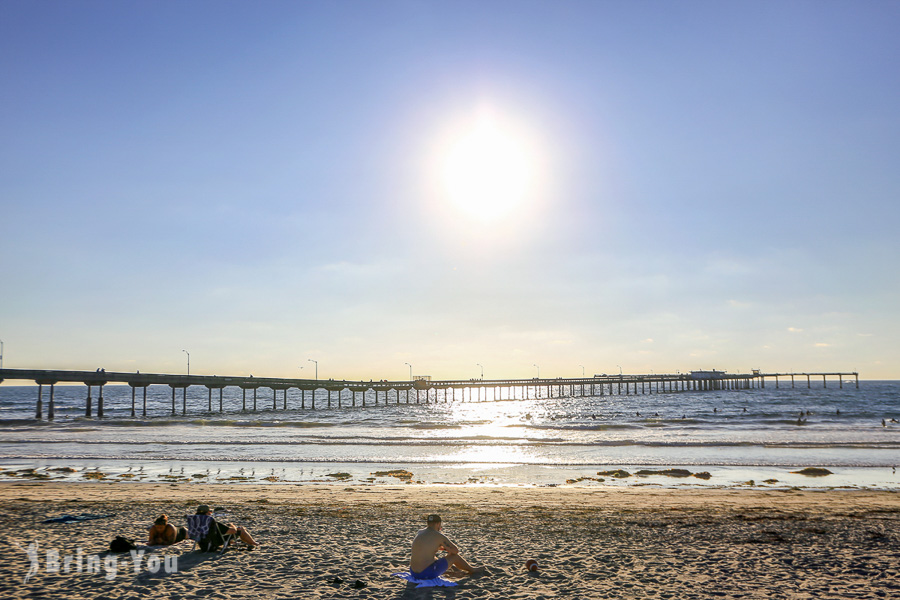 Eclectic, young, and funky, the area surrounding Ocean Beach is a top call to soak in the ocean vibe and call it a day with the gorgeous, fiery, and dramatic sunset.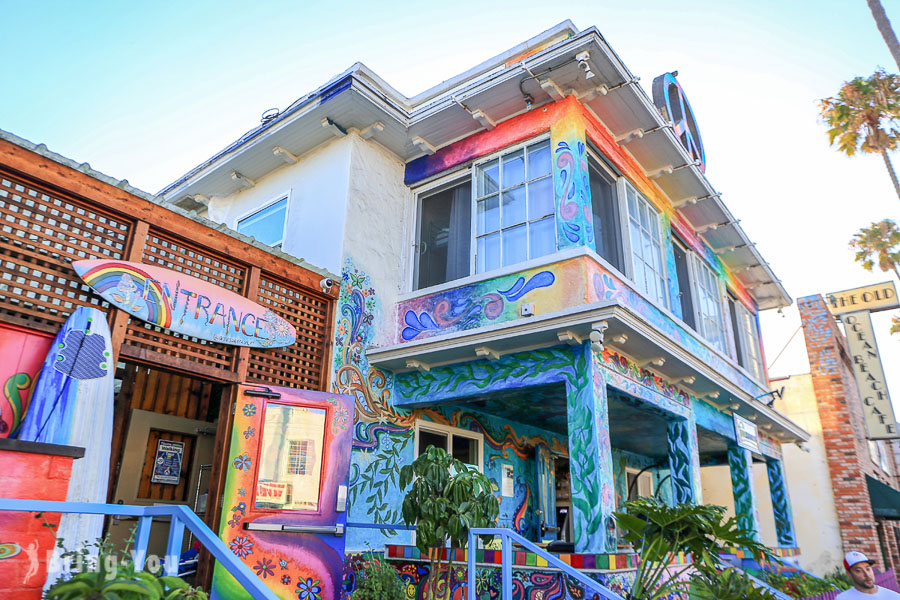 Just looking at the soaring waves from the deep blue sea is enough to cleanse your mind. The hippie vibe of Ocean Beach is defined by a range of local business establishments.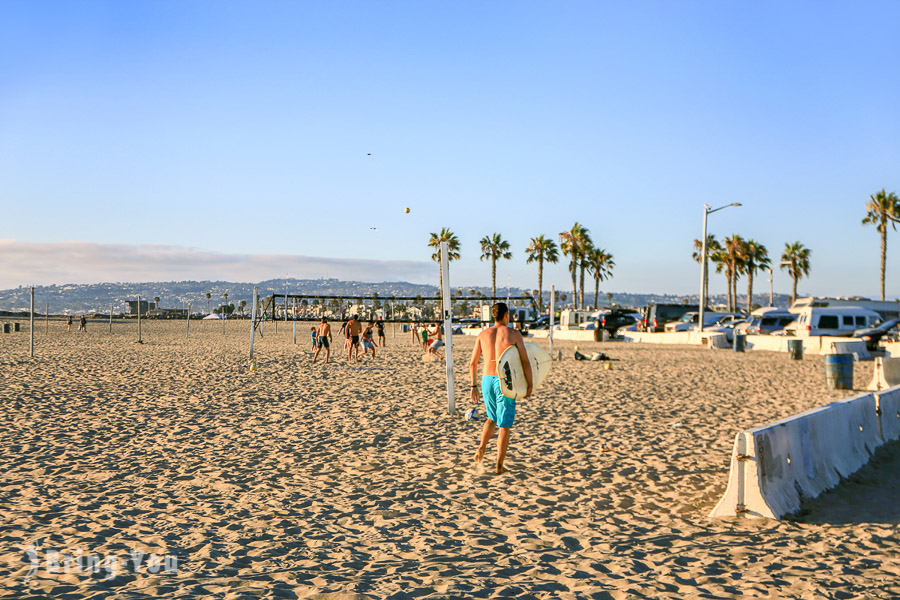 Pop into the Black headshop opened on Newport Avenue or spend half the afternoon enjoying the Ocean Beach People's Organic Food Market – no matter how you plan it, Ocean Beach is a must-see that you can't ignore.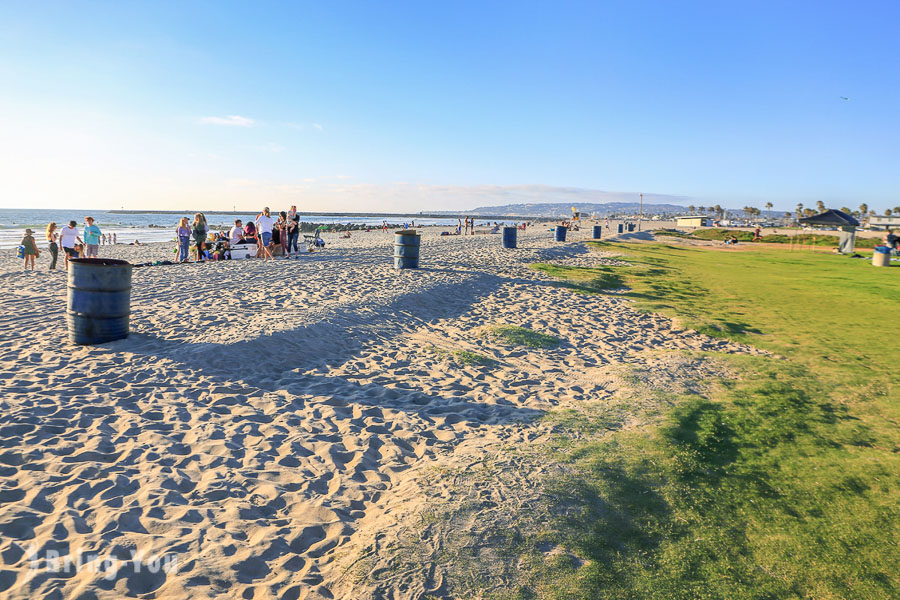 Bonus: SeaWorld San Diego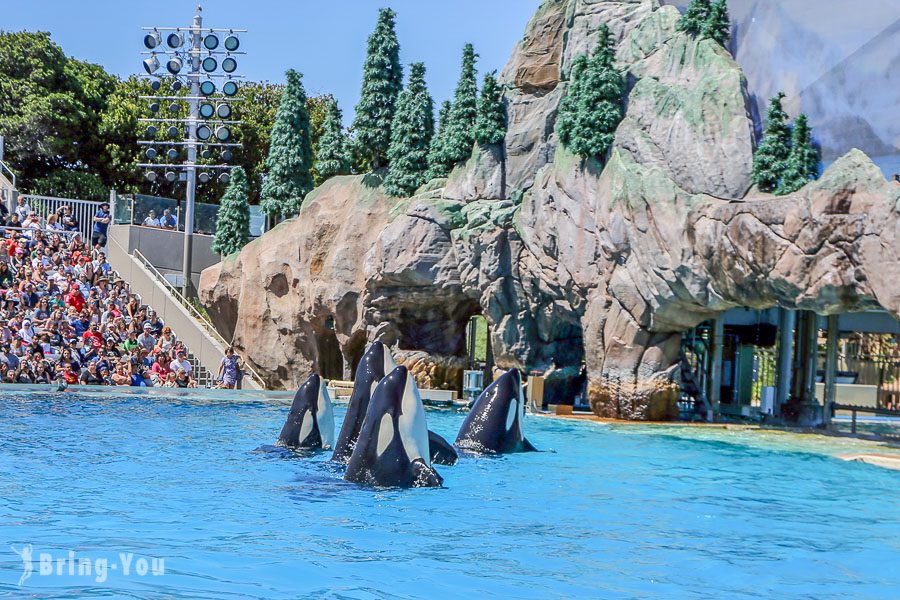 LA and theme parks – you can't go wrong with that! Tagging your kids along, you will want to check out SeaWorld San Diego! Launched in 1964 and still going strong for half a century, the theme park today is one of the largest marine worlds I've ever visited.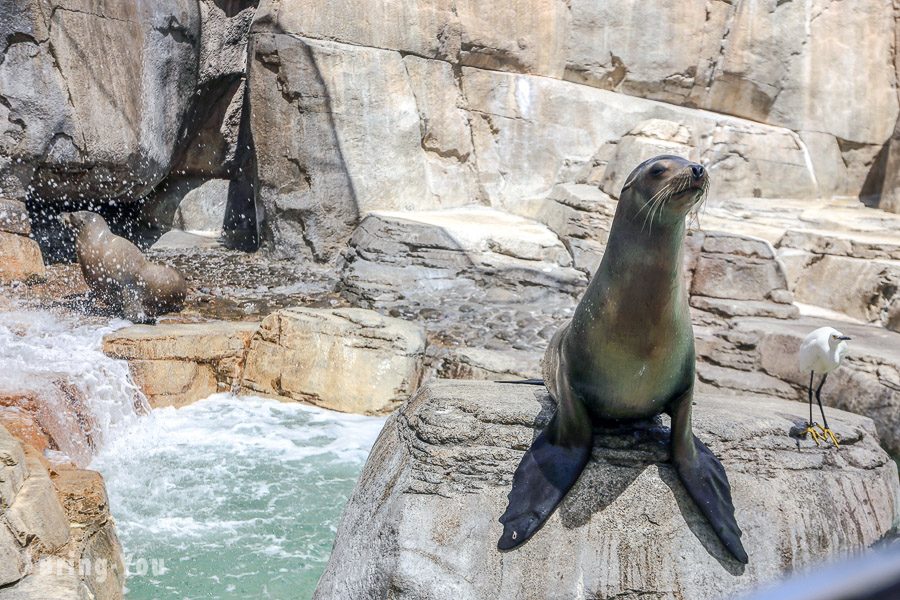 There's a range of animal shows to stun you but my favorite call is the Orca Encounter (well, in fact, it's everyone's favorite!). On any given sunny day, you'll see families from around the world flocking here for a cozy, entertaining, and insightful bonding time. Make sure to get there at least half an hour ahead of time so you can get rid of the crowd!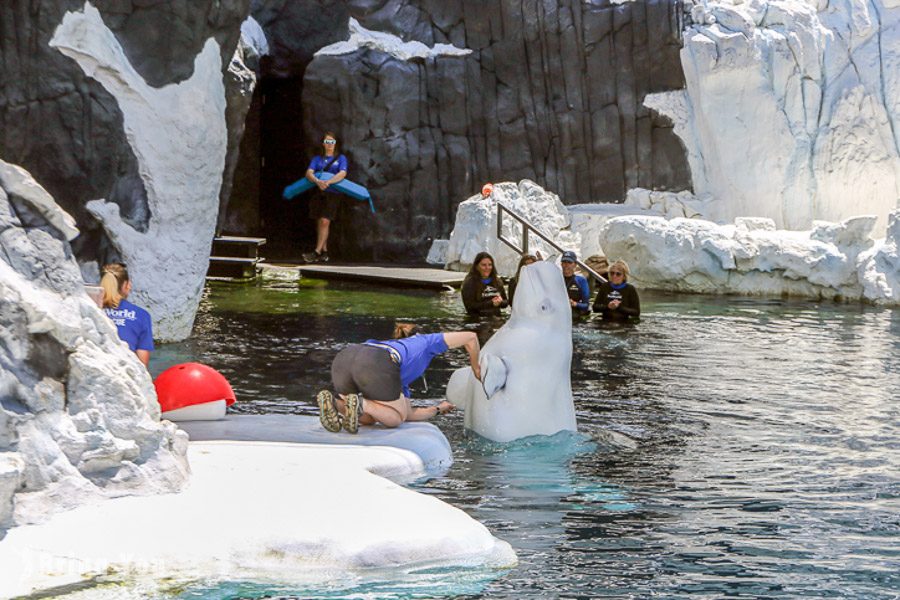 2 Best Areas to Stay in San Diego for Tourists
San Diego Old Town is a safe, cultural, and lively part of town for first-time visitors who like to spend more time in the museums and sample Mexican cuisine.
Best hotel in San Diego Old Town: Hilton Garden Inn San Diego Old Town
Seaport Village is a scenic area for those who like to spend more time by the beach, strolling around the docks, ending their days at a scenic restaurant, or engaging in retail therapy.
Best hotel in Seaport Village: Hilton Garden Inn San Diego Old Town
My 3 Favorite Food Spots in San Diego
San Diego Pier Café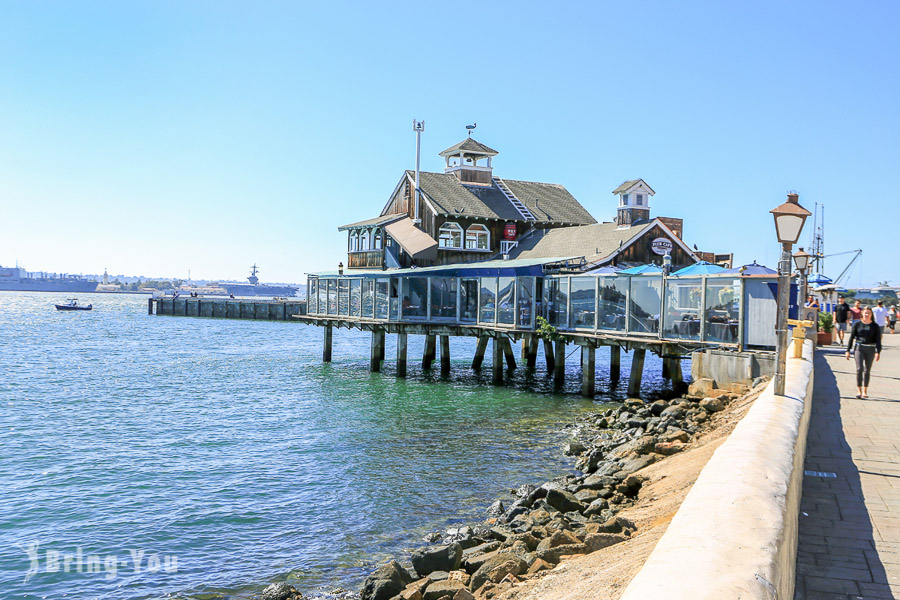 Tourist place? Think again! Hearty meals with a dramatic ocean view go a long way! Seafood is its claim to fame, and the clam chowder is surely something to die for. Make sure to reserve a table before coming!
Fish Market Restaurant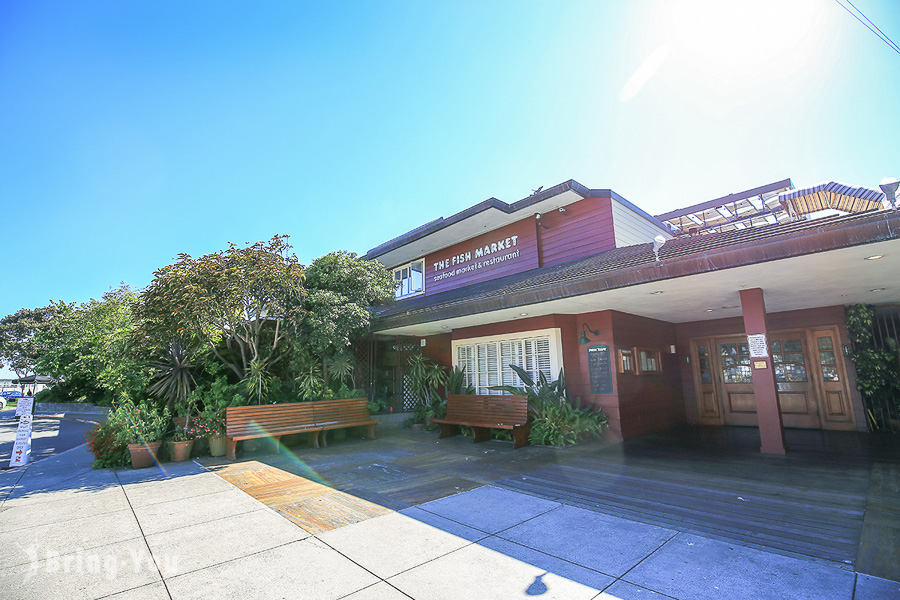 This is another stellar restaurant to enjoy in the heart of the city looking out to the Kissing Statue. This is where you want to go with your date and suck on some Dungeness and King crabs.
Phil's BBQ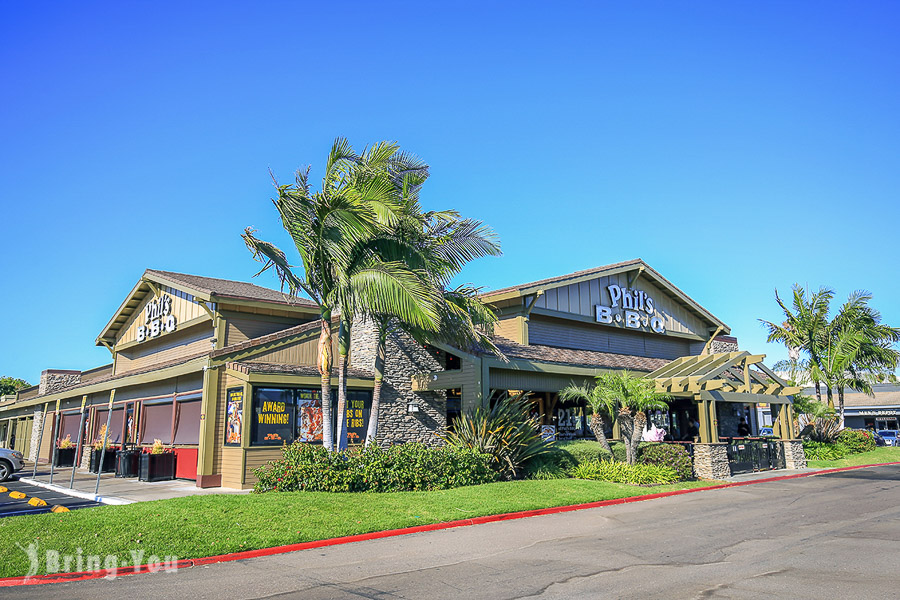 This world-renowned BBQ eating hole never disappoints! Excellent services despite the packed, chaotic crowd totally compensate for the absence of a quiet, stress-free dinner. Beef ribs are my go-to with a hearty, rich, savory sauce slashed on top. Pair it with a serving of potato salad bathed in Mac cheese and you'll have the most beautiful meal to treat your empty stomach… Sorry, calorie-watchers!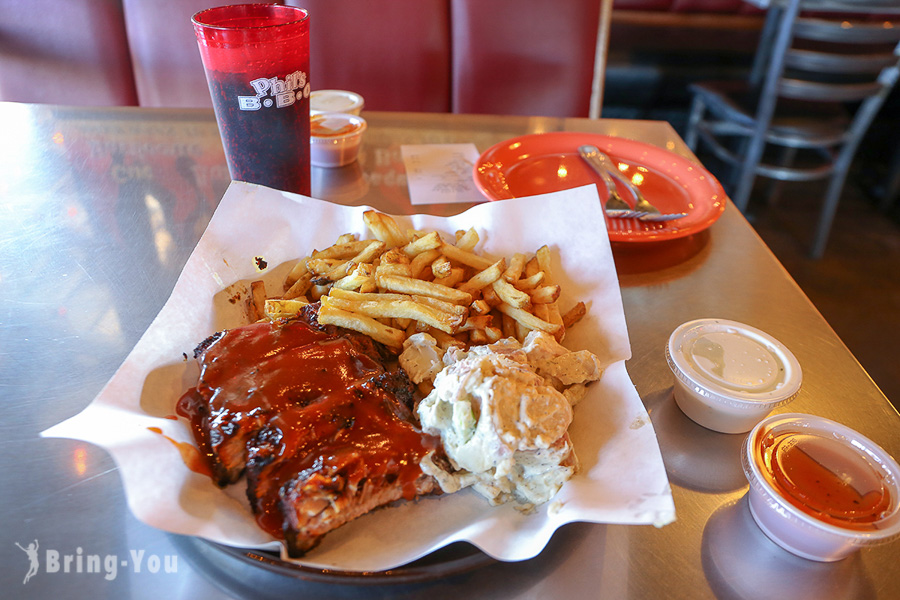 Final Words: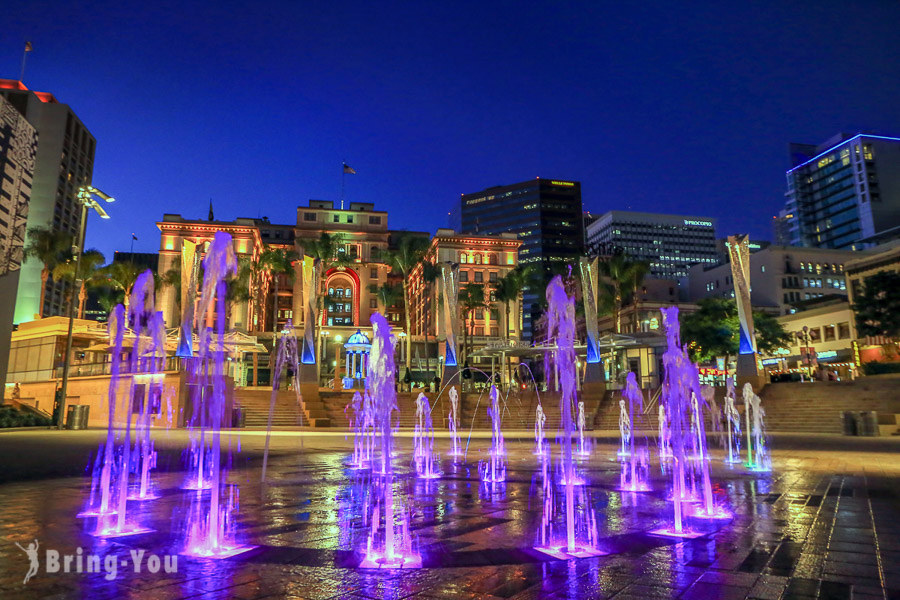 I never wanted to leave San Diego after the visit. It's so beautiful and matchy with my personality that it feels like such a huge mistake to not visit it sooner. Make sure to save a good amount of time for a full discovery. Don't rush, otherwise, you'll be left disappointed!