Walking the Freedom Trail was part of our self-guided tour on the way from New York to Boston. Aside from Yale and Ivy League, the Freedom Trail was honestly our favorite thing to do in Boston, yielding so many insights into a remarkable milestone in US history.
The good thing about Freedom Trail is that it didn't restrict us with opening and closing times. This type of flexibility allowed us to come as we pleased. We started our trip not too late in the morning. Since the trail is outdoor, we didn't want the heat to get in the way of our enjoyment.
In this handy guide, we revealed how we mapped out the walk, how long it took to complete, and what our favorite sites are!
Boston Freedom Trail – Every Step Tells a Story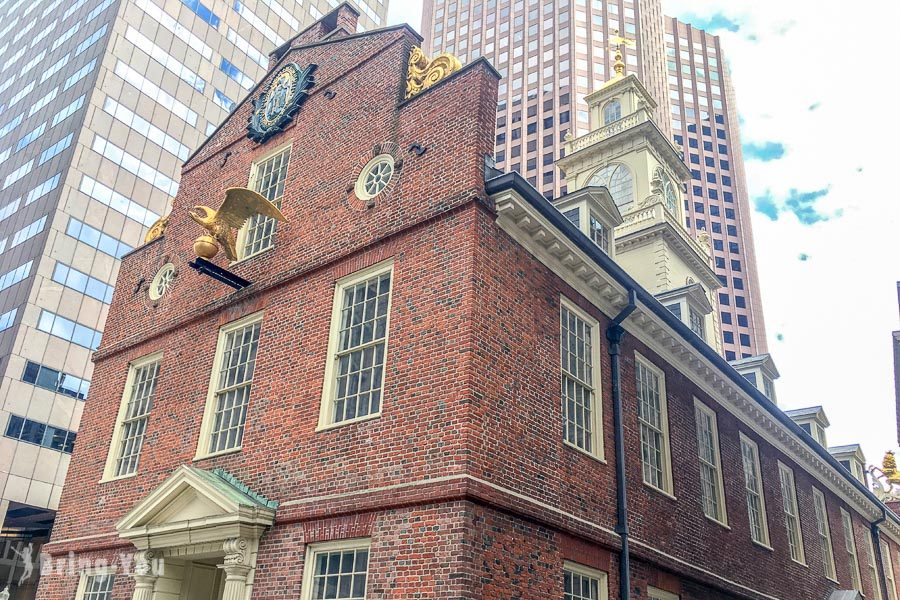 Let us tell you – walking the Freedom Trail in Boston will be one of the best trails you've ever been on. We say this because most of the trails and hikes we have beaten by far lean more on the greenery side.
Apparently, reconnecting with nature is what we're all looking for on a hike. But things are different with this Boston Freedom Trail. The most significant thing about this trail is neither the challenging elevation gain to game up your core like Colombia's Lost City nor the rich biodiversity of Richmond Nature Park in Canada.
The real headliner lies along the American Revolution sites that convey so much history of the US remarkable milestone.
To walk this trail, besides a good pair of sports shoes and GPS (or map), we want you to get a camera ready, and perhaps some pieces of paper to note down the stories and information behind each building.
There are more than ten recognized attractions along the way that shape the route you take. If you don't want to take control of too many things in a row, go for a guided tour (which we revealed below). Otherwise, let's get started!
What Is the Boston Freedom Trail? How Long Does It Last?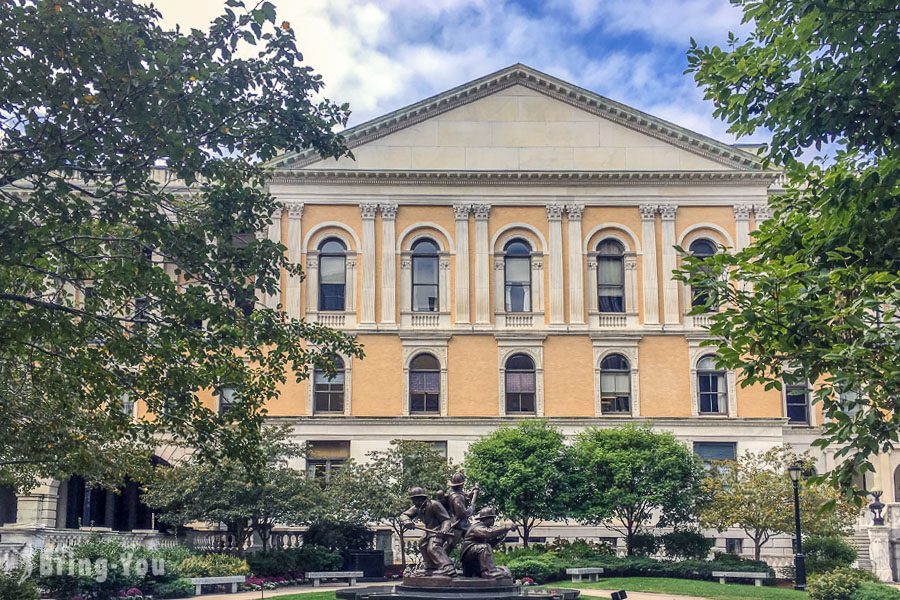 Every Step Tells a Story.
Every step beating the cobblestone opens a new angle in American history that you barely know. Just like you, the early days in the history of American truly fascinate us, especially after we watched the famous miniseries, John Adams.
The outdoor Freedom Trail is attached with many historical events centered around the Revolutionary at the end of the 18th century. Lasting for four kilometers, Freedom Trail is a significant chain of attractions in the city of Boston starting from Boston Common and took just under three hours to complete.
Which Freedom Walking Tour Should You Take?
Our experience before walking the Freedom Trail was a mix of hesitation. On one hand, we really wanted to sign up for a tour. Ironically, after a while scanning through a list of over ten different city tours, we were sort of overwhelmed and decided to start the trail on our own.
Well, it doesn't mean we didn't love the insightful time we were to spend on a city tour like this. It was more of a regret if we joined one and skipped another because they all looked so great.
Depending on your certain need, you can go for one that matches your itinerary or group size. Let's say if you have kids, we would suggest the Boston by Foot: Boston by Little Feet package and the Boston Duck Ride catered to kids. Meanwhile, you can sign up with Free Tours by Foot and contribute a certain amount at the end of the day up to your satisfaction.
Most of these tours last for a few hours and are a great choice if you want a guide feeding you with stories. Those on an adventurous side (like us) can walk the trail along. You can find a map or incline towards a tech-savvy way by downloading the WalknTours app.
Boston Freedom Trail Sample Itinerary
Boston Public Garden & Boston Common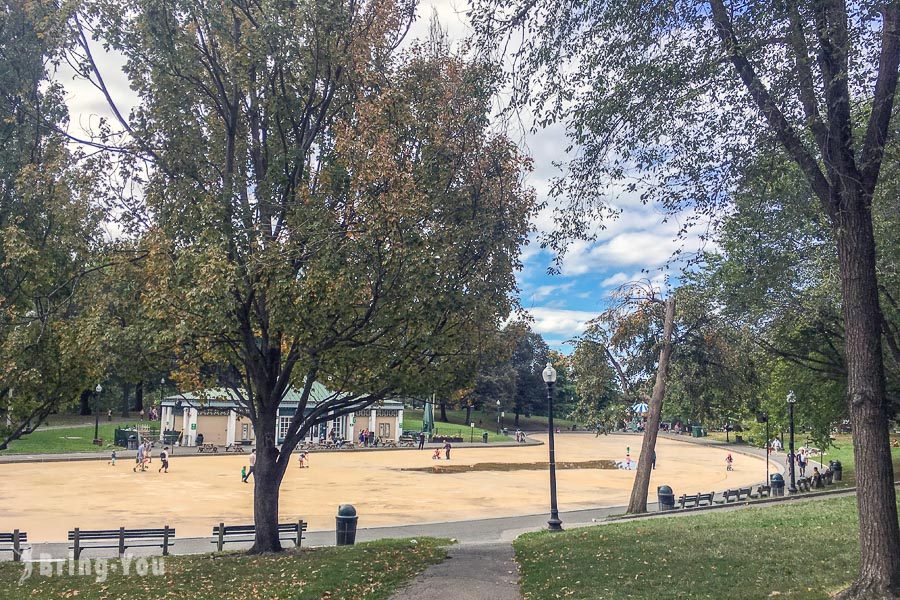 The reason why we chose this green complex is not only because we wanted to add a touch of greenery to the hike and refresh our minds, but also the magnificent history behind it.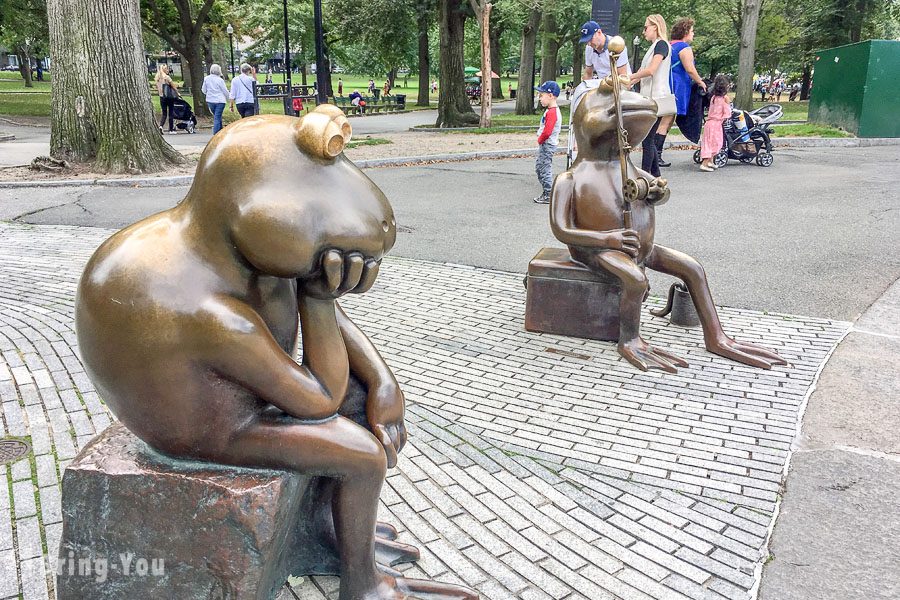 Aside from the history attached to the park, the coolest thing about it is definitely a set of frog sculptures. Just thinking about a glum-sitting frog while his friend is fishing right next to him is so funny!
Massachusetts State House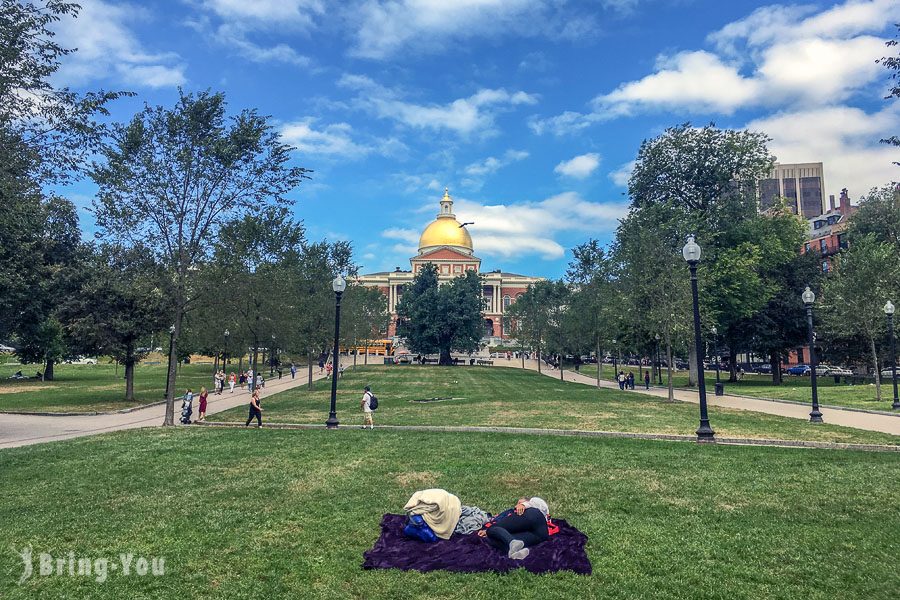 A short walk from the park is the flamboyant Massachusetts State Capitol. It's perched on the top of the flat Beacon Hill and therefore we could easily spot it right from the park.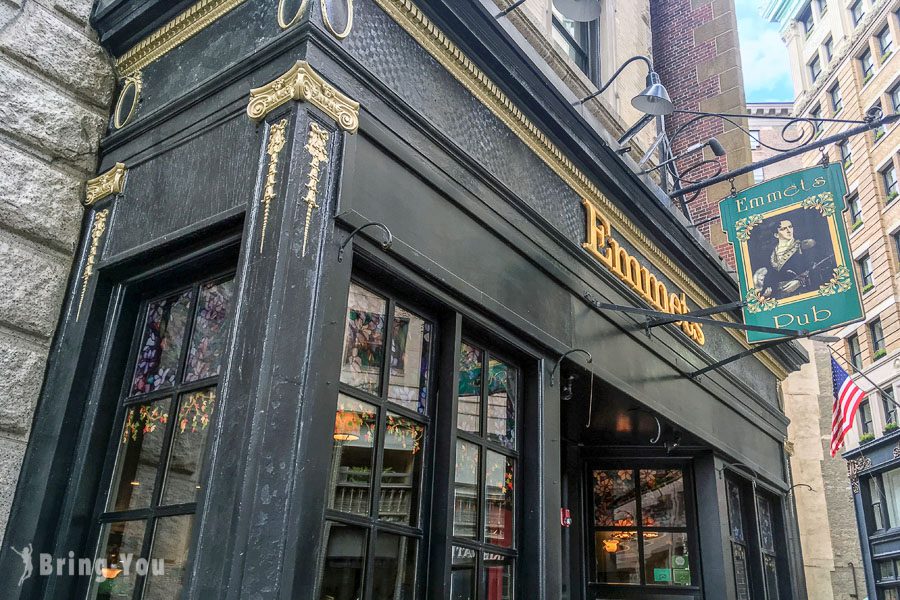 The setting is serene as always and people are resting their backs on the grassy knolls. If you head northbound to Suffolk University, we're sure you'd love it even more.
The whole complex of brick-worked residential buildings, boutique stores, and winding paved way sends you to the old UK in a drop of a hat!
Park Street Church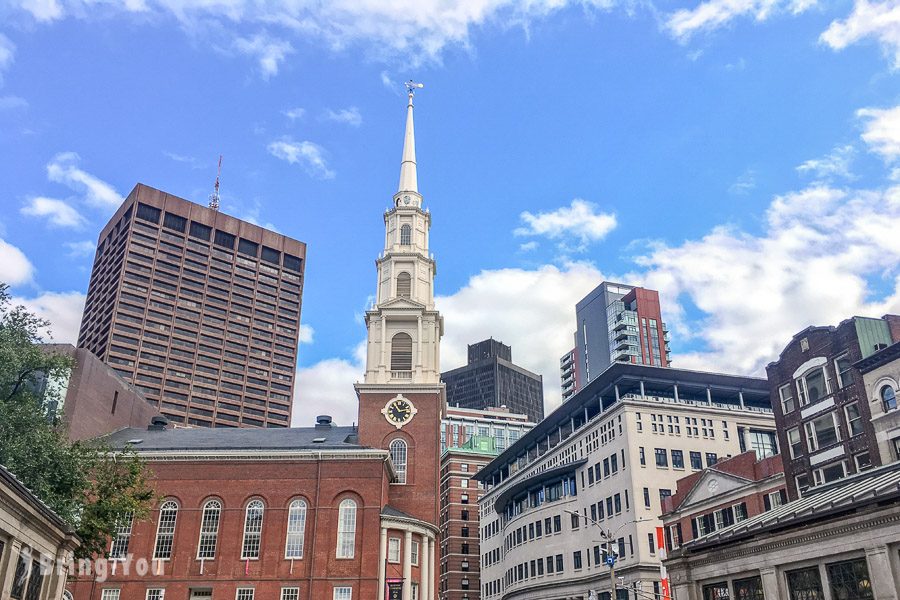 In 1809, William Lloyd Garrison gave an anti-slavery speech. Ever since, the church has become a must-see site for anyone embarking on this trail. The Freedom Trail has a lot to do with religion and politics. Therefore, if you happen to miss out on such a highly recognized holy shrine like this, it would be a huge mistake!
Granary Burying Ground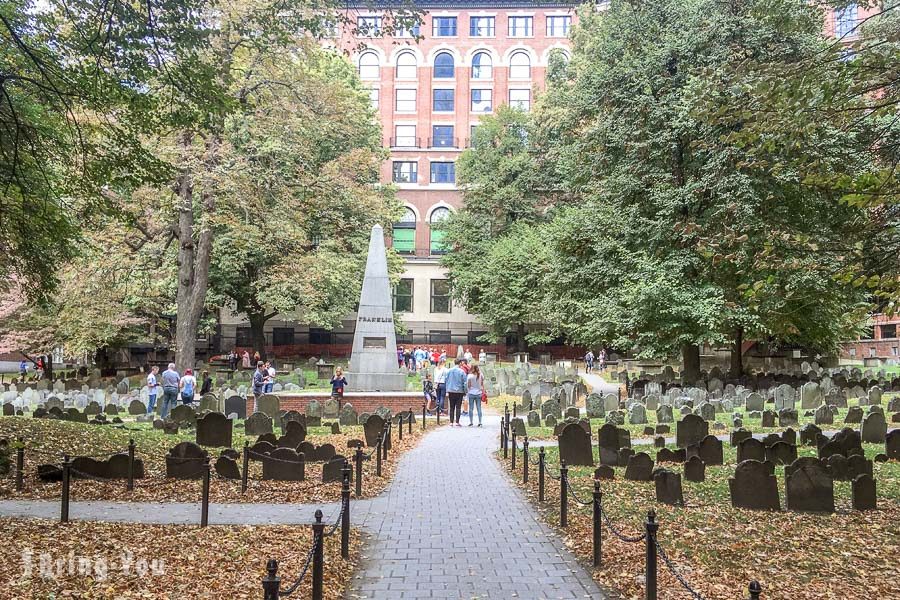 The graveyard is nestled just behind Park Street Church, where around 5000 people were buried before uniting with the Holy Father in heaven. Over 2300 notable citizens of America's history are lying under this ground. All visitors paid deep respect to the history and the deceived whereas many of them came in groups.
King's Chapel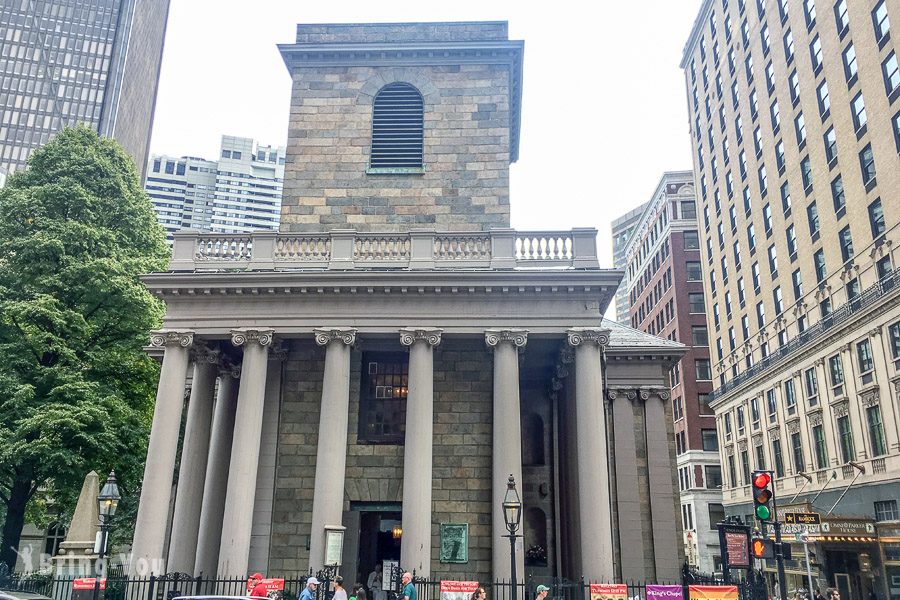 King's Chapel is straight-up adjacent to the Granary Burying Ground. The rustic, washed-out grey stoned surface is in keeping with so much history. This holy chapel dates back to as far as 1686, making it the first independent Christian unitarian congregation founded in Boston.
Old City Hall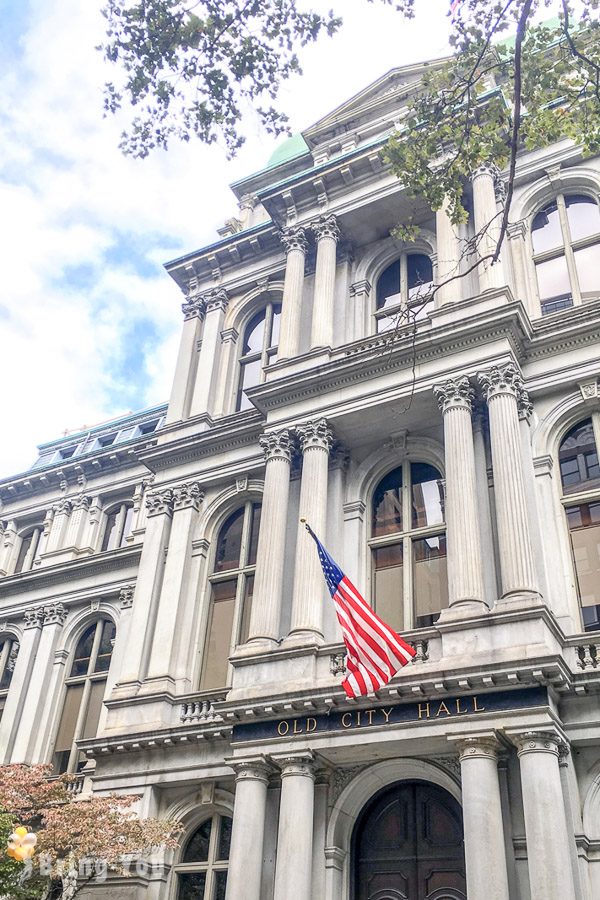 We walked our way to the back of the rustic King's Chapel and discovered another stunning gem – the Old City Hall. Once again, the iconic Second Empire architecture this building beholds truly makes a statement.
With the American flag dancing to the wind jutting out from the black wooden door, the Old City Hall is one of our favorite photo ops along the Freedom Trail.
Old South Meeting House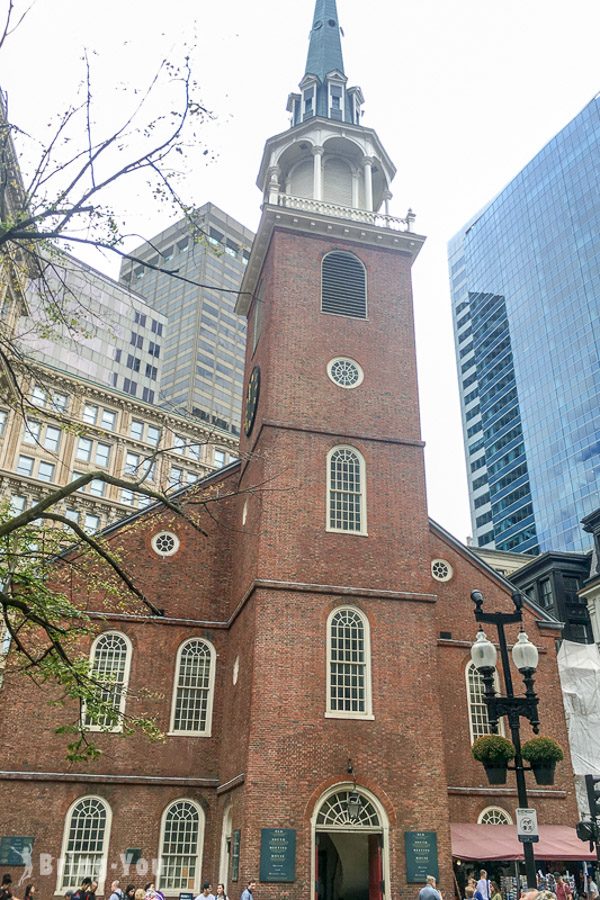 When you look across the street from the Old City Hall, that's where you see the rustic red-bricked Old South Meeting House. That's how it got more than 5000 protestants and rallies assembling on the night of December 16th, 1773 following the infamous scandal of ships carrying tea dumped at the Boston Harbor.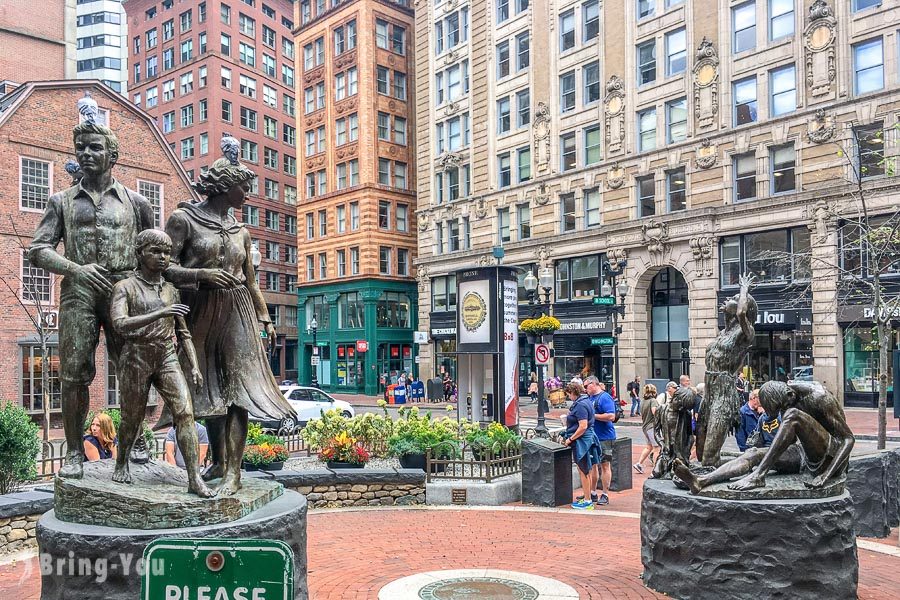 Boston Massacre Site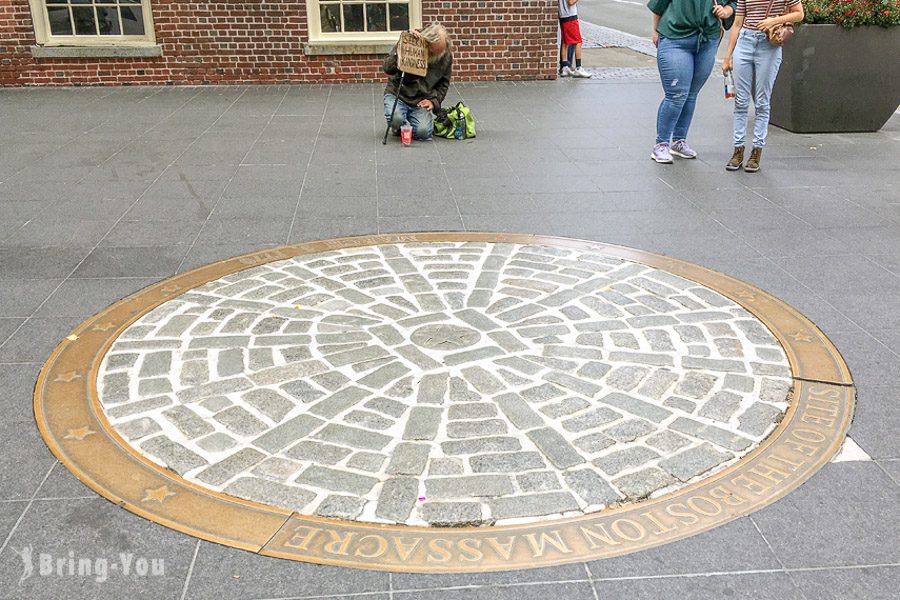 From the Old South Meeting House, take a U-turn and head northbound via Water Street and Kilby Street. This is where we saw a cobblestone ring right in the heart of the square beside the Old State House.
As referred from the name, this exact venue beholds the infamous civilian massacre carried out by the British Government. Even though the simple appearance doesn't provoke an intense feeling like what we experienced at other memorial sites, it still reflects upon the events of 1770 and ignited the start of the Revolutionary War.
Old State House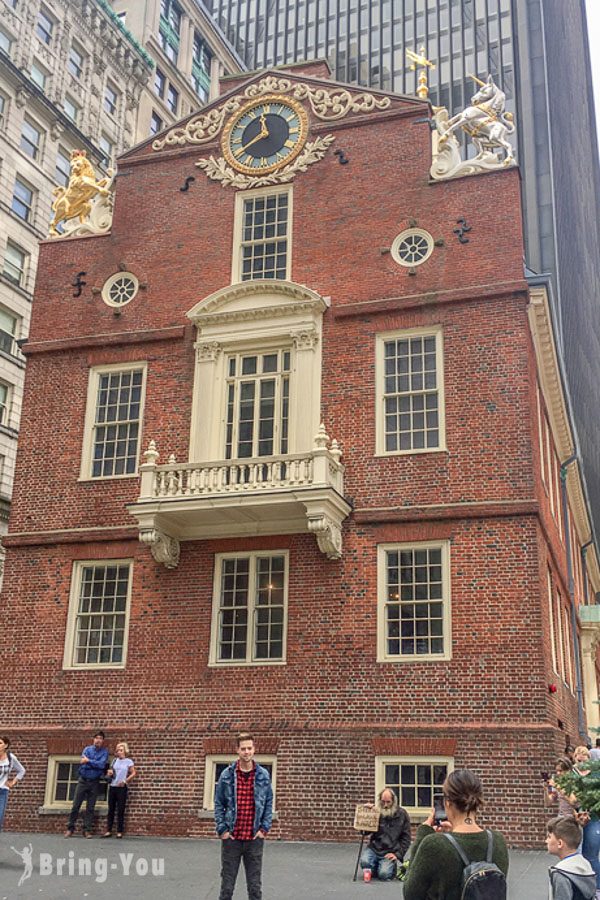 Right next to the Massacre ring is the Old State House. You can tell by the name that it was the original seat of the British Colonial government before the Revolution.
Today it serves as a vivid historical exhibit hidden inside an astounding exterior. The golden embellishment adorning the roofline and the clock makes a complete statement.
There is also a heart wreath hanging from the balcony where the Declaration of Independence was announced on the 4th of July.
Quincy Market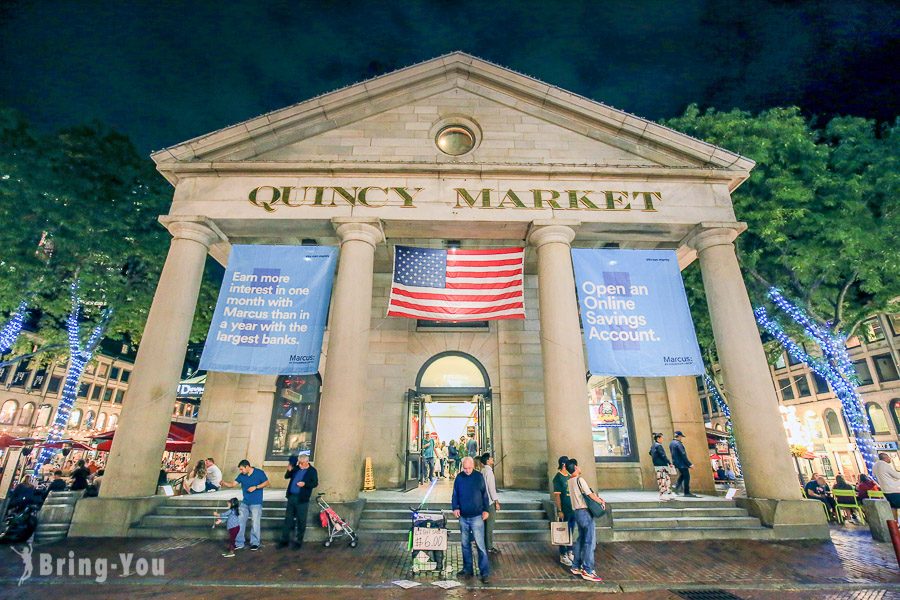 Our last stop is a bit further afield from the Old State House. Once again, we took a U-turn to the north via Sudbury Street and Congress Street for four minutes to end up at Quincy Market.
At first, we thought it was a traditional open-air venue selling food and fresh produce like elsewhere. We were all wrong! The exterior housing is finished with bold grey bricks with the US flag hanging above the entrance hall.
Lunchtime made it busy as always. Seafood was the most common product but there is surely no lack of other offerings. There is always something for every kind of eater.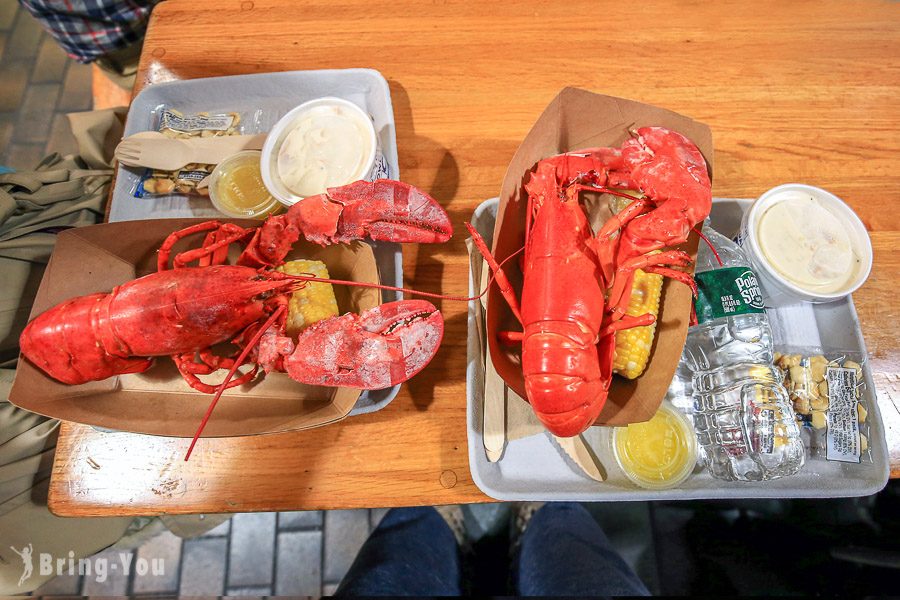 We got some desserts after a plate of boiled lobsters. The food carts make it even more exciting to walk around and take some photos.
We hope you enjoy the Boston Freedom Trail as much as we did. If you ever come to Boston, make sure to also visit Yale and Ivy League like we did. It's alright to finish the trail on our own. If you need a guide on a tour, consult our recommendations above because we tested them and they were incredible so you don't have to worry!