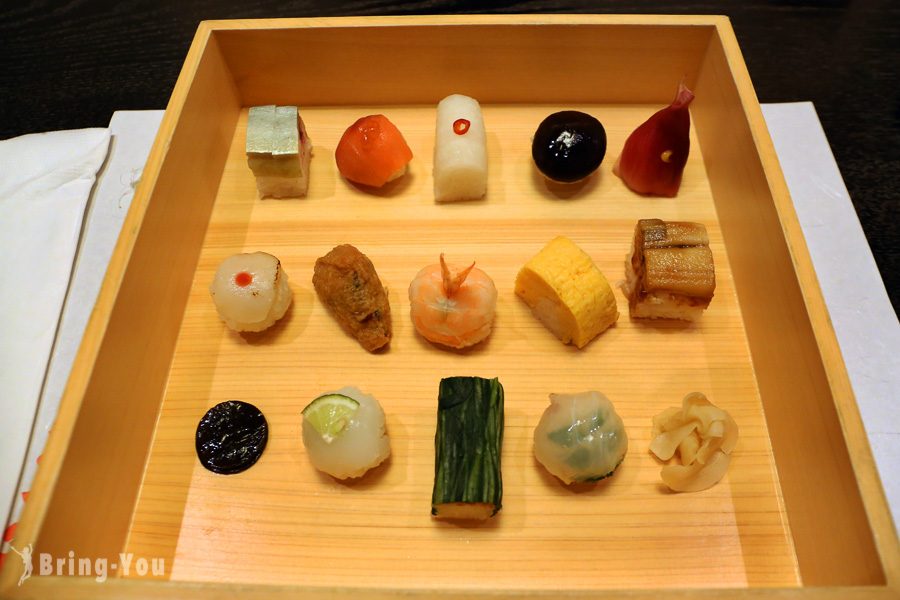 So you're in Kyoto for the first time and not sure what to eat? Let us tell you, navigating through the bustling food scene in Kyoto is a real business. The question comes down to which food you should eat today and where to find an authentic, local bite.
Our Top 10 favorite dishes in Kyoto
Rest your worries, we are here to rescue your rumbling stomach with this ultimate Kyoto food guide. Here are our 10 favorite dishes to consume plus the right places to get the right taste!
Kyoto Ramen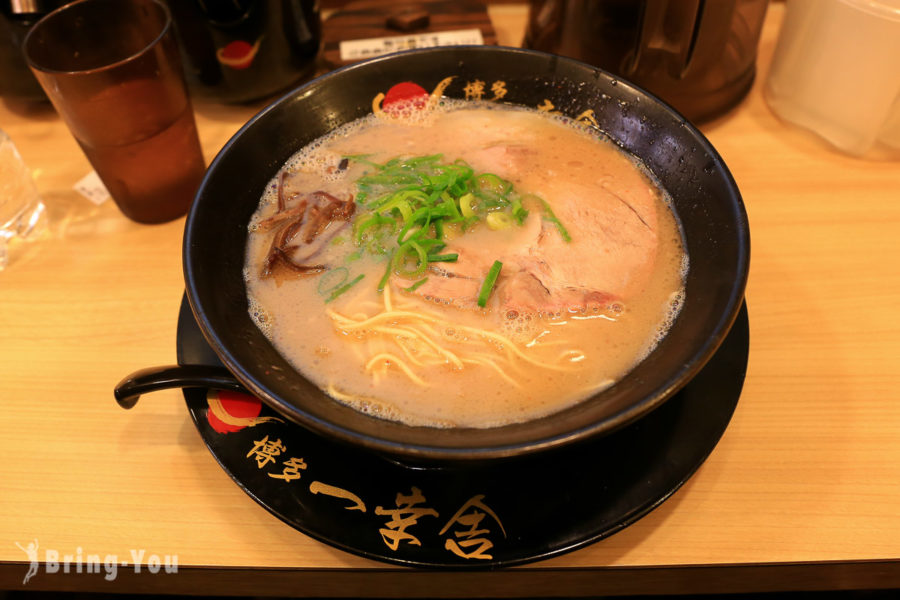 Ramen makes its way into Kyoto's inspiring collection of noodles. While Nishin Soba leans on a light and refreshing tasting profile, ramen inclines towards a thick and heavy soup using a soy sauce base while the noodles strands are straight.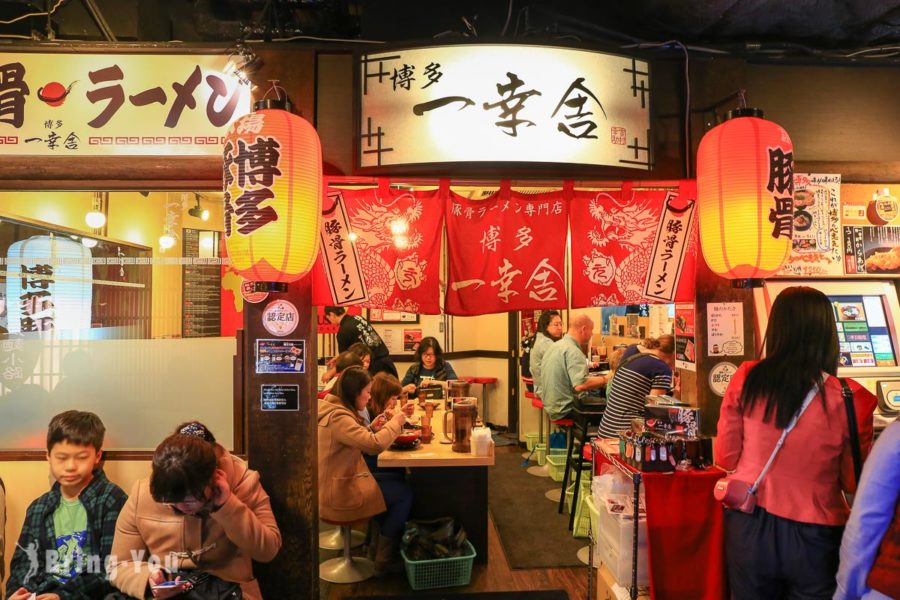 You'll find plenty of ramen restaurants in Kyoto where they pour pork oil into the soup to bring out the pungent flavor and richness. The best place to indulge in these heaty bites is Kyoto Ramen Street (Kyoto Ramen Koji), a corridor of ramen noodle shops serving quick, cheap, and tasty ramen.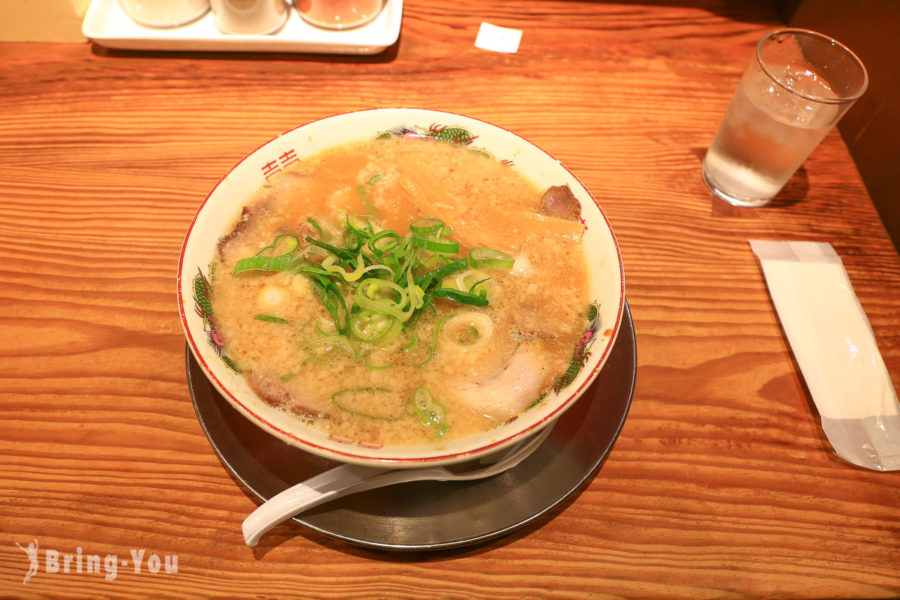 Other than that, Masutani is another top call introducing traditional ramen made of pork fatback broth. This restaurant is part of Kyoto Ramen Street, on the 10th floor of the Kyoto Station, Shimogyo Ward.
Nishin Soba
Nishin Soba is delightful comfort food made of buckwheat noodles and topped with a huge slice of herring. The herring itself delivers a sweet and salty flavor that pairs perfectly with the chewy noodles.
Nishin Soba is a daily staple in Kyoto but if you have a chance to enjoy it on New Year's Eve with a sip of your favorite alcohol, that's how heaven is made.
A bowl of Nishin Soba comprises shiitake mushrooms, sake, mirin, soy sauce, and dashi beside a huge herring filet sitting on the bed of soba noodles. We had a chance to sample it at Sohonke Nishin-Soba Matsuba on the second floor of Kyoto Station, where they serve a light and refreshing version of nishin soba.
The herring is not intensely salty but flaky and sweet instead. You'll surely go down to the last bite.
Tofu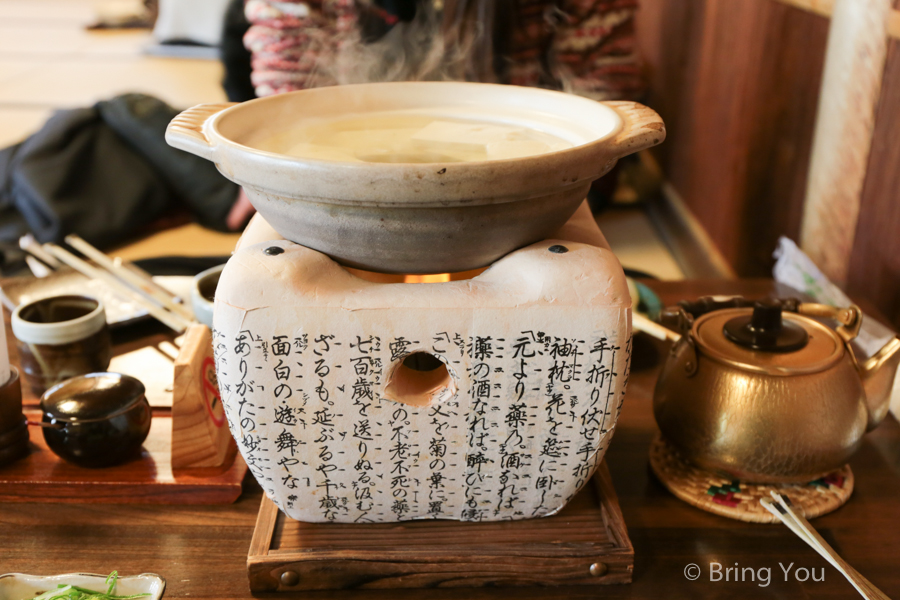 More than just a vegan staple, Kyoto tofu has become a serious dining culture that originated in
The Nara Period. Tofu appears in a wide range of forms and you can have it in any way you want, from yudofu (tofu hotpot), yuba (soymilk skin), boiled, or fried, you name it!
Kyoto is hands down one of the best places in Japan serving tofu at its finest. Okabeya is a leading brand where you can soak in authentic tofu heaven in a traditional townhouse. You can find it nestled along the way to Kiyomizu-dera Temple while the other location is near Nanzenji Temple.
Tofuokutan is another local gem serving classic style tofu set at two of its branches. The main store is at Kiyomizu and the other one is near Nanzenji temple.
Yuba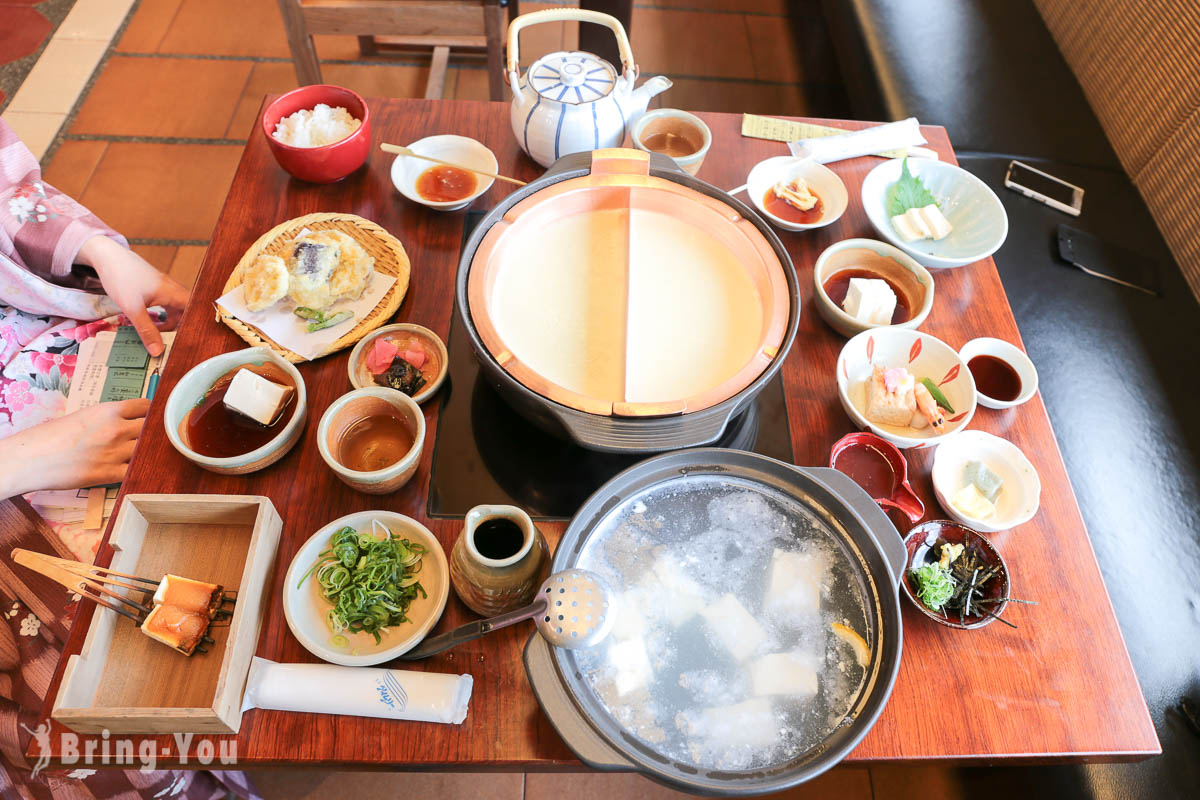 Kyoto tofu culture is a galore itself, and sometimes picking one dish over another can be a daunting task. For us, Yuba is one of our favorite varieties to consume.
This incredible Kyoto cuisine is inspired by the monk culture and made of curdled soy milk. The finalized product of Yuba comes out after they boil soy milk and a thin layer of tofu skin thickens on the top.
Eating Yuba is a serious business. You can have it fried, boiled, or used in Japanese soup. The best place to get a decent serving of Yuba in Kyoto is Saga Tofu Ine in Arashiyama on the western outskirts of Kyoto. Okabeya at 2 Chome-239 Kiyomizu, Higashiyama Ward is another popular chain with an extensive range of tofu-inspired dishes that make your taste buds go crazy.
Saba Sushi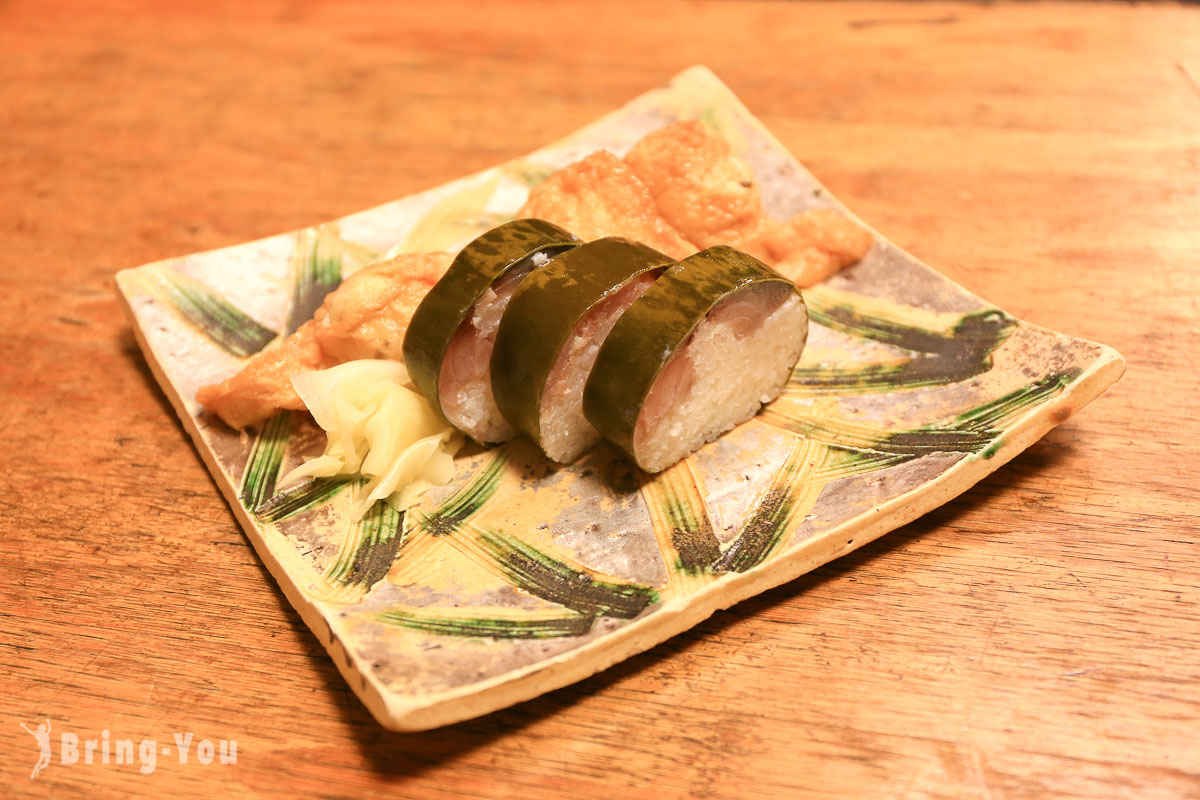 Oh, sushi – now we're talking! Do you know that one of the most talked-about variations of sushi in Kyoto is saba sushi? Well, in fact, this is a form of mackerel sushi. But what you get with saba is a fatty, oily, and insanely rich tasting profile dancing in your mouth.
The flavor of the fish is a pungent complexion. There's saltiness, fishiness, and sourness coming from the vinegar marinade. Meanwhile, fresh saba sushi will delight your palate with a sweet note.
If this is what you crave, stop by Idujuu, a local dining hole just an earshot from Gion-Shijo Station. Don't forget to pair it with a bit of Japanese sake!
Obanzai and Kyo Yasai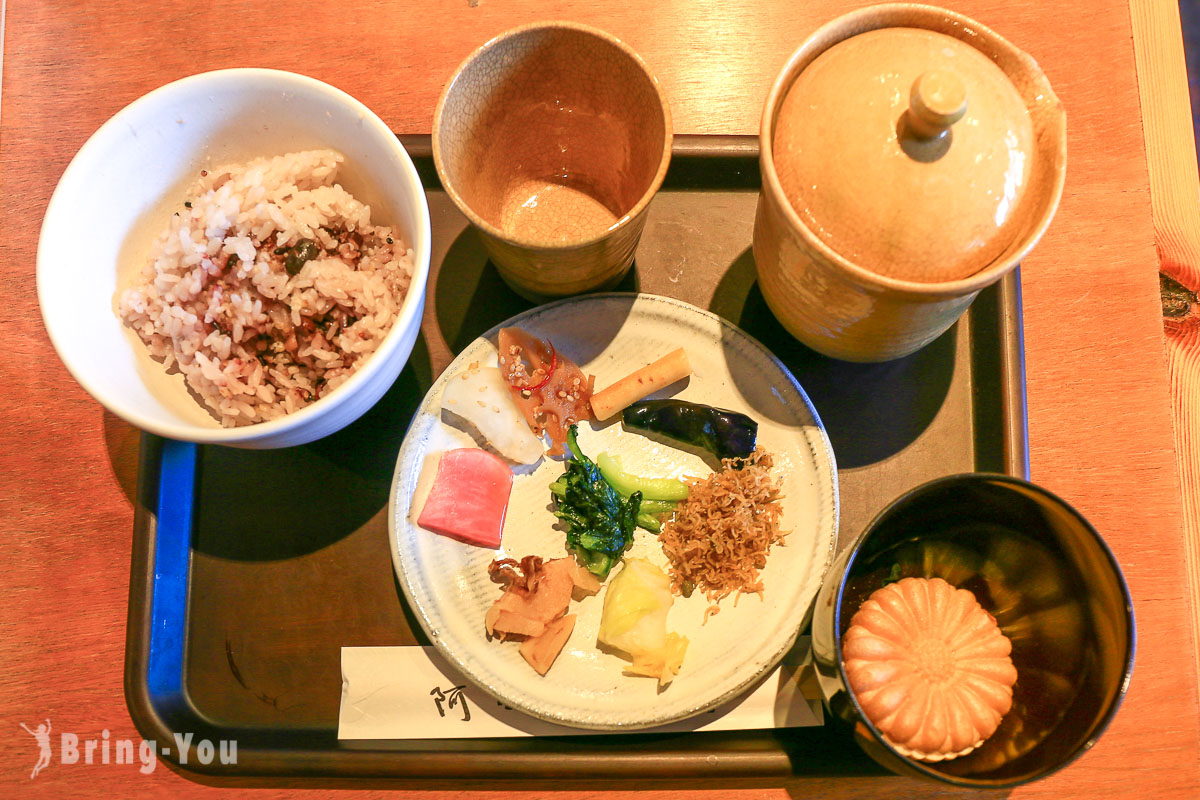 If you're down for something locally sourced, truly authentic, and regional, try Obanzai!
Obanzai is not a single dish. It's an entire meal considered as the essence of traditional Kyoto's home cooking, like something your mom and grandma make at home whenever you're back from school.
Obanzai is an exclusive food, which means more than half of the ingredients are locally sourced within Kyoto. That includes kyo yasai, a type of pickled, preserved veggies inspired by Japanese pickles Tsukemono.
A typical obanzai is a mashup of small veggies bites accompanied by a flavorful stew and a bowl of steamed rice.
In Kyoto, Akoyajaya on Shimizu, Higashiyama-Ku is the right place to find pickled vegetables. Akoyajaya is more like an all-you-can-eat (buffet) type of restaurant where you pick your own pickled veggies from a large counter. These veggie servings are changed seasonally.
They serve up a wild selection of pickled veggies that you can eat along with miso soup, rice, or porridge. Their daikon and yuzu shavings are insanely good, plus some mouthwatering desserts to clean your palate at the end!
Kawayuka – Kawadoko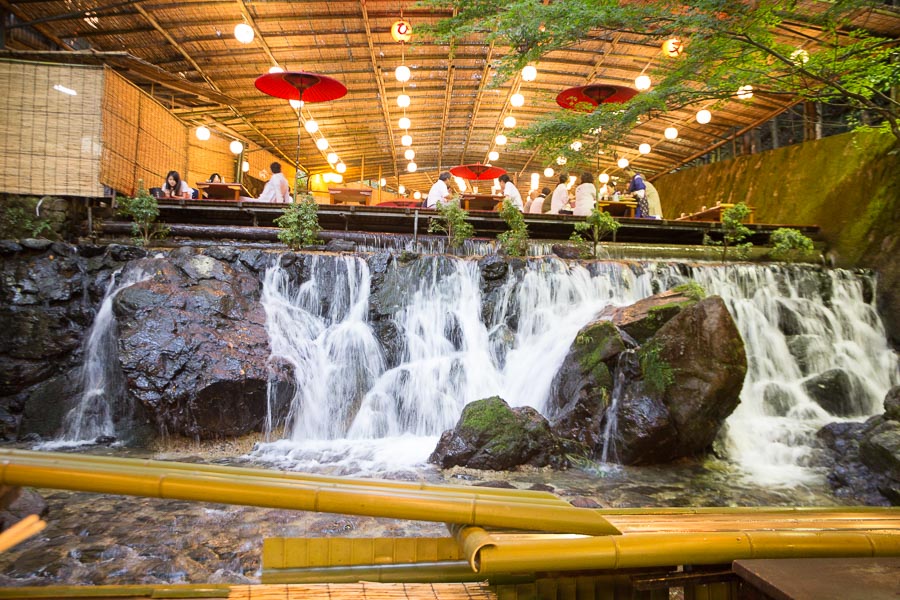 One of the coolest dining cultures we discovered in Kyoto is Kawadoko – Kawayuka, a stylish way to enjoy Japanese dishes on the tatami floors above a river.
You know Kyoto can get really hot and humid when summer comes, so Kawayuka – Kawadoko comes as a rescue. Nowadays, these types of patio-like restaurants serve up an extensive range of cuisines. It doesn't have to be local Kyoto food. You'll even find Starbucks, Thai food, or Italian restaurants as well.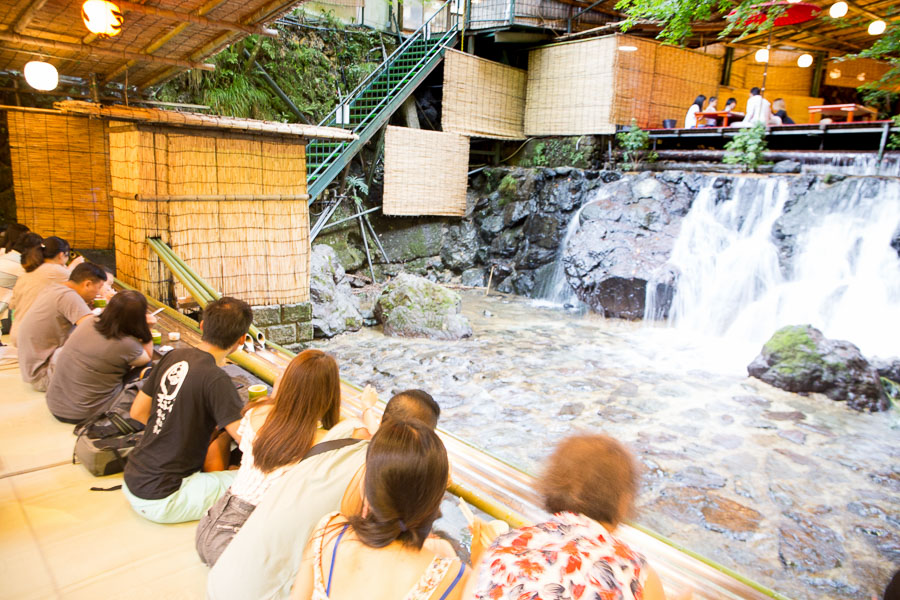 No matter what you crave, don't forget to give nagashi somen a go! This type of flowing somen noodles at kawadoko in Kibune took the world by storm. Laze around a few meters above the soothing river while catching somen noodles racing down a bamboo pipe. It takes skills!
Street Food at Nishiki Market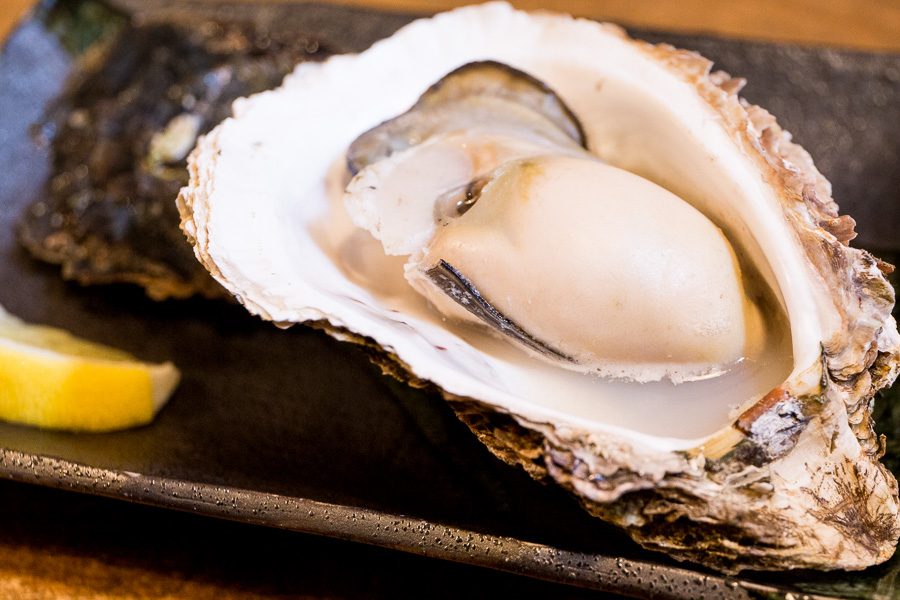 When in doubt, go for street food! It feels like street food is the top call for everyone of all ages. Who doesn't like a quick, heart bite fresh off the stove?
Well in Kyoto, the 400-year-old Nishiki Market is a real deal when it comes to Kyoto street food. It's not that bustling and chaotic but more like a structured trading hub with designated stalls and vendors lining up along the paved ways. There are 100 stalls offering an insane collection of regional offerings.
You can try Tako Tamago, a skewer of candied baby octopus stuffed with quail egg. Then find some sesame dumplings that can be served either sweet, cheesy, or savory. Japanese fish cake is another popular food if you're in a mood for something hot and chewy to beat the chilly days.
Sakura Desserts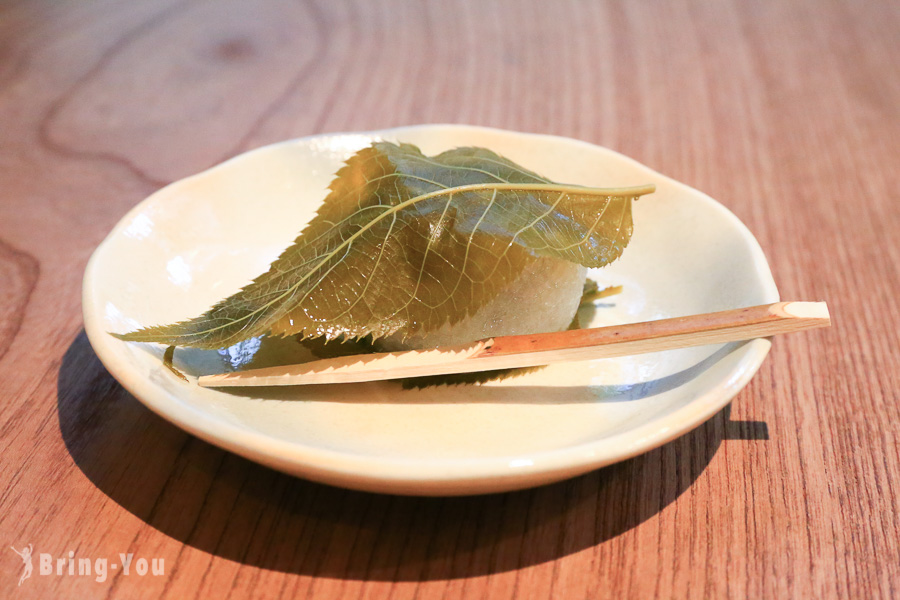 As the blissful cherry blossoms bloom on the trees when you visit Kyoto, it's time to live up to the hype with its famous Sakura desserts. There are plenty of confectionary stores and restaurants selling this wonderful, irresistible treat inspired by the delightful look of the cherry blossoms.
One of the most famous Sakura desserts is sakura mochi served at Oimatsu in front of the east gate of Kitano-Tenmangu Shrine. This eye-pleasing rice cake is stuffed with bean paste and wrapped in a leaf.
Oimatsu's sakura mochi is made of refined sugar which takes the artisans five good days behind the counter to make this incredible treat before it comes to your table. The delicate smell of the cake is a temptation, paving a way for the sweet flavor of bean paste to nourish your taste buds.
Other than sakura mochi, sakura soft serve is another top call that can be found at the major hanami locations during the cherry blossom season.
Another cherry blossom-inspired treat to spruce up your Instagram shot is Sakura Yokan. This is a delicate Sakura-flavored jelly made of white kidney beans and agar with a crystal clear look covering on the outside. To make it even more appealing to the eyes, the artisans put cherry leaves and petals inside or on the top of the pie.
Green Tea Desserts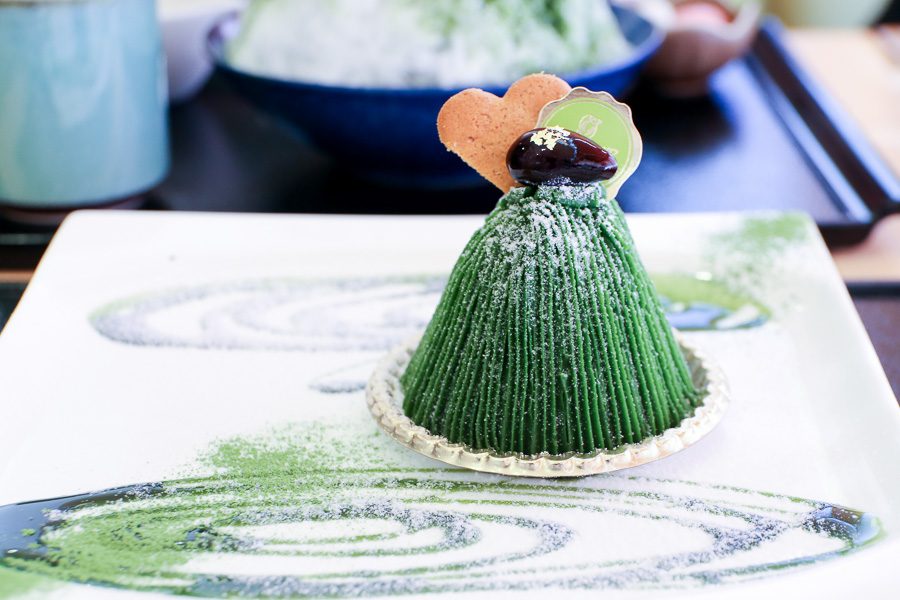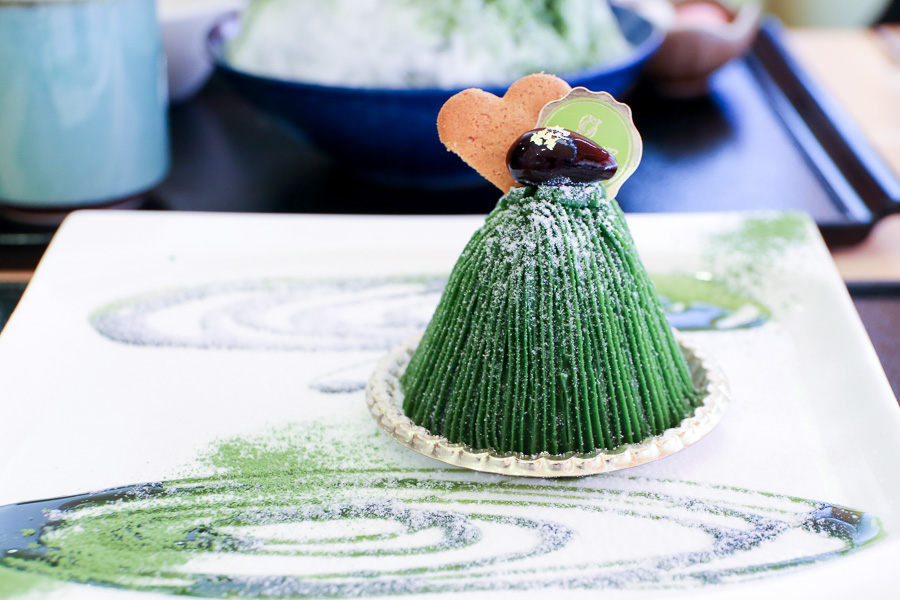 Kyoto is one of the most prestigious tea-growing regions in Japan. As you're already here, missing out on its delectable green tea scene is a huge mistake.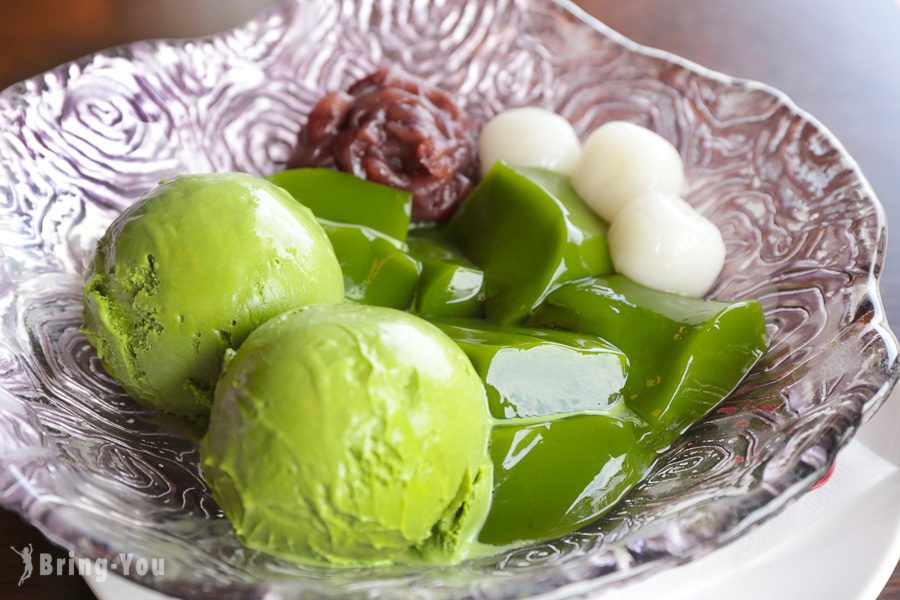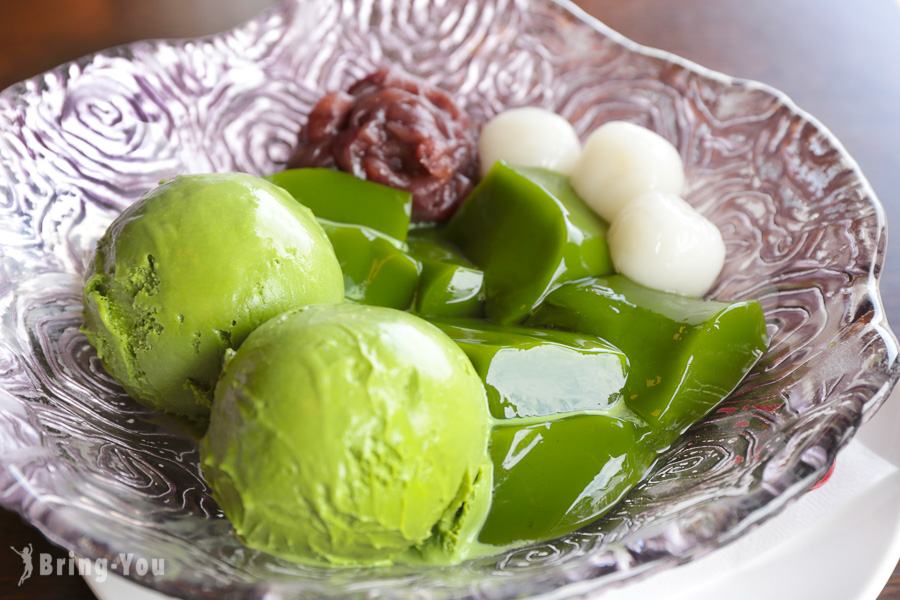 Speaking of Japanese green tea variations in Kyoto, there's no bar hold. So let's start with Ryokucha, a term addressing Japanese green tea in general, casting its shadows over different variations including Sencha, Matcha, and Gyokuro.
The key difference amongst those types boils down to the treating method and how they react to sunlight during the making process.
The most basic way to consume green tea is by drinking. But there are plenty of cooler ways to revel in this silky, bitter niceness and you can find them in many dessert shops and cafes.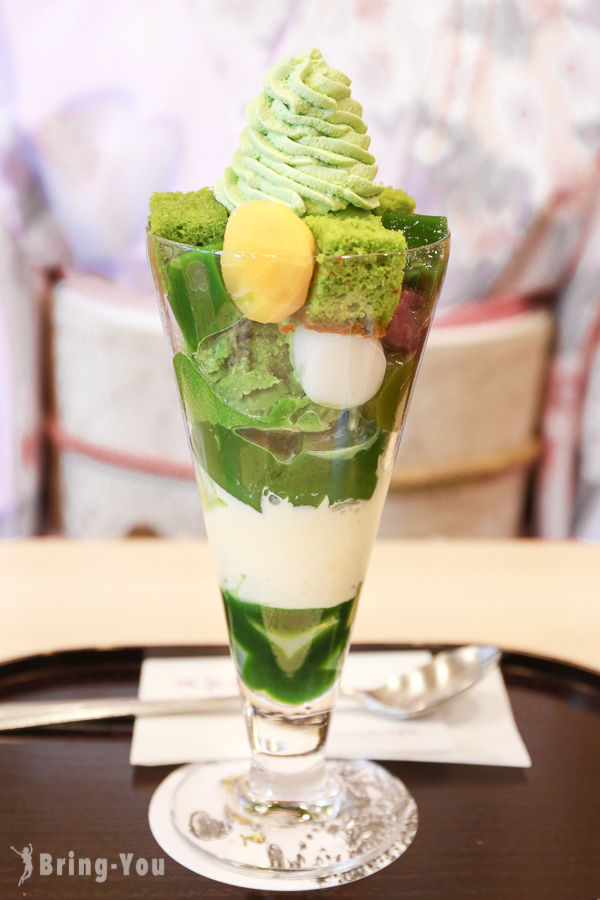 Tsujiri Gion store specializes in matcha soft serve ice cream. Green tea ice cream, jelly, parfait, ices, sponge cake, and matcha noodles at Nakamura Tokichi on Uji Ichiban are insanely delicious. Meanwhile, Jouvencelle on Kiyoicho games it up with its Gion Macca Chocolate Fondue. Ito Kyuemon by Uji Station takes pride in matcha parfait while Umezono on Fudocho has seriously good matcha pancakes.
Key Takeaways
What Should You Eat in Kyoto?
Go for tofu and yuba if you're down for a refreshing meal with a vegan flare.
Sakura desserts will make your breath smell like cherry blossoms during this festive season in Kyoto.
Green tea desserts make you jump for joy with plenty of cool green tea souvenirs to bring home.
The street food scene at Nishiki Market gives your rumbling stomach an exercise without hurting your budget.
Where to Eat Cheap in Kyoto? 4 Best Tips for Kyoto Cheap Eats
Go for local Japanese food instead of foreign cuisines.
Simple noodles like soba and ramen are the best comfort foods to fill up for cheap.
A set meal (teishoku) definitely outweighs daily specials (higawari teishoku) in the race for cheaper eats.
Street food at Nishiki Market won't make your budget bleed.