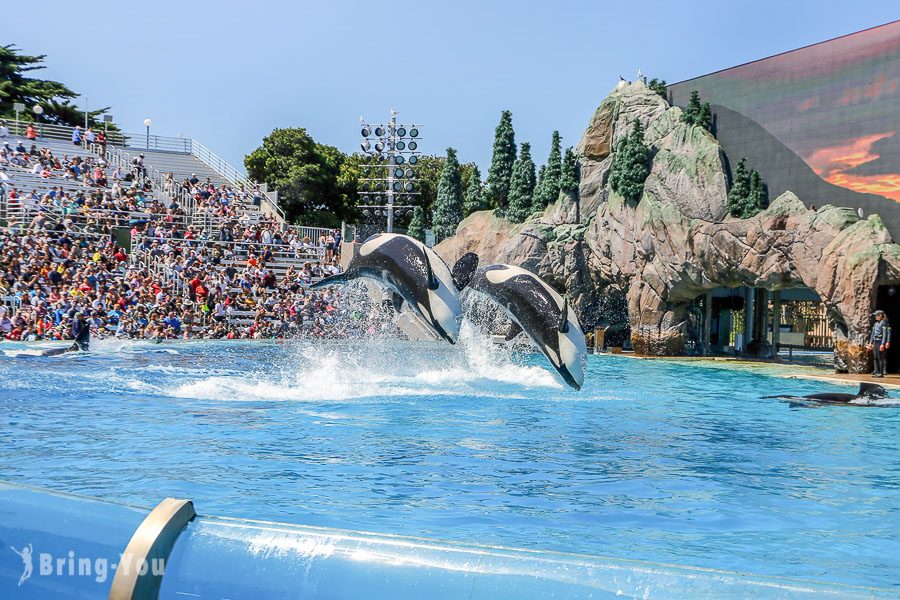 SeaWorld San Diego was a high note on my visit to Southern California. I spent an embarrassing amount of time doing all of the research so I wanna share with you the 7 most insightful and life-changing tips and tricks to get you ahead of the crowds.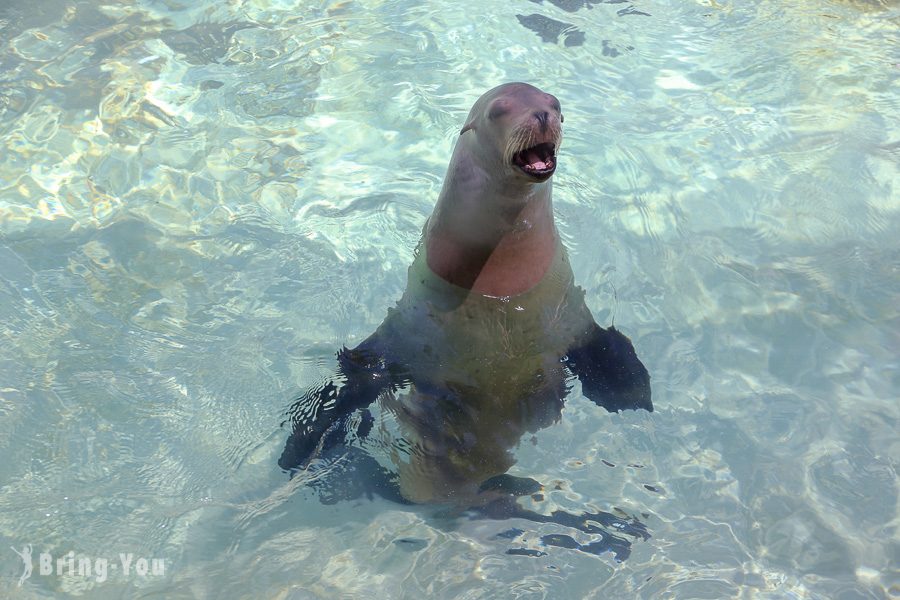 Well, just to let you in on a brief introduction if you're new to the scene: Here you will get to see and interact with all the majestic creatures in the deep blue sea that you've always been wondering how it's actually like to marvel at them in reality. From Beluga whales, orcas, otters, sea lions, giant octopus, or Japanese giant spider crabs – you know, the list goes on.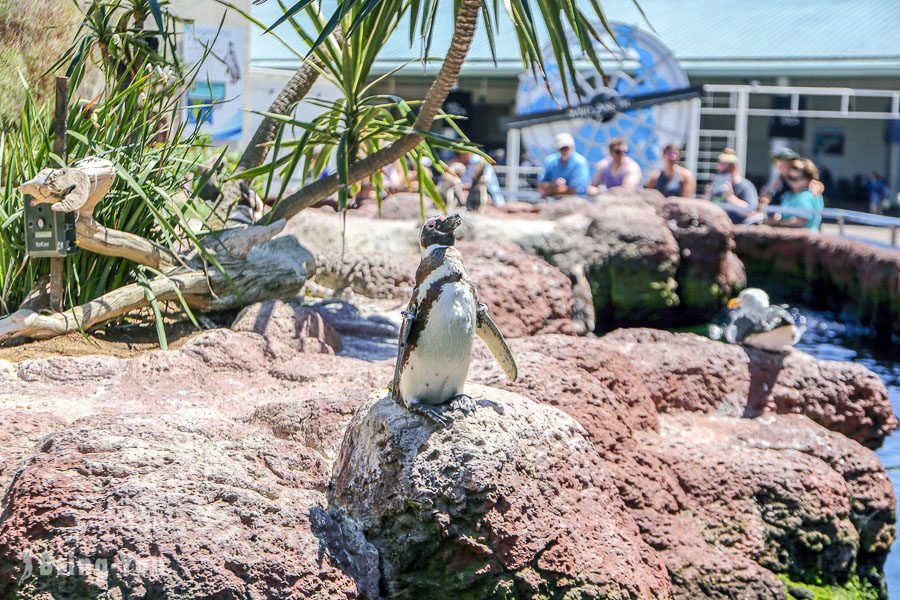 To give yourself a blast at SeaWorld San Diego, I'm here to walk you through the schedule, the best day to visit, where to eat, what to do, where to find the animals, and many other tips to rock SeaWorld in your own way.
SeaWorld San Diego: Opening Hours & Best Time to Visit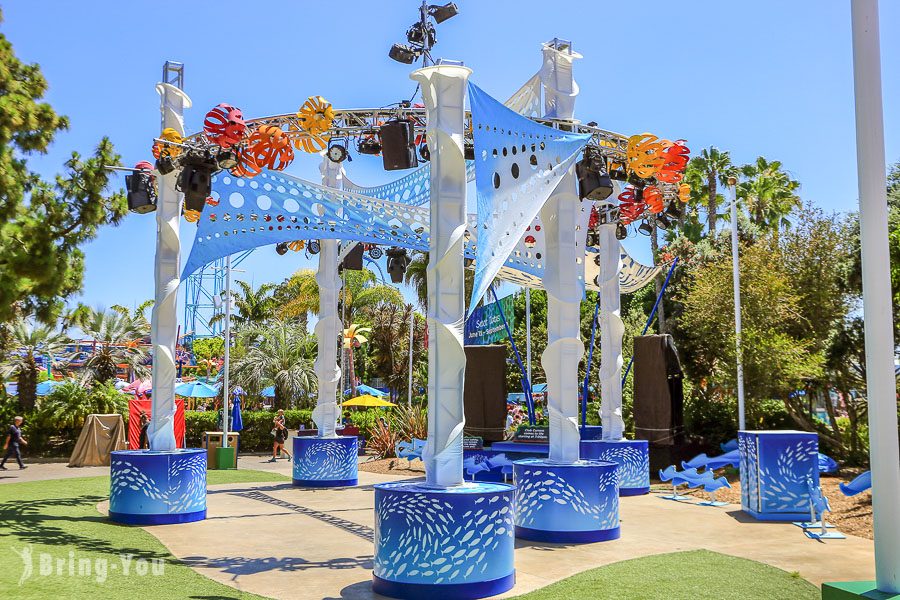 SeaWorld San Diego is a year-round attraction but the opening times vary between 10 am – 10:30 am and 5 pm – 7 pm. I highly recommend you to check out its official website for the latest updates.
Just like any other theme park, weekends and holidays beckon crowds upon crowds of people. This means coming over during weekdays is a wiser move. Weather, on the other hand, is also a big contribution to your enjoyment. Summer is usually a better call since it's hot and dry.
But once again, it's all about you! If you're not keen on the hot sunny days and would rather go when it's cool out there, then winter is definitely a charm (if you don't mind the wet weather).
How to Get to SeaWorld San Diego?
Public Transportation
There is no direct transport from downtown San Diego to Seaworld. The only way to get there is to take the tram to Old Town Station, then walk to the Old Town Transit Center before hailing Bus No.9 to SeaWorld.
I'd advise you to purchase a 1-Day Pass via the Compass Cloud ticketing app for unlimited rides on all Metropolitan Transit System (MTS) trolleys and buses seven days a week.
By Taxi
This is hands down the easiest and fastest way to get to SeaWorld from anywhere you are. The only downside to this is a hefty price. But if you don't mind paying $26 to $32 on a 10-minute cab ride, go ahead!
7 Insightful Tips to Be a Conscious Visitor at SeaWorld San Diego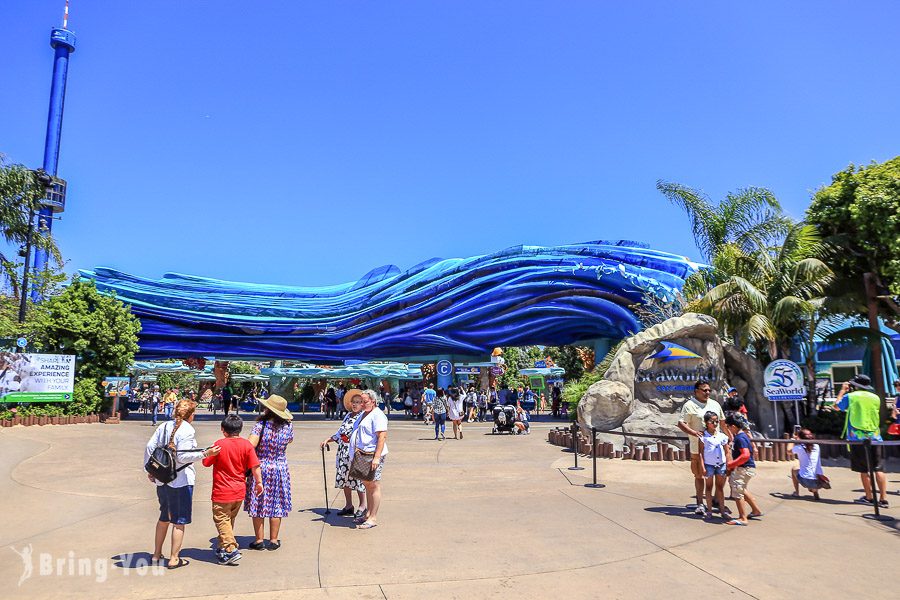 Purchase the Single-Day Admission Ticket + All-Day Dining Combo
I purchased the Single-Day Admission Ticket + All-Day Dining Deal and this is one of the smartest moves I made during my visit to the park. 
Let me tell you, this All-Day-Dining pass is definitely a BIG HIT! Not many theme parks out there offer this incredible bundle to allow you better access to all the good bites without hurting your budget.
This goes for all the participating restaurants including:
Shipwreck Reef Café
Calypso Bay Smokehouse
Mama Stella's Pizza Kitchen
Explorer's Café
Pineapple Pete's Island Eats
Flatbreads & Fry Cones.
P/S: only street vendors and merchandise are not included.
With the All-Day-Dining pass, they give you one main entrée and a choice of a side dish. All you need to do is show the voucher on your phone to exchange for the wristband upon entering the park. When checking out at any restaurant, let them scan your wristband and give you a receipt that is time-stamped. You can head back to the same place for another meal after an hour.
The only downsides to the All-Day-Dining pass come from the hefty price, plus the food variation on the menus are not vegetarian-friendly and cannot accommodate serious allergies.
Book Your SeaWorld San Diego Ticket HERE!!!
Get Your Quick Queue and Quick Queue Premier at Hand to Get ahead of the Lines
Get your Quick Queue and Quick Queue Premier ready to get ahead of the line and send you on any ride upon your selection. These passes come in handy if you wanna go all in for the rides and can be purchased as an add-on option on top of the regular admission ticket.
The Quick Queue lets you take unlimited rides at the express entrance at Journey to Atlantis, Shipwreck Rapids, Manta, and Bayside SkyRide with single-day access.
If you pay a little more, you'll get a Quick Queue Premier which includes access to all the attractions and reserved seating at many of the popular shows. Note that Quick Queue Premier is available with limited slots.
Pack Smart and Stay Dry
If you plan to visit SeaWorld with one outfit only, you'll end up in a nightmare! I'm just being realistic right here! Make sure to pack plenty of quick-dry clothes to back you up in case you come out fully wet from the splash zone or water rides.
When Should You Really Eat?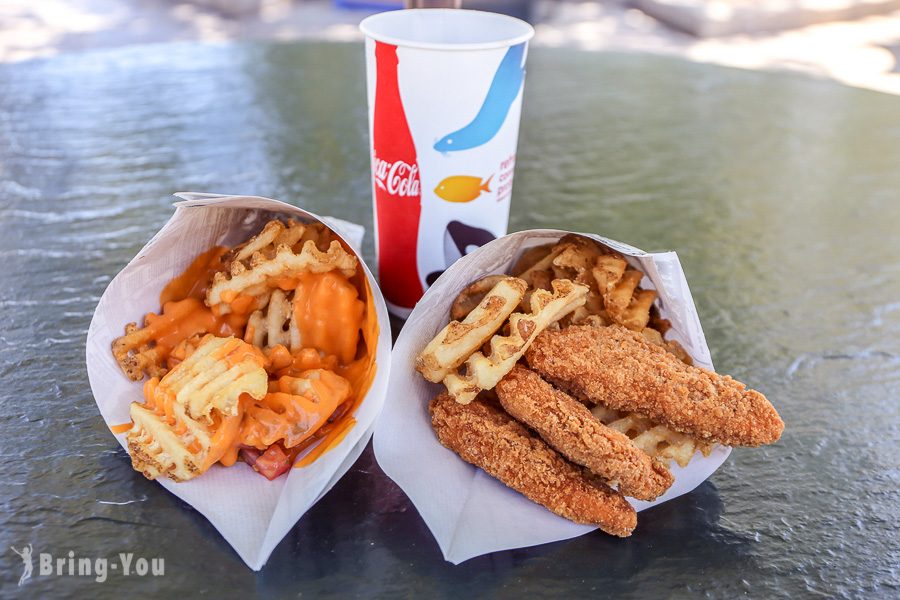 It's understandable when you see lines after lines of people queuing in front of all the vendors and restaurants waiting on their meals during lunchtime.
I only recommend eating around noon time when you're really hungry at this time of the day. Otherwise, you can switch to seeing the show at noon when most people head out for lunch to minimize discomfort and eat when they have already left. You can eat in the morning after the park is open at 10 am. If you have your stomach stuffed around this time, chances are you won't go hungry anytime soon.
Come 30 Minutes Earlier than Showtimes
The shows at Seaworld San Diego are insanely cool! The entire stadium is likely to be filled to the brim by the time the show starts. Make sure to arrive 30-40 minutes before showtime to make sure you're properly seated, especially if you want to get near the splash zone and see all the animals up close!
Pay A Little Extra for an Intimate Interaction with the Animals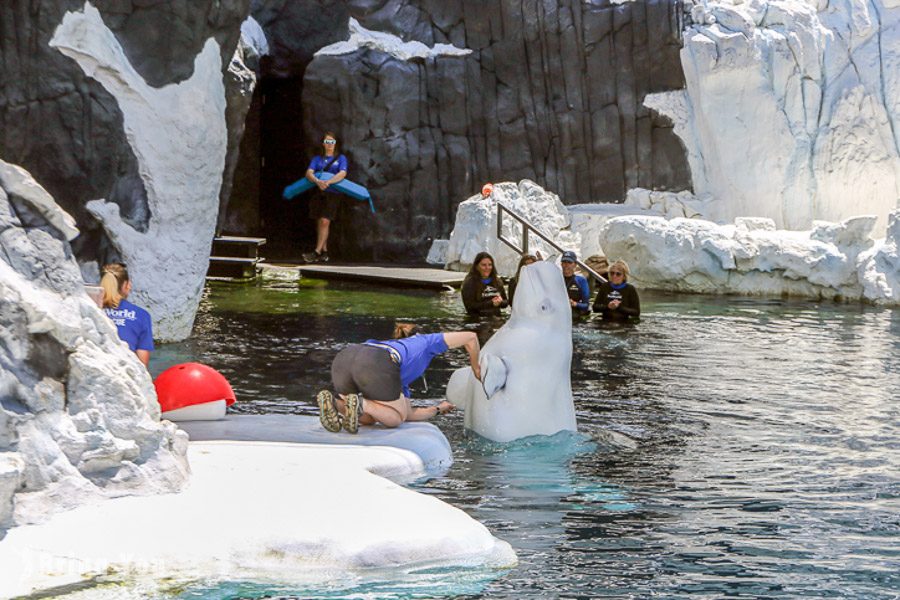 One of the coolest things that set Seaworld San Diego apart from its counterparts is a series of animal encounters. I highly recommend you spend a little extra if you tag your kids along! You know – letting them get in touch with the dolphins or have breakfast with the orcas for a special treat! They will come home smiling all day.
Save the Water Rides for Noontime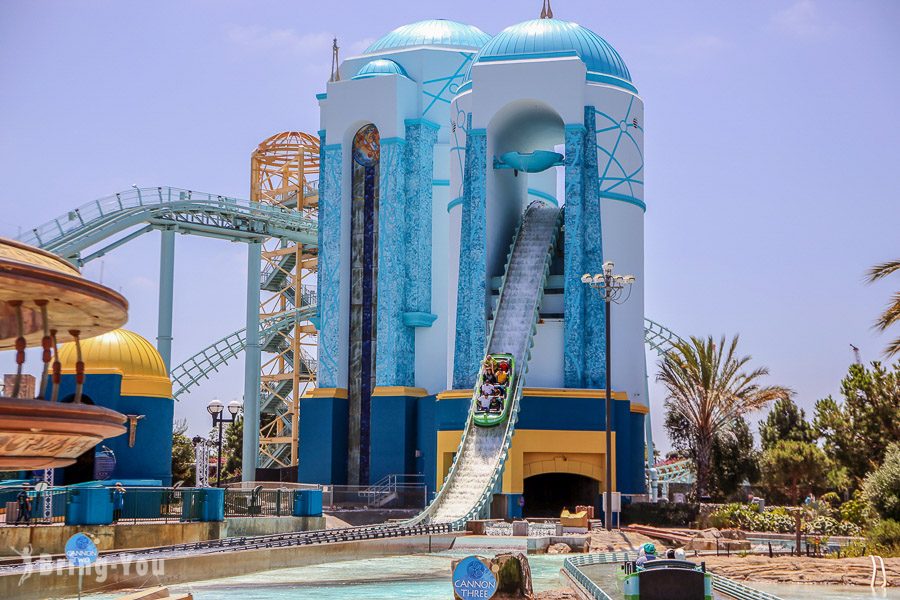 This specifically rings true if you visit during summer. The heatstroke at SeaWorld San Diego is no joke! Make sure to save the water rides for the hottest part of the day which is around noon time!
Most of the walkways are not covered in shades so finding the mist and splashes at Shipwreck Rapids or Journey to Atlantis to cool you down instantly is the best thing possible to keep you energized and alive.
The Must-See Attractions at SeaWorld SanDiego
Shark Encounter: Walk with a team of small bottom-dwelling type sharks, Lemon Sharks, and nurse sharks in a nice tunnel walkthrough.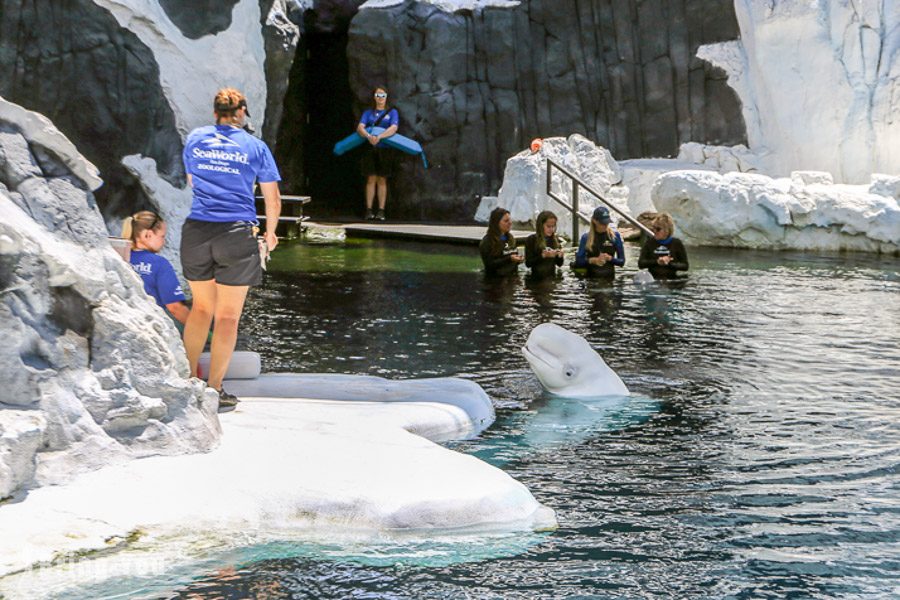 Beluga Whale Encounter Program: get real up close with these docile creatures in wetsuits and gain a wealth of knowledge about natural beauties from the deep!
Otter Outlook: Nova, Coco, Pumpkin, Clover, and Mocha were initially stranded and rescued. Now they've found a new home with lots of love, food, and care.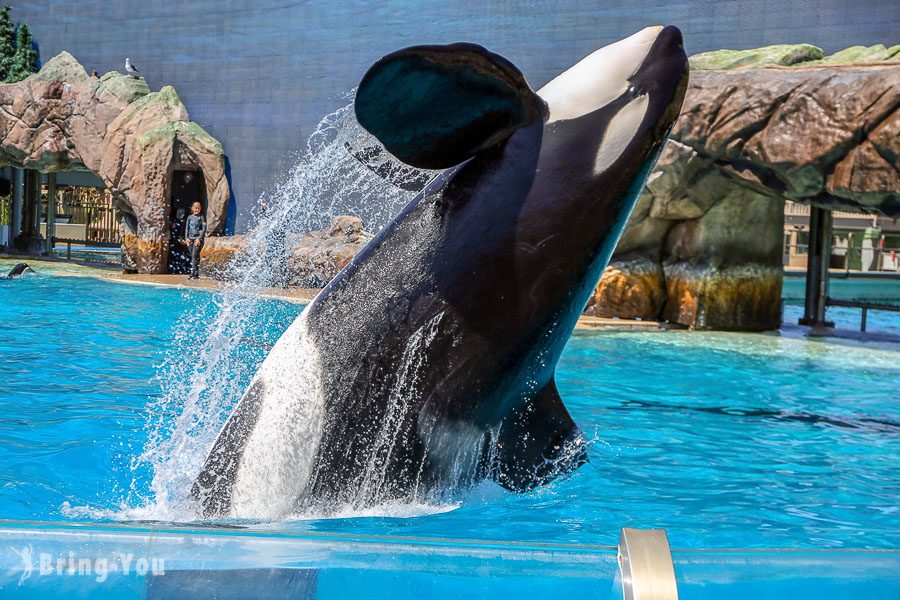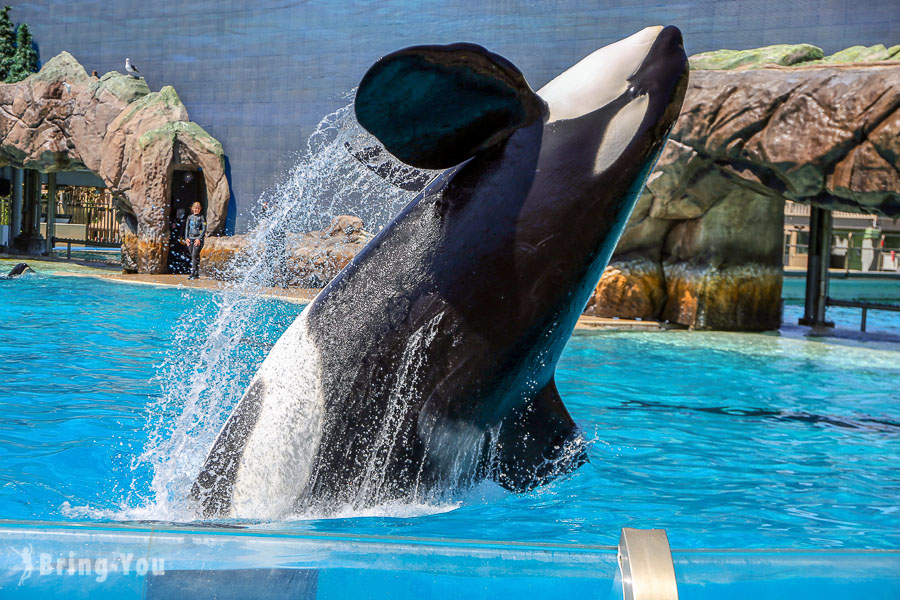 Orca Underwater Viewing: blow a kiss in a face-off journey with those majestic creatures and watch them glide right before your eyes.
Ocean Explorer Animals: Spend a few intimate moments with the giant sea creatures behind the glass, from the quick-camouflaging giant Pacific octopus to quirky moray eels and enormous Japanese spider crabs.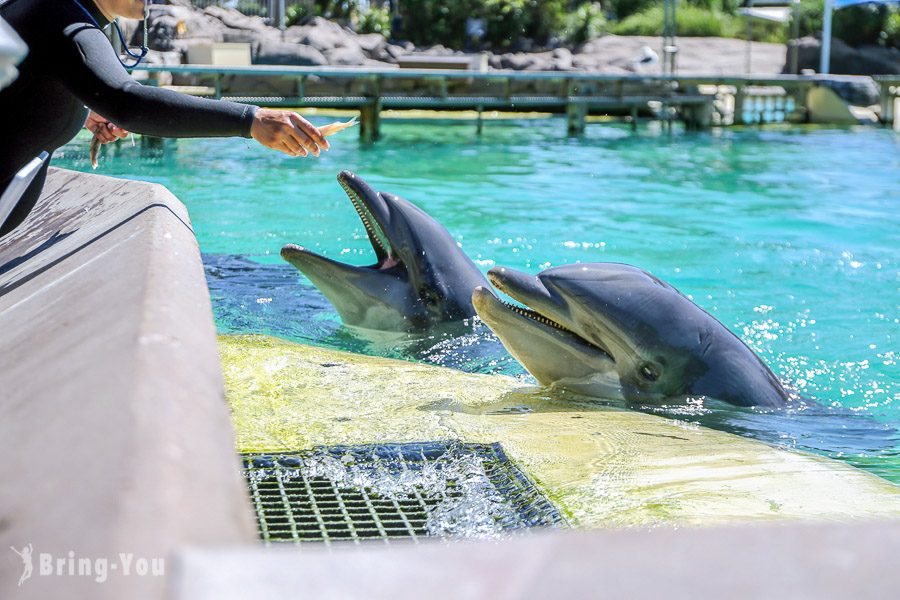 Dolphin Point: this is the best endorphin kick to start your adventure at SeaWorld on a high note. Watch them, pet them, feed them – you name it!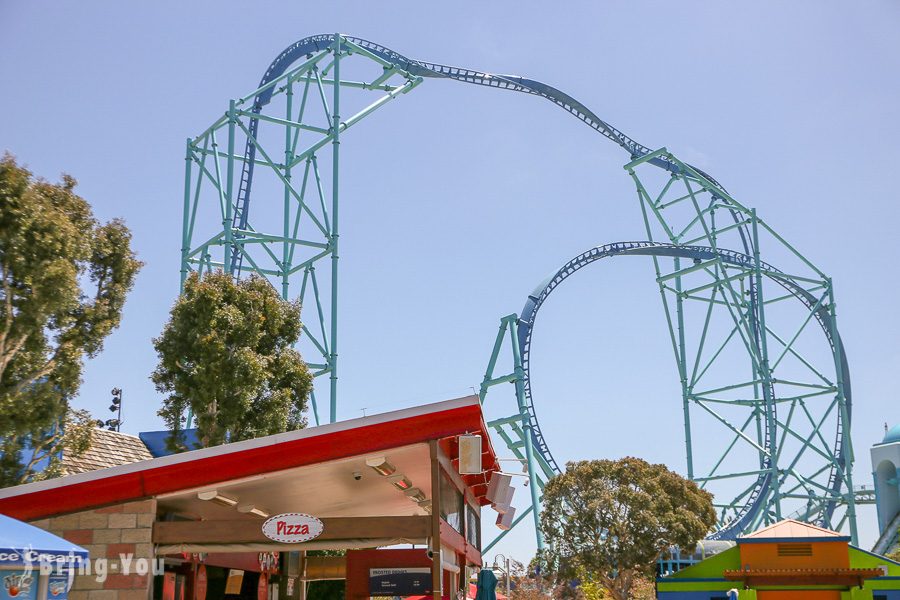 Rip-Roaring Rides: If riding on a fast roller coaster is where your heart is, then Manta is surely a better call! Journey to Atlantis reaching up to 60 feet in height, on the other hand, is every kid's blissful dream. The ride at Electric Eels makes you scream your hearts out with inversions and loops in a high-speed ride.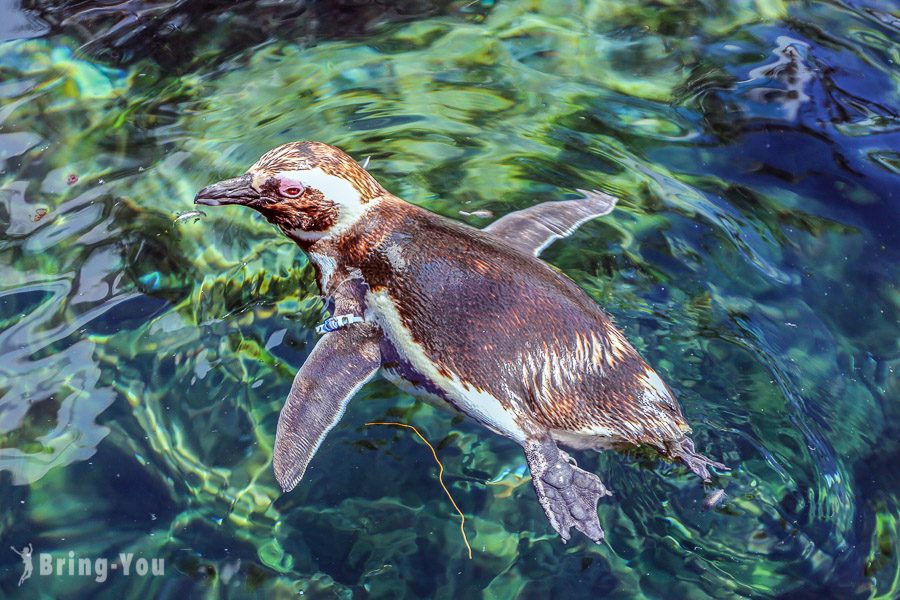 Of course, there is always more to scream your hearts out!
SeaWorld San Diego is one of the best places to experience the wonder of the ocean and inject you with a heap of Vitamin Sea. Keep this guidebook close to you and make sure you have all the tickets and passes ready at hand before setting off!