The best thing about Jewel Changi Airport is that it has so much going on and doesn't give travelers a single chance to feel bored. Until now, this entertainment and retail complex is still imprinted as a cool moment in our memory lane. Let's uncover this Jewel Changi Airport travel guide to find out why we love this place so much!
Jewel Changi Airport – When Nature Thrives from Bare Hands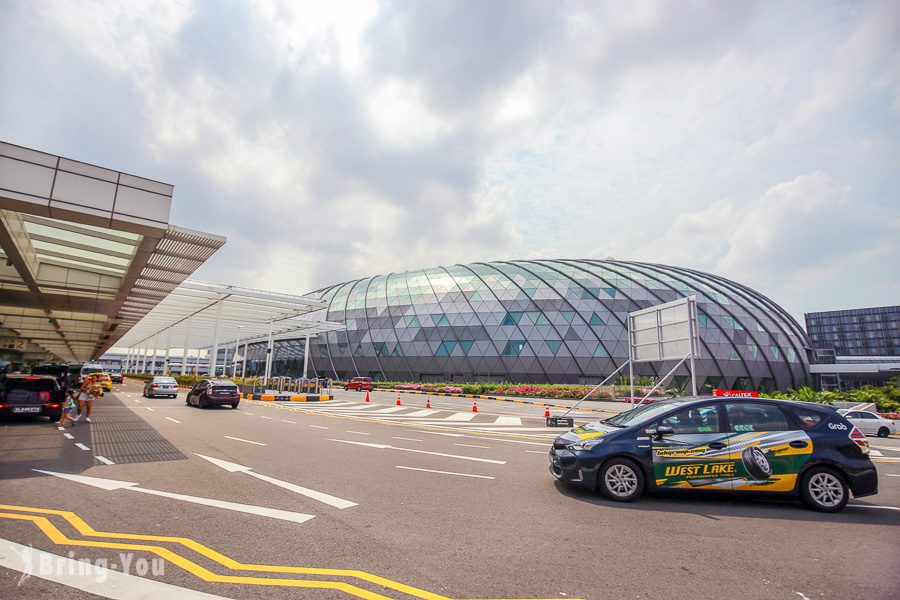 Think about Jewel Changi Airport as a mashup of a retail complex and entertainment center! Encompassing a large footprint of 135000 square meters, Jewel Changi Airport's got the world talking and making global headlines with multiple attractions that exceed human imagination.
One of the coolest wow factors is Rain Vortex, the world's largest indoor waterfall. For us, Singapore has been in the green space game for so long with spotless boulevards and shaded parks.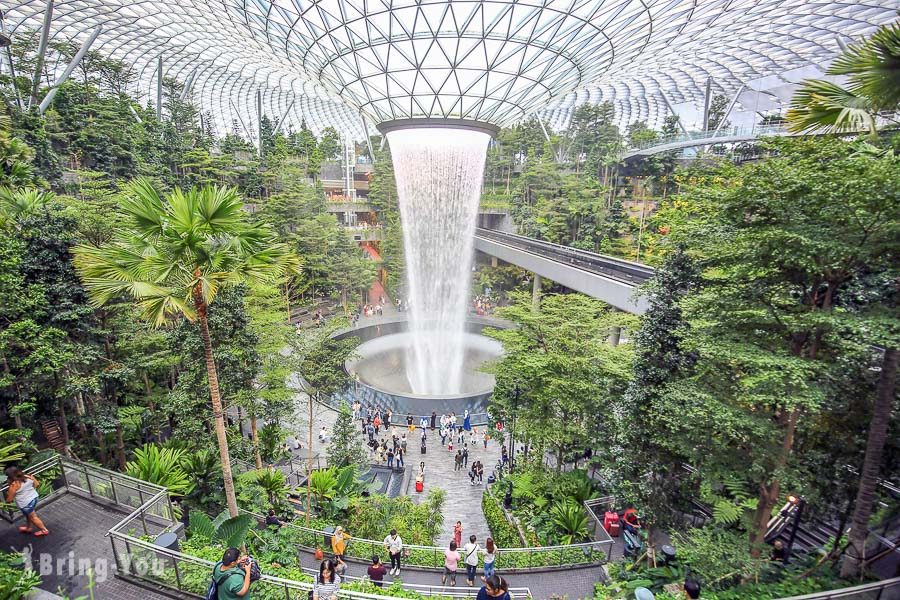 Therefore, when the idea of Jewel Changi Airport came around, the Singaporeans once again shocked the world by redefining the human's concept for entertainment and health-conscious attractions.
Not only is Jewel Changi Airport filled with nature-themed attractions but also a range of mouthwatering cuisines and thoughtful facilities. Jewel Changi Airport is a top spot that passengers can stop by during a quick transit.
If you're a visitor dropping by Singapore for a few days, remember that Jewel Changi Airport should be on the top of your bucket list!
What Terminal Is Jewel Changi Airport?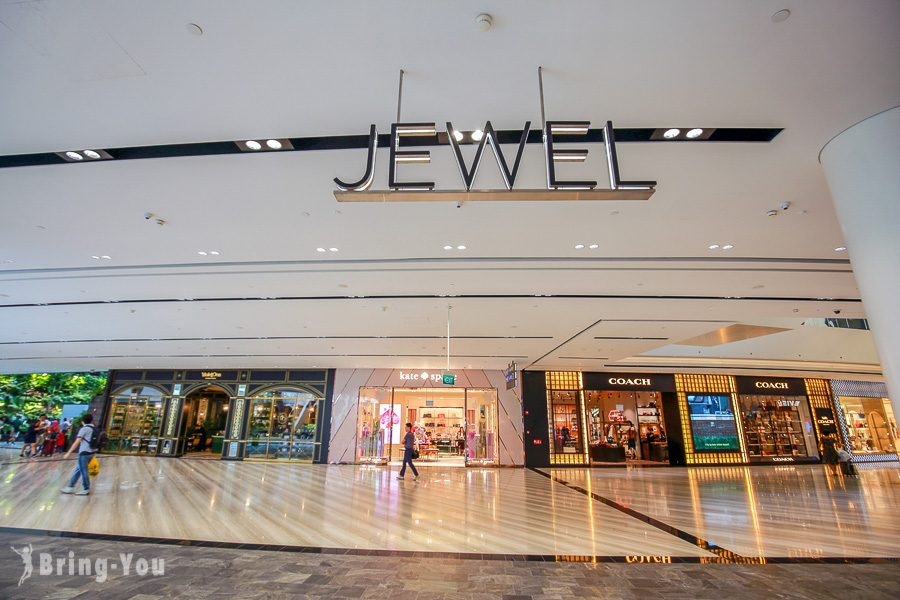 Jewel Changi Airport is connected directly with Changi Airport via the Arrival Hall from Terminal 1. If you exit via Terminal 2 or 3, cross the bridges and walk for up to ten minutes, and Jewel right in front of you.
Where Can You Keep Your Luggage at Changi Airport?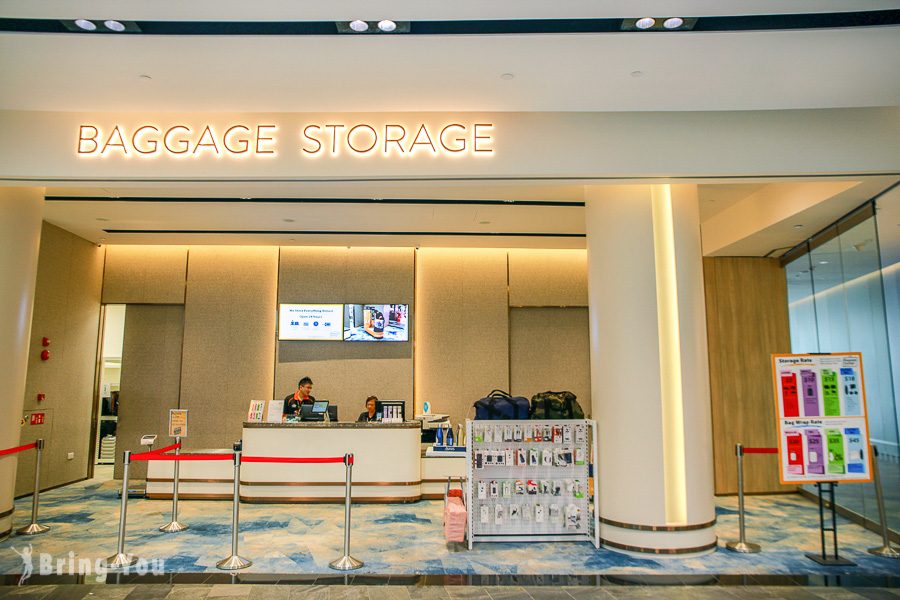 How frustrating it is to carry your luggage and bags everywhere you go and you don't even have bare hands playing to the fullest! And when the idea of baggage storage comes around at Jewel Changi, let us tell you – this is a game-changer!
Alright, so basically you can leave your belongings at the Left Baggage Counter. Drop by Baggage Storage by Smarte Carte located on Level 1, Counter 01-302, and get some hands-free time for yourself!
This service is available 24/7 with a fee applied. Remember that private luggage will not be allowed at certain attractions! So just in case, drop your belongings like what we advised!
5 Coolest Things to Do Within 3 Hours at Jewel Changi Airport
Drop Your Jaw When Admiring the Rain Vortex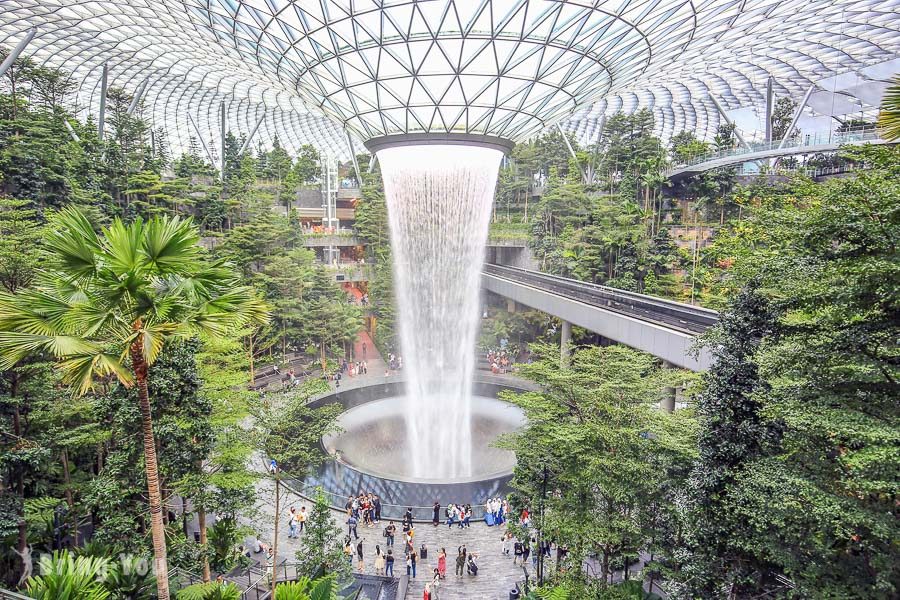 Boasting the record of the world's tallest indoor waterfall, HSBC Rain Votex is undoubtedly the most iconic thing to see at Jewel Changi. Cascading over 40 meters crossing through all seven floors, Rain Vortex is one of the best man-made wonders that Singaporeans can prove to the world.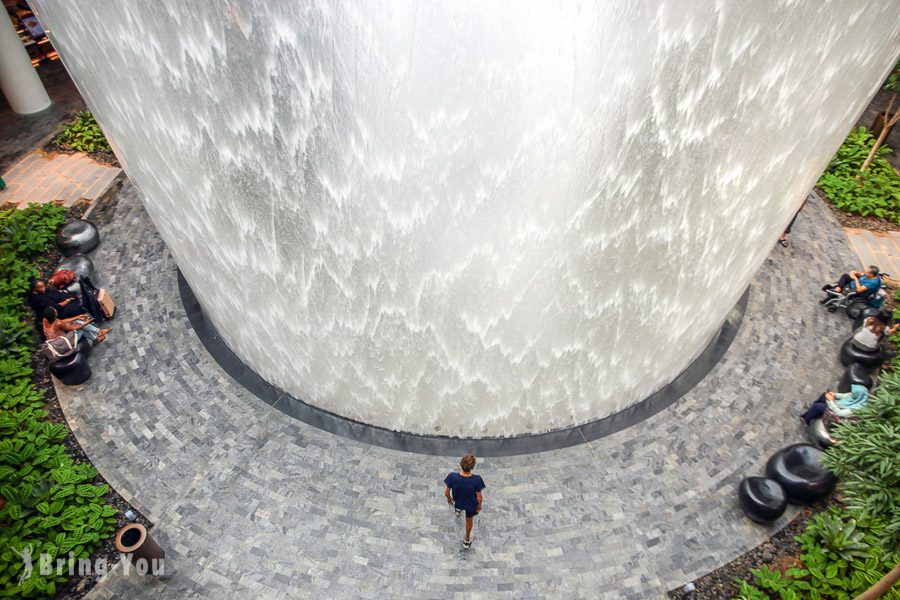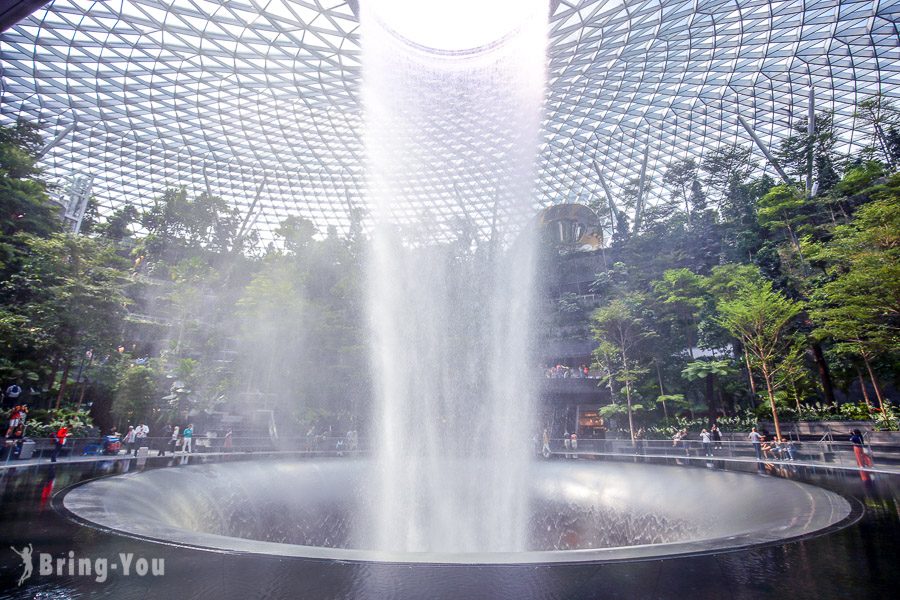 Pouring down from the gigantic dome-shaped roof of the airport, Rain Vortex will dazzle any visitor and send them into their wildest dream. More than just an attraction, Rain Vortex amazed us with another wow factor: Light and Sound show.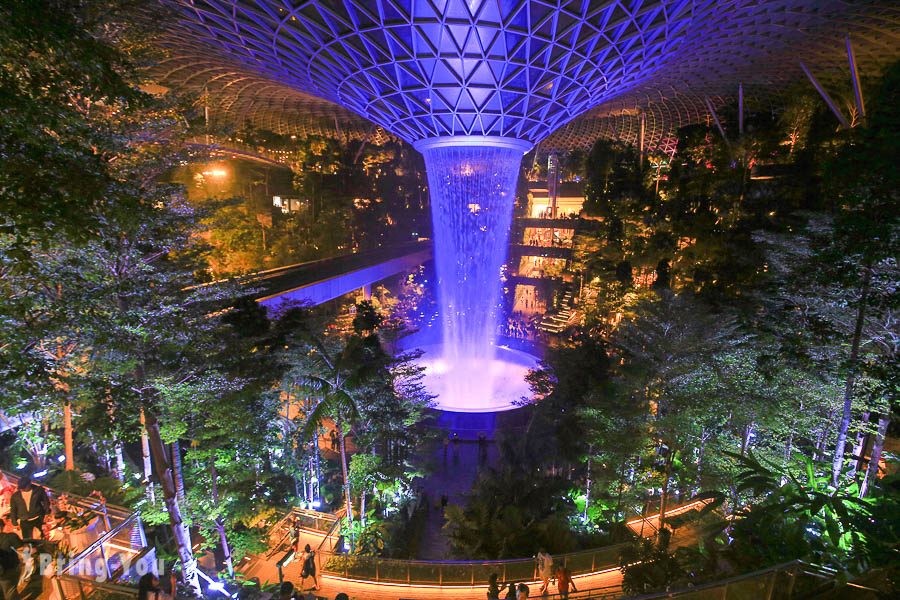 This impeccable performance is scheduled from 7.30 pm to 11.30 pm. The five-minute show takes place every hour with numerous viewing points.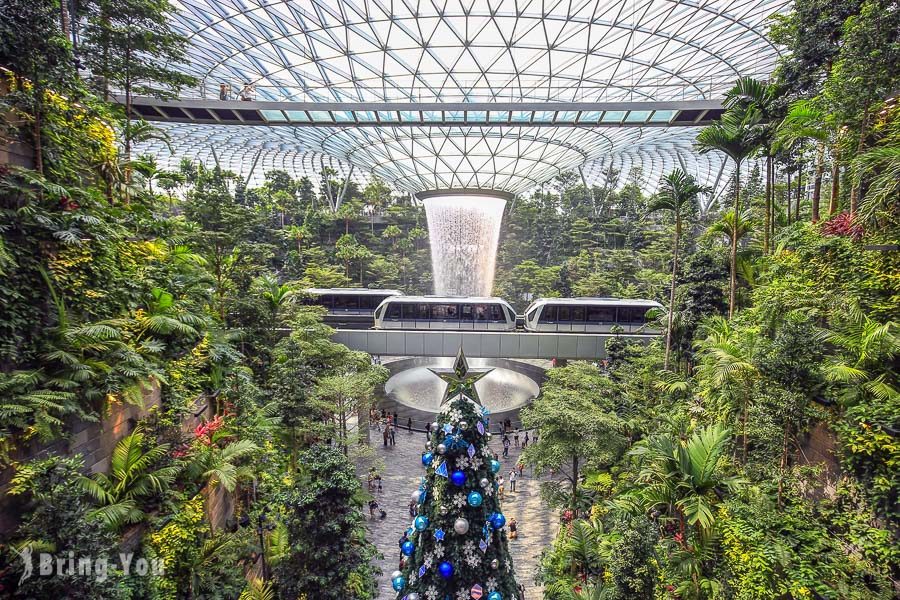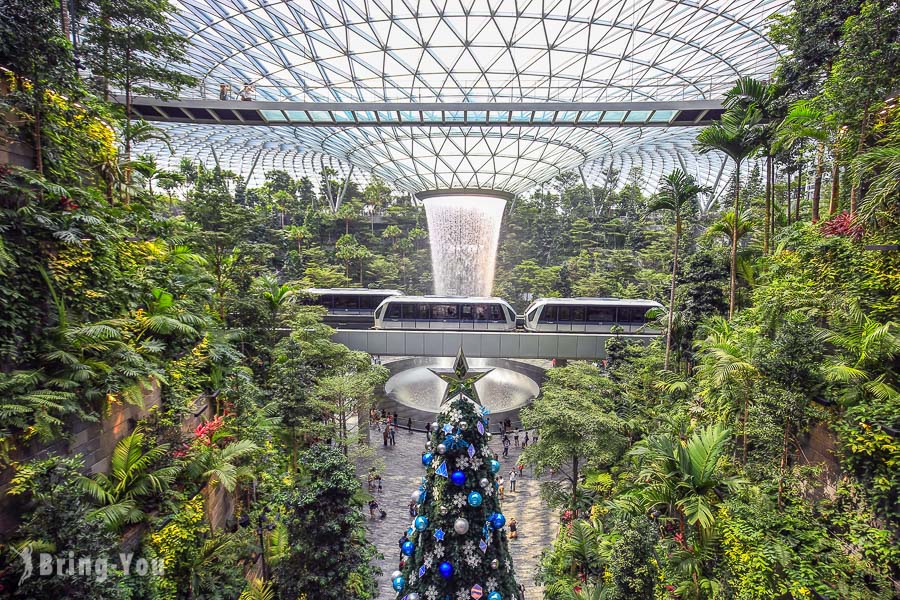 Many people assemble around the ring of the fall on every floor, you can contemplate the fall from a distance. One of our favorite spots is the Canopy Bridge flooded with tropical sunlight in the morning after we checked out from YOTELAIR.
Reconnect with Nature at Shiseido Forest Valley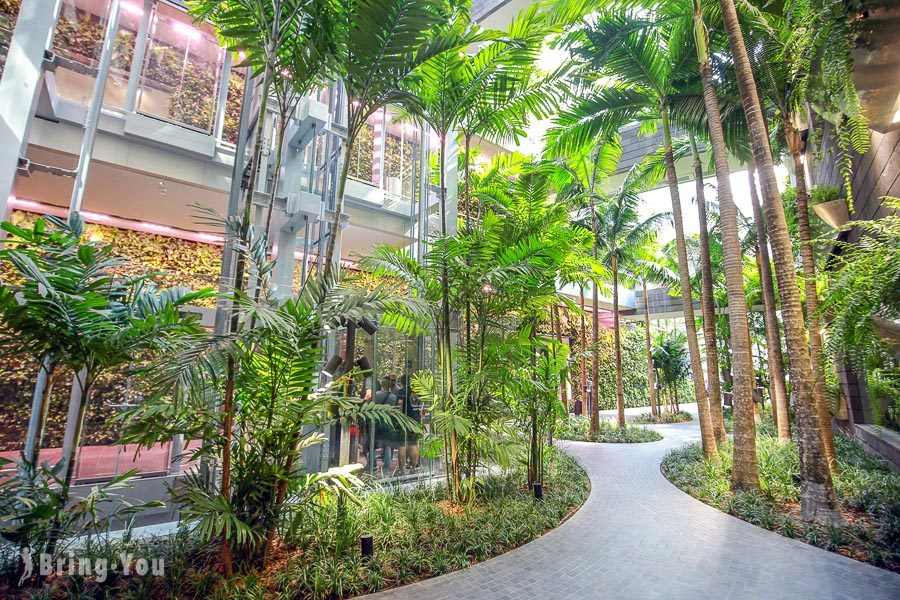 This immersive, otherworldly valley is bounded by a verdant, sprawling landscaping. We feel like the rich forest of Amazon is shipped all the way from South America to this very corner of Southeast Asia.
Covered with over 2000 trees and 100000 shrubs, Shiseido Forest Valley opens a door to a fairytale book where you are the angel of yourself.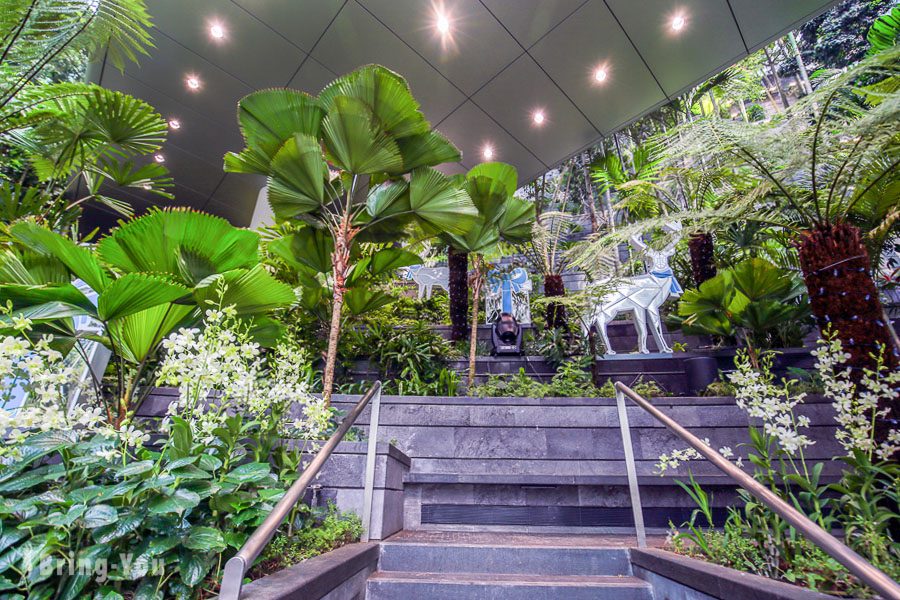 Looking up with the massive glass dome above, a leisurely stroll around the valley is the best way to reconnect with nature. So treat it as a day of forest bathing without throwing yourself into the woods.
The smell of the trees and the refreshing mashup of colors infuse gorgeously with the cascading sound from the waterfall. More than just a walk into nature, this is truly a magical experience!
As we pass by, the light under each tree changes color and transmits to the neighboring trees, so much so that it relates to an illumination show that we don't have to pay to admire.
Unleash Your Inner Child at Canopy Park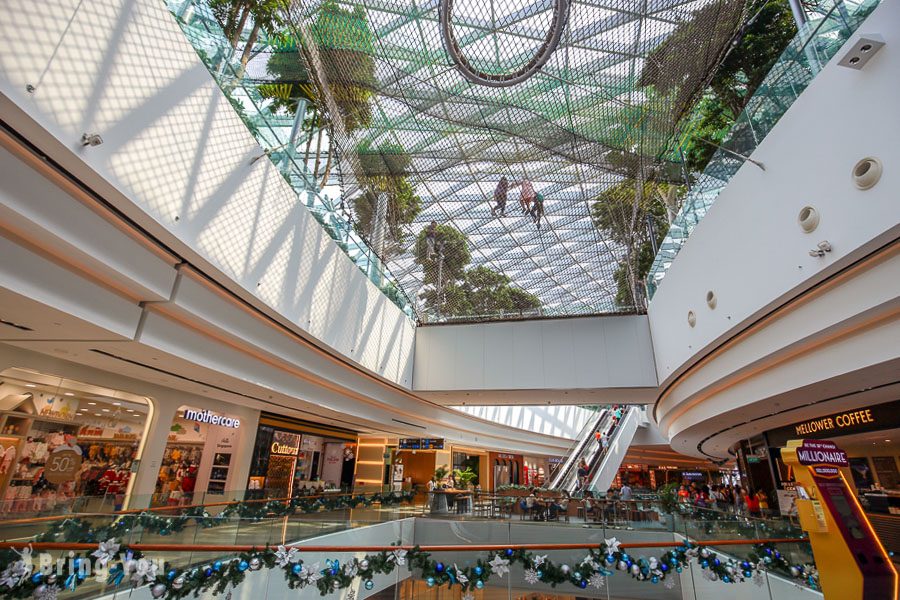 As mentioned above, Canopy Park is our favorite spot to enjoy the Rain Vortex. Tucked away on the topmost level of the building, Canopy Park offers a lot more than just a viewing spot.
Unleash your inner child as the park is about to grab that child's dream inside of you and toss it out there! We had a blast! We strolled along the garden trails and snapped some Insta-worthy pictures. We tossed ourselves on the suspended net and ran along for a bounce.
If you come with friends, live up to that Maze Runner movie by navigating through a hedge maze. When the sun beams down, don't leave just yet if you have not grabbed a dinner under the stars!
This park is definitely not a tiny gem! You can even spend up to three hours draining your energy just by enjoying all the activities to the fullest! It's better if you have some kids along on a family trip.
Give Your Belly a Treat
Shake Shack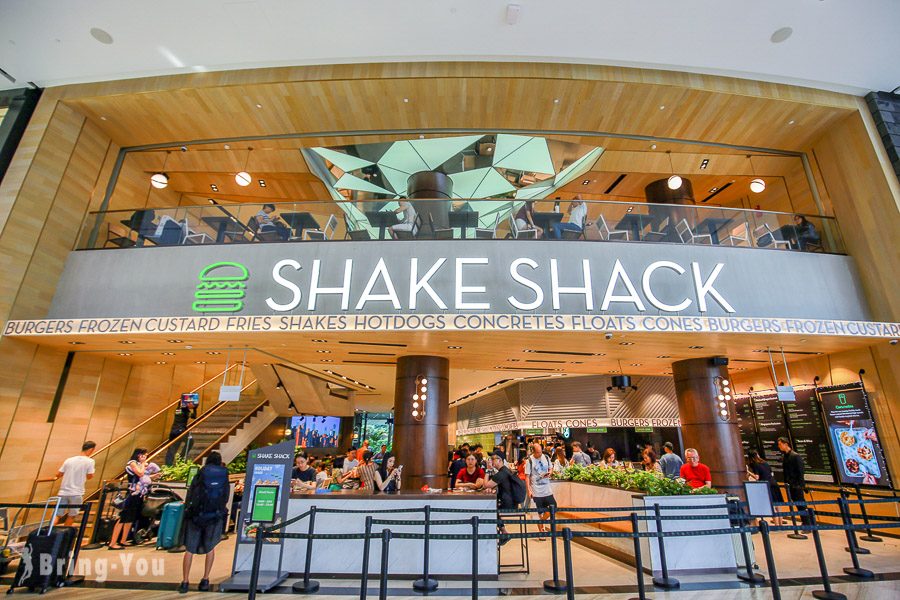 Our favorite big guy, Shake Shack has made its way to Singapore with its flagship outlet in Jewel. We must say that its iconic, classic cheeseburger is a game-changer! Take a quick, hearty bite if you're in a rush!
PUTIEN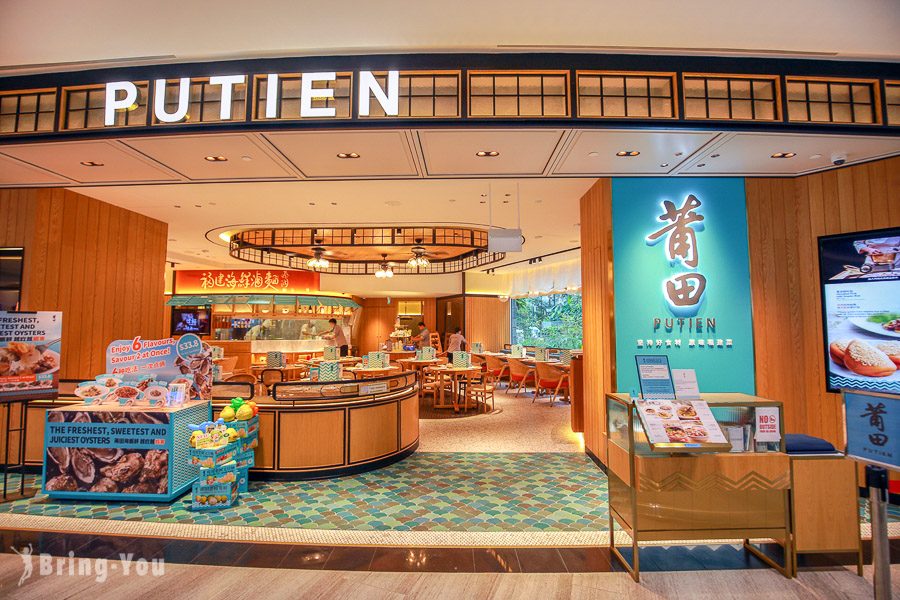 If Chinese food is where your heart is, make sure to pop into PUTIEN for a classic bite of Fujian iconic cuisine! This is the best place if you come with your family. Make sure to order that Ah Yuan herbal chicken if you're into something hearty and healthy at the same time!
Fun Toast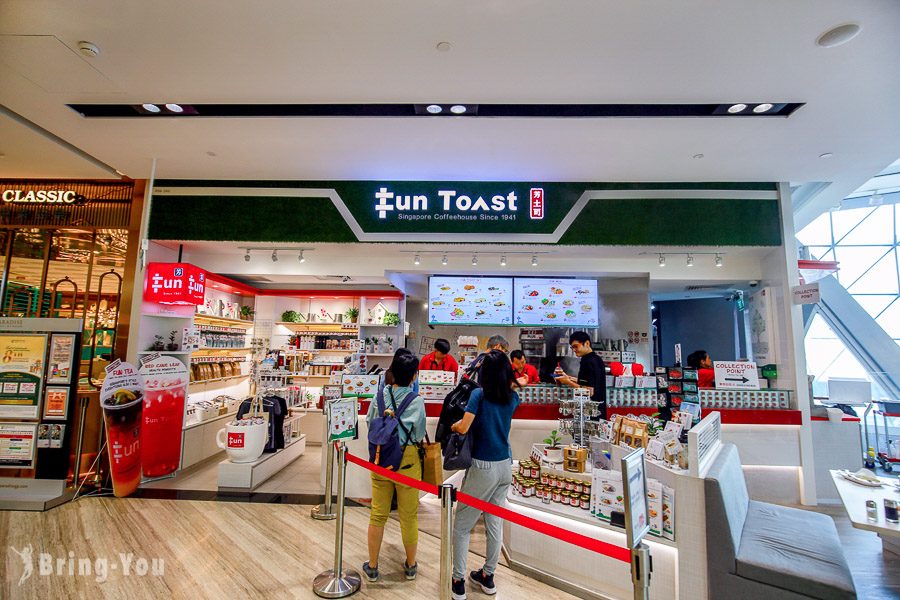 The fun-loving and family-friendly Fun Toast caters to some signature Singaporean favorite delights! From Yuan Yang Soft Bun Toast to soya sauce chicken and some specially blended drinks, Fun Toast is the right place to light up your taste buds.
Beauty in the Pot
Nothing beats the chilly rainy days better than a boiling hotpot. We were deeply amazed at the brand name Beauty in the Pot and that's how we decided to pop in for a try. If you're unsure what to order, Spicy Nourishing Broth is definitely the right way to go!
Live it Up at Pokemon Center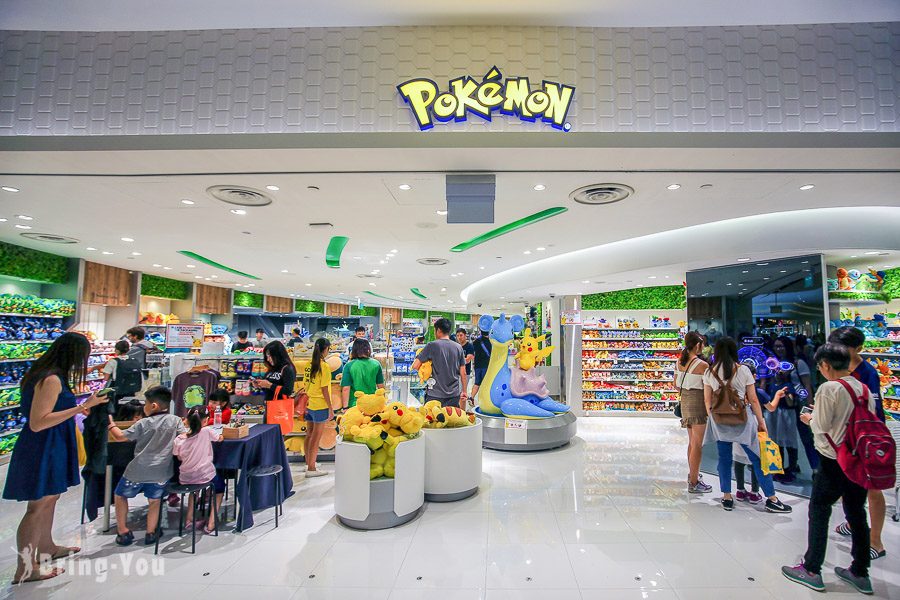 It's about high time! If you're a die-hard fan of Pokemon, then the Pokemon Center of Jewel Changi Airport will surely have you on a high note!
Probably the most attractive thing to be found at the center is the Pokedex, a smart tech touch screen allowing you to discover different types of animals. Once you walk by the storefront, that's when the real game begins. There is so much going on here with a great supply of souvenirs, sculptures, and merchandise that will eat up a bit of your budget.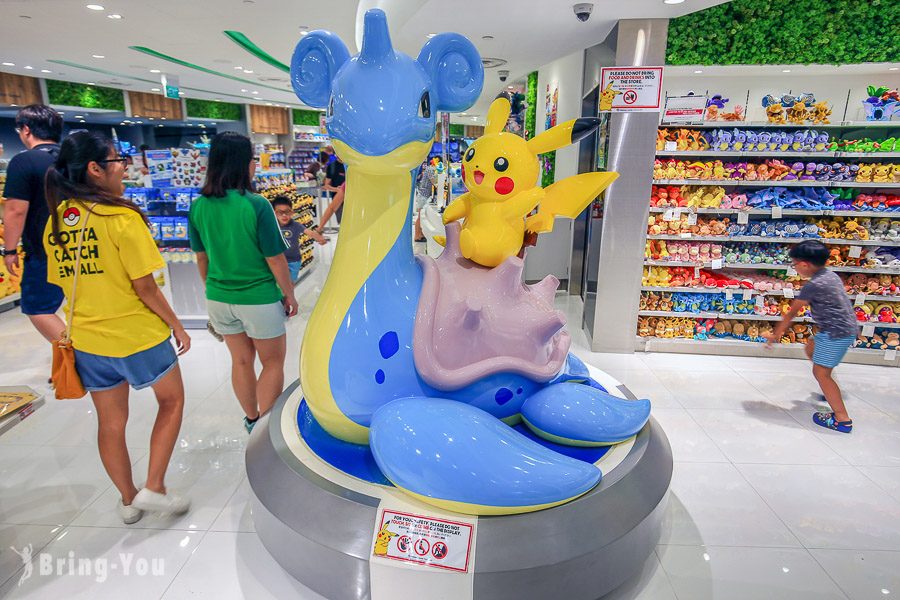 How cool when they have a huge supply of even the rarest plushies that you may have a hard time buying them elsewhere. We grabbed the one for every Delphox, Chesnaught, and Serperior. It would be a dream come true if you tag your kids along or even if you're an adult die-hard fan – it doesn't matter!
YOTELAIR: The Best Place to Rest Your Tired Bones at Jewel Changi Airport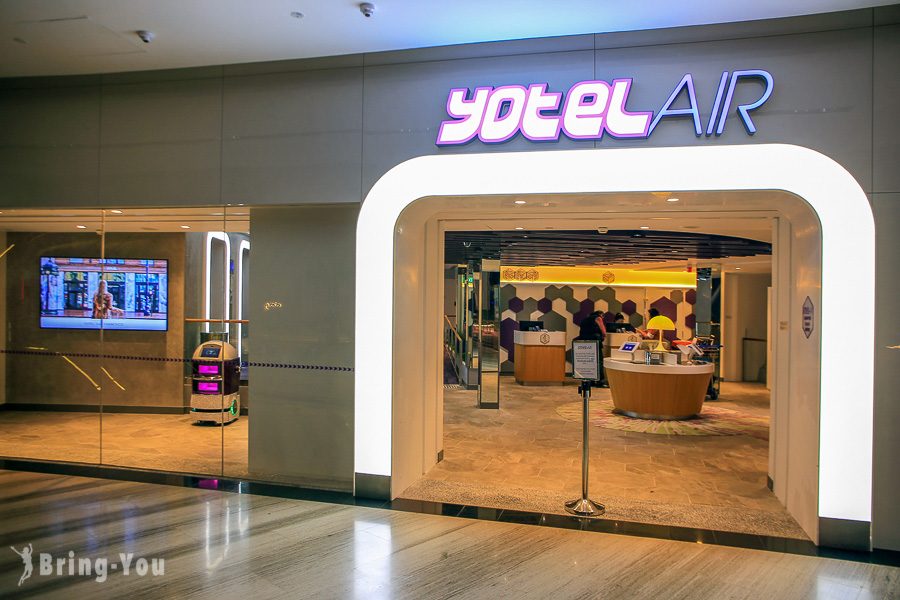 If you're flying on transit and the time budget doesn't allow you time to move any further in the island country, make sure to reserve with YOTELAIR and rest your back!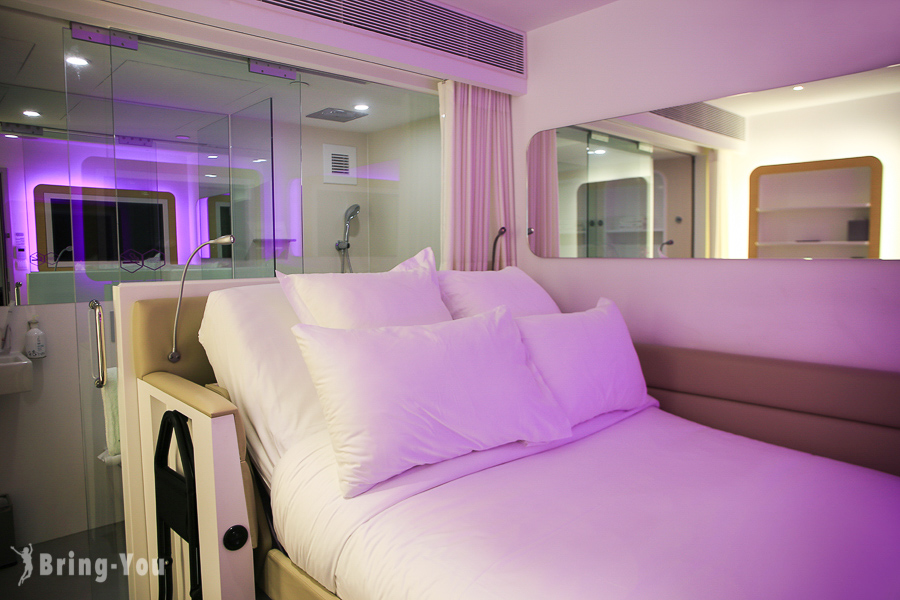 Fully stocked with hotel-standard amenities, YOTELAIR is totally flexible when it comes to hourly or nightly guests. Space is smartly designed with comfortable bedding and flexible services.
We would say this place is an incredible choice for business travelers and transit passengers. If you're getting tired from the flight and need some zest for the night, head down to Club Lounge to sip on some cocktails!
Cap Off
In this handy guide, we just revealed:
Top attractions you cannot miss at Jewel Changi Airport.
Our favorite cuisines delight your taste buds.
How to get to Jewel Changi Airport and where to drop your bags.
We spent nearly three hours checking out all the best stuff going on there and you definitely should do the same!