Dubai is an all-time favorite destination in the Middle East. This city of huge dimensions welcomed 8.36 million international visitors during the first half of 2019. What's so great about Dubai that keeps pulling in travelers worldwide? Is that the glamorous cityscape where ATM spilling out golds and tigers riding sport cars? Or is it the prime location smack dab in the heart of the world that makes Dubai a busy transit hub? 
No matter which reason it is, it's undeniable that Dubai is a pioneer in the hospitality industry that defines the so-called top-tier standard of the world. But don't rush to assume that Dubai is only catered to the high-class population of the world! No matter what type of traveler you are, Dubai boasts a wide range of hotels that will fit your budget. In this article, we're about to give you a curated list of the best places to stay in Dubai categorized in 3 sections: high-end, mid-range, and budget-friendly.
Luxury Accommodations in Dubai – A Game Changer That Define Worldwide Standard
Dubai is ranked first among the highest hotel occupancy rates in the world. It boasts a variety of places to stay either on the beach, surrounded by skyscrapers, or even in the desert. The pure urban environment of downtown Dubai is where most of the action is. However, if you prefer serene getaways, getting accommodation by the beach is where you'll get your relaxation.
Famous hotel brands populate the majority of the beach lodgings. Some of the famous ones include Ritz-Carlton, Marriott, Hyatt, Hilton, Fairmont, Sheraton, Sofitel, and One&Only, to name a few. If budget isn't an issue, and you're looking for the most lavish stay, then look no further than The Jumeirah Party!
The allure of Dubai's entertainment mostly revolves around the hotel scene. And with hotels given the license to sell liquors, it's no wonder that most of the top restaurants, bars and nightclubs are a popular go-to place for visitors!
Where to Stay in Dubai
3 Best Neighborhood to Stay for a Pleasant and Hassle-Free Vacation in Dubai
Downtown Dubai
Home to the tallest building in the world – Burj Khalifa, downtown Dubai offers more than just massive buildings. This area also witnesses the Dubai Fountains, Dubai Mall and Burj Park that make it a lot more glamorous and exciting.
If you fancy a dip in the beach to combat the blistering heat, Jumeirah Beach is just a drive away from downtown. It's the main beach in Dubai and is also home to many amazing hotels overlooking the ocean.
The Palm
Palm Jumeirah is the first of three man-made archipelagos off the coast of Dubai. More than a couple dozen hotels sit along the crescent and are already home to more than 500 families in residence. Popular dining and retail destinations such as The Boardwalk and Nakheel Mall can be found in this area.
Al Barsha
This functional neighborhood is home to one of the most sought-after shopping malls in the world – the Mall of the Emirates where you can shred the slopes at the Ski Resort. Al Barsha is also the biggest hub of expats in Dubai thanks to the prime location next door to the metro. If you're a big foodie who loves to indulge in the vibrant worldwide gastronomy, Al Barsha is the right place to be!
Top-Tier Hotels in Dubai for Each Budget
4 Best Luxury Resorts in Dubai
Burj Al Arab Jumeirah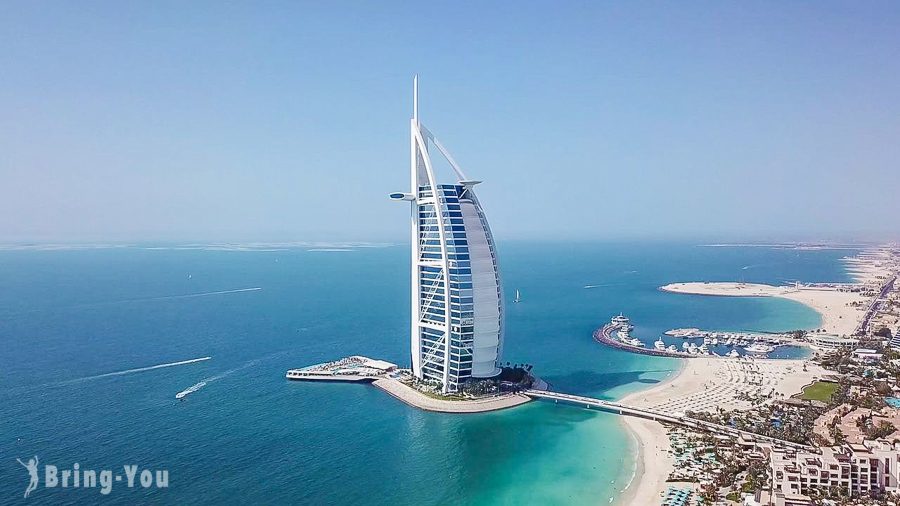 Dubai's most iconic hotel is located 20 kilometers from downtown and the international airport. It's in close proximity to other famous attractions such as the Wild Wadi Waterpark and the Madinat Jumeirah.
Imagine being a jewel attraction with a world class dining and entertainment center all in one package! We're talking about hues of blue, purple and gold that vastly envelops the richly colored duplexes.
Well-known athletes get a royal treatment in the Health Club which uses nothing but products from lauded brands. Salons, saunas, pools and even the man-made beach on Monte-Carlo makes for an impressive destination in Dubai.
Book Now: Agoda|Booking.com|Others
Bulgari Resort Dubai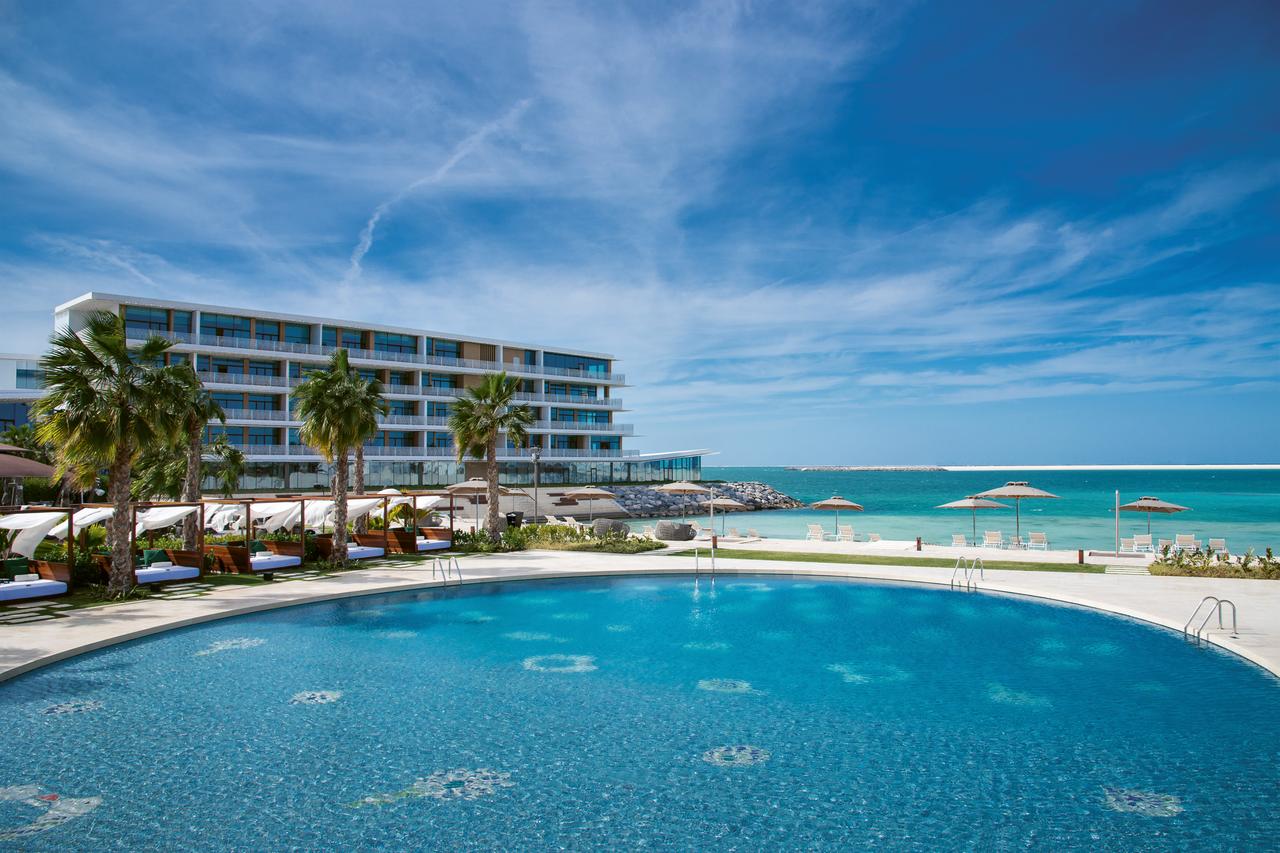 The uniqueness of the seahorse-shaped island made Bulgari Resort a sight to see along the coast of Jumeirah Bay. The man-made island is connected through a 300-meter bridge from the city proper and is considered an "urban oasis" for both residents and visitors alike.
It offers more than 100 suites and 20 villas fitted with luxury amenities such as pool and sea views. World-class restaurants and ultra-luxe spa are at your disposal. But what makes this resort stand out from the rest is the unique and exclusive mosaic-designed outdoor swimming pool.
Book Now: Agoda|Booking.com|Others
Al Maha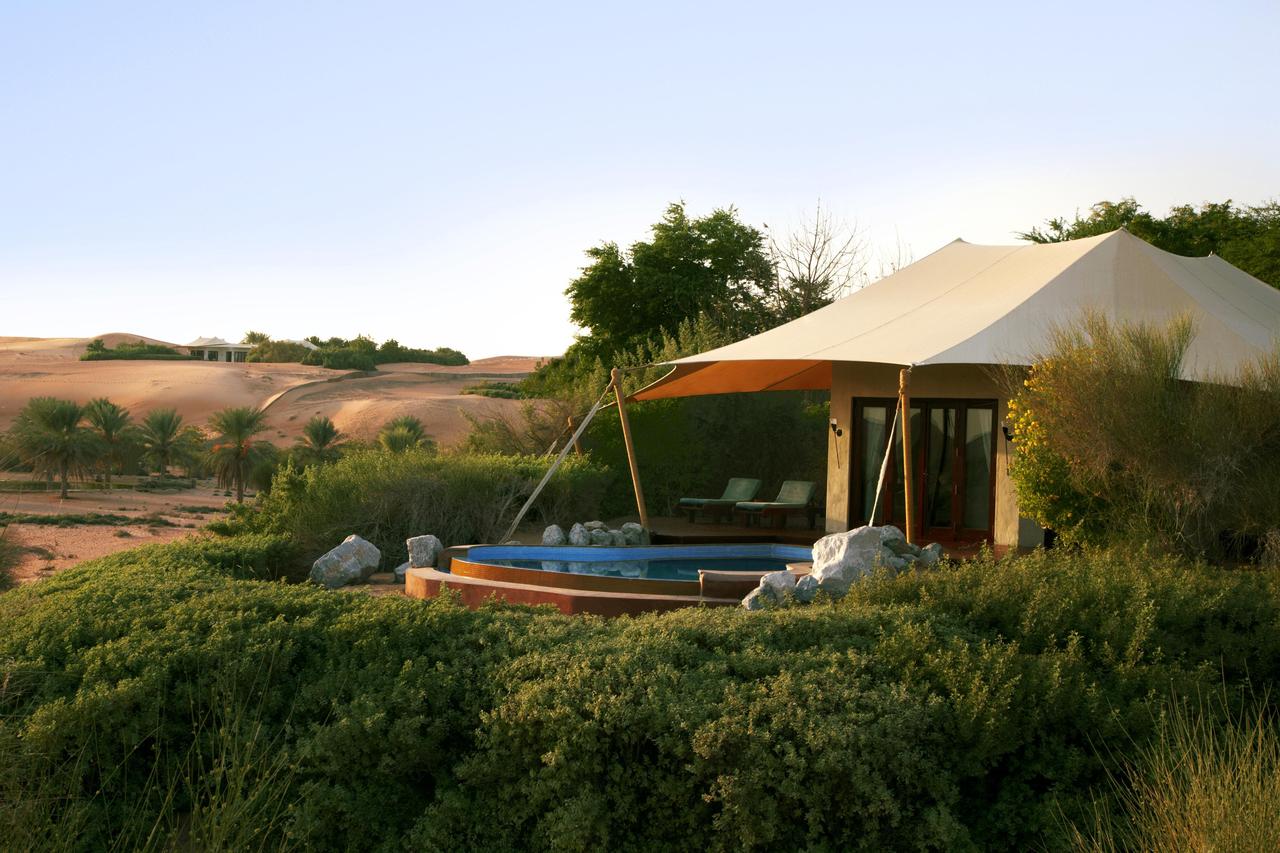 The Emirate's first National Park in the center of Dubai's Desert Conservation Reserve houses Al Maha Desert Resort. It's far-off distance from an-hour-long drive from the city gives Al-Maha its charm, being away from the metro's hustle and bustle.
In terms of luxury, Al-Maha has raised the bar with its gorgeous Bedouin-style architecture situated right in the middle of a desert oasis. 42 premium suites all stocked with amenities, a heated infinity pool and a top-notch quality service. Couples looking for a more intimate setting are most welcome in this resort as children under age 10 are not allowed admission.
Book Now: Agoda|Booking.com|Others
One&Only The Palm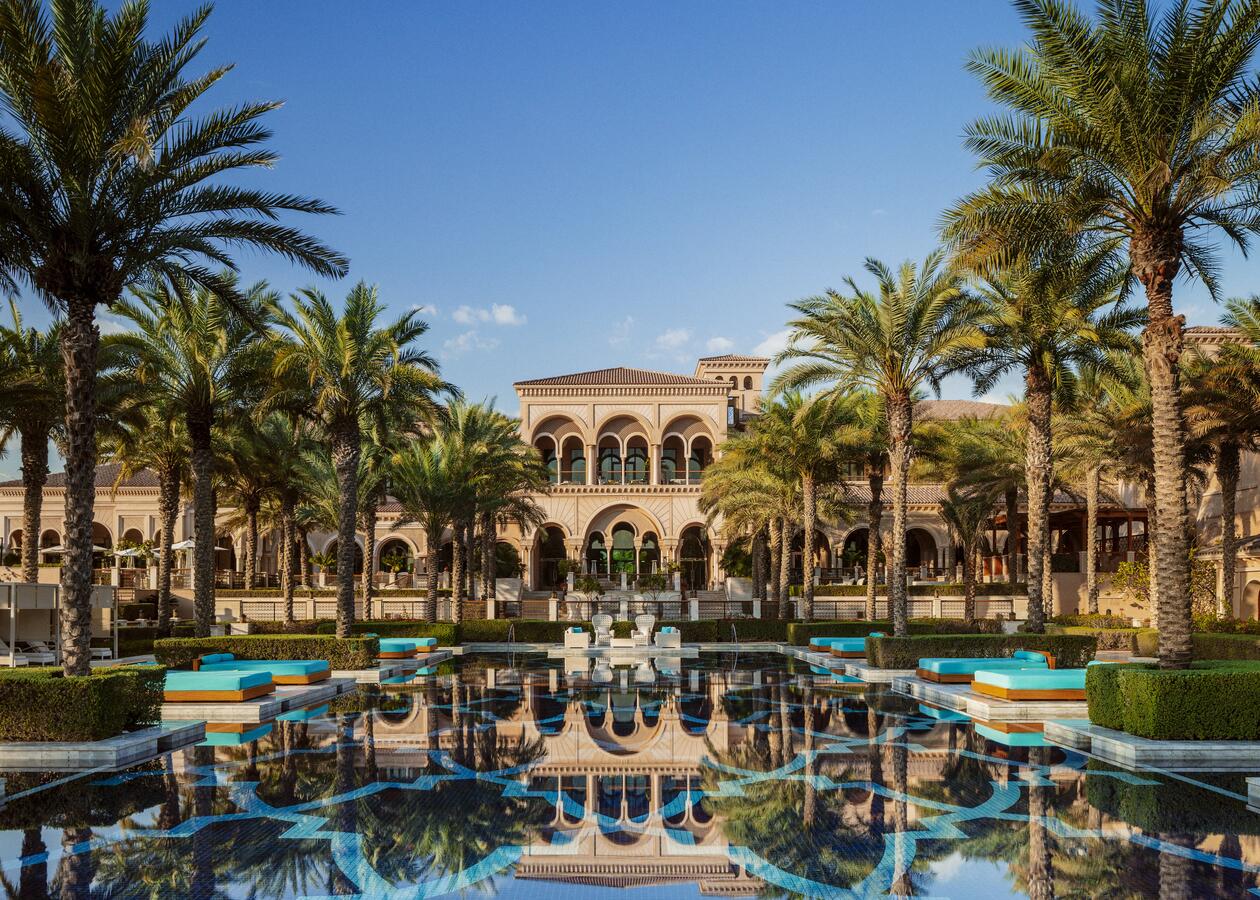 A boutique oasis in the private peninsula by the Palm Island Crescent, One&Only is just a moment away from Dubai. The exclusive secluded beach in this low-rise paradise offers privileged views of the impressive skyline.
Western Islamic architecture or Moorish styling is prevalent albeit modernized to reflect a contemporary chic interior. The compound consists of 90 rooms and 4 exclusive beachfront villas where one can leave their worries behind while soaking up in the shimmering waters. The Guerlain Spa is a blissful tranquil retreat pampering even the weariest of travelers with invigorating treatments.
Book Now: Agoda|Booking.com|Others
3 Best Mid-Range Hotels in Dubai
Atlantis The Palm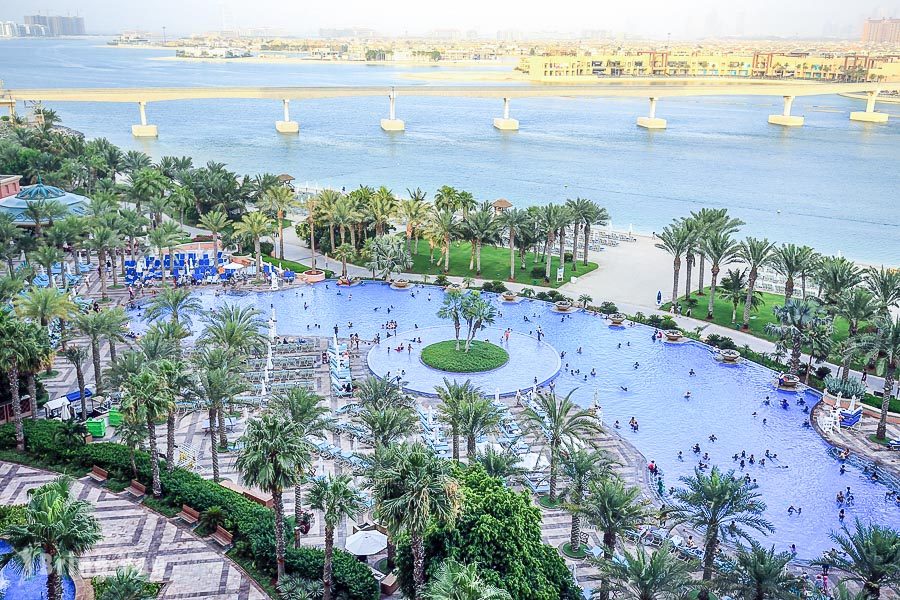 Situated in the middle of Crescent Road, Atlantis houses some of the world's finest luxury boutiques sure to satisfy all those shopaholics. Atlantis' strategic location makes it a perfect spot to stay since it's close to most amusement centers. Easy access is granted at no extra charge to the neighboring underwater aquarium and waterpark.
The pink archway overhead with its distinct Arabian features towers over the adjacent establishments. The amenities aren't a letdown, contemporary styling grace the interiors while staying true to its Arabic roots. Massive flat-screen TV, walk-in showers, and balconies that will make your jaw drop.
Book Now: Agoda|Booking.com|Others
Sofitel Dubai The Palm Resort & Spa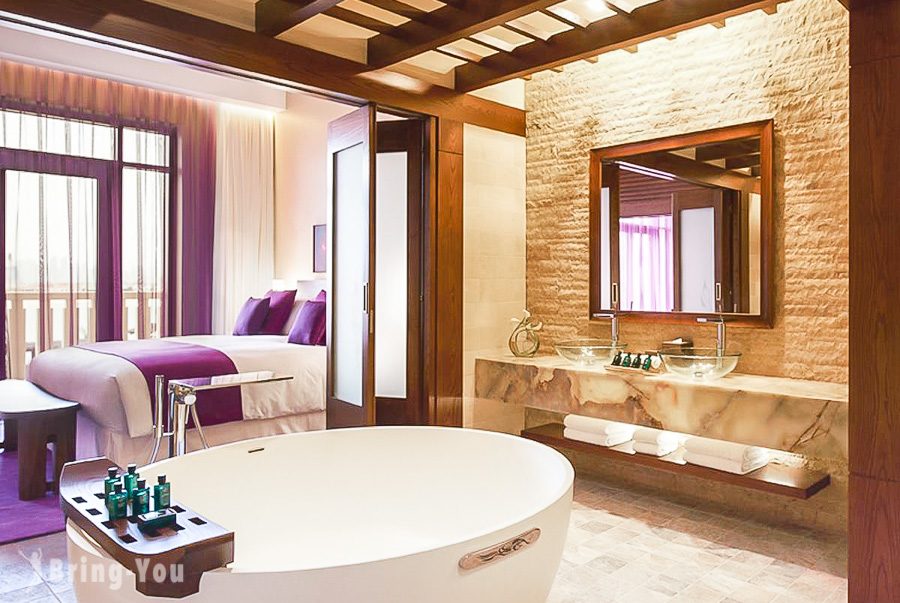 Sofitel Dubai on the iconic Palm Jumeirah imparts a Polynesian island feel right from the get-go mimicking the rich culture of the South Pacific. Every accommodation has the option to have views overlooking the ocean, the palm or the resort.
With sophistication on this level, it shouldn't come as a surprise that the attention-to-detail to the wardrobe and bathroom are stocked with Lanvin or Hermes amenities.
And with the brand name Sofitel, one can expect high-quality cuisine prepared using only the finest ingredients. A variety of culinary masterpieces ranging from French classics, Asian exotics and Italian favorites are waiting to be feasted on!
Book Now: Agoda|Booking.com|Others
Jumeirah Al Qasr – Madinat Jumeirah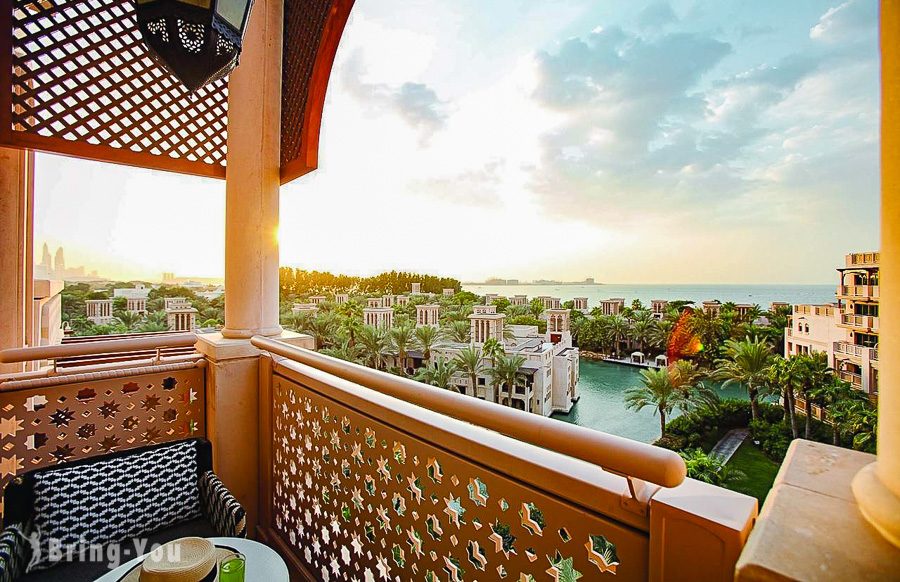 One of the three boutique hotels comprising the Madinat Jumeirah, Jumeirah Al Qasr is a stretch of private beach along the 40 hectare Jumeirah compound. The extensive landscaped grounds laden with canal-styled waterways are designed to resemble a traditional Arabian Town. This form of architecture closely emulates the sheikh's summer residence, with a grand seafood banquet suspended over the Arabian Gulf.
It's a golden standard that all rooms are furnished with antiques and include a private dressing area and walk-in rain showers. Adults have the option to unwind in the Talise Spa while utilizing the overwater treatment rooms.
Book Now: Agoda|Booking.com|Others
3 Best Budget-Friendly Hotels in Dubai
Atana Hotel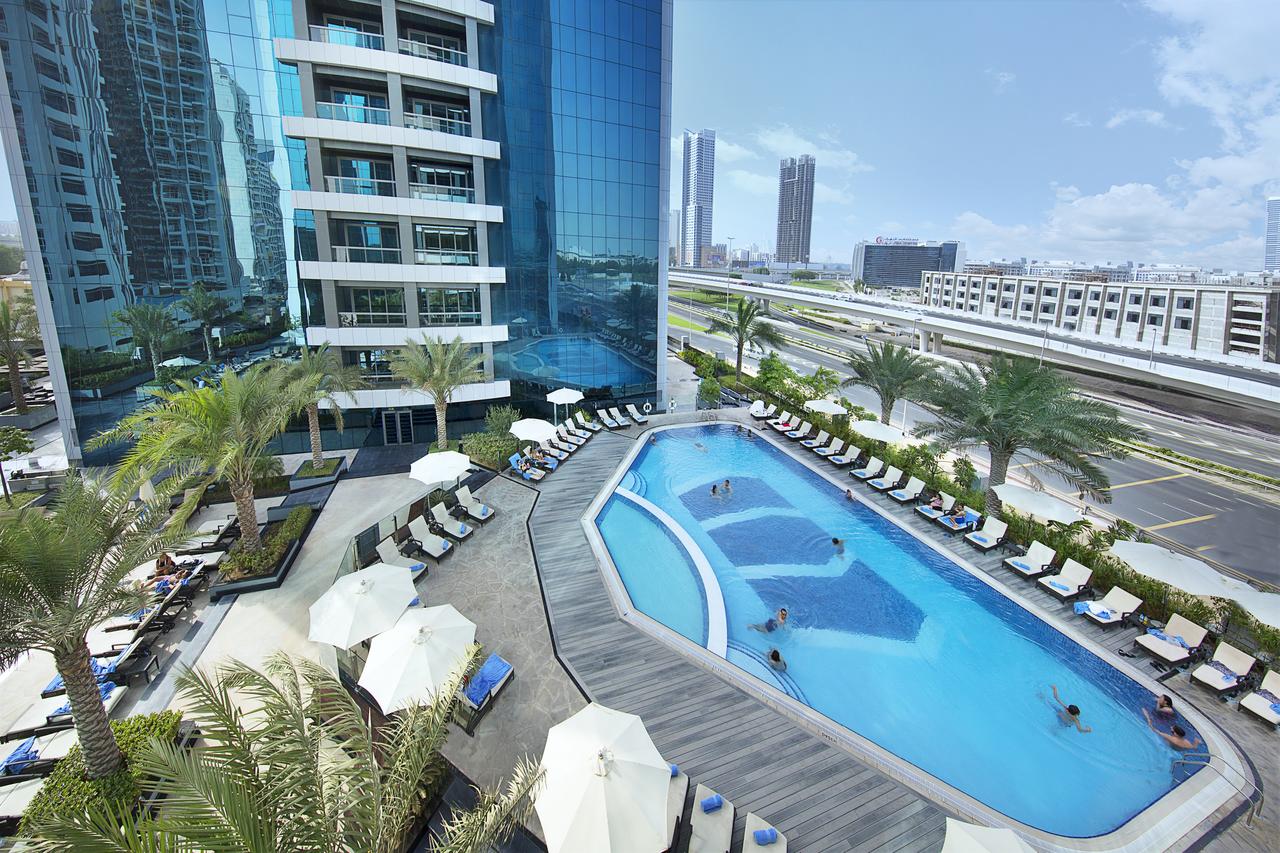 An affordable yet no means slouching in the accommodation game, Atana Hotel is one of the top budget options when staying in Dubai. There are plenty of rooms available with close to a thousand ready for occupancy. Each are covered standard amenities such as LCD TVs, tea and coffee making stations.
You have a variety to choose from for your dining option, one that stands out particularly are the Piano Café Lounge and 24-hour room service. Those who are tuned for their workout regimen are in-luck as the hotel offers spacious areas for recreational activities and fitness equipment.
Book Now: Agoda|Booking.com|Others
Ramada by Wyndham Jumeirah Hotel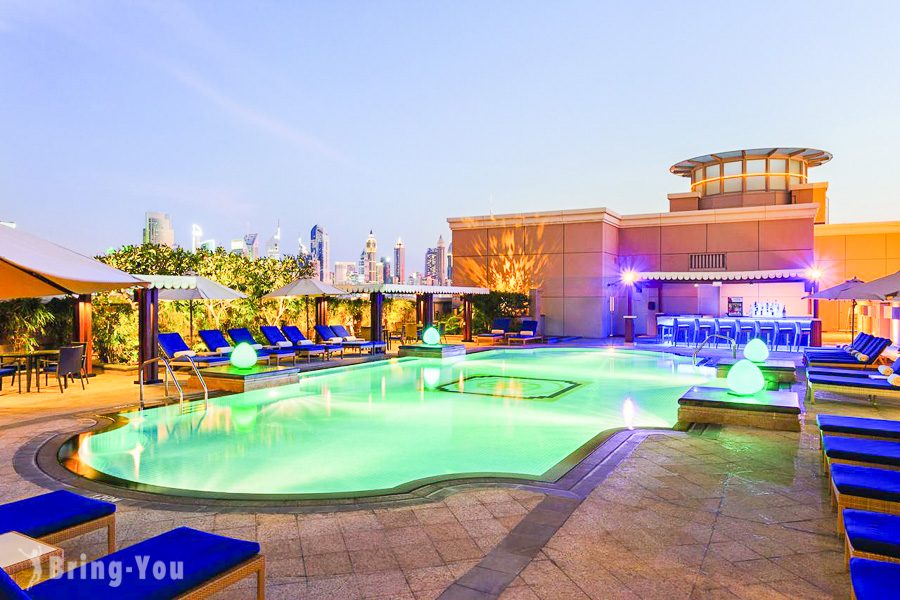 Al Hudaiba District in Dubai is home to Ramada by Wyndham Jumeirah Hotel. The hotel remains a popular choice amongst business travelers mainly because of its close proximity to the Dubai International Convention Center and Business Park and Design Center.
Leisure travelers, however, can still enjoy the top-notch amenities and facilities while sipping one of Ramada's signature cocktails. One thing to note is that all guests have free-of-charge access to the health club's fitness center which boasts spas, tubs and saunas.
Book Now: Agoda|Booking.com|Others
Zabeel House – The Greens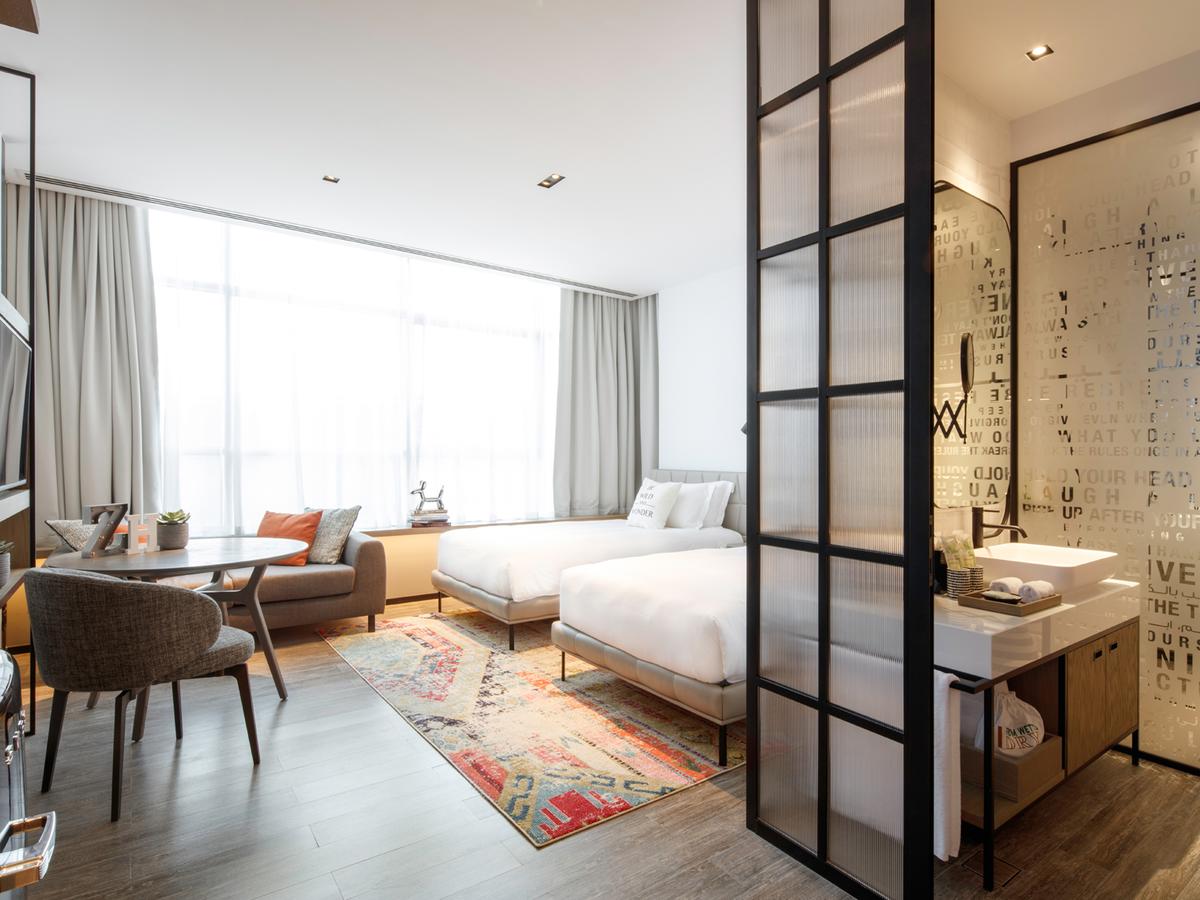 Zabeel House – The Greens is located in Dubai features an outdoor swimming pool, which is the "last social hub" in Dubai's Tecom District. This luxury hotel features 210 varying urban rooms with sleek and eclectic architecture that are easily accessible from the Dubai Metro.
The ground floor has the reception room, bar, retail area of Georges Dubai's handmade interior heroes and a certified casual restaurant, the Social Business. The Native House spa, a gym, pool area, kids' playroom and Lah Lah licensed restaurant can be found on the fourth floor.
Book Now: Agoda|Booking.com|Others
And that's a wrap! With our curated list above, your future vacation to Dubai is no more a hassle! Remember to claim your stay as soon as you can as these hotels are the best sellers in Dubai during the peak season!
Related Stories