As the oldest national park in the world, Yellowstone has us in awe with the ethereal hot springs and enchanting geothermal features. Dotted with ranges of bareback mountains, cascading waterfalls, and thriving wild habitats, Yellowstone is truly one of the most spectacular national parks that can be seen nowhere else.
We're sure you're going to love Yellowstone as much as we do, and so we put together this ultimate guide which takes you less than an hour to read!
Yellowstone National Park Is Everything You've Ever Dreamed of a SuperVolcano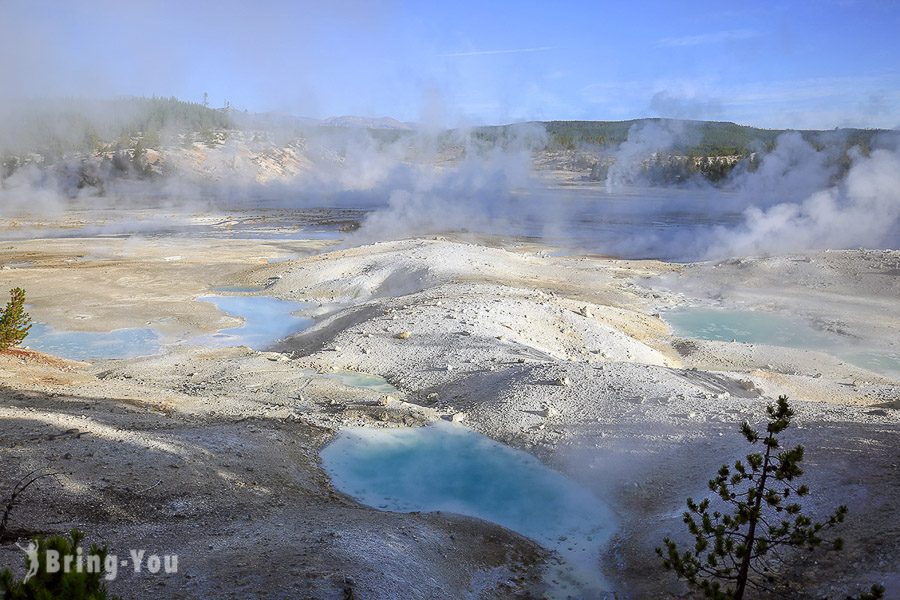 Dominating a 3500-square-mile footprint, Yellowstone National Park is bigger than two US states combined. With its majority of area dominating Wyoming, Yellowstone National Park reaches out to some parts of Montana and Idaho.
When it comes to the world's coolest national parks, Yellowstone always comes in first place. It's not just because Yellowstone is the world's first national park but also due to the epic landscapes, unique wildlife, and fascinating natural history.
The fame of Yellowstone has a lot to do with its enchanting history. Going strong since 1872, Yellowstone's existence laid a solid foundation for wildlife protection and pays tribute to the creation of Mother Nature on the planet.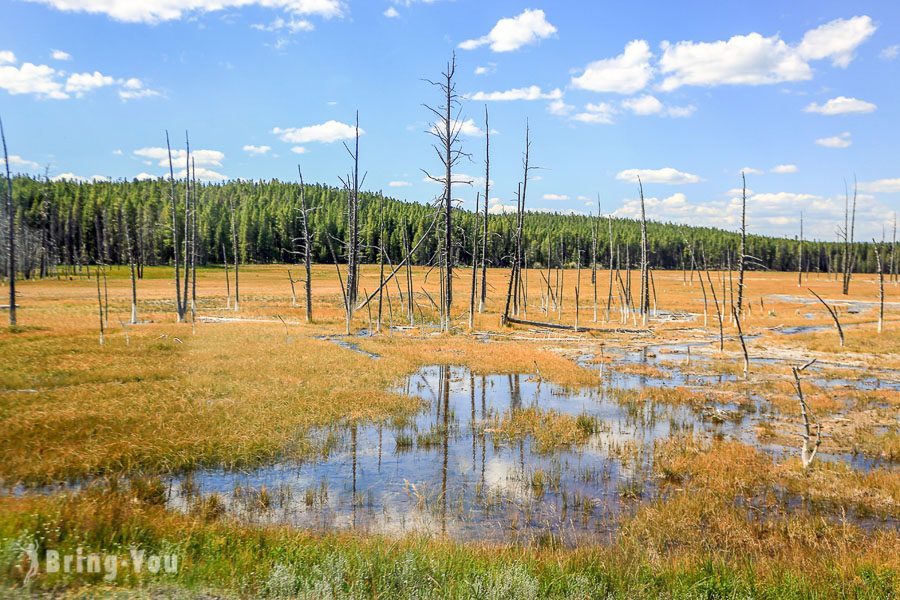 In 2019, Yellowstone drew 4.02 million visitors around the globe seeking the beauty of deep glacier-carved valleys and fossil forests. The fame of the park doesn't only halt at the astounding geological wonders but also challenges our minds about America's significant history.
When Should You Visit Yellowstone National Park? Is Yellowstone National Park Closed for Winter?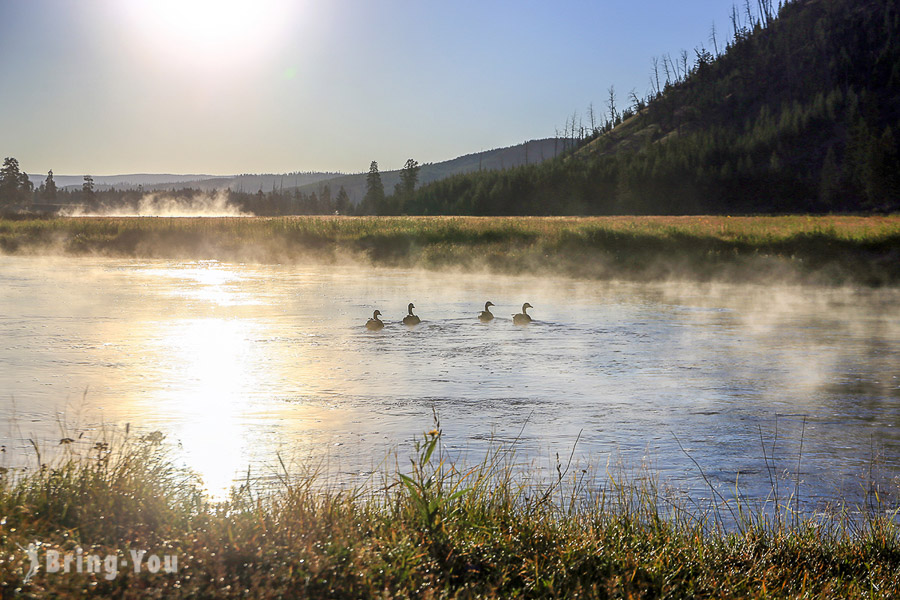 The best time to visit Yellowstone has a lot to do with the weather. We hit the park in July when the sky was clear and the air was crisp. July and August are also when the kids are out of school for a summer break. We saw many travelers living a high note in their RVs during this time since the weather was mild to sleep outside.
Other than this, you can drop by anytime in April, May, September, or October when the weather is bearable and few crowds spill into the park.
One thing you should not forget is the winter closure starting in early November when park roads are closed from regular traffic. If you join a guided snowmobile or snow-coach tour, chances are you can enter the park sometime around mid-December.
How to Arrive Yellowstone National Park and Travel around?
There are two best ways to reach Yellowstone National Park: flying and driving.
So where can you fly into the park? The good news is that there are multiple flights operated within reach of the surrounding cities. The closest airport you can get is
Bozeman Yellowstone International Airport (BZN) in Montana, which is claimed to be the busiest airport in Montana. Jackson Hole Airport (JAC) in Jackson, Wyoming is the second gateway which is 45 miles south of Yellowstone.
Once you get there, consider renting a car from one of the rental services or from the airport you land at. Renting a car is an adrenaline-rush activity to conquer this epic Grand Loop. Driving in full may reach up to seven hours on your own wheel, and that's why it's impossible to make a day trip just by driving.
If you're planning a big family trip or throwing a road trip with your besties, driving would make a lot of sense. Getting a car is also the best way to travel around the park.
If you're not keen on beating the path by yourself, joining a bus tour with a trusted company is the next best way to pick up all the best details about the park.
Our West-In-South-Out Itinerary for a Complete Sightseeing Trip at Yellowstone National Park
Old Faithful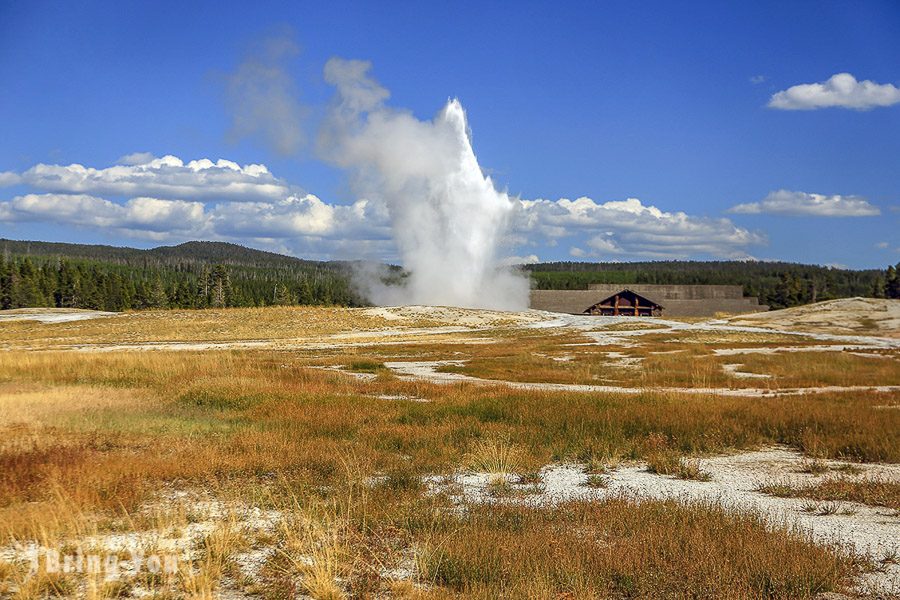 We started from the west gate which is called West Entrance and drove all the way to Old Faithful first after crossing Madison. Home to the world's most famous geyser, Old Faithful is truly awe-inspiring! The geyser erupts every 90 minutes (check out the visitor's center for an accurate schedule!).
Our favorite place to contemplate this vibrant eruption is from the Old Faithful Inn's dining room where you don't have to elbow out with hordes of tourists.
Morning Glory Pool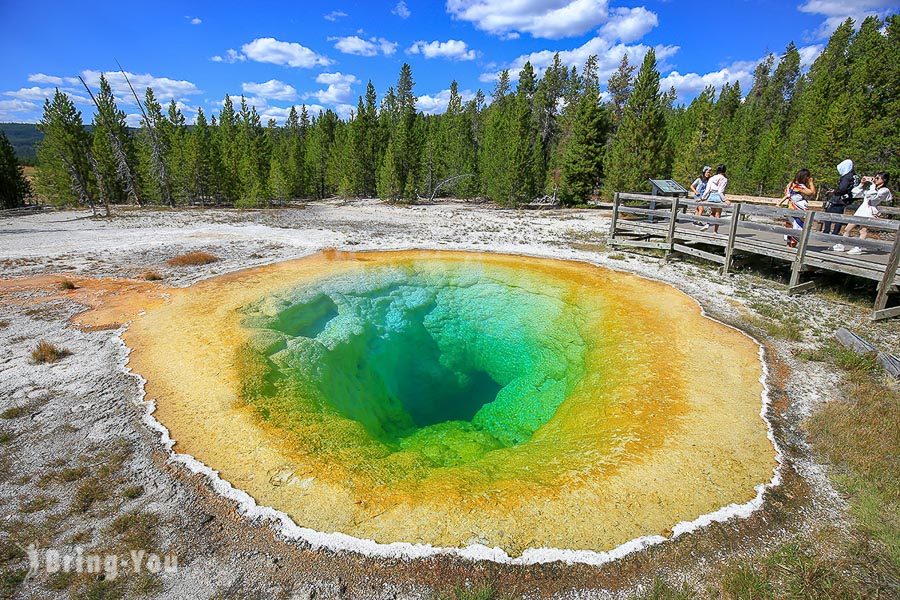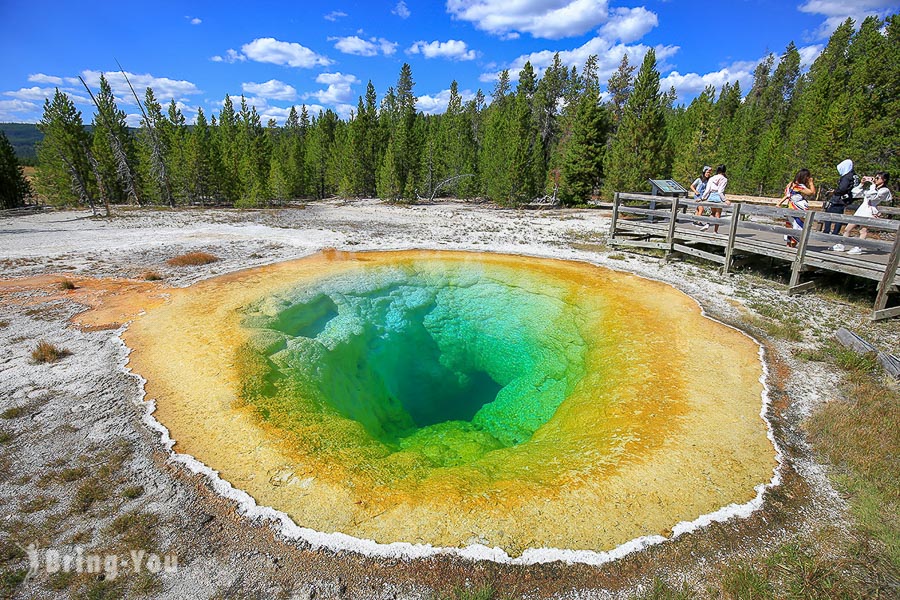 Make your way to the Morning Glory Pool and get ready to have your jaw drop to the ground! It's so stunning we can't even begin! This is a dramatic, multi-color hot spring and claimed to be the most gorgeous pool in the Old Faithful area.
The first impression makes it reminiscent of the Grand Prismatic Spring close by. We were lucky enough to walk over it later in the morning when the mist burned off to reveal its mirror-like beauty.
Grand Prismatic Spring
We've never seen anything like this before! Grand Prismatic Spring is a sprawling mashup of colors.
Imagine your watercolor palette enlarged into an enormous pool, with a cerulean hue blending a rainbow strip of deep reds, fiery orange, bright yellow, and blue. This medley of colors is resulted from a geothermic activity that yields rich minerals containing pigmented thermophilic bacteria.
Fountain Paint Pot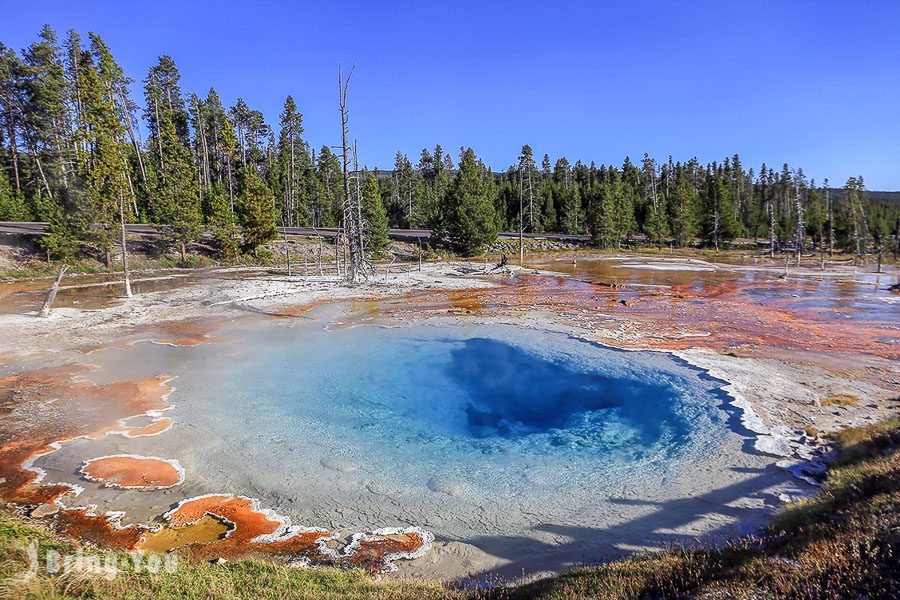 Sandwiched between the south of Madison and north of Old Faithful, Fountain Paint Pot is a 0.8-kilometer boardwalk that comprises a range of typical geothermal attractions. Some of them contain a great deal of water such as hot springs and geysers, while some contain a shallow level of water like mud-pots and fumaroles.
Norris Geyser Basin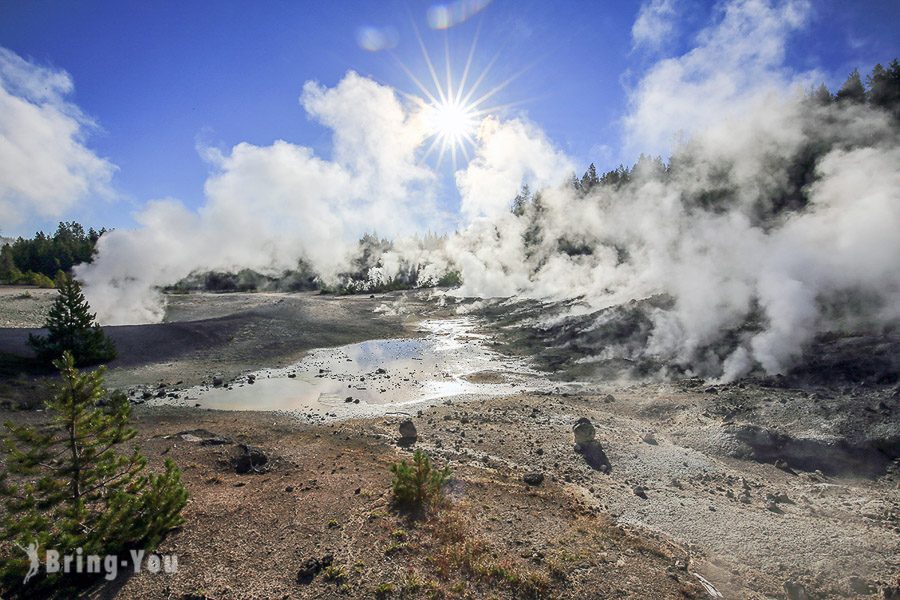 The area of Norris Geyser Basin totally flipped our expectation! Even though old Faithful is the world's most famous geyser, the oldest and hottest geyser award indeed goes to Norris.
This area is a playground of multiple geysers. We were truly impressed at the acid Echinus geyser, while the Steamboat Geyser is only visible from the boardwalks. All in all, Norris is definitely an otherworldly, enchanting attraction that steps out of a fairytale.
Mammoth Hot Springs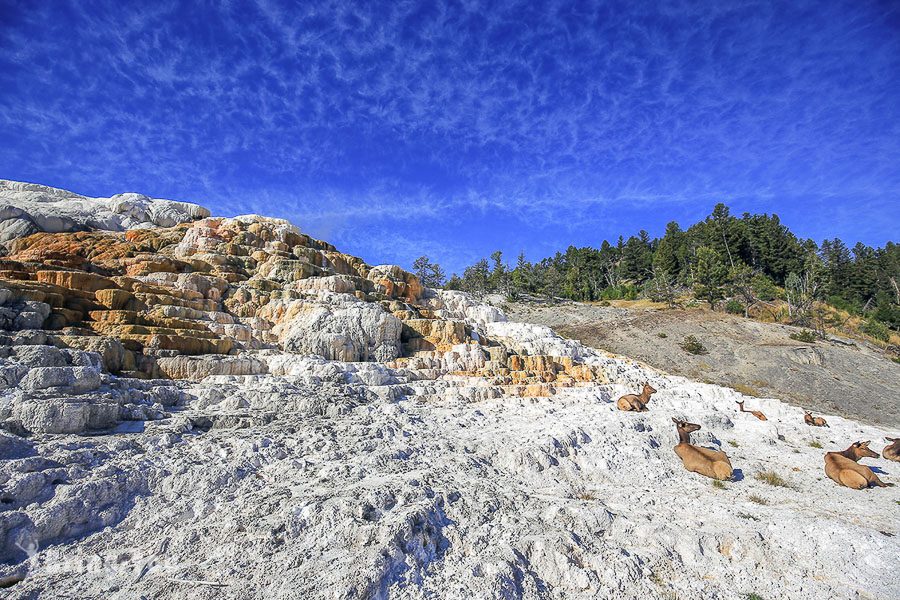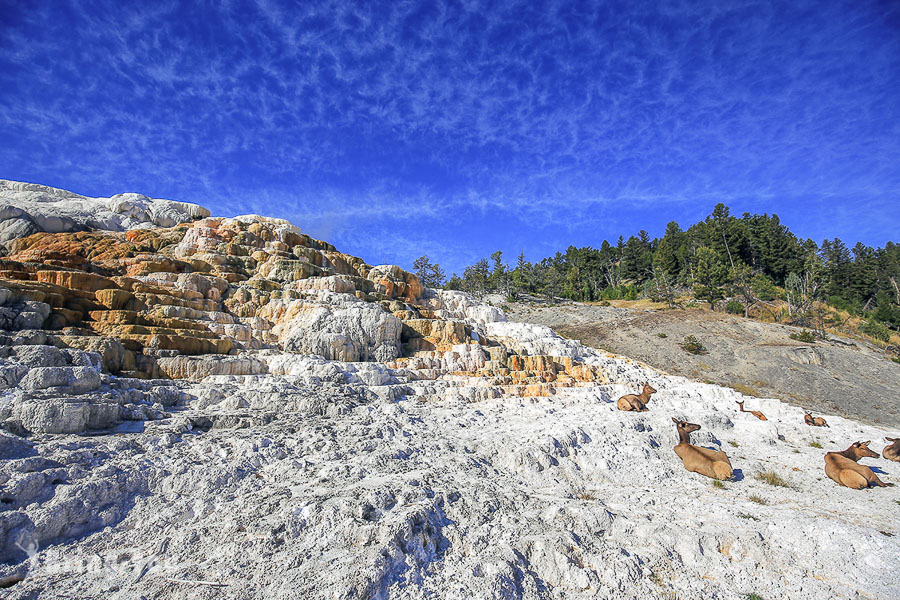 As you drive further into Mammoth Hot Springs, the sense of an outskirt village with little privately owned houses gives you a unique feeling. Our favorite thing to gaze at is a massive geyser basin with a cascading palette transforming from pristine white to pink and dark red.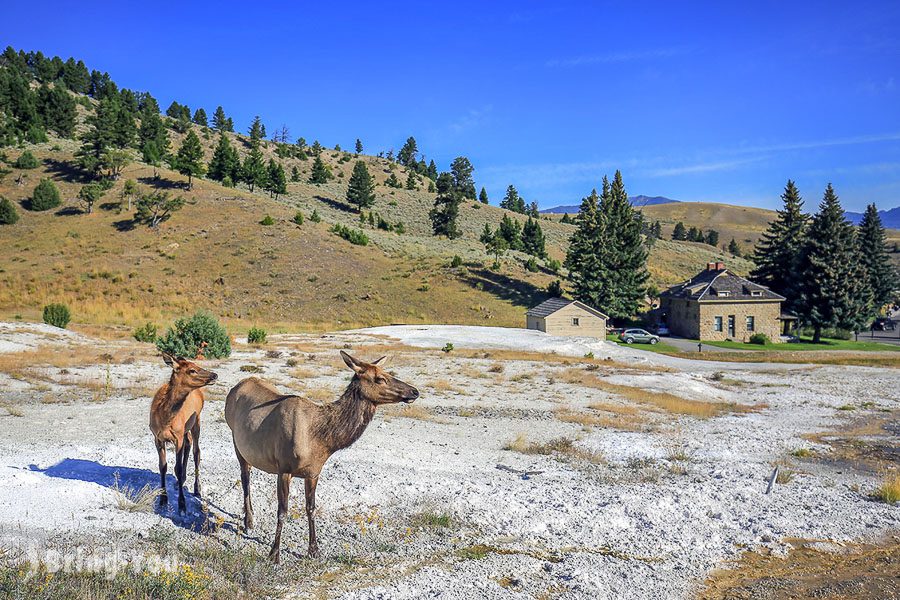 If the weather is bearable, make sure to soak in the Boiling River. Remember to wear some shoes as the river bed is quite rough.
Grand Canyon of Yellowstone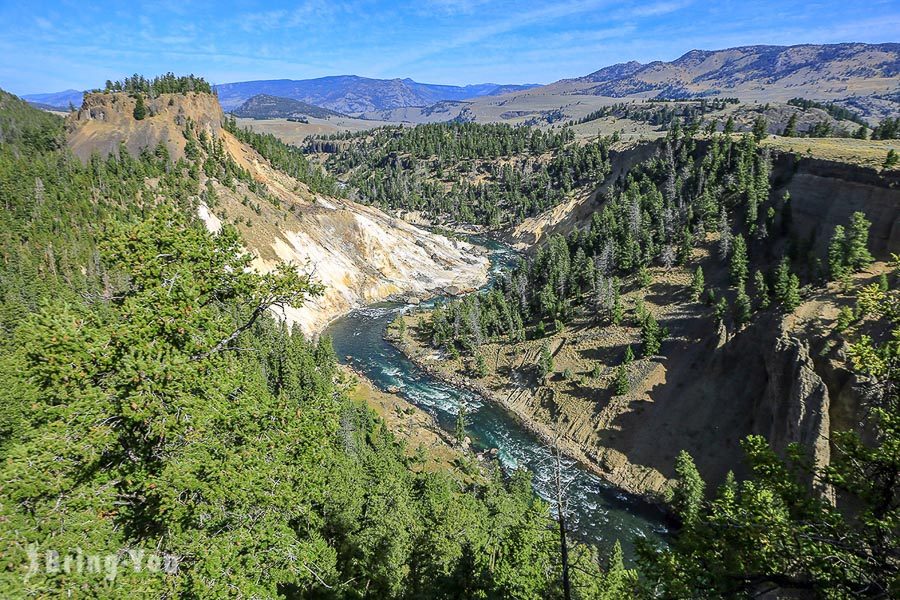 The Grand Canyon is probably the most talked-about attraction in the entire park. The whole landscape appears in such a complex and dramatic scene that will surely drop your jaw.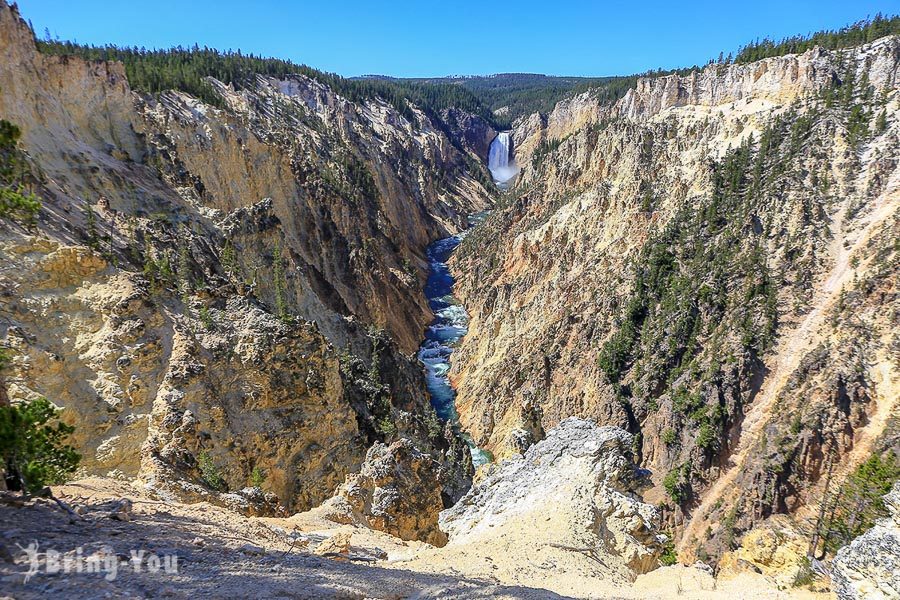 You will see the puffs of steam expressing the hydrothermal features which can be observed when you stand somewhere on the top of the Grand Canyon. As the cascading falls smash the floor underneath, that is when it delivers such a grandeur beauty of mother nature.
Hayden Valley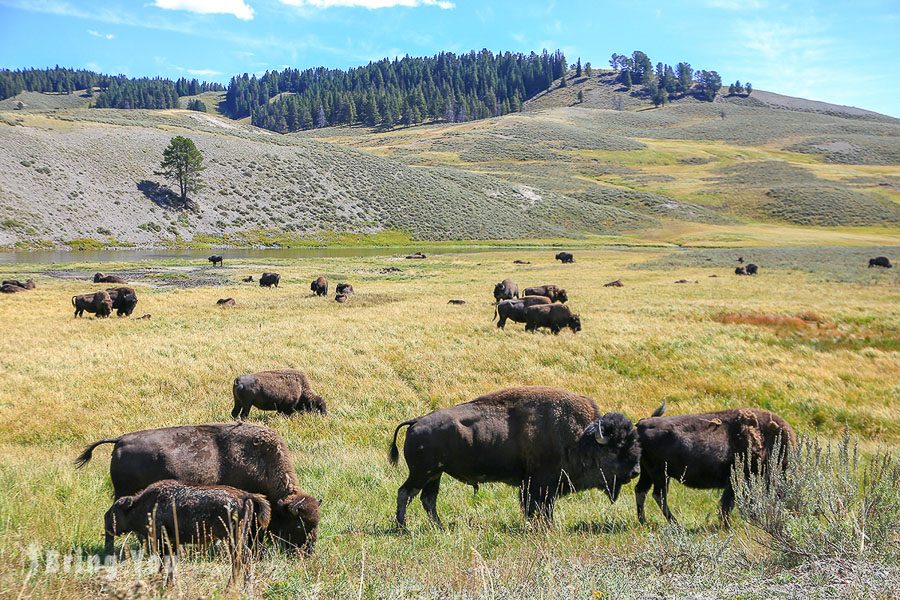 Now it's time to uncover the dramatic life of the wild habitat in Yellowstone. Hayden Valley is tucked away in the heart of Yellowstone where watching wildlife at a leisurely pace becomes the biggest hook.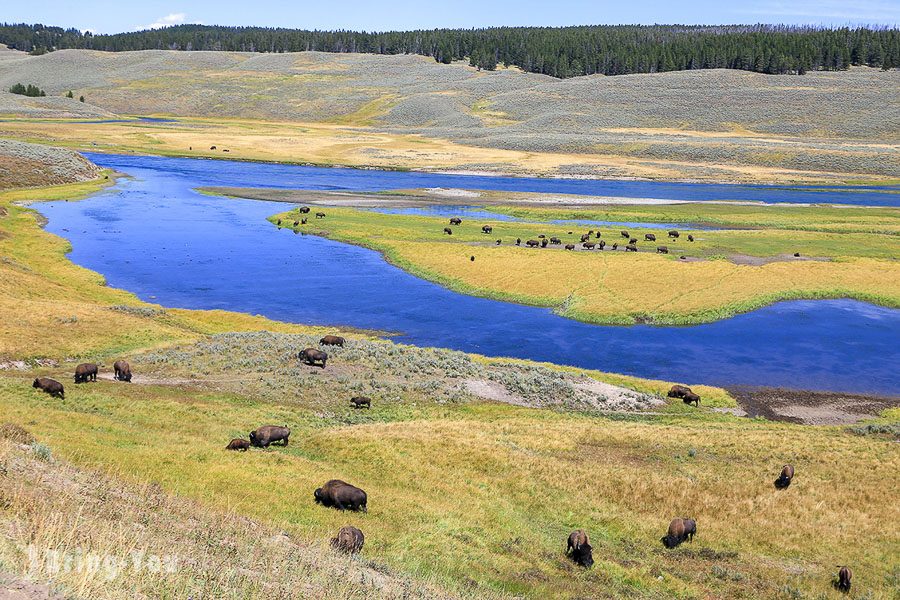 The animals are most active at dawn and after dusk so make sure you save the right time for this impeccable experience. Bison and pronghorn are probably the most common scenes but chances are you'd see bears and wolves as well.
West Thumb Geyser Basin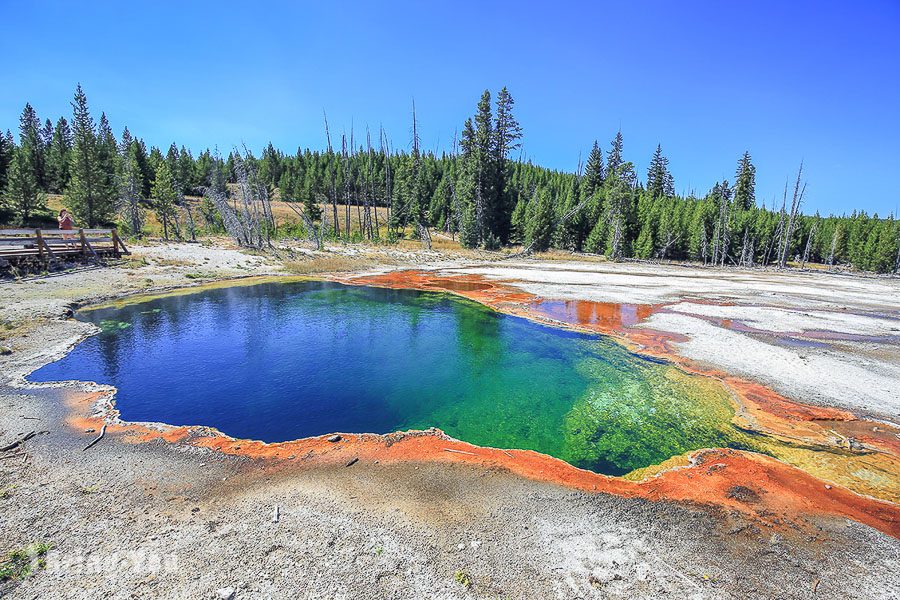 Our last stop on the way out is West Thumb. All in all, this is a lovely, tranquil spot to contemplate with the endless range of mountains at the back. The basin is a transformation of turquoise and sapphire colors, making a beautiful scene to admire from the boardwalk.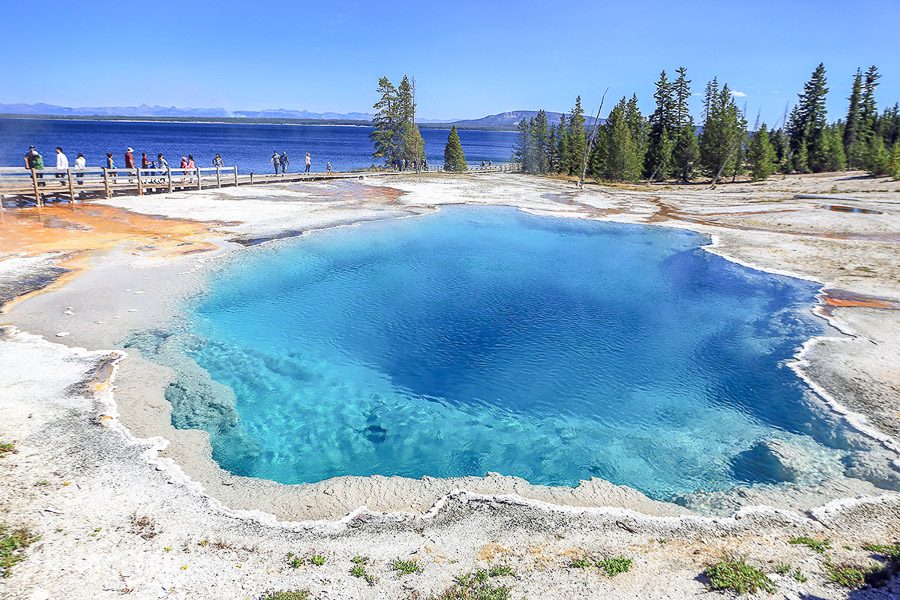 For us, we drove further for 40 minutes southbound from West Thumb to Grand Teton National Park. And this is where we took an exit. You could do the same if you follow this itinerary!
3 Best Places to Stay in Yellowstone National Park
The best places to stay in and around Yellowstone can be boiled down to hotels, lodges, cabins, and RVs. Most of these accommodations are sold out ridiculously fast. This means you're likely to book your stay at least one year in advance.
We had a look around the best-seller inns located in West Yellowstone because these are the best places to stay for first-time travelers to Yellowstone. One of the best accommodations you can consider is Days Inn by Wyndham West Yellowstone. Its prime location is just a stone's throw away from the West entrance of the park. You can get there in your own car just by taking an exit off the Targhee Pass Highway, Days Inn by Wyndham West offers basic amenities with a fair nightly rate.
Best Western Desert Inn is another big name to consider. It's located in West Yellowstone with the nightly rate is just a tad higher than what you pay at Days Inn by Wyndham West.
For those who seek a cooler way to spend their day and soak in the vibe of Yellowstone to the fullest, consider renting an RV trip! So instead of curling up in a mattress on the rink of the park, why not spend the night under the star in the heart of Yellowstone at one of its campgrounds?
Make sure to book your campground in advance and refer to our essential tips below for a hassle-free glamping experience!
12 Crucial (and Survival) Tips You Have to Learn by Heart before Entering Yellowstone National Park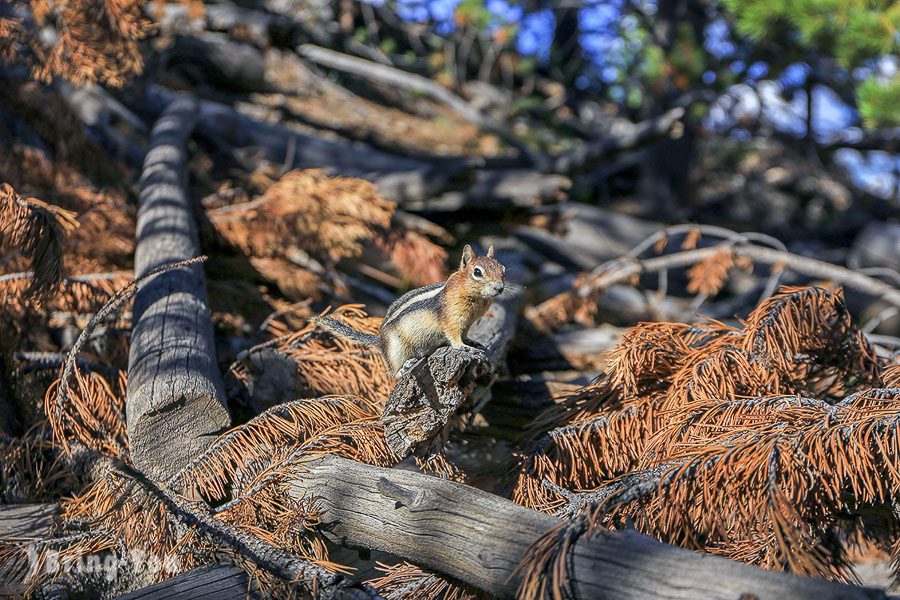 Fill up your car before hitting the road into the park. You will see some gas stations around the park but I don't think it's wise if your car is out of gasoline in the middle of nowhere!
Pack a good pair of hiking shoes that provide stability, traction with a durable and soft sole.
Sandals are better for short leisurely walks, while heels are a big no-no!
Hiking boots are top calls when the temperature drops.
Binoculars and a spotting scope should be available for wildlife watching.
The bear spray comes in handy when you encounter these angry furry friends.
The north entrance of Gardiner is open year-round. The west entrance of West Yellowstone opens in spring, followed by the south, east, and the northeast entrance of Silver Gate. For specific dates, refer to the National Park Service website!
For visitors like us who want to re-enter the park multiple times, consider purchasing a seven-day pass! The pricing plans vary depending on whether or not you have a private vehicle.
During high season, take the off-road like Trout Lake or other less-beaten trails through dense forest to lose the crowds. If you start early in the day and return late, you'll receive a higher chance of beating the crowds as well.
Wild animals are unpredictable! Observe them from your cars or stay at least 90 meters away from bears and wolves, 23 meters from bison and elk.
Stick to the boardwalks and trails when you enter the thermal areas.
If you encounter a wildlife jam, it's better to stay inside the car!
Wrap It Up
In this Yellowstone travel guide, you just discovered:
Best time to visit Yellowstone National Park.
How to arrive at the park and best ways to get around.
A sample itinerary for your driving experience.
Best places to stay outside of the park.
Essential tips before visiting Yellowstone.
We hope you find this sharing useful. And make sure you have it carefully planned and get ready for a hassle-free experience!