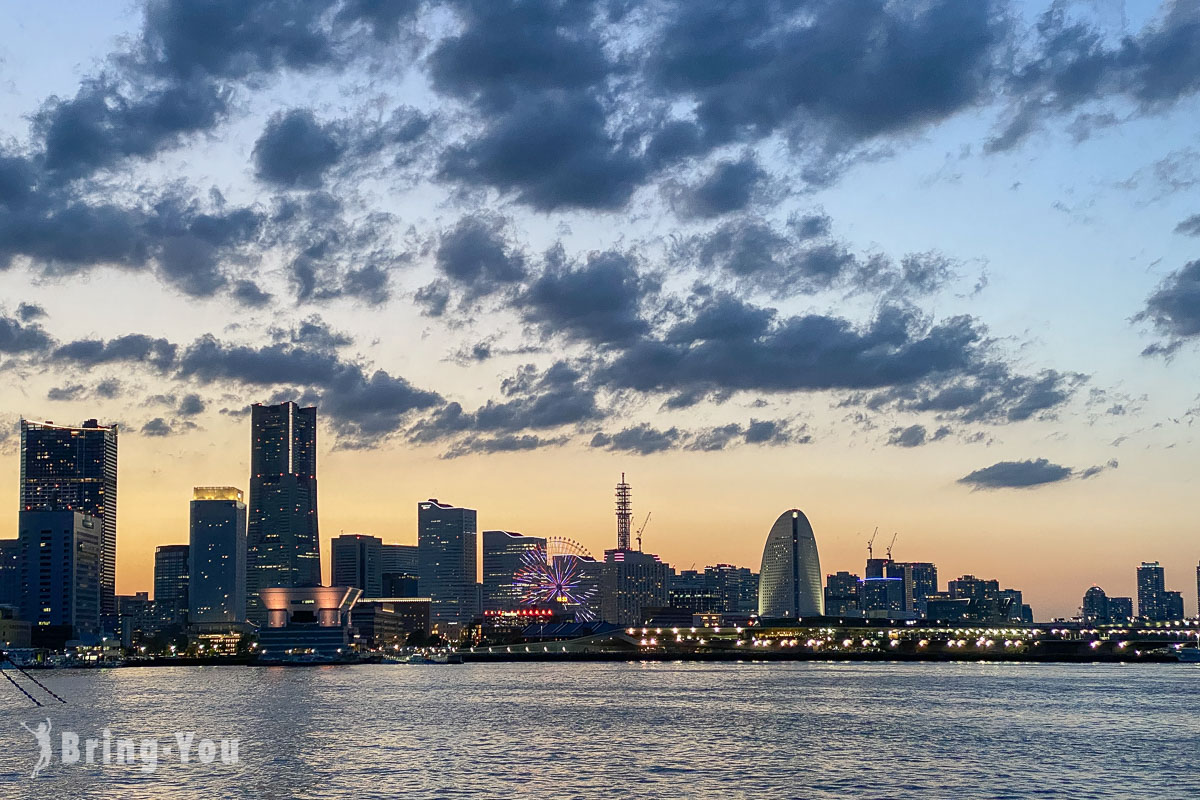 In its 2018 Kanto Edition, Japan's famous real estate publisher – Suumo, listed Yokohama as one of the "most livable cities to live in Japan".
What's so special about this place that keeps people talking about it?
Yokohama, a coastal prefecture lying south of Tokyo, is a modern gem of the Kanto Region with its respect for the attractive commercial feel and ease of transportation.
Yokohama does an excellent job of blending a fair share of the old and the new.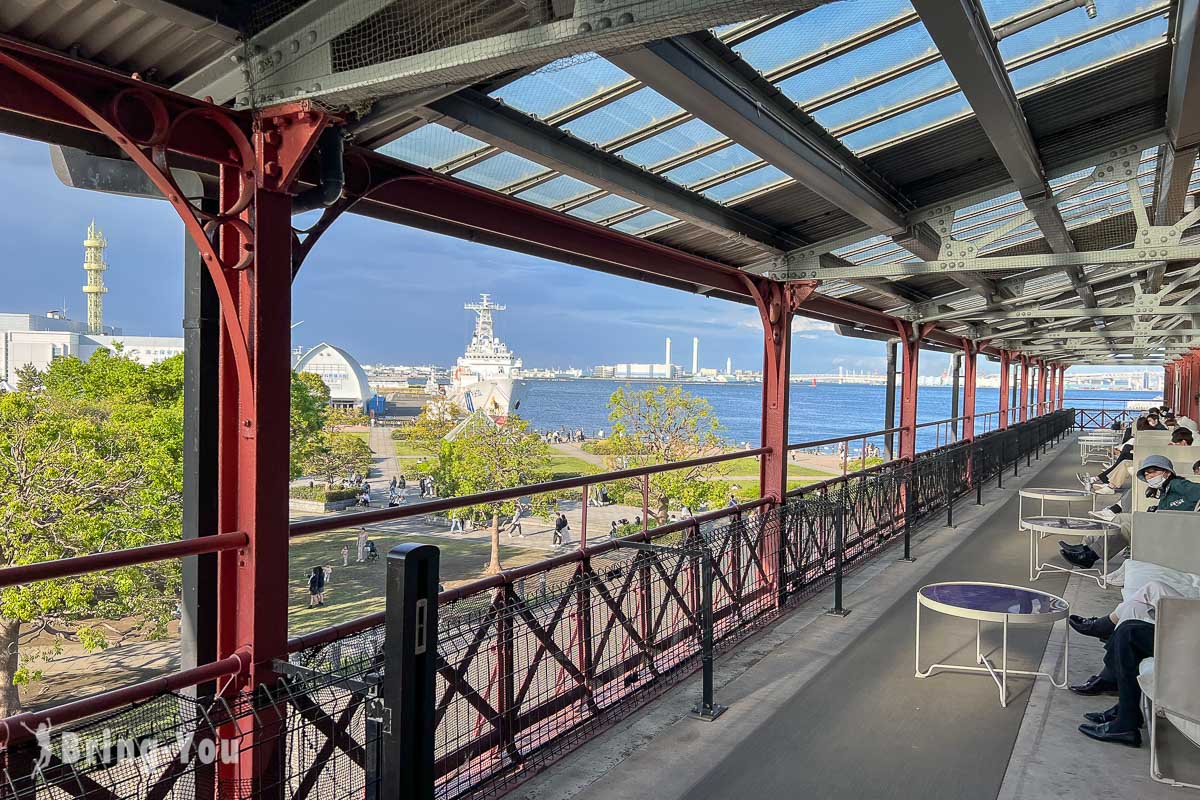 Since 1854, the fate of Yokohama has changed forever. When Commodore Matthew Perry hopped on shore at this very part of Japan following his mission to open up the country for a new trading affair with the West, Yokohama transformed from an overlooked fishing village into a bustling port city the world can't forget.
Today, travelers from all parts of life flock here to immerse in the peaceful walk along the Osanbashi Pier during sunset, ride the famous Air Cabin, and watch that giant robot dancing in front of the Gundam Factory.
Without further ado, I've rounded up the best things to do in Yokohama, plus a detailed guide for transportation, and a sample itinerary.
Getting From Tokyo City To Yokohama
Yokohama Station is the biggest underground terminal station in all of the Kanto Region. That means this hub serves as a convergence of many major train lines from various companies. The JR East, Keikyu, Tokyu, and Sotetsu are only a few to be named.
Amongst those lines, the Yokohama Minatomirai Railway is one of the most common means of transportation.
From Downtown Tokyo, you can ride a train or ride a bus, even though the bus system is a tad confusing and time-consuming. Therefore, I'll focus on traveling by train in this part.
Regular trains leave Tokyo Station on the Tokaido Line for Odawara, JR Shonan Shinjuku Line leaves Shinjuku Station, and the F-Liner for Motomachi-Chukagai from Shibuya Station. Those trains won't take over an hour to reach Yokohama.
If you wanna make your life a lot easier, make sure to obtain a Pasmo or Suica travel pass. They will help you get rid of confusion trying to identify the right ticket to buy.
Another local pass worth buying is the Minatomirai One-Day Pass. This one grants you unlimited trips on the Minatomirai Line, including a round trip from most Tokyu Line stations to Yokohama.
Best Ways To Get Around Yokohama (+ A Sample Itinerary)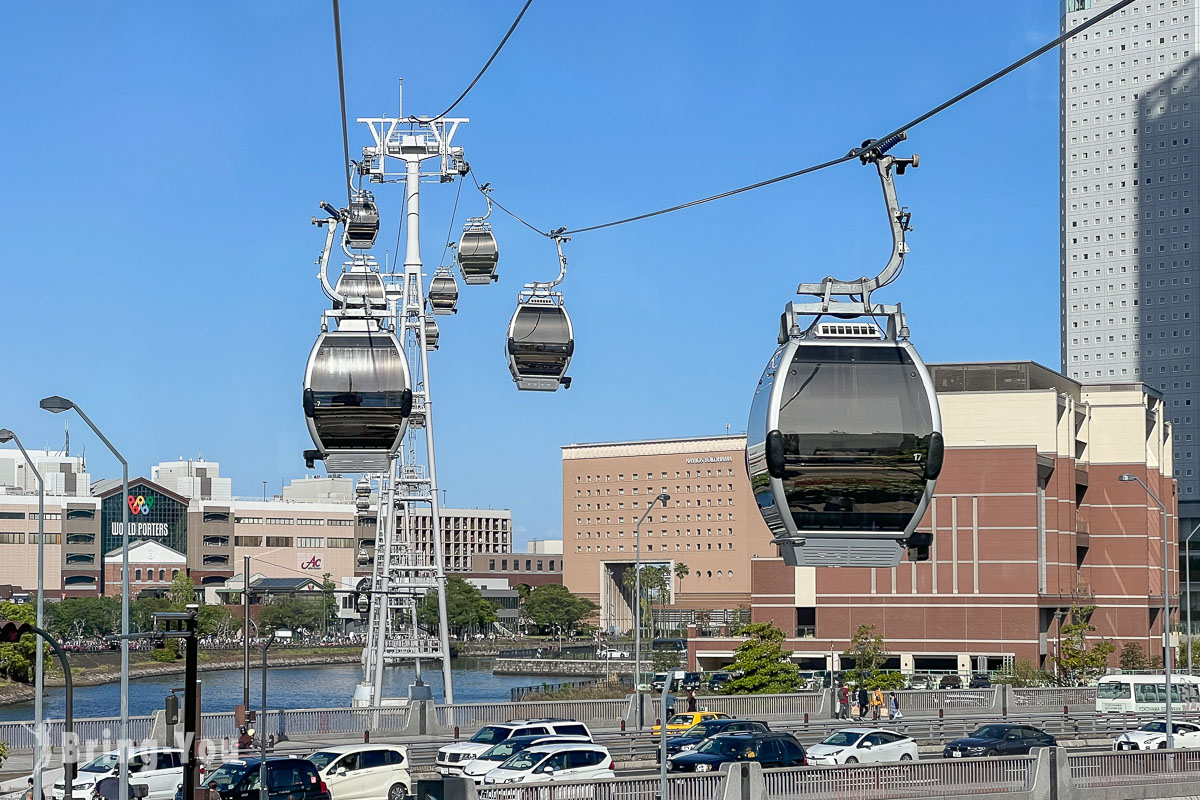 The Yokohama Minatomirai Railway and Yokohama Air Cabin are my two favorite ways to recommend.
The first option, Yokohama Minatomirai Railway, has been around for a while, long before the Air Cabin came into play. This one covers major attractions in the prefecture such as the Yokohama Landmark Tower, Cup Noodle Museum, Sankeien Garden, Chinatown, and Shin-Yokohama Ramen Museum.
Alternatively, switch to the Yokohama Air Cabin. This scenic gondola runs for 630 meters, boasting a sweeping wraparound vista over the sparkling Minatomirai District between the East Exit of JR Sakuragicho Station and JR Sakuragicho Station and Unga Park.
From there, your commuting time is a lot shorter, especially if you plan to cover multiple attractions in a day without basking in the sun like what you have to do by riding the Minatomirai Railway.
The Yokohama Air Cabin covers all of the attractions I mentioned below. Let's take a look at a brief itinerary before we dig into each sight of interest.
Depart from Tokyo to JR Sakuragicho Station and walk to the Yokohama Air Cabin Terminal.
Red Brick Warehouse
Marine & Walk Yokohama
Zou No Hana Café
Yokohama Gundam Factory
Watch the sunset at the Yokohama Port from the Osan Bridge.
Call it a day with a stroll along the Osanbashi Pier and return to Tokyo.
Depart At Yokohama Air Cabin Station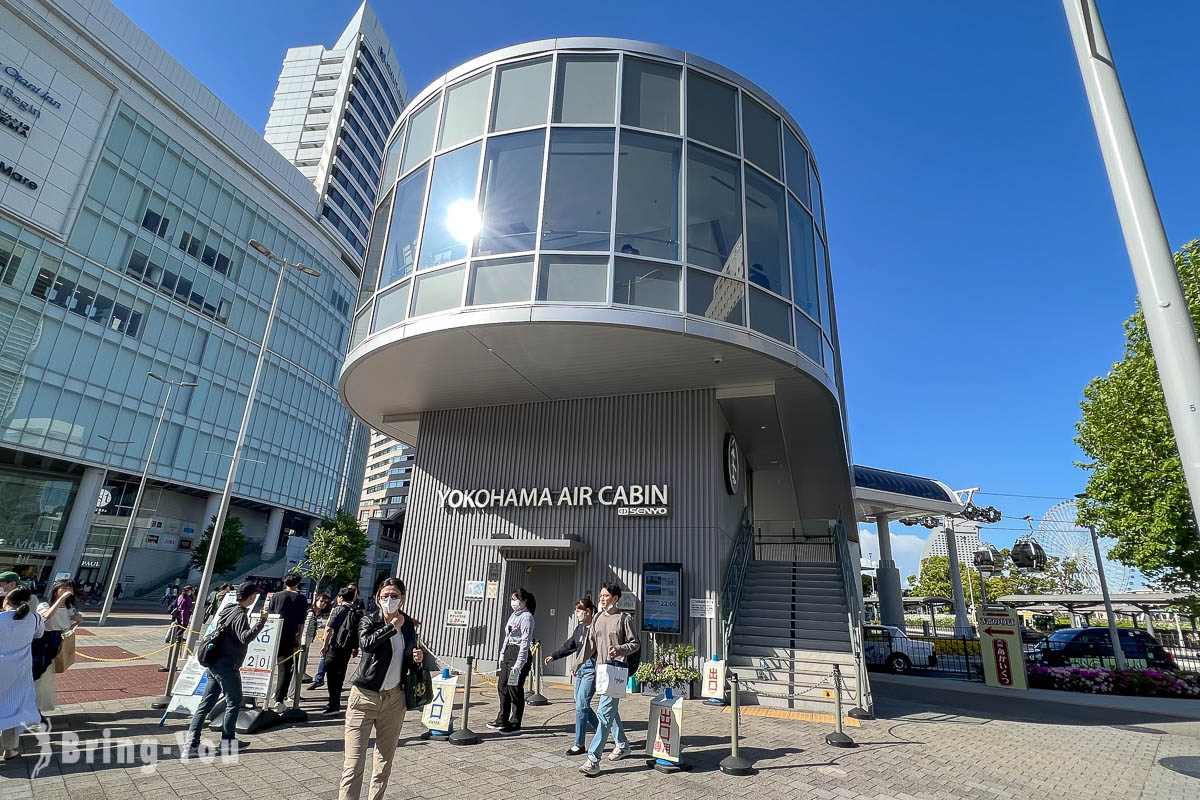 The famous gondola ride came into play in 2021. After you reach JR Sakuragicho Station, head out of the East Exit for two minutes and you shall find the departure station of the Air Cabin.
The gondola runs along the Kisha-michi Promenade and connects with the Unga Park Station on the other side of the sheltered body of water. Tickets can be booked online.
Hop Aboard On A Yokohama Sea Bass
The water bus unveils a unique angle to contemplate the scenic Yokohama Bay from the water, especially for those arriving at the Yokohama Station north of Yokohama Air Cabin. Major iconic buildings such as the Intercontinental Hotel, Landmark Tower, and the Cosmo Clock 21 Ferris wheel are a few to be named.
The Sea Bass Terminal is located at 1 Kinkocho, Kanagawa Ward, across the promenade from Babel Bayside Kitchen just behind the Bay Quarter Yokohama commercial complex. The Sea Bass Pier is only five minutes east on foot of the Yokohama Station's North East Exit A.
Tickets for the water bus are available for sale online (which is usually cheaper than the counter rate if you decide to buy it in person at the ticket counter).
Online purchase has another great perk. It allows you to view and compare different options with ease. Choose either a One-Way Single Ticket or a Set Ticket (including Air Cabin + Sea Bass One-Way).
Shop Til You Drop At Yokohama Red Brick Warehouse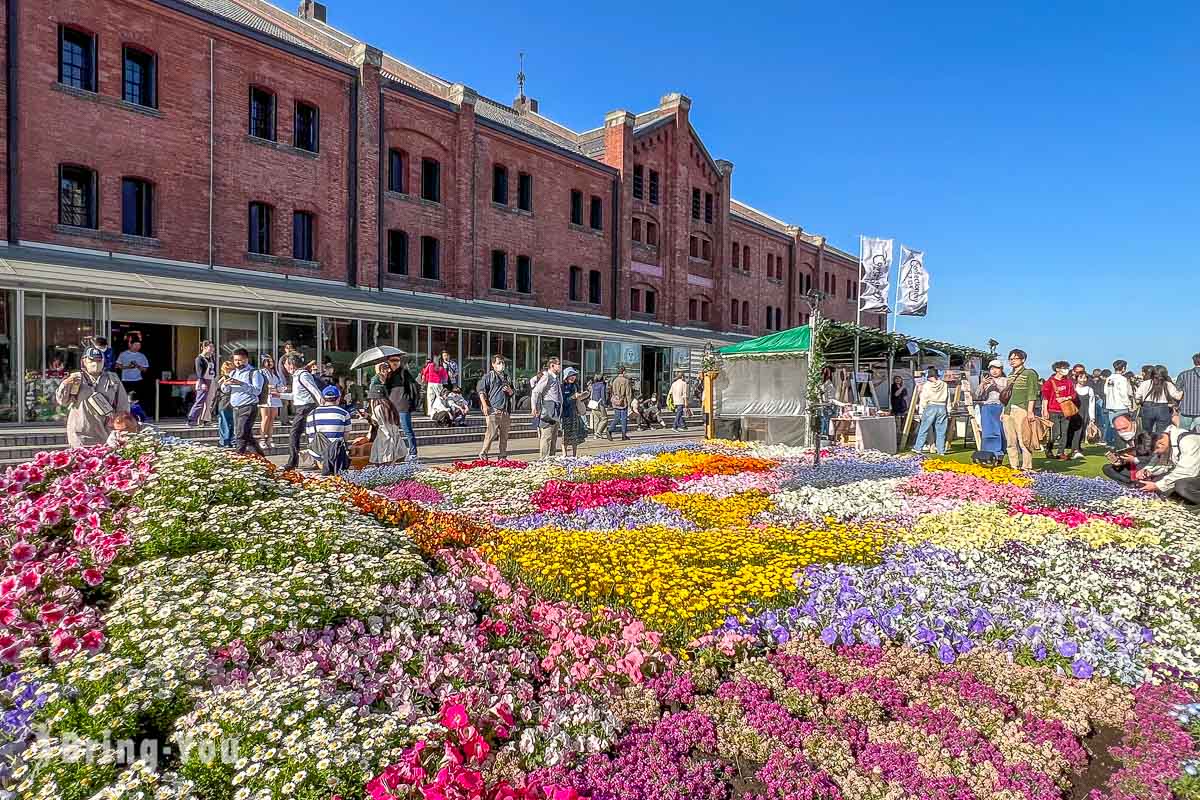 After you get off the Air Cabin ride at the Unga Park Station, set out southeast and you shall find the Yokohama Red Brick Warehouse after seven minutes of walking.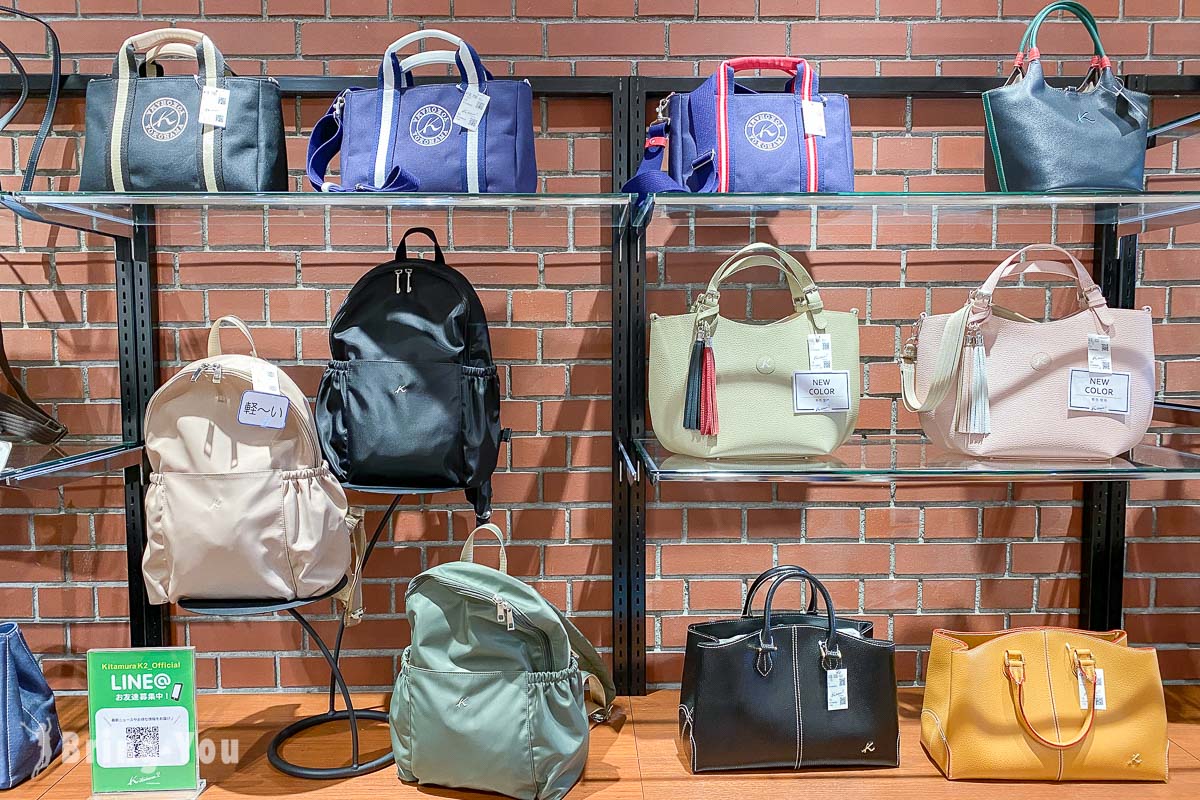 The warehouse is a little entertainment complex, housing different facilities such as retailers, food vendors, desserts, souvenir spots, and chic cafes. The large rectangular building is split into two smaller sections, going strong for over a century since it was first established in the early 20th century.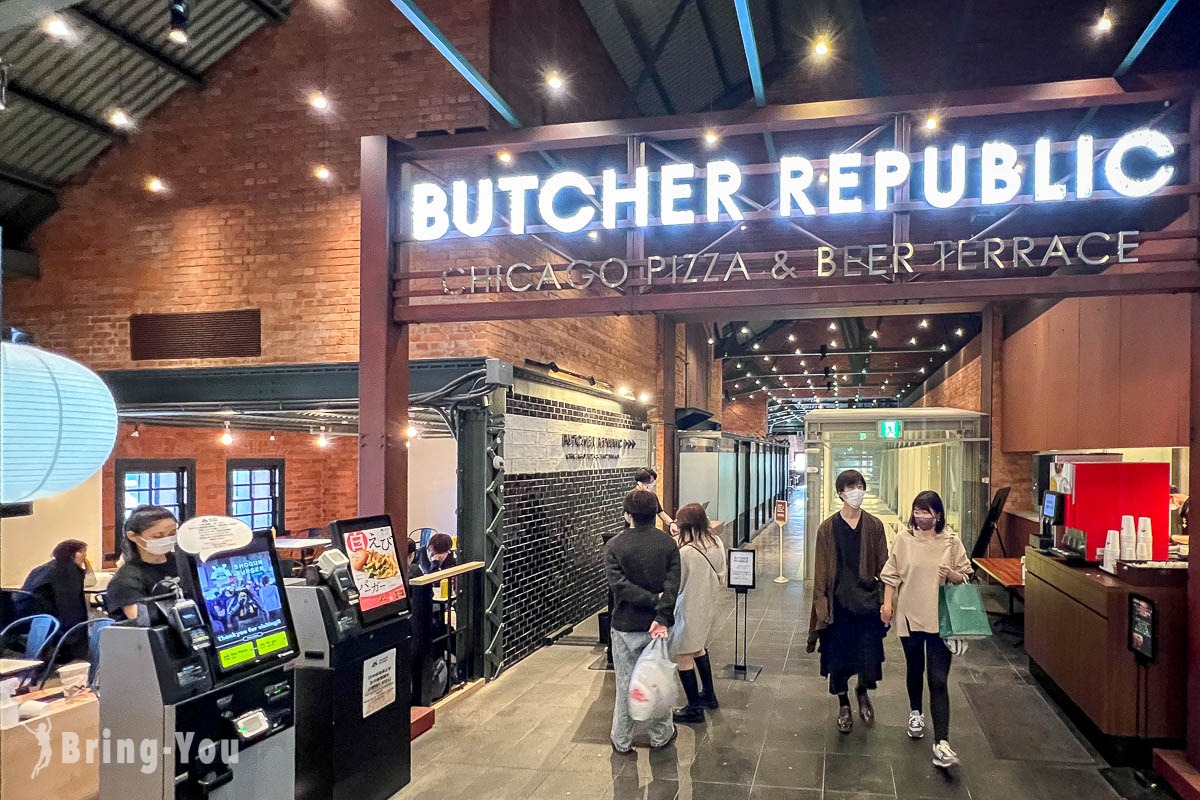 Today, the state often sets up exhibitions here to catch up with seasonal events. When the sun beams down, the entire building is lit up, ringing in at the attention of local couples coming here on a date. The illustration came around after the Red Brick Warehouse was renovated in December 2022.
Indulge In A Romantic Stroll Along Marine & Walk Yokohama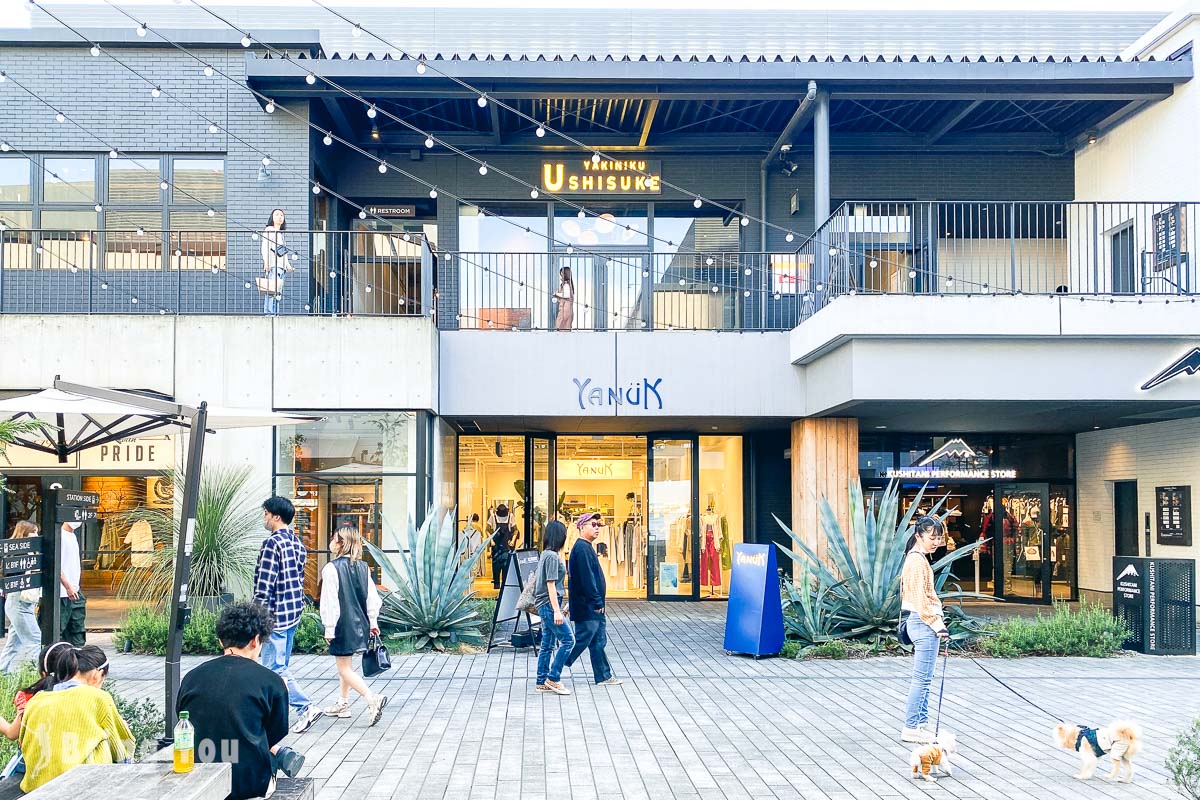 One minute north of the Redhouse, you will end up at Marine & Walk Yokohama, another shopping center facing Yokohama Bay to the north. A tad bigger than the Red Brick Warehouse in size, Marine & Walk is famous for its open-space concept enveloped inside a layer of red bricks.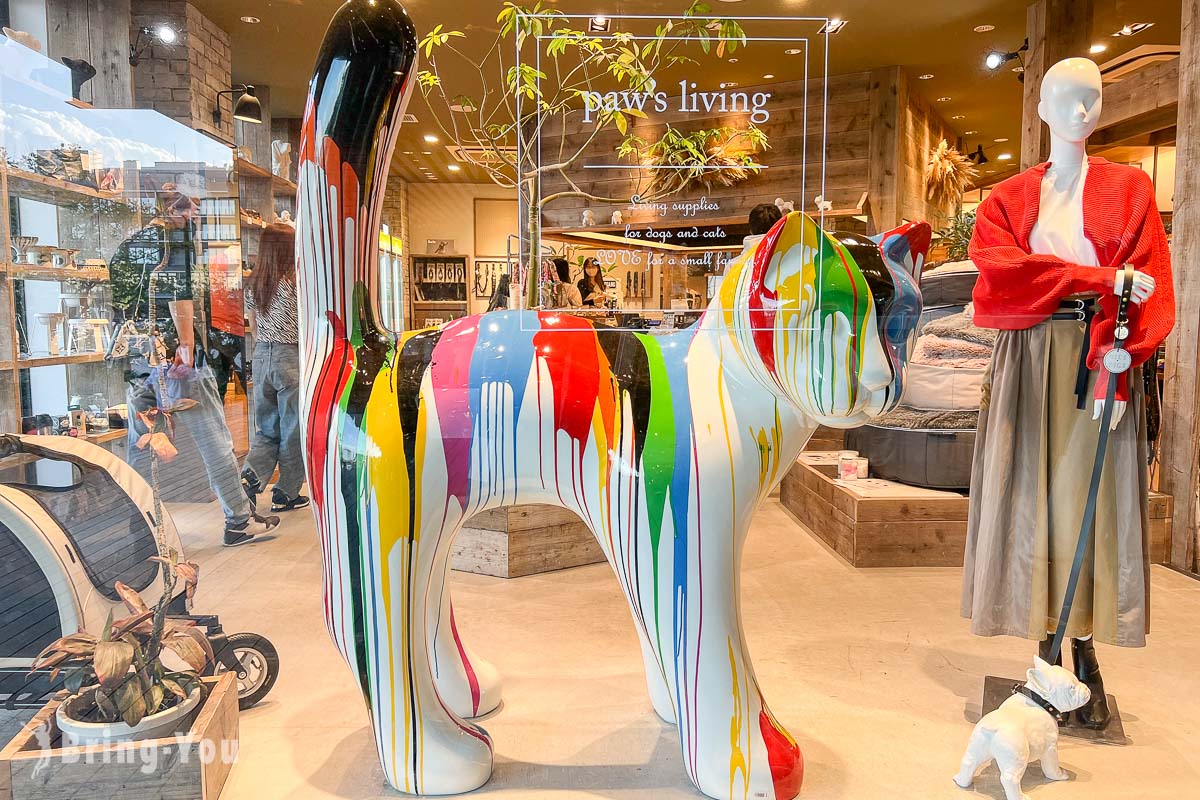 Here you will find all sorts of fashion retailers and upscale restaurants co-existing, including Ron Herman Yokohama, COS, NARUMIYAplus, and many more. Some of the top-rated restaurants face the water, centered around global cuisines such as Hawaiian, Italian, and Spanish food.
'Eat His Trunk!' At Zou No Hana Café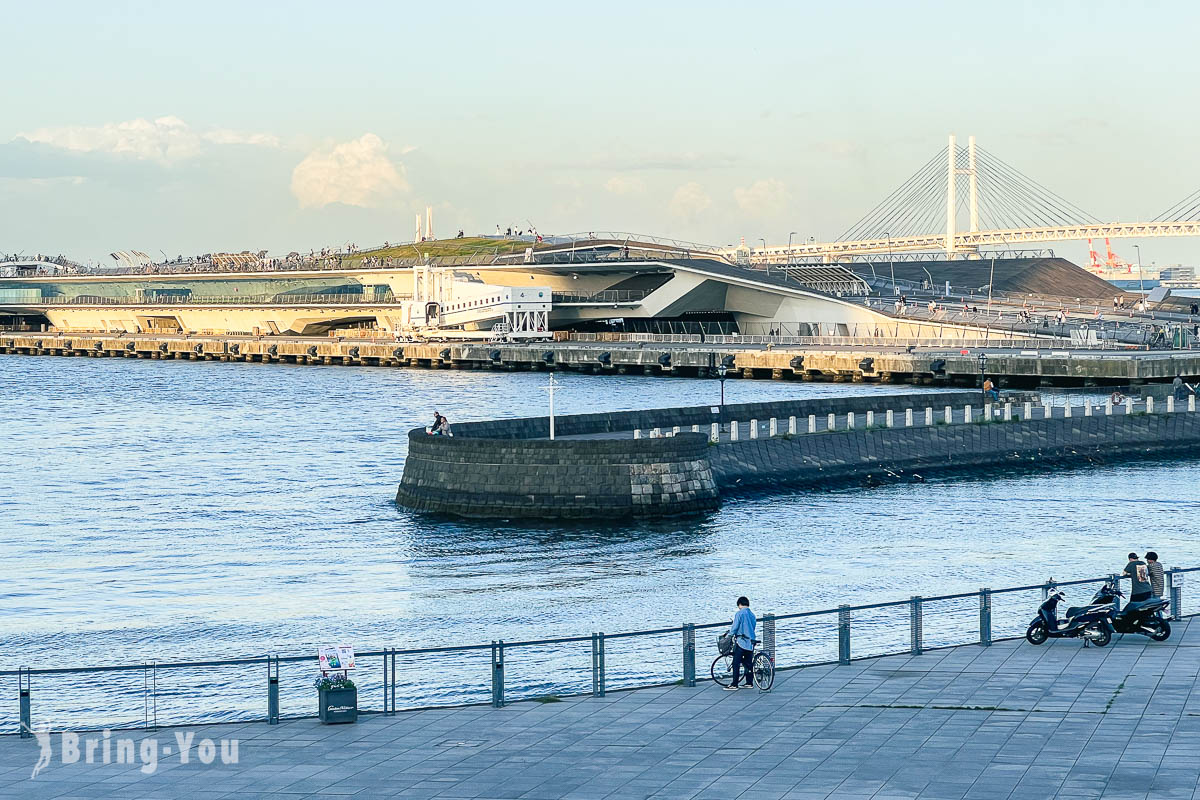 After a long day beating the streets, it would be a sin if you forget your rumbling stomach. Now I want you to have a look at Zou No Hana Café for some sweet treats.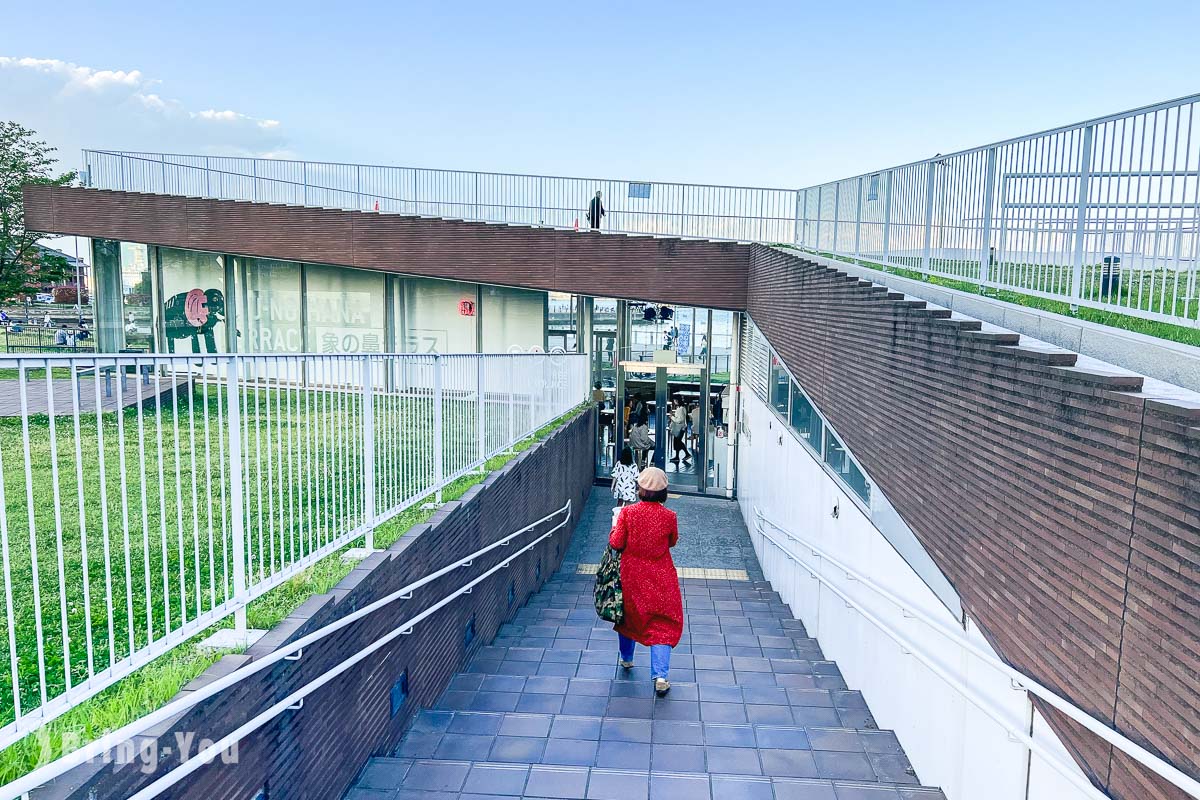 This cute coffee shop is located at a namesake park near the Red Brick Warehouse. The cafe sets foot on the waterfront, standing out with a unique elephant theme. Here, the menu is centered around artistic and mouth-watering culinary delights.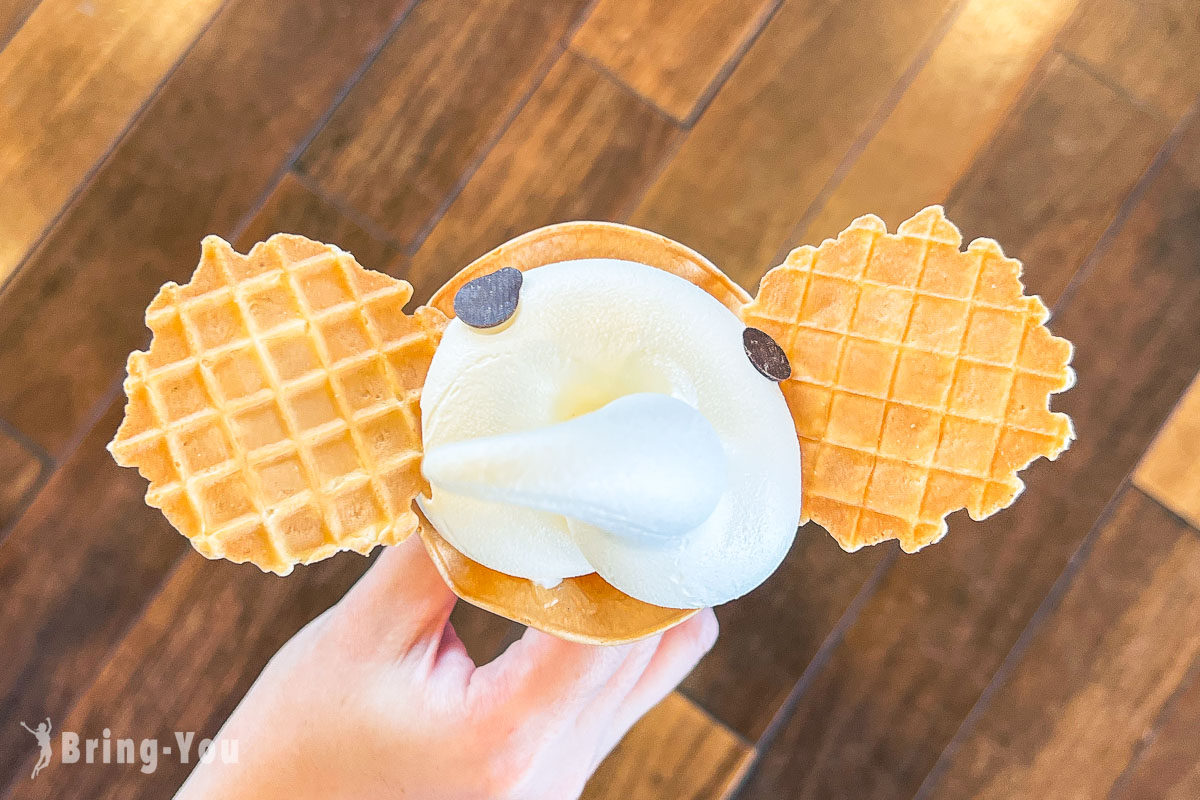 There's one thing you can't miss out on here: the elephant ice cream!
Dubbed the house's signature, it has a huge scoop of ice cream worked into the head of an elephant, with trunks too. The head sits on a waffle cone, sprinkled with chips, and two broken waffles are attached to make the ears.
Watch A Giant Robot Dancing In Front Of Gundam Factory Yokohama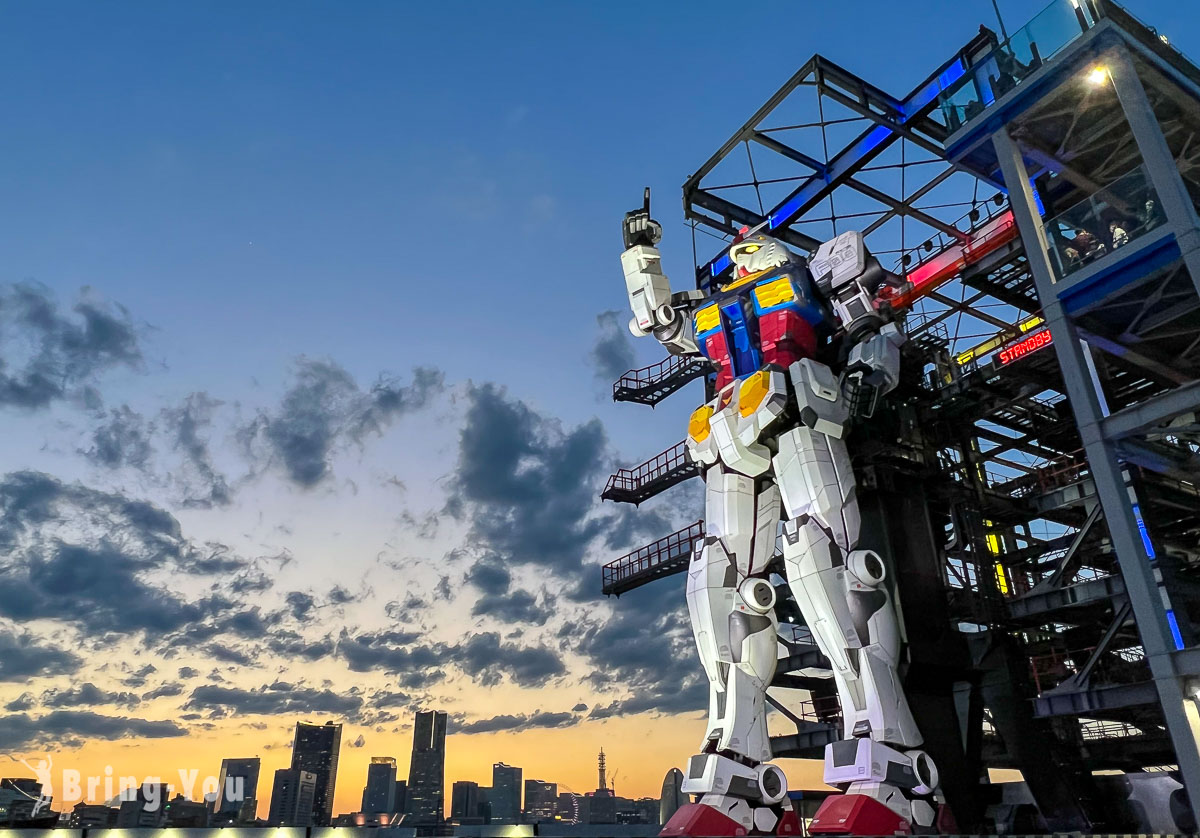 On the other side of the Kaigandori deck, Gundam Factory Yokohama is one of the most visited destinations in Yokohama only a short 15-minute walk east of Marine & Walk along Yamashita Park.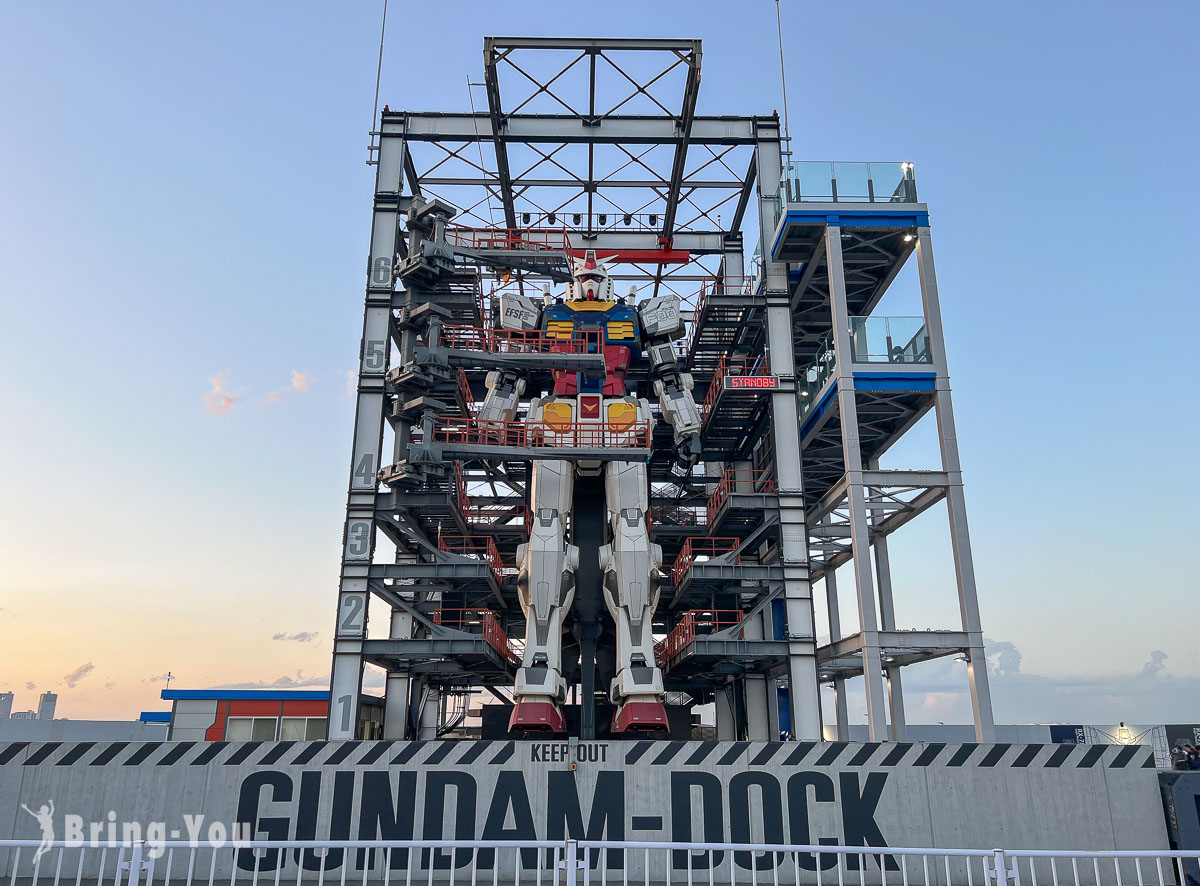 Here they set up a huge 18-meter-tall robot called Moving Gundam right in front of the building. If you check the factory's website, they keep you updated with the performance calendar which is subject to change at different times of the year.
For now, the Gundam will start dancing for a full version of 11 minutes and 45 seconds called F00/AI Awakening while the Half version is 4 minutes and 35 seconds.
You can get an up-close look from the feet of the robot or pay a fee to the special viewing platform Gundam-Dock Tower.
Bask In The Sunset At Osanbashi Pier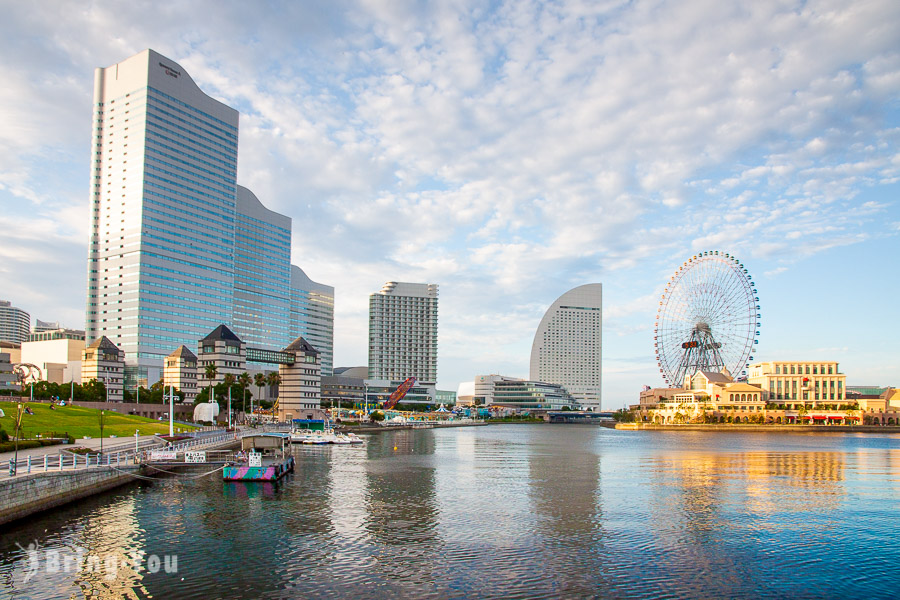 At the end of the day, nothing sounds better than an easy stroll by the water to ease the mind and immerse in a sparkling sunset view.
Let me introduce Osanbashi Pier, a spacious harborfront that people frequent for a picnic, to finish a book, or simply to kick back on the lush meadow. There are multiple scenic coffee shops with a view here to sip on your favorite bitter juice and watch the world go by.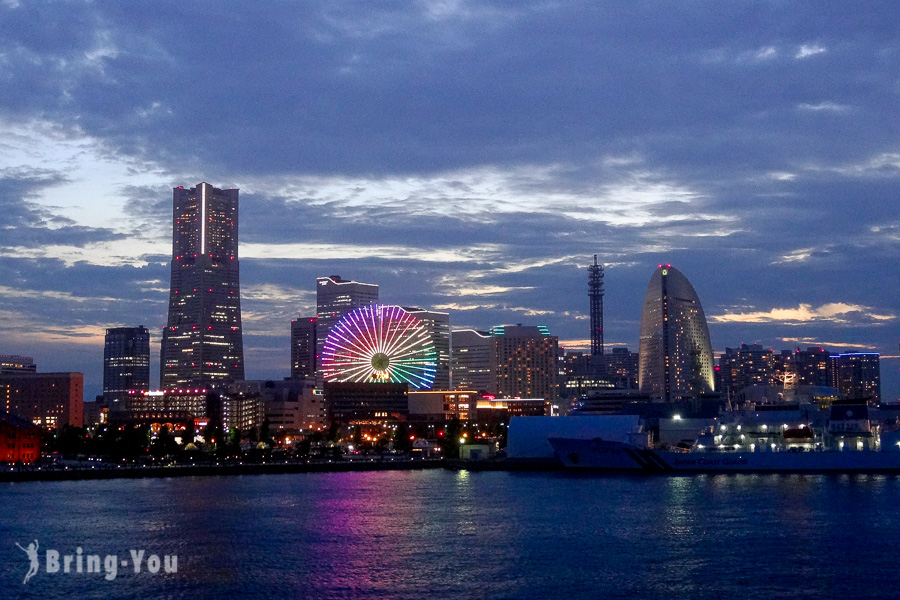 When the sun is about to disappear, it casts dazzling rays on the water's surface, revealing a silhouette of Mt. Fuji at a distance (if the air is crisp).
Final Words: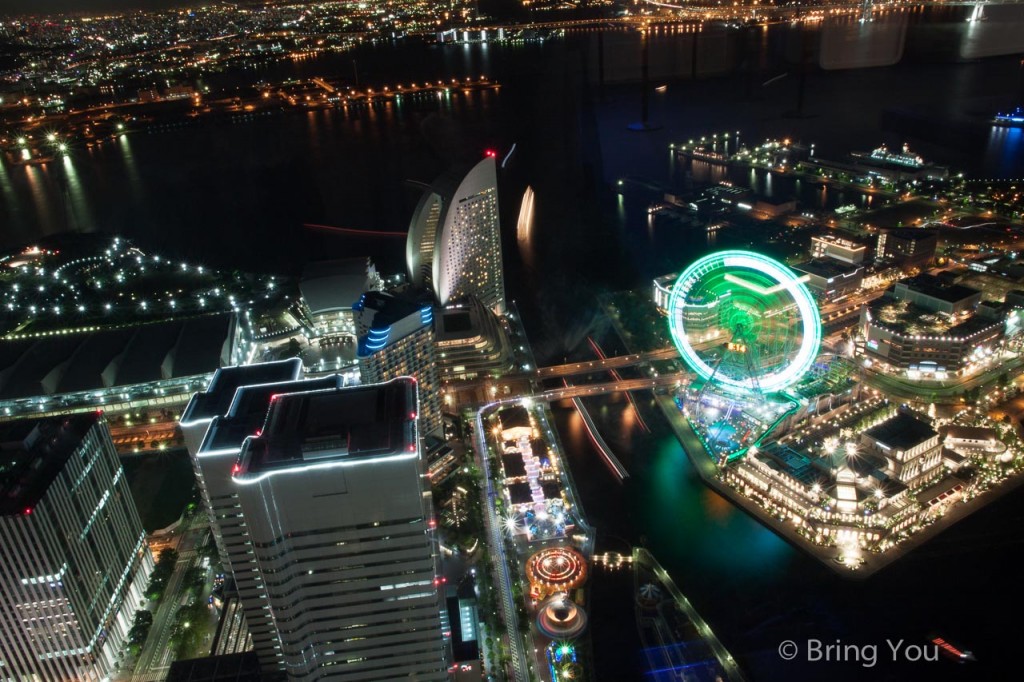 The bustling trading port of Yokohama is totally worth a day trip, especially since it's roughly an hour's ride from Tokyo by train. When your exploration here comes to an end, get back to Yokohama Station to hail a train back to Tokyo. Other than these spots I recommended above, Cosmo Park and Chinatown are some other stellar stops worth exploring in Yokohama.