For those who are new to Jungfraujoch, this guide is a life savior! Every time we switched trains, another source of curiosity and excitement came up. We knew for sure there was always something along the way waiting to keep us in awe.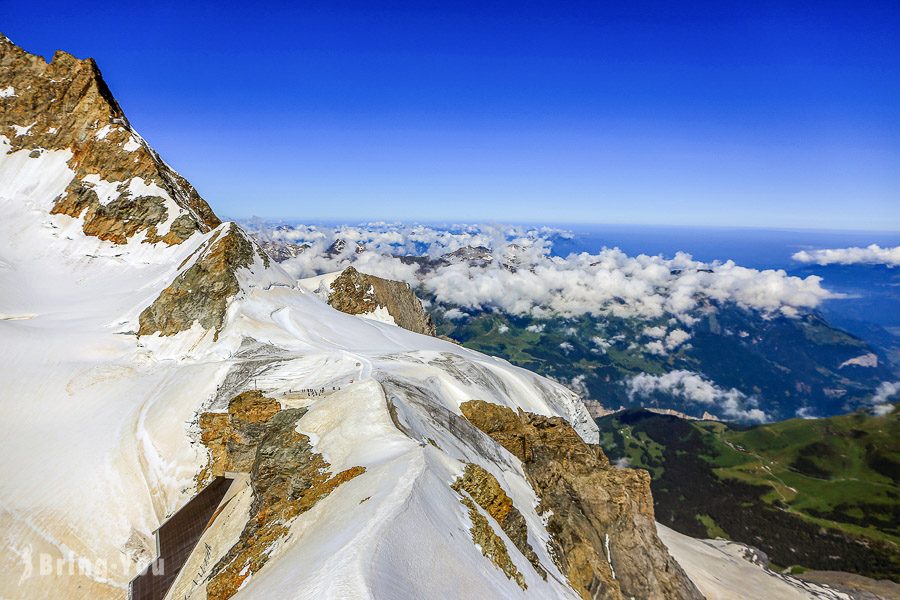 And yeah we were right! The landscape around the Jungfrau region was wonderful. But not to ruin the surprise though, we will save it for later!
The routes can be a little confusing and there should be lots of reservation and travel pass offers to consider. So read on and let us save you from headaches!
Jungfraujoch Is Your Snow Heaven
Three hours at the Top of Europe sent us to an ultimate dreamland. Jungfraujoch is one of the most popular destinations in Switzerland. Therefore, you'll see lots of visitors, and the train ticket is nowhere close to budget-friendly.
Jungfraujoch is sandwiched between two highest peaks of the Jungfrau region: Jungfrau and Mönch. And this entire region belongs to the Alps.
Jungfraujoch sits at 3453 meters above sea level, making it the highest point in Europe a train can reach.
Now you know why they call it Top of Europe!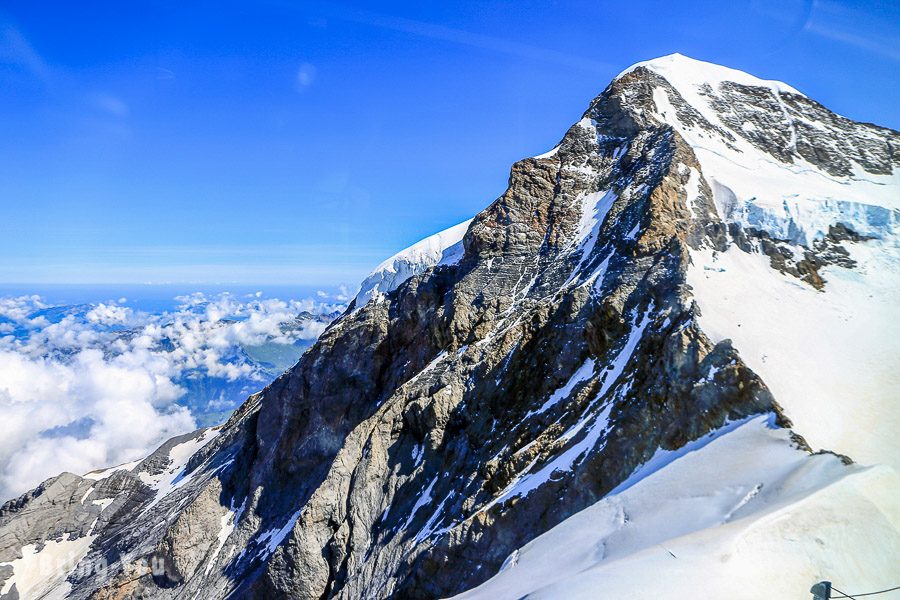 Here comes the real question: What do we love most about Jungfraujoch?
The view! It seems like the snow-clad mountains go on and on. When we were standing from the Sphinx Observatory, it was beyond imagination.
Pack lots of clothes and remember to layer before venturing out. It's really cold up there! Once you peruse our guide, you'll pick a lot of insightful tips about where to stay, what to expect, restaurants, and many more!
How to Get to Jungfraujoch from Interlaken?
Picking routes can be a daunting task for beginners. Overall, you can take either a train (cogwheel train) or a cable car to reach Jungfraujoch. You can start from any station around the Jungfrau region depending on your base. However, in this section, we'll go over THREE different ways to arrive at Jungfraujoch from Interlaken OST (at the base of the mountain). In every option, we'll show you where to switch trains, how long the ride lasts, and which operator you will be traveling with.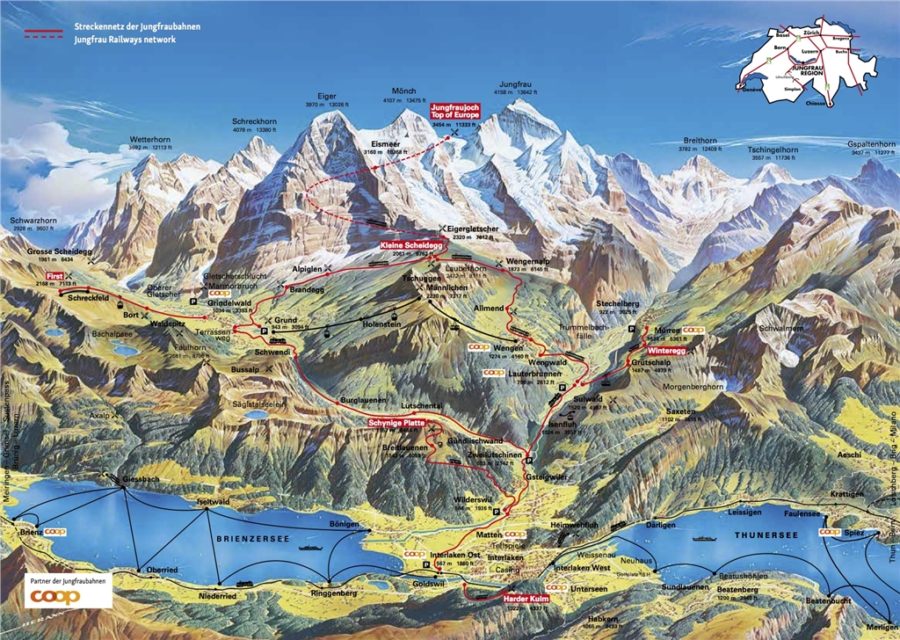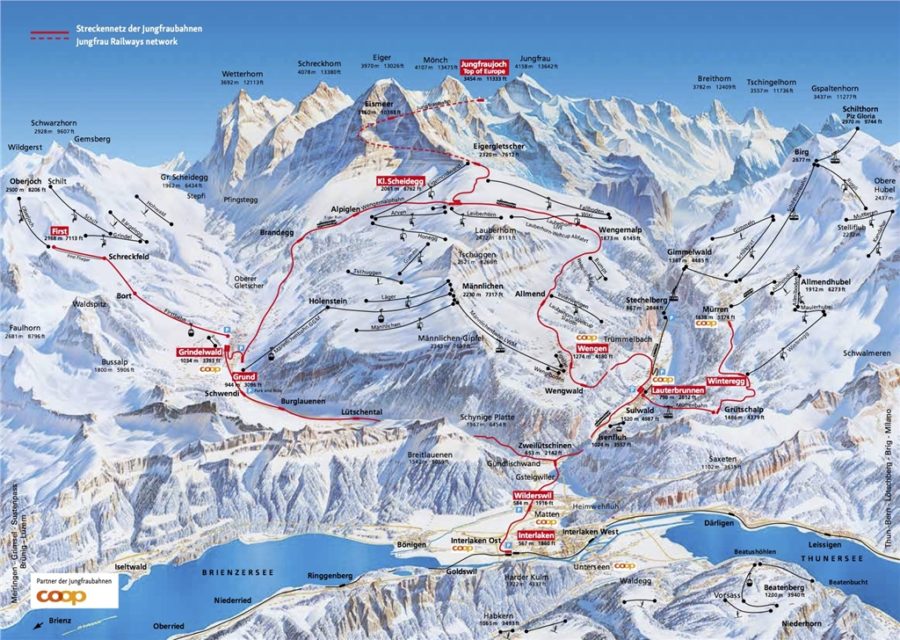 We included a map below for better navigation.
【OPTION 1】Interlaken →  Lauterbrunnen → Kleine Schidegg → Jungfraujoch
【OPTION 2】Interlaken → Grindelwald → Kleine Schildegg → Jungfraujoch
【OPTION 3】Interlaken → Grindelwald → (Eiger Express gondola) Eiger Glacier Station → Jungfraujoch
OPTION 1: Interlaken to Jungfraujoch via Lauterbrunnen by train:
The train from Kleine Scheidegg to Jungfraujoch passes through multiple stops, including Eigergletscher, Eigerwand, and Eismeer. If you want, get off to sightsee for five minutes and return onboard to carry on to the Top of Europe.
First, ride a 20-minute train operated by Berner Oberland-Bahnen from Interlaken to Lauterbrunnen.
Second, take a 38-minute train ride operated by Wengernalpbahn from Lauterbrunnen to Kleine Scheidegg. It will pass through Wengen but you don't have to switch trains over there.
Finally, take a 45-minute train ride operated by the Jungfrau Railways (German: Jungfraubahn, JB) from Kleine Scheidegg to Jungfraujoch.
OPTION 2: Interlaken to Jungfraujoch via Grindelwald by train:
Ride the traditional Jungfraujoch train from Interlaken up the alpine pastures to the summit. This classic method ascends via a seven-kilometer-long tunnel snaking through the mountain.
First, take a 30-minute train ride operated by the Bernese Oberland Railway from Interlaken to the Grindelwald Railway Station.
Second, take a 35-minute train ride operated by the Wengernalp rack railway from Grindelwald to Kleine Scheidegg.
Finally, take a 45-minute train ride operated by the Jungfrau Railways from Kleine Scheidegg to Jungfraujoch.
OPTION 3: Interlaken to Jungfraujoch via Grindelwald by train and gondola:
First, ride a 30-minute train operated by the Bernese Oberland Railway from Interlaken to Grindelwald Terminal. This is a new, modern train station serving as a transportation complex in Grindelwald.
Second, hail a cable car operated by the Eiger Express gondola from Grindelwald to the Eiger Glacier Station (Eigergletscher) in 15 minutes.
Finally, hop on the last train operated by the Jungfrau Railways from the Eiger Glacier Station to Jungfraujoch. This final train ride runs for roughly 26 minutes.
By taking the gondola, the whole journey from Interlaken to Jungfraujoch is curtailed for 40 minutes. This means you'll end up spending just over an hour, about 30 minutes less than OPTION 1 (over two hours).
If you're unsure which route to take, pick one route on the way up and make your way down on the other side or vice versa. Take a look at the route map below!
A Break-Down to Jungfraujoch and Its Surrounding Area
Mount Jungfrau is one of the most famous destinations and scenic train rides in Switzerland. The peak is nearly 4200 meters above sea level.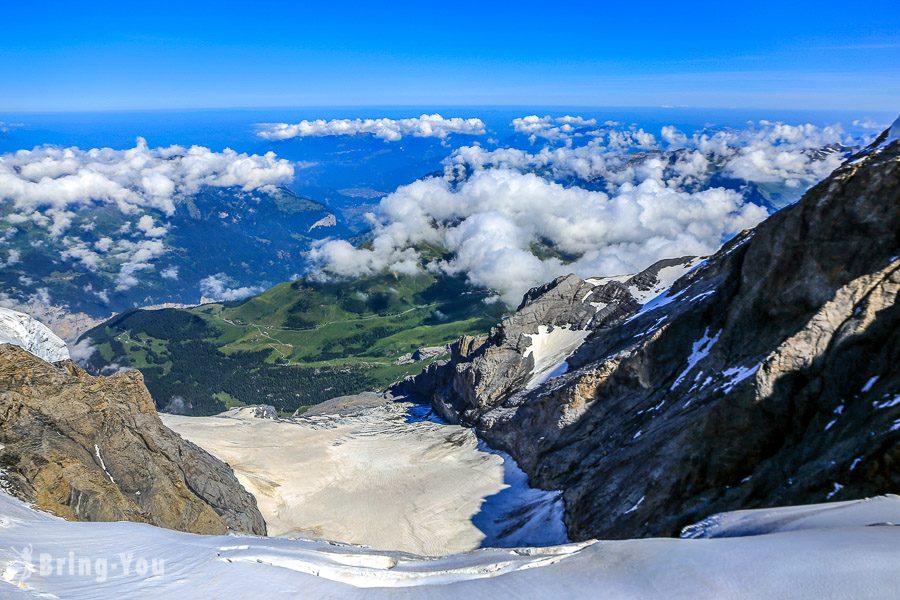 The Jungfrau Region refers to the area at the foot of the Bernese Alps, known as the Bernese Oberland. The Bernese Alps is home to Grindelwald, a beautiful alpine village and world-class ski resort leading to the Jungfrau Region.
The term "Jungfrau" literally translates to "virgin", and "joch" is "mountain pass". Finally, we have "Jungfraujoch". This is where you find the highest railway station in Europe, attracting an influx of visitors seeking an unobstructed view over the Swiss Alps Jungfrau – Aletsch and the mesmerizing snow-capped mountains.
Tickets to Jungfraujoch from Interlaken: How to Buy? Hunt for a Discount with a Travel Pass
Obtain a Regular Ticket on the Go
The standard ticket price is a real pain. It costs CHF 235.80 return per adult during peak season if you obtain it at a local railway station. It's a tad cheaper during the off-season but we don't see any big difference. A standard ticket makes sense if you're unsure about the weather and specific plan on the day you set out. If you don't want to hurt your budget this way, consider the second option – online tickets!
Pre-booked Online Tickets
There are multiple online ticket boxes offering great deals. This is one of our favorite options since it's way cheaper than over-the-counter tickets.
Obtain a Travel Pass
Swiss Travel Pass covers a majority of transportation routes in Switzerland. It lets you travel to Grindelwald and Wengen for free, plus 25% off for the last legs of the journey to Jungfraujoch.
Get this if your trip goes beyond the border of Switzerland within Europe. The Eurail Pass lets you travel to Interlaken for free and 25% off of all train fares from Interlaken to Jungfraujoch.
This type of travel pass is a handy choice for those who stay in the Jungfrau area for more than one day because it offers unlimited regional travel within three to eight days.
The Jungfrau Travel Pass includes:
Interlaken to Jungfraujoch by train, except for the final leg of the journey from Kleine Scheidegg station or Eigergletscher to Jungfraujoch, the additional ticket can be purchased at Interlaken, Lauterbrunnen, Grindelwald, or Kleine Scheidegg railway station, and is suggested to buy prior to your journey.
and,
Grindelwald Terminal to Jungfraujoch by Eiger Express and train (except for the final leg of the journey from Kleine Scheidegg station to Jungfraujoch).
Jungfrau Travel Pass is the best option if you plan to take on other excursions in the Jungfrau area such as Schynige Platte and Grindelwald, the Harder Kulm funicular, train ride from Winteregg to Murren, cable car between Wengen and Mannlichen. 
After purchasing a Jungfrau Travel Pass online, print the copy of the voucher and show it to the ticket inspector when requested. Seat reservation for the last leg is advised, especially during peak season.
Consult our comprehensive Jungfrau Travel Pass guide right here for more details, including how to use, pricing, validation, redemption, booking, and more.
Unsure of the fixed, consecutive days of the Swiss Travel Pass? Consider the Half Fare Card to cut all public transportation prices in half! The half-fare card is applicable nationwide, including Jungfraujoch.
Which Travel Pass Should You Choose?
Navigating through the Jungfrau region is a daunting task, somewhat confusing if you're new to the land.
First of all, make sure to lay everything out on a plan using Excel. Then, map out the itinerary by putting in the stops on the 1st column, transportation on the 2nd column, followed by the official fare (base rate) on the 3rd column.
Next up, add some more columns on the right that show how the prices vary after discounts, and the difference amongst the travel passes. It makes life a lot easier so you can compare the costs of all trips with and without travel passes.
Read More: Learn all about the Jungfrau Travel Pass and start planning your unforgettable trip today!
What to Expect on Each Leg of the Journey?
From Grindelwald to Kleine Schidegg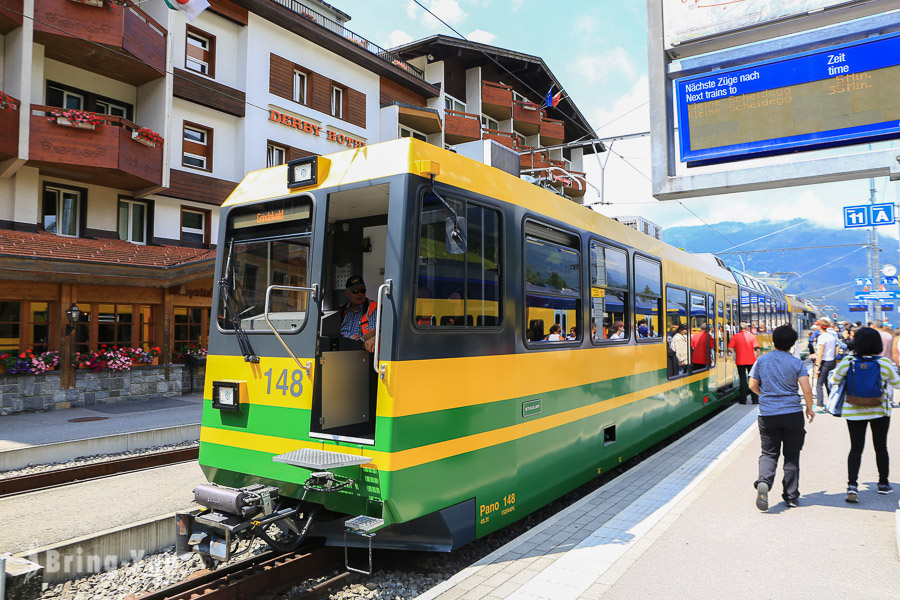 We sat on the right side of the train from Interlaken to Grindelwald to guarantee the best angles and views for all photos. When we switched train in Grindelwald to Kleine Scheidegg, we also changed to the left side to soak in Eiger North with a close-up view, but of course, you can stay on the ride to take in the sweeping wraparound view of the mountains, alpines, and alleys.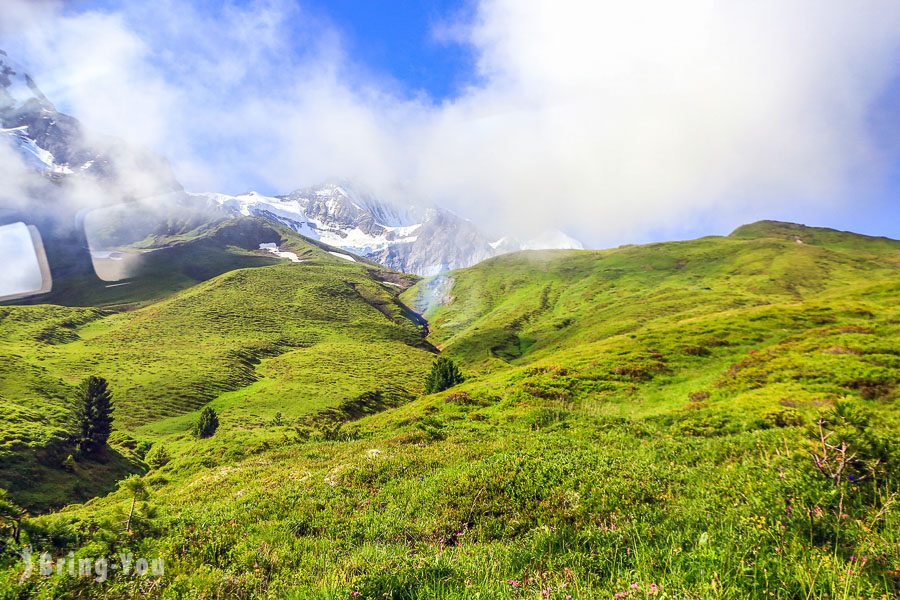 Must Read: Grindelwald: A Brief Travel Guide to Switzerland's Fairytale Village
From Kleine Schidegg to Jungfraujoch
At Kleine Scheidegg, switch trains for the last leg to the summit. This ride will cut through the tunnel which is the rocks of the Eiger.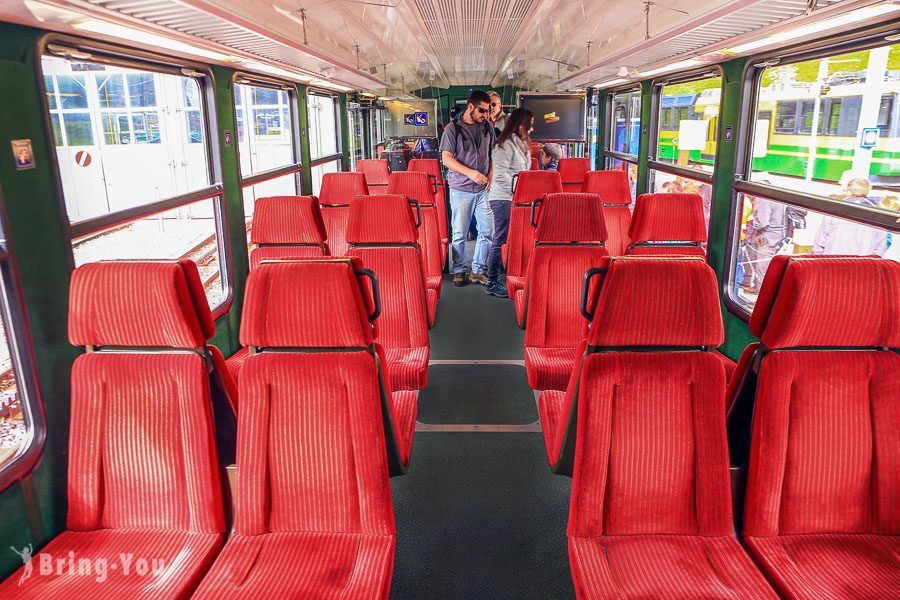 At this point, we had reserved our seats in advance so we followed the green signpost at the station to find our seats. Otherwise, we had to wait until all reserved seats were taken, then follow the orange signpost to the left-over seats.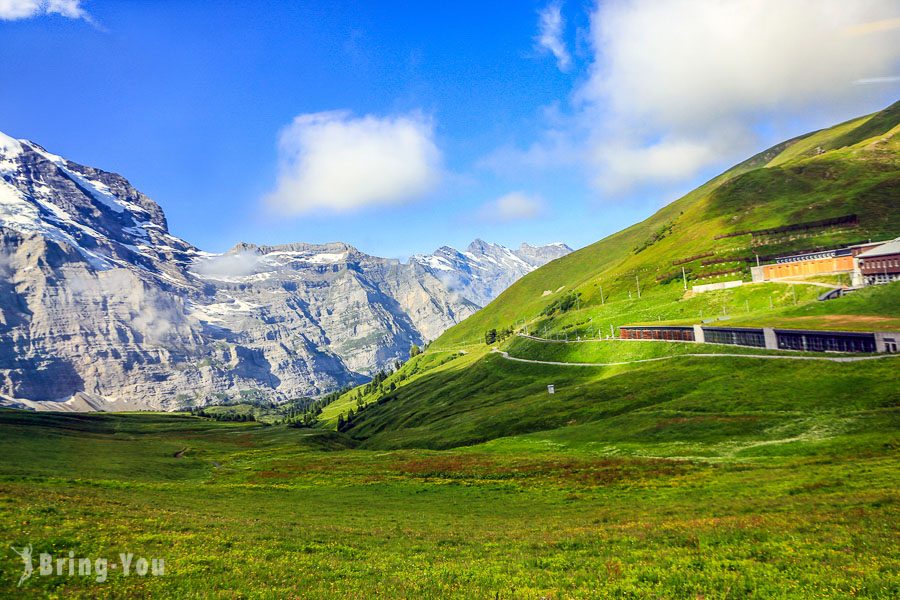 During the low season, you don't have to reserve seats in advance. But if you don't want to wait, then go ahead and book it as we did!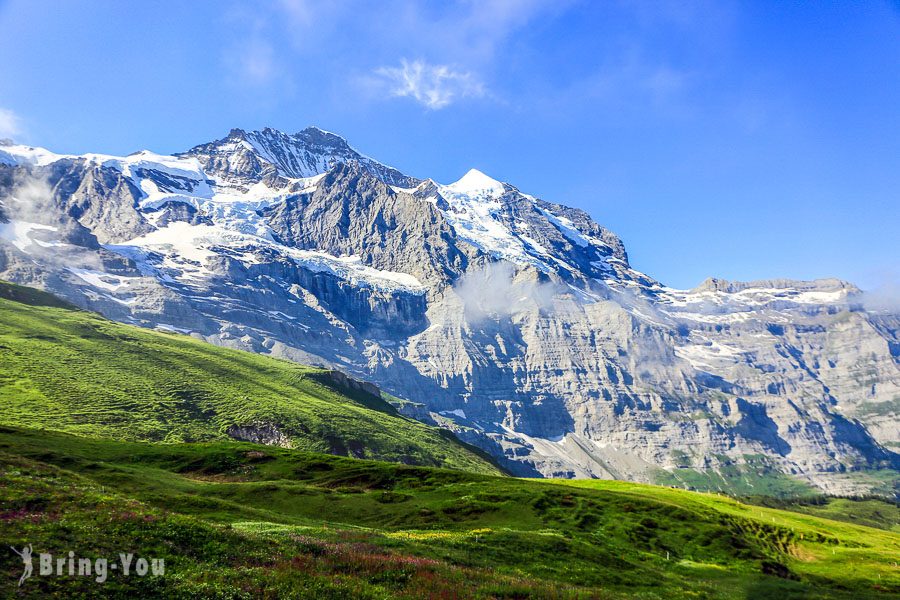 From Kleine Schidegg down to Wengen
On the way down from Jungfrau summit, we took a train ride to Kleine Schidegg and hiked from there to Wengen before hopping another train to Lauterbrunnen.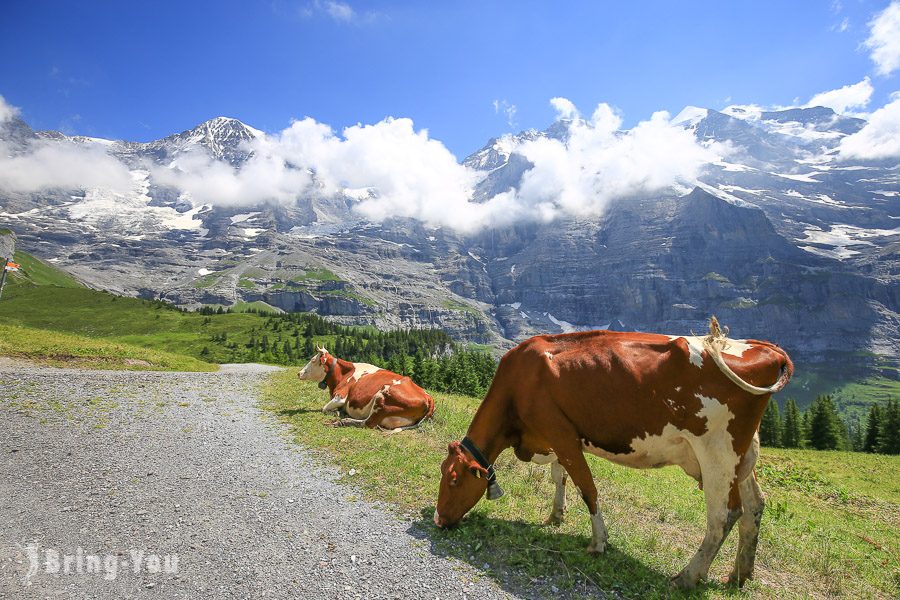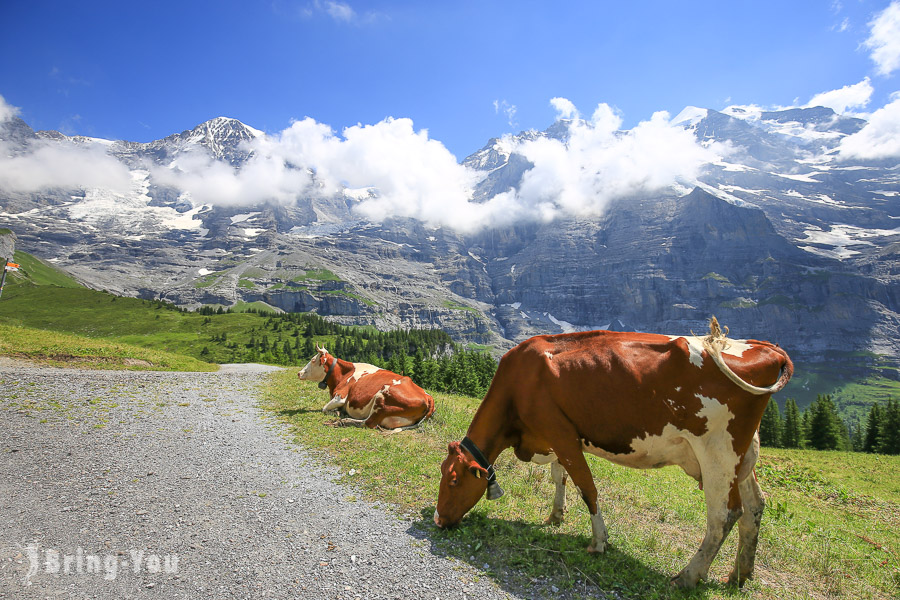 You don't have to rush though! Just take time and enjoy the vibe at the Kleine Scheidegg station. Browse through whatever souvenir shops and restaurants catch your eyes. Wind down with a meal before venturing out on the hike.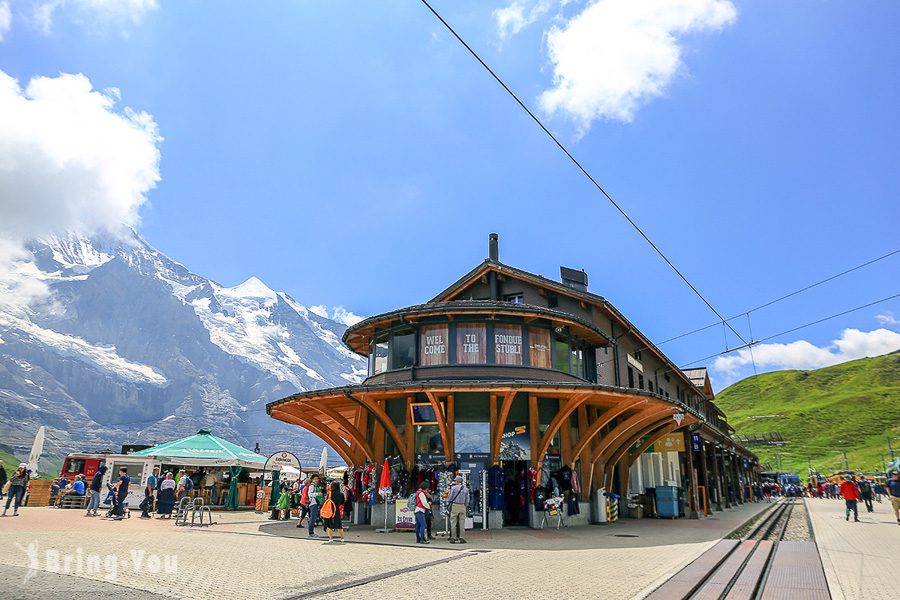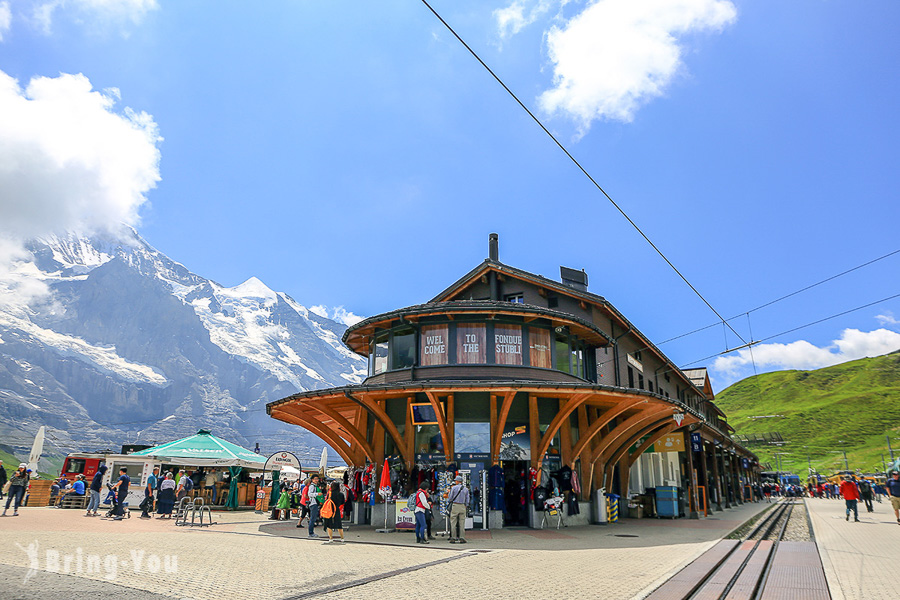 The hiking trail is right next to the station and is suitable for all fitness levels. We saw some couples in their 60s having a great time enjoying the dramatic, romantic landscape along the hike so there's nothing to be worried about.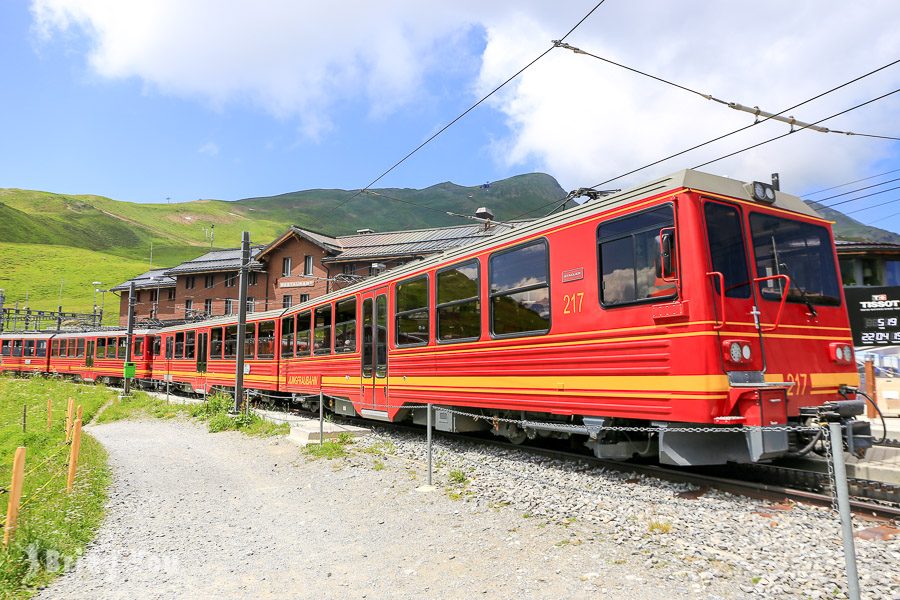 There's literally no word to describe how beautiful the sweeping landscape is. The air was crisp and clouds were dancing on the peak from far. Next to us were thriving rolling hills with shady bushes dotted at the foot. Fresh green makes a clear contrast against the white mountains and high blue sky. This is beyond imagination!
Must Read: A Day Trip Hiking From Kleine Scheidegg to Wengen Station and Lauterbrunnen
What to Do on the Top of Jungfraujoch?
After you reach the summit of Jungfraujoch, spend around three good hours fully exploring all the attractions up there. It's amazing to see how they build that many places for tourists rather than just a come-and-go observatory.
Snow Fun Park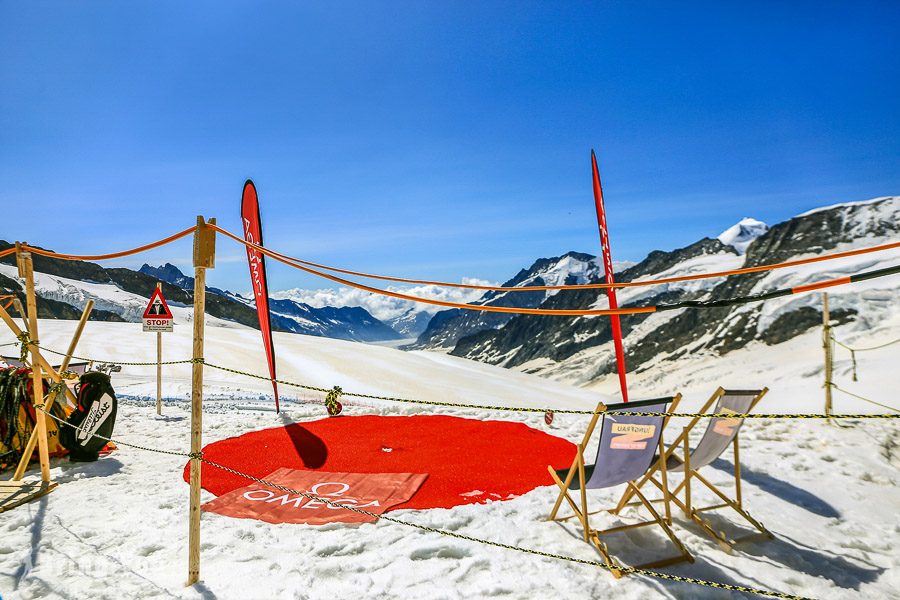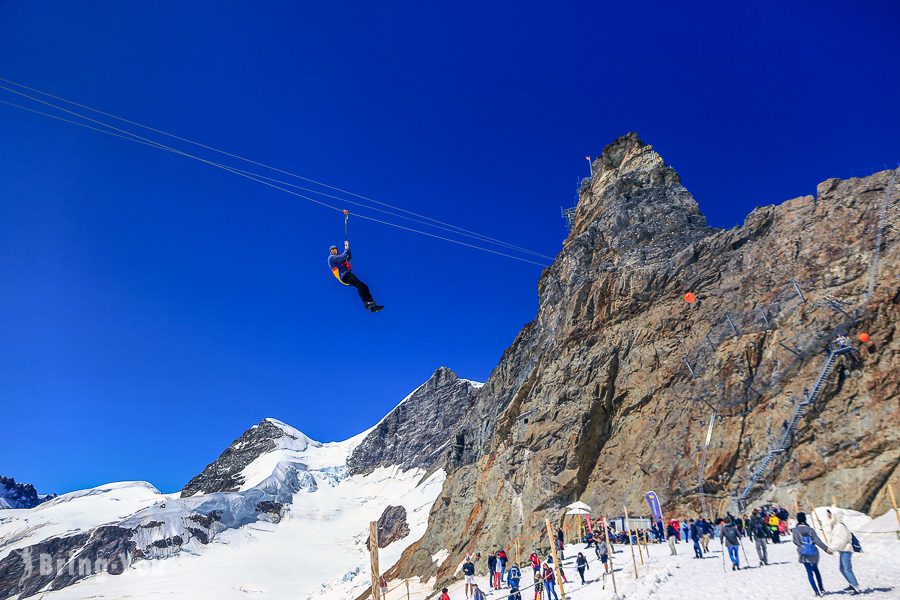 If you come with kids, make sure to check out Snow Fun Park. This is a haven of snow-related activities from snow tubing, skiing, to snowboarding and ziplining.
Sphinx Observatory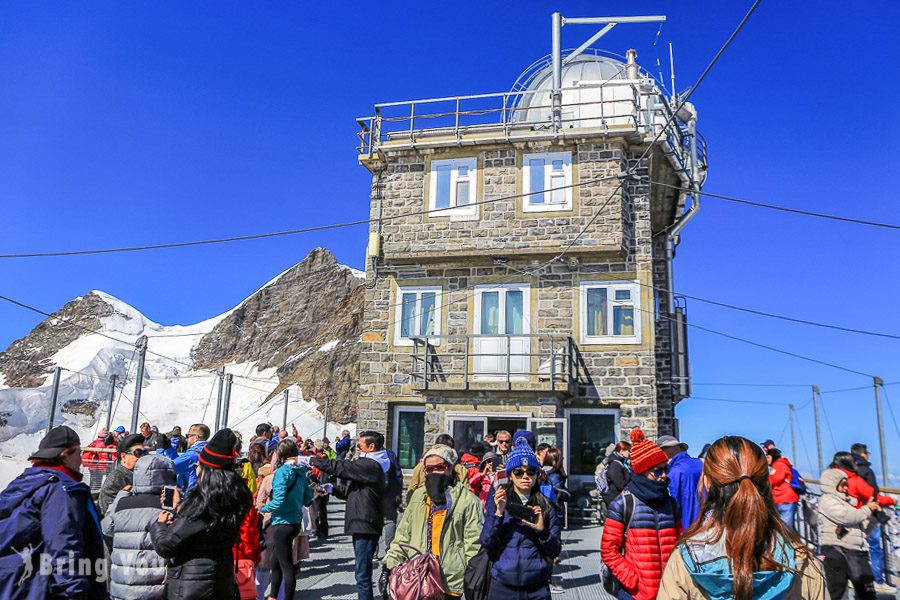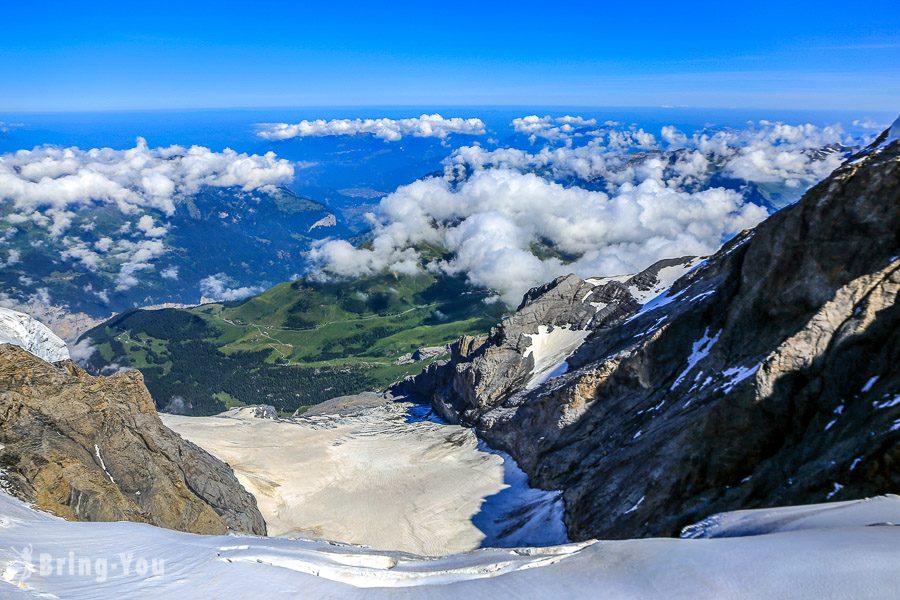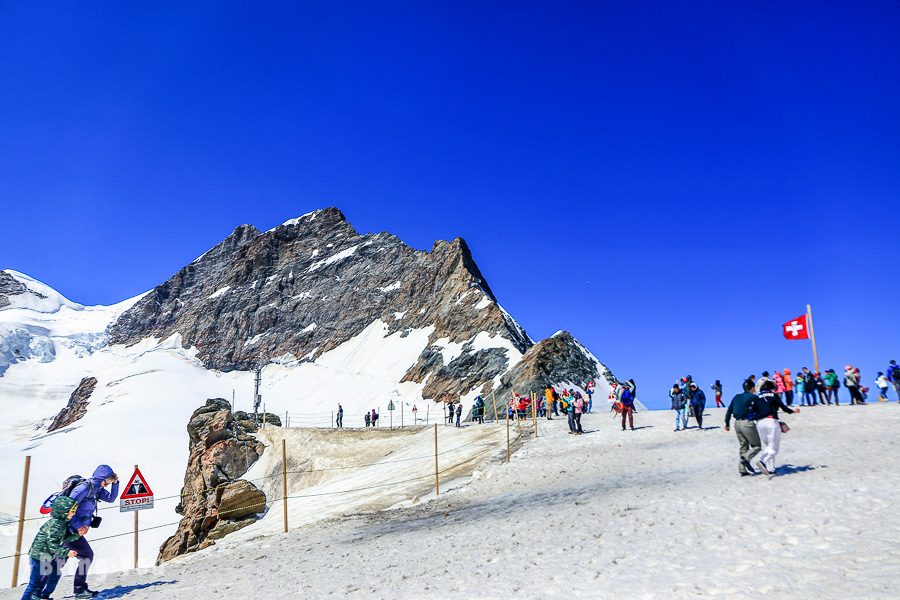 Then we have the Sphinx Observatory, a must-see here. You will take an elevator ride up to the viewing platform in less than 30 seconds before soaking in a panoramic vista of the snow ocean surrounding you.
Alpine Sensation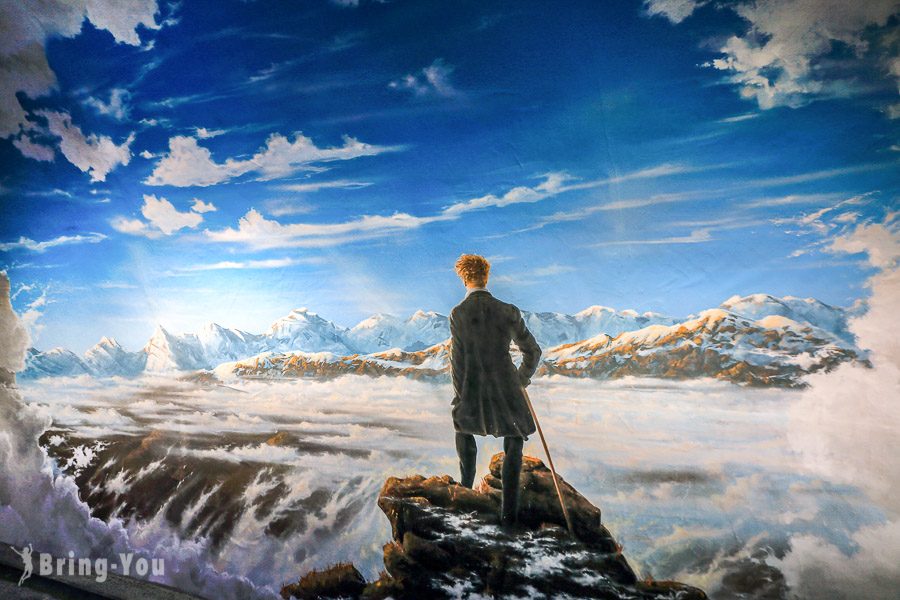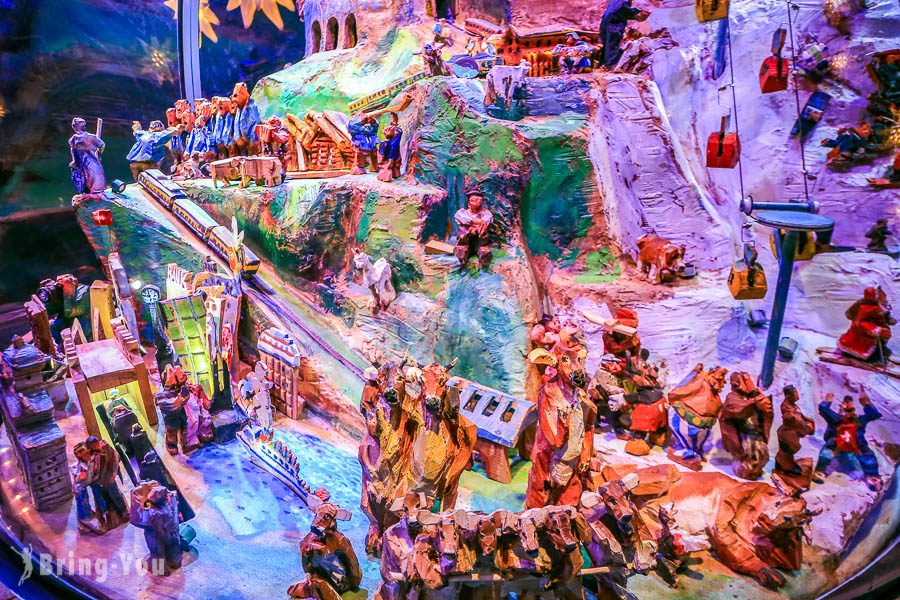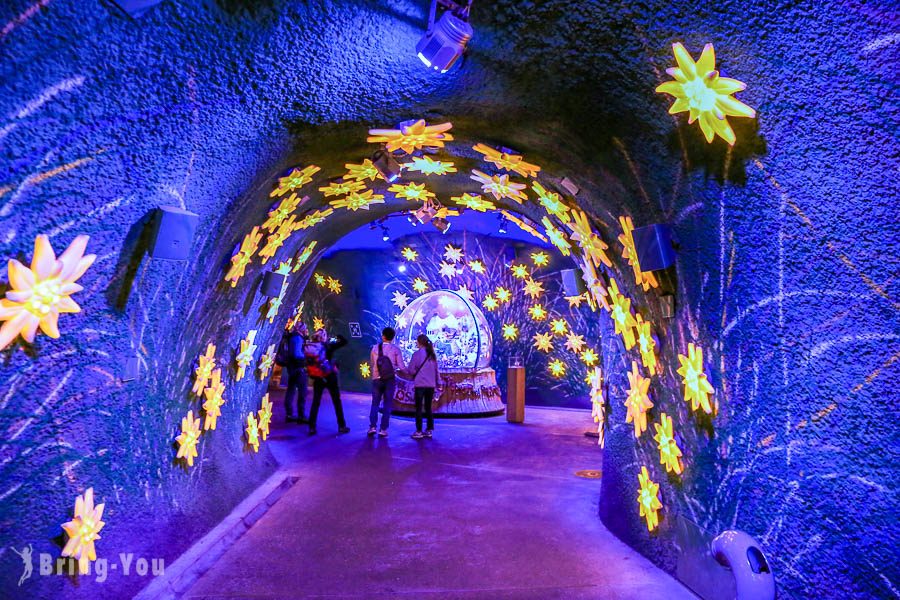 Alpine Sensation is another top call. We stopped by this tunnel on the way from Sphinx to the Ice Palace and were amazed at how Jungfraujoch railway history is brought up in such cutting-edge sentiment. The walkway lasts for 250 meters and is filled with dazzling light arts.
Ice Palace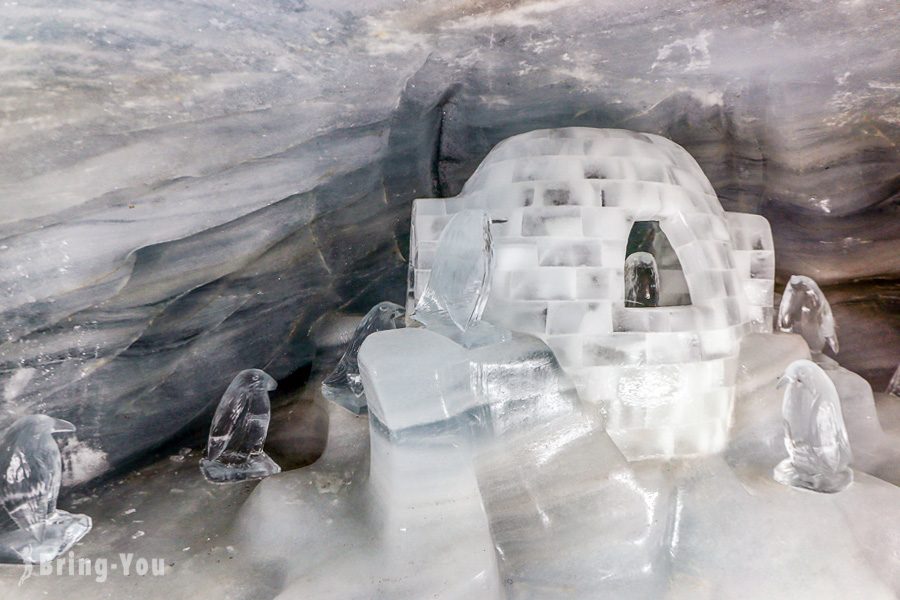 Ice Palace is surely a haven for shutterbugs. Just looking at those creative ice carvings is pure joy. There's a bear, a penguin, an eagle, and many other cool displays. The palace will melt so they change the theme once in a while.
Restaurant and Bars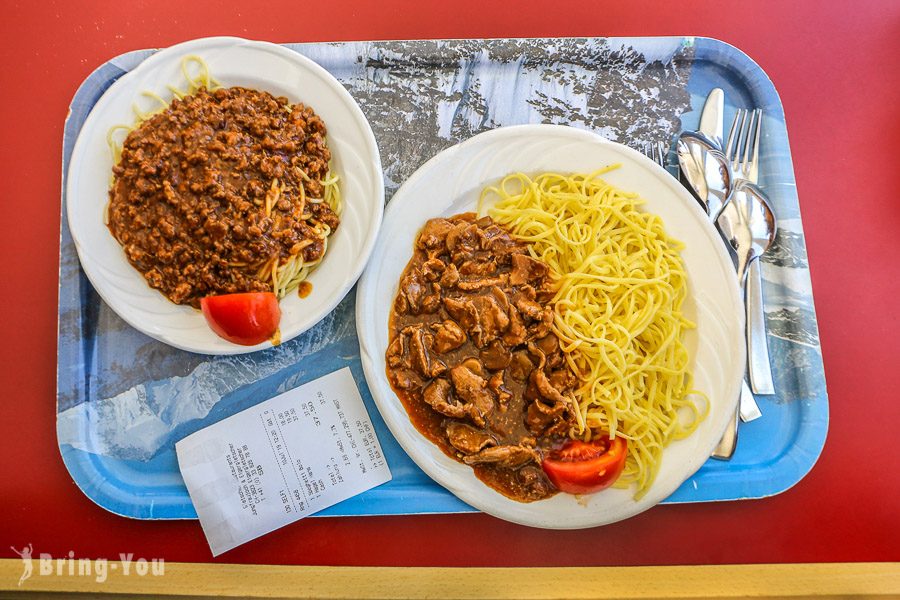 We're sure your stomach is going to rumble. There's no way you can spend three hours at the summit without eating after all those walking and playing. In that case, you have multiple restaurants to choose from, offering an extensive range of offers including Swiss cuisine (of course), sausages, French fries, grilled chicken, noodles, and many more.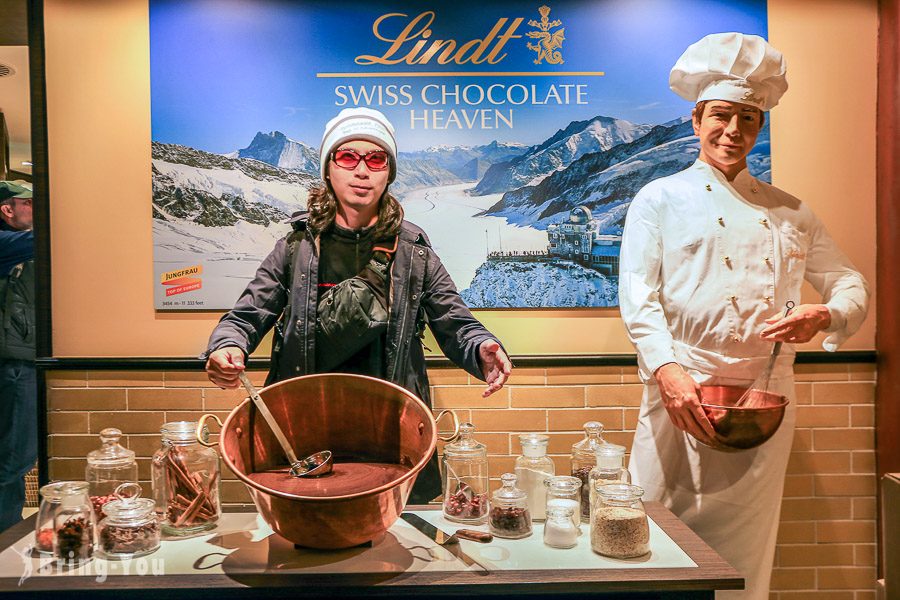 In the mood for some beers? Check out Sphinx Bar to sip on a cold beer. They also have really good hot chocolate to save you from jack frost.
If you're looking for some souvenirs or cold-proof clothes, there's a souvenir store to check out too.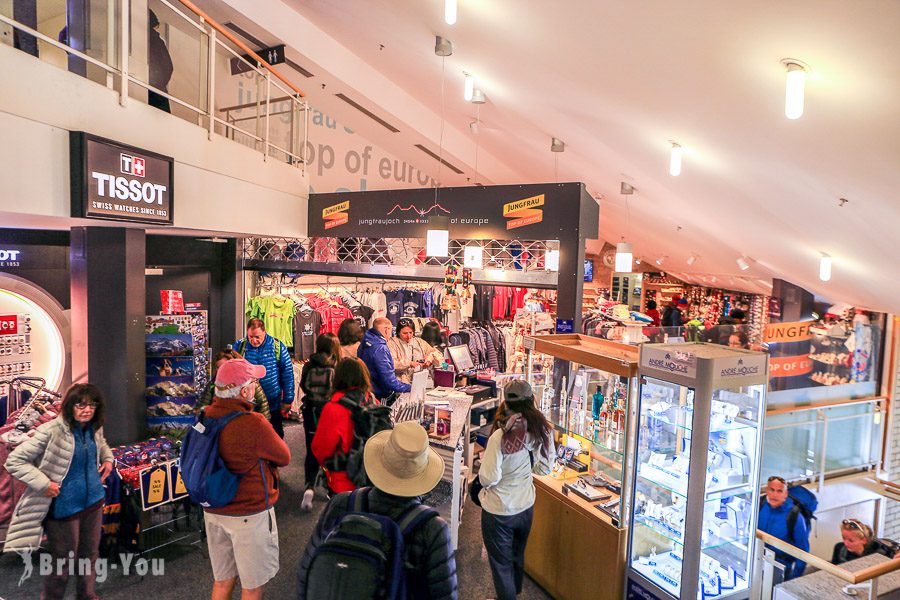 4 Best Places to Stay Near Jungfraujoch
Interlaken
We started at Interlaken, the largest town in the Jungfrau region. It's nestled between Lake Brienz and Lake Thun, where most of the train routes come by. So basically this is the major train hub in the region.
If you want to spend one to two days here, Interlaken is probably the best choice. The downside to Interlaken is that it takes longer to reach Jungfraujoch from Interlaken compared to other towns in the region.
Must Read: A Day Trip in Interlaken: Immerse into a Fairytale Land of Switzerland
Grindelwald
Here is another handy spot to make a base with plenty of train rides and cable car rides whisking you up to the summit. Unfortunately, breathtaking alpine views are absent but they have a multitude of dining options and supermarkets to compensate for the absence of alpine views.
Wengen
Wengen is close to Kleine Scheidegg, and Lauterbrunnen. You will also find lots of hotels and great restaurants here. However, Wengen doesn't promise you the small-town charm that you get from Lauterbrunnen.
Lauterbrunnen
Lauterbrunnen is a picturesque village where rustic houses, chalets, hotels, and restaurants gather. However, Lauterbrunnen is also a touristy and busy area.
Brutally Honest Tips Before You Set out to Jungfraujoch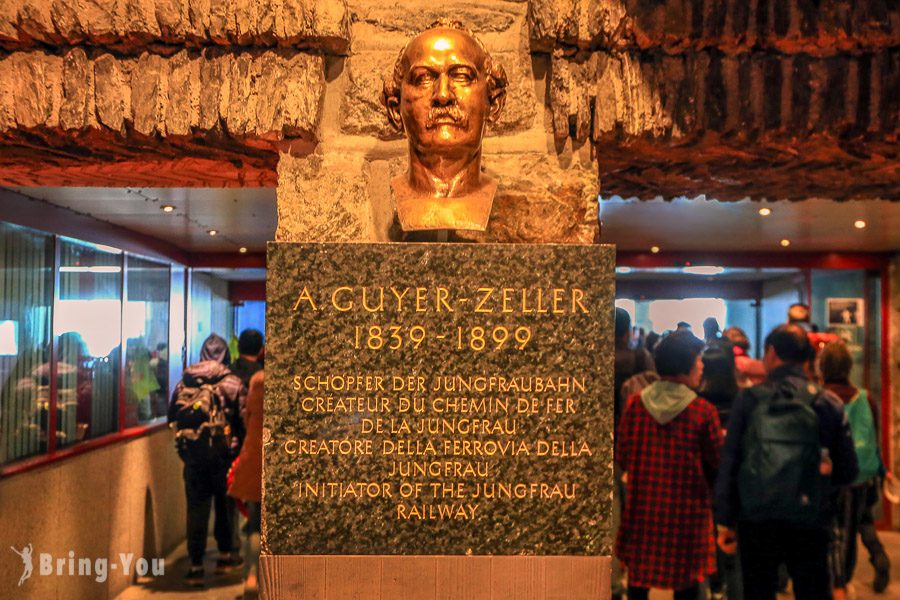 Beware of the high potential of altitude sickness! Pack drinking water to prevent it. We've seen tourists throwing up after getting off the train, especially if you head out to the summit for the first time.
The busiest season starts from May until September as the weather is nice and fogless. So make sure to reserve your seat on the train.
Sit on the right side of the train to guarantee the best view of the mountains and valleys.
Go early in the morning to beat the crowd. Elbowing out with people when you have altitude sickness is the worst feeling ever!
Packing Tips to Avoid Jack Frost: A jacket or long-sleeve shirt, Rain jacket (optional), Fiber pile vest, Warm sweater or sweatshirt, Hat, scarf, gloves, Wool socks, Windbreaker
So Is Jungfraujoch Worth It?
Heck yeah! We wish we could have stayed there longer. The sense of ultimate peace is beyond compare and all of the hustle of daily life was completely gone. Don't forget to bring your camera though! And for now, review our guide one more time, get your tickets ready, pack your bag and have fun!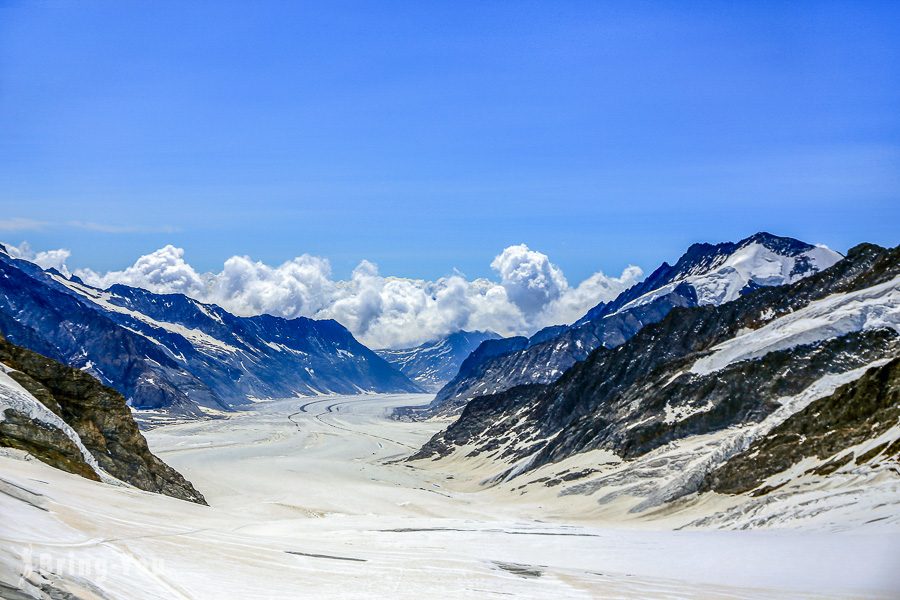 Everything You Need to Know about Switzerland
Explore more of our adventures around Switzerland:
Simplify Your Switzerland Trip