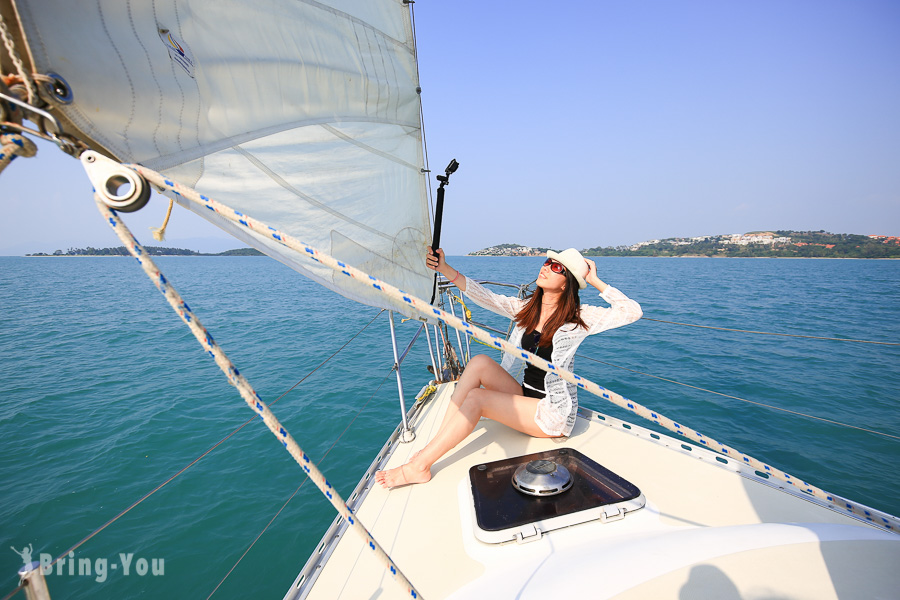 Who would have thought three days on a deserted tropical island can be so fun and quiet at the same time?
The thing with most of the islands we've been to is either a leisure paradise for relaxing and eating or a thrill-seeking hub full of forest-bathing activities and extreme water sports.
Koh Samui, on the other hand, is a medley of everything happiness-related. Have you ever been to a place where wealthy holidaymakers, families, honeymooners, and backpackers all find a middle ground?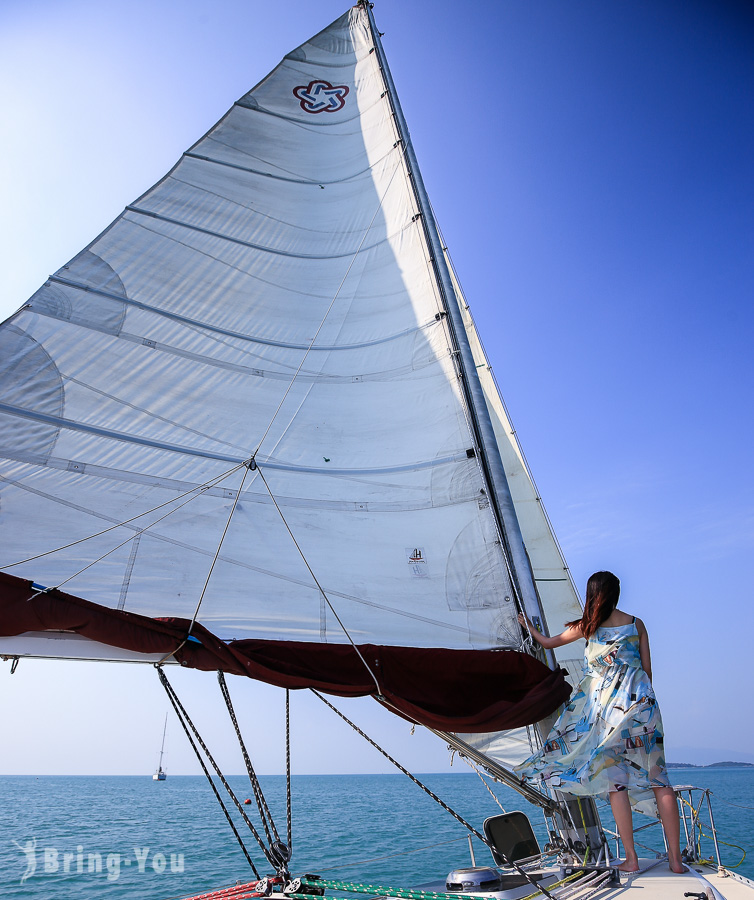 The top things to do in Koh Samui need pages to round up an epic list. From a private sailing trip, a sunset party, snorkeling in the deep blue sea, mountaineering, canoeing to Buddhist temples, incredible night market, and tropical massaging – you name it.
This digestible travel guide to Koh Samui is your pill for planning a perfect getaway to one of the most gorgeous islands in Thailand.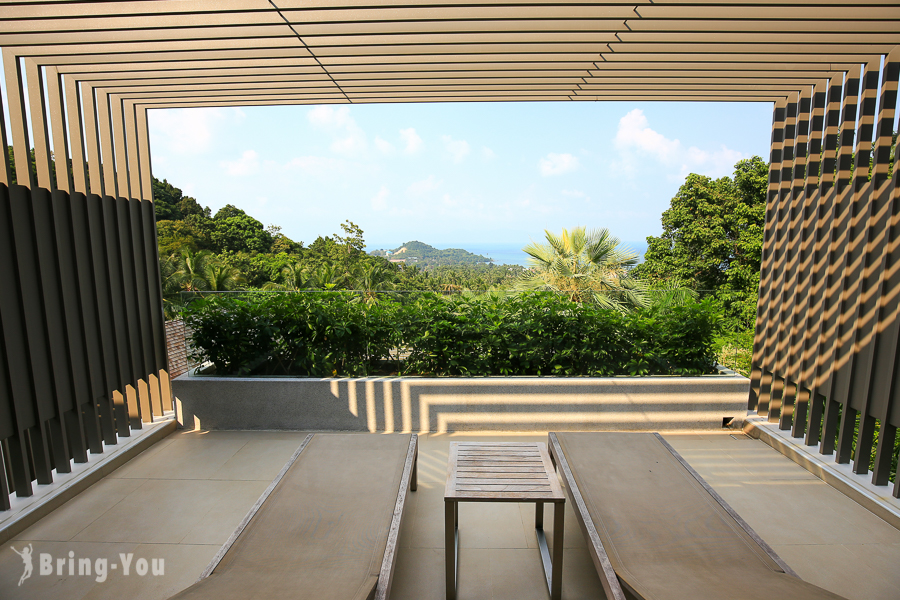 How to Get to Koh Samui from Bangkok?
By Air – 90 minutes
Flying is hands down the fastest way to reach Koh Samui from Bangkok within a 90-minute flight. Flights between the Suvarnabhumi Airport to Koh Samui Airport are available daily. The only downside to this is the hefty price tag. But in exchange, it will save you 15 to 17 hours roaming on the road.
Koh Samui Airport is exclusively operated by Bangkok Airways, which explains the reason behind the hefty price. Once you arrive at the airport, get on an airport transfer to arrive at your desired destination.
By Air + Bus + Ferry – 5 hours
Alright, this combo will save you some more bucks by combining three different tickets into one combo. Nok Air, Air Asia, and Thai Lion Air all offer combo tickets.
You will be departing from Don Muang Airport in the morning to Surat Thani Airport. The flight hovers between an hour to an hour and a half.
Upon arrival, you will be led outside to an air-conditioned bus which will take you to the pier in Koh Samui in the next 90 minutes. Right at the pier, you will see a ticket counter and a little shop with beer, snacks, and other refreshments at normal cheap shop prices. All you need to do is show your reservation with the airline you had earlier and they will issue you a ticket to the ferry.
Now you're almost there. Board the ferry and unwind for about two hours soaking up the gorgeous seascape until you get to the island.
By Bus – 14 Hours (Our Least Favorite)
We only recommend this one if you're really tight on your budget and if you're confident enough in your fitness level. Bus-ing is the most cost-effective way to get you from Bangkok to Koh Samui if you're willing to spend 14 hours on the road.
There are public buses that leave from Sai Tai Mai Terminal in Bangkok or you can opt for one of the tourist buses that depart from the Khao San Road area. The bus will take you to Surat Thani pier in 12 hours before you come aboard the ferry from Surat Thani to Koh Samui in the next two hours.
How to Get around Koh Samui?
By Songthaew
It's local, it's fun, it's unique. A songthaew is a quirky choice if you wanna get around Koh Samui in a pick-up truck with a converted bed. The best thing about songthaew is that it can carry up to eight adults at once.
By Taxi
Taxis are everywhere in Koh Samui but not meter-based. Therefore, bargaining skill is needed!
By Scooter Taxi
If you don't mind clinging on to a stranger, scooter taxis make a perfect choice. Most of the time, scooter taxis can only accommodate one passenger at a time. Plus, bargaining skill is essential!
By A Chartered Car
If you're with a big family or group of friends that wanna travel around the island with ease, go ahead and book your own car. Work your way around and set a maximum time you wanna rent like in a day or two and you'll have a private driver sending you to anywhere you want without any haggling skill needed.
The Coolest Things to Do in Koh Samui to Keep You Occupied for 3 Days Straight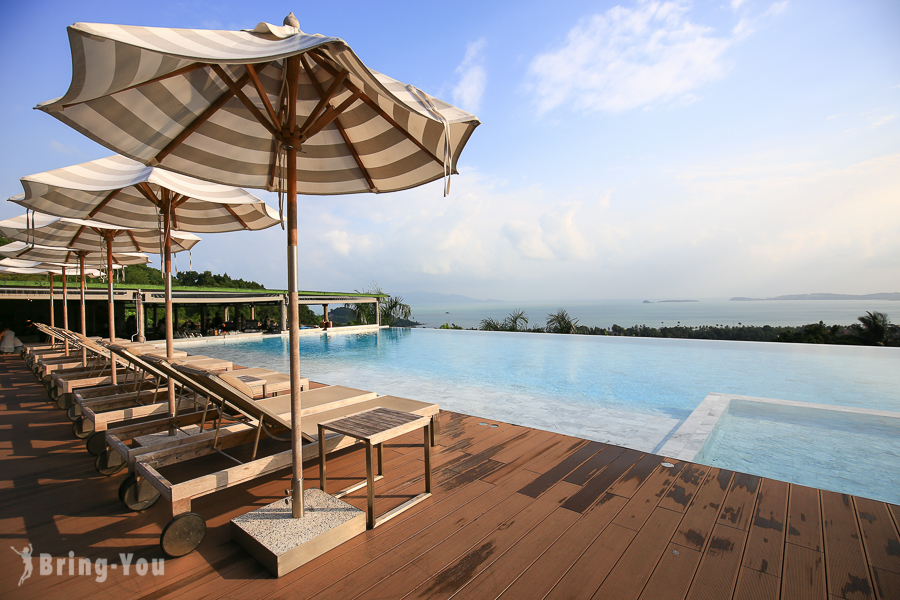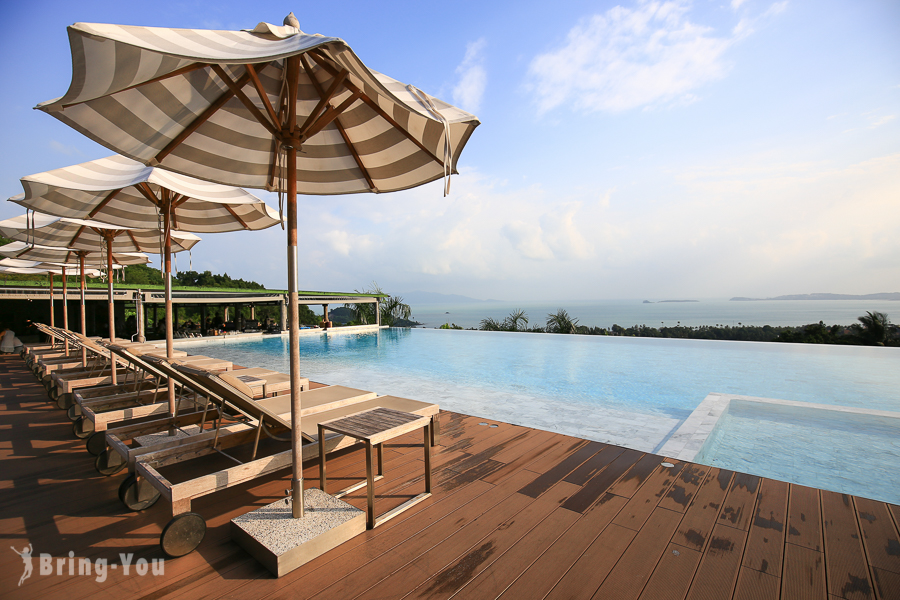 Day 1: Anything Beach-Related
Koh Samui for us is a place to chill. It's hard to resist the temptation of the untamed shoreline of Koh Samui. It's like a perfect excuse to stay put for a lazy day. Even though there are plenty of things to do in Koh Samui, beaching is literally the easiest way to reconnect with nature and be one with the water around you.
Some of the beaches are calm and quiet, some others are sprawling and upbeat. The most popular and sometimes crowded beaches are Chaweng Beach and Lamai Beach east of the island.
If you're a first-timer to the island looking to live up to the hype, these two beach towns have everything you need for an excellent stay.
Leisure-wise, Bophut and Maenam Beach lead the chart. For those looking for a complete getaway, Bang Por Beach is surely a better call.
Day 2: Conquer Angthong National Park
Don't you dare to think Angthong National Park is just a place to come and go!
In fact, if you wanna experience Angthong to the fullest, you've gotta need a whole day straight. If you're an adventurous soul like us, get on a boat heading for Angthong National Park, go snorkeling, kayak to the mystic caves, take in the exotic marine life, and marvel at the intoxicating beauty of this magical underwater world!
We booked a one-day trip where they took us from Koh Samui to Koh Wao on a motorboat first thing in the morning. Koh Wow is a cluster of three islands with a shallow body of water perfect for snorkeling and kayaking.
Then head to Thalae Nai Lake, a saltwater lake surrounded by limestone cliffs by noon. The entire afternoon is saved for Angthong National Park where you visit Tham Bua Bok cave with all the hanging rocks, go swimming, or just be lazy beaching.
Day 3: Watch Sunset and Laze Around with Tropical Massage Experience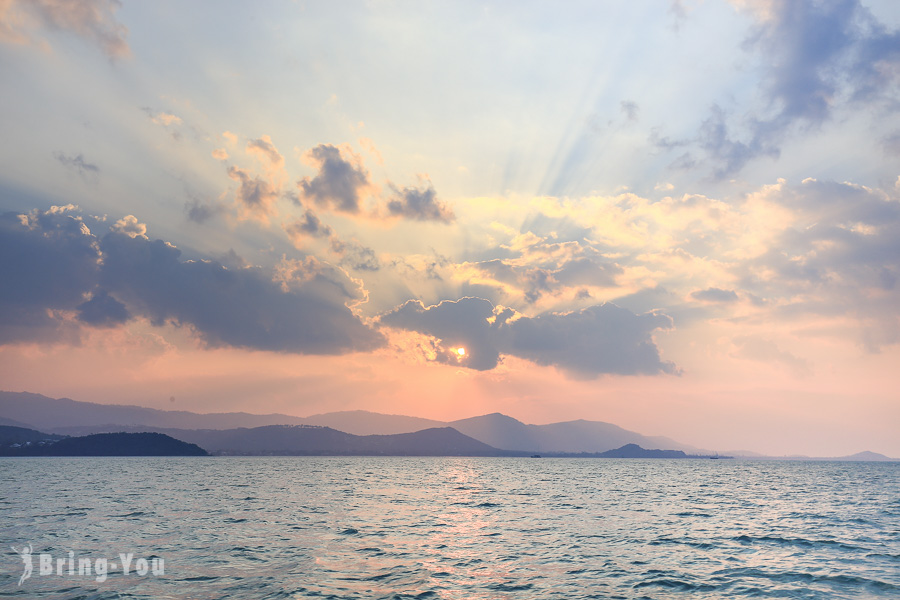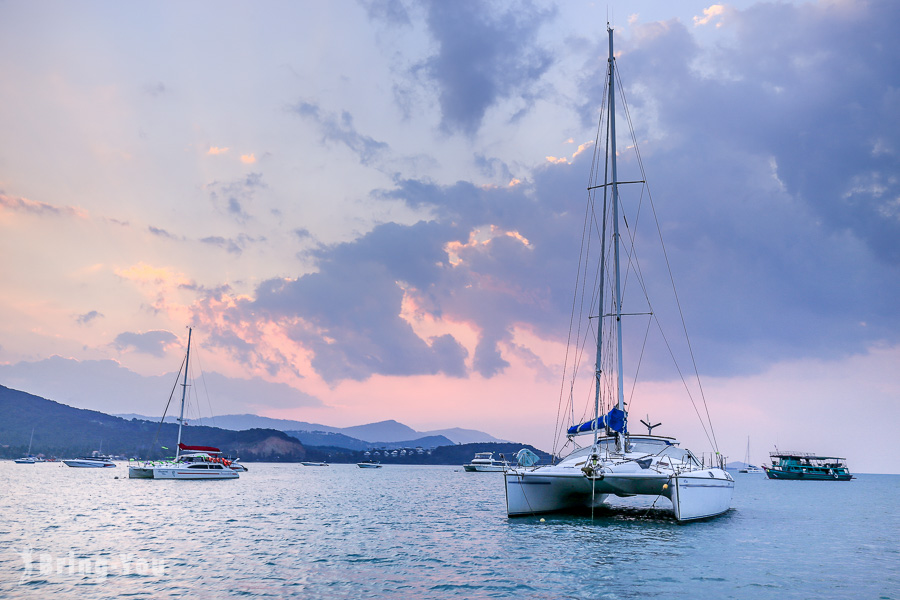 If there's anything that embraces the nostalgic vibe of Koh Samui's throwback, that would be a chilling afternoon watching the gorgeous sunset by the coastline. Get in here if your heart is after everything romantic, inspirational, and photogenic! The best places to watch the sunset in Koh Samui range anywhere from a private hut behind a beach club to a sundowner beachfront restaurant nestled among coconut trees. These places are born to leverage your intimate with the setting sun.
Lounge back on one of the beanbag chairs at The Jungle Club or plunge in the pool of Woobar at W Retreat Koh Samui. L'Ananas Restaurant, on the other hand, is one of the most stellar spots to send you to the wildest dream with a romantic candle-lit dinner on the sand.
At the end of the final day, our muscles started to feel a little irritated and our brain started to go numb! So we decided to sign up for a 1.5-hour traditional Thai massage experience at Peace Tropical Spa.
Capping off the trip with a stellar massage treatment using aromatic herbal steams and delicious fruit scrubs is the best way to be refreshed and alive.
Best Places to Stay in Koh Samui
Chaweng Beach: the best area to stay in Koh Samui for the club scene, hanging out at night, bar-hopping, and socializing.
Best Hotels in Chaweng Beach: Samui Resotel Beach Resort.
Chaweng Noi Beach: less noisy with a gorgeous sunset, insanely cool water sports, and swimming spots.
Best Hotel in Chaweng Noi: Vana Belle, A Luxury Collection Resort.
Bo Phut Beach: perfect place to chill after shopping through Fisherman's Village and unwind at some of the hipster cafes.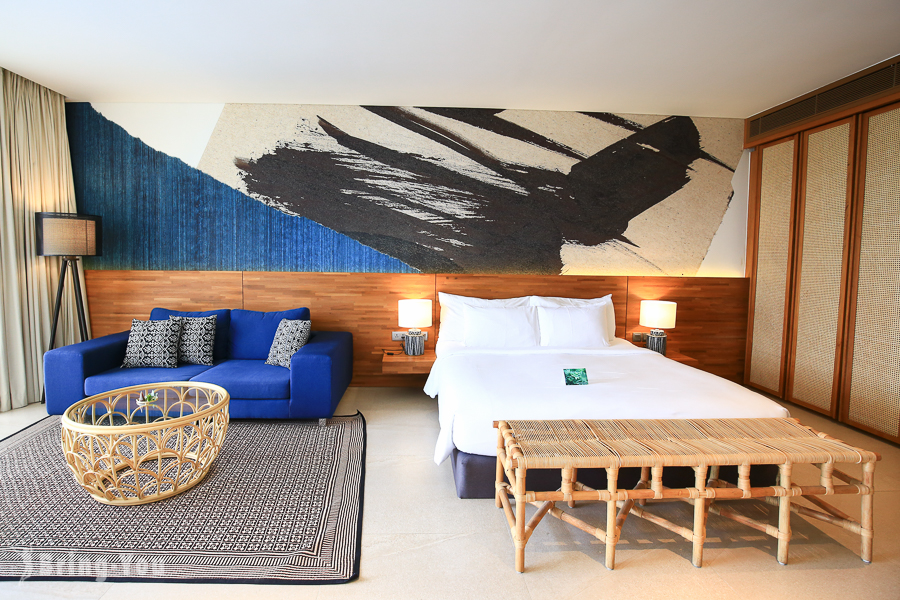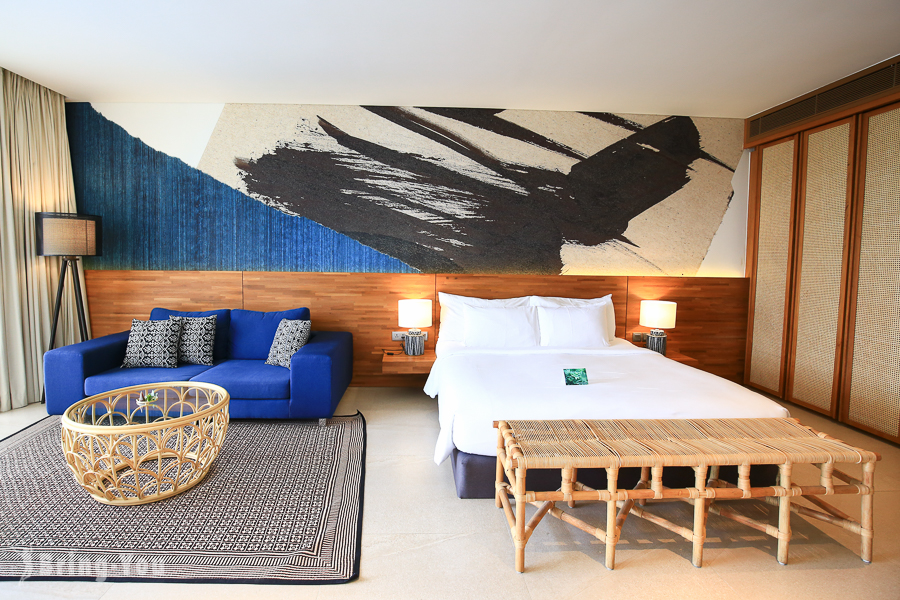 Best Hotel in Bo Phut Beach: Mantra Samui Resort.
We hope you're gonna have the most wonderful days in Koh Samui. If three days are not enough, then save some space for the next return. Make sure to visit Koh Samui between December to February when the air is crisp and it's sunny all day!
Discover More Unforgettable Island Escapes in Thailand