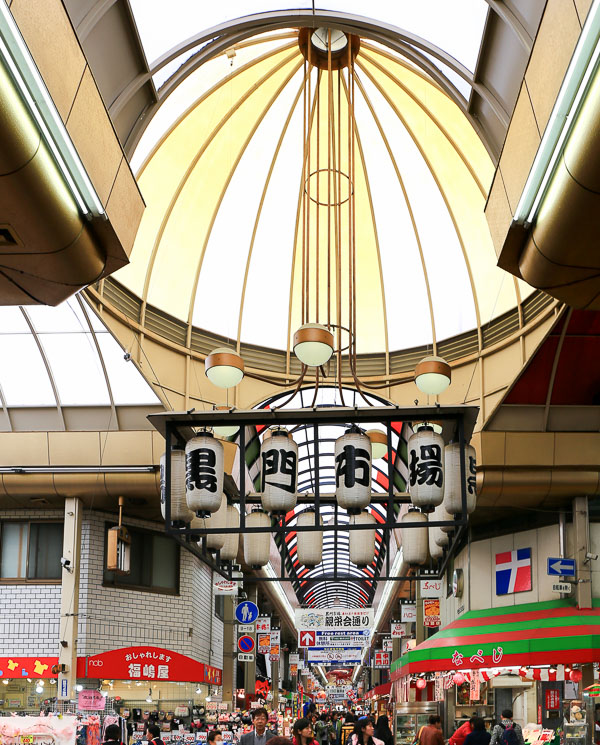 Kuromon Ichiba is one of our favorite stops in Osaka, and it should be yours too. This especially rings true when it's raining out there and you need a welcoming place to find some hot comfort food to beat the chilly day.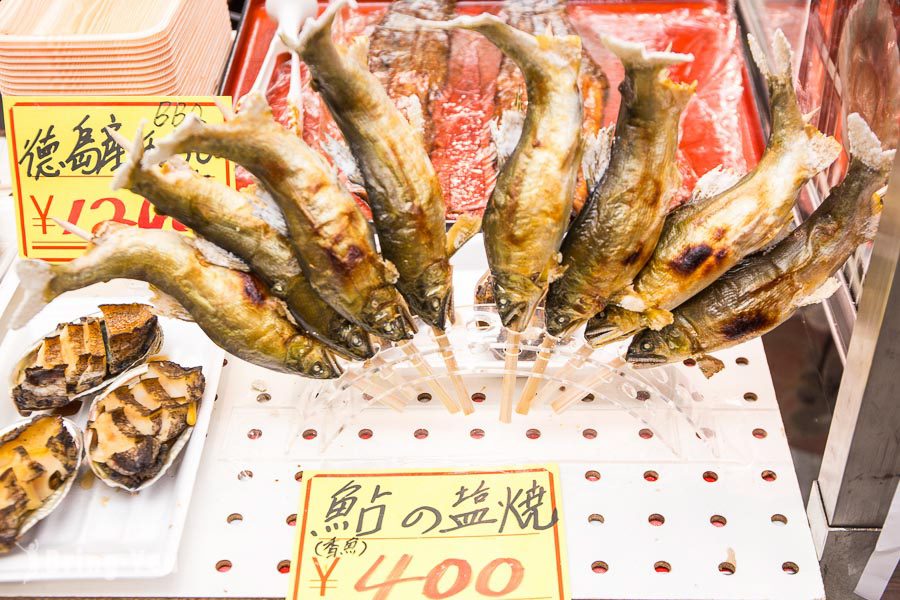 Just thinking about the fact that it's been around for so long since 1902 makes it even worth exploring!
Before we came, we only knew it was an old, famous market with seafood being the biggest sales. Not until we came did we realize that Kuromon Ichiba had so much more than that. It's like a world of its own – an assortment of smells, noise, chatting people, laughter, lots of vendors, and lots of colors.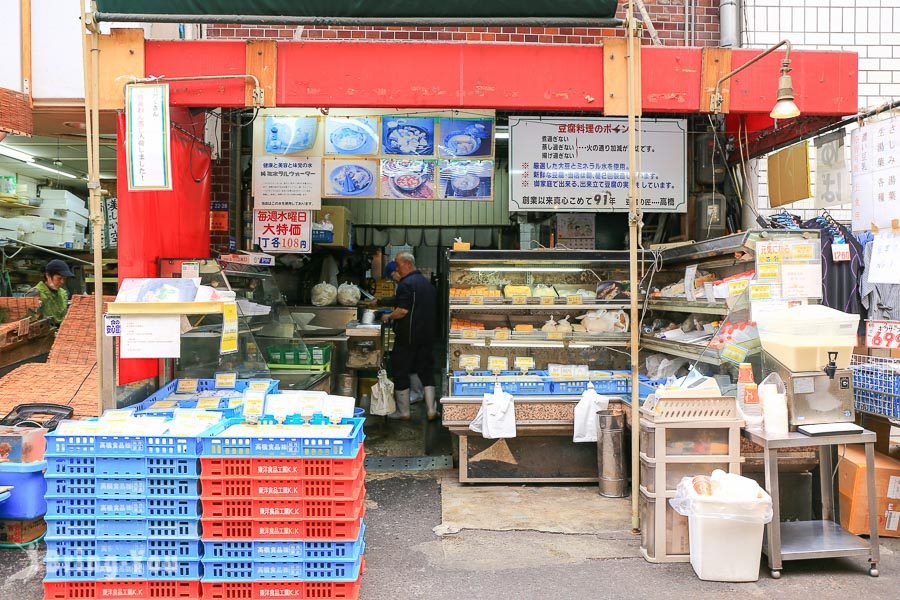 And so we thought to ourselves: "maybe first-comers like you need a decent travel guide to this specific market so you know where to go, what to eat, and what to expect".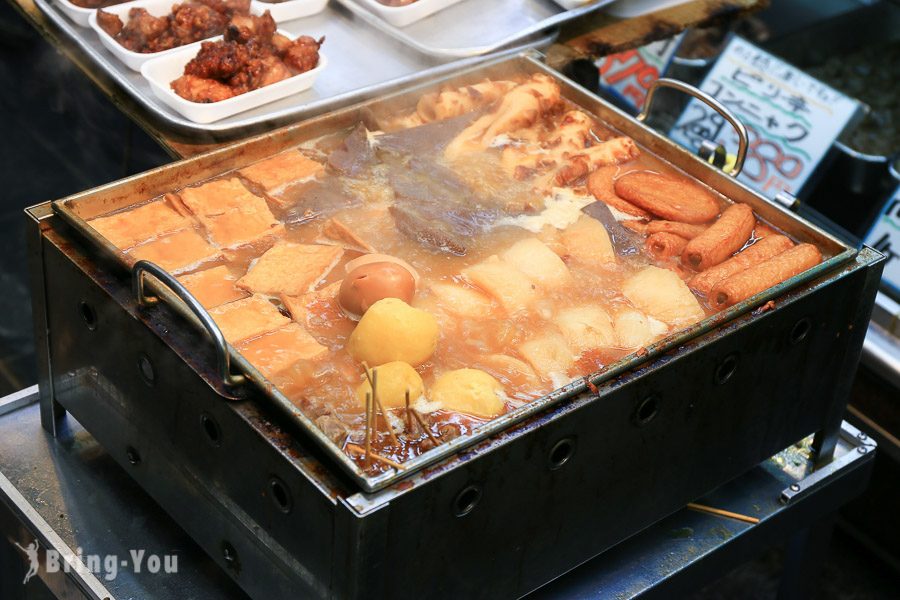 Without any further ado, let's jump right into this digestible, comprehensive guide to sort out the best food spots and insightful tips!
Just a Little Bit of History Before We Dive Right in!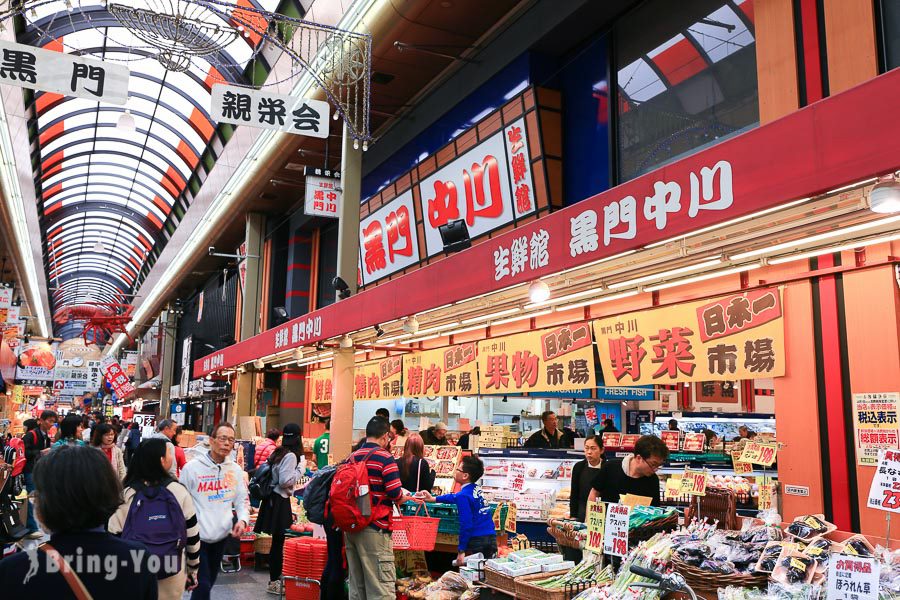 Back in the day when it was open in 1902, Kuromon Ichiba was known as
Enmyoji Ichiba, whose name took after a nearby temple with a famous black painted gate.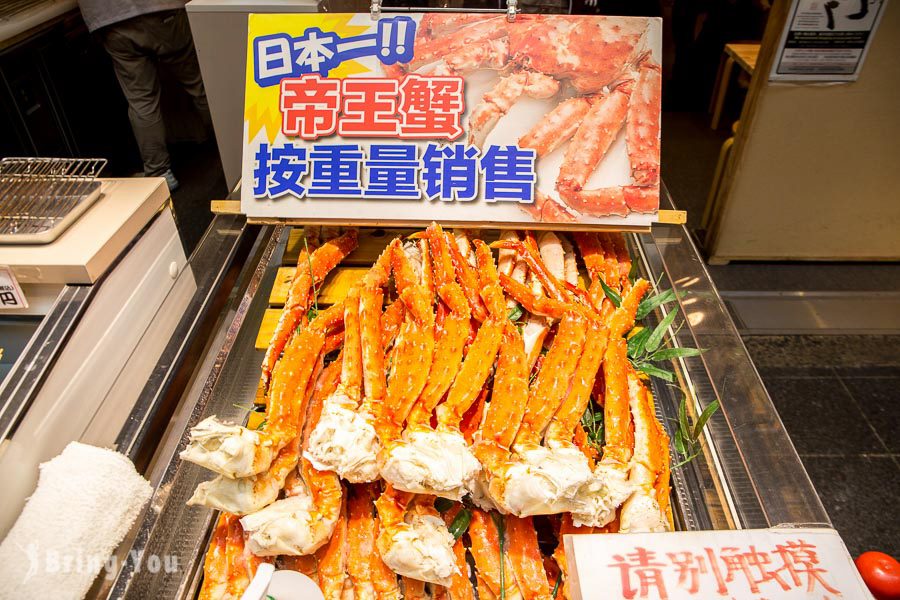 In Japanese, "kuromon" means "black gate", and that's how we have "Kuromon Ichiba" translated into "Black Gate Market" as today.
Sad days came along when the Enmyoji Temple was destroyed by a fire in 1912. And after all these years, the locals have started to switch the initial name to Kuromon Ichiba as you know it today.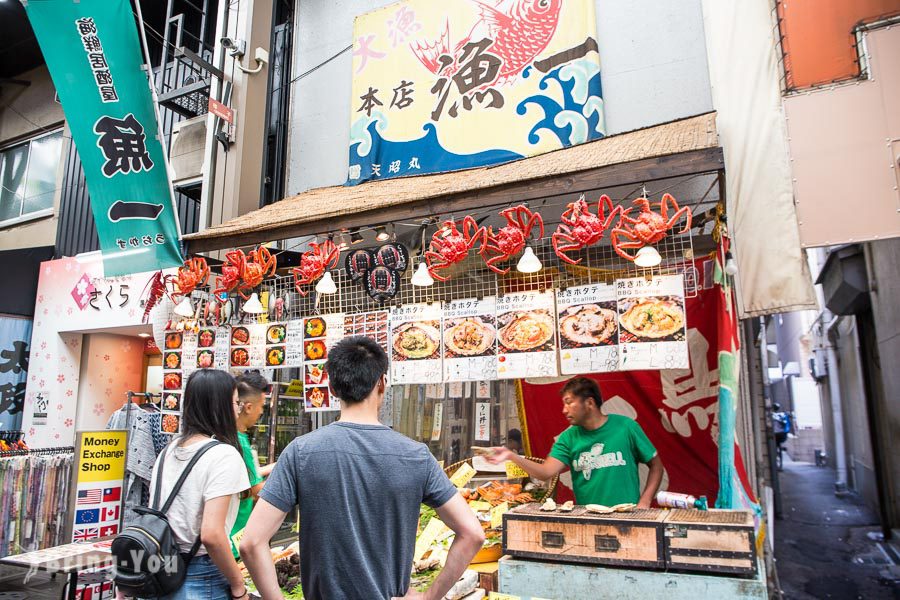 Kuromon Ichiba seems to be getting more and more crowded. We guess one of the biggest reasons behind its insane crowds is when they started cooking up seafood for dine-in guests. This was a wise move since it started to attract more and more travelers who usually get hungry during the sightseeing trip.
For that reason, we highly suggest you come by a few minutes after the markets are open at 9 am. It's getting more packed towards noon and later in the day!
Essential Information
Address: Nipponbashi, Chuo-ku, Osaka, Osaka Prefecture 542-0073, Japan
Kuromon Market Opening Hours: 9 am to late evening (varies from shop to shop)
5 Must-Try Dishes at Kuromon Ichiba Market: These Food Will Send Your Palate to Heaven
Fresh Seafood at Kuromon Sanpei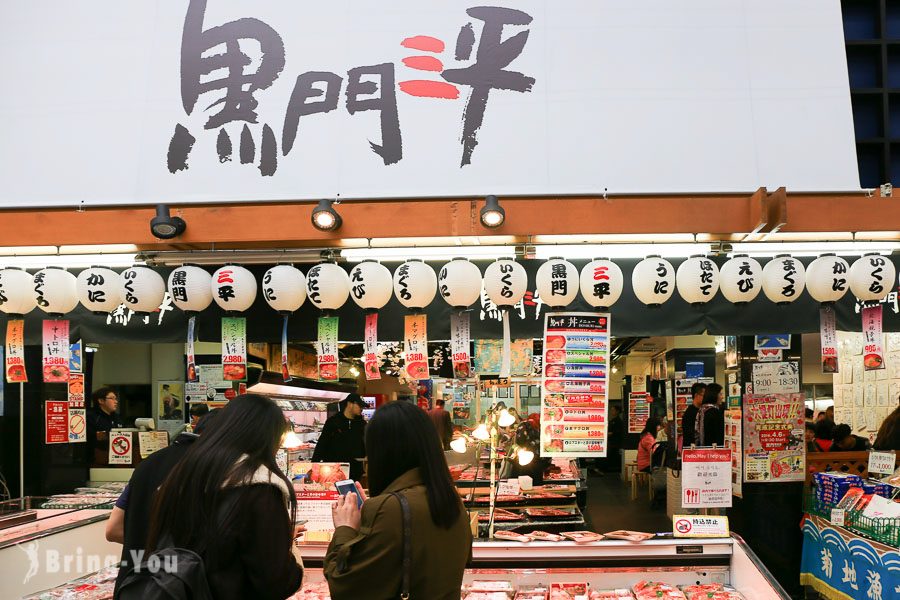 It's such a huge mistake if we don't mention seafood on top of the list. The first thing to say about seafood at Kuromon Ichiba market is how fresh it is. We stopped by Kuromon Sanpei and it completely had us in awe!
They sell a huge range of seafood stored cold but you can also find a decent area of ​​tables and chairs. It's a crowded place and you will see people stopping by to choose their favorite treat before settling with a seat.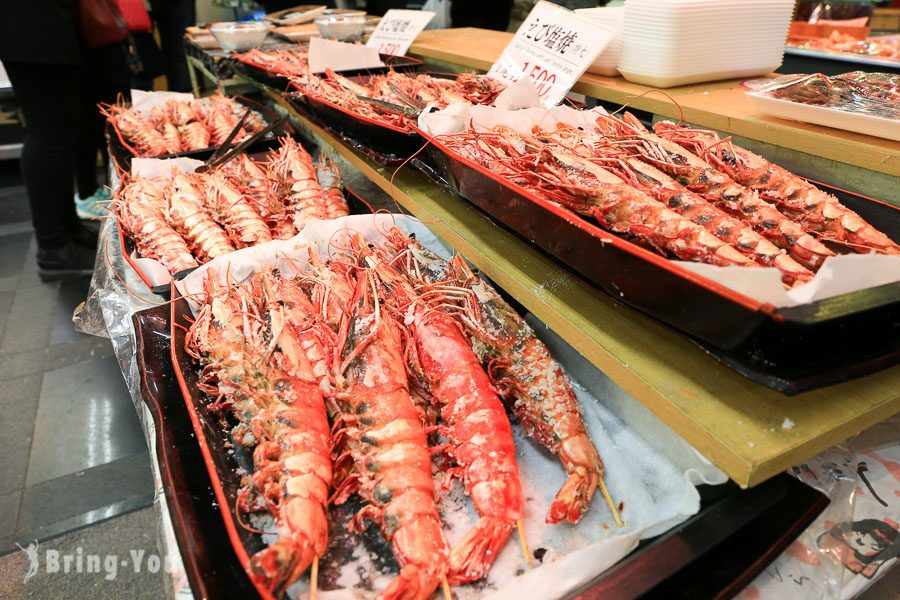 They dish out some of the coolest seafood you've ever seen. From huge king crab legs to sea urchins, from sashimi to sushi, it's literally a feast that makes you crave for more.
Puffer Fish at Hamatou Kuromonten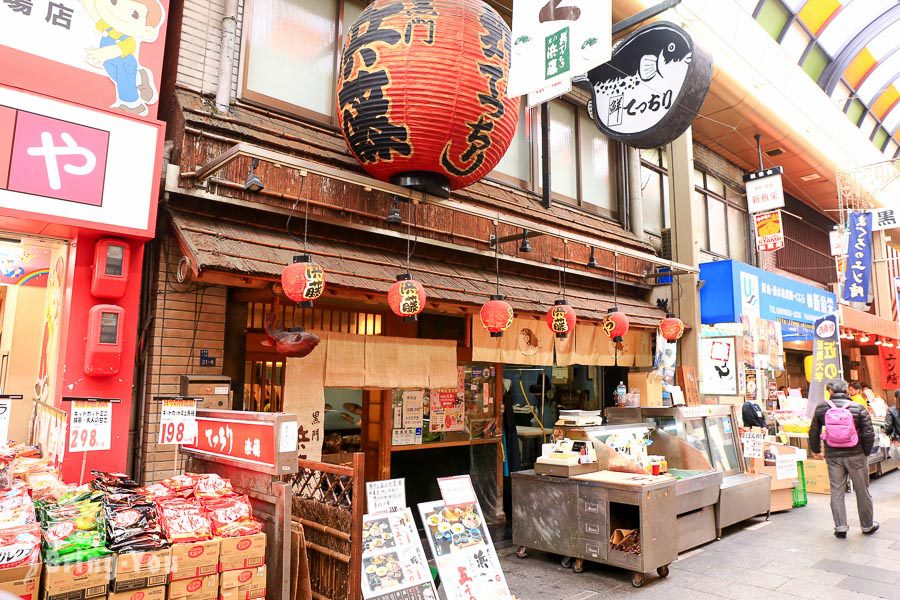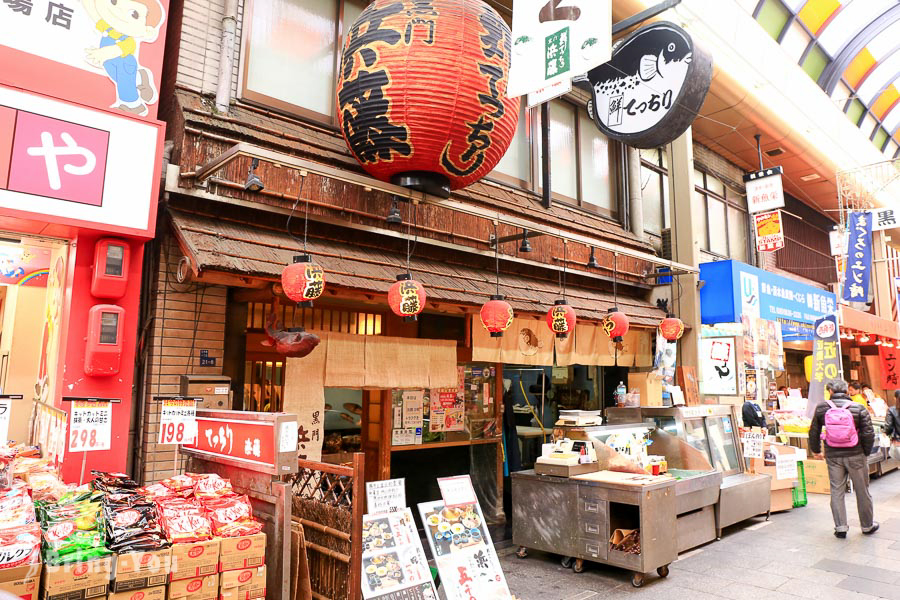 Pufferfish has a bad rap but we don't think you will be involved in a problem if you have it in Japan! This long-established Hamatou Kuromonten is one of the best spots dishing out puffer fish for the people of Osaka.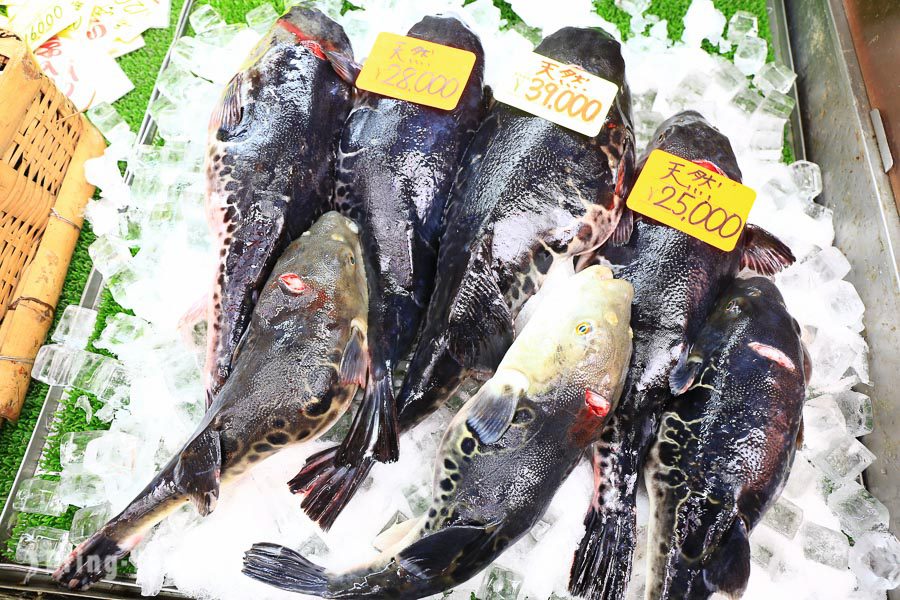 The whole process of eating pufferfish was super neurotic. Almost all parts of the fish are edible. They will cut it up, process it, and serve it in a variety of dishes. Sashimi, salad, grilled pufferfish with soy sauce, fried fish nuggets, and hotpot are a few to be named! Even though the overall tasting profile of pufferfish is lean and pure with a clean quality, it varies greatly depending on how it's cooked. If you want to get the freshest, truly authentic flavor, go for sashimi! Sashimi pufferfish is chewy and resilient, suggesting slightly overcooked squid but delicate and soft.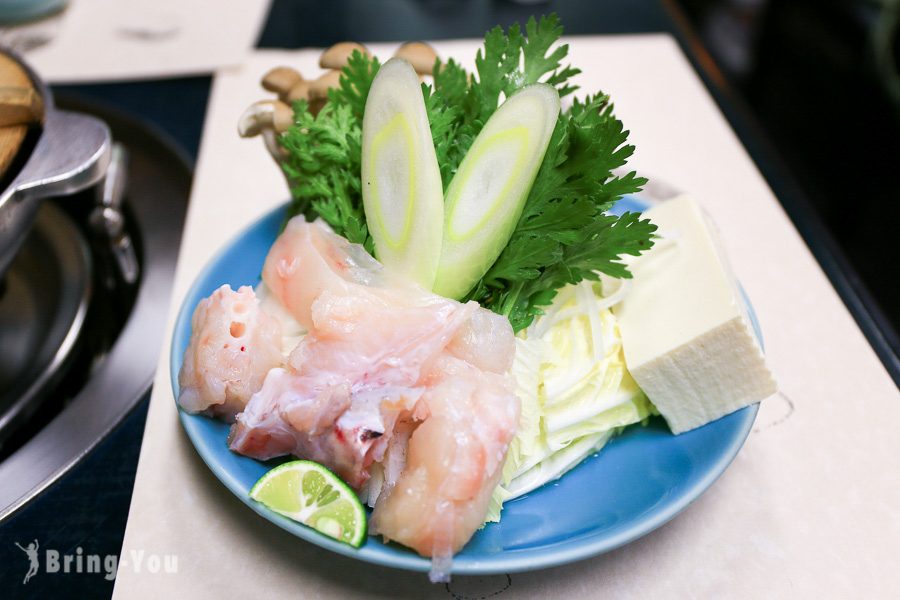 Fresh Sashimi Auction at Fukahiro Honten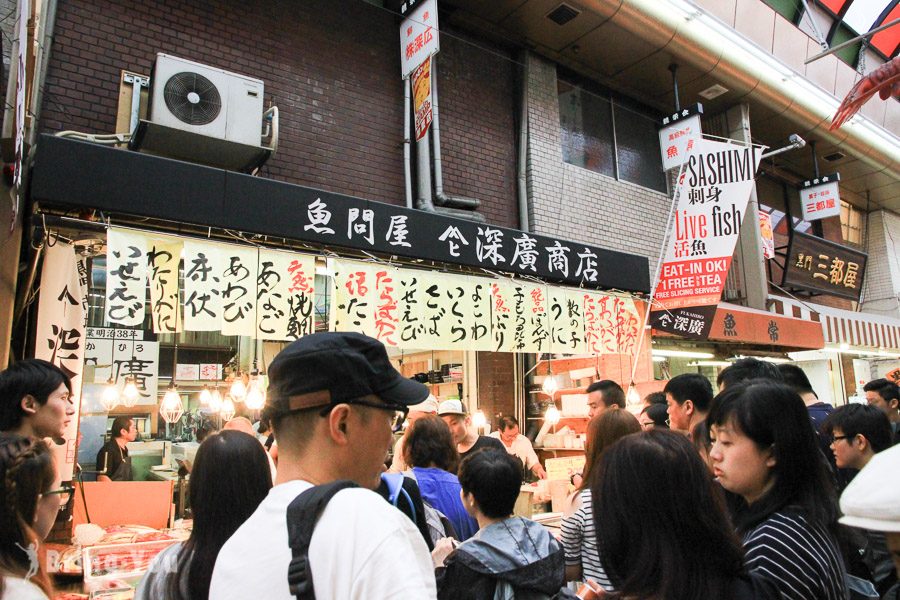 Fukahiro Honten is crowded. It was not insanely packed the day we were there but you definitely see how people are interested in this little gem.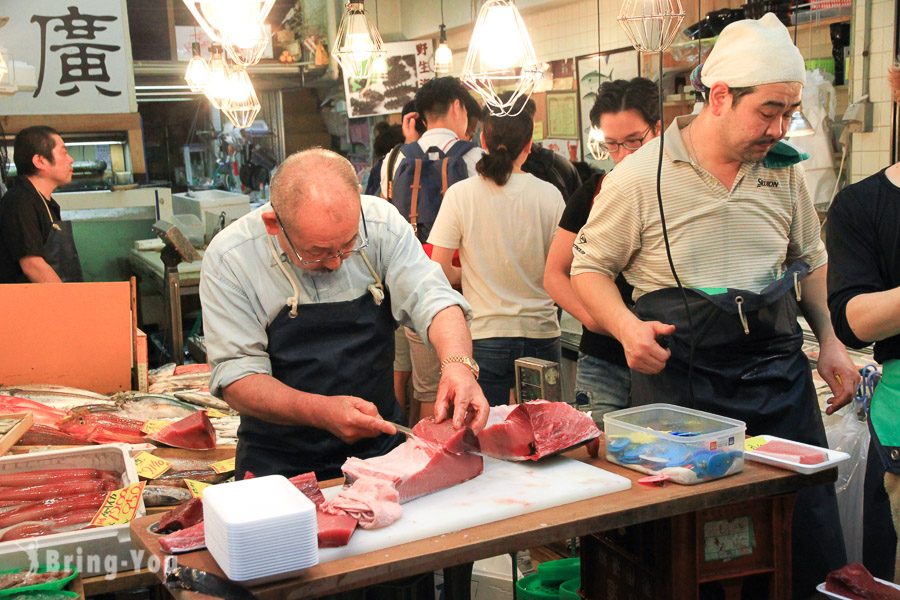 Under the shining lights, a team of sellers and chefs host a big auction of sashimi and let the customers bid for what they want. How amazing it is to admire each slice of fresh fish delicately peeled under the skillful hands of the chefs!
Oysters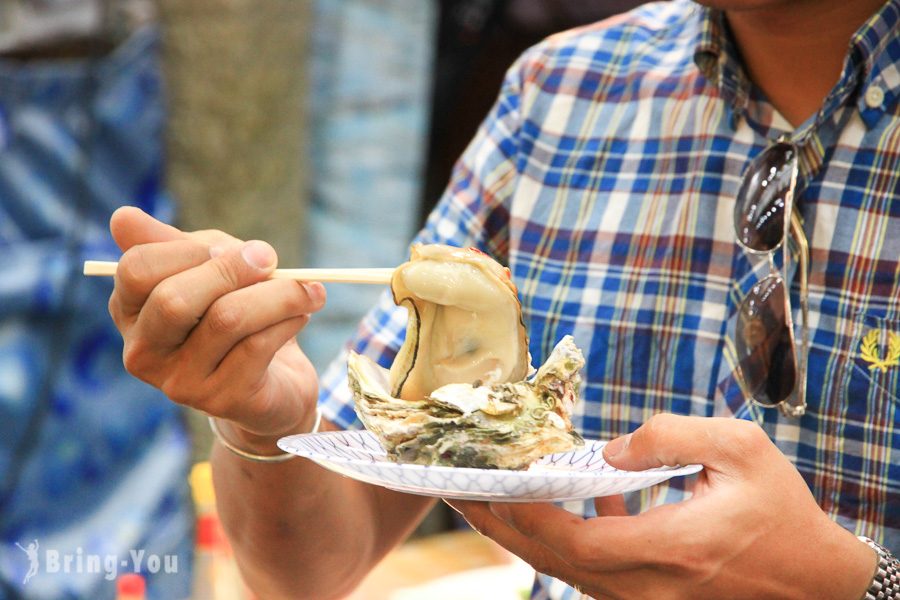 What we found amusing at Kuromon Ichiba market is its huge oyster. It's not just big, it's huge! And you definitely want to try some grilled oysters!
The oysters are usually grilled over charcoal so you sense the smoky smell coming from the meat (in a good way). Oysters are supposed to have a strong 'ocean-y' smell of seafood but the one we got even had an earthy aroma (which probably came from the charcoal).
Sea Urchins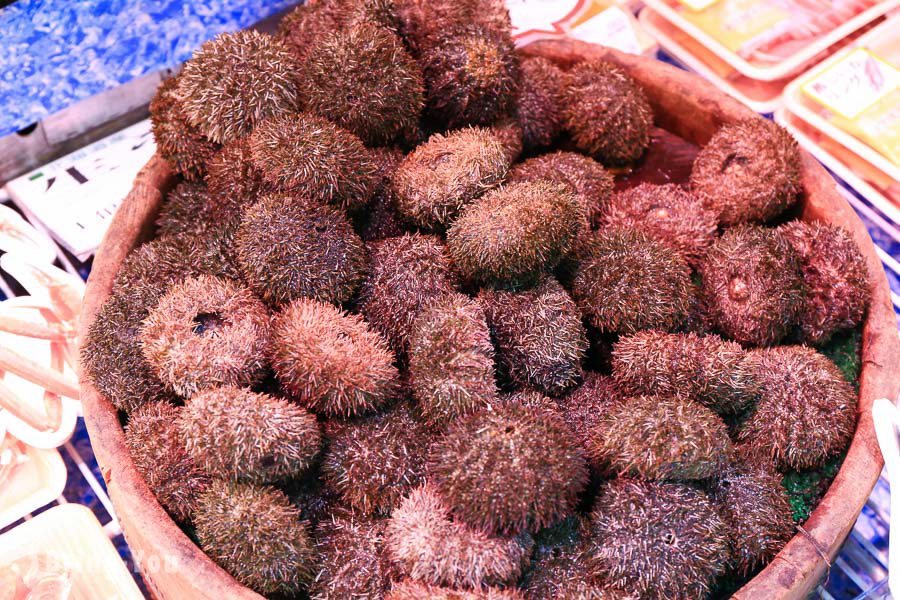 Sea urchins are not something of the show, especially when they were 'sun-bathing' on ice sand beckoning our desperate consumption!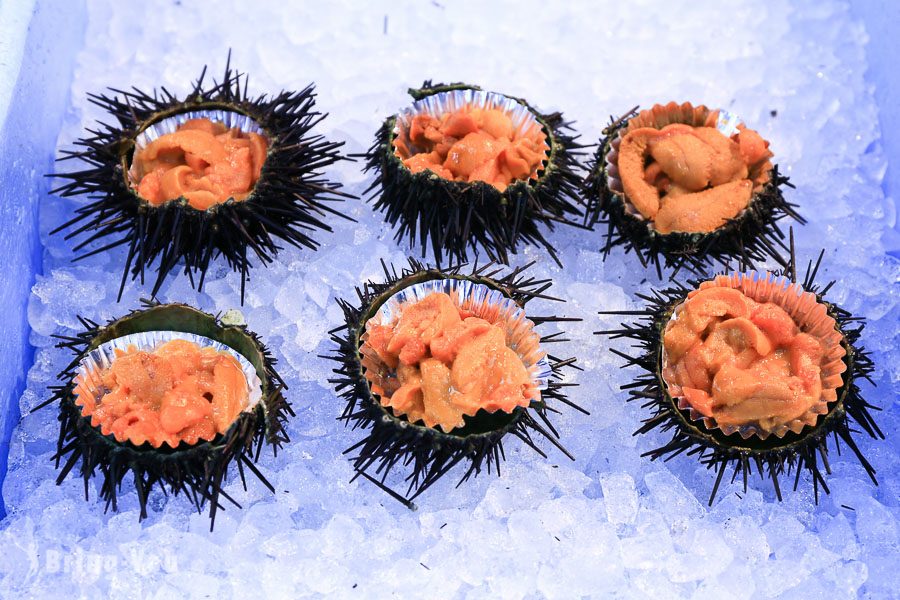 Like oysters, Japanese sea urchins are plump with a slice of intensely orange meat tucked in the middle.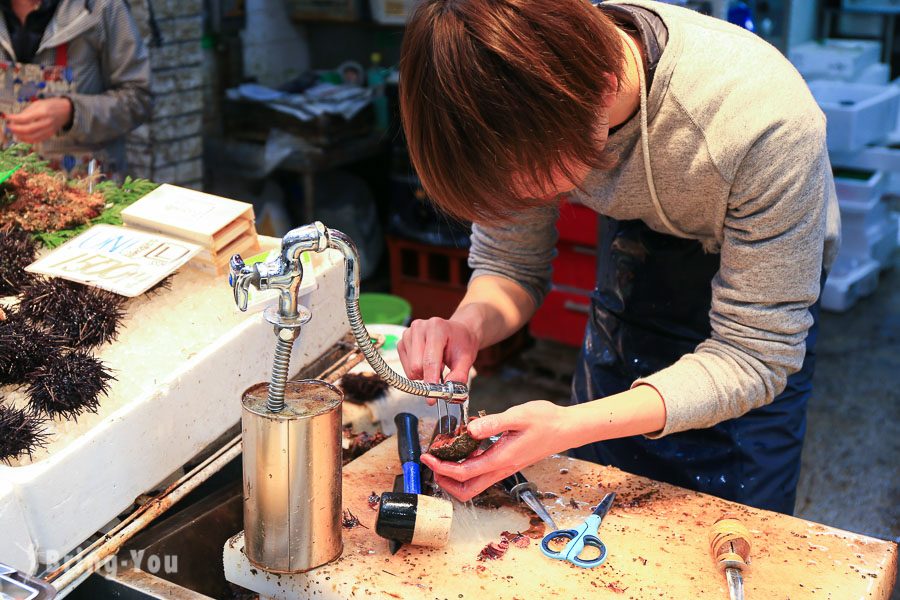 The sea urchin roe is especially tasty! Its rich, liquid-y tasting profile is unlike anything similar, even with crab roe. It's very creamy with a hint of sweetness and a good punch of saltiness. Drizzle a few drops of soy sauce and wasabi and your life is complete!
How to Get to Kuromon Ichiba Market?
For solo travelers like us, riding the subway is always the priority. The good news is that Kuromon Ichiba is only a minute walking from the Nihonbashi Station via the Sennichon Line. After you get off, take Exit 10, turn left, and Kuromon Ichiba should be a minute away.
Final Words: Is Kuromon Ichiba Market Worth Visiting?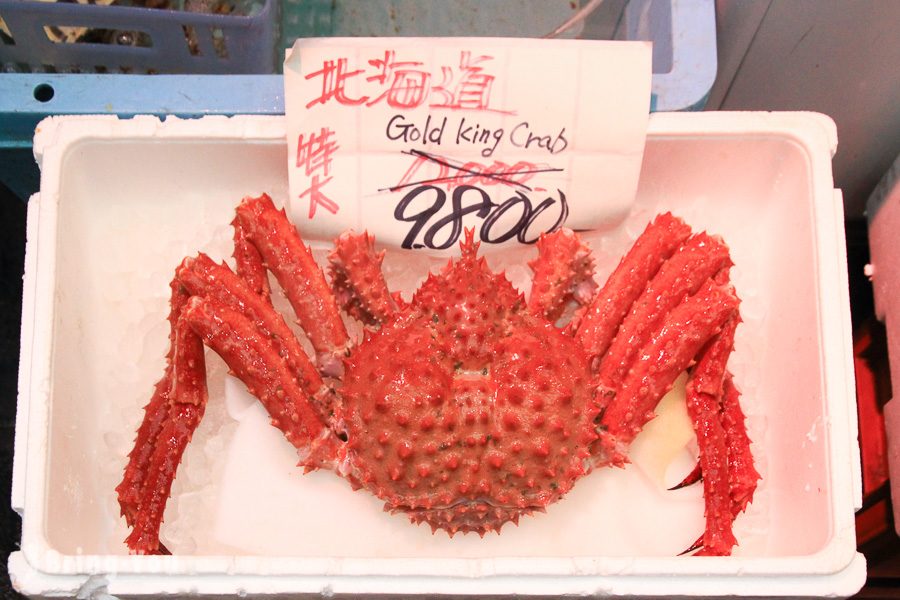 Heck yeah! We kept this guide brief and digestible but it doesn't mean Kuromon Ichiba is not worth pages of introduction.
Because guess what? You've gotta be there to soak up the welcoming, bustling atmosphere and feel it for yourself!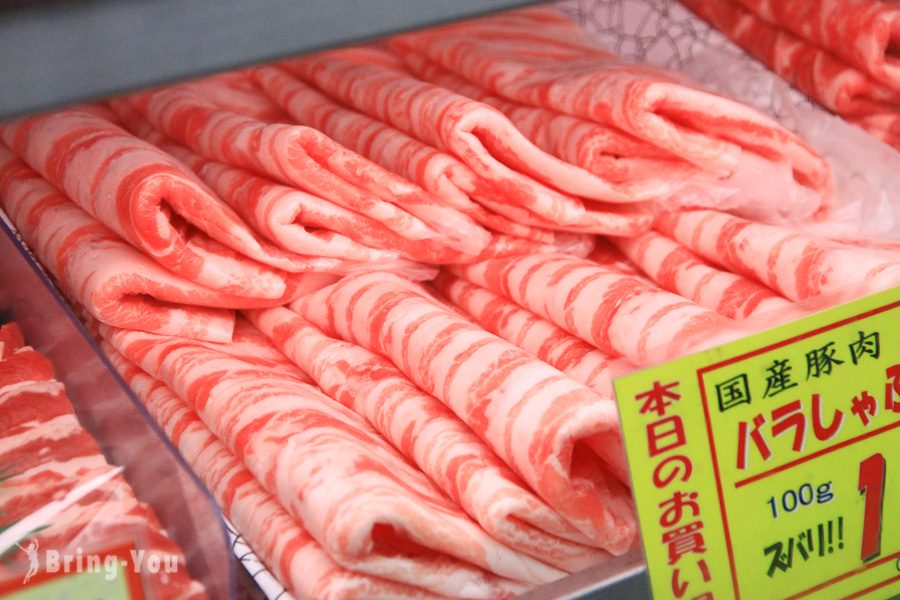 We hope this little travel guide gives you an idea of what to expect. And keep in mind that it's not just for tourists. You will see lots of locals! While tourists are here for the seafood, local buyers will come for clothes, household gadgets, and fruits.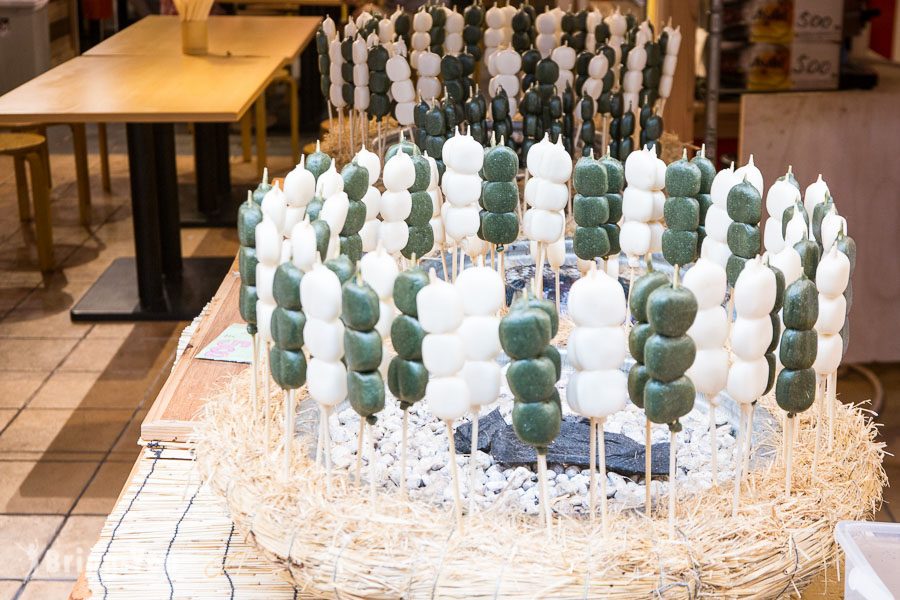 Even though some local Japanese believe that Kuromon Ichiba is not perfectly clean compared to some other markets in Osaka, it's already a stellar place with decent sanitization. Don't forget to share this handy guide so big foodies like you won't miss out on those yummy bites!