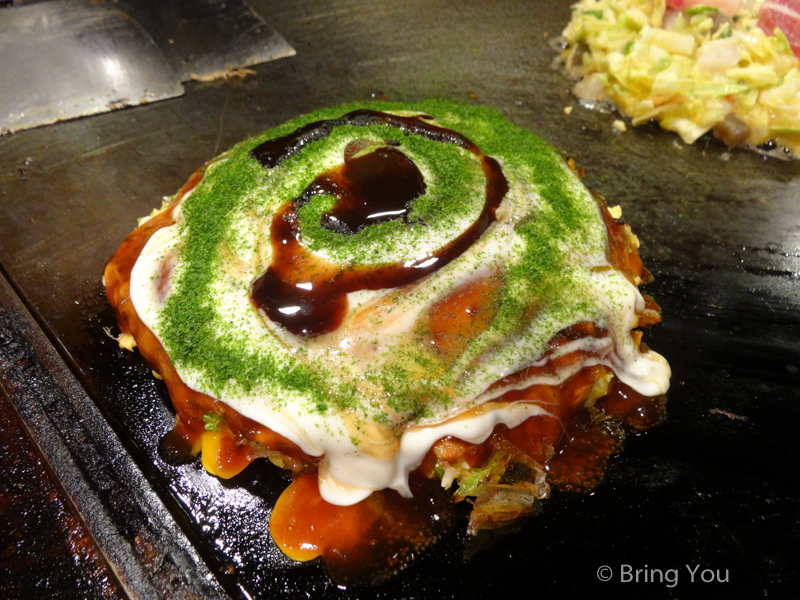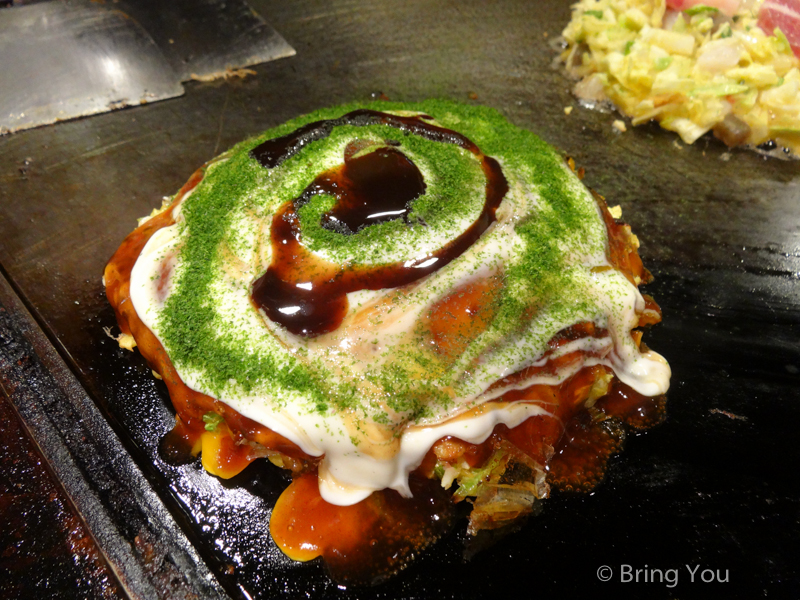 Whoo, whoo, I got a treat for you with this Osaka food guide! It goes without saying that Japanese food has been taking the world by storm for years now. And just like many of you, we're big foodies with a loyal craving for Japanese food.
We have written quite a few food guides in Japan before. So now we're thinking – maybe it's about time to stun you with favorite food spots in Osaka!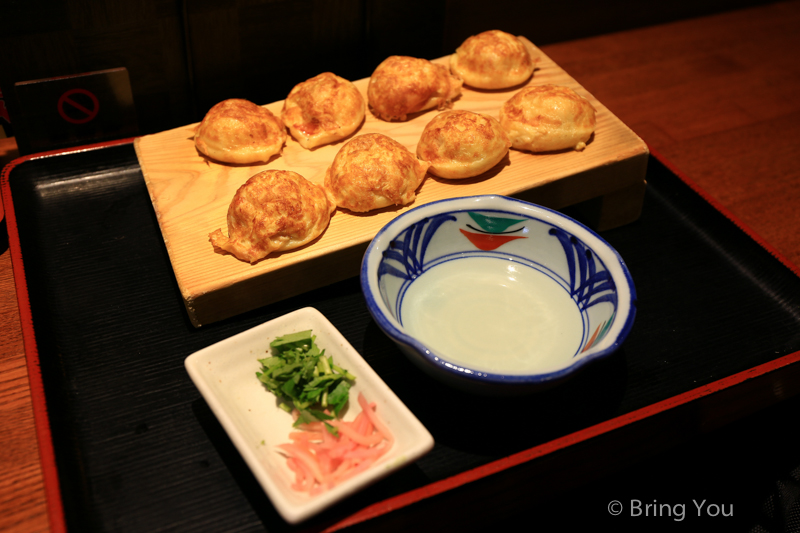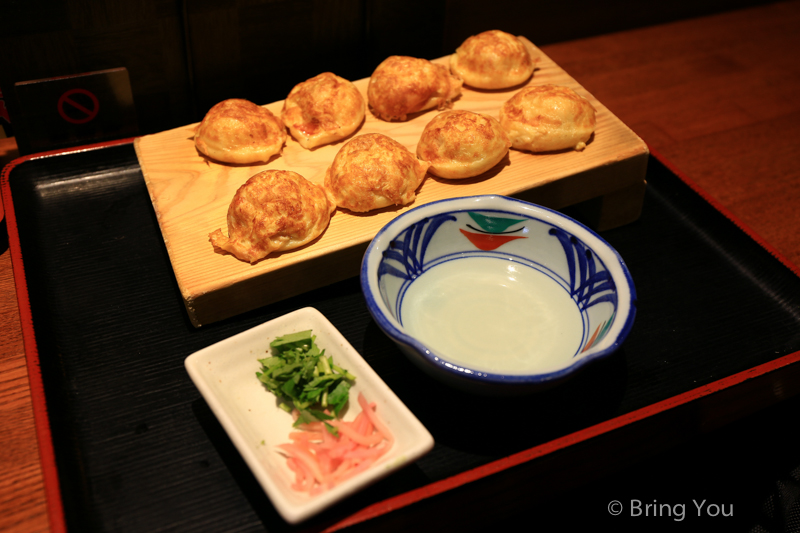 We visit Osaka every year and stay for a whole month in this bustling city. We've made friends with so many local foodie pals who send us to a ton of restaurant recommendations!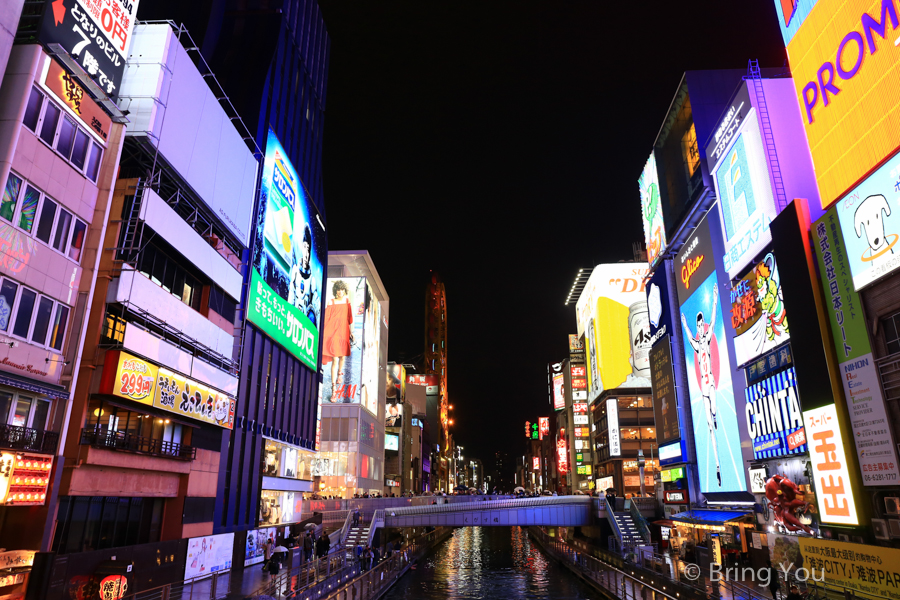 The best location to base yourself for the best regional eats in Osaka is Dotonbori. Dotonbori is a lively, fun, and tasty entertainment and dining hub in Osaka. The thing is we realized that many people have a hard time ordering and communicating for food in Japan, especially when you go to a hidden, local spot where everything is written in Japanese.
So here it is! The nine best Osaka famous dishes we curated below will take you to tourist-friendly spots. Many of them have English menus available. So without further ado, it's time to conquer Osaka with an empty stomach!
Ramen
Oh! Here we are – talking about ramen again. This iconic Japanese cuisine is wide-spreading around planet earth like fire.
Ramen Shitenno Dotonbori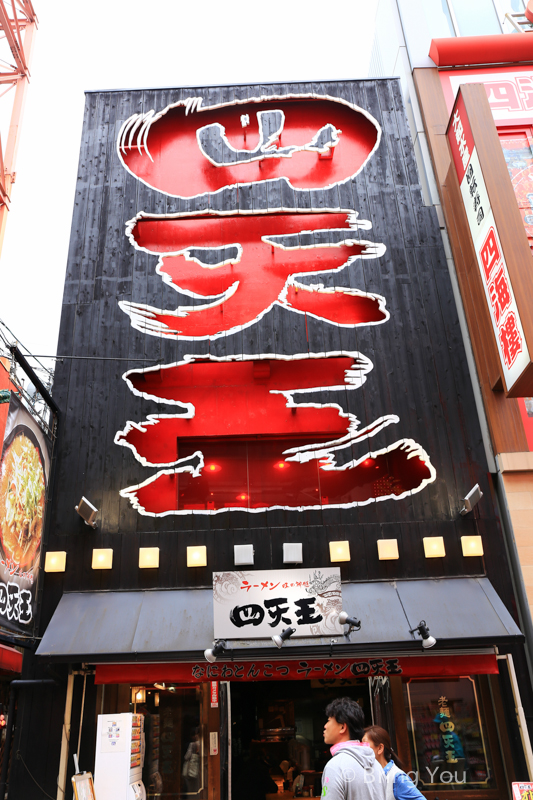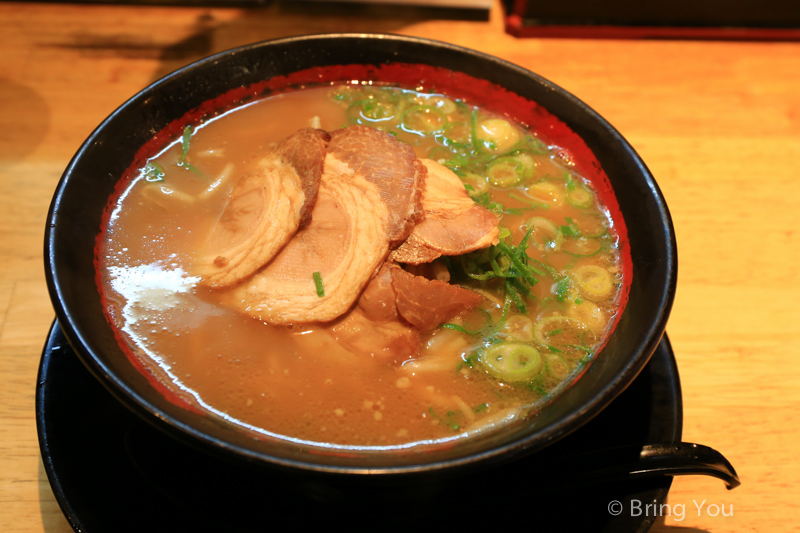 One of the best ramen spots in Osaka is Ramen Shitenno Dotonbori at 1-7-25, Dotombori, Chuo. This is a perfect place to introduce you to the ramen scene in Osaka, with tender meat and chewy noodles.
Address: 1-7-25, Dotonbori, Chuo Ward, Osaka City
Phone: 06-6212-6350
Business hours: 24 hours.
Kotan Ramen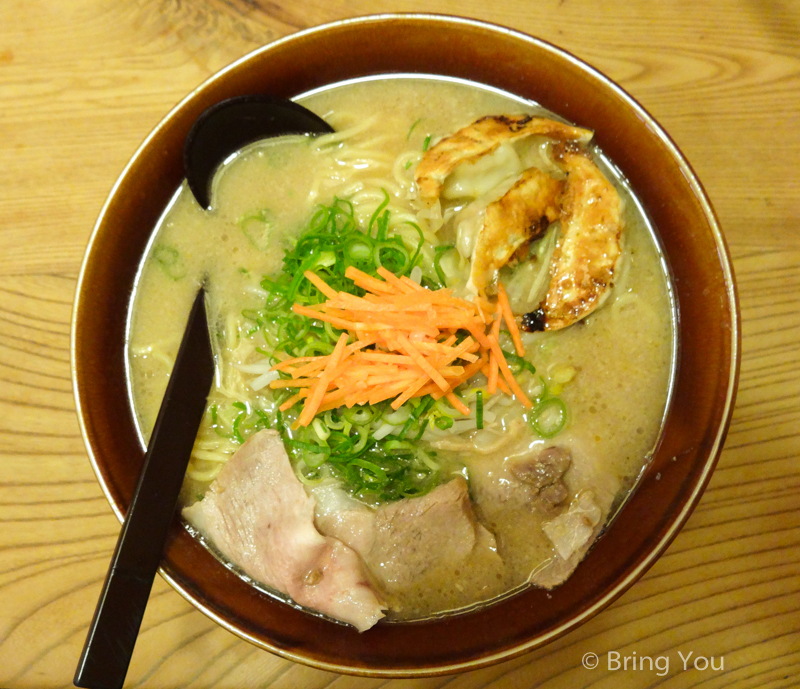 Tucked away in the Abeno Underground Mall, Kotan Ramen is another locals' favorite. It's famous for a special touch of dumplings and a zest of tangy, pungent taste of leek pickles.
Address: 4-5 Umeda Underground Shopping Center, Komatsubara-cho, Kita-ku, Osaka 530-0018
Phone: 06-6451-9156.
Business hours: Mon-Sun 11: 00-22: 00
Kamakura Ramen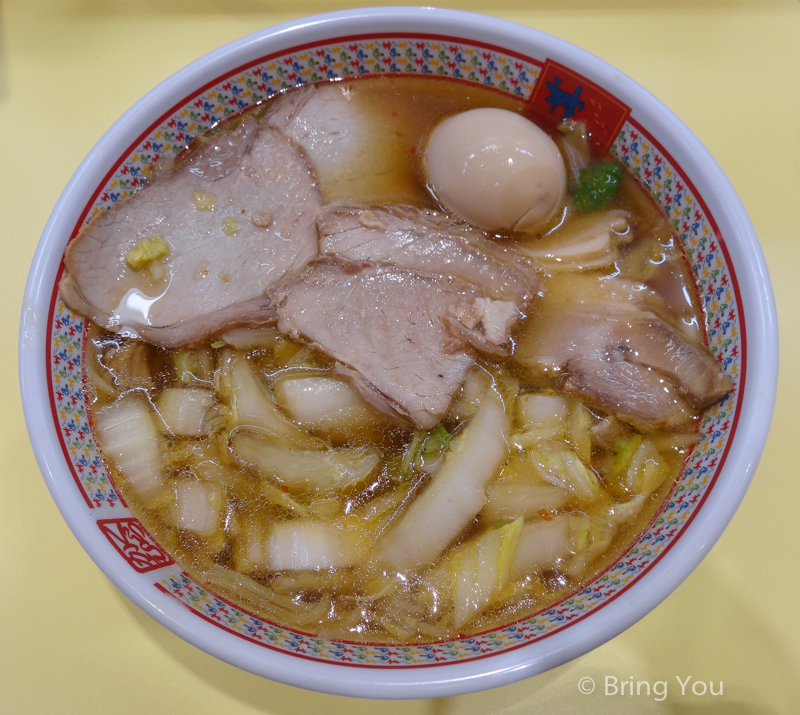 Other than those two, Kamakura Ramen completely got us hooked with their vegetable-based broth, using Chinese cabbage as the backbone of the dish, which pairs perfectly with roast pork atop.
Address: 3-1-3 Umeda, Kita-ku, Osaka 530-8202 10F
Phone: 06-6485-7070
Business hours: 11: 00-23: 00
Hanamaruken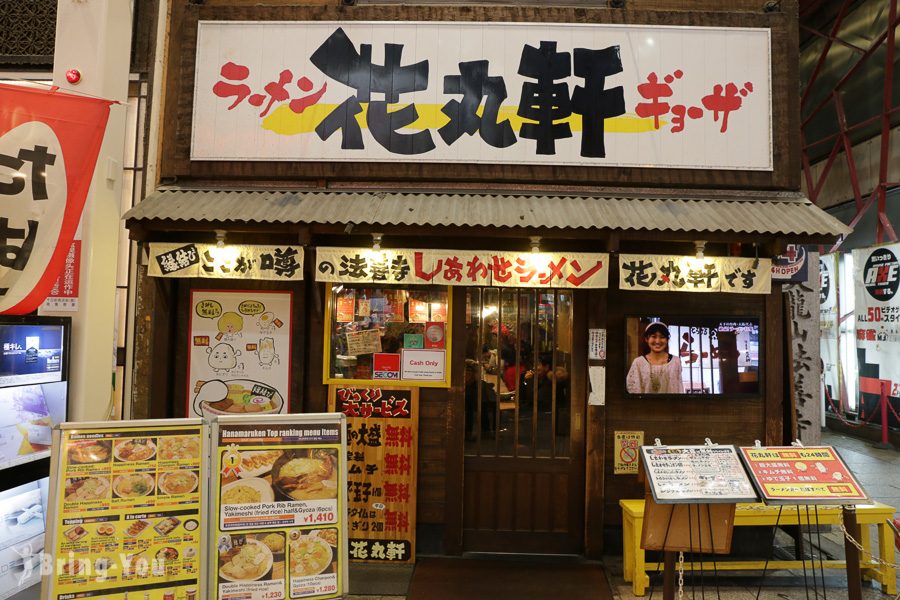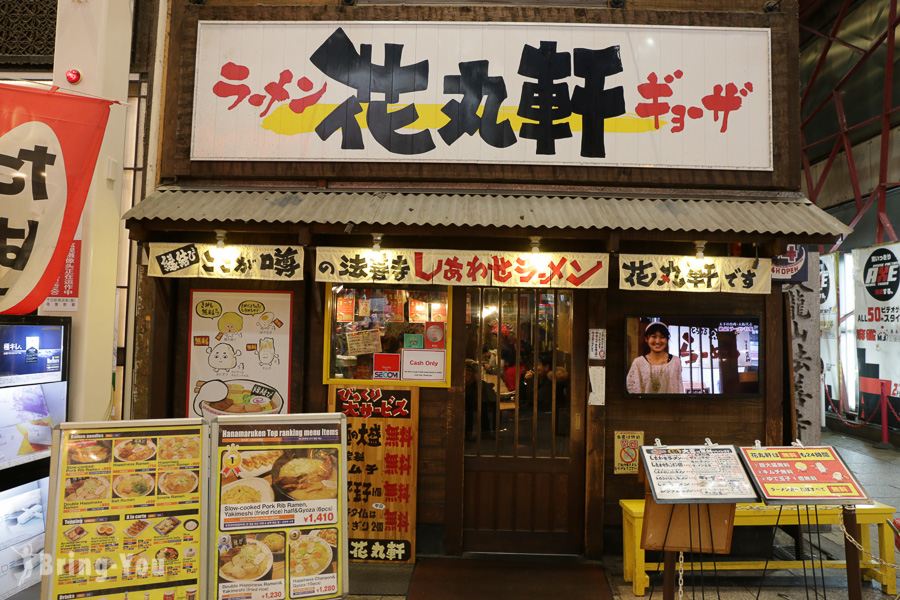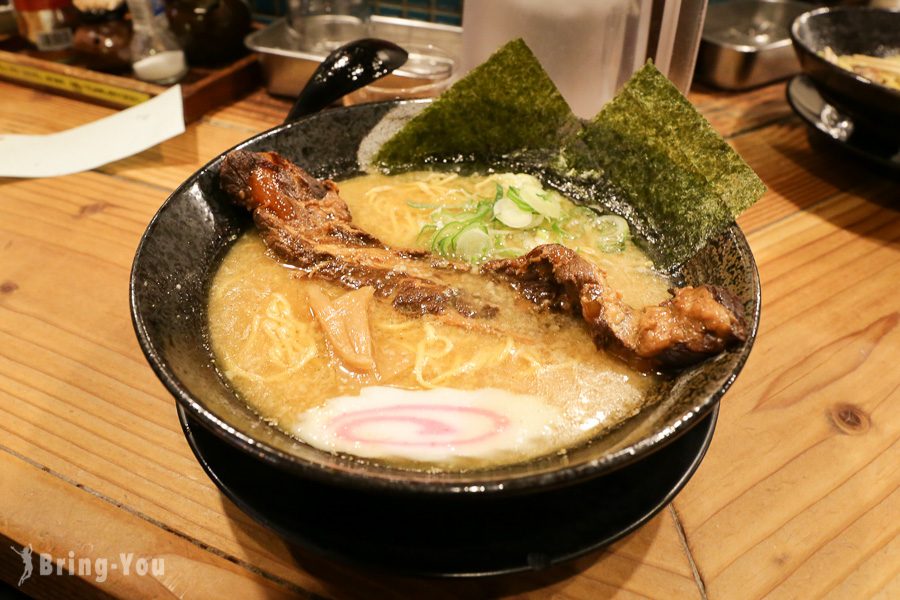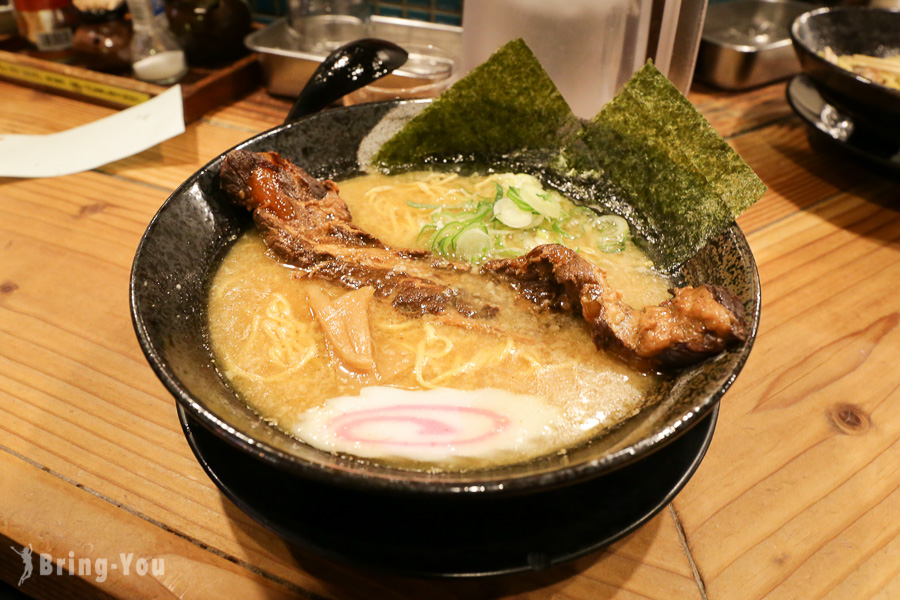 Hanamaruken is a signature restaurant in Osaka, introducing pork cartilage and slow-cooked pork ribs to keep the fans around.
Address: 1-2-1, Namba, Chuo-ku, Osaka
Phone: 06-6213-0131
Business hours: 24 hours
Curry Udon at Tokumasa
Any noodle fans here? If your heart goes for something rich, creamy, and savory, it's time to indulge in the best Curry Udon in Osaka!
Tokumasa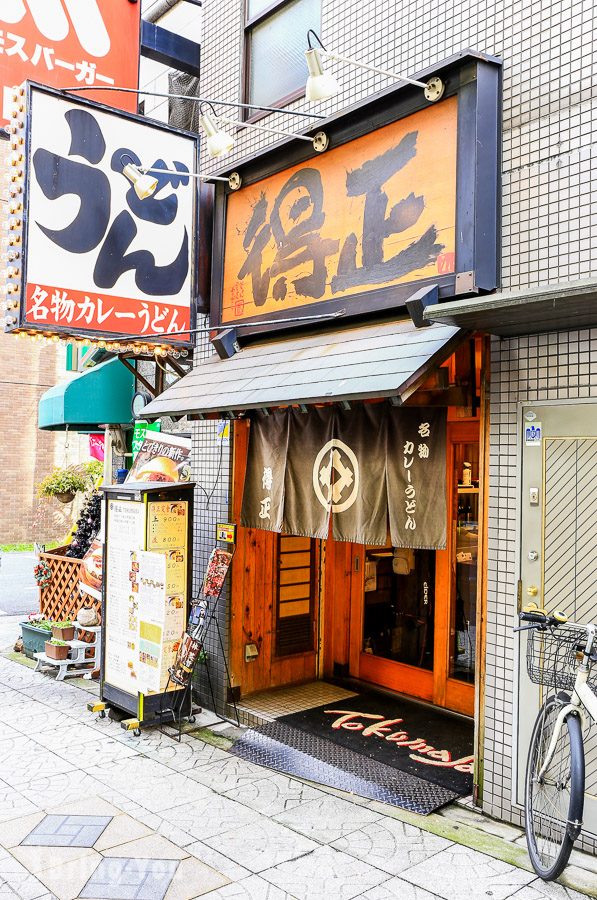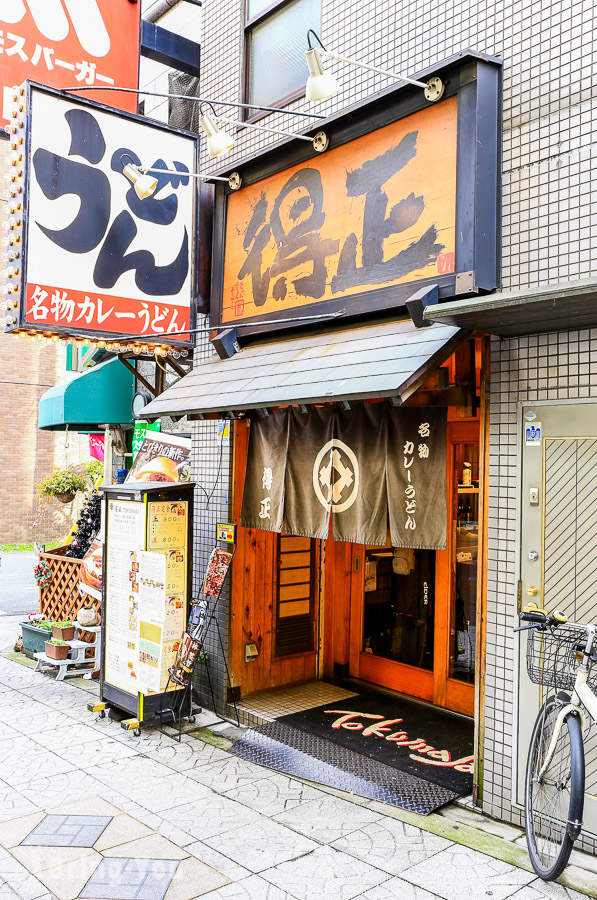 Tokumasa is our favorite place to slurp on a creamy bowl of Udon and let that spicy kick make our taste buds go crazy. Our go-to dish is the beef curry Udon but you can mix things up and sample pork cutlet with rice or crab croquettes which are served in a decent amount with the same level of tastiness.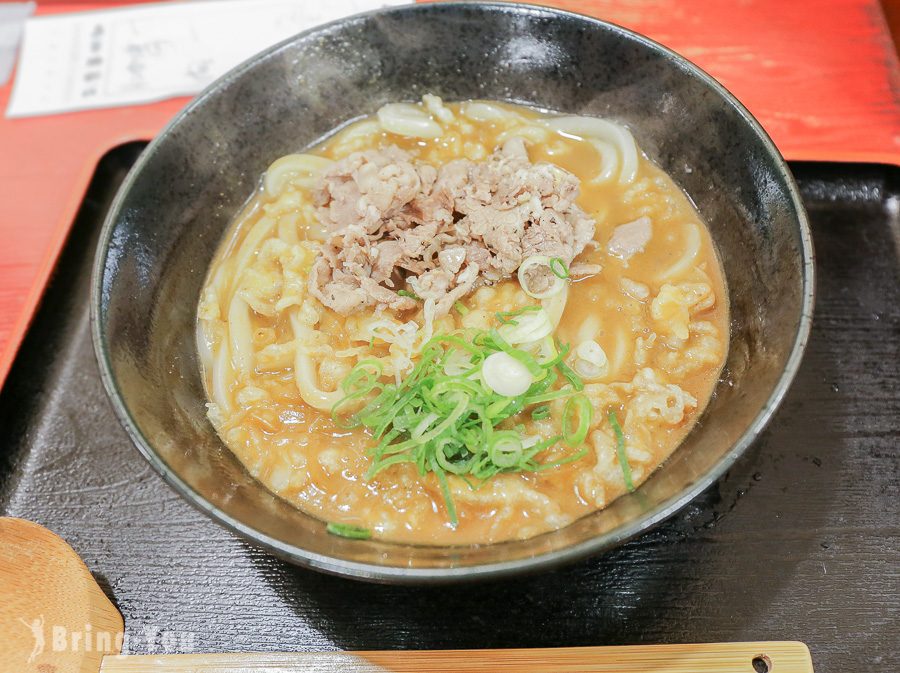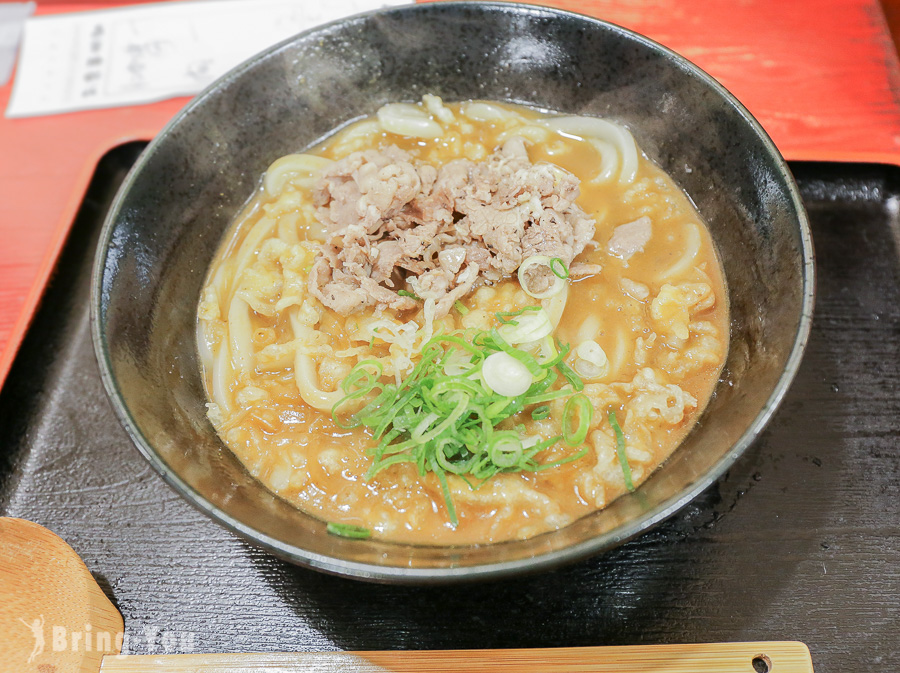 Tokumasa is a family-owned business but it's so popular amongst tourists and locals alike. Queueing is unavoided and you always find a line of travelers and white collars especially around lunch break. The good thing is the line fades quickly so queueing is not the end of the world!
Address: 1-16-22, Morinomiya Chuo, Chuo-ku, Osaka
Phone: 06-6942-1903
Business hours: 11: 00 – 15: 00; 17: 00 – 22: 00
Omurice at Hokkyokusei Shinsaibashi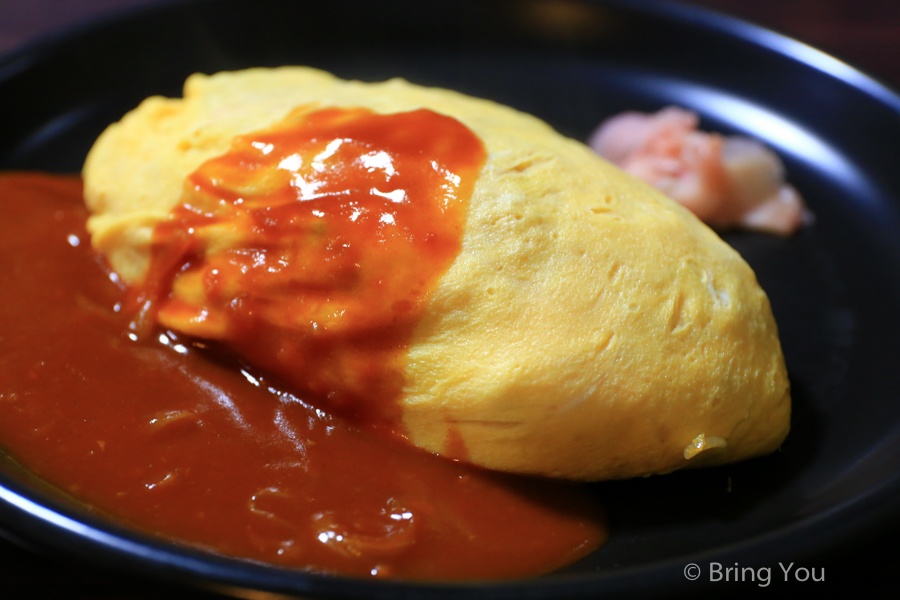 Osaka is the birthplace of omurice, and Hokkyokusei Shinsaibashi is a must-visit restaurant if you're in the mood for this silky, creamy dish.
The architecture soaks us in heritage and traditional vibe. The wooden, intimate décor goes all out, and for some reason, the food even tastes better if you can enjoy it in such a traditional setting.
Hokkyokusei Shinsaibashi has been going strong since 1950. And for now, they have opened multiple different branches but the flagship store of Hokkyokusei Shinsaibashi is our favorite!
Chicken omurice is one of the best sellers. The steaming hot rice sleeps under a blanket of fluffy, runny eggs. Everything is brought out beautifully and the overall tasting profile is incredibly balanced.
Address: 2-7-27 Nishishinsaibashi, Chuo-ku, Osaka-shi, Osaka
Phone: 06-6211-7829
Business hours: 11: 30 – 22: 00
Okonomiyaki – Japanese Pancakes
The next must-try Oaska delicacy is a savory batter-based pancake, Okonomiyaki. This famous Japanese pancake varies by region, but Osaka signs itself up for the list of Japan's top-rated Okonomiyaki.
Okonomiyaki Kiji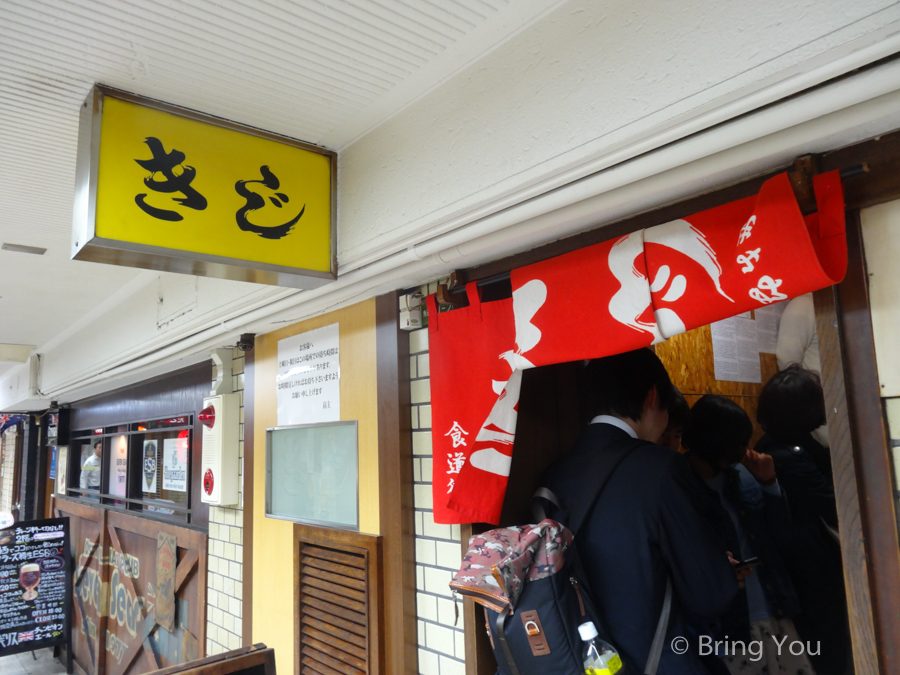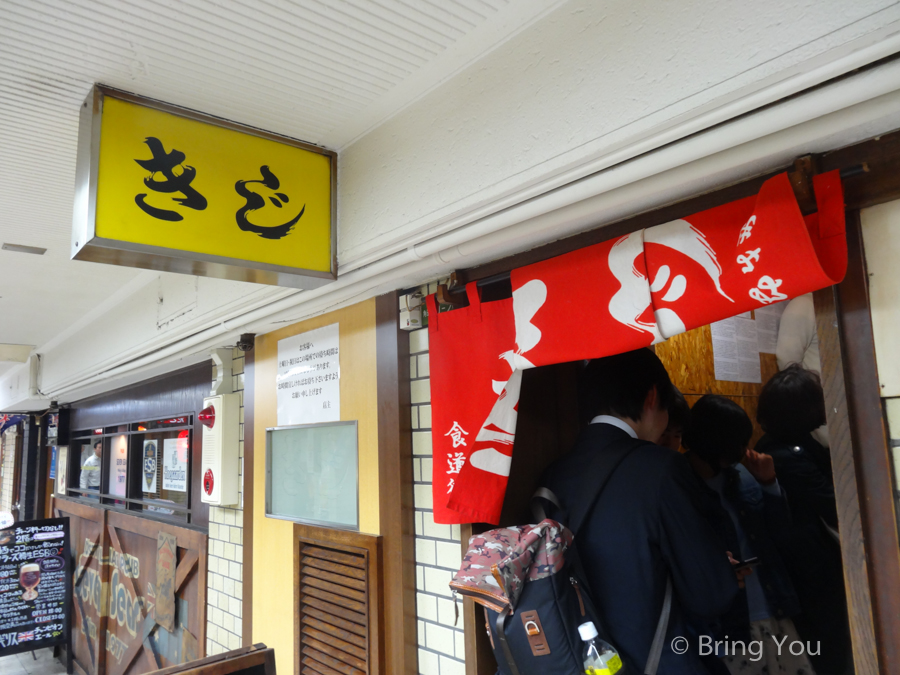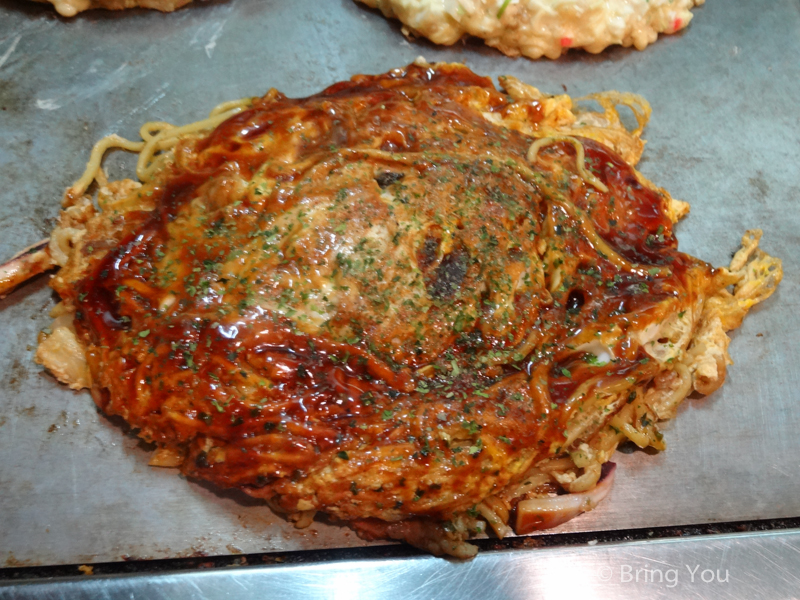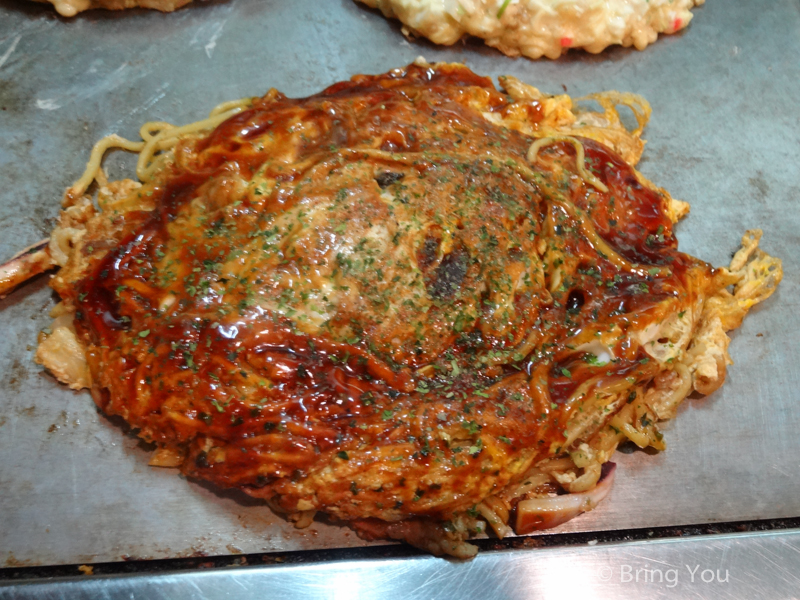 If you're looking for a place to introduce your palate with this Osaka staple, check out Okonomiyaki Kiji. Their Modanyaki will get you hooked with a crunchy outer layer and savory stuffing without leaning too much on the greasy side.
Address: 1F・2F, Shin Umeda Shokudo Street, 9-20 Kakudacho, Kita-ku, Osaka.
Phone: 06-6361-5804
Business hours: 11:30 – 21:00 (closed on Sunday)
Dotombori Ichiaki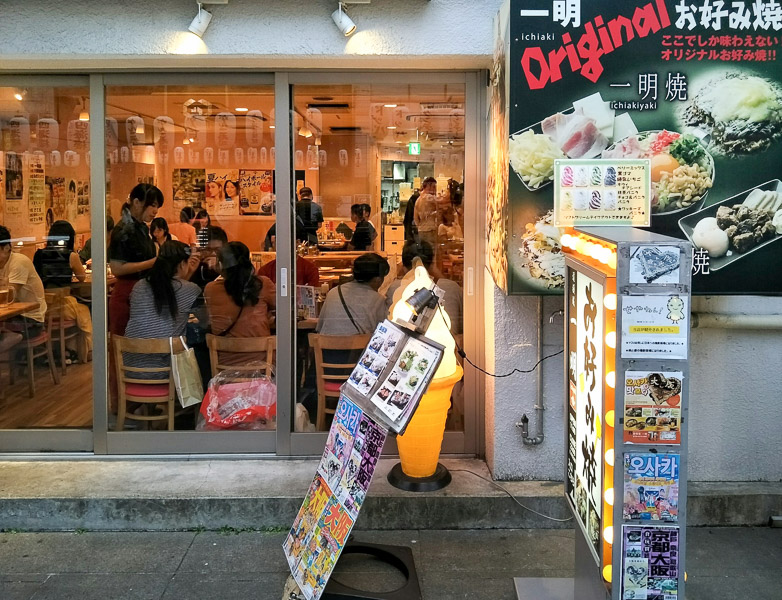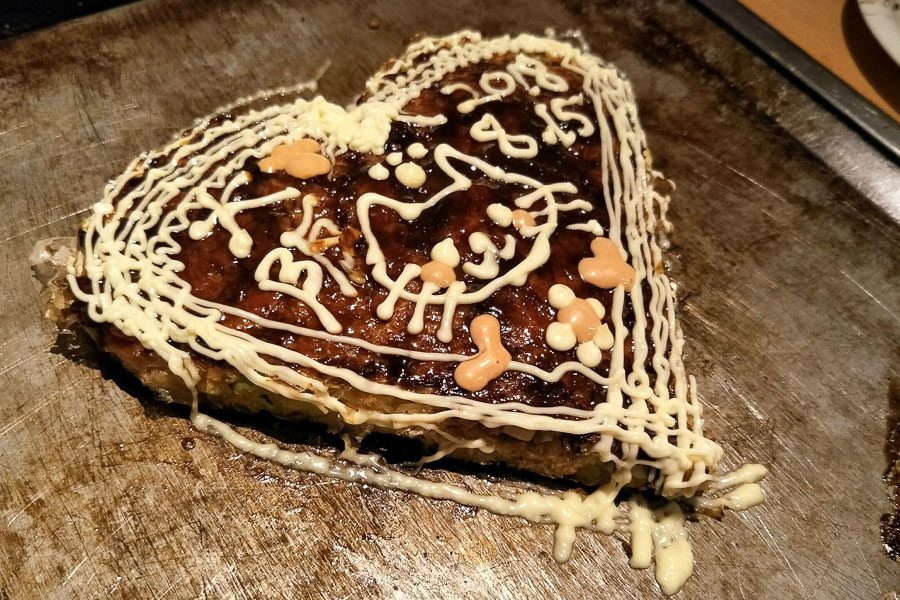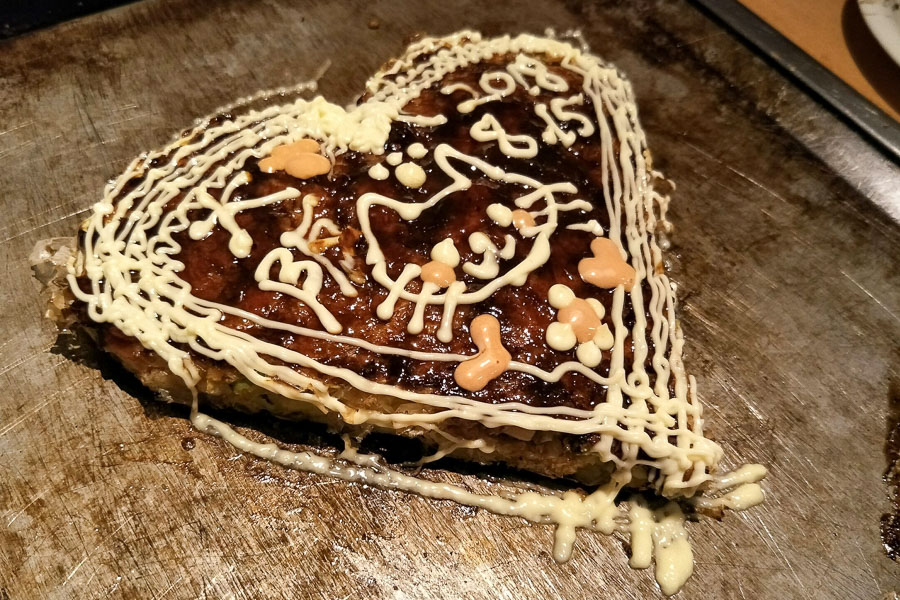 Aside from that, Dotombori Ichiaki is another jam that we always love to stop by whenever we're in Osaka. Their restaurant looks out to a bustling thoroughfare where you can nibble on a slice of yakisoba and green onions okonomiyaki while watching people.
Address: B1 1-6-12 Dotonbori, Chuo-ku, Osaka-shi, Osaka
Phone: 050-5484-2754
Business hours: 11:30 – 21:00
Takoyaki – Grilled Octopus Balls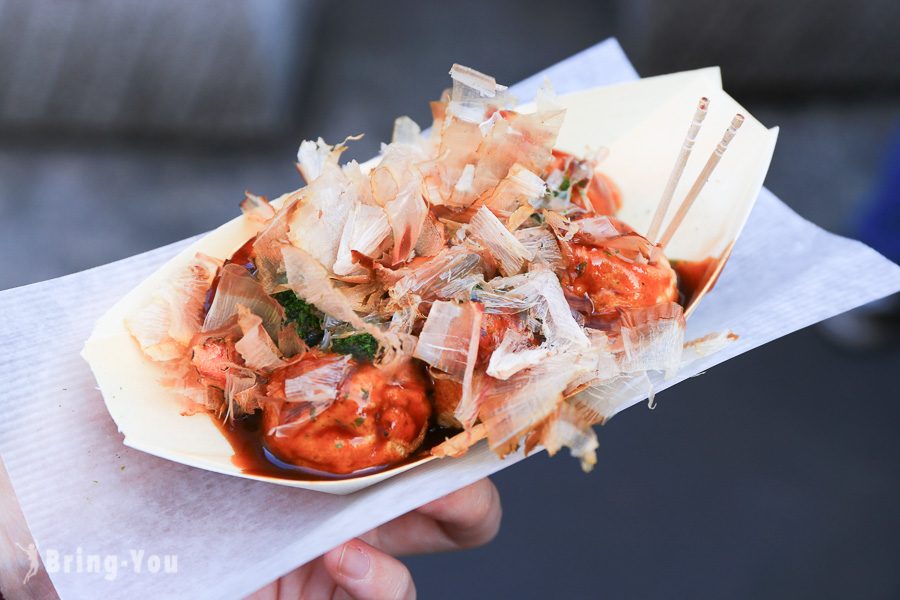 It's yummy, it's steaming hot, and above all – it's convenient. Those are the best traits of the savory sizzling Takoyaki octopus ball imprinted in our minds.
If you're new to the scene, Takoyaki is one of the must-eat, famous foods in Osaka. It's a plate of round balls of fluffy dough made of wheat flour batter stuffed with an octopus at its heart. Kansai-style Takoyaki featuring a rich and soft batter, topped with sauce and mayonnaise, it tastes quite related to the Western flavor.
You can find tons of Takoyaki eateries out there in Osaka, but here are some of our favorites!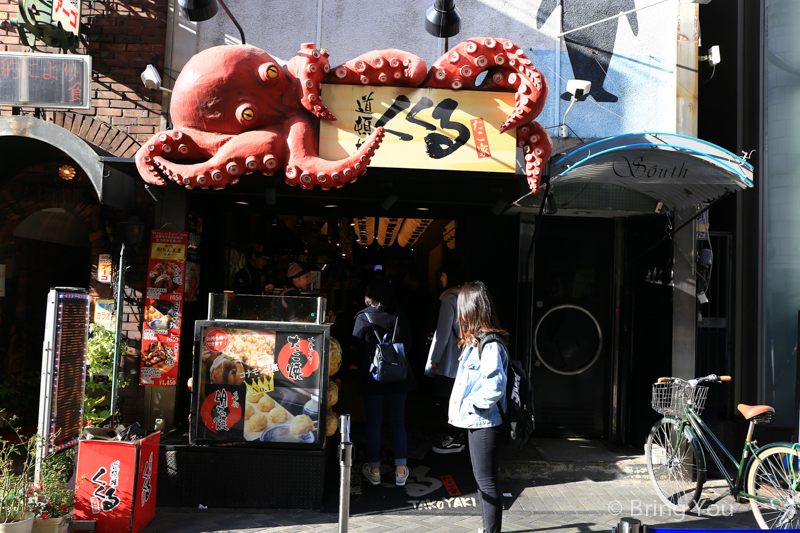 Takoya Dotonbori Kukuru serves up some of the best Takoyaki in the city and their Akashiyaki octopus dumpling is to die for.
Address: 1-10-5 Dotonbori, Chuo-ku, Osaka-shi, 542-0071
Phone: 06-6212-7381
Business hours:
Monday-Friday: 12:00 – 22:00
Saturday: 11:00 – 23:00
Sunday and national holidays: 11:00 – 22:00
Takohachi is a small vendor at 1 Chome-5-10 Dotonbori, Chuo Ward is a top call for those who love Takoyaki of a lighter style.
Address: 1-5-10, Dotonbori, Chuo-ku, Osaka
Phone: 06-6211-4684
Business hours: 1F 10:00~25:00; 2F/3F: 11:30~23:00
Takoyaki Doraku Wanaka Namba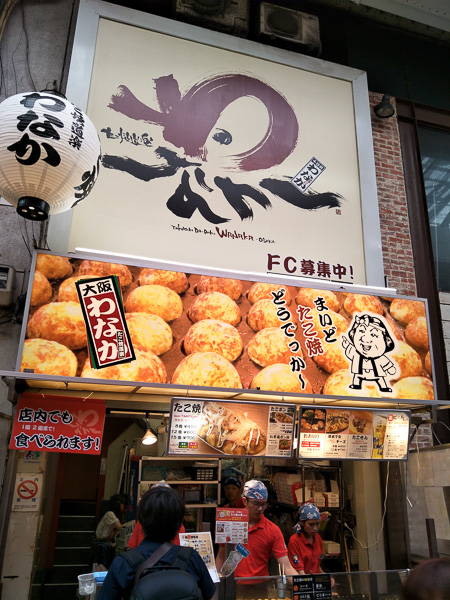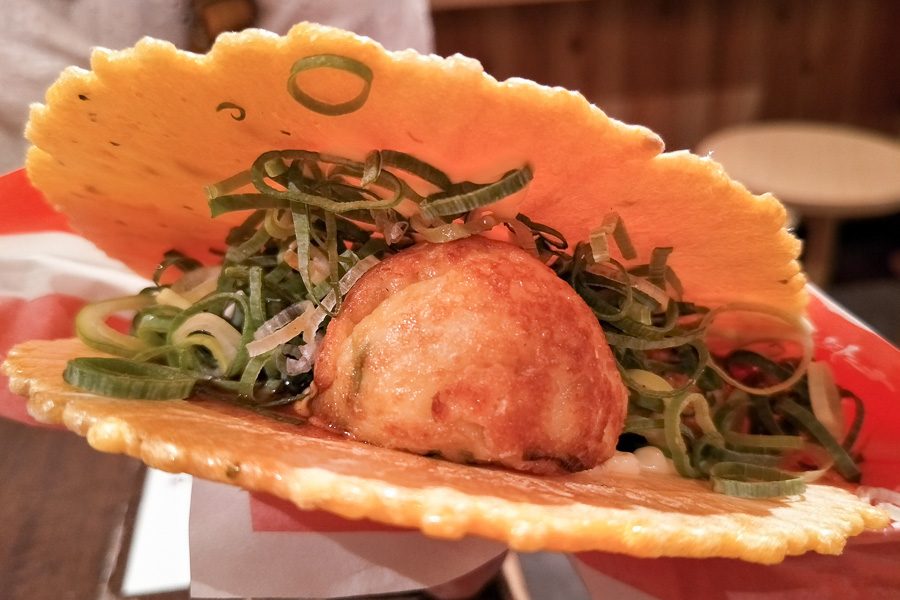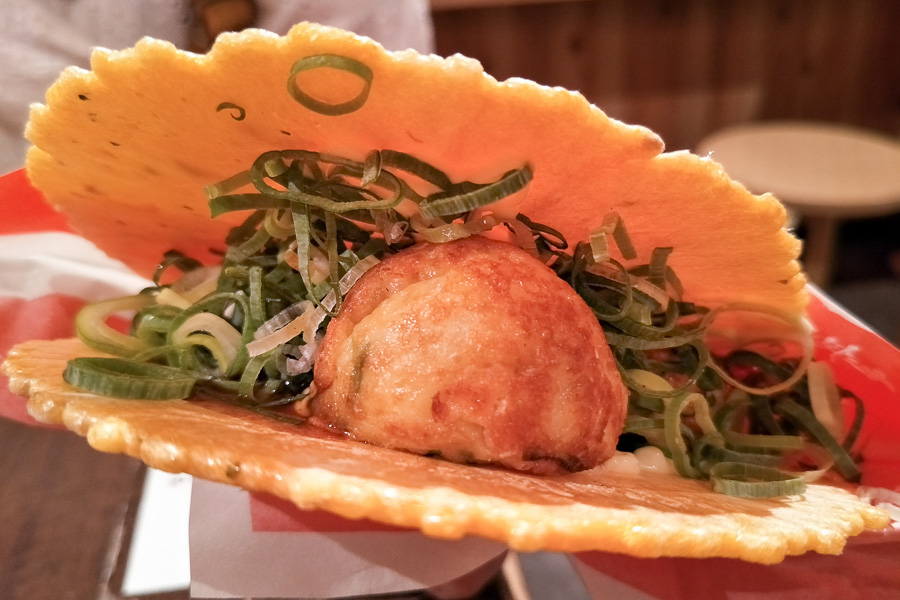 The Takoyaki cracker (Takosen) at Takoyaki Doraku Wanaka Namba at 11-19, Namba Sennichimae, Chuo-ku, Osaka totally games it up with the crunchy cracker with shrimp flavored melting on your mouth.
Address: 3-7-24 Namba Chuo-ku Osaka-shi, Osaka
Phone: 06-6631-5920
Business hours: 10:00 ~ 22:00
Kushikatsu – Deep-Fried Skewered Meat and Vegetable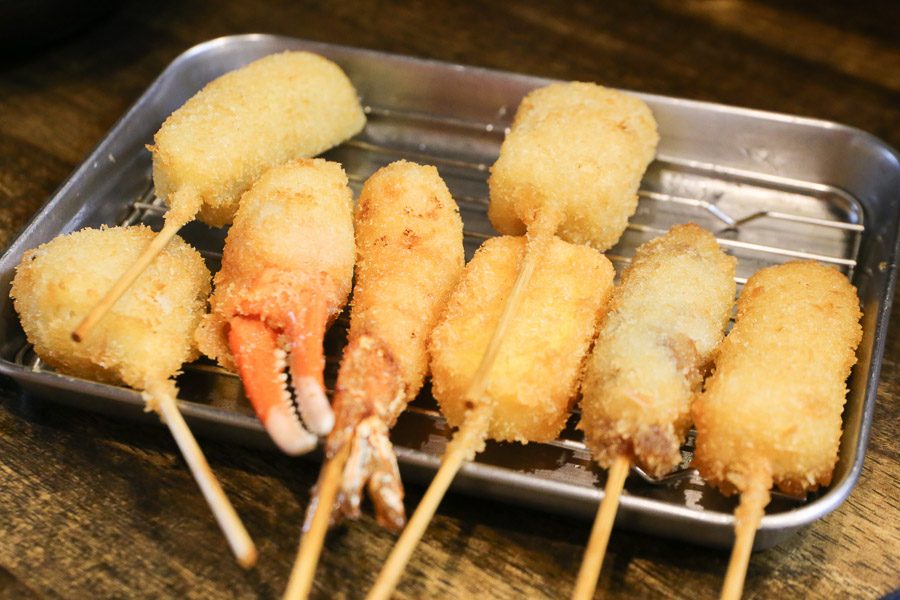 Kushikatsu is a staple Osaka snack made of deep-fried skewered meat and vegetables. Rooted in the Shinsekai era (Showa period), Kushikatsu quickly became manual laborers' favorite treat to fill their stomachs for a hard-working day.
Shinsekai Kushikatsu Ittoku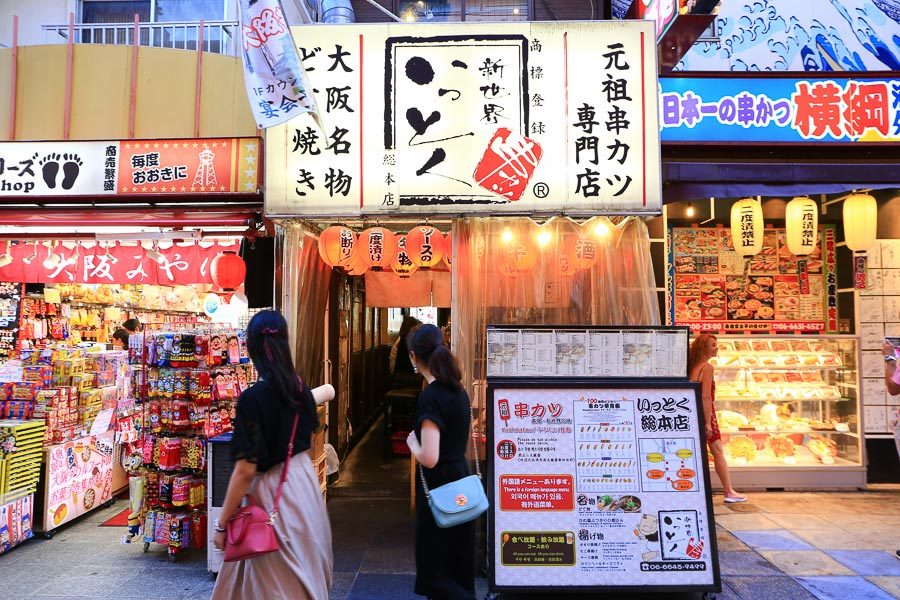 Shinsekai Kushikatsu Ittoku is a must-visit stop to sample this savory bite! They offer a wide range of meat and vegan options. The restaurant comes out in a bar concept with a cozy ambiance. We like the way it's tourist-friendly that makes life a lot easier for many tourists. The menu is supported in Japanese, English, and Chinese, so you won't have a hard time ordering.
Address: 2-4-13 Ebisuhigashi, Naniwa-ku, Osaka 556-0002 Osaka Prefecture
Phone: 06-6645-9499
Business hours: 11:00 – 22:30 (Sun – Thu); 11:00 – 23:00 (Fri – Sat)
Yakiniku Grilled Meat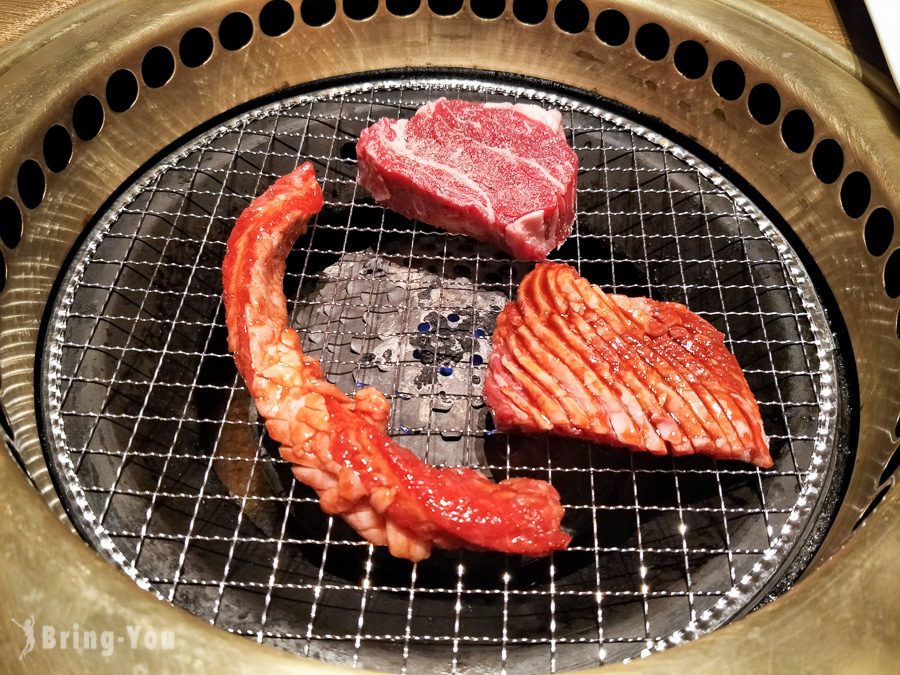 BBQ is always our go-to comfort food to beat the cold of the rainy days. In Osaka, Aburiya Sonezaki gives you the best all-you-can-eat feast where the finest cuts of domestic beef with mouthwatering.
Aburiya Sonezaki
At Aburiya Sonezaki, you'll enjoy a laid-back yet intimate moment of a buffet setting. Some certain dishes on the menu are unlimited while some others limit you to a certain period of time with one dessert to be ordered.
Address: 2-15-20, Sonezaki, Kita-ku, Osaka-shi, Osaka
Phone: 06-6361-1129
Business hours:
Monday – Friday Dinner: 17:00 – 23:00
Saturday, Sunday & Holiday Lunch: 12:00 – 14:00;Dinner: 16:00 – 23:00
High-End Japanese Beef Cuts at Senri Shabu Shabu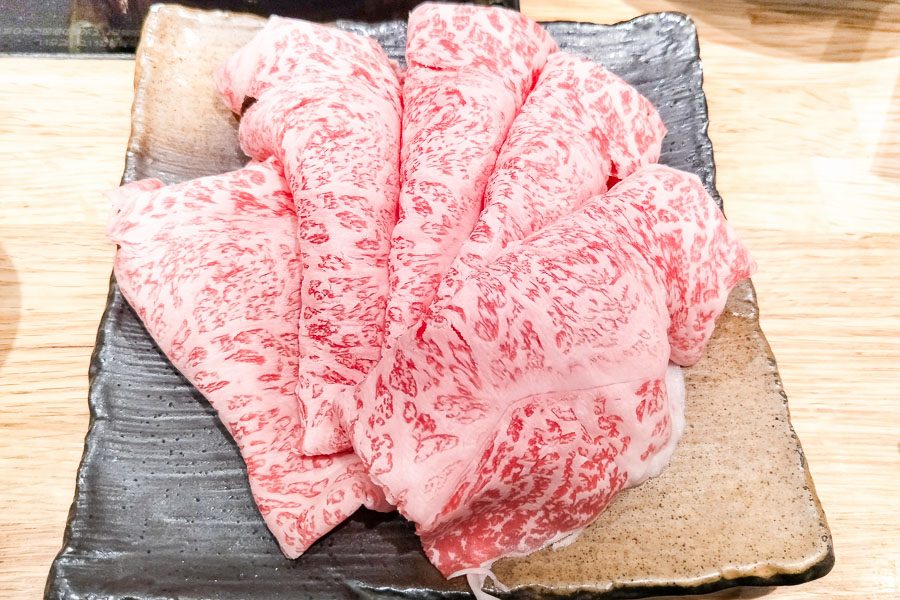 This highly-reputed hotpot restaurant has been serving the finest wagyu cuts for nearly half a century and it never fails to impress. Each marbled slice of beef is juicy, milky, and melting the moment it meets your tongue.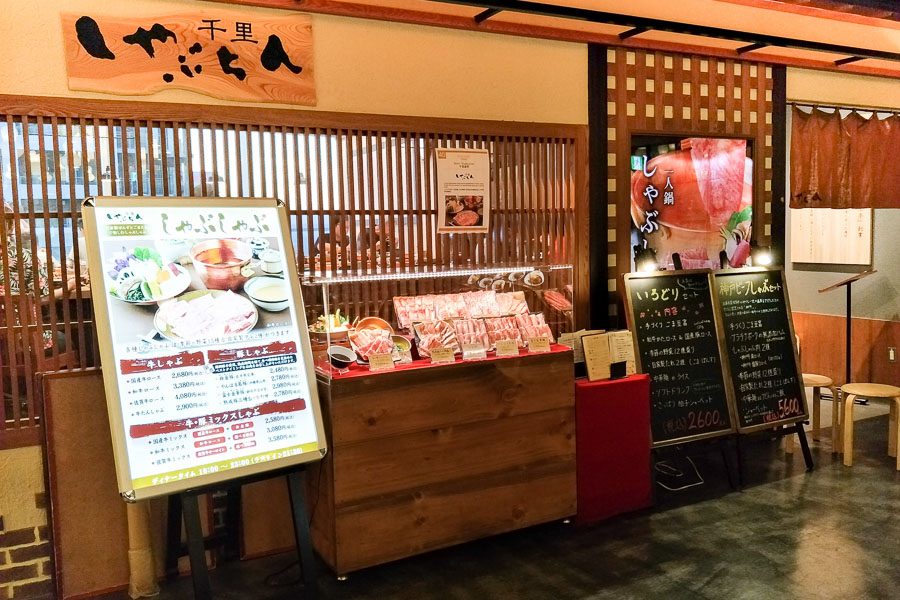 Senri is a high-end Japanese restaurant in an open concept layout where the seating encircles an open kitchen where they cook up your favorite food in front of you. You can talk to the chef while watching him cook and plate out the cuts.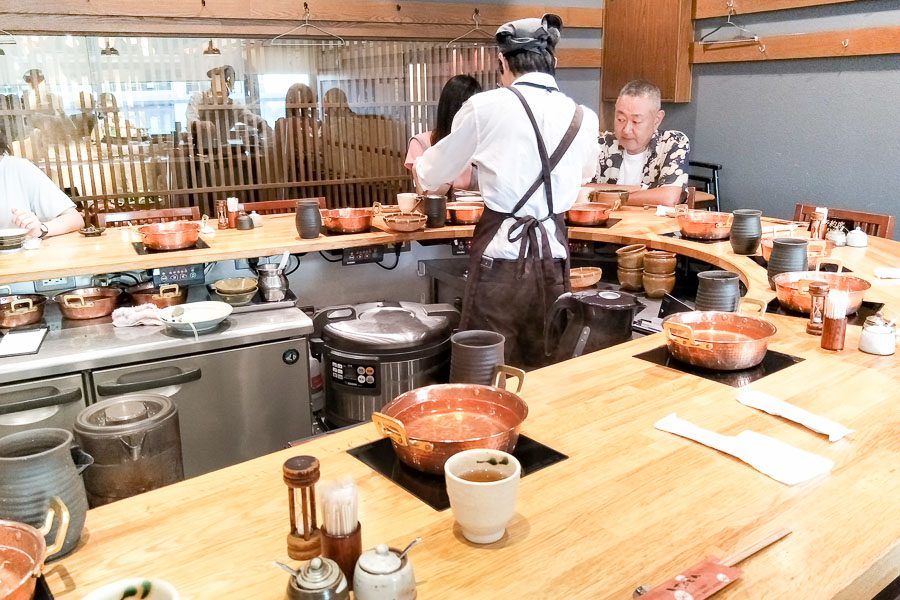 The hotpot with veggies and meat is served first and noodles are brought out in the end. The staff is excellent. They wait on you to watch the fire, cook it up for you, and bring out noodles when you finish the hotpot.
Address: 1-1-43 Abenosuji, Abeno-Ku Abeno Harukas Kintetsu Honten 12F, Osaka
Phone: 06-6654-7412
Business hours: 11:00 – 23:00
Beef Cutlet at Gyukatsu Motomura
Gyukatsu Motomura is a tourist-friendly restaurant serving tender, lightly breaded, and undercooked beef cutlets grilled on hot stones. If you can't handle the grilling, the waiter will take care of the business for you.
They have English-menu so you won't end up ordering with confusion like some other places. Have a look at their menu on their official website before popping in. They let you order an extra set of meat to pair with the initial order, which is about 130 grams per serving.
Address: 3-3-1 Sugata Bldg B1F, Namba, Chuo, Osaka 542-0076 Osaka
Phone: 06-6643-3313
Business hours: 11:00 – 23:00
Seafood and Crabs
Some people will die for crabs, some don't. But if you're a seafood connoisseur, Kani-doraku Amimoto is a place to belong. Their signature offering is all about crabs, ranging from appetizers to boiled and grilled crab. The restaurant is on the higher end of the price spectrum but it's totally worth a try!
As soon as you enter the restaurant, you'll see tanks of live crabs welcoming you on the first floor. Freshly caught crabs are shipped daily all the way from Hokkaido by air. Matsuba crab (or king crab) is unarguably one of the most talked-about options, with other different types of crab dishes harvested for sales every month.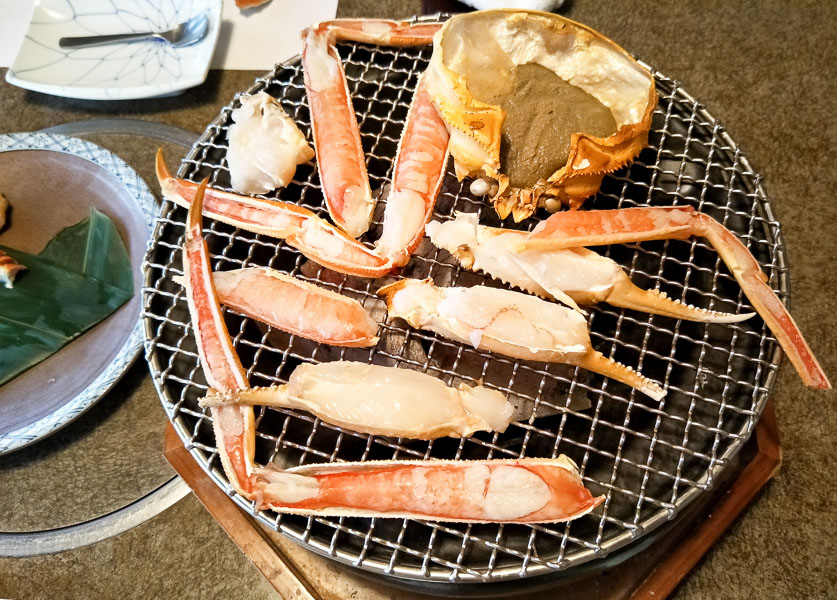 On a rainy day, you can try Kani Suki hot pot, a savory comfort food using homemade Suki broth-based infused with salt water. This is a good call for those who like a full-bodied, savory, rich, and smooth mouthfeel with a tender soy sauce aftertaste.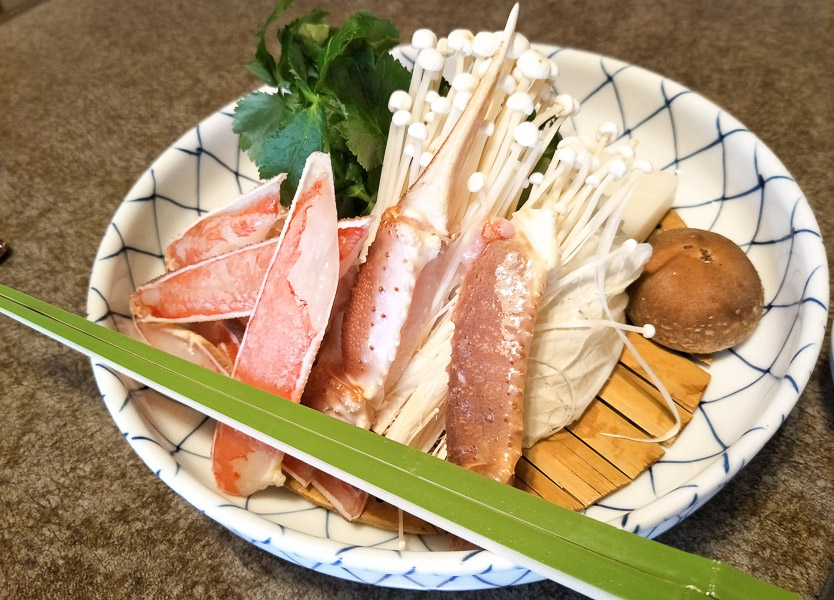 Then we have Kani Shabu which is a perfect choice for crab legs lovers. The legs are huge with open cracks on the shells to expose the fresh, tender, and juicy meat on the inside and ready to go.
If you come with a big group of friends or family going out for lunch, their Daily Lunch Specials will have your mouth water. A set like this includes boiled crabs, raw snow crab legs, crab with steamed egg custard, tempura, sushi, soup, roasted crab with butter, and a plate of fruits to cleanse your palate in the end.
Address: 2-13-15 Nishishinsaibashi, Chuo, Osaka 542-0086 Osaka
Phone: 0120-061-011
Business hours: 17:00 – 22:30 (Mon – Fri); 11:30 – 22:30 (Sun – Sat)
Puffer Fish (Fugu Fish) at Hamatou Kuromonten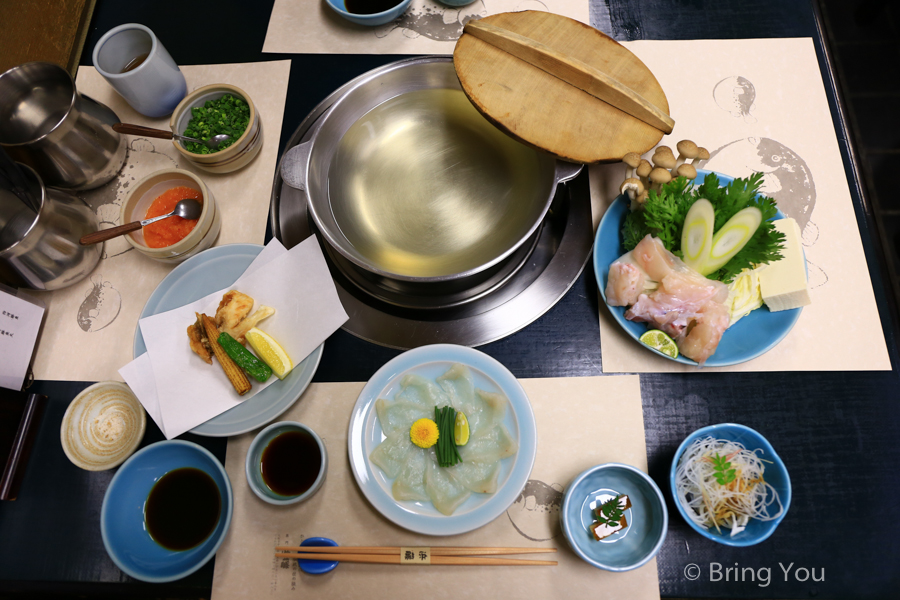 Puffer Fish is a controversial cuisine. If you don't eat fish or if you've heard bad raps about this infamous dish, it will hold you back in doubt. We've got you covered! We've found the best place where pufferfish is masterly handled by an experienced Japanese chef!
Hamatou Kuromonten is a notable restaurant famous for Tiger pufferfish which is the highest grade of its kind. The pufferfish at Hamatou Kuromonten comes in several dishes so you can mix and match up to your liking. It's made of Rausu kelp to flavor the backbone of the broth and paired with dried bonito to round up the tasting profile.
If you're looking for something fancy for a fine-finding date night, try out their Fugu Hot Pot! It comprises jelly and fugu skin as a starter followed by sashimi and fried fugu. The main dish – hotpot comes in the end.
Address: 1-21-8, Nippombashi, Chuo-ku, Osaka-shi, Osaka
Phone: 06-6644-4832
Business hours: Monday – Sunday 11:00 – 22:00
Hope You Enjoy Osaka food with our Guide
We hope this ultimate Osaka food collection will change the way you dine in Osaka. With the provided addresses, operating hours, and phone numbers, navigating around Osaka for these food spots is not a problem anymore. Feel free to share it with your friends, because good food will make the people around you happy!
Everything You Need to Know about Osaka
Explore more of our adventures around Osaka:
Simplify Your Osaka Trip