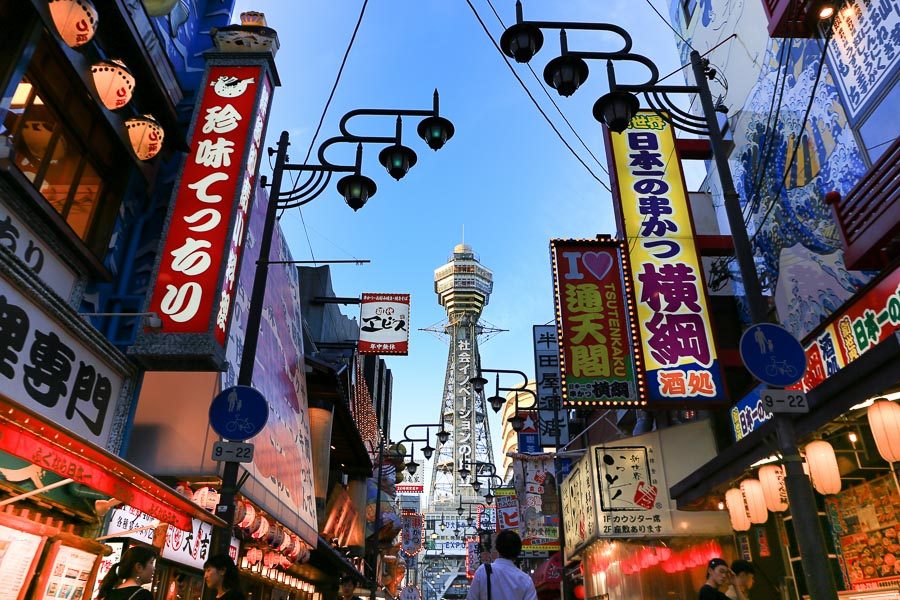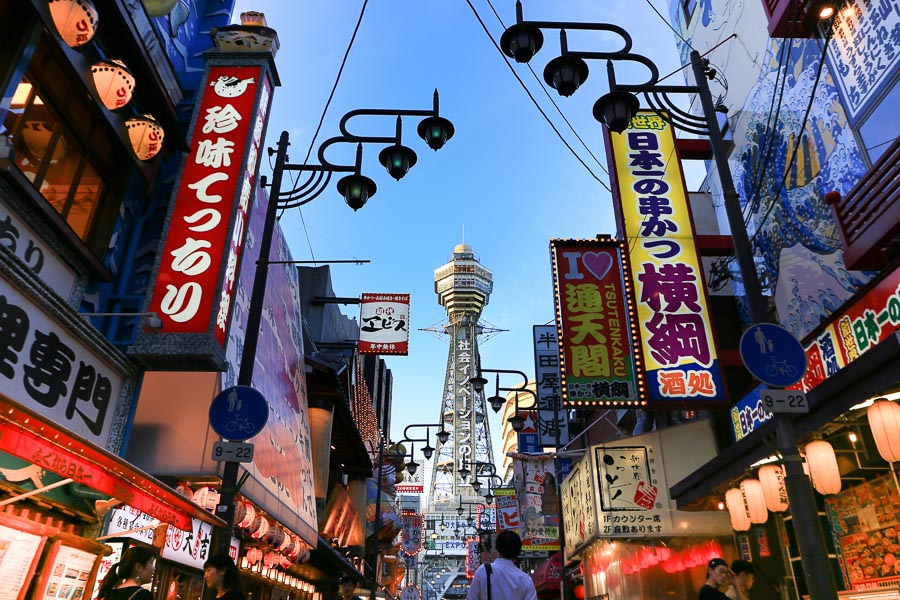 Osaka is Japan's second-most populous city and the economic pivot for the country. The city is as rich in history and culture as it is in innovation and technology. Tourists can indulge in a host of authentically Japanese experiences as traditions are alive and well in this thriving metropole. Likewise, you have the chance to experience modernism on an unparalleled scale.
The city does not only offer a treat for the eyes and mind but is also widely considered as the food capital of Japan. Dishes like Takoyaki and Kushikatsu are just mouthwatering and you will hardly find it better elsewhere in the country.
Osaka also offers quick access to Kyoto and is vastly less costly. Here you can shop for local specialties and souvenirs at a fraction of the cost and you are often able to buy duty-free too! You are also able to experience vibrant nightlife illuminated by neon lights that heighten the spirit in the air.
First Time in Osaka? Don't Miss These: Osaka for Beginners: A Pocket Travel Guide to Make the Most of Your Visit
Step Into the Movies at Universal Studios Japan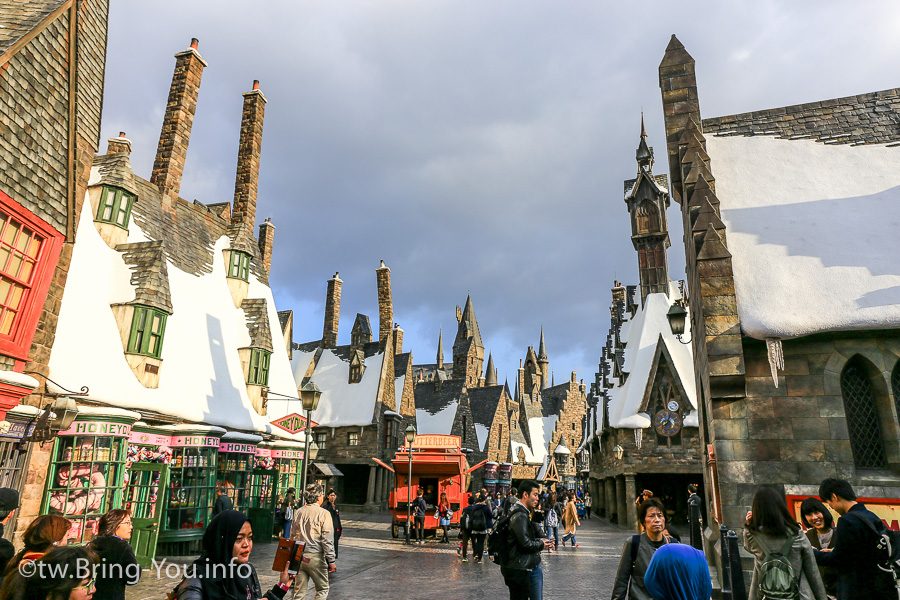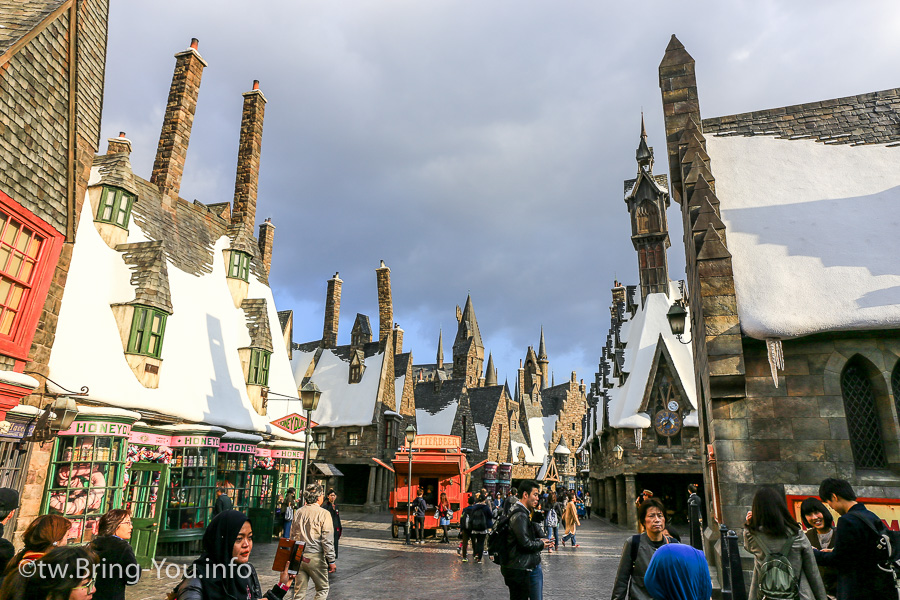 This is an absolute must-do for any cinephile, especially Harry Potter fans. At USJ you step into the silver-screen and become part of magical and fantastical worlds. There are 9 different zones where your imagination can run wild including the Wizarding World of Harry Potter, Jurassic Park, Minion Park, Hollywood, and more.
The park offers a big collection of rollercoasters and rides for thrill-seekers. Ques can be unbearably long but a pro-tip is to use the single rider lines and skip the long wait. If you like your feet a bit closer to the ground and your heart rate at natural levels, there are also many walkable sites like the Hello Kitty Boutique or the Monsters Live Rock & Roll Show. It is especially rewarding to visit during holiday months like Christmas or Halloween as there are spectacular themed decorations and activities centered around these festivities.
Read More: An Ultimate Beginner's Guide to Universal Studios Japan
Get Discount Ticket: 1-Day Ticket and Osaka Amazing Pass Combo, Express Pass
Drive Off Evil Spirits at Osaka Namba Yasaka Shrine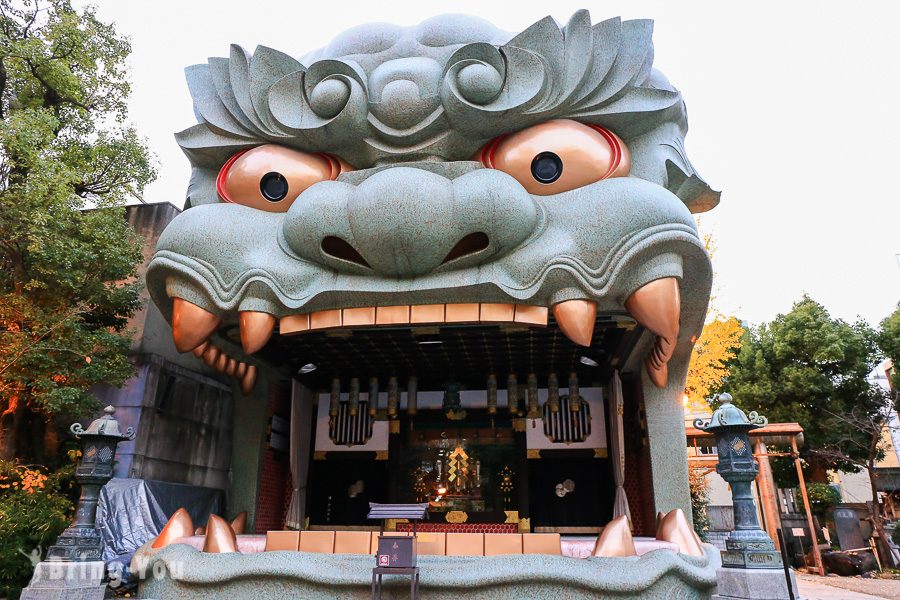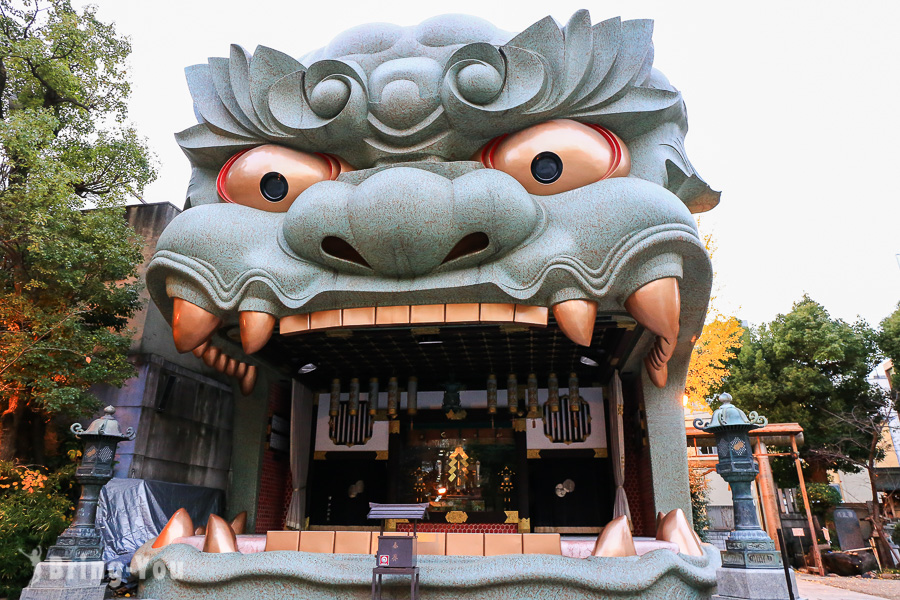 The Namba area of Osaka is mostly frequented for its large variety of shopping and entertainment options but hidden amongst all the action is the iconic Namba Yasaka Shrine. The shrine stands at 12m tall and takes on the shape of a lion's head. Its gaping mouth is said to swallow evil spirits that pester you during exam times or ahead of business ventures.
The grounds are lined with cherry trees and make for a spectacular frame of the lion during springtime Another fun seasonal showcase is the annual Tug-of-War event that takes place here on the third Sunday in January.
Explore Under the Sea at Osaka Aquarium (Kaiyukan)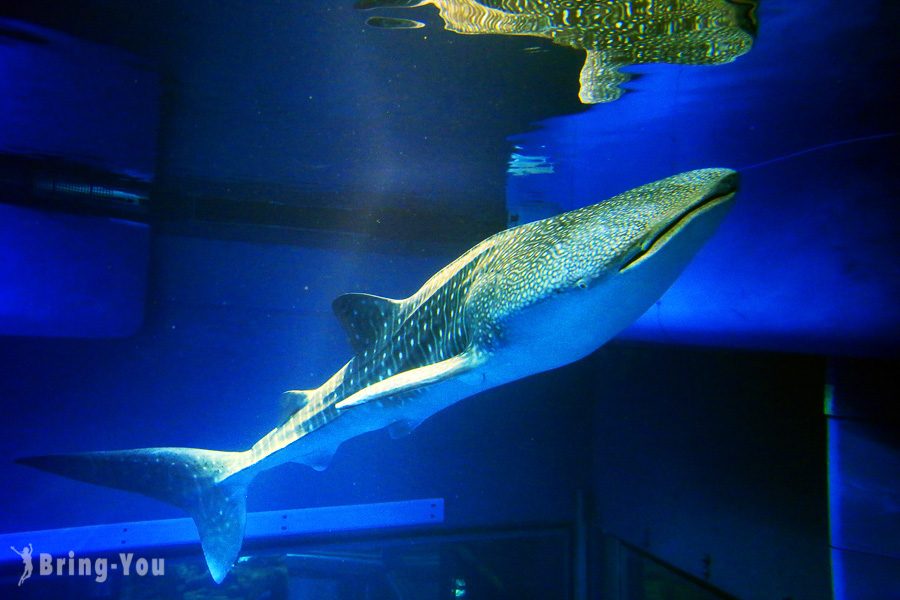 The Osaka Aquarium is an incredible 8 story attraction that homes more than 600 species of ocean creatures. From the smallest shrimp to the biggest whale sharks are all gracefully swimming through the waters of their 27 tanks. Exhibitions are mimicking all kinds of marine habitats including the Arctic and Japanese Oceans. Visitors can partake in interactive exhibitions where penguins waddle right past you and you can pet rays and sharks from the Maldives.
Feeding times are also very popular as dolphins, otters, sea lions, and more are seen chomping away at their various meals. All through the aquarium, there are knowledgeable guides that inform visitors about all the incredible animals on display and educate them on the importance of marine diversity. Such diversity can be seen all around and tanks are designed to make visitors feel like they are ocean walking.
Get your Osaka Amazing Pass and ticket to the Osaka Aquarium all in one
Ride the Tempozan Ferris Wheel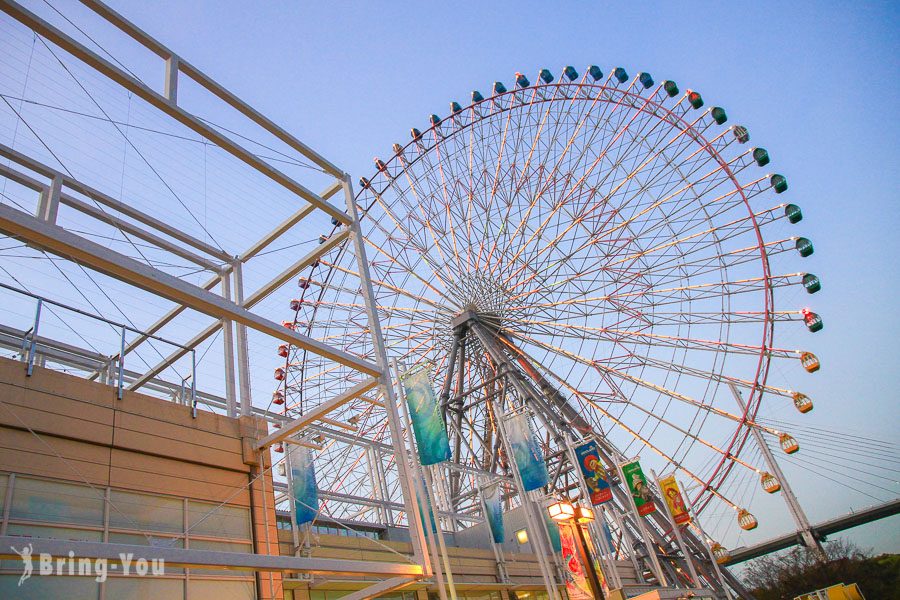 The colorful lights of Ferris wheels are found in most major cities in the world and Osaka's Tempozan Wheel is one of the largest. The Ferris wheel has spectacular sights from every angle. Mount Ikoma, Kansai Airport, and Akashi Kaikyo Bridge are only a few of the great attractions you can see on your 15-minute rotation to the top and back.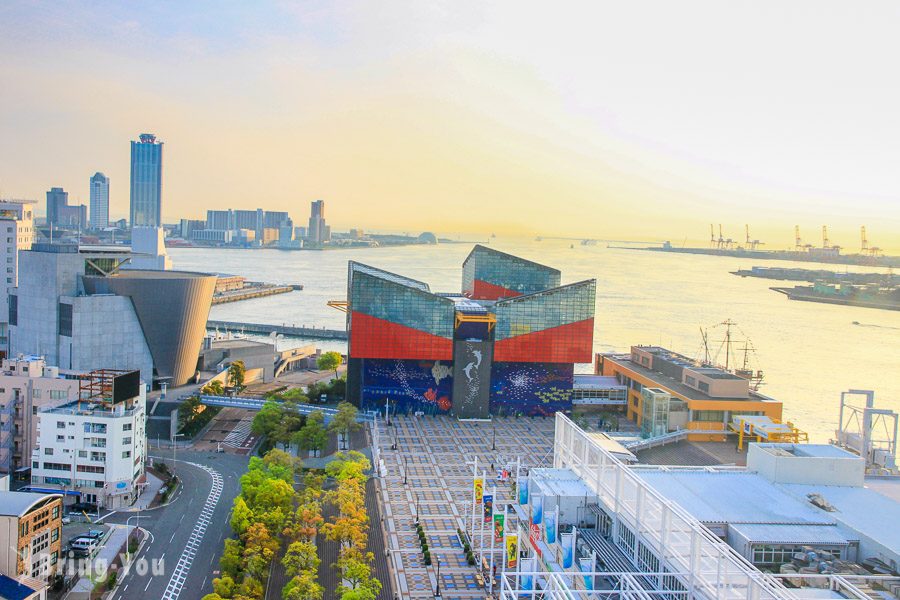 There are 60 gondolas on the Ferris wheel and 4 of them have been designed with glass floors. This means you can see far and wide as well as down! Tempozan Harbour Village, where the wheel stands, is also home to Osaka Aquarium and various restaurants, shops, and pleasure cruises.
Free access the Ferris Wheel with: Osaka Amazing Pass
Dress Like a Samurai at Osaka Jo (Osaka Castle)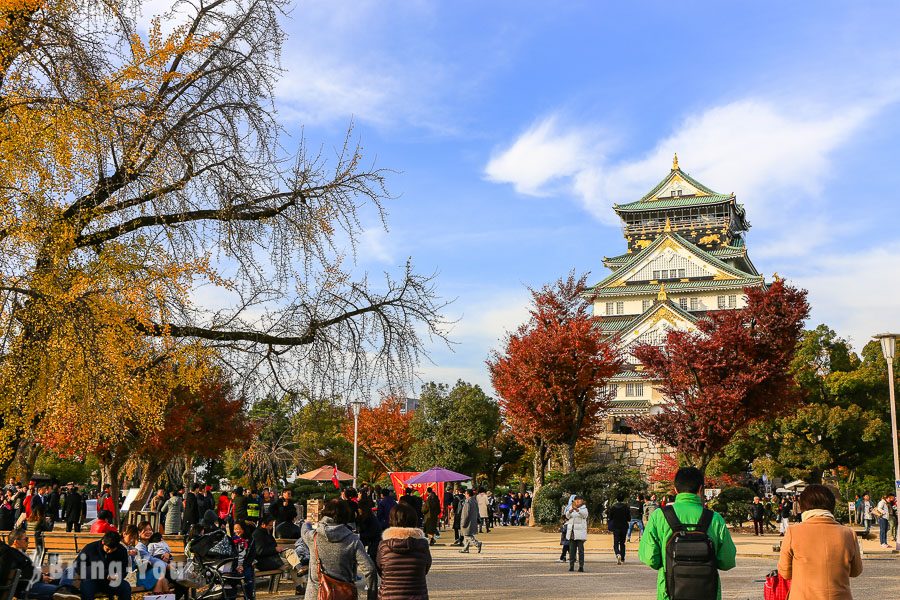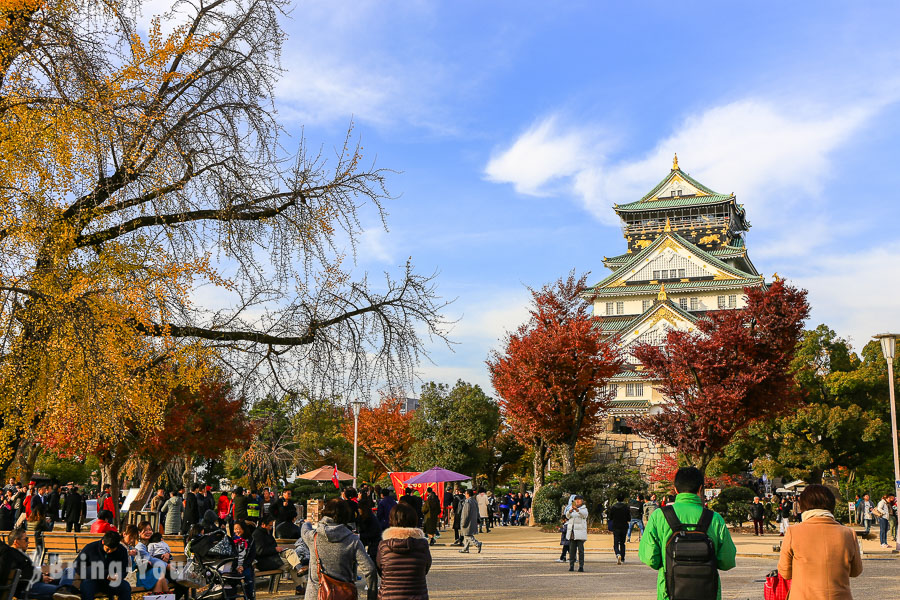 The castle dates back to the 16th century and was rebuilt in the more recent history after being destroyed in the Tokugawa period. There is an outer moat surrounding the castle and the 5-story white, green and gold castle is kept safe within. There are cherry trees strewn over the grounds that make for a breathtaking showcase in springtime. The castle grounds are 2 hectares and include ample green space for visitors to meander through and enjoy some tranquility.
Visitors can also take part in a unique photo opportunity by trying on traditional samurai armor or kimonos for women.
Free Access to Osaka Castle with: Osaka Amazing Pass
Visit Dotonbori Neighborhood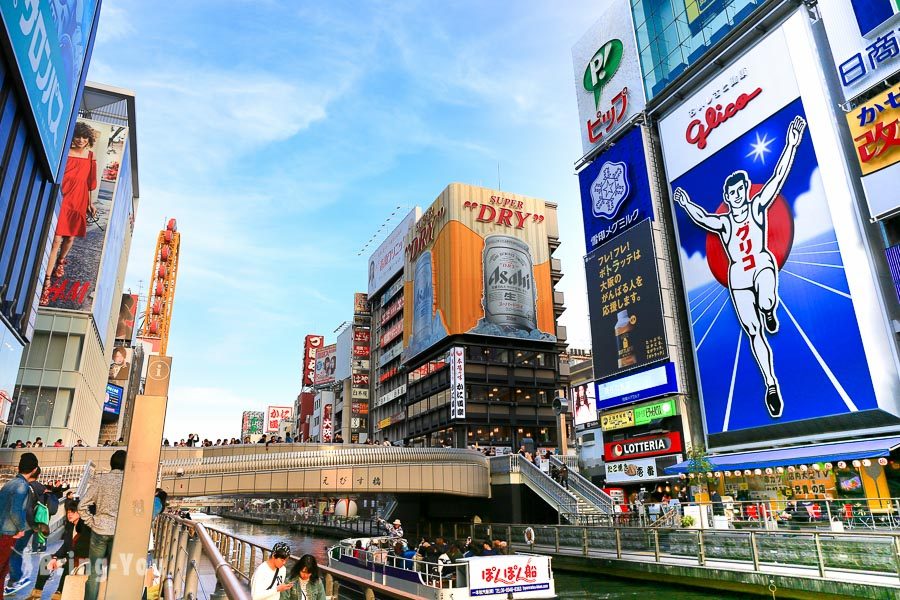 Once you step off at Namba Subway Station you enter the mesmerizing Dotonbori Neighborhood. Between the Daikokubashi and Nipponbashi bridges, you will find the Dotonbori canal that runs through the liveliest part of the Namba district. This area is trademarked by its flashing neon signs and an exotic array of restaurants.
The district is a premier entertainment destination and a must-visit for foodies. Creo-Ru is on the less expensive side of the spectrum and serves a variety of delectable Japanese street foods. Their fried squid balls are a particular favorite amongst starving crowds. Restaurants like Kani Douraku and Daruma are also easily recognized by their giant 3D signboards. Fugu is another popular dish here. It is precision cut pieces of blowfish meat, one wrong slice and the meal can be potentially toxic!
Discovering the Heart and Soul of Osaka's Food and Entertainment Scene: A Travel Guide to Dotonbori
Explore Shinsekai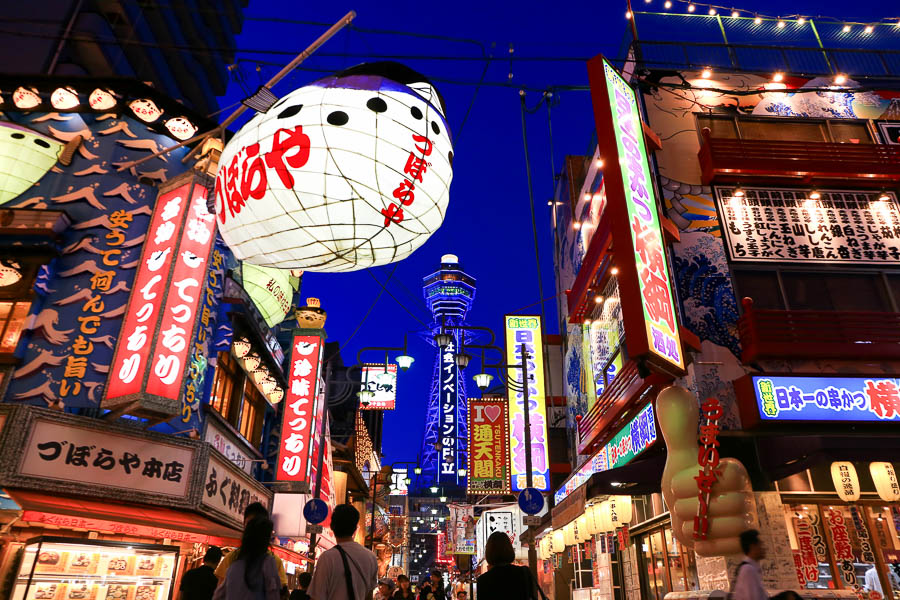 Shinsekai is another of Osaka's famed neighborhoods. Visitors flock here for its main attraction, Spa World. In the middle of the area, Tsutenkaku Tower forms an iconic part of the skyline at 91m meters tall. A ticket will grant you access to the open-air sky deck at the top which has incredible panoramic views of the city below.
If the heights make you dizzy, a hearty skewer with fried foods might suit you better. Kushikatsu ranges as far as beef to ice-cream or even asparagus and pumpkin, all skewered, battered, and fried.
Get a View From the Top Umeda Sky Building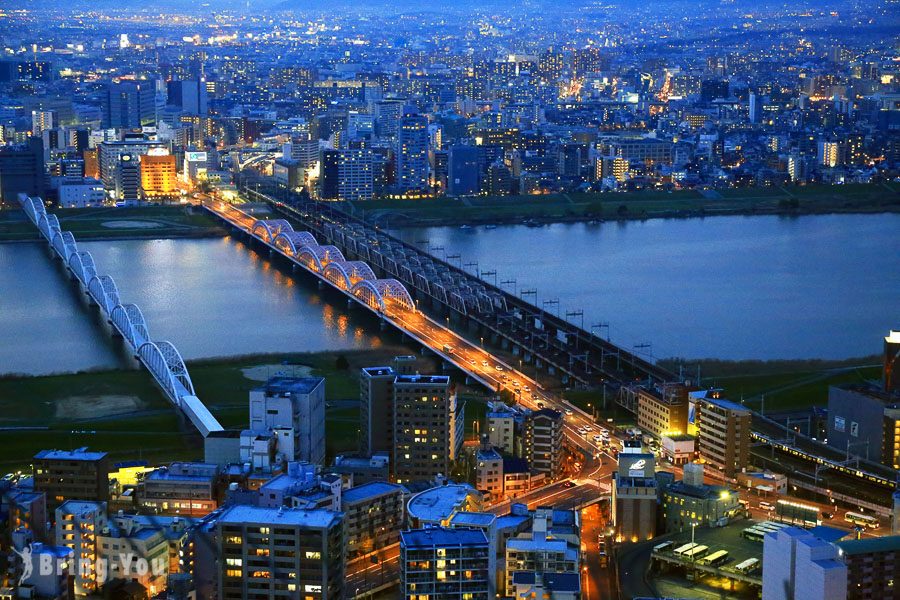 The Umeda Sky building was taken straight out of a futuristic film. The two giant towers are connected by the observation deck and sky-garden at the top. Inside, the building offers much more than just modern office spaces.
In the basement, they have recreated retro Japanese dining from the Showa period with various themed restaurants. There are also 4 cinemas located in the east tower, showing the latest international blockbusters. The Koji Kinutani Art Museum is located on the 27th floor. Traditional artworks have been reinvigorated by adding 3D elements to frescos, paintings, and sculptures.
Free Access to Osaka Castle with: Osaka Amazing Pass
Get Traditional with a Tea Ceremony
Tea is an integral part of Japanese culture and a traditional experience that cannot be missed when visiting Osaka. Matcha is quintessentially Japanese and the process of making a cup of this green elixir is somewhat religious. It is well-liked to participate in a Kimono Tea Ceremony like the one offered by Maikoya. Get dressed up in traditional Japanese garb and even have your hair styled in the customary fashion.
AirKitchen is also a groundbreaking service in Japan where tourists are invited into the homes of knowledgeable locals to learn Japanese culinary arts. Japanese green tea pairs well with wagashi, Japanese sweets, and some experiences teach you how to make these delightful treats.
Book Your Tea Ceremony and Japanese Garden Walk Experience
Appreciate Art at the Expo '70 Commemorative Park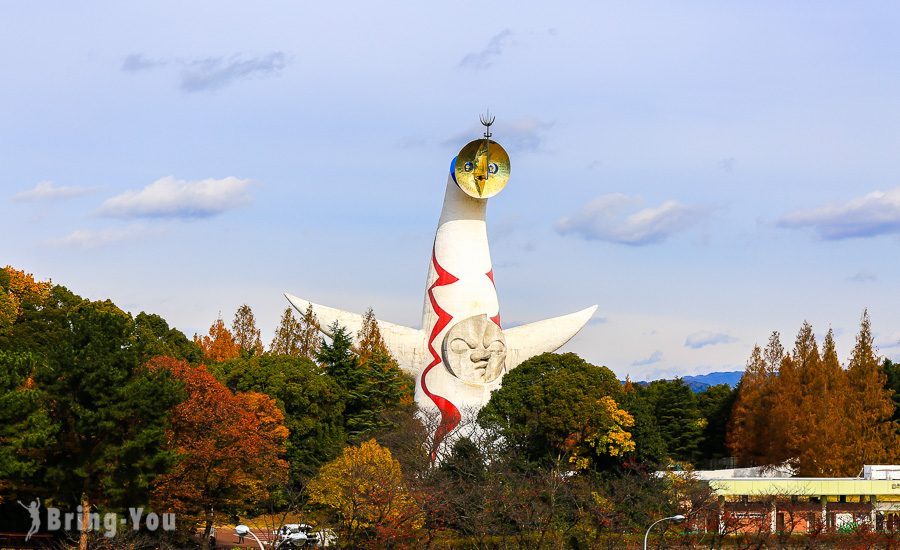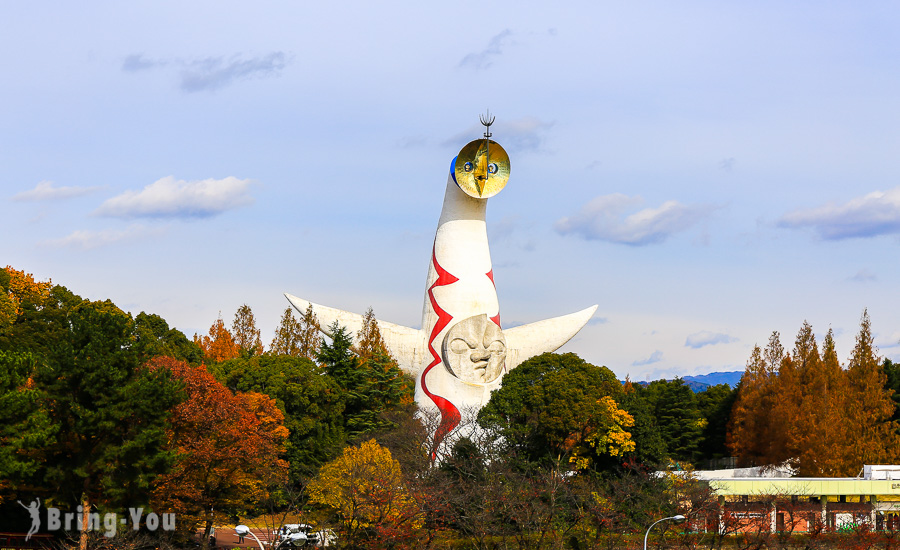 In 1970 Japan hosted a first of its kind even, the Japan World Exhibition. Showcasing innovation and culture from all over the world, the expo displayed such rarities as a moon rock, electric cars, and canned coffee. After the exhibition wrapped up, many of the original artworks remained and now forms part of the commemorative park. The main attraction is the Tower of the Sun that greets you at the entrance and leads the way to cherry tree lanes and other open green spaces. The Dream Pond features some more of the sculptures from the expo and here visitors can take pedal boats out on the water to see the art up close. There is a museum on the expo grounds that showcases all the information about the original expo.
Just outside the park, Expocity, a high-end shopping mall has opened. Visitors can explore a massive range of luxury goods and interesting entertainment options. Japan's largest Ferris Wheel can be found here as well as Nifrel, a modern aquarium that tries to blur the barriers between humans and animals. Another first of its kind is Orbi, a digital zoo/museum that brings the wonders of the world to life in a completely digital way.
Make Your Noodles – Instant Ramen Museum
Nowhere else in the world has one food been so highly regarded that there has been a museum of this caliber erected in its honor. Instant ramen is a cultural phenomenon and is cherished the world over.
At the Cupnoodle museum, you get to see the humble beginnings where chicken ramen was invented in a wooden shed. Thereafter get your hands dirty by making your very own ramen from scratch, knead the dough, add flavors and flash fry the noodles to dry them. You also get to design your very own cup noodle package with custom flavors and toppings. Furthermore, the Cupnooldes Drama Theater, the Instant Noodle Tunnel, and the Instant Noodle Exhibition give you an even more unique perspective on this economic edible.
Make Your Unique Instant Noodles via: Cup Noodle Museum Day Tour
Relax at the Spa world
Japanese hot-springs, Onsen, are world-renowned and many flock to Japan to experience its therapeutic properties. At Spa World, there are 2 gender-separated onsen floors, one Asian themed and one European themed. Every other month the gender assigned to each floor is changed and men and women can thus experience both floors by visiting on alternating months. Onsen, like the ones at Spa World, have very strict policies, including "no clothes allowed" and very often "no tattoos allowed", so be sure to read up on these before you visit such a facility.
Spa World further offers the Ganban-Yoku Stone Saunas that are also internationally themed. Eight saunas are designed to signify countries such as Canada, Egypt, Turkey, and Israel. There are 2 waterslide areas available for some added fun and a also pristine outdoor Jacuzzi with a view of Tsutenkaku Tower. You can choose to spend the night at their convenient hotel that also overlooks the Tower. Hotel guests get to use the onsen and Jacuzzi free of charge.
Get Your Spa World Admission Ticket
Get Going in Go-Karts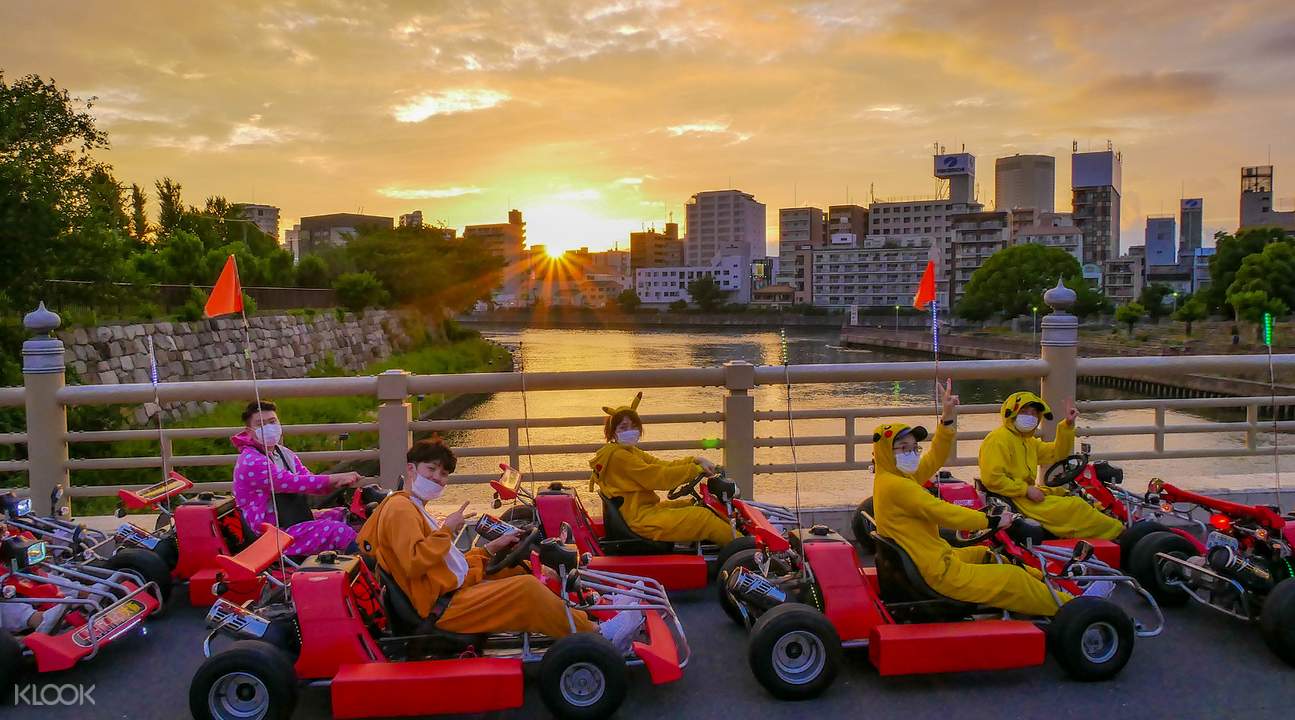 This activity is so much fun it should be illegal. Yet, it is perfectly safe and one of the top things to do when visiting Osaka. Dress up as some of your favorite characters from film and computer games and hop in a Go-Kart to hit the streets of the city. You take a 2 or 3-hour drive through Osaka, passing all the major points of interest. On the central city tour, you pass Nakanoshima, Shinsaibashi, Doutonbori, and Namba. The longer tour adds Umeda and the aquarium or the castle to the thrilling ride.
There are optional extras to make your ride even more exciting such as an action camera, a Bluetooth speaker, and character costumes to complete the look.
Book Street Go Kart Experience by Akiba Kart Osaka
See the Seasons Change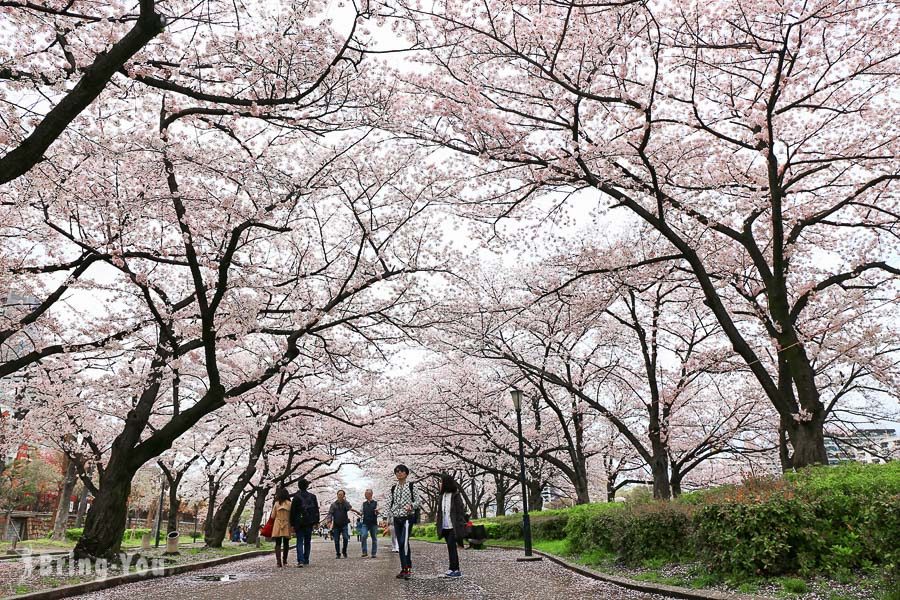 Osaka's green spaces are bursting with color all year round and it is pretty spectacular if you can see these seasons change. From March to May spring arrives and the cherry blossoms burst into their full glory. You can view these iconic trees in almost all the parks and they transform the city into a fairytale forest. When the pink starts to turn green, summer is around the corner and by June it is time to head to the beach. Through August the city has several outdoor festivals that should not be missed. During Tenjin Matsuri you can enjoy splendid parades and massive firework shows. Ikutama Summer Festival and the Dotonbori River Lantern Festival are also noteworthy and give a unique insight into Japanese culture and traditions.
Autumn is often overlooked in many places but in Osaka, it is impossible to miss. Trees erupt into vibrant oranges and reds and the whole city's esthetic is transformed once more. All the city's parks are popular during this time but Mino Falls offers a special treat. Stroll along the river to see the graceful waterfall from their iconic red bridge that matches the surrounding foliage. The seasons complete their cycle as winter rolls around in December and takes you through to spring. Even though it does not snow in Osaka, they light up the city for the festive season. Midosuji Street spans for 3km and is illuminated from Nov past NYE. Another delight for the eyes is the Tower of the Sun that features exciting 3D projection at the end of December. For adventure seekers, there are also various ski resorts less than 2 hours outside of Osaka.
Visit a UNESCO site – Mozu-Furuichi Kofun Mounded Tombs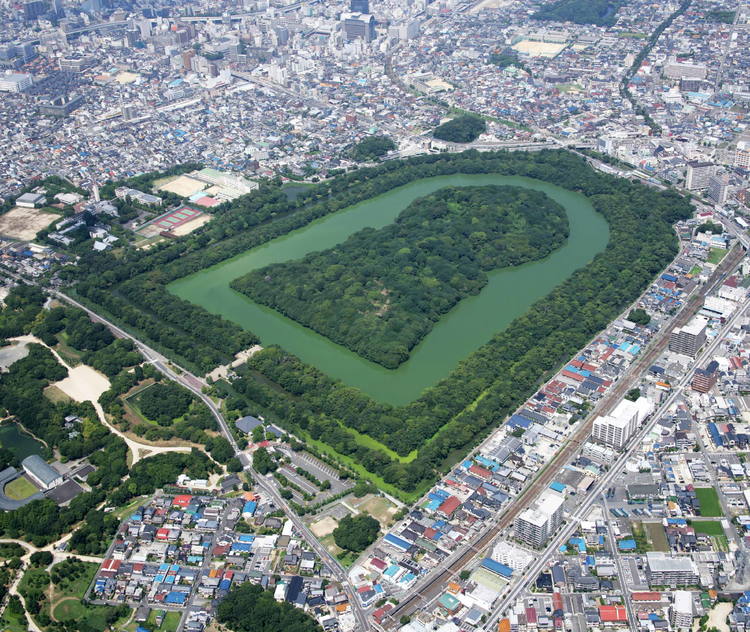 Japan has a total of 23 UNESCO sites and one of these lesser-known but exceedingly impressive sites is the Mozu Tombs. The site comprises 44 burial hills in the shape of keyholes that are mausoleums for many great and powerful people from the 3rd – 6th centuries. The largest mound in the center is over 400m long and belongs to Emperor Nintoku. This is one of the three largest mausoleums in the world.
The Sakai City Hall lets visitors out on the 21st-floor observation deck where you can get a panoramic view of the area and appreciate the sheer size of this ancient structure. The grounds are considered holy and entry to the actual graves is prohibited but you can take a stroll or bike ride around the expanse of land. At the Sakai City Museum, you can take a virtual tour inside the tombs and explore the fascinating early culture of the time. Sakai City Chashitsu Shin-an and Cafe IROHA also offer Mozu Tomb-themed food and confectioneries and the former also has a popular tea-ceremony where you can enjoy traditional matcha tea.
Keep Exploring