Burj Al Arab, Dubai's most iconic hotel, got us shuttering! We decided to spend a few nights in this symbolic accommodation of hospitality to see is it really worth it? Or is it just a nominal figure? Ready to dive in? Follow us on our journey staying in the world's only seven-star hotel now!
Burj Al Arab Hotel – Where A Stay Sends You to Cloud Nine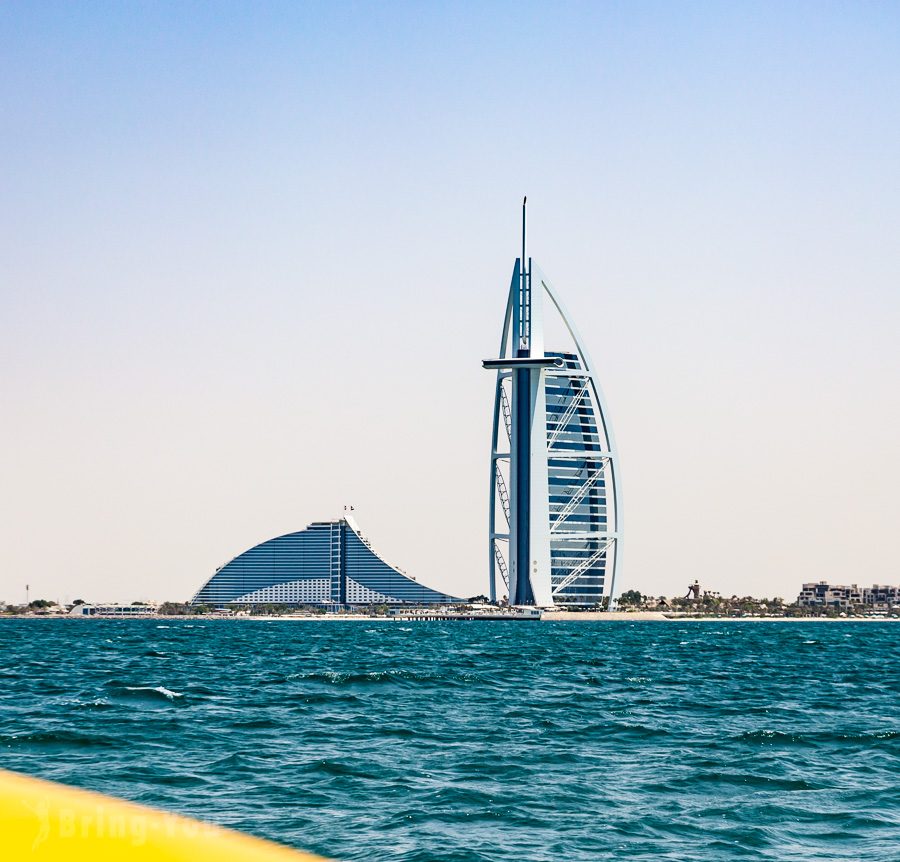 Burj Al Arab gives you a feeling of a King and a Queen. Let us tell you! There is nothing like this we experienced before! It's not simply a luxurious, top-tier hotel but also a top-notch, exclusive experience that drives the hospitality industry forward.
In 2020, Burj Al Arab was announced as the Best Hotel in the World and Best Hotel in the Middle East at the Ultimate Luxury Travel Related Awards. This is the second time Burj Al Arab has claimed this title.
We all know that Dubai breaks many world records. The Dubai people push boundaries, introduce innovations, challenge human's limits, and always aim for the best of the best.
It goes the same way for Burj Al Arab. This masterpiece is dubbed as the only seven-star hotel in the world until now. Perched on a private island, Burj Al Arab welcomed us with a fiercely guarded strait.
Read on and follow us on our journey to staying at the coolest hotel in the world!
Burj Al Arab is the World's Most Luxurious Hotel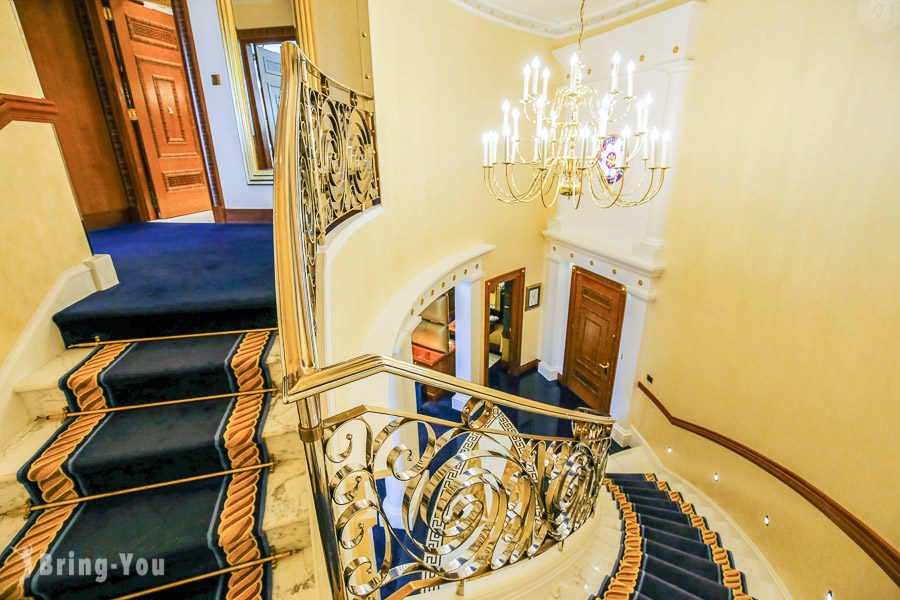 The sense of luxury we experienced at Burj Al Arab is beyond comparison! Boasting 56 floors, Burj Al Arab gets the world talking with its sail-shaped resemblance. The ribbed belly of this piece is coated with a Teflon woven glass fiber screen supporting the illumination effect day and night.
While the Middle East sunlight promotes a luminous white façade, the night turns it into a colorful show on its own.
Let us tell you! There's a whole aquarium on the ground floor. Then when you walk around the lobby there are dancing jets on the waters. You get to admire them playing while wandering through the massive mezzanine soaked in goal and sparkling jewelry.
This whole experience sends you to an imaginable Oscar show since there are too many blings going on. Apparently, we are not tycoons (or at least not just yet), and so we didn't arrive by helicopter or anything.
But if this is what you want to do, get ready to have your mind blown when landing on the 28th-floor helipad and feel like a King with the world under your feet!
Access Control and Greetings Were Strict and Formal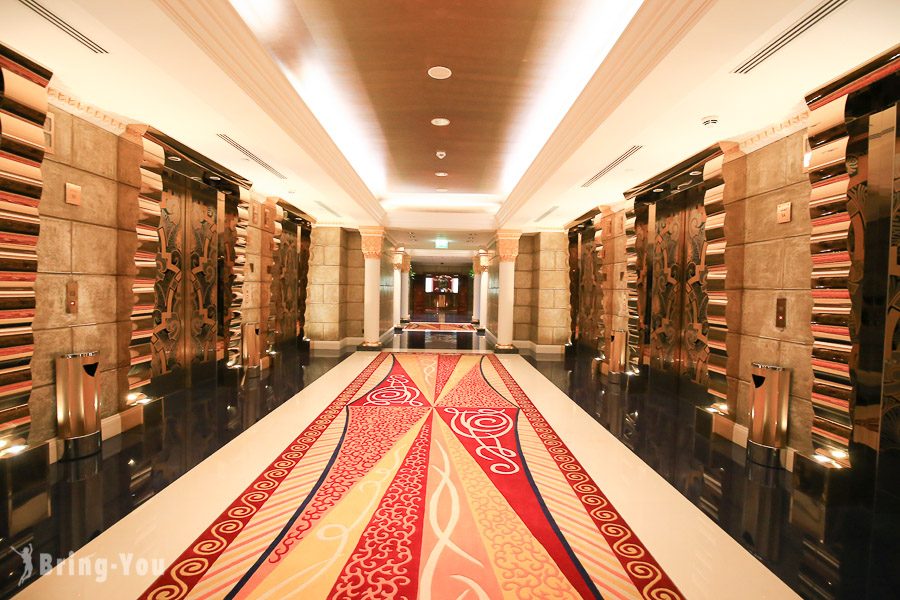 As we mentioned above, access to Burj Al Arab is pretty much an exclusive experience. So much so that they have a security checkpoint to verify our identity when we arrive.
You can arrive in a taxi or shuttle service or your own car which drops you at the main gate. Right before we entered the gate, we noticed a team of portal service staff lining up in two straight lines outside the main gate to welcome us.
Two bell boys approached us, one opened the right door and one on the left while another bellboy assisted our luggage and loaded them on the cart. Wow! This is mind-blowing!
The leader of the team who dressed in such a delicate and formal Muslim attire shouted out our name and escorted us into the lobby.
How Can You Visit Burj Al Arab Without Being an In-House Guest?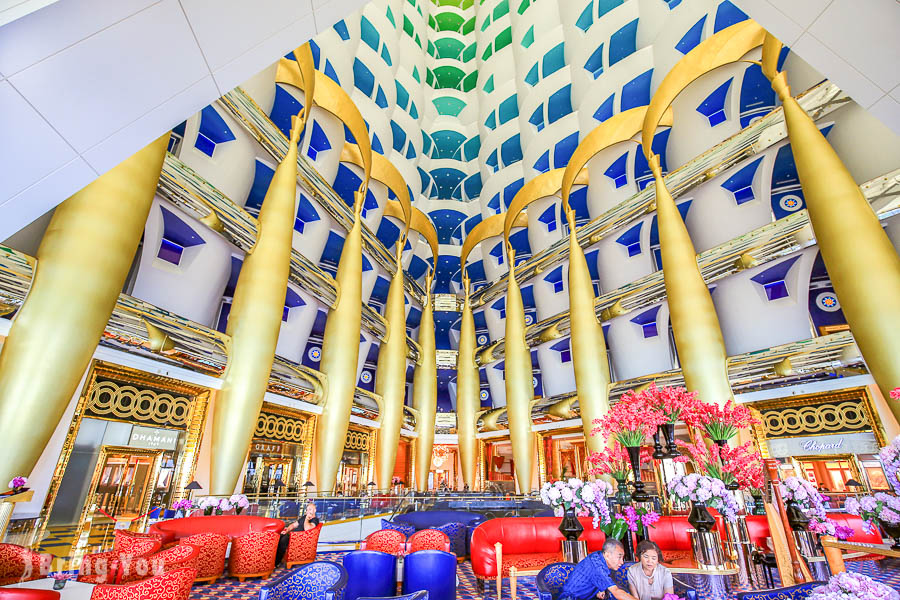 You've probably heard of Sahn Eddar Restaurant, a casual lounge nestled on the second floor of the hotel. This is probably the best and most convenient way to have a sneak peek into the interior of Burj Al Arab without paying for a night's stay.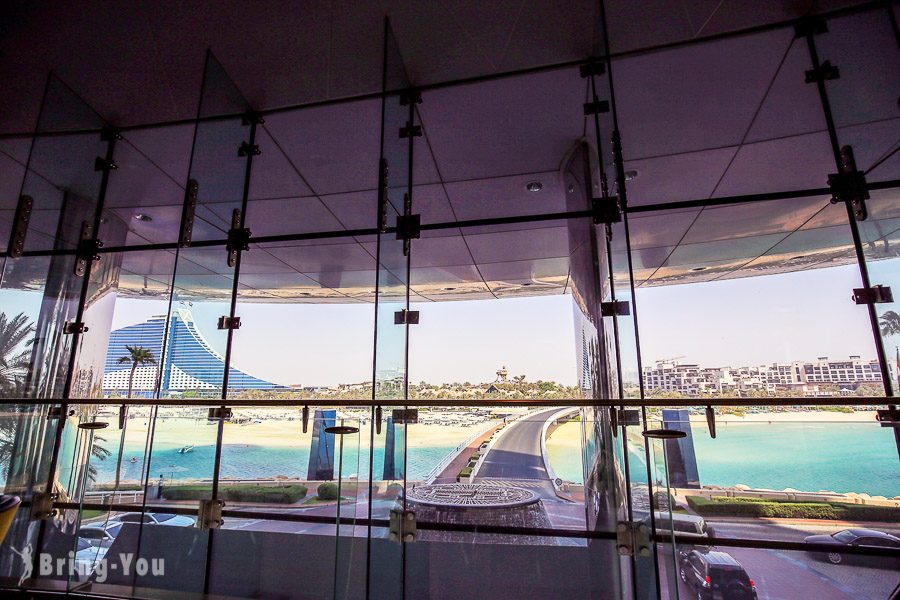 This gigantic, flamboyant lounge introduces international cuisines with the limelight on Arabic afternoon tea time. We recommend this place if you want to pop in for a dessert and unwind with your family or significant other.
Let us tell you this: you can go for some of the other F&B houses within Burj Al Arab, it doesn't have to be Sahn Eddar. However, we are addressing those who want to keep their budget control. In this case, Sahn Eddar is the best scenario you can go for.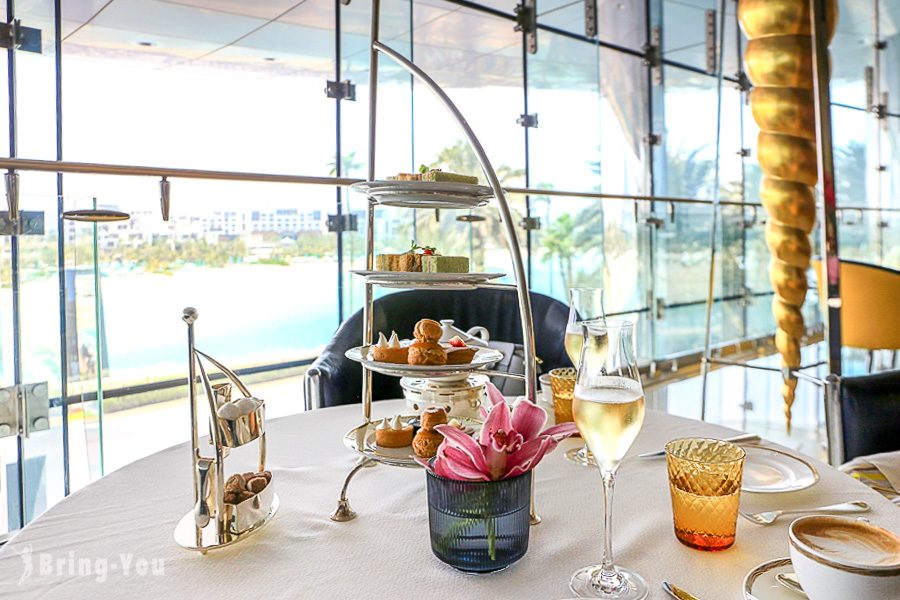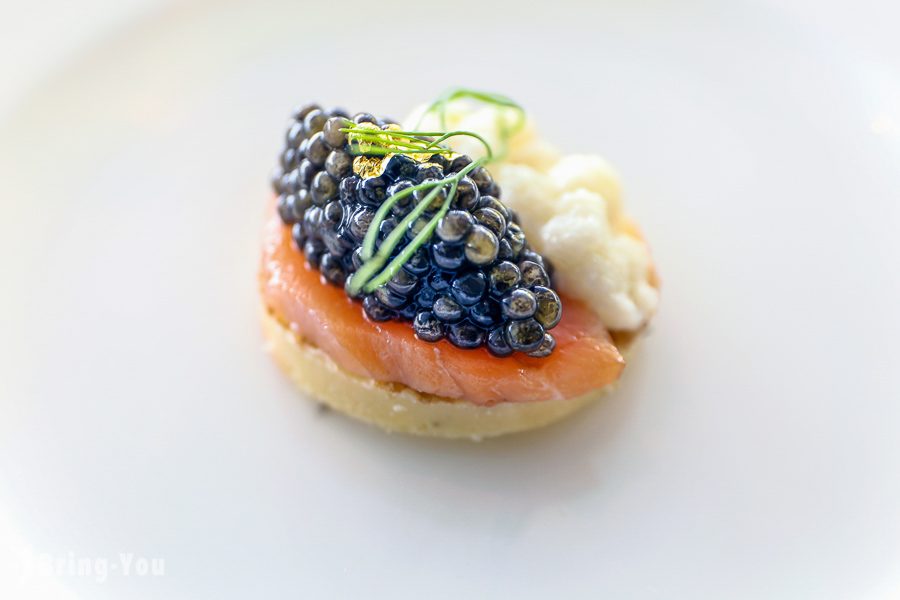 Compared to Al Mahara or Sky View Bar, Sahn Eddar offers the most affordable menu! If you go for this one, you'll have a chance to admire the first floor and the lobby with a glimpse into the second floor.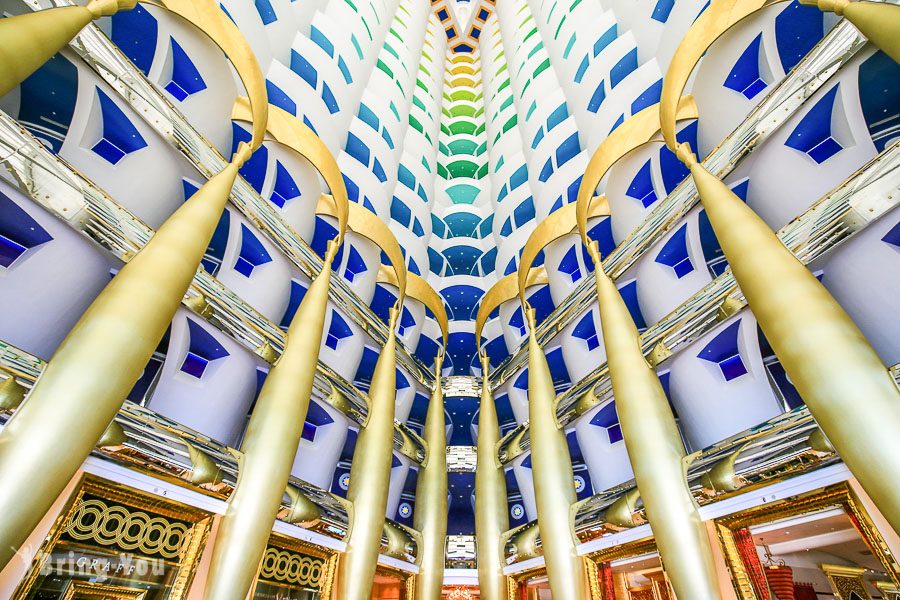 The lobby is truly mesmerizing! It's like a mashup of blue, white, gold, and red so you'd better buckle up and get your lens ready. Caveat: you will want to take a few snapshots at the end of the day!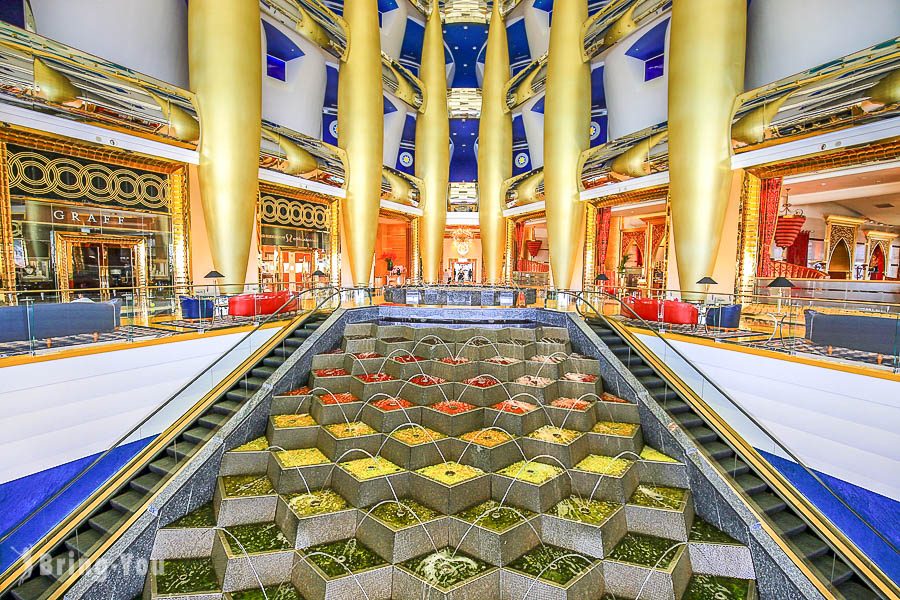 The two escalators surround a massive, state-of-the-art fountain sandwiched in the middle. Even though Sahn Eddar is the "cheapest" facility on the site, you don't have to worry about quality anyway! We were delighted by the professional service.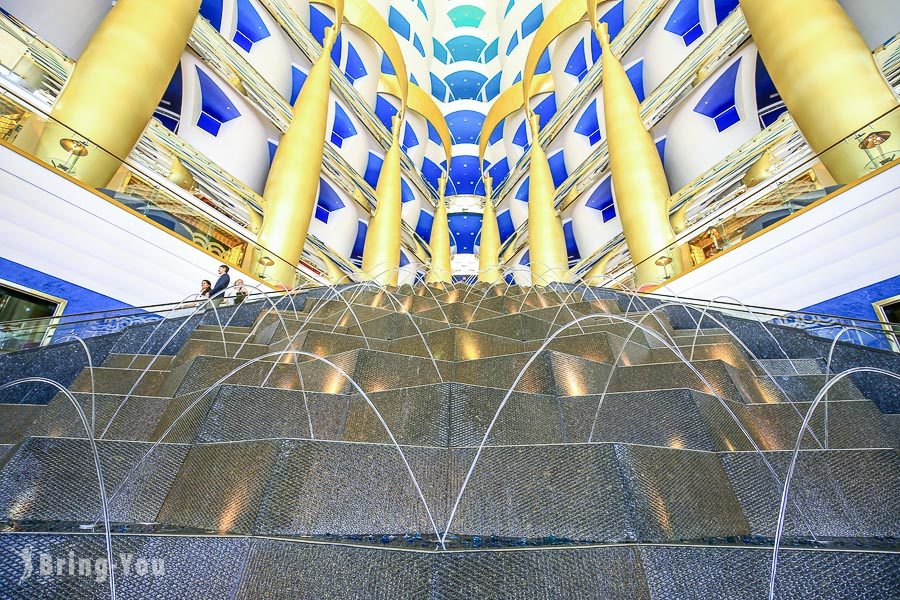 Our waiter took good care of us by hanging our coats and folding them neatly on the chair.
We were in-house guests but if you don't have any booking for Burj Al Arab, make sure to have your reservation for Sahn Eddar ready. We found this incredible service via Klook that you can do the same!
Our Castle-Like Suite at Burj Al Arab: What's Inside Our Room?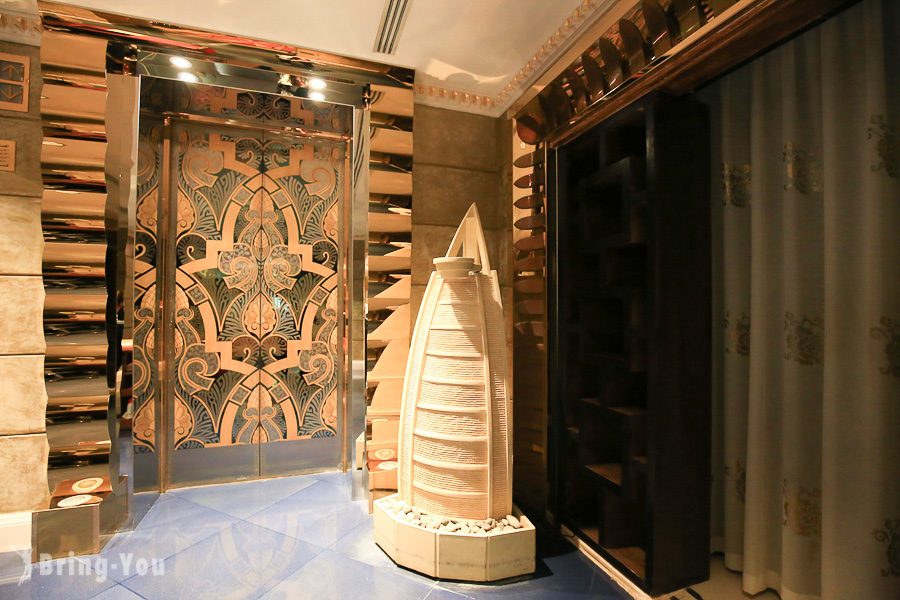 Now here comes the real deal! Read carefully because we know this is your most expecting part! Burj Al Arab has been going strong since its inauguration in 1999.
You've gotta know that Burj Al Arab targets upscale guests and that's why suites are the only available type of accommodation on the site. Even the cheapest suit may be bigger than our home with lots of fancy touches.
The room is expansive with floor-to-ceiling windows facing the airy Persian Gulf on the outside. Imagine waking up to this amazing view every morning! It doesn't only appear in your imagination!
There is a massive set of comfy sofa, laptop-friendly workspace, meticulous dining seating, and a minibar. Every amenity within the minibar is charged unless you go for coffee, a tea bag, and mineral water. Nuts, alcohol, chocolate, and noodles are not complementary.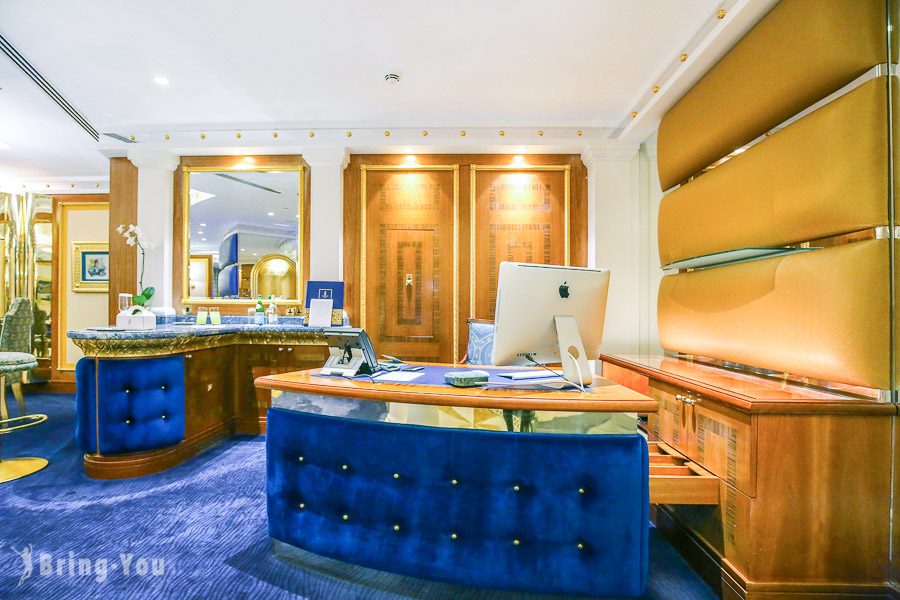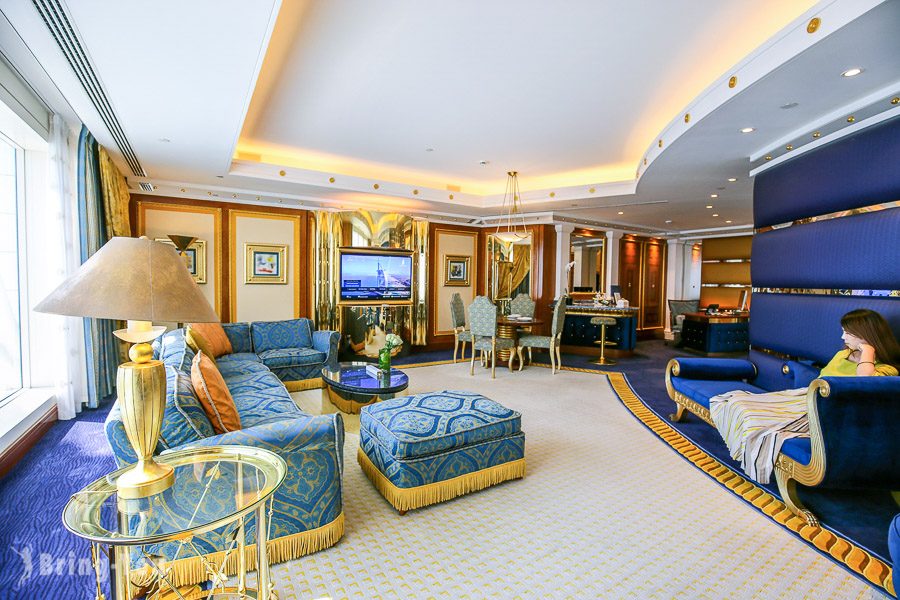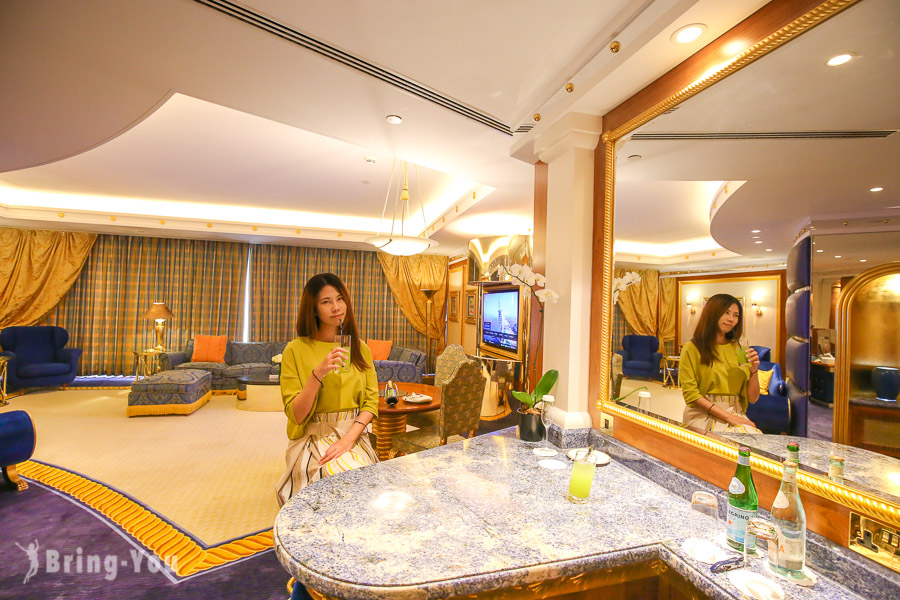 We're not sure if you've heard about the Hermes-stocked toiletries before! But if you stay in one of the suits, get ready to have your jaw dropped! Unlike regular (even high-end hotels we stayed in before), Burj Al Arab takes it up a notch by offering you full-size glass bottles of Hermes products – and they are complimentary.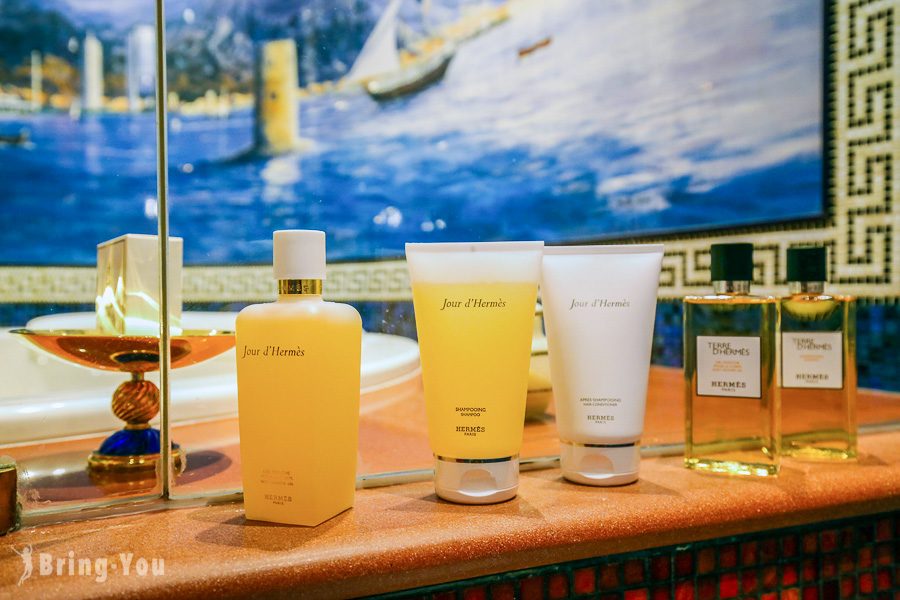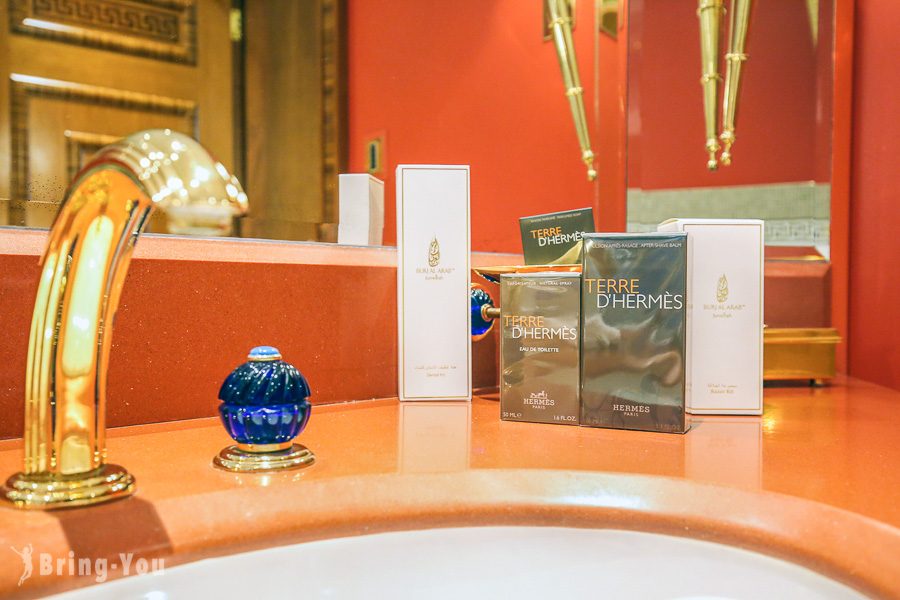 They totally get rid of cheap plastic shampoos and body wash! This shiny, glossy powder room and toilet are designed with intricate gold-carved embellishments. All of the amenities truly promote Islamic flair.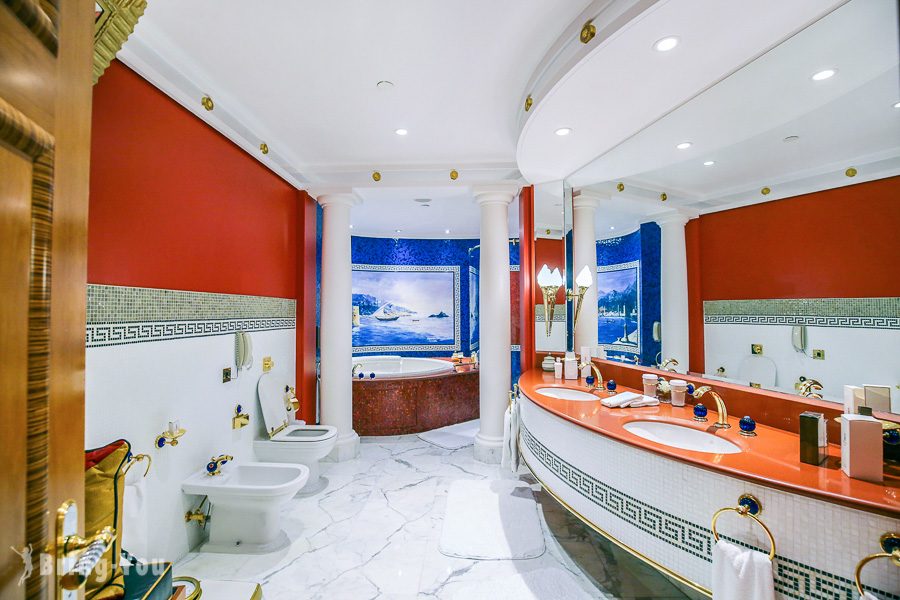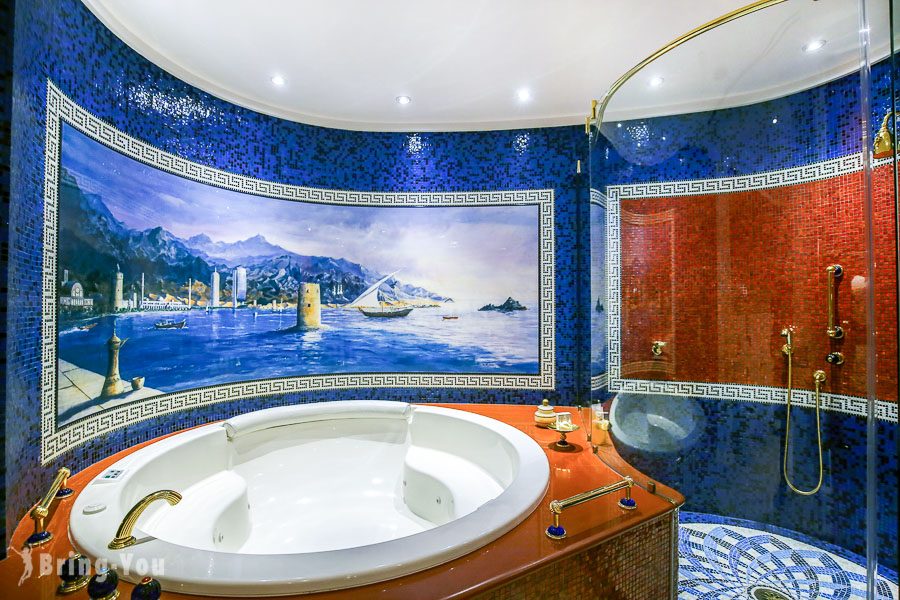 Our bedroom reflects a castle-themed royal flair with a King-size bed nestled under a navy-blue golden frame. The bed is facing the bay through the floor-to-ceiling windows.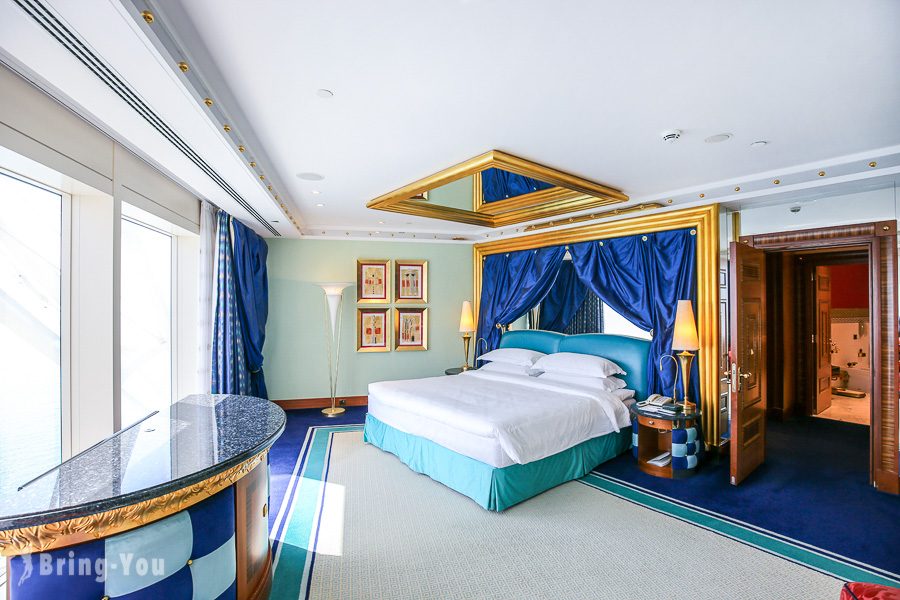 The coolest thing is that you take complete control over the television. Take it out with remote control and close the curtains for an absolute "cinema-graded" movie time anytime in the day!
Is it expensive? Yes! We spent AED 3,690 a night and this rate was priced in June. Double-check with the hotel for the latest rate!
Best Picture-Worthy Spots around Burj Al Arab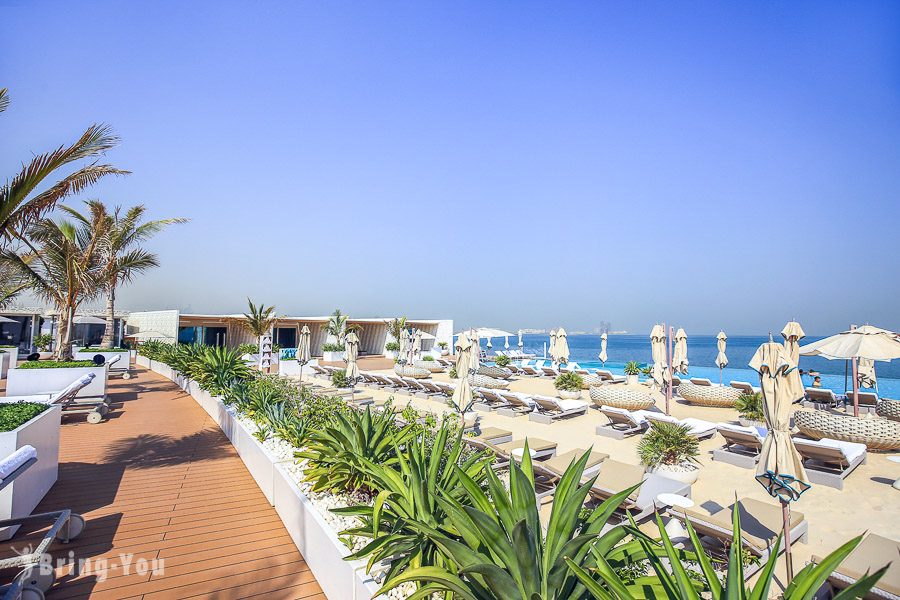 When it comes to the best Insta-worthy spots at Burj Al Arab, the good news is that you will never run out of inspiration! From indoors to outdoors, it's got you carrying your camera along the whole day!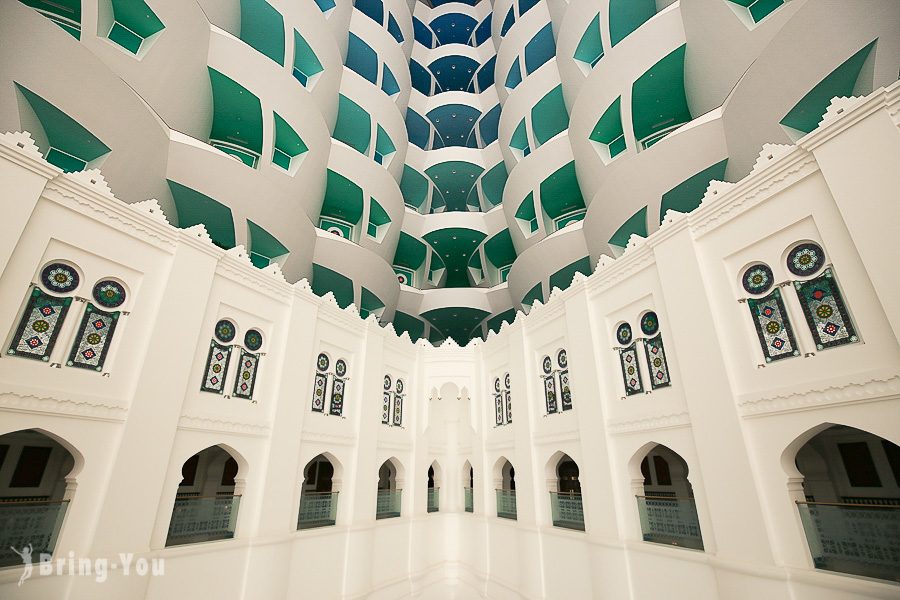 If you go for a stroll along the beach, make sure to drop by the infinity swimming pool! This is also where the buffet restaurants are located. The dining scene is top-notch opening out to the deck through a transparent glass.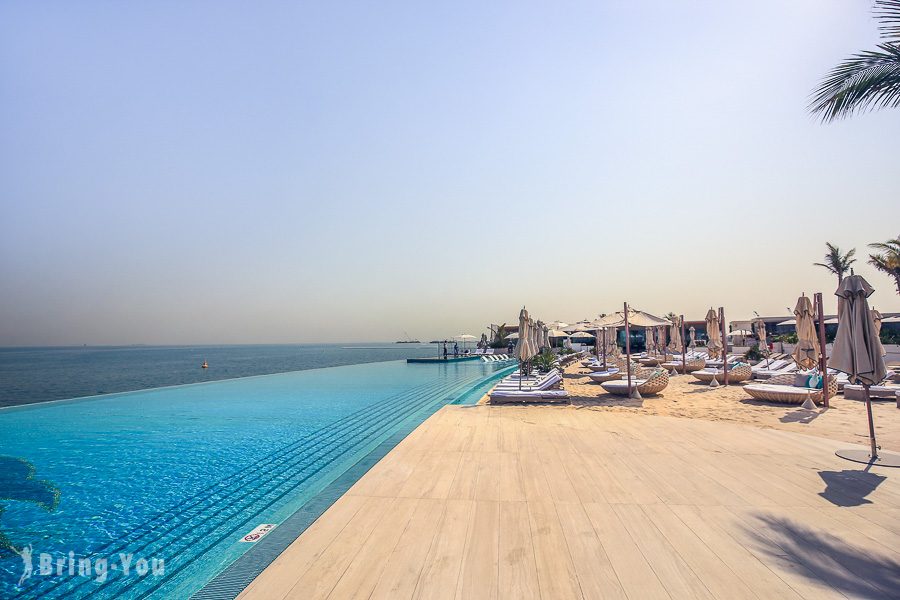 This is also where you can find the right angle to snap a shot of the helipad above while standing on the sand. Just make sure you get the right grid!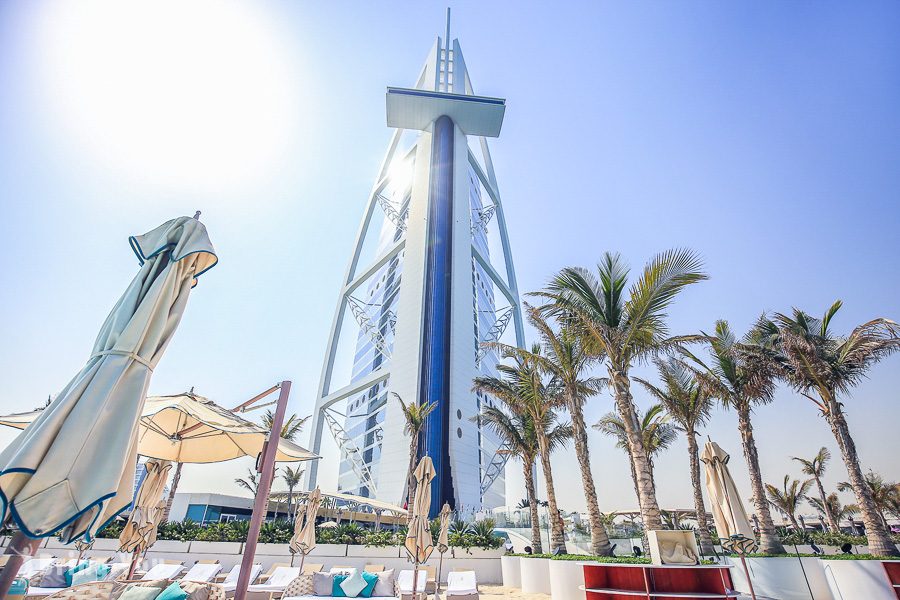 The enchanting interior of Talise Spa on the 18th floor is another top call! However, our favorite place for an Arabic flair is definitely the library. The setting is loaded with exquisite patterns.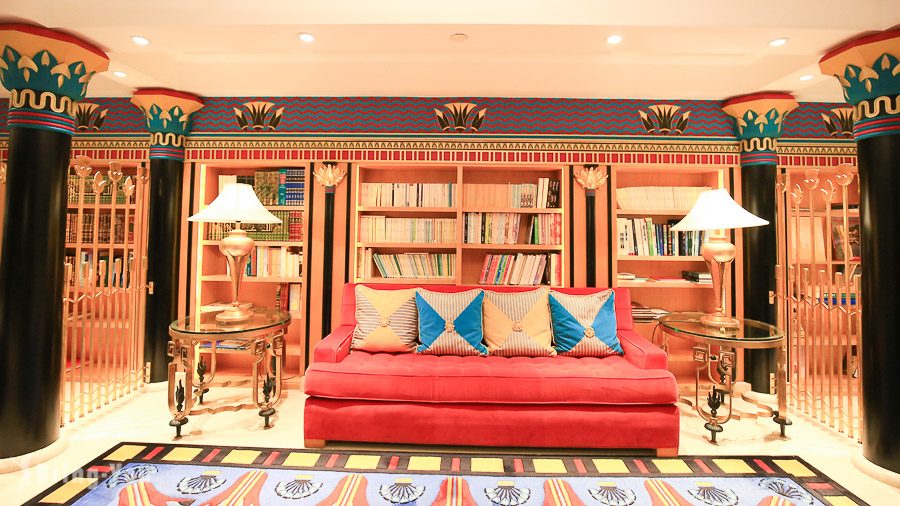 Final Words: Is the Burj Al Arab Worth It?
Alright, we all know that Burj Al Arab is expensive. Yes! Even for the lowest range you gotta break the bank. But at the end of the day, you will tell them that it's absolutely worth it.
Not only is this place full of picture-worthy corners but the top-notch service also does the talking! From the checking process to the walk on the beach, from a relaxing tea time at Sahn Eddar to the massive suite, we had a blast kicking back!
Only you can advise yourself if you really want to spend a day here. But why not, right? We guess the biggest concern has to do with budget but if you are not on a shoestring, feel free to give it a shot!
Where Else Can You Stay in Dubai?
We're getting to the end of our journey and so at some points, you may want to have a few references about other alternatives aside from Burj Al Arab! Sorting out where to stay in Dubai has to do with debunking the best area.
We compiled a comprehensive planning guide right here for those who visit Dubai for the first time. In this article, we break down different neighborhoods with insights about what to do in each area, price range, and many more!
Are you inspired or hesitating? Ready to book your first (or next) stay at Burj Al Arab Hotel? Go ahead and try it for yourself!
Related Stories