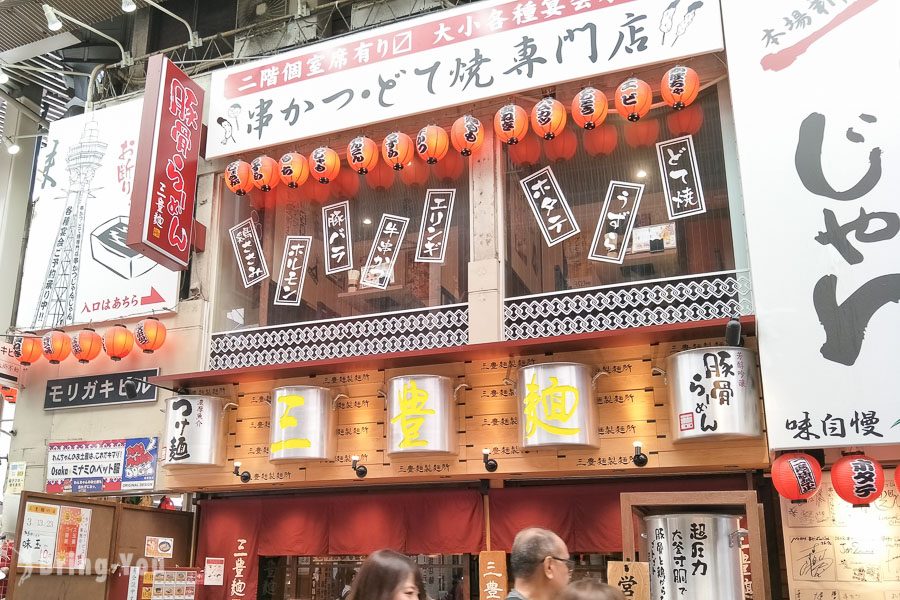 After getting tired of the famous ramen in Dotonbori, Osaka, Piaor continued to discover the unique pork cartilage ramen at Hanamaruken Namba, and this time chose "Sanpoumen (Mito Tsukemen)" to try out. The must-try dish is the thick fish soup Japanese dipping noodles, which turned out to be surprisingly good! Why hasn't anyone introduced it yet? And no need to queue?! Because nobody knows about it~!
Sanpomen Shop Information
Sanpomen has many branches in Japan, mainly concentrated in Tokyo and Kansai regions. The most easily accessible branch for tourists in Osaka is the Sen-nin-mae branch in Dotonbori. I dined at the best location, the "Sen-nin-mae branch", but it has already closed. You can visit the nearby "Shinsaibashi branch" or "Namba Nihonbashi branch", and I have listed their addresses and business hours below.
Read More: Dotonbori Travel Guide: Favorite Eats, Insta-worthy Spots, Things to Do, and More
Shinsaibashi Store
Address: 2F Takamichi Building, 3-7-23 Minamisenba, Chuo-ku, Osaka
Business hours: 11:00~23:00
Namba Nihonbashi Store
Address: 2-1-23 Namba-naka, Naniwa-ku, Osaka
Business hours: 11:00~24:00
Introduction to Sanpomen Dishes & Ordering Method
You can order directly at the food ticket machine at the entrance of the restaurant, pay, and then give the ticket to the staff to be seated. Although there are hardly any tourists in the restaurant, almost all of the diners are Japanese.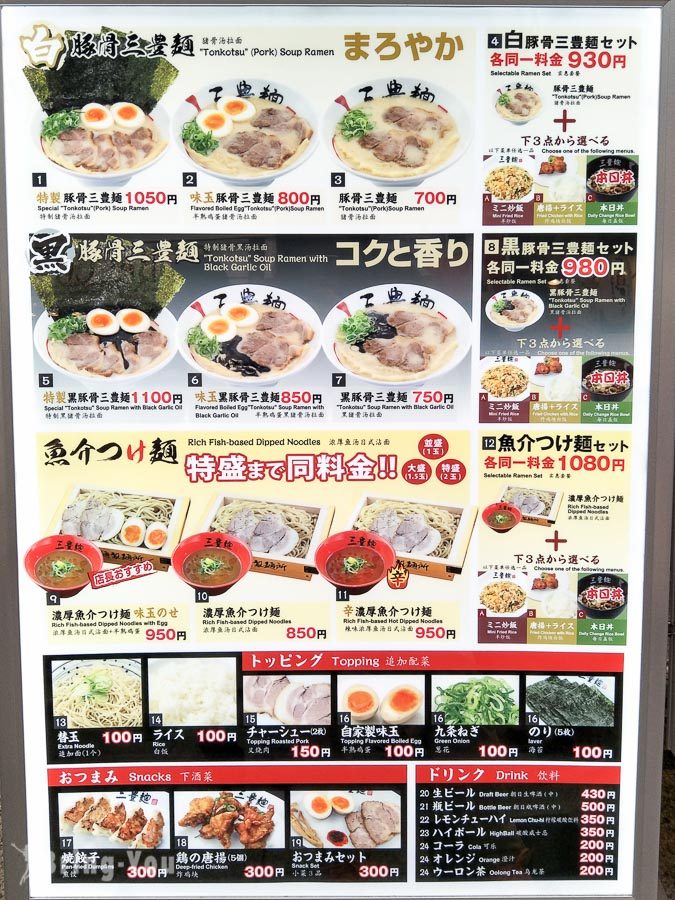 Sanpomen mainly offers three types of dishes: white pork bone (refreshing pork bone), black pork bone (white pork bone soup with black garlic oil), and dipping noodles (seafood soup). There are also options for adding or not adding eggs and toppings. After being seated, the staff will ask if you want a small portion, a large portion, or a special large portion. The prices are the same for different amounts of noodles, so you can say that adding noodles does not increase the price.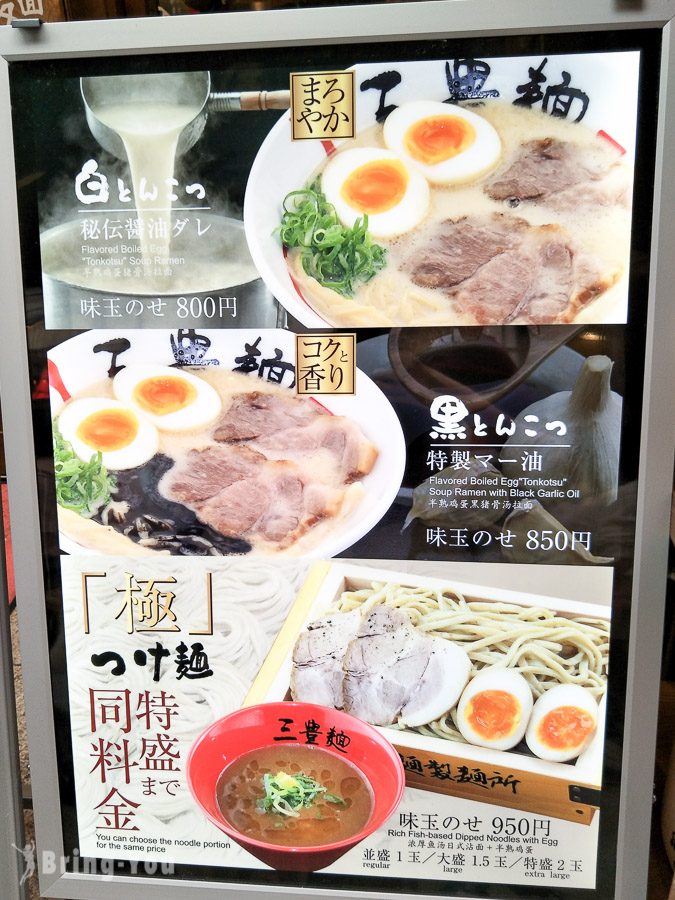 In addition to the main course, those with a big appetite can pair it with side dishes such as fried rice, rice bowls, and fried chicken.
Dining Environment at Sanpomen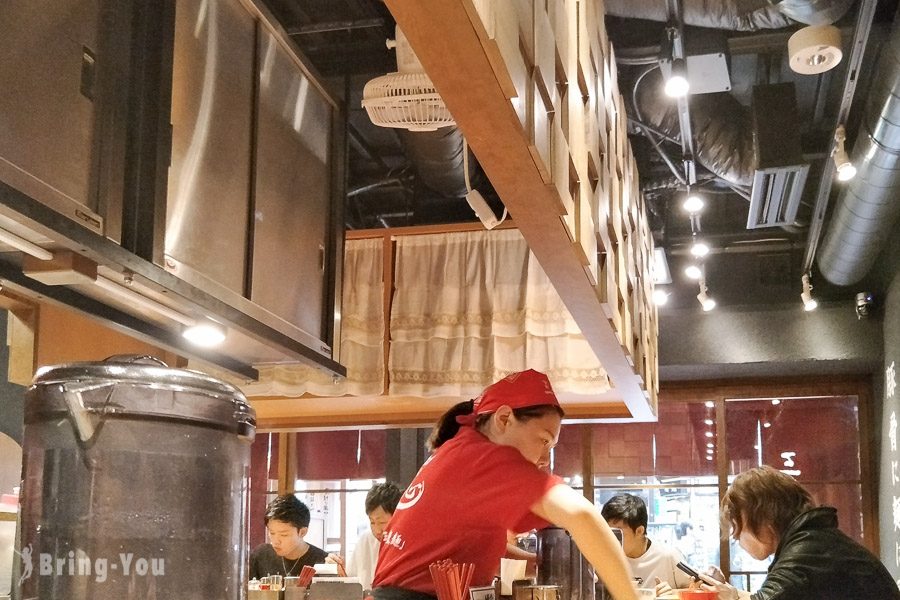 Piao Er is dining at the closed Qianriqian store. The dining space is a very standard Japanese-style ramen bar, wider than the average ramen shop, and the environment is relatively clean and comfortable.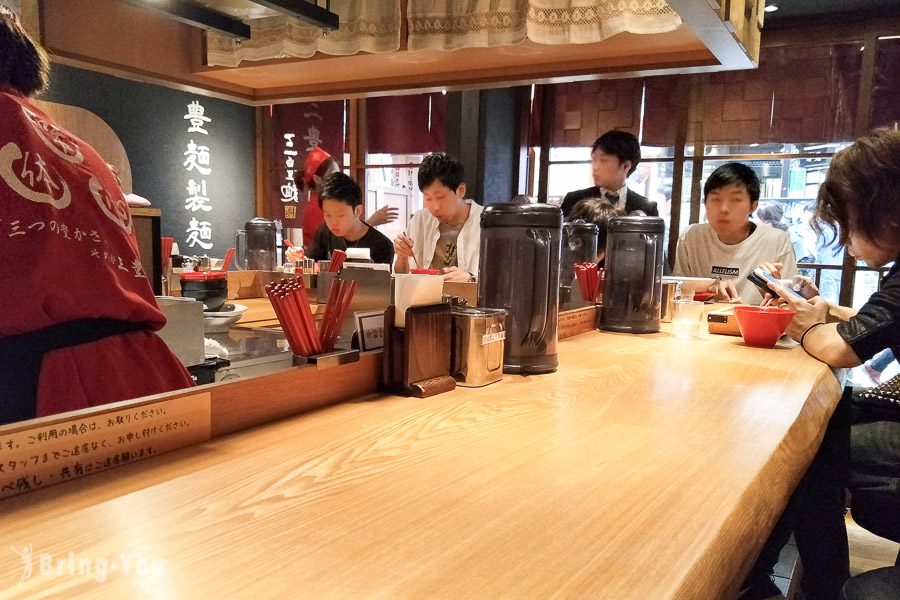 The dishes are freshly made to order, so we had to wait a little bit. In the meantime, there was ice water on the table, which is a must-have for Japanese ramen. Each seat had a set of condiments such as chili oil, white vinegar, pepper, sesame, and fish powder (dried fish soup stock powder) for the ramen, or dipping sauce for the noodles.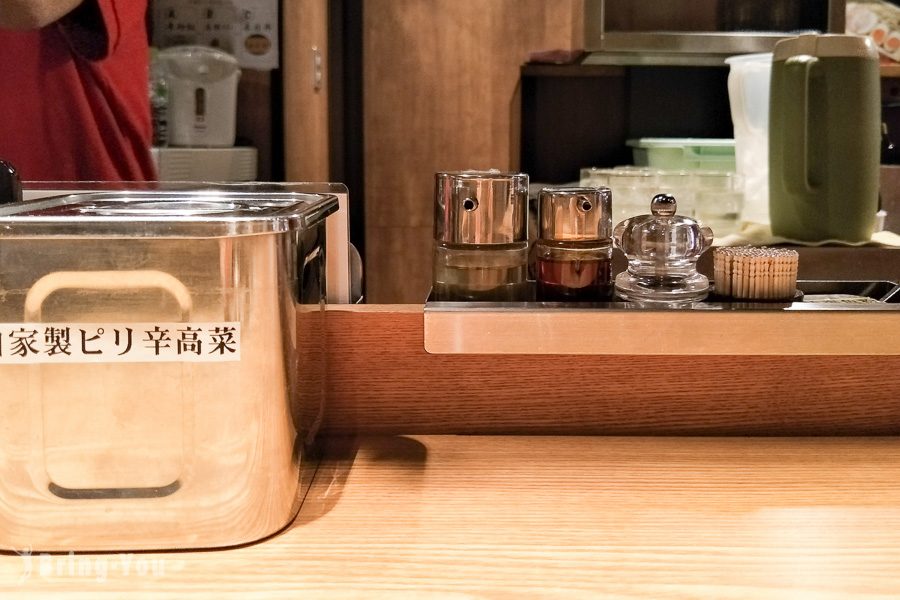 Rich Fished-Bassed Dipped Noodles with Eggs
Soon, the delicious dipping noodles will be served! This time we ordered the large size, which is quite generous and can be considered as 1.5 servings.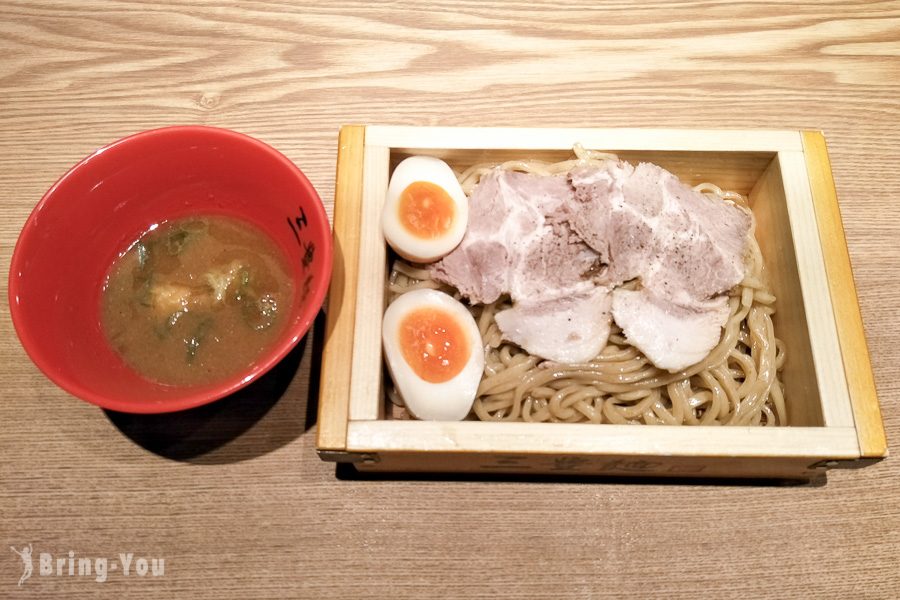 Noodles are made by "San Feng Noodles" themselves, using whole wheat flour to create a very elastic texture.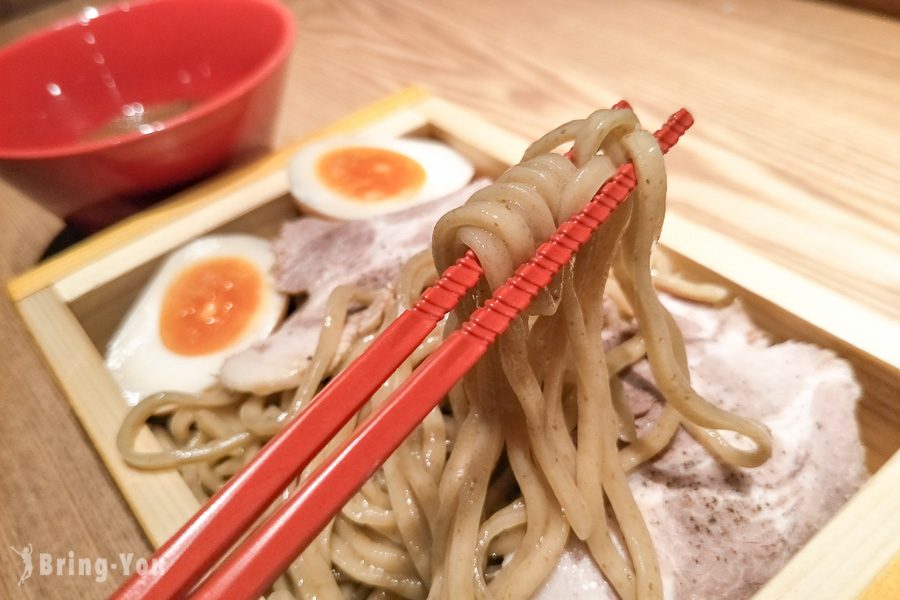 Thinly sliced meat is Piao Er's favorite, not too oily or greasy, and not too tough or too heavy. It's seasoned with Piao Er's favorite black pepper powder, but those who prefer thick slices of meat may not like it. The dipping sauce has a bonito flavor, which is relatively light compared to most dipping sauces in Japan. It won't get too heavy even if you eat it for a long time, but it feels like it's much lighter than the dipping sauces from popular Japanese restaurants like Taishoken and Rokurinsha. However, if you're afraid of strong sauce, you should be able to accept it. Although it's not as fragrant as Rokurinsha, it won't make you drink water after eating.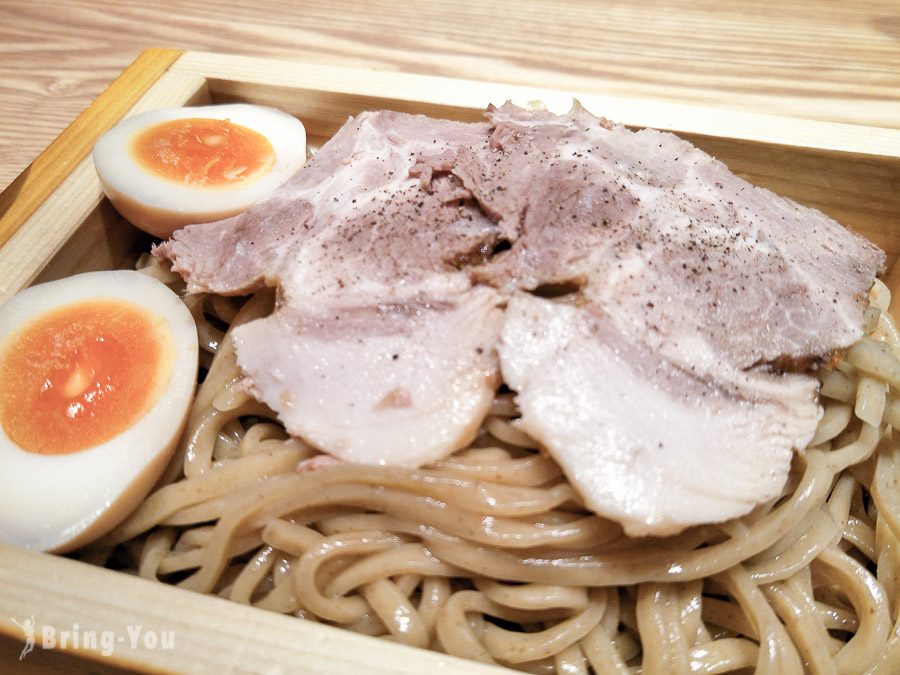 ▼ Most small Japanese restaurants that occupy seats will require each person to order a dish. Little V wasn't that hungry, so she ordered a plate of pan-fried dumplings. I'm here to eat on behalf of Piaor! Hmm~ for Piaor who loves Japanese pan-fried dumplings, this is a medium to high level among the pan-fried dumplings she has eaten in Japan, so you can order it with confidence. Those who love Taiwanese pan-fried dumplings, don't argue with me~ you can try another recommended snack in this restaurant, "Fried Chicken Nuggets".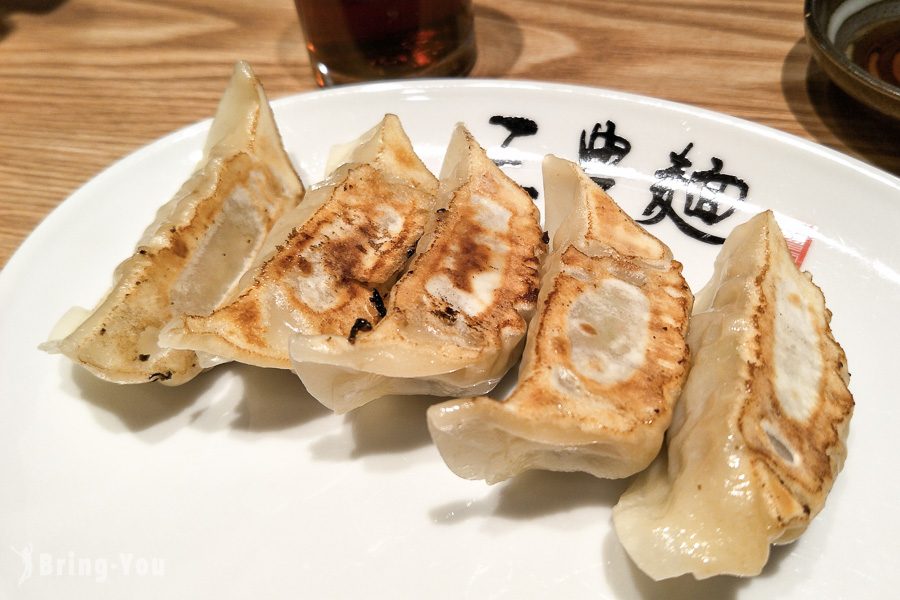 About Sanpomen, My Dining Experience
Overall, Sanpomen performed quite well! It's awesome that there's no need to queue up. Xiaoxiao thinks the noodles are pretty good, and the noodle sauce is a bit light but still okay. The pan-fried dumplings are delicious among Japanese-style pan-fried dumplings. If you like Japanese-style noodle dipping, you can give it a try! By the way, they also have ramen. About 30% of the people ordered ramen on the spot that day, and the rest ordered noodle dipping, for your reference!
Check out other highly rated Dotonbori restaurants:Must-try food restaurants in Osaka's Dotonbori
More Recommended Japanese Tsukemen and Ramen
Everything You Need to Know about Osaka
Explore more of our adventures around Osaka:
Simplify Your Osaka Trip