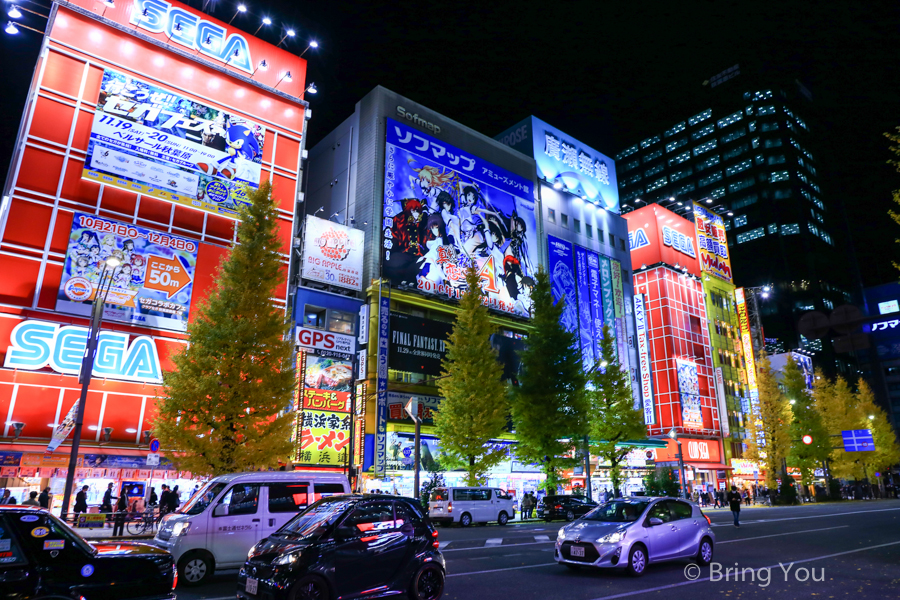 Akihabara(あきはばら) is ways different from any other districts in Tokyo, streets featuring billboards of electronics, anime and manga characters, maids at every corners trying to attract any possible otaku to their shops, and stores devoted to anime and manga selling ridiculously expensive anime figurines, Akihabara is the center for global electronics technology and trade, also it is the paradise for otaku and electronics fans.
More Stunning Spots :Best Places to Visit in Tokyo
How to get to Akihabara?
From Airport:Limousine Bus
From Shinjuku Station:20 minutes on the JR Sobu Line to Akihabara Station
From Tokyo Station:JR Yamanote Line to Akihabara Station
Otaku congregate
I have thought anime and manga were for children or teenagers, but after a visit to Akihabara, I come to know the true meaning of Otaku, it is a term for people at any ages who is obsessed to anime or cosplay, which means even a middle-age could be an otaku. And today, a large percentage of Japanese self-identify as otaku which I believe to be the possibility that will make Akihabara stand for more than a decade.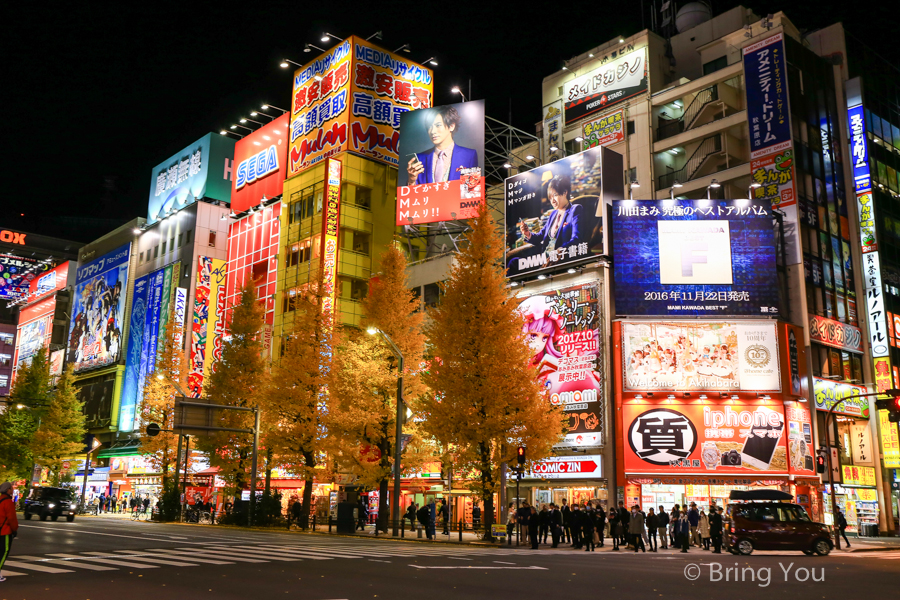 Out of curiosity for how Otaku's like in reality, we took a visit to Akihabara, where the most Otaku congregated in. We visited in the afternoon on Monday, when most Otaku were still in the office or at school, so we didn't really experience the true spirit of Akihabara. But there were still many of them lingering in the anime stores and adults-only stores underground. We saw shelfs of comic books covered with different lolitas, and glass-carbinets of ridiculously expensive anime figurines, lines of shelfs of video games with new arrival games and special prized last-seasoned games. We ambled down the streets, dazed, watching boys chatting generally with maids, and feel amazed the quantity of potential customers following the maids to the cafe. After an afternoon strolling and exploring the anime stores, we verify that Akihabara is the place for ultra-geek, it's not the place for us, but the last stop was a turn over, we decided to revise it to" just the Otaku part".
Before I physically visited Akihabara, I didn't expect electronics stores could be that amazing, but I was soon hooked on Yodobashi Camera store, an electronics store offers one stop shopping for computers, games, home appliances and cameras, there's a variety of displayed cameras for trial, almost every newest arrival or accessaries are within reach. Yodobashi Akiba has altered my view toward the electronic stores, and I even spared the following night to Yodobashi Camera again.
I have no idea what the performance is about, a show of ultraman in girl's version?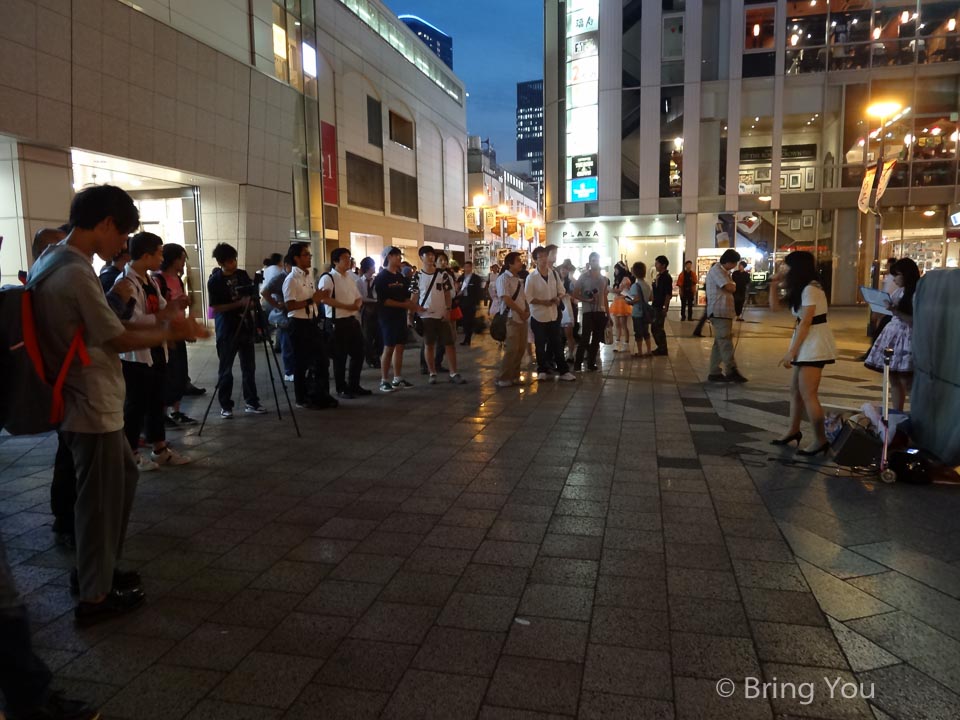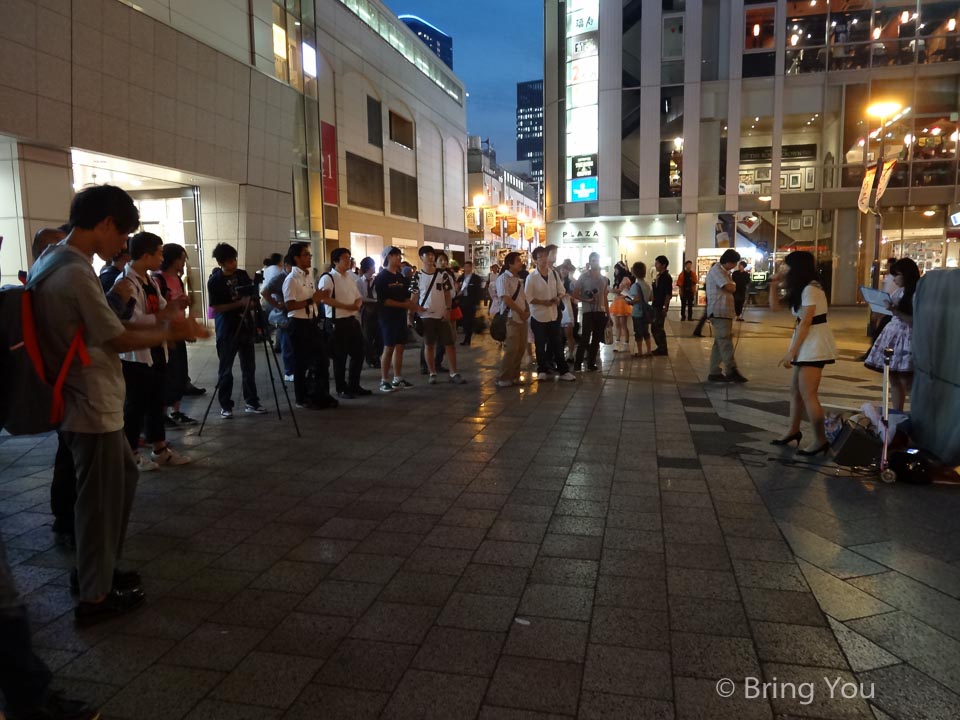 People circling a kawaii lady watching her performance, actually the girl sang horribly, but those boys were still very happy.
Akihabara Guide Map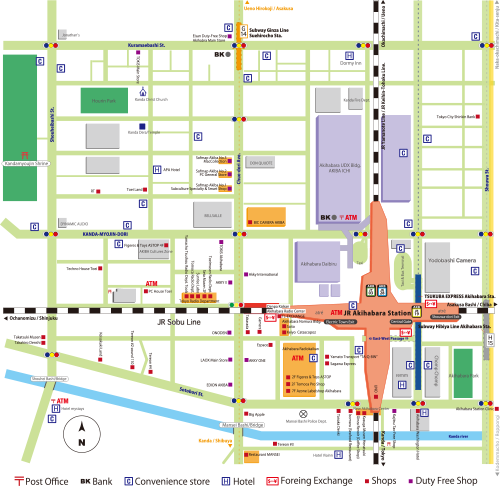 Below I will give a brief introduction about Akihabara area through the guide map and what to see in detail.
For PDF Downloading:please check out Official Walking Map
What to See in Akihabara!!!Yodobashi Akiba
Address:1-1 Kanda Hanaokacho, Chiyoda District
Hours:9:30~22:00
Transportation:1 min walk from JR East Akihabara
The biggest complex electronics stores in Japan–Yodobashi. It locates away from other electronic store in Akihabara, on the east side of Akihabara Station. It's a nine-story shop with all different electronics on each story, from computers, games, cameras, house appliances to watches. An afternoon in the store is not enough for its wide selection of commodity and all the new arrival cameras, long lens and its accessary free for trial.
中央 通り :Manga & Anime
1. UDX
Address:4-14-1 Sotokanda, Chiyoda
Hours::11:00~23:00
Closed: Mondays (or Tuesday if Monday is a national holiday)
Transportation:About 3 min walk from JR East Akihabara
Across the bridge out of JR Akihabara Station at Electric Town exit, the curtain wall building UDX, is hard to ignore, it's a complex of restaurants, exhibitions and offices where you can find most famous Japanese chain restaurants like TONKATU WAKO.
Tokyo Anime Center is on the fourth floor of the UDX building, there's a recording studio and computer devise with up-to-date anime information. It hosts pop-up anime related exhibits.
2. Gamers
Address:1-14-7 Waikanda, Chiyoda Ward
Hours:9:00~22:00(1F),10:00~21:00(2F)
Transportation:About 3 min walk from JR East Akihabara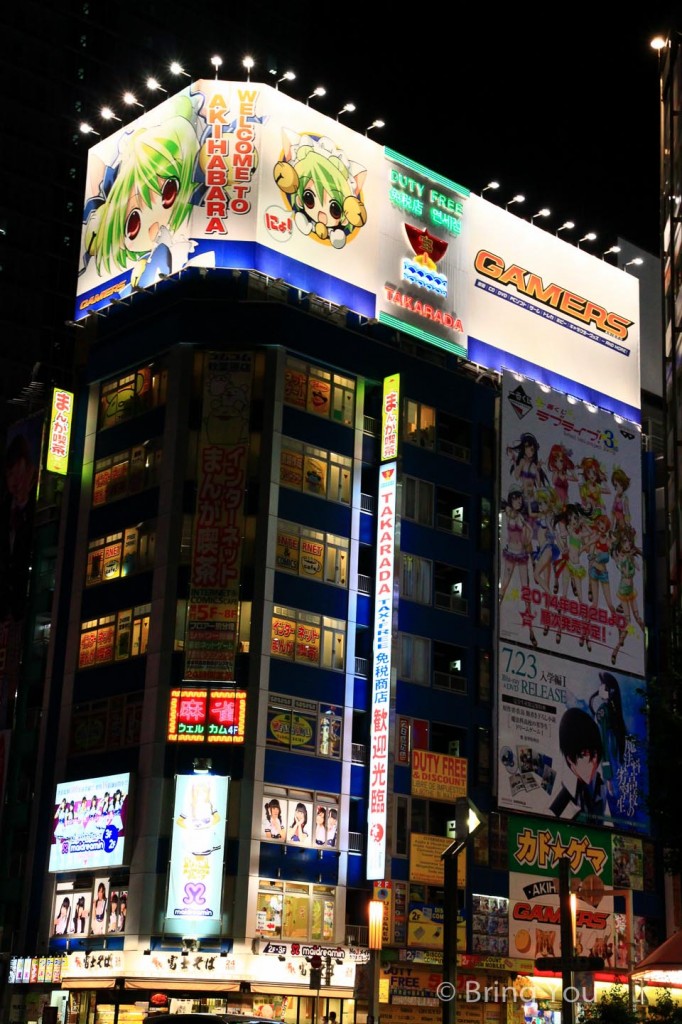 Aimed for video game fans, there are plenty of branches somewhere in Akihabaram the main store is the tallest one out of the Akihabara station. Gamers sells anime related goods, and there's an entire story especially for trading cards. It hosts talk show, live concert and signing session every week.
3. Sega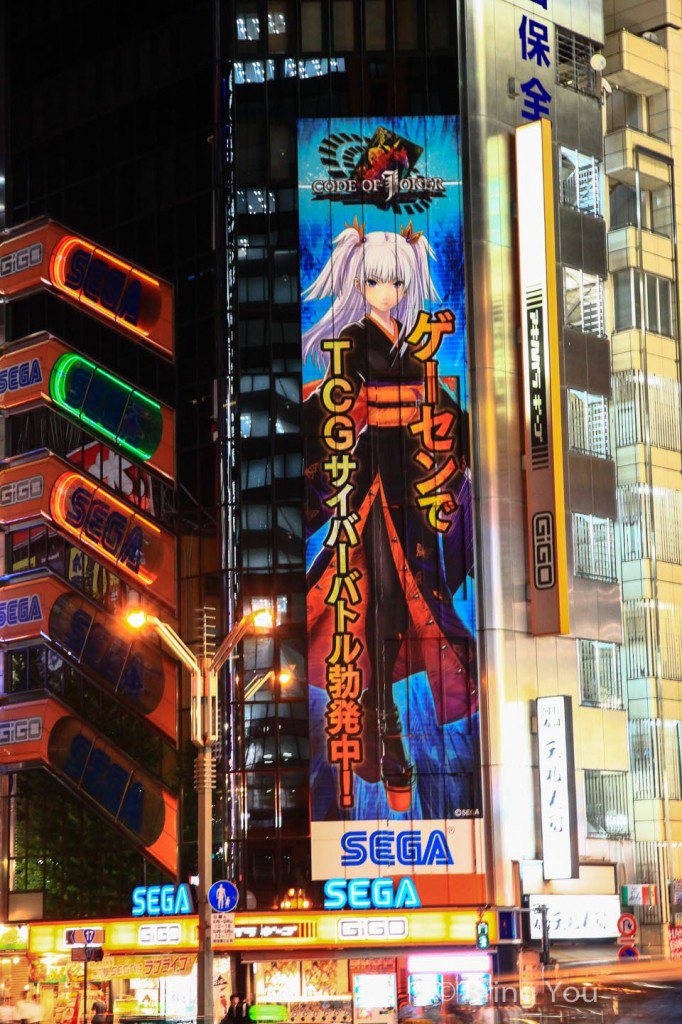 There are many arcades in Tokyo, but Akihabara is the area of electronics stores and anime stores blending with arcade. Each arcade ranges from three to five stories, with two stories of claw machines and taiko drum master arcade games, three stories of plain classic arcade, shooting games or music arcades. But Sega is the a pure arcade game building, there are two story of totally same machines full of businessmen obsessed in games for more than hours.
4. Game Taito Station
Address:4-2-2, Sotokanda, Chiyoda-ku, Tokyo
Hours:10:00 ~21:00
Tel:03-5289-8445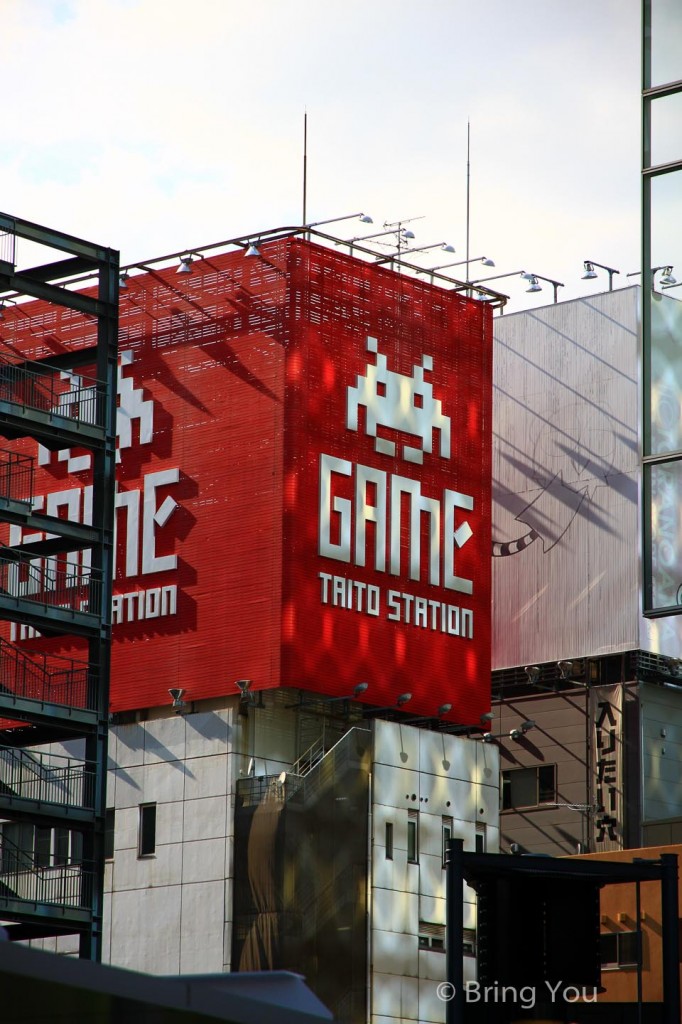 Games Taito Station is something different from Sega, besides classic arcade games,there are a wide range of games in every different stories, from pachinko to electronic rhythm game, there are also purikura(photo booth) story, where you can rent cosplay costumes and have your own styled photo stickers.
5. Softmap |Shopping
Address:4-1-1, Sotokanda, Chiyoda-ku, Tokyo
Tel:03-3253-1111
Hours:11:00~21:00 / holiday 10:00~21:00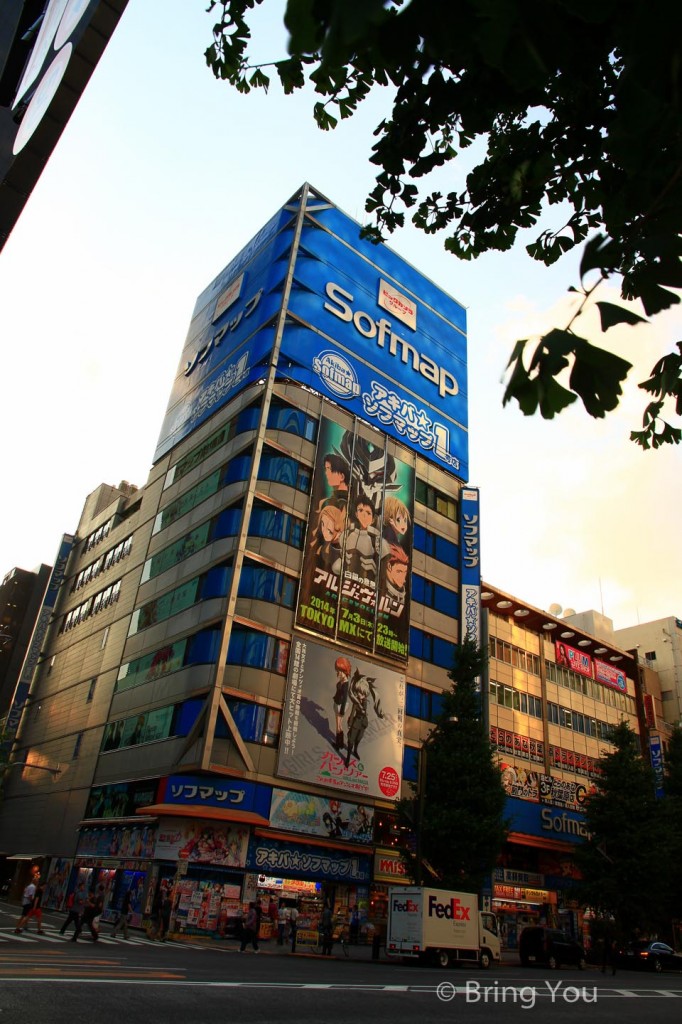 Softmap operates 16 shops around Akihabara, it's easy recognized by it blue signboard. They have a wide range of idol and anime related goods such as CDs and games. They even have adult-only story for sex video and manga. If you are searching for second handed products, they have three branches sell used products such as used computers, cameras, CDs and many other non-electronic products.
6. Trader
Address:3-14-10 Sotokanda, Chiyoda-ku, Tokyo
Hours:MON~THU:11:00~20:00,FRI,SAT:10:00~20:30,Holiday:10:00~20:00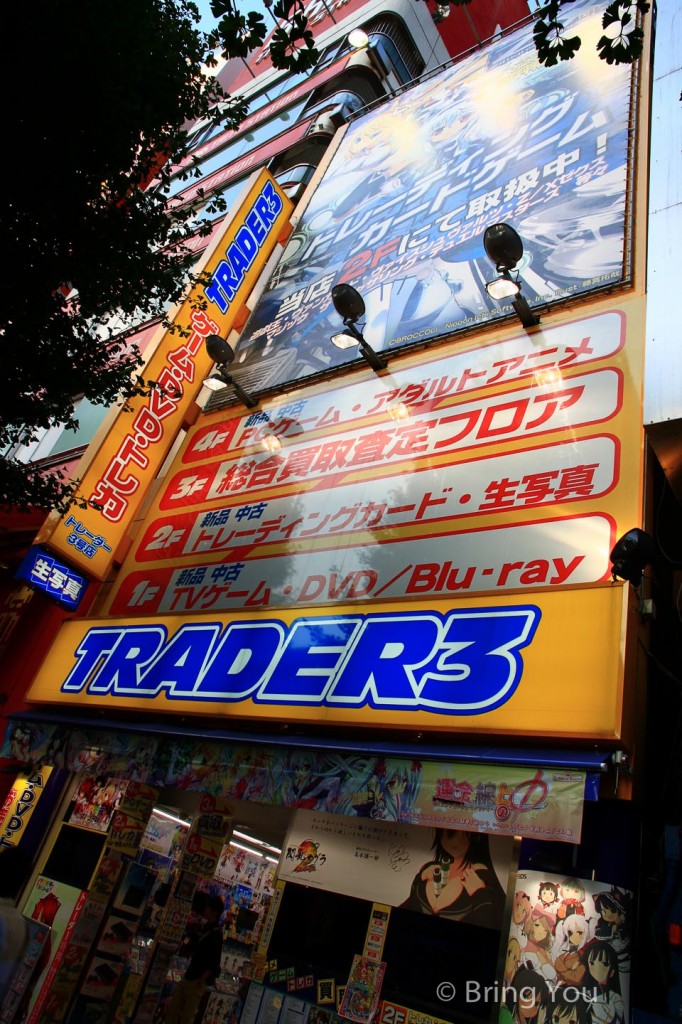 Trader specializes in games and DVDs, some branches carry used items with extremely cheap prize.
Maid-themed Cafe & Gundam Cafe
Maidreamin Akihabara Denki Gaiguchi Station Store
Address:4-4-2 Kōyokugai Kanda First Hall 4F, Waikanda, Chiyoda-ku, Tokyo
Hour:11:30~22:00
Transportation:About 3 min walk from JR East Akihabara
Maid cafes are cosplay themed restaurants where guests are treated as a master of the house, orders of food come with delicate food and conversations with your special maids, extra tips allow you to play games with the maids. There are strict no-photo and no touching the mail rules, but if you pay some extra tips, you can have a photo with one maid you like.
Maids can be found at every corners in Akihabara delivering fliers, we find Japanese guys is never shine to start a chat with the maids, and there will be another maid coming to take the guy to the cafe.
Gundam cafe & bar
Address: 1-1 Kanda Hanaokacho, Chiyoda-ku, Tokyo
Hour:10:00~23:00, start from 8:30 on holidays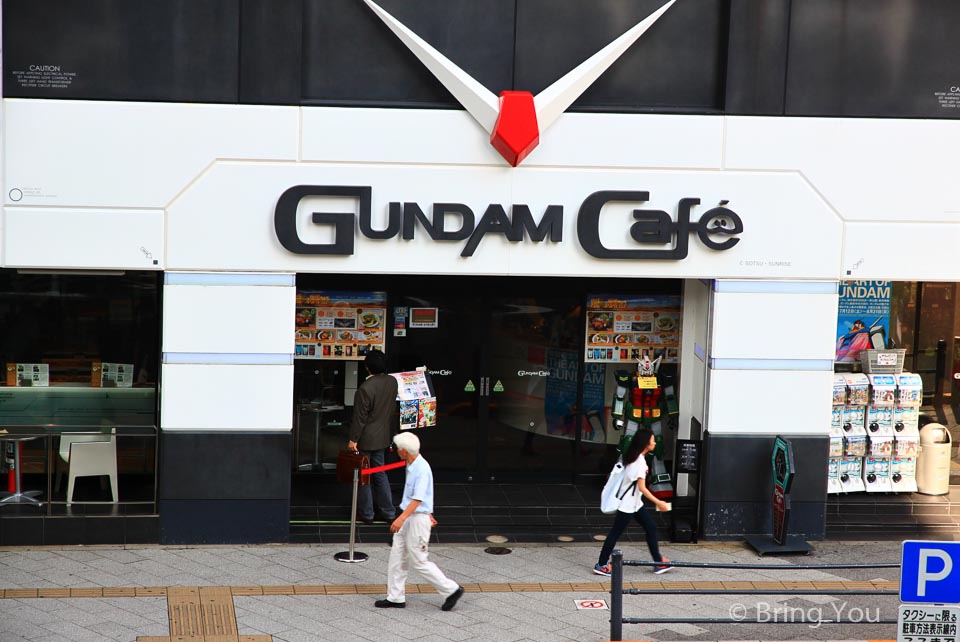 A cafe themed after the Gundam anime series. The restaurant serves Gundam themed dishes or themes from the series, and guest can enjoy the meal at a futuristic designed bar as scene from the anime.
Home cafe
Address:1-11-4, Waikanda, Chiyoda-ku, Tokyo
Hour:11:30~22:00
Transportation:About 3 min walk from JR East Akihabara
Guests can chat with maids by the bar, games and photos with the maids are allowed with extra tips. They have maids speaking English.
AKB48 Theater & Cafe & Shop
AKB48 Cafe is themed restaurant based on the Akihabara-based idol group AKB48. The dishes are decorated by the characters of the group members. There are performance of different members of the group everyday in the theater.
AKB48 Cafe&Shop
Adress:1-1 Kanda Hanaokacho, Chiyoda-ku, Tokyo
Tel:03-5297-4848
Theater 11:00~23:00(10:45開場)
Cafe&Shop 11:00~23:00 (22:00 L.O.)
private room 11:00~23:00
商店 日~木曜日 11:00~22:00  金・土曜日&祝前日 11:00~22:30 (外帶區22:00 CLOSE)
AKB48 Theater
Address:8F, Don Quijote Akihabara Store, 4-3-3 Waikanda, Chiyoda-ku, Tokyo, Japan
Transportation:About 5 min walk from JR East Akihabara
mAAch ecute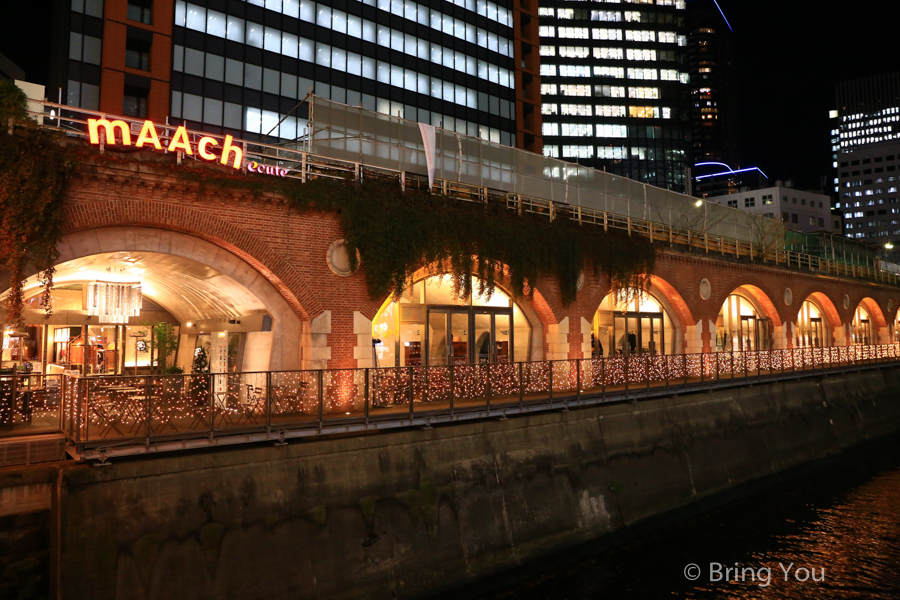 Kanda Mansei Bridge is a red brick bridge completed in 1912.It is a building with historical traces.
かんだじんぼうちょうこしょがい
Address:1-1, Kanda Jimbocho, Chiyoda District
Hours:10:00~20:00
Transportation:5 min walk from Hanzomon Line "Jimbocho Station"
Excellent choice staying in Akihabara
JR-EAST HOTEL METS AKIHABARA is brand new hotel from 2019, youthful design and nice choice for a clean hotel right next to the metro with major lines in Akihabara.
Find the best price stay in:JR-EAST HOTEL METS AKIHABARA
Even after visiting Akihabara twice, I guess I will still be freaked out if I have visited on Sunday, when the streets are closed to car, fans of anime and cosplay march on the streets and immerse in their favorite manga in the anime stores. My Monday visit was a rather pleasant one, not as crazy as any online accounts by people who'd been there. And Akihabara really worth visiting, it gives a cursory peek into the life of Otaku and also, it's the largest electronic town in the world.
More Tokyo Destinations to Explore: Asakusa|Harajuku|Kamakura|Shibuya|Ginza|Shinjuku
Everything You Need to Know about Tokyo
Explore more of our adventures around Tokyo:
Simplify Your Tokyo Trip